Kaiser Permanente Insurance
Consumer Complaints and Reviews

I am writing this because I feel like I have no voice, especially with a huge entity like Kaiser. My son injured his shoulder in football and has been suffering great pain ever since. I brought my son into the orthopedics department (Arbor Ave, San Diego) on the 21st of September. We met with Doctor C who examined my 16 year old son told him that he would need surgery on his shoulder. He told us that he would look at the MRI we provided him with and call us back THE NEXT DAY. After 5 days went by, I called and left a message for Dr. C. It then took him exactly 1 week to call me back (now putting us at 2 weeks since the office visit which he promised to call back the next day). Unfortunately I was working when he called and I did not pickup. Dr. C's voicemail said is that he can't read the MRI and will have to figure out what to do from there. Why did it take over 2 weeks to discover this and why was I not called immediately?
I called Dr. C back within 30 minutes of his voicemail and of course had to leave another message for the doctor. Meanwhile my son is in pain and is nervous about a potential surgery that Dr. C told him he would need, and asking me what is going on and what he should do. Because of the Dr. C's non-responsiveness and the level of my son's pain, we had to make a decision on what to do. WE NOW WENT OUT OF NETWORK SO THAT MY SON COULD HAVE HIS OPERATION. Since decided to make an appointment with Scripps, who saw my son within a week and were able to schedule a surgery within 2 weeks after seeing the doctor. Perhaps this is what an HMO wants, for members to go out of network.

For the last 7 years I have been taking pain medication for severe pain due to degenerative disc disease stenosis and arthritis in my entire spine. Today I was told that after all of these yrs of success with the pain medication, they are reducing it by 10% a month because of CDC guidelines. These guidelines were written as a guideline NOT MANDATORY. It took over a year to get the medication correct so I could get out of bed and be somewhat productive. Now I will be bedridden again and they don't care. I am confident they are reducing everybody's pain medication for 1 reason. TO REDUCE COST!
I HAVE BEEN A STELLAR PATIENT. I passed the many urine tests they required me to take. I always take as directed and never called in early with an excuse to get extra medication. Can they do this? They are a insurance company and provider. They are using the guideline as an excuse to make money without any concern of the patient's needs. How can I fight this. Somebody please help me before I am unable to get out of bed, unable to walk and unable to dress myself. What can I do??? I am permanently disabled as it is. Would you take away insulin from a diabetic. They are using the guideline as a rule of law, yet the CDC even said that if your patient is suffering do not make changes.

This year after being seen by her MD during routine physical my daughter was referred over to what I was told was a "ear, nose and throat specialist". We attending the specialist appointment he the specialist prescribed antibiotics for a possible slight ear infection that my daughter never complained about or knew she had. He the doctor had us schedule a follow-up to be seen two months later. Today she paid that visit, I took the day off from work only for this doctor to tell me that he was going to refer her to a "ear, nose and throat specialist". I told him that I was told and under the impression that he was that person. He seemed to wiggle around the question and said that he wanted to send her to the best to see if he would recommend surgery.
At that very moment I felt swindled and taken advantage of. I paid for not one but two visits only to be referred to another specialist. Swindle because I got the impression that they must really think I have an unlimited number of financial resources and money just falls out of the sky. Well quite the contrary medical cost are high and they are careless of how they refer people. I never had this experience at other medical firms. If I was referred to a specialist that meant that the person I was seen by was the same person that would do the analysis refer to tests and make recommendations and if approved would perform the procedures (surgery etc). To be referred to a specialist with the same title within the same department gives me a lack of confidence and feels like a system that just kicks the can down the road.

KAISER IS A DISGUSTING MEDICAL SOCIETY!!! I would give Kaiser of Colorado zero stars if I could. Kaiser is a monopoly of doctors who care only about their best interests and not their patients. Having our 3rd son, I have experienced the gomco circumcision and the plastibell. My second son, circumcised with a Kaiser Pediatrician only knew how to perform the PLASTIBELL. I went ahead with it because the gomco method used on my first son went well, so what could the difference really be? Well, there was a huge difference and going home with a ring tied around my son's foreskin caused not only discomfort for almost two weeks to him, but he didn't even want to nurse because leaning himself against me hurt him so much. He didn't want to lean or lay on me because of his plastibell cutting off blood circulation to the skin.
A few days into it, not only did he still not want to nurse much because of his discomfort, but he also started to bleed. Getting a hold of a Kaiser Doctor right away is Near IMPOSSIBLE. You end up waiting on the phone for 30 plus minutes just trying to get a hold of a nurse and then they don't have any useful advice other than take them to the emergency if you're concerned. Kaiser in Colorado is a joke and if you can go with any other insurance, do it. They don't care about a patient's best interest.
As I'm about to have my 3rd son in Colorado still under Kaiser that we pay a boat load for each month, Kaiser will not cover the gomco procedure and talking to various nurses and our Doctor, no one will help us. The best part is, every doctor at Kaiser told me Kaiser would not cover gomco. Kaiser in California gives you the choice between both circumcisions, but in Colorado, the greedy pediatricians out here decided that they would fight to take over the circumcisions because DOCTORS DON'T MAKE ENOUGH MONEY. Right?
What other reasoning is there considering that OBGYNS have done circumcisions since the beginning of modern medicine and now these greedy Kaiser pediatricians fought to take over for their best interest and Kaiser was too CHEAP to train them in both methods, only one. Kaiser is a disgusting medical model and should be avoided at all costs because they only care about their money and the money their physicians receive.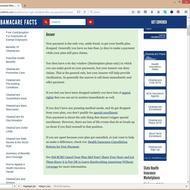 Kaiser Permanente has provided one of the worse customer service experiences I have ever had, resulting in the termination of my account. I was paying my bill a few days after the month it was due, for instance for the coverage of May 1 to 31, I paid on June 6, 2016. I called Kaiser beforehand to ask if this is okay and I was told it was. When I tried to pay for the month of June in the beginning of the July, I found my account was "Termed." I called customer service and after a 45 minute wait and explanation, I was told that I had only paid from January until April, and thus, I was two months late and terminated appropriately. I was astounded as I thought I was paid through May. Then the phone hung up. I get a call back. I check the statements and find that I had paid through May. This agent refuses to believe me.
After 1.5 hours on the phone, while trying to make me write a complaint to a department I know will ignore me, she finally recognizes her blunder and decides to submit a reinstatement on my behalf. This was in July and I just needed to pay for June! I called every week after this, for at least 30 min to 1 hr conversations, where I was told to wait one week, two weeks, oh actually, it's a one month processing time; Finally, I get a voicemail saying my coverage was terminated appropriately. I call in shock and ask to pay FOR THE REMAINDER OF THE YEAR. I can't live without healthcare. No responses, no callbacks from the manager as promised. Kaiser: never again. I bought my healthcare plan through the marketplace. These plans are given a 60 day window to "make good on your payments." See attachment. None of these procedures were followed.
Additionally, the member services' complaint/grievances form doesn't allow for any punctuation at all, and does not disclose this information before a customer begins writing. This is clearly attempting to deter customers from submitting their complaints/grievances. I drafted my letter and had to meticulously go through each section to remove any punctuation. Absurd and obviously unjust.
How do I know I can trust these reviews about Kaiser Permanente?
609,643 reviews on ConsumerAffairs are verified.
We require contact information to ensure our reviewers are real.
We use intelligent software that helps us maintain the integrity of reviews.
Our moderators read all reviews to verify quality and helpfulness.
For more information about reviews on ConsumerAffairs.com please visit our FAQ.

They bill for an annual exam which is supposed to be free and they add some extra tests be done that I was unaware of and did not authorize, and now it has been 6 months and the bill that they told me they would cancel simply continues to linger. They also send what they consider an itemized list that contains a list of "lab test", "lab test", "lab test" which is totally unacceptable. They contacted myself and my place of work agent to notify us that the bill would be "covered" and now deny it ever took place. I have been told there were notes on my account and most recently they are stating that there are no notes concerning the bill being covered. I can only assume that they are making everything as difficult as possible on purpose. Sounds like a case of trying to recover some costs on a "free" annual exam.

It has taken TWO YEARS to get them to correct my address. Funny how the billing always showed up at the right place. Anyway, the two choices for life sustaining medications is a long wait at the pharmacy, watching the seasons change outside, or the crap shoot called the mail in thing. Just received my latest one, with one med. Ray ** clearly undercounted by at least a third, and most of the other one loose inside of the mailer (a dozen or so were in the sealed bottle), now in powdered form. This has literally become a life threatening issue. The "funny" thing is that this is for my blood pressure - GUESS WHY IT'S HIGH??!!!

"I am sorry we cannot give you a specific answer as to what is causing your sx. However, we are trying to rule out dangerous things that can cause harm and I am sorry you do not feel that way. We can meet again to discuss more if you want. However, if you feel that we are not providing you with the appropriate care, you are welcome to switch provider or insurance."
This is the email that my doctor sent me after I complained that my pain hasn't been helped not do they know what's causing it over 5 months later. I began leaking pus out of my ** btw and they won't run any tests except for obviously painful pelvic exams and ultrasounds. They told me that I don't have a bacterial infection...so their recommendation is to start physical therapy on Oct. 13th when my back hurts so bad that I can hardly get out of bed most days! I'm convinced at this point (since I've been bleeding for a year and a half since I had my son, they tell me it's normal) there's a possibility I could be infertile by now but all they're willing to do is switch up my birth control! And then this! So I'm supposed to just take pain pills and stay out of their office?! And then my doctor tells me to switch insurance companies. Maybe he's right because obviously you won't receive the care you pay for through Kaiser any more.

My father in mid-Aug went to the E.R... Hollywood-Kaiser... with a lower dual legs bacterial infection and a small amount of fluid in the lower part of the lungs... Speaking, walking and coherent... He was admitted after briefing his medical history... which I witness firsthand... Later during a update by a doctor... she stated that he was giving for pain ** and **. I felt that this type of medication was too strong for a 86-year-old male who in his lifetime did not take anything stronger than **.
After a few days of daily briefing the infection was in submission and the fluids were dissipated... I wanted him discharged but the doctor wanted to try some other treatment for his lower legs. During the next week, under Kaiser 24 hrs care... he developed a large bed sore from their neglect to rotate him. He could not breathe on his own. Need oxygen. For the first time in his life... could not talk, swallow, or open his eye... Left eye 25% open. Kaiser was not forthcoming about his condition... just bits and pieces. Because of the family concerns about his treatment at Kaiser... he was brought home. As he requested a few years early... he had a hospital bed, 24 hrs nurse, oxygen... He died 13 hrs later... AUG 25 13:40 hrs.
The family was never update from Kaiser about his condition when he returned home... Only then the contract nurse stated my beloved father would be dead within 24 hrs. I strongly believe that under Kaiser care at the hospital there was extreme negligence on their part... without intent. My father was a asset to the United of America... worked at Hughes Aircraft on the satellite program till he retired... He deserved better treatment... Someone needs to be accountable.

I was told by my doctor to call for my monthly refills days ahead to avoid any problems getting my prescription on the day that is due. So I send the email on 9/11/16 to pick up on 9/17/16 (Sat). I get a email back from Monica stating, "Please call the pharmacy for all refills at 1-866-319-4269." So I called the pharmacy and was told that no refill was authorized but will send a request. It's been back and forth many emails, calls, messages, pharmacy and was promise to get it resolved as an emergency.
Now is Friday and the doctor is not going to be in weekends and no prescription has been authorized. They have record of all this call, emails, etc, etc and still no one has called me and answer one simple answer "Is my medication authorized to be picked up on Saturday?" The pharmacy said that they are still waiting for the call to authorize the refill for this weekend. I have been asking for a supervisor or anyone in the doctor's floor and they just told me that "They'll call you." This medication I have been using for several years. They know I have always follow the rules. I never pick up the medication early.

Terrible customer service by a woman named Grace (represents Northern California Kaiser) who supposedly is an advice nurse. I called to talk to an advice nurse (grace) simply to tell her that both my kids are ill. Not only did she not listen to me when I tried to explain to her that both of my kids are sick as opposed to just one, but she transferred my personal information that I discussed with her to the wrong department! She for some reason couldn't grasp that both of my kids are sick as she never noted this in her comments to the Doctor! She was rude, had an attitude for no reason, no empathy for my two very young children and the worst customer service. It's people like her that made my decision to no longer stay with Kaiser. Sadly, out of my 32 years of experience with Kaiser, I no longer have faith in this healthcare business as this was the last straw in the numerous complaints I have had with their TERRIBLE customer service.
Side Note: In just the past 5 years, they have somehow managed to overcharge me for my 1st pregnancy (had to jump through fiery hoops to get this fixed) and I developed a rash from the beds there (RWC location), they gave me an epidural with my 2nd pregnancy and it never worked when that was my only birth plan (!!), I had a previous incident of a customer service rep being rude for no reason. Another incident was my son's speech therapy being delayed due to miscommunication with doctors and membership services. Thankfully, after being evaluated by another doctor, I was told he didn't need it, but then I get a phone call from them asking me when to set up an appointment. (Did they not communicate this?!)
I had a cyst removed from my arm and now I have a huge scar. People see it and tell me that it should not look this way and that the doctor/surgeon did a terrible job - I have people telling me to get it checked out since it looks so bad. I'm over and done with you Kaiser, I should of have listened to the others telling me that Kaiser is the WORST!!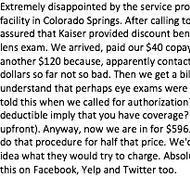 Extremely disappointed by the service provided by the Vision Essentials group at the Kaiser facility in Colorado Springs. After calling to confirm that we had vision benefits (and being assured that Kaiser provided discount benefits to members) my wife and I scheduled a contact lens exam. We arrived, paid our $40 copay and had our exam. Afterwards we were asked to pay another $120 because, apparently contact lens exams are not covered under our plan. $160 dollars so far not so bad. Then we get a bill in the mail for another $436.90 for our eye exam!
I understand that perhaps eye exams were not covered under our plan, but why were we not told this when we called for authorization? Or when we paid our deductible? (btw, doesn't a deductible imply that you have coverage? Otherwise wouldn't they just ask for the whole sum upfront). Anyway, now we are in for $596.90 for two eye exams. Any optometrist in town will do that procedure for half that price. We'd never have had those exams at Kaiser if we had any idea what they would try to charge. Absolute gouging! Dropped Kaiser and glad. Will be sharing this on Facebook, Yelp and Twitter too.

We hate Kaiser! For months we've gotten the runaround with my granddaughter who is 22 months old. She is visually impaired with ONH, from that comes a lot of picky eaters she also is allergic to so many things. Long story short she has been suffering from a diaper rash that wouldn't go away since December, all they could say is it's from the diaper not allow her to air out, too much moisture. For months they threw at my daughter so many creams. Her bottom was so red and raw, the baby would scream. Long story short they never tested her blood or any test for that matter. Everyone could see there was something not right with the baby, she was so pale pasty with no energy.
Finally after months of going to the hospital with even being admitted a few times did they not detected the deficiencies in zinc, iron and so much more. This baby already suffers from her vision and why put her through more. Now she is at roseville's hospital for almost a week maybe longer with a feeding tube. The nurses are so rude! We only dealt with a couple of nice ones. I can go on and on about the care kaiser provides and the pharmacy isn't any better. They prescribed the since on Aug 15th, when my daughter went to pick it up they said they didn't have it, it was something that was over the counter. No it wasn't! It took them 2 weeks to get it and compound it to the milligrams she needed. Dealing with kaiser has been a horrible experience, nightmare! We have to have it because that's what her father's carry.

My father was diagnose with brain cancer on father's day. Doctor told me take him home let him do what he wants. He had six months or less. Meet by hospice the day of days release. That's when the horror started. First his stay was horrible to treat a person with brain cancer like my father was. An animal at a shelter was treated better than my father, he was strapped to a chair for over 6 hrs no food. No bathroom, his hands were so dirty etc. then hospice. Doctor told me not to tell my father it was best. Well hospice sure thought they needed to tell him.
Everyday was a fight when they came into the home. Doctor Rebecca ** was horrible Gretchen ** was horrible chaplain Sharon ** was horrible. Karen ** the list goes on. The day my father passed he was in so much pain the doctor refused to give him his meds. The nurse came and left in tears due to my father and his treatment. My father didn't even make it a month. To date Sept 1, 2016 I have gotten nothing but the run around. I just don't want anybody else to go through the horrible so called care my father did. No family or family member should go through this. I was told by Kaiser I had a bad team. Really in hospice there is a good and bad team. And if anybody has hospice and not happy you can switch. Never let them think you can't. You have that right to switch.

Since the end of May 2016, I started out with a bladder infection. My doctor, at Fremont, Ca, Kaiser, Dr. Sarah **, just listed in my chart that stress was my medical issue. So, neither her, or several other providers, including Kaiser ERs, would treat me. They all said, go see a psychiatrist. Well, I had to go out of Network, and in the meantime I suffered from Hepatitis A, multiple kidney stones, hypothyroidism, and immune deficiency, Celiac disease, and intestinal infection, as well as ulcerative colitis. I was hospitalized twice in July, not at Kaiser, as they all literally laughed at me, after Dr. Sarah ** dropped me as a patient.
Then, after I called member services to complain about her and other doctors treatment, Dr. ** cancelled my already ready medication. Then when I called told pharmacy to call her supervisor, she called my meds into an out of town pharmacy. I almost died. Too bad for Dr. Sarah ** and Kaiser I didn't. Because I have the printed proof of her faked phone appointment with me, which they have since erased. Phony records to begin with, now have been erased... Thanks Kaiser, I'm still fighting for my life... They have not figured out the rest yet.

I have asked Kaiser to stop calling me to have a mammogram for about 15 years. I've filed complaints 3 times with member services. Member services says "It's for my own good" and agrees with the policy to keep calling. I changed my telephone number, so they started calling my son at work to tell me to have a mammogram. I have spoken with the manager at the radiology lab and asked them not to call over and over again. They told me they will not stop. What can I do to get these calls to stop?

Took two months to get online access since I had insurance and just needed additional for my son. No one followed up in the 5 or so calls I made, and I was paying for services I couldn't really use. Then when I canceled, they continued to bill and I have been fighting them for 4 months to get my money back. I have sent them proof of insurance 2 times now, and no one has bothered to follow up. You also can't cancel or communicate unless by paper snail mail. No fax no email. What is this, 1980? It's a slap in the face that I had to pay for this service at all. By the way, I don't use most conventional medicine and would not need insurance so Obamacare hurts my family and bank and wallet. The healthy pay for the sick to be cared for. Thanks a lot.

I have been back and forth with my psychiatrist for the last 3 weeks. Each time, she puts me on a new medication. NONE of which are specifically for anxiety and panic disorder. I've been put on an ** (with zero results), an ** (again, no results) and then an ** that nearly sent me to the hospital because of my reaction. Their solution? Put me on ANOTHER ** with no back up or complementary medication like a ** or something similar to cope with the panic attacks - especially if the ** can take 6-10 weeks to finally kick in. My doctor ignored my final emails requesting either a new medication or a complementary one just in case, and proceeded to prescribe the ** anyways. This will be the FIFTH prescription I will most likely waste money on and have a to throw away because they can't get it right the first time, or listen to their patients concerns.

I have had fibromyalgia for 20 years and my former doctor has managed it for the past 12 years with 7.5 mg of ** at bedtime. I take no other drugs or pain killers. Within the past three months Kaiser's inexperienced know-it-all doctors and administrative staff have demanded I take a stronger more dangerous drug of **. When I refused, they took me off my medication. Now I've gained 20 pounds, can't sleep, glad to quit work and am in constant pain. These monsters should be fired! They cite side effects. ** has far worse side effects than a good night's sleep and health management. According to the Mayo Clinic, ** is a known protocol drug for fibromyalgia and has less side effects than **. Crazy maniacs at work!

Myself, my mother and my father have all belonged to KP for DECADES. Actually, I got wise to them after three years and cancelled and went to a REAL insurance company. Kaiser made lots of money on my Mom and Dad, as they didn't get ill until they were in their 90's and KP had received all of their Medicare money for all of that time. Dad is gone now. Even though his Dad died of prostate cancer, KP never checked him until he was having problems and his numbers were a whopping 115 (normal is about 2). So Dad dies and now Mom is getting the same runaround. A nice doctor that she can NEVER GET IN TOUCH WITH AND RARELY SEE.
Her latest problem is a blood pressure (after a recent heart attack they didn't find) is low, low blood pressure. She has emailed her doctor and that is just a cylindrical file that goes directly to the trash. I looked at all of the medications she was receiving and about 3/4 of them she did not need. Who gives a person THREE blood pressure medications when they have low bp? Cholesterol for a 90 year old that has been scanned and has no plague. The list goes on. So I wrote the doctor and told him that on a certain date I was going to start weaning her off of medications. NO ANSWER.
I weaned her off. She has recently called... oh that is a good one... calling KAISER. EVERY SINGLE KAISER IN CA HAS THE SAME NUMBER THAT YOU DIAL. TWO MILLION PEOPLE CALLING ONE NUMBER... It's really fun. Of course, rarely does anyone answer. And no one answers the messages you leave. Mom's recent email about bp at 80 over 50 was very upsetting. No answer. So I went to a nurse and she told me to take her off of the blood pressure meds (I had already read up and taken her off of the extra one) and keep checking her bp until it starts to rise. So that is what I'm doing.
If she gets a heart attack or stroke I'm suing Kaiser to the hilt! Right now all I can do is warn all of you out there to NOT GO TO KAISER! Now that Obamacare has come into existence Kaiser sees another way to make money. All of the Welfare and Disability patients aren't enough for them... Now they want all of the Obamacare patients too. So, as a result, she NEVER gets to see her own doctor and he NEVER answers his emails and she can't get KP to answer the phone... much worse than it was before... if that is possible.
So I am telling you, people, DO NOT SIGN UP FOR KAISER. They say they need 10,000 more doctors to fill their quota (they is the Kaiser Doctors and Kaiser nurses). They don't have enough facilities to take care of the huge amount of people they have. Also, I was told by a Kaiser doctor... THIS IS THE BIG ONE, that they get paid bonuses by the amount of lab tests and procedures they DON'T DO. The less they do, the bigger their bonus. If they are bad and actually treat people, NO BONUS. I didn't just make this up. I was told this by a Kaiser Doctor! So, what do YOU think? Want to try Kaiser?

I am a Pulmonary/Critical Care Medicine physician who deals with patients requiring home supplies frequently, particularly those who necessitate tracheostomy supplies. My father himself has a tracheostomy (not on a ventilator), and requires care supplies for management of the tracheostomy site and also nebulized air compressor device/supplies to provide mist while wearing a tracheostomy mask. On most occasions, I order the supplies for him so that my parents do not have to deal with the challenges of reordering supplies.
I am appalled by the customer service provided by the monopoly that is Apria Healthcare and Kaiser Permanente. I had to order TWO supplies only, and this took the span of approximately 2 hours, with a total of 4 phone calls required (1 to the Kaiser DME department at 877-317-6230, 3 to Apria Healthcare at 800-277-4288 with 3 of the calls leading to being placed on hold for ~30 minutes, and then somehow the line was transferred to the wrong location). This is from a physician who knew EXACTLY what supplies AND reference numbers/item numbers to utilize.
After this, it turned out that they did not order the correct supply and were going to charge me erroneously for the cost. I then contacted Apria/Kaiser the following day (Thursday), spent another 2 hours of time with them regarding the wrong order, and was told that I would not be charged the cost of the supplies. I then called the 3rd day (Friday) to verify the information because I did not believe in the competency of the staff after my first 2 days of interactions. I ultimately discovered that (1) the correct supplies/quantities were NOT ordered (there were only 2 of them needed!! Mind boggling.) and (2) I was billed the cost of the supplies that were sent incorrectly because they had already left the warehouse. This again took another 1.5-2 hours of my life. Ultimately, we added 2 more items on that day, but there was still a mistake in the quantity delivered.
My frustration is obviously for my time invested - in ordering just 2 supplies, mind you. I am also frustrated about being billed supplies that I did NOT request. More importantly, I am frustrated for the thousands of patients who have NO medical background and need to deal with Apria (and Kaiser) on a recurrent basis. The service department makes it so difficult to obtain the correct supplies, and more importantly have extensive "hold times" exceeding 30 minutes. They then transfer you to the incorrect locations without your confirmation when they specifically report this will not happen.
They do not call you back when they disconnect you from the line even though they verified specifically that they would call back in this situation, and also reconfirmed (my) telephone number for call-back. After my 2nd disconnected call, I started verifying that they had the contact information so I would not have to spend such a long time on "hold", but they did not provide the courtesy of returning a call.
During our interactions, I remained civil and professional, having to recurrently relay the issues with new staff members every time. It was very frustrating, however, to deal with the incompetency that exists with the staff in this specific aspect of healthcare. Medical supplies, partially for those within limited HMOs, are contracted to specific companies and thus exists the monopoly with Medicare and co-payments. To ameliorate the problem, I would have liked to bypass Kaiser all together, but this was not possible as it is his HMO provider.
I have placed a request for the reimbursement for the supplies that were delivered incorrectly, but was informed that (1) it will take over 1 month for my file to be reviewed by Kaiser and (2) they will most likely not provide a reimbursement even though it was their error. This is an abuse. I don't care if it's $3 or $300 out-of-pocket cost, it's still an abuse of a multi-billion dollar industry and should not be happening. How can we fix this? How can be make these people accountable? And how can I get reimbursed for the erroneous supplies AND my time? My telephone logs along will verify that I was on the phone with them for these extensive time periods.

I am bipolar and I have counseling. That is until now. I have been very depressed and I have try to get appointing. This is after being in a step-down program which was not check out. When I walk in there was bm all over floor. It was like a convent home. I was to be given counseling. I had 3 sessions. I choose to leave in a week. I was trying to get help because my niece had just committed suicide. When I got back I saw my counselor and case manager. They told me I was going to see case Manager for a couple of weeks and I found out that I can't be helped for six months. I am fighting with them. I have a complaint with medicare and member services. I pull my records and Kaiser has put in a note that one there that files can't be seen. Also I need a adviser to help. Someone please help me. They got fine 4000000 for not giving service in a timely manner.

This year as of 2-25-16. I've had nothing but unresolved medical conditions. I've not been able to move or anything and keep getting shoved off for care. No one seems to want to care or take the time out of their busy schedule to figure out what's been the underlying issue. Rather than medicating me. I'm frustrated to no end. And it's been months I still can't walk or lay down without going numb.

Since last more than 3 weeks, I have a problem with kaiser web service help, I cannot attach anything to the letter I wrote to my doctor. I call almost every body in member service and lots of tech. support. Every member service I talk to gave me an advice. To do this and that. One member told me to take my laptop to one kaiser silver spring center nearer to me, I have no choice but to follow her instruction. Once I reached to this center they said they do not have any body can resolve my problem. Somebody said ask my doctor!
I spend my own money and hire well known tech person who goes all over world, He check everything and finally he said there is nothing wrong from my side only it can be fixed from Kaiser side. Tech support cut the ticket to 2nd tier tech support. No one call me since 3 weeks. Even I tried to get director's phone number, but no one gave me phone number nor their e mail address, Kaiser has no system to resolve the tech problem. Directors are so isolated that they do not know what is going on. Why they do not have online contact info,

During the first week of July 2016 I went to Urgent Care at Kaiser. They treated me for back / neck issue. When I went to my primary care physician, he would not write me out of work despite really excruciating pain. Upon writing to Kaiser, they called me back and wrote me out of work, but there were more problems to come. The primary was supposed to refer me to get an X ray. Office personnel sent me to the wrong place and when I did get to the right place, there was no order. The primary put in their report that I had been given prescriptions for drugs that I've never been prescribed. A few days of waiting and I had to contact Kaiser. The referral to a surgeon never happened. They had to take care of that. The surgeon wanted to try physical therapy and said they would contact Kaiser - who was supposed to contact me. That never happened.
From the first day of July 2016 to the current day (4 August 2016) there is no record of any of this save of the initial visit to Urgent Care. So, they have tried to send me back to work injured; they've done relatively little to help me get treatment; they've stopped recording my visits, prescriptions, etc. BTW, they sent me back early from a sickness a few years ago. I pleaded with them for three more days, but they sent me back. I got injured the day I went back and was out for months due to injuries sustained.

Kaiser Permanente is the worst insurance/medical group I have ever experienced. Went to the ED, Dr. ** said I needed a MRI asap on my shoulder and put in a request to my primary care for referral. Neither the Dr or I have heard a word from my primary and when I try to call and at least speak to his nurse the operator won't even put the call through. Said I have to wait till they are ready to speak to me then they will call. Funny how an ED DR from Legacy hospital is more accessible than my own supposed primary care... This is NOT THE FIRST TIME I'VE HAD ISSUES LIKE THIS...--I ABSOLUTELY HATE KAISER PERMANENTE!!! NO time, horrible patient care, unskilled Dr's, cut short visits after waiting hour passed appt. time. Horrible all around!!!

I've been having several symptoms for the past 4 months and still no diagnosis of what's causing all my issues. I've been off work for two months already and my issues are simply compounding. I have visited the E.R. about 7 times, 4 visits outside of kaiser's network. More work is done at other hospitals in one E.R. visit, compared to 2 months going from one place to another with kaiser (quality care). The E.R. Doctor, not from kaiser, advised me to see my doctor right away. When I spoke with Kaiser and gave them the same message, they kindly said, "oh yes, we have an appointment available 30 days from now" (pathetic). The E.R. Doctor also recommended a nuclear treadmill test. When I passed this message over to a cardiologist from kaiser, he flatly denied to have such a test taken. We ended up arguing, and he flat out walked out the room. This kind of service is outrageous and deadly.
Treatment at kaiser is a joke. I won't speak for everybody, but I can certainly speak by my experience. So much time is wasted between procedures. Their scheduling strategy is a danger to public health. You pretty much have to push your doctor around to get things done. The only way you'll actually get effective treatment is if you are literally dying in front of them. At least that's the way they make it sound and look. Example, Visit the urgent care department. They can't do much. You're advised to see your doctor. Well good luck. That's a month down the road, but come back to urgent care if you feel the same way again to be told the same thing and get nothing done again.
It doesn't add up. File a grievance? Good luck as well. Nothing much gain. Pretty much their own people. But worth a try. They make it sound like somebody's hand was slapped. Doctors are so passive, not proactive. It's like you have to go in there and tell them what you think you have in order for them to take action or else you'll be sent home with nothing done. And no,they're not the kind of doctors that follow up on your health. So yes, you need to be pushy. They rely so much on xrays and blood work. If nothing comes up with these basic tests, you are literally on your own. They have no expertise, to think beyond the scope of those tests to give you some insight of what's wrong with you. If that's what it takes to make money at kaiser. Then sign me up!!! I'll just sit here, and wait to see what the xray or blood work tells me to do for patients.
Forget patient testimony. What you have to share with them doesn't matter, if it wasn't picked up by an xray or lab. They're lost. "Go home. You're fine. You have anxiety." (Oh really?). Just tell me, you don't know what to do. I am paying monthly dues to have procedures done on me for the sake of my health not to hear doctors talk about why they refuse to order procedures that may hold the answer to my sickness. First chance I get, I'm switching.

I want to file a complaint against the radiology department at Kaiser Permanente in Morrow, GA and against the person that was supposed to do a mammogram on me last Wednesday but did not. She refuse telling me that my doctors do not know what they are talking about that I do not need to get another mammogram since I just got one less than six months ago. She continue on telling me that if she did the breast exam then she would get in trouble with her doctors and she told me that my doctors who told me to get the mammogram done because they saw lumps in my breast from the first mammogram that look like it might be cancerous don't know what they are talking about.
If two different doctors tell me that there is something going on in my breast and they need another mammogram to find out what is going on I do not understand how someone who do not practice medical can go against what my doctors are saying. I also do not understand how Kaiser Permanente can have a million commercials about early detection and prevention and you would have someone like this person trying to discourage me and refusing to do the mammogram work for you.
My appointment was for Wed, July 20, 2016 at 2pm. I got there and was told that I was at the wrong location. They said that I could be seen but I would have to wait until 4:50pm. I wait almost 3hrs. I went back into the room, got undress, went into the room where the mammograms are do and that's when she start to tell me that my doctors don't know what they were talking about, I don't need to get another breast exam, I need to wait until August to get my breast exam again and if she does the mammogram then she would be in trouble with her supervisor. I pay almost $200 a month for this health insurance and for someone to refuse to do a mammogram that I do need to see if my the lumps are forming into cancerous cells - a person that never went to school for medicine is trying to convince me that the doctors don't know what they are talking about when it is her who do not know what she is talking about.
I pay too much money to go through what I went through. She was unprofessional and rude. You see all of these commercials for Kaiser Permanente about early detection for cancer and that is what I am trying to do but can't get the screening that I pay for. I think I will file a lawsuit in this matter because of the refuse of treatment when my the month that I pay covers mammograms. I will file a lawsuit. I have contact an lawyer right now as I speak. I want this person fired and any and everyone that had something to do with this. I have the right to get an mammogram - that is what I pay for every month and for you to or to have any staff advise someone not to get a mammogram when two different doctors suggest that I get one is crazy. I am a ** women and In women under 45, breast cancer is more common in ** women than ** women.
Overall, ** women are more likely to die of breast cancer. FIVE ** WOMEN DIE NEEDLESSLY PER DAY FROM BREAST CANCER IN THE UNITED STATES. I have made it my mission to find out who she is and who her supervisor is and all the people responsible for refuse me service. I pay my health insurance almost $200 every month and I can't even get an mammogram when my doctor told me that I need to get an second mammogram. I see that you are trying to save money but are you trying to save lives?
This company doesn't even live up to what they are stand for. Early detection, prevent care is what you show on the t.v commercials but not what I saw on Wed, July 20, 2016. I am in a lot of pain. My breast hurt and I am going to take legal matters. My health insurance pay so that I can get breast exam and for me to sit there while someone who never went to medical school, who is not a doctor tell me that my doctors are wrong and I don't need a mammogram is like insulting my intelligence. She need to be fired today!!! The fact that someone who does not have a degree in medicine, who never been to school for medicine could tell me that I do not need to get another mammogram and that my doctors do not know what they are talking about is outrageous.
To me a person like that should never be allowed to work in a hospital. She should be fire and anyone that had anything to do with it like her supervisor since she said that she would get in trouble with her supervisor she should be fired as well. If you do not practice medicine then you have no right to tell a paying customer that you advise them against getting a mammogram.
Is this how you "VALUE" your customers and how Kaiser Permanente take pride in the quality of the health care and the quality of the service they provide? Hiring people like her who refuse to even give me an mammogram that could help if I detect breast cancer, for Kaiser Permanente to have someone like that on their staff says a lot and if she did that to me how many more people is she doing the same thing to?
What is Kaiser Permanente? Are you trying to save money by limit the services that your customers are paying for? Are trying to cut corners on the behalf of your customer's lives? If you value your customers like your motto say then why would I be refuse service for a simple mammogram that can detect whether or not I have breast cancer? Is my life not important to you? Do my life even matter or just the money you receive from me the important part? Do you even care that I might have breast cancer? I care. It keeps me up at night sometimes wondering and praying. I want to tell all consumers not to ever have Kaiser Permanente as your health care. Find someone that really cares and not just say that they do.

I had been with Kaiser for a few years, and during that time was diagnosed with an ascending aortic aneurysm, pulmonary aneurysm, aortic valve leakage and mitral valve leakage. I am also overweight. Their advice was to lose weight, which I am in total agreement with. Now, trying to get any help, nutritional guidelines etc out of Kaiser was impossible. I spoke with my primary, my cardiologist, another covering cardiologist who told me flat out when I asked for help losing weight "There is no help for you, get out of my office", and got no assistance whatsoever. They did tell me about a medical weight loss program they offered, which is not covered at all by Kaiser, and would have cost me $2,700.00 for 3 months.
I switched to a PPO plan with a different insurance carrier and now see a cardiologist (read one of my previous posts about my fight with them about my heart conditions) and a nutritionist in the cardiology department, and in one visit I have all the proper nutrition guidelines I need, and am on my way to a healthy weight and BMI. Do not go to Kaiser for help with nutrition, weight loss, heart problems - or anything. They won't help you, but they will be glad to take your premiums every month for what adds up to nothing.

Kaiser Permanente is the worst healthcare available in this country. The personnel is incompetent. Since joining six months ago, I have experienced nothing but frustration with the smallest of things. Getting someone on the telephone is impossible. You cannot even leave a message because voice mail boxes are full. No one returns calls. I have requested films/X-rays that got lost and/or took 3 weeks to show up. I have been "lost" while sitting in waiting rooms waiting for my name to be called. My prescriptions have been "lost." My doctor has ordered extra tests for which I have been billed during routine exams. The list goes on and on. INCOMPETENCE is the only way to describe this organization. Poorly run and poorly managed. Cannot reach anyone by phone. You are not allowed to walk in and speak to anyone. They insist that you "email or call." No one responds to calls or emails.

Joseph BurnsHealth Insurance Contributing Editor
An independent journalist, Joseph Burns is the health insurance topic leader for the Association of Health Care Journalists and contributes to AHCJ's Covering Health blog. He has also written about health policy and the business of health care for a wide variety of publications, including Healthcare Finance News, Hospitals & Health Networks, Managed Care magazine, Ophthalmology Management, TaxACT.com, and The Dark Report. More about Joseph→

Kaiser Permanente is a unique health care management program that is located mainly in the western United States. In California, Colorado and seven other states, patients who have Kaiser coverage get health care services, including hospital stays, at Kaiser health facilities.
Offers low-cost health plans: Kaiser offers several different levels of service with varying premiums, deductibles and co-pays.
Kaiser offers all services itself: This company provides health care services as well as health care coverage, making it easier to get needed services and file claims.
Online application process: It's easy to get a quote and sign up for Kaiser.
Best for Students, employees, heads of families
Kaiser Permanente Insurance Company Profile
Company Name:

Kaiser Permanente

Website:

https://healthy.kaiserpermanente.org/