D.R. Horton Homes
D.R. Horton is an award-winning, family-owned construction business headquartered in Dallas, Texas. The company was founded in 1978 and is now one of the largest homebuilders in the United States. Currently, D.R. Horton builds move-in ready houses in 29 states across the country. The houses are complete or nearly complete and available for immediate purchase.
Overall Satisfaction Rating
5 stars

4 stars

3 stars

2 stars

1 stars
Pros
Energy-efficient
Smart home devices
Move-in ready
Financing available
Cons
No customization
Limited availability
Bottom Line
D.R. Horton Homes are ideal for buyers who are ready to purchase but don't want the hassle of customizing features. D.R. Horton offers energy-efficient features and smart home functionality.
Top D.R. Horton Homes Reviews
How do I know I can trust these reviews about DR Horton Homes?
3,828,503 reviews on ConsumerAffairs are verified.
We require contact information to ensure our reviewers are real.
We use intelligent software that helps us maintain the integrity of reviews.
Our moderators read all reviews to verify quality and helpfulness.
For more information about reviews on ConsumerAffairs.com please visit our FAQ.
Sandra of Conyers, GA
Verified
My experience was phenomenal. It started off with our sales Rep Dosia T, she was awesome. Always available even on her day off. Love love her excellent customer service. Highly re...
Read full review

Frederick & Dee of Douglasville, GA
Verified
We purchased our new construction home about 6 months ago 2019 and the experience was absolutely amazing. If you are looking for a nice home you will get an excellent one with DR ...
Read full review
What is D.R. Horton?
D.R. Horton Homes are available in a variety of floor plans, sizes and styles. To visualize the design and amenities offered by D.R. Horton, visit a model home or tour a finished community. You can schedule in-person visits to a model home during listed business hours, and newly finished houses can be scheduled for viewing directly from the digital listing on the D.R. Horton website.
Characteristics and features of D.R. Horton's homes include:
Open floor plans
State-of-the-art appliances
Energy-efficiency
Integrated geofencing technology
Multiplatform wireless network
One-wire connectivity
Hands-free communication.
You can access all functions of the home's smart devices on the Qolsys IQ Panel, which allows you to use a variety of smart device products from one central location. From the Qolsys IQ Panel, you can adjust the thermostat, set the alarm, lock and unlock doors and set lights on a timer.
D.R. Horton closing costs and home prices
Prices of D.R. Horton homes vary based on the location, floor plan, size and style of the home selected. Most listings do not include closing costs or any related fees, so the price listed may not be 100% accurate. To determine an estimated mortgage payment you can afford, use the mortgage calculator on D.R. Horton's website. Financing and insurance are available through affiliates of D.R. Horton Homes.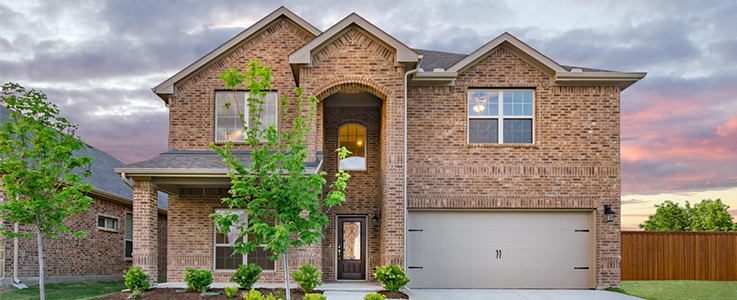 Photo (c) D.R. Horton Homes
D.R. Horton Homes FAQ
What is included in a D.R. Horton home?

A home built by D.R. Horton features energy-efficient construction, integrated geofencing technology, a multiplatform wireless network, one-wire connectivity and hands-free communication. These features are powered by the Qolsys IQ panel. The panel is compatible with a Honeywell thermostat, Amazon Echo Dot, Kwikset Smartcode and Skybell. Some features may be unavailable in Hawaii.

Are D.R. Horton Homes efficient?

D.R. Horton uses energy-efficient roofing materials, siding, windows, heating, ventilation and air conditioning systems. Every D.R. Horton home features at least one appliance or product with an EnergyStar designation.

Do D.R. Horton Homes come with appliances?

Yes. D.R. Horton homes include Whirlpool appliances.

Will D.R. Horton negotiate prices?

The company is open to negotiation with any buyer. When negotiating pricing, consider using D.R. Horton's immediate inventory and preferred vendors. You may receive a lower price.

What is a D.R. Horton smart home?

D.R. Horton smart homes are equipped with alarms, smart thermostats, wireless interior lighting controls, electronic deadbolts and smart video doorbells.
Is D.R. Horton a good builder?
D.R. Horton can be a good choice for buyers who want a move-in ready home that doesn't require any remodeling. While D.R. Horton is a reputable company, it's essential to vet the builder and conduct an appraisal. We like the affordability, convenience and capabilities offered by the company, so if the price works for you and you find a design and floor plan that suits your needs, we recommend D.R. Horton.
A link has directed you to this review. Its location on this page may change next time you visit.
How do I know I can trust these reviews about D.R. Horton Homes?
How do I know I can trust these reviews about DR Horton Homes?
3,828,503 reviews on ConsumerAffairs are verified.
We require contact information to ensure our reviewers are real.
We use intelligent software that helps us maintain the integrity of reviews.
Our moderators read all reviews to verify quality and helpfulness.
For more information about reviews on ConsumerAffairs.com please visit our FAQ.
Page 1 Reviews 0 - 10
James of Knoxville, TN

Verified Reviewer
Original review: June 17, 2022
The slope on the side of our home is so steep that we can't mow or use the water spigot on that side of the home. After it rains there is standing water at the bottom of the slope (for over a week). They refuse to put in a retention wall to prevent erosion (that has already started), and I've had to call/text the warranty guy repeatedly to get someone out to look at putting in a drain. Someone finally comes out and I'm being told that their quote was too high and that they need to get a second quote before beginning the repair.
Plumbing issues caused water to seep through the foundation and ruin our flooring, and I've had a ticket in to fix this issue for nearly 6 weeks now. Our yard has been dug up twice because a pipe was crushed then repaired improperly. It feels like DR Horton doesn't care about our home. Their warranty department is only concerned about keeping the initial sale profitable and cutting corners or outright denying repairs that shouldn't have been needed in the first place.



Read full review
D.R. Horton Homes response
Hi James, your concern was sent to our team in Knoxville for their further review.
2 people found this review helpful
Resolution In Progress
Jeffry of Lincoln, CA

Verified Reviewer
Original review: June 12, 2022
This company offers really really low quality home..Is a nightmare from the financial department to the construction of the home,..Please review this company before you make the investment of your life..Because I could guarantee that it will be something you will regret for the next 30 yr. The mortgage department 1 out of 10 rate...The house with multiple defects, with them knowing in advance and however they force you to close. Very very poor response of services from D.R. Horton....1 Star too many if you ask me...too bad there is Not a lower scale. Only two months of my closing with 102 degree temp. AC not working, a multi-million dollar company can get a tech to come and check their own appliance... I will never never recommend D.R. Horton.
D.R. Horton Homes response
Hello Jeffry. Thank you for sharing your experience. We forwarded your comments to our management team in Sacramento for review and action.
9 people found this review helpful
Thank you, you have successfully subscribed to our newsletter! Enjoy reading our tips and recommendations.
Resolution In Progress
Leon of Maricopa, AZ

Verified Reviewer
Original review: June 2, 2022
DO NOT take delivery of "substantially completed", i.e. incomplete home, from DR Horton, as I did. DR Horton considers my home with missing shower glass walls, with missing gate to the backyard, with light-fixture size hole in drywall, and without certificate of occupancy as "completed". They forced me, with the threat of cancellation, to close and take delivery of the home, promising to address the incomplete items "soon" after closing, a promise which of course they didn't keep, since DR Horton has already received full payment for the home.
DR Horton, both their manager and the company, is doing this because they want to meet their delivery numbers to higher ups and wall street. DHI is likely fraudulently overstating their "completed" and delivered home in their quarterly financial report, under-reporting their cost to "complete" the homes, since the cost to e.g. install missing shower glass walls will be shifted and deferred to future warranty cost, which will certainly rise. According to my agent, my home is only one of many incomplete home that DHI has delivered as "completed" that he is involved with.
Currently, DHI is able to bully home buyers with this take-it-or-leave-it attitude because most homes' contracted price signed ~1 year ago are below the current market price. Going forward, as gap between contracted price and market price narrows, DHI will not be able to do this. So far, the response I've got from DHI is "we have escalated your concerns to our customer service and warranty team/management team/executive team", and then silence; no action nor any ETA toward completing the home. It is the same response you see from DR Horton in this forum.
Read full review
D.R. Horton Homes response
We appreciate you making us aware of your concern. A private message was sent to your Consumer Affairs account so that we can collect further information/details in order to assist you. We look forward to your reply.
11 people found this review helpful
Resolution In Progress
Martin of Naples, FL

Verified Reviewer Verified Buyer
Original review: May 29, 2022
Purchased a new D.R. Horton Home and the quality is horrendous. Just about everything was incorrectly installed, tiles cut incorrectly, warranty follow up is anemic, HVAC unit not installed correctly, stucco missing around garage door with gaps towards the outside. This company uses contractors and they suck, but so is the quality control of these contractors and the warranty repairs.

D.R. Horton Homes response
We appreciate you making us aware of your concern. We have shared your review with our team in Fort Myers, Florida for their action.
17 people found this review helpful
Senita of Aubrey, TX

Verified Reviewer
Original review: May 18, 2022
I attempted to use my warranty and have been met with an automatic denial with NO investigation of the problem whatsoever. I have been in my home for about 4 full months and am already having issues. Poor installation of my grass and tree, damaged irrigation system in 5 places, etc. NO customer service or concern was provided, and you do not talk to a live person. Only email. It's a total SCAM. I would think a builder this well known would be more professional than they have displayed. I do not even want to talk about my nightmare going through the home buying process itself. Lack of customer service seems to be a theme with this company. Terra ** was very short and snooty. BUYER BEWARE.
27 people found this review helpful
Resolution In Progress
Kristi of Yukon, OK

Verified Reviewer
Original review: May 18, 2022
DR Horton is the worst builder. We signed for our house in 2020 and it was completed 4 months behind schedule. Even with the extra time they were given, we have been here 11 months and we have not had one day when our home has not needed repair or under construction. It has been one issue after another. DRH as "America's Home Builder" is a disgrace to America.
Our home is made with cheap materials and has uneven floors. The HVAC drain-off leaked into our hallway ceiling. The power goes in and out with various electrical issues. Flat paint on the walls that easily rubs off if any marks are attempted to be wiped off. A retaining wall with stone & concrete stairs have collapsed & been repaired 4 times now. The backyard yard is full of deep divots, large sinkhole, and floods terribly when it rains. The Whirlpool refrigerator we won in a Holiday drawing is still not working correctly. The maple tree planted in the front yard is completely dead Concrete is coming off of our foundation and driveway.
We were unable to use flag on mailbox for 10 months as it was concreted down. Moisture in the windowless bathrooms would shut off our power, so exhaust fans in bathrooms were replaced by inferior ones that do not work as condensation now drips off of the fan. The shower was leaking behind the drywall. The gas oven had to be replaced as it was leaking gas. Grout is cracking (it may already be leaking behind the wall) and crumbling off our bathroom shower & tub in both bathrooms. The flooring has had to be repaired many times due to holes in vinyl. The doorknobs kept coming loose and/or fell off. The cabinets and island counter were loose/falling off the wall. The garage has large crack across the floor. We have gaps under the thresholds of our outside doors. This is just to name some of the repairs that have been made or still need to be made on our home.
It seems as if every time a contractor comes in for a repair, another issue or damage ends up being created. Contractors have left dirt handprints on our walls, holes in the drywall of our walls for four months, a hole in our island countertop, a hole in the siding on the back of the house, holes in our vinyl floor, left beer bottles and scrap concrete in yard. Between contractors just not showing up when scheduled, not finishing the repair, and/or creating another problem or more damage, we have been in a constant state of repair since we moved in.
Between my husband and I, we have exhausted all our vacation and PTO days to be available to workers that will only come 8-5 Monday through Friday. We have been told that something cannot be repaired because we do not make ourselves available after we started telling them that we cannot take any more time off and they need to come when we were off work. They have been here over 26 times and the house is still in disrepair.
The latest issue we have been fighting with DRH is to correct the drainage issue on our lawn, as we have a backyard full of standing water a few feet from the house after a rain. The warranty manager, JT Witcher, wrote us and said they would install drains to fix our problem. But when the contractors came, they dumped a bunch of dirt around our yard, beer bottles in the trash, a large pile of concrete rubble that they have attempted to bury under dirt, a hole in our siding where they cut it with a weed eater, and we were then told that they decided that this dirt would "push" the water to the swale in the yard, so no drains were needed. We were not told and did not agree to this change. The day after they dumped the dirt, it rained for a very short amount of time, and 2 days later, after 95 degree heat we still have standing water in our backyard again along with a lot of mud. They did not fix the problem at all.
DRH seems to try to drag out and put off any claims so that when their cheap repair falls apart, it is after the warranty has expired and you must pay for it to be replaced yourself. I am not sure who the city inspectors were for this home but they did a terrible job. Some of the neighbors are having major problems that they have ended up fixing themselves because dealing with DRH is such an endless battle that does not go anywhere.
Buying your first home is supposed to be an exciting experience, especially a new one. I'm a teacher and my husband is a disabled veteran and this has been nothing but a huge disappointment, created extreme stress, and has been a complete nightmare. We do not ever want to own another home after this experience.
Please do not buy a DR Horton home. Run as fast as you can.




Read full review
D.R. Horton Homes response
Hi Kristi – Thank you for sharing your experience with D.R. Horton. We are happy to know that all warrantable repairs have been completed or are scheduled to be completed in the next few days. Mr. Witcher has worked with you throughout this process and will continue to assist you, should you find additional warrantable items that need to be addressed.
20 people found this review helpful
Keith of Sale Creek, TN

Verified Reviewer
Original review: May 10, 2022
We decided to go with a new build in a new D. R. Horton subdivision in our area after our third child was born in 2019. We needed a four-bedroom that was move-in ready. The neighborhood/neighbors in the HOA are amazing. Sadly, the actual house has been nothing but a series of disappointments and stress - two things you are striving to avoid in new construction with standardized plans.
Since the fall of 2019, we've had:
1. Plumbing/septic issues - Originally, our septic tank was partially above ground! We have constant backups and clogs requiring me to use a variety of ways to unclog external overflow pipes. We are to the point where local plumbers don't want anything to do with the work. It's too far from standard for them to be comfortable working on it. As I write this, I hear our main bathroom toilet gurgling. Time for me to go outside and plunge the external overflow. Gross and ridiculous on a new home;
2. HVAC issues - Again, lots of trouble here. At one point, insulation was blowing down into our home from the attic. The technician told us, with a straight face, that it was a common occurrence in new homes. I have a hard time believing that people purchase a brand new home and are okay with a couple years of on-again/off-again insulation spurts from the heating and air vents. We've also already had to replace parts on our external unit. When we asked about the parts being under warranty on our system, the technician indicated it was way easier to just have him fix it since the warranty process was arduous and often not fruitful;
3. Finishing and infrastructure issues - from loose flooring and ceiling cracks along the drywall seams, to straight-up poor construction on a hall bathroom that seems to have been glued onto the house as an afterthought, this home was thrown together in a hurry. We did not expect a high-end, craftsman-quality home. We knew this was a pre-planned and regimented build. Even so, we expected that the basics would be in place. Our walls and ceilings, especially in that hall bath, look like we have been here for a decade or like we are in the middle of an unfinished remodel. The cabinetry has also been a source of disappointment requiring regular repairs. We've also had to have our kitchen sink repaired as the original install did not include bracing it to the counter island (which came with cracked granite the workers told us to fill with Gorilla Glue);
4. Appliance issues - The fridge, stove, and dishwasher that came with this home are a joke. We've already had to have the dishwasher repaired. Also, it's never really fit squarely into position and is not attached to the countertop. The fridge/freezer is cheap and the inside shelves and door pockets are cracking and do not stay in place. We've also had trouble with our dryer vent and have had to replace one, brand new clothes dryer after about 1.5 years of use. Much of the damage to that machine was caused by the way the external vent pipe was set into the wall. The stove is the rock star only because it hasn't crashed on us yet; and
5. Smart Home issues - This house was billed as being "smart" and "fully wired". We are locked into the worst security system on the market (when we see a doorbell alert on our cellphones when we are out and about, it literally times out before it even displays the picture from the door). We've had to have technicians to the house twice to reset or check the system and we can't cancel because it would cost thousands of dollars to get out of the built-in contract. Also, our "fully wired" smart home literally only has a couple Ethernet ports, and they were installed after the build - one in the past year due to work from home necessity.
We also have issues with our "premium lot" and a number of other factors relating to the actual sale, but, who has the time to document it all. I have to go plunge my septic pipe…again. I can't express how heartsick I am that we made the mistake of buying a D. R. Horton home. My family deserves better and our mortgage certainly reflects a much nicer living situation. Really wish this could have been a glowing review. We can't recommend this company.
Read full review
24 people found this review helpful
James of Georgetown, TX

Verified Reviewer
Original review: April 28, 2022
I put down Earnest money near the beginning of 2021 with the understanding that D.R. would have my house completed by April/May 2021. I locked in my interest rate until June 11th because I was told April 15th that my house would be done by June 11th. Today I reach out to them today, April 28th (not even 2 weeks later) and am told that it is now delayed until July 11th. How is it possible to have a 1 month delay within not even 2 weeks? No one contacted me to tell me this, I had to reach out to them and get an update when I was told specifically that I would be updated if my date changed. This is going to end up costing me $20,000 - $30,000 on my interest rate because I was lied to by D.R. Horton. This is not good customer service or business. They do not know how to plan appropriately and estimate their time to anything within reason.
35 people found this review helpful
Faye of Friendswood, TX

Verified Reviewer
Original review: April 28, 2022
Updated on 05/12/2022: This is my 2 review. I wrote in April regarding unfinished job, poor construction. It is a new house, we bought it last year, it is an expensive house. We put everything into that house but man we made a mistake. I should have bought a house from another company. Floors, side rails, sheetrocks, bathroom, crack bathtubs, lighting, fireplace, pantry, ...on and on. I am a nurse and I have a busy schedule. I have been changing my schedule so, I can be home for all these unfinished/wrong done issues. They fixed the sheetrock in the house but have not painted the walls yet, done a month or so ago.
Now they said they will rebuilt my pantry because they used cheap supply and they will use same supply ;) to rebuilt it. The guy came at 5pm to start the work :). Did not finish and did not do it right. He has to come back today but it is 4pm already. All my supply in the hallway last 2 weeks. I do not think this is an issue everywhere with D. R. Horton. I think it is by location where they make contract with 3rd parties and this location is not good. If I knew I was gonna go through all these, I would not buy a house from this location D. R. Horton but how would I know. I hope someone reads this.
Original Review: I bought a new house last year from D.R. Horton. I have a lot of issues. They replaced my entire floor because they said the floor was not even/flat. I do not know why they did not make the floor even at the first time when building it. Well, the floor now is still making popping sounds as it did before, does that mean I am gonna have to go through this process again? Master shower grout came off, private inspector that I hired said if they put enough seal, it would not come like this. I told D.R. Horton's construction person, if they do not fix it soon, it will start leaking underground and we all be in trouble.
Sheetrocks around the house are separating from the wall, they fixed some but still has more to fix. After fixing some of those sheetrocks, they have not painted my walls, my house looks like has two paint color. My bathroom vanity/sink had a crack and they had to change it. The whole pantry shelves needs to change because they did not do it properly, wood shelves are bent down and they said it needed to be replaced. I am tired, frustrated. I have only 1 month of warranty time left. I had to change my life around all these construction dates. I have a life and I am angry.







Read full review
D.R. Horton Homes response
Hi Faye - we forwarded your concern to our management team in Richmond, Texas for their review.
24 people found this review helpful
Sophia of Flowery Branch, GA

Verified Reviewer
Original review: April 28, 2022
I purchased a new construction home in Atlanta Dec 2021. My tenant moved in early March 2022, since then my house started to have leaking issues. The leaking issue should be handled by warranty, as per RWC Warranty book Page 22 B.3. Pipe Leaks: "builder will correct it. " However, the Atlanta warranty team and their technicians were able to determine the leaking coming from a broken pipe that connected to overflow hole on the tub, but refused to perform a repair for me. They even demanded me to hire my own plumber to fix.
To be more specific about my issue, tub has overflow drain connects to a pipe behind to collect excess water. Plumber has determined the pipe is loose, but they couldn't fix it instead they sealed the overflow hole and told me "it could still leak." They asked me not to fill water above overflow hole which can cause leaking. Builder then informed me this is the correct fix and no more repair is needed. Please be aware a tub is designed to have overflow hole open which collects the excess water. It is AGAINST CODE to seal the valve. It is also AGAINST CODE to not allow water go above overflow hole.
Builder's technicians even try to fool me that "a tub is not designed to hold overflow water". If their fix means I just can't overfill water which basically indicates a tub is still not fully functioning, and they failed to fix the leaking for me. More ridiculously, the Atlanta warranty team even demanded me to hire my plumber to continue fix the leaking. It against their warranty duty. I am really disappointed with their irresponsibility and disrespectful conversation to me. Atlanta Warranty team and technician Matt C and Mario need to take immediately action to continue perform repair on my broken pipe to completely prevent leaking from my tub, which includes replace the tub and fix the loose pipe connected to the tub. This is the worst home buying experience ever, would never consider DR Horton again.


Read full review
23 people found this review helpful
D.R. Horton Homes Company Information
Company Name:

DR Horton Homes

Year Founded:

1978

Address:

1341 Horton Circle

City:

Arlington

State/Province:

TX

Postal Code:

76011

Country:

United States

Website:

www.drhorton.com
You're signed up
We'll start sending you the news you need delivered straight to you. We value your privacy. Unsubscribe easily.