Find a Home Builders partner
Our promise. We provide a buying advantage with verified reviews and unbiased editorial research.
About D.R. Horton Homes
D.R. Horton is an award-winning, family-owned construction business headquartered in Dallas, Texas. The company was founded in 1978 and is now one of the largest homebuilders in the United States. Currently, D.R. Horton builds move-in ready houses in 29 states across the country. The houses are complete or nearly complete and available for immediate purchase.
Pros & Cons
Pros
Energy-efficient
Smart home devices
Move-in ready
Financing available
Cons
No customization
Limited availability
Bottom Line
D.R. Horton Homes are ideal for buyers who are ready to purchase but don't want the hassle of customizing features. D.R. Horton offers energy-efficient features and smart home functionality.
Top D.R. Horton Homes Reviews
My experience was phenomenal. It started off with our sales Rep Dosia T, she was awesome. Always available even on her day off. Love love her excellent customer service. Highly re...
Read full review
Frederick & Dee

of Douglasville, GA
We purchased our new construction home about 6 months ago 2019 and the experience was absolutely amazing. If you are looking for a nice home you will get an excellent one with DR ...
Read full review
What is D.R. Horton?
D.R. Horton Homes are available in a variety of floor plans, sizes and styles. To visualize the design and amenities offered by D.R. Horton, visit a model home or tour a finished community. You can schedule in-person visits to a model home during listed business hours, and newly finished houses can be scheduled for viewing directly from the digital listing on the D.R. Horton website.
Characteristics and features of D.R. Horton's homes include:
Open floor plans
State-of-the-art appliances
Energy-efficiency
Integrated geofencing technology
Multiplatform wireless network
One-wire connectivity
Hands-free communication.
You can access all functions of the home's smart devices on the Qolsys IQ Panel, which allows you to use a variety of smart device products from one central location. From the Qolsys IQ Panel, you can adjust the thermostat, set the alarm, lock and unlock doors and set lights on a timer.
D.R. Horton closing costs and home prices
Prices of D.R. Horton homes vary based on the location, floor plan, size and style of the home selected. Most listings do not include closing costs or any related fees, so the price listed may not be 100% accurate. To determine an estimated mortgage payment you can afford, use the mortgage calculator on D.R. Horton's website. Financing and insurance are available through affiliates of D.R. Horton Homes.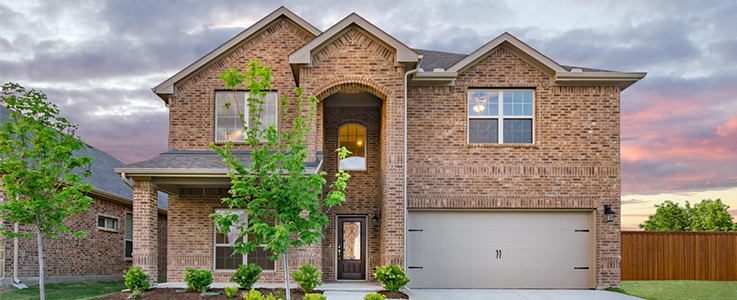 Photo (c) D.R. Horton Homes
D.R. Horton Homes FAQ
What is included in a D.R. Horton home?

A home built by D.R. Horton features energy-efficient construction, integrated geofencing technology, a multiplatform wireless network, one-wire connectivity and hands-free communication. These features are powered by the Qolsys IQ panel. The panel is compatible with a Honeywell thermostat, Amazon Echo Dot, Kwikset Smartcode and Skybell. Some features may be unavailable in Hawaii.
Are D.R. Horton Homes efficient?

D.R. Horton uses energy-efficient roofing materials, siding, windows, heating, ventilation and air conditioning systems. Every D.R. Horton home features at least one appliance or product with an EnergyStar designation.
Do D.R. Horton Homes come with appliances?

Yes. D.R. Horton homes include Whirlpool appliances.
Will D.R. Horton negotiate prices?

The company is open to negotiation with any buyer. When negotiating pricing, consider using D.R. Horton's immediate inventory and preferred vendors. You may receive a lower price.
What is a D.R. Horton smart home?

D.R. Horton smart homes are equipped with alarms, smart thermostats, wireless interior lighting controls, electronic deadbolts and smart video doorbells.
Is D.R. Horton a good builder?
D.R. Horton can be a good choice for buyers who want a move-in ready home that doesn't require any remodeling. While D.R. Horton is a reputable company, it's essential to vet the builder and conduct an appraisal. We like the affordability, convenience and capabilities offered by the company, so if the price works for you and you find a design and floor plan that suits your needs, we recommend D.R. Horton.
D.R. Horton Homes Reviews
A link has directed you to this review. Its location on this page may change next time you visit.
How do I know I can trust these reviews about DR Horton Homes?
4,245,529 reviews on ConsumerAffairs are verified.
We require contact information to ensure our reviewers are real.
We use intelligent software that helps us maintain the integrity of reviews.
Our moderators read all reviews to verify quality and helpfulness.
Page 1 Reviews 0 - 6
Marc of Graham, NC

Verified Reviewer
Original review: March 2, 2023
Our sales rep in Graham NC has been top notch! She has worked with us and has over communicated in every way. We are building the Cali home and can't wait
to see how all this comes together. Before going under contract with DR Horton on this home, our sales rep allowed us to walk several homes in every phase of construction. One of the main things that stood out was that they are using a lot of our own local sub contractors to do the work. Some I do not know but for the most part, they are reputable subs.
D.R. Horton Homes response
Hello Marc. Thank you for sharing your experience with D.R. Horton. We hope you enjoy your new home for many years.
2 people found this review helpful
John of Meridianville, AL

Verified Reviewer
Original review: Dec. 10, 2022
I waited 18 months after purchasing my new home to write this review so that I could write about my experience buying and going through the warranty process. I purchased my new home with the help of a private real estate broker. The private real estate broker worked with D.R. Horton to ensure that my new home was constructed accurately. The broker visited the home site periodically during the build and was able to correct any problems with the house before the house was completed. I also hired a well respected home inspector to inspect the house thoroughly before closing. All of the issues that were found by the real estate broker and the home inspector were corrected prior to closing. The builder worked very well in tandem with the broker and the home inspector. I highly recommend that you use your own real estate broker and home inspector when purchasing a home whether it is used or new.
The warranty process operated smoothly. I had a half a dozen issues that the warranty team handled perfectly. It usually took about a week to receive an acknowledgement of the warranty request from the builder and then we setup a date and time for them to come look at the issue. All of the issues were relatively minor. I needed to have a door adjusted because settlement was causing the door to stick. I had a shower faucet that became misaligned about 9 months after the house was built because of settlement which is normal. Every issue was resolved satisfactorily without incident. My neighbor and I discussed warranty claims before we both moved into the neighborhood at about the same time. We both had the same experience with D.R. Horton and we pleased with their warranty service. I am very pleased with my purchase from D.R. Horton.
D.R. Horton Homes response
Thank you, John, for sharing your experience with D.R. Horton. We hope you enjoy your home for many years.
6 people found this review helpful
Thank you, you have successfully subscribed to our newsletter! Enjoy reading our tips and recommendations.
Lily of Amsterdam, Other

Verified Reviewer
Original review: Oct. 19, 2022
So we bought a D.r. horton home without major problems on a top location. There is a group of people who are very negative about d.r. Horton homes but you have to use your common sense. The contractors that they are working with are the ones who are building your home. I seriously know people who bought their home last year unseen! With no pre-inspection from a professional. You are not buying a bag of chips! ALWAYS hire your own inspector. We did and even though there were only two minor issues we don't regret spending some extra money on that.
Also read what you should know about buying a home. You can't just go with what the SALES representative says, they are trying to sell you something. While they were building the house we were here almost every day looking so that the workers know if they messed up they would hear about it. One worker had used our bathroom, we immediately notified D.R. Horton about it and they dealt with it. Also due to the prices of the houses you know you are not getting top notch finishes. It is basic and from there you have to replace certain things (tile the bathrooms, change the tub for a walk in shower etc, paint the walls, wallpaper, your choice of light fixtures etc).
What is important that the foundation is good, your house has gutters, the plumbing and electricity has done good. You have to make sure that you review everything that they did and that you have everything in accordance with the agreement BEFORE you close on the house. We measured everything from the garage to the bedroom because when D.R. Horton told us our bedroom, garage etc is a certain size it has to be that size. Our inspector inspected the roof, all the systems in the house, the concrete etc. That is what you want to do.
It also helps that you tell the sales representative that you are going to have your own inspector. All with all these homes are good for smart people who don't believe everything that a salesperson tells them but do their own research and inspection. I mean you probably will not buy a car without letting it be inspected first by a mechanic right? No matter what the salesperson says? Same with a house. New doesn't automatically means good!
D.R. Horton Homes response
Hello Lily. Thank you for sharing your experience. We hope you enjoy your D.R. Horton home for many years.
17 people found this review helpful
Rick of Fishers, IN

Verified Reviewer
Original review: Aug. 20, 2022
This is the first D.R. Horton, that I have lived in & the second new home in my lifetime purchased, the other two were resales of existing homes. I have found my experience with D.R. Horton, in the Indianapolis, Indiana, Market to be "Extremely Positive", all things considered with the disruption of the supply chains, and employee issues, due to Covid, which have Not been D.R. Horton's fault. All issues in my townhome have been corrected or are in the process of being completed in a "timely" & "professional manner". Scott **, from D.R. Horton's Warranty Division, under the direction of Pete **, Vice President of Construction have been "Professional", "Courteous", "Enlightening" as to what they can provide to address any and all of my concerns.
As a former Customer Service Professional for over 40 years, I believe I know Excellent Customer Service when I experience it first hand. And that is Exactly the experience that I have had with D.R. Horton Homes in Indiana, Indiana. D.R. Horton Homes, are track homes, "not" custom homes & are built to the highest industry standards according to the local community ordinances. Unlike most homeowners who only write "negative reviews", I take the opportunity to tell the other side of the story. If you are "reasonable" in your requests & expectations D.R. Horton Homes will deliver as promised. A 5 Star Builder? Absolutely!
19 people found this review helpful
William of Olivehurst, CA

Verified Reviewer
Original review: May 26, 2023
We bought our new D.R. Horton home in December, in Plumas Lake, CA. We have had nothing but problems since we moved in. For starters, when we moved in, we had a huge hole in our pantry wall. One of our counters was improperly sized and it protruded past our kitchen wall. We should have known something was wrong because our D.R. Concierge actually noticed our improperly sized countertop and told us, "Don't tell D.R. Horton that I noticed it, because they don't want us to point out things that are improperly installed." That was a big red flag. We have been in our home for 5 months, and so far we have had nothing but problems. The company that plants the bushes and plants for D.R. Horton planted 10 dead plants, so we had to have them replaced. Our backyard fence had 25 damaged pickets, so they had to replace those. Our screens on our windows are too small, so when our windows are open, bugs and insects come in.
They installed damaged flooring, so we have had the flooring company out several times. The last time the flooring company was here, the guy damaged our flooring even more with the machine he was using to do repairs. When we moved in, there were scratches on the wall, so we had the painters come out and they used the wrong color white, so we have a big white blemish on our wall for weeks before D.R. Horton finally fixed it. The doors and cabinets they installed are so cheaply made that the wood is chipping. The door in one of our bedrooms is separating because the material used in the door is so cheap. In fact, this door is located in the bedroom that nobody uses.
The manager Sean lies to D.R. Horton buyers. We have a neighbor who requested that his walls be painted another color than white. Our concierge, a D.R. Horton employee told me that he would check into this, as I also requested a different color for my wall. Sean, the lying manager, called me and said, "We only approve a different color if the wall is deteriorating." I know for a fact that our neighbor's wall was not deteriorating, as I was told by my concierge our neighbor got approved for a different color because he raised hell.
There was a huge crack in the cement flooring before we moved in. When we asked D.R. Horton about this, they said it was normal. We requested it be fixed. Our water system that came with the house is faulty and produced very little water. Our garage door opener was faulty and had to be replaced. Now, the keypad to our front door is sticking and we have to enter our code 4-5x before the door unlocks. After 5 months of living in my new D.R. Horton home, I can honestly say that my experience has been terrible. They are a low quality builder who will build you a very low quality home. We are having issues that should not be happening in a newly built house.
D.R. Horton Homes response
We appreciate you making us aware of your concern. A private message was sent to your Consumer Affairs account so that we can collect further information/details in order to assist you. We look forward to your reply.
Be the first one to find this review helpful
Daniel of Saint Paul, MN

Verified Reviewer
Original review: May 23, 2023
I could write a novel on how horrible my experience has been with the home we built with DR Horton. I'll keep it brief:

-They do not finish punch list.
-They don't clean your home before moving in. We still have fruit flies coming out of our drains.
-Painting was terrible and they had to bring in an outside company to address our painting items because their painters are too inept.
-Still no grass or irrigation we paid for after 8 months in our home.
-Wash their hands of all accountability after they get your money.
-Leave you with a subpar home with nothing but items that need to be fixed.
-Zero communication from them.
-Left exposed wires in my back yard still exposed 8 months later.
There are so many better options, don't make the mistake I did.
D.R. Horton Homes response
We appreciate you making us aware of your concern. A private message was sent to your Consumer Affairs account so that we can collect further information/details in order to assist you. We look forward to your reply.
4 people found this review helpful
Balachander of Cumming, GA

Verified Reviewer
Original review: May 16, 2023
Very very poor quality builder. There are 1000's of cosmetic issues and 100's of quality issues. Low-quality materials and construction with cheap contractors. Very much outdated and useless plan designs with Limited upgrade options, and don't provide all the available options at the Appt time. Sq ft mentioned on the website will be different from actual sq ft of the built home, with at least 150-200 sq ft less and they simple say it is a typo mistake on website. One year old home got many parts coming apart and lots of crackling sounds all over the walking Area. They got C+ as Quality rating from the County, while some builders around got better than B- Rating. So please check the Builder Quality Rating before buying a Home. Should be called as '** Builder' not a ** Builder. Never ever buy or recommend home from this builder.
D.R. Horton Homes response
We appreciate you making us aware of your concern. A private message was sent to your Consumer Affairs account so that we can collect further information/details in order to assist you. We look forward to your reply.
Be the first one to find this review helpful
Hank of Belton, SC

Verified Reviewer
Original review: May 11, 2023
We have had multiple problems with our DR Horton home and have received only excuses regarding our home. Our latest issue is that DR Horton did not file the warranty paperwork for our heating/air unit which now needs to be replaced. The unit has a 10 year warranty and would be covered 100% if they would have filed the warranty. Now we have to cover the cost of a new unit. I will never buy or recommend DR Horton. They cut corners and do shoddy work and won't fix any of the problems.
D.R. Horton Homes response
Hi Hank. We are sorry to hear that you are not happy. At time of orientation / closing we tell our homeowners that they need to submit their paperwork for product warranties to ensure they have the full benefit of the manufacturer's warranty as this is an agreement between the homeowner and the product manufacturer.
4 people found this review helpful
Aashish of Collegeville, PA

Verified Reviewer
Original review: May 10, 2023
I purchased a new construction home in Montgomery county from DR Horton and consider this to be the biggest mistake of my life thus far. Both construction quality and workmanship are poor. It's been 7 months since I moved in and reported issues under several warranty requests but the whole NJ-PA Department has been trying to escape instead of fixing the issues and standing behind their work. HVAC is under capacity and ductwork is a bad design which causes considerable temperature differences in the three floors. Single air return in the basement is as noisy as a vacuum cleaner running 24 x 7. Tiles installed in bathrooms and laundry are different sizes/dye lots and they are not leveled either. Grout lines are not straight because of different size tiles, and they haven't used spacers to get a symmetrical grout line.
I have squeaks on both living floor and top floor which is due to the cheap construction material. Shower panel is not leveled because of uneven tile installation. Trims and baseboards are not symmetrical due to uneven drywall installation in almost entire house. Driveway and sidewalk are not in sync as they constructed the sidewalk way lower than the garage slab. Their contractor would agree to this and would suggest raising the sidewalk and level the driveway, but DRHorton can't deviate from their made-up claims. Flooring laminate is not secured and the gaps between them are very evident. When I move heavy stuff on the flooring laminate, they displace from their original position leading to more visible gaps.
In short, buying a new DRHorton home is like draining your hard-earned money for inviting a never-ending repair project. I would never recommend anyone to buy a DRHorton home, especially in NJ-PA. I have mentioned this to the management members at DRHorton including President of NJ-PA division, Mid-Atlantic President and the CEO, and they won't even speak to it.
They would schedule inspection and never send a report afterwards. Not even for a single warranty ticket they could provide facts for what was inspected and what was found. They would make false claims to keep up with their reputation, but they are incapable of bringing facts to the table or to fix the problem. DRHorton also runs a bad practice to send letters via their attorney to warn residents from posting their reviews on public forums as it may degrade their market leader position. When I try to escalate on a warranty ticket due to lack to response/traction, they would try to harass me by sending a letter via their attorney.
3 people found this review helpful
Temiko of Loganville, GA

Verified Reviewer Verified Buyer
Original review: April 26, 2023
I bought a house from DR Horton in May of 2020. In March of 2023 my water line in my yard malfunctioned. The plumber I hired stated that whoever installed it used a shark bite fitting not certified for underground use and probably was installed after inspection. Due to the amount of water I was losing I had to have my water turned off. When I filed a claim for reimbursement DR Horton said screw me because they didn't assess the damage first as if I dug my ground and put a new fitting on the water lines. I don't suggest anyone buy a home from a company that uses excuses to not stand behind their product!
D.R. Horton Homes response
D.R. Horton was not given the opportunity to inspect and repair before the customer had repairs made by a third party, therefore; request for reimbursement was denied.
10 people found this review helpful
D.R. Horton Homes Company Information
Company Name:

DR Horton Homes

Year Founded:

1978

Address:

1341 Horton Circle

City:

Arlington

State/Province:

TX

Postal Code:

76011

Country:

United States

Website:

www.drhorton.com
You're signed up
We'll start sending you the news you need delivered straight to you. We value your privacy. Unsubscribe easily.