D.R. Horton Homes
D.R. Horton is an award-winning, family-owned construction business headquartered in Dallas, Texas. The company was founded in 1978 and is now one of the largest homebuilders in the United States. Currently, D.R. Horton builds move-in ready houses in 29 states across the country. The houses are complete or nearly complete and available for immediate purchase.
Overall Satisfaction Rating
5 stars

4 stars

3 stars

2 stars

1 stars
Pros
Energy-efficient
Smart home devices
Move-in ready
Financing available
Cons
No customization
Limited availability
Bottom Line
D.R. Horton Homes are ideal for buyers who are ready to purchase but don't want the hassle of customizing features. D.R. Horton offers energy-efficient features and smart home functionality.
Top D.R. Horton Homes Reviews
How do I know I can trust these reviews about DR Horton Homes?
4,113,854 reviews on ConsumerAffairs are verified.
We require contact information to ensure our reviewers are real.
We use intelligent software that helps us maintain the integrity of reviews.
Our moderators read all reviews to verify quality and helpfulness.
For more information about reviews on ConsumerAffairs.com please visit our FAQ.
Sandra of Conyers, GA
Verified
My experience was phenomenal. It started off with our sales Rep Dosia T, she was awesome. Always available even on her day off. Love love her excellent customer service. Highly re...
Read full review

Frederick & Dee of Douglasville, GA
Verified
We purchased our new construction home about 6 months ago 2019 and the experience was absolutely amazing. If you are looking for a nice home you will get an excellent one with DR ...
Read full review
What is D.R. Horton?
D.R. Horton Homes are available in a variety of floor plans, sizes and styles. To visualize the design and amenities offered by D.R. Horton, visit a model home or tour a finished community. You can schedule in-person visits to a model home during listed business hours, and newly finished houses can be scheduled for viewing directly from the digital listing on the D.R. Horton website.
Characteristics and features of D.R. Horton's homes include:
Open floor plans
State-of-the-art appliances
Energy-efficiency
Integrated geofencing technology
Multiplatform wireless network
One-wire connectivity
Hands-free communication.
You can access all functions of the home's smart devices on the Qolsys IQ Panel, which allows you to use a variety of smart device products from one central location. From the Qolsys IQ Panel, you can adjust the thermostat, set the alarm, lock and unlock doors and set lights on a timer.
D.R. Horton closing costs and home prices
Prices of D.R. Horton homes vary based on the location, floor plan, size and style of the home selected. Most listings do not include closing costs or any related fees, so the price listed may not be 100% accurate. To determine an estimated mortgage payment you can afford, use the mortgage calculator on D.R. Horton's website. Financing and insurance are available through affiliates of D.R. Horton Homes.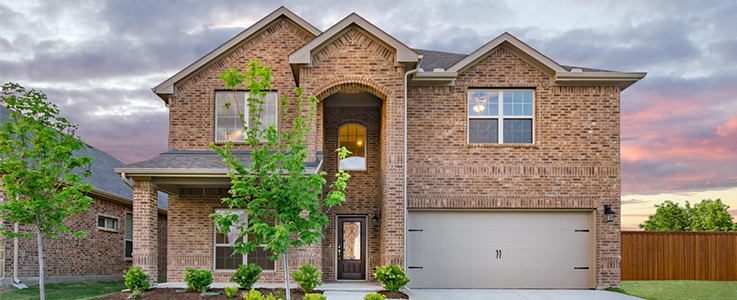 Photo (c) D.R. Horton Homes
D.R. Horton Homes FAQ
What is included in a D.R. Horton home?

A home built by D.R. Horton features energy-efficient construction, integrated geofencing technology, a multiplatform wireless network, one-wire connectivity and hands-free communication. These features are powered by the Qolsys IQ panel. The panel is compatible with a Honeywell thermostat, Amazon Echo Dot, Kwikset Smartcode and Skybell. Some features may be unavailable in Hawaii.

Are D.R. Horton Homes efficient?

D.R. Horton uses energy-efficient roofing materials, siding, windows, heating, ventilation and air conditioning systems. Every D.R. Horton home features at least one appliance or product with an EnergyStar designation.

Do D.R. Horton Homes come with appliances?

Yes. D.R. Horton homes include Whirlpool appliances.

Will D.R. Horton negotiate prices?

The company is open to negotiation with any buyer. When negotiating pricing, consider using D.R. Horton's immediate inventory and preferred vendors. You may receive a lower price.

What is a D.R. Horton smart home?

D.R. Horton smart homes are equipped with alarms, smart thermostats, wireless interior lighting controls, electronic deadbolts and smart video doorbells.
Is D.R. Horton a good builder?
D.R. Horton can be a good choice for buyers who want a move-in ready home that doesn't require any remodeling. While D.R. Horton is a reputable company, it's essential to vet the builder and conduct an appraisal. We like the affordability, convenience and capabilities offered by the company, so if the price works for you and you find a design and floor plan that suits your needs, we recommend D.R. Horton.
D.R. Horton Homes Reviews
A link has directed you to this review. Its location on this page may change next time you visit.
How do I know I can trust these reviews about D.R. Horton Homes?
How do I know I can trust these reviews about DR Horton Homes?
4,113,854 reviews on ConsumerAffairs are verified.
We require contact information to ensure our reviewers are real.
We use intelligent software that helps us maintain the integrity of reviews.
Our moderators read all reviews to verify quality and helpfulness.
For more information about reviews on ConsumerAffairs.com please visit our FAQ.
Page 1 Reviews 0 - 6
Lily of Amsterdam, Other

Verified Reviewer
Original review: Oct. 19, 2022
So we bought a D.r. horton home without major problems on a top location. There is a group of people who are very negative about d.r. Horton homes but you have to use your common sense. The contractors that they are working with are the ones who are building your home. I seriously know people who bought their home last year unseen! With no pre-inspection from a professional. You are not buying a bag of chips! ALWAYS hire your own inspector. We did and even though there were only two minor issues we don't regret spending some extra money on that.
Also read what you should know about buying a home. You can't just go with what the SALES representative says, they are trying to sell you something. While they were building the house we were here almost every day looking so that the workers know if they messed up they would hear about it. One worker had used our bathroom, we immediately notified D.R. Horton about it and they dealt with it. Also due to the prices of the houses you know you are not getting top notch finishes. It is basic and from there you have to replace certain things (tile the bathrooms, change the tub for a walk in shower etc, paint the walls, wallpaper, your choice of light fixtures etc).
What is important that the foundation is good, your house has gutters, the plumbing and electricity has done good. You have to make sure that you review everything that they did and that you have everything in accordance with the agreement BEFORE you close on the house. We measured everything from the garage to the bedroom because when D.R. Horton told us our bedroom, garage etc is a certain size it has to be that size. Our inspector inspected the roof, all the systems in the house, the concrete etc. That is what you want to do.
It also helps that you tell the sales representative that you are going to have your own inspector. All with all these homes are good for smart people who don't believe everything that a salesperson tells them but do their own research and inspection. I mean you probably will not buy a car without letting it be inspected first by a mechanic right? No matter what the salesperson says? Same with a house. New doesn't automatically means good!
Read full review
D.R. Horton Homes response
Hello Lily. Thank you for sharing your experience. We hope you enjoy your D.R. Horton home for many years.
4 people found this review helpful
Rick of Fishers, IN

Verified Reviewer
Original review: Aug. 20, 2022
This is the first D.R. Horton, that I have lived in & the second new home in my lifetime purchased, the other two were resales of existing homes. I have found my experience with D.R. Horton, in the Indianapolis, Indiana, Market to be "Extremely Positive", all things considered with the disruption of the supply chains, and employee issues, due to Covid, which have Not been D.R. Horton's fault. All issues in my townhome have been corrected or are in the process of being completed in a "timely" & "professional manner". Scott **, from D.R. Horton's Warranty Division, under the direction of Pete **, Vice President of Construction have been "Professional", "Courteous", "Enlightening" as to what they can provide to address any and all of my concerns.
As a former Customer Service Professional for over 40 years, I believe I know Excellent Customer Service when I experience it first hand. And that is Exactly the experience that I have had with D.R. Horton Homes in Indiana, Indiana. D.R. Horton Homes, are track homes, "not" custom homes & are built to the highest industry standards according to the local community ordinances. Unlike most homeowners who only write "negative reviews", I take the opportunity to tell the other side of the story. If you are "reasonable" in your requests & expectations D.R. Horton Homes will deliver as promised. A 5 Star Builder? Absolutely!
Read full review
9 people found this review helpful
Thank you, you have successfully subscribed to our newsletter! Enjoy reading our tips and recommendations.
Ramon of Tucson, AZ

Verified Reviewer
Original review: March 10, 2022
Updated on 05/15/2022: This is an update from my March 2022 review. We completed our 1 year walkthrough and repairs. For the most part, the contractors were great except for 2 that never showed up. Out CSR is hopefully working on a reschedule. Dr Horton needs to make the contractors more accountable for missing the schedule time/date by contacting someone.
Original Review: To all the negative reviewers. Purchase our new home in April 2021 in the Saguaro Bloom development, the sales manager was very nice and helpful. We were going to use a VA outside lender, but the lender DR use was able to get us the best rate. Over the course of 10 months we had minor issue that were resolved within a month after submitting a ticket. Our customer service rep has been very helpful to get the minor issues resolved. Due to the house settling, our CSR recommend we wait until our 1 yr walk-through to resolve some of the other issues. Overall the quality of the house, workmanship, warranty and neighborhood is A plus. I would recommend DR Horton homes. Thank you DR Horton for a quality home.
Read full review
D.R. Horton Homes response
Hello Ramon. Thank you for sharing your experience with D.R. Horton in Saguaro Bloom. We hope you enjoy your home for many years.
9 people found this review helpful
Conrad of Savannah, GA

Verified Reviewer
Original review: Jan. 28, 2022
Yes I had been worried about DRH's one star reputation when I bought my house in GA 3 years ago. I went to the construction site as often as I could and each visit had to be approved and accompanied by the site manager; and I hired my own inspector to come with me several times. All in all they did a good job. There were workmanship issues here and there but between the 3 of us we caught them early and they fixed it promptly. Even my inspector, who was very critical of DRH due to some bad projects he saw in the past in SC, told me that they had improved. I told the site manager that I was happy with their work and I'll write them a good review. I'm doing it now, 3 years later. I am still happy with the house. Recently I asked DRH customer support online for a document and they replied right away. I think this company deserves a better rating based on my own experience.
D.R. Horton Homes response
Hello Conrad. Thank you for sharing your D.R. Horton experience. We hope you enjoy many more years in your home.
17 people found this review helpful
Bernardo of Las Cruces, NM

Verified Reviewer
Original review: Nov. 17, 2022
I have had the house for 14 years. The first thing that I was not pleased with is that they put carpet in the master bathroom. I had to rip it out and put tile. Also no door to the master bathroom, only one to the toilet which may give you claustrophobia. Homes are cookie cutter homes, ok for the first time home buyers but should be priced accordingly.



Be the first one to find this review helpful
Resolution In Progress
Pseudo of Mims, FL

Verified Reviewer
Original review: Nov. 5, 2022
D.R. Horton. East Florida. The Greens at Indian River Preserve by D.R. Horton. We have been waiting a home being built for nearly the entirety of 2022. We have received almost zero communication during the entire process; having to reach out to the incompetent staff at their local office for anything resembling an update. Estimate after estimate of completion being pushed back months and months. And now the loan department has wrapped up their end of things and are expecting to close in less than 2 weeks. The home isn't finished. It being finished in under 9 months let alone 2 weeks more is quite apparently insurmountable for them. They obviously have problems not only communicating with me but their entire extended network. Getting real annoyed of being contacted by their "smart-home liaison" or virtually anyone in lending for a house that isn't finished.
D.R. Horton Homes response
We appreciate you making us aware of your concern. A private message was sent to your Consumer Affairs account so that we can collect further information/details in order to assist you. We look forward to your reply.
2 people found this review helpful
Resolution In Progress
Christian of Wesley Chapel, FL

Verified Reviewer
Original review: Oct. 26, 2022
I will keep this short because I have been going back and forth with this company since before I closed on the townhome in Union Park East - Wesley Chapel. Long story short, I annotated a stucco crack on my lanai that was concerning prior to closing, DR Horton assured me it was nothing to get me to close on the home with a band-aid repair, and then they finally decide to peel back the stucco when the crack reappeared only to find that the concrete block was severely damaged from the slab to the lanai ceiling. There was also garbage in my wall and they were almost apathetic to it all. Like it was just another day of doing business for them. I will give them credit because they resurfaced the floor of my lanai but to be honest, the original surface was infested with imperfections, holes, and a massive crack as well.
Their "engineers" recommended to pour it solid with a specific rating of psi after making two small openings. They didn't even do that right. An individual came with a bucket, hammered massive holes in my wall, and jammed Sakrete mix into the wall along with shoving the broken block pieces in the wall opening. That is what they mean when they "pour it solid". They also applied a metal lathe but were so aggressive on hammering the studs that it damaged the block further -- the cracks reappeared after a week of this "repair", shocker.
I open up yet another warranty ticket demanding this be fixed, a swarm of DR Horton employees come to my property, rip some stucco off the wall, and ask for previous photos of the original crack which I provided same day. It has been almost 2 weeks and I have not heard back. Regardless of whether or not this gets fixed -- I am urging everyone to never go with this company for a new home or at a minimum NEVER close until they fix every single item (yes, every item to YOUR standard). If they don't like it, then let some other fool deal with the damaged home.
Don't let them gaslight you into closing by telling you this is actually normal. They will sweet talk you and make it seem like they will give you a new home if it isn't right but after you close, you are irrelevant. I have emails of DR Horton acknowledging that some of their own people said it was a problem, photos of previous "repairs", and evidence to prove I am not some entitled customer looking for free stuff. I have told them from the very beginning that I just want the wall fixed properly.


Read full review
D.R. Horton Homes response
Hello Christian. Thank you for sharing your experience. We forwarded your comments to our management team in Tampa for their action.
4 people found this review helpful
Anthony of Lubbock, TX

Verified Reviewer
Original review: Oct. 18, 2022
Go on the Better Bureau Business (BBB) page for D.R. Horton and read the list of almost entirely negative reviews. You might think some of those posts couldn't possibly relate to you or apply to your experience with them. But I will tell you right now that if you buy in Lubbock, you better consider those reviews seriously. Nothing defines their management and home building here more than pure incompetence and corruption.
First, their subcontractors drink on the job. I was sitting on my back porch the other day only to watch the painters slam some bud light in the middle of the afternoon and not stop. This drinking will explain why paint is scattered all over your floors after closing for you to clean up. Second, they will install broken material and products into your house. You will have to fight to get them to fix issues that never should have even been a concern or a stressor for you. I had to go to the BBB before closing so that they wouldn't install trim that had been lying in the mud for over a week, fix a dented vent cover that looked like they kicked it in, and fix a window that wouldn't even shut. I don't know a single person that didn't have an issue with their roofs. Third, there is no craftsmanship. Their salesman will lie to you and tell you not to expect a perfect home, but they will give you a home you will love. Sounds great, right?
They will use the non-perfect home excuse to make you accept something beyond what should be legally allowed. You will not find a straight wall in the entire house. If you need more evidence of how much they don't care, look at the trim in the homes they build that looks like a dented, wobbly, off-centered mess. Fourth, expect retaliation for standing up for yourself. They let subcontractors piss in our cabinets for calling their horrible work into question before closing. Even worse was that D.R. Horton was notified and let the subcontractors get away with it. We didn't get an apology.
It doesn't stop there. I had to go to the police three times and file four complaints with D.R. Horton's corporate office for what should be considered criminal harassment perpetrated by their contractors. Even when you have evidence of the subcontractors screaming at your house and destroying your property, D.R. Horton still doesn't fire them and will continue to allow them to work near your home in an attempt to instigate an issue. Imagine trying to mow your grass or fix the problems on your home that were D.R. Horton's fault and getting screamed at by the contractors hired by the company you bought a house from. Don't worry; when you file a complaint with the police or D.R. Horton and the individual you filed a complaint against is waiting outside your home for multiple days for you and your wife, the police in Lubbock and D.R. Horton don't care.
I highly recommend you legally carry in their construction zones. Fifth, there will be an endless cycle of warranty issues. Every time they send a worker here to fix an issue covered by the warranty, they leave another issue behind or do even more damage. It doesn't end until your warranty is up. D.R. Horton is not just America's largest builder but the builder of the worse homes in America. So despite whatever situation you are personally in, I highly recommend you don't ignore that gut feeling that something is wrong with this company and that you STAY AWAY.
Read full review
D.R. Horton Homes response
Thank you for sharing your thoughts. We have brought this to the attention of our management team in Lubbock for their review.
6 people found this review helpful
Ralph of New York, NY

Verified Reviewer
Original review: Oct. 13, 2022
Don't even know where to start to tell you about DR Horton. From their shady salespeople bait and switching me showing me renderings of a backyard around 60 percent larger than the one I got, to silverfish and cricket infestation, floods due to their workers throwing debris down our toilet and my neighbors, my neighbor across the street has a big hole in the side of his house due to a water leak in the master shower, garbage and debris blowing onto our lawn and property daily due to the overflowing dumpsters due to construction workers overloading them and the developer not cleaning them out enough, nails on the sidewalks you have to step around to avoid one going through your shoe/foot, toilet flapper already malfunctioning causing my water bill to go up, construction workers parked on the sidewalk in front of your house and a management company on HORTON's payroll or deep in their pockets who do absolutely nothing to improve conditions.
Security gate broken more than functional the last two months, a ** head scales my neighbor's retaining wall into their backyard two months ago, a dubious arson which has my nearby neighbors without internet for months. Streetlights on both ends of our block nonfunctional since March, only one has yet to be fixed. Workers violating building code and starting before 6am the first month we moved in, blasting loud music and waking you up every AM.
Workers at night past 7pm violating building codes most nights. They drive their personal cars instead of their work trucks and park them in the driveways of the houses they work in so they look like residents who live there. And now retaliatory violation from the management company for two dead plants which died from sun overexposure because the landscapers improperly chose their location. Touch up paint doesn't match the original. Paint hanging down from dining room ceiling one month after we moved in. Need I go on? Everything documented either with photos, videos, neighbors who can verify, etc. Run, don't walk away from this builder.




Read full review
D.R. Horton Homes response
Your comments were forwarded to our management in Scottsdale for their review and action.
8 people found this review helpful
Supriya of Downingtown, PA

Verified Reviewer
Original review: Sept. 28, 2022
Bought home on Jan 2022. Not even completed one year and having horrible experience with warranty team. It's my mistake. I did not do search before buying the home about this builder. They don't do innocent mistake by mistakenly. My home has such big construction flaw with main hall windows (which do not have even gap between windows) and after opening the warranty ticket for past seven months they still did not fix it. Never trust this builder or its sales agent. All my kitchen cabinets have problem, and they closed my ticket without fixing it. They don't even follow PA standards. Squeaking sound of carpet was partially fixed with hundreds of nails. Very low standard of work and services provided.


D.R. Horton Homes response
Hello Supriya. Thank you for sharing your comments. To best assist you we have forwarded your concerns to our management team in Pennsylvania for their review and action.
9 people found this review helpful
D.R. Horton Homes Company Information
Company Name:

DR Horton Homes

Year Founded:

1978

Address:

1341 Horton Circle

City:

Arlington

State/Province:

TX

Postal Code:

76011

Country:

United States

Website:

www.drhorton.com
You're signed up
We'll start sending you the news you need delivered straight to you. We value your privacy. Unsubscribe easily.