Consumer Complaints and Reviews

I bought my home in 2014 and I have nothing but problems with it. I have a water leak by my bathroom vent and my backdoor also leaks, my ceiling is also uneven and when it is dark you can see it. The house to me is a total disappointment. Oh and these so called nail pops are ALL OVER THIS HOUSE!!! When you contact the warranty department all you get is a runaround. Yes they have sent their horrible contractors out to try and fix the problems and they were made worse. Buying DR Horton is a HUGE MISTAKE. If you are in the middle of trying to buy one, PLEASE RUN!!! You will be stuck with a problem house forever!

We are 2 1/2 years into our brand new home purchase from DR HORTON. This was the worst decision of my life investing 500K on a house that has had nothing but problems since day one. I did not read or research all the horrible reviews on Horton construction and business practices. They will not repair items unless you hire attorneys to hold their feet to the fire, when anything is submitted on the computer for items needing repair within the window of your warranty, they take a year before they will get around to fixing anything. Our community has, not to code full brick chimneys put on top of roofs here with ZERO support for the load bearing weight. We collectively had to involve county officials to remedy our issues holding Horton accountable with possible fines if they do not repair the dangerous situation as our chimneys could crash thru our roofs.
Mine was finally repaired but I fought for over a year and a half until it got resolved. Personally, we have had numerous issues to include MOLD growing under our crawlspaces, wood floors cracking, snapping and popping faulty installation and acclimation, cracked tubs and shower tiles, poor drainage and the list goes on. Our entire neighborhood has a host of issues to include water intrusion and leaky roofs. Once you sign on the dotted line the small print of Horton's contracts have clauses where you can not go to court should you have a problem, in our case arbitration is only permitted. We collectively had had numerous complaints and legal counsel costing us (the entire neighborhood) Thousands of dollars in legal fees, structural engineers, and inspectors.
It is a nightmare owning a DR HORTON home. I would not wish it on my worst enemy. To top it off most of the employees who work directly for Horton, go out of their way to evade having anything repaired, they are not in the business of customer service, they are in the business of saving company money no matter what to include safety issues. In 2 and 1/2 years we have had over 5 or 6 managers come and go and every sub that shows up states Horton never pays them and they don't want to do work unless they have work orders in hand. Bottom line here, buying a Horton home is the WORST investment you will ever make. Be sure to watch the 20/20 YouTube video of the practices of this ruthless company. I watch many of my neighbors with tears in their eyes, watching their life savings in shambles due to the investment of purchasing a Horton home. My advice is to RUN as fast as you can.

This is one of many complaints. I have had serious issues with my home of less than 2 years old with D.R. Horton home builders in Palm Bay, FL who is the closest to me for warranty service. Dealing with the issues on my home since I purchased it in 2015 has been a nightmare. D.R. Horton used substandard materials using contractors who installed these inferior items with exceptionally-poor workmanship compounding a now severe problem with foundation and floors. I have had the drastic inconvenience of having (5) windows completely removed from my home due to improper initial installation. I've dealt with serious rug issues (4 times) due to substandard workmanship and materials and so many other problems too numerous to list.
I have discovered that many other D.R. Horton Homeowners in my subdivision are suffering from the same issues I have. D.R. Horton provides only professional lip service by lying over and over again that the problems will be taken care of hoping that the disgruntled homeowners will go away. D.R. Horton's Warranty Service Manager in Palm Bay promises to personally take care of the problems but it never happens. I have already been put off four months without any contact from D.R. Horton. They don't care about their customers after they have your money.
Writing to Mr. Douglas Horton (CEO) operating out of D.R. Horton Corp. Headquarters in Ft. Worth, TX is useless too. Again, they have your money... so they don't care. They answer this and other complaints with a phone call promising action and tell BBB they are working with the consumer on their problem. LIARS... LIARS. They make sure they call rather than put anything in writing to the consumer. Anyone who is reading this needs to understand that if you want a quality home with a proper warranty, DON'T BUY A D.R. HORTON HOME.

Our DR Horton home was purchased new. Numerous minor problems and cosmetic omissions after move in. Paint, shelving, flooring issues were always argumentative but eventually repaired. However, 18 months after move in, a protruding bulge was found behind curtains in bedroom. Upon inspection, there was major water accumulation in wall. Called DR Horton and they sent the same argumentative representative out to inspect. We were told that the company that replaced our roof had left flashing off of roof and that for 18 months rainwater had been collecting inside bedroom wall. I informed him that that was hard to believe, and asked if he was positive that that was the cause. He insisted that that was the problem. I then informed him that we had never had the roof replaced. At that point he committed to taking care of the flashing. After a long drawn out process they also repaired the associated damaged that was caused.
However, at clearance of air quality we still had a major mold issue. After several thousands of dollars of searching, we discovered that in the main black water drain line from the upstairs to the downstairs, instead of a typical union they had joined the two drain lines with a cleanout tee that was turned into the inside of the wall. This cleanout had a loosely threaded plug in it. Naturally the plug leaked into the wall behind our kitchen cabinets. It also caused the brickwork on the exterior of the house to sit outside of the foundation. We had to replace cabinets, walls, appliances, do additional repair to electrical work that was outside of code.
All of this was discovered because we hired a third party inspector to inspect the home. He also disclosed that our stairs were not built to code and could not be built to code within the envelope available in the house. Two falling accidents have occurred on the stairs because they are different heights and depths. I spent numerous hours attempting to have these issues addressed and after spending almost $90,000.00 to repair, was offered less that $4,000.00 by one of the principals of DR Horton (last name Horton) for our troubles. I would plead that anyone looking for a new home, buy from anyone other than DR Horton. Any young couple without the financial means that we were blessed to have would have been devastated by a similar situation. Do not walk away, RUN as fast as you can.

We have been in our S. Tampa home now for 1 month and overall we love the house. The only small issue that we have had was a shelf in the master closet fell due to the supports not being properly placed in the studs. No big deal. Our biggest issue with this whole deal was in signing the contract. We were sent a copy of the contract electronically so never had a true copy to go over and scrutinize. Our mistake. After signing their contract, because they would not accept our agent's contract, we realized that in section 16 (closing), box E. We agreed to pay for all the costs related to closing. We did not received a list of the estimated closing costs and when we did the costs were over $8,000!!! We immediately called our estate attorney who said we were basically stuck.
Also, the original offer had to be a verbal prior to the written signing of the contract. We had asked for a bedroom to be repainted and the agent said "no problem". The minute we signed the contract she said that since it was not in the contract listed as a contingency they weren't going to paint the room. Really? ?How cheap considering this was a cash sale and there was already going to be some paint touch ups that needed to be done. Also, after you sign the contract you cannot get out based on inspection. According to the contract they reserve the right to repair what is found with the inspection, but you are STUCK with the house like it or not!! Proceed with caution and it's worth the cost to have an attorney review everything before you sign.
How do I know I can trust these reviews about DR Horton Homes?
697,568 reviews on ConsumerAffairs are verified.
We require contact information to ensure our reviewers are real.
We use intelligent software that helps us maintain the integrity of reviews.
Our moderators read all reviews to verify quality and helpfulness.
For more information about reviews on ConsumerAffairs.com please visit our FAQ.

I'm in a new DR Horton community in Austin, Texas. The quality of the work is poor. From the first day we moved in, we have had nothing but problems. Shelving missing in cabinets. Cabinet in master bedroom literally fell out of the wall when you open the drawer. Poor craftsmanship on drywall on some of the walls. Contractors left dried glue on floor and a stain in the hallway. The garage is super small. We can't even get into the attic. Water came through the ceiling downstairs the first time my husband took a shower upstairs.

Will try to keep this as short as possible. Why I will never purchase a DR Horton home again: Appraisal came back low and forced us to pay more towards closing cost than originally contracted for. Originally offered to pay full closing costs, but with a preferred lender. Their closing costs were in the $12k range when I could have chosen my own for about $4k. When appraisal came back low, they made us pay towards closing anyway. Shower valve not installed properly from the moment we moved in. French drain had to be repaired and replaced around the entire yard. Took me finding COO and CEO to complain to get this addressed.
"Dummy" receptacles located in the garage. Faulty toilets installed had to be repaired. Leak in main valve in irrigation system not found until two months later and a $248 water bill later (in the winter)- had to be repaired and corrected (a month after discovery so incurred higher bill again and no reimbursement by company for my costs). Garage shorted out- I had to pay for someone to come and hard wire it. Tankless water heater installed on outside of home. Pipe froze in 20 degree weather - I had to pay for someone to come out and correct it.
My shower has constant mildew growth in the caulking joints and tile even with cleaning and scrubbing that comes back every time. DR Horton has recaulked the shower once. Been a month now with no one coming out to my home to address the issue. Subfloor creaks upstairs when you walk on it. Did I mention we have only owned the home since November 2015? All of this in 1 year. Customer service is beyond terrible. Their homes look good but they are cheaply built. Will never, ever buy a DR Horton home again.

We have lived in our house for two years and have had ac/heater fixed at least four times. Upstairs bathroom didn't have piping completed under the sink so it flooded bathroom. Floors upstairs creek due to it not being nailed down completely. The house was almost two months late being completed. Vinyl floors discolored due to water. Shower tiles are lifting. I know there is more but this is just an idea on the poor quality of building they provide. This is definitely a half assed job on building. When I talk to my neighbors they have had multiple problems as well. This company has no urgency for issues or compassion for their screw ups. I will say the newer employee, for about a year or so, Taylor is trying to make things better. I wouldn't recommend this builder to anyone.

We moved into our home in early September. Company changed from Crown Communities to D.R. Horton right before we closed. The grout around our kitchen countertops is completely cracked ALL the way around the kitchen, as well as in our shower. The tub is great if you don't want the water to cover your belly button (super shallow). Loose shingles, a bush that was already dead when we moved in. We have tried to schedule our 2 month inspection and we are coming up on month 4 of being in the house. They have yet to send anyone to address our list of problems, as they promised when you sign the contract and at the final walk through.
Many neighbors have said that they have not had their inspections either. They got rid of one of the only person on site who actually helped the residents fix issues. The HOA is run by an AWFUL company. We are paying $400/yr to "maintain" common areas that ALL have dead grass, nails EVERYWHERE, no lighting. Almost EVERY house has issues with grading and flooding in their yards. They were putting major beams on the roof of a house in the pitch dark with no lighting late one night (I'm sure OSHA wouldn't approve). Don't waste your time or money. I would say, buy a resale or build with a small, local builder. D.R. Horton is the worst quality and to work with. I'll definitely be reporting to the BBB.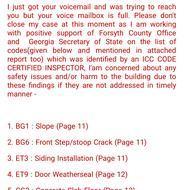 I am concerned about the safety issues and/or harm to the building as their warranty office is not fixing most of the technical issues in my building inspection which were identified by an ICC CODE CERTIFIED INSPECTOR. I have submitted my warranty requests on time and followed up with their local office several times, but there is no help yet.

We purchased our new DR Horton home and moved in on September 1, 2016. We purchased a Calastoga II with 4,000 sq ft. Our first problem was drainage. The front walk and flower beds flooded when we have heavy rain, which happens often in Houston Texas. DR Horton carefully evaluated the drainage issue and arranged for a crew to grade our front yard, move a flower bed, and install french drains which solved the problem.
After 2 months our master shower would not drain. DR Horton to the rescue again. Seems the tile installers let grout get in the P-Trap. They sent out plumbers who jack hammered our drain, replaced the drain line, had tile installers replace the tile and even sent out a cleaning crew to clean up the mess. Then we had an electrical issue with breakers tripping. Again, DR Horton sent out the electricians who replaced some breakers, conducted extensive troubleshooting, and repaired the problem. In our opinion, DR Horton is a great builder. We feel we have a high quality home with excellent warranty repairs. Treat them with respect and keep the appointments with their repair crews and DR Horton will take good care of you.

I have submitted my warranty requests on time and still have not had many of them resolved. I have called, filed warranty claims and sent emails many many many times!!!! Exterior Repairs needed: Cracking was noted in the driveway concrete. Two areas of concrete near the center relief joint were found to have a fairly large chunks missing. This is not correct, especially on concrete as new as is present. Replacement needed. A number of small chunks were noted to be missing from the surface of the sidewalk concrete. This is unusual/incorrect, especially on concrete as new as this. Repair/replace as needed. Caulking is needed to some of the trim around the exterior of the home. Also, caulking is recommended around the television cables that penetrate the North exterior wall to prevent water penetration.
Interior Repairs needed: Sloppy caulking was noted too much of the baseboard trim, where it meets the tile floors. This issue was especially notable around door jambs and trim. Scratches and minor cosmetic damage were noted to the facing of some kitchen drawers and cabinet doors. The granite counter tops were not professionally sealed and polished. The granite is rough, porous and pitted. The dryer exhaust pipe was capped off which caused the dryer to overheat prematurely damaging the dryer. The pipe was routed to exhaust outside by a repair done by the roofer a month ago. The dryer is still overheated and not drying clothes. The piping should have been replaced. The dryer and the piping needs replacing. Interior Door trim molding was cut too short and covered up with chalking and grout by your amateur carpenters. Kitchen cabinets are poorly finished.
My mother and I have tried to get many of these issues resolved during the first couple weeks of ownership and throughout the year with the building manager. Which seems to have fallen on deaf ears. We were told to wait until the first year warranty date. Truly poor workmanship on so many levels. I expected more from a respected national builder that advertises quality. I have pictures but no way to send them to you.

I have been in my home for 3 years and they have yet to fix things that should have been fixed the first year! And it seems that all the different people I have been working with to get things resolved either don't work for them anymore. This is every few months I'm dealing with a new person that say "will get it taken care of" but nothing! I have told them about my shower knob not feel right. I have busted pipes and water coming from my upstairs into my kitchen light fixture as I walk in from my job into my house but conveniently it's not covered by the warranty anymore and all they say is "SORRY" and SORRY is what they are. I will never recommend a DR Horton house EVER!!! Because they leave out to dry after you buy!!! DON'T DO IT!!!

Crossing At Timberlands (Dallas, GA): Regretfully, and without prejudice, my personal experience of owning my new home thus far, as well as, my adjoining neighbors has been that of EXTREME DISAPPOINTMENT to put it politely on all related matters. Shoddy workmanship/quality, no follow-through with homeowner care, sinkholes at some properties in neighborhood, grading/erosion, filthy roads with debris (stones, nails, etc.), in community (no other outlet nor service road for trucks), common areas require serious weeding (no weed barrier present ?), mail/post at a cluster that is not near most properties (NO canopy nor adequate lighting as of this post) and vandalism reported, wild dog(s) seen (see Public records/incidents), construction/utility/service vehicles have blocked/delayed school buses on occasion, and poor sod quality at some properties.
NO retaining walls with some properties that are drop-offs, and backyards appear to be done in a haphazard manner; slowly eroding?? Come "New Year" 2017, I am planning to move elsewhere. I cannot recommend this company that was at one point CrownUS, and now has become DR Horton. When it's a matter of monies, all smiles... I cannot recommend a company that lacks courtesy, civility, etc. Also, items on my two (2) month warranty and from my "closing" date have been complete... Before wishing to settle here, please knock on a few doors, and do your due diligence. AGAIN, I recommend you seek other areas, in essence look elsewhere. And, of note, standing water appears to be an issue. Therefore, FLOODING and EROSION concerns in the future?? "CAVEAT EMPTOR" (Buyer Beware)... Bonus here? Nice Cordial Neighbors!!

Well I signed a ninety-day contract to have my house built. They didn't start on the house until about 45 days until the closing date. If you are looking to have quality home built by D.R Horton, they will not build a quality home. My advice to anyone buying, is do not buy from them because they are a bunch of crooks. I signed contract and also lost my earnest money.

Leaving out many details just giving the main points. DR Horton Homes built my house last year. When it rains water accumulates by the rear of the house--there is clearly a hill rising that does not let the rain properly drain away from the home. Instead it creates a small pond crossing into the lanai area. Secondly I am unable to walk around my home because the left hand of that house is always muddy, wet, and damped; on the most sunny days. I live in Florida. Imagine my frustration after 5-6 days of pure sun and still the ground wet as if it was just raining. (Even left sprinklers off for 3 months, no results)
A separate contractor came to my home and told me the grading on my home is wrong; also noticing simple details such as foundation above ground. There's a few other things but not as important as a potential SINKHOLE. After reaching out to DR Horton they are telling me about how it is not in the warranty. "There you go a builder you can trust."

I'll keep this short and to the point so that people are not wasting their time. Do not purchase a DR Horton/Express home. If during your walk through you experience anyone 1 of these 3 issues, just walk away right then and there and do not follow through with the purchase of the home. IF there is an issue with one of the following: Plumbing, Electrical, HVAC/AC system, WALK AWAY, WALK AWAY, WALK AWAY. Do no purchase the home. The construction is horrible and you will lose money on this home. Trust me, as a current homeowner of one of these horrible homes that we have had nothing but plumbing issues with, just walk away and go to another builder.

I bought a DR Horton home freshly built in 2008. During the walk through, I found several things wrong with the house that they said they would fix. They never did. About two years after the purchase, the cheap Chinese made Hardy Plank siding knockoff they installed started pulling away from the side of the house. I called the company, and they sent someone out. He told me the foundation was settling. 'WHAT?' Then told me there is nothing they can do for it. After four years the gaps between the plank boards are now over 1/4 inch wide. All the homes in the neighborhood have the same issue, so I've started sealing the neighbor's gaps in their siding as well as mine. Ask me for pictures, I'll be more than happy to provide proof!!! This company uses the cheapest materials, from the toilets to the exterior I've had nothing but trouble. The house is garbage. My email address is ** if you want to investigate my claim!

I am about to be a first time home owner, and on my hunt for a home in the beginning of this year I came across a new development area where DR Horton is the builder. The thought that I could customize my own home and pick the lot was extremely exciting!! So I chose a layout and then picked my lot and went to contract in May. Come October, I still didn't have a date to break ground. I had to basically chase and beg the selling agent for updates - only to be given excuses and "I don't know" answers.
I ended up backing out of the contract and found another house to purchase because I was tired of the run around. And what do you know: once I asked for the contract termination paperwork, I was given a start date the next day for the ground to be broken in 2 weeks. And to make matters worse, I was told 1-3 weeks for the processing turnaround to get my earnest money back and they have really forced me to wait the full 45 day processing limit for them to mail my check out KNOWING I need that money to go towards closing on my house. This company is completely inconsiderate and unprofessional.
They will be all about giving you all the time and attention you want when they are trying to sell you a property, but once you go to contract - forget it. I'm just glad I got out and won't be stuck with one of their homes after reading about how poor they actually are after being built and moved into. I'm not the only client my realtor had that is backing out of this particular development because his other client is having the same issue I was having...and he won't work with them again. It's a shame they are more concerned with selling lots and homes than having satisfied customers. A home purchase is a huge decision, and it shouldn't be treated the way they handle it. So, proceed with caution if you go with these guys. They might be nationally recognized, but that doesn't mean they are any good.

Bought a D.R. Horton home in Patterson Ca. note: Belgrade homes in Diablo Grande. Purchased home last month. On day of move in, plumbing problems in walls, two story home. Whenever upstairs bath or toilets in use, sounds like raining in dining and entrance walls. One problem after another. Nightmare purchase. They pass you on to their customer service people who further pass the buck all the way around to your not having any resolve. They finally opened up my walls and filled them with sound proofing materials and the loud sounds of water running down my walls persist still. Choosing cheap methods as they have is only making the problems worst. Run from this builder as fast as you can. They also laid the plumbing pipes against the sheet rock/stucco in entrance hallway.

From day 1 Mitchell lied and promised us the moon. When it came time for offers, DR Horton raised the price by ten thousand dollars. They then said that none of the promises the broker offered were included. We negotiated for days and then another lie. We were told we could use our own mortgage broker. Lie! We do not get the closing costs. The house was of shotty craftsmanship and had been sitting vacant for 8 months. Run. Run fast. I'm glad I got out when I did and before I signed. Read the reviews. Shut this company down. I ripped my down payment up and will look for another house. Please do the same. DO NOT USE DR HORTON. DO NOT USE DR HORTON. LIARS. CHEATS. THIEVES. SCOUNDRELS. The list goes on.

I would like to share my experience with DR Horton the Builder and DHI the finance branch, starting from the beginning when I had put-in an offer for a house that I do regret looking at the properties in West Melbourne FL. They start with first lie when they told you, "You are welcome and we are all about your satisfaction."
Lie after lie. 'Til you start to believe it's the company policy since I haven't seen anyone deviate by telling one truth (honest people get fired on the spot). They had changed my closing date several times without knowing the true reason. And same for everything else. Bottom line is please do not believe what they say, stay away from them and save yourself the headache.

3 months and many phone calls and even a certified letter later and none of issues we have had for the entire year since the house was built have been addressed. No one even returns calls. This is the worst experience I have ever had with a builder or any business. The homes are poor quality, they do not own up to their promises to repair. I recommend them to no one. They are very nice, so if you are a trusting soul, BEWARE.

I am a first home buyer and my budget is not very high however, I want a good quality home. I found Dr Horton and at first I was so excited I was going to build. I found the lot and plan I liked. About to sign the contract and they failed to disclose to me that it didn't come with a covered back porch for my dogs. So I moved on to a different house in the same neighborhood. I signed the contract, got pre approved for a mortgage loan and the next day the sales representative called me and told me that this house did not come with a covered back porch either.
They knew that was a must have being so hot down here in Alabama, it is imperative that my dog have shelter. So they offered to build a pergola which has no shade. I was so disappointed that I ended up canceling the contract. They are suppose to be professional builders and they failed to realize that a covered back porch was not on the plan. I ended up choosing a different and better company. I am sorry to say that I nor my realtor will never buy or sell a d.r. horton again.

If I could rate Timberlake DR Horton below zero, I would. They do not tell the truth. Shoddy work. No pride. Argumentative. Defensive. No one should have to move into a house in the shape mine was and still is. I would have been better off with an old resale. My mistake was trusting them. They lost punch list and QC list. Did not even have it at closing. Even after 3 weeks, still no mail receptacle. They say "we don't work for the postal service." Anyone who asks where I live just sighs and says "oh no." I am ashamed of this house and feel unsafe.
Even in other parts of Florida, they know the reputation of the builder and staff at Timberlake. They dump and run. What a sad and shameful experience for purchasing with them. I am sure no one on their staff would allow anyone they knew to move in a house with so many defects. I have 10-12 pages of problems. Don't get caught up with this company or at least in this subdivision. Do whatever it takes and don't even look at these homes.

We had the opportunity to work with DR Horton's Home Buyers Club to be able to have the opportunity to buy our 1st home. We had looked at multiple resale homes and thought we would end up buying a resale. Our experience with DR Horton from beginning to end has been a very smooth experience. Our sales agent Alex who was not only our neighbor to the house my husband and I were renting but also a great friend help get the ball rolling. His knowledge and experience and great customer service is impeccable. His attention to detail and keeping us updated was and still is greatly appreciated.
Before we knew it, we were at our closing date and moving in. The first walk through was a stressful experience but one that was also smooth. The person we did our walk through with, was a wealth of knowledge in construction and an awesome resource. Everything we saw and even things that we did not see have been tended to and we could not be happier.
We were able to check on the progress of our new home practically on a daily basis and thoroughly enjoyed watching the progress as it was getting built. We could not have asked for a smoother transition from renting to buying. There is not a single person who we dealt with at Fort Apache Ranch III that did not make the home buying experience a smooth transition. We thank each and everyone one of them for all they did to help make this possible.

BIRMINGHAM ALABAMA... I know DR Horton is building 5 subdivisions in our city. Please Please read all the reviews and RUN RUN RUN if you are considering buying from this company. I moved into my home 4 December 2015. Christmas day the upstairs plumbing leaked and completely soaked my master bedroom. I have begged for 9 months to fix the water issues outside. My neighbor across the street found no insulation in her bedroom walls. My downstairs has wood floors except my master bedroom, so I decided I wanted wood floors in the room. The company came 16 September 2016 to remove the carpet. My foundation has cracks running every direction. Please stop by Hunter's Gate off 280 and talk to us. Everyone would be happy to tell you all the problems we have with water issues in our yard and how warranty issues are slowly getting fixed. God Bless anyone that owns a DR Horton home.

I fell in love with the floor plan of my DR Horton house. I have learned my lesson. You have to look up the builder and not just buy a house because you like the floor plan and the price. I must add, their nonsense about going with their lender and getting a little more off the sale price, well, good luck to anyone that does this. We were given different dates for closing. It changed 3 times. The 3rd time was the day before we were supposed to close and had a UHAUL and our stuff loaded.
This was the first house my spouse and I bought together and it was supposed to be our forever home. I was excited about the experience of us looking and buying together. THIS HOUSE WAS A COMPLETE NIGHTMARE! There were minor things that needed repaired when we did our walk through. Those were fixed. However, 1 month in, we started seeing other things that needed taken care of. Don't believe them when they say they will fix something up to 9 months after purchase. I think that is correct. It's either 6 or 9. Once you close, they are done with you. They don't care about you anymore.
We had shower tile issues. We had an AC go out upstairs after 1 year and 1 month. Literally 1 month after the warranty was up. We ended having to put a window unit in. The whole house was very drafty. The master bedroom was 15 degrees warmer than the rest of the house in the summer. So we added an AC unit in our room. The head builder guy got tired of us hunting him down throughout the neighborhood. Therefore, he told us to go to where the houses were still being built and grab whatever materials we want and fix what we need to. Supposedly his crew was too busy to fix their own mistakes. They use CHEAP materials and throw the houses together way too fast. I only found that out after we had moved in and watched 4 houses around us being built in a month.
We saw people's carpet laying the street. We went in some houses that were still empty because we were curious about what the floor plan looked like. Those guys were smoking inside and throwing their cigarettes on the floor. AFTER THE CARPET HAD BEEN PUT IN. Our foundation was cracking and we had only been there a few months. Anyway, we hadn't even been there a year when we realized, we had to try to sell before the roof caved in and we had no way out. We were a little worried because there were a lot of houses in our addition for sale. People with the same problems realizing they needed to sell and run. However, ours did sell fast. THANK GOODNESS! We were so frustrated and worried all the time about what would happen next, that we couldn't enjoy anything about the place.
I can't believe this company is still going strong. People really should read reviews before they get stuck in a bad situation with a builder. DR Horton has started building a whole new addition just a mile from the one we got out of. I feel sorry for the suckers who fall for their friendly, smiling faces that will turn their back the second you close on the house. I hope you find this review helpful if you have been thinking about buying a DR Horton home.

In 2011, I purchased my home in the SouthPoint Subdivision in Denham Springs, LA. August 13, 2016 my home was affected by the 2016 Flooding. The wall anchors were not put in correctly. My a\c vent going out was not installed properly. When we gutted the home, we found a broom, soda bottles and donuts in the wall. As a single woman, I was excited to be purchasing my home on my own. There has been drainage issue on the street. My toilet is always backing up. Some of my neighbor's bricks came completely off the sides of their homes. If you are looking to purchase one of their homes don't.

Purchased a new construction home by D.R. Horton, express homes. Loved the floor plan and location, and price. But, you get what you pay for. Closing was bumped out 5 times for lack of manpower and misc odds and ends. First screw up was framing. They closed in a walk-in closet into a normal closet then promised extra shelving which I never received. They took away square footage that I was paying for. We had issues with painting inside and out. We've been in the house since Aug 19, 2016 and have had plumbers out twice for toilets not flushing. We've had tile replaced for cracks. There's still exterior painting to be done.
Here's the icing on the cake though. We're in Texas. It gets HOT. Today, the high was 97. Our air conditioner goes out. Not even a month after we move in. Inside temp reached 91 degrees at 5pm. Service call put in. Technician shows up at 10 pm. He can't fix the problem. Warranty needs to handle it, but he says there are lots of issues and parts are needed to be ordered. Great. I have 4 kids, 2 dogs, 1 ceiling fan, no air conditioner, and it's 90 degrees with no breeze.
Step back to earlier in the day, our building superintendent, Keifer **, says "get a window unit for now", he will take care of it. So we buy a $200 window unit, and all 6 of us huddle in living room for the night. We contact Keifer to let him know the issue and said solution, and that we bought a window unit. He says he can't reimburse us for it. But what he meant was he would buy the window unit, let us use it till repairs were done. And then he would return it to get his money back. What the heck! I just bought a $210,000 home, been in it 24 days and have no air conditioning. I just spent my daughters birthday money on a window unit that I thought DR Horton was paying for. We're not returning it as we may need it later...never know.
The whole process with DR Horton has been a nightmare. One issue after another. Wrong framing. Plumbing issues. Promises unkept. I should've listened to my realtor when she said to not go with Dr Horton. We loved the floor plan, it was well within our approval amount, and loved the location. However the experience was far from pleasant. A new home should have ZERO issues.
Compare Builders & Developers
DR Horton Homes Company Profile
Company Name:

DR Horton Homes

Year Founded:

1978

Address:

301 Commerce Street Suite 500

City:

Fort Worth

State/Province:

TX

Postal Code:

76102

Country:

United States

Website:

http://www.drhorton.com/