D.R. Horton Homes
D.R. Horton is an award-winning, family-owned construction business headquartered in Dallas, Texas. The company was founded in 1978 and is now one of the largest homebuilders in the United States. Currently, D.R. Horton builds move-in ready houses in 29 states across the country. The houses are complete or nearly complete and available for immediate purchase.
Overall Satisfaction Rating
5 stars

4 stars

3 stars

2 stars

1 stars
Pros
Energy-efficient
Smart home devices
Move-in ready
Financing available
Cons
No customization
Limited availability
Bottom Line
D.R. Horton Homes are ideal for buyers who are ready to purchase but don't want the hassle of customizing features. D.R. Horton offers energy-efficient features and smart home functionality.
Top D.R. Horton Homes Reviews
How do I know I can trust these reviews about DR Horton Homes?
4,212,620 reviews on ConsumerAffairs are verified.
We require contact information to ensure our reviewers are real.
We use intelligent software that helps us maintain the integrity of reviews.
Our moderators read all reviews to verify quality and helpfulness.
For more information about reviews on ConsumerAffairs.com please visit our FAQ.
Verified
My experience was phenomenal. It started off with our sales Rep Dosia T, she was awesome. Always available even on her day off. Love love her excellent customer service. Highly re...
Read full review
Frederick & Dee

of Douglasville, GA
Verified
We purchased our new construction home about 6 months ago 2019 and the experience was absolutely amazing. If you are looking for a nice home you will get an excellent one with DR ...
Read full review
What is D.R. Horton?
D.R. Horton Homes are available in a variety of floor plans, sizes and styles. To visualize the design and amenities offered by D.R. Horton, visit a model home or tour a finished community. You can schedule in-person visits to a model home during listed business hours, and newly finished houses can be scheduled for viewing directly from the digital listing on the D.R. Horton website.
Characteristics and features of D.R. Horton's homes include:
Open floor plans
State-of-the-art appliances
Energy-efficiency
Integrated geofencing technology
Multiplatform wireless network
One-wire connectivity
Hands-free communication.
You can access all functions of the home's smart devices on the Qolsys IQ Panel, which allows you to use a variety of smart device products from one central location. From the Qolsys IQ Panel, you can adjust the thermostat, set the alarm, lock and unlock doors and set lights on a timer.
D.R. Horton closing costs and home prices
Prices of D.R. Horton homes vary based on the location, floor plan, size and style of the home selected. Most listings do not include closing costs or any related fees, so the price listed may not be 100% accurate. To determine an estimated mortgage payment you can afford, use the mortgage calculator on D.R. Horton's website. Financing and insurance are available through affiliates of D.R. Horton Homes.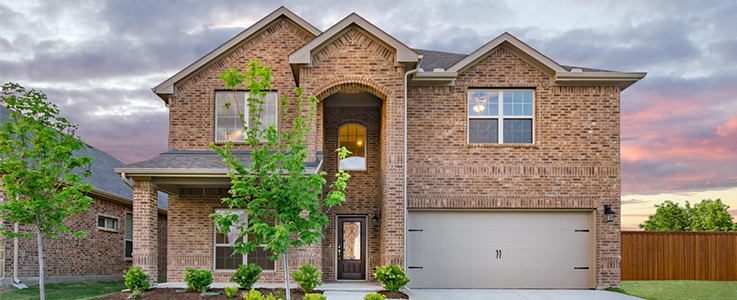 Photo (c) D.R. Horton Homes
D.R. Horton Homes FAQ
What is included in a D.R. Horton home?

A home built by D.R. Horton features energy-efficient construction, integrated geofencing technology, a multiplatform wireless network, one-wire connectivity and hands-free communication. These features are powered by the Qolsys IQ panel. The panel is compatible with a Honeywell thermostat, Amazon Echo Dot, Kwikset Smartcode and Skybell. Some features may be unavailable in Hawaii.
Are D.R. Horton Homes efficient?

D.R. Horton uses energy-efficient roofing materials, siding, windows, heating, ventilation and air conditioning systems. Every D.R. Horton home features at least one appliance or product with an EnergyStar designation.
Do D.R. Horton Homes come with appliances?

Yes. D.R. Horton homes include Whirlpool appliances.
Will D.R. Horton negotiate prices?

The company is open to negotiation with any buyer. When negotiating pricing, consider using D.R. Horton's immediate inventory and preferred vendors. You may receive a lower price.
What is a D.R. Horton smart home?

D.R. Horton smart homes are equipped with alarms, smart thermostats, wireless interior lighting controls, electronic deadbolts and smart video doorbells.
Is D.R. Horton a good builder?
D.R. Horton can be a good choice for buyers who want a move-in ready home that doesn't require any remodeling. While D.R. Horton is a reputable company, it's essential to vet the builder and conduct an appraisal. We like the affordability, convenience and capabilities offered by the company, so if the price works for you and you find a design and floor plan that suits your needs, we recommend D.R. Horton.
D.R. Horton Homes Reviews
A link has directed you to this review. Its location on this page may change next time you visit.
How do I know I can trust these reviews about DR Horton Homes?
4,212,620 reviews on ConsumerAffairs are verified.
We require contact information to ensure our reviewers are real.
We use intelligent software that helps us maintain the integrity of reviews.
Our moderators read all reviews to verify quality and helpfulness.
For more information about reviews on ConsumerAffairs.com please visit our FAQ.
Page 1 Reviews 0 - 6
Marc of Graham, NC

Verified Reviewer
Original review: March 2, 2023
Our sales rep in Graham NC has been top notch! She has worked with us and has over communicated in every way. We are building the Cali home and can't wait
to see how all this comes together. Before going under contract with DR Horton on this home, our sales rep allowed us to walk several homes in every phase of construction. One of the main things that stood out was that they are using a lot of our own local sub contractors to do the work. Some I do not know but for the most part, they are reputable subs.
D.R. Horton Homes response
Hello Marc. Thank you for sharing your experience with D.R. Horton. We hope you enjoy your new home for many years.
Be the first one to find this review helpful
John of Meridianville, AL

Verified Reviewer
Original review: Dec. 10, 2022
I waited 18 months after purchasing my new home to write this review so that I could write about my experience buying and going through the warranty process. I purchased my new home with the help of a private real estate broker. The private real estate broker worked with D.R. Horton to ensure that my new home was constructed accurately. The broker visited the home site periodically during the build and was able to correct any problems with the house before the house was completed. I also hired a well respected home inspector to inspect the house thoroughly before closing. All of the issues that were found by the real estate broker and the home inspector were corrected prior to closing. The builder worked very well in tandem with the broker and the home inspector. I highly recommend that you use your own real estate broker and home inspector when purchasing a home whether it is used or new.
The warranty process operated smoothly. I had a half a dozen issues that the warranty team handled perfectly. It usually took about a week to receive an acknowledgement of the warranty request from the builder and then we setup a date and time for them to come look at the issue. All of the issues were relatively minor. I needed to have a door adjusted because settlement was causing the door to stick. I had a shower faucet that became misaligned about 9 months after the house was built because of settlement which is normal. Every issue was resolved satisfactorily without incident. My neighbor and I discussed warranty claims before we both moved into the neighborhood at about the same time. We both had the same experience with D.R. Horton and we pleased with their warranty service. I am very pleased with my purchase from D.R. Horton.
D.R. Horton Homes response
Thank you, John, for sharing your experience with D.R. Horton. We hope you enjoy your home for many years.
3 people found this review helpful
Thank you, you have successfully subscribed to our newsletter! Enjoy reading our tips and recommendations.
Lily of Amsterdam, Other

Verified Reviewer
Original review: Oct. 19, 2022
So we bought a D.r. horton home without major problems on a top location. There is a group of people who are very negative about d.r. Horton homes but you have to use your common sense. The contractors that they are working with are the ones who are building your home. I seriously know people who bought their home last year unseen! With no pre-inspection from a professional. You are not buying a bag of chips! ALWAYS hire your own inspector. We did and even though there were only two minor issues we don't regret spending some extra money on that.
Also read what you should know about buying a home. You can't just go with what the SALES representative says, they are trying to sell you something. While they were building the house we were here almost every day looking so that the workers know if they messed up they would hear about it. One worker had used our bathroom, we immediately notified D.R. Horton about it and they dealt with it. Also due to the prices of the houses you know you are not getting top notch finishes. It is basic and from there you have to replace certain things (tile the bathrooms, change the tub for a walk in shower etc, paint the walls, wallpaper, your choice of light fixtures etc).
What is important that the foundation is good, your house has gutters, the plumbing and electricity has done good. You have to make sure that you review everything that they did and that you have everything in accordance with the agreement BEFORE you close on the house. We measured everything from the garage to the bedroom because when D.R. Horton told us our bedroom, garage etc is a certain size it has to be that size. Our inspector inspected the roof, all the systems in the house, the concrete etc. That is what you want to do.
It also helps that you tell the sales representative that you are going to have your own inspector. All with all these homes are good for smart people who don't believe everything that a salesperson tells them but do their own research and inspection. I mean you probably will not buy a car without letting it be inspected first by a mechanic right? No matter what the salesperson says? Same with a house. New doesn't automatically means good!
D.R. Horton Homes response
Hello Lily. Thank you for sharing your experience. We hope you enjoy your D.R. Horton home for many years.
12 people found this review helpful
Rick of Fishers, IN

Verified Reviewer
Original review: Aug. 20, 2022
This is the first D.R. Horton, that I have lived in & the second new home in my lifetime purchased, the other two were resales of existing homes. I have found my experience with D.R. Horton, in the Indianapolis, Indiana, Market to be "Extremely Positive", all things considered with the disruption of the supply chains, and employee issues, due to Covid, which have Not been D.R. Horton's fault. All issues in my townhome have been corrected or are in the process of being completed in a "timely" & "professional manner". Scott **, from D.R. Horton's Warranty Division, under the direction of Pete **, Vice President of Construction have been "Professional", "Courteous", "Enlightening" as to what they can provide to address any and all of my concerns.
As a former Customer Service Professional for over 40 years, I believe I know Excellent Customer Service when I experience it first hand. And that is Exactly the experience that I have had with D.R. Horton Homes in Indiana, Indiana. D.R. Horton Homes, are track homes, "not" custom homes & are built to the highest industry standards according to the local community ordinances. Unlike most homeowners who only write "negative reviews", I take the opportunity to tell the other side of the story. If you are "reasonable" in your requests & expectations D.R. Horton Homes will deliver as promised. A 5 Star Builder? Absolutely!
15 people found this review helpful
Oscar of Mooresville, NC

Verified Reviewer
Original review: Feb. 11, 2023
I recently purchased a 3 year old D.R. Horton home from the original owner. I have had two issues that have been denied by D.R. Horton warranty as the house was past its 1 year builder's warranty. The first was a cracked slab foundation that the home inspector told me would easily be addressed by D.R. Horton but was immediately rejected after purchasing the house. The second was damage/loss of three fiber cement siding boards (Hardie plank) due a storm with winds 40-50 mph. Hardie claims 50 year warranty and ability to withstand up to 129 mph winds IF PROPERLY installed.
I was forced to pay a handyman out of pocket for the siding repairs and he showed how the siding boards were installed incorrectly. Several of the top nails were driven completely through the boards due to overpressure from the pneumatic nail gun. Upon further inspection, many other boards were loose from the top nails also being driven completely through with only a few other top nails holding the boards. Hardie installation instructions clearly state that the top nails should be flush but NEVER below the surface of the board. I understand that D.R. Horton pays contractors but they should stand behind their products and not simply default to the "sorry, you're past your 1 year builder's warranty" statement. I've owned four previous houses and this is my first and definitely my LAST D.R. Horton house. I am also happy to speak with a D.R. Horton representative and update this review.
18 people found this review helpful
Austin of Georgetown, TX

Verified Reviewer
Original review: Feb. 8, 2023
Bought in 2021, so many problems to list. Their warranty is awful, they usually refuse to help, or when they do have someone come out, they are the same people who usually caused the issue in the first place. Here is what we have had issues with in our first 18 months here.

-Yard was lumpy with sod, construction debris everywhere littered in yard (level and top fill on our own dime)
-Brand new paint patchy all over (had to repaint whole house on my own dime)
-Uneven walls, un plumb, wavy lines.
-Improperly installed A/C drains causing flood and trip sensor in attic, no AC in summer for a few days. (had to fix on my own dime due to how long it would take to get warranty out).
-Dishwasher went out 13 months in (replaced on own dime).
-Floor started separating, told it was my problem by warranty.
-Shower tile improperly installed with jagged tile edges, warranty solution was a thick ring of caulking around drain that has to be redone every 8 months. (Warranty company solution recaulk to hide improper measure and cut of floor tiles.)
-Banister has nails sticking out in hand rail part. We had to pull them out ourselves.
-Huge chunk of a rear support column was missing and painted over, had to have warranty come out and replace the beam. They did and their contractor left cigarette butts, caulking, nails, trim scraps and trash in our yard.
That is just the major stuff, not even the minor annoyances like LED light fixtures breaking after 6 months, or the fact the exposed craftsman style moulding has un-sanded, unfinished edges, bad staining jobs on front door and banister and more. Warranty is basically worth less than the ink it's printed with. The first conversation that comes up with every neighbor is usually something about how poorly something was done and you spend 20 minutes complaining about the build quality.
20 people found this review helpful
Melissa of Royse City, TX

Verified Reviewer
Original review: Feb. 8, 2023
We purchased a new DR Horton home in October 2021 in a new/relatively new development in the Dallas, TX area. The home looks nice enough on the surface, but buyer beware. We were able to observe several stages of our home as well as others in the neighborhood being built.
Cleanliness During the Build: No dumpsters were used during the building phase so all garbage from the contractors (including beer bottles and pieces of wood) was thrown down onto the property. These were then covered over when the yard was (minimally) graded and sod put down or sidewalks laid. These items have since pushed up through the sod and the walkways are crumbling in several places where there is garbage underneath. Inside the home, similarly, carpet was laid directly over garbage. You can hear it when you step on it. Carpeting was cut to size out on the street (directly on the ground) before being brought into the home. Certain houses where sand had been dumped in the front yard had mounds of sand inside the house over the previously laid carpeting.
Quality of workmanship in the living areas: Several areas of the floor slab were left with large divots where either something heavy fell to create the hole or, in some cases, rebar was pushing up through the cement. Crown molding put up over the cabinets was not nailed properly together or to the top of the cabinets. Several pieces of crown molding or baseboards were cut either too long or too short but used anyway. Carpeting was cut too short in one bedroom and the attempted fix was like a combover of a bald spot.
Quality of Workmanship with regard to HVAC: We've had our plumbing checked (as a matter of routine) and, surprisingly, this got very high marks from the technician. However, when we had our furnace/ductwork checked, there were problems. The DR Horton builders installed a furnace (capacity) that was on the low end of acceptable. However, they also installed ductwork that was too small, too many branches, and not enough returns. What we notice is that part of the house always runs too warm or too cold. What we didn't know was that this is suffocating our heating/cooling system and essentially shortening the life of our system. Glad this was discovered. But, it is now costing us $7000 to $13,000 to fix the ductwork (depending on whether we fix all of it or just the worst parts).
So, the bottom line is, that DR Horton cheap outs and incompetence are costing us several thousand dollars to fix after less than two years in the home.
13 people found this review helpful
somyot of Scappoose, OR

Verified Reviewer
Original review: Jan. 21, 2023
We noticed a leak in our roof, and contacted them to find out if the warranty still cover. It turn out it is not because it has been more than a year which is understandable. So we contacted our local roofer to fix them. We were informed that the leak was due to the roof were installed incorrectly and it was obvious that it has been slowly leaking from day one. Our roofer wrote us a report and took some photo and while he was up there sealing all the vent. So I contacted them again telling what I was told. Kenny, senior customer service representative of Portland told me some roofer will contact me to come take a look.
A month had passed so I contacted him again. He said it is fix but no roofer ever contact me. And I don't think anyone was up on my roof. He also mentioned that his roofer said that the vent were not original vent that was installed and they will not be responsible. But since we bought the house nobody was up there at all. I told him he need to fix our rock sheet as well. He ignored.
I called the cooperate. Kenny texted me saying sorry and that I need to be patient and he will figure this out at the end of the week. It was three weeks ago. I first contacted them in November and this is almost the end of January. I would be patient if he keep me updated, but he completely ignored my text. I normally don't like leaving bad reviews ever because I don't like hurting business. I'm a business owner myself and I love it when a customer come to me before leaving negative comment anywhere. I understand that people make mistakes but when they don't admit that they do and don't try to fix it is not ok. I say avoid them. They seems nice when they want to sell you the house. But once you do, then they don't care.
D.R. Horton Homes response
As your home closed nearly five years ago, the roof is no longer under warranty. You may download a copy of your warranty on our website under the Warranty section.
25 people found this review helpful
Nicole of Spring Hill, TN

Verified Reviewer
Original review: Jan. 4, 2023
Not only has our house had many small issues come up due to the lack of quality/detail D.R. Horton stands behind, we are now 3 years into living in our home & our master bathroom shower pan has failed. We started noticing some signs a few months ago. When we reached out to the warranty department for their insight on the issues we were noticing, they essentially ignored us. This is a good $13,000 fix. We are so disappointed in the craftsmanship of our home. No shower pan should fail after just 2 1/2 years! BEWARE. Their quality is not worth building with them.
32 people found this review helpful
robert of Calabash, NC

Verified Reviewer
Original review: Dec. 6, 2022
Summary: Submitted warranty info in August. Submitted again on DR Horton Warranty website on November 14, 2022. December 6th DR Horton has no receipts of submissions, will not return emails or calls and will not read our emails showing proof of all warranty submissions.
We closed on a DR Horton house on August 5th, 2022. After 30 days we did a walk through for warranty issues with Andy our builder contact. Each item was documented by DR Horton and small stuff like paint and holes in the walls were repaired quickly. However larger items such as the banister to the staircase falling over or nails sticking out of each stair on the staircase were not fixed.
In November we contacted our sales representative since we could not get our builder contact to call us back. It turns out the builder contact left DR Horton and we were never informed. Also we were told we needed to submit all warranty information on the DR Horton website. On November 14, 2022 we submitted 20+ warranty issues including items such as dead trees that DR Horton pointed out to us, staircase banister that is falling over, hole in the wall made by the plumber when fixing a leak that turned out to be poorly installed bathroom countertops leaking into the wall, etc, etc.
The DR Horton website stated we would be called back in 48 hours but today is December 6, 2022 and no one will call us back except our sales representative that suggested none of the submissions made it to DR Horton. Today I sent emails to DR Horton Warranty with ALL the receipts of submissions we made in November. But no call backs. I also tried to call DR Horton warranty and no one answers.
Do not buy DR Horton. Not only will they not honor their warranties but we also had to spend 20k grading our yard that is under water. We would have submitted the grading which did not meet the POA's requirements but we had already planned to re-do the yard and we thought we were being good citizens and let DR Horton off the hook on the yard. Bottom line: DO NOT BUY DR Horton. Yes it's a spec build. But a spec build can be very nice if you make it your own and the builder works with you. DR Horton will not work with you. They will ignore you. I can back everything in this complaint with a paper trail.
D.R. Horton Homes response
Thank you for your review. Your concern was forwarded to our management team in Myrtle Beach for their review.
31 people found this review helpful
D.R. Horton Homes Company Information
Company Name:

DR Horton Homes

Year Founded:

1978

Address:

1341 Horton Circle

City:

Arlington

State/Province:

TX

Postal Code:

76011

Country:

United States

Website:

www.drhorton.com
You're signed up
We'll start sending you the news you need delivered straight to you. We value your privacy. Unsubscribe easily.