Consumer Complaints and Reviews

This is/was my first time ordering from Williams-Sonoma and certain if will be my last. I ordered a Cuisinart ice cream freezer Dec 26 for my husband's birthday on Jan 11. That's right, TOMORROW!!! Still no freezer!!! Their email says it was shipped December 28. When I called to inquire about its existence I was put on hold for about 10 minute with the representative continuing to pop back on saying that she was still looking into it. Looking into what? Either you shipped it or you didn't!!! Then I get the excuse that it could take up to 15 business days for delivery. That equates to 3 WEEKS!!! I asked her if the pony died and they had to get a new one. Will be calling my credit card company in the morning to have charges reversed, never again from this company.

I received an olive oil sprayer as a gift for Christmas. Loved the concept, but it didn't work. I took it to the store (with packaging but no receipt as it was a gift), and asked if I could return it for store credit. The answer was no. Returns are only allowed with receipts. Poor customer service. I will not be shopping there again.

Williams-Sonoma simply MUST communicate more clearly at time-of-order that an item is not in stock. It is NOT clearly stated, and its online order interface is misleading. On Dec. 20, 2016, I ordered the Wusthof Classic 6-inch chef's knife as a Christmas gift and was told that it would be available for delivery after Dec. 27. Thinking the knife would arrive on or around a few days after that date, I was fine with that.
However, the date continued to be pushed back (Jan. 5, 11, 12 and so on), and now, at the time of this message on Jan. 5, the expected date is Jan. 26, 2017. A call to Mark at customer service blamed it on "vendors." Time for new vendors, perhaps. He could offer no further insight into when I might expect the knife. At no time when the order was placed was it clear that the item was on deep back order or that it may take a month or months to ship; otherwise, I would not have ordered it. Mark told me I could either wait for the knife (whenever that might be... Easter? Next Christmas?) or call a store to see if it would have the knife in stock.
I called the nearest Wichita, Kansas, store and was told simply, "No, we don't have it." "Do you know when you might expect it?" "No." How can you run a business and not know when to expect restock shipments? No business I've ever heard of or participated in runs this way. For priding itself on its quality and elitism, Williams-Sonoma's customer service should exceed that of your average Wal-Mart. It does not. To resolve this misleading mess, someone needs to fly to Germany, pick up my knife and personally deliver it to my doorstep. Or just send me my knife now.

I ordered prime rib with sides for Christmas dinner on 12/18/16. I received the sides Christmas Eve morning and when the prime rib was not delivered by 6 pm my husband called UPS and was told that they did not receive it from Williams-Sonoma. When he called Williams-Sonoma he was initially told that they could not ship out until 12/29. My husband asked to speak with a supervisor who said the prime rib was out of stock and would refund us the cost of the entire order. We asked him to send us a turkey or ham or whatever piece of meat that was in stock and we would have it for New Year's but were told that he couldn't do that because then "we would not be paying for anything". We were never called or emailed that the meat was not going to be delivered which would have given us an opportunity to make other arrangements for Christmas dinner.
I emailed customer service and the response was useless "I am so sorry... we provide excellent service... thanks for bring to our attention." I posted a comment on their Facebook page which I encourage all of you to do and received a message back from their social media rep who offered me 25% discount on the next meat we buy. I find that an insulting offer as do my 7 hungry guests from Christmas dinner that were served mashed potatoes and string beans. Buyer beware - Williams-Sonoma apparently is not interested in customer retention. The issue was nonnegotiable and they failed.

I bought a rug from the Orlando store. I was told the rug was returnable. Our sales rep, who was wonderful, read the back of the swatch that stated the rug was returnable. On my receipt, it stated "estimated delivery December 8, 2016." On December 20, I had not received the rug. I tracked it online and read that it was a special order and cannot be returned. In addition, the delivery date is now July 6, 2017. So I called to cancel the order. I AM TOLD I CANNOT CANCEL THE ORDER!!! They said they will check with the vendor. It is confusing. Today is December 26, 2016. I still have not heard. I have called 3 times to cancel. This is not worth the aggravation.
How do I know I can trust these reviews about Williams-Sonoma?
672,188 reviews on ConsumerAffairs are verified.
We require contact information to ensure our reviewers are real.
We use intelligent software that helps us maintain the integrity of reviews.
Our moderators read all reviews to verify quality and helpfulness.
For more information about reviews on ConsumerAffairs.com please visit our FAQ.

If I could give no stars I would. I ordered food in November for four families for Christmas. My order was cancelled without an email or any notice and there will be no food for these families. When I called they lied and said they had sent me notice. THIS COMPANY IS HORRIBLE!!! Ordered last minute from Neiman Marcus and they will deliver on the 28th. Thanks to them.

I wish I could give Williams-Sonoma 5 stars but there is no way I could. I will never step foot in this store again. I have spent hundreds of thousand of dollars between Pottery Barn - Kids, and Williams-Sonoma so for me to be done is a big decision. The Des Moines location recently got mostly new staff and when they were in the middle of it we stopped by and did some shopping. A manager from a different location came to fill in and he was wonderful; so wonderful that when I got home I was convinced it had the best customer service I've experienced.
While there they had some simple white dishes that I fell in love with them. They were slightly on sale but on sale enough that I was willing to buy them. We have a large family so we needed 16 sets of each piece. Each piece was sold separately and they had the majority of what we needed but the manager said they could check other store's inventory and have them transfer it to their store. He went above and beyond in order to accommodate us. While we were shopping he went and helped other customers but came and checked on us several times in a non-nagging way. While he was helping somebody I asked another employee if she could order in enough dishes to create 16 full sets. She said she would work on it that night.
I should also mention I was there shopping with my parents. My dad spent a bundle of money because the manager was so nice. My dad's just a nice guy and when we were walking out he said, "I feel like we just made a new friend." I didn't purchase the dishes that night because I didn't want to carry them around. My husband went back the following day to buy them. The manager was there and helped Tim with the purchase and said they would get the dishes ordered in and it would be for the same price. We had to call them multiple times to see if the dishes came in and the answer was always no. We thought it was odd that it was taking several weeks for them to come in and we still don't understand what the hang up was.
After nagging them they finally came in. When my husband went to pick them up it was, of course, past the 30 return window and they wouldn't sell them to him for the price we originally got them for because the sale was now over. He spent over an hour there and finally they agreed to the original price so he bought them. As soon as he got home I counted them and they had ordered the wrong amount. We had extras of some pieces and short 5 pieces. I called WS and told them what they had done. I had the item numbers ready and told her and she raised her voice and was upset because she said she couldn't look it up with the item number and wanted a description of which pieces (that was new to me). I told her they were white dishes and she eventually did need the item numbers. Within second she told me they were completely sold out in the company and they wouldn't be able to get them.
I asked if she could have the manager call my husband to verify that. I don't have a phone and only make calls through my computer to keep a simple life. He never received a call back so we started calling stores ourselves to see if we could get the missing pieces and the first store we called had several pieces. All that to say, WS was dishonest in saying there weren't any left in the company. When my husband called the original manager, (He was a manager at a different location filling in at our store because they had all new staff. They needed help with training.) that we dealt with, he was able to call our store and find out what was going on. That day our store called saying they had all our missing pieces.
A few weeks later we came in to pick up the pieces and return the extra ones. My husband travels for work so this was his first chance to pick them up. When we got to the counter we had horrible service. They would not return the extra pieces and got on our case for not figuring it out when we were there last time even though I had called weeks ago telling them we had extras that we had to return. I brought the receipt and she got on my case for not having the bottom of it printed. I asked if she could look it up by my email address and she said no. She rolled her eyes at least 20 times throughout the time we were there. The receipt was looked up by our email eventually even though she said it couldn't be done that way. She made a negative comment about it taking us so long to pick it up to which we explained they had never called and we had eventually got an answer by calling the other manager.
She threw her hands down and shook her head. She was very demeaning and embarrassing to deal with. We had to ask for the manager because she wouldn't return the extra pieces even though when I called I was told that was fine if we returned them. She went back to the manager and made a sarcastic comment about how everybody deserves a lunch break and there was no way she was going to come up and talk to us when she still had time left on her break. We never expected that or asked that. The manager told her she could return the extras. I'm not sure if I said it above but they had again ordered in the wrong number of items which caused our set to be short 1 bowl. So Frustrating! The manager said they would not find us the missing piece or do anything about it. She also said that since we denied talking to the manager there was nothing they could do.
We never even discussed talking to the manager or anything along those lines. When we questioned her about what she was talking about she wouldn't look at us or answer our questions. All said with a smile on her face. We did the return and purchased the additional pieces and then she left us. She didn't put it in a bag or wrap it or anything. The manager then came over and we explained what happened and she was zero help and had no expression on her face. We left the store after all that and decided we will never give them business. I understand that wires can get crossed and there can be communication problems but through that you show people respect and good customer service. We were a lifetime customer and have purchased hundreds of thousand of dollars worth from WS, PBK, PBT, and PB.

I'm a long-standing customer who has spent thousands of dollars between PB & Williams-Sonoma. I ordered a dining table for my new home last month and the delivery guys were not big or strong enough to carry my table in so I had to help them. They got it to the dining room then dropped it on the floor putting a dent in my floor. They didn't speak any English so it didn't do any good to talk to them about it. I got another "white glove delivery" on Friday. (What a joke.) The counter stools I ordered didn't look as good as I thought so I'm trying to return them. I'm at work trying to do this and have been transferred 5 times, and have been on hold for a total of 1 hour, and no one can help me. NEVER WALKING INTO OR PURCHASING FROM WS EVER AGAIN!

I had previously written about an experience we had with our registry & one of the gifts we received, a Revol cocotte (set). I was rather upset as several things happened and wrote WS a letter as well as sending an email outlining my complaints. They sent a gift card with their apologies, which would have covered the defective item at full price. They also sent a replacement item to us, which I did not expect. I am surprised and pleased that they really went out of their way to correct my impression of them. We've been buying WS products for many years & I wasn't planning to continue to shop with them after the registry experience, but they have made it right. I am therefore going to resume my purchases at this company, which makes & acquires some beautiful stuff. Thank you, WS for making the effort and letting me believe again that good customer service is not dead.
Original Review
Signed up for their registry. Received only three of four flatware sets gifted to us, so had to call & get the fourth shipped. I had also received a set of four beautiful Revol cocottes with lids. I was so excited someone got us this set. However, I opened it & two of the lids were chipped. I returned them only to receive one cocotte today. It also has a chip. When I called to ask where the other three are & initiate a return for the yet again defective one, she said they "overshipped" to me 4 instead of 1, therefore I would only be getting the one piece (that presumably the gifted ordered, although I'm not sure now, who knows? Since another guest bought us two sets of the flatware & I only got one of it!)
Normally when a retailer is in error, they don't call the customer & have the customer correct it by returning the overshipment. They just got 'lucky' because they overshipped me damaged items that I chose to return. They shouldn't have been damaged in the first place. Very doubtful I will purchase anything in the future from them. I feel it was poor business the way they handled this. There are so many retailers, no need to be loyal when you don't feel that special as a customer. Multiple errors including defective stuff & a "missed" order... & just a "sorry & move on" attitude.

I bought 2 items and both were not expected quality so returned using their system. 10 days later the acknowledge having received them but that it will take 3 weeks to issue refund. WHAT? Thus online store seems to be a outlet for items that can't be sold in the store due to quality issues. Won't buy from them again. Why are these guys still in business? Overpriced and poor service.

WEB SHOPPERS BEWARE! Being a cyber-shopper I can absolutely warn people away from Williams-Sonoma as a shopping option. I presumed, based on their retail reputation, web-shopping with them would be a rewarding experience. Oh, no. Not so. Not at all! I ordered two fry pans with glass lids on 5/26. Once I'd placed my order I was informed that a confirmation email would be sent to me. They had my correct email address on their order confirmation screen, yet no email came. When, six days later, I called Customer Service. They had no record of my email address on file. What?! The WS website offers you the option of tracking your order through your Web Account. Unfortunately their website is incapable of setting up shoppers' Web Accounts?!
Upon inquiring at their "Help" phone number, I find they have NO tech support for their website. Nor are their Customer Service Reps capable of rectifying the situation. (Finally resolved by a Supervisor.) And in the end, when my order of two frying pans with glass lids arrived...no lids were included in the box. WS can't just ship my lids. I have to return the pans and they will ship out the complete order. Possibly to arrive 6/8. SMH. That's a long dang time. Overall, this was a big FLOP as cyber-shopping experiences go. This was my first and LAST order with Williams-Sonoma.

We order a $3,000 bathroom vanity 6 Months ago. No one knows what is going on. We had the final pieces finally delivered today (legs) 6 months after the fact and the people who dropped it off said they have no idea what's going on. Timeline: Sept. Ordered vanity - said they would schedule a delivery. Oct. Call to check on vanity, backordered. Nov. They said it's still backordered. Dec. Scheduled delivery for Jan.
Jan. dropped off a broken marble top. Feb. received new top, and the base unit, sinks and knobs, (still in boxes) legs are nowhere to be found. March - Scheduled delivery, nothing happened, no phone call. April - Called for the 6th time trying to figure out where the legs are (scheduled delivery). Now (4/21/16) dropped off legs, spoke to the person and said he has no idea what's going on and they are not assembling the unit.
We now have a bathroom vanity in random parts lying across our bedroom. Every time I call I am told we are getting a refund being it took 6 months... (This is our master bathroom mind you) and I was 100% assured that they would assemble the entire unit. Nothing, nothing at all. I cannot even describe the nightmare this has been and will never in my life order from them again. Not out of spite, simply out of the chaos and complete disappointment my wife and I have experienced starting 6 months ago.
I am a very transparent person, I am a handy guy to have around and typically very understanding. But not this time, we rent our house on Airbnb and this has caused so many issues with supplemental income we simply did not have being our entire master bathroom was resting in the hands of a very poor, incompetent system with absolutely zero accountability from Pottery Barn nor any representative to step up and do the right thing or simply know what is even going on. What a waste of 6 months and $3,000. I am requesting a full refund and a call from someone who cares. So in other words, this review will have to suffice as I can 100% guarantee I will not receive that phone call. Thanks for making it easy not to do business with you.

WE WILL NEVER BUY FROM WILLIAMS-SONOMA AGAIN! Here is my experience: After a few weeks of checking reviews on retailer sites for new cookware, we decided to chose ALL Clad "Stainless Steel TriPly" Model... 10 piece set... and what a great choice we made! I really enjoy cooking, as it's been a family tradition and have been around the Kitchen since an early age while growing up in Italy.
However... About 3 weeks ago my wife and I decided to make the purchase at Williams-Sonoma. We were at their Chestnut Street Store in SF on Saturday March 26th hoping to pick up our new set of cookware as we were hosting a dinner party the next evening. This store did not have them in stock, so I kindly asked the young lady helping if there was another store within driving distance that had them in stock. She found them at the Walnut Creek store and called the store on my behalf to put them on hold. I asked, while she was on the phone with the store if the box was sealed, as I did not want an open box of cookware. She confirmed that the box was sealed and I agreed to pick them up the next day, Sunday March 27.
Next Day I made the trip to Walnut Creek to pick up my new set of cookware. When I got there I was kindly greeted, told them my name and asked me to wait... A couple of minutes later, a young lady shows up with the cookware box. All was good, till they showed me the box, and it was an "unsealed box"... I told them that was NOT what I asked and was very disappointed... that I drove all the way to Walnut Creek after I specifically asked that I wanted an open box. I was ready to walk out!
They called the manager over who went on to explain that the reason the box was open is that they wanted to ensure and confirm it was the "Stainless Steel" model since it did not specify it on the box... I was not happy at all and found the response very odd... (they could not look up the SKU and find out the manufacturer description). They even started to take out a couple of pans from the box to show me that it was all there inside the plastic and carton housing inside the box.
We went back and forth and I clearly displayed my disappointment as I was persist and that I did not want an open box... However, I had to make a choice. The manager then asked me what can she do to make it up... as any manager would not to lose the sale. We decided that an additional 10% off would be fair. So I decided to make the purchase.
Here is the reason why I will never purchase from Williams-Sonoma again. When I got home I had to prepare dinner for my guests, and once I took all the pans out of the box, I found a piece of Williams-Sonoma return receipt with another customer name and address... Apparently they were shipped from the Olive Branch, MS store and shipped to San Francisco, and based on the Return Receipt I found, the box was returned on June 8th 2015 (order # ** and Carton # **). I was lied to during this whole buying experience, from the time I walked into the SF Store up to my dialogue with the Walnut Creek store manager that confirmed that the box was opened before I arrived to ensure it was the correct set of cookware I wanted.
These bait and switch practices by retailers should be severely punished... And I will do my best to post this story in other Social Media and consumer related sites. Interestingly, I am an executive with a renowned Software vendor that sells a platform enabling Retailers to provide a seamless Omnichannel Customer Experience across all consumer touch points. Williams-Sonoma Corporate IT Team has purchased my solution to enable such experience a few years ago... Very Ironic! My Point: I am well connected in the retail industry. BUYER BEWARE... Don't fall for the same Bait & Switch practices of this retailer and its store employees.

I ordered a media console at the end of January 2016. I received an email that it would be available for delivery between 2/12-2/26. I emailed the company (homedelivery@wsgc.com) on 2/12, 2/19, and 2/28. I never heard back once, even though their email explicitly states that "You can schedule delivery via email." I called on 3/16, was on hold for 15 minutes, then hung up on. I called again on 3/30 to cancel my order, and was assured it would be delivery would be scheduled. I received confirmation of a 4/6 delivery date, and an email confirming the same.
Today is 4/6/16 and I was just informed by the male agent (name indecipherable) in the furniture delivery department that I will not be getting my furniture delivered today. The agent: "Yes, I see that we were supposed to deliver today. Yes, I see that it has been available to deliver since February. No, it will not be delivered today. It was not placed on the truck. We are completely booked tomorrow and Friday. We can deliver on Saturday (I am not available) or next week."
When I try to cancel the order, I am put on hold for 10+ minutes, so I hang up and call customer service, am transferred BACK TO FURNITURE DEPARTMENT! Woman agent (Pam) claims she will refund the order, and as a courtesy to me, will also refund the delivery and handling charges, which are normally not refundable. (What is going on? Really?!) West Elm, its parent company Williams-Sonoma, and other brand Pottery Barn (and all its spin-offs) have lost a customer for life. I am shocked that this company is still in business.

I ordered an antipasti plate from Williams-Sonoma. I refrigerated the contents immediately and did not open them. A couple days later my cheese began to turn green. A couple more days and the entire cheese was green. I called to request anything - a replacement, a refund, etc... and was denied! I have pictures! I was willing to return the cheese. This used to be such a wonderful, customer-centered company which is now just a corporate greed machine! I have never had such problems with Crate & Barrel or other stores where I will continue to do my shopping, but not W-S. So disappointed! So un-American!

A year ago we purchased an expensive premium set of private label Williams-Sonoma cookware. About 2 months ago we noticed that there was material that is stuck to the surface that we can't remove. We are empty nesters and consequently don't use these pans heavily. I called WS and was told flatly they have a 30-day return policy! We hadn't even used all of the pans in 30 days! The cookware is manufactured by "Scanpan" for WS and their product is guaranteed for life and yet WS is for 30 days. Williams-Sonoma advertises itself as a premium company. This return policy is not that of a premium company. Wal-Mart or Target has a better return policy than this "premium company".

Rude customer service! They advertise any item 20% off but when I wanted to purchase none of the items were on their list. They said that they can remove any item from sale whenever they want which is complete crap. I'm sticking with Amazon. Don't want to support this B.S. company. Be aware of their scam!

The light fixture we ordered turned out to be large for our purposes. We're in the process of returning it. Williams-Sonoma charged us for delivery both ways and charged us a "surcharge." The rep I spoke with could not tell me what the surcharge was for. Basically, we're out $140. I'll never order from WS again. I think their stock chart says it all.

I had purchased a Le Creuset pan from shop and pot online. Both were on sale and online. I had to return the pan and the pot. The store will not return the pan as they say it was on clearance. There is nowhere written in the shop that clearance items are non returnable. The store manager was rude enough. I requested her to give the store credit. She did not agree to it not even exchange. I am just frustrated with the whole episode.

Still Pissed: Ordered beef and chicken Demi-glace last December. Received the chicken ok. The beef jar was glass and therefore was shattered upon arrival. I returned the beef and was promised a replacement by January 27. As of February 14, no replacement beef demi-glace nor any notice from Williams-Sonoma. I am very disappointed because having been a customer regularly in Chicago and appreciated the customer service and product quality. It really pisses me to have such a bad experience with my order of chicken and beef demi-glace. I receive the catalogue, but am now very reluctant to do business with a company that fails to deliver a promised product. I misplaced the order with the number after several phone calls before I reached a live voice that promised the beef demi-glace would reach me by January 27.

This is my first run-in with Williams-Sonoma, but it is worth sharing. I received a promo code for 15% off, but it did not work (and I tried several times over the course of a couple of days). I contacted the company and asked for another code. I was told they could not issue another code, but would issue a 15% refund for whatever I purchased - just send them the receipt from online or in store. Easy enough, right?
I made my purchase in the store and scanned the receipt. I was then told that they could not process receipts and suggested that I take it up with the store manager. When I complained and showed them what they promised in writing, they FINALLY offered to issue a gift card with the 15% refund. Not what I wanted, but I was trying to be a good sport. THEN I get the card in the mail and it's to be used at WEST ELM, NOT WILLIAMS-SONOMA. Seriously? So one final e-mail later stating their mistake and I received a response telling me that my purchase was from West Elm (which it wasn't, I never shop there), but that I could use that card in any of their stores. What in the world?

I bought their best kitchen shears online for over $40. They arrived opened, dirty, scratched, sticky. I requested return for replacement. Sent them back with provided label. The email said they would send a replacement as soon as they receive the return. I have UPS confirmation they received the shears over one month ago. No replacement and no refund and no contact from them. I emailed three days ago. Automated response was that most emails are responded to in 24 hours. No response. They have my money and the used shears they sold me as "new".

I was confirmed to get my furniture delivery from 1 to 5pm. I scheduled a day off from work to wait for the delivery. No call all day long!!! 6pm nothing!! I called customer service only to be talked down to by some loser calling herself a customer service representative!! Horrible service!!! I was on hold several times for 30 minutes!!! Seriously!!! 30 minutes!!! I will NEVER shop with Williams-Sonoma/Pottery Barn ever again!!!

Williams-Sonoma has given me the absolute WORST online shopping experience I have EVER had. I purchased $2000 worth of items and spent $200 on next day ship over the weekend for a dinner party I am having tonight (Thursday). I have been calling each day this week frantically checking in and they have been totally useless. They guaranteed me it would get here today when of course 90% of my items haven't even been shipped and it's the fourth business day!!! They said on the phone "Oh, but it doesn't really mean next day, but it looks like it will get there"! How useless! I now will be buying china elsewhere and return 100% of the items I purchased there and vow to never shop there again. Worst shopping experience and worst customer service ever.

My $100 rabbit-type corkscrew stopped working -- the screw would go in, but when I tried to extract the cork the screw would unscrew right out. I tried to get assistance or even instructions to have this fixed, and after several exchanges the final reply was "Regrettably, we do not offer repairs, and we do not have specific instructions. We apologize for the inconvenience. Our company is dedicated to providing quality merchandise and excellent service to our customers. When it is brought to our attention that we have failed in either of these respects it is a matter of serious concern. We truly appreciate the time you took to share this feedback, so that we may ensure your comments are reported to the appropriate individuals and considered for future improvements." This is not even a third-party corkscrew that they retail -- it has their name embossed on the handle.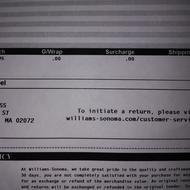 Purchased Magimix Robot-Coupe toaster. I love it, love it, love it. Best toaster I ever had. Well worth the money if you like your toast toasted right, English muffins come out perfect, raisin toast, scali bread, frozen toaster pastries. Once you know what number or level to set at, it's great. Some people say burns top, only happened 1st time then worked perfect. Love it, would highly recommend.

Waited for over 15 minutes to get waited on then the clerk starting talking to another customer who had just walked in and totally ignored me. Left all my purchases on the counter and walked out. Called the manager to discuss what had happened and person answering the phone hung up on me when I asked to speak to the manager. This happened at the Summit store Reno, NV.

I purchased a chrome-colored Nespresso coffee maker as a gift for my mother on Dec. 20th as a Christmas gift. The item was on sale when I purchased it. All of my mom's appliances are brushed chrome so we decided to take it back to exchange the item for the color she wanted. The store manager in the Williams-Sonoma in the Pleasanton mall (Stoneridge) refused to do an exchange (with the receipt) and wanted me to return the item for what I paid (sale price) and pay full retail for the other color since the sale was over.
It was a $100 difference. Item had only been purchased 2 weeks prior. I did have the receipt and the item had not been opened or used. The exchange was for the same item but only in a different color. I called another location 25 minutes away and they were more than happy to exchange. The store manager had no reason not to exchange this item at the Pleasanton store. I have heard too many other horror stories to continue to give this company my money.

I needed new cookware and William Sonoma had a sale on Calphalon cookware. My first time purchasing from them and it turned into an exercising or should I say challenge of maintaining my cool with this merchant. The checkout screen did not discount $20 from my purchase order using VISA Checkout as the offer stated it would. No way possible to cancel the order online. Only calling their customer service number was the option and I waited multiple times up to 15 minutes on each call before reaching someone on the other side of the line. When I did get someone, I was bounced around between people and finally disconnected without getting my order cancelled.
My tenacity kept me trying and when I finally got a second person on the line, they could not cancel my order because it did not show up on their computer screen, even though I was able to see both orders on my account on their website. How can this possibility be a major retailer? I have gotten better customer service from mom sellers on eBay.

I ordered one item on December 5th with the promise that it would arrive on the 14th. They billed me for the item but I didn't receive anything by the 14th. I email customer service, it takes 5 days for them to respond with a generic "We're shipping as fast as we can" mass email. I call on the 21th and wait on hold for 30+ minutes before I have to hang up. I call again on the 22nd and finally get a human being. She is unable to tell me anything about this order and it is her best guess that the item is currently being shipped. She will not let me cancel the order and assures me that it will be delivered by the 24th.
Right after Christmas the website updated saying that the order would arrive on January 4th. Today is January 4th and the website just changed back to "In Process", so it hasn't been shipped yet... I try to call their customer service line and Verizon says "This call cannot be completed as dialed..." So we call the nearest store and talk to a manager. She calls customer service on her side and no one can seem to be able to (A) Figure out the actual status of this order or (B) Cancel it.
This shipping is one thing but upon reviewing my bank statement, Williams-Sonoma made a $116 withdrawal and then 10 minutes later re-deposited this money. I did not make this charge. Williams-Sonoma just decided to make fraudulent charges against my credit card for no reason at all. This company is out of control and I am very concerned about the theft of my credit card information.

ConsumerAffairs Research Team
The ConsumerAffairs Research Team believes everyone deserves to make smart decisions. We aim to provide readers with the most up-to-date information available about today's consumer products and services.
Founded in 1956, the company is most well known for its culinary offerings, but Williams-Sonoma branched out into home furnishings with great success. It has everything you need for almost every room in your home.
Easy returns: Sometimes a piece doesn't work quite the way you think it will, and if you buy from Williams-Sonoma, you can return most items for any reason as long as it's within 30 days and you have the receipt.
Free catalogs: Williams-Sonoma will send you a free catalog so you can see exactly what it offers. If you can't wait, just go online and start browsing the online catalog.
White glove delivery: Some purchases qualify for optional white glove delivery service, which means the item will be delivered, unpacked and assembled where you want it. They even take the packing materials with them when they leave.
Warehouse sales: If you're looking to score a favorite piece at a deep discount, make sure to check out the warehouse sale section of the website for special offerings.
Fabric swatches: If you need to test a certain upholstery or wood finish with your existing decor, you can request swatches or stop by a store to get a better idea of what works and what does not.
Best for Luxury buyers, interior designers and professionals.
Williams-Sonoma Company Profile
Company Name:

Williams-Sonoma

Year Founded:

1956

City:

San Francisco

State/Province:

CA

Country:

United States

Website:

http://www.williams-sonoma.com/