American Furniture Galleries
Rocklin, CA
Consumer Complaints and Reviews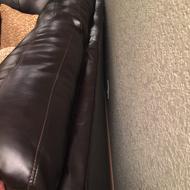 I brought a sectional but when I opened the package I notice it was a factory or craftsmanship defect. I call right there and the customer agent told me to wait 2-3 days but after a week still I don't receive any call from them and I follow up again. Unfortunately they told me that the package is ready for pick for next week in Aurora. I return the package due to poor craftsmanship but when I arrived in Aurora store I notice there is also a scratch in the back side of the furniture and the Store Manager (Imelda) charged me a restocking pay of 15% of the entire price of the furniture. I told them I pay section by section why do I need to pay the whole amount if I just return the other parts? She so rude she don't care the customer, she care only her profit. She don't possess any customers relationship at all. The worst experience as a customer is to talk to the manager that no customers relationships seminars.

On 8-3-13 we purchased a sofa, ottoman and 2 leather recliners. The sales person allowed us to upgrade the sofa to memory foam without adding it would extremely affect the comfort. It is hard as a rock. No complaints on the ottoman. However the leather recliner my husband sits in has developed a yellow stain where his head rests that will not come out with anything I've tried. I called the store, they told me to contact La-Z-Boy and I did - told to use mild Dawn solution and sponge - nothing I've tried will remove it, so almost $5,000 basically down the drain! I do love the comfort of your recliners and will probably buy 2 more with the new I-Clean fabric. We can find nothing else that is comfortable to us. It has taken us over 2 years of deliberating to bring ourselves to spend this large amount of money again.
My husband does not use any hair products - suppose it is just oils in his skin. We were not offered any type of a protection that I recall and assumed any leather could be cleaned. I realize you don't know us or our lifestyle, however, we are just about clean "freaks". In talking with others, I now know this happens often and it is usually men's heads. Time for someone to come up with a solution.

Sales personnel described the units a all leather sectional which they are not, the facing came off the two recliner ends and the company refused to replace them. Went back to American Furniture and talked to another sales person, asked them what the set was made of, and they also explained that it was all leather. The set was in the $4000 dollar range which should have been comparable to all leather sets. We have since returned to the same store and asked about the product with the same answer being given. This being misleading and deceptive business practice.
We have bought things from this store for the past 30 years, this being the first problem but one finally finds out what a store really is when they have a problem not when everything is fine. We also found that when confronted with the problem they become argumentative and avoid answering direct questions shifting you to others on a phone line somewhere instead of in person at the facility where it was purchased.

A set of furniture was purchased on the black Friday and was delivered to my house on 11/30/16, which is of bad quality. I pointed the bad parts to the delivery people and contacted the store. After a week a technician came and tried to fix the problems but he could not. He called the store manager (Ashley) and two options were given to me. Either someone else would be sent in another week to fix the quality problem, or I could try to find the replacement in the store but I have to pay for the second time the delivery fee.
As option one was not acceptable because I did not purchase the refurbish product. I would rather try option two. So I went to store but could not find the replacement. As the discount time has expired, the store raised the price. Furthermore, the same case may repeat. What shall I do if it happens again. Will I have to pay for the delivery fee for the third time? I decided to request the money back but have been rejected so far.
I talked with Ashley and exchanged emails with the customer service person Maria. However, they never made a try to solve their problem. Their attitude and what they did were very bad. Both of them tried to blame me as the customer and tried to impose the responsibility on me and pay for the problem they created. This kind of store would be sooner or later out of business because they have no idea that there is something called consumer's right.

My boyfriend and I went to AFG on November 13, 2016 looking for a dining room table for a reasonable price. We found a 5 piece pub table and chairs that we really liked and seemed like a sturdy table. We did not want to pay the additional $85.00 for installation, so my boyfriend was willing to pick it up at the warehouse. On Wednesday, November 16, 2016 my boyfriend picked it up and on Friday, November 18, 2016 he put it together. While he was putting it together they provided us with the wrong screw that went right through the top of the table. The same day my boyfriend called AFG back and told him that he had a defective table. After the salesman "Tom" stopped yelling at him that he did not use the correct screw and that he needed to send him picture to see the damage he said he would call him back.
He called him back and told him that it was his fault and if he wanted to get another table he would have to go to the warehouse and pick it up and have the "installers" show him how to put table together. My boyfriend was very upset on the way the "salesman" was talking to him and since I purchased the item suggested that I call them back. I called and requested to speak to a manager in which a "customer service agent" was not available. He asked if he could help me. I did read the return policy and found out once you pick up purchase from warehouse you have 3 days for a refund. My question was simple – deliver me a new table or give me my refund. He got confirmation that the table was in stock and that it was going to be delivered on Monday between the hours of 10:00 AM and 3:00 PM. On November 21, 2016 at 1:42 PM I received a call from my father in which I heard two people yelling at my father regarding the table.
This is when it got personal and very disturbing. My father is 75 years old with a heart condition. There is absolutely no reason or circumstance that anyone should be yelling at a senior especially over a dining room table. The "installers" then got on the phone with me and started yelling at me on how the table was not put together correctly and that because I did not pay $85.00 installation they cannot put the table together. I told them to check their tone and that I understand what they were supposed to do. I told them to disassemble the old table and leave the new table at the house. Then he told me they had to open the box and show my father the top of the table and then they could leave. I told them that was fine. I WILL NEVER SHOP AT AFG AGAIN.
It is not appropriate to yell at any of your customers and whatever happened to the customer is always right? I am very disappointed on the way they treated my 75-year-old father, my boyfriend, and myself. I am a Legal Assistant and this behavior is complete unacceptable. I have also been in customer service last time I checked the customer is always right. I think that Consumer Affairs need to investigate how they perform business and the quality of their product.
How do I know I can trust these reviews about American Furniture Galleries?
823,111 reviews on ConsumerAffairs are verified.
We require contact information to ensure our reviewers are real.
We use intelligent software that helps us maintain the integrity of reviews.
Our moderators read all reviews to verify quality and helpfulness.
For more information about reviews on ConsumerAffairs.com please visit our FAQ.

Bought a mattress a little over a year ago. It's dipping and material is sagging. Interesting that all the commercials on radio/TV now say that mattresses should last 8 years. This one didn't make it 24!. Had a representative come out and look at the mattress. They agreed it was defective. Issued an Exchange Letter. The day that they were to deliver the new mattress they suddenly spotted a stain, which wasn't noticed by the person that came out to inspect the mattress originally. They refused to deliver the new mattress. When I called to complain they stated that a stain voids the warranty, which we were unaware of. My issue is that the stain in no way caused the sagging and dipping, so regardless if stained or not, how does that impact the warranty, UNLESS THEY ARE THINKING OF RESELLING THE MATTRESS.
It should be noted that when we went to pick out the replacement mattress there were several mattresses on clearance that we looked at. We were surprised at the discounted prices until the sales professional alerted us to the fact that the original price is inflated and not what the mattress was originally sold for, that in order to find out its true sales price, there is another price tag inserted in the sleeve that shows what it was really sold for. Upon further discussion the sales rep said that the clearance mattresses were floor models as well as RETURNS, which got my wife and I totally disgusted with the thought that we could have possibly purchased a USED MATTRESS. Isn't that against the law?? If not it should be.

I went to American Furniture in CA. The salesman that greeted was less than polite. After I questioned him about their ad stating something different from what he was telling me, and that I was told by his manager a few days prior that next day delivery was guaranteed once the order was in by 5 pm the day prior to the delivery date, he seemed upset. I then asked to speak with his manager. It further agitated him. I had to insist that I speak with the manager.
He finally took me to see the manager who was not much more polite than his salesman. I went ahead with my purchase with the clear understanding that the items were available for delivery the next day. Only part of my order was delivered and the manager, salesman or any employee had the professionalism to call me even after I wrote a note on the delivery slip requesting a call from them. At this point I have no idea when the balance of my furniture will be delivered. AVOID THESE PEOPLE at all cost!

We bought a mattress from the Colorado Springs AFW under a year ago, and there is already a huge dip in it (over 3 inches). It has a 10 year warranty, and when the rep came out he took pictures. They called and agreed, but said since there was stains (there is discolouration where both myself and my wife sleep) they wouldn't honor the warranty. When I told him that they never told us about that using it violated the warranty, nor did they give us a copy to say that, he told us that they don't give out warranty copies. He said then that they don't have copies to give out, that it was up to us to find out. I asked to talk to a supervisor. He refused, and then said no matter what that they would never replace any mattresses.

About 3 months after I got a couch, the cushion went flat. The bed, though I ordered a pillow top is uncomfortable. Most recent is the recliner. It stopped reclining then mushed down in front. When what they call a technician came, he changed the focus to the leg rest. After debating me about it, he finally said they could repair it. "Repair before replace" is what he said.
One week after I got it, it started mushing on one side of the seat. "Tech" came out and said it was "wear and tear". I questioned this stating thats not possible one week after I got it back. They are refusing to fix this stating "nothing wrong with the frame" at first, then changed the story to say I am the one causing it to be sloping. I sit in it like I always have and it was not until after the "repair" it began sloping. They are using techs, and not sure why they call them that. It seems to only protect themselves in selling low quality, cheaply manufactured products. It borders on HARASSMENT how they treat the customer AFTER the purchase. Bottom line is I now have a defective product without a willingness to make it like it was before it deteriorated.

We purchased a Sealy mattress and bed from AFW on Wadsworth in Littleton, CO. The integrity of the mattress declined over the next four years so my wife contacted AFW regarding a warranty replacement. They sent out a tech who took pictures and measured the deviations in the mattress which he agreed were obvious. We then hear nothing for weeks and after we call them several times they tell us the warranty is voided due to stains. I say "what stains?". They say stains are visible in the picture and that is that... goodbye. Sealy won't help, say it must go through AFW. A little sweating in your sleep ruins a mattress? REALLY?? You suck AFW. You have lost a long time customer.

I am extremely upset and disappointed with your company, your product and your customer service. I purchased around $3500 of product from the store in Rancho Cordova in June of 2015. I bought a bed frame, mattress and a sectional couch. We also purchased the extended warranty on the items. We purchased an ottoman from the store to go along with the couch. A couple of days after the couch was delivered, we found out that the ottoman would not fit. I called the store to cancel the order as it was backordered. The lady I spoke to at the store was extremely rude, charged me a 20% restocking fee for an ottoman that hadn't even arrived yet.
The bed frame we bought is a piece of crap. The headboard moves constantly. The frame creaks and cracks all the time. The biggest problem is the couch. No more than 3 months after buying, it started falling apart. The cushions don't have their form or support anymore. The wood frame is starting to fall apart. I have attempted to reach out to the store many times asking for help and have been met with extreme rudeness the entire time. I have filed BBB reports asking for warranty support and have not even been contacted by your company.
You have horrible Yelp and an F with the BBB. The store has a BBB certified sign in the window and yet the BBB doesn't even recognize your business. I want to return everything to your store, get all my money back and never return again. I got financing for everything and Everything is going to be worth nothing and not functional 1 year in and I still have 2 years left to pay on the product. I expect a response from you or further measures will be taken. Thanks.

I've purchased furniture with American Furniture Galleries located at 8001 E Stockton Blvd. They have BBB plaques posted in their office yet BBB says they are not accredited. How can this be? **, the manager has proven to be the worst manager I've ever completed a transaction with. He has zero social skills and his salespersons do not know their product. They sold me a $1600 1210 Flexsteel Leather Recliner with a glider option. When I received the chair it did not glide. When I returned to the store to check the tag on the chair that was also on the chair delivered to my home, the tag was missing. When I asked the salesperson ** what happened to it, she said ** had removed it. According to ** the 1210 Power Recliner does not glide. Well that's not what Amanda or the furniture tag said.
I gave them one more chance and ordered a chair $200 more expensive. When I received the new chair, it was broken on delivery. The chair made a loud popping sound when reclining and when in normal mode, it dragged on the floor. It is important to note that the chair was found to be broken before the delivery guy ever left my house. He sat in the chair himself and said it was broken and could not explain why since he claimed there is no quality check. They simply open whatever the manufacturer send. I returned to American Furniture and I demanded a refund and directed them to pick up their furniture. After picking up the furniture, the delivery guy asked me for a 5-year protection kit that I never received!!! I told him that I never received it and he went and called his manager once again, the infamous ** character.
** directed his delivery guy to tell me that unless I return the furniture kit he will not give me a refund. I immediately called ** directly and advised him I would be by his store to collect my refund and that I never received a protection kit. He stated that the kit is on my invoice of which we signed off. The only thing that was on the invoice was a 5-year protection plan and the broken chair. No kit was ever received. The arrogance of this guy never ceased. He said he would somehow make up the cost of the kit as if I were lying about having received it. Why would I want to keep a kit for broken furniture that has been returned to its rightful owner?
To make matters worse, I own a $6000 Flexsteel Furniture set from this store that I purchased in March 2015. The loveseat of this set is now reclining without having to press the power recline button. Although we purchased a warranty on this set, we are being redirected to the manufacturer as it relates to having it repaired. I have forwarded my concerns to Flexsteel as I am starting to question the authenticity of Flexsteel Furniture in this store. Is it knock off Black Market products? I am requesting that you follow up on my concerns, especially in light of the fact that Better Business Bureau have them with a F score and state they are not BBB accredited, yet they hang your plaques on their office wall.

I purchased a sofa, coffee table, sofa table and mirror. Was told all would be delivered within 2-3 weeks. Thought that a bit long but agreed. No initial follow up by salesman. I had to call them after two weeks only to be told they had only the sofa and mirror. I had them deliver them and was told once again another two weeks. This time the sales guy called me to say "we have 1 of your tables and another week for the other," uggg. Two weeks later no follow up I call only to have this same sales guy to tell me "oh well the warehouse FORGOT the second table." Now when I asked Nathan why he didn't bother to call me to tell me he had no respectful nor professional response. Basically as a customer with almost two months invested in trying to do business with these people I'm screwed, no choice but keep waiting or get refund and begin again somewhere else. There IS NO CUSTOMER SERVICE ANYMORE. Sad.

I work in customer service so I have never used this 'method' before, but I am so disappointed in the service!!! I was dealing with a claims issue and was dealing with an extremely rude person who told me she was the only person working in the department so I could not speak to anyone else. When it was all over I wrote a letter to customer service and it turned out the joke was on me. She was the only one in the claims department and one of the customer service managers (not a very good one at that). I asked if there was someone else I could speak to given the situation and she said "our correspondence has been shared, if one of them chooses to contact you they will..." That was on the 2nd on Sept, so I guess they chose not to. I am baffled by the service.
What company would have the person that is involved in the complaint respond to it and then have no one follow up. Is she really the only one in the company - I think there needs to be some more checks and balances. I will not only take my business elsewhere, but I will share my experience with anyone willing to listen. My car was damaged in August while buying furniture and I am still dealing issues that came during the process. Do not shop here and if you do, do not expect to get good service.

I purchased a living room set from American Furniture. The experience with the salesman was very good and I was confident that we were going to purchase quality furniture. There was no problem with delivery or setup. Our problems came when service was required. The reclining chair was difficult to use as far as closing was concerned; the three-person couch cushion was bulging at the forward edge of the cushion.
An appointment was made through the store to have these items taken care of. Confirmation of the repairs were made and shortly the repairman came to the house. The repair to the recliner was performed by stretching the springs and seemed to satisfy my daughter with the results. The three cushion couch was repaired by removing the upholstery and adding more foam to the cushion but nothing was done to reposition the bulging behind the knee.
A few months later we found a long spring under the recliner and the three person couch was getting worse with the bulge and now an indentation was forming at the back of the cushion and now I'm sitting on a spring which is very uncomfortable. So took a ride to the store where the furniture was purchased from to make an appointment to have the furniture repaired. While doing this I explained each condition which needed attention.
A week went by and a confirmation was made for the repair. Few days later the repairman showed up at the house, I didn't recognized him at first but it was the same person who was at the house the first time. I showed him the spring and explained that the last time he had stretched the spring; he denied doing so; where three of us witnessed what he did.
After the repair he was ready to leave I stopped him and asked him about the other problems we had, he reluctantly glanced at the situation asked how long I had the furniture and told me it was wear and tear and took off. I was amazed so much that I didn't have a chance to tell him I had an extended warranty, although with his attitude I don't want him back in my house and as far as the furniture is concerned its Asian Junk and I thought it was American made. Well, I will buy new furniture and this crap will be on the curb. In the future I will make sure that what I buy will be American made like what I have always bought in the past and never had any problems with.

I purchased two cabinets with doors and a matching bookcase and hired a handyman to assemble (Took 10 hours). When hanging the doors it was discovered the manufacturer forgot to drill anchored holes for the cabinet doors. AFW would exchange the items but would not cover the costs already incurred to assemble. They did send a driver to drill holes but he was unable to complete. He said a manager would call and I've heard nothing.

We were so excited to check this new furniture store out. We went in and bought two new loungers for the patio, a small patio table and some home decor items. It did not take us long to find what we were looking for. We WAITED! Almost two hours at the dock! They overlooked our order. Okay no worries, then we had to come back the next day to pick it up!!! They wondered why we were upset. So they will not sell to us. We are on their DO NOT SELL TO LIST! Really. Never shop there. :(

We bought a mattress from American furniture warehouse and what a piece of junk. Had sag from being bent during delivery and a 2 inch dip after 6 months. Both my wife and I have had the worst night sleep we have ever had even our old 10 year old mattress sleep better than theirs. We contacted American furniture warehouse and turned in a warranty replacement work sheet and they sent out a service tech. HE LOOKED OVER MATTRESS, TOOK PICTURES AND MEASURED SAGGING MATTRESS AND TOLD US WE COULD PICK OUT A REPLACEMENT WITH A NEW DELIVERY FEE AND 10% WARRANTY PRORATE. WE BOUGHT A MORE EXPENSIVE MATTRESS $700 upgrade so we hopefully won't have this problem again.
Delivery was paid for and okayed by American furniture warehouse customers service of new mattress and pick up of old one. Delivery drivers showed up Saturday 4/18/15 and also said looked like old mattress was folded during delivery causing the sag. They removed old mattress and box spring and started to take out to truck to bring the new mattress set when they noticed a faint stain about a half inch barely visible and said this voids all warranty. They wouldn't bring in new mattress and said sorry that they had to leave. What about the 2 inch sag though out the entire mattress after less than one year? Product is junk. Customer's service is junk and Warranty in not worth a crap. Buyers beware.

I purchased furniture worth over $10,000 from American Furniture located at 2336 Auburn Blvd on mid February. The delivery was scheduled for 2/28/15. On the delivery day they did not have all of the items but send part of the delivery and told me the rest of the items will be in within 4-5 days. Five days later still no delivery so I went to the store to talk to the manager. He was rude and did not really want to deal with the situation. He said to deal with the salesman and the salesman said to deal with the manager.
We were finally able to get a delivery date for the rest of the furniture to deliver on 3/13/15. On 3/13/15 the delivery truck arrived and the two guys said the furniture is too heavy so they can not deliver it but they can leave it in my garage. I called the store manager named "**". He was rude, uncooperative, and even threatened to fight me if I come down to the store today. I told him I want to talk to the owner and he said "If you can talk to Obama call him." He then said, "The furniture is outside your house so now it's your problem." I hung up with him and called the store to talk to someone else. This time I got the customer service manager and he was more understanding and said he will try to figure out something.
Two hours later they offered to send 2 more guys...and two store salesmen showed up to help the delivery guys and they were finally able to get the furniture inside. I have never been threatened by a store manager for giving them business. This store has the worst customer service and they are rude and threatening. I would not recommend this place to anyone ever!!! THE WORST CUSTOMER SERVICE EXPERIENCE EVER!!!! We bought new furniture and it was supposed to be a good experience but they ruined the whole experience.

The bed didn't seem to be quite as comfortable and firm as the bed that we selected from the store. We had to drive about 30 miles to their warehouse to pick it up. After about a couple of months the bed started feeling lumpy. There didn't seem to be much support. When asked if we were given the right bed they reassured us that they did. We rotate the mattress but it doesn't do any good. It is lumpy and causes back and leg pain. Not only that but one of the wheels cracked on the frame and one of the screws came out. We had to purchase a used bed because the king bed we purchased is so uncomfortable. It has been nearly two years now and we had at least a 5 year warranty on it.
When I called in they were rude and nasty and said we have to take the matter up with the warehouse because they don't do business with them anymore. I paid American Furniture for the bed. I had to put it on layaway because I'm on SSI and have a bad back and hip. I am 75 years old and can't afford to pay that much ($950.00) for another bed. I feel so cheated. It is so unfair. When I told the salesman that wasn't fair he hung the phone up in my face. What a very frustrating experience. Everyone should read the complaints about them. I wish I had. I wouldn't have wasted my time or money. I can't find the receipt but I can get statements from my bank. They have the order number but it doesn't do me any good.

Ordered living room set on August 19, they said they would deliver by Sept 14. It's now Oct 8th and they said they could deliver by October 21 but they now confirmed that they placed the order wrong, so frustrating.

I went in to buy a couch found one bought it - paid cash on the spot. Long story short they didn't deliver it. Called spoke w/ rep. He said I'm to be patient. Well 2 days passed no call no couch so I cancelled on 8-28-14 and still no refund. It's 9-17-14 ;-(

Purchased in April 5, 2014. Started having issues with the sofa reclining in June. Service personnel could not come out till mid July. Order part wrong part, left to order new. Now August, still not repaired. Contact store, they had no information.

I purchased a couch from American Furniture in Sacramento. I had the couch for 1 month and noticed the cushions were going flat. I complained; they came and picked up the couch and put new cushions. Here we are a year later and the cushions are flat again. I was told that they use the cheapest grade of cushions. I paid something like 700 bucks for this couch and it is worthless at this point. To replace all the cushions is going to cost me 600 bucks. I will never buy anything for this company again. The cushions are supposed to be 5" thick; they are measuring at 3 inches so I'm pissed off.

Colorado Springs, CO store - Table and chairs worth $1,700 were purchased on October 25th. I was promised a delivery before Christmas. I began to call after Thanksgiving. I never got return calls. Finally, I got hold of a salesperson and was told the table was "on the truck" and would not make it for Christmas. I called again on the 28th of December and was told no delivery until January 2. I tried to cancel the order and was told all I can do is to be patient for another week. I did not get a call back from the "owner" so I went in personally. He was rude and offered nothing. I was told that is the way it is and he could do nothing about it. Very poor customer service.

We purchased 4 appliances for a total of over $2,100. When the items were delivered, we not only had to deal with rude delivery people, one of the knobs on the stove was broken. The stove is black in color. We immediately went to the store and registered a complaint about the rudeness of the delivery people, but brought the broken knob to the attention of the salesperson who sold us the items. He gave us a white knob and said he would get us a new knob that is for the stove. That was over a month ago. Since then we have spoken to their customer relations person and still no satisfaction or knob. All we wanted was the correct knob for the stove and all we have so far is a bunch of **. All we have gotten so far is the knob is in the mail, just like the old check thing. All we keep getting is "It is in the mail!" They are not people of their word and I believe they don't care about their customers, just about the money they can get from them.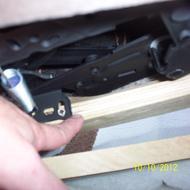 On May 4, 2012, my husband bought me a recliner. It is made for a 350-pound man. Within 3 months, I found a screw on the floor. Not thinking anything of it, I put it away. In the end of September, I noticed that my chair was spreading apart. My husband looked under it and discovered that the screw had come from a piece of wood that was supposed to hold some parts together. Now I weigh 230 lb., not 350. So we called American Furniture Galleries. At first, we were told they would give us a partial refund on the chair. We had to send them copies of the refund and pictures of the part that was broken. We didn't hear anything for 2 weeks. So my husband called them back. The person we talked to was Lisa. This time, we were told that we the part wasn't a moving part and it wasn't covered. My warranty did not say anything about a moving part, just that it was a year warrant. And it was just 6 months.

On October 1st, I purchased a bedroom set and the mattress. The total price was $ 2,480. As a personal reason, I wanted to get refund. However, when we went to get our money back, the cashier said we cannot get full refund. They said we should pay 25% of the full price for the penalty.
So, I looked on the California Consumers Refund Policy. On the policy is states, "The policy must be displayed either at each entrance to the store, at each cash register and sales counter, on tags attached on each item, or the company's order forms, if any. A return policy printed only on a receipt, for example, is not sufficient. If a store violates this law (California Civil Code section 1723), the purchaser can return an item for a full refund within 30 days of purchase."
I went there yesterday, October 4. Only 3 days had passes, and I did not even get my furniture yet. Also, we didn't know about the return policy since there was no sign in front of the door or cash register. Nobody even told us about it, so there is no ways for me to know about their return policy. Since the policy is only printed on the receipt, I could only find out after purchase.
Yesterday, we asked to get the refund and the cashier, Shawn, said he will call me back, but he didn't. So, I went back today, October 5 and told another cashier about the CA consumer refund policies, and he kept telling us, "Whatever, meet us at court!" That's how bad he is. He could have said something nice. I was mad but tried to calm down, but he said, "Whatever, we have our own lawyer. If you want, just sue us and you can talk about it in court."
I was upset, but I knew about Consumer Affairs and decided to write about it because it is unnecessary to talk with him. I hope you could help us solve this problem. Thank you for supporting us.

On April 2010, I purchased their top of the line sectional at $3024.00. A month and a half later, the cushions flatten, sagged, frayed, and the vinyl base discolored. I have been trying to get them to replace or remove the sectional.
Their stores should be closed down because they rob people of their hard-earned money. They have no policies on returning their lemon goods and make false advertisement. I will be in court soon upon receiving a court date and yes, I am filing in small claims court.
They don't sell dreams; they sell nightmares. Do no purchase from them. You will be sorry for the junk they sell!

I purchased a couch and loveseat from American Furniture Galleries in mid-July of this year. I recently noticed that the threading on the arm of the loveseat was coming undone. I called American Furniture Galleries on the evening of September 19, 2010. Unfortunately, I did not get the name of the man I spoke with. He said that he would put me on the technician's schedule for that coming Saturday, the 18th, between 3:00 pm and 7:00 pm. I had to work at 5:30 pm that evening so my boyfriend stayed home until 7:00 pm. No one ever showed up or called.
That following Monday, the 20th, I contacted the store and spoke with one of the managers by the name of Mike. He was very limited with his helpfulness. Not once did he apologize for what had happened. He said all he can do is put me back on the technician's schedule, so I agreed. He scheduled me for Thursday between 5:00 pm and 8:00 pm. At 7:30pm that evening, my boyfriend called the store and said no one had shown up. The store contacted the technician and then the technician called my boyfriend stating he was running behind and the soonest he would be there would be around 10:00 pm. My boyfriend informed him that it wasn't going to work. The technician told him that he would be able to see him on Saturday, the 25th, at 11:00 am.
On Friday, the 24th, I contacted Mike at the store who was less than helpful. I was trying to explain to him that this is completely unacceptable and I was curious to know what he wanted to do to solve this problem. He wasn't able to provide any resolution except for stating that he can leave me on the schedule for Saturday if that is what I want, other than that, there is nothing he could do. He repeatedly told me, "Look, you need to listed to me. That is all I will do for you. Do you want this fixed or not?" He was yelling on the phone pretty much the whole time. I asked for the general manager, he proceeded to give me his name, Jimmy **. I asked for his number and he said he doesn't have a number. He told me that I can call the 4 different locations and try to find him. That's when I said, "Thanks, I will."
That Saturday, a technician showed up to my home 45 minutes late and picked up the loveseat. They had the sofa for 12 days and then finally returned it to my home. Luckily, the sofa was replaced nicely. I still have not received a call from the GM and I feel the customer service that I was provided with was absolutely horrible!
American Furniture Galleries Company Profile
Company Name:

American Furniture Galleries

Website:

http://www.americanfurnituregalleries.net/