Whirlpool Washing Machines
Consumer Complaints and Reviews

I had purchased this washer from Lowe's last September and had problems almost immediately. First of all the lid would lock and hold my clothes hostage till it decided to reopen which could be days. Finally it never opened again. Called customer service and sent someone out. It took almost a month to get it back to running. 1 week for him to show up then 2 more weeks for the part to come in 1 more week for him to grace me with his presence again. Had to call again because the mother board then went. Another month. Now just out of warranty I go to wash and it's dead. No lights on nothing. This machine is the biggest pile of garbage and waste of money I ever spent. Barely made it 1 year.

My landlord purchased a new Amana washer (NTW4605EW0) Labor Day weekend 2015. It started having issues in the spring, so we went through the process of utilizing the manufacturers warranty. Apparently, Amana, part of Whirlpool, requires 5 attempts at repairing the machines before replacing. Okay, so starting in June 2016, we arranged service appointments 5 times and replaced 1 part, then another, 4 times. Clearly, that part is defunct. Right?
Fast forward to September and then into October. Get a new washer, and not the one I preferred. We got the Whirlpool WTW4816FW1. Before the installers leave, we are having the SAME issue. Stops midcycle, doesn't finish cycle, sometimes stops while filling, or while full, or kid wash, or mid drain... But now with the new washer, the drain and spin cycle thinks it should FILL instead of drain... and Whirlpool said they would get someone out the next day, a promise they cannot keep because they don't supply the repair guy, they source with local companies.
So, the company ordered 3 parts... That could be the problem. And 4 days later, 2 parts are on freaking BACK ORDER. Parts arrive. All new parts replaced. Machine still doesn't work. Outlet tested by us and them and it is fine. The techs think there is some kind of RF interference. Turn off sensor light, which is on the same wall, unplug power to wifi router (which outdates the washer). Still, doesn't work.
I have spent half my week, every week, since June, restarting my washer, unplugging the damn thing, waiting, and waiting, trying again and again and again to wash 2 loads of laundry a week... Literally takes a week until the damn thing does its job. Whirlpool is sent us a replacement washer. Can you guess what happened the first time we started it? SAME ISSUE. Cycle will not complete. Sometimes it dies before it even fills. Sometimes it dies while filling. Sometimes, it will fill and fill and drain and fill and fill and drain and... never stop filling. Or, the fun one, the drain and spin cycle thinks it is suppose to fill. Continuously. And then, suddenly, after unplugging it for 1 hr, or 24, or 72 hrs, it will work fine for 1-7 cycles. Nothing is consistent except that it doesn't work consistently. HAS ANYONE HAD THIS MUCH TROUBLE???

17 month old Whirlpool duet washer door lock broke. ($300) repair! Had given my old (13 years) set to daughter when I moved. That set has never had a repair or problem! Why do they keep making things with more bells and whistles we don't need and so cheaply made? Frustrated, annoyed and becoming cynical in middle age.

We have purchased the Whirlpool washer and dryer after Sandy and it has been a disaster. This is the 5th time we are changing the computer board in the washer and the dryer almost set the house on fire. Thankfully, we purchased a warranty. However, parts are taken forever to get approved. Will be purchasing a new set once the warranty expires and it definitely will not be from Whirlpool. Absolutely horrific quality and terrible customer service.

I cannot adequately express my dissatisfaction with the Cabrio washer, and I wish I had never purchased! Clothes have to be washed, then rinsed a second and sometimes third time to remove residual detergent and lint. Water efficient - NOT! When I can afford, I will replace this piece of crap with a reliable washer WITH an agitator! DO NOT WASTE YOUR MONEY ON THIS INEFFICIENT MACHINE!
How do I know I can trust these reviews about Whirlpool?
636,825 reviews on ConsumerAffairs are verified.
We require contact information to ensure our reviewers are real.
We use intelligent software that helps us maintain the integrity of reviews.
Our moderators read all reviews to verify quality and helpfulness.
For more information about reviews on ConsumerAffairs.com please visit our FAQ.

I had my washing machine for about 10 days before it stopped working. I did about 4 loads of laundry. We have had 3 repair people come check it out, all referred by Whirlpool. They each had a different theory on why it wasn't working properly. I'm now waiting for parts to be delivered and then service to be scheduled. When I contacted customer service, I was told (after waiting on hold for about 1 hour) that it was "customer misuse." Ahem, first I heard that, and I think I know how to use a washing machine.
I asked to speak with a supervisor. More waiting. "Tina" (#**) told me she will contact the service company about the parts. I told her to please conference me in on the call because I want to hear the outcome (and I don't want to wait another 1+ hour to reach customer service again). She put me on hold and then disconnected me! Really, all this time and 3 service people... Would be cheaper to just replace the machine altogether. What a headache!

If I fix this washer I will have been on 3 motherboards in the 5 years I have owned this machine. That is inexcusable and indicative of crap quality control and manufacturing process. I should not have to replace the control board at these intervals or, within 5 years, at all. I will never touch another Whirlpool appliance again.

Had washers model # WTW8500DCO repaired after being install for 14 days. Have had washers repaired every 90 plus days because of constant electrical and mechanical failures. Would not ever buying another whirlpool appliance to my worst enemy. Customer service is a total failure. If you ask a question after talking with you for 5-8 minutes and they don't have an answer they start saying "HELLO, HELLO? I have to hang up. I can't hear you." Just a really sad business. Stay away!

I have had almost all the same issues everyone else who reviews the Cabrio WTW7800XWO washer. Now, the spring loaded lid won't stay up, so we have to use the Downy bottle to load the clothes. Thankfully, I have not had the lid crack... yet. We have had it serviced once while under warranty, that tech told us it wasn't good to wash small items, like socks. Are you kidding me? Now, the heavy lid falls on you while you are loading. I also have the Cabrio dryer, and we have fixed that more than the washer. DO NOT BUY A WHIRLPOOL CABRIO. We bought it because it was the largest unit in the store, but it is junk.

I have had the Whirlpool Cabrio washer and dryer for the last two years. I HATE them. We purchased them from Lowe's at a price point of around $800 each. What we expected and what we got were two different things. The washer was horrible from the beginning. It is impossible to wash a load of clothes without the "UL" unbalanced load indicator. It is impossible to balance a load. I have taken wet clothes out and put them back in with no luck. It takes hours for a load to finally wash. I have all but given up as I have been told it us unrepairable and too costly! Now the dryer has decided it will no longer dry clothes. It has never been a good dryer but now it takes at least 120 minutes to dry jeans. Do not buy a Whirlpool! I will never have another Whirlpool product in my home... RIP OFF.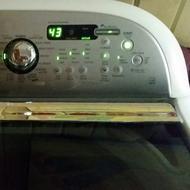 Too many times my clothing comes out dirtier than what it was going in... Sometimes my clothes come out dry in spots, never washed, lint and white soap spots on clothing as if never washed after a whole cycle. Huge waste of money and time. Can't trust any positive reviews about Whirlpool, they have to be rigged!!! I will never purchase another Whirlpool product again.

Purchased Whirlpool set from Lowe's March 2016. Washing machine is not worth the metal it's made from. Clothes are dirtier after the wash. All white linens are ruined! Clothes won't rinse or spin dry. Whirlpool won't reply nor will contracted repair return. The last repairman told us we would be better off taking the clothes out back and wash with hose because the Cabrio is useless and nothing can be done to fix it. I contacted place of purchase (Lowe's). They won't help due to not buying warranty thru them. Stuck with the worse washer ever... never again Whirlpool.

This product is not even worth 1 star mark. Like everyone else the Whirlpool Cabrio top loader does not clean clothes well. It leaves streaks of dirt and lint. It does not agitate well at all and does not put enough water to the point where some of the clothes don't even get wet. I had a repair guy that was selected by the warranty company to come fix it and we were told that this is a problem with the machine and there is no fix to it. I am now stuck with a $500.00 machine that doesn't clean clothes. Hopefully Whirlpool will have so many complaints they will at least find a fix to this machine. In the meantime don't waste your money like I did.

Purchased a Cabrio Top Loading Washer and Dryer 3 years ago from Lowe's and our clothes have NEVER even come close to coming clean without spending a ton on stain removing aids, which only work part time. So I approached the salesperson at Lowe's and I was informed (after the fact) that the Cabrio top loaders had poor ratings due to the fact the basket only spun 30 times a minute whereas the front loaders spun 300 times a minute. So after 3 years I'm forced to bite the bullet and purchase another washer. Ever since they purchased Maytag, their quality control has gone down the crapper. Now I'm going back to the old reliable, the agitator washer. Newer is not better in this case.

We purchased our Whirlpool Cabrio platinum washer about 3 years ago. I am completely frustrated with it. When it is on spin cycle, it sounds like a freight train going through my house. During the rest of the washing... it squeaks. And right now this is the 5th attempt to "wash" the same load of laundry. Because it keeps getting unlevel and it will not continue after I move the clothes around to get it level. So I have to start all over. There is not a spin cycle option that is available by itself. Every time I have to choose the "rinse/drain/spin option. Obviously it is not under "warranty" anymore! Only a one year warranty... really pathetic! And when we called they offered us a little discount to buy another one. No thank you!!! Won't ever buy Whirlpool again.

We had purchased matching Whirlpool Cabrio HE washer and gas dryer. Both appliances were worthless. Same problems as everyone else. Clothes did not come clean. Had to put it on bulky items just to clean the clothes due to lack of water. Funny how all the older machines that actually put water into the machine cleaned clothes. Went through a motherboard (computer) for both the washer and dryer at $250 each. Washer had repairman out at least 12 times over 3 years. Never again would I purchase a Whirlpool.
We went to our local appliance dealer and purchased a Speed Queen. These are like the older ones. THEY WORK! They use the correct amount of water and wash your clothes in half the time. 22 minutes per load! You can open the lid while the water is running in and load your clothes. Gee, what a concept. Only company still making them in Wisconsin, United States. Go Wisconsin! They back their product with a 20 year warranty. What?? Who does that anymore? Companies who stand behind their product. We love our new Speed Queen.

I purchased Whirlpool Washer WTW4815EW on December 29, 2015 for my tenant's apartment and by October 7, 2016 it was not working. I called Whirlpool for service since the product is under warranty. The closest appointment was more than 2 weeks out. On the appointment date the technician called me and said he was on his way to my house which is more than 30 miles from my tenant's apartment. The technician said he could not service the tenant area as that was a different group, so we rescheduled for a week later.
A week later no one shows up, so I rescheduled yet again for November 3rd and drove myself to wait for the service person who was supposed to be there between 8 am to 12 PM. At 11:40 I saw there was a 10:36 am Whirlpool attempt to call me but no message was left. When I called back they told me the technician called in sick and they called at 7:30 (my iPhone indicated 10:36 am). Now they say someone will come on Saturday November 5th. It will be one month on November 8th with no working washer. While it is bad enough the washer stopped working in less than one year their service support is even worse than the product.

Most dissatisfying experience with Whirlpool. In 2013 I bought a stackable Whirlpool washer and dryer. Everything worked well for two months, and then the washer started having problems. The washer memory board unit (MBU) needed to be replaced. This was done under warranty. One and half years later I started getting the error F07 which means an electrical problem. I called Whirlpool and they told me a technician would cost $85 for a service call. I delayed the call until today.
The technician came, did a diagnostic and then advised me that I would need a new MBU. The cost plus labour amounts to almost the cost of a brand new washer. To add insult to injury, Whirlpool advised the service call would cost $89. (They upped the price since my last call.) You can imagine my shock when the technician told me that the $89 covers the first 15 minutes. I paid $133.34 for one half hour diagnostic testing and to be told I need a new MBU which is on back order for at least 6 months!!! My recommendation is - NEVER BUY any Whirlpool product ever.

Do NOT buy this machine. This has been the worst washer I have ever owned. There are times when my clothes come out of the washer and parts of them are STILL DRY! I pulled out a pair of pants I had worn while cleaning my attic and the cobwebs were still attached to the legs! Whirlpool basically told me, "Tough luck, you bought it, we're not doing anything," when I complained the day I bought it, and now years later it it continues to get worse. The machine was too expensive to just get rid of, but customer be warned - do NOT buy a Cabrio!

Top loading HE machine. Washer does not clean. I have tried all manufacture recommendations, changed detergents and tried laundry boosters, all to no avail. Tshirts, pants and socks routinely come out of the wash dirty and must be re-washed. This negates any energy savings. Also, the noise from the spin cycle is very loud - the washer is on the second floor but I was told by sales person that this would not be an issue with top loader. Overall, very disappointed and after all these years, I have finally given up on this washer and will junk it.

Whirlpool washer Model WGD4815EW1. Bought this washer just about 4 months ago and right away I hated it but was told by people that all the machines had gone to the lid lock and that the government had mandated the energy saving devices on the machines so the machine will only put just a little water in the machine. I have been VERY VERY unhappy with this machine.
My husband figured out a way to bypass the lid lock mechanism. Then after washing clothes many times I found out in order to get my clothes clean I had to just set the dial to Bulky every time OR I had to wash the clothes 2 times to get clean if I didn't. Once we bypassed the lid lock and then I figured out where to put the knob so the clothes would come clean I was fine until last week the machine just would NOT wash or do anything... it filled with water and just sat there until my husband got the water out.
I located a Speed Queen from an appliance store and I am much happier. It does not have the CRAZY lid lock on it. I realize that some children are apt to mess with the washers. But I don't have children anymore and when I did I had a laundry room with a lock up high on the door so they could not play in the laundry room. I don't understand why this so called mandate could not have been done in a way as to allow those with kids to have the option on the machine with a built in code device to set the machine so the lid will lock and those of us without children in the house to opt out of the code to set the lid lock. NO REASON why we can't have a CHOICE.
As far as I see it is a way for the government to try control more where they need to keep out. The cars have been designed with safety locks for children to keep them safe, but it is up to you to choose to use them. Same principle! Now for the mechanism to make it so the machine will only put so much water in the machine to wash. You're NOT SAVING any ENERGY or WATER if you have to wash the loads twice!! This whole mandated business with the newer washer machines is a huge JOKE on everyone.
I will be searching out used machines and having them rebuilt because I don't EVER plan on buying another one of these newer machines. If enough people stop buying them the manufacturing companies can raise some cane with the government to get the mandate lifted. NO I will not buy another Whirlpool washer. I encourage some of you out there who LOVE a challenge to figure a way to change the stupid motherboards on the newer machines and create a great business for yourself because if someone else can create it you can recreate it.

After purchasing the "High Efficiency" washing machine we have had so many problems. First of all, your detergents, fabric softeners, bleaches, etc., must also be "High Efficiency", another added expense. We purchased a larger machine so we wouldn't have to do laundry every day, well that didn't work, we're doing more work now and the clothes have to be washed over on many occasions. The machine doesn't actually get the clothes clean, it spits in some water every few minutes. Takes forever to wash even the smallest load. ALL of the clothes come out twisted, inside out and totally wrinkled, even though they weren't prior to being placed in the washer. We've actually had to start ironing clothes that in the past didn't need to be.
The barrel is so deep that I can't even reach in to get the clothes out, I'm 5'2", my husband 6'1" has to take the clothes out, then comes the next part. Because this washer machine 'works' the way it does, the clothes are almost completely dry coming out, then we have to take all the clothes, untwist them, turn them right-side out. There are times when we have to put the clothes back in the washing machine and set the rinse cycle at a differently so there is still moisture in the clothes. Then we put them into our Whirlpool Dryer - also a joke! These are such poor designs, they shouldn't even be on the market!

Worse washer I ever had. Doesn't get the clothes clean. Called repairman. He said it's designed to only fill machine so far so the country can save on water. Meanwhile I'm washing the clothes twice, so what water is being saved? Government idiots!!! Can I get a new washer not unless I pay for it. Now just wasted money on a new washer and now my water bill is twice as much! Go figure!!!

About six years ago we purchased a matching Whirlpool HE washer and dryer from Lowe's. Because of some previous issues we had had with a dishwasher we had bought, and at the direction of a repairman, we bought the 4 year extended warranty when we bought the washing machine and dryer. Thank heavens!!! About 3 months after the manufacturer's warranty expired, I began to have issues with the washer. Again, thank heavens I had purchased the warranty through Lowe's because after 6 visits from the repairman to fix one problem after another, Lowe's finally "junked" the machine and said it was no longer cost effective to try to repair it. I was SO frustrated! And, attempts to contact Whirlpool regarding the issues were COMPLETELY useless!!! Thinking it was just a fluke, I replaced the broken washer with another exact model (I know, I know... should have done my homework!).
This time, after replacing the motherboard within two months of owning the new machine, the machine began to work fine, and washed great! Again, I thought I had just gotten a lemon with the previous machine. But, here we are 4 years into owning the "new one", and it has completely quit working. Clothes smelled like mildew despite cleaning the machine as recommended. So, I called out a repairman, he said the transmission had gone out and it would be cheaper to just replace the machine. What?? I spent almost $700 on it only 4 years ago! When I told him this, his response was that he had seen repeated problems with this machine and felt like they were disposable washing machines that you had to figure would only last a few years before having to be replaced. Again, WHAT??
I don't know about everyone else, but I don't have $700 to throw around every 3-4 years to replace new appliances because the manufacturers can't/won't make a better product. We had owned a Whirlpool dishwasher, and it had all kinds of problems too. So, once again, I contacted Whirlpool about the washing machine and got nowhere!!! SO disappointing!!! Absolutely the WORST customer service I have EVER seen!!! On hold forever, only to talk to a customer service rep who not only sounds bored to death with their job, but certainly less than sympathetic (probably from having to field questions all day long about the poor quality of the product), and less than helpful because Whirlpool has no desire to fix the issues. Needless to say, I will NEVER own another Whirlpool appliance again! SO disappointed!!!

Last year I purchased a Whirlpool washer at the suggestion of a friend who works at Lowes. It was dented and reduced, but my 20 year old Maytag, although still chugging away, was due for replacement. Am I sorry I did! My husband has recently broken his hip and we were caught in Hurricane Matthew just 1 day after I brought him home. We were forced to evacuate. Upon returning with a mountain of laundry, I found my washer lock light blinking although the washer had not been running when we lost power. I tried opening it but could not. I unplugged and reconnected power to no avail. I called customer service only to find we had to wait 2 weeks for a Whirlpool repair person. He arrived yesterday (Oct 26, 2016) and charged $95.00 to tell me this was an almost universal problem with Whirlpools and the company was aware of it. He called this morning to tell me the required part would cost $495.00! The entire washer cost approx. $500.
He stated that he thought Whirlpool should have covered the cost as it was not far out of warranty and a known defect, but he could not get Whirlpool to assist financially. I tried calling myself for an explanation of the fact that they knew these machines had a defective part and yet they sold them. I got a song and dance from the rep. Although my husband was unable to help and I am a 65 year old woman, I went out and bought the cheapest machine I could and manhandled it home and connected it. It is afternoon and I am on my 4th load of well overdue laundry, no thanks to Whirlpool. I intend to make this story public through every internet forum I can find. I have a large extended family and friends and I will make sure they do not purchase Whirlpool appliances if they are looking for a good product and good customer service. I will also be sure to never buy a Whirlpool appliance again.

A new washer, kept in pristine condition, indoors in an upstairs laundry room, used by 1 person for 4 years should NOT rust out. I took pictures and sent them to Julia ** a company representative after she offered me a discount on a new washer but would not send me an email with directions like it was some kind of secret until I insisted several times. The email simply had her phone number. I was to let her know the models I would be interested in and she would tell me if those were available for the discount. Then the company would charge me, deliver the new one and charge me to install and remove the old one. How is this for a great company. I sent her the models I might consider. No word back. Whirlpool, not looking like a stand-up company to be proud of. Shame on this company.
I like the machine, but seeing it rust out before my very eyes has changed my mind. How will they address a 4 year old washer rusting from the inside out? How will they address a 1 year warranty? I found a copy of Whirlpool Washer Warranty that used to have up to five years for issues such as poor workmanship. It takes more than a year to find these things out. Don't make them if you can't guarantee that they will last. My last Maytag lasted 18 years and was still in good shape. I just wanted a model without the agitator in the middle and on that would conserve water. Should have kept the old one.

I have to say I am taking the time to write a review for my Whirlpool Cabrio Washing Machine since I've never been this dissatisfied with a product. Every time I wash my brand new expensive black dress pants, I have resulting white marks all over! I'm so upset! I washed one load three times with no soap at all just to remove the marks present! At this point, I will never buy another Whirlpool product. =(

After only 3 years using my Whirlpool front loading washing machine the inner tub is already broken. The repairman said the cost is just about the same as getting a new washer. After reading all the horrible reviews on the Whirlpool washer I WILL NOT be getting a Whirlpool. I am so disappointed in the washer and do not recommend it to anybody. Do not buy a Whirlpool appliance ever.

I've read the reviews on this appliance. First of all the all of the washing machine being manufactured are designed to save energy and water. The water is loaded in the machine based on the WEIGHT of the clothes. the washing machines no longer have the features to (small, medium, large load) so the consumer can fill the machine. Having said that, most sales representatives will tell you appliances manufactured today are no longer designed to last 15-20 years, although they are way more expensive than the "workhorses" made in the past.
I got rid of my fancy Samsung washing machine because it broke down at least 4 times within the first year of purchase and decided to go with the whirlpool because I've had a "workhorse" in the past that was worked excellent. I love the fact the washers no longer have the agitator in the middle which allow me to wash my king sized bedding without the machine becoming unbalanced or making a lot of noise. So far the Whirlpool Cabrio washer and dryer is working very well. I'd rather give the Whirlpool a chance any day over the new johnny come lately's, which are more aesthetically pleasing to the eyes but are failing miserably in performance. I also love my Cabrio 8.8 dryer. They both work better than the Samsung models I got rid of.

We purchased Model WTW81920758200YW0 on September 8, 2012. Its performance has been unsatisfactory, not cleaning the clothes as advertised. Not long after the warranty expired the main bearing failed, bringing a local service technician and we were left with a bill of over $300.00. Yesterday, the machine stopped in mid-cycle. The display went blank and the lid lock would not release. I called a local service company for a visit and the soonest a repairman could show up was next week.
A call to a service we had used for the bearing surmised that without knowing the cause of the failure they could only guess that a circuit board was at fault. That visit would be over $300.00 with labor and materials. That was the last straw. We broke the lid lock to retrieve the contents and took a ride to buy another brand of washer. We went back to the appliance store where we purchased this "machine" to buy a Samsung front loader. The salesman apologized for selling the Cabrio in the first place. Good money after a bad product.

ConsumerAffairs Research Team
The ConsumerAffairs Research Team believes everyone deserves to make smart decisions. We aim to provide readers with the most up-to-date information available about today's consumer products and services.
Whirlpool is generally considered the largest home appliance maker in the world. The company employs over a 100,000 employees, with many of them located right in the United States. The company also has a strong commitment to environmental and social causes.
Large capacities for a variety of customers: Whirlpool washers feature large capacities, with a few washers offering more capacity than 4.3 cubic feet.
Corporate diversity: Whirlpool has a commitment to corporate diversity, and attempts to connect with groups like women, blacks and Asians through its various Whirlpool Action Networks.
Auto-dispensing feature: With select washers, consumers can fill their washer with enough detergent for 12 washes. From there, the Whirlpool washer will dispense the exact amount of detergent needed, saving time and conserving detergent.
Best for People who want a hassle-free washing experience, families and professionals.
Compare Washers and Dryers
Whirlpool Washing Machines Company Profile
Company Name:

Whirlpool

Year Founded:

1911

Address:

2000 N. M-63

City:

Benton Harbor

State/Province:

MI

Postal Code:

49022

Country:

United States

Website:

http://www.whirlpool.com/