Whirlpool Washing Machines
Consumer Complaints and Reviews

My 15 year old front loader quit working and was going to cost more to repair than we thought was worth it. So, we went shopping at Home Depot and based on discussions with salespeople ended up with the Whirlpool cabrio toploader. What a mistake. I am so disgusted with this washer I don't even know where to start. If there was any way we could return it we would do so. The clothes come out wrinkled, twisted, absolutely covered in pet hair and detergent and fabric softener residue. Yes, I'm using HE detergent, in the correct amounts. Yes, I've read the manual front to back. Yes, I've tried all the troubleshooting suggestions. No, they don't make a damn bit of difference.
I would give anything to have my old front loader back. It was a great little machine that did a wonderful job of cleaning our laundry. Pet hair was washed off, I could lay things out to dry and they weren't all wrinkly and did not require ironing. Just about everything that comes out of this cabrio machine that I lay to dry needs to be ironed before it can be worn. It is just a horrible, horrible machine and Whirlpool should be ashamed of themselves for foisting this off on unsuspecting consumers.

I hate this washing machine (Whirlpool Cabriolet) with every ounce of my being. That may sound harsh when talking about a washing machine. But, I assure you it is warranted. I have owned many washers in my day. This machine came to me after a family member passed away. The machine was almost new and had not been used very much at all. I found out very quickly that in order to simply wash a load of laundry could take as much as four hours. Every time you go to do laundry you get continuous codes and alarms.
So it is a series of trips up and down the stairs to reset the machine, try to equalize the balance, and in many cases I have to unplug the machine and reset it all together. I have researched it extensively. And I have followed the instructions in the manual and from online instructional videos trying to resolve the multiple issues. I cannot wait to get an average everyday washing machine that is not too smart for its own good. I hate, hate, hate this machine!!!

My WTW4900BWO failed after about 2 1/2 years. Out of warranty, but I called Whirlpool Customer Service and was initially delighted that they offered to sell me a repair warranty that would cover the repair of my broken transmission. Was told that through AIG Insurance, I would have a repairman at the house "tomorrow to repair the washer". A few hours later, their contracted local repair service called to try to push appointment back a day but I refused since I was told my washer would be "repaired tomorrow".
They showed up the next day in a old faded van, diagnosed the problem and then told me they would have to get "authorization" and come back in 3-4 days. A couple of days later I received a voice mail from AIG saying that since the cost of repair was more than the cost of the premium, they were canceling my policy & would refund my money. So a week later I still had a broken machine and no solution other than buying a new one or paying the cost of a new one to repair. Moral of the story: Whirlpool builds unreliable washing machines (and water softeners) and their customer service will promise you a repair that may not happen. Don't buy Whirlpool, but if you feel compelled, you better buy an extended warranty and cross your fingers. That said, we always had purchased GE appliances and never had a problem.

I cannot adequately express my dissatisfaction with the Cabrio washer and dryer that I purchased couple years ago. I will never buy a Whirlpool product again. That includes Maytag; Kenmore; or Amana products. I have had nothing but problems from the start. The washer sounds like jet engine taking off in the spin cycle. I found out the washer needs new tub bearings ~ $200. The washer is tearing up towels during the wash cycle not sure what the cause is.
My washer will only wash clothes in certain cycles (bulk). I keep getting error codes in normal or other cycles. The washer takes long time to fill so it times out during fill cycle. I replaced fill lines and checked for blockage, everything was clear. The washer probably needs either new motherboard or water inlet valve. Not sure which, maybe both? It is impossible to wash a load of clothes without getting the "UL" unbalanced load indicator. I also have problems balancing the load. I have taken wet clothes out and put them back in with no luck. It takes hours for a load to finally wash.
The dryer has had its problems. I just replaced the belt tensioner on the dryer because it was making a terrible screeching sound. The noise was very annoying. I am very disappointed with quality of Whirlpool products. However, don't worry about improving customer relations because I will never buy a Whirlpool product again. P. S. How come you have not issued product recall? There are 1,000's of similar complaints concerning the Cabrio washer. Frustrated customer.

Whirlpool Clothes Washer Model WTW4930XW1 - We have experienced tub overfilling on (2) separate occasions with this washer model in a period of time of less than (2) years. Through extended warranty service purchased, a technician came out the first time; declared nothing explainable to cause the malfunction, re-calibrated the control panel, and off he went. This second event occurred much the same as the first; happened to walk in to notice water on laundry room floor and witnessed overflow out the lid on top. We have carefully washed additional loads after this second event without a similar malfunction. From my online research, this sure sounds like a faulty pressure switch not sensing high water level in the tub. Any other thoughts?
How do I know I can trust these reviews about Whirlpool?
669,639 reviews on ConsumerAffairs are verified.
We require contact information to ensure our reviewers are real.
We use intelligent software that helps us maintain the integrity of reviews.
Our moderators read all reviews to verify quality and helpfulness.
For more information about reviews on ConsumerAffairs.com please visit our FAQ.

We bought the Whirlpool Cabrio forcibly when our 20-year-old top load whirlpool finally gave out. The Cabrio sucks. It does not get anything clean, it ruins clothes due to low water which creates friction, clothes are left wrinkly, smelly, pilled with lint, stinky and unclean. I've had it for a year and I've given every cycle a chance. It simply does not do what it is supposed to.
The HE washers are supposed to reduce water, but having to rewash everything several times with load times up to two hours not only increases the amount of water used but increases the amount of energy used. Our electric bill has gone up $30-55 a month on average. This doesn't even account for the fact that I'm spending nearly 16 hours a week doing laundry for a household of five. That's nearly triple the time I used to spend on laundry. From having to pretreat even the most minor stains to spending hours trying to get the wrinkles out, and having to remove pills of lint, to the fact that one wash cycle does not get the odors out nor the dirt out therefore multiple cycles are required.
I honestly think I might spend less time if I hand wash everything, I certainly would get them clean and deodorized. UNFORTUNATELY Government regulations force the consumers to buy HE washers so our choices for clean deodorized clothes are non existent. If I had to do it again I would buy a used non-HE washer knowing it would run another 10 years and actually get my clothes clean.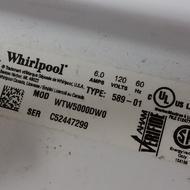 Six months after purchasing my Whirlpool Washer model number WTW5000DW0 I would hear what sounded like rocks in the bottom of spin drum during spin cycles. Then noticed it was taking longer for clothes to wash and sometimes the water did not completely drain. Called for Service under LOWE'S warranty (the worst people to deal with). Tech comes removes a penny and dime and tells me that is the problem. Leaves. 45 minutes after he leaves there is the noise again. Call and set up for this Service Company to come back. Even though they went out of business prior to the appointment Lowe's Service would not listen to me and insisted I stay home ALL DAY for someone who did not show up. Repeated calls to the Service Company resulted in nothing - phone disconnected.
So finally after much frustration I am given new appointment with new Service Company - PARRISH. Tech comes in here five minutes and wants to know the sound, I explain. He checks out the unit and tells me it is a major problem and the part and labor will be costly. Best if they just replace the machine. His added comment - I see a lot of this. So if this machine is such a problem why was it not recalled? I am getting a replacement as I have warranty and machine was not a year old when problem started. Lowe's Service Contract is another problem but I will deal with that later.

I bought a Whirlpool front loading washing machine 5 years ago, which has given me constant trouble. The computer on the machine is not working. When it is fixed, the machines makes extremely loud grinding noises and frequently the spinner does not work properly, leaving you with heavy sodden wet clothes. Whirlpool's guarantee is very limited and customer service is unhelpful except to apologize for your horrible experience. You will have to pay for a technician to diagnose the problem. I will have to replace this costly machine after just 5 years of unreliable service. I would never buy a Whirlpool product again.

Whirlpool Cabrio, H2 washer system type 588 01, serial # c0303 10 - We have been in our condo 5 years. The washer & dryer was here and new when we moved in. I have been displeased with it from the start. It takes forever to wash through a load, and the clothes are just as dirty after being washed as before. I soaked some whites in Clorox overnight and ran through using Tide and Downy. Then the stains and dirt were still there. I ran them again it was not any better. I had a professional from Hagadorn come. They could not find anything wrong. It cost us about $100.00. Others in our area have the same complaint. I have never been satisfied with this wash. It just does not get the clothes clean. Please help!!!

Whirlpool Calypso Washer - Bad part...terrible customer service. Agent told me I should buy a better brand. Wow! First time I was hung up on. Brand new wash plate ordered. Has a split in rubber seal around the outside of wash plate. Pulls threads on towels and rips them to shreds and drags threads under rubber ring. I now have hundreds of my good towels in shreds. If the part was manufactured without a split in it it would not catch on the towels. No one will listen or care from Whirlpool. I will never buy Whirlpool again!

We purchased this combo from Lowe's; checked my account and saw we were double charged! Got the charge adjusted; jeez. Bought this size to do comforters and large loads, but nothing large gets completely wet. Our clothes started to mildew as Affresh does not work. I'm allergic to mildew and got headaches. The mechanic said this mildew is because all the action is under the basin and you don't want to see how black it is under there. It began to leak as buildup went into the bleach dispenser, and it turned black.
He said to run a gallon of white vinegar in the clean cycle once a month, and this did work. I did a clean out with Castile peppermint soap, several white vinegar treatments, and got rid of the mildew and the (clog related) leak. I now use Molly's Suds powder. I was shocked to read on the Molly's site that mfg does not have to list all the terrible ingredients in commercial detergent, which is not helping you or the machine.

I bought a top of the line Whirlpool front load washing machine (WFW97HEDW0) and drier with my new construction house. After a few months the washing machine began making a loud, banging noise during the spin cycle. Then about a month before the 1 year was up the unit broke and dumped all the water in the drum into the catch pan it was installed on. I called for service and someone showed up in about 3 days. The tech opened the unit and found that the plastic/composite drum the spin unit was contained in split in half all the way around. The tech exclaimed he had never come across this issue and would report in what he found but that he did not have the part and it would most likely be a whole new unit but that it's up to whirlpool to make the call. I would find out that whirlpool had decided that the unit can be fixed and they have ordered the part and would call to schedule the repair.
A week went by, with no word. I called warranty service company, Via Services, and they tell me that the part is on back order and that it would be two more weeks before it would come in. Now we're looking at being without a washing machine for a month. I communicate this to the builder and they somehow get whirlpool to come out a week earlier than they said they could. The day came for the repair and two techs take nearly 8 hours to repair the unit (how is this efficient?).
After the repair the unit ran with an odd noise that I attributed to the way it was stacked. A month goes by and two days after the 30 day repair warranty I go to do a load of laundry and the unit turns on but won't run. I called for warranty work because it was clearly not repaired sufficiently. I schedule a tech visit which is for a week after. The day come and the tech says he can't fix the unit without charging me for the repair because it is now out of warranty and if I have the extended warranty then I need to set that up with the extended warranty group. I send him away because I had just paid for the extended warranty. I called whirlpool for the extended warranty work and they schedule a repair contractor to come out in 3 days.
The repair contractor calls me directly to confirm if the unit is side by side or stacked. I let them know that the units are stacked and they say they can't repair it because it's a two tech job and they don't have enough techs. They send me back to talk to whirlpool. Whirlpool then notifies me that because it's stacked I have to either unstack it myself or hire someone to unstack it for me. Well, I can't unstack the unit by myself and why should I have to pay someone to unstack it when that's what the unit was designed for? At this point I am going back and forth with the builder to get a refund so I can replace the unit. I will forever steer clear of any whirlpool or subsidiary products. The products are flimsy and the service is no better.

Just want to pass on update on my dryer situation. Purchased a Whirlpool WGD4900XW1 3/9/13. The motor went out 6/22/15. Now Dec 2016 the replaced motor went out again. Whirlpool says... "So sorry, we can get you a discount on a new one..." ABT is giving me a break on the part so I am going to go ahead and fix it one more time. I assume in another 18mos I will be looking for a new dryer! DO NOT BUY WHIRLPOOL DRYERS. THEY ARE CRAP!! My brother also purchased a Whirlpool & it died about the same time.

I have had this machine (Indesit IWDE126 Washer/Dryer) for a very short time; the washer is great. It does a 20 minute daily wash which is good however the dryer part screws up everything you put into it and ironing, even with steam, makes no difference at all. The WORST part is the organisation DON'T CARE. I wrote to the Chief Executive, Jeff Fettig, who neither acknowledged my complaint or responded to it. I made this complaint in October 2016 and STILL do not know what the outcome is. If you are reading this review I honestly would look elsewhere for a better machine. Try MIELE. They are expensive but 2000% better.

We bought this combo at Lowe's and was looking forward to their arrival. Unfortunately, we have had so many problems with both appliances. The washer is constantly having an error and we can only wash clothes on the quick wash cycle or else it will shake like crazy, get an error, and stop. We had the washer a little over a year when we had someone come look at it. We were told there is something wrong with the load sensor and it was going to be $350 to fix it. As for the dryer it will dry for a little bit and completely stop (no error) and restart later on by itself. I have been a devoted Whirlpool customer but not after this. I thought it was only us having these problems but obviously not. They have discontinued this set. No recall... ridiculous.

In the first year of my Whirlpool Washing Machine, the motor quit working entirely. Fortunately, the machine was under a 1-year warranty and the motor was replaced by a Whirlpool service technician. My big complaint with this washing machine is this: Even though you select "hot" water for the wash cycle, the machine has sensors in it that only allow the water to get lukewarm. If it senses the water getting too hot, it adds cold water to bring the wash temperature back down to 78 degrees F. Next time I will do my research and buy a machine that actually allows one to use "hot" water.

Bearing on washer drum began getting louder at two years. Service man stated that Tide and a few other detergents were destroying the washer bearing seal. He told us that neither Tide nor Whirlpool will admit the problem exists. The cost of repairing the washer is close to the purchase price. Whirlpool should be subject to a class action lawsuit!

I had purchased this washer from Lowe's last September and had problems almost immediately. First of all the lid would lock and hold my clothes hostage till it decided to reopen which could be days. Finally it never opened again. Called customer service and sent someone out. It took almost a month to get it back to running. 1 week for him to show up then 2 more weeks for the part to come in 1 more week for him to grace me with his presence again. Had to call again because the mother board then went. Another month. Now just out of warranty I go to wash and it's dead. No lights on nothing. This machine is the biggest pile of garbage and waste of money I ever spent. Barely made it 1 year.

My landlord purchased a new Amana washer (NTW4605EW0) Labor Day weekend 2015. It started having issues in the spring, so we went through the process of utilizing the manufacturers warranty. Apparently, Amana, part of Whirlpool, requires 5 attempts at repairing the machines before replacing. Okay, so starting in June 2016, we arranged service appointments 5 times and replaced 1 part, then another, 4 times. Clearly, that part is defunct. Right?
Fast forward to September and then into October. Get a new washer, and not the one I preferred. We got the Whirlpool WTW4816FW1. Before the installers leave, we are having the SAME issue. Stops midcycle, doesn't finish cycle, sometimes stops while filling, or while full, or kid wash, or mid drain... But now with the new washer, the drain and spin cycle thinks it should FILL instead of drain... and Whirlpool said they would get someone out the next day, a promise they cannot keep because they don't supply the repair guy, they source with local companies.
So, the company ordered 3 parts... That could be the problem. And 4 days later, 2 parts are on freaking BACK ORDER. Parts arrive. All new parts replaced. Machine still doesn't work. Outlet tested by us and them and it is fine. The techs think there is some kind of RF interference. Turn off sensor light, which is on the same wall, unplug power to wifi router (which outdates the washer). Still, doesn't work.
I have spent half my week, every week, since June, restarting my washer, unplugging the damn thing, waiting, and waiting, trying again and again and again to wash 2 loads of laundry a week... Literally takes a week until the damn thing does its job. Whirlpool is sent us a replacement washer. Can you guess what happened the first time we started it? SAME ISSUE. Cycle will not complete. Sometimes it dies before it even fills. Sometimes it dies while filling. Sometimes, it will fill and fill and drain and fill and fill and drain and... never stop filling. Or, the fun one, the drain and spin cycle thinks it is suppose to fill. Continuously. And then, suddenly, after unplugging it for 1 hr, or 24, or 72 hrs, it will work fine for 1-7 cycles. Nothing is consistent except that it doesn't work consistently. HAS ANYONE HAD THIS MUCH TROUBLE???

17 month old Whirlpool duet washer door lock broke. ($300) repair! Had given my old (13 years) set to daughter when I moved. That set has never had a repair or problem! Why do they keep making things with more bells and whistles we don't need and so cheaply made? Frustrated, annoyed and becoming cynical in middle age.

We have purchased the Whirlpool washer and dryer after Sandy and it has been a disaster. This is the 5th time we are changing the computer board in the washer and the dryer almost set the house on fire. Thankfully, we purchased a warranty. However, parts are taken forever to get approved. Will be purchasing a new set once the warranty expires and it definitely will not be from Whirlpool. Absolutely horrific quality and terrible customer service.

I cannot adequately express my dissatisfaction with the Cabrio washer, and I wish I had never purchased! Clothes have to be washed, then rinsed a second and sometimes third time to remove residual detergent and lint. Water efficient - NOT! When I can afford, I will replace this piece of crap with a reliable washer WITH an agitator! DO NOT WASTE YOUR MONEY ON THIS INEFFICIENT MACHINE!

I had my washing machine for about 10 days before it stopped working. I did about 4 loads of laundry. We have had 3 repair people come check it out, all referred by Whirlpool. They each had a different theory on why it wasn't working properly. I'm now waiting for parts to be delivered and then service to be scheduled. When I contacted customer service, I was told (after waiting on hold for about 1 hour) that it was "customer misuse." Ahem, first I heard that, and I think I know how to use a washing machine.
I asked to speak with a supervisor. More waiting. "Tina" (#**) told me she will contact the service company about the parts. I told her to please conference me in on the call because I want to hear the outcome (and I don't want to wait another 1+ hour to reach customer service again). She put me on hold and then disconnected me! Really, all this time and 3 service people... Would be cheaper to just replace the machine altogether. What a headache!

If I fix this washer I will have been on 3 motherboards in the 5 years I have owned this machine. That is inexcusable and indicative of crap quality control and manufacturing process. I should not have to replace the control board at these intervals or, within 5 years, at all. I will never touch another Whirlpool appliance again.

Had washers model # WTW8500DCO repaired after being install for 14 days. Have had washers repaired every 90 plus days because of constant electrical and mechanical failures. Would not ever buying another whirlpool appliance to my worst enemy. Customer service is a total failure. If you ask a question after talking with you for 5-8 minutes and they don't have an answer they start saying "HELLO, HELLO? I have to hang up. I can't hear you." Just a really sad business. Stay away!

I have had almost all the same issues everyone else who reviews the Cabrio WTW7800XWO washer. Now, the spring loaded lid won't stay up, so we have to use the Downy bottle to load the clothes. Thankfully, I have not had the lid crack... yet. We have had it serviced once while under warranty, that tech told us it wasn't good to wash small items, like socks. Are you kidding me? Now, the heavy lid falls on you while you are loading. I also have the Cabrio dryer, and we have fixed that more than the washer. DO NOT BUY A WHIRLPOOL CABRIO. We bought it because it was the largest unit in the store, but it is junk.

I have had the Whirlpool Cabrio washer and dryer for the last two years. I HATE them. We purchased them from Lowe's at a price point of around $800 each. What we expected and what we got were two different things. The washer was horrible from the beginning. It is impossible to wash a load of clothes without the "UL" unbalanced load indicator. It is impossible to balance a load. I have taken wet clothes out and put them back in with no luck. It takes hours for a load to finally wash. I have all but given up as I have been told it us unrepairable and too costly! Now the dryer has decided it will no longer dry clothes. It has never been a good dryer but now it takes at least 120 minutes to dry jeans. Do not buy a Whirlpool! I will never have another Whirlpool product in my home... RIP OFF.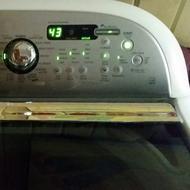 Too many times my clothing comes out dirtier than what it was going in... Sometimes my clothes come out dry in spots, never washed, lint and white soap spots on clothing as if never washed after a whole cycle. Huge waste of money and time. Can't trust any positive reviews about Whirlpool, they have to be rigged!!! I will never purchase another Whirlpool product again.

Purchased Whirlpool set from Lowe's March 2016. Washing machine is not worth the metal it's made from. Clothes are dirtier after the wash. All white linens are ruined! Clothes won't rinse or spin dry. Whirlpool won't reply nor will contracted repair return. The last repairman told us we would be better off taking the clothes out back and wash with hose because the Cabrio is useless and nothing can be done to fix it. I contacted place of purchase (Lowe's). They won't help due to not buying warranty thru them. Stuck with the worse washer ever... never again Whirlpool.

This product is not even worth 1 star mark. Like everyone else the Whirlpool Cabrio top loader does not clean clothes well. It leaves streaks of dirt and lint. It does not agitate well at all and does not put enough water to the point where some of the clothes don't even get wet. I had a repair guy that was selected by the warranty company to come fix it and we were told that this is a problem with the machine and there is no fix to it. I am now stuck with a $500.00 machine that doesn't clean clothes. Hopefully Whirlpool will have so many complaints they will at least find a fix to this machine. In the meantime don't waste your money like I did.
Compare Washers and Dryers
Whirlpool Washing Machines Company Profile
Company Name:

Whirlpool

Year Founded:

1911

Address:

2000 N. M-63

City:

Benton Harbor

State/Province:

MI

Postal Code:

49022

Country:

United States

Website:

http://www.whirlpool.com/