Whirlpool Washing Machines
Consumer Complaints and Reviews

We purchased Model WTW81920758200YW0 on September 8, 2012. Its performance has been unsatisfactory, not cleaning the clothes as advertised. Not long after the warranty expired the main bearing failed, bringing a local service technician and we were left with a bill of over $300.00. Yesterday, the machine stopped in mid-cycle. The display went blank and the lid lock would not release. I called a local service company for a visit and the soonest a repairman could show up was next week.
A call to a service we had used for the bearing surmised that without knowing the cause of the failure they could only guess that a circuit board was at fault. That visit would be over $300.00 with labor and materials. That was the last straw. We broke the lid lock to retrieve the contents and took a ride to buy another brand of washer. We went back to the appliance store where we purchased this "machine" to buy a Samsung front loader. The salesman apologized for selling the Cabrio in the first place. Good money after a bad product.

Purchased 2 years ago from Lowe's with the matching dryer. This machine (Model #WTW8540BW0) has more problems than the Bosch front load that I replaced. All of my white clothing gets small rust colored lines on it. I am sure this is because the top of the bleach dispenser is lined with rust. I have never owned a washer that rusts (screws are also rusty). I will NEVER purchase another Whirlpool product.

We decided to upgrade to the Whirlpool Cabrio Elite set after 20 years of having the same washer and dryer. Yes, they were still working after 20 years, but we wanted the bigger and better and shinier appliances when we bought our new house. The dryer is fine. Dries a load in 38 minutes. The washer is a regular POS that never should have been put on the market. The best thing about this washer is that it has a transparent lid that allows you to watch your laundry getting dirtier as it washes.
It's less than a year old so I haven't had the problems with the bearings and such yet, but as far as cleaning, it DOES NOT DO THE JOB! My blacks have white residue on them EVERY SINGLE time I wash them. I end up washing/rinsing/rinsing my darks which definitely defeats the "save water" function. A regular load takes an hour to wash, and then another hour to rewash, which definitely isn't time saving. My whites are grey and often come out with the same dirt on them as they had going in. I'm talking about dirt that you can scrape off with your fingernail, which tells me that they aren't even getting wet, nevermind washed.
The large capacity is a myth, since-- as per instructions--you can only line the dirty clothes around the centre hub without covering the little silver bump in the centre, or else the clothes won't come clean. This wastes a large amount of "capacity. In a nutshell, your darks will come out dirtier, your whites will come out dingier, you waste more water from rewashing, you waste more time and electricity due to long wash cycle and rewashing. I will never buy another Whirlpool ANYTHING again.

Hi Folks, so today I had the pleasure to speak to Whirlpool regarding a repair bill on our washing machine which now has a bearing failure and estimate to repair was 1279.00. Its 6.5 Yrs old, just out of extended warranty and cost me with the pedestal a total of 1250.00 when new. I explained that in the 6.5 since I have lived at this house where we spend all new Whirlpool Gold Appliances, half have now failed. Range Microwave, Dishwasher and now the 1250.00 front loader is dying a slow and agonizing death with a bearing failure. Just so everyone understands, the estimate is from an official Whirlpool repair service that was booked through the Whirlpool website. Other repair folks just would not bother to look at it when I told them I believe the bearing was going bad.
The repair man that arrived was professional and on time. However, I had a hard time understanding how a 6.5 Yr old washing machine would be considered beyond economical repair by costing 1279.00 to repair. Labor was 250.00 which I thought was fair. Time, etc. But parts made up the difference in cost. So later in the day, I spoke to Whirlpool and they offered the equal new washer for what would seem an excellent price. About half off. Wow, I thought that sounded good. So I asked if my existing pedestal would work with the new washer and it did not and I would have to pay for one. Regardless if my old one was fine or not.
So, they offered a discounted rate from new at another half off. Total approx 800.00. So, I asked the Whirlpool rep to hold on and I need to check with my wife if she wants the replacement. She uses it as much as I do and wanted her thoughts. She checked the model on the washer and pedestal and with the local Home improvement store, they have it on sale for both units (washer and pedestal) and it's about 50.00 less?
Consequently, I called Whirlpool back and explained that it does not move the needle to regain my trust as compensation on a 6 yr bearing failure, failed dishwasher and range microwave they offer what a distributor of their product can offer for less as a package? Really? I mean, the Home improvement store is not in the business to lose money. Now, I am having a hard time understanding my own failure to have trust in a brand I used to have with my previous house.
My mom had an old Whirlpool washing machine that lasted 25 years before she and my dad gave it away. You know, the old white top loader they used to make back in the 70's. Sheet metal, made a racket and never broke? Oh yeah got the clothes clean too! I don't know what to make of it anymore. So, I will just wait till it dies and take my hard earned money and spend it on another brand in my next house which we are going to move to soon. Maybe I can feel nostalgic and find my mom's old washer. It's probably washing someone's rags right now and getting them clean. It must be 35 yrs old by now.
I don't expect to get anything for free. It's out of warranty, so I need to deal with the consequences, but there are steps the other party can take to help remedy the situation. I think they tried and it was genuine but in my thoughts it's just not enough when your local box store is offering the same. When you develop a brand to extend a message of trust in quality and value, you need to have quality and value all the time. I suggested they help with the costs on the parts. I would certainly pay for the labor. Parts cost little to the manufacturer. Unable to help that way. I thought it was cheaper for them too. Guess not. It's come to be a throw away washing machine at 6.5 yrs and I am Infinitely disappointed. I just want my washing machine to work as well as my mother's old one and have the possibility to fix once in a while when needed.

We are so disappointed in the purchase of this machine! It doesn't put enough water in the machine to clean the clothes, and the spin cycle has continuously gotten louder and louder to the point I think it's going to explode when it spins! Is there any recourse we have or any recalls on this machine?? Thank you for your help!!!
How do I know I can trust these reviews about Whirlpool?
609,317 reviews on ConsumerAffairs are verified.
We require contact information to ensure our reviewers are real.
We use intelligent software that helps us maintain the integrity of reviews.
Our moderators read all reviews to verify quality and helpfulness.
For more information about reviews on ConsumerAffairs.com please visit our FAQ.

I purchased this washer about a year ago and have been dissatisfied with its performance since Day One. It takes a long time to run a cycle and has not saved me any water or electricity. I always have to add a second rinse because it doesn't get the soap out (using the recommended detergent) with the regular cycles. Sometimes it doesn't get my clothes clean.
Today it tore huge holes in the front and back of one of my very favorite T-shirts, which was a very meaningful gift from a very good friend. This was due to its tangling the clothes even more tightly than it usually does; the tangling process was what tore the material. I always take pains to load the machine in the manner instructed, to put the clothes in loose balls around the outside of the drum, but nevertheless it can take me several minutes to untangle my laundry before I put it in the dryer (also a Whirlpool -- just waiting to see how it disappoints). If I had read the reviews here before I selected my new machines, I would never have purchased the Whirlpool washer or dryer. I certainly never will purchase Whirlpool machines again.

I wish I had read all these reviews before buying this junk/lemon of a machine. Haven't had the machine for a year yet and lots of problems. Only can wash five towels at a time and that's pushing it. Decided I would deal with it, until it gave other problems. First sometimes skipped cycles, then water came in when it was spinning. Called for service. "Checking to see if we even can get you service in your area," representative says.
About a week later tech comes and puts two parts in and left. Happy to get laundry going but, guess what??? Washes only doesn't do anything else and trying desperately to drain water out. Of course I have to take clothes out and bring to laundry. Tech comes back next day. Now he can't get any cycles to work either. "Fried," tech says. Sets me up for next Saturday, fine.
Now get a call on Monday, not coming. Tuesday is next appointment. Apparently inventory representative says. Didn't know that before??? Call Whirlpool, service first, then company. I want a new one, this is definitely a lemon. Nope, tech will be there on Tuesday. I hope Whirlpool reads this. They should be ashamed of their company. They used to be good, always bought their products. Don't buy these machines, trust me you don't need the aggravation. Totally disgusted.

A couple years ago we purchased a Whirlpool Cabrio WTW8000 top-load, high-capacity, washing machine based upon good claims of the salesman at Lowes - Appliance Dept. This was not an inexpensive machine. However, this washing machine failed to live up to representations and performance is poor. However, biggest complaint is that clothes are able to get stuck between drum and the unique agitating device which results in holes and tears in material. This is a significant design flaw and we're not sure why more people don't complain about this rather significant design flaw. Of course, there are other shortcomings... but destruction of clothes is a serious problem. While this machine is in excellent condition, it will be replaced with a more "traditional" washing machine with vertical agitator ASAP.

Absolutely read the reviews on this machine before deciding on a purchase. I have experienced with great frustration every issue addressed in other reviews. Clothes constantly have to be rewashed. The Quick cycle will leave your clothes in a puddle of water. But then there is no spin only cycle to correct that. I have purchased Whirlpool washers before with great satisfaction but this machine is not worth the money I paid for it and does not save me on water or electricity costs because of all the rewashing I have to do. Like others I am stuck with this machine until it dies. You lost me as a customer, Whirlpool.

Rather than replace the heating element in my 15 year old Sears dryer, I opted to replace both my Sears washer and dryer with a new HE Whirlpool. It was the biggest mistake that I've made. The washer does not have an agitator and the clothes turn into a twisted knot. Deodorant did not wash out of load of three sweaters. When I called tech support, the woman told me that the "washer met specification." I suppose that means that it uses only limited water but has nothing to do with the cleanliness of the finished load. I was told by the repairman that future calls regarding unclean clothes would cost me despite a warranty that I purchased from Lowe's.
He suggested that I wash on using the Bulky Items setting and with a specific laundry soap. The setting provides more water but without the agitator, my clothing turns into a huge knot and comes out of the machine dingy despite washing loads for over 60 minutes at a time. My electric bill has gone up because I have to also add an extra rinse. The machine frequently become unbalanced. My dryer's seal started loosening up two years after my purchase and finally became twisted in a sheet and ripped itself loose. Whirlpool has lost all future business with me.

I stumbled across this site while browsing the Net, looking for a way to deal with the same situation I now know you all have been struggling with: Whirlpool Washing Machine! I wonder: Is NASA still accepting volunteers for their "living on Mars" experiment? I'd rather beat my clothes on a rock than touch that POS Whirlpool that has me back on tranquilizers! Mine was purchased about 2 years ago when I was in bad health and my son was handling my affairs. I could tell - just by listening - there was something very wrong with it, from the first load my son attempted to wash. It would start and stop, restart, restop, ad infinitum and made a terrible racket. I told him nobody would intentionally make a machine like that--something had to be wrong with it but he assured me that he had checked both with the store that sold it and he also read the manual.
He had a hard time accepting but we thought maybe this was because it was new and would settle down after some use; after all, the store (Best Buy) assured him the sound was 'normal' for this particular machine. However, the weird sounds did NOT lessen nor stop, nor did the starts and stops. Little did we know, this was just the tip of the iceberg! We have encountered/suffered through every nasty performance detailed here: low water, won't spin, leaves clothes soaking wet, won't 'spin out' excess water, lid locks (grrrrrr), it can't seem to switch from one procedure to the next; there is nothing "washing" the dirt out of the clothes--they just sit in the water and soak(?), then the water is released. Clothes come out with stains still on, so wet that the water must be wrung out of them! Very hard for me with arthritis all through my body!
I've tried countless times to reset machine to "Drain & Spin." I've even waited (yawn) for it to unlock so I can open and then readjust the heavy/wet laundry, trying to make it even all the way around so to avoid an unbalance. But nothing helps. It will start to spin. And then it stops. (wait, wait) Starts to spin again. Stops. (wait, wait) Starts again, does it a bit longer. (start to relax) Stops. I've spent HOURS engaged in that kind of mindless, maddening frustration, just trying to wash one small-medium load. (I wash only for one person--myself, now.) My son, who got married and no longer lives with me, said the only way he could manage to struggle through it - and agrees it DOES take an inordinate amount of time--for just ONE load, he has to put the settings so that it washes in "Deep Water" even if small load. He sets Rinse, to 2 Rinses. He sets it to Soak even if the soil is light.
Even then, it still makes noises, starts and stops, has to be adjusted several times during "Drain & Spin." Last but not least, the noxious odor: OMG! I left one batch of laundry in the machine, with the lid open, as it was very late so figured I'd dry them next morning. Some hours later when I went back to shake them out and put in clothes dryer, they smelled so awful, I had to wash them all over again! In fact, I've had to follow my son's admonition to leave the lid up AT ALL TIMES unless actually washing in order to keep down the stink. I washed my last load with Baking Soda added to wash cycle in an attempt to lessen the odor and get laundry cleaner. Someone here wrote - in their review - that there should be a Class Action (Law) Suit filed against Whirlpool. I AGREE!!! And I want to opt IN on it.
There are several law firms that advertise on t.v. that specialize in Class Actions. It would take some time and paperwork but will not cost us anything unless we win the case. Then the law firm gets a percentage. I am willing to work with one more others here who truly want to settle out this problem. I can't believe 2,000 (and that's only here), people are willing to eat hundreds, thousands of dollars of worthless, mind-gripping, rubble such as we have spent our hard-earned money. Other manufacturers recall their defective merchandise and/or replace it, or make arrangements with the retail stores who carry it to make amends, free repairs, whatever it takes to make dissatisfied, disenfranchised customers, 'whole.' We paid for these demons from hell and we deserve to get an equivalent in merchandise (that works properly) or services. That is how it is done here in the U.S.
For the life of me, I just can't comprehend why Whirlpool has been allowed to continue selling this junk--why no entity or person or lawsuit has stopped them! As I said, I am willing to work with a core group who is serious about filing a Class Action (Law) Suit against Whirlpool. It may be that the retail stores would be included as well; however, that is a matter best left to the discretion of whichever law firm we select to represent us. For those of you here who do NOT wish to be included, do not worry; you are not being pushed into anything. The way Class Actions work, you have the choice to 'opt IN' (be included to receive your pro-rata share of what is collected). Or you are completely free to 'opt OUT.' By opting out, that means you do not wish to be part of the Class Action and therefore, you will not be included nor will you receive any portion of the recompense collected via the Class Action.
Just for your information, though: You are allowed, by law, to bring your OWN lawsuit against all or some of the same parties. The most common reason for opting out, is if you have suffered an extra large financial loss and prefer to file your own suit in order to collect ALL recompense; whereas, sometimes - in a Class Action - the individual plaintiffs may not recoup the total amount they feel they have lost. If you DO decide to 'opt out' and go on your own, realize you will be fully responsible for lawyer fees (although you CAN add them into the balance you are seeking in your suit. Settlement of your claim may or may not include lawyers' fees.) Good Luck to all. To those who wish to file a Class Action with some of the rest of us, please contact me if you want me as part of the core group of plaintiffs.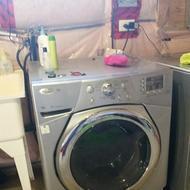 I bought this washing machine in May 5, 2012 and delivered in July from Paddy's Market. We do not use the machine that much because me and my wife and two kids living in the house. Yesterday I put my clothes in the machine and left it to wash it. When I went to get my clothes, water was all over the place in the basement and the machine was beeping and reading code "LF". I turn off the machine and turned on back. Water started to fill and then suddenly water started to coming from the bottom of the machine. I removed the bottom panel and I could see the water was coming very fast from the bottom of the basket (the drum shape). I called the private company to repair it and waiting to find out.

Model WFW8&HEDC - The cord stuck inside the machine. My husband had to take the machine apart to remove the cord??? Which company in the right mind does that??? 2 hours to get a cord out of the machine when it should be already out for you. My first time buying Whirlpool and already turned off by their stupid setup. Had we continued pulling like the instructions, the cord would had ripped or get damaged in the metal. There was no way of removing it without opening the top and back of the machine. To make it easier for delivery their answer on the phone??? How two hours of sweat to get a stupid cord out makes it easier for you?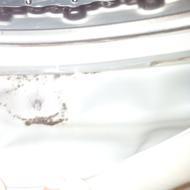 I purchased a (second) Whirlpool washer (WFW87HEDW0) in October 2014. Since purchasing (and to this day), I manually dried the rubber gasket after completing my daily washes, knowing that mold growth was possible. I wash one to two loads of clothes about three to four days per week. During the first year, I did not notice any mold in this area and was confident that the manual drying and cleaning with Affresh was preventing mold growth.
However, at the beginning of this year I discovered a little mold growth, which has slowly been increasing, in the inside lower lip of the rubber gasket. The image attached reflects mold in its current state. I was very surprise to see this happening since my diligent cleaning has been thorough and never ending. I even remove the soap dispenser tray to clean and air dry it outside of the washer and leave the washer door open at the end of the daily washes for extra fresh air circulation. This is my first official complaint about a Whirlpool front loader washer, even though I previously owned another (GHW9200LQ0) before this one and had mold growing on the rubber door gasket but, unfortunately, never officially complained about that old machine. Now, I don't qualify for the $500 compensation because I never "officially" complained "three" times within the first "five" years of owning the old washer.
To my dismay, I did not immediately realize I had mold growth in the old washer. It was only until years later that a repairman told me that I had mold growth in it. In addition to telling me the price of replacing the rubber part and replacing a broken water pump plus labor would cost as much as buying a new washer. Before purchasing a new washer, I researched and read many reviews about Whirlpool and other brands before deciding on this new Whirlpool. I decided to give Whirlpool another chance and to follow their recommendations on the proper cleaning of the machine. Once again, I am disappointed and angry with Whirlpool and, now, have to figure out what to do with my current situation.

I bought a top of the line Whirlpool dryer that cost me over $1,000. Haven't had it for a month and it requires a service call. Have to wait two weeks for service! Totally unacceptable. The dryer is JUNK and now I am stuck with it. Horrible company. Bought from Home Depot.

Washer has rusted out after only four years. I bought my set from Sears, and thought I would get good use out of it for many years; but I am experiencing rust falling from around the rim of the washer. Very dissatisfied with the product, I will never buy another appliance from Sears again. I have always used Sears appliances but after this experience I would not recommend Sears to anyone. I was told that the warranty was for one year, and the rust would not have been covered anyway. Very Dissatisfied Consumer. I thought Sears would stand behind their products. Yea, right.

Like many other reviews I've read here this morning, I bought a Whirlpool Cabrio HE Top loading washer before I did my homework. I purchased approximately 2 years ago. While I don't seem to have the volume of complaints I've read from others, I do have many intermittent complaints. As others have described, from day one I have gone from this uneasy feeling about how it is working to down right PO'd about the condition of my clothes after a load finishes.
List of issues you will avoid by buying a different product: 1. Water levels SO low your clothes don't get clean. Yes Whirlpool, thank you for trying to save me $$ by lowering my water bill, but for goodness sake there should be enough water in the damn tub to cover the load. I literally watch dry clothing twist back and forth and NEVER go out (like they claim) to the edge of the tub and under then back up in the center. Instead they just sit there watching from the edge while the poor items of clothing in the center get twisted together.
2. Powdered detergent, even if listed as HE will not dissolve in this low water level and will end up as white patches of film on your dark clothes. Suggestion to avoid this - don't use powdered detergent, but even if you use liquid HE detergent, you may still experience white patches of soap film on your clothes. It happens on all of them but shows up clearly on dark clothes. Setting the washer to always do a 2nd rinse cycle will improve the outcome. Not a perfect solution since the point of a low water washer is to use LESS water and not more by running a 2nd rinse on all your loads.
3. No Consumer/User options to allow you to use the washer as you see fit. Since I paid a small fortune for this stupid washer and didn't realize that I would never again be able to dye fabric in my washer I am posting this as a warning to other crafty consumers. DON'T BUY THIS WASHER if you ever want to dye fabric or an article of clothing larger than underwear. There is absolutely no setting on the washer cycles that will fill the tub with more than a few inches of water. The washer falsely has a mislabeled setting called "Deep Water Soak". This is absolutely a LIE. Good thing I tested the cycle before putting my blanket in there to dye it. The cycle spins many times in the beginning pouring water into the clothes, then empties the tub and does it again. Then after 10 minutes into the cycle it begins to "fill" (if you want to call it that) the tub.
After putting about 3 inches of water in the tub - not even enough to cover the top of the articles in the tub (I used 6 towels as my test subjects) it stops to "soak". But stuff is still sticking up out of the water!!! OMG! So frustrating. This would not do for dyeing anything of value as you would not be able to agitate enough to ensure coverage of the fabric evenly with dye. Just don't buy this washer if you have, as I have in the past, enjoyed changing the color of linens and re-dyeing dark clothing that have faded! Whirlpool clearly didn't care about how consumers actually need to use the washer. I may try using this setting by pausing and filling it manually with buckets of hot water from my sink to get enough water in there to cover the fabric. It's just ridiculous that I even have to consider how to outsmart my washer!
4. Smelly clothes. Seriously. I do the obligatory monthly Affresh cleanings, and I have learned to leave the lid open after the last load of clothes so the tub can air dry. However, I still from time to time pull a load out of the tub and it smells like mildew. And don't think for one second that the smell will go away when dried. I have opened the dryer and pulled clothes out, smelled the mildew and put them right back in the washer for a 2nd go round. Nothing worse than putting on a "clean" nightgown and smelling like mildew! Ewe!! With this awful washer you can NEVER leave a load of washed clothing sit for any length of time or you can look forward to smelly clothing. Hate it. Absolutely HATE it. Again, this defeats the purpose of using less water.
Can't make myself spend more dollars that I don't have in the budget to replace this piece of crap. I have figured out all the workarounds for now, but as soon as I can replace it I will send it to the dump. Not going to resell or donate to anyone else as it would just be a burden for others. If there was ever a rightful need for a class action lawsuit to compensate consumers for false claims by a company - this is it! Hope this helps prevent anyone reading from making the poor purchase decision I have!

Whirlpool Cabrio - What a piece of junk. Just like everyone else says. Doesn't clean properly or rinse out detergent. Wish I read reviews before purchase. Don't buy this POS for any price.

I purchased this machine about a year ago and it is the biggest piece of garbage on the planet. The biggest problem is that it will not spin if the load is even slightly unbalanced. It does not clean the clothes. If you try to rebalance and spin the load, it adds more water and then gets stuck in a cycle where it drains and adds water forever. Do not buy one of these. I am finally surrendering and buying a different machine. A total waste of money.

Whirlpool Cabrio Elite Top Loading Washer Model WTW8240YW - I add my complaint to the roughly 2000 others about this machine and Whirlpool. Two months after the warranty expired the machine started making a loud noise on the spin cycle. I called a repairman and he said it was the main bearing going bad and this was a common problem with this model. He recommended buying a new washer rather than repairing the unit because the cost to repair was greater than what I paid for the washer. I called Whirlpool and all they offered was to send a repairman at my cost. This is terrible service for a documented problem that they have. I will buy a new washer but it will not be a Whirlpool!

On the 27th March 2012 I bought a new Whirlpool 6th Sense washing machine S/N 411048002028 AWOE 9210 - 30 9Kg for E499.00. I brought it home and plumbed it adding in a lime filter on the water line to protect it from limescale. On the 14th September 2016 a service technician replaced the entire drum as the old one made so much noise and the ball bearings are part of the drum. On the 7th June 2013 a technician replaced the drive belt claiming that it moved if a light load was put into the machine. On the same day I added an extension of 3 years Guarantee at Euro 89.00. On the 14th October 2013 a technician examined the machine for a water leak but found nothing and charged me for the call. Out E25.00.
I lived with the noise of the spin cycle ever since. The noise got steadily worse until 27th September 2016 when the machine finally packed in. I stripped the machine down to find the ball bearings on the drum completely rusted over so the drum was rotating without the cushioning. On the same day I bought a Bosch machine and decided to forget about the extra guarantee as the offending parts had already been replaced once and did not even last 4 years. I will bring it to the recycling yard later today as that is all it is good for. It was bought in Media World, Orio Center, Bergamo. It was paid for by Gianni ** who is my father-in-law and had a loyalty card for the shop.

I guess I am in the lucky group because my washer lasted about 3 years before the problems started. The latest is the lid lock light flashing, the machine doesn't go through full cycle but stops in the middle, doesn't spin and drain. Even before that the clothes didn't come out clean. The repairman said that this product is basically disposable and it makes more sense to buy a new washer than to invest in fixing this one because something else will break next.
My old White Westinghouse lasted 18 years without one problem, I'm sorry I wanted something new. What a pity that companies nowadays sell junk and the consumer has nowhere to go with a complaint. I'm wondering if someone has the name and the address of the CEO of Whirlpool, I would like to ship that piece of junk to where it came from... it would be funny if other customers did the same. And I agree with other posts that class action suit would be in order... too bad nobody started it yet. I wish I had read the reviews before I made the purchase but at least I know now to stay away from all Whirlpool products and do whatever I can to prevent other people from making the same mistake I did.

I decided to buy the Cabrio. It was the most expensive, but I wanted to buy American, and I liked the set. It does not do great with cleaning the clothes and they smell when they come out of the washer. Do you have any suggestions. It does not fill with enough water even when using the deep water mode. Please help as I would not recommend this. I called Lowe's where I bought it, and they said they knew, but are not recalling, or making any adjustments until Whirlpool does.

I have been noticing my husband's shirts as well as my clothes continue to get what are spots of bleach and I do not use bleach on anything other than whites. This has been going on for quite some time and I noticed this morning another outfit is RUINED because of bleach spots. I decided to look up on the internet if this is a problem with this machine - AND IT IS! I am so disappointed I could cry. The clothes I have are donated to me. All my clothes are hand-me-downs - and my Whirlpool washing machine is ruining all my clothes and my husband's.

I exchanged my fancy front loader Cabrio washing machine for a top loader after having numerous issues: clothes weren't getting clean, extended water cycle, and a leak. The original purchase was made at Lowe's, where I elected to invest in the 3 yr extended warranty plan. After several visits from their sub-contractor, they allowed me to exchange the washer for a top loader Whirlpool Cabrio. At first the washer seemed to work, but after about 8 months I started having problems. The bearings went out and when the service company replaced it they forgot to screw top of the machine together. During my first load, I heard this terrible noise and discovered that the entire top of the machine had separated from the bottom by 2 inches.
I frantically rushed to turn the washer off before my laundry room flooded. So, they were out again and screwed the machine back together but failed to retrieve the original screw that they removed from the washer during the first round. Well, the screw got lodged in-between the drum and interior, causing it to completely break the machine. Lowe's agreed to exchange the washer for another top loader Cabrio, but my 3 year service contract would not cover the new washer. Not to my surprise, I immediately had issues with it and had to hire a repairman to assess the problem, who concluded that it was the bearings. He informed me that it would be about $700 to replace the bearings and cheaper to just buy a new machine.
I called Whirlpool and explained to them about all my issues, now becoming almost comical. They arranged for an outside contractor to assess it. After confirming that the bearing were bad they replaced them. Another few months go by before problems occur, this time the washing machine stopped draining water and spinning. The service company was out another 4 times. They replaced things like the mother board and control panel. My last appointment was today, where the service guy said, "There is only one error code. It is a stuck button". I said, "Will you at least witness a full cycle so I can show you all my problems: clothes still dirty and stinky, items still wet after spin cycle, cycle taking 2 to 3 hours to run, horrible noises, and timer adding minutes to original cycle". He called Whirlpool because he genuinely felt sorry for my situation. They were of no help. He didn't stay to witness a cycle.
Moral of story: if the "error code" doesn't detect a problem, the consumer will not be helped (this is something that consumers do not have access to). They will happily call a technician out to put a bandaid on an issue until your warranty runs out. I have had between 7 to 10 service calls out to my house, requiring me to take either an entire or 1/2 day off of work each time. If I added up all time lost at work, I could have easily purchased a top-of-the-line washer/dryer duo and been done with all this Whirlpool foolishness. Do yourself a favor, stay away from this product.

We purchased a Whirlpool Duet front load washing machine Model #WFW9550WL in July 2009. In July 2016, the guide on the door hinge broke, making the machine unusable. When performing a national search for the part number (#8183202) to replace the broken hinge, I found that there were none available anywhere in the United States. When talking to Whirlpool, they indicated that during 2015, they only sold 142 of this part, and were currently looking for a new manufacturer for the part. They further indicated that the part would not be available until late September or early October of this year.
I find it hard to believe that this part is not available anywhere in the United States. I don't understand how Whirlpool could allow this to happen, when I will assume there are millions of washing machines using this part currently in use throughout the United States. What are we supposed to do with regard to our laundry until this part is available, as we can't use the otherwise functional washing machine? It may very well be time to ditch the Whirlpool appliances, and move to a vendor who has the ability to better plan for the future needs of its customers!

My washing machine is just over a year old and it has ruined so many clothes... They come out with brown stains on them... Almost like a oily stain. Not sure where it's coming from but it's either I'm gonna have to buy a different machine or keep buying clothes. My husband's t-shirts look terrible... If any suggestions to what it can be please respond back to me. Thanks. Model# wtw4815ewo. Serial# c51433710.

We replaced our 20+ year old washer and dryer with a Cabrio set. I read the instruction booklet twice to make certain I did everything correctly. I've washed two loads. Both times, the clothes were in a ball at the bottom of the washer. Everything was horribly wrinkled. DO NOT BUY this WASHING MACHINE UNLESS YOU want your CLOTHES to COME OUT in a WRINKLED BALL.

Bought the HE Whirlpool Cabrio in 2013 after having my old agitator Maytag for 19 years. After reading the other reviews I do not feel alone. An awful washer, a year after our purchase the spin cycle is so loud we have to close the laundry room door. Now it has been leaking into my basement. I called a repairman, explained my problem. He suggested to junk the washer, it will cost more to repair than buying a new washer. In addition my clothes did not clean properly, soap stains on clothes because it does not use enough water. This was about $1000 purchase that lasted less than 4 years! I am done with Whirlpool and suggest to anyone not purchase a HE washer, nothing like the old style agitator washers.

We bought this washer brand new and as soon as it was outside the one year warranty the bearing went out. They had to order a whole new drum kit. A MONTH later I had a running washing machine again. The day after it was fixed it started leaking underneath the machine. Serviceman came and looked at it and said "No must be the hoses" (my responsibility to fix). Nope kept leaking and two months later I'm doing laundry and an entire load of water floods my laundry room. Drum broke again!! SIX WEEKS LATER I still am waiting for a new drum. I had to fight to get Whirlpool to fix it again and they won't even return my calls about why it's taking so long! We are a family of 8, so doing laundry at a laundromat is outrageous! Don't ever buy Whirlpool washers!!!

ConsumerAffairs Research Team
The ConsumerAffairs Research Team believes everyone deserves to make smart decisions. We aim to provide readers with the most up-to-date information available about today's consumer products and services.
Whirlpool is generally considered the largest home appliance maker in the world. The company employs over a 100,000 employees, with many of them located right in the United States. The company also has a strong commitment to environmental and social causes.
Large capacities for a variety of customers: Whirlpool washers feature large capacities, with a few washers offering more capacity than 4.3 cubic feet.
Corporate diversity: Whirlpool has a commitment to corporate diversity, and attempts to connect with groups like women, blacks and Asians through its various Whirlpool Action Networks.
Auto-dispensing feature: With select washers, consumers can fill their washer with enough detergent for 12 washes. From there, the Whirlpool washer will dispense the exact amount of detergent needed, saving time and conserving detergent.
Best for People who want a hassle-free washing experience, families and professionals.
Compare Washers and Dryers
Whirlpool Washing Machines Company Profile
Company Name:

Whirlpool

Year Founded:

1911

Address:

2000 N. M-63

City:

Benton Harbor

State/Province:

MI

Postal Code:

49022

Country:

United States

Website:

http://www.whirlpool.com/