Whirlpool Washing Machines
Consumer Complaints and Reviews

Our 2.5 year old Whirlpool top loading clothes washer started leaking from the bottom, enough to form a sizable puddle that ran under the dryer all the way to the wall. It was still under warranty so we called the company and they recommended a repair service. Guy came couldn't really identify the exact problem but said he'd order parts to stop the leak. That was 6 weeks ago. He can't get the parts despite us calling about every week to see if the parts came in. So for the last month we've been taking our clothes to a laundromat. There seems to be no end in sight to this problem. Seems stuck between Whirlpool and the repair service and we're the victims. And, oh yeah we got a note that says our warranty is ending soon.

Bought the Whirlpool Cabrio washer (WTW7300DW) and dryer (WED7300DW1) about 8 months ago. The washer always leaves white debris on the dark clothes - looks like detergent. Except I use blue liquid detergent. It seems like the inside, bottom of the drum is deteriorating and sticking to the clothes, since there is nothing that is white in the washer. I have run it through the clean cycle several times with the recommended washer cleaning product (the brand that came as a sample with the washer). That did not help. Also, we have a dog, our old washer used to rinse out a lot of dog hair from the bottom of our socks, etc. My filter for my drain hose would always have dog hair in it. With this washer, there is no dog hair being rinsed out at all. Lint and dog hair is all through the clothes after the cycle is over. Makes me wonder where the dirt is going, then.
The clothes are so twisted after washing. Anything with long sleeves get tied up around other clothes. This seems very rough to wash clothes this way. Also, if you don't use the deep water setting, it's likely not to get parts of the clothes even wet. I had a gray hooded sweatshirt go through a whole wash cycle and there were spots all over it that never even got wet at all. The dryer power button is very temperamental. Sometimes I have to hit it 6 - 7 times, at different angles, until I hit it just right to get it to turn on. Other times it just turns right on. There are just 2 of us so I only do 10 - 12 loads of clothes a month. After reading all the awful reviews, I fear that these problems, which are becoming evident now, will only get worse. Yet I only have 4 more months until the warranty runs out.

I purchased A Whirlpool washer model WTW4816FWD some six months ago and it is worse than my 13 y/o washer I got rid of. When wringing clothes it seems be out of balance as it bangs like crazy even when clothes are adjusted. I thought it was the feet but no dice and the auto sensing levels allows for the washer to fill completely with only three items in it? The noise it makes while washing can be heard throughout the whole house too. The cycle takes three times as long of any I've ever used! I hate this thing.

I've spent more repairing this washer than what I paid for it new!!! It's really ridiculous that Whirlpool isn't more responsible for their equipment that doesn't stand up to their name! I've replaced more things than I want to type but just to start the computer board, pump, bearings just to name a few. Each time I had my repairman out it was a minimum of $300 to repair. I've had my repairman out 5 times to repair things. Thinking each time it's cheaper to fix it than buy another which I surely didn't think I would be repairing it several time!
At this point I'm just sick to death that a washer that is for a home of myself and my daughter has broken down so much. I can't imagine what a family would go through. Even after all the repairs it still isn't right but I'm done sinking money into this sinking ship of a washer! It's loud constantly stops due to un level so I have to move the clothes around usually having to repeat this several times before I can get the load to finish!!! Then they come out wrinkled more than they went in and I have to iron clothes. A person should NOT need to iron! May as well wash them in the river on a rock. It would be easier!!! SO DISAPPOINTED!!!

I purchased this Cabrio washing machine in December of 2016. I have had a huge amount of trouble with the soap not washing out along with it tangling my clothes. This has to be the worst machine I have ever purchased.
How do I know I can trust these reviews about Whirlpool?
765,713 reviews on ConsumerAffairs are verified.
We require contact information to ensure our reviewers are real.
We use intelligent software that helps us maintain the integrity of reviews.
Our moderators read all reviews to verify quality and helpfulness.
For more information about reviews on ConsumerAffairs.com please visit our FAQ.

Bought the Cabrio washer dryer set back on 1-12-13 for my new home and thought it was a good purchase. Well now it's March on 2017 and the washer has been slowly getting louder during spin cycle to the point where yup you guessed it the bearing is bad because on a cheap seal that suppose to keep water out. It just cost me just under $600 to get the repair done and from reading other reviews and the fact that I have worked on cars and machines at my employment this will happen again. I wanted to save money on water for the city that I live in charges gold prices per cubic units of water but for the price of repairs to the water saved I am in the red. So once it goes again going back to conventional unit and will never buy anything from this company again.
I work in the second largest printing company in the world for 28 years on press and know a bit about quality workmanship. It's really sort of typical on how over the years some good manufacturers cut quality and design in planned obsolescence into their product just to make money for the useless corporate bloat that has taken over. I made the mistake in buying what I thought was a good product from a great company but they just proved me wrong. People do not buy any products from this manufacture and find out what other unit they make and steer away from them too.

We have the same complaints about the washer as other reviewers -- have to use deep water wash to get enough water in the tub to clean and rinse soap from clothes and we have to keep the loads small. Dryer thermostat had to be replaced right off the bat. Now on medium heat it just burned patterns into two light-weight polyester fleece items -- the clothes came out with the heat input screen pattern burned into them. Now I wonder if they stuck to the heating screen for any length of time, was it a fire hazard? The burned parts of the items are now stuck to the drum so that needs cleaning. So we'll be using low heat on most everything and drying them twice, since low heat leaves them pretty wet after 35 minutes.
So much for buying energy saving appliances which, by the way, we were proud to buy! But, prior to buying these appliances, we had washer and dryers that last 20 years. Built in obsolescence with these new things? I have no faith in the consumer complaint process anymore. The retailer may care as they are a bit closer to the problem, but the manufacturer? Forget it. Vote with your wallet and don't buy these products.

2 loads of clothes and it is broke. I tried to call Whirlpool to no avail. So I called Costco where I bought this machine. They at least talked to me. Promise to get a hold of me tomorrow. Brand new (2 days old) and this happened. Didn't even finish the second load.

Very disheartening to know that an established company such as Whirlpool does not stand behind their products or acknowledge known product defects. Based on the quantity of complaints logged on this site alone, I'd think a recall would be required. Identical to other consumer posts within, we purchased the Cabrio Platinum washer/dryer set (WTW8000BW0). Exactly 24 months to the purchase date, jet planes began flying through our home with the noise concentrated in the laundry room. The dryer has been fine; however, the washer is a whole other issue. The bearings are shot (as many users have cited) and the noise is deafening... even with the laundry door closed, TV on high, dogs barking and flurry of activity in the kitchen!
We made a switch to the Whirlpool brand 2yrs ago due to reputation and longevity. Ooops. Lesson learned and $700 out the window. Back to GE's. If you're reading this and concur with our review, just remember... customers always have a choice! Unfortunately, Whirlpool will figure this out the hard way. Just like other iconic brands... Smith-Corona, Blockbuster, Polaroid, Nokia, Saturn, Pontiac/Oldsmobile, Sony and many others. There is typically a reason a company offers tremendous sales incentives (price cut, rebate, special financing) to unload products. We found out why. Thanks for the memories Whirlpool!

I bought this washer (Whirlpool Cabrio) about 4 years ago. A year or so later, it started leaking; based on reading the troubleshooting guide we found that this was because the feet would continually get out of balance. After painstakingly re-leveling the washer every 6 months or so the washer now consistently leaks - even though it's balanced/level! $508 to repair a machine I paid $787 for. No thanks. I agree too with the other reports that it doesn't get clothes clean. I just figured this was a "feature" those of us got for trying to be energy efficient.

Whirlpool Wash-And-Go washer and dryer - I purchased these new November 2016. Since week two, they have been a constant problem (i.e. not enough water to even get clothes wet, forget about clean; gulping soap from the dispenser; rubbing holes in clothing; putting rust on washed items). The dryer NEVER gets the clothes dry; no matter what setting they always come out damp, even after I've put them through for two cycles.
Three separate repairmen have come to work on the washer replacing sensors and the entire control board. It worked fine for two weeks, now it's back to guzzling soap. (It is supposed to do up to 12 loads on one refill of detergent. I get two per refill. Ridiculous! Soap isn't cheap!) And, today it ruined brand new bathroom mats with rust all over them that I had to hand wash to try and remove without much success. At this point I would advise anyone looking for new appliances to try any other major brand and NOT Whirlpool. As soon as I can get the money, these are being junked and I'm NEVER buying Whirlpool anything again!

I have had this front loader for 5 or 6 years. My clothes absolutely stick, I can't stand the smell of them. I have used Affresh, the recommended cleaner 3 days in a row, multiple cycles, no improvement. I did the vinegar treatment, leave the door open etc. What is upsetting is I have read Whirlpool has been aware of the mold and mildew problems of front loaders yet continue to manufacture them. The gasket in the front enclosure pockets at least a cup of water and other gunk from the wash. A waste of money!!!

After 7 attempts to fix my 6-year-old Whirlpool Front Load Washer (original price $991.00) I had to trash it. Then I stupidly bought another Whirlpool Front Loader (WFW75HEFW) Feb 2017. It has not worked properly since day 1. The clothes come out dripping wet. At first I thought I was doing something wrong. I tried every cycle, limited amount of clothing and ran additional spin cycles to no avail. Finally I gave up and called for service.
Whirlpool is very much aware that a number of their machines came off the line with defective spin bearings but they won't admit to it. Instead I am expected to have it repaired! It involves the entire inside of the machine being rebuilt. It's a 2 man job that will take 3-4 hours.This is totally unacceptable and it is obvious Whirlpool does not make a quality product nor do they value customer satisfaction. DO NOT UNDER ANY CIRCUMSTANCES PURCHASE A WHIRLPOOL WASHER. They are difficult to work with and I for one will never purchase or recommend any of their products. I purchased this washer from Home Depot and now my only hope is that they will honor my intention of purchasing a non-defective product. If not, I guess I'm in for another miserable experience with a Whirlpool product.

We purchased the Cabrio Washer and Dryer from Lowe's during a Black Friday sale, November 2016. The items were delivered when we closed on a new home. Thus, we didn't start using the washer and dryer until 3 months after purchase. One month after usage we had our first service call. To the point, what the other reviews say are the exact experience that we are having. Unfortunately, we did not do our research before buying. The washer: Clothes come out wrinkled, littered with lint, and the wash cycles are excessively long. The dryer: Clothes take a long time to dry, and most times we run the dry cycle twice because, after the first cycle, the clothes are still damp.
Even though the washer and dryer can accommodate larger loads, we are forced to break out the laundry into smaller loads to get better results. Still, doing the laundry is negative experience with the Cabrio. Recently, it took nine hours to fully complete 5 loads of wash. That included the dryer cycle. The repairman said that he is well familiar with the issue. It is the "new technology". The software is incredibly sensitive and can fault easily. This leads to another negative feature. The software is restrictive leaving the user with little control over how they want the wash and dry cycles to perform.
Going back to the conversation we had with the repairman. He said he had a Whirlpool washer and dryer at home that was over 10 years old. The old fashion kind with the dials and less complicated technology; and he has never had an issue. I have to agree with that. Our second home has the Whirlpool Duet (washer and dryer) that are 13 years old. Never had a problem technically and with washing and drying clothing. We plan to try to contact Whirlpool about their return policy. Not a quality product. Definitely cannot recommend this washer and dryer. We truly purchased junk.

I've read a lot of reviews on here for Whirlpool Cabrio Washer and Dryer saying horrible things and maybe I lucked out? We got our set at Lowe's a couple of years ago and haven't had issues. We use Gain HE liquid detergent in the washer and have no problems. We also do the recommended routine cleanings of the machine as the manual says. I pick the settings for what we have, clothing wise, and it washes appropriately and things are clean, no marks or other things people have mentioned. I will click on extra rinse and adjust the soil level if something is particularly yucky. The dryer is great as well as long as you select the proper type of wash you have going on. I tend to do "more dry" setting and things never come out wrinkled. Sorry for all those who have had bad experiences. Also, others have complained about the noise...our old machine had an agitator and was very loud. Our machines are in a closed room and most of the time we don't hear a thing until the bell rings. Maybe we'd hear more if they were in an open area or garage where noise echoes?

WTW8000BW0 washer - This is the worst washer I have ever brought. We bought a pair washer and dryer. The washer started making noise when it was in spin cycle so we called repairman. He came and said it would be better if got rid of it and bought something else. Said it would cost too much to fix and he's seen too many of these. The noise is so loud we close door on laundry room and we can't hear TV in front room. This is the worse junk we have ever brought. Whirlpool should be accountable for this.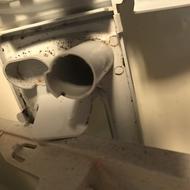 My husband and I bought a brand new front load washer and dryer set in 2011. We have had nothing but issues since the day they were delivered. First off the dryer, needed to be repaired after one load of laundry just went through. We were told that the thermostat went bad... needless to say we have replaced that one thing 4 times since we purchased them. Secondly the washer, this makes me so mad. I have 3 children, 2 of them have allergies and Asthma. I clean my washer regularly with vinegar and a special front loader liquid. I have mold in the areas where I put the liquids in. I have to take them apart every week to make sure they are clean. I leave the drawer open to air dry when I'm finished with laundry for the day. I leave the door open and I still get mold everywhere. I do laundry on a daily basis, this should not be happening. I'm so disappointed with this brand and I will never buy them again!

This is not a new washer (Whirlpool Cabrio INTW6200VWO) and it works well BUT since we have owned it we have had rust at the bleach dispenser. I am seeing on the internet there are many complaints about this and there was a recall? But they have run out of replacement parts??? Never received any recall notice. We have online instructions on how to repair and have done this many times and the rust comes back. About a week ago we sanded, primed and enamel painted the area plus I have put NO BLEACH in the dispenser and the rust is coming back. I hate to replace a working machine but this rust can and will get on my clothing. Whirlpool was the absolutely best in the past but this one is a lemon.

Oh what a tangled mess you weave! Inappropriate water usage and bad agitator. The brain is not flexible. Most of all it locks me into a contract of this is it, do or die, you have no other options but to start again. It puts my clothes in abused mode! I say no more, taxes will bring me to buy your competitor. It is very large and way too heavy to move anywhere. No!!! I will never buy another. To the point with all required letters involved, No I will not recommend this (Cabrio washing machine) to anyone, or give it to a friend!

Purchased the Cabrio top loading washer and dryer. Huge mistake. The clothes come out of the washer a tangled wrinkle mess. Have tried different cycles and water levels to no avail. Dark clothes have detergent streaks and lint. The dryer has a steam refresh cycle which I've used to try and remove some of the wrinkles caused to no avail. Clothes come out with water spots. I've only owned this dual for about 6 months. Take my advice and DO NOT PURCHASE!!!

Worst purchase I have ever made. When I purchased this Cabrio washer in 2015, I didn't find bad reviews but how I wish I had. This washer does not clean clothes well. It has caused holes in clothing and towels. Often all the load won't even be damp even if using the deep water feature. The wash loads rarely fill more than couple of inches. Clothes come out twisted and terribly wrinkled. Sheets and blankets will be half dry and unclean. TERRIBLE APPLIANCE. WOULD NOT RECOMMEND. Now I am stuck with a high priced washer I wouldn't even feel good about giving away. WONT FILL. RUINS CLOTHES. TANGLES LOADS. DOESNT CLEAN. DOESNT RINSE PROPERLY. DO NOT BUY!

I absolutely HATE this washer! These pics are of jeans AFTER they came out of washer. It's energy efficient for sure...doesn't use enough water to fully wet the jeans. And, yes, I know how to choose the correct settings. See how wrinkled the jeans are? That is what all clothes look like after being washed in this washer. Dryer isn't any better. It does dry them, but they are so wrinkled they look like they were just pulled out of dirty clothes hamper. I was a Whirlpool fan up until this set. I realized before my 30 days were up that they weren't cleaning my clothes well. I went back to Lowe's & set up a date & time for them to be picked up.
Salesman convinced me that I "just wasn't use to this new type of Whirlpool washer/dryer." Plus he insinuated I was being a problem customer who was lying about the poor performance of my set. He said they had sold a lot of these W/D and NEVER had a complaint. Dummy like I cancelled the pick up. I would not take another set of these if they were given to me. If I could afford it I would give away this set & buy something else. Anyone still interested in Whirlpool Cabrio W/D after reading my review? If so, I've got a set I will sale you for what I owe.

We purchased a Whirlpool Cabrio washing machine on 3-18-16. In February of 2017 the washer died. I was bleaching my whites at the time so most of the clothes, whites fell apart because they sat in bleach and water for 2 days. I had to figure out how to get them out without getting bleach and water all over my clothes. I called whirlpool and they got someone to come fix it. The tech came and said we needed a new control panel. We waited 3 weeks for the panel. He came on 3-24-17. He put the part in. Took less than 10 min and said, "All set." I went downstairs and put a few things in. I was a bit leery and the machine started. I went back upstairs and I hear beeping. I go back down and the machine is flashing again. I called the repair people they said, "Unplug it for 10 min. It may reset itself. If it doesn't, call back." It didn't. I called back and wanted me to wait till the following week. I told her I had clothes in there.
Someone came the next morning and said it needed a harness and they would order it. Well it's the 28th and I haven't heard anything. I have called whirlpool several times with no satisfaction. We had the machine less than a year and it's been dead for 2 months. I am disabled. I have multiple sclerosis so every day is a new issue. I hate to put that in here but I want you to know what I'm dealing with along with a dead washer. Any help you can offer would be appreciated.

We have had this Whirlpool washer duet 5 years. It regularly rips shirts, underwear, socks, and sweatshirts. Jeans or heavy denim are safe but polos, hanes, or flannel are not. We have been putting our clothes into laundry bags and lingerie bags for a couple of years now to wash safely. Additionally it leaks out the front door. We clean it regularly and it still has mold growing on the rubber gasket - we do prop the door open also. All in all it is a terrible dryer. My previous Maytag was fabulous. I will never buy a Whirlpool again!

I agree wholeheartedly with Charlene/VA. My husband bought me all new appliances for my 45th wedding anniversary and retirement gift. Bless him. Of ALL the appliances including 2 new toilets the one that gives me the biggest heartache and headache is my Cabrio washer. IT decides how long it is going to run. IT decides how much or how little water is used. IT decides that my laundry does NOT come out clean. It now takes 9 hours to do what my old washer did in 4-5 hours.
Believe me laundry is my pride and joy - I KNOW how to do laundry. This machine is the biggest mistake I've made in 50 years. I know why the salesman who sold it to me quit Lowe's, his conscience got to him. And how do you let the company know and what are they going to do about it. Seniors on fixed incomes can't buy a new washer every year - at least this one can't. I'm upset, very, very, very upset. Whirlpool needs to make this right; I want my money back, they can pick up the machine and I'll go buy something that works. I had 2 Kenmores from Sears one lasted 18 years, and the other 15 years; we gave both of them away and they worked for several more years. Not happy in MI. NOT happy.

Whirlpool Cabrio platinum washer (JUNK. DO NOT BUY). As mentioned in other complaints, the Cabrio top loading washer is garbage. Sound during the spin cycle is VERY LOUD because of a bearing noise. The clothes don't even get clean, lint all over dark clothes. I am the only person in the household so the machine did not get used as much as a family would use it. DO NOT BUY THE CABRIO WASHERS.

I have owned the Whirlpool Cabrio for one year now. I cannot express enough what a complete waste of money this machine is. It literally does not wash clothes in even the most basic interpretation of washing. Clothes are almost in the same position as when they were put in the machine. Don't even bother with stain removal, it just rubs stains in and makes them worse. Seriously beware. Very expensive and not worth one dime. I'm replacing with the Maytag. I should have stayed with in the first place. I will NEVER buy Whirlpool again. Must have skipped the entire product development on this one. I wouldn't even give it a one star review but the submission wouldn't process without it. WASTE OF $$ DO NOT BUY.

The Cabrio is the absolute worst washer that I've ever owned! No matter what combination of setting I use, my clothes come out dingy, all twisted and wrinkled, and full of lint and detergent residue (I use liquid detergent made specifically for HE washers). Every setting runs for over an hour. So much for high efficiency! What it saves on water it more than wastes on electricity!! More often than not, the entire load becomes enveloped in one of the items to create one huge ball. A t-shirt stretched to encompass the remaining clothes into a perfect sphere! When that happens, some of the laundry in the middle of the big ball is barely damp. The dryer is just as bad, even the towels come out wrinkled. How is that possible? And again, it takes over an hour to dry a load.
Whirlpool customer service is awful. When I called to complain, the agent began schooling me on how to wash clothes. I'm 66 years old, I've washed a few clothes in my lifetime and have always prided myself in my white whites and bright colors. I have a new house and the builder provided all the appliances. Based on my past negative experience with Whirlpool products and their customer service, I would not have purchased Whirlpool.

We purchased a new Whirlpool Cabrio Platinum W10405142B washer and dryer just over 3 years ago. We decided to go back to the top load as we were having so many issues with odor from our front load. We purchased the set at a Sears store in Timmins Ontario and we're quite confident that we were getting an excellent product. From day 1 we have had issues with having to rewash our clothes. We have lint and white streaks on the clothes as if we were using powdered detergent and they are all tangled. We have always used HE liquid and at one point I switched to soap nuts to get rid of using chemicals. We have now changed to pods and still have issues. When the washer is spinning it is deafening. You can hear it outside for goodness sakes. It sounds like it is about to take off and fly.
The cycles are ridiculously long. For a quick cycle the other day and a very small load it took 72 minutes... how is that quick? When the wash is done my clothes are all tangled up and are stretching things out of shape. I am careful what goes in my washer and how large my load is. I know not to wash sheets or towels when I am not home as they will eventually be unbalanced and have Sat all day in the washer only to have another hour of washing when I get home. We are currently doing some work in our home and pulled out the washer. The floor has a rust circle from God knows what. I will attach a picture. The lid not longer closes. I have to hold it down until it locks and it still pops up a wee bit.
I do not understand why I am responsible for purchasing a new set when the product I bought should have lasted and not caused damage to my clothes or my flooring. How do we as consumers make the manufacturers responsible for things like this. If nothing else the appliances should be removed from my home by the Company and I should be reimbursed for damages and the cost of a new set. I will continue to look for my receipt as I keep everything and I am unsure what is meant by order #.

I purchased the Whirlpool Cabrio with the touch panel and top loader. The absolute worst. The machine leaves white marks all over dark clothes even when the extra rinse feature is used. I've tried multiple detergents, skipping fabric softener completely, using very little detergent, and even tried different water temperatures. Nothing works. And should one have to go through such extremes to not have white streaks left on dark clothes? Absolutely not especially for the money spent.
The machine wrinkles clothes like I have never see before. The dryer usually gets them out but not always. They are mangled after washing. Using the first or second spin speed helps reduce some but they are wetter going into the dryer that way. If I wash bed clothes, the tight fitting sheet that fits snugly around the mattress must be washed alone. If not, all the other items end up encased in it as if you've intentionally packed it that way to carry everything around. This leaves everything absolutely soaked. I have also had shirts come out with dry spots on them. How does a piece of clothing come out of a washer with more than one dry spot on it? And no I did not over pack the machine.
I have had no problems with the dryer. It does its job so no complaints on that. I would not recommend the Whirlpool Cabrio to my worst enemy. Complete waste of time, money, and water!!! Very disappointed and will never buy from this company again and will prevent anyone else from doing so the rest of my life. Did the company do zero testing on this machine before selling it? Because I see a lot of repetitive reviews. Or the company was well aware and did not care and just wanted to make money? Either way is unacceptable. Garbage!!!

ConsumerAffairs Research Team
The ConsumerAffairs Research Team believes everyone deserves to make smart decisions. We aim to provide readers with the most up-to-date information available about today's consumer products and services.
Whirlpool is generally considered the largest home appliance maker in the world. The company employs over a 100,000 employees, with many of them located right in the United States. The company also has a strong commitment to environmental and social causes.
Large capacities for a variety of customers: Whirlpool washers feature large capacities, with a few washers offering more capacity than 4.3 cubic feet.
Corporate diversity: Whirlpool has a commitment to corporate diversity, and attempts to connect with groups like women, blacks and Asians through its various Whirlpool Action Networks.
Auto-dispensing feature: With select washers, consumers can fill their washer with enough detergent for 12 washes. From there, the Whirlpool washer will dispense the exact amount of detergent needed, saving time and conserving detergent.
Best for People who want a hassle-free washing experience, families and professionals.
Compare Washers and Dryers
Whirlpool Washing Machines Company Profile
Company Name:

Whirlpool

Year Founded:

1911

Address:

2000 N. M-63

City:

Benton Harbor

State/Province:

MI

Postal Code:

49022

Country:

United States

Website:

http://www.whirlpool.com/