Consumer Complaints and Reviews

Whirlpool Model WDT920SADM0 Dishwasher. We built a new modular home so Abraham Builders ordered all my kitchen appliances in 2014. We did not move in and start using the appliances until June, 2016. Here is what happened during the first 6 months: 1) Would not dissolve dry soap or packets as there were still particles and plastic in the dispenser. 2) Dishes were not getting clean and were spotty. 3) Would not dry dishes, ever!!! 4) Parts would keep popping off as we would find them on the bottom or hanging down. 5) Final straw was this morning around 4 a.m. (12/4/16)... woke up to the smell of wire burning in the house and discovered it was coming from the dishwasher that we had put on delay wash that night and when we opened the door, smoke came out from inside!!
Since it was past purchase warranty date, we had no warranty and the builder would not return any of my calls on any problems and the manufacturer of my house closed the factory. Needless to say, we now have to spend another $900+ for another dishwasher! Not happy at all about this Whirlpool model and would not recommend it.

I bought top of the line stainless steel Whirlpool kitchen appliances two years ago. Warranty has expired. Microwave error message showed need to shut door and press start. Door was shut, opened and shut door 20-30 times for microwave to start. Had to buy new Microwave. Now dishwasher now will not drain. Refrigerator ice-maker dispenser is too small and ice keeps getting stuck in dispenser. I am done with Whirlpool.

We bought this dishwasher new from the Brick 2 or 3 years ago. It was bought not because old dishwasher wasn't working, but we needed a new fridge and stove so we also bought a dishwasher to match the new stainless steel fridge/stove. If I could give 0 stars I would. Biggest complaints: It doesn't matter what soap, what setting or how much your rinse/scrape your dishes THIS DISHWASHER WILL NOT CLEAN THEM. It's very rare it actually cleans a dish or utensil properly. If your plate had ketchup on it, it won't clean it. But if you had a sandwich on the plate and managed to not get ANYTHING from your sandwich on the plate, it would come out clean.
The drain constantly clogs. We rinse everything, but the drain hose constantly clogs to the point the unit won't drain. Have to remove the unit, take off hoses and blow them out. It clogs because the strainer at the bottom of the dishwasher which is supposed to stop stuff from going down the drain hose doesn't work. If you look at the strainer and the "system" they use to stop stuff from going down the drain hose. It's no surprise it doesn't work. By design it can't work. My brother in law is a licensed appliance repair man. Sears actually paid for his schooling. He installed and he's fixed the clogged drain numerous times. He agrees. Worst dishwasher ever.

Near the beginning of September I started having trouble with my dishwasher. I called for service to be informed it would be a week before someone would be able to see to my broken dishwasher - which of course is a long wait just for a diagnosis call so decided to call another provider to get my dishwasher fixed in a more timely manner. The repair person informed me that it was the control panel but he suggested we call Whirlpool in order to have it fixed as the part should be covered under warranty. Much to my sadness I had to call again for an appointment with Whirlpool to find out I would wait for a week for a repair person to come out even though I already knew it was the control panel and asked them to order the part right away.
Sept. 13 repair man from Whirlpool affiliate comes to my house for about 10 minutes to tell me what I already knew - it was control panel and maybe 1 other part. Cost $99.00 for just 10 minutes - Wow! Then the repair person said he would order the part right away /estimated to be back Monday September 19th great! Two weeks go by we have heard nothing about our part or possible repair of our dishwasher. Call Hurst appliance to see what is happening to be informed the panel is on back order - and they have no clue when it will be available. I should call the manufacturer. Call manufacturer to be told part might possibly be available - Oct 5th - from the United States from somewhere out east in Canada. Who knows? Oct 5th comes and goes as of Monday October 11 have heard nothing about my dishwasher and when it will be repaired - phone manufacturer - by the way which is in Tennessee. What a joke!
She says the part is still on backorder but that a replacement part for the back ordered part is miraculously available - she couldn't tell me when that came about, so still have no clue when my dishwasher will be fixed. They have offered to reimburse me the $99.00 service call, but seriously should it take over 6 weeks to have your dishwasher fixed. I still have no clue how long it will take for the part to get here and installed. For 2 cents I would return all my KitchenAid appliances but especially my dishwasher. $99.00 does not appease me. I would like them to cover the labour to fix my dishwasher or a new dishwasher. What garbage and asked to talk to someone higher than the supervisor Gabby of the customer service dept. and was told she is the highest person in Whirlpool I could talk to - that's a joke. Shame on Whirlpool!

I bought a model (W10632082 A) dishwasher, and the top shelf is very flimsy, the dishes and glasses do not get clean, even after I fully removing any food soil from them. The dryer does not work. The dishes come out wet and with water spots. It is very noisy, and the water cycles are programmed to run upwards to three hours!!! The basket for the silverware is designed to be hung on the door, this basket falls off easy, and you can't use the left side because the normal size of the spoons or forks, get in the way of the dish washing soap reservoir, making it difficult to close the door. Do not buy this product. Horrible!!!
How do I know I can trust these reviews about Whirlpool?
638,664 reviews on ConsumerAffairs are verified.
We require contact information to ensure our reviewers are real.
We use intelligent software that helps us maintain the integrity of reviews.
Our moderators read all reviews to verify quality and helpfulness.
For more information about reviews on ConsumerAffairs.com please visit our FAQ.

Just plain terrible. Purchased Whirlpool Gold Seris Dishwasher Model w10698637a in June and now it's been 3 attempts so far to fix a brand new dishwasher that does not clean. So far I have been asked... "have you been heating the water before you start the cycle?", my favorite... "Is this a whirlpool dishwasher". So I find out today that it will take another visit from a company that hasn't been able to fix it, plus a call to the "tech" line to make sure they haven't missed anything. Here's what I've missed, a dishwasher that cleans.

Whirlpool is the manufacturer of most appliances including the Kenmore dishwasher. Your products are made horribly for the mother board to go out in 2 years is ridiculous. I purchased a stainless steel dishwasher from Sears in August of 2014. 2 weeks ago I received error codes E2 and F2. A technician came out and the mother board needs replaced because water got into it... it's a dishwasher. The cost to fix $465. I paid $673. The sales person informed me that I should have purchased the extended warranty because the appliances now only last a few years. Seriously... fleecing of America. This is my last purchase from Sears. We have bought appliances for 30 years from Sears and this is the end. They could care less about customer service or their products. Apparently everything is now made by Whirlpool who will also be getting a review. Shame on you for making poor products.

We purchased our Whirlpool dishwasher/Model no. WDT780SAEM in July 2016 and it was installed on August 3, 2016. Right away we noticed 2 problems. The top tray squeaks very loudly when being pulled out for loading and unloading. The usual temporary fix for this would be using a product like WD-40. Of course as soon as you run the dishwasher all of the product is washed away. This was our first complaint about this dishwasher. The more important problem was the white cloudy residue being left on all of our clear plastic cups and glasses. We've always had hard water but our previous dishwashers were able to remove the residue if we used the high-temperature wash. After looking at all of the manuals and user guides that are included with the purchase we read that we should be using a rinse agent and a product such as "Lemi Shine" to deal with hard water deposits. We tried these items and nothing worked.
Using the "All Fresh" tabs didn't help and our filter was clear and clean. So we made an appointment to have the Whirlpool factory serviceman come out to look into our problems. First of all the customer service representative I spoke with was rude and impatient. She kept cutting me off and asking me about hard water and suggesting that I use all of the products mentioned above before finding out that I already had used them to no avail. Because we had the dishwasher for just over 30 days I asked her about the "Clean and Quiet Guarantee" that I found out about by going to Whirlpool's site. Her exact words were "The clean and quiet what??" So I didn't have much hope for our service appointment. Our serviceman was asking all of the same questions about hard water and if we had tried all of the products I mentioned above.
After his visit we found out and now (too late) know that because our new dishwasher does not have a heat booster or the ability to get the water temperature high enough to remove the hard water residue there's nothing Whirlpool will do for us. This is the case with all newer technology dishwashers UNLESS you purchase one with a heat booster. I sure wish this would've been made clear to us, the consumer before making our purchase. If we had known beforehand that new dishwashers no longer get the water up to 140 degrees which is what would be needed to remove the residue, we would've made sure our model included a heat booster. Now we're stuck handwashing our plastic items if we want clear dishes. It's not the end of the world but it's not good customer service or honest to the consumer in any way, shape or form.

I purchased all new Whirlpool appliances for my kitchen from Lowe's about 5 years ago. The dishwasher was leaking water onto my hardwood floors after about a year. I figured out that the seal was pulling away on the lower left corner. I fixed that myself. It cleaned pretty well for about 3 years. Now it's not cleaning at all. I took the lower spray arm off to try to clean it. Almost all of the holes are clogged with debris. (I clean the filter at least once a week.) I went ahead and ordered a new sprayer arm, maybe that will help.
As for the rest of the appliances... After about 6 months, the freezer started filling up with water that then froze on the bottom and allowed water to pour onto the floor. The microwave handled broke after about a month. (They did send me a replacement handle.) The knobs on the stove are starting to peel. One of the knobs won't stay on, so I keep it in the drawer next to the stove. Overall, I am very disappointed in all of the appliances. This will be the last time I buy Whirlpool.

I bought a whirlpool W 10632082A a yr ago. I read the reviews and thought it was a good product. I was wrong. It has never washed the dishes good. It has terrible screens that always get clogged. The dishes never get dry. I think the dishes would get cleaner throwing them in the yard and spraying them off with a hose. I would not recommend this product at all.

Purchased this dishwasher in January 2012, and it stopped working in May 2015. We replaced thermal fuse a year ago and just had to replace the control panel. It worked for 1 day and through 2 wash cycles, but during the 3rd wash cycle, it failed to drain and no power again, which is the same problem we had before. We opted to also replace the control board, just to be safe. Lol. What a piece of junk! Whirlpool is a pathetic excuse for a company, and, judging from others' experiences with the customer service department, we will not bother contacting these S.O.B.'s since they clearly have no interest in providing any service at all to their customers.
I have had many other lower end dishwasher models, and all of them worked well past the 5 - 10 year mark and never stopped working or required any service. I WILL NEVER PURCHASE ANOTHER APPLIANCE FROM WHIRLPOOL AND HAVE SPREAD THE WORD TO EVERYONE I KNOW. Good luck, Whirlpool. I do not expect they will be around in 10 years. Lol. Do not give your hard earned money to these idiots for the junk that they peddle, and please let your local appliance dealer know why you wish to purchase any other brand BUT Whirlpool. Consumers are not stupid, Whirlpool! You are ignorant for banking on that and should be shut down for your unfair business practices, not to mention misrepresentation of your despicable products.

I bought a Whirlpool Partner II 5 and a half years ago. It was always noisy and took very long to run a cycle. It started to malfunction after 2 years. We bought a new computer for it and a new control panel for the touch keys. It still kept not running a cycle fully. We found a YOUTUBE video that showed how to reset the model by pressing a combination of "Normal" and "Heated Dry" and that seemed to fix it for 2 years.
It has stopped working again. Now it seems that the heating element is out. It doesn't clean at all, a scum film has covered the inside of the dishwasher and even mold spots are appearing. I've had to wait extremely long times on hold to talk with an agent. My option is to hire a repair tech to come out and repair it and I pay for the parts. Seems like a bad deal since I've already spent over a hundred on repairing it and a lot of hours. I will never buy a Whirlpool brand appliance again.

We bought this dishwasher Model KDTE104DSSO November 2015. It needed repair in March 2016. It was under warranty and had 3 items replaced before it started cleaning again. In July 2016 it again failed to clean. This time we carried a homeowner policy. The repairman determined that the motor is defective and the part is on order. I have contacted Whirlpool only to chat and receive a standard reply. What a letdown!

I've had the WDF510PAY dishwasher for 3 years and the circulation pump broke. To be more specific the impeller inside the circulation pump warped and then basically got lodged because it became oblong and then it wouldn't pump water to the spray arms etc. I bought a new pump because the warranty only last a year. The pump cost around 90 bucks. After not even 1 full year this factory replacement pump failed again. I reviewed other Whirlpool dishwashers more expensive and I found they all have this same junky circulation pump. I'm not sure of a better dishwasher but I would never recommend a Whirlpool dishwasher again. They also use the same circulation pump in Maytag and many other brands. Whirlpool or whoever designed and sold this pump to Whirlpool should be tracked down and beaten. Simple products like dishwashers should last more than 3 years. The technology is nothing new. A product should last 10 years at least.

It is impossible to reach any personnel at the company in less than an hour. I "registered" my model WDF760SADM2, but it is really unclear how to operate it. I have called in five times and each time got no answers. The person on the phone doesn't know what I'm talking about even though I've given the information many times over again. Right now it won't even operate. I recommend anyone to NOT buy Whirlpool Appliances!

My Whirlpool dishwasher washes dishes well, when it drain but it will not drain. I purchased "insurance" repair service from AIG. AIG is a total rip off. I paid them over $300. I have called many many times. They promise someone will call but not one ever has. I would never work with AIG or Whirlpool ever again.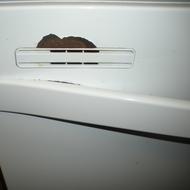 Purchased this Dishwasher on Feb. 28, 2015. In June 2016 about a 2 by 3 inch section of the enamel face on the door rusted and fell off above the air vent. After three hours of hold time between Lowe's (with the extended warranty) and Whirlpool (their warranty department) it was determined that this was not covered by either warranty as it was beyond the date of the 1-year mfg warranty and was not covered by the extended warranty (it was only a cosmetic issue).
As these calls took place over a matter of 2 days, it was interesting that between day 1 and day 2, Whirlpool had issued a statement that no rust repairs would be covered under any warranty repair - regardless, unless it affects the functionality of the dishwasher. In other words, they KNOW this is an issue with this model and are doing nothing to fix the problem. I must say that the folks at Lowe's were most helpful; cannot say the same for the folks at Whirlpool. I do not think I will trust their products again.

Reading the reviews on this I figured I would chime in. Same problem with the top rack, it's unfathomable how cheap this was constructed, since I have had old school dishwashers 15 years old without even close to a similar problem. Bought in 2012/2013 and have had this problem on and off the entire time. Looking at a new one definitely not a Whirlpool!

I bought a dishwasher Gold Series Top Control Whirlpool dishwasher at the Home Depot, April 4, 2015. Paid six hundred ten dollars and twenty-eight cents $610. 28. I noticed soon after that the top shelf falls off the rack when loading at front. I began loading from the back. It worked for a while but now it totally fall apart. The door will not close and I am unable to use the machine.

This dishwasher is poorly constructed. I cannot use it now, as the top rack's assemblies have both fallen apart and the rack will not hang. The bottom rack is functioning on 1 wheel assembly out of four. And the one that is functioning is a new one I put on it three weeks ago. The dishwasher is 2 years old. I am very disappointed in Whirlpool, and I will certainly not purchase another one when I buy a new dishwasher.

Our Whirlpool Dishwasher model WDT710PAYW is less than 2 years old and is rusting on the outside of the door where the steam vent is. Apparently the hole that was made in the door for the vent was not sealed, now the paint is blistering up due to the rust. Will not purchase another Whirlpool.

So I bought this $700.00 dishwasher. It has been several years since my dishwasher wasn't fixed, even though I called Whirlpool customer service several times.
AGAIN, WHIRLPOOL HAS VERY POOR CUSTOMER SERVICE, INCLUDING DISRESPECTFUL, ARROGANT EMPLOYEES. The service was really slow. What, the materials took 4 months to get delivered?
So today they leave a voicemail and they said that technicians were at my house at 12 noon WITHOUT even notifying me when they will get to my house. They basically just came to my house without asking me an question about the schedule and appointment. This wasn't first time. So I called, and the person was like "Um, the technicians were at your house. Excuse me?" She sighed and said "tsk, tsk, tsk". This woman was SO DISRESPECTFUL. She tried to end up conversation by saying, "ugh, the technicians will call you tomorrow morning and they will let you know okay?? Bye." and hung up the phone. I didn't have any chance to say something. Again, this is my bad experience. Never going to buy products in this company. Extremely poor customer service, with disrespectful employees. If you don't want to get bad experience, don't buy any products in this company.

I know that appliances are made to be disposable, but throwing away a $40 toaster after 18 months is easier to live with than throwing away a $350-$400 dishwasher. We bought a new dishwasher at Lowe's on October 15, 2015. It is now May 11, 2016. The manufacturer's warranty was for a year. It has been about a year and half since it was installed. Not very long for an appliance that one would assume would last at least 5-10 years. When we called Whirlpool to see about a repair visit, we were told that the trip to the house would cost $105, and the parts could go as high as $250-$300. So if you weigh the original price to the repair price, having it repaired is not rational, but neither is throwing away a dishwasher that's almost new. It's still clean inside. No soap residue or anything in the tub.
In the past, by the time we were in the market for a new dishwasher, our old dishwasher looked like it had been through the war. It just breaks my heart to know that a company is so slipshod at making appliances that they wear out in less than two years. There doesn't seem to be any recourse but to dump a perfectly good, relatively new dishwasher in the landfill. We are leaving a very big footprint by doing this.

We purchased this dishwasher (Gold Dishwasher WDF60SADB) because of its low 49-decibel rating. It goes over 60 decibels regularly and occasionally up to 70 during operation (not including drain noises which cannot be controlled by the dishwasher). We used a tablet app to confirm. Decibels are not linear, they are exponential. 70 decibels is what your average shower or dishwasher sounds like. 50 is about as quiet as a refrigerator. You have to talk over this dishwasher. And yes there was a big price difference between it and Whirlpool's next loudest rated washer.
Whirlpool's customer service says they will not replace or repair based on sound ever, only for functional failure. Bottom line, don't pay any attention to Whirlpool sound ratings. They don't stand by them and do not consider gross overages a defect. Fortunately the retailer (Lowe's) does stand by what they sell and will trade for any other machine by any other manufacturer. We have only good things to say about Lowe's in this process. This machine arrived Wednesday, and we pick a replacement Sunday. It will not be a Whirlpool. I will never buy a Whirlpool anything again. We said it will do X but we don't care if a brand new one won't is no way to do business.

Easter is in five days. Our dishwasher purchased in December 2014 is not working. It has been broken since December 2015. Repairmen have been here THREE times. We were told that our warranty only covers parts and repair. Our dishwasher does not wash dishes. We went for a more expensive model and it didn't last a year. Whirlpool, remember your commercial?

We replaced an Asko dishwasher about two years ago with a Whirlpool Gold Series. We didn't want to get an upscale dishwasher this time so we went for the Whirlpool recommended by someone from Sears as a good dishwasher for the price. It ended up total and complete junk, can't describe it any other way, and it's still not enough. Had so far 3 or 4 service calls, I lost the count by now. Got the main computer replaced, broken wheel, temperature sensor, and some other parts I don't even remember. At the moment of this writing, started failing again. Not pulling the soap from the soap compartment, another call to Sears coming. Stay away, save your money buying something better (probably more expensive). This company should not even be in business at this point producing such piece of junk.

We've owned a Whirlpool Gold Series Dishwasher for about seven years. There has not been a year that has passed that we have not had to place a service call with a local service provider. (Each service call costs $85.85.) The upper tray has come off the tracks more than 10 times. The drainage mechanism broke the first time we used the dishwasher. The fuse box (which is amazingly a self-contained, enclosed, "black box") has blown twice, has to be completely replaced, and costs over $180. The second time it broke, I ordered, paid for, and had delivered the replacement part only to find out that the "broken" part suddenly started working again. (I guess I'll have the $180 part for the next time it breaks.) To suggest that this product is junk is an understatement. It will be replaced very shortly.

Compared to others it gets the dishes clean and is easy enough to operate. Like everything else it has more bells and whistles than I want or use. Fill it up, put soap in and punch the desired settings and it does what it is programmed to do. Overall size seems to be like all the other models I've used. Stainless with buttons on top of door. The top basket/drawer has latches that get tripped allowing the basket to drop down and confusing my wife. Not the best arrangement IMHO. Seems like the spacing of the supports in the bottom basket are off, but that may be due to our plates and bowls' shapes.

We have an 8-year-old built-in Whirlpool Estate. It is probably as basic a model as you can get. It has been 100% reliable, and cleans the dishes well, even without rinsing. We do not buy expensive premium dishwasher detergents, either. So far, we have required no repairs. Basic features--heavy wash, normal wash, pots and pans. This dishwasher is standard (not extra large.) This is not a fancy dishwasher--just white. It is what matches the rest of the appliances. We have been lucky regarding the performance of such an inexpensive dishwasher. We paid about $250 for it.

As a rule, everything I put in it comes out spotless, but I know it is more a function of the detergent than the washer itself. Has nice features but the digital system does not allow you to turn a knob and go to a particular function like the older one, I miss that. It's a standard "under the counter" dishwasher, plain white with a nice, attractive operating panel with small LED indicators. NEVER put any vinyl, 45 or 78 record into a dishwasher!!! It will dissolve the labels, and if it's made of acetate (home recordings) it will destroy it.

ConsumerAffairs Research Team
The ConsumerAffairs Research Team believes everyone deserves to make smart decisions. We aim to provide readers with the most up-to-date information available about today's consumer products and services.
Whirlpool is the leading manufacturer of home appliances. It operates in more than 170 countries and has global sales totaling over $20 billion.
Discount dishwashers: Offering a full range of dishwasher products, even Whirlpool's most affordable models include features like a soil sensor.
One-hour wash cycle: Clean dishes quickly and well using a Whirlpool dishwasher with a one-hour cycle.
Dependable reputation: Whirlpool dishwashers have some of the lowest maintenance costs among comparable brands.
Portable dishwashers available: Perfect for apartments or small kitchens, portable dishwashers give you more counter space where you need it.
Say goodbye to silverware spots: With the silverware spray designed specifically for your flatware, Whirlpool gets rid of the most stubborn grime.
Best for Homeowners, apartment renters, families and businesses
Whirlpool Dishwashers Company Profile
Company Name:

Whirlpool

Year Founded:

1911

Address:

2000 N. M-63

City:

Benton Harbor

State/Province:

MI

Postal Code:

49022

Country:

United States

Website:

http://www.whirlpool.com/