Consumer Complaints and Reviews

I purchased a GE dishwasher model GSD2100v50BB on June 6, 2016. By March 9, 2017, a switch broke which caused the machine to be stuck in the wash cycle for over an hour before it was discovered. This caused soapy water to flow out of the machine all over the floor. It was fixed under warranty but by June 29, 2017 it broke again. It is no longer under warranty and it will cost $70 to 100 to fix it again. It was purchased at Home Depot and they state it is to be handled by GE. GE states that since a year has elapsed, they are not responsible for the repair.

I purchased a GDF520PGJ dishwasher from Home Depot and it still doesn't work. Home Depot has no return policy and G.E. has been unable to resolve. I have written to GE Appliances Consumer Relations for a replacement but pending another service call. It's unfortunate that there is no recourse with Home Depot as was advised that I need to work with GE for the first year warranty yet my dishwasher hasn't worked for the past month. Buyer beware.

My life partner/bf moved into a semi flipped 10 yr old home. Every single appliance required to be replaced, everything from refrigerator, stove/oven, to dishwasher. We researched every appliance we purchased, a lot of time and effort along with reviews from various reputable reviewers, pointed us to the GE GDT DISHWASHER. Who can go wrong with three tier washing amongst jetted water bottle washers?
After a 1 1/2 yrs in the top spinner completely separated from its housing. We googled the problem, GE said it was a faulty design, yet no recall. The door lock began to fail, googled the repair fix, another fault design, yet again no recall. Upper plastic door trim broke in half, solution, replace the entire console. Guess what? My solution here on out is to not buy GE products. If two years is all you get with a GE product, I am out! Done with your products that once lasted 10 to 15 years. The fact that have to research another DISHWASHER, absolutely pisses me off. I dare you GE to win me back!

DO NOT BUY GE APPLIANCES. The quality is terrible even on an expensive dishwasher. I bought a $700 dishwasher in November 2016 and in April 2017 it was broken, parts not available, but after fighting with customer service, they sent me the parts at my house. No one is available to come over to install the parts, the parts are sitting at my table. I guess they want me to install them myself. I even had purchased a 5-year warranty. Customer service is non existence at General Electric. I know I will never purchase a GE product ever again.

I love the way the dishwasher is so quiet and cleans the dishes well. However, they are ALWAYS WET. A repairman came and told me that I could not expect the dishes to be dry on the light cycle with the POWER DRY. He told me I have to wash on the normal cycle. I did that and they are still wet. He came back out again and basically had no viable explanation. I have to have a dish towel in hand to dry the dishes as they come out of the dishwasher. I paid a lot of money for what I consider the piece of junk that is sitting in my kitchen. I will never again buy a GE PRODUCT.
How do I know I can trust these reviews about GE Washing Machines?
823,111 reviews on ConsumerAffairs are verified.
We require contact information to ensure our reviewers are real.
We use intelligent software that helps us maintain the integrity of reviews.
Our moderators read all reviews to verify quality and helpfulness.
For more information about reviews on ConsumerAffairs.com please visit our FAQ.

Purchase date 4/20/15; Model # GDT 580 SMF ES; Serial # VD776355; Dishwasher wasn't installed until the end of June upon completion of a complete kitchen renovation. Eight months later, on March 1, 2016, the dishwasher was leaking water all over the kitchen! I initiated a service call and the repair man replaced the seal and it has worked without leaking until April 13, 2016. AGAIN a very large amount of water poured out of the left side of the door. The repair man had to return 3 more times and finally didn't have a leak for almost another year. Now, June 1, 2017 my kitchen is once again flooded. This machine is garbage - Very expensive garbage. Don't waste your money! I had previously purchased from Sears and never had a water leak in a machine that was 20 years old.

I have used 4 dishwashers of various brands in my house over the past 30 years. The current one is a new GE dishwasher (Model No: GDT695SSJ0SS), which is by far the worst. The dishwasher never dry, no matter which cycle I choose. When it is done (green light on) water still flowing down everywhere inside - on the door, on dishes, at the bottom. When I called GE customer service it said I have to use rinse agent in order to get it dry. Of course that means we have to constantly buy that additional product (made by a GE subsidiary?).
For those who don't remember this, our old dishwashers did not required the use of additional product and still dried dishes perfectly. GE is apparently producing products of lower quality, yet the repairman sent by GE claimed that this model is their best ever. Really? Is this company so arrogant that it pays no attention to the convenience of its customers? Since the repairman found no defect with the machine (even though it does not dry), GE refused to accept either a replacement or a return. From design to functions to price this is indeed a lousy machine. I'll never purchase another GE product again.

One day after the new GE dishwasher was installed, I came home to find water raining down into my basement. My kitchen floor was destroyed. The installers came out a week later to look at it. They determined it was a faulty unit. They ordered another one. I started an insurance claim with GE. They sent a technician to look at it. 2 1/2 weeks after it was installed, the technician showed up. Surprise, it was leaking anymore (The water had been shut off for 2 weeks). Several days later the replacement unit arrived and was installed.
Two days later, this one started dripping. I called to have it removed. The installation crew was scheduled to come back on Saturday to remove the dishwasher and get it out of my house. On Thursday, this unit started pouring water out onto my floor. The occasional drip had become a steady stream of water. More than a month after buying this hunk of junk, it was finally removed. I've ordered a different brand of dishwasher. I've hired a contractor to come and replace my floor. GE denies any responsibility. I will be starting a lawsuit against them. I can't say enough horrible things about dealing with GE.

I bought a GE dishwasher model #GDF570SSJSS from Sears. It was delivered on Thursday, installed Friday (by myself and a daughter) and the first test run produced nasty, dirty dishes. It took 2 hours and 10 minutes for it to declare that the cycle was finished and the dishes were "clean". Fortunately I did not opt for the drying cycle. Or else the nasty crud would have been baked on. I called GE service and they scheduled a Monday service call. Monday, a very nice man hooked the unit up to his computer and found nothing wrong. He then placed a plexiglass door on the unit so he could watch the cycle. He found that the connection to the upper arm was not attached. He snapped it into place and declared that it was fixed.
While I watched through the plexiglass door I was appalled that the reason that the GE dishwashers are so quiet is that the washing spray is extremely gentle. The technician seemed very proud of how quiet the units are. I told him that I could get my dishes cleaner if I spread them on the lawn and used a water hose sprayer. He was not amused. I chatted with him and asked several questions and learned some interesting facts. The lower and upper spray arms and the top rain action do not all happen at once. First the lower arm sprays, the machine pauses, then the upper arm sprays, the machine pauses, then the top rain action happens. This cycles over and over until the machine thinks the dishes are clean. I asked why there wasn't a hurricane inside the unit scrubbing my dishes? He said that the motor is a DC motor, I asked how many volts, he said 12.
After he left I filled the machine up with dishes I had saved over the weekend for the test. The machine ran for 2 hours + (I forgot to write down the start time). The end result was nasty, dirty dishes that I washed in the sink afterward. So the new dishwasher looks just like the old dishwasher but let me tell you, she is not happy at having the worthless piece of junk sitting nearby and doing nothing while she is sweating over a sink full of dishes. When I'm not quite so angry in a few days I will have a conversation with Sears to try to resolve this.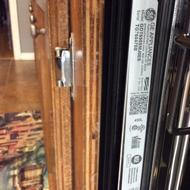 This unit was purchased at Lowes on 11/22/16 and installed by our plumber shortly thereafter. It's not even 6 months old! It was poor at drying at first and then stopped drying altogether about a month ago. The GE Customer Service has sent a repairman here on 4 occasions in the past few weeks, sent faulty parts, including an element and a board (I'm guessing that they mean a motherboard) but it is still swimming in water. I've asked them to replace the dishwasher, to which they have refused. Yes we are irate, and rightly so. Whatever happened to quality manufacturing and decent customer service? I will never buy another GE product again. There should be lemon laws for appliances.
Now we are being informed that the "parts" are back ordered until September, but that they "might" be able to get them from California on or about the 25th. Their apologies mean nothing when they do not back it up by amending the situation in an appropriate manner. By the way it takes 256 minutes for a full cycle. The plus side is that it is very quiet, but I'm not sure how energy efficient a dishwasher can be that runs that blasted long. It doesn't clean very well either. If considering the dishwasher or another appliance, stay away from GE Is our recommendation.

We usually turn on the dishwasher in the night. Last month ours started smelling smoke in the morning 6:00 am. When checked, it was the dishwasher that melted couple of plastic cans and its own sprayer and other plastic parts (pictures speaks for itself). When checked with GE, this model was not under recall (there are other models with similar issues). They sent their technician, who confirmed that newer models has auto turnoff circuit. When I asked GE rep, both (level 1 and her manager) assured me that even though it shows it's burnt from inside, it would have contained the fire inside, which I disagree. Even after seeing pics, their tech review and the whole incident, their engineers determined this is not a safety hazard to me or my family.

We have had this GE dishwasher model GLD6760N00SS for about 9 years and it was fine, until a few nights ago!! We ran the dishwasher, unloaded it, closed the door and went out. When we returned about four hours later we were met in our apartment lobby by the building manager who informed us that we had a fire in our apartment. It started in the dishwasher, which was off, and destroyed the unit. Repairs will be costly due to fire restoration required as well as the need to now replace more than just a dishwasher. Soot covered the whole apartment, and left a need to get a new kitchen floor and repair/replace some cabinets. Be careful of this model from GE.

Update 4/14. GE finally conceded that the dishwasher is indeed broken last week, and set up a replacement unit to be delivered and installed. The company that delivered the new unit would not install it of course...why would they? So, we had to hire another place to install it. GE is supposed to reimburse us for the extra installation expense. I'm glad it is finally resolved, but man, oh man...what a headache.
Original Review
My experience with GE consumer support continues to be exhausting. It is truly hard to understand how such a large company can be so incompetent at supporting their products. If anyone reading this is considering a GE appliance, I sincerely urge you to get a different brand. Here are the issues I've had, with a more detailed explanation for those who are interested below: Failure #1: Door switch --> 2 weeks, not fixed. Failure #2: Control Board --> 2 weeks, not fixed. Failure #3: Falsely claiming GE resolved problem. Failure #4: "scheduled service" not actually scheduled. Failure #5: "scheduled service" not actually scheduled.
Purchased a brand new dishwasher over a month ago. It worked 3 times before breaking. They sent out a repair service to take a look, they diagnosed the problem (door switch), ordered a new switch, and came back a week later to replace it. The dishwasher was still broken after the new switch. The next week a different repair place came out to diagnose the problem (control panel), another week to ship the part, and then changed the part. Still broken. GE then notified us that the problem was resolved and extended the warranty 6 months.
We called GE to ask for another repair service to come out since it was still broken, they said it was scheduled, but the repair service never came out. Since then, we have been told by GE that a repair service will come out on two separate dates, and they never came. After calling the service provider directly we found out that GE never notified them. It is currently scheduled for two weeks from now, upon which they will probably order a part, wait a week, and not fix it. So far, ~5 weeks, no solutions.

I purchased a GE dishwasher 1.5 years ago and it has been nothing but a problem since day one! The door will not stay latched and the dishwasher is perfectly level. You might get 1 or 2 washes in before you have to work on it again. We bought a set of appliances from GE and the stove and refrigerator have worked well. However this dishwasher is junk and I based on my experience I would not recommend this product to anyone!

My GE Dishwasher is disintegrating. It's three years old and we didn't live here for a year of that time. The door where all the electronics just fell apart. I bought the most expensive GE Dishwasher I could find at that time because we wanted one that was quiet due to the way our house is laid out. We were able to put the door together again but the strip across the top never fit again so we taped it on. Model PDT750SSF1SS. The controls won't work.

We have had our GE dishwasher model GDT580SMF5ES for only 1 year and a half. As I was closing the door the hooks that attached the outer shell/panel to the door broke. Unfortunately we didn't purchase extended warranty so this will not be covered. We have had two technicians from our home insurance coming in but we are not sure yet if the policy will cover the repair. I just cannot believe this is happening as we have barely used this dishwasher as it is only my husband and myself. All I can say is don't buy GE.

We had purchased the first listed model of dishwasher (Model PTD7505SSF8SS) and installed it on Aug 27/16. It worked for a total of 13 days and broke down on Sept 9/16. After a good deal of phone tag - a technician looked at it and said no less than 3 internal components had failed, the unit needed to be replaced. We were without the unit from Sept 9/16 until Dec 23/17 when the new "replacement" unit (Model PTD845SSJOSS) was installed. It worked for a total of 20 days and broke down on Jan 12/17. More phone tag... Tech looked at it and found a number of issues (motherboard, door switch, etc...), in addition - it had been leaking water under the dishwasher for the time it was in service. (All 20 days! What a record!)
When a dishwasher leaks upstairs... It doesn't go well for the drywall ceiling downstairs. (The rep at GE was cold and calculated informing me "that is what insurance is for!") I'm not sure that is what someone who spent $1,699.00 for a GE product (in good faith of a reputable product) expects to be told by the individual who has the ability to make things right? At any rate, this is what you can expect from the trained professionals at GE. When they finally got around to looking at my file... They decided to simply replace the motherboard in the hopes it will fix the leak also.
I would have liked a refund at this point (not likely) so I requested yet another replacement (given the issue of water leaking), they absolutely refused. As of this date Feb 2/17 we are still without a dishwasher. Goes without saying - no more GE products will enter our home and I will share, with everyone I can, the caring and kind words of support I experienced from the top level at GE.

We recently purchased our second dishwasher in 16+ years (the other one (a Kenmore) is still running fabulously but staying with the sale of our former home - however I am tempted to swap it out with this new one from GE). This beautiful inside and out dishwasher has a couple main flaws that has me wanting my old dishwasher back. The buttons on the front are super sensitive, causing it to come on countless times a day as we get items out of cabinet above. This is not something we thought about. Our old one had the controls on the front but they were under plastic that you pushed... not actual buttons like this one.
The second issue is minor. The rack on the bottom is set up very wide on one side and our dinner plates are smaller than some and they do not sit firmly in between the tines. The spacing is great for larger plates or serving items but not for medium size plates. We use a lot of bowls so the other side with closer together tines is always full. Like I said just a minor flaw. Lastly, the unit puts off a high-pitched sound during certain parts of the cycle. It is not really loud but it is bothersome if we are still in the kitchen when it is running.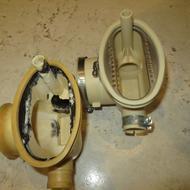 SOLVED: PDW9980L00SS GE Profile Dishwasher not cleaning dishes. The rubberized "sump" of this dishwasher suffers from "chemical deterioration". In our case the deterioration allowed waste water to bypass a check valve and return into the wash water. Dishes don't come out clean and the spray wands get plugged up with bits of waste. The solution is to replace the sump. If you're handy with tools it's an easy DIY job which requires pulling out the dishwasher and turning it on its side for access to the sump. Lots of videos online re the process and for safety start by shutting off the circuit breaker for the dishwasher power. For our model the new sump part number WG01L00289 replaces the original WD18X10026. Dishes & glasses now sparkle. Hope this helps as there was lots of frustration on this end before replacing the sump seen in the photo.

PDT845SMJES - I purchased the entire GE Profile series when we remodeled our kitchen in October 2016. The first time I started the dishwasher, it leaked out the bottom of the door. The store where I purchased it sent out a plumber who discovered the soap dispenser was missing the seal. Took a week to order and replace the seal. Worked fine for 5 weeks. Then, on December 17, 2016, it quit mid cycle and I got the "leak detected" error message. Now I am in dishwasher hell. The store where I bought it said they were too busy to come and check it, so they told me to call GE's customer service number. GE sent out a plumber from Iowa (I live in SD). He removed the bottom panel, to look underneath and decided it needed a new pump and also a new soap dispenser part.
That was on back order, so I had to wait until January 11, 2017 for him to come back. When he pulled out the dishwasher to replace the pump, he discovered the tub was leaking along the left side. He said the unit could not be fixed and suggested I call the store where I originally purchased it. They agreed the unit could not be fixed and contacted GE and got me a case number and said GE would call me by the end of the week. I'm still waiting for that call. Do NOT buy this model GE dishwasher. GE apparently doesn't stand behind its products and the stores that sell GE are helpless to do anything for you.

Emptying out the dishwasher I purchased in October 2016 is a cause for rage these days. Dishes, glasses, silverware, etc...come out of any wash cycle dirtier than they went in, though I have tried everything I can think of to see if anything at all can make it better. I purchased the dishwasher from BEST BUY. Little did I know, they don't take anything back after 15 days of purchase. They promptly referred me to GE. In turn GE reps said that their warranty only covers REPAIRS for the first year. In short, sucker me who spent near to $600, is stuck with a VERY BAD product from the moment I paid for it. And there is nothing I can do about it!!! GE IS CLEARLY SCAMMING ITS TRUSTING CUSTOMERS!!! I have been robbed!!!

I purchased a dishwasher from GE 3 months ago and it broke, just stopped working. I called GE. After being on hold for an hour, they scheduled a repair call with At Bay Appliance, gave me a confirmation number and everything. AT BAY dispatch says they never received it and cannot schedule an appointment with me, I have to go through GE. I took the day off of work for this repair!
I called GE again and was told to call Consumer Relations who apologized and scheduled a second call with AT BAY, apparently the only company who can repair in the SF Bay Area. Guess what? They say they never received the repair order and that I have to call GE. Again, I took a day off for this repair. What is this? I've never experienced such poor service in my life.

I guess my GE Profile dishwasher is a lemon. Sounds like it from all the other reviews. Same deal - purchased it in July of 2016 and by October 2016 it went out. Technician that was sent told me it was the electric and I needed to have an electrician fix the fuse. Electrician came out and said it had electric, that it was the dishwasher that failed. Next technician fixed it and said the electronic panels "get confused." Three days off of work. December, 2016 the dishwasher failed again. Had no dishwasher throughout the holidays. They scheduled service technician and then cancelled because the one technician they had was out sick.
Today, January 9th, they called to let us know they were on the way, but never called the number they were supposed to, so now we are totally taken off the schedule. I've been on hold and disconnected three times and now have been on hold for one hour and 6 minutes. DON'T BUY GE APPLIANCES - Terrible service and crappy appliances that don't work. This is really sickening since I have ALWAYS used GE appliances.

I purchased a GE Dishwasher 3 months ago and it has been broke (won't drain) for almost a month. I tried to schedule a service through GE since it is under the warranty and they never showed up for the second time. I called and complained but it is not just the product, their service is even worst than the product. I am going to take the unit to Home Depot and ask for a refund or exchange with another brand. It is suppose to be brand new and won't drain or can we get a service scheduled. Never buying this brand again.

I wish I had seen this site first. I purchased a dishwasher. It didn't even make it 6 months. Took a month to fix and then 3 months later broke right before Thanksgiving. It is now Friday before Christmas still not fixed. GE is closed. The repairman and GE both lie and said it would be fixed before Christmas. Do not purchase anything GE. They do not stand behind their products. The products are poorly made and don't last. I've had several dishwashers over the years. This is the first GE and it will be the last. You will have to wait over an hour for on hold to reach anyone and even then they just don't care. Save your money. Buy a didn't brand.

Have a GE dishwasher put into operation June 2016 (new home). In Oct 2016 we noticed a leak and a serviceman came out and identified a loose soap dispenser - tightened it. Next time we used it, leaked as before. Same serviceman came again, this time replaced both the main seal & spinning water distribution wand assembly. Again, the unit leaked and on Dec 14th same serviceman replaced the soap dispenser. Before he got too far down the road, we called as the unit again leaked. He blamed it on excessive soap suds - which he removed manually. Following his departure, we again experienced a leak. Same serviceman returned on Dec 15th. After review, he advised us the DW would be replaced and we should get a call within 48 hrs to arrange.
On Dec 17th (still no followup from GE) the DW leaked again - we video this time. On Dec 19th called customer relations and after much discussion it was apparent GE has NO CLUE what the heck they are doing. ONE MORE repair trip was scheduled - this time they would replace the inside and outside panel! We are fortunate to be retired otherwise this repair process would have cost us about $2000 so far! How idiotic is GE?? How much have they spent to avoid replacing this unit? Believe me this is the LAST GE appliance we buy from them. Don't know how they stay in business. We are awaiting the panel repair guy as of this writing. Will update once this service has been completed.

About a year and a half ago, I bought a GE Profile dishwasher from a very reputable local dealer. Within 3 months, the digital control panel failed. Because it was still under warranty, the dealer replaced the panel. It failed again. This time they made other adjustments, it continued to fail. Finally GE suggested that the dealer replace the entire door panel, which they did. It took the repairman a couple of hours to do so. Still didn't work. Finally GE declared the machine "non repairable" and replaced it. Unfortunately the men who replaced the dishwasher didn't install quite correctly because it leaks. I keep a plastic container under the front left corner to collect the water every time the dishwasher runs.
But the story doesn't end there. This machine and the first one both include a sensor that apparently check for objects that obstruct the spray arms. I don't know because there's nothing that tells me why the machine is beeping when I attempt to start it. I check the spray arms, move dishes, try to start it again and still get the beeper. I have done this over and over and over again and still it beeps. I have essentially emptied the dishwasher and it still beeps. When it does run, I have to use the boost temp. option and the longest cycle available to get dishes, and I mean dishes, even passably clean. Forget pots and pans, or casseroles. So, if you own a GE dishwasher, I hope that you have the old fashioned dishpan and dryer rack handy. Bottom line, it doesn't clean well, leaks, and beeps every single time I try to start it. Buy something else.

My GE dishwasher model #GDF570ddF855 is the worst dishwasher I've ever owned. I have had 4. I've had this model for 6 months. This model is hard to turn or to figure out if it is turned on. Right now it's locked up and I'm following the direction to unlock but it won't unlock. So there's no real on/off button! There needs to be a control on the inside of door where you can turn the lock button. I'm writing this so others won't buy this model as they will be thoroughly dissatisfied. Maybe all GE dishwashers are like this? This one sucks...

Our dishwasher has only ever served as a dish wetter or drying rack. It has NEVER CLEANED DISHES UNLESS they were put in the dishwasher already spotless. We have a GE Slate with hidden controls. Now, the racks are rotting away and the cost to replace them is nearly the cost of the entire unit. We are going to throw this one out and get a new dishwasher of another brand. DO NOT BUY GE DISHWASHERS!

Entire inside is plastic crap. Dishwasher is very loud and takes a long time. Racks are ok but cheap feeling. If I was choosing, I wouldn't buy it. This GE was in new house. Overall feel is very cheap. Too much plastic. Very low end builder model. Steel inside or heavy plastic will take more beatings.

ConsumerAffairs Research Team
The ConsumerAffairs Research Team believes everyone deserves to make smart decisions. We aim to provide readers with the most up-to-date information available about today's consumer products and services.
Since it's founding as the Edison Electric Light Company in 1878, GE has been a household name in appliances. The company's innovation keeps it at the forefront of home design with smart products and integrated technologies.
Compact built-ins available: Where most dishwashers are 24 inches, GE offers a more compact size, at only 18 inches, which is great for small kitchens and apartments.
Front or top controls: Depending on your countertops, you might not be able to easily use top controls on a dishwasher, so having the option of top or front controls makes finding the right machine easier.
Portable dishwashers: GE's portable options allow you to get a dishwasher that you can take with you if you move. Also, with these dishwashers you don't need a plumber to install it.
Under-sink installations: To keep storage loss to a minimum, GE manufactures dishwashers that you can install directly under a sink or a cooktop.
Guided tour to GE dishwashers: Use easy-to-navigate website resources to learn the pros and cons of each style so you can choose the one that works best for you.
Best for Apartment renters, homeowners and families
GE Dishwashers Company Profile
Company Name:

GE Washing Machines

Company Type:

Public

Ticker Symbol:

GE

Address:

3135 Easton Turnpike

City:

Fairfield

State/Province:

CT

Postal Code:

06828

Country:

United States

Website:

http://www.ge.com/