Consumer Complaints and Reviews

I had a 4 ton 16 SEER installed in the summer of 2013. It's been one problem after another since installation. I have not gotten cold air from the system since day one. My complaints seems to have fallen on deaf ears at the company who handle the installation and at Trane. Last year 2016 the main drain pan and fan motor was replaced. The parts were under warranty, but it cost $663.00 for labor. Now I'm told the evaporator coil which is under warranty is leaking and needs to be changed but labor and Freon will cost $1100.00. I regretted the day I spent thousands of dollars buying this piece of junk. Trane should not be allowed to sell these units until a drastic overhaul is done.

Great unit I must say in terms of home comfort. Bought in October 2015 and registered total unit online as required to receive full warranty. Thermostat went south in 18 months and Trane refused to cover it even though the thermostat carries a 5 year warranty. Why? Because the thermostat had to be registered separate from the entire unit. Am I the only idiot who did not know that the thermostat requires a separate registration from the rest of the unit. Btw. Trane required me to buy their thermostat.
I was never told by the Trane authorized installer of this requirement. To me, it is all part of the same unit. When I register a refrigerator, am I required to register the ice maker separately? $400 lesson learned. I am not normally a person who complains, but imo this is nuts. All I am trying to say is DON'T MAKE THE SAME MISTAKE AS I DID.

Purchased two Trane systems in 2007 and paid 11K$. Now one has to be replaced. Tech says coil is leaking and that it's unlikely it can be repaired. Tried contacting Trane over a week ago to find out if coil is still under 10 year warranty but no reply from Trane. Tech also says replacement coolant is no longer manufactured and that available replacement coil would require 2K$ worth of coolant. Available stock of coolant is hard to find and very expensive. Steer clear of this company. Apparently it is pretty easy to stop a Trane.

This is a Trane Model no. 4TWR5030G1000CA. Serial no. is 16075MFH4F. Unit installed May 2016. November 11 2016: Blown capacitor at six months' service. March 30 2017: Fan blade falls off at 10 month's service. May 8 2017: Motor fails just under one year's service. Clearly not the quality one would hope for in brand new durable goods. Questions: Why not specify an adequate capacitor at nominal extra cost? This is a $5,000 unit for a small house, why not design the fan with a 5-cent set screw or cotter pin to keep fan from detaching? 10-year warranty but we didn't expect so many repairs!

In 2010, I purchased a Trane XL 15i system for $8622. In 2014, my house was not cooling and it was discovered my copper coils were corroded with numerous pin holes and the unit was leaking Freon. The part was under warranty but the labor was $1100. The copper coils were replaced and at that time Trane paid me $650 towards the labor cost. I thought that would be the end of it. Currently in 2017, the copper coils corroded & leaked again. After several weeks of going back & forth with Trane's Escalation Dept., this time Trane offered me $520 for a labor cost of $1300. In addition they want me to sign a contract to release them of any & all responsibility from past and future copper coil leaks. They won't even give me any assurance this won't happen again.
I don't understand why the product has not been recalled or why there hasn't been a class action suit against Trane and Ingersoll Rand (the mfgr.). Something needs to be done. I cannot afford to pay out $800 every 3 years to keep my A/C unit running. No one should have to pay for a known defective part. I have had to pay out twice. I live in Phoenix and it's getting very hot. Is there anything I and others can do beside fill out a complaint? They should not be able to get away with this. Pls. help.
How do I know I can trust these reviews about Trane?
792,868 reviews on ConsumerAffairs are verified.
We require contact information to ensure our reviewers are real.
We use intelligent software that helps us maintain the integrity of reviews.
Our moderators read all reviews to verify quality and helpfulness.
For more information about reviews on ConsumerAffairs.com please visit our FAQ.

I installed a Trane Unit in 2009. I have a 10 year warranty. The first year was fine, after that I HAVE HAD TO KEEP FILLING IT WITH FREON. Not one AC company that came out could find the problem but one. However SOUTHERN COMFORT AC found that I had a cracked coil in both the Air Handler and AC Unit itself. So much for Trane. When I called them I spoke to ** and she stated that even though there is a 10 year warranty, they only fix units for the first 5 years... WOW. SO EVERYONE, how about a "Class Action" Suit against Trane for deceptive practices???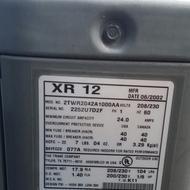 I figured after seeing all the negative reviews, I should comment about my experience with my Trane unit. We've had our Trane XR12 for 14 years and it runs easily 9-10 months out of the year here in FL. We've had to replace the fan, a capacitor (a few times), and get some other minor maintenance. The original compressor is still running strong. Overall, we've been very happy with it. We're just thinking about getting a new unit since it's almost 15 years old, and we don't want to be in a position where we NEED a new unit in the middle of the summer. The quality of the installation is just as important as the unit itself, so the unit failing could be the result of poor calculations (too big/too small). After reading these reviews, one would think Trane is terrible, and that's not the case - people who are happy just aren't motivated to come here and leave positive feedback.

After having over a hundred TRANE HVAC units installed by ZIRO and distributed by TERMO SERVIS, we had to replace all these rusted units (see attached photos) that were manufactured by Ingersoll Rand's Kolin, Czech Republic manufacturing facility. These TRANE units were examined by a court-appointed expert who concluded that the manufacturer Ingersoll Rand used inferior quality materials in the manufacturing process.
After only a total of less than 20 months of cooling activity, we had to replace completely over a hundred TRANE HVAC units due to corrosion. The most disappointing part of this entire process was that nobody from Ziro, Termo Servis, Trane nor Ingersoll Rand contacted us to find a solution to this serious problem. Even after receiving the report from the court-appointed expert, none of the above-mentioned companies (Ziro/Termo Servis/Trane/Ingersoll Rand) contacted us. Definitely zero quality and evidence that it doesn't take much to stop a TRANE.

Trane advertises a 10-year warranty on their products. "Nothing stops a Trane." Yet when my Trane system broke after 6 years I was told that my warranty was void on a technicality that I had no way of avoiding. I was informed I needed to transfer ownership of the system in their records to my name within 90 days of closing on my home. I had no way of knowing this. That is also beside the point. This is a loophole just to get Trane out of their warranty. Ownership being transferred should not and does not affect reliability or efficacy of their product. Yet when it breaks (as mine did) or reduces functionality they aren't responsible because of paperwork. Cars, electronics, homes, and other goods work where the warranty stands no matter the owner. This is bad business.

Purchased Trane AC in 2009. Worst choice ever. Both motors have blown within 8 years and neither is covered by warranty. Trane knows their product is garbage and that's why the short warranty. Never again. I've spent more money on this unit than on all of my AC units for the past 35 years combined. Never buy a Trane.

Bought my XR13 2013 - Lost my 10 year warranty because the company who installed the unit said they will take care of registering the unit. They didn't. 18 months with unit is when I started having problems. Blockage in drain, even with cleaning the drain as a maintenance process. Had to add refrigerant. Unit stopped cooling. Service Tech noted the EEV Board was faulty (a recalled part). Replaced EEV Board. Unit stopped working properly again. Would not cool and it would come on even when it shouldn't. Stopped cooling again. This time the coil had a leak. A small whole was found. In order for me to get it fixed I had to pay for the new coil. The unit was under warranty but I still had to pay the service contractor for the part. Plus pay for labor. I had the unit service more times than I should for it to be fairly new and a "Trane".
03-21-17 I keep the unit off so I don't have to deal with the hunk of junk. After contacting Trane the only thing they recommend is to purchase another warranty. The unit is just shy of 4 years and I have invested $6078.17 to date and it still does not work. I feel I have been completely ripped off by Trane, The Trane Service Contractor and Lowe's for recommending the piece of crap. Not worth having - Do not get it!

I live in the second most populous area of Virginia. When My Trane furnace quit working the HVAC serviceman said it needed a part. If it was in stock locally no problem but there is only one local parts distributor which, of course didn't have the part. 3 to 5 days to get it!! IT MAY BE HARD TO STOP A TRANE IT'S EVEN HARDER TO GET ONE REPAIRED. Based on my HVAC Serviceman's advice my replacement furnace will NOT be a Trane. Overpriced, Overhyped, Poor Service.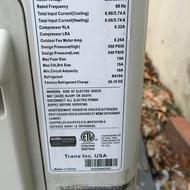 Expensive junk- deceptive customer service. We had a split system installed in our sunroom as part of a major home renovation project. The unit functioned erratically the whole time. We were told by the contractor that it was to be expected or maybe we were not using it right. Last December, 14 months later, the condenser died due to condensation turning it into a solid block of ice. We contacted a Trane certified repair company and found out our product has not been registered for the three year warranty, and the one year basic warranty had expired.
I contacted Trane, to explain that my husband and I were not at fault for this, and asked them to stand behind their product and help us out. I wasn't expecting a full replacement or even 100% part replacement, but at least 50%. Their response after almost two months of back and forth, providing all sorts of information and getting transferred to three tiers of customer service levels, was to offer us 15% off a new unit. $315 for a $2200 installation! So much for standing behind their products! I guess I should have checked this site first and noted the one star rating! The only reason I gave it two stars is because I believe three out of the four CS reps truly tried to help, but it came down to the Escalation Specialists who dropped the hammer on my hopes for a decent resolution.

I had a new Trane AC unit installed in 6/18/15. On 10/14/16 a service performance routine maintenance and coil cleaner Envirocon was done. On 2/21/17 unit not cooling, called Climate Design Service, who installed unit and was informed that the coil had a huge leak and a part had to be ordered. Further advised that part was free but cost to repair would be between $400 - $500. Unbelievable on a 18 month old unit. REALLY! Trane will replace the coil under the warranty but they will not cover repair cost. This definitely appears to be a quality issue and is costing us consumers a lot of money.
Moreover, I went with a Trane as I believed it was a quality product. I've learned the reliability of Trane is not good. I paid almost $5000 for unit, thinking I was getting quality, after my experience and seeing all the complaints similar to mine... I have no faith in Trane and will never own one again, and will not recommend to anyone. I am a retired elderly person, living on limited income and when I spend this amount of money thinking I was getting a quality product... well that did not happen.

We replaced our Amana heat pump, which was undersized, with a Trane. While the Trane works, it is so noisy. It keeps me up at night. It wakes me up at night. I can't hear my tv when it's running. It sounds like a D9 Cat working hard. Trane sends out a rep who says it's within company standards. I'm at my wits end with this Trane heat pump. What can I do. We can't afford another 13000.00 to replace the Trane.

18 month old Trane blower motor ECM module defective furnace shut down on coldest day of year and no parts available, took a week to get the part and it was defective also. Another week called Trane, they could care less about your problem. If I live here long enough will never replace anything with a Trane.

We have been in our house for 18 months and our unit is broken. While this would be somewhat upsetting, what is mind-boggling is that TRANE is AWARE of the defect and does NOTHING to cover the cost. They put out a bulletin explaining how to fix the problem after it breaks so they are fully aware of the issue but will not help defray the cost to the consumer. We will never own a TRANE/American Standard unit again and will tell everyone we can not to buy one as this is completely unethical and they should be embarrassed. There should a recall on something like this and owners should not be expected to spend over well over $1000 on a defect that TRANE is aware of...

Bought Trane Heat pump four years ago, and sold my house last year. On warranty (found easily enough online) it is not clear what needs to be done to transfer (the one link describing the warranty is dead, and the other didn't come up the first time I tried to go there, and the second one has been "updated" since the original warranty was purchased). These guys apparently lose faith in their product if you don't fill out the paperwork, now the family that bought my home is getting the middle finger of customer service from Trane and the local (Allentown) Trane dealer. Warranty in this case is only as good as the paper it's written on. My one time having a service call was steep, and the system wouldn't work if an auxiliary part, that had nothing to do with the unit itself, wouldn't work. Poorly designed.

Caveat emptor! Simply put do not spend your hard earned money on this undependable, shoddy made predictably expensive trash. There's good reason this product has a one Star rating from victims who have made the mistake and will continue to pay the cost until they replace it. In the 3 1/2 years I've had it I had 5 breakdowns costing me over $1,000 in service. My latest was Christmas Day 2016 with a houseful of out of town guest suffering through dinner in the heat. Did I mention we live in South Florida! Can't wait until I can yank this tin can out of here and get a real Air Conditioner.

We purchased a new Trane A/C 16 months ago and have had a few small problems. Now our A/C has quit working due to a coolant leak. Paid $349 for a leak test only to find out the leak is in the evaporator coils in the air handler. The part is under warranty but labor to replace it will be $999. I spoke to a Trane representative thinking they should foot at least a portion of the bill because if their product worked correctly I would never be in this position. They adamantly refused to consider even paying anything, intimating that it was the environment or installation that caused the problem. We had our last air conditioner 15 years before having any service problems and have barely made it a year with this unit. This will be my last Trane purchase.

I bought a brand new Trane condenser. It broke down after 6 months. Trane refused to honor their warranty. I ended up having to pay full price to replace but did not buy another Trane. Terrible customer service. Considering small claims court.

Do not buy a Trane AC unit. I bought one 4 years ago and it needs to be blown out every 2 months. Apparently, they put out a lot of gook causing the water to back up. My local company did nothing, so I contacted Trane and they have done nothing. Save yourself time and money and buy a better brand. There are several out there.

I have 4 units in my and have been happy with them for the most part. Installed all 4 units when remodeled 16 years ago. Have had to replace 1 compressor so far. I bought my units as I thought they were made in the USA. When time comes to replace again I will look for units made in USA. Hope they do not move to Mexico.

I had an XV20i heat pump installed with a Tam 8 air handler and the top of the line thermostat. This was a $12,000 purchase. The unit was installed two and a half years ago. I've had nothing but continual and still ongoing problems. My installing dealer went out of business so I've had to pay for labor during a time the labor should have been covered under warranty. To date I've paid $1,000 in labor charges since installation, not to mention the constant headaches with the unit being down. Trane did refund me approximately $280.00 in labor charges a few months back. However, when I was offered that amount I expressed my displeasure with the amount and was told "take it or leave it". When my dealer went out of business, I contacted Trane customer service asking what I should do and if there were any dealers in my area that knew how to work on these newer units. I was given a list of dealers (which I kept).
Every dealer I called on the list told me they didn't service my area. So I was on my own. I called a local Trane dealer out of the phone book. He was very honest and told me his company didn't service these type of units due to their complexity. He referred me to another dealer. I was told this dealer sells a lot of high-end equipment and they know what they're doing. The dealer I was referred to has been to my house 4 times since April 2016, just as recent as 3 days ago.
As I'm writing this review my unit is down again. On their first service run I was told my outside unit need a software upgrade to 2.0 and a new personality module which I paid them to install. The unit ran fine during the summer, but now that it's cold problems have returned, and as I stated it is down again. This unit is clearly a LEMON. Since it obviously can't be repaired correctly, I want Trane to furnish me a new unit installed. I have a stack of work orders, which I previously submitted to Trane. Of course I have even more now.

Purchased the Trane furnace 6 years ago. This summer when I came in the house from outside my whole house was full of smoke. I ran around looking for the fire and found nothing. A month later last week exactly when it got cold I went to run my furnace and it didn't work. When I went down and opened the panel I could smell the same smoke I smelt that day and there was my circuit board all black and melted. When I called the company who installed it (Master's) they came out and said the board was under warranty but the labor was going to be $300. Sounds cheap. But NO ONE can tell me why it caught on fire. So I told Master's I wasn't going to pay them to put in another circuit board because it could have BURNED MY WHOLE HOUSE DOWN. Their response was "call Trane and let them deal with it."
So I called Trane and the first question they ask is did I have it professionally serviced every year. I replied no but had heater coils replaced under warranty after just 3 years. Now I sit here waiting on Trane to tell me what's up and where we go from here. But I already know their answer and I told them "don't even try and tell since I didn't have it serviced regularly it's my fault, because had you WARNED me that if I didn't have it professionally serviced IT MIGHT CATCH FIRE I would NEVER have bought it." So after just 6 years here I sit with no furnace and no resolution. Now every time I call Trane, they say "we're working on it and we'll call you back." They have no intention of fixing it.
So I called Master's back and said "go ahead and replace the board and I'll pay the $300 BUT IF THE FURNACE CATCHES FIRE and burns down my house I'm suing both Trane and you." The owner of Master's then says, "NO THANKS. WE'RE NOT EVEN INTERESTED IN COMING BACK TO SERVICE IT." I said, "Why are you worried it will catch fire?" I mean if it's safe what's the big deal? Both Trane and Master's heating and air are crooked and in this together to screw over the consumers knowing they GOT PROBLEMS they aren't telling their buyers about when the purchase is made. PLEASE FIND ANOTHER FURNACE MAKER AS both Trane and Master's could care less for our SAFETY and cares if we lose everything. Of course all they are going to say is THIS HAS NEVER HAPPENED BEFORE. So I ask if you have had a circuit board melt or catch fire please let me know. I know I am not the only one with this SERIOUS problem.

Purchased a home with a Trane XV90 furnace, furnace is 7 years old and out of warranty, product failed at 6 years, after the tech spent hours on the phone with Trane tech support he figured out the furnace needed a new main circuit board to the tune of $1200. We had the furnace repaired, everything was fine for 14 months, went to turn on the heat this year to find out no warm air, called the furnace guy to come out and he explained the main board had failed again. This was after spending 2 more hours on the phone with Trane tech support, we called Trane corporate only to find out the replacement board is only warranted for 12 months, and Trane tried to claim they don't warranty replacement parts, the 12 month warranty is from the dealer.
So, to cut an already long story short we now have to shell out another 1200 dollars to repair it again. I called Trane customer support and explained my situation, got a nice email response that said "SORRY, GOOD LUCK". It would have been far easier for Trane to do the right thing and either replace the clearly defective part or at a minimum offer a prorated reimbursement, but no they don't care! Do yourself a favor, don't buy a Trane furnace, they don't stand behind their products and if anything goes wrong the replacement parts only have a 12 month warranty from the dealer, Trane tried to argue with me that they don't warranty replacement parts. HIDING BEHIND THEIR DEALERS. So much to "Can't stop a Trane." Guess what? You can, and they don't care...

We built our home in 1/31.2011 - it's been 5 years and 9 months and for the last three months we have had to freon put in our unit due to a faulty coil in attic unit. We contacted Trane and their reps are robotic - no empathy or sympathy just curt and short. I started emailing to document the poor customer service and have several automated emails from them with no results. I emailed back 10.17.2016 to have my issue escalated only to get another email telling me if I haven't heard from escalation in a few days to email or call back. WTH - this is not customer service.
We were told to obtain two written estimates on diagnosis of issue and we did so. Both AC co's that came out diagnosed the same thing. They both told us our unit has a 10 year warranty however it does not cover labor. We have spent over $500 to get a diagnosis and freon to keep us cool. So, when we contact Trane, they said we never registered the product... Funny, I have copy of registration card sent in. Their level of service is unacceptable and we are still waiting for a response from them to resolve this issue. This is the 7th unit we have bought from Trane. However we will never buy from them again if we don't get a result by Monday, October 24, 2016. Very disappointed in Azle TX.

I purchased A Trane air-conditioner in good faith that this was an exceptional product 2 yrs ago. It has been repaired 2x in that 2 yrs, with this latest repair costing me just under $1000. Although the Customer Service personnel have been OK to deal with, am totally disappointed in this product, and will never recommend it to anyone looking for an air-conditioner, or considering this product.

I built my home in 3/2016. In 5/2016 when it started to get extremely hot the a/c quit working. I called the repair people who said that the wires were not hooked up to the unit and that is why it wasn't cooling. About a couple of weeks later the a/c stopped working again. Again we called major heating and air and they came out the next day and said Freon leaked out because the solenoid caps were not on tight. Again they should have checked that when they came to hook up the wires. Then two weeks or so after that it froze up and quit working again.
The same technician came out and said that there was a recall on the expansion valve that they supposedly knew about for months. He said he would come out the next day. Little did I know that would be several days later. When they came to replace the valve they then said that the compressor had frozen up. So being that this unit is only 6 months old I am very disappointed in the level of service that I have received from Trane and the major heating and air technicians. So have basically been without a/c for a good part of a hot hot summer. I have to say that if I ever have to replace my unit in its entirety I WILL NOT get another Trane unit.

Purchased our unit in 2011. Recently it has not been cooling well. Repair person says that the coils are rusted and it's been leaking refrigerant. It is still under warranty, so the part will be covered but the labor is expected to be $1,600 or more. Is there a class action suit going for this problem? Apparently, it is a common problem.

ConsumerAffairs Research Team
The ConsumerAffairs Research Team believes everyone deserves to make smart decisions. We aim to provide readers with the most up-to-date information available about today's consumer products and services.
Dating back to 1910, Trane has a long history of innovation in the heating and cooling industry. One of their founders invented the convector radiator in 1923, and in 1938 the company introduced the industry's first hermetic, centrifugal refrigeration machine. Today, homes and businesses alike rely on Trane's proven track record as an innovative company that provides reliable, energy efficient heating and cooling year-round.
Leader in green building technology: Trane custom designs green technology for businesses based on their building needs to ensure only the highest air quality for employees and their clients. Their systems are in some of the world's finest and most popular buildings, including Toronto's Skydome, Beijing's World Trade Center complex and Washington D.C.'s Washington Monument.
Leader in home air quality: Trane's whole-house air filtration systems are proven to remove up to 99.8 percent of all air allergens and particles inside your home. In addition, the Trane website features a resource center for consumers to learn about air quality and figure out which products will benefit their particular situation.
Specialization: Because they specialize in home air solutions, Trane is able to focus on the air solutions homes and businesses need. Their specialization has helped Trane achieve have over 1500 patents, making them a top innovator in the field of HVAC technology.
Testing videos: Watch videos from the testing facility on the Trane website to see just how far the Trane Reliability Engineers are willing and able to take their products.
Smart technology: Homeowners will appreciate the Nexia Home Intelligence when it's connected with a Trane ComfortLink or ComfortLink II communicating control. This system allows homeowners to reduce their energy consumption by controlling their air conditioning systems remotely.
Best for those looking for a central air conditioning system who are also concerned about air quality.
Company Name:

Trane

Year Founded:

1885

City:

Davidson

State/Province:

NC

Country:

United States

Website:

http://www.trane.com/