Consumer Complaints and Reviews

I had a GE air conditioning, but after 2 years, compressor failed, button starting to get useless, and before compressor failure, buttons was stuck and kept turning on and off. I don't recommend this. I recommend Frigidaire air conditioning, it cools really good and has a life lasting too.

We just bought a brand new A/C unit yesterday. Last night, it worked very well in our small bedroom. Tonight, the fan is blowing cooler air than the air conditioner. Needless to say, it is going back to Home Depot. For $130, I expected much more than for it to work only one night.

After 1 year and a month the 8000btu model number AEL08LSL1 GE AC does not cool the room. GE support was useless. Home Depot was excellent and offered to exchange it. GE is terrible. I will never buy a GE product again. I actually wanted an LG AC but they were out of them and was forced to buy GE.

GE Window Air Conditioner Window Unit - I bought my unit about 2 years ago. It was wonderful for 2 seasons. This year I did every the trouble shooting book and their e-mail help center said to do without result. My problem is when I turn on unit, it is the same temperature as room. (88) I set it to desired temperature (72) and it immediately goes back to (88). I have read other dissatisfied reports and one on youtube that says the same thing about this product. This product should be discontinued and buyers should be reimbursed.

My dad uses this air conditioner at his office and so far it's still functional despite years of usage. The remote control does not work anymore, he tried having it fixed but was told it was a lost cause. It can cool the room during summer days and does not hum or buzz like similar-aged air conditioners but all its function keys do not respond anymore, except for the power button. Also, the temperature always reads 25 degrees although it feels much cooler after an hour of turning it on. So it gets a fairly good rating because it still works like an air conditioner even if most of the buttons you need to control its performance are already useless.
How do I know I can trust these reviews about GE Washing Machines?
609,949 reviews on ConsumerAffairs are verified.
We require contact information to ensure our reviewers are real.
We use intelligent software that helps us maintain the integrity of reviews.
Our moderators read all reviews to verify quality and helpfulness.
For more information about reviews on ConsumerAffairs.com please visit our FAQ.

We have lived here at apartments on the 4th floor in Virginia for 6 years. It gets very hot in summer. Winter sometimes you need to use the AC. There is black mold in the units (2). Smells like horrible old urine. Black stuff blows out when you use them. Over time 6 years, it has made me sick with allergies, my heart is not doing right. Dizzy, weak. People that we rent from are doing their best to order 2 new AC's. This has been over a month. My health is at risk. Black mold can kill you. We need brand new AC's, or this is going to be reported to everyone in high authority.

There was a terrible smell coming from the side of our house and suddenly hordes (like 30 every day) were coming into our house. We figured an animal had died under my ferns, so my husband cut them down this weekend. The problem was neither ferns nor dead rodents but the non-draining GE air conditioner we had just bought. There was a pool of water on the bottom which had not drained and the flies were laying their eggs in it. The smell was like a dead body, and the color was deep brown. There were flies covering the unit. It was disgusting. I guess we're going to have to find something to suck the water out every so often.

History: Purchased at Sam's Club immediately after Gustav in 2008. Purchased extended warranty as well. First failure at age 3, 2011. Fan motor capacitor and main electronics control board failure. Warranty people said it would take 3 days just to find a repairman. I told them unacceptable. I am a former retired repair person.... Good thing for those skills. That is how I know what failed, because I repaired it! I did not use GE parts either. Quality is not there. The past few years we have been having freezing up issues. That usually means, needs cleaning and/or the fan motor is running too slow. So we pulled the unit and cleaned it well with chemical cleaner.
Here we are 2015, it has become very clear that the fan motor is failing under some kind of heat load. Unit freezes up, set for two hours, it runs again for a while. Tends to ironically freeze up early morning or late night. Makes no sense to me other than I know it is the motor. No need to grab the megohmmeter. When it is hopefully cooler, I will pull this thing and re-engineer the motor/fan system because I will not use GE here again. Come age 10, like most rotary compressors, I expect it will die. If not, I will run it into the ground and salvage the good generic parts from it. Looking at my a/c junk pile outside, has me looking at what can be put back in service as a back up unit/s from now on. That is because it is becoming more and more clear on this website, if you buy window units, you had better know how to fix and re-engineer them! Cheap stuff from China aka PRC.

Bought GE Window Air Conditioner summer of 2014 work just fine. Went to set it up for the 2015 summer & it's blowing warm air. You can't imagine how pissed I am! It's been two days now & it's still blowing warm air. I called GE customer service & was told my warranty was over with 2 weeks ago & there's nothing that can be done. So basically I'm out of money & stuck with a new air conditioner blowing hot air.

AEMo6LQW1 - I purchased a new air conditioner in April of 2014. I used it for the summer months of 2014 and unplugged it for the rest of the year and the early. It is the beginning of May, and the temperature was in the mid eighties. I tried to turn on the A/C and the safety button would not trip. There is no fuse problem, the outlet works fine with other appliances.... but the A/C is dead. I am a senior citizen. My husband is 85 with a heart condition. I cannot afford to pay for a service visit and the parts I will be told for certain that I need. This was my first GE air conditioner. In the home we sold to move into retirement, we ran five air conditioners for decades without problems. I will never buy another GE product. They do not "bring good things to life."

HORRIBLE CUSTOMER SERVICE SUPERVISOR. Friday morning: My water heater, GE Ultra Low NOx guaranteed for 9 years, failed to heat after just five years. A customer service rep overnight fed-ex'd an igniter, which did not solve the problem. Saturday: The next rep said they would fed-ex a pilot assembly but it would not get here till Tuesday.
Then I saw many online reports that these heaters have lots of problems. So I asked for a customer service supervisor; after a 5 to 10 min wait, ** came on. I told her I have out of state relatives visiting including small kids and my 80 year old mother and we have no hot water. I asked what would be the next step if on Tuesday the pilot assembly did not work. ** would only say that she could not discuss the next step until it actually happened. I asked to speak to her supervisor and she said she would transfer my call. I was left ON HOLD FOR 42 MINUTES.
I complained about the 42 minute wait, to the supervisor, **, who dismissively said she is the only supervisor and was busy with a customer call the entire 42 minutes. I asked why not take a name and number and call back? Uncaring, she said that "each call takes as long as it takes." I doubt the prior complaint took over 42 minutes - please pull that tape. When I complained that my family reunion was being ruined by GE/Rheem's faulty water heater, ** flippantly said, "It's not faulty if it worked for five years." Appalled at her argumentative manner, I pointed out that it is guaranteed for nine years, therefore it is faulty and I told her how inappropriate it was for her to make that comment. She defended it and continued with her insensitive and tacky comments. Please pull the tape.
** does no service for GE/Rheem or their customers. What an awful supervisor and role model. ** expressed zero concern about my problem. She would rather argue than assist. (Maybe she did spend over 40 minutes arguing with a person before me. Maybe not.) Her only suggestion was that I spend a great deal of money for a plumber to come out on the weekend at time-and-a-half or double-time. I understand that parts fail. But there is no excuse for such horrible customer service. Sadly, training will probably not help **. There is no training that will teach her how to care and be courteous. I will probably have to pay a lot of money to put my relatives up in a hotel.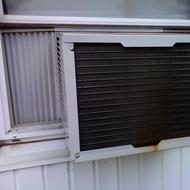 GE general electric public relations, the assurant solutions, GE air condition Model AEL10AQH2 rip-off refuse to replace Fairfield connecticut Nationwide, Hazardous to Your Health. Purchase a GE air condition model ale10aqh2 10.000 BTU from my local home depot in Connecticut and purchase the ext warranty too. Before the one-year warranty expired it had rust and a oil like chemical in the back and in the side fin. When I turn it on I get strong chemical smell like in my throat and mouth, had to turn it off right away. I try calling the warranty company but could never get through, I had to use a mask when I turn the unit on. Finally reach someone, told them the problem and the next thing come out of their mouth is "Rust is not cover by the Warranty." [continued below]....
I explain that it's not only rust but a oily like chemical in the back of it. They had a Repairman come out just to agree with them. Even he refuse to Listen to me. I call GE again as I cannot use this unit like this. It has clump of dried rust color substance in the side of it. And the back is rusted out. Now I stuck with a brand new unit which I cannot full use for fear of catching Lung Cancer. I made appointment to have chest X ray and I have asthma which I never had. After I get medical checked I will contact a Attorney for Damage cause by this Unit. I never buy another GE product ever.
This unit has a lot of water Floating around in it Just setting which can cause Mold and rust in back and side of it. Only had unit a year and couple months. Someone at GE told me to Call Customer Relation and explain and that they would replace the unit. I contact GE Customer Relation and they refuse to replace the unit. Now I am stuck with the AC and the extend warranty all I paid for. It's a GE scam. Hazardous to Your Health.

I bought two GE air conditioners from Sam's Club last year. One just went bad on me yesterday. Thank God it's already September and not July. In any case I knew something was wrong when I shut it off it still sounded like it was on. If I pulled the plug from the wall then it completely shut off. If I left it plugged in and turned it off it would in about 15 seconds or so pop the breaker. Not made well at all. I will try a different product next time and research first before I buy.

After using our new GE air conditioner for 10 days in the middle of summer, it needed a new compressor and four more unidentified parts, one of which is back ordered 2 months. After waiting a week for the repairman to show up, he says that he is not even sure that the next four parts can fix the unit. We asked GE for a replacement unit, explaining that I was having problems with my seizures and we lived on the top floor of a retirement center and it is HOT! We were told that even though the part is not available (and obviously we have a lemon), GE's protocol is to wait 10 days before starting the replacement process. What? They know that they can't get the part but we have to wait another 10 days before starting the process of getting us a replacement? In the middle of summer on the top floor with someone sick?
We wait...then our customer advocate (misnomer) says she is sending a replacement. Days go by and we don't hear from anyone. We are now three weeks without an air conditioner. I email her and tell her that nobody has called and she says that we have to give it "travel time." We are in Denver and know that there are air conditioners all over the place. But those aren't "ours." Another week (now a month without an air conditioner) goes by and she emails me and says that it has arrived but can't be delivered until the next Tuesday... She is sorry. She can't help get it to us any sooner.
Tuesday comes and I wait for the delivery. The delivery business calls at 2 PM and says that we are 14th on the delivery list but they will be coming before the end of the day. We wait until 9 PM and no call, no delivery. I then sent an email to our "advocate" and said enough is enough. If we don't get the air conditioner by 10 AM we are going out and buy one. We are now over a month and GE is riding on "our protocols" and "we're sorrys". I get another jumbled email from our advocate telling us to go out and buy an air conditioner "as soon as we can" to take care of us over the long 4th of July weekend. She has just found out that they cannot deliver our air conditioner for another 5 days. The delivery company is backed up due to the holiday. She is sorry they didn't call... She is sorry that she couldn't get it delivered when she said it would. But, she would send a "good will" voucher toward $150 for a unit that might keep us cool while we continue to wait for our $800 replacement air conditioner. We can buy one at Walmart... What!
We told GE that we just want our money back. We don't want to wait anymore. Just give us our money back and the cost of installation. We paid $790 for the air conditioner and installation. Just give us our money back. We have been more than patient and put my health in danger. I am in the middle of changing seizure medicines and getting overheated can make me have a seizure (I did have one during this over-a-month period). Our advocate said she can't take it back. Perhaps we could take the replacement and sell it ourselves and get our money back! She wants us to go into the air conditioner sales business! It was left that we want our money back and she said she won't give it. They cancelled the delivery of the replacement and left us with the non-functioning lemon air conditioner. They have the right to do that, she told us. At GE they have protocols and this is one of them.

Have 2 GE air conditioners. One is barely a year old; one is 2 years old. Neither one work. Of course, GE customer support could not help. They could not even get answers to question why they won't work. For someone to come out is $99 plus parts and labor!! They offer rebate to buy another one. Thanks, but no thanks. I will never purchase any make or model or anything from GE!

I want to warn anyone out there who is thinking of buying a GE air conditioner. Don't do it. I bought one in Aug. 2010 and already it is not working. I tested it this past fall and it is broken, and not repairable because of the cost. GE was not helpful and they said they would give me a $30 rebate towards a new machine, but it would be only good for 30 days and the guy told me that they don't even bother with repairing these machines. So buyer beware. I will never buy another GE product.

I bought a new GE air conditioner spending well over $500 just to find out that the unit will not work correctly due to bad engineering of the unit's continuous/cycle fan switch. The unit was serviced by a GE technician twice, who replaced every electronic board in the A/C unit, but even he didn't know that the unit was engineered badly and the function of the continuous/cycle switch just didn't work in the cycle position. The A/C unit's continuous mode works like a standard window A/C unit, where the fan runs continuously and the compressor turns off and on as required by the thermostat. This mode works okay. The A/C unit's cycle mode should work like a whole house A/C unit, where the fan and compressor come on at the same time, cool the room, then both shut off. This mode does not work correctly for all these units.
I'm a retired Electronics Technician and I figured out the problem on my own but I refuse to fix it on my own. That should be GE's job and a commitment to the consumer who purchased it from them. So on the third attempt at a GE repair, I explained the problem to the service technician and showed him why the A/C unit was not working. This was because he was not being allowed a third attempt at repairing the same problem. He had to call the Engineering Group first and explain it to them, whereupon they confirmed the problem and basically told me it couldn't be fixed and that I couldn't use it for the purpose I bought it for.
So what I got is an air conditioner that I set to cool at 75 degrees, but the thermostat setup does not turn the unit on till the room reaches 90 degrees. That's the best GE can do, and they call it acceptable, and I get stuck with an in-the-wall A/C unit that doesn't work for the room I bought it for. Basically what they need is a remote thermostat to make the unit run correctly in the cycle mode but no such part is available. The real problem is the A/C unit needs air flowing through the unit before it senses room temperature correctly and that initially doesn't happen in the cycle mode.

My Fiance and I purchased a new GE air conditioner. We were scheduled for a tech appointment on June 27th between 1-5pm because there was something wrong with the plug on the air-conditioner (perhaps a blown fuse) Model # AJCQ12ACCM1. The tech immediately ordered a replacement piece for us and gave us another appointment with the same time slot (Thurs, July 3rd between 1-5pm) after the piece was delivered to our home. Sounded great, except, the appointment was scheduled for something other than what we were told by the tech so they came 4 hours early the following week on Thursday, July 3rd and left a "we are sorry we missed you" sign on the door.
We immediately called Customer Service right away (within 1 hour of the missed notice around 9:30AM) since no one had called us the day before. Consumer Complaints confirmed there was no service call record other than a call at 8:20 AM--15-20 minutes before the missed technician. Had we received a call the previous day, we would have noticed the time discrepancy and made the appropriate adjustments.
Customer Service claimed to have tried to contact dispatch that day to see if they could get a tech back to my home but neglected to tell me that the Consumer Complaints center had direct contact with dispatch and could have gotten me a tech the same day. AND, I asked the right questions! The only real answer we received was a "We're sorry, and can we make another appointment for you? " Another person, Bridget in Customer Service said all supervisors we unavailable and in a meeting at 9:30 in the morning which was our first call.
Later customer service representatives just tried to follow up and "send another message to dispatch" as Bridget did that morning. Not one person said they could get a direct communication to dispatch to help rectify the situation or that Consumer Complaints could have contacted dispatch directly. We only found out at the end of the day and when nothing could really be done after calling Consumer Complaints. We waited because we thought customer service was doing their best to help us, which seems now not to have been the case. VERY DISAPPOINTED! POOR INFORMATION, POOR APPOINTMENT SCHEDULING, POOR CUSTOMER SERVICE.
We doubt we will buy another GE product with this type of service. As all consumers know, you are really buying the product AND the service. Despite the situation, we had no complaint with the technician aside from the wrong appointment scheduling. We are mostly dissatisfied with the customer service that really could have shown better diligence and done a better job of fixing the situation.

ConsumerAffairs Research Team
The ConsumerAffairs Research Team believes everyone deserves to make smart decisions. We aim to provide readers with the most up-to-date information available about today's consumer products and services.
General Electric is an internationally recognized leader in digital technologies. In addition to innovating, developing and selling technology around the world, GE has also provided billions of dollars in financing for other businesses to use for growth.  GE has air conditioning solutions for both homes and businesses.
Wall and window air conditioners for home: GE sells both wall and window air conditioners for home use at reasonable prices. These are great for smaller homes, apartments and condominiums that don't need a central air conditioning system.
Commercial air conditioners: GE's Zoneline commercial air conditioners are great for hotels, hospitals, senior citizen communities and other businesses that would benefit from a single-room air conditioning solution.
Easy to find: Use the website's handy "where to buy" feature to find a commercial or home air conditioner distributor in your area.
Warehouse: Perfect for consumers who aren't concerned about getting the latest model of air conditioner or other appliance, GE's online warehouse offers significant discounts on major appliances. They even include free delivery and hassle-free seven day returns.
Support videos: When reading instructions isn't enough, watch how to fix common appliance issues with GE's extensive library of support videos, all available online for free.
Best for Businesses, hospitals, hotels and homeowners who need a wall or window air conditioning unit.
GE Air Conditioners Company Profile
Company Name:

GE Washing Machines

Company Type:

Public

Ticker Symbol:

GE

Address:

3135 Easton Turnpike

City:

Fairfield

State/Province:

CT

Postal Code:

06828

Country:

United States

Website:

http://www.ge.com/