Haier Air Conditioner
Haier designs solutions to enhance consumers' enjoyment of home at every stage of life—from university to first apartment to all shapes of family living. Each solution champions intelligence, individuality and the human drive to create the perfect home, so that each interaction with the consumer is a new opportunity to bring ease and joy to everyday life.
Consumer Complaints and Reviews

My father bought my family this AC, was a doorbuster at Walmart, cheap thing. It's a multi-room AC. When it DOES work it cools off 2 rooms quite well, cools my dining room and kitchen adequately. However, it had a control panel with buttons (not a touch screen) and those buttons don't always work the way they should, has been like this since it was around almost a year old. You have to press REALLY HARD on the buttons to get them to work. To just turn it on I have to press so hard with my thumb that my thumb hurts because of the massive pressure I have to use to get the power button to work. The other buttons are the same, sometimes pressing the temp button up causes the mode section to change, or pressing mode causes the temp to change. At times I've had to use something hard & pointy, like the end of screwdriver, to press down in the button to get them to work because my hand was sore from pressing.
As of today the buttons have become officially dead. Pressing them with all of my force and pressure does nothing. The display is on but none of the buttons are working any longer. This is such a cheap air conditioner, when it works it's great, but those buttons are the absolute worst piece of plastic I've ever used. Nothing, absolutely nothing, on the button panel makes a proper connection or a connection at all, something is wrong in there and has been since it was new. It's about maybe 6 yrs old now and we don't have any money for a new AC at all, or at least money for another multi-room AC. Thank God fall is here and the weather is getting cooler but this thing as of today is officially dead. I don't have the cash for a repairman or another AC, along with a very sore thumb.
I also have one other smaller Haier ac unit in another window & that one too has its own problems. Both AC units have also wound up spitting water, leaking water, you name it. Along with freezing and a thick layer of white frost building up on the front inside of the unit after just running for not even 20 min, have to keep shutting it off, sometimes it spits ice chunks. It's been a struggle for the past few years with this brand, if I had the cash for a better brand name I'd certainly trash them both & never purchase this brand again that's for sure. No way. You get what you pay for.

Bought a Haier A/C 5000 btu. Ran and cooled great for 8 year - on medium setting you could hang beef in the room. Finally went out and I bought another Haier 5000 btu a/c. From day one very poor if any cooling.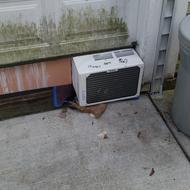 I'm a service technician. I don't typically work on ACs but can when needed, and I just fixed a Haier yesterday. My experience goes back further so bear with me. My parents have a relatively big ranch style house with hot water baseboard heat. Installing central air ended up costing to the tune of $20,000. My dad makes good money but never wanted to shell out the big bucks to have it done and didn't until my mom retired. His solution was what he called peripheral air conditioning. This just meant buying a lot of window ACs and running them. We had like 7 of them, and lost a few over the years.
In around 1998 we were due for two. Well some of you may remember Ames here in the northeast. They for whatever reason decided to carry Haier and Samsung ACs that year. My dad bought one of each and those were both really well made ACs, probably still working to this day (since he has central air now, I bought my own house and got central air we sold them all off). Haier was basically an unknown then. It was an 8000btu Performance Plus Series loaded with features. Other than not being terribly energy efficient it was solidly built. It never missed a beat and was run hard every summer. When we finally sold off all the ACs in the summer of 2010 because my dad claimed they were taking up too much room, it still worked perfectly, digital controls and all. I'm sure it still is.
Later after the first Haier my dad bought one of the 5000 BTU Manual control ones. Other than being somewhat noisy it too worked perfectly fine for several years, was sold as working and probably still does. Those ACs were run hard, pretty much full blast all day all summer. Two days ago I went to Ollie's and they had a smashed up Haier 8000btu not working for $5 so since I knew how to service them I decided to give it a go. What I learned is there is really nothing wrong with their design, they've just cheapened stuff like the case to meet the price point consumers demand. It's far flimsier than the one made in 1998. The digital controls are likely outsourced based on what I saw inside of it. Other than that it is fundamentally identical to any other window AC in terms of design. American consumers want a $189 8000 BTU AC and they build it like that. When it was $239 it was built better, thicker steel, bigger motor, etc.
As far was water buildup issues. That's a fault of the EER ratings. What the manufacturers are doing now is allowing a little water to pool inside the unit so it touches the bottom of the cooling coil. This helps heat transfer and boost the EER. That Samsung I mentioned earlier? It was easily one of the most efficient ACs at the time and explained how it worked in the manual. It had a drain plug you could remove if it became problematic due to mounting differences. Unfortunately those are added costs you're not going to get at today's rock bottom prices. You'd have to drill a hole. So in sum I really don't see anything wrong with Haier. They're just another company building what people want, cheap throwaway stuff. If people were willing to spend more up front then there would be fewer problems. I added a photo of the smashed Haier I was fixing to prove my story.

I purchased a 10,000BTU Haier portable AC unit on March 27, 2015 from Homedepot.com. On Sept. 10, 2016 the unit stopped working. I would have expected it to function longer than 19 months. I discovered the problem to be a burnt out condenser fan motor. I discovered the cause to be a flaw in the design of the unit. The condenser coils takes all its inlet air from the house through louvers in the cabinet and discharges it to the exterior through the 5" hose. I discovered that the condenser coil was completely clogged with dust and dirt. THERE IS NO FILTER FOR THE CONDENSER COIL. How would a homeowner know to inspect the coil. Plus it is nearly impossible to get in and clean it. I have purchased other units with dual hoses and the inlet hose has a filter. This is a proper design.

I recently decided to replace my still working 25 yr. old dehumidifier used in a lower level family room with a portable AC with dehumidifier. I felt it would be a nice upgrade. I settled on Haier 14,000 BTU Portable AC with Dehumidifier Model HPF14XCM-B, a two hose unit that includes dehumidifier functionality. I definitely sought a two hose unit for the efficiency. The rest of the house is centrally air conditioned. After a few days of running the unit in AC mode, the humidity rose to over 75%. I switched it to dehumidify and realized that there was no way to set the unit to a target percent humidity. I let it run overnight. Next morning there was no improvement and the unit shut down due to a full condensate tank.
OK, I connected both the upper drain and lower drain to a gravity drain line that my old dehumidifier was connected to and let it continue. It cycled randomly and never brought down the humidity level in the room. I even added an additional fan to help circulate the air. The % humidity outside was lower than the room I was trying to dry out. Haier was no help. The website information listed the dehumidifier as 110 pt./day. My old unit is only a 40 pt./day unit. Haier stated that the device is primarily an AC unit and not primarily a dehumidifier. I even called an appliance repair technician that was listed as a service center for Haier Products and was told they do not service that unit. Lucky for me I was within the window of returning it back to the retailer that I purchased it from for a full refund. Haier lost me as a customer.
How do I know I can trust these reviews about Haier?
611,656 reviews on ConsumerAffairs are verified.
We require contact information to ensure our reviewers are real.
We use intelligent software that helps us maintain the integrity of reviews.
Our moderators read all reviews to verify quality and helpfulness.
For more information about reviews on ConsumerAffairs.com please visit our FAQ.

With Haier, it can be very tricky... I purchased a brand new 7800 BTU window unit a few years ago and upon using it for the first year, it would hardly cool and the thermostat (or something) would always say it's cooler than what it was. If it was 75 degrees inside, the AC would say it was 61 and would kick off. With that being said, the coils were not frozen over, but it would spit water out all the time. One thing with these, you have to tilt them slightly backwards so that water runs to the back and doesn't drip out the front. Another thing with some of these units is that they do not have drainage plugs that you can remove... I very carefully took the outer Casing off the AC and drilled some holes in the bottom so that it will drain properly. Since I did that, it worked much better... Sometimes it still acts up and says it's cooler than what it really is, but I just turn it on fan for a bit and switch it back to AC.
Now, in regards to the portable AC. Many people have problems with these. You have to sometimes take the back cover off of the AC which is being held together with screws and clean off the evaporator coils, etc since they can become clogged with hair (especially animals) and dirt (dust). Also, you have to make sure you drain the water from the bottom of the unit, otherwise it won't work right or at all. This AC Unit was given to me and worked okay. When the AC was running, it was very cool.
However, almost all the time it said that the temperature inside was much cooler than it really was. It could easily be 80-85 degrees and the AC would kick on for a few minutes before dropping down to 61 and then kick off. But in reality... It was still 84-85 inside the room. I finally figured out it is the temperature sensor/wire that is the culprit... It's given false readings. You can easily clean it gently with water and a rag, but you have to be careful. But with mine, even after cleaning it still acts up. So I weaved the wire out thru the back of the ac unit so it could contact warmer air to give a more accurate reading.

The first unit was decent. Did what it was supposed to do. When it failed at the 2 year mark, I thought "Ok, a fluke". I bought another in May 2015 from H.H. Gregg. I'm not sure which was the bigger mistake, the retailer or the manufacturer. Today, now 1 year, 6 weeks, after purchase, it blew out the compressor... seized hard. I heard it fail. I've heard enough over the years and it is the exact same failure as the first unit. There is no denying the sound of it either. BAM BAM BAM. And then the circuit breaker kicked. I bought the "5 year protection". This means they must order the compressor (HA HA HA) and wait for it to arrive. I'll bet everyone money it'll be weeks before I get it back... just about when winter starts. After calling the 800 number, getting disconnected 4 times, waiting on hold for 1.25 hours, I finally got a decent person. She did, very politely, direct me to the local repair folks.
What I would rather have at this point is my refund (58.5 months of remaining service contract + 84% of the unit purchase price which is based on an estimated life of 6 years (1 year factory warranty + 5 year protection plan coverage). "Made in China" rip off if I ever saw one. NEVER again. I'm going and spending the $500+ on a Pinguino and being done with it. The last one lasted 8 years and the only failure was the water drain pump had clogged.

Bought the Haier AC about 3-5 years ago and already noticed a problem with it since day one. The unit collects A LOT of water at the bottom with no way for it to seep out unless it's filled up a couple of inches from the inside tray. I figured something would surely short circuit inside, rust, or worst - grow, if I don't muscle up and pound out some holes at the bottom for the water to leak out. Anyway, it worked out pretty well with some freakin kinks I learned from co-existing with it.
Never use high fan and stick with low. Always let the fan run for a few minutes before putting it on cool. When turning it off set it back on fan mode so the next time you have it on it won't automatically be trained on cool setting. The unit will never cool past 70, nor should you try or the a/c unit will have a shorter life span. That's pretty much how I kept it operating for so long. But as of writing this review, the unit is starting to choke out - it won't cool past 80 before it goes back to fan mode no matter what temp I set it. I'm somewhat pissed considering I always take care of my machinery and if the OLD ass a/c's (the ones that were huge, leaked like hell, wooden covers with knobs in place of buttons). I would purchase those in a heartbeat. Those were built to last, if you treat them nice.

I bought a brand new Haier A/C two months ago and it already is going out!!! The temperature, when it gets too high, starts automatically going hay-wire!!! It will only blow when it's on the "low" level fan position. I replaced it after having my previous A/C unit for 5 plus years!!! The only way that I can get it to stop is to turn it off!! I spent $100 on this piece of junk and it's VERY frustrating!!! I had never heard of this brand before and I SURELY wished that I would've seen the reviews BEFORE I purchased it because a lot of what everyone else is saying is exactly what I've experienced!! This is terrible because it seems that this company would produce a better product and would take care of the customers who are having issues with the product!! We all work TOO hard for our money, for it to be thrown away on such cheap material!!!
And to top it all off it doesn't even blow cool/cold air!! If I could rate this product with NO STARS I would because it's so totally not worth your money!! So if you're thinking about purchasing this product PLEASE DON'T!!! It's not worth it and it will not work!! I am telling ALL of my friends and co-workers NOT to purchase this mess. And I'm not going to STOP telling people about how horrible this product is until I get SOMEONE to respond to me from the Haier Company to replace or refund me!!!

This is my 3rd Haier Window Unit and none of them have lasted more than 20 months. As a retired person this gets to be costly when you are on a fixed income. I will not ever buy their product again and I would advise everyone that uses a window Ac to look for a better Quality and Brand than Haier.

I purchased this Air Conditioner less than a month ago, and the high setting is out already. I paid $100.00 at Roses in Cincinnati, I am pissed! This is a piece of crap. Don't ever buy this product. And as you notice 1 one the bar sliders isn't even connected, so I can slide it from left to right.

I will never ever buy anything from this brand again. A/C portable unit went out after 2 days of usage. Called the 800 number. Was yelled at by the rep and told me I could not get a replacement or my money back due to unit being too small for a 500 sqft apartment. He said I broke it. It's not the first time we use a unit this size in a small apartment and he made up a ridiculous excuse. Worst company ever!!!!

I got a Brand new Haier air conditioner for a bedroom. The room is 8x10x7 1/2 high. It's been running with the door closed with the temp set at 71 degrees. It's been 3 weeks. It's 90 degrees outside. It's 88 degrees in the bedroom. It has never reached 71 degrees in 3 week. This brand is the worst product and has the poorest rating of products. I even put foil on the 1 window. The door is shut at all times. I have a LG in my living room 500 but also the room is open to the dining room and kitchen about 600 sq ft in all 3 rooms combined and has 4 windows. It's set at 74 degrees - it's 74 degrees.
I will never purchase anything made by Haier and would not recommend it to anyone. You would be better off getting something used if you have a budget. Seems I'm not the only one that has a problem with Haier. I wish I did research beforehand. I called the company and got nothing but excuses as to why it didn't cool. They blamed it on the room from installation, air leaked, sun being on my house, window could be letting in too much light. Other than saying we have a 1/2 star rating on a 5-star rating and have crappy products that are mostly worthless from the factory just beware of Haier products.

I purchased a Haier freestanding air conditioner from BJ's. When I took it home and opened the box I found that the "piece" that fits into the window was broken. I called the BJ's store and they advised to use it and call Haier's for a new plastic part. So I taped the broken piece and awaited the replacement part that Haier's promised to send. When it was not received in 4 weeks I called Haier's who promised to investigate and a replacement part will be forthcoming. If I paid for the replacement the part would cost less than $5.00. I would add that the Haier representatives were rude and very abrupt.
In additional to the initial problem, the unit is extremely noisy. It cannot be used in the bedroom as the noise prohibits sleeping and it cannot be used in a TV room as you are unable to hear TV. I will add that the unit was cheap and as the old adage states "you get what you pay for." I am not only upset with Haier but with BJ's and expect COSTCO for dealing with this terrible company. I will never deal with any Haier again.

I bought a Haier air conditioner and it lasted 6 months. I was foolish enough to buy a more expensive (almost double the price) Haier air conditioner and the control pad stopped working after 3 months. I can't believe how poorly made these units are and that the BBB hasn't done anything about this. My nephew is in college and is majoring in electronics and he took it apart to fix it and he told me that the simplest components (like the control buttons) are expected to get pushed thousands of times and should easily withstand years of use. I was shocked when he told me that the components of my 3 month old air conditioner looked old outdated and maybe even refurbished parts.
In closing this product should be removed from every store and if I could have given it negative stars I would have and I feel sorry for anyone else who gets ripped off by Haier and finds out it's not made in America and is not held to any real quality control but just a money hungry foreign company not held accountable for their products. Welcome to the new America post NAFTA. Thanks again Bill Clinton.

I bought this air conditioner unit 2 years ago from HHgregg. They said it was the best air conditioning unit on the market. Now last night because we have a lot of humidity and it's hot here in Wisconsin the thing stopped blowing air. It's frozen up. I go to call the company they tell me I have to pay for it even though there's a 5 year warranty on it. Will never never never buy from this company again. They are a scam artist. They don't want to pay for anything out of pocket but they don't mind taking your money. Piece of junk!

I bought a Haier AC two weeks ago that has already quit blowing cold air! It was great at first. Will never purchase another product from this company again!

Buy a Haier window AC in 2014. Used it a total of 7 months now and now it has stopped blowing out cold air, was really hoping it would of lasted longer than that. Here in Michigan we don't need an AC that long each year. I'm just not happy with it, I don't think I will buy this brand again. Thank you.

I bought a Split AC 1.5 ton on 3rd May 2015 and installed through Haier engineer. In the period of one year it stop cooling many times and always care engineer told that gas has been empty. He filled gas but it failed to cooling after one month. I also called the local AC repair too. He filled the gas two times - still gas is leaking and not cooling. I think this is the worst product I purchased on 29000. Pls don't buy Haier AC in any terms. This is fraud company and product are very useful.

Had an issue out of the box where wheel was broke on a portable unit. Company quickly sent out a replacement. Unit has been going three years strong now without an issue!!!

I bought a Haier AC 2 years ago and there is mold throughout the inside and the outside of it. I am very unhappy and I will never purchase another AC from the company again. I have had cancer in the past and mold is a very unhealthy thing for a well person. Never mind a sick person I am so disappointed in the product as I paid 200.00 for it!!!... and do not have the sale slip anymore.

I purchased a Haier air conditioner and used it for two months. After a long winter, I got it out of storage to find that it only blew hot air. It was still under warranty, and customer services told me that I either had to wait 4 days until a local repair shop was open or wait 7-10 business days until I could get a "next-level review of my account". Incredibly dissatisfied with the company and their product!

I brought the air conditioner in November 2015 with 1 year warranty and servicing contract. I requested to servicing for AC, company send the washing machine technician to do the servicing of my AC, as resulting they never did the service properly and my AC performance is affected badly. It happens all the time whenever I request for servicing. I called to Haier customer care lots of time but they are always keep on telling me their technician are well. I am irritated and called to customer care executive today 17th may 2016. I literally fighted with him, he is very arrogant and rudely behavior while communication. I suggest to never buy this company product.

Bought a split Haier AC model no. HSU-18CKCS2N on 25th March 2016. I gather from the website that this model does not exist at all. Paid a whopping 28000 for it. It worked just last night and tonight it switches off on its own and it gives only fan instead of cool air. The customer service person was rude and now I want this replaced at any cost which the company Haier has to bear. I do not suggest this brand for anyone.

Sent a new unit. Very happy with the new one.
Original Review
We had an AC unit for a month before it started not working. The unit clicks and only produces air, it does not make anything cold. I would not recommend this unit for people in the market as it started to not work for us after only a short time. I wish I would have gotten something better.

Purchased Haier A/C (Model #HWF05XCP-L) in July 2015 at local Walmart. Worked okay for almost 1 month, then started clicking on and off. Next, while turned on, nothing came out of unit when set on either Fan or A/C. Left unit off for 1 hour (during major heatwave in Los Angeles), turned it on and SMOKE came out of unit. I would never, ever, ever purchase a Haier product and would never recommend their brand to friend or foe!

I have had my air conditioner for less than 3 months and it is have problems. It keeps shutting off by itself. I want to be contacted immediately and I want my money back for this piece of crap!

My girlfriend purchased a window unit in April right when it starts getting hot in the DC area. We've been hearing sounds like it was leaking. It kept the room cool but it leaks like a strainer. From the window sill to the floor you can see the trail. The carpet and drywall are now **... This is pure **! There was no mention of a drainage problem or anything. I wish we would have read this site before now.

Haier 1.5 ton use 5 months. It's very bad ac. It's not maintain room temperature. Haier service center give not good response.

I have a medium-sized bed room and one of the 8000 btu units. The compressor keep kicking off and it's in an outlet by itself. What do I have to do to get it cool?

ConsumerAffairs Research Team
The ConsumerAffairs Research Team believes everyone deserves to make smart decisions. We aim to provide readers with the most up-to-date information available about today's consumer products and services.
Haier is a wholly owned subsidiary of the Haier Group. As a global company specializing in consumer electronics, Haier is recognized for their commitment to sustainability and community. They sell wall, ductless, PTAC and portable air conditioners.
Serenity Series: The Serenity Series air conditioners are the quietest window air conditioners on the market, so you can sleep comfortably and soundly without battling distractions from a noisy window unit. Listen to a comparison between the Serenity Series and a standard air conditioner online.
Easy extended warranty: Extend your warranty for an extra three months for free simply by registering your Haier product online. Along with a warranty extension, registering your product will give you more efficient servicing and exclusive access to Haier news.
Info Hub: Haier's online Info Hub is the best place to figure out which model of appliance you really need. The "how to choose" feature takes you through an interactive survey to figure out with air conditioning solution is best for your home and lifestyle.
Online repair request and status update: Request repairs for your air conditioner online at any time. Select your preferred date and time along with any additional requirements. You will be contacted shortly with confirmation on your appointment, and you can check your repair status anytime.
International: Haier is a global company and have air conditioning systems available in North and South America, Europe, Asia Pacific, Africa and the Middle East. So no matter where you are in the world, you can have access to a Haier air conditioning system.
Best for International users, homeowners and apartment dwellers.
Haier Air Conditioner Company Profile
Company Name:

Haier

Company Type:

Private

Year Founded:

1999

Address:

1800 Valley Road

City:

Wayne

State/Province:

NJ

Postal Code:

07470

Country:

United States

Website:

http://www.haieramerica.com/