Consumer Reviews and Complaints

10 months ago we purchase a Samsung dishwasher model DW80J3020. It completely stopped working. While it was still under warranty, we had service technicians come out which took 3 days. Then they had to order a part. Two days later we had it working... It worked one time. Two more service calls later it was deemed unrepairable. Since that time we have tried to get a refund and all we get is shuffled from one "Customer Care" (what a joke) Department to another with no information or response. Finally we sent them the receipt on the suggested form... Still no response. My advice to you is don't ever buy a product from Samsung. They have shoddy products and the worst customer service I have ever experienced.

My dishwasher started leaking badly. Upon my inspection, the bottom door seal was falling apart/disintegrating. I went to Lowe's where I purchased it (this was one month after my 3 year extended warranty had expired) and asked to order the part in order for my plumber to repair it. They could not find the correct part but tried to sell me a part anyway. I knew enough to know that was not a part I needed So, I came back home and called Samsung for help. They referred me to J & J Parts which is their official distributor of Samsung parts. They could not find the individual part I needed. Moreover, they indicated that Samsung built that rubber piece into the door and I would have to buy the door for $254 to solve the problem! I called Samsung back and explained the issue. They didn't seem to care and said I would have to call an official Samsung tech. to come out and fix the problem.
So I did that hoping it would cost me much less than $254 and the seal would be repaired. The tech confirmed what J & J Parts said to me on the phone - that I would have to order most of the door piece (over $200) and then the labor cost to add on to that made the estimate to repair at over $400! The Samsung tech visit cost me $97 for nothing that I didn't figure out myself! All this headache for a 22" piece of rubber seal! The bottom line is this: don't buy a Samsung dishwasher (my model #DW80H993), if you did and this happens, don't waste your time and money to try and fix it. I obviously would not spend the $400 for this piece of trash, so I bought a new and different dishwasher with a 5 year warranty.

Purchased this item July 10, 2017, used 3 times. Started making this terrible sound!! Call for service, the man that came out was very nice and informative. Replaced the tiny fan motor in the vent... Worked one time and started making noise again!!!

Samsung Dishwasher Model DW80F600UTS - From Day 1, it stunk up the house unless you ran it 4 days a week. I always rinse everything before putting it into the dishwasher. It developed a leak at the seal along the floor, leaving a small puddle of soapy water on the floor. When I reported it to retailer who installed it, it was <1 week outside of warranty so their response was: "Sorry but you did not buy the extended warranty". The dishwasher it replaced was 16 years old and worked perfectly but so noisy. I wanted something less noisy. Two days ago it stopped dissolving the detergent blobs, which indicates there is not enough water circulating inside during the cycle to clean anything. It is only 18 months old.

Their own authorized repair depot says they can put in a new water pump but won't guarantee it because my dishwasher is 2" farther to the right than is usual. That is, frankly nonsense. They've been here twice, then told me to hire a plumber to fix his mess. That cost another $185.00. They cannot diagnose the problem. With all the testing the steam peeled the laminate off my brand new cabinets. This dishwasher is nothing more than a money pit. My regular service man refused to service it saying that Samsung is garbage.
No wonder it is so quiet. They may have well have put in a water pistol than that ineffective pump that is in there. I will never buy another Samsung appliance as long as I live. It has never worked. I stopped using it after the first week because the dishes came out as dirty as they went in, and has been sitting there for cosmetic reasons until I thought I might have it looked at. Now it just won't complete a cycle.
How do I know I can trust these reviews about Samsung Computers and Monitors?
881,173 reviews on ConsumerAffairs are verified.
We require contact information to ensure our reviewers are real.
We use intelligent software that helps us maintain the integrity of reviews.
Our moderators read all reviews to verify quality and helpfulness.
For more information about reviews on ConsumerAffairs.com please visit our FAQ.

I have had this dishwasher running now for a month. From the first load it has not washed my dishes properly. I always have food particles left on my dishes. I had a service tech come out and state, "that is how Samsung dishwashers perform. You have to wash your dishes in order for it to wash the dishes." When I called Samsung to complain and verify what the tech stated, they initially told me that no pre-rinsing or pre-washing was required. But 5 minutes into the conversation, they tell me that the tech is correct, dishes must be pre-washed and pre-rinsed.
The service tech had also told me that the Samsung dishwashers are notorious for leaking. He has to replace hoses and units all the time because the plastic tubing gets pin hole leaks from wear and tear off the hot water coming in and out of it. Buyer be aware! Now I go back to Home Depot and they will not return or exchange the product because it has been more than 48 hours since we have had it (but less than 90 days from purchase, and less than 30 from installation - and installation was paid for separately when we were ready to install as we were going through a kitchen renovation and needed more time for the cabinets to be completed). Reading on these Consumer Affair complaints, it looks like it's time for a class action lawsuit.

Samsung Model DW80F600UTB Dishwasher - I usually do not write comments about products but if this helps anyone who is buying a dishwasher then here goes. We bought a Samsung dishwasher to replace Bosch that quit working. We were sold on the features & the fact that our longtime salesperson friend recommended it. Really bad choice, From the beginning the dishwasher barely cleaned the dishes. The silverware never ever got completely clean. It leaves a very bad odor when the dishes are done that the old one never did. Loading this thing is a total nightmare. The top shelf is not too bad, but trying to get things in the bottom shelf is almost impossible.
The front keypad to start the dishwasher has been difficult to use from the very beginning. You almost have to push with 2 hands to get the start button to engage. Now we can not go out a buy a new dishwasher so we are stuck with this thing until it totally stops working. My advice to anyone reading this because they are thinking about a Samsung dishwasher, please look at another brand. Thank You.

My appliances are not a year old. Spray arm fell off dishwasher. Microwave is a piece of garbage. Refrigerator/freezer makes so much noise that we have to close our bedroom door to sleep because it sounds as if someone is trying to break in. I am so disappointed. I have had to call Samsung for support and am amazed. You can not understand the service representatives. The service representatives know absolutely nothing and continuously put you on hold for long periods of time. Who has time for this? Many don't they stand behind these supposedly top of the line products that cost a fortune? What can I do?

In 2014 we bought a Samsung dishwasher at Lowes. We had always bought Bosch but the deal being offered by Lowes/Samsung was too hard to pass up, I wish we had. I won't bother with the model number because after reading the reviews here it is obvious it doesn't matter, they all have problems. I am pretty good at fixing things myself and our dishwasher is still running, but I have better things to do in my retirement than fix a dishwasher! If you go to Youtube you will find many videos showing you how to fix your Samsung. My advice is DO NOT BUY a Samsung dishwasher! If you own one, make sure you put a cup of vinegar in AFTER the wash cycle starts, (this is particularly important if you are on a well and not public water).
If you do it before you start the dishwasher, it will pump the vinegar down the drain upon startup. Also after each wash, clean the door gasket at the bottom of door where it attaches to the dishwasher. Black gunk/mold builds up there, pretty disgusting. Based on reading other reviews, if you are out of warranty and can't do your own repair, take your loss, and put your hard earned money into purchasing another dishwasher.

Has anyone purchased Samsung stainless steel dishwasher Model No. DW80M2020US? Having water remain on door, even when I put on high heat. Did not have this with my prior GE dishwasher. After reading all the complaints it has me second guessing my purchase from Home Depot. Installed 7-14-2017.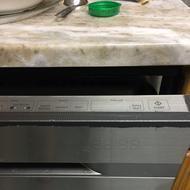 This machine has a great design and lots of room. Unfortunately, it fails because the mechanical and computer components fail too much. Samsung should have contacted owners of the first generation Waterwall and offered to fix the issues. Instead calling them for help is a test of wills. My machine is just 30 months old. Samsung has had to. One out and replace the mother board, the finger pad, and now the motor and washing arm. I learned the new motor was improved as was the washing arm and it should now run. I have masking tape along the top seam to prevent water leaking inside and wrecking controls. The practical aspects were not thought through and getting service is difficult. I will never purchase any Samsung product again. I am waiting for Google or Apple to start designing appliances. I think they will work better. I paid so much for machine and it has been a huge disappointment. Do not buy.

We purchased the Samsung Dishwasher Model DW80K505US last fall. We had the service techs here to check on it as the dishes were coming out with food stuck on them no matter what we did. We did everything the tech said to avoid this problem and it didn't change a thing. Two weeks ago we received the replacement machine that Samsung sent but it has exactly the same problem. As far as we are concerned this is a design flaw. The rinse cycle is not working properly as the dishes come out dirtier than when they were put in.
According to the last service tech who was here 2 DAYS AGO, it is caused by the companies trying to go greener with the machines. What use are they if they do not do what they are supposed to. I am currently using both the detergent and rinse agent they recommended and now I also am supposed to buy another product - Finish dishwasher booster. I have an issue with the chemicals as they cause me health problems so I am assuming that we bought an expensive floor ornament and will have to go back to washing dishes by hand.

We bought Samsung DW80H9930 series on 6/28/14. Paid $1000 at Home Depot plus $300 for installations. As soon as we started, in 15 minutes, water started coming out. We called Samsung. Company guys came several times to solve the problem but could not help. We repeatedly call Samsung. Like company does not care. We called outside company, P.C. Richard repair guy & again problem was lingering around. Last week, we called Samsung & ask for final help before we get rid of the dishwasher. Again, manager does not care for it. I guess Samsung does not care for their customers. We bought brand new dishwasher from P.C. Richard & they will haul this Samsung dishwasher & install the new Whirlpool one. Now onward, we are not buying Samsung or neither our friends.

This is the short version of our nightmare with Samsung. Dishwasher (Dishwasher DW80F6000TS/AA) turned itself on at about 2:30 in the morning. Water backed up into sink and overflowed on countertops, then into cupboards and flooded the entire kitchen floor. Tried to turn it off from button on top of washer door. It kept coming back on and continued flooding. Finally turned off circuit breaker in garage. That stopped the washer and water.
Called Samsung next day. Very polite lady apologized and promised us that Samsung would repair washer and fix any water damage. They gave us claim numbers for both washer and repairs. Rep from independent Samsung came from Tampa. He took panel off bottom of washer and took a quick look with flashlight. Then had me turn on circuit breaker. He ran it for 15 seconds and said it wasn't the dishwasher. As he was leaving he told me to keep the circuit breaker OFF as Samsung may want this unit shipped to New Jersey for further inspection.
Obviously he didn't tell Samsung this. A rep from Samsung sent an email weeks later saying they were denying claims indicating that our dishwasher was fine per their Tampa rep. Homeowner's insurance requested estimates from general contractors. $50,000 is the most current one. It's been over 3 months now and we have a company that deals with this kind of issue working with us get this resolved. They said it could take up to 9 months. NEVER USE SAMSUNG!!!

The reason for this review is to alert purchasers to the problems associated with the Samsung dishwasher, and to the importance of selecting a reputable appliance sales company. In October 2016, my wife and I purchased a Samsung Appliance package from Bill Smith Appliances in Fort Myers Florida. Shortly thereafter, we began having problems with the dishwasher. I had researched the brand, and was already aware of draining and pump problems with the dishwasher, but was informed that the new model dishwasher was fixed.
After repeated problems with the unit, a detailed search on this website confirmed that there were recurring problems with draining, and flooding of these dishwashers, and one caught fire causing thousands of dollars in home damage, as did the flooding issues. Two other units had circuit board electrical shorts, and one retailer was advising his customers to avoid the Samsung dishwasher. Because of the fire and recurring flooding issues, despite the fact that the unit was still under warranty, we decided we would not have a potential fire situation in our home. We would replace the unit rather than have it repaired under warranty.
I explained these issues to the Vice President of Bill Smith Appliances in an email, and almost immediately received a response: Although our dishwasher was beyond the 30 day 100 percent return policy, the company would accept its return for a reasonable restocking fee, and apply all sales incentives to a replacement unit should we decide to purchase another dishwasher from Bill Smith. While the product probably could not have been of more concern, the benefit of having done business with an entirely reputable appliance dealer was phenomenal. What is also phenomenal is the CONSUMERAFFAIRS.Com website, where folks can post their experiences, the good and the bad, and the service and attention to customer experience that one appliance retailer extended to us.

Doesn't even deserve ONE star!!! GARBAGE!!! I don't know how Samsung has not had a class action case filed against them after reading HUNDREDS of complaints about their dishwashers. Every reviewer has the same complaint about various models, UNBEARABLE, DISGUSTING ODOR!!... And SAMSUNG customer service does nothing!!! Oh, wait, they do offer suggestions on how to CLEAN their dishwashers with TANG!!! Yes, *** clean the disgusting odor in the brand new dishwasher with an orange flavored drink mix!!! *** WHAT??? The odor is unbearable and dishes are cleaner when I put them in the dishwasher than they are when I take them out!!! Shame on Samsung for this disgraceful product and lack of concern for their trusting consumers. They should have stuck to making televisions!!! NEVER make the mistake of purchasing a Samsung dishwasher.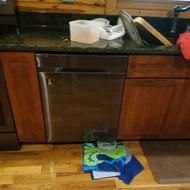 I bought a package deal of Samsung appliances when I moved into a new home. Fridge, Microwave, Stove and dishwasher. After 3 months the dishwasher started to leak. We had numerous service calls to fix it. It would be fixed for a short time and then leak again. At one point it quit completely. We had to shut the breaker off because it just kept flashing and beeping. Eventually they deemed it unfixable and was to issue us a check for the cost of the dishwasher in March 2017. We have yet to see a check 6/24/2017 and the dishwasher is completely unusable as it has flooded our kitchen and warped my wood floors prior to that... We were given a number to contact for Samsung claims for the floors and after many call, and told we would have someone call back they have NEVER CONTACTED US.
The Samsung fridge started making noises about 6 weeks ago... (How convenient after the year warranty). Anyway I had the repair man come out last week and he informed me that there are 5, yes 5 recalls on the parts. It is Currently in my kitchen completely unusable.These appliances are less than a year and a half old. This is not ok... It is unacceptable to sell crap like this at the price it is and get away with it. I AM NOT MADE OF MONEY. NOR HAVE I EVER BOUGHT A KITCHEN FULL OF APPLIANCES. SO IT WAS EXCITING... AND NOW ITS A NIGHTMARE. If I could give you NO STARS I WOULD!

We bought a Samsung DW7933 series dishwasher in July 2013, at Lowe's, and the control panel is malfunctioning now. (5 year warranty on panel) We contacted Lowe's first and they said they had about 50% of them come back with same issue which caused Samsung to stop manufacturing until issue was solved, but that we would have to call Samsung to service it since we hadn't purchased extended warranty. Samsung said they have no one in our area to service us, to contact Lowe's and they will find someone. Lowe's did, and an appt scheduled. Two days later we get a call from service people stating, they don't work on Samsung. Now, Lowe's is contacting Samsung and we should receive a call back from Samsung in the next couple of days.

Dishwasher with water wall - It started to be defective a couple of months after purchase (stopped working and showed a message on the top of the door to indicated what the problem was). Got repaired. But since at first, the problem was sometimes present and sometimes it was okay, they told me it could not be repaired and I would have to pay for the visit if when he comes, he cannot see the problem. So I had to wait for it to be defective all the time for them to repair it. This happened after a month since the beginning of the problems.
One year later was defective again but this time more than one problem had to be addressed. The pump had a problem. The water wall isn't moving so the dishes that are on the lower part are not washed. And the motor had to be changed (I don't know if this is the same thing as the pump). And I had to wait a whole month for the parts to be available so these problems had to wait. Then someone came and repaired, or tried to repair. The motor or pump works better, it doesn't make that weird noise anymore, but the water wall isn't repaired, the repair didn't work. So the water wall will have been defective for a month and a half if this time he is able to repair it, or longer if he is still not able to repair it.
The extended warranty applies only if the same part is broken three times, not if one part is defective, then later another part is defective and so on. Also the extended warranty can apply if in the end the dishwasher will not be repaired, but how long will I have to wait for them to decide they end the trying to repair period of time? Also, this time they will probably replace the same part that had been replaced during the first year of warranty. But since it happened during the first year of warranty, it will not count for the extended warranty that started at the end of the first year. So even if the part is replaced a third time, the first time will not count.
In other words, there is not much chance that my dishwasher that is always defective will be replaced. I am stuck with it. I will never buy a Samsung product again. This is a shame, it is always defective and all this time waiting for a repair wastes time of my warranty since nothing is happening. They should replace it after three problems, not three times the same part broken. And they should extend the warranty during this whole month when I am waiting for it to be repaired. It was an expensive dishwasher. What a waste of money.

We purchased a Samsung dishwasher last year as part of a complete kitchen package. The warranty was over 1 month when the dishwasher started leaking. We contacted the company and we were informed the washer was out of warranty and to repair by ourselves. This was a 600 washer. I am never buying another Samsung product ever again.

Our Samsung dishwasher started leaking one week ago (3 years old). Not under warranty. It was very hard to get a Samsung approved repairman. He comes in and after 10 mins. and 95 dollars tell me I need a new part but the good news is that there is a service bulletin on this part. I NEED TO CALL SAMSUNG AND ORDER THE PART. Samsung, he assures me, will pay for the part. It is a scam. When I called Samsung, they had never heard of a service bulletin, might not have heard of Samsung, not sure.
They kept reading from their cue cards: "Your dishwasher is not under warranty anymore." They were rude and very unhelpful. I have FOUR Samsung appliances in my kitchen, did not even treat me as a valued customer. When I offered to send them the service bulletin on the part, they did not even answer. DO NOT BUY A SAMSUNG APPLIANCE! By the way, the microwave's heating sensor stopped working after one year. Their products are lousy and their service is even worse.

I bought my Samsung DW80F600 less than 2 years ago. Last month I had to have it repaired, calling Samsung is an exercise in futility, on hold forever, excuses, being put on hold to see what they can do, etc., etc. Finally I get passed off to their service contractors and they come out to repair the dishwasher, it seems to work but within 3 weeks same problem happens again. Clearly it was not correctly repaired. This time I google the symptoms and it seems it is a pump problem, not what was fixed last time. Call Samsung and they want another service fee of $100 to fix same exact problem from 3 weeks ago. My answer to is trash this dishwasher and start over. Can't believe this appliance didn't even make it 2 years. I really wish I didn't also have a Samsung refrigerator and range. Don't make my mistake. My new motto is anything but Samsung.

Purchased a Samsung dishwasher unit from Home Depot in December 2016. Model#; DW08K5050US. After 4 month of usage the dishwasher catch fire on May 3rd., while in operation. Fire Department fire report conclusion results stated that the cause of fire was a mechanical failure of the unit. Has been very difficult to solve out the incident with Samsung Fire & Marine Management Corporation team and assigned adjuster. My property suffer heavy damage and the estimates exited the 20K mark. I will not suggest to any friend and family Samsung products especially the dishwashers.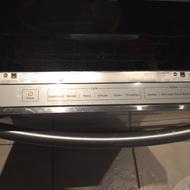 We made the ultimate mistake by purchasing this Samsung Storm Wash dishwasher. The dishwasher smells and constantly traps mold in the dishwasher & on the dishes. After less than 1 year the dishwasher hardly cleans at all, the glasses look worse after being washed in dishwasher than before. There is a gross film left on all dishes despite using rinse agent religiously. Silverware has to be rewashed before using. I hand wash more dishes than the dishwasher washes! So frustrating & I'm stuck with this piece of junk till I can afford a new one. Very disheartening. Samsung has no care despite emails sent to them. They refuse to help & refuse to take product back. I was willing to trade for another Samsung dishwasher. Shame on any company that doesn't stand behind their product! My daughter got an Mac Pro recently that began to split apart after a month; Apple immediately took care of this. Samsung could learn a thing or two!

I also bought a Samsung dishwasher about 2 years ago and I will never buy another Samsung dishwasher again. And I wouldn't buy another Samsung appliance either because of it. The issue I am having is with the lower arm. It keeps popping out from the tube it sits in. Every time I have make sure it's in but 9 times out of ten it's out when it's finished. At first I thought the part had sheared somehow and that is why it was loose. So I bought another arm. $110.00 bucks! The new one popped in and lo & behold it did the same thing. I also have the same issue with the black gunk that builds up at the bottom of the door. I clean it quite often. It's GROSS! If you have a Samsung dishwasher run a paper towel along the inside of the bottom of the door. See what you get!

We bought all Samsung appliances for our new home. The fridge lasted 2 years, needed a new motherboard and fan. Our washer is the exploding machine, on recall, check if you have one... Our dishwasher broke 5 times in two years, we had to pay servicemen 120 bucks each time to look, motherboard, seals, racks, etc. Everything replaced. Samsung service said initially they would replace machine before one year, but it dragged out longer, so they said, "Too bad you're no longer under warranty". It was never fixed. A so-called Samsung guy showed up, said we should not use Rinse Aid, causes bubbles. I laughed at him. No one from Samsung had anything on file he came to our home. I met two people last week at Lowe's looking for a dishwasher, they had the same machine I did. We laughed. Never again. Samsung dishwasher the worst ever! Stay away!

I had a GE dishwasher for 15 years and it worked well but I wanted a new stainless steel one. I purchased a Samsung from Best Buy. It is hard to believe how unhappy I have been with this appliance. I have paid $357 so far to continue to have it fixed and it is not quite three years old. Today I am having it hauled away as I am cutting my losses. Samsung should not be in the business of appliances if they can't do any better than this. It did not clean the dishes well, it did not dry the dishes well, and it was of poor quality but yet cost a lot. I will NEVER buy Samsung again.

Purchased the Samsung Waterwall Dishwasher in June 2014. Brand new technology - $900 worth! Pffff!! Within 6 months, had to have a repairman out because of an error saying there was a problem with an O ring in the water pump. Within 12 months, they were out again for the same issue - TWICE! Finally replaced it on their 3rd trip. 12 months after that (2 days ago) got the 7E error, telling me the waterwall was being blocked and couldn't move. Nothing blocking the waterwall and it is just stuck. Repairman coming AGAIN tomorrow to check. My extended warranty through Lowe's is up in June 2019. I WILL be buying yet another brand dishwasher when that happens. I will NEVER buy another Samsung appliance. They should stick to phones only!

I have a Samsung dishwasher that smells horribly. It has from day one. I thought it must be my plumbing or drains so I have spent $700 on plumbers only for them to find nothing wrong except my dishwasher is junk and stinks! Customer service went around in circles telling me to clean it when I have already cleaned it in every way possible and with everything known to man! I took the whole thing apart and uninstalled it and nothing helps. Samsung won't do anything about it. It is under 1 year old.

I had a Whirlpool for 11 years and wanted a new stainless steel model. I got this 2 years back from Best Buy. I didn't get the extended warranty because I never used it with my old dishwasher and all money was just gone waste. The Samsung brand proved to be my nightmare. I had to call tech service twice in 1 year. Then again after year for which I paid through my own pocket. The dishes are never clean and top shelf never gets dry. I wash all with a soap, rinse with water then again run the dishwasher. If you put the dish without washing it doesn't get clean. The material used inside, smells like a rubber and I think my old dishwasher was much sturdier than this WaterWall. Additionally, you have to baby it. The door lock gave up after 1 year, so changed it. Now again and again we keep getting error messages. I am just tired of this washer. I will not recommend anyone to buy.

ConsumerAffairs Research Team
The ConsumerAffairs Research Team believes everyone deserves to make smart decisions. We aim to provide readers with the most up-to-date information available about today's consumer products and services.
For more than 70 years, Samsung has been an industry leader across all technology markets. Its investments in medicine, consumer electronics, finance, plant construction and more make it an all-in-one brand.
Building better built-in options: Samsung only offers built-in dishwashers, producing six different models with two different washing styles.
Rotary washing arms: Like most dishwashers, these models use a rotary arm to direct spray throughout the tub.
WaterWall technology: This innovative take on cleaning uses a powerful wall of water to attack dried-on food residue.
Adjustable racking system: Fit more pots and pans side-by-side with table settings using the adjustable racking system.
Zone booster options: Direct the water pressure to where it is most needed with the zone booster.
Best for Homeowners and families
Samsung Dishwasher Company Profile
Company Name:

Samsung Computers and Monitors

Year Founded:

1938

Country:

Korea Sout

Website:

http://www.samsung.com/