Consumer Complaints and Reviews

Dishwasher works ok, not great, just ok. Been trying forever 2 months to get 4 screws for this dishwasher, yet they are unable to send them to me? WTF?? Almost $900 for a dishwasher and they can't send mounting screws?

I purchased a Samsung Dishwasher from Best Buy, when I had the unit installed I discovered that the kick plate was missing. I called Samsung and requested that they send me the missing part. They took all of the information and gave me instruction on how to send the receipt which I did. After a few days a representative called saying they needed more information. I asked what information they needed and they said they needed the Serial Number and Model Number. When I explained that I already gave them this information the representative put me on a long hold and came back and said not to worry they had everything they needed and that my missing part would be shipped in 7-10 days.
Several days later I received an email from Samsung asking for me to upload my receipt to them (which I had already done a few weeks ago). I resent the receipt and then a few days later received another call saying that since the item was purchased as an open box item that they would not provide me with the missing part. Bottom line is that the customer service is very disorganized and inefficient. When I ask them to consider supporting their product and to make an exception to provide me with the part that was missing when delivered to me they refused. Very disappointing experience from Samsung's customer support people.

Nightmare... Purchased the dishwasher June of 2014, 2 years later water wall error 7E, which is an expensive fix. It involves two motors and a sensor. Called several service technicians in our area, they all stated that there are several service bulletins and TSI's posted for Samsung service technicians in regard to this issue so it would be best if I called Samsung because Samsung should fix for free because it is a product defect that is warranted. I called Samsung at 1.800. Samsung and spoke with William in customer service. He agreed that this is a defective issue with this Samsung dishwasher and that they would offer me a one-time extended service agreement and would set up an authorized Samsung service company to come out and fix it.
The next day I received a call from the "Authorized Service Company, Quick Fix" and they said that I would have to pay for the service because it was out of warranty, I stated what William had told me. They said, "Well, in addition to this not being written in the notes, we no longer service your area so Samsung will have to provide another authorized service company for your unit." So I called Samsung back and spoke with supervisor Tyler (employee number- **) and Layla (employee number **). They stated that William had not written it in the notes for the extended service warranty and that Samsung does not even have an authorized service company in our area, so they wouldn't be able to help us. We have asked them to review the "recorded" service call with William as they stated that they couldn't honor because it was not in the notes.
I went back to my "warranty." It states that Samsung will cover all parts and labor if it is deemed to be a defect issue. We went back to Best Buy to receive assistance with the issue as we had purchased the DW80H9930US from Best Buy. The sales reps, Chris, tried to call Samsung and get help with the issue as they had a list of authorized Samsung service repair in SWFL. Samsung also told Best Buy that they did not have authorized Samsung repair service in SWFL. Best Buy started giving them the list. They said that Best Buy would need to contact Samsung's ECR service. Best Buy did state that this is always an issue with Samsung and that they have poor customer support and that there are a lot of issues with Samsung appliances.
ECR was closed, so Best Buy passed my complaint to Vanessa, she called ECR the following week. Samsung's customer service agent told Vanessa that Samsung would be giving me a full refund on my dishwasher as they know that there is a severe issue with the water wall on these dishwashers. Samsung had Vanessa fax my receipt and other documentation to a fax number. They were supposed to send fax her back with a refund letter so that I could purchase a new dishwasher from Best Buy. A couple of days went by with no word, so Vanessa called Samsung back. Samsung stated that they had no record of Vanessa ever calling and that no refund would be issued. Vanessa stated that Best Buy would not be able to help me any further.
Why are Samsung and Best Buy still selling these dishwashers if they know that there are severe issues with the product and that neither one of them will stand behind the product, so the customer is left with an overpriced appliance that does not work. Both companies have failed in providing customer service and support. Neither one stands behind the warranty. Hoping that all appliance companies will read this and stop selling Samsung appliances! Customers stop buying from Samsung and Best Buy!

I finally got my dream house in 2012, so I was excited to be able to buy all new, top of the line kitchen appliances! My husband told the salesman that he "loves bells and whistles" and that was the wrong thing to say! However, our excitement was short lived when each appliance started having problems. First was the dishwasher, next the refrigerator, then the range, and last of all the over the stove microwave. This all started just as soon as the one year warranty ran out.
The smooth top, convection range causes me to burn food due to its constantly increasing temperature to high, no matter what it's set on. The fan in the convection oven rattles. The icemaker of the 4 door French door fridge stopped working. The dishwasher throws out numerous error codes and stops working. The microwave constantly blows light bulbs and it starts running every time you open the door. We paid a small fortune to get these beautiful appliances for our fabulous new kitchen and wouldn't complain if we had bought them for looks only! Do yourself a favor and buy something that works and AVOID SAMSUNG!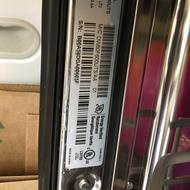 NewSamsung Dishwasher Model DW80F600UTS lots of different issues. From Day 1 hasn't worked properly. Steam vent under front of door wasn't shutting off, so water would leak out the front. "HEAVY" light started blinking, and pump wouldn't turn off, power wouldn't turn off, either. Had to turn off at breaker. Dried out the "flood" pan and sensor, and saw moisture on the water intake hose coupling, so tightened that. That helped for a week, then it went off again. Seems to be leaking out of tub, not hose. Luckily, still under warranty so service is coming in a few days.
SERVICE: Parts take 10 days!! So the repair guy comes, figures out what is wrong, then has to order the part and come again. It can be 2 weeks before you can use your new dishwasher again! When I talk to the service company (that is not Samsung, but certified to do their repairs), they make it sound like they know exactly what the problem is before they come out - leading me to believe they had a lot of this problem!! Never will buy a Samsung appliance again! Wish I had come here first to read the complaints.
How do I know I can trust these reviews about Samsung Computers and Monitors?
721,363 reviews on ConsumerAffairs are verified.
We require contact information to ensure our reviewers are real.
We use intelligent software that helps us maintain the integrity of reviews.
Our moderators read all reviews to verify quality and helpfulness.
For more information about reviews on ConsumerAffairs.com please visit our FAQ.

If I could give zero stars, I would. Avoid this company and their dishwashers at all costs. The way they treat their customers is criminal. Here is my experience: On June 20, 2015 we purchased a dishwasher model DW80F600UTS/AA at Best Buy. On November 10, 2015 the dishwasher stopped working and we contacted Samsung and they advised a service technician had to be dispatched to repair. On November 20, 2015 a technician came out to our residence and informed us that the board had to be replaced. On February 25, 2016 the dishwasher stopped working again. We contacted Samsung and they were not able to find a service technician to replace the board. Samsung arranged to have the dishwasher exchanged for a new dishwasher at Best Buy. We received the new dishwasher (same model) on March 11, 2016.
On February 1, 2017 the new dishwasher stopped working giving the same error as the first model. We generated a warranty service request. In this work ticket I requested that since we are repeatedly getting the same error with two separate dishwashers that we be refunded full purchase price of original dishwasher due to the problems with this dishwasher model. To keep replacing the boards or dishwasher every 3-11 months and the time it takes to get any resolution to our service issue is inconvenient. When the customer service representative called on February 2, 2017 I reiterated our position and requested to speak with a supervisor. On February 13, 2017 a supervisor called and assured us they could have the dishwasher repaired on February 17, 2017.
On February 16, 2017 a call was received from an appliance repair company. I discussed the issue with the dishwasher and they said they would speak to a Samsung representative. I never back from this company. On February 27, 2017 I wrote a letter to the BBB regarding my customer service issue. The next day I was contacted by Samsung who promised I would have service on my dishwasher immediately. On March 9, 2017 Samsung contacted me regarding my satisfaction on the repair to my dishwasher. I informed them that it didn't happen as whoever they contacted to perform the repair never contacted me. I advised this person that I wanted to speak to a supervisor immediately.
I haven't been contacted yet, and based on my experience with this company, I doubt I ever will. Do yourself a favor and buy another brand. Just look at the length of time it takes them to respond to my service requests. It's been over a month now and still have a broken dishwasher. What company thinks that is acceptable? Samsung does.

The majority of my appliances are Samsung. I have had nothing but repair bills for all of them. The latest is the dishwasher (DW80F600UTC). I will slowly replace all appliances. They are not very reliable.

In Nov 2016 I purchased a Samsung Dishwasher. I was having some remodelling done and did not have the dishwasher installed until shortly before Christmas. Model # DW80j7550US/AA. The dishwasher never completed a cycle, and never washed appropriately. With Christmas business I called Samsung shortly after the holidays to schedule repair. This is a brand new dishwasher! Scheduling service was complicated because when I called in (Dominican Republic) the washer was not under warranty - brand new. After emailing the bill of sale and many other hoops the dishwasher was scheduled for service. On 1/16/2017 NISI sent out a service technician who diagnosed it needs a new part. This part should take about 3 weeks. I called NISI on 2/27, left a message and also sent a text (his requested method of contact).
Today 3/9 after not getting a reply with 3 calls and 2 texts I finally get a text from him stating call the technician with a cell number. I stalled the cell and sent a text. No reply. I have since contacted Samsung and received a new 41 number and hopefully will hear back. The upside of this situation is that I had a Samsung refrigerator scheduled for delivery. I quickly cancelled. Buyer please beware. I wish I would have googled these reviews first. I will never ever purchase a Samsung product and will tell anyone that I come into contact with. Unbelievably awful!!!

STAY CLEAR. We replaced all of our kitchen appliances in 2014 with Samsung products including a fridge, stove, dishwasher, and microwave. This has turned out to be an expensive mistake. The 1 year warranty covered the first year of problems. Since then we have had to spend hundreds of dollars to keep them running.

Microwave model ME18H704SFS and Samsung Dishwasher purchased Dec 2015 and installed March 2016. Began use then. Dishwasher was a lemon immediately with an electronic board error E11. Samsung warranty sucks! Getting thru for help and not will to replace unit just to "fix" which wasn't possible. Terrible customer service. Dishwasher never worked from day 1. Microwave also lasted less than a year after installed. Feb 2016 went to use popcorn sensor feature and lo and behold received that E11 error! Not sure if we had ever used that feature before since it was at a cabin. That is used mostly in summer. However, tried all other sensor features and they all give same error now!
Microwave still runs on regular time but I purchased this model specifically because I like the sensor feature. Called the number and was told they would fix same as the dishwasher thing. The repair company called and was scheduling to come fix as this is also a built-in unit and the charge was going to be 200 to come plus additional beyond that. I learned to ask because of dishwasher incident. They said no warranty coverage after Samsung told me yes. I decided to not waste any more time on this because I could buy a different microwave cheaper than wasting my time and energy trying to get it covered which is what Samsung hopes you do! Don't BUY Samsung appliance!
I am waiting for my oven and fridge to have problems since I bought a suite of them for a new kitchen. I had originally liked a range and that is why I went with Samsung. Never had problems with that so when we remodeled a cabin I went with a Samsung suite of products purchased at Lowe's. Got a great buy! I did not purchase the Lowe's warranty. Next time I did because of all the issues with these appliances! Samsung warranty forget it!! Buy the store warranty. 1/2 of my Samsung appliances are garbage that I replaced with American made Maytag Dishwasher and Whirlpool microwave. Lowe's made the dishwasher purchase right and took it back even though I did not buy their warranty - they were awesome! Thank you Lowe's.
I purchased a new suite of appliance this year Feb 2016 for my remodel of townhouse and will see if those appliances last longer than a week or year. Learned my lesson, I took back another Samsung microwave same model that had been purchased because the first one is crap and traded it also for Whirlpool. So now I have Whirlpool appliances from Lowe's and I will report if I have any issues on them! I spent the extra for the warranty 3-year but I think it will be well worth it. I have little faith that appliances are made to last anymore! Good luck if you purchase Samsung! I will never buy Samsung again - not anything with that brand name on it.

I purchased my dishwasher and had it installed. After two washes the washer started leaking. We called customer service and after many attempts of scheduling and cancelling because they're too stupid to confirm an appoint or called the correct number, they came. The technician told us that the panel was not sealed properly and that he would come back and get it fixed or would replace with a new one. The following appointment attempt, they called on me at the very last min and asked to come another. They told me 10:30-11:30 but instead came at 5pm. Another technician came this time but instead of fixing it, he blamed on the height adjustment screw removal and that's why the washer was leaking.
What kind of ridiculous excuse is that because it's not even related!? They refuse to fix my washer but what kind of crap machine breaks after two washes? Reassure that I will never buy a Samsung product again. I would make sure to make everyone knows about this. I would rather buy LG or GE instead of this crappy, poor service Samsung brand!

We bought our dishwasher over a year ago and have had nothing but problems. It smells all the time! We never had this problem before with our old one. The detergent latch opens about half the time but it leaves soapy residue every time. Do not buy a Samsung dishwasher. I will be replacing this one very soon.

We purchased our dishwasher in April 2016. It has never worked properly. It started out ok but then went down hill. Now it's loud and doesn't wash at all. When I open the door the dishes are dirty and the soap is still on the door. I called Lowe's and was told they would contact Samsung and I would get a call in two days. NEVER HAPPENED. I called back and Lowe's gave me the Samsung direct number. I call Samsung for a repair, was told per my SN and model number that I purchased it in 2015. Wrong. Wasted 10 more days waiting for my receipt from Lowe's. I email it to Samsung and call back, they tell me someone will be out the following Tuesday after 3. I leave work early, nobody shows up at 3:30.
I call Samsung back, I am told sometimes they run late. I wait til 5:30 and am not happy. Call Samsung back and am given the number for the repair shop. I am pissed. I call the repair shop. I am told that nobody set anything up with them and this is common. Apologies, then I am told that it's not covered because I bought it in 2015. NO I DID NOT. Repair shop calls Samsung to verify. Repair shop calls me back and sets up another appt. for the following Monday. I take the day off because they call and ask if I can do it earlier. Thursday, 2 days later, I get a call to set up an appt. and that it won't be covered because I bought in 2015. What? No! Apologies. Two hours later a message on my phone from repair shop, trying to set up an appt. and it's not covered... WTF is going on?
Monday comes, guy shows up with a big box of parts. Looks confused. Halfway through, two hours have gone by, tells me he needs to go to the store for a hose? Two hours later he has replaced almost every part in my dishwasher. I can hear it filling with water. He seems pleased and after a four hour repair job leaves after telling me to let it run. I do. After a hour I open it up and I see the same soap that was on the door. I gave up. Husband called, they are coming back Friday... OMG! We spend thousands on all new Samsung kitchen appliances and I am scared to death. HORRIBLE CUSTOMER SERVICE. Cannot understand what they are saying, don't know what they are doing, can't understand what I am saying and that's Samsung. Repair shop is just as bad! I have told everyone I know do not buy Samsung... Just got a new work phone... Samsung. Great.

My advice - DON'T buy Samsung products. The condo block my friend lives in has Samsung dishwashers installed. Three of them that I know of have quit. It is impossible to get good service with any kind of results. The technician at the other end keeps you on the phone for hours and won't consent to new parts or agree that there is a problem covered under warranty. It took one gal seven months to get any results. Two are still working on it. They are not cooperative at all. We had a Samsung TV. What a disaster. The picture was always blurry and with movement, it was followed by a delayed shadow. We've switched to LG products and love them.

Purchased this Samsung Dishwasher DW80F600UTS in February 2015, several problems occurred during the first year. Three repair visits to the house toward the end of the first year of the warranty. Soap dispenser would not open, etc. Circuit board replaced. Samsung refused to replace this lemon. Now as we come to the end of the second year, problems once again. Error code for leakage. There is no leak, and dishwasher will not operate. It just continues to run the pump. Samsung will no longer fix, claiming it is now out of warranty. The dishwasher lasted less than two years. Unfortunately I used my Lowe's credit card, I understand if I would have used VISA, MASTERCARD, etc. they may have automatically covered up to an additional year. I will never buy another Samsung dishwasher! This dishwasher is unreliable and Samsung customer service does not stand behind this product.

This Samsung dmr78ahs dishwasher has been nothing but trouble. We constant failures. There are rope cables attached to springs that counterweight the door. They constantly break. The upper basket adjuster brackets fail yearly. Now the water inlet valve is leaking. These are all poor component quality issues and design problems. My cheap builder installed dishwasher lasted 15 years without a single issue. I just got tired of the noise. Junk, Junk, Junk!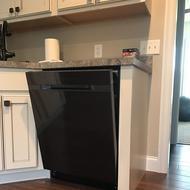 I want to start this by saying please buy something else. I bought the model # dw80j7550ug and I wish I never did. This thing has a dry feature on it and guess what? It doesn't dry. I've been on the phone with Samsung a number of times and they tell me that it's highly recommended to use a dish washing aid. I don't understand why must I use an aid to dry my dishes. They say it helps to repel water but wait I thought the water is what helps wash the dishes? It gets better, they also said to open it when it's done to allow to dry. So now I have to either wait for it to get done not drying my dishes or I'll have to come home to open my dishwasher so that way my dishes don't smell like mildew.
Thanks Samsung for such a nice product that doesn't do what it says it will do. It also doesn't have it anywhere on the box or user manual saying you need to babysit your dishwasher. Also, buy some new dish drying towels because our dishwasher that you just bought for over $700 doesn't dry dishes. Samsung lost a long time buyer and supporter. I'll never buy another Samsung product!!

We purchased this dishwasher in April 2015, but did not have it delivered to us until June when our kitchen was completed. The first dishwasher to arrive was damaged. Had a bent door frame so the door would not close. The company we purchased these from (PC Richards) replaced the dishwasher and a new one was sent. In December 2015 and exactly 6 months from when dishwasher was installed it is no longer cleaning the dishes or drying them. We had a tech come out and it was determined that the heating element was bad. We also showed him a broken wheel on the lower rack. Tech said he would order parts. The parts came in and the tech was here to fix the issue. However, the wrong wheels were sent. To this day we are still without the proper wheels.
Also, we have had 3 service calls since the new heat element was installed and still dealing with the dishwasher not cleaning or drying the dishes. The tech made a call to Samsung and they did some tests and it showed the dishwasher is functionally normal with no issues. So here we are with a dishwasher that is only 6 months old not working!! This dishwasher is garbage.

I am one of American family who lives in Turkey. I bought a washing machine from Turkey. Right now dishwasher machine (DW9950 WHITE) is under warranty in Turkey. I sent a machine after I had a problem to service and after couple weeks it is still in the service center. I called service center several times. They told me "we are waiting spare parts from distributor" which is I cannot accepted from SAMSUNG for a month. SAMSUNG TURKEY is working with rookies that's why I have a problem here. For a month still I don't have dishwasher in my house. Looks like not coming next month too. Especially SAMSUNG KOREA should be very careful while they choose their main distributor in TURKEY (SAMSUNG TURKEY).

I purchased the Samsung dishwasher model #dw80f600its in March 2014 with a one year warranty from Samsung and a 2 year extended warranty from hhgregg. Within the first year Samsung had to come out twice, both times there was a water code error. After that, I had to contact hhgregg for another water code error. They have come out twice for the same problem. Each time the service tech had replaced a sensor on the unit along with a tank on the side of the unit. Now, I still have 3 months left on the 2 year extended warranty. Surprise, I have the same error again. This time hhgregg says that they are no longer responsible for this dishwasher, the cost of repairs had exceeded the retail cost of the unit. I will NEVER purchase another Samsung dishwasher and it certainly will NOT be from hhgregg. What is point of an extended warranty if they won't honor it?

We purchased a Samsung dishwasher on 10/30/15. It began failing and showing error codes three weeks after its one year warranty expired. Samsung sent techs out three times, twice with no charge and never fixed the fundamental problem; the machine stopped cleaning dishes. Samsung made exceptions and we did not pay a cent for the service visits, but it was utterly impossible to get the company to simply replace the washer as it was just not functioning any longer. Short fused customer service at best and obviously a product line that is inferior. A class action lawsuit ought to be initiated against the company for anyone who bought a dishwasher that has failed in the past 5 years. An abhorrent experience with a dishwasher that was less than 14 months old.

Problems since first day... We purchased all our new appliances for our new home to be delivered Feb. 28, 2014. We are very happy with the fridge, washer, dryer. Not so happy with the over the stove microwave as it does not seem to pull in the steam at all and it goes all over the front of the cupboards and underneath as well. And steam drips down the tiled backsplash. The dishwasher is a whole other story. The young fellow brings it in and installs it. While testing it water flooded out the bottom of it. He tried several things but could not figure it out. He called his office and told them the problem and they said they would send out another dishwasher the next day. He then leaves. I go downstairs to get something from the freezer and there is water all over the floor at the bottom of the stairs.
I call the store and he comes back. I asked him why he would leave when he knew there was a problem. He had forgot to connect something so he fixed it and returned the next day with another dishwasher. This is number 2... So he does all the connections and lo and behold, water comes spewing out the bottom again! He did try to conquer the problem but to no avail. He called and told the girl at the office about it and they said they would send out another one. This is all in the first week of us supposedly trying to enjoy moving into our new home. So a few days go by and along comes dishwasher number three with two fellows to install it. One does all the work while the other one just lolls around on my new engineered hardwood floor. I wanted to scream!! I was afraid by the time this was figured out I would have a whole lot of marks on the floor. They were here for over two hours and yet again it leaked. Really??
I called the appliance store and complained non-stop like a lunatic because of frustration and to get right down to it, anger. They suggested that I try to pick out a different line of dishwasher. I said I wanted the one that matched all the other appliances. Would they be willing to trade them all out? Well, of course not. So yet again along comes dishwasher number 4 with yet another installer. He installed it and did a quick test and yay! It didn't leak. The next day, water on the floor. In the meantime, I am back at work and have to arrange these visits with repairmen for before I start work at 4 in the afternoon. So, I call the appliance store and rant again. They make an appointment for me with one of the salespeople at a different location. We purchased from a large retailer on 149 Street, Edmonton. They sent us to the 47 Avenue one which is a fair distance from where we live.
We went in and it seemed like the salesperson felt we were being unreasonable. I asked him if this kind of product and service would make him happy and would he like it if his time was taken up with this. Long and short, he tried to get us to change to another line and we said no. So he said he would give us $200 off. Big deal. But it was better than nothing. They said they had never had this kind of problem before, so we said lucky us, being the one off. So again back to a number of visits from a serviceman. We were told that maybe our water temperature was too high and this was causing a problem. The temperature of our water was lower than what it gets to on the sanitize cycle by 35 degrees so that seems to be a load of you know what. Then he said it was this part at the front of the dishwasher so he replaced that. Still leaking. I give up and just keep putting a dishtowel under it to catch the leaks and save the hardwood floor.
Three years go by (not quite) and now besides the leak it stops draining on occasion and the OE light comes on. I call another repair place that services Samsung products. The guy comes out and says that he needs to replace a part so we do that. He sets up a test and promptly leaves. It hits the rinse cycle and water comes spewing out the bottom again but it did drain. Call them back and have to wait a couple of weeks and he comes out and did something to it and said if there were any problems to call them after Christmas because they would now be closed until after the New Year. Yay!! The third visit he comes out to repair it and now the stupid thing will not do anything. It will not fill even at the beginning to start the leaking process or the OE light to come on, just sits there.
I do feel for him as he seems to be a very nice man but now he is waiting to hear back from the Samsung technical help desk to get back to him with some things to try. He tried to replace the circuit panel, but the new one did the same thing as the old. He got out some manual and tried to do some troubleshooting and nothing happened. He checked the pump but that was ok. He checked the overflow sensors and they were fine. Before he came out for the third time I ran it through five cycles. On the normal cycle it did what it was supposed to do and no leaking. Same with the Heavy cycle and Delicate. Did the Quick cycle and it leaked but it did empty. On the Pots and Pans the OE light came on and it did not drain and it leaked. After he tried all he could think to try on the last (third) visit it won't do anything but the lights do come on, just no action.
I thought I could just go back to putting the towel on the floor and maybe have to try draining it manually or with some luck maybe it would work when I held down the drain button (sometimes it did and sometimes, no). So here we are with the mother of all dishwashers that looks nice but is totally useless. And I get the distinct pleasure of washing dishes. I don't mind doing that when I feel like it but not all the time because I have to. We will wait now to see if Samsung tech came up with anything for our poor repairman. If not we will ask for our money back on the repair that was useless and go buy a dishwasher from a reputable appliance store from reputable salesperson after doing a lot of research to find out what one would be the most... reputable and reliable. Because we know now for sure that it is not Samsung and we did not care for the service from the place we purchased from originally.

I purchased an entire suite of gorgeous Samsung stainless steel appliances for a hefty sum of money. The Samsung dishwasher NEVER cleaned the dishes. In fact, the dishes came out dirtier than when they went in. After 5 years of having to hand-wash EVERY glass that came out of there, I purchased Bosch dishwasher. What a difference!! Every dish that I unload is now sparkling clean, literally.
As for the rest of my Samsung appliances... The over-the-range microwave touch screen panel went out after only 5 months (covered by warranty). The touchscreen panel went out again after another year, which Samsung refused to warranty it. To repair it would have cost more than to replace it. I replaced it with a different brand. Oh, and the authorized Samsung repairman said to NEVER put a pot of boiling water beneath the touch screen panel. Really? It's an over the range mounted microwave.
As for the Samsung range, one burner on the electric, smooth top range completely stopped working after 2 years. I had to have that repaired for a few hundred dollars. As for the Samsung refrigerator, the icemaker went out after only 7 months. They only warranty the icemaker for 5-6 months. That cost me $400 to replace. It went out again 3 years later, and again had to replace it. The freezer door also had to have the hinges replaced after 3 years. So now, I have an entire kitchen of mismatched brands of appliances. STAY AWAY FROM ALL SAMSUNG APPLIANCES. YOU WILL SPEND A FORTUNE REPAIRING THEM.

Recently we converted our less than six month old our entire upgraded GE kitchen appliances to Samsung Black Stainless Steel at roughly $6,500. In spite of the cost we have always had success with the product brand including TV's, cell phones, tablets, appliances you name if Samsung makes it we buy it. However the dishwashers has been less than acceptable not to mention most disappointing. Besides being "noisy" there's always standing water after a complete cycle. If unattended the odor of spoiled or soiled smelling water it's all but unbearable. No problem. We contacted the local Samsung authorized technician to make a house call and repairs or adjustment. After a half hour he said everything was in working order and the accumulation of the standing water was normal... I quote "it's needed to prime the pump"... That of course is BS!
First thing when you start the washer is WATER! Subsequently and after filing a complaint with customer service which I might add are nothing more than pimple face robots sitting in front of computers that reply from canned presentations. Eventually and after some persistence our complaint was sent to another department and after waiting three or so weeks we get a call back saying they are sending us a complete refund. Once again my faith is restored with Samsung; but it's not to be! After a few more weeks the promised call back never came so we reached out to their customer service and once again we got a runaround with the pending refund.
But today we get a call from the department that makes the final decision telling us it was a mistake and the problem is considered maintenance not covered under their normal warranty... Mind you we are talking about a product that was less than three weeks old. Their (CR) mannerism with a response was being read not communicated like in a normal conversation; most disappointing to say the least. The CR kept repeating the same verbiage word for word over and over several times. Before I wrote this review I did some research and discovered besides Samsung - Bosch and Whirlpool they share this common problem. Their recommendation is adding vinegar and lemon juice in the dishwasher or you can buy a cleaner/chemical specific for dishwashers to control odors; expect to pay around $12-$13. So Samsung potential dishwashers buyers beware!

POTENTIAL SAFETY HAZARD: Samsung dw80f600uts Dishwasher - This has been the worst appliance experience ever. Dishwasher worked fine for about the first 18 months. Then, on occasion, it would give an error code (Smart Auto and Heavy would flash). If we stopped and restarted it, it would usually run through the cycle. We are a family of only 2 adults, so we are not hard on it, nor do we run it more than 1 to 2 times per week due to handwashing some dishes (as the dishwasher cycle is VERY LONG... like 3 hours)! This morning the dishwasher stopped and gave error message, I tried to stop and restart. No luck. Then, while I had the door open, it started on its own!! (I'D CALL THIS A SAFETY HAZARD).
With all the complaints about this unit, I would think that Samsung would do a recall, or an optional recall, so at least those with issues can get unit corrected on Samsung's dime. We are choosing not to pay to have it fixed, as the reviews show that most have had to have fixed multiple times. Would rather buy a different brand than invest more in this faulty model.

Samsung Model DW80J3020UB - I notice several weeks ago that it wasn't drying properly. Couple of nights ago I was getting ready to go to bed when I noticed the dishwasher was still running in the heavy cycle which we never use. I tried to stop the dishwasher but couldn't, it kept going back to the heavy wash cycle. Then the door latch broke and dishwasher thinks it's in the wash cycle with the door open. I didn't want to go to bed with fear of the dishwasher start in the wash cycle and flood the kitchen. I took the door panel off and cut the wires going to the motor and the motor kept running, got the door to close with motor still running. Got up the next morning motor not running, went to Lowe's and bought a Bosch dishwasher. This Samsung dishwasher was bought in Nov 2015. After reading several other reviews I had to add this to warn people not to buy a Samsung dishwasher. PS Lowe's does not carry Samsung. Any more wonder why.

We bought all new kitchen appliances (4) from Home Depot and they were delivered Feb. 2014 to our winter home in Florida. The dishwasher has been used under a couple of dozen times (only 2 of us) as we did not use the place much since then due to our schedules. Arrived in Florida this week and first time we tried, it failed. We got the "HEAVY" & the "Smart Auto" indications on it and nothing worked. Searching online we find that this issue is well-known and well-reported by a lot of folks and reading their comments makes us regret buying anything from Samsung. Contacting Samsung was beyond ridiculous.
Justin ** | Samsung Electronics America | Social Media Support & Executive Customer Relations made these comments: "...there is no known issues with this particular model." Despite all sorts of homeowners and technical people knowing all about it? Really? And also, "...we would be unable to offer any accommodations." Nothing? That is all you got to say and all you wish to do? Really?
I even sent this guy links to various review sites all describing their exact same pain and you are totally unaware? Really? Perhaps lift your head out of the sand might help? We could pay to fix it as some have, but as so many stated the repairs failed again and in some case again & again I feel the best action is to throw Samsung in the garbage pile where they belong and purchase a better and more reliable dishwasher. And now I fear the future as the range, the fridge and the microwave are also Samsung appliances. Why oh why did I buy Samsung? ARGH!!!

In 6 months, my Samsung dishwasher that retails for $1600 has broken down 4 times and caused 3 floods. Two of the breakdowns happened on Thanksgiving day and Christmas day (before doing any dishes). Samsung customer service is horrible - drones who can only quote company policy and nothing more. Please share your stories at Samsung Repair Support Group on FB - I started the page yesterday hoping that if enough people join and share their stories, Samsung might pay attention and change their lack of product support.

Purchased at Lowe's who said all repairs are done by Samsung. First we got a lecture on how to wash dishes. "Run hot water in sink first, use less soap, use vinegar, use a rinse aid and it will work fine." They all have a nasty film on them even when using rinse aid (apparently required by them). Second repair visit canceled because they needed to order a part. Third visit, another "how to wash dishes lecture" and supposed part replacement. Fourth visit, another part replacement, and the dishes are still filmy and nasty. They refuse to replace it. Lowe's has bowed out. Never buy Samsung again.

This machine very quietly does nothing. It does not clean dishes. The 18 year old antique worked. This does not. Glasses are actually dirtier with food residue, as though it never empties the dirty water! What is worse it takes 1.5 to 2 or more hours to do nothing! We are going to ask Home Depot to take it back. As a modern appliance this is a disaster.

ConsumerAffairs Research Team
The ConsumerAffairs Research Team believes everyone deserves to make smart decisions. We aim to provide readers with the most up-to-date information available about today's consumer products and services.
For more than 70 years, Samsung has been an industry leader across all technology markets. Its investments in medicine, consumer electronics, finance, plant construction and more make it an all-in-one brand.
Building better built-in options: Samsung only offers built-in dishwashers, producing six different models with two different washing styles.
Rotary washing arms: Like most dishwashers, these models use a rotary arm to direct spray throughout the tub.
WaterWall technology: This innovative take on cleaning uses a powerful wall of water to attack dried-on food residue.
Adjustable racking system: Fit more pots and pans side-by-side with table settings using the adjustable racking system.
Zone booster options: Direct the water pressure to where it is most needed with the zone booster.
Best for Homeowners and families
Samsung Dishwasher Company Profile
Company Name:

Samsung Computers and Monitors

Year Founded:

1938

Country:

Korea Sout

Website:

http://www.samsung.com/