Consumer Complaints and Reviews

We bought Samsung DW80H9930 series on 6/28/14. Paid $1000 at Home Depot plus $300 for installations. As soon as we started, in 15 minutes, water started coming out. We called Samsung. Company guys came several times to solve the problem but could not help. We repeatedly call Samsung. Like company does not care. We called outside company, P.C. Richard repair guy & again problem was lingering around. Last week, we called Samsung & ask for final help before we get rid of the dishwasher. Again, manager does not care for it. I guess Samsung does not care for their customers. We bought brand new dishwasher from P.C. Richard & they will haul this Samsung dishwasher & install the new Whirlpool one. Now onward, we are not buying Samsung or neither our friends.

This is the short version of our nightmare with Samsung. Dishwasher (Dishwasher DW80F6000TS/AA) turned itself on at about 2:30 in the morning. Water backed up into sink and overflowed on countertops, then into cupboards and flooded the entire kitchen floor. Tried to turn it off from button on top of washer door. It kept coming back on and continued flooding. Finally turned off circuit breaker in garage. That stopped the washer and water.
Called Samsung next day. Very polite lady apologized and promised us that Samsung would repair washer and fix any water damage. They gave us claim numbers for both washer and repairs. Rep from independent Samsung came from Tampa. He took panel off bottom of washer and took a quick look with flashlight. Then had me turn on circuit breaker. He ran it for 15 seconds and said it wasn't the dishwasher. As he was leaving he told me to keep the circuit breaker OFF as Samsung may want this unit shipped to New Jersey for further inspection.
Obviously he didn't tell Samsung this. A rep from Samsung sent an email weeks later saying they were denying claims indicating that our dishwasher was fine per their Tampa rep. Homeowner's insurance requested estimates from general contractors. $50,000 is the most current one. It's been over 3 months now and we have a company that deals with this kind of issue working with us get this resolved. They said it could take up to 9 months. NEVER USE SAMSUNG!!!

The reason for this review is to alert purchasers to the problems associated with the Samsung dishwasher, and to the importance of selecting a reputable appliance sales company. In October 2016, my wife and I purchased a Samsung Appliance package from Bill Smith Appliances in Fort Myers Florida. Shortly thereafter, we began having problems with the dishwasher. I had researched the brand, and was already aware of draining and pump problems with the dishwasher, but was informed that the new model dishwasher was fixed.
After repeated problems with the unit, a detailed search on this website confirmed that there were recurring problems with draining, and flooding of these dishwashers, and one caught fire causing thousands of dollars in home damage, as did the flooding issues. Two other units had circuit board electrical shorts, and one retailer was advising his customers to avoid the Samsung dishwasher. Because of the fire and recurring flooding issues, despite the fact that the unit was still under warranty, we decided we would not have a potential fire situation in our home. We would replace the unit rather than have it repaired under warranty.
I explained these issues to the Vice President of Bill Smith Appliances in an email, and almost immediately received a response: Although our dishwasher was beyond the 30 day 100 percent return policy, the company would accept its return for a reasonable restocking fee, and apply all sales incentives to a replacement unit should we decide to purchase another dishwasher from Bill Smith. While the product probably could not have been of more concern, the benefit of having done business with an entirely reputable appliance dealer was phenomenal. What is also phenomenal is the CONSUMERAFFAIRS.Com website, where folks can post their experiences, the good and the bad, and the service and attention to customer experience that one appliance retailer extended to us.

Doesn't even deserve ONE star!!! GARBAGE!!! I don't know how Samsung has not had a class action case filed against them after reading HUNDREDS of complaints about their dishwashers. Every reviewer has the same complaint about various models, UNBEARABLE, DISGUSTING ODOR!!... And SAMSUNG customer service does nothing!!! Oh, wait, they do offer suggestions on how to CLEAN their dishwashers with TANG!!! Yes, *** clean the disgusting odor in the brand new dishwasher with an orange flavored drink mix!!! *** WHAT??? The odor is unbearable and dishes are cleaner when I put them in the dishwasher than they are when I take them out!!! Shame on Samsung for this disgraceful product and lack of concern for their trusting consumers. They should have stuck to making televisions!!! NEVER make the mistake of purchasing a Samsung dishwasher.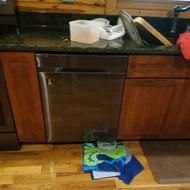 I bought a package deal of Samsung appliances when I moved into a new home. Fridge, Microwave, Stove and dishwasher. After 3 months the dishwasher started to leak. We had numerous service calls to fix it. It would be fixed for a short time and then leak again. At one point it quit completely. We had to shut the breaker off because it just kept flashing and beeping. Eventually they deemed it unfixable and was to issue us a check for the cost of the dishwasher in March 2017. We have yet to see a check 6/24/2017 and the dishwasher is completely unusable as it has flooded our kitchen and warped my wood floors prior to that... We were given a number to contact for Samsung claims for the floors and after many call, and told we would have someone call back they have NEVER CONTACTED US.
The Samsung fridge started making noises about 6 weeks ago... (How convenient after the year warranty). Anyway I had the repair man come out last week and he informed me that there are 5, yes 5 recalls on the parts. It is Currently in my kitchen completely unusable.These appliances are less than a year and a half old. This is not ok... It is unacceptable to sell crap like this at the price it is and get away with it. I AM NOT MADE OF MONEY. NOR HAVE I EVER BOUGHT A KITCHEN FULL OF APPLIANCES. SO IT WAS EXCITING... AND NOW ITS A NIGHTMARE. If I could give you NO STARS I WOULD!
How do I know I can trust these reviews about Samsung Computers and Monitors?
824,103 reviews on ConsumerAffairs are verified.
We require contact information to ensure our reviewers are real.
We use intelligent software that helps us maintain the integrity of reviews.
Our moderators read all reviews to verify quality and helpfulness.
For more information about reviews on ConsumerAffairs.com please visit our FAQ.

We bought a Samsung DW7933 series dishwasher in July 2013, at Lowe's, and the control panel is malfunctioning now. (5 year warranty on panel) We contacted Lowe's first and they said they had about 50% of them come back with same issue which caused Samsung to stop manufacturing until issue was solved, but that we would have to call Samsung to service it since we hadn't purchased extended warranty. Samsung said they have no one in our area to service us, to contact Lowe's and they will find someone. Lowe's did, and an appt scheduled. Two days later we get a call from service people stating, they don't work on Samsung. Now, Lowe's is contacting Samsung and we should receive a call back from Samsung in the next couple of days.

Dishwasher with water wall - It started to be defective a couple of months after purchase (stopped working and showed a message on the top of the door to indicated what the problem was). Got repaired. But since at first, the problem was sometimes present and sometimes it was okay, they told me it could not be repaired and I would have to pay for the visit if when he comes, he cannot see the problem. So I had to wait for it to be defective all the time for them to repair it. This happened after a month since the beginning of the problems.
One year later was defective again but this time more than one problem had to be addressed. The pump had a problem. The water wall isn't moving so the dishes that are on the lower part are not washed. And the motor had to be changed (I don't know if this is the same thing as the pump). And I had to wait a whole month for the parts to be available so these problems had to wait. Then someone came and repaired, or tried to repair. The motor or pump works better, it doesn't make that weird noise anymore, but the water wall isn't repaired, the repair didn't work. So the water wall will have been defective for a month and a half if this time he is able to repair it, or longer if he is still not able to repair it.
The extended warranty applies only if the same part is broken three times, not if one part is defective, then later another part is defective and so on. Also the extended warranty can apply if in the end the dishwasher will not be repaired, but how long will I have to wait for them to decide they end the trying to repair period of time? Also, this time they will probably replace the same part that had been replaced during the first year of warranty. But since it happened during the first year of warranty, it will not count for the extended warranty that started at the end of the first year. So even if the part is replaced a third time, the first time will not count.
In other words, there is not much chance that my dishwasher that is always defective will be replaced. I am stuck with it. I will never buy a Samsung product again. This is a shame, it is always defective and all this time waiting for a repair wastes time of my warranty since nothing is happening. They should replace it after three problems, not three times the same part broken. And they should extend the warranty during this whole month when I am waiting for it to be repaired. It was an expensive dishwasher. What a waste of money.

We purchased a Samsung dishwasher last year as part of a complete kitchen package. The warranty was over 1 month when the dishwasher started leaking. We contacted the company and we were informed the washer was out of warranty and to repair by ourselves. This was a 600 washer. I am never buying another Samsung product ever again.

Our Samsung dishwasher started leaking one week ago (3 years old). Not under warranty. It was very hard to get a Samsung approved repairman. He comes in and after 10 mins. and 95 dollars tell me I need a new part but the good news is that there is a service bulletin on this part. I NEED TO CALL SAMSUNG AND ORDER THE PART. Samsung, he assures me, will pay for the part. It is a scam. When I called Samsung, they had never heard of a service bulletin, might not have heard of Samsung, not sure.
They kept reading from their cue cards: "Your dishwasher is not under warranty anymore." They were rude and very unhelpful. I have FOUR Samsung appliances in my kitchen, did not even treat me as a valued customer. When I offered to send them the service bulletin on the part, they did not even answer. DO NOT BUY A SAMSUNG APPLIANCE! By the way, the microwave's heating sensor stopped working after one year. Their products are lousy and their service is even worse.

I bought my Samsung DW80F600 less than 2 years ago. Last month I had to have it repaired, calling Samsung is an exercise in futility, on hold forever, excuses, being put on hold to see what they can do, etc., etc. Finally I get passed off to their service contractors and they come out to repair the dishwasher, it seems to work but within 3 weeks same problem happens again. Clearly it was not correctly repaired. This time I google the symptoms and it seems it is a pump problem, not what was fixed last time. Call Samsung and they want another service fee of $100 to fix same exact problem from 3 weeks ago. My answer to is trash this dishwasher and start over. Can't believe this appliance didn't even make it 2 years. I really wish I didn't also have a Samsung refrigerator and range. Don't make my mistake. My new motto is anything but Samsung.

Purchased a Samsung dishwasher unit from Home Depot in December 2016. Model#; DW08K5050US. After 4 month of usage the dishwasher catch fire on May 3rd., while in operation. Fire Department fire report conclusion results stated that the cause of fire was a mechanical failure of the unit. Has been very difficult to solve out the incident with Samsung Fire & Marine Management Corporation team and assigned adjuster. My property suffer heavy damage and the estimates exited the 20K mark. I will not suggest to any friend and family Samsung products especially the dishwashers.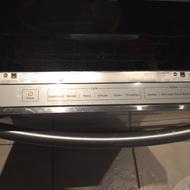 We made the ultimate mistake by purchasing this Samsung Storm Wash dishwasher. The dishwasher smells and constantly traps mold in the dishwasher & on the dishes. After less than 1 year the dishwasher hardly cleans at all, the glasses look worse after being washed in dishwasher than before. There is a gross film left on all dishes despite using rinse agent religiously. Silverware has to be rewashed before using. I hand wash more dishes than the dishwasher washes! So frustrating & I'm stuck with this piece of junk till I can afford a new one. Very disheartening. Samsung has no care despite emails sent to them. They refuse to help & refuse to take product back. I was willing to trade for another Samsung dishwasher. Shame on any company that doesn't stand behind their product! My daughter got an Mac Pro recently that began to split apart after a month; Apple immediately took care of this. Samsung could learn a thing or two!

I also bought a Samsung dishwasher about 2 years ago and I will never buy another Samsung dishwasher again. And I wouldn't buy another Samsung appliance either because of it. The issue I am having is with the lower arm. It keeps popping out from the tube it sits in. Every time I have make sure it's in but 9 times out of ten it's out when it's finished. At first I thought the part had sheared somehow and that is why it was loose. So I bought another arm. $110.00 bucks! The new one popped in and lo & behold it did the same thing. I also have the same issue with the black gunk that builds up at the bottom of the door. I clean it quite often. It's GROSS! If you have a Samsung dishwasher run a paper towel along the inside of the bottom of the door. See what you get!

We bought all Samsung appliances for our new home. The fridge lasted 2 years, needed a new motherboard and fan. Our washer is the exploding machine, on recall, check if you have one... Our dishwasher broke 5 times in two years, we had to pay servicemen 120 bucks each time to look, motherboard, seals, racks, etc. Everything replaced. Samsung service said initially they would replace machine before one year, but it dragged out longer, so they said, "Too bad you're no longer under warranty". It was never fixed. A so-called Samsung guy showed up, said we should not use Rinse Aid, causes bubbles. I laughed at him. No one from Samsung had anything on file he came to our home. I met two people last week at Lowe's looking for a dishwasher, they had the same machine I did. We laughed. Never again. Samsung dishwasher the worst ever! Stay away!

I had a GE dishwasher for 15 years and it worked well but I wanted a new stainless steel one. I purchased a Samsung from Best Buy. It is hard to believe how unhappy I have been with this appliance. I have paid $357 so far to continue to have it fixed and it is not quite three years old. Today I am having it hauled away as I am cutting my losses. Samsung should not be in the business of appliances if they can't do any better than this. It did not clean the dishes well, it did not dry the dishes well, and it was of poor quality but yet cost a lot. I will NEVER buy Samsung again.

Purchased the Samsung Waterwall Dishwasher in June 2014. Brand new technology - $900 worth! Pffff!! Within 6 months, had to have a repairman out because of an error saying there was a problem with an O ring in the water pump. Within 12 months, they were out again for the same issue - TWICE! Finally replaced it on their 3rd trip. 12 months after that (2 days ago) got the 7E error, telling me the waterwall was being blocked and couldn't move. Nothing blocking the waterwall and it is just stuck. Repairman coming AGAIN tomorrow to check. My extended warranty through Lowe's is up in June 2019. I WILL be buying yet another brand dishwasher when that happens. I will NEVER buy another Samsung appliance. They should stick to phones only!

I have a Samsung dishwasher that smells horribly. It has from day one. I thought it must be my plumbing or drains so I have spent $700 on plumbers only for them to find nothing wrong except my dishwasher is junk and stinks! Customer service went around in circles telling me to clean it when I have already cleaned it in every way possible and with everything known to man! I took the whole thing apart and uninstalled it and nothing helps. Samsung won't do anything about it. It is under 1 year old.

I had a Whirlpool for 11 years and wanted a new stainless steel model. I got this 2 years back from Best Buy. I didn't get the extended warranty because I never used it with my old dishwasher and all money was just gone waste. The Samsung brand proved to be my nightmare. I had to call tech service twice in 1 year. Then again after year for which I paid through my own pocket. The dishes are never clean and top shelf never gets dry. I wash all with a soap, rinse with water then again run the dishwasher. If you put the dish without washing it doesn't get clean. The material used inside, smells like a rubber and I think my old dishwasher was much sturdier than this WaterWall. Additionally, you have to baby it. The door lock gave up after 1 year, so changed it. Now again and again we keep getting error messages. I am just tired of this washer. I will not recommend anyone to buy.

I bought a Samsung dishwasher Model# DW80F600UTS/AA about 6 months ago. It's no good and did not work out of the box. I was getting an error code that it would not drain on start-up. I had to call for service, explained the problem and a tech was scheduled to come and repair it in a week. Tech came, replace faulty part and it finally ran for the first time. Sure it ran but it has never cleaned the dishes very well and it always leaves a powdery residue on everything. The insides of the dishwasher has a build up of powdery residue in certain areas as well, especially on the bottom.
Also I have noticed that it smells when I open the door even with no new dirty dishes in it. You would think that from a place where you pull clean dishes from that it wouldn't have a musty odor coming from it. It just makes me sick to know I have a new expensive dishwasher and I wind up cleaning more dishes by hand than I put in my dishwasher. I also bought Samsung microwave oven and stove but have not had a problem yet except that the clocks have to be reset every 30 months because one run fast and the other runs slow. From what I have been reading I am bracing myself for the other appliances to give me problems. I have not bought the fridge yet and I guarantee it won't be a Samsung! Best of luck to all of those who do not heed the warnings of myself and the others who have posted here.

We bought the model # DMT400RHW about 4 years ago. It has no buttons on the front. Just touch sensitive ones on top. Anyways we were so excited to have this dishwasher, I have two little kids (4 & 2) and they wouldn't be able to get into it, etc... However, my family and kids started getting sick a lot more than normal. I took my kids to a homeopathic doctor and discovered my son has an extreme issue with mold and allergies. He was allergic to penicillin, etc... Well, we also noticed the dishwasher didn't smell quite right after using it and couldn't figure out what the deal was. It looked clean inside. I bought dishwasher cleaners and ran those through it. It still smelled. Everyone kept asking us if we had mold in our house that might be making us sick. I scoured the house and could find nothing.
Then, I was emptying the dishwasher a couple weeks ago and noticed that there was a bit of black stuff at the bottom of the front door coming out from under the seal. I got a paper towel and when I ran it under the seal and it came away black with mold and smelled like vomit. All this time I've been washing dishes with that junk! No wonder my family has been so sick! I called the company customer service and they said they've never had this problem with any of their models ever. I find that hard to believe!
My husband says it's a faulty design. I agree. If the seal was flush to the door no food and water could get trapped under it. Samsung said I just need to keep cleaning it with vinegar or bleach. I'm sorry, but I've never had to wipe out a dishwasher after every time I use it and I think that's ridiculous! I also don't like the fact that I cannot just do a rinse and dry cycle on this. You have to run it through fully every time. Needless to say we will not ever buy another Samsung again. Their customer service was terrible, even when I talked to a manager. I'm over it already and now I'm stuck with this faulty dishwasher.:(

This dishwasher dw80j7550ug is a real work of crap. I only saw the reviews too late to see how bad it is. It doesn't clean your dishes. It stinks all the time you open it. Even empty. It doesn't dry your dishes. Samsung says open the door to air dry the dishes. I have to rinse the dishes off extra good. I paid 700 dollars for a dishwasher that I practically have to wash the dishes before I put them in it. Air dry my dishes... I might as well wash them and put them on the counter. Samsung sends repairmen out that say everything is working according to their specs. Don't buy this or any Samsung product. They are the lowest rated dishwashers on the market. I wish they would recall them. Thanks.

I purchased a Samsung dishwasher, stove and microwave. Within a year of purchase I had to repair the microwave and dishwasher. Up until that point they were good. Appliance Problems. Beware before purchasing.

Wish I read these reviews before I bought. Will never buy any Samsung product again... We purchased a dw80j3020 dishwasher in Oct 2016 and it stopped draining water in late Nov 2016. After a call to Samsung, a tech was sent to repair it. He informed us that the pump looked used and needed to be replaced. This product was purchased new and no other work was done so the defected part had to come from the factory. Samsung has refused to replace or repair the product. I have called the office of the president and still the answer I got was a resounding no... Again stay away from all Samsung products.

Dishwasher works ok, not great, just ok. Been trying forever 2 months to get 4 screws for this dishwasher, yet they are unable to send them to me? WTF?? Almost $900 for a dishwasher and they can't send mounting screws?

I purchased a Samsung Dishwasher from Best Buy, when I had the unit installed I discovered that the kick plate was missing. I called Samsung and requested that they send me the missing part. They took all of the information and gave me instruction on how to send the receipt which I did. After a few days a representative called saying they needed more information. I asked what information they needed and they said they needed the Serial Number and Model Number. When I explained that I already gave them this information the representative put me on a long hold and came back and said not to worry they had everything they needed and that my missing part would be shipped in 7-10 days.
Several days later I received an email from Samsung asking for me to upload my receipt to them (which I had already done a few weeks ago). I resent the receipt and then a few days later received another call saying that since the item was purchased as an open box item that they would not provide me with the missing part. Bottom line is that the customer service is very disorganized and inefficient. When I ask them to consider supporting their product and to make an exception to provide me with the part that was missing when delivered to me they refused. Very disappointing experience from Samsung's customer support people.

Nightmare... Purchased the dishwasher June of 2014, 2 years later water wall error 7E, which is an expensive fix. It involves two motors and a sensor. Called several service technicians in our area, they all stated that there are several service bulletins and TSI's posted for Samsung service technicians in regard to this issue so it would be best if I called Samsung because Samsung should fix for free because it is a product defect that is warranted. I called Samsung at 1.800. Samsung and spoke with William in customer service. He agreed that this is a defective issue with this Samsung dishwasher and that they would offer me a one-time extended service agreement and would set up an authorized Samsung service company to come out and fix it.
The next day I received a call from the "Authorized Service Company, Quick Fix" and they said that I would have to pay for the service because it was out of warranty, I stated what William had told me. They said, "Well, in addition to this not being written in the notes, we no longer service your area so Samsung will have to provide another authorized service company for your unit." So I called Samsung back and spoke with supervisor Tyler (employee number- **) and Layla (employee number **). They stated that William had not written it in the notes for the extended service warranty and that Samsung does not even have an authorized service company in our area, so they wouldn't be able to help us. We have asked them to review the "recorded" service call with William as they stated that they couldn't honor because it was not in the notes.
I went back to my "warranty." It states that Samsung will cover all parts and labor if it is deemed to be a defect issue. We went back to Best Buy to receive assistance with the issue as we had purchased the DW80H9930US from Best Buy. The sales reps, Chris, tried to call Samsung and get help with the issue as they had a list of authorized Samsung service repair in SWFL. Samsung also told Best Buy that they did not have authorized Samsung repair service in SWFL. Best Buy started giving them the list. They said that Best Buy would need to contact Samsung's ECR service. Best Buy did state that this is always an issue with Samsung and that they have poor customer support and that there are a lot of issues with Samsung appliances.
ECR was closed, so Best Buy passed my complaint to Vanessa, she called ECR the following week. Samsung's customer service agent told Vanessa that Samsung would be giving me a full refund on my dishwasher as they know that there is a severe issue with the water wall on these dishwashers. Samsung had Vanessa fax my receipt and other documentation to a fax number. They were supposed to send fax her back with a refund letter so that I could purchase a new dishwasher from Best Buy. A couple of days went by with no word, so Vanessa called Samsung back. Samsung stated that they had no record of Vanessa ever calling and that no refund would be issued. Vanessa stated that Best Buy would not be able to help me any further.
Why are Samsung and Best Buy still selling these dishwashers if they know that there are severe issues with the product and that neither one of them will stand behind the product, so the customer is left with an overpriced appliance that does not work. Both companies have failed in providing customer service and support. Neither one stands behind the warranty. Hoping that all appliance companies will read this and stop selling Samsung appliances! Customers stop buying from Samsung and Best Buy!

I finally got my dream house in 2012, so I was excited to be able to buy all new, top of the line kitchen appliances! My husband told the salesman that he "loves bells and whistles" and that was the wrong thing to say! However, our excitement was short lived when each appliance started having problems. First was the dishwasher, next the refrigerator, then the range, and last of all the over the stove microwave. This all started just as soon as the one year warranty ran out.
The smooth top, convection range causes me to burn food due to its constantly increasing temperature to high, no matter what it's set on. The fan in the convection oven rattles. The icemaker of the 4 door French door fridge stopped working. The dishwasher throws out numerous error codes and stops working. The microwave constantly blows light bulbs and it starts running every time you open the door. We paid a small fortune to get these beautiful appliances for our fabulous new kitchen and wouldn't complain if we had bought them for looks only! Do yourself a favor and buy something that works and AVOID SAMSUNG!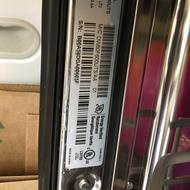 NewSamsung Dishwasher Model DW80F600UTS lots of different issues. From Day 1 hasn't worked properly. Steam vent under front of door wasn't shutting off, so water would leak out the front. "HEAVY" light started blinking, and pump wouldn't turn off, power wouldn't turn off, either. Had to turn off at breaker. Dried out the "flood" pan and sensor, and saw moisture on the water intake hose coupling, so tightened that. That helped for a week, then it went off again. Seems to be leaking out of tub, not hose. Luckily, still under warranty so service is coming in a few days.
SERVICE: Parts take 10 days!! So the repair guy comes, figures out what is wrong, then has to order the part and come again. It can be 2 weeks before you can use your new dishwasher again! When I talk to the service company (that is not Samsung, but certified to do their repairs), they make it sound like they know exactly what the problem is before they come out - leading me to believe they had a lot of this problem!! Never will buy a Samsung appliance again! Wish I had come here first to read the complaints.

If I could give zero stars, I would. Avoid this company and their dishwashers at all costs. The way they treat their customers is criminal. Here is my experience: On June 20, 2015 we purchased a dishwasher model DW80F600UTS/AA at Best Buy. On November 10, 2015 the dishwasher stopped working and we contacted Samsung and they advised a service technician had to be dispatched to repair. On November 20, 2015 a technician came out to our residence and informed us that the board had to be replaced. On February 25, 2016 the dishwasher stopped working again. We contacted Samsung and they were not able to find a service technician to replace the board. Samsung arranged to have the dishwasher exchanged for a new dishwasher at Best Buy. We received the new dishwasher (same model) on March 11, 2016.
On February 1, 2017 the new dishwasher stopped working giving the same error as the first model. We generated a warranty service request. In this work ticket I requested that since we are repeatedly getting the same error with two separate dishwashers that we be refunded full purchase price of original dishwasher due to the problems with this dishwasher model. To keep replacing the boards or dishwasher every 3-11 months and the time it takes to get any resolution to our service issue is inconvenient. When the customer service representative called on February 2, 2017 I reiterated our position and requested to speak with a supervisor. On February 13, 2017 a supervisor called and assured us they could have the dishwasher repaired on February 17, 2017.
On February 16, 2017 a call was received from an appliance repair company. I discussed the issue with the dishwasher and they said they would speak to a Samsung representative. I never back from this company. On February 27, 2017 I wrote a letter to the BBB regarding my customer service issue. The next day I was contacted by Samsung who promised I would have service on my dishwasher immediately. On March 9, 2017 Samsung contacted me regarding my satisfaction on the repair to my dishwasher. I informed them that it didn't happen as whoever they contacted to perform the repair never contacted me. I advised this person that I wanted to speak to a supervisor immediately.
I haven't been contacted yet, and based on my experience with this company, I doubt I ever will. Do yourself a favor and buy another brand. Just look at the length of time it takes them to respond to my service requests. It's been over a month now and still have a broken dishwasher. What company thinks that is acceptable? Samsung does.

The majority of my appliances are Samsung. I have had nothing but repair bills for all of them. The latest is the dishwasher (DW80F600UTC). I will slowly replace all appliances. They are not very reliable.

ConsumerAffairs Research Team
The ConsumerAffairs Research Team believes everyone deserves to make smart decisions. We aim to provide readers with the most up-to-date information available about today's consumer products and services.
For more than 70 years, Samsung has been an industry leader across all technology markets. Its investments in medicine, consumer electronics, finance, plant construction and more make it an all-in-one brand.
Building better built-in options: Samsung only offers built-in dishwashers, producing six different models with two different washing styles.
Rotary washing arms: Like most dishwashers, these models use a rotary arm to direct spray throughout the tub.
WaterWall technology: This innovative take on cleaning uses a powerful wall of water to attack dried-on food residue.
Adjustable racking system: Fit more pots and pans side-by-side with table settings using the adjustable racking system.
Zone booster options: Direct the water pressure to where it is most needed with the zone booster.
Best for Homeowners and families
Samsung Dishwasher Company Profile
Company Name:

Samsung Computers and Monitors

Year Founded:

1938

Country:

Korea Sout

Website:

http://www.samsung.com/