Consumer Complaints and Reviews

I bought a Samsung Range under a year ago and have been having problems with it ever since. When using the oven, it heats my cabinets, knobs, walls, over the range microwave, and exterior portions of the range to over 160 degrees. When using the oven the stove knobs are too hot to even turn on the stove top. We called Samsung and they immediate sent out a service technician. The tech said the area was getting extremely warm but the range was working properly. We again called Samsung because we are unable to use this unsafe product in our home and they were very rude and not concerned about our safety, but agreed to send another tech out. Second tech, said it was getting warm and that's how ovens work and left. I know for a fact that this is NOT how ovens work.
My cabinets and over the range microwave are nearly too hot to open when the oven is on. My neighbor has the exact same range and hers is not operating this way, so I know there is an issue with mine. We are not able to use this oven at this point due to safety issues as my husband has already received burns. Samsung is not willing to resolve this issue and that is unacceptable, especially because it is still under warranty.

We bought this range in Feb 2016, and it has not worked properly since the beginning. Their service desk is designed to discourage callers. For example, they keep asking me the same questions I have answered numerous times. Is there any recourse?

I purchased the entire black stainless kitchen set Refrigerator, Stove, Dishwasher, and Microwave. After 3 week of use on the stove my wife made corn on the cob, she did her normal way of making the corn of a large pot to boil the corn in. Well some of the water boiled over which is a normal thing that happens when cooking. We didn't think too much of it since we have been cooking on a glass top stove for over ten years with our old Ignis Stove. My wife went to clean the top the next morn and she found where the water boiled over the glass pitted or pop little holes in the top.
Samsung is denying our claim say it is do to Wear and Tear. Are you kidding me!!! Wear and Tear. When the appliances came in we found that the freezer pull out door has a small crease in it and had to have this order from the company we purchased the appliances from. Well five weeks later still no replacement door. It is really sad because I have always enjoyed using my other Samsung products and have been buy Samsung for over 36 years now. Well they (Samsung) just lost one of their best customers!!!

We purchased a Samsung glass cooktop stove. Three months after our purchase the glass top cracked. The crack occurred the second time I used the burner. I noticed the crack the next morning when I went to dust the cooktop. A KitchenAid repair person told us, that this happens occasionally with glass cooktops. Glass can have bubbles, etc... This repair is covered under their warranty. Samsung however considers this physical damage and their warranty does not cover "physical damage". Nothing bumped the stove or fell on top of the cooktop. We have had a glass cooktop for twenty years, so it took me a while to understand what this meant.
Regardless of what is wrong or if there is a defect in the product that results in physical damage, then it is not warranted. I am amazed that they can get away with this. I will NEVER buy another Samsung product and plan to report this to every consumer protection agency I can reach. This is definitely a buyer beware organization. As another reviewer said, their warranty is useless.

Samsung Flex duo range NE59J7750WS - I wish I would have found this site BEFORE I purchased this range. In theory, this was everything I wanted, replacing an 18-year old Maytag. Plugged this range in and the flex duo range doesn't work! Keeps showing error code C-20. Samsung said because we installed it that it wasn't covered under warranty. Nowhere in the literature does it say that. I called Sears and Samsung multiple times in two days. If I plugged it in and the rest of the machine works, it's not me plugging it in wrong! Samsung's customer service, or lack thereof makes me wish I could return this and put my old rusty one back. Don't buy from Samsung! Especially if you plug it in yourself! How ridiculous! I feel like I've wasted $800, and will need to purchase a simpler model in the future. I used to love Samsung, but this fiasco ensures I will no longer buy their products.
How do I know I can trust these reviews about Samsung Computers and Monitors?
636,825 reviews on ConsumerAffairs are verified.
We require contact information to ensure our reviewers are real.
We use intelligent software that helps us maintain the integrity of reviews.
Our moderators read all reviews to verify quality and helpfulness.
For more information about reviews on ConsumerAffairs.com please visit our FAQ.

Like many dissatisfied and cheated people... My parents' range top cracked with a loud noise last night (while everyone was in another room of the house) breaking the stove top, literally just a month after the one year warranty expired. This is ridiculous! That a company can get away with this! Hundreds of dollars down the drain and now they are forced to purchase a new one!? Or perhaps replace the specific part for two hundred dollars and just hope it doesn't just keep happening? Which clearly it will with all of the people having similar experiences.
The previous oven they had lasted my parents 20 years! What's worse is that they purchased a matching Samsung washer, dryer, and microwave. Who knows when those are gonna break or blow up? As of right now I plan to contact an attorney, this is happening to way too many people for Samsung to not do a better job of helping. Why are these appliances still being sold to people??? We bought ours at Best Buy who of course are more than happy to take their money for another oven. My parents are older and they aren't gonna get online and research this stuff. So sad, that companies can take advantage of people like this. It has to stop! It broke my heart to see my dad trying to figure out what went wrong with this damn thing last night.

Bought this stove in 2014 from Brands Mart. Had trouble cooking and baking with food burning on outside and raw on inside. Had technician once during 1st year and 3 times under useless extended warranty. They kept saying nothing was wrong but when they pulled out the stove, my cabinets were burned. Complained to Samsung and have talked to over 15 people in customer relations. Uploaded pictures of burned cabinets, estimates to repair cabinets, receipt of stove and estimate to replace it as advised by Angel ID **.
He is in the executive office and told me they would refund or exchange the stove on October 13, 2016. They give you the run around and after complying with all of their requests, today was told they need to send a technician again to assess. Don't buy anything from Samsung. Product and service are terrible. Will be going forward with a lawsuit after this hassle. I have dates and names and some ID numbers and they keep coming up with more excuses and lies!

We purchased our Samsung Induction range in Jan 2015. Within a couple of weeks we got an error message which made no sense but nothing on the range worked. As this was under the one year warranty I called Samsung. After several days and several calls I was informed there were no Samsung certified repair people within a three-hour radius. I called Calgary and was told by a Samsung certified repairman they get calls from all over the province but will not leave the city. I returned to Sears where I purchased the range. They were willing to replace the range but asked if I would allow them to arrange their service people to come out, which they did. No stove for three weeks as the entire electrical panel had to be replaced. Fortunately at this time I purchased five year extended warranty through Sears.
We now have issues with the oven. For no reason, mid cycle/baking the oven puts out an error message (silent) and the range does not work. On one occasion it just stopped working without an error message. Thank goodness I don't have to try to get a repairman... Sears will send out their technician. I have read complaints about cleaning the glass top. I clean with soap and water. Dry it then spray with Weimar cooktop cleaner. It does a great job and my cooktop is still looking good. If you have an induction range and you find a stainless steel pan doesn't work, you likely have one of two problem. Some stainless steel pans have additional metals in them which will cause them not to work and the other is a warped bottom. I deeply regret buying this range and given Samsung phones catching fire and the clothes washer lids blowing off... I will never buy any Samsung products.

I can't say enough how horrible our experience has been with these products. Refrigerator doesn't get cold enough, ss finish is terrible, microwave fogs up on glass in door and told that's normal. Range has been a nightmare. Electric stove top is terrible, uneven heat, burns, no heat, burns, no heat. Info panel sometimes lights up half, meat probe does not work, oven door locks on its own. Called for repair. Replaced info panel. Now burners turn on by themselves to high heat! Had to pull stove out and unplug as it would not turn off. One side of panel gets burning hot. Too long of a list to go on.
Customer service is a joke. On hold an average of 1 hour with a continual loop of telling you to get on website to schedule repair. Website is no help. Get on live chat, 45 minutes waiting for response. Nothing. Call back, one hour wait on hold. Finally to be told, someone will call me in 1 or 2 days. I cannot have their phone no. HORRIBLE EXPERIENCE WITH EVERYTHING. JUST HORRIBLE. Plan on taking days off of work to schedule and to have repaired. Appts are a joke. Someone will call in morning to tell you about when they "may" be there. HORRIBLE.

Bought brand new Samsung electric range in summer 2016. Immediately noticed loud clicks when oven was on, oven makes 6-7 loud clicks per minute. Called Samsung for warranty service. Samsung refused to dispatch a technician unless I agreed to pay for the call BECAUSE it's normal! That's right, making approx 400 loud clicks per hour is NORMAL. This is the worst appliance and service I have ever experienced.
Called HD and they said "there's nothing we can do." Went to HD store and played them a video I took of my new Samsung range. Every HD employee said "that's NOT normal BUT you're stuck with it, there's nothing HD can do!" I hate my brand new Samsung range. We bought 4 appliances that day, thank goodness only one appliance was Samsung garbage. Avoid ALL Samsung appliances. I will never buy a Samsung product of any kind! Samsung simply declares all design flaws normal and avoids any responsibility. Samsung is a despicable company, please avoid Samsung products.

Don't buy Samsung Ranges. I brought the chef collection 30" last year and within two months had to exchange it for another. After four technicians later and new computer boards, they finally replaced it with a new one. The range would go on by itself and the only way to shut it off was the main switch in the basement. So far so good until one day I was making a sandwich for lunch and heard this loud cracking. I didn't know where it was coming from so that night when I started dinner I realized it was the cooktop that cracked. I wasn't using it, the range was off. This is most bizarre. How can this happen? Well I looked up on this consumer site and apparently I'm not the first person. So there's got to be a defect right? Maybe a recall is in order.
When I called Samsung they said they would extend my warranty but I needed a tech to come out to make sure it wasn't caused by physical damage. Okay a tech came out and clearly wrote that it was not caused by physical damage and reported that to Samsung. I called them to see what happens next and they claim I need a second opinion and more pictures. They forwarded more pics and Samsung said it was caused by physical damage and I wasn't covered by the warranty.
I asked a customer relations person who can I talk to that can help me. She said "an executive customer service person, but they only have outgoing calls, you will have to wait until they call you." That person called me today and left a message and told me according to the pictures it was physical damage. So I guess they are calling me a liar. I'm not done with them yet, but they are the lowest of the low companies that screw people right and left. Their customer service is full of abrasive people that will not help me. They only have outgoing calls. What in the hell is that? I've had two of their ranges in 15 months and I'm sorry I ever bought one. Terrible company. I bought this item at Best Buy 8/17/2015.

Bought my glass top stove the beginning of this year. Sat a pot 1/3 full of water on top of it and the glass top just broke. Called Samsung. They immediately said it's physical damage and it is not covered under warranty. I tried explain that we didn't drop or intentionally break it - customer service just says it's not covered. Bought this for $700 and 10 months later it's a piece of garbage!!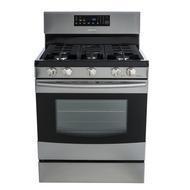 Not enough clearance head room was allowed in storage drawer for pot lids. It looks OK when looking at drawer at the store but don't get fooled. Half the time it's impossible to open because it gets jammed because of handles. One lid up, one lid down etc. If I knew that issue I would never have bought this stove.

When the oven reached its temperature the back panel burst into flames. I called Samsung and they said they will pay for labor. We need to pay for parts since it is 5 years old. I think if an appliance goes on fire in your home they should make good on their products. I will NEVER buy another Samsung item and will share my story with whomever I come in contact with. We also needed to pay for an electrician, which was recommended by the fireman that came to my house.

Purchased samsung oven last year. Noticed paint peeling on glass top after a couple of months. Called Samsung and had a ticket for someone to come out to look at oven. Repair place called on day of service advising they would charge service charge since this is a cosmetic problem. Service place said if samsung admits this is not cosmetic then they would not charge. Called samsung back, talked to Shawn service manager. He advised this is a cosmetic problem when paint peels off of glass top. I have had other glass top stoves and never had this problem. This proves this product is a piece of ** and the glass top will peel no matter how you clean or take care of the product. I will not buy another samsung product.

I got this stove in 2012 and had purchased extended warranty for 3 years. The stove was okay performance wise but scratched too easily. I had other glass cooktops that looked better even after 8, 9 years while this one got all scratched up. And three weeks back the glass top just burst when I was cooking. Thankfully the shards of glass held intact and did not fall in. As per my manual the glass top was covered for 5 years. I call extended warranty that had expired and found out that this was common occurrence with samsung stoves. I register a complaint with Samsung customer service and as per the guy who spoke he will send a service tech to inspect cause as it was still under warranty. I was asked to email pictures which I promptly did.
After living 1 week without stove I follow up and was transferred to Executive customer service and the lady who spoke was really rude. She checked my email as I am on phone after asking for date and case # etc and right away says that claim is rejected because it is physical damage and after repeated questioning too could not explain physical damage and proceeded to say it was my fault. I said I'll sue them and she goes on to say I could and send me the response in email as I asked that for legal purposes. She cuts me off and emails that it is my fault hence not covered. I call again and fight my way through the same BS Executive customer service and convince other guy to open new case and send pictures from different angles.
After dealing with them for 3 weeks an hour each time on phone they say they cannot honour the warranty and say it is cosmetic scratches that caused the break. How can something that you yourself call cosmetic cause a shattered glass. I will never buy anything samsung ever again. Don't waste your money buying anything made of samsung. They have no integrity and make ** products and wont even honour their own warranty.

We bought a Samsung stove 5 weeks ago, and purchased the 5 yr extended warranty. We were told this would ensure quick response on appliance issues. It has worked well for 5 weeks. Last week while baking @ 350, we heard something crackling and opened the oven to find the inside door glass had completely spider-cracked and glass fell everywhere the inside of the oven. Since the stove was only 5 weeks old and we had the 5 yr extended warranty, a simple door replacement would solve the issue.
15 phone calls (store, 3rd-party service company, Samsung) and several days later we are frustrated. The first roadblock was getting someone to arrange a service call. After sending a copy of the store receipt, there was more delay while the 3rd party service company had "Samsung validated the receipt" - seriously? Finally they call to dispatch a tech, and was told they are coming to "access and take a picture" to evaluate the need. I offered to take the picture and email it, and again indicated that replacing the oven door would solve the issue. So today, the 3rd party company called saying Tech was on the way. Tech shows up (no part), takes a picture and notes "yes, the door glass is defective" and leaves.
It's now 8 days and counting with no functioning oven, and no ETA. I've reached out to the Lowes store Manager (who has been very helpful, but also hamstrung by the same bureaucracy with 3rd party maintenance company & Samsung procedures). While I like the 2 Samsung appliances I own, given this first customer service experience, I would not purchase another Samsung appliance. We all know Appliances will break - but if one can't get a NEW appliance serviced even with the 5 yr extended warranty... Purchase from a different brand that supports good warranty service.

Horrible. Everything people are saying here rings true. I had trouble with the electronics panel from Day 1. The timer would not turn off properly, and Samsung did finally send a tech, who did nothing. A year in, I was baking and was unable to shut down the oven because the control panel wouldn't work. I had to throw the circuit breaker to get the oven to stop broiling! I believe I figured that the problem is that the panel gets nuts when it gets too hot since it was ok after the oven cooled down in 15 minutes. Some oven --- aaaaargh!

Samsung digital stove model number-joz17dcc600113x - Where do I start? Very first month, it had to be repaired. By the second year, the circuits would make a popping noise. Few weeks later, completely fried, no pun intended. Horrible!

Purchase model ME21H706MQG 2 months ago. I am a very careful cook and wipe as I go but this glass top is impossible to keep clean. I use glass top cleaner and the marks will not come out. My old Maytag of 20 years looks better than this. Very disappointed.

Follow up; my frustrating experience with all of our Samsung appliances. Stove Model NE58F97. Fridge Model RF267. Washer WF 328 and Dryer DV 328. Stove has a previous review in Feb. The amount of issues with this stove warrants action by consumers. Doesn't cook! Burns, dries out, undercooks food and anything with fat under high heat will be sucked through the convection fan and turn into a smoking mess. Will not broil anything, try and broil a steak, you'll be sorry. The only way you are going to bake a potato is to place it directly on the lower stove element and turn it once. That's how bad the cooking is.
This stove is all flash with zero engineering or consumer testing. The glass top ($); well seems everyone is having problems with the top. Too fragile period! I will be replacing my top after a 1 ounce salt shaker nicked the edge. Looked like an innocent looking edge chip but the first time the large burner was turned on it shattered the top. Design flaw or purpose built? You be the judge, looks suspect to me. Wonder how many glass tops were made? The shelving is horrible, we had an incident in previous review where the locking sliding shelf would lock into place randomly. Looked locked in but wasn't. Rest of shelving just falls to bottom with any weight. Really bad on lower half of stove. Dangerous! Burns! Damaged ovenware! Really! Burners are all over the place with heat regulation. Zero simmering capabilities, goes from no heat to blast furnace.
Ruined many high quality stainless pans and Revere Ware to the point they are unusable (warped). Way too hot on high settings. Multi burner has multiple control issues. I do not bake cake goods but I can just imagine the problems with that because it can barely cook a pizza. Warming drawer is worthless (low setting too hot) and makes loud banging noises from heat expansion. Do not open this stove without turning your head away, the steam that shoots out of the front of this stove is dangerous. Cooling fan was dead quiet now has annoying high pitch. So it will not cook, it's dangerous, will destroy your property and you will need a new top ($500) around every two years if you are lucky. This is my personal experience. Please if anyone has had a good one let us know!
Fridge, well the fridge has performed fair but here's the list. Ice maker way under powered. Has been replaced once under warranty ($). Struggles to dispense or crush ice. Interior shelving horrible. Folding and sliding shelves have a mind of their own and continually cause items to fall out of fridge. Folding shelf was stiff so we tried to stay away from using it. Broke ($) at hinges 3rd time we used it. Front lowest edge of shelf is rounded without lip. Stuff slides off shelf onto floor. Fresh drawer broke the 2nd time ($) we cleaned it. Just hangs loose now. Freezer will occasionally go into steroid defrost mode and you will have an inch of frost on everything (normally a 16th of an inch).
Washer does good job washing but screams horribly on any fill cycle. Sign they used cheap plastic on their water fill valves ($) and calcium buildup is slowly clogging it. Washer has the load leveling feature ($) which has gotten sloppier. Dryer does well but occasionally acts like the sensor ($) is going and will leave a damp load.
I won't buy any of their products again. They got too big too fast and have turned into company that needs profits and have designed their appliances to be cash cows (that is what the dollar sign represents in this review) for their parts and repair business and affiliates. I purchased my stove through the internet from Goedeker's in St. Louis, MO in 2014 and paid $1800. I will not bother with their customer service, they have to be overwhelmed and under corporate pressure to not honor their product from what I have read. Stay far away from their products and good luck finding anything of quality out there today. Our own fault we let this go on.

I bought this stove in 2014 and have had nothing but problems from the start. The model is NE58F9500SS. We had a glass top that was 20 years old so we wanted an update. Nothing wrong with the old stove, the glass top was still in fantastic shape. Had the Samsung a couple of weeks and it started showing major scratches. Very upsetting but accepted that I made a bad choice. But the amount of times I've turned the stove on just by walking by is unacceptable. Tonight our house could have burnt down. NEVER leave anything on the stove, I had an oven mitt on the stove, never thought anything of it, 2 minutes later the mitt is in flames,so scary. I will always have the knobs off when l am not cooking. I just can't trust it. Please stay away from this product especially if there are children in the house.

Samsung FE710DRS/XAA Range. This range was built-in 2011 and we bought it in 2012. For the first year, it worked fine. Unfortunately, within a week or so of the warranty ending, the center element of the three element right front burner stopped working. Per Sears: We had to replace the front element AND the burner control switch, since one of them caused the other to stop working. In other words, the Sears technician didn't know which came first, the chicken or the egg! But! They were both bad! Unless! As he then added, "Unless the controller is defective, in which case you'll have to replace it too!" Cost? Over $400. We decided to live without the center element, after all the middle and outer elements were working fine.
AND THEN! Six months or so later, while my wife was baking the Christmas Turkey, the controller declared that the range was suffering an E-27 error! Naturally, I got out the operator manual! So! I turned off the circuit breaker as instructed! And the range worked. Until the next time. After that, every time we used the oven, we got either an E-27 error or an E-0A error. E-0A meaning that the oven was too hot.
Naturally, Sears told us that we had to replace the oven temperature sensor and almost certainly the controller as well, since it PROBABLY was defective. Cost over $400! We decided to live with the E-27 and E-0A errors since turning the circuit breaker off and back on "fixed" the problem long enough that we could finish baking whatever we were baking. Unless, of course, my wife or daughter was baking a cake. Which is to say that if the controller declared an E-27 or E-0A error, the cake would be ruined.
And then! The 2-element front left burner decided to operate at FULL POWER no matter where the burner control knob was set. Naturally, my wife found out that the hard way, as in: She left the kitchen to answer a phone call, while simmering vegetables for a soup, only to suddenly see smoke pouring from the kitchen! That was the last straw! So! We started looking for another range. BUT! The Samsung had one last nasty trick up its sleeve! The right rear burner "OPENED" while I was heating water.
Just in case you don't know what "OPENED" means, as applied to an "electrical device", it means that a conductor, as in a piece of wire (the wire in the burners of all-electric ranges are conductors) separated, in a spectacular fashion, as in: SPARKS and loud POPPING NOISES! No, it didn't blow the 50-amp breaker, but it kept right on sparking and popping for about a minute, when the wire in the burned finally "pulled apart", which OPENED the circuit. AND SO NOW, we were down to one burner working properly, the left rear burner, one burner that was dead, the right rear burner, one burned that was "limping", the right front burner, and one burner that would only work at full power.
To be perfectly frank, I would not have a Samsung range if Samsung offered to give me one for free! AND! To be perfectly frank, I am not in the least surprised that Samsung's Galaxy Note 7 smartphones have batteries that can explode. In my humble opinion, I think that any person who buys anything made by Samsung is making a huge mistake!


I was so excited to purchase this item for my new kitchen remodel last year. I made the purchase in March, 2015. Believe it was delivered in June, 2015. The stove was installed in July, 2015 and began use in August, 2015. I am out of warranty. The first time I used the "self clean" mode, the control panel died and the oven remained locked. I contacted Samsung, who arranged "out of warranty" service. The stove broke on Friday, service was today (Wednesday).
After the technician detached the oven from my grout and backsplash, he determined the thermostat went bad. I paid my $79 service fee and he is ordering the part. Technician is concerned as to what caused the thermostat, saying ideally he'd replace the control board, the fan and the sensor, so that he doesn't end up back. I contacted Samsung, very upset with this clear defect. I get the "sorry you are dissatisfied, but you are out of warranty". 15 years I had a Kenmore. Never had a problem. Ready to go back! DO NOT BUY A SAMSUNG PRODUCT. CLEARLY NOT CONSUMER FRIENDLY!!

In Sept 2015 I bought a Samsung NE58F9500SS slide in electric range. Within 2 days we noticed cracks on the glass cooktop which kept spreading. Went to Lowe's, where I bought it, and showed them pictures. They immediately replaced the bad one. It is 11 months later and I have the same problem, cracked cooktop. I called Samsung as it is still on warranty. Tech came to my home and told me he thought it would be approved. He showed Samsung a video of the stove in real time. Without any dialogue Samsung denied the warranty saying it was customer abuse. I have 4 other Samsung products but this will be my last.

We purchased a Samsung glass top stove. Yesterday, as a saucepan simmered on the front, left burner the glass over the right rear burner exploded. I had purchased an extended warranty at the time of purchase, so I contacted HH Gregg. The service people came but could not say why the glass broke, so they ordered a new glass top. Since they found nothing wrong with the stove, is it going to happen again. It was fortunate - no one was injured.

I purchased this dual oven convection range in July 2015. I have read the manual for tips on how to bake properly, no help. I attempted repositioning racks for regular baking, convection baking. Nothing mattered. Biscuits are burned on the bottom and white on top. Angel food cake was overdone on one side and not done on the other. Cakes are a flop. I love to bake and have baked successfully for fifty years.
Called service; they are not knowledgeable of the product and outright lie. They rescheduled a visit by repair and they never showed up. I called back; same with complaints, no return visit. The only thing the repairman did was flash a beam to read the temperature at entry point. Said "everything is ok; but I'll replace a board". This did absolutely nothing. I'm back to a range top with no way to bake bread, cakes or pies. This range cost $1299.00. All I want is to be able to use the appliance without ruining everything I try to cook. I bought an oven thermometer to gauge temperature. Set on 350 degrees, the lower rack read 200 degrees. I would gladly return this range to purchase one that gets the job done. Is there any recourse other than suing Samsung? I'm at my wits end, this purchase was no doubt the worst choice I've made in my life.

Samsung range/oven Model NE595R1ABSR - Upon contacting Samsung service due to a sensor failure in my top oven, I am told that there is no certified service provider available within three hours of my home. Although my parts are supposed to be under warranty, I was told that they had no information on my ability to obtain a sensor and do the repair myself. Because I now have smoke coming out of the control panel when I bake in the lower, and because the lower oven is making the same sounds that the top made just before going out, it looks like I will have to replace the range. I won't make the same mistake in purchase. I won't buy from a box and I won't purchase Samsung.

Major problems with Samsung range model NE59J7750WS/AC Duo-Flex - If this range is "working up to the specifications of the manufacturer's design" then that design is flawed. One flaw is that there are no vent openings in the bottom of the oven to allow for heat transfer. Vents that would mean the oven could come up to temperature in 10 minutes rather than the 30 to 45 minutes this lemon takes. Other brands that we have since been looking at have these vent slits. It may be more convenient for Ms Consumer to clean a range with a hidden bottom element but if by hiding it you restrict the heat flow, what good is it?
Another flaw is that the sensor tells the temperature display 365 and beeps to say it is ready to bake when the oven is only at 225, 365 is still 30 to 45 minutes away. Why was this range designed to do this? To impress the EnerGuide inspector with how quickly it reaches temperature? Can you say Volkswagen?? A third flaw is that there is no consistency in the final temperature reached. Set it for 365 and it may only go up to 345, next time it might go to 385 (as it did when Sears' repairman Ken was here. He said he could fix that problem, I said "why bother, last time it only went to 345, if you drop it by 20 it could just go to 325.")
A fourth flaw is the variation of oven temperature within one baking session. The last time we baked (was the LAST time as we won't try again) it took 38 minutes to get up to 365. We put in a sheet of cookies and 12 minutes later they were done to perfection (the two on the right). The second sheet of the same cookie batch went in just as the first was taken out, when checked 8 minutes later they were already burnt. Usually, when you open the oven door to take something out and then put something in the temperature drops, in this case it must have risen substantially to burn the cookies in 8 minutes. There is no rhyme nor reason for the temperature variations with this thing.
You say "There is no repair solution that can be attempted by our technicians as after multiple visits we have not detected any fault with the unit." That is not true. Your guy Ken can attest to the fact that it took 45 minutes to get up to temperature and that the final temperature was 20 degrees higher than the setting. He wasn't here when it only went to 345, he hasn't been here when the wild fluctuations have occurred. Have him spend a day here checking it out, he'll tell you what's what. Better yet have him take it home and make HIS wife try to use it! We aren't going to anymore! For more than 45 years we have put our faith in Sears and Sears products. Now, at the first instance of a problem Sears has failed us. We'll see if a media investigative reporter will be interested in this matter as we have had no luck getting Samsung or Sears to see reason. CBC, CTV & Global for a start.
Compare Ranges, Ovens, and Stoves
Samsung Stove-Oven-Range Company Profile
Company Name:

Samsung Computers and Monitors

Year Founded:

1938

Country:

Korea Sout

Website:

http://www.samsung.com/