Consumer Complaints and Reviews

Did anyone ever hear of this happening... I woke yesterday morning early to hear crack pop noises in my kitchen. I was flipping scared thinking we had a mouse. So we proceeded to take the stuff from the cupboards out to check, nothing and I still hear the noise. So I'm home alone at this point and decided to get my shoes on and run and prepare for the mouse as I pull out the stove. As I pull out the stove and look behind I see sparks and a little bit of smoke. It's my STOVE SPARKING "Not a mouse." The sparks were coming right from the cord. How scary I almost was electrocuted or could have lost my house in a fire.
Now my house is built in 2006 so wiring is new. The sparks were coming from the stove not my wall outlet... The stove is the Samsung Chef Collection ne58h9970ws. Was only purchased September 15, 2016. Not even a year old. It's all under warranty but dealing with Samsung has been nothing but a nightmare. Long story short they said they will contact me back within 48 hours. Ugh... Samsung Chef Collection ne58h9970ws.

Never purchase a Samsung Range!!! - Ours broke a week after we had it. - Was repaired and since then it has broke 5 more time. Each time it was repaired except the current breakdown that has the range out of service for 10 days so far and no call backs from SEARS Service Department despite repeated calls with our new claim number. We have 8 months left on the extended warranty and are looking at replacing the range after just having it for under 3 years as this range is very poor quality - Samsung should stick to making TV's. Very disappointed in the service from Samsung and SEARS where we purchased this unit from.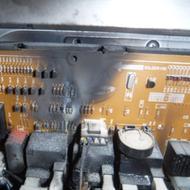 My wife was warming up pizza in the oven and heard several popping/crackling sounds. She looked over at the oven and it was glowing orange from the back panel against the wall and smoking profusely with a burning electrical wire smell. She immediately shut off the oven and put the fire out with a fire extinguisher. This same thing has happened to multiple consumers and should be addressed by Samsung before someone dies. Great potential here to start a house fire and cause loss of life. My wife was lucky and happened to be nearby when this occurred.

On July 2016 I purchase all my kitchen appliances from Samsung at Best Buy. Unfortunately it's not a year of purchase and I had a very bad experience which I believe it's not fair for any consumer. First, they advertises that the appliances are stainless steel, which is not. It is hard to clean. On the range side the flat top is also hard to clean and it scratches easily, which it shouldn't happen due to the fact that that is a every day use item with multiple use. I don't accept the fact that they are saying that it is cosmetic and also is tear and wear before a year of purchase. I live alone and barely cook for this to happen. I'm very disappointed with this product and the way that they handle and washes off the responsibility of the quality of their products. This is not an item that costs $100 or less we are speaking of an item that the price is over a $1,000. Unfortunately according to them there is nothing to be done.

Bought a Samsung electric range (NE595R0ABSR) a little over 3 yrs ago and last week the circuit board caught on fire. Called Samsung about it and they told me that they would take care of the parts required, and all I had to do was pay for the installation from the contracted service repair. Now the third party service repair company told me that I had to pay for the parts and not the repair. The cost of parts a little over $430.00. Might as well buy a new stove and it will certainly not be a Samsung. Hopefully a class action lawsuit will come out against Samsung for their highly dangerous stove. I seen on a Canadian website that a few of them had the exact same problem. I will ensure that all Airmen under my command know what horrible customer service Samsung has and how dangerous their products are. I do not want any of them to have to worry about problems from their appliances when they are deployed.
How do I know I can trust these reviews about Samsung Computers and Monitors?
791,307 reviews on ConsumerAffairs are verified.
We require contact information to ensure our reviewers are real.
We use intelligent software that helps us maintain the integrity of reviews.
Our moderators read all reviews to verify quality and helpfulness.
For more information about reviews on ConsumerAffairs.com please visit our FAQ.

I purchased this (Samsung Electric Stove NE58F9710WS) in October 2015. I just had occasion to use the self-clean feature. I chose the minimum 3 hour default setting. After the cycle was over and it had cooled to the touch, I was unable to open the door, and the display panel is black and won't operate. The technician told me this happens all the time; he has to install a new thermostat. He has to pull the stove out (it is a drop in so this won't be easy) to unlock the door from the rear of the unit. He advised to NEVER use self-cleaning as this will continue to happen. What a waste of money.

We bought a Samsung gas stove about 2 years ago for about $1200. Today we found out that we will have a nearly $300 repair bill for a new igniter in the oven. It seems that because we used the oven every day one or two times, the igniter was burned out. This is just incomprehensible to us! I also don't like the burners on top of the stove. Two are large burners with lots of BTUs. Both, one more than the other, send flames around even the biggest pot I own. (Think huge stock pot and a large 12" frying pan.) What good are BTUs if you always have the burner on slightly over medium even to heat water for pasta. This stove is very attractive, BUT it is "all show and no go!"

Bought top of the line 2 yrs. ago and unit is now unusable! Purchased top of the line gas stove/oven. After setting it to clean the oven will not unlock, control panel is out, this virtually controls all of the unit. Had to move unit out from wall, removed back panel to get the oven to open, control panel is still out. Stainless steel top is sooooo cheap! It scratched first time cleaned! What a piece of trash! We will never buy from Home Depot again and never another Samsung! Made in the USA for us.

If a 0 was available for rating I would rate Samsung with a 0... Never again will they have my business. I purchased my Range glasstop NE59J3420SS at Home Depot on April 2016. Not even a week I was cooking and heard a loud pop noise and removed my pot and saw that the glass was cracked. I immediately called Samsung and the conversation started nicely and was under the impression that they would fix it since the agent told me they would. I send pictures of the damage and of receipt of purchase. They told me they would call me... Never received a call from them. So I called a week later to see what was going on and they had closed my case because no pictures were received they said, which is bs.
New agent created a new case number and had to resent everything. She said I had to wait for 3 days and they would call me with an appt sent up for a technician to come and look at it. Again never received a call so called them... They gave me the appt for the technician to come and thought he was gonna fix it. Instead he left with no answers to my questions so called Samsung back and they kept saying they would fix it. Waited and waited and waited and nothing from them.
Called again to see what was going on and said again the would send a new technician to look at it. Don't know why they already seen pictures. But the new technician that came was checking our oven which our oven was working and told him it was the cracked top not the oven and again left with no answers. I called them and said they would call me back. Again they never did. After weeks of waiting for their call I called them back and said it was physical damage and would not be covered. Wtf... Not even a ** week with it and still fully under warranty and they wouldn't fix it. This company is really a ** joke. I was calling them constantly for over 5 months to get this fixed for them to tell me at last that they would not fix it. Very disappointed and frustrated process to go thru with this company. Never ever again will be buying from them. And to make it worst I'm still paying Home Depot for this???? PLEASE BE AWARE!!!

We purchased this range in the Fall of 2016, Model #NE58K9430, with digital dials. There are several things that are disappointing. It is very hard to keep the glass top clean (this is not my first glass top range). Cannot use pot or pan that is not smooth on the bottom as it will scratch the surface. Consequently, I had to purchase new cookware.
If you get too close to the digital panel, even your clothes will make it come on. If you get too close, the lock will come on and the only way to get it off is to flip the fuse box!!! I am short and reaching over to clean the top, the timer button will come on, the warmer button will come on, the self clean button will come on, and that is with only clothing touching. I am at the point of throwing this in the garbage dump. No wonder Lowe's had it on sale, which even at $1000 it was no deal. Cannot find order info, but was purchased at Lowe's Hardware, N. Myrtle Beach SC. I would NEVER recommend Samsung Appliances to anyone.

Please do not purchase Samsung. iI has been a nightmare. The range has a delayed ignition and explosion in oven when gas goes into it. What a nightmare. We have been told it cannot be fixed by one technician and the 2nd time they did not even tell him about the oven and they sent him with the wrong parts even if it could be fixed. We have been told that Samsung will call. Never do. Finally got a hold of an assistant to the office of the President and the number they gave me when I called back was not good. You could not leave message. It just went dead! NEVER buy again. We are on third try. After this it is time to involve lawyers.

Purchased this top of the line double oven stove from Lowe's South location in June, 2017. On February 21st dropped a glass cover from a casserole. A short height (3") from the stove top resulting in the glass top shattering. The stove was still under complete warranty and nowhere did it indicate in the manual that glass tops were excluded in the warranty. Phoned Samsung and followed their instructions as to taking photos of the damage and when speaking with them we got the impression that everything would be repaired. As soon as Samsung received the photos they responded very quickly that it was excluded under the warranty. Nowhere on the warranty was there such a disclaimer. We will never buy another Samsung product again. We would not recommended this company as they do not stand behind their warranty.

Samsung stove burners are defective!!! Once burners are utilized on high, you cannot turn down burner to low to keep food warm - you must remove pan from burner, turn burner completely off and wait for heat to dissipate before putting back on low and returning pan to burner. You can't walk away for any length of time as pans burn on high!! I am buying a coil burner to cook on as All stoves are built this way. Make sure if you are buying new to get a coil or old fashion stove rather than glass top - although they look great and clean easy, they SUCK!!!

We bought this Samsung oven NE58F9710WS/AA from Lowes. This is our second one. Our first one had the same problem where the oven will not heat back up after we open it to put food in. Samsung refunded our money for the first one after sending out a service tech 3 times. We should NOT have bought another one as this one has the exact same problem. We are now getting the runaround from Samsung. I love all the features of the oven; however, if the oven doesn't reheat or maintain its temperature, the features are pretty much worthless. My wife has spent hours and hours on the phone with Samsung trying to get this resolved and with still without a working oven after a month of phone calls.

Installed in 10/15, have used self clean mode 4 times and the last one caused enamel coating flaking off. P.C. Richard's store said it's cosmetic and not covered by store repair policy. Called Samsung and for $100 they can come out and determine if it's cosmetic or working damage. Samsung Customer service stated, "if your food is cooking properly and you don't smell anything then there's no problems and you shouldn't be concerned." I told customer service, "you can't smell carbon monoxide but it can still kill you!" If their tech deems it a cosmetic damage then you owe for the call. Remember who pays the service techs check!!
Samsung has horrible customer service. And they dictate the stores service department response too. Just horrible all the way around!! In this day and age when cosmetics is as important as function, how can this company only be willing to repair function and not appearance. They boast how sleek and streamline their products are, then cosmetics seems to be 50% of their claims to buy their product... It should also be willing to repair this aspect of the product. This boldly highlights what this company stands for... very little. Will never buy their product again!!! Be warned and stay away!!

Purchased my Samsung range from Lowe's April 4, 2016. It was delivered on April 9, 2016 and installed that same day. April 9, 2017 - Exactly 1 year since install (but according to Samsung, out of warranty), I used the self-cleaning feature. Within 2 hrs (the cycle was set for 3), the front display panel went black, and oven stayed locked. After trying to submit a warranty claim, and finding out I was 5 days past the "warranty", I called a repair company. The repairman told me "never use the self-cleaning option as this happens all the time, it causes some temperature sensor to fail and can burn out control boards as well. Lucky for me he was able to disable the oven lock. Again something he says they can't always do and then the door has to be replaced as well.
My previous range was a much more expensive DACOR and I used the self-cleaning feature all the time. The only reason I had to replace the range was because I dropped something on the glass top and the replacement glass was no longer available because the range was 16 YEARS old! According to the repairman it's the way the newer ranges, like this Samsung, are now made and he told me again not to use this feature. Why buy a self-cleaning stove and can't use it??? I have had the repairman out twice (as he thought it may be the boards) and I'm now waiting for the temperature sensor to come so he can install. I will never buy another Samsung product again (and should have learned when I replaced my Bosch dishwasher with a Samsung dishwasher and is also failed during the first year, replacing a 16-year-old dishwasher as well).

It seems Samsung only makes JUNK now. My new oven will no longer heat. Error code E27. Replaced the Temp sensor and still the same error. One of the burners stays on high all the time. My new 50" Samsung TV lasted 14 months and the panel blew. Phones and washers exploding. Why would anyone buy a Samsung product? Was told Whirlpool was the best bet or LG.

Crack in one of the burner tops. Called every day for over a week. Got the run around every time. Put on hold for hours. Was told I it was cosmetic damage but we couldn't use our stove because if water got in it would short out. It is only 6 months old and under warranty and they won't cover it. We are so frustrated. I would like to post signs warning everyone to stay away from Samsung. Company does not honor their warranties.

In 2015 we bought complete Samsung kitchen package along with washer/dryer from hhgregg. We've had problems with the other appliances but nothing like the stove. The hot oven light has continually remained on and the second electric stove top has just exploded. As the other complaints state it's the engineering of this product. We are retired snowbirds so the use this stove gets is minimal. Just contacted hhgregg who told us this is out of warranty so not their problem, won't be purchasing anything from them again. In fact, they wanted to charge $500 for a replacement countertop that is $263 online. We have rental units and have never had a stove break down after 2 years. Won't make this mistake again!

From last Thursday March 23, 2017 our Samsung stove got thermo cracked while doing cooking. Contact customer service. Sent them pictures of cracked glass of stove. Stove is manufactured in May 2016. We bought it few months back. They deny to send any help or tech to take a look. They said is physical damage and they don't cover it. Talked to their supervisor Mike.
Updated on 04/05/2017: Talked to their supervisor Mike ** and their executive sale supervisor. Even they suggested us to show stove to their own company tech. And we paid $50 from our pocket. Even their own tech made a decision that it was not physical damage. It was thermo cracked but Samsung supervisor never accepted their own employee results or decision. How could trust on Samsung company when they don't trust or respect their own employee decision. They denied to help us.

We bought this top of the line electric slide-in glass top range and the oven never worked properly from the start. Difficulty turning the oven on. Once turned on, it does not maintain the temperature. Also the bottom element doesn't work, so some recipes don't get browned on the bottom. Those recipes I have stopped making. We have had 9 service calls and they are not able to fix the problem. The stove looks great, unfortunately I have ruined many meals using this oven. (We have a Samsung fridge in Arizona and we have had 3 service calls and they can't fix the ice-maker.) I will not buy another appliance from Samsung!!

Months of frustration with a ridiculous repair process. We purchased a Samsung electric range as part of a package of appliances from Lowe's for our home in Florida in July of 2016. We soon learned that the temperature in the oven was not being maintained properly. We found out that Lowe's would not replace and that we needed to go through Samsung for repairs. We have now have had repair people visit 7 times and have had all electrical components replaced three times. Meantime we do not have an oven that works and have wasted all that time dealing with repair people and service technicians at Samsung that do not have a clue. Hundreds of reviews have been written regarding the same issue with these ovens. I am ready to take part in a class action suit/massive recall effort to force the miserably incompetent people at Samsung (think Galaxy Seven Smart Phone) to take appropriate action.
In related items we separately purchased a Samsung TV that randomly failed after just two weeks while no one was in the room. Thankfully, Best Buy (unlike Lowe's) took a stand and replaced the unit free of charge. Lastly, a craftsman was working at our house and overheard a conversation that I was having with Samsung one day. He told me that he had been a Samsung repair person for four years and finally quit his position because the processes and information that Samsung uses were so bad he was embarrassed. I'm not sure if Dr. Oh-Hyun Kwon is still the CEO of Samsung, but he should be the most embarrassed of anyone. Under his leadership a once honored company is now an incompetent laughing stock. What a horrible legacy!

Our Samsung Range NE59J7651WS has staining/streaking on the oven door glass that seems to be between the glass panes we purchased. The dealer says it is not on warranty. We purchased it 6 months with a 3 year warranty.


Brand new Samsung Electric Range NE59J7850 (March 2017) dual door bake/convection oven FAILS at baking. Console says preheat done and it's off by 100 degrees. After another 20 minutes never reached temperature set for. Pizza turned out crusty on outside and raw on inside dough because the temperature was too LOW. Lasagna was ice cold in center after 2 hours because temperature was never attained. I did multiple tests on each oven and at different temp and none worked properly. Samsung has repair service come out and same problem... however when repair called Samsung there was NO fix for this problem. They apparently think it's no big deal. Just wait forever for your oven to maybe get to set temperature and then guess how long it takes for a recipe to cook. Fail.
Ordering new mother board and sensors but tech is convinced that won't fix the problem. Going back today to talk with sales department at JC Penney. They just started selling appliances and they need to know this is a poor design. Not their fault but if enough people want a replacement then they can put pressure on Samsung. Looking for replacement brand while there. I can't be bothered with an oven like this.

I was cooking with my pot on the stove when I heard a pop. I removed my pot and saw a crack glass and indentation mark on my pot. The stove range I used on was the RAPID BOIL side from picture, which need to handle the temperature flux it experience. The crack surface has shattered glass and fine glass dust. I seen crack, shattered glass pictures due to physical damages on Consumer Affairs and other websites for Samsung stove and mine look nothing like that. It is clearly a material properties failure and an engineering mistake.
I reported my problems to Samsung and told them I'm scared to use the stove as it is unsafe to operate and it's also what they suggested until they receive the images and send out technician, which they said will take 2-3 days to review. I sent the pics and wait, hear nothing from them for a week so I call them back. A new agent review my transaction id # and told me that the previous agent close accident close my case. So he issue me a new transaction id and said he will escalate with the supervisor to get it resolve ASAP, and I resent the pictures again. My family been eating out and frozen foods during this ordeal.
I call back the next day and nothing happen, so I have to retell my whole problem again to the 3rd agent which went ahead issue me a ticket number with the local technician to take a look at the problem. To bring out this technician, I will have to pay out of my own pocket if it is a cosmetic problem. So today I was going to call the local technician guy to schedule an appointment but Samsung finally call back and said they deny the warranty issue without reviewing the pics. They said they haven't receive the pictures, which I sent TWICE. Now, I'm trying to schedule with a technician and see where it goes from there. I will follow up with updates.

Purchased a stove in January, 2017. Stove top worked but not oven. The service man came and replaced the computer in the top. A day later did the same thing came back and replaced the thermostat. 3rd time replaced the whole stove. Now the second stove top does not work or oven. Going to return stove to store myself and pick out another brand. Would not buy a Samsung stove.

Samsung has not responded to our complaint other than to suggest - after 1/2 hr. of discussion - that we call a repair company they recommended. That company said our induction pots don't work on this stovetop because of "an engineering issue." They said there was nothing they could do. We returned to Sears in Nanaimo, BC. The sales person plugged in the identical Samsung range, with our pots on it. The pots heated up on the replacement range! The first range was obviously defectve, but neither Samsung of the repair company admitting it. Sears immediately offered us a complete exchange for a new Samsung, or a higher-priced (but unattractive) replacement range. Sears has been great; Samsung ... poor.
Original Review
PLEASE NOTE: We bought this range at Sears, Rutherford Mall, Nanaimo, BC (ph. 250-756-4111). Store # 01823; register 122; employee # **. We purchased this range on sale for $3400 (regularly $4200) in September, 2016. We'd previously bought a gas range, and soon realized that - as seniors - we'd made a poor choice on the basis of open fires and safety. Sears was kind enough to exchange the range for a much safer Samsung induction/electric range. Although this range is still under warranty, Samsung's response to the problems we've encountered with it has been disappointing. Curiously, the model number of this range is difficult to find online; instead, other model numbers pop up.
(Some background: We're familiar with induction cooking. We previously owned a Toshiba induction range with which we were very satisfied. We moved house approximately eight months after buying our Toshiba range; the range became part of the sale. The induction-suitable, magnet-attracting Queen's Cookware pots we own worked well on our Toshiba induction stove top.)
Our Samsung range has three issues: Samsung's induction stovetop will not work with our Queens Cookware pots. Samsung's manual states: "Cookware is suitable for induction cooking if a magnet sticks to the bottom of the cookware and the cookware is labeled as suitable by the cookware manufacturer." When we complained that our Queens Cookware pots didn't work on Samsung's stovetop, Samsung offered no reply. We wrote Queen's Cookware, which in turn sent us a letter confirming that their pots should work with induction stovetops. Sears sent a repairman who said only that the problem with Samsung's stovetop was an "engineering issue." We've since switched to a different brand of pots.
The timer of Samsung's range is so soft. We can barely hear it. The same repair man agreed the timer was difficult to hear, but said it is what it is. It's the timer this model provides, with no modulation. The range's oven is a major problem. Both my husband and I are experienced cooks. Baking failed in this oven - over and over. Muffins and cakes didn't brown and were unbaked in the centre, or - when I allowed them to cook longer - they burned (an issue not helped by the model's faint timer bell). After months of this, the penny dropped that we should compare the displayed temperature to the temperature shown by an free-standing thermometer. We quickly saw that the temperature on the free-standing thermometer was at times 50 deg. F. higher than the temperature shown by the oven's "set dial."
Last week, my husband spent 30 min. on the phone with Samsung. Thirty minutes! The woman at the end of the line said it was "normal" for the temperature of an oven to differ from its set dial. She said a store-bought thermometer would register the temperature of our oven as 100 deg. F. lower than the temperature on its set dial! As my repeated baking failures with this oven showed, the issue is not with the store-bought oven thermometer, but with the oven itself.
She recommended that we record the ongoing temperature differences to draw up a "calibration chart." This meant that if we wanted the oven to cook at 325 F., we should set it at a different temperature according to the chart we drew up. I was outraged. Not only did I feel designing such a chart was ridiculous and should be unnecessary, but the oven's temperature (on both regular bake and convection bake) fluctuates up and down. After getting nowhere with this woman, she finally gave my husband the name of the local repair service that had previously visited our home.
A different repair man arrived. He told us that "all ovens now work this way," adding that we would have to buy "a much more expensive brand" to ensure the temperature on the set dial matched the oven's true temperature after its preheating ended. He said he couldn't do much for us, but pressed two buttons simultaneously (first 1, then broil) to increase the oven's internal temperature by 50 deg. F. He said he didn't recommend increasing the temperature any further. He recommended that we wait 30-to-40 min. (after the time bell indicated the oven was fully heated) before putting any baking in the oven. He said that waiting this long would allow the oven to reach the temperature on its set dial.
I tried that this morning, setting the oven to "regular bake" at 325 deg. F. When the timer dinged, my oven thermometer stated the oven had actually reached 290 deg. F. It took a further 10 min. for the oven to climb to 325 F. rather than the 30-to-40 min. the repair man had recommended. I suspect this time varies with the oven's setting. Is this acceptable? I don't know, but I sure don't like it. I expect better from a $3400 induction range. I will never buy another Samsung product.

We purchased a package deal at hhgregg in November 2015 including a Microwave Oven, Refrigerator, Dishwasher, and Gas Range. We are not at all satisfied with the range. We had the range service twice in August 2016 due to inaccurate temperature control. Each time they replaced the thermostat, and the also the control board on the second visit.
Believing this was an anomaly and no need purchase an extended warranty, we let the warranty expire in November. In February 2017, we began to experience the same issues. The temperature would not stay within the prescribed/published range, the oven would not light when following the proper use methods, and despite following the directions in the manual, the problem persisted. We contact the service department and they sent a tech on March 2, 2017. He had never seen the problem we were experiencing before, contacted tech support and they told him to replace the control board. So now I must wait another week for the board to arrive and be installed.
The warranty is expired and despite my protest that they replace the board in August, and it correct failure should be covered, they refuse to do so. Now it cost me $90 for the assessment and another $90 for the next installation service call plus the $150-$200 for the board. When I contacted Samsung they said sorry, nothing they could do. So my message to Samsung, "Go to hell." I will bad mouth your product line until I take my last breath. Planned obsolescence is no way to build a future in the U.S. market. We are not fools.

Samsung NE59K3310 Electric Range - Just bought it brand new from Lowe's and the oven never gets up to the set temperature. When the beeps ring out that it is at set temp we only get 200 degrees and wait for over 15 minutes to get to 335 degrees. We bought an oven temperature gauge to test it. I followed the factory adjustment procedure and increased it by 15 degrees. Now the oven takes 30min to get to 350 degrees but drops to under 300 degrees within five minutes and doesn't come back up. Before I called to get it fixed I googled Samsung ovens and find so many defective units. It's mind boggling. I have decided to return it to Lowe's and buy a GE, Whirlpool, Maytag or ANYTHING else. The other problem is the amount of pressure it takes to activate the controls. Being male with no fingernails makes it easier, but my darling has to use her knuckle to press to get enough pressure to activate the controls.

ConsumerAffairs Research Team
The ConsumerAffairs Research Team believes everyone deserves to make smart decisions. We aim to provide readers with the most up-to-date information available about today's consumer products and services.
Samsung has provided high-quality electronics, computer components and appliances for more than 70 years. Samsung engineers perfected microwave technology for the first home-use models in the early 1970s and their technology maintains that innovative spirit while designing modern cooking appliances.
Dual fuel: Samsung was among the first companies to offer dual fuel cooking appliances that utilize both electric and gas heating for flexible usage.
Curated product lines: Samsung maintains a small inventory of current models in comparison to other major brand names but dedicates itself to maintaining the highest quality in production and feature design for those models.
Technology: Samsung leverages its experience in consumer electronics to provide the latest in cooking appliance technology, including network integration and "smart home" design.
Affiliate partnerships: Samsung maintains relationships with a variety of brick and mortar retailers, giving buyers a range of choices for how and where to buy.
Easy warranties: Samsung allows customers to call directly or schedule an appointment online to quickly and easily resolve issues covered by the manufacturer's warranty.
Best for Users cooking for one and users cooking for families.
Compare Ranges, Ovens, and Stoves
Samsung Stove-Oven-Range Company Profile
Company Name:

Samsung Computers and Monitors

Year Founded:

1938

Country:

Korea Sout

Website:

http://www.samsung.com/