Consumer Complaints and Reviews

There are numerous reviews of this unit stating that the stove burner knobs are poorly designed and can easily be turned on by casually bumping into them. I can attest that this is true. This is why we remove the knobs from the stove when not in use. However, it appears that my unit (NE58F9710WS), with knobs removed, turned on spontaneously and caused a small fire with paper items that were on the stove. There was nobody home at the time, and the damage caused by the fire was minimal. My range hood must be replaced, and smoke damage occurred throughout my home. It could have been much, much worse. So far, Samsung has been cooperative and has agreed to repair the unit and cover the costs of the damage to my home. I hope Samsung takes these claims seriously and provides an updated design that is less likely to cause fires.

On February 4, 2017 we visited P.C. Richard and Son and we replaced all of our kitchen appliances with brand new Samsung appliances. In July while I was cleaning the glass cooktop on the range, which we purchased for $800, I noticed it was cracked. The crack appears to have started on the Rapid Boil burner and extended in all four directions to the edges of the top. I immediately contacted Samsung support, fully expecting that the damage would be repaired as the range was under warranty. With just two of us in the home, the range is lightly used and well cared for.
The customer service agent asked that I send in pictures which I did that afternoon. I received a call from Samsung support looking for the photographs 3 days later – at that point I was told that the pictures would be reviewed and that they would get back to me. Three days later, I received a call from Williston TV and Radio Repair to arrange a time to come out to look at the stove. I expected that Samsung's agent would be coming to repair the stove, however, when the representative arrived he took more pictures and told me to expect to hear back from Samsung in a few days.
A few days went by and I was contacted by Williston and told that Samsung deemed the damage to be physical and as a result would not be covered under the warranty. I asked what the definition of physical damage entailed, and the definition I was provided was basically everything under the sun – cleaning solutions, inappropriate cookware, abuse, etc. In fact it seems that the definition is setup to protect Samsung even in the event of defect.
Still in shock, I started to research to see if others experienced the same issue and I was surprised to find many complaints posted to sites online all had a similar story. I've attached some of the complaints along with our receipt to this letter. After finding that other consumers had a similar experience, I contacted Samsung to ask for a second opinion, I was told that would not possible so I asked to speak to a supervisor who told me that he would put in a work order for another opinion.
Three days later I received a call back from Williston to setup a repair call – I explained that I was looking for a second opinion and was told by the representative that they were the only local Samsung agent and there would be no second opinions. Exasperated I inquired as to the cost to repair the cooktop thinking that a couple of hundred dollars out of pocket would be worth putting an end to this issue. I was informed that the cost to repair the range would be $400 - which is half the cost of range. Even if I pay for the repair, I have no guarantee that the replacement top would not have the same problem because I am convinced that product is defective.
My husband and I have used glass cooktops since the 1980s and have never had a problem. The cookware we use has not changed, how we cook and care for the cooktop including cleaning fluids we use have not changed – and yet within 6 months this cooktop is completely ruined and is unusable and here we are in August and we can only cook using the oven and our microwave. I believe that Samsung has an obligation to stand behind its product and the warranty. I expect Samsung to fix the stove top or replace the range.

Bought a $1800.00 Samsung range (NX58H900WS) 1.5 years ago. Within the first year I tried to use the self-clean function and the electronics blanked out - Unusable stove. They sent a repairman who fixed it. Just tried to use the self-clean again and the same thing happened. Looked online and this seems to be a common problem - but there is no recall. They only will stand behind the fix for 90 days. I am totally out of luck - customer service useless. Stove useless. Literally the worst product I have ever bought. Will NEVER purchase a Samsung product again. A company that does not stand behind its products and fix design flaws is not a good company to deal with.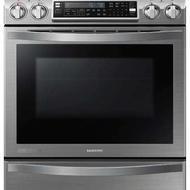 We bought a model NE58H9950WS "chef's collection" slide in range in early 2015. It belongs in a museum, not a kitchen because it looks beautiful but is useless. Preheat the oven to 425*, put a tray of cold food in and an hour later food is still uncooked and temperature is down to 300*. Tried to cook a frozen lasagna that was supposed to take 1 hour at 350 and after 2.5 hours was still cold in the middle. If you cook something like cookies or a pizza it is OK because they have so little mass they don't "soak up the heat" but anything that weighs more than a couple of pounds simply overwhelms the oven's ability to reheat.
Samsung made 2 service calls under warranty and the replaced "everything" but the problem persists to this day. I noticed they have discontinued this model and taken down all of the negative reviews but the issue of their ovens not holding temperature is not limited just to this model. There are countless other reviews mentioning the exact same issue. Samsung even tries to disclaim the warranty of merchantability in their paperwork, which is a joke since it basically says they can make an oven that doesn't work and there's nothing you can do about it.
I would urge anyone to avoid SAMSUNG products. There is a reason they are rated 23rd out of 23 brands on this site for ranges and stoves. It is because their products are junk. I have filed suit in small claims court (fortunately my state has limits on the warranty disclaimers which invalidate it) and will be getting my money back one way or another. Then I will buy another brand of range. This one costs $2500 and doesn't cook food!

The worst stove/oven we ever owned. Purchased new fridge and stove, both Samsung and stainless steel. The range is NE595R0AB series. When water boils over, it stains. The oven has never worked well (convection or not), same batch of cookies but one tray might be done but 8 min later next is burnt or rare, hotter one side of even to other. Now the oven isn't working at all. In the short time since we bought these we are so unhappy, we can't believe how poor the quality is. Even the fridge, with the stainless steel. Just try to keep the stains from the fridge! It has stains from the cleaner. We hate them both and feel so ripped off. Wished we had read some of these prior.
How do I know I can trust these reviews about Samsung Computers and Monitors?
855,731 reviews on ConsumerAffairs are verified.
We require contact information to ensure our reviewers are real.
We use intelligent software that helps us maintain the integrity of reviews.
Our moderators read all reviews to verify quality and helpfulness.
For more information about reviews on ConsumerAffairs.com please visit our FAQ.

Electric Range - My daughter loves to bake and cook and this range has been an incredible disappointment and frustration for her. We had a service man out before the warranty expired and he said it was working fine. It does sometimes but not always. It can work one time and next not maintain a temperature. I am extremely disappointed in the product and would never recommend it to someone. I also am disappointed with the service man as he had no idea what to do.

I have a Samsung oven Model ne9k3310ss with so called self cleaning steam option. It Sucks. I am 64 years old haven't had to scrub an oven with SOS pads for years. Cooked a turkey. Will not come clean. Purchased this stove Sept 2016 from Lowe's. It was 2 days before my daughter's wedding and my previous oven's element burnt up. So no reviews were checked before we bought this one. Lowe's sales rep told us good reviews it was in stock could be delivered the next day. Perfect. Used it for the wedding, except for the oven.
Stove really wasn't used for the first 30 days so was past the "customer satisfaction" period. Oven would not hold temp, tech was here 3 times, replaced parts. Wanted so bad to just return it but no. I hate this stove and I have had many stoves over the years. The glass top is almost impossible to keep clean. Bought the daily cleaner, waste of money, need to use the heavy duty cleaner to clean it. Would not recommend this stove. I will be getting rid of it.

I bought the Samsung electric range NE59J7630 1-1/2 years ago. It has the worst range top I have ever used. It is impossible to get a low simmer on the front burners. It can not be turned down low enough. I had the temperature modular replaced once, but it still can not be regulated low enough. This is either a very bad design flaw or the glass is not thick enough. The suggestion was heavy clad bottom pans, which I was already using. This model should be recalled as I feel it could at some point cause a fire.

The knobs on this stove are easily turned on if you accidentally rub up on the knob. I have done it 3 times and my son has done it a couple of times as well. The knobs are located right at the front of the stove on an angle where if you accidentally rub or bump the knobs, it turns on. I have to make sure nothing is on the stove because it will burn the house down if we leave the house and the knobs are accidentally turned on. Very dangerous stove, shame on Samsung for making such a hazardous stove!

The old saying that he/she can't even boil water is true for anyone with this range. Samsung NE594R0ABSR, SN J0ZI7DCF801481Z. Glass cracked while boiling on Fast Boil element. Then the fun started when trying to get warranty support from Lowes extended warranty plan. They had to send out tech to take pictures to determine if damage was caused by abuse. (over a week for this) Tech confirmed not from abuse or physical damage.
Nearly four weeks after the event and several phone calls I finally achieved a resolution. On the final call I waited while they first called service tech, they said waiting on parts, no idea how long. Then Lowes called Samsung to get a ship date, and could not get an answer from SAMSUNG aka SamSUCKS in my view. So we agreed to a buyout and they are sending a check, so I am out only the cost of extended warranty and delivery, feel fortunate about this part. Now for the best part! They do not want the unit back, said to just throw it away! Done with SamSUCKS forever...

I have purchase three Samsung appliance less than four years ago from Brault and Martineau in Gatineau Quebec, the stove (Model FE-R400SWS) was recently service because I have notice that the top of the door was rusting and had yellow burn marks. The hinges and door seal were replace under warranty job was done by Cosmo-Tech. The extended service contract was purchase from Brault and Martineau under Comerco Service Inc. in Laval Quebec. Comerco refused to replace the damage door because it was cosmetic and not covered under warranty. Brault and Martineau refuses to help because it is a warranty matter. I have contacted Samsung technical service department and they also refuse to take responsibility for the damage door. A new door part number DG94-00223E would cost $350.50. Unfortunately these are the facts and I will let you make your own decision. Thank for your time.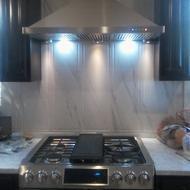 I purchased the Pro Series Professional Range in 2015 in November and had not used it yet at that point and Time. Ok now after 2 yrs The Burner the 18,000 BTU is not functioning well. The Flame shoots so high as it Pops and all other Burners want to IGNITE? The Touch Panel gets hot when not in use. It is really frightening since gas could Blow it up!! That Range Cost 2,100.00 Dollars. The surface is Not Stainless Steel at ALL... Liars. I purchased it at the Home Depot. They say call the Manufacture is responsible. Customer Service is Bad. Need new Stove now.

I purchased a black stainless steel appliance package and it's been a nightmare. Initially the stove was scratched during installation, so they sent me a new one. The new one sounded like it was about blow up and clicked and clicked. The lady said it was because it's cold in Colorado?! They swapped it out. Then there is the refrigerator. With the first one, the right door wouldn't stay open, so they sent out someone to 'fix' it. After he fixed it, the right door stayed opened, but the left one didn't.
They claimed that's how they are supposed to work for efficiency. No, that's simply not true. They sent a new one. This one had a terrible buzzing and humming sound every time it turned on. They sent me another one. This one was even worse, but the good news is that the doors stayed opened. Clearly how they should work. So, I let them know about the loud sound and they sent me another one. It's the worst one of the three. I'm at a loss. Does Samsung just make a terrible product?
The dishwasher doesn't clean the dishes. I always rinse them and make sure there isn't much of anything on them. And it stinks!! I keep the door open, which is annoying. Very very disappointed in the products. This has been going on since I purchased them less than 6 months ago. I have spent hours upon hours trying to talk to someone, emailing, and waiting for my 8 different appointments. I do not recommend their appliances at all. They look good, but not worth the money.

My daughter turned on the stove. She then heard a buzzing, a pop, and saw smoke. I told her to turn it off and attempt to unplug it. My husband came home to unplug it and left it as it. I saw a white powder covering the internal glass, tiny pieces of glass on the bottom. The house was filled with a smoky (didn't smell like burning though). All the windows were opened to clear it. I started an online chat with Samsung. They told me to unplug it and wait for their people to come. That was 4 days ago. I have since had 2 chats and 2 phone calls with Samsung. Still nothing has happened. Last I was told that if I did not hear from them in 2-3 days to call back. That would be a week. Customer service has been unhelpful, unknowledgeable and a waste of time.

I got my NX583GOVB gas oven range 2 years ago and the knobs are broken by now. They were made with plastic material, now they charging $39 for each knob plus shipping. Call Samsung. They just cover 1 year warranty. Is unbelievable! It should be last for 10 years. Last time I get Samsung!

This is so unfair for the companies to be selling this piece of crap, I just recently bought a Samsung Double Oven Gas Range and it is more of a thin metal than stainless steel. Not even my cooking pots looks this bad or get scratch like this range. The same day of installation it got lots of scratches that can't be taken off. Out of nowhere scratches keeps appearing because of daily use. If you pass your fingernails it will leave scratches too and can't take them off. Sucks. Paid almost $3,000 and this is my 2nd week with it. It is a very attractive stove but you can't even get too close just to prevent from getting more scratches or else. Please if anyone knows is there anything out there that can prevent scratches let me know, thanks.

Did anyone ever hear of this happening... I woke yesterday morning early to hear crack pop noises in my kitchen. I was flipping scared thinking we had a mouse. So we proceeded to take the stuff from the cupboards out to check, nothing and I still hear the noise. So I'm home alone at this point and decided to get my shoes on and run and prepare for the mouse as I pull out the stove. As I pull out the stove and look behind I see sparks and a little bit of smoke. It's my STOVE SPARKING "Not a mouse." The sparks were coming right from the cord. How scary I almost was electrocuted or could have lost my house in a fire.
Now my house is built in 2006 so wiring is new. The sparks were coming from the stove not my wall outlet... The stove is the Samsung Chef Collection ne58h9970ws. Was only purchased September 15, 2016. Not even a year old. It's all under warranty but dealing with Samsung has been nothing but a nightmare. Long story short they said they will contact me back within 48 hours. Ugh... Samsung Chef Collection ne58h9970ws.

Never purchase a Samsung Range!!! - Ours broke a week after we had it. - Was repaired and since then it has broke 5 more time. Each time it was repaired except the current breakdown that has the range out of service for 10 days so far and no call backs from SEARS Service Department despite repeated calls with our new claim number. We have 8 months left on the extended warranty and are looking at replacing the range after just having it for under 3 years as this range is very poor quality - Samsung should stick to making TV's. Very disappointed in the service from Samsung and SEARS where we purchased this unit from.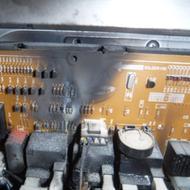 My wife was warming up pizza in the oven and heard several popping/crackling sounds. She looked over at the oven and it was glowing orange from the back panel against the wall and smoking profusely with a burning electrical wire smell. She immediately shut off the oven and put the fire out with a fire extinguisher. This same thing has happened to multiple consumers and should be addressed by Samsung before someone dies. Great potential here to start a house fire and cause loss of life. My wife was lucky and happened to be nearby when this occurred.

On July 2016 I purchase all my kitchen appliances from Samsung at Best Buy. Unfortunately it's not a year of purchase and I had a very bad experience which I believe it's not fair for any consumer. First, they advertises that the appliances are stainless steel, which is not. It is hard to clean. On the range side the flat top is also hard to clean and it scratches easily, which it shouldn't happen due to the fact that that is a every day use item with multiple use. I don't accept the fact that they are saying that it is cosmetic and also is tear and wear before a year of purchase. I live alone and barely cook for this to happen. I'm very disappointed with this product and the way that they handle and washes off the responsibility of the quality of their products. This is not an item that costs $100 or less we are speaking of an item that the price is over a $1,000. Unfortunately according to them there is nothing to be done.

Bought a Samsung electric range (NE595R0ABSR) a little over 3 yrs ago and last week the circuit board caught on fire. Called Samsung about it and they told me that they would take care of the parts required, and all I had to do was pay for the installation from the contracted service repair. Now the third party service repair company told me that I had to pay for the parts and not the repair. The cost of parts a little over $430.00. Might as well buy a new stove and it will certainly not be a Samsung. Hopefully a class action lawsuit will come out against Samsung for their highly dangerous stove. I seen on a Canadian website that a few of them had the exact same problem. I will ensure that all Airmen under my command know what horrible customer service Samsung has and how dangerous their products are. I do not want any of them to have to worry about problems from their appliances when they are deployed.

I purchased this (Samsung Electric Stove NE58F9710WS) in October 2015. I just had occasion to use the self-clean feature. I chose the minimum 3 hour default setting. After the cycle was over and it had cooled to the touch, I was unable to open the door, and the display panel is black and won't operate. The technician told me this happens all the time; he has to install a new thermostat. He has to pull the stove out (it is a drop in so this won't be easy) to unlock the door from the rear of the unit. He advised to NEVER use self-cleaning as this will continue to happen. What a waste of money.

We bought a Samsung gas stove about 2 years ago for about $1200. Today we found out that we will have a nearly $300 repair bill for a new igniter in the oven. It seems that because we used the oven every day one or two times, the igniter was burned out. This is just incomprehensible to us! I also don't like the burners on top of the stove. Two are large burners with lots of BTUs. Both, one more than the other, send flames around even the biggest pot I own. (Think huge stock pot and a large 12" frying pan.) What good are BTUs if you always have the burner on slightly over medium even to heat water for pasta. This stove is very attractive, BUT it is "all show and no go!"

Bought top of the line 2 yrs. ago and unit is now unusable! Purchased top of the line gas stove/oven. After setting it to clean the oven will not unlock, control panel is out, this virtually controls all of the unit. Had to move unit out from wall, removed back panel to get the oven to open, control panel is still out. Stainless steel top is sooooo cheap! It scratched first time cleaned! What a piece of trash! We will never buy from Home Depot again and never another Samsung! Made in the USA for us.

If a 0 was available for rating I would rate Samsung with a 0... Never again will they have my business. I purchased my Range glasstop NE59J3420SS at Home Depot on April 2016. Not even a week I was cooking and heard a loud pop noise and removed my pot and saw that the glass was cracked. I immediately called Samsung and the conversation started nicely and was under the impression that they would fix it since the agent told me they would. I send pictures of the damage and of receipt of purchase. They told me they would call me... Never received a call from them. So I called a week later to see what was going on and they had closed my case because no pictures were received they said, which is bs.
New agent created a new case number and had to resent everything. She said I had to wait for 3 days and they would call me with an appt sent up for a technician to come and look at it. Again never received a call so called them... They gave me the appt for the technician to come and thought he was gonna fix it. Instead he left with no answers to my questions so called Samsung back and they kept saying they would fix it. Waited and waited and waited and nothing from them.
Called again to see what was going on and said again the would send a new technician to look at it. Don't know why they already seen pictures. But the new technician that came was checking our oven which our oven was working and told him it was the cracked top not the oven and again left with no answers. I called them and said they would call me back. Again they never did. After weeks of waiting for their call I called them back and said it was physical damage and would not be covered. Wtf... Not even a ** week with it and still fully under warranty and they wouldn't fix it. This company is really a ** joke. I was calling them constantly for over 5 months to get this fixed for them to tell me at last that they would not fix it. Very disappointed and frustrated process to go thru with this company. Never ever again will be buying from them. And to make it worst I'm still paying Home Depot for this???? PLEASE BE AWARE!!!

We purchased this range in the Fall of 2016, Model #NE58K9430, with digital dials. There are several things that are disappointing. It is very hard to keep the glass top clean (this is not my first glass top range). Cannot use pot or pan that is not smooth on the bottom as it will scratch the surface. Consequently, I had to purchase new cookware.
If you get too close to the digital panel, even your clothes will make it come on. If you get too close, the lock will come on and the only way to get it off is to flip the fuse box!!! I am short and reaching over to clean the top, the timer button will come on, the warmer button will come on, the self clean button will come on, and that is with only clothing touching. I am at the point of throwing this in the garbage dump. No wonder Lowe's had it on sale, which even at $1000 it was no deal. Cannot find order info, but was purchased at Lowe's Hardware, N. Myrtle Beach SC. I would NEVER recommend Samsung Appliances to anyone.

Please do not purchase Samsung. iI has been a nightmare. The range has a delayed ignition and explosion in oven when gas goes into it. What a nightmare. We have been told it cannot be fixed by one technician and the 2nd time they did not even tell him about the oven and they sent him with the wrong parts even if it could be fixed. We have been told that Samsung will call. Never do. Finally got a hold of an assistant to the office of the President and the number they gave me when I called back was not good. You could not leave message. It just went dead! NEVER buy again. We are on third try. After this it is time to involve lawyers.

Purchased this top of the line double oven stove from Lowe's South location in June, 2017. On February 21st dropped a glass cover from a casserole. A short height (3") from the stove top resulting in the glass top shattering. The stove was still under complete warranty and nowhere did it indicate in the manual that glass tops were excluded in the warranty. Phoned Samsung and followed their instructions as to taking photos of the damage and when speaking with them we got the impression that everything would be repaired. As soon as Samsung received the photos they responded very quickly that it was excluded under the warranty. Nowhere on the warranty was there such a disclaimer. We will never buy another Samsung product again. We would not recommended this company as they do not stand behind their warranty.

Samsung stove burners are defective!!! Once burners are utilized on high, you cannot turn down burner to low to keep food warm - you must remove pan from burner, turn burner completely off and wait for heat to dissipate before putting back on low and returning pan to burner. You can't walk away for any length of time as pans burn on high!! I am buying a coil burner to cook on as All stoves are built this way. Make sure if you are buying new to get a coil or old fashion stove rather than glass top - although they look great and clean easy, they SUCK!!!

We bought this Samsung oven NE58F9710WS/AA from Lowes. This is our second one. Our first one had the same problem where the oven will not heat back up after we open it to put food in. Samsung refunded our money for the first one after sending out a service tech 3 times. We should NOT have bought another one as this one has the exact same problem. We are now getting the runaround from Samsung. I love all the features of the oven; however, if the oven doesn't reheat or maintain its temperature, the features are pretty much worthless. My wife has spent hours and hours on the phone with Samsung trying to get this resolved and with still without a working oven after a month of phone calls.

ConsumerAffairs Research Team
The ConsumerAffairs Research Team believes everyone deserves to make smart decisions. We aim to provide readers with the most up-to-date information available about today's consumer products and services.
Samsung has provided high-quality electronics, computer components and appliances for more than 70 years. Samsung engineers perfected microwave technology for the first home-use models in the early 1970s and their technology maintains that innovative spirit while designing modern cooking appliances.
Dual fuel: Samsung was among the first companies to offer dual fuel cooking appliances that utilize both electric and gas heating for flexible usage.
Curated product lines: Samsung maintains a small inventory of current models in comparison to other major brand names but dedicates itself to maintaining the highest quality in production and feature design for those models.
Technology: Samsung leverages its experience in consumer electronics to provide the latest in cooking appliance technology, including network integration and "smart home" design.
Affiliate partnerships: Samsung maintains relationships with a variety of brick and mortar retailers, giving buyers a range of choices for how and where to buy.
Easy warranties: Samsung allows customers to call directly or schedule an appointment online to quickly and easily resolve issues covered by the manufacturer's warranty.
Best for Users cooking for one and users cooking for families.
Compare Ranges, Ovens, and Stoves
Samsung Stove-Oven-Range Company Profile
Company Name:

Samsung Computers and Monitors

Year Founded:

1938

Country:

Korea Sout

Website:

http://www.samsung.com/