Consumer Complaints and Reviews

After four repairs on the first steam oven, Wolf agreed to replace the entire unit. I'm on my second one now and after less than a month I have another part failure. Extremely unreliable product. It's too bad because I had high hopes of enjoying healthier cooking but it's worked for about a week out of the 6 months I've owned it. Beware.

My Wolf 36" hood is 10 months old and the light switch knob broke. Took a look at it and it is made from cheap, flimsy plastic. Yes, the outside LOOKS like stainless. I then looked at the fan control knob. Even worse--both the shaft AND the knob are cheap plastic. Hmm--expensive hood, cheesy-cheap plastic parts from a company that likes to exude quality--makes you wonder what's under the appliance "hood".

So far not so good on our Wolf oven. Wolf sends out a tech who represents them for service. Our oven will not maintain temperature. The tech replaces an element & a burner. That did not take care of the problem & cost us close to 500.00. Wolf is going to send out that same tech this week to try & take care of the problem. Why not keep replacing parts until the problem is solved. Let's hope the problem is taken care of this time at n/c... Next call will be to the Attorney General.

First, we went the 36" induction cooktop (914 - Model CT36IU) and downdraft 2 years ago when remodeling our kitchen. No gas line meant no gas cooktop, so after research, went with the induction. I LOVE the almost instant 'heat up' and immediate 'cool down' control that induction gives me. After the initial investment in a new set of cookware after 43 years of marriage, I'm hooked on induction! However, I periodically notice a 'sour milk' smell that comes from the glass cooktop after using. Following directions, I clean it with a soft cloth and water. I can't determine if the smell originates in the glass or from the downdraft area. Has anyone else noticed this?

I love my Wolf 6-burner cooktop and oven, however my Wolf Fan Hood (all purchased 3 years ago) is a piece of **. We've had to replace the PLASTIC fan switch 4 times on our powerful, stainless steel hood. They cost something like $20 each time. Recently, the light switch started to wobble and then stopped functioning. Today, we paid $173 to have the service company come and replace the switches. He confirmed that he has seen these times many times before on Wolf hoods. I'm very disappointed with this hood and will go NON-WOLF with all my appliances, in my next kitchen.
How do I know I can trust these reviews about Wolf?
851,205 reviews on ConsumerAffairs are verified.
We require contact information to ensure our reviewers are real.
We use intelligent software that helps us maintain the integrity of reviews.
Our moderators read all reviews to verify quality and helpfulness.
For more information about reviews on ConsumerAffairs.com please visit our FAQ.

The oven looks wonderful, but I question the accuracy of the temperature. I hate how it takes over 12 minutes to preheat to 350. My crappy old oven at the cottage heats up in minutes. That's my only really big issue, but I have never done anything about it. Just live with it.

We completed a total remodel of our kitchen recently which included all new appliances. We went with KitchenAid except for the cooktop which we got the Wolf (Wolf 36" gas cooktop). My wife really liked, which I can understand, the 2 tier burner with low and high flames. We finished right before Christmas and our daughter's wedding so the house was full and a lot of cooking going on. Naturally there were a couple spills but NOTHING major. My wife pointed out that one lower burner was not functioning. I have always done all the repairs on everything as we own a manufacturing company and I am a tool and die maker by trade. Just so you understand, I could have built this thing from scratch if I was inclined to do it.
Going into the fix I could see problems in the design. The burners are attached to one large pan and sit just above the surface by 1/8". The lower burner holes are just above that. Here are the problems unless you Never spill, drip, boil over or wipe with a less than sterile rag (good luck with that). Anything that gets near the burner will clog the orifices (holes). With a normal cooktop it's not an issue but Wolf decided to build these burners so nothing but a service tech can clean them. Literally, if you spill, call a tech! Even then if you get a tech with little to no experience they can destroy the burner. The burners are a soft cast aluminum, they used tamper proof self-tapping screws to assemble them. When you try to remove them (with a tool from McMaster-Carr) the threads gall and get stripped out. This now requires a helicoil repair which I did.
NOW the problem, I spilled a little soup on another burner, one of the small ones and quickly tried to get it before it happened again but no luck. I went to my shop to get the tooling for the project and when I took the burner out it would not come apart. The small burners are swaged together. If you spill on them, replace it! Not me, I will take it to work tomorrow, drill out the swages, tap the holes, clean it and assemble it. God help a consumer who does not have the resources to do these things. And remember, this is only 2 months old! AVOID WOLF!!

Got wolf stove in 2009. Love the look and love the operations. Recently began having trouble with door closing and found out that it is now 200 dollars just to have Wolf representative show up. For price I would go with another provider with better service. Our experience was with Caplan's where we purchased all appliances. Was the worst experience we have ever had in after purchase service. Would not return under any circumstances ever.

I've owned my Wolf microwave going on 11 yrs w/ absolutely no problems. It does everything I need it to do. I'm sure technology has only improved it's capabilities...if that is even possible! Money spent well! I would highly recommend my Wolf microwave.

I purchased a subzero freezer and Wolf induction cooktop. Both broke within 1 month of installation. The subzero freezer's ice maker stopped working and needed to be serviced and a burner on the Wolf cooktop never worked. You pay top dollar for this stuff and it doesn't work. They make a big deal about how you can call 24 hours a day, but that is very misleading. Yes you talk to a live person anytime, but that person knows basically nothing about the products and essentially all they do is give you a phone number to a service technician. Something you could get online. The company makes it sound like you get 24 hour care... good luck with that. You have to wait for a technician to come out just like any other appliance company. Their products looks nice, but that is really what you are paying for.

We purchased a Wolf microwave, one we were told was manufactured by Sharp, as part of a kitchen remodel two years ago. Along with it a Sub Zero fridge and Wolf stove. Time to step up to the best we thought. I really hope our experience isn't indicative of what actually is the best. Horrible to think about what happens with less than best. The latest microwave service call, I believe our third, resulted in a new electronic control, the previous one having "burnt out", the result of living near the ocean we were also told. This product has not met reliability expectations for even an average product not to mention one that cost as much as this did. Wolf, sooner or later this will negatively affect your brand reputation.

Condensation caused both electronic boards and transformer to burn. Heat from transformer causes condensation. Parts are very expensive. Both boards and transformer cost $600+. With labor total bill will be more than the cost of the Ice maker. I will never, ever buy or recommend to anybody to Sub-Zero appliance.

All our kitchen with Wolf appliances for 5 years, so many issues, very cheap, plastic material. The worst is the oven, many changes of sensors motherboard, thousand $$$$ more lost. This brand is not a PROFESSIONAL one, a true shame.

I have 5 sub zero/wolf appliances some of which I have had for over 20 years. They are the best! I have found Wolf to be a great company and very supportive. After years of owning my subzero refrigerator I did not realize how fresh it kept my food as it had just became a norm. At my lake home because of expense we did not get a subzero refrigerator/freezer. What a mistake! When I asked my husband what he would have changed in our major remodeling project, his response was to get the subzero refrigerator/freezer. Nothing Better then Subzero/Wolf.

Very big mistake. A big blunder. I bought the highest brand and a big crap. Impossible to clean and coating already coming off. Stove is just 2 months old. I would never recommend to anyone. Waste of money.

I own a LP Gas and electric oven Wolf Range. It was delivered broken (the elements broke during shipping) I've had 9 or 10 repairs on it. It started a fire during a cleaning cycle. I replaced the entire oven cavity, all of the elements and fans. Now it's broken again. It is the WORST appliance I've ever owned. Spare yourself the headache and the $10,000. You cannot get parts to fix it yourself, you have to pay HUGE amounts for a Wolf appliance repair.

Wolf 48 Inch Range with griddle - Sorry folks! I absolutely love my range. Wouldn't trade it for anything else. I had a very small problem with it when it was under warranty and repairman fixed it without any complaint. Love the griddle for cooking for large groups. Love the simmer and the list could go on and on. I've had it for 6 years!!!

I purchased a Wolf 48-inch free standing gas/electric oven SS# 16003876, Model # DF484F back in 2006. Nothing but problems and expensive repairs. Multiple motherboard replacements, solenoids, switches, etc. Now the one of two ovens don't work at all and the other oven will shut down if you try to lower temperature after reaching set temperature. To add insult to injury it is a task to find competent service providers... haven't found one yet. STAY CLEAR OF WOLF OVENS. For me, I think I'll just purchase a common brand for under $1,000 rather than the $17,000.00 retail price for my WOLF. Oh yes, Wolf did offer to replace my unit, but they wanted $3,000 plus I would have to pay for shipping and installation. Another $5,000 on top of the $15, 000 I paid... What would you do?

I purchased Sub-Zero and Wolf appliances approx. one year ago for my lake home. I have had three issues with my griddle on my gas cook top. Each time the service provider claiming it was repaired after the visit. And it was for a short term but then shortly after failed again. The last time I called was January 29th, 2016. The service provider came three times for this particular issue. The last time they left they said it was fixed, "We took video". It was not. So I call Wolf and complain. They in turn now send a different service company to double check the first service company.
Today is May 17, 2016 and the griddle is yet to be repaired. I did get a call today stating they were going up to put in the new part. This is the same part that the last guy put in. Yet he thinks this is the issue. Would you not think that maybe it was something upstream making this part fail? Now this part will fail again and I will be waiting for yet another directive for correcting the problems. Paying $25,000 for kitchen appliances and to have a service and response to a issue like this, I have no idea how they are in business. This is horrible and in my world unacceptable. I am updating my kitchen at my first home and I will be staying as far away from Sub-Zero/Wolf as I can get.


My wife and I needed a new toaster and had very specific requirements. When we saw the Wolf unit we were convinced that it would address our needs. What a disappointment!! If you like your toast dark, forget it. You'll have to run it through twice. And yes, it handles the thicker artisan breads, but totally fails in the other direction, i.e. thin slices. These are two issues that are easily handled by your everyday toaster available from Walmart at a quarter of the price. But hey, my problem. I guess I could have tested and returned, versus trusted the Wolf brand.

We recently purchased a Wolf Cooktop and Downdraft hood vent. When we purchased the two items we were very clear that they had to match because our existing did not. The showroom didn't have them both for us to see so we took their professional opinion on them "matching", they don't. It's ridiculous that items that sit next to each other, touching, on the counter top not have the same stainless steel finish. So, if you are buying the Wolf Downdraft and cooktop be aware that they are not the same finish and that the cooktop scratches extremely easy. We had the top in for 1 day and had scratches in the SS from wiping clean with a dish cloth. Never would have guessed that we spend a lot of money to get nice cooking equipment and end up with mismatching and low quality.

Oven is very hard to use and very slow to temp. We have our oven under a cabinet (my fault) so it is very hard to read and set the digital display. The broiler is VERY slow to come on requiring kneeling down and looking in to see if it is hot yet. Most broilers are virtually instant on. The oven takes longer to reach temperature than any oven I have used. The trays/racks are very complicated and are to be removed before self-cleaning! That means you have a ton of work to clean the racks separately and reinstall them. Very stupid for the average consumer. We just leave them in and take our chances. Truly regret paying such a premium for an oven I do not like.

Had my Wolf dual fuel range and oven for a little over three years. A couple of weeks ago I was baking banana bread when I could smell burning all over the house. Came into the kitchen and the oven was filled with blue smoke and there was a large (7-8") black circle in the bottom of the oven. Thinking it was burning up I called Wolf who authorized a service call. Before the serviceman came out he told me it was probably the heating element under the oven. 10 days later he finally made it out. Pulled the heating element and told me it was just fine. He wanted to clean off the bottom of the oven and in the process used his pocket knife on it. When I objected, he informed me it was porcelain and would not scratch. I now have a scratched oven floor. Wolf finally agreed to replace the interior of the oven but want to used the same "repairman" if that is what you can call him to do it.
They are telling me that the only thing that could have caused the problem was food that spilled in the oven. My oven looked like new before this happened. Not only that but I am a vegetarian. I do not broil or cook meat in my oven. There is nothing I have cooked since I have owned the oven to have caused this problem. Before I cooked the banana bread, I cooked two batches of cornbread at 400 degrees on two different occasions which the repairman conceded could not have cause the problem. Not only that but if I had spilled something in my oven, it would have started smelling and burning right away. My grates look like new. There is nothing on them nor are there any splatters on the sides of the oven. When the condescending repairman said he understood that accidents do happen, I wanted to punch him.
Yes, they will replace the interior because of the scratches but I am afraid to use the oven. Knowing that I did nothing to cause this to happen I worry that using the oven will cause a fire. I can't believe this is the first time they have heard of a problem like this and the insinuation that I am lying makes me very angry. The repairman even asked to see my broiler pan which I had to get down from the cabinet above my sub zero using a ladder. It of course is brand new. I would not buy a Wolf again.

I am currently working with the distributor where I purchased the range and also working with Wolf tech support. The condensation on my cream tile backsplash during preheat will soak a paper towel and is now turning the tile dark brown. I am being - I should expect this and that the tile will be black within a year. My biggest concern is the back of the range rusting out over time. The distributor is trying to help but claims they've never heard of such a thing. One tech rep told me I should have been warned about using cream tile as the backsplash. Funny that's what is in the showroom and brochures, etc. Very frustrating customer no service.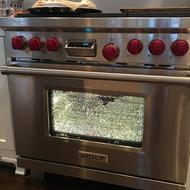 Wolf 36" Duel Fuel Range/Oven - In using my oven for the first time, I preheated it to 375 degrees. Around the 330 degree mark, the interior glass on the oven door shattered. I called my sales person and they in turn called the Wolf service person. 4 hours later, I had still not received a return phone call. I called the service person myself and was told it could be fixed on Wednesday (it's Friday). Brand new & not receiving any quality customer service. Wondering why I spent so much on a product that doesn't care about the customer.

It still leaks. They said the wolf company would have to fix it.

Wolf mdl. GR304 30" range - 3 service calls in 1-1/2 yrs. and we hardly ever use it. Nice looking but unreliable and has let us down. Circuit Board, top burner ignitor, gas valve and now oven gas but no ignition. Serviced through warranty but it's a hassle. Needs service again (4th). Is this a lemon or their S.O.P.

I recently bought a 30" Wolf range top with oven. It was delivered 3 weeks late. I had bought my first Wolf in 2004 and had been really happy with it. However when I sold my home I decided to get what I thought was the same model minus the dual fuel. Well not only did it not have dual fuel but it also did not have Self Clean, a temperature gauge, or a timer. In short this is about the most OVERPriced, basic stove I can imagine having. Looks good though. Pumpkin pie took an hour and ten minutes so I also think the thermostat is low.

Wolf stove 366-lp - Purchased and installed in new home 2011. All was OK until Oct, bottom of oven rusted and enamel flaked off while in normal use. Called Wolf, they said, "Sorry, we'll send new bottom under warranty." Great! I also opted to replace it myself saving Wolf a service call. Received new panel, and upon inspection, observed the underside with defective paint and distinctive fingerprints in the paint. Called Wolf, woman apologized, said, "This did NOT reflect well on wolf." Said another oven bottom would be sent and requested a photo for quality control, I complied.
New panel arrived, I inspected, same only even worse set of finger prints and lack of paint coverage. Called again, took photo of both, sent to wolf and they said, "OK, we'll send another panel from a different warehouse." Also, NOW suggested that because the defects were on the bottom of the panel it would be OK. Panel just arrived today. Yep, you guessed it, also defective paint and fingerprints in the paint. Wolf's quality control is in the toilet!
IMHO - Wolf knows this panel is manufactured with defects and if installed by a service tech, one could basically hide the defect, install the oven bottom, and no one would be the wiser. When, and it will, rust through and the enamel flakes off after the warranty is up, you will have to pay big money for a replacement. No more Wolf for me.
Updated on 11/14/2016: After new oven bottom replaced, (The bottom that warped and the enamel splintered off), Oct-2016 the same thing happened, the oven floor warped and the enamel splintered off. Now out of warranty I'm on my own. Wolf oven floor parts are JUNK, and with the possibility of fine porcelain splinters entering food, a DANGER to the owner. Instead of buying an OVERPRICED wolf part, decided to contact local Co and have exact part made out of stainless. BEST thing I could have done...Part was perfect, easy to clean, and was indestructible. Stainless part slightly discolored, but otherwise worked perfectly. (N. Wi.--715-453-9128) :).. Also had to replace oven igniter twice-used cheap aftermarket parts--but easy to replace and @ $25, not wolf's $230!
Have R 366-LP (36 inch) and stove is NOW working well, have spare igniter on hand, Oven works better than ever, (Maybe the thick stainless bottom?) So major wolf defect repaired. (What next?) Note: Portable welding & Repair LLC, 715-453-9128. Excellent duplicate of oven floor in heavy stainless. Recommend them! (Less expensive than wolf part!) Call for info!

ConsumerAffairs Research Team
The ConsumerAffairs Research Team believes everyone deserves to make smart decisions. We aim to provide readers with the most up-to-date information available about today's consumer products and services.
Wolf Sub Zero was founded in 1945 as the Sub Zero Freezer Company. The company began producing cooking appliances in 2000, after acquiring the Wolf Range Corporation and its manufacturing facilities.
Built-in expertise: Wolf was a pioneer of built-in appliances and maintains that reputation with its cooking units.
Extensive warranties: Wolf offers one of the most extensive warranty programs in the industry for its cooking appliances.
Online support: Wolf's online support center contains a wide range of support options for everything from product information to scheduling in-home visits.
Flexible installation options: Wolf's extensive array of choices for free standing units gives buyers many options for designing kitchen layouts.
Gas specialty: Wolf's long history in gas cooking makes it a specialist in gas fuel cooking appliances.
Best for Users cooking for one and users cooking for families.
Compare Ranges, Ovens, and Stoves
Wolf Cooking Appliances Reviews and Complaints Company Profile
Company Name:

Wolf

Year Founded:

1945

Address:

4717 Hammersly Rd.

City:

Madison

State/Province:

WI

Postal Code:

53711

Country:

United States

Website:

http://www.subzero-wolf.com/