Consumer Reviews and Complaints

Garbage, Garbage, Garbage. We purchased a full kitchen package of GE Profile appliances First: The FIRST time we plugged in the range an error message appeared. A new part was ordered, installed and the same error message appeared. GE sent me a new Range. One month later we tried to use the self clean and again an error message this time, shutting down the entire operation of the range and elements. Strike three! Second: We then discovered the Profile GE refrigerator had NO insulation on the Freezer side and thus we had major condensation on the walls of the refrigerator and cupboard wall.
GE replaced it only to have IT show an error message the first time it was plugged in. Strike four. Even the microwave is questionable due to its poor air suction. However on a good note the Dishwasher is very quiet and does a great job SO FAR! Two ranges and two refrigerators in the first month. I would NOT recommend their product to anyone

It's not an impressive range, but it works well as one can expect from a mid-quality range. The major con is that although the dimensions match other brands, this GE model has a shallow cover and the newer cookie sheets do not fit unless they are turned sideways, which means uneven baking. I would suggest checking the interior dimensions of the oven before purchasing.

GE propane range leaked propane regardless of adjustments. Caused former resident owner to develop COPD and die. NACOG USDA provided the range new to her in 2010. I removed it 2016 due to health and safety issues. The carbon monoxide detector went off. The toxic smell and adverse health reactions overwhelming. GE refrigerator needs replacing, multiple safety issues purchased from Sears. Never purchasing GE products again. Buyer beware; could kill you too.

I love the GE. I bought a GE dual fuel range about 3 years ago when my 6 yr old Frigidaire stove caught fire. Always wanted to cook with gas but have electric oven and broiler. It's also easy to clean the cooktop unlike older gas stoves. Love the big fast boiler eye.

GE Profile Range in SS & black glass electric cooktop w/ Double oven. Have had 0 problems since purchased 5+ years ago but other GE profile appliances have not performed so well i.e. fridge, microwave.
How do I know I can trust these reviews about GE Washing Machines?
881,173 reviews on ConsumerAffairs are verified.
We require contact information to ensure our reviewers are real.
We use intelligent software that helps us maintain the integrity of reviews.
Our moderators read all reviews to verify quality and helpfulness.
For more information about reviews on ConsumerAffairs.com please visit our FAQ.

This range is great. The only complaint (not a big one) is that the temperature of the oven is about 15 degrees off. But other than that, this range performs very well.

The paint on GE products (have microwave and range) is poor, as it chips easily. There are stains on the glass in the oven door which cannot be removed. Think they are inside the door glass. But finish cleans easily and looks good. The oven temperature is very accurate. Would like a better way of cleaning than turning up the heat so very high though. They also have different sizes for smooth-top cooking, but would prefer if they were all the same size. One gets used all the time and the others hardly at all. For $700 would have expected superb performance in every respect, but design and paint quality, as well as glass stains should not have occurred.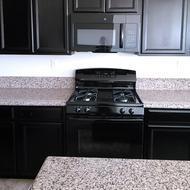 When we bought our house it came with gas stove and other appliances but our stove is not level and will not cook at a high boil on any of the burners. The oven smells when it first starts to preheat. We have had repairmen to check them out and the first one said it should be replaced. But the manager says no. It is still under warranty but they will not replace the stove. Please help us with this.

Double Oven Gas Range: This oven was purchased in December 2016. It got lost in shipping and arrived mid-February 2017. I don't think that was actually GE's fault... I love the range. It's beautiful for canning on. The grates are sturdy the heat is good. The bottom oven also works very nicely. I also like the slate color. It's easy to keep looking clean and matches just about anything. The top oven, however, has been looked at three times by the repairman.
They've replaced the temperature regulator, rearranged the insulation, and replaced the whole computer board. Yet I still had to increase the set temperature by 35 degrees and it still doesn't get quiet to temperature. Once you put food in it, it drops and just doesn't hold. It is frustrating and disappointing. As soon as the warranty is up and I can't call a repairman to create hope that it will get better, I expect the top oven will just become a storage shelf. I think I might choose a different oven if I had a chance to do it again. I certainly wouldn't pay the price that I did for this one.

I am very happy with my GE Stove purchased from Lowe's six months ago. I chose this particular stove because of the good reviews on it. I previously owned a Kenmore stove which started on fire in the control board on the back panel of my stove. This prompted me to find a "safe" stove to replace my old one. The GE Stove is beautiful, functional and works wonderfully. It bakes evenly, roasts perfectly and is easy to clean. I feel confident that this stove is safe to use. I would recommend this brand to anyone looking to purchase a new, safe electric stove.

Ditto Joanna's review. Sitting in my kitchen and the outside glass door on my oven fell and shattered glass all over my kitchen. The stove nor oven were on at the time and thank goodness no one in my family was close enough to get seriously hurt. Upon examination, I noted that the door was being supported by a glue backed gasket. The door of a oven which gets very hot held by a glued gasket! What were they thinking. They said they were sorry but it was not covered by the warranty. $400 please if you want a tech to replace it.

GE cafe range - Uneven oven temp. Constantly requires recalibration and still fluctuates. Cookies burn on the lower shelves and are underbaked on the top shelves when on convection bake. Gas burners are terrible. Only high and low. No adjustments in between. The front left burner has a high flame on the left so foods cook faster or burn on that side. Was told this was because we had propane. My sister has a stove with propane and does not have this problem. The worst stove ever. Wish I still had my Magic Chef from years ago. Never had a problem with it.

The burner knobs on my GE gas stove look awful. The heat from the stove has marred the finish and they are starting to peel leaving the dull grey plastic underneath the finish exposed. It will cost $30.00 plus then shipping and tax to replace them. Wonder how many times that will be required? Not happy with the look of my stove, though have been happy with function.

My GE gas stove model 40076366 when I am self clean the face is burning and the logo is sparking fire. I talk Janic **. She say make all decision for the CEO. I told her my problem. She told me to fix it. Told her it will happen again. I have money to keep fix it so they will not do nothing. It dangerous with gas and spark of fire. She was very rude. Danger.

We bought the range in May of 2017. We noticed that the left front burner produced an uneven flame. The right side of the flame was higher and more yellow than the rest of the flame. This resulted in uneven cooking. When a dish was sauteed the right side would be overcooked and would stick. Additionally if a large pot was used the handle on the right side would be very hot. I contacted the dealership and they set up a service call. The serviceman arrived on the agreed time and was professional and courteous.
After investigation and consultation with the GE hotline I was informed that the left front burner was supposed to perform that way. It is designed to provide more heat to boil water. So as a result of this design flaw there are only three useful burners plus a griddle burner in the middle. The two rear burners are meant for simmering and one must reach over the hot front burners to use them. So we have essentially a one burner range. I suspect it is GE's way of turning a mistake into a feature. Had we known of this design flaw prior to purchasing we would have gone another route.

GE range caught fire on 4/28/17, after I turned off self-clean. This is what I have been dealing with! My range was purchased 4/2/16, delivered 5/14/16 and installed in June 2016 and GE is saying I need to pay for parts and labor for fixing or purchase another range at the same price as the current model! This entire ordeal has been a nightmare! GE could have just checked the range and replaced it and everyone would have been happy. It has been a month and a half since this fire occurred. I have not been able to even heat up water!
I have had nothing but difficulty with GE customer service and repair! The first person I talked to didn't get my email correct. That took a couple days to rectify. She even put the incorrect date of delivery and install! One of the customer service agents said because it was a 2014 model she adjusted the dates! Who does this? I gave her the correct dates and she goes ahead and decides to adjust them? Right then and there I felt insulted! Then getting a tech appointment was impossible due to the rigid hours. They wouldn't even schedule us a Saturday appointment! The hours are not flexible for working people; this took a couple weeks before someone actually was able to come out! Speaking of hours, their customer service is highly lacking on the West Coast! I get off work at 3pm and still couldn't get through because GE was closed (they are based out of South Dakota!).
I have NOT experienced ANY customer service with GE! This is a complete disservice to loyal customers of GE. I will never purchase another item from them! I am going to call Home Depot corporate and put it on record that GE does not have any type of customer service and that you are not following through on the warranty and all the hassle and runaround that I have gotten!

I purchased an entire kitchen's worth of GE Monogram appliances in April 2016. They were delivered May 11, 2016. The dishwasher didn't work at all and I had to go pick up a replacement myself from the retailer's warehouse while the installers were here so that they could install it that day. The dishwasher is very quiet, but doesn't get water hot even after running water in my sink until it's at its hottest and it doesn't dry the dishes even on the Max Dry setting. Additionally, the oven part of my gas range would not light.
I waited a week for a service call to find out the igniter was bad and then another week to have the igniter replaced only to find out that the entire control panel for the range was bad. The retailer I bought from eventually agreed to replace my entire range with new since it had never worked properly. That new range was delivered on 6/3/2016. Now, almost 1 year to the day, my range won't light again. It is an utter disappointment that a company that has been manufacturing appliances for as long as GE has that they are unable to manufacture a quality product that lasts more than 1 year. I wish I had never purchased my GE appliances.

Installed new Monogram 48" Rangetop Model ZGU486NDP7SS and griddle did not heat hot enough to cook pancakes or bacon. After 15 months of calling service department and at least 8 service calls during which every part in the griddle system was changed, some twice, with no improvement - Monogram finally swapped the unit for a new one. After waiting 30 min with the griddle set at 450 deg the griddle surface settled out at 230 deg and would go no higher. I know of two other Monogram griddle owners who say they cannot cook bacon on their griddles either. There is clearly a design flaw here and a false advertisement in their owner's manual stating "The griddle is thermostatically controlled and can be set to maintain any temperature from 200F to 450F. I want to warn all potential customers of Monogram units with griddles that the griddles will likely not heat up enough to cook much of anything. DON'T BUY THIS.

I have had my range since 2008. Not knowing the longevity on ranges or how long they normally last, fortunately I have not had any trouble until recently. Of course just my luck right at Christmas time the wires leading to work the oven burned out making it impossible to cook my Christmas dinner. Everything else works on the range but the oven. Repair man said it will cost more to repair than to buy new. Ready mixed reviews is confusing, making it difficult to decide what to take the chance on purchasing. After reading reviews, it sounds like whatever issues you may have on GE Ranges you are pretty much stuck with it.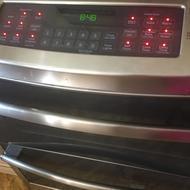 I have purchase this range a year and a half ago and it has given me problems from day one. I had the repairman here while it was on the warranty five times now. Every single light on the control panel went on. It's not working. I called and they tell me, "Well there's nothing we can do and you don't have extended warranty." This is the worst customer service. They don't want to help me at all. They don't even consider that there has been problems from the beginning and I feel like I bought a defective oven. That I even had a problem with the top broiler. It stopped working. Is just an issue after issues. I will never be purchasing a GE again and I don't recommend this product or any GE products to anyone. The worse customer service ever. For this price I would expect something that would last a little longer. I'm so disappointed. I'm sick to my stomach.

GE glass top stove Model #JBY00DP1WW Serial #ATZ113370. I purchased this oven 1/3/10. Last year the switch that changes the front burner to either a small size or large shorted out and was shooting sparks. Thank God when I turned the stove off the electrical sparks stopped. What caused the problem was that steam was getting into the switch from a pot I was using on the burner beneath the switch. I had that repaired. Today I turned the oven on and got an odor like rubber burning. I immediately turned the stove off. It took almost an hr for the odor to dissipate. I'm not even calling GE this time. I don't want to even touch this thing again. Only 7.5 yrs and I have to put out at least another $500! I am done with GE. I purchased it at Home Depot.

We have the GE Cafe Series gas stove. When we have the oven on for 45 min or longer the knobs to the stove get so hot we can't touch them. We've had a technician out 3 times still not fixed. Scheduled another appointment. They called, said not coming because the engineer dept said it was normal. I've never used a gas stove and had the knobs be so hot that you can't touch them in order to use the stove. Plus we had already had a technician out to replace the door on fridge and had the microwave repaired. Haven't had these appliances a year yet.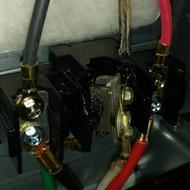 I bought the suite of GE kitchen products, and don't use the oven portion of the stove very often. I have had the GE Adora Stove JB755EJ1ES for 1 yr and 4 mo. While cooking, the back of the stove wires caught fire and melted the plastic piece where the plug-in hooks up. All the center wire was burned. Thank goodness the wire broke off and shut down my stove or I would have had a major fire in the kitchen. I called for someone to look at it and when asked if they knew how much it was going to cost, they gave me a number to call. After calling that number they told me it would be free since I had a warranty.
When the service man called, he stated it was a collect service, not a warranty service. So I cancelled him to see if I could straighten things out. When I called back, they said it wasn't under warranty, that it was a collect service. Frustration took over so I talked with an electrician and he said, "Do not try to fix the stove, as with the fire, it would never work properly."

We purchased a GE dishwasher 4 yrs ago. We realized the heating element went out and ordered a new one. We had trouble installing the new heating element and called a GE service tech to help us. We diagnosed the problem for him and all he did was splice a line and reconnect it. They charged us $160 and once he left the whole dishwasher started leaking everywhere. GE repairmen do not seem to know much about their appliances at all. We purchased a new GE dishwasher and right off the bat it started making a high-pitched noise. GE said they would take it back but wouldn't refund us the $100 install fee even though what they gave us was defective to begin with. I'll never buy another GE product and highly encourage no one else to.

We have had 3 GE Adora gas ranges (Model JGB720EEJ1ES) in the last 3 months. The first was a honest mistake -- wrong finish. The issue however with all three is the broil function. If you have not used this function please pull away from wall before you do. All 3 got extremely hot to the point two different service techs said they would not recommend using the broil function or pull the unit away from the wall so there would not be the potential for a fire. The 1st and 3rd unit was burning the insulation around the inside oven vent in the rear of the unit causing us to open all windows in the house because of smell, burning eyes, and cough. We are now going to a different model. After the tech measured 480 degree right under the controller board it was shut down, the temp was still going up at that point but we could no longer stand the smell or burning eyes.

OMG! I had the worst experience with GE appliances and their customer service representatives and Technicians. In 2015 I made the worst mistake and bought all GE appliances for my home. About 2 months later everything broke on the refrigerator and stove. Stove: Gasket, Oven light, Digitizer. Refrigerator: Ice maker,
Motherboard And sensors. After contacting GE They said they will send a technician and they will fix the issues. When the technician came he was very rude and had no idea what he was doing. After coming to my home for about 2 hrs he did not fix anything. GE wanted to bill me $500 even though nothing was fixed. I had to get a third party technician to fix the problems. Now, they are fixed but not for too long. I am still fighting the $500 charge.

We bought this stove (model J5750DF3) because we wanted the look of a cooktop so the stove controls were in the front. Thinking this was ok because we do not have small children we were mistaken. On Christmas day our home nearly burned down. Somehow three of the burners got turned on and caused nearby items to catch fire. Our cabinets were singed. Fortunately we came home and noticed the stove was on when we didn't use the stove on Christmas day. We couldn't figure out how the burners turned on. The stove has a serious flaw because it has a control lock for the oven but not the burners.
Today, a similar situation occurred. My adult son was carrying a large box out the back door and brushed against the stove. Shortly after my husband noticed a burner was on. This is a dangerous stove. And a safety hazard. I would like a replacement stove since we are very afraid of a serious fire. If I can locate my receipt I will update this.

I haven't had this range but a couple of months so I can't really give much of a report on how well it will hold up to my standards of cooking and I do love to cook. However, I'm not too happy with the burners because they are already starting to warp.

This range is 20 years old but the interior light only worked for about a year. The depth of the interior is shallow even though the range appears to be standard size. It is a flat-top which I like and has held up well.

When we built our home 10 years ago we had all GE appliances put in. My range is a GE electric smooth top range. It heats everything perfectly and the oven is self cleaning and does a super job at that. I have had no repairs on this range since I bought it and I really like it a lot.

ConsumerAffairs Research Team
The ConsumerAffairs Research Team believes everyone deserves to make smart decisions. We aim to provide readers with the most up-to-date information available about today's consumer products and services.
GE has been in business for more than 100 years and is one of the most recognized names in American manufacturing. It introduced one of the first mass-market electric stovetops in 1928: the Calrod Electric Range.
Flexible choices: GE offers a variety of product lines designed specifically for small homes, large homes or businesses.
Robust warranties: GE offers extensive warranties on all of its products, usually with the inclusion of home visits from maintenance personnel.
GE Fits! Guarantee: GE guarantees that it can find a cooking appliance that will perfectly match the existing dimensions of a client's old appliance.
Extensive special features: GE includes a variety of special features for select models, ranging from advanced software to the latest in induction technology and more.
Made in America: GE guarantees that most of its appliances are designed and manufactured in the United States, and provides information outlining what percentage of an appliance's components were made in the U.S.
Best for Users cooking for one, users cooking for families and users cooking for businesses.
Compare Ranges, Ovens, and Stoves
GE Ranges Company Profile
Company Name:

GE Washing Machines

Company Type:

Public

Ticker Symbol:

GE

Country:

United States

Website:

http://www.ge.com/