Consumer Complaints and Reviews

We have the GE Cafe Series gas stove. When we have the oven on for 45 min or longer the knobs to the stove get so hot we can't touch them. We've had a technician out 3 times still not fixed. Scheduled another appointment. They called, said not coming because the engineer dept said it was normal. I've never used a gas stove and had the knobs be so hot that you can't touch them in order to use the stove. Plus we had already had a technician out to replace the door on fridge and had the microwave repaired. Haven't had these appliances a year yet.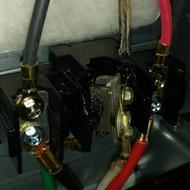 I bought the suite of GE kitchen products, and don't use the oven portion of the stove very often. I have had the GE Adora Stove JB755EJ1ES for 1 yr and 4 mo. While cooking, the back of the stove wires caught fire and melted the plastic piece where the plug-in hooks up. All the center wire was burned. Thank goodness the wire broke off and shut down my stove or I would have had a major fire in the kitchen. I called for someone to look at it and when asked if they knew how much it was going to cost, they gave me a number to call. After calling that number they told me it would be free since I had a warranty.
When the service man called, he stated it was a collect service, not a warranty service. So I cancelled him to see if I could straighten things out. When I called back, they said it wasn't under warranty, that it was a collect service. Frustration took over so I talked with an electrician and he said, "Do not try to fix the stove, as with the fire, it would never work properly."

We purchased a GE dishwasher 4 yrs ago. We realized the heating element went out and ordered a new one. We had trouble installing the new heating element and called a GE service tech to help us. We diagnosed the problem for him and all he did was splice a line and reconnect it. They charged us $160 and once he left the whole dishwasher started leaking everywhere. GE repairmen do not seem to know much about their appliances at all. We purchased a new GE dishwasher and right off the bat it started making a high-pitched noise. GE said they would take it back but wouldn't refund us the $100 install fee even though what they gave us was defective to begin with. I'll never buy another GE product and highly encourage no one else to.

We have had 3 GE Adora gas ranges (Model JGB720EEJ1ES) in the last 3 months. The first was a honest mistake -- wrong finish. The issue however with all three is the broil function. If you have not used this function please pull away from wall before you do. All 3 got extremely hot to the point two different service techs said they would not recommend using the broil function or pull the unit away from the wall so there would not be the potential for a fire. The 1st and 3rd unit was burning the insulation around the inside oven vent in the rear of the unit causing us to open all windows in the house because of smell, burning eyes, and cough. We are now going to a different model. After the tech measured 480 degree right under the controller board it was shut down, the temp was still going up at that point but we could no longer stand the smell or burning eyes.

OMG! I had the worst experience with GE appliances and their customer service representatives and Technicians. In 2015 I made the worst mistake and bought all GE appliances for my home. About 2 months later everything broke on the refrigerator and stove. Stove: Gasket, Oven light, Digitizer. Refrigerator: Ice maker,
Motherboard And sensors. After contacting GE They said they will send a technician and they will fix the issues. When the technician came he was very rude and had no idea what he was doing. After coming to my home for about 2 hrs he did not fix anything. GE wanted to bill me $500 even though nothing was fixed. I had to get a third party technician to fix the problems. Now, they are fixed but not for too long. I am still fighting the $500 charge.
How do I know I can trust these reviews about GE Washing Machines?
765,713 reviews on ConsumerAffairs are verified.
We require contact information to ensure our reviewers are real.
We use intelligent software that helps us maintain the integrity of reviews.
Our moderators read all reviews to verify quality and helpfulness.
For more information about reviews on ConsumerAffairs.com please visit our FAQ.

We bought this stove (model J5750DF3) because we wanted the look of a cooktop so the stove controls were in the front. Thinking this was ok because we do not have small children we were mistaken. On Christmas day our home nearly burned down. Somehow three of the burners got turned on and caused nearby items to catch fire. Our cabinets were singed. Fortunately we came home and noticed the stove was on when we didn't use the stove on Christmas day. We couldn't figure out how the burners turned on. The stove has a serious flaw because it has a control lock for the oven but not the burners.
Today, a similar situation occurred. My adult son was carrying a large box out the back door and brushed against the stove. Shortly after my husband noticed a burner was on. This is a dangerous stove. And a safety hazard. I would like a replacement stove since we are very afraid of a serious fire. If I can locate my receipt I will update this.

I haven't had this range but a couple of months so I can't really give much of a report on how well it will hold up to my standards of cooking and I do love to cook. However, I'm not too happy with the burners because they are already starting to warp.

This range is 20 years old but the interior light only worked for about a year. The depth of the interior is shallow even though the range appears to be standard size. It is a flat-top which I like and has held up well.

When we built our home 10 years ago we had all GE appliances put in. My range is a GE electric smooth top range. It heats everything perfectly and the oven is self cleaning and does a super job at that. I have had no repairs on this range since I bought it and I really like it a lot.

GE Range in basement was new and used about 3 or 4 times when the oven exploded during the night. Nobody was in the basement at that time but my son or granddaughter could have been there if it was earlier. Glass shattered everywhere and even though it was less than a year old, company refused to pay or have anything to do with it. I have read that this has happened before. Poor company and poor products and will never buy another GE again unless they step up and take care of this problem. Will it take a child or adult getting severely hurt in order for them to take action?

We bought the GE double oven. The top oven is a little smaller than the bottom but is great for a small family. We use it as a toaster oven. Overall heats and cooks well. It is a little expensive because my husband wanted the controls on the front of the oven instead of the back but otherwise we have been extremely pleased with this purchase.

The double oven is a disaster. Temperature even after adjusting is all over the place. One day it might take 30 minutes to cook something, the next day 45 to cook the exact same thing. It's just plain awful.

We have had our GE Profile stove a few years. We are an older couple and use care for our appliances. A few weeks ago the glass front fell off our stove in the middle of the night. It took hours to clean up the glass shards off the floor. It seems the glass is held on by double face tape. We were charged $400 to have replacement and no tape was applied this time? There is nothing really holding it on. WE TRIED SEVERAL DAY TO GET SOMEONE ON THE PHONE. Everybody gave us numbers to call and all we got was recording.

I like how easy it is to use my range and how clean up is a breeze. As far as heating it takes longer than I would like it to and then it gets extremely hot. It is hard to regulate temperature so it makes dinners longer to make than usual. I've had it for sometime now and yes I've gotten a lot better but still takes much longer than my old one and still a juggle of trying to make it just right for each burner.

I live in a bachelor apartment, and space is limited, so this range is the perfect fit for my kitchen. It is attractive, has a window in front of the oven so I can check my baking etc without having to open the oven. All burners heat well, and food cooks quickly. It is very easy to clean as well. It has a timer, and a clock. I love this range and would recommend this one to everybody looking for a smaller size range for their kitchen. Several tenants in my building have come to look at it as they don't have a new one like mine. They are only given out when their range wears out and doesn't work anymore. They loved mine and wish they could have one like it.

Bought stove in December of 2015. In October of 2016 the temperature in oven was not heating properly. I let GE know about it and they sent A&E appliance which is Sears. The start light never did work so he ordered a new control board and thermostat. After he installed the new board and thermostat the start light still didn't work. Never checked temperature in oven but suggested I buy the extended warranty as my original warranty will run out soon. Which I purchased assuming this is what GE would want me to do.
At this point I called Factory Direct in December before warranty ran out. They also changed out board and thermostat start light still doesn't work. Been here 4 times and temperature is still really off. They told me to deal with my extended warranty. Well I wrote to GE and they say I have to deal with A&E. I'm amazed that they are one that sent them out and now they want me to deal with Sears. Their repairmen are incompetent. They have no idea how to fix it. twin GE is just wiping their hand of this and won't help me resolve this problem. The order below is the Factory direct order when I bought it. The Sears extended warranty is **.

This stove/oven has served us for 13 years now and without any problems. The self-cleaning function is great even though the process is like 3-4 hours long and it creates a lot of heat in the kitchen. Cleans well though.

It works well enough. But I don't like the touch panel on top of the front of the stove. Very bad location as people have oftentimes accidentally turned on the oven by leaning on the panel. The burners are hard to properly adjust. When simmering sauce, I have to be around to turn the pot off and on for periods of time to cool it down then resume cooking on warm or low. It's very inconvenient. Also the plastic cover collects all kinds of bits of everything that is nearly impossible to clean. The oven door has to remain open when in use and I am not used to that so don't care for that feature either. Electric ranges are for the birds as is this one but given that I don't have an easy option for gas I persevere. The look is so so.

I had to buy a cheap brand but the GE gas range has held up and keeps right on working. It isn't the best thing to look at being plain and white but it has lasted through a lot of moving. Very pleased.

The burners went out and I heard all kinds of weird noises that were scary. I thought it was going to burst in flames. Burners didn't heat up very well and the spacing is awkward. I do not recommend to anyone. Do the research, and definitely could find a better buy. I wish I had. I give it a zero. Disappointed without a doubt.

Eight years ago we built a new house, and in mid-November a burner in my stove top exploded and the wires were singed when the stove was turned on. I ordered a new stove top from another company and then informed GE about what had happened. They did not answer my initial communication for 1 month, a picture of the stove top was sent to them with the bill for the new stove top and installation. Then they insisted through many communications that they would not look at the GE stove top unless it was connected in my kitchen, which I refused to do.
Finally, a GE repair person, came to the house to inspect the appliance. GE's response was that liquid must have gotten under the knobs and caused the explosion. Anyone who cooks knows that liquid gets on stove tops. It is obviously a design flaw and a safety issue for the stove to have exploded. I have communicated this to GE representatives, they deny responsibility, and they refuse to reimburse us.

I recently moved into my new home on 16 December. I was happy to see all the new shiny GE products with 1 year warranty. On New Year's Day my brand new glass top stove went out without warning. I called GE to schedule an appointment in which they showed up one week later. The technician who seemed very disgruntled did an examination and told us that the new stove was wired incorrectly and that he would have to order parts to repair it. The parts show up 5 days later and after he said he would come around 9 am on my second day off work. He shows at 2:45 and says, "My bad folks. These are the wrong parts and I will have to order them again so they will be here in 3-5 days."
I called customer service to understand why the parts (since their product was faulty) couldn't be overnighted and was transferred twice because it seemed as though no one wanted to address my issue. It is now day 9 since I have been without a stove and seems it will be another 6 days before I may see resolve MAYBE! This is the absolute worst company when it comes to customer service and fixing their own product! I will never purchase another GE anything again! Sad that consumers have to deal with companies like these. New home doesn't feel right.

The unit is a glass top that I got used. It is an older model that was/is still in good shape. The oven temperature is somewhat lower than it credits itself for. The upper unit cleans up nicely when a glass top cleaner is used.

I love this range. I pre-heat it, and it makes a sound when it's pre-heated so I know it's ready to put my food in the oven. It bakes evenly. Easy to keep clean. Has a window to look into. The knobs are located on the front, rather than on the back so I don't get burnt reaching over hot food on the stove. One problem, this in not recommended for a household with little children. They can easily reach the knobs turning on the burners which is not safe. For seniors it's great!

Originally looking for a bottom oven but we're talked out of it by the salesperson. We are glad he did. The range has four burners and a warmer, more than enough space and the oven is spacious and heats evenly, with or without the convection setting.

We have had this electric range for 5 years and had no complaints. It has performed very well. The oven is just the right size for us. We do a lot of baking most of the year and we have had no problems so far.

This range is not expensive as far as ranges go but it performs beautifully and is very attractive. I feel like we got great value for the money we spent. I especially like the grill zone on the cooktop.

We purchased this range (GE Café model CCGS99OSETSS) 4 years ago. I loved the idea of two ovens as I am avid baker. We saved up for a year as it was over $3000.00 but I thought it would be worth it thinking GE was a reputable company and I had read some good reviews. Flash forward to today where neither oven works and we have paid over $200.00 to have two technicians look at the range as GE said the first one wasn't GE certified. Both said it would cost approx. $1000.00 to fix and there was no guarantee that is would not break down again. They also both advised us not to buy GE in the future. This sentiment seems to be echoed by many others on this site.
We contacted GE in Oct and they didn't get back to us until 4 weeks later. Christmas is only a few days away and I haven't been able to do any baking this year and I'm guessing it will not be fixed for Christmas dinner. I'm really hoping for a Christmas miracle where GE will do the right thing and either pay for the full repair or give us a new range. But alas I don't have much faith in GE, sad to see what was once a great company fall so far. PS. I also contacted their president but I have yet to hear back.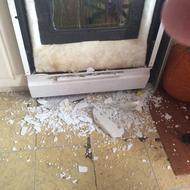 My glass door exploded shooting glass splinters everywhere, cutting my ankle. I was shocked by this. When I called to report this they were very friendly on the phone. I asked has this ever happen before. I was told not to their knowledge but they will send a person out to investigate on Dec.1st 2016. Then I checked the computer and to my shock I find out that this is a common occupancy. If this is then they should have a recall on the glass. I am so thankful my grandchildren were not in over to visit. I do believe they are solely responsible for repairs or replacement. But full disclosure should be mandatory. Thank you for allowing me to vent my frustrations on here. I will keep you aware of my situation.

Is anyone having issues with this oven? I am on my third ignitor switch and it is now 2 days before Thanksgiving and no oven. GE customer service will mail me the part by the end of business day tomorrow, but will not install and insists that this is not an issue with their ranges? I think I have a lemon and would like to get a rid of this. I also am so disappointed with GE service and will never buy another one of their products!
Compare Ranges, Ovens, and Stoves
GE Ranges Company Profile
Company Name:

GE Washing Machines

Company Type:

Public

Ticker Symbol:

GE

Address:

3135 Easton Turnpike

City:

Fairfield

State/Province:

CT

Postal Code:

06828

Country:

United States

Website:

http://www.ge.com/