Consumer Complaints and Reviews

I recently moved into my new home on 16 December. I was happy to see all the new shiny GE products with 1 year warranty. On New Year's Day my brand new glass top stove went out without warning. I called GE to schedule an appointment in which they showed up one week later. The technician who seemed very disgruntled did an examination and told us that the new stove was wired incorrectly and that he would have to order parts to repair it. The parts show up 5 days later and after he said he would come around 9 am on my second day off work. He shows at 2:45 and says, "My bad folks. These are the wrong parts and I will have to order them again so they will be here in 3-5 days."
I called customer service to understand why the parts (since their product was faulty) couldn't be overnighted and was transferred twice because it seemed as though no one wanted to address my issue. It is now day 9 since I have been without a stove and seems it will be another 6 days before I may see resolve MAYBE! This is the absolute worst company when it comes to customer service and fixing their own product! I will never purchase another GE anything again! Sad that consumers have to deal with companies like these. New home doesn't feel right.

The unit is a glass top that I got used. It is an older model that was/is still in good shape. The oven temperature is somewhat lower than it credits itself for. The upper unit cleans up nicely when a glass top cleaner is used.

I love this range. I pre-heat it, and it makes a sound when it's pre-heated so I know it's ready to put my food in the oven. It bakes evenly. Easy to keep clean. Has a window to look into. The knobs are located on the front, rather than on the back so I don't get burnt reaching over hot food on the stove. One problem, this in not recommended for a household with little children. They can easily reach the knobs turning on the burners which is not safe. For seniors it's great!

Originally looking for a bottom oven but we're talked out of it by the salesperson. We are glad he did. The range has four burners and a warmer, more than enough space and the oven is spacious and heats evenly, with or without the convection setting.

We have had this electric range for 5 years and had no complaints. It has performed very well. The oven is just the right size for us. We do a lot of baking most of the year and we have had no problems so far.
How do I know I can trust these reviews about GE Washing Machines?
669,639 reviews on ConsumerAffairs are verified.
We require contact information to ensure our reviewers are real.
We use intelligent software that helps us maintain the integrity of reviews.
Our moderators read all reviews to verify quality and helpfulness.
For more information about reviews on ConsumerAffairs.com please visit our FAQ.

This range is not expensive as far as ranges go but it performs beautifully and is very attractive. I feel like we got great value for the money we spent. I especially like the grill zone on the cooktop.

We purchased this range (GE Café model CCGS99OSETSS) 4 years ago. I loved the idea of two ovens as I am avid baker. We saved up for a year as it was over $3000.00 but I thought it would be worth it thinking GE was a reputable company and I had read some good reviews. Flash forward to today where neither oven works and we have paid over $200.00 to have two technicians look at the range as GE said the first one wasn't GE certified. Both said it would cost approx. $1000.00 to fix and there was no guarantee that is would not break down again. They also both advised us not to buy GE in the future. This sentiment seems to be echoed by many others on this site.
We contacted GE in Oct and they didn't get back to us until 4 weeks later. Christmas is only a few days away and I haven't been able to do any baking this year and I'm guessing it will not be fixed for Christmas dinner. I'm really hoping for a Christmas miracle where GE will do the right thing and either pay for the full repair or give us a new range. But alas I don't have much faith in GE, sad to see what was once a great company fall so far. PS. I also contacted their president but I have yet to hear back.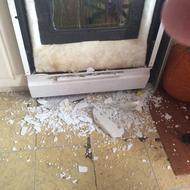 My glass door exploded shooting glass splinters everywhere, cutting my ankle. I was shocked by this. When I called to report this they were very friendly on the phone. I asked has this ever happen before. I was told not to their knowledge but they will send a person out to investigate on Dec.1st 2016. Then I checked the computer and to my shock I find out that this is a common occupancy. If this is then they should have a recall on the glass. I am so thankful my grandchildren were not in over to visit. I do believe they are solely responsible for repairs or replacement. But full disclosure should be mandatory. Thank you for allowing me to vent my frustrations on here. I will keep you aware of my situation.

Is anyone having issues with this oven? I am on my third ignitor switch and it is now 2 days before Thanksgiving and no oven. GE customer service will mail me the part by the end of business day tomorrow, but will not install and insists that this is not an issue with their ranges? I think I have a lemon and would like to get a rid of this. I also am so disappointed with GE service and will never buy another one of their products!

Our contractor installed a new 36" GE gas cooktop two years ago. We're very satisfied with it - except for the cheaply made control knobs that keep breaking because the stems are nothing but chrome-coated plastic. GE parts division will replace a knob within a year, but while waiting for replacement knobs we have to swap "good" knobs (i.e., ones not yet broken but soon to break) to the burner we want to use. Come on, GE, surely you can make a knob that last longer than a few months. Gas range knobs have been around since long before plastic was used in the knobs. Infuriating!

I purchased a new kitchen and purchased the GE Cafe Line of Appliances 11/2014. What a mistake! The 5 Burner double oven Gas Stove Model CGS990SETSS burners have never lit properly. I have had 4 service calls and replaced burners. When I purchased the appliance there were 3 items on the convection oven that did not work at all. They replaced defective parts and worked on the igniters. They are now informing me that the fact it still doesn't work and the control module is not functioning again is not their problem. After an hour on the phone again they have offered to pay for defective parts and I have to pay for service call, Labor and take yet another day off of work. FYI. They give you a 4 hr window and sometimes make it. I wish I would have known what a piece of junk the GE Cafe appliances are and how Lowe's does not stand behind any of it.
In addition, the dishwasher model CDT725 was defective and leaked through my newly renovated ceiling. I had to pay for labor and trip charge they paid for defective part. The microwave did not work at all and I had to uninstall it and take to Lowe's to get a new one and install it myself. All I wanted was nice SS appliances that work. Instead I got nothing but headaches added expenses and a lot of time away from work trying to get them fixed and functioning.

I bought four (4) GE appliances in June 2015, in order to get the same color. The refrigerator had to be replaced in less than a week. The freezer frosted over. The stove top is very flimsy and a chip fell out of 1 corner in about a month. I was told by Home Depot it couldn't be replaced because that color (bisque) was not available. After a screaming match, I told them to forget it and contacted GE myself. They shipped one, which had a larger chip in the same place. It was picked up and another one was shipped. It had a LARGER chip. By this time, after dealing with them and Home Depot and getting absolutely no help from either, I kept the stove top and patched it myself.
After going thru weeks of aggravation and frustration with Home Depot, I got my wall oven installed. I put a griddle of bacon in the oven. When I opened the door the griddle full of hot bacon grease slid toward me. A griddle hardly has any sides, so if I hadn't had an oven mitt on, I would've been burned badly. A GE representative, after many calls and arguments from me that the oven was faulty from the factory, finally agreed that the rack slanted and was NOT improperly installed. I have to put two kitchen knives under pans when I am baking to level them.
I was told they could not replace the oven because (once again) that color (bisque) was not available. I said, "So I bought the last one in the whole world?" The agent replied, "probably." After many more calls, I finally accepted a $250 refund and dropped the matter. If I had pursued it, I knew, without a doubt, that I would lose my mind. All this happened over a period of about 6 months. I was on the phone or in Home Depot almost daily.
The last straw is that now the dishwasher has quit working. I bought an extended warranty on three of the appliances, so Home Depot told me I wouldn't have to pay anything (a miracle!). The repairman didn't show yesterday (he had a bad back and couldn't pull the dishwasher out to work on it.) They had told him the "dispenser" didn't work. I had told them the dishwasher wouldn't drain. My advice is never, ever buy GE products. I wrote to GE, called numerous times and the response was: "We don't replace appliances, we repair them." I couldn't convince them that you can't repair appliances that are faulty from the factory.

OK, so I have never had a self-cleaning stove, but I figured it was time, so I bought one from Lowe's last year. It was not pricey, but it is for a downstairs kitchen, so I figured I needn't get too fancy. The stove worked fine UNTIL I decided to use the Self-Cleaning mode. That is when it started smoking and filling the house (3 floors) with an acrid chemical smell and smoke. I contacted GE because it was still under warranty (less than a year old).
MY ADVICE is NEVER buy GE! Long story... they created a "Case", I sent them pics of the stove and the burnt oven and the broken lever that would NOT release after the stove cooled down. Actually, my husband had to pull the plug out from the wall and haul it outside because of the horrible chemical odor and smoke. And the lever would not move. Eventually, we unscrewed the top place and were able to open the oven and take more pics, which we sent to GE.
SO after 4 weeks, they call and say that they will give us "some" money to buy a replacement??? WHAT?? WHY would I want to buy another HORRIBLE stove like that. Anyway, I figured that would be their response because of the other complaints I had read. Of course, they blamed ME, the consumer, saying that there was too much grease??? I followed all the instructions. I cleaned as much as I could before starting the Self-Clean. I will NEVER buy another GE Appliance. NEVER. AND since they do not honor their warranty, why do they give you one?

Literally stopped working after getting wet and the whole system locked up. Repairs proved impossible because we can't get a service technician from the company. It's a lemon. Repairs aren't even guaranteed because the problem recurs if it gets wet. An oven stops working if a pot overflows!! GE isn't even answering our calls. I will never recommend this company. I found it embarrassing. Stay away from this useless expensive paperweight.

This is the worst POS I have ever bought. When you preheat the oven to 350 it goes up to 550 and then you have to wait for it to drop and open the door to expedite this. The glass top gets scratched easy. GE told me numerous times that this is normal. I wish I would have known this before I bought this. Be WARNED. DO NOT BUY A GE PROFILE ELECTRIC RANGE. They are the worst.

I purchased my new General Electric glass top range on 4/2/14. I told the person that delivered it that the door was not closing properly, it was 5/8" open on top. He called GE and they said that there was nothing wrong. The edge of the stove gets very hot and you can burn yourself when using the oven. I called GE consumer affairs on 8/30/16 and told them again about the door and they told me the same thing again.
I had the store repairman come on 9/7/16. He tried to adjust the door to no avail. He also told me he has other people with the same complaint but GE will do nothing. In all my 58 years of owning stoves and cooking I have never had a door that did not close properly. GE should be ashamed of themselves. I will never buy another product from them. I also told them when I broil the door of the oven is hard to keep open. They told me not to open the door when broiling. Their owners manual says to keep the door ajar when broiling. They are not a very trustworthy company.

We bought all new appliances the end of April 2016. The frig and dishwasher are fine. The range is a disaster. I set the oven for 350* and about 10 minutes the beeper goes off. It will be maybe 300*. It will take another 15 minutes for it to reach what I have set it at. The tech came out and he says that is normal, so why have a beeper to tell you the oven is ready if it is not, the 1st time I baked a cake it was not done, then I started using the thermometer. So he tells me to just figure 30 minutes for the oven to get to temperature. In my 60 years of cooking, I have NEVER had an oven that was not ready to put a cake etc in when the beeper goes off. I am very dissatisfied with GE and will NEVER buy another GE appliance. The company called and says the same thing, GE stinks.

My frustration with GE has reached a new peak. I own a 2005 Dual fuel (electric/gas) range which I purchased in Feb.2006. Unfortunately the touchpad control "lost" the number 5 recently and made it necessary to cook at 324 degrees, not a big problem. Then it lost #1,3,4,5,6, and 0, THAT PRESENTED A LARGE PROBLEM SINCE VERY FEW DISHES CAN BE PREPARED AT 789 degrees.
I proceeded to replace the control panel, but it turns out that is not the problem. The repair requires replacement of the entire face plate with the touchpad. An expensive part, but worth it since the stove is in excellent condition. Unfortunately after days of searching and calls to GE parts dept. and consumer affairs dept. I have discovered that GE NO LONGER MANUFACTURES THAT ITEM! A call to GE consumer affairs dept. yielded the following response: " We will give you a $50 gift certificate to purchase a new stove" I laughed: thinking that was a joke. GE NEVER AGAIN.

Bought a new house with all new GE appliances. I have a cooktop and all the knobs broke within 2 months, contacted GE and they sent me new ones and they broke in 2 months. In the past 3 years I have changed them at least 5 times (total of 25 knobs) and now every single one is broken. I am forced to use the cooktop without the knobs which at times is very dangerous as I could not properly operate it without the gas leaking.
The dishwasher broke and they charged me $288 to fix it and they did not mount it correctly breaking the cabinet where it was mounted. They guarantee their work for 30 days and it is 32 days today and want to charge a house call for $99 and then labor and parts. When the service guy was fixing my dishwasher I inquired with him about the constantly breaking knobs and he mentioned that he has the same model and it's been a problem - but he recommended me to go to Ace hardware and buy some stuff to secure the knobs and see if it does not break. Every knob the GE charges $13 or so.
I am so done with GE. Never ever going to buy a GE appliance and already recommending my friend not to go for anything GE. I never write any reviews but the reason why I Am writing today is I called their customer service to discuss about my issues. Great news - their system is broke and could not retrieve any of my info or take a complaint! They want me to call after 2 hours once their system is fixed. What a joke.

Not long after purchasing the GE Profile 36" built-in electric cooktop the heat controls around knobs were no longer readable. I contacted GE and they replaced the cooktop. This happened again, same results. The next time I had to pay $150 to replace the cooktop. Three years later same problem. Called GE. Now it will cost me an additional $200 to replace or they will give me a discount on a new cooktop. Are they kidding? This is obviously a design problem. I have to guess if I'm cooking on high, med high or low.

Profile Electric Stove 2006 - I suggest everyone who owns a GE profile electric free-standing to inspect the wiring. If plugs and wires are burnt report it to your underwriter's lab and report it to GE. GE is unaccountable and sells product that is completely unacceptable to the consumer.

Two times now my gas range has been turned on by nurses coming into our home and accidentally lightly bumping the knob, causing the gas to leak into the home for hours and me not being aware. As a patient, bed bound, I could have easily died. Making matters even worst was GE, response was dismissive, hanging up on me, saying "we make appliances easier for elderly to operate", and don't have nurses bump the knobs when they walk by. APPALLING!! Then they closed the case. Not closed for me! What about being safe, for children or the elderly? No, they have catered to make it easy for the elderly that can't turn a knob, putting the rest of us at risk of death. Not acceptable. I was told to buy child covers. Of which we did, how about a patient, and person of any health being valuable enough to make a appliance safe so they don't have to have a camera monitor the stove to be sure no one bumps the stove with their nursing bag?

We are 77 years old. We live close of Mexican border in a very poor, small town. We do not have techs. This past Sat. 7-10-2016 when cooking dinner our stove quit. Couldn't be fixed. Monday morning we drove 65 miles to a city to purchase new stove. Mind you we were not able to cook all weekend. We borrowed a pick up so we didn't have to pay the delivery cost of $65. We asked the clerk of a reputable store to have it converted from natural gas to propane. He stated it would be $250.00. We live on Social Security and had to use all our available money for the stove.
My husband used to work on appliance repair and decided we could do it ourselves. The jets were there but no instructions in what order they should be installed in which burners. We call a tech who drove 65 miles to get here and he said nothing he could do without instruction. Charged us $75 travel time. Called GE phone no listed on so called instruction sheet after getting worthless information from website. Very very unhelpful customer service. They did not care we were old and eating peanut butter. After a very long wait time, got a women who was able to explain how to remove oven door but got cut off. Two other so called representative were unable to give us the info needed. The enclosed info in range was totally useless. We learned how to set the clock but not how to remove oven door (which you do from time to time when deep cleaning or repairing oven) not where to put the propane jets, incorrect burner.
They did arrange to send the repair manual but it would be 24 or more hours. In the meantime we cannot eat. We have a disabled son as well as ourselves and 3 different diets because of illness. They did not care. They did not care that a tech refused to help us. They kept telling us to call a licensed GE tech. When we said no tech in this town and they were at least 65 miles away they said call a plumber. If we don't have an appliance tech why would we have a plumber? He would not have the instructions which should have been in the unit. We don't have the money to go out and eat after the long trip to purchase the range, the $75 to the tech who could do nothing. The earliest they would be able to e-mail the directions was 24 hours. I can mail in a matter of mins. especially if it is vital.
On top of everything else every rep we talked to told us the warranty was up as the range was a year old. How do we have any control over what dealers tell us? If you are in the market for new GE appliances make sure you demand proof they are the latest and the best. This customer service is terrible. A brand new stove sitting here and a peanut butter sandwich for dinner.

I ordered and rec'd new GE Profile gas/electric range from Sears. Salesperson did great job, I ordered a whole new kitchen for my new home. The GE range came and was installed. As I was wiping it down I got cut. Examining the range closely, I found that there were several places that were of unfinished, raw-cut metal. Places that would slice my skin. Indeed, as I was checking all the places I would normally be cleaning, I got cut again! Arranged for the range to be returned and went to Home Depot where I had originally purchased a lovely GE range 12 years ago. He showed me the floor model which I examined in their showroom for sharp metal. It was good.
The range came today and I examined it on the delivery truck. Same mess as the first one. I refused the delivery. Called the GE Sales Dept. Said they would look into it, and would I like to order another range. They asked that I send the photos and video I had taken of all the places I had marked in blue tape prior to returning the first range. Fortunate that I did that. I suggested they view the Consumer Affairs Site and return to good manufacturing processes.

The range was fantastic...until it broke after 8 months. We called GE and they sent out a repairman. He said he would have to order parts and come back about a week later. It is four weeks and five visits later and my range is still broken. GE's service process is extremely time-consuming and not customer-friendly. I have called their "customer advocates" to try and find out how many times I have to wait for a repairman before they are going to just replace the range and they can't give me an answer. I have spent over 20 hours waiting for repairmen or waiting on the phone to try and resolve this issue. I would NOT recommend buying ANY GE appliance due to the terrible experience I have had with their 1-year service warranty.

This range is so very difficult to clean or even keep clean. Washing up after making supper has become my worst nightmare. I am now stuck with this thing till I die or smash it with a hammer! I put food on low to just simmer and it will burn on, but you cannot set it any lower. I would never recommend this range to anyone EVER! I am 66 years old and love to cook. This is not my first range so I feel I know what I am talking about.

This is my third GE marathon combination gas top/electric oven. I cannot, however I try when baking a pie, to get the bottom crust cooked properly. The top crust will burn before the bottom is cooked. Apparently according to GE even though the bottom element cannot be seen, it is there. Well it is not doing its job. GE's repair people's suggestion is to turn up the oven a 1/2 hour at high heat before baking. Anyone who bakes knows that a oven is set at 450 for a pie for 10 minutes - so obviously there is something wrong with the design, or they wouldn't suggest such a stupid solution.

Purchased this range 18 months ago. After warranty (1 year) expired we started having problems with the "glow plug" that ignites the convection oven. We paid to have three of these replaced (over $700.00). Being thoroughly disgusted I contacted GE Customer to complain. They were very nice and offered to help us. The sent a GE employed tech to our home to determine the problem... yep bad glow plug. GE will replace no charge... and they did, some three weeks later. Since then we are into our fourth new "glow plug" all courtesy of GE... no charge, except we have been without our convection oven for over five months except for a couple of weeks while the four new units worked that were installed. We have eleven boxes of parts from GE that were not needed to repair the oven. They all came from either Mexico or China. What a massive screw up by the GE Customer Service Dept.
Now the glow plug is out again (made in China) and GE wants us replace the range at a "heck of a deal"... 30% off the MSRP of a new comparable model... No way, we switch brands. Now we find out that GE Customer Service Division has been sold to a Chinese company. Service techs have been let got, the techs' benefits have been reduced to a minimum etc. Such is the condition of our country. We the consumer are being sold out by large corporations like GE. Not sure where I will make my next purchase but to ** with GE.

We bought Built-in Gas GE cook top - CGP350SS from Home Depot Nov. 2014 for $1400. When it was 8 months old, stove won't start cause electrical faults in the stove. GE service folks came in and fixed after a week though stove started working but sparks are still a problem. Now it is 1 1/2 yrs old suddenly we saw fire coming out from under the stove due some gas leak from one of the burners. Will never buy GE products again.

Tonight, my new JS 750 slide in range was finally installed and ready for its first test run. I am heartbroken. When the oven is started, a fan begins to run. As the oven heats, the fan forcefully blows hot air out the vents above the oven door and into the kitchen. As the oven reached the set temperature of 375 degrees, the temperature in the kitchen rose steadily. The hot air continued to blow in my face and my air conditioner was running full blast. This is apparently a feature designed to keep the electronic controls for the oven from getting too hot. I live in southwest Florida. There are not more than 10 days a year when it would be tolerable to have hot air blowing from a hot oven into the kitchen (and with our open concept design, the entire living area).
After waiting for months to own a wonderful new oven, I can hardly believe that I have one that I will never be able to use. I would gladly sell this at a loss, just to be able to be rid of it. But who would buy it after I give an honest answer about why I am selling it? This is the most ill conceived design feature I could imagine. How did it manage to get an energy star rating? Oven heat should stay in the oven.

ConsumerAffairs Research Team
The ConsumerAffairs Research Team believes everyone deserves to make smart decisions. We aim to provide readers with the most up-to-date information available about today's consumer products and services.
GE has been in business for more than 100 years and is one of the most recognized names in American manufacturing. It introduced one of the first mass-market electric stovetops in 1928: the Calrod Electric Range.
Flexible choices: GE offers a variety of product lines designed specifically for small homes, large homes or businesses.
Robust warranties: GE offers extensive warranties on all of its products, usually with the inclusion of home visits from maintenance personnel.
GE Fits! Guarantee: GE guarantees that it can find a cooking appliance that will perfectly match the existing dimensions of a client's old appliance.
Extensive special features: GE includes a variety of special features for select models, ranging from advanced software to the latest in induction technology and more.
Made in America: GE guarantees that most of its appliances are designed and manufactured in the United States, and provides information outlining what percentage of an appliance's components were made in the U.S.
Best for Users cooking for one, users cooking for families and users cooking for businesses.
Compare Ranges, Ovens, and Stoves
GE Ranges Company Profile
Company Name:

GE Washing Machines

Company Type:

Public

Ticker Symbol:

GE

Address:

3135 Easton Turnpike

City:

Fairfield

State/Province:

CT

Postal Code:

06828

Country:

United States

Website:

http://www.ge.com/