Consumer Complaints and Reviews

I currently fighting with LG on my stove (LRE6383ST). Hey has anyone every dealt with LG, for warranty on a range? It only 6 months old, my convection oven has stop working on Easter Sunday 2017. They first told me that they would replaced it with a new stove. Now they are given me the runaround for weeks, now they tell me that is going to be another 3 to 5 business days before they know what or how to replace. They said they would repair it but we are too far away for the nearest repair person in Yorkton which living in Raymore we know that there is no repair people to help. I'm so angry I was thinking of buying the fridge to match but not now.
I waited for 4 weeks when I bought it because they were on back-order. Actually all appliances were due to all companies sending everything to Fort Mac after the fire which was great for them but not for anyone else. All I want is a new range that works for more than 6 months. Now LG said they would give me a store credit only after I send my stove to them in BC and what the hell am I to use till I get a new one. There is another problem. None of the LG RANGES are available nor can they tell me when. It could be months which is not acceptable. How can I cook for my family of 5. The store where I purchase this stove is helping me to deal with LG. LG you need to make this right!!!

Range I purchased from Warner Stellian is a 5 burner gas range model number LRG3091SW/03. I would not recommend purchasing this particular unit. While I am satisfied with the oven, the stove top is a problem. The unit is less than 2 years old. There are 3 issues. The burners on the stove present a safety issue. If you set a smaller pan on the front burners the pan easily tips and hot liquid spills onto you, the floor or any person (thinking children here!) that happens to be standing at the stove. See image. The 5 knobs for the stove top have all cracked. See image. The oven control panel is electronic. The covering has cracked and is now cracked almost all the way up. See image.
The range is normally used once or twice a day for a family of 2 which I consider less than normal range. I contacted the LG company and their reply was basically, "That's too bad since the 1 year warranty is over but you can pay to have it fixed" (paraphrased but you get the idea). No mention of the safety issue I reported. I should have contacted the company within the 1 year since these issues started within the first year but I didn't however, I have owned multiple ranges over the years (with much more usage when our family was 5 people) and those have easily lasted 5-10 years without issues. Don't purchase this range!

We recently went through 4 months of renovations. What a nightmare and the contractor is not coming back to do the final touchups. We had our kitchen completely gutted and when it came to appliances we purchased and LG range and fridge. Both are working just fine. It takes a bit of getting used to when going from appliances from the 70's and 80's to new. We have had no problems with the fridge but then we have only been using it for a couple of months.
The stove works fine. I thought getting a new stove would mean that I would wait a shorter time for a pot of water to boil but no. We are having a problem with the smell of gas every time we use the range. Whether it be the oven or burners, we smell gas. There is conflicting information on the internet as to whether this is normal. We shouldn't be able to smell gas in other rooms other than the kitchen but we do when we use the range.
The other issue which is major is the knobs for turning on the burners. This is a complete safety hazard and how this design passed any safety inspections before selling to the public is beyond me. I have singed my long hair twice, once reaching into a cupboard near the stove and another cleaning by the stove just because I barely leaned against the range. The knobs turn by barely brushing up against them and instantly the burner is on before you can get out of the way. If my children were still small I would not keep this stove. It is a accident just waiting to happen. I find this design terribly irresponsible for a company to have and this range should be recalled.
I also find the venting of the oven across the cook top not the best design also. When I use the oven and the burners at the same time too much heat is being created and at one time our range hood fan went off on its own and didn't shut off until the heat had dissipated. At the same time the oven vent causes the pots on the stove to heat up even more than from being on the burners and the handles can not be handled unless using a pot holder. It bakes well. We find we use the convection more because on bake food isn't crisping up as much as we would like. I guess that's the difference between electric heat and gas.
Companies need to stand by their products better. Our old fridge of 25 years is still going on strong and has been relegated to the car port as an overflow fridge. I am certain that these new appliances of today would never last that long. If the new LG fridge goes we might have to bring the old one back inside. Oh and our 2 year old Samsung T.V. just completely died. What quality!!!

So we installed a new LG range last month during a kitchen remodel. Huge capacity oven, which I appreciate, but the chime indicating preheating target temperature is 100 degrees too early. It ultimately reaches target temp, but about 10 minutes later. The first casserole baked gave us mild food poisoning as we erroneously believed it had cooked according to the recipe. In fact, it was placed in the oven 100 degrees below temp, lost heat in the process of opening the door, then was never cooked long enough. Now I have an internal gauge hung in the middle of the oven space, which I have to illuminate with a flashlight shone through the door, to monitor temp. What a colossal waste of $1300.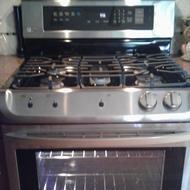 We recently purchased an LG gas range. We paid more and got the higher-end model. Like other people have reviewed is very dangerous. You bump into the knobs and the gas leaks out you don't know it happens unless you smell it or you hear the clicking. LG needs to do something about this Dangerous gas oven.
I turn the oven on with my pocketbook. I reach up into the microwave. The oven turns on. It's crazy. If you have little children around it's very dangerous and you have to remove the knobs. That looks great. Not when you have spent close to $1,500 on the oven. Yesterday I baked cookies with the grandchildren and the cookies in the front were not as cooked as the ones in the back. That's another problem. I added a photo with three of the knobs off, doesn't that look like **.
How do I know I can trust these reviews about LG TV?
766,665 reviews on ConsumerAffairs are verified.
We require contact information to ensure our reviewers are real.
We use intelligent software that helps us maintain the integrity of reviews.
Our moderators read all reviews to verify quality and helpfulness.
For more information about reviews on ConsumerAffairs.com please visit our FAQ.

All of the knobs for this supposedly 'high end' range (LRG30357ST) are poorly designed. The knobs are plastic covered with a very thin film of silver colored material, the back has a plastic sleeve instead of metal. The silver film blisters and shrivels and the plastic sleeve splits so the knobs aren't secure on the shaft. The company has upgraded the knobs on the newer ranges but they won't work on this range as the shaft hole is reversed so they sit upside down. The only replacement knobs are the same crappy ones as the original. This range was in the new home we purchased. It was manufactured in 1-10 in Mexico.

I purchased the above noted range back in March 2014. Just recently, there is this noise from the fans when you turn the oven on. It does not matter if the oven is on convection or just nonconvection mode. The same noise still exists. We live in Saint John New Brunswick. I called a few appliance companies to service the oven. I was told, "we do not service LG ovens".
I went to the facility that sold me the oven and asked if they knew of a service representative. I learned from the store that sold the appliance, there is no one in the area that services these LG products!! We called the LG 1-888-542-2623 number just to be told that there is no one in the area that services these! Buyer beware-don't purchase LG products!! They can't service what they sell! Am very frustrated with these products!!! What a waste of hard earned money!!

Saved up to get a new stove. The enamel on the floor of the oven started coming off, now it is rusted and actually has holes! So disappointed in this company. They say it is not covered. BAD BUSINESS!

LG double oven - Both ovens burn everything in the back of the oven while the front of the baking toward the door is still white. This also happens on convection. I have had it "fixed" 4 times. Once by the LG rep and 3 times by the Geek squad. Baking is awful. Nothing comes out right.

My LG LRE3083ST Electric Range worked flawlessly for the first year. Then the controls quit functioning properly. It was intermittent at first. Sometimes I had to reset the circuit breaker to turn off the oven. Then the stove top controls failed. I could turn on only the rear burners. I contacted LG customer service thru their website. The reporting process was cumbersome, but LG agreed to send a repairman out to fix it. The repair seemed to be good. The oven and stovetop both worked. That was 6 weeks ago. This past weekend the stove top controls failed again.
Today I contacted LG. This time by phone. The customer service person was friendly, but after conferring with others there, she politely told me that any future repairs would be on me. I have been an LG television and appliance owner for over 10 years. I have never had an LG appliance fail so miserably. This problem is likely a quality control problem, but LG does not acknowledge that. The control boards that the repairman installed in January failed before the end of February. The boards must be defective. My respect for LG just took a big hit. I will no longer recommend the products and will consider other alternatives when I replace my 15-month-old range. I will not pay to repair it because it will probably fail again.

They replaced the first range we purchased because the temperature controls were erratic. We called for repair service five times for the same issue, overcooking towards the rear of the oven and uneven oven temperatures. The replacement range is almost as bad. You have to watch the cooking process and turn the food or it will burn/overcook near the back of the oven. Baking cookies on a cookie sheet the cookies in back are overcooked, the cookies in the front (closest to the door) are undercooked. Cakes come out uneven due to cooking faster and drying out towards the rear. If the temperature set point is 350 degrees, the actual temperature is 280-300. After an additional 20 minutes it will be 390-400 and the oven controls still indicate 350 degrees. LG representatives say this is normal for a convection oven, and nothing is wrong with the unit. We will not buy another LG Range in the future.

We purchased our LG Electric Range November 2011. The oven was in need of cleaning, so I started the self-cleaning feature as I have done 2 or 3 times previously. The door locked and the cleaning began. When it was done, even after cooling off. The door is still locked shut and the whole control panel is blacked out, rendering the stove top useless as well. There is absolutely nothing working. We checked the breaker and all connections. Everything is in order.
So we called our local repair company and they told us that they have had multiple calls about this same issue. My husband called LG and spoke with a couple of people there including a manager. The first person told us that the self-cleaning feature should be used every couple of months to keep it working properly. We told her that it doesn't say that anywhere in the manual. Basically they said, "Sorry we can't help you." This is an engineering defect. And should be taken care of by LG. The lady from our repair company said that on some of the ranges, the cook top has cracked because of the heat. We are very disappointed in this company. And will never buy LG products again.

I have read several reviews in regards to this matter, and they are correct. LG needs to do correct this matter. Aware of the situation we are always very careful around the stove and there are times the knob gets brushed and the gas leaks...yes LEAKS. You are totally unaware that the gas is leaking until someone smells the gas a few minutes later. This is totally unacceptable, and if you have small children extremely hazardous and dangerous. We are looking into buying childproof caps that will possibly fit over knobs and see if that works, and are contacting LG.

I have had my LG Gas Range LDG4315ST for 3 months. The top oven undercooks and the bottom oven burns everything. The knobs on the front of the range can turn on just by walking past and bumping them. I have walked into my kitchen numerous time and smelled gas and found the knob turned just enough to let the gas escape. I have turned the burner on just buy reaching up to the cupboard over the range. This is an extremely dangerous appliance! If you have young children beware!! I have contacted LG 4 times and I am still waiting for them to set up a technician to come to my house. Would never, never buy another LG appliance. This range needs recalled. Do not buy it!

This was the number one rated range on several different websites so I thought I'd found a winner. I've had nothing but problems since the day this was delivered and the worst part is that LG has the WORST customer service department I have ever had to deal with. A recent chat representative even wrote that she will go "one step a time for me" reading from the manual. I have a masters degree in nursing, I can read directions! The stove comes set up for natural gas and it took 2 technicians almost 2 hours to get this set up and installed. Cost me an additional $320 and yes, these were experienced technicians from a reputable company, but very little is known about this model.
First issue was that the ultraheat burner would not ignite and had a flare up issue when it did. I had to get "approval" from LG for a service call and again, even the company of their choice knew very little about this stove. He had to call LG for help from there who talked him through the repair. The upper oven was burning just about everything I tried to bake so I asked him to check that. The oven was set at 350 and his professional digital external thermometer was reading 425 degrees AFTER the preheat cycle and took forever to come anywhere near 350 degrees.
The instructions tell you how to adjust the oven temps, but the (+) does not appear on the digital display, as stated in the manual, so you have no idea if the adjustments your making are even effective! After burning lots and lots of food, I finally got the oven to semi work. I put a high quality thermometer in the oven and it was all over the place 300-425 degrees during the baking cycle.
Now let's talk about the lower oven. From day one there was a terrible odor which I was told was just from it being new. Again, it burned just about everything I put in so I started playing with the adjustment feature. It got to a point where some rolls were golden brown on top, but the bottoms were barely done, but at least they weren't burnt! Not to mention that this thing sounds like you have a jet engine running in your kitchen!
Now, here's the real kicker. This morning I opened the lower oven to move the rack and the entire inside was black, covered in soot (see photo of rag I used to wipe just the bottom). I tried to call LG but they refused to let me speak to the technical department to see if this was normal for a new oven or if I needed yet another service call. I was told "this department only speaks to other technicians". I called Lowe's and this piece of junk will be on its way back to the store later this week. Thank heaven I purchased it from Lowe's, at least someone stands behind the products they sell.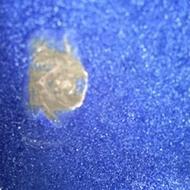 I bought a very expensive double LG oven. I noticed a few months ago that the enamel was coming off inside the oven. I went and talked to the retailer who sold it to me and they told me I had to contact LG which I did. I sent pictures and never heard back from them. So I contacted them again and was told I had to pay someone to come look at the defective oven. Enamel peeling off the inside of an oven should never happen. This is defective not a problem with a part. I will also say that in the last 4 years I have purchased from LG a double oven, Very expensive refrigerator, microwave oven. Front loading washer & dryer and 2 Smart TV's. Their customer service is so unprofessional and never tried to help me. They have definitely lost this LG customer! I own a business and have been in business for 19 years I would never treat a good customer like I have been treated. Goodbye LG.

Bought stove in October of 2016. Didn't have gas line installed until Dec, but noticed when we reached up to use microwave we were accidentally turning one or both burners on. Called J. C. Penney about problem but were told that no gas would be released until the knob was turned far enough to light the burner and we would hear the clicking and would have time to turn it off. When we had gas installed to stove we found that wasn't the case. Just a small bump would allow gas to release without warning. Very dangerous situation.
At 64 years old we should not have to worry about such a problem. Spoke to J. C. Penney about the problem and were told if we had bought their warranty they could look into it. We were told to contact LG but are put in hold for literally an hour or more until I get frustrated and hang up. Wanting to know what consumer protection agency we can contact about the dangers of this stove. Haven't used the oven enough to say if there are problems with that. Sounds like this should be a class action.

While our new LG free standing dual oven gas range cooked superbly, it is a clear danger and we convinced our retailer to accept return, even though they advised that LG would not. The control knobs turned inadvertently, allowing the gas line to open, without igniting. The technicians claimed it worked as designed. How could that be? On multiple occasions reaching for something in the cabinets above or the microwave caused the knobs the move, despite only grazing the knob. In a separate incident, our electrician placed a tarp on the range to prevent anything falling on the cook top and again, an inadvertent touching ignited the tarp. While nobody was hurt this time and no permanent property damage, we refused to accept this. We were very pleased with our retailer, PC Richard, when they agreed to the return. We recommend that nobody accept the risk.

We enjoy LG's double range; we can bake a pizza on the top range and bake a turkey on the bottom (if we so wished) simultaneously. The alerts from the LG range are not annoying buzzards but are soothing melodies.

Not even a year with our stove and we had the fan go on the oven smell of gas fumes inside of oven when in use. Have extended warranty and still no one has been by to fix it been a month!!!! Then overbooked... and still no one has called back!!!! I had no oven for my Christmas dinner that I held for 30 family members!!! I will never buy LG ever again and made sure my family, friends and social media know about our experience... never again! Very unsatisfied.

Two weeks after installing our beautiful new oven in our beautifully remodeled kitchen, we had a graduation party for my son. As I was going to bed that night, the smoke alarms started blaring. The house was filled with black smoke. To make a long story short, my nephew bumped one of the knobs and started a plastic container on fire. All he did was bump the knob and started a fire that easily. Major design flaw. This oven is very dangerous!

I asked the salesman at Best Buy which oven he would purchase. LG was his answer. It was a possible choice so that is what I bought. While installing the oven the floor was damaged. It took all day and since the stove has been installed. The light in front of the stove remains on. The clock on the stove does not work, never has been able to set for timed oven start. There is a crack in the left of the display screen for turning the stoves and oven on.

We have the LG model LDG4315BD. It has been installed less than a month and we have had several gas leaks that were found once the strong smell of gas filled the room. We have had at least 9 "almost" fires or burns of people. We have the set which included the microwave that mounts over it. We look ridiculous trying to use the microwave without accidentally touching the stove. The knobs turn easily without needing to be pushed in. A person just walking by and barely touching them sets the gas free. LG will only give us the exact same model stove, not a refund.

I have this stove. It scratches easy. The middle part that you use for a griddle work for first couple months I have a microwave above it and when I'm to near the panel that turns on electric oven it turns on. Very dangerous. The top range is gas. The knobs are foil, not stainless steel. The bottom is electric and the burner that heats oven melted. Had to replace it. I would never buy this LG products again.

I WON'T BUY A LG ELECTRIC RANGE AGAIN. The LG Range Oven model # LRE383ST01 we purchased in 2015 has been nothing but trouble. In the first year the burner and main board went out. Luckily we were still under the warranty so LG sent their technician to replace them. A few weeks after the warranty expired, the glass top made a pop noise and cracked like a spider web on the lower right burner and spread. We called LG, explained the situation and told them this seems a factory part defect. They politely blamed us of dropping something on the glass which was 100% false and they used "we are sorry" to gently fade their fault with this. We let it go - not to waste our time. Price of a new glass top is near $400.
Couple month after the new range top was installed the new glass top cracked again. It couldn't happen at a better time but Christmas Eve 2016, with having family over, around 4 pm while food cooking, the glass top made a loud pop noise and broke again on the lower right burner. Here was my experience with LG Range and dealing with the company who took the easy road to blame the customer for their defective part. Now I have an expensive LG range-oven with another broken glass top. My recommendation: Stay away from LG Range with glass top.

My LG oven has required 2 repairs; the circuit board on warranty, and now the "hidden" baking element gave out one week before Christmas. I called LG and quickly connected with a representative. This was my experience: Four lengthy attempts for her to get the serial number etc... She continually reversed the numbers (I'd say 486 and she'd repeat 864 sort of thing). And these numbers are located in the most awkward location for a person to read!!!
I explained the preheat could not reach its goal, and she tried to explain to me how important preheating was to ensure best baking results! I told her my baking skills were not the issue, it was the oven could not heat up!!! She told me to ensure the date on the front panel was correct. I told her my panel did not include the date. She had the manufacture date wrong... I decided to call a local repair service, they arrived the same day, and the repair will be done before Christmas, at half the cost, done by a reasonable capable service person. In summary, whenever I need a new oven, it will be a Samsung.

The LG Model LDE4413ST could have burned down my house! The knobs are way too sensitive, so whenever anyone brushes past them, even slightly and without the knob pushed in, the stove top turns on and you wouldn't even notice until it's too late. Very dangerous. Someone else in my family has a gas LG range and this happens to them all the time as well, so I wouldn't be surprised if a lot of other people have this issue. We put in a complaint with LG with pictures of the damage. Tim, whom my husband spoke with on the phone, told us "This wasn't your fault. We'll take care of it." Now, LG is telling us our home insurance has to cover it and they won't do anything about it. I have reported LG to saferproducts.gov and I'm looking into filing a class action suit.

Knobs on stove disintegrate & become nonfunctional & break. This is my 3rd replacement of knobs, & I will need a 4th replacement soon. The first 2 were covered by extended warranty. The knobs when bumped, can easily, cause gas to escape. The can happen with the lightest bump, & is generally unnoticed, by individual, until the strong gas smell is evident!
My communications over the years has been extremely frustrating, & unacceptable. I was told that "knobs are ornamental" by one employee. Another claimed it was my misuse because I left the oven door open. Once someone told me I would get replace the knobs free within a week. They never came! I finally bought new ones for about $275. The plastic overlay on what appears to be a metal knob is beginning to crackle. That means the cylinder that holds the knob on is soon to break. I bought the latest replacement knobs less than 6 months ago. It seems to me there is a sufficient case for a class action suit against LG.

Three of the four LG appliances that we purchased at almost $6,000.00 for the set, have failed in some way since the delivery in July, 2016. The stove has caused two fires. The Microwave computer display has gone crazy and displays all manner of odd characters blinking or scrolling across the display. It doesn't microwave for the time set so we don't dare trust it to do 20 seconds when it could easily do 6 minutes or more. *See Photos.
The Refrigerator began failing a little over a month after we installed it. This is a known issue to LG, as I see many buyers of the LG in-door ice maker refrigerators complaining of the same problem. Leaking water and ice build up in the door jam, forming ice in the door jam and inside the refrigerator, making it impossible to open the left produce drawer as the ice blocks it, or to close the front doors completely as ice builds up. *See Photos. The Dishwasher never worked correctly. The detergent compartment won't open. Not with liquid detergent, not with powder detergent, not EMPTY. The heating element doesn't work as the dishes come out sopping wet, even when I choose "Extra Dry" as a cycle.
The Stove is an EXTREME fire danger. The knobs turn so easily and light the flame automatically on high that me reaching over the stove to grab something has turned a burner on more than once. When we were installing the microwave this happened and our shirt, the cardboard and plastic we had protecting the stove from dust, all caught FIRE. Also our cat walking across the knob, turned it on, burning our cats fur. I can not imagine what would happen with children in the home. We should have to push in the knob and turn it in order to light the flame as a safety precaution. Any slight bump or brush on the knobs turns the burners on high. We have to put tape on the knobs to keep them from being turned on accidentally. I see this is a known issue from the volumes of similar complaints from consumers who have bought the LG gas stove.
In my opinion, this should be a Class-Action Lawsuit. I sincerely hope it doesn't require the loss of life or 3rd degree burns in order for LG to recall these stoves and do the right thing. So here we spent nearly $6,000.00 on new appliances even though we are on a fixed Military Disability income. Now we have $6,000.00 worth of paperweights by LG. The Model numbers of our appliances are as follows: LG Dishwasher LDT9965BD, LG Microwave LMHM2237BD, LG Gas Stove LDG4315BD, LG Refrigerator LMXC23746D.
Uninstalling these appliances and replacing them with Non-LG, quality appliances that will work and not fail, are a significant difficulty for us with my husband disabled and only me to complete the work. It will require me having to hire and pay someone to uninstall the appliances, move them out to the garage and then install the new appliances.
We will never buy LG anything, again. I am waiting for a response from LG. Calls to LG are useless with either overseas Operators saying "I am sorry Ma'am for the inconvenience" over and over. Or worse, saying that my issues are all "Cosmetic" and therefore not covered under manufacturer warranty. Calls to the United States Offices of LG also put me on hold forever and then I get hung up on. I did email LG again today. Costco has been much more responsive and I have been working with them over the last 4 months to get a resolution. I have asked Costco to stop selling LG Appliances in their warehouse and online.

Like the other review, if you set your oven to bake at 350, and watch a professional thermometer inside the oven, you will see the oven climb to around 475 and stay there for a few minutes while the panel says the temp inside oven is only 345. If you then set the oven down to bake at 345 in hopes of still being able to cook something before your house burns down, the oven will inform you that it is actually only 340 degrees in the oven, and continue blazing away until it is satisfied. It will eventually beep to let you know it is ready.
At that point, ensuring there is no flammable material within 10 ft, you will need to open the door and leave it open for about a minute to let it cool down. Once the oven has cooled down, you are now ready to cook, and the oven works flawlessly. I agree that the gas knobs are easily turned on when you brush against it, but that's just the way it is and I can live with it. Gas burners work flawlessly and I love cooking on it. Just wish I knew how to turn off the incinerator preheat setting.

ConsumerAffairs Research Team
The ConsumerAffairs Research Team believes everyone deserves to make smart decisions. We aim to provide readers with the most up-to-date information available about today's consumer products and services.
LG's history stretches back to 1947 when "Lucky" (Luk-Hai) was founded in Korea to produce plastics and other consumer goods. Since then it has become one of the biggest brand names in consumer electronics and appliances across the world.
Large capacity options: Although LG doesn't offer an industrial product line, it maintains a variety of large capacity consumer units, giving users the benefits of increased space while maintaining in-home styling.
Flexible support: LG gives consumers a variety of ways to pursue support issues, including easy phone calls, email or live chat support. In many cases, users can quickly schedule an in-home visit online.
Extensive heating options: LG offers one of the largest arrays of model choices for consumers interested in convection or induction heating.
Styling: LG has been recognized by several consumer groups for its commitment to providing best-in-class styling for its kitchen appliances.
Smart home integration: LG maintains a company-wide smart home initiative, so its cooking appliances often come with an array of software and other electronics features for integration into a smart home.
Best for Users cooking for one and users cooking for families.
Compare Ranges, Ovens, and Stoves
LG Ranges Company Profile
Company Name:

LG TV

Year Founded:

1958

Country:

Korea Sout

Website:

http://www.lg.com/