Consumer Complaints and Reviews

I bought a 75 gallons water heater and it stopped working in 6 months. Contacted Rheem to have it fixed. And they sent me replacement parts while claimed that my labor warranty is not available (on the heater's specification and receipt stated 1 year labor and 6 years parts warranty). They took almost a month to have this issue solved with multiple parts sent. 6 months later, the heater failed again. This time, they want me to get a multimeter and test each components to find out which one fail so they can send me that part. My family is without heated water for another month during this cold winter. I will not buy another Rheem or company related products after this horrible experience.

Purchased brand new 5 ton rheem a/c for my home 5/14/2014. The unit is junk. Replaced so far coil, motor, freon, etc. My wife has heart disease and we've paid out so much $$ and now 2 years later we are still without a/c here in port st lucie, fl. We live in a community of over 2000 homes many, many of which have had same issues with their Rheem a/c. They are junk, junk, junk.

My new home has a Rheem RP14 installed. It's terrible. At 32 degrees it produces almost no heat. As a comparison, I lived in a home for over 5 years and had a 2009 model year American Standard base model/builder grade heat pump that performed much better. With the American Standard HP, it would produce heat down to the mid to low 20's before tapping out. At 32 degrees, a heat pump should be producing a decent amount of heat but this Rheem is really bad!!

I bought this new Rheem Package Air Conditioner in 2009. It worked well till 2016. In the past 8 weeks it has proved to have shoddy workmanship at 2 of its soldered joints on the low side. One time in 9/25/2016 I lost all the refrigerant because of a poor solder joint. It was repaired and pressure tested for other leaks. On 11/9/2016 another solder joint cracked from shoddy workmanship from Rheem. The costs to have these 2 repairs were in excess of $700.00. The Rheem company states they will only warranty parts that are defective and will NOT warranty their workmanship. I asked numerous times why they would not warranty their "shoddy" workmanship. The customer service representative would NOT answer my question. STAY AWAY FROM THIS COMPANY. They want to sell but they do not want to stand by their product due to their poor and shoddy workmanship.

My Ruud furnace had its blower board replaced two years ago and shorted out again on a furnace that is only 14 years old (ave life approximates 20 years). Additionally, the inducer motor has failed too, making it difficult to justify the repair expense versus shelling out for a totally new furnace. I reached out to Ruud customer service and they basically said "oh well, too bad". They had no sympathy, offered up no solutions, and had no interest in persuading me to buy a new Ruud or Rheem furnace. They did not care at all whether I was a customer or not. Absolutely unforgivable way to treat people that spend thousands on their machines. Will never buy Ruud/Rheem again.
How do I know I can trust these reviews about Rheem?
634,392 reviews on ConsumerAffairs are verified.
We require contact information to ensure our reviewers are real.
We use intelligent software that helps us maintain the integrity of reviews.
Our moderators read all reviews to verify quality and helpfulness.
For more information about reviews on ConsumerAffairs.com please visit our FAQ.

I purchased a Rheem Air Conditioner in 2010. I have replaced the compressor, the coil and most recently the motor! It's still under warranty, so they ordered a replacement parts but I have paid over $1500.00 in labor. The first problem happened only 3 months after the unit was installed! Now my upstairs unit is doing the same exact thing. I called Rheem but was told there is nothing they can do about the labor but the parts were free under the warranty. Very frustrating. What can we do? Inferior materials?

I purchased a Rheem Air Conditioner in 2010. I have replaced the compressor two times and now the coil has blow out. My air conditioning company came out Sunday and removed the cover and the whole inside was covered with oil. It's still under warranty, so they ordered a replacement coil on Monday and I received a call today that it is on back order from Rheem and they don't know when they will receive it. I called Rheem customer service and was told to call my service company and have them call a district supervisor. I live in Florida and it is getting a little cooler (80's during the day). It's still hot without an air conditioner. I've been reading other reviews and it seems that I'm not alone. THIS WILL BE MY LAST RHEEM PRODUCT.

Rheem is horrible, if an HVAC contractor tries to sell you one get rid of him as well. I installed 3 units at my house in 2012 and after a year I had to replace an evaporator coil on one unit. After 2 years all three evaporator coils were leaking and need to be replaced as well as numerous other problems. Rheem covers parts but not labor, every visit has been at least $500. The comfort control 2 (Rheem Thermostat RHC-TST551CMMS) is not programmable to a laymen, they don't give you a manual. Try to find any information for Rheem online other than to fix one or buy one. There is none, they sweep the internet so you call the repair facility nearest you so they can come out and charge you to repair it.
An out of town family member who owns an HVAC company relayed to me that they are the least dependent and he loves them. Rheem has washed their hands to even talking to the consumer as well. Try calling Rheem, good luck. They tell you they have never had issue, they're not even sure they make AC units if you have a problem. Try looking for manuals on their website, there are none. Not even to program the thermostat. They throw codes constantly and guess what, call the technician to reprogram it's $100.00 plus to visit and $$$ to fix it, that's if they are telling you the truth. The company has had issues with all of their products from water heaters to AC units and they deny ever having an issue. They are unscrupulous and their product is pure junk. I would go on but, it's not worth it other than to warn you, a $20K home improvement has become a total liability.

Bought two units. One failed 11 months in. I have spent days and hundreds of dollars replacing what they told me. Every-time, to find out it wasn't that. I even got up to a level 3 supervisor. Worst support in history. They are doing everything they can to not pay for a repair. I'm done with them at this point.

Rheem Heat Pump installed 4 years ago (2012) has been nothing but problems. Three (3) times for a board, once for Freon, and now for a contractor. Serviced (5) times in (4) years. Do not buy heat pump because compressor runs year round.

I purchased a new unit July 2010. Last year it was low on freon and the unit was charged, no problems could be found. Had the same problem, twice this year. The second time around they found that the oil was leaking, a common problem with unit. The standard warranty is 5 years, but if you register the unit, which I am sure I did, but Rheem doesn't seem to have any record of it. So here I am at 6 yrs and 2 months with a failed unit, on a problem is very aware of and they are very unwilling to do something about it. They said if I would have registered the unit, which I did, they would cover it for 10 years, not 5 years. Basically they are counting on the consumer not registering thinking most problems won't show up in five years so they don't have to stand behind their products, especially on a known problem. A strategy that helps the bottom line, but certainly screws the consumer.
My recommendation, is never buy a product from these people. I bought this one because I had previously purchased their products, and had no problems, but it appears the company's commitment to customers no longer exists, even when this is a problem admit happens. Look elsewhere for your next heat and air unit. Very dissatisfied and disappointed. Thank you.

At 5 years, the Rheem A/C evaporator coil failed, IE is leaking coolant fluid, aka freon. Fortunately it was still under warranty and I received a replacement coil (copper, which is important; stay tuned), although it cost me $400 for labor as well as about $300 for freon recharges before the replacement. Now, two years later the replacement is leaking. My A/C service company told me that Rheem has a class action suit against them for knowing that the copper design was not compatible with the newer R-410A higher pressure fluid and that they've known for years that they leak, sometimes after less than a year.
We checked with Ferguson (wholesaler) and they said the replacement was not covered past 1 year. So now I'm faced with having to pay an additional $1500 or so for a replacement coil (which will be made of aluminum and "not" be made by Rheem). This should not be and if Rheem was a company who cared about its customers they would take care of this. Needless to say I'll never buy or recommend Rheem again.

We bought a new Rheem heat pump and air handler. 2 months after the 12 month warranty expired we had to have the unit recharged and again 13 months later. We are responsible for the recharge costs along with the labor cost to replace the faulty coil. Rheem knows this is a faulty coil but will not cover the labor. Also the coil in the air handler is leaking and I am concerned about the dangers of my family breathing this for 2 years. Rheem said they didn't think there was reason to worry. This system has been a disappointment from the start and I want everyone to know what a poor quality product this company makes. Don't waste your money on this product from a company that doesn't care after the sale.

2 new units end of summer season. Used 2 weeks then fall season arrived. The following season arrived and unit did not work properly. Contacted Ferguson in Chicago, they gave me the run around that it was impossible for compressor to not be working. We had it removed, replaced and pushed Ferguson to take as warranty return. Now, I only have 1 yr warranty and $300 additional repair bill because this was a bad unit out of the box. Regret my purchase some since I bought 2 3 ton units.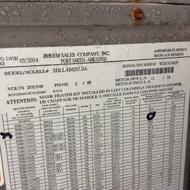 Purchased this brand new AC from my air conditioner specialist not quite 2 years ago and have had a few problems that make me NOT so happy. First it was the compressor failing which had to be replaced, under warranty. Great but the labor was not under warranty so that cost me $175 which doesn't sound like a lot but when you shelled out $4500 for a new AC just under 2 years previously it is a big deal. He installs that and puts some fluid that was recommended into a valve and off he went.
The AC worked for about 3 hours before it went bad -- froze up. He came over in the evening and looked at it, and said now it was the valve that he had gotten a service alert on. Although he put in some fluid as they described apparently it needs to be replaced again. That is under warranty BUT over $500 in labor and can't do it then. Will have to come back and do it. So $675 worth of work on a NEW air conditioner and 4 nights without AC in August in Florida. Had to move my pets out of the house with me for FOUR nights. Not good!!!

Had to replace our original HVAC which was 13 yrs. old. Went thru Home Depot and they suggested RHEEM and was installed by ARS. It didn't work right away, and I have to tell them that we were moving into a hotel since they guaranteed that it will be done within 24 hrs. or they will move us into a hotel. Well, they worked overtime the next day so they didn't have to move us. Installed August 2013 and we had cooling problems April 2016, HVAC repairer said low on freon, warned us that it might be leaking. June 2016, cooling problems again, same HVAC repairer came and said it was blocked drain and suggested we avail of their maintenance plan and we did.
August 22, 2016 cooling problems again. HVAC repairer came at night and concluded that coil has a leak and was 90% sure it was the coil inside because the outside unit coils didn't have any signs of leakage. For this visit we paid $177 labor and freon refill. So far we have spent $700 for the three visits. To replace the coil it will cost $500 plus and that is already with our membership discount. This RHEEM brand is a piece of junk and reading through all other reviews, I'm so mad that I didn't do my research and trusted the Home Depot specialist. The only consolation I have is that I took a maintenance plan so at least I get a 15% discount every time they have to do repairs.

Please don't purchase a rheem heating/ac unit. I purchased a Rheem unit in November 2014 and my ac unit has already gone out twice this summer. I have been dealing with this problem since April through August 2016. I have had an ac tech person come to my residence on several occasion trying to find out why my ac unit doesn't hold the freon that was put in come to find out it was leaking freon in the coil; the ac tech guy ordered a new coil which I had to pay for the shipping cost and after installation on the new coil it still leaked freon only at a faster level. The freon would go out after 24 hours of being put in the system.
I spent a $3500 on this unit only to be a piece of junk, save yourself the time and trouble on the product and don't buy at all. I have already emailed the company they called but no return call at this time. I don't understand why Consumer Affairs doesn't have this product or company pay for the problems it is causing if you read the reviews many people are going through the same problem. This company should not be selling products at all they are already in trouble for selling faulty water heaters.

I have a Rheem HVAC system. It is 6 years old. Furnace goes out every winter, AC goes out every summer. Although the parts are covered under warranty, I have to pay labor. Additionally, I have to sweat or freeze until it is fixed. Contacted customer support, no help or empathy whatsoever. Don't get RHEEMED by this company.

Our hot water heater went out and our plumber installed a new one. It would not continuously heat water. Got it traded out for another. Same Problem. For 2 months now, I have to go clear down stairs and reset the system for it to heat water. Now Rheem authorized another plumber to come out and diagnose the issue. The new plumber is saying we need to rip out our 2 inch vent pipe and put in 3 inch vent pipe. Why would we not be told up front this system requires 3 inch versus the 2 inch that houses only 10 years old or so all have!!!

Very disappointed with Rheem ( 2-ton 15 Seer HVAC). After a 1 1/2, Unit leaked freon and wasn't covered by a warranty. Could not contact a customer service representative to help. This is me first Rheem, and it will be my last.

Rheem purchased 10/2014. First call started Spring 2015. Pilot light kept going out. Get up to go to work - cold water. Called Rheem warranty number which by the way are the most dismissive, unfriendly and disrespectful customer service employees l have ever spoken with. Their CEO and CFO should really try using their customer service department. My first call the employee said it must be dust or dirt. l ask why this never happened to my old less expensive water unit - no answer. Months later same pilot problem - doesn't stay lit. Second call girl tells me it can't be the unit. l must have a gas leak or something about cubic feet of air in my garage. She told me l would need to call my local Pacific Gas and Electric Company which l did. Everything was good .
NO GAS LEAKS and heater was in a space off the ground, with plenty of cubic ft. Third call l get a male employee. By now my unit is going out 2-3 times a week. He was the rudest one yet. They are sending me a new pilot ignition part, still not received. However even under warranty, it's up to me to find a contracted Rheem plumber. They couldn't even recommend someone to call. l ended up calling Home Depot which gave me a local number. If l was a buyer for Home Depot l would stop all purchases of any Rheem water heaters from my own experience along with all these other reviews. Home Depot is too respected of a company to sell this poorly made product, with employees who could care less about your customers. WAITING FOR HOT WATER serial # rhunm381412412 model # xg40t09hn3800. Rheem 40 gal water heater pd 10/07/2014.

We bought an Rheem 5.0 Ton air conditioner unit just 13 months ago. The compressor stopped working and even though the parts are covered we had to pay $600 for the labor. We are still paying for this unit and it only lasted a little over a year. The unit we had before (a different brand) lasted over 10 years before it gave us any problems. It doesn't seem fair that we had to pay that much money for labor when it is obviously a faulty unit. We live in Florida and it's the middle of summer, we can't live without AC so we just had to pay it. I will not recommend this Rheem brand to anybody.

We purchased a RHEEM 4ton Heat Pump on 6/6/2011. In the 5 years we have owned this system, we have replaced the heat pump on 5/31/2013 and 10/13/2013. We have replaced the coil on 12/5/2015 and we have just been informed on 7/16/2016 that we need to replace the coil again. It is on order. Additionally we have had numerous repair calls for spot welds and recharging of the Freon. It has been a nightmare owning this system. I would discourage anyone from purchasing an HVAC system from RHEEM manufacturing. The warranty implies or leads to an expectation of a reliable product. However this is not a reliable product. We purchased our unit through ESP Services Inc. This company has suffered through this with us. They have been stalwart in attempting to keep this system operating. I truly regret purchasing this RHEEM Heat Pump.

I have RUUD tankless water heater (Model # RUTGH-950VN). On June 25th, 2016, it started leaking continuously. Since customer service was closed for that day (8:30 PM), I called the customer service on the following day! As soon as I told them that the water heater is leaking, they told me to send them the photos of the water heater before any further assistance. Once they received the photos they told me that I have to take the water heater to the dealer, from where I bought it. Since it was under warranty, I'll get a new one from the dealer. On June 27th, my plumber took it to the dealer. Since that model was not in stock, the dealer told me that it will arrive on July 1st, 2016.
But on July 1st I came to know that the tankless water heater will only be shipped on 10th July (!!), and the dealer will receive it on July14th, 2016. So I contacted the Rheem customer service to complain. They (a male) told me that they can't do anything about shipping. It is out of their control. I had not hot water for all these days. I waited one more week and again contacted the Rheem customer service on July 6th, 2016. This time a new representative (female) told me that it is unacceptable that I am waiting for the water heater for so long. She told me that the required model is in stock. Since we were expecting the heater by July 14th, there is no point in shipping one more heater directly to the customer. Resigned, I decided to wait for one more week (thankfully it is summer).
But July 14th came and went. Still no water heater at the dealer!! So I decided to contact THE CUSTOMER SERVICE again. This time lady told me that they never take care of the shipping and they can't if the heater has shipped from warehouse. I would never buy Rheem water heater again. Meanwhile I am still waiting for the new water heater from Rheem. I still don't have hot water at home and I have three small kids.

Pilot light on 2 year old 50 gallon water heater would not stay lit so had to call plumbing company that originally installed. After some piss poor diagnostics by the plumbing company, they finally called Rheem and determined it is the gas valve assembly that is faulty. Part will take two days to arrive. Although part is covered by warranty the labor is not so I will now have to pay $300 for the diagnostic fee and installation of the new valve on a TWO YEAR OLD water heater. Seems there have been numerous reports of this with Rheem.

I had a new Rheem Classic Heating and Air Conditioner installed on 6-14-2012, or at least my Homeowners insurance did. After receiving 2 bids for replacement, my insurance company awarded the bid to a dealer who installed Rheem Units. The unit was a combo heating and air conditioner unit that sits outside, at the back of the house. It is a RRNL unit. It is a 2- 1/2 ton unit, which was the size of the one replaced. The old one kept our house cool in the summer and warm in the winter, unit it suffered hail damage that rendered it useless.
Long story short, the new unit has never worked right as it does not even come close to cooling our house. Of course our old unit had real Freon in it where the new unit uses the 410A stuff. Unit has already had to have compressor replaced, has already had to have Freon added once and needs again and a new fan motor. It is not even 4 years old yet. The fan on the unit runs continually and never shuts off in the summer. We keep the thermostat set at 72 and according to the digital readout, the unit never cools the house down to this point, thus running day and night.
I had to pay $200.00 labor to have the compressor replaced under warranty, which I don't think I should have had to do. When the fan went out a couple of weeks ago, I asked the installer/repairman if there was any recalls on this unit and do they ever get a LEMON in these. He told me no on both questions. I had to pay to have Freon installed, but the fan was replaced under warranty and he did not charge me to switch out. I am really dissatisfied with this unit and which I had my old one back, or at least this one replaced.

Water heater quit working (2 years old). Call customer service - told me that I needed to find out the color of the wiring connector inside the control panel. Drive home, take it apart and determine that it is white. Call back. Told replacement part would ship and arrive tomorrow. Great. They call me to say that the water heater is under recall and to call them. They don't tell me that the part they promised isn't really being shipped. I call them. Transferred to another department.
Now I'm told that I will receive an e-mail in a couple of days telling me how to get a part a couple of days after that. That means no hot water for six days. Request to speak to a supervisor. After 30 minutes on hold, I get "tier 2" support - just another call center. Told that the warehouse is closed at 3:00 pm and the part might ship tomorrow - meaning only five days with no hot water - If they really do ship the part and it isn't defective - which some other posts suggest it might be. DO NOT ever purchase a Rheem water heater!

The Rheem water heater I bought went out months before the warranty ran out. Rheem sent me the part and I had Southern Calif. Gas Co. install it and they charged 43.00 to install it but not Rheem for some reason will not reimburse me for the 43.00. I sent everything they asked me for - model no. and all that stuff. Even sent the bill from Gas Co. and my check no. that paid it. I am so disgusted with Rheem. I guess my next move will be to go to Better Business Bureau and tell them my story. Please tell me why do some companies say they have and even give warranties on paper and then you have to fight with them to get your money back... I think this is fraud on a big scale. Also I got on the computer and could not believe all the complaints Rheem has against them.

Purchased a Rheem 3.5 ton 15 SEER split heat pump system in January 2014. Because of all the problems with the unit right after installation the outside unit was replaced March 2014. We've had constant service calls for the unit not cooling, abnormal loud noises when the unit comes on, wires touching that disabled the system, coils leaking in the inside unit which called for replacement. We were promised in 2014 that a Rheem rep would come out and that didn't happen until March of 2015. I have a service technician here right now because the unit decided to quit cooling yesterday. I wouldn't recommend this unit to anyone, even my worst enemy. The Rheem rep in my area, Sleeping Giant in Childersburg AL, doesn't care about service after the sale but I'll save that for another review.

We bought a Rheem water heater from Home Depot, it kept leaking. I called Home Depot. They told us to replace the valve, so we did, still leaking. Called to see what we should do. Told us to buy an expansion tank. If that didn't do it to return it. Returned it for a new one and guess what. It leaked too!!! I have never been so frustrated with a product. Even the guy that installed it for us mad. I hope they will let us return this one.
Company Name:

Rheem

Website:

http://www.rheem.com/