Consumer Complaints and Reviews

I purchased two bread makers directly from the Oster/Jarden Online store. After waiting 7 days for a email confirmation of the shipping, I finally grew impatient and emailed customer service. I was notified two days later that they canceled my order because they didn't have any inventory. Would it not be appropriate and considerate to notify their customers when canceling their orders on them? Also, wouldn't it be nice if they didn't advertise merchandise as for sale and available when it really is not? Thank you Oster/Jarden for putting me in bind now that I waited this long for the merchandise I thought I had purchased. Very poor experience. Don't trust this company's online store.

Purchased an Oster breadmaker off of Amazon.com. The kneading blade was missing straight out of the box. I figured this would be no problem for oster customers service and that they would simply send me the part. After opening 2 tickets with their customer service with no response for 3 weeks, I finally called them and got ahold of someone who barely spoke english. After telling them my problem, they proceed to tell me that they do not have the part or the bread maker and that I am simply SOL. So, instead, I contact Amazon customer service which is AMAZING and they simply send me a whole new bread maker and have the old one picked up and returned.

We have had the toaster for six months and have not been satisfied with its performance. The toast is not browned evenly, a slight increase in temperature burns the toast. The toast is completely dry when it pops out. We have now replaced the unit.

Fire Hazard - I used the Oven/Toaster TSSTTVDFL2-D to toast some bread. I served the food and when I return to the kitchen the plastic that holds the handle were melted.

The short story is this: We were pre-heating the toaster oven to cook a meal. My wife was walking towards the toaster oven, (less than 2 minutes from turning it on) when suddenly, the entire glass door shattered in small glass pieces all over the floor. Even the handle flew off. The temp was set at 325, but regardless of the temp, it is a product failure. Someone (or our pets) could have been significantly injured. Its model # TSSTTVSKBT. Further, we called Oster and they said it was a warranty issue. Completely devoid of the notion that it is a safety and health issue. They were "doing us a favor" by offering a 10% discount. NEVER EVER would I recommend or purchase their products again. We will report this to Consumer protection safety commission.
How do I know I can trust these reviews about Oster?
761,264 reviews on ConsumerAffairs are verified.
We require contact information to ensure our reviewers are real.
We use intelligent software that helps us maintain the integrity of reviews.
Our moderators read all reviews to verify quality and helpfulness.
For more information about reviews on ConsumerAffairs.com please visit our FAQ.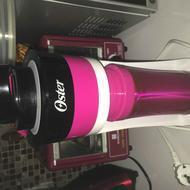 I bought the Oster coffee maker last January because it comes in my favorite color – pink. I love that it comes with a free tumbler that fits exactly at the spot where the coffee is coming out. I also like that it is very easy to use – you just have to fill it with water and your favorite coffee beans then you're all set! Plus, the good thing about this maker is that its capacity is just enough for one or two people so that you won't be producing too much coffee which will become stale later on if not consumed. It's also very easy to clean. This is definitely one of my favorite appliance in my kitchen.

My mom and dad got their Oster food processor 32 years ago. They had it for 25 years and we used it for processing fruits, making pesto sauce and baby food. We had to replace it because my friend borrowed it and put ice in it, the glass broke, he never replaced the thing. We bought another oster, and I hope it lasts decades like the old one my parents had.

Oster Convection Toaster Oven Model # TSSTTVDFL2 - I purchased this toaster oven for my wife for Christmas 2015. About 2 months ago, the oven door handle fell off because the screws through the oven door into the plastic handle holder melted from the heat of the oven. Wal-Mart refused a replacement for this. I want a safer replacement or safer heat resistant handle holders for this oven. We love how well it works, but melting parts! This is a potential fire hazard. Bring your products back to the USA where consumer safety is a real concern. I do not have the receipt anymore - not sure what happened to it.

I purchased a counter top toaster oven from Oster because my other 2 Osters were wonderful!! What happened??? This oven is disgraceful and so is Oster. This oven is dangerous and has burned everything I have tried to cook -- I put something in it tonight that was supposed to take 55 minutes --- 17 minutes later it was burnt. I want my money back and I want it now. I feel like we need a class action suit against the maker of this oven. I'm going to look for another oven and I've already spread the word to everyone what this oven is doing. I'm going to check the temp to see how bad it really is. This company has a president's office and I'm gonna call them... "Hey Oster??? You suck and you are lousy at customer." Furthermore, I will contact Walmart about this product...

I find myself for the first time in 49 years writing to complain about a product that is so poorly designed that not only does it not function properly it is extremely dangerous to the point of having almost caused a house fire and having burned its operators on several occasions. The product model number is TSSTTRDFL1 Oster Toaster. This is supposed to be a 4 slice toaster and had bagel option. The design of the lifts allowed toast and even bagels to slip past the lifts and jam the mechanism causing bread to catch fire or smoke out.
Forget about trying to warm up pop tarts. Burnt fingers, wrists trying to recover the trapped food. We finally got to the point we knew if left in use we would become victims of fire. We are fairly poor so coming up with another $80 to $100 dollars was not going to happen so we went without for a long time. We were finally able to purchase a Hamilton Beach 4 slice toaster that works as it should without trying to kill us.

Please DO NOT ORDER ANYTHING FROM JARDEN CONSUMER SOLUTION or the brand Oster. I have tried to order a roaster over directly from this company on their website on Cyber Monday. They cancelled my order TWICE and after spending a hour on their so called support line TWICE, I was told the product should have been taken off their website and is backordered 4-6 weeks so they cancelled my order and will not honor the price when the product is back in stock. SO basically they could not CARE LESS about their customers. DO you really want to buy something from this kind of company? If you do... Good luck!

Bought a simple 2-slice toaster at a major retailer. Offered a helpful comment to their customer service (we'll respond in 3 days) that two of the settings had unclear pictograms. They were not mentioned on the carton, and there was no instruction manual. Two weeks later, I told them the lack of response would result in my reporting the poor service. In response, received an email "we're busy" apology but no help. Later received a request for all details and an undertaking to send a manual. Forwarded the details. No response. Then told them that the inside elements did not activate, as if it were on "Bagel" setting, meaning that the bread would toast on one side only. No response. I advise don't buy Oster products.

Oster TSTTV0000 Countertop Oven. Was warming up my oven to cook a pizza. Noticed it was smoking and assumed it was dirty. Checked and the smoke was not coming from the inside of the oven, but from the right vents at the controls. There was an awful smell of electrical burning. We unplugged the unit and are looking frantically for the receipt.

I started using my brand new Oster toaster oven model TSSTTVDFL2 about 3 weeks ago. Yesterday I put a pita bread to toast. In a few seconds before even being toasted yet, the whole toaster oven went on fire. What a scary image. Luckily it was on a Sunday and my husband was home. He ran to the kitchen when he heard my screams and was able to take the burning toaster oven out of the house.

Purchased an Oster TSSTTRJ80T in May 2015. Product quit functioning in August 2015 since the lever will not stay down. Tried 3 outlets in the house just in case, same result each time. Oster warranty process is not worth your time. They contract repairs to small ships, which would be great if the nearest shop wasn't 500 miles away. This model toaster gets good reviews... but not from me. Oster as a whole gets a negative review from me.

Oster Extra Large Digital Toaster Oven Model TSSTTVXLDG - I purchased this oven from Amazon (new, not a refurb) in January 2014. I used it only a handful of times and noticed that it took forever to heat up. The unit never really seemed to heat up the way it should. Broiling took forever. Now suddenly the oven won't heat up at all. The clock still works great, but as far as being able to cook with it, that's history. What an expensive paperweight. I guess I was lucky, at least it didn't catch on fire like many of them I read about here. I will never buy a product from this company again.

Purchased Oster electric kettle Model BVSTEK5967 in December 2013 and it has stopped working. I had a toaster that broke as well and was able to have it replaced by Costco. The kettle was purchased at Target and since all stores are closed can't contact them. I will not purchase any more Oster products. Can you help me with this problem regarding the electric kettle?

Oster countertop extra large convection oven. All of a sudden stopped working. Will not get warm, and the timer will not ding. $85, eleven months ago from Sam's Club. Prior to that, I was thrilled with the product.

Purchase this microwave a year and a half ago. Worked well during this time. Was using it to heat up an item and the microwave started to spark. When I attempted to stop the microwave I received a violent shock. When I opened the microwave up where the fan vent into the microwave it had burn marks all around the vent. Upon examining the microwave could not see why this microwave was sparking. There has never been any metal or any other items that are not approved to be used in the microwave ever utilizing this microwave. Very disappointed in this product.

I pushed the lever down to toast some bread and returned to find the toaster engulfed in flames. The lever had not popped up to stop the toasting process and flames were licking my cabinets. When I unplugged the toaster, the fire did not diminish. I carried the flaming toaster outside and as I did so, it was literally melting--dripping liquid black plastic onto the counter, floor, and rugs. The amount of damage to my kitchen is extensive.

Purchased the oven at a local DIRT CHEAP store. The knobs for selecting your usage and temp selections was missing. I called the Oster appliances number which I looked up online. I was told that since I bought it at that type of store (a re-sale type store) that they could not help with selling replacement knobs. The lady I spoke with tried to say that it was used merchandise. I explained to her that they sell items purchased from Walmarts, Targets and etc that have been bought at close-outs, all new items. She said they could not provide replacement parts since it was purchased under those conditions. I can not believe that this company and the manufacturer of this product does not offer this replacement part. I did not want this given to me, but to buy them.

I purchased a 2 slice Oster toaster that never toasts evenly on both sides. One slot toasts on one side and the other slot toasts the opposite side. I always have to flip the bread around to toast the other side. I would never recommend this product to anyone!

On 4-15-15, purchased an Oster toaster oven model # TSSTTVDFL1 from Walmart. When using it for the first time, the fan was so noisy we had to take it back for a refund. On 4-16-15 we went to target and purchased Oster model TSSTTVSKO2. We made some brownies and they came out burned. Purchased a oven thermometer and with the oven set to 350, the oven temperature went to 450. No wonder the brownies came out burned. I can understand a little temp difference but this is not acceptable. Oven will be going back to target tomorrow. With all the complaints I've been reading about fires with these ovens, I won't be purchasing any more Oster ovens.

We have had our Oster toaster oven (TSSTTV0000) since 2011. It had worked fine until now. Fortunately we've had no fire. Now the timer won't shut off the appliance at all. Even when you unplug it the timer keeps running and defaults to the "stay on" position. I will be writing to CPSC, UL and fire safety organizations.

Oster Countertop Oven Model # TSTTVRB05. Do NOT buy this POS... After slightly more than a year's use this thing caught fire, and it appears that Oster is well aware of this issue as it is noted in several of the comments above. I cannot believe that they would continue to foist this and other POCs' on the consumer!!!

Oster Toaster Oven - Burned my hand several times when opening the door because of a chrome strip directly behind the handle.

Just purchased Countertop Toaster Oven Model TSSTTV0000 at Target. I followed directions and ran it for 15 minutes before use. The handle is SO HOT! It is a safety hazard!! Am returning it to the store. I cannot believe Oster would actually have a product that is so dangerous!! My fingers are still burning! It should be removed from the market. DO NOT purchase this, especially if you have children.

I purchased an Oster toaster oven model #TSSTTVMNDG on April 18, 2014. I went to use it a few days ago and nothing happened. It would not heat and not of the pressure points on the oven worked. I called the Oster people and I was told since I purchased it on eBAY, they would not honor my 1 yr. warranty. The toaster oven was brand new when I got it and I only had it for 3 months. I do not have anything nice to say about Oster and I will never purchase another Oster product and I will inform my friends and family also not to purchase any Oster products. If I had known the warranty would not be honored just because of eBAY, I would have gotten it at a retail store. It should not have broke down within a 3 month period. I am disgusted, angry and very upset.

I purchased the toaster oven model TSSTTVF816 and in month it set on fire. It was clean, I had just revised it and threw out the crumbs on the bottom which there really were not any and then I put in a wrap. It was on the top of the toaster so nothing was touching the bottom. I stepped out of the kitchen and literally a minute later, I smelled burnt. When I went to my kitchen, it was on fire. In panic, I opened the door and flames shot up and I instantly closed the door, unplugged it and threw it in the sink. Then ran water over it and it shut it out. It was a horrible experience. I burned 1 finger, my husband three. I'm just glad we caught it on time otherwise I would have lost everything. I will never buy Oster again!

On August 8, 2013, I purchased an Oster food processor 003426445122 for $69.00 at Walmart 3200 Old Boynton Road Boynton Florida 33436. I had purchased a less expensive brand earlier in the day and when I got it home it didn't work so I returned it to Walmart a distance of 10 miles from my house. I upgraded to the Oster food processor and asked an employee if I could test it before I left the store. She said I could so I went to the customer service counter and unpacked the main part of the machine and plugged it in. It worked fine so rather than repack it up I decided to remove the remaining parts from the Styrofoam packing.
As I was taking out one of the very sharp blades, the thin plastic sheathing that covered the blade slid off causing a 3 inch deep cut into the heel of my right hand. I started bleeding all over the floor and the store manager had someone try to stop the bleeding and soon realized I needed emergency medical attention. He had me taken by ambulance to Bethesda hospital 10 minutes away where they gave me 13 stitches and a Tetanus shot. I was told to return in 2 days to be re-evaluated. On that second visit it was recommended that I see an orthopedic surgeon, "just in case there was serious damage", which there wasn't.
I notified Walmart's main office through my attorney of the expenses I incurred. Their response was to take it up with the Oster company. I decided to let it pass but I have been getting many harassing notices for the outstanding charges I owe. Beginning with a $250.00 ambulance fee, hospital fees of $65.00 and $51.82 for 2 visits, and the surgeon's fees for 2 visits for a total of $86.91. I have decided to notify you to see if you will assume the responsibility since I feel the dangerous way the blades were packed was neither my fault nor Walmart's. I am sending to your office photos of my wound as it looked that night, also photos of the way the unit was packaged, since I returned the open unit for an unopened unit and my lawyer took photos of each piece as I unpacked it and how it was packaged. Also a copy of the original purchase receipt and the payment notices I have received for several months now...
Oster Appliances Company Profile
Company Name:

Oster

Website:

http://www.oster.com/