Consumer Complaints and Reviews

This is the first time I've had trouble with the Pur Water Filters. I put in a brand new water filter and it immediately turned red. I tried to re-insert it several times in hopes that it would change but it did not. They are WAY too expensive to just get another just to try.

I just threw out my third Pur Water filter. That makes 3 in less than a year. They all work great for a couple of months and then the cheap plastic develops major cracks and so begin the leaks. To say this product has a 2 year warranty is an absolute joke. I'd personally love to see one that could possibly make it to that advanced age. In my opinion whoever made that statement should be writing fiction. Oh wait, they already are!

Pur faucet water filters. DO NOT waste your hard earned money on buying this brand. It is junk. Mine broke in less than 2 months. Called them will take over 2 weeks to replace it... We don't drink bottled water so this is a huge inconvenience. Told them this, "oh well" is what they said to me. Unbelievable... NOT a happy customer.

I've had two of the Pur faucet mounts. In both cases the product worked great for the first couple of months but then started leaking in multiple places, to the extent that the product was useless. The first time, I thought it was just a fluke and replaced it with a more expensive model. Then, within few months, it happened again. In short, this product is complete garbage. Do not waste your money. Whoever designed it should be whipped and fired.

After replacing the filter on these newer snap on models, the water started spewing out from the top and the sides. I had no issues for the first few weeks but after that it was useless. Waste of money. I've been trying to locate the older screw on filters in stores with no luck.
How do I know I can trust these reviews about Pur Water Filters?
828,308 reviews on ConsumerAffairs are verified.
We require contact information to ensure our reviewers are real.
We use intelligent software that helps us maintain the integrity of reviews.
Our moderators read all reviews to verify quality and helpfulness.
For more information about reviews on ConsumerAffairs.com please visit our FAQ.

These water filters were the first type of water filter that I tried. When I first installed the filter it worked very well. When we installed the first replacement filter it began shooting water out from around the top of the filter housing. It has never worked without this waste of water since then. Before it began pouring water out of the top quality of the taste of the water was noticeable. After the defect began the water taste was not as good as before. It seems as though it does not filter the water that is pouring out of the top giving you a mix of filtered and unfiltered water. In short, THIS PRODUCT IS TERRIBLE AND EXPENSIVE.

Have purchased two of these units because I thought perhaps the first faucet mount failed because of a defect. So disappointed because the filter nearly outlasted the mount! The first one developed a crack. The second did the same thing. Now I have a cupboard full of filters and will not be purchasing a new mount. Very frustrating. Tried calling the company (and will continue to do so), but first call disconnected (which could just be my phone) and second call got me to an automated message. I will say the filtration on these is great - just not worth the money.

Expensive lead removing PUR filter doesn't remove much else. Basic PUR pitcher filter removes most everything else. Filters are made in Mexico. Quality was much better when they were made in USA. Bring manufacturing home & let's see if we can fix this.

I am not writing to especially advocate the filter housing. I really have had issues ONLY with the "snap on" models recently. They are horrid. The water shoots out from the connector. I was able to go back to the "screw on" model after finding one online. I think the water tastes better as chlorine taste is diminished. I cannot however verify, as anyone else could, that the replacement filters are genuine. There is no identifier on the blue cartridges when I purchase them. No consumer can verify the removal of other impurities either. The water simply tastes better. If you cannot afford a reverse osmosis system, it is cheaper to replace a filter every 2-3 months to tolerate the drinking water, especially city water.

I was thinking about buying one after seeing their ad about lead in our water. They did say that all products they were showing had government approved levels of lead, the dialogue encouraged the thought there shouldn't be any lead in our water. Anyway, I visited one of their retailers to look into buying a filter. I picked up a box, with a filter inside, and started reading about its abilities. I then looked to see what minerals, or anything else, was left after using the filter. Wow!! Couldn't believe it. In small numbers, listed on the chart, was Lead .05 (not sure how much too shocked).
The ad on tv was sandblasting all other sources of water, because they had safe levels of trace lead. Took my time to the clerk and said there's nothing on your tv ad about lead being allowed through during cleaning. She said there was and showed it to me. She was right, about two seconds, small figures mixed among other small figures. I said that you didn't tell people you still had trace lead in the water. She said the govt doesn't require it. Slimy, manipulating, immoral, greedy...ad nauseam ad infinitum.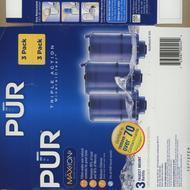 I have used Pur water filters for several years and have been pleased with the WATER quality, I am however very displeased with the PRODUCT quality. The first one split out the side of the housing after less than 1 year of use. I thought this must be a one off failure and certainly wouldn't happen again. Well I was almost right, my second one has developed a crack in the front that shoots the water straight at me. Both were bought at Home Depot. It's a shame they are so shoddily made because they really did make the water taste better, but I will never buy another one of their products again and am researching alternatives. My advice... these are a waste of money!

We purchased this pitcher to ensure our quality of water intake was good, However the quality of how the pitcher is design is horrible. I myself being in plastic co and being a Quality control inspector this design is very poor. The lid to pitcher on sits in no tight seal and when you pour I don't care how slow a force of water comes rushing out and you lose 1/4 of you filtered water. And it's frustrating enough when you fill your pitcher you have to wait a long time to fill it because of the water going though foyer process. So needless to say if you're at the bottom of your water pitcher you best believe you might only get 1/2 of your supply. Very disappointed of a well named company! Money wasted!!!

I purchased the Pur Maxion unit that attaches to the faucet. It worked well for 3 months UNTIL I had to change the filter. I followed all instructions but the unit light is red after installation. I ran the water for 5 minutes as instructed but still have a red light. I called the company & spoke w/ H. She acted as though she gets the same call all the time. She said, "It's still working when the light is red, you'll just have to remember when to change the filter." That is NOT how the instructions say it should work. What good is a filter if it's not doing what is supposed to do? A really dumb answer from Pur. I would NOT recommend this product to a friend. Poor quality, poor customer service.

I purchased and used the PUR Faucet mount filtering system. I measured the ppm with a Bluelab ppm pen. The pen is in calibration with industry standard solutions. I measured the water before filtering which measured 200 ppm on the 500 ppm scale. I then measured the filtered water. The water measured the same 200 ppm. Looks like this filter does nothing. The company would not help to clarify why the readings were the same. Looks like FRAUD to me. Tell everyone my findings to protect them from this fraudulent company. I just want a product to filter my water properly, and what I paid for. Zero water measured ZERO ppm. My ppm pen is accurate. PUR system does not work!!!

Bought a new Pur classic faucet mounted filter. On the way home from the grocery I noticed a chemical smell in my car. I forgot the filter in my car overnight (garaged, winter temperature, completely shaded). Opened the car door the next day and my entire car was filled with a toxic odor. I took a quick whiff of the Pur box and it smelled horrendous. If the outside smells this toxic, I'm not chancing it with the filter itself. I used Pur many years ago and was under the impression they were still made in the USA, especially since that's what their NSF certification claims. Was also dismayed to find that their components are now made in China and Mexico. At least Brita's filter is made in Canada. I'll invest in an under sink filter made in the USA.

Purchased a new PUR Faucet Water Filter about a year ago. Did not have a problem with it until a month ago. When I run water directly, without using the filter, the flow is very slow. I have to flip to use the filter, and then back again, to get a regular flow from the faucet. It is very annoying. I contacted PUR, and they told me I must send the unit back to PUR with the purchase receipt and then they will replace it. I am on a fixed income and my wife needs filtered water due to a medical condition. Got the PUR water filter unit to save money over bottled/filtered water. Cannot wait weeks or months until PUR gets around to sending us a new one. PUR told me they will not send me another faucet unit.
I am very angry at PUR for way they are responding to not replace our PUR unit unless we send them our defective unit and wait for them to get around to sending us another one. Where is their compassion and understanding? Where is their customer service? Do they really care about their customers, especially ones that are on a fixed income?

New filters give off horrible sulfur smell! I changed the filters twice, and smell remained. I bought new ones, and with each the water had this sulfur smell. This makes the water is too disgusting to drink! I will never buy Pur products again.

I have not had the negative experiences that I'm seeing in many of the reviews. I've had the filter for about a year. No problem with leaking or with the indicator light not working. The filter took some getting used to. One minor annoyance is that when I've run water through the filter, and I turn off the faucet, a few more drops dribble out. But it makes sense that this would happen, since there is already water running through the filter itself when you shut off the water, and that little bit probably can't be held in the filter but needs to run out.
Just this week I had an experience that I still don't know what to think of. The indicator had switched from green to yellow and stayed there for several days, as usual. I had a new filter ready for when the light turned red, and when that happened, I grabbed the new one, unscrewed the housing and pulled out the old filter. Then I got distracted, and I put the old filter back in by mistake instead of the new one. I turned on the faucet, and the light was green! I decided to leave it in and see how long it would take for the light to turn yellow and red again. So far it has been five days, and the light is still green.
I believe the indicator senses when the filter is clogging up and it is taking more pressure to force the water through, so I'm wondering if taking it out and reinstalling it dislodged some particles that were beginning to clog it up, much like backpacking filters can be backwashed to keep them functioning longer. I sure hope it's not some nefarious bit of programming in the filter, designed to make you change filters more often.
The water still tastes very good - which I must add I really like about the filter. All in all, I feel like this has been a good purchase, and I plan to continue using the filter. Also, the company will send a metal faucet adapter at no cost for anyone who is having problems with the plastic one, which seems like good customer service to me - although, maybe they could just do away with the plastic one from the start!

I now use a water pitcher and with PUR filters. I much prefer them to bottled water which costs about the same for a 3 month period for me, but l have no bottles to recycle, and the convenience and the feeling of safety is much valued.

I have used Pur filters for over 10 years. I started with their faucet filter with the mechanical timer - then moved into an apartment with a small sink but large refrigerator so I recycled the faucet mount and got a pitcher - then moved into a different apartment with larger sink and half sized refrigerator so recycled the pitcher and bought the new filter with the digital timer (I still use it now in the house I own).
The newest digital faucet filter originally leaked near where it connected to the adapter but Pur gives out new, free (+ free shipping) replacements and now it's fine. Only complaint is there is no way to replace the battery on the digital light timer (The old mechanical one was much more reliable and basically would have never broken) - but I kind of ignore that anyway and just change the filter when the water starts to taste "off". Sometimes that was sooner than either timer and sometimes it was later. If I don't have a spare filter on hand I'll drink bottled water for a couple days until I can get one and the bonus is I can refill those plastic bottles and re-use them quite a few times and refrigerate them so I have cold on the go water before I recycle them.

Had to replace the first filtration unit when it split wide open. Now the second one leaks at the seam where the unit is closed after inserting filter. Product box states "100% satisfaction within 30 days or money refunded, no questions asked". In fact, when I called to complain and ask for refund, I received nothing but questions and a refusal to do a refund. Do not buy this product, it's a ripoff.

Over the past year-and-a-half I have purchased two Pur water filters. The first one cracked on the housing unit, I thought it was because it had been tightened down too hard. I purchased a second one and I am the only one who has used it and I know for certain that the housing unit was not tightened too much thereby causing the plastic to crack. The best the company was able to offer me was a new one if I would send the old one in and I pay the postage. That's almost the cost of a new one. Additionally, it would have been two to four weeks turnaround that I would have had to do without a water filter. Although it does filter water well, the taste of the water is great, the unit only last about 4 months if that. Not worth the money.

Awful, and poorly designed, falls apart after a few months, blows off of faucet as well, and increases in frequency after time when out of warranty. Filters expensive also. Don't make the same mistake as I did.

Pur Water Filters were recommended by my landlord and they seemed great at first so while I was in Costco I bought a plenty pack of filters. The seam in the back part of filter sprays water. I tried a new filter a it doesn't help. I don't have receipts to return. I've spent at least $60.00 and I'm very disappointed.

I have been active user of Pur water filters for a number of years but I have had to replace mine 3 times in the last 5 months due to a pressure crack at the lip of the filter where the top screws on sealing the filter, and it's not from over tightening. The first time I could accept that something happened but when the second time 6 weeks later I was suspicious. But now it has happened again in a month. I have to have a filter so I guess I will have to try Brita. I bought my last 2 Pur filters from Amazon which I am saying is no different than buying from Wal-mart. I just think Pur needs to improve the product control.

I have been using the Pur Filter System on my kitchen sink for about a year now and had to replace it twice because the housing part that holds the filter did not last. When I turned the water on it would make a really loud vibrating noise and the water would not come out of the faucet. Needless to say I am not going to buy another one because the quality is poor.

We've had the filter for 4 months now. Changing the filter when the light went red. It did crack on the first changing which is a common issue, we looked past it and taped it up. But, we have been sick ever since we started using the filter. Went searching for clues and found mold growing in the filter in places that you're not supposed to change or clean out. If you want to save your family from awful sickness (Severe head cold, flu, gastrointestinal issues, my husband even was sent to the ER with a 107.3 temp.) do not buy this product. It has caused us so much pain and discomfort. My 10 month old has been sick non-stop for 4 months with a head cold and tummy issues. I'd much rather have mediocre tasting water than be sick.

Got the "Sorry only 1 month only on returns or refund." so thanks for your money fool.

I purchased a PUR faucet filter today locally at Bed Bath and Beyond. The system was rather easy to install on my kitchen faucet using one of the adapters included. From the very beginning of installation it leaked. I fiddled with it for hours trying to tighten the adapter and applying other methods to stop the leak. Nothing worked. If you go to their website which incidentally is one of the worst websites I have ever had the displeasure of visiting, they will supply you absolutely free a new metal adapter. That is if you can complete the order. The website does not work. Good Luck! Why doesn't the company supply a proper adapter in the original packaging?? So - I am left with a leaking piece of ** that I paid good money for. Another piece of crap peddled to the American public. I mean it shouldn't be this hard people!

Here we go again in this country with crappily made products and the public gets screwed. Like everyone else has said, we purchased the PUR we liked it. Eventually, we got a couple of new ones and they leaked and the light wasn't working, yada yada. I haven't noticed any unpleasant taste though like some people have, but I have been having horrible stomach problems of which I can find no reason. One reviewer listed the toxic ingredients and their levels and now I am wondering if that is why I am sick. If I find out that this is the problem I am going to sue that company!!! If this company has been taken over, why did they ruin it?
Pur Water Filters Company Profile
Company Name:

Pur Water Filters

Website:

http://www.pur.com/