Consumer Complaints and Reviews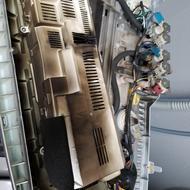 My top load washer blew up inside after using the machine for 5 years without an issue. I had registered the product and never received notice that the company had recalled the model I purchased. When I filed my recall claim LG had all my customer information, including my purchase price and old maiden name, but refused to process my recall until I could provide my own receipt. I went through days of searching and calling Home Depot and complained three times to call representatives that it's unfair I have to jump through all these hoops when they already know the selling price to reimburse me for. They stated "You have to reconfirm the price and prove that's what we owe you."
I've been without a washer for three weeks now and am out a hundred dollars in laundry costs. As well as $300 in lost clothes when the washing machine blew up and caught on fire inside. LG refuses to acknowledge these costs and the time I've spent toting laundry all over. The nearest laundromat is 20 miles from my house. Simply refunding me my purchase price is a slap in the face after all I've been through because of this machine literally blowing up and catching fire inside. My house smelled like electrical fire for almost a full two weeks.

As others have stated, DO NOT purchase an LG machine! This is literally the worst appliance I have ever owned. The second worst would be the dryer. Clothes are literally shredded, never clean, frequently takes all day to do a load of clothes. LG customer service acts like you don't know how to do laundry. I've been doing laundry for almost 30 years and never had a problem until their machines. I will never purchase another LG product in my lifetime. I would pay twice the price for any other brand. I have included pictures of what this machine did to my favorite quilt. The rust spots you see in the pictures were from the machine. They were not on the quilt before I put it in the washer. It literally just destroyed the quilt.

When we built a custom home two years ago we thought we researched for the best front load washer available for our laundry room at the time. My wife and I decided that Consumer Report would be the best reference point. DO NOT GET LED DOWN THIS PATH. We purchased the Front Load LG WM8000HVA. After a year our clothes started to smell so we ran some cycles with bleach, then vinegar, then AFFRESH. Nothing helped... NOTHING.
Just go online and see thousands of reviews for front load washers. I don't think it is just the LG. I think it is a problem for all front loads. My wife has a great nose and with that comes a lot of complaining. The solution was difficult but easy: I bought a new $1200 LG WT7600KKA yesterday from Best Buys in Louisville, KY. Giving our current front load to charity.
Do not be fooled by all the BS. Front loads have had issues since day one. You cannot trust Consumer Report as nothing was said about these issues before. The big question is: Why should the consumer continue to make efforts of getting rid of the moldy, rotten smell every month? Something is wrong with that. Top load is the only way to go.

I purchased an "4.5 cu. ft. Ultra Large Capacity Top Load Washer Featuring Powerful Stain Care Technology Model: WT4870CW" in March 2014, in addition to the companion dryer. I purchased this product as reviews had been good, and the price was right. It has been the worst machine I have ever owned. In spite of trying various settings, and contacting the manufacturer, clothes just don't get clean, and even today, linens that I took out had more stains on them than when they went in. The clothes don't agitate, and even if you use a setting that adds more water, the clothes just don't move around.
They come out in the same position as when you loaded the machine. Forget using a water-saving setting - the clothes are barely damp. The machine will go off balance if there is anything, even one item, that is of a different weight. It resets itself endlessly. I miss my old Maytag and can't wait for a reason to get rid of the LG Washer. The drier is also a problem, but I guess I can live with wrinkled clothes more than I can with dirty ones. Don't buy an LG.

This has to be the worst appliance I have bought. Like others a 54 min wash takes two hours, always off balance and the clothes are not clean. I am to a point that I wanna buy a new set and junk this one I have and it is only maybe 2 yrs old.
How do I know I can trust these reviews about LG TV?
667,311 reviews on ConsumerAffairs are verified.
We require contact information to ensure our reviewers are real.
We use intelligent software that helps us maintain the integrity of reviews.
Our moderators read all reviews to verify quality and helpfulness.
For more information about reviews on ConsumerAffairs.com please visit our FAQ.

TrueBalance Washing Machine - Top Loader WT1501CW - We recently got this washer (purchased new) & within a week I knew we made a big mistake. At first I thought we just needed to adjust to this type of machine (we've used a front loader with no problems for years). We bought a extra large capacity but can't put but a small load in because it doesn't move the clothes. I've washed on bulky load hoping it would wash better but it didn't help. Clothes on top stay in top & our clothes doesn't get clean.
I sweat a lot & it's bad when you put clothes on that smell like they already been worn for three days. My daughter works in a factory & her pants always look dirty with grease. I wash my clothes I wash small loads, with color bleach, Biz stain & odor eliminator, Downy with odor defence, & Wisk deep clean detergent & Downy fabric softener on stain care option & prewash. It never puts enough water to cover the clothes even when we use the extra water feature. Worst purchase we have ever made. I can't say this enough...don't waste your money.

Our direct drive, load self-balancing, year and a half old machine has been exhibiting all the unbalanced load problems frequently mentioned in reviews that I found after my wife told me that she keeps getting "EU" code indicating an unbalanced load which she redistributes by hand, followed by standing over the machine and holding it as steady as possible in order to finish the loads. When I tried to change the spin speed to low, the machine spun as fast as ever. After reading the other reviewer's experience with LG's customer relations I intend to go out tomorrow and buy a non-LG washing machine and try to support any class action lawsuits that are inevitable (I hope). Maybe after their exploding cell phone problems are over, they will take care of their appliance customers. As one of the other reviewers mentioned, it seems as if LG didn't do their due diligence when it comes to product testing prior to bringing to market.

I own an LG washing machine. It is 8 years old. We have had trouble with the gasket on the machine with the moldy smell. Now after 8 years the machine is totally broken. The repairman that they sent said it needs to get orally refurbished. He recommended we do not spend the money as it is not worth it. They charged us 300 on my card before they came and now I am cancelling. They are charging me for a service call. The man was here Literally 5 minutes. Did nothing. I am totally disgusted with their product and customer service.

Bought this in 2014. Had never washed worth a darn. I paid over $900 on this piece of junk. The fact that I have to start out on the bulky setting till it fills up, then turn it off, restarting it on power cleanse to get the clothes to move around makes it not so energy efficient! If not used in this manner, the lack of water causes the clothing to rub against each other causing pilling of the material. Doesn't clean properly either. You have to pre treat, and wash 4 times to get any kind of stain out. I'm buying a new machine this year and it won't be an LG. What a waste of hard earned money! I'm so frustrated!

LG WT4870C Top Load Washer - I would like to give this washer zero stars. It has to be the worst washing machine I have ever owned. The cleaning process takes much longer than the timer indicates. The clothing is not clean. I still have underarm stains, pet hairs, make-up on my clothing after a wash. The "IE" error comes on after each and every wash making the process longer as I have to reset it to 'Spin Only" in order to get the clothing wrung out. I will never buy this type of non agitating agitator machine again. I wish I could get my money back but I waited too long. I hated it after the first week. I am going back to a front load washer and not an LG ever again.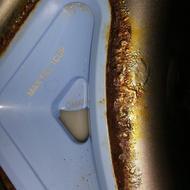 Purchased this machine in 2010 for over $800. I was told it was fabulous. It was - for a few months. But then we noticed that our clothes were no longer smelling clean. In fact they come out smelling worse than when they went in dirty. There is just nothing that can prepare you for getting out of the shower, grabbing a "clean" towel and experiencing a smell so sour and disgusting, that you feel as though you need to shower again.
They told us that we need to "maintain" our machine every month. What??? Is this a joke? The "energy efficient" "uses less water" machine they bragged about - we are now being told we should run 1 to 3 cleaning cycles, with special, expensive chemicals, EVERY month. EVERY MONTH for the life of the machine. I must do this in order to have clean laundry. Am I the only person who finds this absolutely insane??? I now have to take more effort and money every month to maintain my machine, then it actually took to do my laundry with my old machine.
If doing my laundry with an LG washer is going to take this much effort... I might as well drag my laundry down to the creek and scrub it on some rocks. That would actually be quicker and more cost effective and, work better!!! I have called customer service (a bunch of foreign speaking people) numerous times. This last time was the last straw. They do not care for your opinion. They speak to you as though you are the problem. When I explained to the guy that the entire area around my bleach cup has completely rusted - guess what - that's right - it is my fault, and no one else on the planet has had this problem.
I called knowing that my warranty is long gone but I told him I just wanted to give them feedback from a consumer about how I felt about their product. But, as you already know he doesn't care. He kept telling me to wash out my machine, and that I don't understand how to maintain my machine. I guess judging from the 100's of 1- star reviews, and similar complaints no one else on Earth knows how to do that either.
So here is the bottom line. I own a business cleaning resort units. I have dealt with every machine known to man. I have only ever seen one other machine as junkie as this. I will NEVER buy another LG washer. I will go back to old school, agitator... where my clothes are actually coming out clean, and I never, ever, ever had to wash my machine to keep my laundry coming out the way it is suppose to. PS - you will want to avoid the Whirlpool/Maytag (both the same company now) top loaders as well. They are just as big of a nightmare! !

From day one I have had problems with LG Front Loader Washing Machine model # WT5070CW. It takes a full day of me babysitting this machine to wash one load of clothes. I have had service techs out, tried everything and nothing works. Please do not buy this piece of junk, wasted $1000 on mine so I am stuck babysitting it every night I wash a load of clothes...


I have an LG top loader WT5270CW. Not having other review problems like leaking or vibration BUT washed clothes, have a heavy white residue visible on black or dark clothes. Not sure about lighter clothes. Residue is probably there too but not as noticeable. Recommendations say wash dark clothes in cold water but I have tried everything. Warm, adding additional rinse, Woolite for darks detergent. Very frustrating.

RUST! Rust around bleach tray, lid lock, cabinet top edge, top at every penetration, and leaking, brown rust water from the lid hinges, then along back edge of lid. Rust began appearing less than three years after purchase but that is only when we noticed it erupting on outer surface. Opening the lid shows that it was probably rusting after first use. Besides all the cabinet parts and pieces rusting, it appears that most, if not all the internal screws, nuts, and washer holding it together are also severely rusted and especially concerning, the arms that the tub hang on are well rusted and three of four mounting washers for these arms (they support the wash tub, liner, and motor) are so severely rusted that I expect the supports to fail any day. It looked pretty when new and it was expensive but now, in less than three years, it's junk! A warning to everyone to beware of ALL LG appliances.

I've had my LG washer for just under two years, and it's been nothing but trouble. Water constantly leaks from underneath the machine. I do NOT put much detergent in, but the machine will constantly leave my clothes very wet - so much that I will have to re-run the cycle and drain the machine at every 5th load or so. Finding a repairman is next to impossible.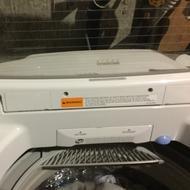 We purchased LG washer approximately two years ago thinking it was a great machine! Good name, great size, fairly good price... It turned out to be the worst purchase ever made. The machine is constantly off balance (even though it says "true balance"). A load that says 54 minutes takes over 2 hours and that's with many visits to the laundry room to fix it! Clothing is not clean, which after 2 hours there should be some sign that laundry is clean! I would NEVER recommend this washer to anyone! I am beyond frustrated with this appliance???

We bought an LG washer and dryer set 1 1/2 years ago. Have not been happy with them since we bought them. The top loader with no agitator leave clothes dirty, filled with soap scum and tangled up. I have called LG customer service numerous times. They told me I was not washing clothes correctly. I'm 43, I know how to wash clothes. Suggest that I use a different type of detergent. Tried that... no luck. I will never buy a LG washer and dryer again. Total waste of money!

When I load my laundry into the tub and ask for HOT water, I expect a hot water wash. Never going to happen in this machine. I called technician thinking it could be fixed and was told the default hot temperature is 91 degrees! That's like taking a COLD shower! Why? Some laundry needs hot water! I tried turning the cold water off and the tub drains! Not only that, I have a window I can watch my clothes through and the clothes on top never do cycle to the bottom or anywhere else. They stay right on top. The drum, clothes & water go right, stops, goes left, stops, agitates very little and repeats the process 3 times. How is that going to clean clothes?! The stains on top of pile never get agitated through the water. I am ready to throw this thing in the garbage because that is exactly what it is! Never another LG product in my house again! Worst product I have ever had the misfortune to buy and it was pricey to boot! Have hated it since day one!

LG WT4870C top loading washing machine has been a nightmare since we bought it. It started by ripping our clothing and then shaking violently. They came out initially and changed the drum. That took care of the ripping problem though they did not reimburse us for the clothing. It did not take care of the shaking problem which has become very violent. Please never, never buy an LG product.

This is the worst washing machine I have ever owned! A normal cycle is supposed to take 57 minutes. It routinely takes all day to wash one load of laundry due to constant error codes stating the machine is unbalanced. This happens no matter how small or large the load of laundry and no matter how carefully you load the machine. It does not get clothing clean. I have to hand wash all shirts before putting them into the machine, otherwise, deodorant builds up on the fabric under the arms. And the washer smells musty no matter how regularly you clean it. I will NEVER buy a washer like this again. I purchased this one because it was highly rated by Consumer Reports, but it has been terrible from the beginning!

I bought my washer Oct 18, delivered on 28th. 13 months later it is dead! Needs a new board??? LG, Home Depot and extended warranty company could care less! If you are considering an LG product, run don't walk to a better brand. They keep asking about power source, I am 62 and this is not my first appliance!!!

Had problems with it moving around. The people who came out to install it didn't level it right. The machine comes with little 1x1 inch squares of non-slip tape. All I had to do was replace the small tape pieces with larger non-slip tape and level it off correctly. Since then the machine has worked as expected.

For the last year I have spent $$ and time on repairing this machine multiple times from the drain pump to a board and now it is leaking water... We have only had it for 6 years... I called LG for support and it was a waste of my time... They couldn't help me, I knew more about my washer than the technician did. I have NO faith in LG and hesitant to ever purchase any of their products again!

Our LG Top Loader WT5070CW washer has rusted around the bleach tray & all the way around top rim. Big chunks of rusted paint falls into the drum where the clothes are and in between the wash drum and the washer shell. I have never had a washer RUST like this before... Also the washer doesn't clean your clothes very good... And the smell of mold is a huge problem. Please read reviews on this product. I know I will always check these sites for reviews on all products before we buy them!

Years ago, I purchased matching LG Front Load Washing Machine (2233H) & Gas Dryer; cost approx. $2500. At first, my biggest issue was that the Dryer (largest capacity), could not/still cannot effectively tumble my California King sheets. As such, I still have to stop the cycle mid-way, untangle then fluff the sheets and restart the cycle! With my OLD top loading basic Whirlpool machine, I never had this problem. As for LG Washing Machine (2233H), after about a year, I developed serious and long-standing sinus issues but never thought of my washing machine being the source of the problem, until it began to smell funky and I did some online research. I found that this machine and other front loaders have issues with mold; however, I thought I was exempt from this since I always a) always keep the door open; b) frequently run the 'tub clean' option' and c) regularly clean the rubber rim!
One day, I was reading an article about children, who had been admitted to the same hospital and later died; it was proven that these already ill children were given linens with mold spores on them. With already comprised immune systems, the mold spores entered these children's sinus cavity then attacked their brains and, in turn, killed them! The laundry facility that was used by the hospital was found to have a mold problem!! So, I became more diligent with my washing machine. I took bleach and vinegar and tried to clean not just the rubber rim but further inside.
Tonight, I was also fed up with the fact that bleach and softener never dispense. So, I went online and found an article stating that this part might be 'clogged' and to take the dispenser drawer out then clean it. To my surprise, I found BLACK MOLD on the underside of the drawer as well as in the machine opening [where the drawer fits into]. It is so ingrained into the top underside of the opening that I can't get it off. I am now more alarmed about health issues that this washing machine Black Mold problem has been causing and might still be causing. So, I went online again and find that LG and other front load manufacturers have just settled class-action suits for this issue but not admitted any fault!!!!
LG never sent any notice to me and the deadline has just expired. Furthermore, the settlement to each machine owner is pathetic, especially, considering 1) initial cost of these machines and 2) replacement cost for a new machine [as you will never get rid of the black mold throughout the existing machine]. Government needs to protect consumers from big corporations abuse since attorneys of class actions are the only ones who benefit.
For this specific issue, people need to contact their local politicians to work on behalf of their constituents to get 'lemon laws' passed in respect to these defective machines, which manufacturers continued to produce and sell with full knowledge of the serious potential and probable health risks to consumers [adults, seniors, children] due to exposure to common black mold formation. Manufacturers of machine models found to have black mold should be mandated to replace each of these machines with top loaders of the consumer choice.

My late husband thought he was treating me to a beautiful machine. It has been nothing but trouble since day one. Water twice all over floor ruining carpets, unbalanced loads, shaking when spinning. It is mainly the water dumping that is getting to me. I was running Tub Clean with a semi-bleach product recommended for HE machines, and I heard drip drip drip once again. Shut machine off and have to pay for a same day visit as same day is not covered by service contract. I was told last time by someone from LG, "It's a 2 year old machine". Really? I had another make for 30 years in NY and it never did anything like this! And it's always the LG hoses that fail! Nothing I am doing. Wish I had ordered a different brand!

I purchased this washer about 2.5 years ago and my frustration with it began shortly after I started using it due to its poor performance. It is frequently "off balance". Even if it only has water and no clothes it will work for a minute or two then stop indicating it's "off balance". Washing clothes is an all day affair at times and I wash clothes by hand sometimes to avoid using this hated washer. When it becomes "off balance" it will drain the water out and refill again and again so any savings on low water usage are non-existent. I started a load at 6:00 am this morning and it should have taken 57 minutes. (It is now 7:45.) After my having to adjust the clothes in the barrel several times the machine tells me it needs 30 more minutes to complete which with my experience could actually mean multiple more imbalances and more time.... I truly HATE this washer and would encourage anyone to NEVER buy it.

Purchased a LG washing machine on Nov. 17, 2016. Broke on Dec. 2. Had the repair man from LG out to fix it. Lasted 2 1/2 loads. Broke again. LG customer service gave me the runaround, but finally got the repairman out again. Replaced 3 parts. Machine failed again after 1 1/2 loads. Contacted LG. Got the runaround again, could not get LG's own repair man to come look at it. Finally have a 3rd appt. for Dec. 12. Don't have ANY confidence in LG's repair staff. Hoping after 3 fails they will replace the unit. Communication between customer service and their repair staff is TERRIBLE! Would I buy another LG machine? Probably not. All the their customer service can manage to do promptly and correctly is say "I'm sorry for your inconvenience." Even then, I'm pretty sure they don't mean it.

I have the top loading LG washer without the agitator. I hate it. My clothes come out in a tangled mess every time I wash them, so much so that some of my clothes have ripped and have holes. This has been going on from day one, I purchased it 5 years ago, I wish I had returned it. I even open it during the rinse cycle and untie and untangle them and by the end of the cycle they are all twisted up again!! I will never buy another washer like this again. Give me back the agitator. I have never minded doing laundry but with this problem I dread it.
LG Washing Machines Company Profile
Company Name:

LG TV

Year Founded:

1958

Country:

Korea Sout

Website:

http://www.lg.com/