Consumer Complaints and Reviews

My LG 3650 washer lasted 40 months, with a 2 person household. Died, needs a $700 repair of the modular control panel at the back. I contacted LG to ask how this could happen, and they wrote back that they would pray for me (honest - "we see you're dissatisfied... you're in our prayers"). They offered no advice as to why the washer failed, or what to do other than an expensive service company 100 miles away. DON'T buy these appliances. Ever.

I purchased my LG front loading washer and dryer on 5/17/08. I am 100% satisfied with it! There are two people that live in my house. I like a clean house so I am always washing/drying. I even wash/dry my king size comforter in it! No repairs ever done, just maintenance. Eventually I will have to replace (hopefully not for a long time!) and I will get another LG!

I'm going to make this quick and simple a easy read. I have had an amazing experience with LG televisions for years. The washing machines however are a whole different animal! My thought process was spend a good amount of cash get a good name brand, and it would last me at least 10+ years. Not the case!! We purchased our front load LG washer in 2012. It worked fine up until about 6 months ago. It would stop about 10 times through a wash cycle. It would take about 3 hours per load! Ridiculous!!! Of course we tried contacting LG to no avail! Got the run around from several scripted employees. I will never purchase a LG washer of any kind and suggest anyone else do the same!! Unless you enjoy spending your hard earned money on a worthless product that would only last 4 years if you are lucky!

LG washer/dryer combo - DON'T buy one! Enormous vibration, the house shakes. Close to 2 hours to wash & dry ONE bed sheet. Sheet emerges WET (not just "damp") and needs thorough drying in the 20 yr. old reliable Kenmore basement dryer. LG = What a mistake!

My husband and I bought a top loading digital, true balance washing machine about a year ago. Since our first wash load, it has been nothing but trouble. The thing constantly goes off balance and it honestly sometimes takes a WHOLE DAY to wash 1 load! Also, our water bill has tripled since we bought the machine, because every time it goes off balance it tries to balance itself by adding more water! We will never buy an LG product again! BEWARE!
How do I know I can trust these reviews about LG TV?
717,984 reviews on ConsumerAffairs are verified.
We require contact information to ensure our reviewers are real.
We use intelligent software that helps us maintain the integrity of reviews.
Our moderators read all reviews to verify quality and helpfulness.
For more information about reviews on ConsumerAffairs.com please visit our FAQ.

They do not stand behind their product. Had issues with the washer the day we installed it. It leaked. Leak has stopped for now. Took over a month to get someone out to look at it. Repair person said they were ordering parts. Have not heard back from him. The washer works for now but what happens when it breaks down again? We have contacted LG several times and have gotten the runaround every time. They will not even give you an email you can reply to. DO NOT BUY LG. The company we purchased the item from has been very helpful. They even contacted LG several times.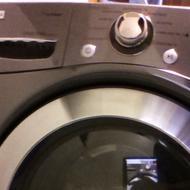 Bought our LG Front Loader Steam Washer (WM2501H*A) 9 years ago. 4 years after purchase we had to have the drum replaced due to the bearings going bad. Luckily it was covered under warranty so it was free. However, it's only been 4 years since the replacement and again the drum bearings are going bad and need to be replaced. I was told that with the "direct drive system" the bearings had a longer life than previous models. If this is true then the previous models must have only lasted 2 years! We are going to run this one into the ground, spent all that money on it and feel like I might as well get my $$'s worth (and it isn't worth fixing at this time.) I will NEVER buy another LG washer (and possibly product) in the future. I feel like the product they produce is low quality at a high quality price. I will be going back to top loader when this one completely fails.

Bought a LG Top load washer less than 3 years ago for $720. It's constantly going out of balance several times every load you wash. Now the drive shaft broke and took out the wash plate as well. Despite the fact that the front of the washer has a 10 year warranty sticker plastered on the front of it LG refused to authorize the repair center to cover the parts under warranty, the cost of which is approx. $400-450. I called LG directly and they and talked to a technician first and she just kept telling me it was not her department and that she was only authorized to talk to the service repair company and not me.
I had to beg to talk to a supervisor and had to wait forever to talk, for her to get on the line only to tell me that the 10 year warranty only covers the rotor and stator, not the drive shaft and basically told me I was SOL. Bottom line save yourself the heartache and money and don't ever buy a LG washer. They are JUNK and their customer service is non-existent!

I wanted a large tub so it could handle my king spread. I have the top loader and it works beautifully with little effort. Love that there is no agitator inside. The dryer also handles these large spreads and comforters.

I have a LG HE front load washer and dryer Model #WM2350HWC and DLE2350W. I bought the pair at HHGREGG in 2011 or 2012. They have been a great asset to my laundry needs. They live up to their name, "Life's Good" (LG). I haven't had any problems with either one of them and they keep your clothes looking brand new. :)

We have an LG Inverter Direct Drive top loader washing machine with the large tub. I love it and it cleans to my satisfaction. It even has the clean tub selection. It senses the amount of laundry and puts in water to match. My husband thinks the water bill is less. My one little problem is I am short and sometimes I have to reach way down to pick up little items on the bottom and if that is the only complaint I have I am well satisfied and extremely happy with the machine.

I bought an LG front loading washing machine in October 2011. I also bought an LG bottom freezer french doors refrigerator in October 2011, while doing a house renovation. Refrigerator Model is LFC20760SW. When washing machine broke in June I was told it was not worth fixing. In Feb I came home from vacation and the food in refrigerator was spoiled. The lights don't even work. I checked breaker. The vacuum works in the electrical receptacle so it not the power. Also at least 4 of the plastic pieces have broken off. Both sides of the slider in the deep freezer broke. The door storage broke. Some other pieces have broken off. I will never buy an LG again. Can't get a LG repair person either. Sears is coming over maybe.

I did a lot of research looking for a washing machine and dryer. When we went to Lowe's we knew what we wanted but needed to see in person. The decision was difficult. I really wanted a front loader like I had a few years ago. The LG I chose has a glass top which I do like a lot and does not have an agitator. The machine takes a little getting used to but not difficult. Our clothes come out beautiful.

Bought these about 6 years ago. It clean clothes okay, and yes I keep the door open so it doesn't get moldy. Glad I have a plastic pan underneath. Noticing lots of water in it after a wash cycle has run. They just don't make them like they used to. Most stuff these days isn't expected to last much longer than 5 years.

My wife and I had higher expectations on the model and make. We thought that being a LG model and the new concept of front loading that the clothes would come out cleaner. As far as water consumption no complaints and the company is in the right direction on that topic. But for tumbling of the clothes to get them clean, I think that we need to get back to the drawing board. And as for the quietness of the machine no complaints, either very quiet especially for a washer.

I really like my LG washing machine and dryer. It doesn't look as upgraded as some of Samsung's new dryers but it gets the job done. But I would have preferred more color choices without having to spend an additional couple hundred dollars. I love that there is not an agitator and it has an extra large capacity. I can easily fit my king size comforters in the basin. I love the turbo speed function that allows you to wash your clothes at a reduced time. You also save a lot of water because it only puts in enough water to cover the clothes.
The machine does a 'survey' for the weight and size of the load to determine the amount of water to use. I normally only need the smallest amount of detergent in most loads, so you save money there too. There are plenty of cycles types to select from and some you can customize. My dryer has an awesome steam feature! This really reduces wrinkles in dress clothing! I also love the sensing feature on the dryer. I rarely have to add more time or dry a second time. It also has a large capacity. The signal indicating both the washer and dryer could be louder.
There is also an app with the units that you can get laundry tips. I would have preferred to be able to start and stop functions and/or time left on loads with the app. You can also use your cell phone to diagnose errors on the units. You hold the phone to the unit and it sends codes to help with troubleshooting. The washing machine could be more quiet. I can definitely hear the wash if I'm in rooms next door. During some heavy rinse cycles I can hear and feel it shaking since the unit is on my second floor. All in all I really like the set.

Once per week, sometime after every wash, I had to empty the drain hose. Otherwise the floor got flooded. Machine leaked from the dispenser cups. Sometimes the washer walked on its pedestal. Also, dryer just didn't dry on a full load. Had repairmen in from the first month I owned the appliances.

We have the front load. Nice that it does use 12 gals to wash vs 30 gals. Though problem is the lettering came off when soap was spill. I got it cover under the warranty then put clear nail polish on it so it protects the lettering from coming off.

Front loader LG washer has worked very well over the several years we have owned it. No service calls have been made towards it and it survived two moves. Plus this mold concern I keep hearing about hasn't been a problem for me. I leave the door open and clean the seal around it often.

My washer is just over 3 yrs old and the bearing went. When I called LG to explain the problem they told me that the parts were under warranty but the service call wasn't. So they would charge me for a service call and the labor!! And then they went on saying and if it is something else other than the motor/bearing or parts that are covered then we will be responsible for the parts. All that is wrong is a bearing went and it should be covered a 100%. She goes on saying "if you read page in your owner's manual it goes over what is covered and that we don't cover service calls or labor."
She was very rude and no help at all. I feel a washer should last longer than 3 yrs. I take exceptionally good care of my things and LG just falls apart. I am now looking into other companies that do repairs on appliances cause after reading other people's horror stories I don't want any of their rude, unprofessional, crappy employers stepping foot into my home. My luck their employees would disconnect something and flood my house!

My main objection about the washing machine is that the gasket that goes around the front door, collects a lot of grime and it sits underneath where you can't see it. If it is not cleaned out frequently the black gunk is spread on the load of cloths. Also, water sits at the bottom of the gasket and mold begins to build from one wash to the next. Needs a better way to seal the gasket and stop it from leave it wet when done.

Had been noticing small (and some large too) particles on my clothes. Blamed it on everything else except the washing machine. Read book and was instructed to clean tub with bleach or a tub clean. Cleaned it and the large particles became small particles. In the beginning I rewashed everything which didn't help. So now I have to shake the clothes outside, rinse and spin again, put in dryer and shake clothes outside or pick or roll off the particles. Have to be very careful when clothing is wet because the particle will smear and leave a mark on the clothes. Does not clean the clothes as well either.
I called company and was given foreign representative who read from a script saying to set the washer on a certain number she gave me and put phone near the machine. She said it is okay and had no error codes. Spoke to another person who said to have someone come in to check it. When reading the website about this machine, it has the identical problem with many other consumers. One person described the problem as having a can of Pepsi explode in machine. Many have had techs come to fix with no such help to the problem, just a large bill to pay. This is sad. I have a top loader bought in 2015.
The front loaders appear to also have a smell which I seemed to combat with the bleach and leaving the top open. It is indescribable and I do intend to write to the State Attorney General as this does not seem to be something that should happen with a brand new machine and the company takes no responsibility for the problem. Too many consumers have this problem. I could go on but I get extremely upset and my daughter bought in 2016 a front loader and I'm sure it will happen to her. My husband researched on computer and we have to try to get more of these particles dissolved which we are going to try with vinegar. Bleach breaks up the sediment which you cannot see but the vinegar supposedly dissolves it. I am 69 years old and have never had such a problem with a washing machine. This is a disgrace!!!

I am also using LG WT5070CW washing machine by 2 years, but I don't face any problem in it. If you feel that the washer is moving slow then customize settings by little process that is Press POWER and turn DIAL to the desired cycle. Press TURBOWASH. The washer will automatically adjust the cycle settings. Set any other desired options. Press START/PAUSE button. By doing this performance of machine become effective. Or you can also take help from LG WT5070CW Manual- ** to use 6 motion technology of LG machine.

LG Front Loader Dryer heating element does not function correctly. It take 4 or 5 cycles which really runs up your electric bill. We've had a professional service it and still works poorly. The LG Front Loader Washer didn't last more than a 4 years.

I thought I was getting a good deal on a 3 year old machine (WT5001CW)... But now realize why it was so cheap. It won't complete any load w/o you having to manually balance the load - possibly multiple times. If you don't babysit the machine it will try??! Every single load ends with uE. Small load, big load, socks only, towels only, jeans only - none will spin!! The only thing this does well is knot tying - all your kids' jeans/Stretchy pant will end up in one giant knot! Lg seriously needs to release a fix or recall all of these machines as they don't do the only job they have. I'm going to burn the ** out of this machine and post it to youtube!! I'll get a million hits. These things are so broken and hated!!! My wife used to like LG, we have LG phone, TV, stereo headphones - but I'm not letting her buy another friggin thing that has LG on it since they refuse to acknowledge the absolute failure of their top load washers!!!

Very pleased with the performance of both our LG washer and dryer. Would not purchase the "drawer stands" because they make the tops of the machines too high for my height (5'3") and the drawers are too short to stand most containers in.

Don't do it!!! Do not invest in a LG Front Loader Washing Machine!! It is the worst washing machine, the most I have ever paid for a washing machine I have ever owned. Here you go: 1) There is a terribly designed trap door at the bottom left where you are supposed to a) clean your filter and b) drain your tub out if pump breaks or any other problem with water remaining in tub. Well, if the tub gets full of water and doesn't drain out, the tube doesn't work and you open the lint cleaner and water goes all over your floor. It is horrible. I really hate this washing machine. Now it is 2 years old and the WATER PUMP had to be changed out. OMG, what a disaster of an investment. Please listen to me: DO NOT WASTE YOUR MONEY ON THIS WASHING MACHINE.

A couple times I was disappointed with dryer settings and had to run twice to achieve a complete dry. For fabric, type and weight drying time too short. Washer has some setting that don't give the option for heavy spin.

The washer is large and holds a lot of laundry. It's my first one that does not have a center agitator, and I was surprised at how well it cleans clothes. It's pretty quiet. There are many settings for water temperature, wash type (gentle, normal), etc. The only downside I can see is the glass top. I don't need to watch my clothes wash so I see no point in it, plus I can imagine the trouble it would be if something were to drop on it and break the glass. Overall, I'm very happy with it.

Dryer performs as expected and is quiet. The top loader washer with no agitator takes time getting use to because it looks like it's broken but appears to be normal. Though it uses less water adding more water seems to work better.
LG Washing Machines Company Profile
Company Name:

LG TV

Year Founded:

1958

Country:

Korea Sout

Website:

http://www.lg.com/