Consumer Complaints and Reviews

I purchased a new LG TrueBalance washer. I hate it. Example: I just tried to do a short wash with two pairs of slacks, a men's shirt, and a tee-top. After 1 hour of having the washer stop due to "off balance" signal 5 times, repositioning contents each time, and restarting cycle and still not getting any further along -- I pulled the clothes out and am now trying to get the washer to finish cycle empty. This was not a unique experience. Unless I jam the washer full so that nothing can virtually move -- it takes me an entire day (at minimum 12 hours) to do 6 loads of clothes. I would never ever again purchase a washer without a center agitator, the ability to fill washer and leave for overnight soaking (which I can't now), and get rid of all of this computer bologna! UPDATE: The "off balance" signal just went off again with the washer empty! If you are shopping for a washer -- do not get blinded by all the new/many bells and whistles.

I bought an LG "True Steam Balance" washer and dryer 2 years ago. Without a doubt, my 30 year old agitator washer and dryer in our house "up north" function much better. I purchased on the strength of Consumer Reports recommendation and because I thought the steam option would be useful. Consumer Reports really blew this one or else the report was written by some young person who considers wrinkles a fashion statement.
EVERYTHING and I include towels, comes out so wrinkled that it requires touching up with an iron. I cannot WAIT to get rid of this washer and dryer; it makes life harder, not easier. I can't fault the cleaning; the clothes are cleaned just fine, but I believe that the washer spins with such ferocity that wrinkles are "set" into the clothes and no amount of tumbling, or taking them out of the dryer while damp, will eradicate the wrinkles.

Purchased a LG front load washing machine that has been leaking water for the past 4 months. Machine is still under warranty: 3 different service technicians visited home over 5 times and have been unable to repair the machine. The technicians initially claimed we were using too much detergent, till the last technician found a crack in the discharge hose and replaced it. Unfortunately, that wasn't the only problem as the machine is still leaking, but now worse than before. And now the leak is so bad, it resulted in water damage to our new construction home. Not only that, but the once quiet machine now sounds worse than before and the technician scratched up our unit.
I informed LG again but still no result. From the very beginning, I pleaded with them to send a different service company to our home, but LG refused. I talked to customer service reps and even folks in their executive services department to no avail. After the first few visits, I began to ask for LG to replace the unit, again LG refused. After the leak caused water damage, I asked again for LG to replace the unit, but again LG refused. The machine is still under warranty, the service technicians have been unable to repair the unit, but LG still refuses to replace it even though the terms of the warranty indicate that replacement is an option.

I spent $2000 on this front loading brand new LG wash machine. I bought this machine in July 2016 - delivered in September 2016 - power stopped in February. LG sent Precision Television (took a month) with a "new brain". They put the new brain in - guess what - worked for about a week. No power again. I had electrician come out - nothing wrong with my power. Called LG again - sent me to Appliance Doctor. They do not call back. Had to write to LG again and complain. I wish for a Samsung like I had before. These people need to give me my money back.

My washer is not 5 years old, the rubber drain hose (from tub to the pump) is ripped and we cannot fix it, we have tried to order from several places, they are saying this part has been discontinue. I thought when I bought this it would last longer than 5 years. We will have to buy another washer, but I will never have any products by LG. I hope that anyone else is buying your products better think twice.
How do I know I can trust these reviews about LG TV?
741,284 reviews on ConsumerAffairs are verified.
We require contact information to ensure our reviewers are real.
We use intelligent software that helps us maintain the integrity of reviews.
Our moderators read all reviews to verify quality and helpfulness.
For more information about reviews on ConsumerAffairs.com please visit our FAQ.

Bought washer about 4 years ago expecting it to last 15 years or more like the previous one. Suddenly completely stopped working during a wash cycle. Replaced the main control board, but now it goes through different cycles for the same program and some of the features don't work like before. LG wouldn't stand by their product. Don't recommend it, as they don't seem to care about the quality of their product.

LG Waveforce washer is constantly off balance. The manual will tell you that you cannot do a small load. Believe them!! Unless you are willing to put 2 sheets in with your delicates, and that sometimes doesn't work, it is impossible to wash a small load. It takes hours to complete a wash load due to the off balance signal. You actually have to babysit the washer. I often take the wash out still heavily wet to hang on a line. Would never buy this product again.

I bought a top loading LG washer from Home Depot in March 2016. By October 2016 it was smelling like mold & mildew. I did everything I was suppose to: use washer cleaner in it and run cleaner cycle once a month, it continued to get worse. I contacted LG Customer Service & Tech Support in December 2016, they scheduled a repairman to come out. He put cleaner in it & ran a cycle, and confirmed the smell. I called a week later, complained again. They sent repairmen out 5 times over the next 3 months who each did the same thing and confirmed the washer stinks, at this it reeks, and each time they said it was unrepairable. But, LG would not deem it unrepairable over the phone on Tech Support with the repairman and this is the only way you can get a new washer.
Two different repair services were coming out at this point and both refused LG request after multiple visits to my house. So 3.5 months later I had wasted 5 work days waiting on repairmen time windows of 5 to 6 hours to come to my house, pour cleaner in my washer (which I am a very competent, college-educated person who can pour cleaner in a washer and press a button) & then have both repair companies tell me they will no longer waste their time coming to my house. I also has a plumber come out and inspect my lines and hookups ($114.00) cost to me and tell me the smell was definitely coming from washer.
Now, LG says nothing else they can do!! I was sold a lemon, had it less than six months, and started having issues. LG is the worse company I have ever dealt with. They make you jump through hoops like a circus dog and beat you down hoping you will just give up. This company needs to be held accountable for their non-actions. Please do not buy LG products!

I bought an LG top loading washing machine with direct drive a couple of years back. Perhaps a year later, I began to regularly get "UE" error messages (uneven load) which would stop the cycle. I would have to open the door, try to redistribute the wet laundry and then restart the cycle. Sometimes multiple times for 1 load. It would often TAKE LITERALLY 3-5 HOURS to do a single load of laundry!!! Sometimes, the machine will try to correct the idiotic error by automatically refilling the tub with water... I guess in an effort to redistribute the load. This never works. The machine has gotten progressively worse with this "UE" issue to the point that now it stops on 80-90% of the cycles! I often end up having to stand by the machine during the spin cycle until it either stops and gives the error message or begins to refill the tub, then I have to turn off the machine and put the soaking wet clothes into the dryer.
As I write this, it is 11 pm and I just put a soaking wet load of laundry that started at 630 pm into the dryer. It doesn't matter if I put in a tiny load or a big load. It doesn't matter if I adjust the spin speed to low or medium. It still gives the "UE" error on most of the loads. What's more, the machine has a "spin only" option - one might think that this means "spin only." Nope. I've tried selecting that option to empty the tub after several "UE" errors, but it will inevitably start filling with water again. How "spin only" turns into filling the tub with water is beyond me. Absolutely ridiculous. This machine is supposed to be energy efficient, but It Wastes energy by running and re-running for hours on end, WASTES WATER BY SENSELESSLY REFILLING FOR NO REASON AND WASTES ITS OWNERS VALUABLE TIME. WASTE OF MONEY! Do NOT buy LG Top load washer!!!

We spent a lot of money on a "good washing machine" "great for the environment" but not good for washing clothes!! UE is the message I continue to get while I try to complete a simple wash load. I called Home Depot where I purchase it and they don't service it... saw that coming so I needed to contact LG... after 15 min they told me I need to contact a service company but like the previous person NONE IN MY AREA!!! I finally had a company come, paid for a new sensor and guess what??? UE UE UE. I'm Done!!! Don't buy LG!!! I would tell you how I truly feel but I am a lady!!!

If you remember pinball machines... I only need to say "TILT"... there are terrible load balance issues. The machine bangs and moves about. I'll add that the dryer is no better... It is LOUD! So very disappointed...

My LG 3650 washer lasted 40 months, with a 2 person household. Died, needs a $700 repair of the modular control panel at the back. I contacted LG to ask how this could happen, and they wrote back that they would pray for me (honest - "we see you're dissatisfied... you're in our prayers"). They offered no advice as to why the washer failed, or what to do other than an expensive service company 100 miles away. DON'T buy these appliances. Ever.

I purchased my LG front loading washer and dryer on 5/17/08. I am 100% satisfied with it! There are two people that live in my house. I like a clean house so I am always washing/drying. I even wash/dry my king size comforter in it! No repairs ever done, just maintenance. Eventually I will have to replace (hopefully not for a long time!) and I will get another LG!

I'm going to make this quick and simple a easy read. I have had an amazing experience with LG televisions for years. The washing machines however are a whole different animal! My thought process was spend a good amount of cash get a good name brand, and it would last me at least 10+ years. Not the case!! We purchased our front load LG washer in 2012. It worked fine up until about 6 months ago. It would stop about 10 times through a wash cycle. It would take about 3 hours per load! Ridiculous!!! Of course we tried contacting LG to no avail! Got the run around from several scripted employees. I will never purchase a LG washer of any kind and suggest anyone else do the same!! Unless you enjoy spending your hard earned money on a worthless product that would only last 4 years if you are lucky!

LG washer/dryer combo - DON'T buy one! Enormous vibration, the house shakes. Close to 2 hours to wash & dry ONE bed sheet. Sheet emerges WET (not just "damp") and needs thorough drying in the 20 yr. old reliable Kenmore basement dryer. LG = What a mistake!

My husband and I bought a top loading digital, true balance washing machine about a year ago. Since our first wash load, it has been nothing but trouble. The thing constantly goes off balance and it honestly sometimes takes a WHOLE DAY to wash 1 load! Also, our water bill has tripled since we bought the machine, because every time it goes off balance it tries to balance itself by adding more water! We will never buy an LG product again! BEWARE!

They do not stand behind their product. Had issues with the washer the day we installed it. It leaked. Leak has stopped for now. Took over a month to get someone out to look at it. Repair person said they were ordering parts. Have not heard back from him. The washer works for now but what happens when it breaks down again? We have contacted LG several times and have gotten the runaround every time. They will not even give you an email you can reply to. DO NOT BUY LG. The company we purchased the item from has been very helpful. They even contacted LG several times.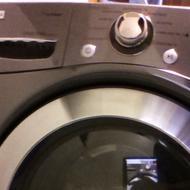 Bought our LG Front Loader Steam Washer (WM2501H*A) 9 years ago. 4 years after purchase we had to have the drum replaced due to the bearings going bad. Luckily it was covered under warranty so it was free. However, it's only been 4 years since the replacement and again the drum bearings are going bad and need to be replaced. I was told that with the "direct drive system" the bearings had a longer life than previous models. If this is true then the previous models must have only lasted 2 years! We are going to run this one into the ground, spent all that money on it and feel like I might as well get my $$'s worth (and it isn't worth fixing at this time.) I will NEVER buy another LG washer (and possibly product) in the future. I feel like the product they produce is low quality at a high quality price. I will be going back to top loader when this one completely fails.

Bought a LG Top load washer less than 3 years ago for $720. It's constantly going out of balance several times every load you wash. Now the drive shaft broke and took out the wash plate as well. Despite the fact that the front of the washer has a 10 year warranty sticker plastered on the front of it LG refused to authorize the repair center to cover the parts under warranty, the cost of which is approx. $400-450. I called LG directly and they and talked to a technician first and she just kept telling me it was not her department and that she was only authorized to talk to the service repair company and not me.
I had to beg to talk to a supervisor and had to wait forever to talk, for her to get on the line only to tell me that the 10 year warranty only covers the rotor and stator, not the drive shaft and basically told me I was SOL. Bottom line save yourself the heartache and money and don't ever buy a LG washer. They are JUNK and their customer service is non-existent!

I wanted a large tub so it could handle my king spread. I have the top loader and it works beautifully with little effort. Love that there is no agitator inside. The dryer also handles these large spreads and comforters.

I have a LG HE front load washer and dryer Model #WM2350HWC and DLE2350W. I bought the pair at HHGREGG in 2011 or 2012. They have been a great asset to my laundry needs. They live up to their name, "Life's Good" (LG). I haven't had any problems with either one of them and they keep your clothes looking brand new. :)

We have an LG Inverter Direct Drive top loader washing machine with the large tub. I love it and it cleans to my satisfaction. It even has the clean tub selection. It senses the amount of laundry and puts in water to match. My husband thinks the water bill is less. My one little problem is I am short and sometimes I have to reach way down to pick up little items on the bottom and if that is the only complaint I have I am well satisfied and extremely happy with the machine.

I bought an LG front loading washing machine in October 2011. I also bought an LG bottom freezer french doors refrigerator in October 2011, while doing a house renovation. Refrigerator Model is LFC20760SW. When washing machine broke in June I was told it was not worth fixing. In Feb I came home from vacation and the food in refrigerator was spoiled. The lights don't even work. I checked breaker. The vacuum works in the electrical receptacle so it not the power. Also at least 4 of the plastic pieces have broken off. Both sides of the slider in the deep freezer broke. The door storage broke. Some other pieces have broken off. I will never buy an LG again. Can't get a LG repair person either. Sears is coming over maybe.

I did a lot of research looking for a washing machine and dryer. When we went to Lowe's we knew what we wanted but needed to see in person. The decision was difficult. I really wanted a front loader like I had a few years ago. The LG I chose has a glass top which I do like a lot and does not have an agitator. The machine takes a little getting used to but not difficult. Our clothes come out beautiful.

Bought these about 6 years ago. It clean clothes okay, and yes I keep the door open so it doesn't get moldy. Glad I have a plastic pan underneath. Noticing lots of water in it after a wash cycle has run. They just don't make them like they used to. Most stuff these days isn't expected to last much longer than 5 years.

My wife and I had higher expectations on the model and make. We thought that being a LG model and the new concept of front loading that the clothes would come out cleaner. As far as water consumption no complaints and the company is in the right direction on that topic. But for tumbling of the clothes to get them clean, I think that we need to get back to the drawing board. And as for the quietness of the machine no complaints, either very quiet especially for a washer.

I really like my LG washing machine and dryer. It doesn't look as upgraded as some of Samsung's new dryers but it gets the job done. But I would have preferred more color choices without having to spend an additional couple hundred dollars. I love that there is not an agitator and it has an extra large capacity. I can easily fit my king size comforters in the basin. I love the turbo speed function that allows you to wash your clothes at a reduced time. You also save a lot of water because it only puts in enough water to cover the clothes.
The machine does a 'survey' for the weight and size of the load to determine the amount of water to use. I normally only need the smallest amount of detergent in most loads, so you save money there too. There are plenty of cycles types to select from and some you can customize. My dryer has an awesome steam feature! This really reduces wrinkles in dress clothing! I also love the sensing feature on the dryer. I rarely have to add more time or dry a second time. It also has a large capacity. The signal indicating both the washer and dryer could be louder.
There is also an app with the units that you can get laundry tips. I would have preferred to be able to start and stop functions and/or time left on loads with the app. You can also use your cell phone to diagnose errors on the units. You hold the phone to the unit and it sends codes to help with troubleshooting. The washing machine could be more quiet. I can definitely hear the wash if I'm in rooms next door. During some heavy rinse cycles I can hear and feel it shaking since the unit is on my second floor. All in all I really like the set.

Once per week, sometime after every wash, I had to empty the drain hose. Otherwise the floor got flooded. Machine leaked from the dispenser cups. Sometimes the washer walked on its pedestal. Also, dryer just didn't dry on a full load. Had repairmen in from the first month I owned the appliances.

We have the front load. Nice that it does use 12 gals to wash vs 30 gals. Though problem is the lettering came off when soap was spill. I got it cover under the warranty then put clear nail polish on it so it protects the lettering from coming off.

Front loader LG washer has worked very well over the several years we have owned it. No service calls have been made towards it and it survived two moves. Plus this mold concern I keep hearing about hasn't been a problem for me. I leave the door open and clean the seal around it often.
LG Washing Machines Company Profile
Company Name:

LG TV

Year Founded:

1958

Country:

Korea Sout

Website:

http://www.lg.com/