Consumer Complaints and Reviews

I purchased the LG washer a year ago. I have been dissatisfied since day one. Tried every cycle, but the clothes are all tangled up at the end of every cycle. You try to take the clothes apart and end up with a left arm of a shirt twice the length of the other. It's awful, the clothes come out all stretched out from trying to pull them apart. I loved my old FRONT load washer. All clothes were washed properly. With this top load, not all clothes get a good wash. Never again top load. No use calling LG. They will tell me: "Too bad sucker. We got you for 2K."

LG wt5001c Bad Washer. Purchased in 9/12 at HD with 3 year extended warranty. After 2 yrs I had issue with motherboard. Then 1 year later I had issues with transmission and drive which was replaced. Now 1 year later the tub won't stop filling. I had to replace the LG with a new washer instead. Repairmen mentioned to me that quality control has been slipping from manufacturer due to mass production.

Washer goes out of balance on almost every load. I verified the machine was level and watched the YouTube video on how to properly load a washing machine. I still had problems and contacted the LG support line. They were no help. A class action is required to get LG to resolve this issue. Do NOT buy LG washers

I purchased my LG washing machine 1 1/2 years ago. It is a model WT1101CW. It is constantly saying it's unbalanced and has rattled my bathroom floor apart. The tiles are now badly cracked. Not only that, but in the last several months it has developed an issue where it can't run for more than a minute or two at a time without giving me the UE (unbalanced) error code. I called the LG recall line after seeing that some similar LG machines have been recalled for the same issues, but was told that based on my machine's serial number, my machine isn't one of those recalled. I was then transferred to customer service who again told me to make sure that the machine is level. The machine is perfectly level. I have cleaned the tub often, and also tried unplugging it and pressing start and pause as LG's customer service department has also suggested.
I was also told by their customer service department that I could try adding a cycle option such as "add fabric softener" to increase the amount of water in the tub. Since it only has water in it during the "tub clean" cycle when it also gives an unbalance signal every few minutes, this isn't going to help. It also defeats the purpose of the machine being energy efficient. Today I have spent 9 1/2 hours so far doing a tub clean with just vinegar as they suggested. Every minute or two it gives me the unbalance error code and I have had to restart it. It still has water in it and hasn't finished. It is now 8:30 pm and I started it at 9 am this morning.
I just called LG's customer service department for the 6th time in the last few days and was told that since my 1 1/2 year old machine is out of warranty, it will cost a minimum of $299 for a service call! When I objected to the exorbitant price, the representative offered to let me pay with "three easy payments". I can buy a new machine for not much more than that. I am 60 years old and have to say that this is the WORST washing machine I have ever owned, and the WORST customer service I have ever received. Also, I believe this model machine needs to be recalled as well. There is definitely an issue with it, and I see from the other complaints on here that I am not the only one having problems with this model. WORST PRODUCT AND WORST CUSTOMER SERVICE EVER!!!

Bought the top-loading 'Inverter Direct Drive' about 3 years ago. This is the biggest POS appliance we have ever owned! Washer gets unbalanced with almost every load - no matter how small or large. It takes a LONG time to wash any load. The display may say that it's a 52-minute load. That's ONLY if you monitor it getting unbalanced or shutting off completely. It mostly gets unbalanced at 34 minutes remaining and at 11 minutes remaining.
Unless you use the bulky setting, you get next to NO water in the tub. And the very WORST PART is that it has RUINED countless shirts, pants, and shorts. It will put dark, short streaks (stains) ON YOUR CLOTHES THAT YOU CANNOT GET OUT. We have washed the Maxine-stained items up to six times using a wide variety of stain removers and NOTHING works. We wound up throwing items away after this machine stained them. Now we turn everything inside out. We hope to be moving soon and will GLADLY leave this machine behind. What a HORRIBLE appliance!!!
How do I know I can trust these reviews about LG TV?
634,774 reviews on ConsumerAffairs are verified.
We require contact information to ensure our reviewers are real.
We use intelligent software that helps us maintain the integrity of reviews.
Our moderators read all reviews to verify quality and helpfulness.
For more information about reviews on ConsumerAffairs.com please visit our FAQ.

The washer almost from new began leaving soap scum on clothes and had to rewash so many clothes. The top load is a wreck. Also the dryer has wrinkle free cycle, yes all the wrinkles for free, the older maytags were so much better. Next time probably buy Samsung.

We bought a LG washer (top loading.) and dryer set at Best Buy, 20 June 2016. They looked like quality products, but we were very mistaken. The washer spends a lot of time load sensing, almost as much as washing. A lot of clicking going on, and the tub jiggles back and forth for a few minutes before the washing cycle starts. Even with "Extra Water," selected, it is barely enough to get the clothes thoroughly wet in the wash cycle. The clothes in the very middle of the tub never hardly move during the agitation, so they do not really get washed good. Then during this last week the washer goes from wash cycle to spin cycle. It forgets the rinse cycle. Also, we can only get hot water, never warm. For some reason the warm setting is always cold. It also takes a long time just to wash a load of clothes. The dryer will not dry our clothes completely, but we work around that problem, and we shouldn't have to.
We had a Kenmore washer and dryer set for thirteen years, and never had many problems. I worked as a product designer for many years, and our company had strict rules for testing and designing before any new product was introduced to the market. I can hardly believe that LG is putting these defective new products out to the marketplace. Anyway, we are disgusted, and learned a very expensive lesson.

Purchased an LG washer and dryer in 2015 from hhgregg. This is by far the worst washer we have ever owned. Supposed to be energy efficient! 90% of the time we get a UE code and the washer keeps refilling with water. Sometimes it gets to the last 6 minutes of the cycle then it goes back to 14 minutes and starts refilling the drum nearly to full capacity of water. Not only does this machine waste water, it also wastes electricity by repeating the cycles with the UE (uneven load) code. LG should be investigated for labeling this machine as energy efficient. We should be allowed to return to LG for one that works. It does this no matter what the load consist of. Like or unlike items.

Bought our house in May of 2014 and it came with the brand new LG front loading washer. I wish it didn't because it has been an ongoing problem since we started using it. Besides having to clean it all the time, it leaks constantly. First, the error message would go on and the water wasn't draining, so it would leak everywhere, plus we would have to empty the water. We had that repaired. Now, its leaking from a different area, which is a different issue I'm being told. This is the 3rd repair done on this machine!! I will never buy a washer like this again especially from LG. I thought they were a reliable company, but they definitely are not!

I purchased this LG washing machine, Model WT1101CW on May 29, 2014, from Best Buy. It was a replacement for my 20+-year-old Sears Kenmore washer. The LG machine does not clean my clothes because I believe, it does not supply enough water. I called LG to complain and was asked if the water supply line was metal or the flexible hose. My reply was metal, so LG told me it may help to replace it with the flexible! LG/Best Buy installed the machine, it is their responsibility to provide the suitable hose. However, was told that they would not pay to replace or reinstall. I was also told I may get more water if I washed everything on the Bulky cycle. Bottom line, my whites are dingy, my wash clothes sour after 2 uses and customer service stinks. DO NOT PURCHASE ANYTHING BRANDED LG.

We just bought this machine 2 years ago and it cost us almost $2K. Recently, it has been nothing but a headache. Keeps giving us an error message. After calling LG over & over, all we are told is to run washer cleaner through it, which we've done a million times. Still not working. LG finally said they'd contact an appliance repair and send out a rep (at a cost of at least $280 to us...thanks, LG!) and gave us a date and time window. No one showed. LG never set it up. I'm beyond unhappy. I will NEVER, EVER, EVER buy another LG product. Their customer service is absolutely horrible and their slogan of "Life's Good" is a JOKE. Life is only good if you do NOT own any LG products!!! Please, for the love of all things, just DON'T buy LG.

LG Washing Machine model WT1101C - After 2 years of normal use this machine failed. It was sold as heavy duty. Under normal use the drive shaft broke off inside unit. Called customer service and was advised to call service tech in our area, he never returned call. Under the LG's useless warranty they stated we would have to pay for service call. Filed complaint with BBB and went no where. Also, supplied pics of receipt and broken part. They offered a "possible courtesy visit from tech" and would not supply replacement part or refund. Guess they will go out of business if they had to honor their warranty for all the POS's they are unloading on the consumers. No customer service or ethics to this company. No stars for this company. Will never buy LG brands again!!!

We a LG front load machine WM3250HWA from Home Depot, washer didn't last 2 months and now we're stuck with a brand new washer that does work! The washer locked and we couldn't get the door open and it was full of clothes and water. Home Depot wouldn't replace it cause it was a few days past 1 months and they couldn't fix it. I will never, ever buy an LG product.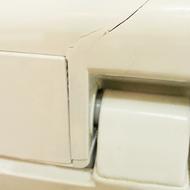 LG WT1101CW Washing Machine. Don't Buy LG. Warranty Not Honored. I purchased an LG top loading washing machine a year and a half ago after my twenty-year-old Maytag machine made of steel with a solid lid that finally needed to be replaced. Within months of buying this machine, the plastic around the hinges of the lid began to crack and started to crumble at the hinges. The plastic is not holding up to the opening and closing of the lid on my unit. I had the lid and hinges replaced four times for the same problem. Once the plastic around the hinges starts to crack and disintegrate, the lid cannot close, and you cannot use the machine at all.
Customer service assured me after the fourth repair for the same problem that the unit would be replaced as defective. The plastic on the new lid after 5 months is starting to crack again, so I called and found out that my case was directed to the "Defective Return Team" and they rejected the claim. They told me it has been over a year since the purchase and it is now out of warranty.
I have been repairing this brand new machine within a few months of purchasing it. Home Depot says it's out of their hands, it's up to LG but LG has not adhered to their own policy that after three visits to repair the same problem, it is considered unrepairable and is considered to be a defective machine and will be replaced. They will now send a technician out for a fifth time for the same repair. It's not fixing the problem! The lid keeps cracking around the hinges on both sides. Poor quality, poor workmanship, cheap materials and they will not replace the machine, and now that it is out of warranty, they may not replace the lid when it cracks again and I will have a machine I cannot use that I paid almost $700 for. After experiencing this, I will never buy another LG product again.

LG Front Loader Washer Model: WM3170CW. Purchased this washer from Lowe's. After the first wash, the inside seal was giving off a smell. So paranoid about this, I made sure to wipe the inside door glass, seal after every wash. This unit leaves water in the soap tray after every wash, so I take out the tray and drain it and allow that to dry. I also have to get down and open the door with the drain tube. I drain out all the water that is - I guess - still inside the washer?! A lot of water comes out. This washer is a major pain. After continuing to do ALL of this after every use - my washer smells horribly musty and moldy. Totally unacceptable. I have put cleaning tablets in it - and even run bleach through it on the clean cycle. Still smells. This washer is a lemon. Do not purchase it. I deserve a new washer - but a different model! I expected this to be a good washer - being an LG. They used to have a good reputation. I paid $750.00 for this washer.

I have purchased an LG washer dryer model FH4U1JBH2N for £839.00, and I have received the appliance with a manufacturer defect. The washer dryer does not have the right control panel (no Drying option available on screen). No other option was offered apart from keeping the washer dryer and sending a technician to fix the defect. Imagine you purchase a cabrio car after checking the photos, the store and reviews. But you receive a regular family car... the manufacturer states that they can only come to you and cut the car open to transform it into a cabrio. In other word, you purchase a new machine, and it comes with a defect, and the manufacturer are not dependable for not meeting the specifications.
What sort of company is LG? Would you like to do business with a company that does not care of the consumer/customer? Feels like, that what they see are just numbers... making profit out of people who trust a brand. DO NOT PURCHASE AN LG PRODUCT unless you want to face poor customer care, poor after sales care, poor manners over the phone, poor quality of the product and most importantly 0 dependability. I had the washer-fake-dryer since the end of August 2016 and it's useless as it does not do the job I purchased it for. The retailer does not want to recollect the product as they state it is LG which has to approve the recollection. LG states it is not their issue.

Bought this machine in 2011 from Conn's. We never had a problem, but the only thing was where the bleach dispenser it started rusting and I would just clean it. I did buy warranty, but before it expired I called to tell them about the rust. Conn's said that is a manufacture problem, they only repair. So I didn't renew it. Now the tub makes horrible noise when washing rinsing. And clothes comes out soggy. I called LG yesterday, I thought maybe they could do the Smart Diagnostic and let me know what machine needs. They said if they did the diagnostic it would mess up the machine?? For them to send a Tech out it will cost $414 with one year maintenance or $302 for 60 day warranty. So disappointed, I might as well go buy a new one.

I purchased an LG washer and dryer from Home Depot about 18 months ago. I got their top model at the time top loading. After about 15 months I noticed the paint around bleach dispenser beginning to bubble up and so I removed the blue tray only to find machine has been rusting. I thought perhaps it's because when pouring bleach we sometimes get it between the plastic and machine. Then when looking under, I noticed the entire machine has massive rust buildup to where it's flaking and falling on the plastic edges of the drum.
After contacting LG about this issue they pretty much said I'm out of warranty and oh well. At the rate of the rust I'm guessing another 2 years and metal clips / screws will pretty much break during a spin cycle and nothing I can do about it except share this troubling issue to save someone else thousands of dollars on LG's poorly protected product against moisture. That 10 year warranty sticker is such a gimmick since these won't make it past 5 years with the crazy rust buildup. I did some research online and found that many other users have gone through the same frustration. I hope all the negative reviews will get LG to better insulate metal surfaces in their machines. Even my car comes with 10 year 100,000 mile warranty against rust yet washer has no rust warranty?

We purchased the LG Smart Drum thinking this was a great investment. It was the worst decision we made. It takes hours to wash one load. It constantly errors with UE no matter what load is in there. Even during the clean tub cycle where they recommend nothing in the washer. We have to constantly reload heavy wet clothes to rebalance eventually have to go directly to the spin cycle and shutting off the water just to get it over with. I am lucky to get two loads of laundry done in one whole damn day.
I can't get anything else accomplished because I am babysitting a damn washer. It has caused so much frustration among our entire family because no one can get their laundry done and over in a reasonable amount of time. I am going out this weekend and buying a new washer. It won't be a LG that's for sure. From all the other reviews it appears the washer is a lemon and LG knows it but they don't care. Also, the app they say you can get is not available either. They should be sued for falsely claiming things this washer can do and it doesn't. True balance my butt... this machine is the worst. Buyers beware. You will be sorry.

I purchased my LG front loading washing machine in January, 2011. I followed the manufacturing guidelines to clean and take proper care. I also left the door ajar to lessen odors. NOTHING they suggested helped with the black slime and odor. What a BIG disappointment after I researched to find a good washing machine. How can they say the problem was resolved. That's a total lie. Why aren't companies held responsible for defective designs and extremely poor quality merchandise. Consumers spend a lot of time and money researching for quality products.

I have been married for 40 years with four children and countless loads of laundry. Most of my washers and dryers have been maytag and lasted 10-15 years with few if any repairs. This LG top loader is the worst machine I have ever bought. I purposefully did not buy a front loader because of problems with odors I had heard about. Well I guess a top loader can Smell really bad too. I don't understand how in 2016 we don't know how to make a washer that drains properly. This is a lemon and I will be selling it soon and buying a good ol Maytag. I just lost a lot of money on this one. They should recall all their machines until they figure out and fix the problems.

My wife bought this LG Washing Machine Model WT5001C from a Best Buy shop. Since the break in we had problems and called technician to fix it. The cost of which now exceeded the cost of the machine. It is a fancy looking washer with a lot of fancy lights. Its sensors have limited light and go off often during a regular wash. The LG Service does not really care. It was a bad experience and recommend don't buy it even if it free as it cause so much inconvenience.

We bought a set about a year ago the LG washer inverter direct drive/true balance anti-vibration system with steam technology and the LG sensor dry with steam technology. I thought it might be too technical but it's easy to use and my water bill is 7 to 10 dollars a month cheaper and we use a 1/4 of the detergent that we did before. And the options are many and it plays a musical tune when it's done not a buzz that scares you and it large enough to do anything. I got the extended warranty because of the electronic board.
Only one problem was the washer is so deep my wife has to use grabbers to get the laundry out of the washer. I think this was money well spent on and I like that the door on the dryer can pull down or from the side, the washer has a glass top that's called diamond glass and a soap and softener dispenser. I did wish they had it in something more than white and I'm still learning thing about it like I can connect it to my phone to let me know when it's done but I really have to say that's pretty lazy. I hope this helps someone if they're looking.

We bought an LG washer and dryer in March of 2014 from Lowe's. Fortunate for us, we bought the extended warranty. In that time until now both machines have been serviced by at least 5 different visits. The washer is the main culprit. It will not complete an entire wash cycle without errors or not washing them at all. The technicians who come and repair them stated these machines are the worst to repair. They really could not find a certain problem but continue to throw parts at them.
The dryer would not heat or dry clothes but seems to be doing better for now. The washer decided to give us a new code last night when it it began to quit yet again, "OE." Reading online this is an error with pump malfunction, kinked drain tube or filter. Now after checking tube and drain, neither is clogged, but now the washer will not drain and has foul smelling water in it. At this point we are done with these machines.
We are going to look for a new washer today, preferably with manual controls. We will keep the dryer until it breaks again, which is likely. These machines being a little over two years old should not be breaking down so often. I will not buy another, ever again, and warning others to do the same. The warranty is almost up and rather having to sit around all day on the appointment day waiting for a technician arrive, we will just take the loss and get another washer. Serial numbers 312PNYU60066 washer, 307KWFN7A275 dryer.

I've not had the problems with mold that others have experienced and the clothes are clean like they are suppose to be after washing. The problem is after paying a minimum of $1000.00 on this washer I expect it to last. I wash 3 loads a week and after 5 years the washer is extremely loud that it sounds like a plane is about to take off or land in my laundry room. The repair guy says the bearings need to be replaced and with all the parts and labor it is not worth it!

We have had this machine for almost two years, but being very busy in our lives have never actually watched the machine go through a full wash cycle, until I did it just recently. I put an average load of clothes in it and started a "normal" cycle. A little later I looked in to see that the clothes were only about half-immersed in water during the "wash". Clearly, this was not good. I see that many people online have complained about this same problem. I find that the washer will only truly fill if the "Bulky/bedding" cycle is selected. Otherwise it simply will not put sufficient water in the tub for a proper wash. My fix to "fool" the machine is: start the load on "Bulky", wait till it fills to the desired level, pause, change to "normal" and proceed. This will not make the rinse cycle fill up, but if you happen to catch it you can do the same for rinse. Sort of makes a joke of this "high-tech automatic machine" doesn't it?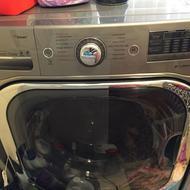 I purchased the set of washer and dryer last year from Sears but I have been regret to change my old Whirlpool set that I had it over 15 years. I only decided to change them because of water consuming. Other than this both were working perfect. I have two football player teens at home and I have to do laundry almost every day but most of the time the clothes are coming out smelly and I have to rewash them and using more electricity and water. I wish I could have my old one again.

Worst appliance we have ever owned! Smart balance doesn't work. It fills up over and over to adjust the load. You have to fold up and arrange your clothes just so or the cycle keeps repeating. You have to rearrange the clothes during cycle no matter if it's a larger load or small load. Now the entire centerpiece comes loose and clothes get trapped underneath it or it stops working mid cycle have to then take everything out, put the piece back and reload! Takes hours and hours to do two loads!

LG Front Load Washing Machine bought in 2013 - This washer gets a horrendous build up of thick black mold in the rubber seal and makes the inside of the washer smell like mold and mildew. The seal has a rim with a deep ridge that makes it impossible to clean properly. My laundry does not even smell clean after I wash it. When you call LG, they offer no assistance and state you will have to pay to have the washer repaired due to it is out of "warranty". They take no blame in the matter at all and tell you it's from improper cleaning. Please, this washer is a WASH OUT! Don't buy LG washers unless you want to get stuck with the bill, the dirty machine and the dirty laundry! Never again will I purchase a LG appliance!

LG Washing Machine Product WT1101CW: 1st-DO NOT BUY ANY LG!!! THEY ARE LEMONS!!! We purchased an LG Washing Machine and Dryer from Best Buy on 11/16/2012. I am writing this review on 9/28/16. I have had to have a repairman out twice and the long and short of it is the transmission & electric board went at the tune of $533.00 for parts and labor. Um I paid $629 for the machine new. I called LG several times. The 1st few times they said there was nothing they could do. Wrong answer! So I called a 3rd time & they offered me an "extended warranty" on parts and labor for 1 year for that repair for $385.00. So they would charge me more than half of what I paid for it??? No thanks. There is no telling what else will go wrong with it.
It's a ripoff when you pay over $600 for a washing machine and it doesn't even LAST 4 YEARS. I read numerous complaints about LG like mine and worse. If we quit buying these lemons they will either have to make a better product or go out of business. Gotta go time to get on Consumer Reports and fork more $$ for a new one. Let's just hope it will last at least 5 years.
LG Washing Machines Company Profile
Company Name:

LG TV

Year Founded:

1958

Country:

Korea Sout

Website:

http://www.lg.com/