Consumer Reviews and Complaints

Please do not buy any LG washers. I wish I read the reviews before I purchased mine in June. This machine doesn't rinse or spin properly and the loads are always wet and heavy. And this machine makes all the clothes smell horrible. I was told by LG that this was the customer error and the machine needs to be cleaned monthly. I've never heard of such ridiculousness. A HUGE disappointment. I also never had to post a negative review for any purchase I've made but especially after I spoke with a rep who was rude and utterly useless, I felt the need to post. Stay away.

We bought our second LG. The first a top load steam washer and now a front loader. We bought it in 2014. And it has practically ruined our towels. Regardless of how many times I clean it with the clean option or wipe it down, it breeds mold and mildew. All of our towels stink like mold. There is nothing worse than getting out of the shower and drying off with a freshly laundered plush cotton towel and have it REEK of mold. It's disgusting. This model isn't covered in their recall, but $35 doesn't even touch what I paid for my towels. Their QC department needs to work with their engineering department and offer a fix to this issue for consumers.

LG DIRECT DRIVE 7 KG F1292QDP25 - I bought the washing machine in Dubai and shipped to India. It worked hardly 50 hrs and started malfunctioning. A service request was logged thru a Dealer in Kerala and the Mechanic attended the case promptly. He confirmed the Electronic Control Board was damaged and it was why the program were not running properly. I spoke to the local service manager and he confirmed that warranty could not be given for the machines purchased outside India. However, asked him to order the part but, he could not get "any response from LG" for the last two months. As the machine stopped working I contacted the local Distributor in Dubai last week but, they also did not keep stock. For getting the Part from Korea they wanted me to pay Dh.650 which is almost half the cost of a new machine.

LG Washer WT5070CW - I have had this washer since 12/12/12. It is not worth the money. This is my third washing machine in my married life of 35+ years. I gave my son my last one when I bought this piece of junk. All the others lasted 10+ years. Always Unbalance Error. I babysit this machine constantly waiting for it to UE over and over again. The repair man for my appliances won't even look at a LG. Should have called him before my purchase. I called LG today and really received no solution other than emailing them all my information on the purchase. Considering buying another washer (NOT LG). Don't even want to give to anyone because it is junk. Will just have them haul it away.

Would you board an airplane knowing that when its electronics fail, there is no way the passenger door can be unlocked? This is exactly how the WT5070CW LG washer is engineered. Ours died a mere 4 years (!!!) after purchase - its electronic controller died in the middle of a wash cycle and left the brain dead machine with its door locked, with no manual way to unlock it, holding hostage a full load of wet laundry which has been rotting there for ten days, exuding a horrible smell! And, to add insult to injury, here is what happened when we ordered the part from LG (via Sears Parts Direct, order number **) and paid extra for expedited 2-day shipment: after 4 days we were informed that LG has not shipped yet, no reason given (the part should directly from their warehouse to home) and there is no guarantee when it will arrive. This is LG engineering! This is LG customer service!
How do I know I can trust these reviews about LG TV?
882,235 reviews on ConsumerAffairs are verified.
We require contact information to ensure our reviewers are real.
We use intelligent software that helps us maintain the integrity of reviews.
Our moderators read all reviews to verify quality and helpfulness.
For more information about reviews on ConsumerAffairs.com please visit our FAQ.


Purchased a WM2801HLA Direct Drive front load washer & matching gas dryer (new) in April of 2010. In the 7 years of ownership, the LG Washer has had 2 drain pump failures, 1 circuit control board failure, and a Spider Arm assembly failure (due to preventable corrosion). The 1st drain pump failed under extended 5-year warranty, as did the circuit control board. Everything else has failed on my dime and my time. The failed spider arm also took out the "Balance Assembly Ring" by tilting the tub, thus making contact with a fixed component and rubbing a hole in the liquid filled assembly ring - which drained the ring, rendering it noisy as a tank & useless.
Our machine started making some warning sounds in the spring of 2017... Which I thought were the "bearings". Being as the seal & bearings are a regular fail point, I ordered seals and bearings and pulled the machine apart. Turns out it was the Spider Arm assembly which had corroded to the point that only 1 of the 3 arms was still intact holding the drum to the support assembly. The bearing seal and bearings were still fine (although replacing the seal when you are in there is a MINIMUM to prevent future bearing failure).
Just for good measure, the 2nd circuit board is now also behaving in a similar manner as the 1st one did on its way out (you cannot power up the machine without unplugging it - wait 30 seconds - and plugging it back in). This circuit board problem comes and goes, but it is not uncommon for the LG brand (do a YouTube search for LG washers failing to power up). The Spider Arm failure was due solely to using an unpainted aluminum part (spider arm), bolting it to a dissimilar metal (stainless steel drum) and exposing it to both electrolyte (soapy water, baking soda) and acids (vinegar, bleach, cleansing tablets, etc). "Shiny piece of crap" is how I would describe this LG washing machine.
In the 15 years since Front Loaders became fashion statements, I am not aware of a single Front Load manufacturer that has corrected this spider arm fail point (it's a guaranteed certainty it will fail with any sort of regular use) by either painting it in enamel, making it out of stainless steel, or abandoning the stainless steel tub for an enamel coated one. It's clear to me that this is a purpose-driven engineered failure of the washing machine. I was able to fix the machine myself (and new bearings/seals for good measure... As you're already in there) but most people cannot. Even so, it was $400 with bearings, seals, balance ring, spider arm, and enamel paint for the new spider arm to prevent corrosion thereof.
When the spider arm fails, it is generally the "death knell" for the machine. To hire someone to fix is usually in the neighborhood of $800 (and several days to get parts/fix). That's right around the price point of a new washer... And therein lies the motivation to junk a 6 to 8-year-old washer. Compare that to my 1996 Maytag Dependable care top load washer and gas dryer. 13 years of ZERO problems, and probably still going strong at my former house (left as part of the house sale). These front loaders could last just as long by making the terminal failures less frequent. I.E. Eliminate the Spider arm corrosion. Use higher grade bearings. Use a higher grade bearing seal. I will accept the circuit board failure, as it's easy to replace. Although, there should be no need for that either if the circuits are rated for automotive use (high vibration).
Ditto the drain pump failure (it's downright delicate looking) but it's $50 and I can change it rather quickly. Unfortunately, given that all the manufacturers are using price as the lowest common denominator, it's unlikely that any single manufacturer will step up their game. If manufacturers build a better machine, they'll have to raise the price as turnover falls.
A couple of takeaways I've learned: Don't stack your washer/dryer - It makes them a nightmare to service (and these new machines demand servicing). Front load washers are crap. I believe you can eliminate the spider arm by going back to a top loader. Become handy - You need to be able to diagnose, disassemble, & repair these crappy products yourself to extend the life thereof.

We purchased a top load LG Wave Force about 5 years ago. For the past few years, I have noticed brown flakes on my clothes, especially white ones that I need to hang dry. The multiple times I have called LG to complain about the brown flakes on my clothes, they said no one has complained about such flakes. I had a repair guy come out and he took the metal piece out from the inside of the washer. The underside was so disgusting with nasty brown slime. He said there is no way to get the drum out without dismantling the entire washing machine, which he did not recommend.
I scrubbed the metal piece he removed and took a soft brush to the underside of the barrel through the inside of the washer. I was never able to get all of the gunk out but it did get better. Now it is back to how it was before with nasty gunk again. I clean the washer every week with Lemi-Shine. I have tried everything. I hate this washer. It has ruined so many of my clothes with brown gunk stains. And the fact that LG says "no one has ever complained about this issue" is a lie. Two of my best friends have the same issue. I hate hate hate this washer and LG for not keeping track of the people reporting the EXACT same issue I am having. Do NOT buy this washer or the Kenmore version of it.

Contacted LG service, tech came out found nothing. Took pictures of the finished wash with soap stains sent them to LG, another tech arrived and tried to solve the problem. No luck. Called again. Still no satisfaction. Finally after fourth tech I had a tech make a suggestion that seems to work. LG engineers in their infinite wisdom of trying to make a washing machine that is water efficient failed. The machine senses how much water based upon the weight of the items in the tub which basically doesn't wash squat. So by having the machine first wet the clothes and restarting the cycle the load is now heavier and the machine increases the amount of water in the tub to accommodate the heavier load. Now you have enough water to actually wash clothes! Seems a stupid way to get a machine to work, but it appears to solve the problem. Basically LG engineers need to learn how to actually test their product before sucking the consumer into buying junk!

Top loading washer placed on routine Tub clean, bottom of tub broke loose, shot up through top of machine breaking inside parts. Sounded as if there was a boat running outside my house, thankfully instead of opening top, son ran to get me. LG does not comprehend seriousness of the incident. Spoke to over 7 LG representatives, supervisor stated that they will not support repair unless Washer is Recalled and customer should contact Consumer Affairs? Washer drum is defective and could cause serious injury. Please Recall this product Model WT1101CW, before someone is hurt.

LG had the absolute worst appliances! They won't replace them, they won't accommodate your available time for repairs, they won't reimburse your laundromat services, they falsely told me they would on a recorded line and then I was emailed and told, "No that was not an option." DONT BUY ANY LG ITEMS!

We bought a new front loader LG WM3670H just a couple of months ago after our 13 year old front loader Kenmore (an amazing washer!) shot its bearings. The LG machine is only good for washing dust off your clothes. Will not wash anything heavier than that and leaves tons of lint all over your clothes... I am super frustrated because I am now washing lots of things in hand after they have been through the supposed "wash". I use "heavy" soil and warm water setting and it is not sufficient for average towels or kids' clothing.

Originally, I purchased the front load LG but realized that I couldn't soak clothes. I gave it to someone in need and purchased the LG WaveForce top loading. Wish I would have read reviews before buying. I can't get through one load without the machine being "UE". Water will fill the machine as it tries to self-correct - what a waste of water! I can't leave the house and more specifically, I can't leave the laundry room (I'm typing from the laundry room). It takes a couple of hours to wash one load of clothes. Water is never hot.
The sink right next to the washer has hot water but I can barely get lukewarm for washing sheets and towels. Soaking clothes - well once I set it on soak and as soon as the machine filled, I turned it off, thinking it would soak until I restarted the washer. Wrong! The water slowly drains out. Next machine will be a top loading inexpensive washer like i use to have. GIVE ME BACK A SIMPLE MACHINE THAT ACTUALLY WASHES WITH MORE THAN A GALLON OF WATER!

Lack of an agitator may or may not be the cause, but this device twists items deposited into a ball and finishes with a big question as to what, if any, items were thoroughly cleaned. The initial "jiggling" of items in such small water appears to be a designer's mental excursion with little reality involved. The "standard" setting muddles items in a VERY LOW LEVEL of highly-concentrated dirty water due to the "water-saver" nature of the device. Whatever happened to good cleaning? OR is water so expensive that we should settle for less-clean clothing. We've owned washers and dryers for 54 years and have never experienced any worth these words. Enough said?

I booked a complaint for repair of front loaded washing machine on 19-07-2017, but is not repaired till date. The company technician visited my residence on 20-07-2017 & told me that he will visit again on 21-07-2017 after collecting some parts from the service center, but I am waiting till today. He also charge a amount of Rs 275/- on the day ie on 20-07-2017, but repair is still pending. Whether is this the customer care? When I approached toll free no, they told me that your complaint have been closed. Why closed without any repair.

TERRIBLE COMPANY. BE AWARE! "Technician" that came to service my LG washer spend less than 5 minutes at my house. Did not check the washer AT ALL and told me it was the motherboard without any type of diagnostic work. 3 weeks later I'm still waiting for service! You call Customer service and they keep switching you from agent to agent after requesting to speak to a manager. I was on hold for an hour! They are extremely rude & basically the worst customer service ever! I want my money back after waiting for almost a month of paying for service (July 7th) & they want to charge $100 for a "service call" that wasn't! I deserve a "FULL REFUND". If I could give them 0 stars I would... DO NOT USE THEM!!

LG Washer WTS5070CW - 1) Extensive rust around bleach entry port. Per LG "cosmetic" very common complaint. Washer was 14 months old. 2) Residual bleach from previous loads ruins clothes in next load. 3) Not a true high capacity washer. Shakes violently. Drum had to be replaced after damage from violent shaking. I have read many reviews. Problems 1 & 3 are common. LG top loader washers are LEMONS. $649.00 wasted!

I bought the washing machine because of the large tub. I assumed I would be able to do good size loads, very reasonable but large. Not the case. I also expected the machine to "wash" the cloths. My laundry is not unusually soiled in anyway just normal day to day of a retired couple. Even a white towel load with a cup of bleach and the towels were not clean. The machine has a glass top so I watched as I put the load through again. The towels on the top never even were cycled through the soapy water (what little water there was). Because of this they also did not get rinsed adequately.
To see just how well they did get rinsed I again put the same towel load in not adding any soap to see if any was still in the towels. The wash looked as though I had put detergent in as usual. I had used the very small amount of the detergent as instructed. I wish I had researched this washer before buying as I NEVER would have bought it. I was blinded by the size of the tub and hope to warn anyone else considering this machine. I have had it 3 weeks and will try to return it to Home Depot where I bought it but I am doubtful I will get very far with that.

The lettering on my LG Washing Machine of 18 months is coming off. I called LG to complain about the design defect. I searched online and found that other consumers have complained about the same problem. Their only solution is that I hire a technician at my cost to replace the machine. This machine is not worth the cost.

I can't find my receipt so I'm not sure exactly how long we have owned our LG Tromm washer and dryer. (I'm going to guess about 9 years) The washer has practically give us issues the entire time we have owned it. From smelling moldy to not draining. I will NEVER own another LG washer again! Much less a front loading washer.

I would never buy any product from LG (FH4B8QDA1) again. I bought a washing machine that within 6 months was marking my laundry with black streaks. I phoned LG who sent their local engineer. The man who came out said he had never seen such a clean washing machine (I used Calgon as per LG's care instruction in the booklet). He took some photos and said they would be in touch... but he thought the door seal would need replacing even though there was no marks on it at all! I never heard back from them. So I phoned LG again. LG said after the engineer had looked at the machine and made a report. It was because I was using Calgon to clean the machine and non bio laundry liquid. I wasn't entitled to another opinion as I had, had an engineer come out to me! The only thing I could do was to get an independent report on the machine.
So I went back to the shop where I bought it and they knew someone who did reports. I had an independent report done on the machine and it was proven by two people and photos that there was grease in the bearings that was getting into the machine. After LG had the report it again took a very long time for any response and a lot of phone calls on my part. They accepted the machine was faulty and were going to replace it. I asked for compensation for all clothes and bedding that had been ruined and I had, had to replace. Suddenly there was nothing wrong with my machine and it was the fact that I used non bio!!! The shop I bought it at ended up replacing it for me. I would never recommend LG to anyone and their customer service is appalling. So much, that I haven't even registered this new machine as obviously a guarantee doesn't mean anything anyway!!!

We purchased our LG washer dryer pair at Home Depot around 5 years ago, and they has been working fine. Today we noticed the glass lid on the washing machine had spontaneously shattered like a car windshield might. It was still intact but had fractured into hundreds of 1/4" to 1/2" pieces. I contacted LG and was told that this was very rare and was directed to several authorized LG service vendors. A simple Google search shows that many people have had this exact experience with this very same LG washer model.
It seems to obviously be a design defect, as it was not being used or touched when the glass shattered. If the glass had disintegrated into the tub I suspect the washing machine would have to replaced. As it is a replacement lid from Sears PartsDirect will be here in two days. In the meantime the lid was very simple to remove. What an odd part failure... LG should take responsibility for this problem for this model washer, which many people have experienced. I was lucky that more damage was not done.

I bought an LG front loading washer and dryer in Anchorage and I shipped them to Nome, Alaska. The washer developed an issue with the gasket leaking. I contacted LG who said, "no problem", they do repairs anywhere in the world. As it turns out, not in rural Alaska. They said a certified LG tech had to do the repairs. Since that repair was out of the question, LG sent me a check for my purchase price for the washer, the dryer and the pedestals. Over $3,000. They did not cover my shipping charges. And they cancelled the remaining warranty. I ended up having a local wizard replace both the seal and the door latch for roughly $100. Another minor leak was fixed recently. That set is still working great almost 12 years since my original purchase. No complaints here.

Bought the LG washer & dryer in August 2014. I have not done one load that I didn't have to go back and re-wash some of the items. Nothing comes out clean. No just stains either - plain old dirt and sweat. Some of the clothes do not even get completely wet. I had a Frigidaire for 25 years - always clean clothes - no issues. Gave it away when I moved and bought these pieces of junk! Wish I had brought it with me now! They need to go back to the washers with actual agitators in them so clothes get clean. Everyone I know with this type washer has the same issues. It's too expensive to go buy a new one, but I will never purchase an LG product again! Worst Washing Machine EVER.

If I could give less than one star I would, @years I have had this Machine LG - 5.0 Cu. Ft. 12-Cycle Top-Loading Washer and it has been broken more than it has worked. Door Breaks, Control board breaks, Control board breaks again. Now the Main Computer Board is broken! Still selling this POS and Parts No Longer Available! ALL LG Products Suck! Cheap China Crap designed to Break!


We've had the UE issue since we bought the LG top load washer and it has gotten progressively worse. LG customer service is willing to send out a tech for $300, are you kidding me?? Make a product that works! We've only had the washer for a few years and it's had the issue since the beginning. This issue seems to be pretty wide spread and is causing consumers to waste water and endless hours trying to get a load to wash properly. This needs to be a recall or it will soon be a class action lawsuit.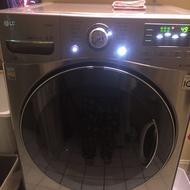 We purchased new LG front load top of the line largest capacity washing machine (and Dryer) through Best Buy less than 1 month ago. The first time we used it with a large load of clothes it shook so bad it was bumping against the wall. We called for service and two very young men came as a team, looked at it for two minutes and said it was installed too close to the wall and that was why it was vibrating so bad. They moved it 3" away from wall and left without testing it.
Next day, another load of clothes and no change, it sounds like a machine gun and a thrashing machine all in one. Another call to LG and they scheduled the LG expert to come out. He takes the washer apart and discovers one of the shock absorbers is missing the connecting pin and was never hooked up. He orders the part and returns a week later to make the repair.
While he was here we complained about the second problem with this washing machine which is the water valves that open and close to allow hot and cold water to fill the washer do so in such an abrupt manner that our plumbing pipes bang all the way up to the second floor. His answers is we need to call a plumber to have our pipes fixed. Now we had two other washing machines in this exact location connected to the exact same pipes and never once heard our pipes bang. He also said we could google some third party suppliers of some sort of aftermarket connector that helps with this sort of problem. We should buy them at our expense. Ok we spent $1,200 for this top of the line washing machine and need to buy after market parts to make it work.
Round 3 - we called to speak to the LG rep again and explain that the washing machine is still banging our pipes and when it goes into spin mode it shakes, uncontrollably and makes noises that sound like it is coming apart. They are sending another expert Monday. I will not be satisfied until they remove this piece of junk from our home and give us a full refund. I do not know what happened to this company's quality control. We previously owned top of the line LG washing machine and dryer that lasted for 10 years without a service call. WHATEVER YOU DO, DO NOT BUY THIS WASHING MACHINE. Pictures attached for make and model.

Hate is not a strong enough description. New in Dec 2016. Washer top load has not worked correctly since day one. LG authorized repair has taken over repairing machine (from Best Buy Geek Squad.). He has ordered a new main board and other parts. YES, I got a lemon. Clothes come out tangled and miserably twisted. Does not get clothing clean. I am picky about my laundry... this machine is horrible!

Had front loading LG washer 1 year 3 months when the letters on the front display came off, i.e. the letters that state "Permanent Press". "Towels". etc. I now have to guess which type of wash I'm using. Contacted LG customer service who told me that it was my problem and deal with it. It's a design flaw! I owned a previous LG washer for 8 years and never had this problem. I will never buy another LG product again.
LG Washing Machines Company Profile
Company Name:

LG TV

Year Founded:

1958

Country:

Korea Sout

Website:

http://www.lg.com/