Consumer Complaints and Reviews

Bought the LG washer & dryer in August 2014. I have not done one load that I didn't have to go back and re-wash some of the items. Nothing comes out clean. No just stains either - plain old dirt and sweat. Some of the clothes do not even get completely wet. I had a Frigidaire for 25 years - always clean clothes - no issues. Gave it away when I moved and bought these pieces of junk! Wish I had brought it with me now! They need to go back to the washers with actual agitators in them so clothes get clean. Everyone I know with this type washer has the same issues. It's too expensive to go buy a new one, but I will never purchase an LG product again! Worst Washing Machine EVER.

If I could give less than one star I would, @years I have had this Machine LG - 5.0 Cu. Ft. 12-Cycle Top-Loading Washer and it has been broken more than it has worked. Door Breaks, Control board breaks, Control board breaks again. Now the Main Computer Board is broken! Still selling this POS and Parts No Longer Available! ALL LG Products Suck! Cheap China Crap designed to Break!


We've had the UE issue since we bought the LG top load washer and it has gotten progressively worse. LG customer service is willing to send out a tech for $300, are you kidding me?? Make a product that works! We've only had the washer for a few years and it's had the issue since the beginning. This issue seems to be pretty wide spread and is causing consumers to waste water and endless hours trying to get a load to wash properly. This needs to be a recall or it will soon be a class action lawsuit.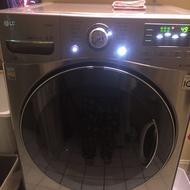 We purchased new LG front load top of the line largest capacity washing machine (and Dryer) through Best Buy less than 1 month ago. The first time we used it with a large load of clothes it shook so bad it was bumping against the wall. We called for service and two very young men came as a team, looked at it for two minutes and said it was installed too close to the wall and that was why it was vibrating so bad. They moved it 3" away from wall and left without testing it.
Next day, another load of clothes and no change, it sounds like a machine gun and a thrashing machine all in one. Another call to LG and they scheduled the LG expert to come out. He takes the washer apart and discovers one of the shock absorbers is missing the connecting pin and was never hooked up. He orders the part and returns a week later to make the repair.
While he was here we complained about the second problem with this washing machine which is the water valves that open and close to allow hot and cold water to fill the washer do so in such an abrupt manner that our plumbing pipes bang all the way up to the second floor. His answers is we need to call a plumber to have our pipes fixed. Now we had two other washing machines in this exact location connected to the exact same pipes and never once heard our pipes bang. He also said we could google some third party suppliers of some sort of aftermarket connector that helps with this sort of problem. We should buy them at our expense. Ok we spent $1,200 for this top of the line washing machine and need to buy after market parts to make it work.
Round 3 - we called to speak to the LG rep again and explain that the washing machine is still banging our pipes and when it goes into spin mode it shakes, uncontrollably and makes noises that sound like it is coming apart. They are sending another expert Monday. I will not be satisfied until they remove this piece of junk from our home and give us a full refund. I do not know what happened to this company's quality control. We previously owned top of the line LG washing machine and dryer that lasted for 10 years without a service call. WHATEVER YOU DO, DO NOT BUY THIS WASHING MACHINE. Pictures attached for make and model.
How do I know I can trust these reviews about LG TV?
826,885 reviews on ConsumerAffairs are verified.
We require contact information to ensure our reviewers are real.
We use intelligent software that helps us maintain the integrity of reviews.
Our moderators read all reviews to verify quality and helpfulness.
For more information about reviews on ConsumerAffairs.com please visit our FAQ.

Hate is not a strong enough description. New in Dec 2016. Washer top load has not worked correctly since day one. LG authorized repair has taken over repairing machine (from Best Buy Geek Squad.). He has ordered a new main board and other parts. YES, I got a lemon. Clothes come out tangled and miserably twisted. Does not get clothing clean. I am picky about my laundry... this machine is horrible!

Had front loading LG washer 1 year 3 months when the letters on the front display came off, i.e. the letters that state "Permanent Press". "Towels". etc. I now have to guess which type of wash I'm using. Contacted LG customer service who told me that it was my problem and deal with it. It's a design flaw! I owned a previous LG washer for 8 years and never had this problem. I will never buy another LG product again.

This is first time I had problem with washer and dryer. The washer is terrible smell like sewer while using and after use. The mold around the front end door creates black mold. Also the rubber gasket is not properly designed. As soon we bought the machine it leaked terribly wetting the whole wooden floor many times. We called the LG within 1 year warranty period. The repair men came and fixed it but it happened again. I have fix it on my own. BAD, BAD... BAD design and BAD machine. I will not anyone to buy this machine. There are many other brands in the market you want to consider but never ever LG washer. The dryer is takes longer than normal time other dryers will take. Worse machine. They should be stopped in the USA market completely unless they replace all the faulty machines or refund or correct the problems.

I bought my LG washer 2 years ago. I have put 3 new lids on my washer in that time. At 175.00 a piece will never buy another one. I called their customer service to give them a chance to do something about this problem but was told nothing they could do.

I have owned an LG Washer and Dryer for approx. 2 years. The dryer had to be replaced within a month of delivery and the inlet water valve is being replaced for the second time on the washer. Don't be fooled by "PRETTY", the appliance are a piece of junk. And furthermore, when you call LG, does anyone from the company speak without an accent so you can understand them. I am saving the reader of this a ton of money. STAY AWAY FROM LG.

We have had the worst experience with our front load LG Washer. It does not wash clean, the clothes come out dirty. It does not wash and rinse with enough water, sometimes when a load is in the rinsing stage I look inside, I can see some part of my clothes are still looking dry... I have been doing laundry for 30 years, I had Whirlpool, Samsung washers, I never encountered any problem. With LG it is a headache, I never had to use bleach, now I find myself using bleach when washing my towels. This is not my only problem. The machine displays 53 minutes for a cycle but then the whole process ends up taking like 2 hours.
Our machine is under warranty so we called them twice and both times the repairman came and basically said that there is nothing wrong with our machine, it is doing what is supposed to do. I believe that it was not built right, there was be some errors in the way they designed it. It should not even been called LG washing machine, it should be called LG dirtying machine. I will never buy any LG products again.

We bought two new LG washing machines, one for our daughter and one for us in 2010. Last year, after 6 years, our daughter's LG washing machine broke down. This year, yesterday, our 7 year old LG washing machine broke down - in each case it was the motor - you could hear the defective motor. The motors are specifically labeled on the machines as being guaranteed for 10 years. We went out and bought a Samsung washing machine and dryer the same day as the breakdown, expecting the LG dryer at 7 years was not reliable either. Oh yes. There are only the two of us - retired man and wife - living in the house so the machines are not used that much. If we were a family with small kids, the washing machine doubtless would have broken down much sooner. I wonder if the executives running the LG operation are reading these consumer posts? They should. Word gets around.

I suddenly had an issue with my top loaded LG washer. It turned out that there was a recall on my model and LG sent a technician. Not sure what he did but when he left the washer was working but the electrical distribution was not so he simply connected the machine to an extension cord and left! When I called LG back to get retribution they asked me to contact their supplier to make a claim with them.

I seldom, if ever, write complaint letters. However, this washer has been the worst purchase I have ever made. I absolutely HATE this machine. I thought I was purchasing a high-end washer and it's a piece of JUNK. There is never enough water even though I always select more water with each load. The clothes aren't even fully emerged! Stains remain, the clothes appear dingy, and after the load is complete, all the clothes are twisted together in knots. I have to separately untangle each piece in the load before placing in the dryer. No agitator in the top loader, insufficient water, spin speed ties clothes in knots. You should see my king size sheets. It's been a nightmare since day one. AVOID this machine like the plague. I'm getting a replacement ASAP.

I have had nothing but problems with our LG Waveforce top load washing machine. Since day one, it has been unbalanced in almost every single load. It doesn't matter if it's a small load, normal size or large load. It is always unbalanced. Because of this issue, the machine tries to fix itself, which ends up using 2-3 times the amount of water just trying to get it balanced. So, when you buy this unit thinking you will save money of your water bill and that it's energy efficient, think again. The 45-minute load ends up taking 2 hours and 3 times the water. Another issue I have had is the pulsator. It just pops off the bottom of the drum in the spin cycle. We have had to fix it multiple times and now is unfixable. We will either need to replace the whole inner part or buy a new washer. I have called LG multiple times with no help at all whatsoever. I wish I could go back to my old Kenmore washing machine that lasted 15 years with no problems at all.

This washer is supposed to be top of the line material! I have owned it for less than 2 1/2 years and it has been nothing but trouble for 2 years!!! First, I was told that my water pressure was too low for it. So, I had someone work on my well pump to increase my pressure. Not the cure for my problem! Second, I was told it wasn't level. I had it leveled and checked several times. Still the same issues. Third, I was told that my Gain laundry detergent (which I have used my entire adult life) was the problem.
Keep in mind, it has HE on the label. Indicating it is for High Efficiency washers. So, I changed detergents. Still not cured??? I have called LG company trying to do the Smart Diagnosis for it. I was put on hold for over an hour, 2 different times! I have to check on my laundry at least 3 times or more for every load. It will pause and throw error IE, UE, or uE with every load!!! My clothes DO NOT get clean! It takes at least 2 hours to do 1 load! Sometimes, it takes ALL day to do 1 load! I am fed up! I am tossing this hunk of junk out and buying a standard old style washer! I want knobs to turn and an agitator that turns and cleans my clothes!

Our LG dryer stopped working on March 8th 2017. As of today June 2nd 2017 the dryer still is not repaired. After many attempts and replacing all the internal parts it still does not function. The LG approved technician (Modern Appliance of Jackson WI) and LG will not resolve the issue. They stopped calling and returning calls.

Never again will I purchase a LG product. I purchased this washing machine August 2016. From day one I had a feeling my clothes were not coming clean. My husband works outside and sometimes have mud on his clothes. I pulled the clothes out the machine and was able to scrape the mud off with my fingernails. I have never experienced anything like this in my life with my old machines. My towels still have normal makeup stains on them. I'm very disappointed. I have to wash the clothes twice each time before putting them in the dryer.

I purchased an LG washer and dryer at Home Depot in 2013. I also purchased a 3-yr service contract. So it's four years later and the washer vibrates and the tub hits the external walls of the washer. I called LG FOR OUT OF WARRANTY SERVICE. They would come out and fix the washer for 307.80 including parts. A flat fee. Service would be performed on June 1st. Today is June 1st. Called the service and they did not have a record of a scheduled repair. Called LG. They called the provider and confirmed that I didn't have a scheduled appointment. They would cancel and I could reschedule.
Nope, just refund my money. After several calls including transfers to other departments and hang-ups, I found I could not cancel over the phone, but must e-mail some other site and apparently beg for my money. Contacted other site by e-mail (No reply). Called my credit card company to protest the charge. Sent another e-mail to cancel the order. Waiting for a reply from LG. READ OTHER REVIEWS ON SITE, DON'T BUY LG.

Bought a LG Top loading washing machine WT5270CW and the motherboard failed in 2 1/2 months. The failure caused the washing machine to continue filling up with water and overflowing onto the floor. It flooded out our garage and fortunately was discovered before it flooded the entire home. LG warranty service is horrible. They have you troubleshoot it, so they can save the cost of a repairman coming out. Their LG repairmen never call you nor show up for schedule appointments. LG, themselves, when you question what is going on, admit they don't have the parts on hand to fix it. Come to find out, my parts are on back order for 7-10 days. They further tell you that they have 30 days to fix or replace. In the meantime, I have dirty clothes piled to the roof. Do Not Buy LG! Never so unhappy with a product and company.

I purchased an LG Front Loader washing machine model WM3570HWA less than a year ago. It cost over $800.00. I hate this machine. It smells all the time. I leave the door open constantly. I have to leave the window open because of the smell. I have cleaned the tub several times according to the LG instructions. The cycle takes forever. Helps for a couple of days. I also don't find the clothes get that clean and fresh smelling when done. I would take back my old Whirlpool agitator machine in a heartbeat. I am going to get rid of this machine and eat my $800.00+. I will never buy an LG product again. I do not recommend this to anyone. I wish I would have read Consumer Affairs before purchasing this machine.

To my dismay, I learned that LG only had a warranty of 90 days. I can't believe that you can pay $1,100 for a washing machine and they only guarantee it for 90 days. Guess they know what I didn't. It is a lousy machine and they already know that it won't last much longer than that. Save your money - any machine out there has to be better and cost a lot less. Also most machines are guaranteed for at least 6 months, and most for 1 year. I will NEVER buy another LG product.

Pity there's not a "less than 0 stars" option. I do several loads of laundry a week for a family of five. The washer doesn't even wet the clothes: I mean the clothes are actually dry in the middle of the load; only the outside of a medium-sized load gets wet. I called LG. When I told the repair guy that the washer didn't get the clothes wet, he checked it and said nothing's wrong, that's just how it goes.
Here is the proper way to use this washer: Pretreat and load clothes. Run water in laundry room sink until hot; fill a bucket with soapy water, and pour over clothes in machine to make sure they get wet. Set washer to: cotton, pre-wash, extra high heat, highest spin speed, heavily soiled, 'water plus', and turn on the machine. Wait two and a half hours, and then repeat. That's right--about two and a half hours to get a load done, five to get them more-or-less presentable. 'Cold' is cold; 'tap cold'--whatever that it--is cold, 'warm' is cold, 'hot' is cold, extra hot is actually hot.
I emailed Energy Star: they said that if "I have a problem with the machine" I should call the manufacturer. When I explained that the machine was working to spec--that it was designed that way--they explained that they DON'T TEST the Energy Star machines to make sure they do the job they're supposed to, they rely on the manufacturer to confirm that the appliance does the job it's supposed to AND meet Energy Star requirements. Somebody needs to clue in the EPA and Energy Star: if you have to wash every load twice, in blazing hot water, and replace the appliance every 3 - 5 years (typical of modern machines) you're not saving resources. Getting rid of this and getting an old-fashioned Speed Queen.

This product (LG WM5000HWA) has been shaking violently. I reported this issue and LG sent a technician out to look at it. He claimed that I was not using HE detergent. Lied! I purchased this from Costco and concierge tried to have LG come out again. Second technician came and did not do service. They saw the machine spins and machine shook violently with the correct amount of HE detergent used. They then called LG second tier support and when the machine shook the one that was suppose to see it said his video froze. They couldn't stay any longer due to their next appointment and told me that they would report this to. Lied!
At this time I have been on the phone with Costco for 15 times and hours or more each time. Distressed and disgusted with the lies blaming the consumer for not using the wrong detergent and claimed they didn't see any shaking.
LG then scheduled their in subcontractor to take a look for second opinion, took a day off. They didn't showed up or called for no showed. Costco called and had another subcontractor to come a look. This technician was ethical and did report that this machine shook but LG didn't do anything. 3 months now and they said their machine has no issue when this twin wash washing machine shook horrible. I had them on video that this shook and technician did see it but they refused to look at the videos I recorded! I will never buy any LG products and will discontinued my membership with Costco. This product is the latest line of product with only several months of use. Disappointed for them wasting my time and my money on on this purchase.
Oh tech even told me I had to wan socks with socks separated. Pants with pants. Shirts with shirts. These idiots talk to you like you come from the Stone Age. I'm in IT and work with software and hardwares. I hope these will eventually blowed up and eventually LG will lose 1 billion dollars due to defective product that they claimed the user is doing it!!! I hope this gets out and be careful on purchasing their products. I'm still under warranty but they refused to come and serviced.

I bought my LG top loader in 2012 and was initially happy with my purchase. After about a year I noticed some rusting at the bleach dispenser but I just ignored it.
Fast forward to 2017 and it has turned into a full blown big deal. It has rusted out, corroded, ready to crumble! I contacted LG and they were happy to send someone out to "fix" it for a flat rate of $245, to put another defective top on it that I would have to replace in a couple of years, whether I use bleach or not, because this has nothing, absolutely nothing to do with bleach!
Upon doing a little online research I learned that I am not the only one having this issue, there are dozens, perhaps hundreds with the exact same problem! Yet LG swears that WE are spilling bleach and they are not liable for any repairs! But many washing machines before have had bleach spilled and did not rust like these do, so it must be a defect that LG will not fess up to. I am mad! That they are getting away with this and ripping people off!

Save yourself a lot of time and money, don't buy LG! A very poor product and their customer service is a joke! They do not stand behind their products at all. Our LG Front Load Washer did not make it two years before we had problems. LG said they would be happy to help if we gave them $400. Agree with all the other comments made by consumers. The 1.5 star is generous!

Unbalanced Flaw UE - LG Front Loader Extra Capacity - Paid way too much to get extra capacity - would love to have my basic front loader back! Extra capacity is worthless if you can't get the load to spin & finish because of the UE code. I've had to throw away pillows I washed. No problem in my last machine, because this way overpriced LG wouldn't spin it - not alone, not with other items, not after being wrung out, hung to drip dry, not on low spin - NOTHING. The True Balancer is a joke - it is directly causing the problem.
What good is an EXTRA CAPACITY washing machine, if you can't wash more than a normal load in it anyway? The time I've wasted standing in front of this machine, hoping *this time* it would spin, rebalancing items by hand - makes me sick to think how much we paid for this piece of junk. Good luck with customer service - they said there is no recall even though there is post after post of the same UE complaint, and they *might* call me back once the customer service person logs my complaint. Never asked me for any contact info so I'm not sure how that will happen...

I gave it 18 months of aggravation washing... I do not see how bumping the clothes around in limited water will get my clothes clean. I use the extra rinse button and my clothes still smell of BO, stains are still there. I am tired of ranting about the washer EVERY TIME I use it... I do not get how they think clothes will come clean with this system. I HATE IT. I HATE IT.

Please do not purchase this dryer (LG Washer Direct Drive). The washer does not clean clothes very well, the belt that is inside the door is covered with mildew/mold that can't be cleaned even with Clorox. I can't wait to buy another washer.

When we purchased the WT5101HW Washing machine we did so because my Maytag Neptune machine (Which contributed to Maytag going bankrupt) had to be replaced. I had thought LG would be a great experience, I was wrong. Initially the machine worked well and was efficient as expected, however that did not last. My wife noted that the clothes would smell musty and the machine took a long time to finish. We cleaned the machine monthly and left the lid up when not in use and put up with the lackluster performance. Last year things became decidedly worse when frequent UE errors began to appear and the machine would fill with water to almost the top.
When I contacted LG an appointment was set for a technician to repair the machine. The first visit was a software update. No effect. The 2nd visit the Stator Assembly and Rotor Assembly were replaced. No effect. The third visit the Housing Assembly, Clutch Coupling, Stator Assembly, Rotor Assembly and Pulsator Assembly were replaced. Issues persists.
The fourth visit the PCB Assembly, Display was replaced at which point the service rep indicated that just about everything replaceable was replaced. The machine appeared to work ok for a short while, however still using excess quantities of water and sounding like a helicopter landing when in spin cycle. The UE errors persist. We lived with this a while and then my wife mentioned our water bill has about tripled ever since the repairs. On contacting LG again I was told they would be happy to send at our cost a service technician and that the machine was now too far out of warranty for any other recourse. The original issue was never resolved and persists.
I can no longer in good conscience recommend any LG Washing Machine. I have multiple short videos on my phone of the machine filling with water in attempt to balance and with the UE flashing in the background. There is no "True balance" as advertised and if high efficiency means using more water and being prone to developing black mold then the machine is highly efficient, just not in cleaning, conserving water or energy.
LG Washing Machines Company Profile
Company Name:

LG TV

Year Founded:

1958

Country:

Korea Sout

Website:

http://www.lg.com/