Consumer Complaints and Reviews

Bought a Samsung washer 3 years ago. Within the first two weeks of owning it the bottom of the wash tub would separate so that clothes got stuck in it. Called the warranty company. They traded it out with another Samsung unit. Used it once same problem appeared again. Called once more to the warranty company. They did not want to come out and replace it, since they thought it was something I was doing to the washing machine. With enough evidence I finally got them to come out and replace the tub. I came to find out that it was a manufacturer's defect, along with the top lip since it had started to rub against the top of the tub shredding the plastic off the upper lining in the washing machine.
Fast forward, less than a year later other problems started popping up. Started leaking water. The machine would very easily off balance itself so much that it would not properly spin the clothes of water. Top of wash tub was still shredding apart. I tried calling Samsung but, I was told there was nothing they could do. Called the warranty company, they came out and fixed what they could on the machine. After that the washer started leaking more water enough to soak my entire kitchen floor. Loud vibrating, banging sound emanated from the machine along with burning smell coming it. The inside top lip was still shredding the plastic, among other problems.
Called the warranty company with sound and photo evidence that the machine was not safe to use, telling them just wanted to take back the machine and give me the money back for it, enough was enough. No more repairmen. I wanted a complete refund. After many phone calls they determined it was going to cost more to fix it than the original cost of the machine, so I got my refund... Finally relieved after 3 long years. I got rid of the old machine, and replaced it with an Maytag. I've been happy ever since. NEVER AGAIN SAMSUNG!!!!

Samsung Washer WA422PRHDWR/AA: Bought Samsung Washer and Dryer. The Washer immediately was a problem. Within 3 months the bottom fell out, ruined my baseboards. Samsung send Tech people out over and over again, refusing to replace. Finally after five (5) techs - they replaced. This new Samsung since 2013 has had the rods replaced inside the drum because it was rocking so hard they broke. 10/2016 a new motherboard had to be installed. Also, the area where bleach is poured is "RUSTING OUT"! I have never seen such a thing, rust? What rusts today? Defective, low quality work.
I bought the item due to the big 10 year warranty that is displayed on the front of the washer and recommendations from the salesperson. What a disaster this machine has been. Not to mention that in between these repairs I have had to go to a laundry mat; yes they still have them, thank goodness! Now this Washing Machine is being "Recalled" from 2011-2015 top load washer from Samsung! I am so upset, this has been going on for too long and all of the repairs that I paid for and all of the waiting for service people and all of the weeks to get repaired and money spent at the laundry mat. Now they want to give me $250.00 "if I buy a Samsung again" or $150.00 if I go back to my Maytag. Or, they just want to fix the issue. Well, I will never recommend Samsung to anyone and will do all I can to spread the word. This consumer has been ripped off!

I purchased a Samsung Top Loader Washer in 2012 and have been having rust issues, which I have been told it is not covered under warranty? Then the other day I receive the package for the recall (which I have the machine that is being recalled). So I called the number and spoke to someone about the recall and told them again about the rust issue. The guy proceeds to tell me that if I get the recall done I get a year warranty after that then to call back about the rust issue? Which totally confused me because if it wasn't covered before the recall then why will it be covered after the recall!
So he connected me with the warranty dept and I was told that they can do the recall but I will not get the 1 year warranty because of the rust problems. So what is the point of getting the recall when there is a possibility that my machine may still explode during a cycle because it is rusting away from inside out! I have seen thousands of complaints and no results. How can they get away with this. People are put in jail for deceiving and cheating people and that is what Samsung is doing.

I am 100% disgusted at how this is being handled. I've been dealing with this since the end of November. I do not even have the time or patience to write everything that has happened throughout this process. To sum it up, I've been on the phone with Samsung at least 25 times with multiple tickets and have been given the complete run around multiple times. Each interaction has taken anywhere from 30 mins to 2 hours of my time. It is absolutely absurd how this is being handled. Where is the class action suit at? Who do I have to contact to get this resolved? Below is a small log of some of the interactions. Dec 4 - no show and waited 4 hours. Dec 10 - no repair and waited 4 hours. Dec 20 - no repair and waited 4 hours. Escalated to ECR: Dec 23 - no callback. Dec 26 - no callback. Jan 6 - no callback. Jan 9 - 10am call scheduled and no callback. Jan 8 - stuck in rinse; tub won't drain. Unplugged it 3x to rest it.
Been hung up on. Been transferred to no one. Been transferred to conference call where I'm only one on call. Been told they will refund washer and dryer twice. Been old brackets aren't made yet. Been told brackets will be mailed to me. Been told my case has been escalated 3 times. Been told to contact the Home Appliance department as they are handling the refunds. They had no Recall line told me I have to wait for escalating team now and they can't do anything. After all of the above, ECR called me back finally after 2 months of dealing with this only to tell me that my only options are repair or rebate; back to square one. I do not know how to handle this. Can anyone please advise? Thanks.

I bought my Samsung washer after having a front loading Maytag for 2 years and 2 days, it was only covered for 2 years and the drum broke. I had to start over. My new Samsung washer has slammed itself all over the laundry room. I have readjusted it on about every load. It barely uses any water and soap is stuck to my jeans. I have never washed bedding. It goes nuts on towels or jeans. Now I find out it is on recall. I wish I was contacted before yesterday. I guess they didn't want to refund my money. THAT IS BAD BUSINESS. After reading what I have read here. I am opting to get a new washer. I really hope it goes better than what I have seen here. I will come back and let you know how it went.
How do I know I can trust these reviews about Samsung Computers and Monitors?
669,639 reviews on ConsumerAffairs are verified.
We require contact information to ensure our reviewers are real.
We use intelligent software that helps us maintain the integrity of reviews.
Our moderators read all reviews to verify quality and helpfulness.
For more information about reviews on ConsumerAffairs.com please visit our FAQ.

The recall program is beyond a scam. We were sold bundled Samsung washer and dryer, shipped it from Florida paying shipping and duty. The washer was recalled. We cannot buy Samsung here & like every other person who has washers & dryers, that were also sold as a bundle, we want matching washer & dryer. Samsung's replacement washers are 2x the price of the originals, for the same features and color. Plus, we'd have to repay shipping & duty so this would be a cost prohibitive washing machine to re-purchase and ship from Florida. They won't take back the dryer so that we may buy Whirlpool or Maytag here. We are beyond frustrated with 3 months of calling & speaking to supervisors.
Seeing how many customers have been neglected by this scam of a recall, we would like to know who would like to join in a class action lawsuit? The basis: false advertising: selling bundled washers and dryers where salespeople in retail stores push you to buy them matching and then when recalling, only taking back one item. This forces you to have to buy another Samsung, which by now you do not have any confidence in anyway, that is twice the price for the same features and color. And, in many cases, they devalue the price of the washer.

I purchased one of the washers being recalled by Samsung. After countless phone calls and promises that I would be contacted within 48 hours, a DISH technician showed up a couple of months later. Since Samsung was offering a pittance rebate toward a new washer (I haven't even owned mine for a year) I realized I couldn't afford to replace the washer. So I opted for the "repair". Since the repair, my washer will not spin properly when washing bedding. The bedding comes out wet and takes forever to dry. I don't want this piece of crap washer anymore. Do I have any recourse with the company to replace it at no charge or at least give me a reasonable rebate?

After I received the recall notice from Samsung I decided to purchase a new machine instead of opting for the repairs and decided to purchase another Samsung washer to maximize the rebate. Big mistake as the only machine available at the moment is a low end Samsung, nothing close to the WA400 series I owned. I didn't discover how poorly this machine is made until after the delivery and using it for a few loads. I wish I had taken my time and studied what other names are available. I switched to Samsung after owning Whirlpool and Maytag pieces of junk. I've already filed a complaint with Samsung but not holding my breath for any resolution.

As everyone else, I as well am having a terrible time with this washing machine, I just want it gone!!! I am so tired of putting my washer on the extra spin once the washer has ended, the only thing I am doing is making additional money for my electric company, because my washer is constantly on trying to rid my clothing of the excess water. It will not spin and drain!!! I hope a lawsuit is brought against Samsung, I truly cannot wait to sign on the dotted line!!!

I was initially sent out a letter on October 13, 2016 in regards to the recall. Since then it has been a total nightmare!!! I have called their special washing machine recall line which is in the Dominican Republic over 25 times now and spent over 40 hours on hold and when I get to speak with someone they can't understand English or the line is static on their end only they say. I am waiting for my sticker kit and a tech did come and all they did was put bigger bolts on the back of inside machine. There is no difference at all. I am frustrated that I can't even use my machine without watching it for safety reasons. I actually am so appalled by Samsung customer service their lack of! They do not care about their customers and I am tired of getting the runaround from them. I really do not think they have managers as they all say "we will escalate this to a manager." I believe it's a script they read from.
Today I called and got the same answer as 3 weeks ago. So, I ended up calling their complaint line in which I was told is not for the washing machines and they could not help me. Finally I called Sears Canada and spoke with the appliance dept. They immediately contacted a Samsung rep and he said they will deal with the situation. My fingers are crossed as to get some resolution as I paid 1495.00$ for this machine last November and they offered me 517.00$ which was crazy to lose 1000.00$. I will never ever purchase any Samsung product again. They do not stand behind their product and their customer service is the worst I have EVER experienced.

My Samsung washing machine is affected by the recent recall due to the fact that the top-loading door is prone to explode and damage nearby property or people. Samsung offers only minimum monetary compensation, and so I instead decided to go the route of having Samsung repair my defective machine. After two no-show appointments and two full months of back-and-forth emails with their service repair team, I have no idea when Samsung will get their act together and repair the machine. Until then, they continue to be liable for my family's safety risk but they don't seem to care.

I recently found out I am the proud owner of a Samsung Recalled washer. I received a black label to place over part of the white control panel. After reading packet decided to call number provided to inquire about recall. I was unable to get thru due to high call volumes and lack of time to remain on hold. So I went to web address listed in packet. I chose the option of rebate to replace washer.
I bought the washer about 3 years ago for 600 plus dollars. Samsung's website advised I was eligible for a $45 rebate towards purchase of new washer. In order to get the rebate I would need to provide two stickers off machine and a receipt proving purchase of new washer. To add insult to situation the website advised I could get $145 rebate if I purchase another Samsung washer. The original rebate of $45 does not even cover charge to deliver new washer and removal of the current washer. I will not even consider buying another Samsung to get the $145. The depreciation value of the washer is ridiculous. My rebate offer is good until November 2017. I understand that Samsung is faced with a rather large recall. But you might want to think about how you treat your once loyal customers.

I have the same issue as another poster. My Washing Machine was recalled by Samsung. They sent a Dish Network tech to repair it who promptly scratched the machine up. The repair also isn't completed. The top is loose and the control panel is not screwed down. I contacted Samsung many times and have received the run around. I have started recording my phone calls with them. It has gotten so bad. They refuse to replace the scratched up machine. Making matters worse, it was a custom color that isn't carried in that model anymore so we cannot replace with something that matches the dryer. I have filed a BBB complaint and continue to try and work with Samsung but am reaching the point where I file in court against them. This is ridiculous.

This is the worst washing machine I've ever owned. It worked fine for about a year and after that I've had nothing but trouble with it. When I purchased this washer I was so excited because I usually bought cheaper washers. What a huge disappointment and waste of money. I will never buy a Samsung of any kind again. Do yourself a favor and go with another brand.

My Samsung washer WA50F9A7D was part of the national recall for having a "possibility of breaking apart" due to the inadequate top brackets. Called and had that repaired. That was free of charge and we chose that option other than the $250 rebate towards another manufacturer. Our matching dryer, model DV50F9A7EVP/AV had also been acting up, performing with a loud rattling noise. I complained about that in my initial complaint to Samsung, but there was no recall on it, so they brushed me off.
Now 2 months after the washer was fixed, the dryer circuit board is malfunctioning and it will not engage the dryer drum to start. Called and they said it was out of warranty. Both matching units are just over 2 years old. Repair will cost ~$300 for the dryer. Going to cut our losses and trash both. Going back to GE or Whirlpool. Hope someone starts a class action against Samsung. Totally Disgusted with Samsung!

As a result of the recall the fix was to make the washer's setting LOW spin for bedding and add braces, change settings. Well the bedding comes out soaking wet!!! Not acceptable! I do not feel confident washing my bedding in this machine. It is inferior to what it was before the recall. I called Samsung and of course you get someone from India to take your call, and they will not forward you to a manager/supervisor. (It is like they resist forwarding your complaint to a manager for some reason unknown to me.) Customer service is not what I would think from a well known company. They would not forward my call to a supervisor. Said they did not know their superior's name was. I pressed to get a supervisors (42 mins, 35 mins before I got a first name of supervisor).
Next day called again 53 min before I spoke to a supervisor. I was transferred, disconnected, left message, no return call. When I finally did speak to one they told me the president's office instructed is they are not prepared to do anything more and that the low spin for bedding stays. Basically to live with it. They are not prepared to resolve this any further. Live with it. I am going to join a civil lawsuit. Shame on you Samsung!! Also I bought this machine this year and the rebate amount puts me in a position to fork out hundreds of dollars more if I chose to go rebate on another Samsung washer machine. Undue hardship... Oh since I did the recall repair I am no longer have option to use the rebate. After the lack of customer service why would I even consider buying another Samsung product? Really pisses me off, the lack customer service I received. I have a Samsung smart TV, HD TVs, phones, and printer. They just lost me as a customer.

I purchased the top loader washer and dryer on 2/28/15. The dryer died about 4 months ago and the lid to the washer had to be replaced ($300.00). Well now, the replaced lid is once again broken at the hinges. The plastic just breaks and you can't close the lid!!! I will never purchase another washer and dryer product by Samsung again!!! I already replaced the dryer and now it looks like I will have to replace the washer as I'm not willing to spend $300.00 bucks on replacing lids every six months.

I purchased the Samsung WA476DSHAWR/A1 IN 2014. Well 1st of all there is already two spots of rust, then came the recall for the exploding washer. So I called and was told I had two options. 1. Get a new washer. If it was a Samsung they would give me $299 or another manufacturer $199. 2. They would repair the machine and give me an additional year warranty. Neither of these options were acceptable but I chose the repair based on the fact that I paid $1,100 for a washer 3 1/2 years ago. So they sent the Dish Network man for the recall. (Yeah that's right the cable guy). He added two screws to the top of the machine from inside then they replaced the label that covers the dial setting. Now they want me to wash bedding only on the delicate cycle. WTF. (The delicate cycle, is basically hand washing). I have called every day since 12-15 and keep getting told that I will get a call with 24-48 hours. Still waiting on that call.

While most of the complaints about the front load washers center around the smell and the mold problem, you can mitigate this by draining the machine regularly or running deodorizing tablets in them. But even if you do this, the machine will break. There is a part that supports the stainless drum inside the plastic tub. It's called the 'Spider' Bracket. This piece is made out of some cheap Zinc alloy, such as Zamac or something similar. It's bolted to the stainless steel drum and connected directly to the A/C Induction motor on the back of the tub.
Once the machine fill with a conductive solution, the spider will begin to corrode quickly. It will crack and the drum will come off center and start to impact the plastic tub, which can damage the tub. The spider costs around $100, and the tub parts cost $150 and $250. The cost of washing machine. Mold problem aside, the washing machine will fail after 4 to 5 years. Samsung has not addressed this issue at all that I can see. The mold problem seems to take the washing machines out of service before their other obvious defects can be seen. A brand to be avoided for sure.

My washing machine was part of the Samsung Recall. When I purchased my washing machine in 7/7/12, I began to have issues within a few months. We have just managed to try to adjust to the noises and the constant error messages and having to stop the washing machine from going on an endless spin and rinse cycle. I finally gave in and purchased a new washer (non Samsung) and sent for my rebate. I received a check in the mail for a whopping $36!! Is this a joke? I paid $633.25!!! Sure, I was not expecting to get the full amount I paid, after all I did use it, but $36?! Come on SAMSUNG! I called their customer service dept and was told this is the fair market value for the washer at this time! Crazy! Needless to say, I will never buy another SAMSUNG product again! Includes my SAMSUNG cell phone that is due for an upgrade in 2 months! So disappointed!

We were waiting for the service guy to show up to repair our Samsung washer for the exploding issue. He did not show up. We called Samsung and it was very difficult to hear and understand her. We were told that the repair guy didn't show because they don't have parts for the repair. She gave my a number to call. It's the company that they hired to do the repairs. They gave me a number to call, that person gave me a number to call. Finally someone tells they don't know when someone will repair the machine.
I then called the first number, they finally get someone to call me that says that they are busy and don't know when they will show up but they will try. An hour later someone calls and says that they can come over. I ask what company he works for, he says he doesn't work for one and does not have his own repair business and that he's not a major appliance serviceman and that Samsung will not send one because it's too costly for them.
He tells me that he will brace the top of the lid and that the machine will be used in a modified setting after the repair. He is not going to repair the real problem, just brace the machine and that we need to put a different label on the machine and we are not to use all the cycles as it was intended to be used. I told him not to bother coming over. Samsung will not give us a straight answer on any questions we had for them. The machine runs with no issues and hopefully it stays that way but we will never buy a Samsung product again. I can't believe how terrible Samsung is to deal with.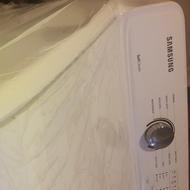 When I first got in touch with Samsung about my brand new washer that was included in the recall, I chose to purchase a new replacement. I found out that the reimbursement would not cover the cost of a new washer, so I changed for the re-enforcement. Then I found out that they totally leave it up to "DISH Network" to do the enforcement of the washer top load. Yes, a little shocked, but I thought "whatever". When the man from DISH left I discovered he damaged the washer. Later finding out he disconnected a sensor, which a manager from DISH reconnected so I could use the washer again, but the man who did the enforcement also scratched up the washer and dented it in two places.
The manager took pictures and about two weeks later I received a letter saying they couldn't prove it was their technician. The plastic is still on the washer, it was perfect prior to DISH putting their hands on it. Samsung hired this company and should be responsible. The washer was not even two months old when DISH came to my home. Why should I have to pay the price for incompetent companies? Where is my restitution for the damages? I'm wondering how many others ended up with damaged washers? I will never buy another Samsung product again. Same damage to other side of washer, along with scratches.

/I too learned of the recall thru social media. I had an OK experience with the DISH tech who came out and replaced the brackets that hold the top of the washer on. I had earlier this year had a repair on my Samsung Dryer, which the dryer barrel lining had torn apart and stop turning. I fought with Samsung but they did send someone out to replace the barrel "no charge". I sent pictures and documented everything.
While this repair person was there I asked him to look at my Samsung washer because when it spins it would shake to where I would pause it, rearrange the clothes, then turn back on most of the time that worked. He told me the "shocks" were bad. He replaced 2 of them which I paid for the labor and parts. I now think the shocks were not bad and the reason my washer shook was because of the lid not being bolted down. I do plan on calling Samsung and getting reimbursed for that call. Now on to my dryer again, just this past weekend it stop heating, so onto YouTube to replace the heating element this weekend. I have my receipts when I purchased these items. I do think they should reimburse people especially for the washer. Very scary of what could have happened.

I've had a problem with my Samsung washer since September 2016. UE light on vibrating and loud noise. Had washer serviced and tech repaired pump and said transmission going out and not covered on my energy protection plan. Purchased machine the end of 2014 at Lowe's. The next morning Good Morning America broadcast that the machine was being recalled and exploding. So I sent email on the Samsung site. I received email from Samsung September 28, 2016 to forward correct serial number. Washer was usable but still loud noise. UE light came back on and same problem existed. No longer working. Finally after many attempts service call set up for tech to come out on November 30, 2016. Tech came out supposedly repaired only recall part, but the machine has not worked since.
Called Samsung same day was in hospital - explained machine not working. Rep said could help me because not home to troubleshoot. Called again given escalation ticket number December 10, 2016. Still no call. Called many times complaining, promised callbacks from supervisor, more ticket numbers. No call backs. Finally after I called back was told appointment set up for tech to come out on December 28th 2016. No one called to set that up. Request call back again. Promised call back no later than 5:45 pm that day. Once again no call.
Tech out today 12/28/2016, machine still not repaired, has to replace transmission and other parts. Tech showing not part of warranty. Called Samsung with repair tech. The rep explained extended warranty covering everything. Tech ordered parts. Will come back out 1/10/2017. Still request supervisor transferred several times, many different departments, no resolution. I explained don't want the $466.00 originally offered. Need a new machine. No confidence in the Samsung company. I was told no replacement unless machine irreparable. I explained I don't trust that transmission fixed and warranty gone in a year. Machine goes out again.
Transferred again after requesting supervisor and complaint department. They transferred me to home appliance, who has nothing to do with escalation or recall. Rep kindly sent me back to escalation department. Promised once again callback 24 to 48 hours which would be Friday December 30, 2016. Explained once again don't believe this will happen. As of this day Wednesday December 28, 2016 still no washer. This is the worst customer service ever. I worked 32 years with AT&T and worked customer complaints for many years. I would have been written up or lost my job if I didn't make my callbacks in the time promised. This is ridiculous. Don't buy Samsung products. My granddaughter even had to get her Samsung galaxy phone replaced.

When I received notice that my Samsung washer could blow in my wife's face I took immediate action. The information provided that I could either have my washer repaired or they would provide $445.00 towards the purchase of another washer. Separately, they said If I purchased another Samsung washer they would pay up to an additional $150.00 for loyalty. When I received my rebate check after purchasing another Samsung washer it was only for the rebate amount of $445.00. I called and spoke with two different persons at Samsung about this issue and they merely kept transferring back to the automated answering system. VERY DECEPTIVE PRACTICE.

We bought a Samsung washing machine loading on top # WHAH7000AWA2 this summer so we did not have any issue with the recall but I would have love to return it. It doesn't wash cloth properly, soap stain on cloth for 1 out of 2 washing cycle and very noisy even if there is the logo VRT (vibration reduction...). We call customer service to report the fact that we have so little water it did not wash the cloth and they said to us that it was normal? So then it's normal that my cloth are not wash properly? After this call we try many things to make it work. We put less cloth, we change for a longer cycle, etc... but did not work. For less cloth, less water... It's a big deception and can't wait to change it.

I have never fought with an appliance more than I have fought with this washing machine. I have owned this model for a year and 4 months. I absolutely dread washing a load of laundry. It will loop in a rinse/spin cycle for hours. I pause the machine. Redistribute the wet clothes and restart it. Only to still have it locked in an endless loop. It doesn't matter what the load content is nor how large or small. Every single load takes hours due to the rinse/spin loop that it gets into. Usually, I reset the load to just "spin." Then stand there for 10 minutes to catch it before it refills with water. I, then, have to load wet, not completely wrung out, clothes into the matching dryer.
As soon as I can afford to replace this albatross, I am going to. Yes, I have had repair guys come out. No, they say there is nothing wrong with it. It's just "sensitive" to weight distribution. No, I can't take it back for a refund. I've asked. I love my Samsung phone. A lot! I've own three of them and will most likely buy another. I will never recommend Samsung appliances and will never purchase another Samsung appliance again.

I bought a Samsung top loading washer in October, 2015. Then in November it was brought to my attention that they had a recall on it. I first called on November 11, 2016 and waited an hour and a half to finally get through to someone. I scheduled an appointment for a service. No call, no show. This happened to me 3 times. By this time I am furious. The excuses they had was ridiculous. On 11/26/2016 they transferred me to 3 different departments and then was passed by to where I started. Even more furious. I told them I was done with a service repair and I wanted a new washer and I was not going to except the $346.00 rebate on a washer I paid $549.00 for.
They told me that because of the trouble that I had been through that they would send it to the Executive Relation Customer Service Department because they could help me and get me more money and they would send it to me ahead of time so I could go buy another washer, because I didn't have the money to buy a new one and then wait for the rebate to come to me. Well of course that didn't help and I got tired of hearing "We have 2.8 million washers to handle." Duh not my fault. Today I received an email from Samsung Support telling me that my service repair had been set up. I called the place and told them that I was done waiting on a service repair that they was gonna help me get a new washer. So tonight I called Samsung back and they finally let me talk to someone from the Executive Relations customer Service Department. Well that was a waste of time.
They would not help me and told me that I had to have the service call done before Samsung would help me. They said that if the service guy says that it is damaged and can't be fixed then there might be others options for me. After 8 phones calls, 30 hours of wait time for a service call and hours on the phone with them I am done. I want to take their broke, fire hazard, recalled and exploding washer right to their front door and throw it at them. Enough is enough. If they can't fix the problem or help the consumers out then they should go out of business. They have known for 3 years that they were having trouble with their washers and they still can't get it right. There has to be someone out there that can help. I just want a washer that has no defaults with it.

I am so disgusted with the way I have been treated by Samsung. I am one of the unfortunate ones with the washer recall. They give you a choice, get washer fixed with brackets or get rebate. Tell me, where am I going to get a new washer for $256. #1 all the washers are on recall and where am I going to get a difference brand for $156. So I opt for the repair. I begged Samsung not to send out A&E Factory Service since I read the complaints about them. NOPE, had no choice. Carlos does the repair. Meanwhile, the dryer went. Now these units are only 3 years old. So another guy, Kimbum, comes from NISI to repair dryer. He notices that top of washer is damaged because Carlos did not set the top in properly and pushed out the side of the top. I need a whole new top! I'm thinking this guy knows what he is talking about. I called Samsung to put in report of damage to washer.
Now, on Christmas Eve I do wash and guess what? Dryer is still making the noise. Now I am out $20 with the tipping and 7 hrs from work. Now I have to get both repaired again meaning more time and money lost. This whole weekend instead of enjoying myself over the holidays, I was on the phone with Samsung trying to get a repair set up. I told them no more 3rd party repairmen. Oh, they don't have their own techs to come out. So now I am waiting to hear back from them. I told them if enough people complain, they will have a civil suit action against them and I hope they get it.
I will NEVER buy another Samsung appliance. And if this is not fixed right, I want new appliances and if the units are repaired right, I want 2 yrs extended warranties on dryer and washer. I wish they would just take them away and reimburse me for a difference brand. Maybe I'll try that. So beware, do not buy from Samsung and I can't even understand half of the people who are calling me back, another problem.
Updated on 01/05/2017: Well, once again Samsung has let me down. Why did I think things were going to be different? Spent 2 hrs on phone on the 30th. Was told actual Samsung tech would call by Monday to make repairs and given one ticket number for dryer and washer. Guess what? No one called. But Tuesday night service center called to see how my dryer was doing. WHAT? Don't they communicate with each other.
Told the guy it was not fixed and he hung up. So then called Samsung with the ticket number I had. He said that was just for dryer, nothing for washer. Gets me another ticket number and then says need to get extended warranty for washer. Said why since I already have that and this is another issue where the incompetent tech ruined my machine. He hangs up. Then call again and now this guy says he sees I have called multiple times and he is going to get me Samsung tech to fix washer and he will look at dryer and be assured he is going to help me.
Well, that was Tuesday. Guy was supposed to call on Wednesday and now it is Thursday. On Wednesday I get 3 emails. Two said repairs for dryer with 2 different ticket numbers, nothing about washer and the 3rd cancelled out the repairs. So if I call again, that knocks out that ticket number and you have to start all over again. Contact BBB. I found a lawyer in NY that has 500 complaints and they are going to get a class action going. Contact General Attorney's office and they will give you number to call. Don't give up. That is what they want you to do. And I am going to send letters to President and CEO. Send them pictures of the damages and all your paperwork.

My Samsung was 3 and 1/2 months old when I found out about its recall. Completely dissatisfied with what Samsung offered me due to them not replacing or giving me enough money to replace BRAND NEW washer I saved so hard for. I had to let them repair it. Wished I would never allowed the repair. It does not wash or spin like it needs to. Huge washer and I had to rewash one set of sheets and put on heavy duty cycle. Do not. I repeat do not buy a Samsung washer. It is terrible and Samsung does not stand behind their product!!!
Compare Washers and Dryers
Samsung Washers Company Profile
Company Name:

Samsung Computers and Monitors

Year Founded:

1938

Country:

Korea Sout

Website:

http://www.samsung.com/