Consumer Complaints and Reviews

I purchased a Samsung Top Load washer VRT 1 yr ago from Lowe's. I absolutely hate it! The washer never fills enough water in the machine and it doesn't clean the clothes! I use Tide detergent but the washer doesn't agitate enough to wash the clothes. Complained to Lowe's. Complained to Samsung. Nothing!! Would like to get rid of it and purchase the agitation models. Plus, it takes a very long time for the cycles and you can't change anything unless you start the cycle all over again.

Purchased a Samsung front load washer in June 2016 at East Coast Appliance for $480. Caught a great deal, so I thought. It lasted one year and a month. The spin cycle would not spin the clothes dry. The towels were not only wet but had an odor to them. Called the first appliance repairman and he couldn't find the problem. The second repairman had the same experience. They ran every check they could possibly run to find the problem. NOTHING! I've read complaints with the same problem. Seems like very cheap material was used to build these washers. Thank goodness I didn't get rid of my Whirlpool top load washer. Bought the Samsung front load because of my disability. It was easier to reach from a wheelchair. This was my first Samsung appliance and will be the last. STICKING TO WHIRLPOOL.

Well I just want to let everyone know that the squeaky wheel does get oiled sometimes. I purchased a washer in July 2013. And through the years the area around the bleach dispenser had degenerated to the point where rust is flaking off everywhere and getting on my clothes. Of course by now everyone has gotten the runaround with Samsung refusing to do anything about it because they deem the problem to be cosmetic.
Well let me tell you they got an earful from me, not once, but twice. After receiving my first complaint I was contacted by a Samsung rep that told me that they would not fix it... With the following... "It is evident that you are unhappy with the rust forming around the bleach dispenser of your washer due to which the clothes in the washer are damaged. I also see that you would like to get a full refund on your washer. I can understand your standpoint. It saddens me to know that you have had an unpleasant experience. We apologize for any of the inconvenience. Rust formation is caused by extended exposure to moisture and/or adverse conditions. Environmental factors such as geographic location, room temperature, humidity and product usage, affect the potential for rust to form. I can definitely understand your concern, however rust is considered to be cosmetic damage and will not be covered under warranty."
Well this was the last straw. And my response to this rep is as follows (bear with me. It is quite long): Your response is exactly what I thought you would say. My response is this: Rust formation is caused by extended exposure to moisture and/or adverse conditions. Are you serious... You're blaming the consumer for the rust??? What a complete and utter load of crap!!! You, Samsung, are telling me that water/moisture is "Bad" for this washer??? I suppose the next thing you will say is that I should have only washed clothes one load a week so that the washer could dry out completely in between washing cycles... Because to use it any more than that would subject the washer to "Extended exposure to moisture".
If your washer cannot withstand multiple wash cycles on any given day... Or over consecutive days, then you should not be in the business of producing and selling washing machines. I have purchased in my lifetime at least 6-7 sets of washers and dryers Within my family. Hundreds And none... I repeat... None have ever rusted so extensively from being used under what are, in fact, nothing more than normal conditions.
And what the hell is "And/or adverse conditions"... Other than a subjective term so that you, Samsung, can weasel out of any responsibility for the crap of a rust bucket you produced. What are you suggesting. That the consumer is doing something to their machine that isn't "Normal"? Such as what... Exactly. Putting clothes in it, putting some bleach, soap and softener in it, turning it on and walking away? Be specific here, because what you are suggesting is totally insulting my intelligence and the thousands of other consumers that have been forced to endure this problem.
Environmental factors such as geographic location, room temperature, humidity and product usage, affect the potential for rust to form. So now you say it must be where I have my washer. The temperature of the room. Humidity (geeze... What the hell do you think you're going to have when you have running water in an room where the washing machine cycles can extend well over an hour.) Then to say Rust is being caused by "Product usage" is insulting in and of itself. How are we supposed to use your washing machine. Never put water in it... Never wash clothes in it... Never put bleach in the bleach dispenser. Wash clothes only when there is a full moon. When cows fly?
First of all Water by itself Would not cause rust had the washer been painted and the paint sealed properly. How would I know this??? Experience, Samsung... Of using other washers and washing tens of thousands of loads of wash over my lifetime. And never experiencing the rust issue that your rust bucket of a washing machine has. Pure and simple is this... Without proper clear coating this washing machine, and doubly so on the area surrounding the bleach dispenser the certainty for compromising the finish was assured before this washer ever left the manufacturing plant.
You, Samsung, sell residential washing machines in every single state in the U.S. And in countries all over the world... And now you are saying that your product is not able to withstand the climate in these geographic locations, and the result is that your product can and will... What... Rust??? So now Samsung You're blaming the failure of your product on Climate change??? You have got to be in total denial. Even if, that were the case How is this the fault of the consumer? Fact is... It is not. If geographic location is the cause for rust, then the fault is yours for having failed to consider this in your design of this washing machine.
But, as in my case, considering that this rust bucket is located inside a residence, inside a separate room called a "Laundry room" where the ambient temperature is between 68 and 80 degrees depending upon the time of year, and is being used as would be expected for any washing machine to be used I.E. Normal standard operating usage... To suggest that the location of my washing machine is the cause Is ludicrous And just another excuse in your blame game in trying to lay the cause of this problem in the lap of the consumer in order to avoid having to do, what you know, is the right thing to do... Which is to replace that part of the washing machine that holds the bleach dispenser.
To put it succinctly... The rusting of your bleach dispenser is not normal. If it were normal, it would be happening to all washing machines being manufactured with the bleach dispenser in the inside top of the washing machine. Fact is, Samsung, is that you have thousands of consumers speaking out on this issue telling you that what they are experiencing is not normal. You just don't want to listen.
But... Just for ** and giggles... How bout listening one more time To this... All of these thousands of consumers have purchased hundreds of thousands of washing machines over their lifetimes. It is these consumers who are telling you the rusting of their washing machines around the bleach dispenser is something they have not encountered before. If they had And if it was considered, as you say, Just a cosmetic affect... Why would they be complaining at all.
Common sense would dictate that they would know this is something that is "Normal" And to be expected because it happens in all washing machines. The fact that we, the consumer, are telling you, Samsung, that it isn't. And we are telling you by the thousands... Should tell you something. You should be listening and the fact that you aren't Is to your detriment Because For every customer that you give the lame ass "Cosmetic" excuse to, You will never find them purchasing any other Samsung product. You live by the sword. You die by the sword.
What is so ridiculous, Samsung, is how you keep dancing around this issue. Laying blame on anything and everything, and everyone else instead of admitting that your placement of the bleach dispenser was not thought out completely and is, in fact, a design flaw that you, Samsung, are responsible for. The fact that the one place on your washing machine that is rusting the most is the bleach dispenser speaks absolute volumes to any reasonable responsible person. It doesn't take a rocket scientist to know that bleach, A caustic chemical Eats everything it touches And you, Samsung, choose to put your bleach dispenser in an area surrounded by what??? Metal. And then take no precautions to ensure that the bleach will not touch any metal parts... Knowing that moisture from washing clothes will have a what. An adverse effect??? Yea. That's right.
Here's your adverse effect you inferred was caused by the consumer. You, Samsung, and your design team, created the adverse effect from the get go by the design placement of your bleach dispenser. The consumer, who unwittingly purchased your potential rust bucket, is not, and never has been the culprit here. As the repairman who came to fix the stabilizing arms on this rust bucket told me when he saw the rust, It's bleach eating through the paint and then water mixing with the exposed metal parts. In other words Samsung... A poor design choice for the location of your bleach dispenser. But yea. We all know your answer... It's the consumer's fault.
I'm thinking I just might send this email on to my local tv station, as other consumers have done. Seems that is the only way to get the necessary attention to fixing the problem for all consumers affected by rusting of your washing machines. **. Please everyone. Take a look at these websites... Samsung has set a precedent. They refunded one woman 80% and the gentleman received a full refund For rust issue.
Bottom line, the rep contacted me back and told my complaint was being escalated up to the executive dept for review. They called me and indicated they would do a "One time" repair and are replacing the entire top of my washing machine. Better than nothing. I say. At least I won't have to look at rust for awhile. I believe the fact that I told them I would take it to my local media outlets is what got their attention.
Also... And for all of those whose clothes won't come clean... I have never gone by "Let the washer decide how much water." I have let the washer do its weighing. Then once the water is being dispensed I allow it to wet all the laundry. Then turn off the washer, put the soap and softener in And then turn it back on. Amazing that you get a "Normal amount of water to wash your clothes this way.
The stabilizing arms went out on this machine about a year and a half ago and were replaced. Kept getting the NF code. I really do believe that the problem which caused all the unbalancing of this washer and ultimate recall is due to the lack of water displacement. The clothes do not have enough liquid to "Float" and actually move around inside the washer in an equal pattern. What ends up happening is more clothes end up on one side of the drum than the other. When it goes into the spin cycle the washer can't handle the uneven weight and becomes even more unbalanced.
My opinion is that in Samsung's attempt to be ecological... They produced a flawed product. This measurement of water based on "Weighing" of clothes is crap. Saving water only goes so far. What's the point if you're then going to have to spend triple the wash time. Triple the electricity. Triple the dry time. I hope to get four more years out of this washer And will replace it with Anything but Samsung. The only reason for two stars is that they are going to replace the top... Had they not done this They would have gotten 1.

Around 2012, I purchased a new Samsung front load HE washer and dryer pair. I figured that the Samsung name would mean I would get something of decent quality. Boy was I wrong. First of all, it took about 10 empty wash cycles to clear out all of the leftover oils, greases and other such stuff from the tub (it smelled like solvent or something). Then, I found out that the detergent never fully empties properly. THEN, I ruined about $140 of clothes when I did a load of color laundry two loads after doing a load with bleach. Seems the bleach got "stuck" in the line and flushed out two loads later. The washer never actually did a good job of washing the clothes and shortly after the first couple of uses began to smell mildewy/moldy. They would have a borax smell to them from not properly rinsing (it NEVER rinses well) and would generally not be able to clean the clothes well anyway.
I used Tide HE detergent and HE compatible softener (Downy) and bleach products. I clean the washer every two months with two Affresh tablets in a row (I also drain the sump and rinse the plastic filter for the drain pump), and I only do about 3 loads per week, and now just this week, within 5-10 minutes of finishing a cycle it will stop and display "DC" error code. Apparently that is due to the washer detecting an unbalanced load and shutting down to prevent damage. Problem is, I did an Affresh cycle a day or so ago and it did it then. Nothing was in the tub except the water in the sump, and yet still it will error out with "DC" and I have to come in and open and close the door, then press the play button.
So, for $600 sale price, it does not clean properly, ruins clothing. If you are dumb enough to use their bleach dispenser tray, smells like musty moldy goo and transfers the smell to the clothes, and has never once done a satisfactory job washing clothing. I have to set it to heavy load with extra rinse just to try and rinse the soap out of the clothes, meaning it takes about an hour to do just one load of laundry... Minimum. If the clothing is really dirty, it generally means two washes in a row, otherwise it will come out smelling of whatever it went in smelling like. I use several bounce sheets to offset the smells when I put them in the matching Samsung dryer (which if you are wondering is a slightly less piece of junk as it cannot sense when clothing is dry to save its life) just to combat the smell, otherwise people WILL notice the mildew smells.
Unfortunately around the same time I had bought several Samsung products, all of which do not operate properly. Samsung AIO laser monochrome printer (original was DOA, replacement did not last past the starter cartridge that comes with the printer... MAYBE 200 pages was all it ever did). Samsung 65" TV (mini port box broke after software update, forced to pay $150 for replacement, will randomly restart and volume goes up and down without user input. Also has issues with LED backlighting showing through the display). Samsung BluRay/Surround Speakers (Rear speakers cut in and out and clip horribly, Anynet+ (HDMI-CEC) never worked, and had to buy optical cable because the HDMI sound option never works... Presumably because of the Anynet stuff).
Samsung Computer Monitor (lasted 12 weeks... Warranty not honored by Samsung). Samsung Galaxy S4 cellphone (could not use Google Maps or play games as it would overheat and shut down). Samsung Washer (detailed above). Samsung Dryer (Does not "sense" the clothing is not dry and turns off prematurely. I can load a fresh washed load into the dryer and turn it to the dryest setting and it says it will take ~35 min, then 3 minutes later it says it is done. I have to use the timed dry. One of the legs came stripped, had to get a piece of lumber made to keep it from wobbling).
So, it looks like Samsung in general is just putting out junk. I will never buy anything with the Samsung name on it if I can help it. They do not make good products, they do not honor warranties, and they ignore defective product reports and never issue recalls unless their product catches fire on an airplane. I would highly recommend to anyone thinking of buying a Samsung product and reading this article to go with just about any other brand name. Samsung does not seem to care about consumers and relies way too heavily on their worldwide dominance in the electronics markets. I gave them a chance to fix or replace the printer, the washer, the TV and the monitor, and they let me down each and every time.
They either claim I must have done something to it, or as is the case with the TV, they are not responsible for an appliance that Best Buy installs. (Best Buy would not help either since I did not buy THEIR warranty). If it was just the washer, or just the washer and dryer even, I would say the chance I got a lemon or two would be pretty high, and I doubt I would be here whining about my experience. But EVERYTHING I have purchased which has been branded Samsung has not only been of poor quality, but have all had manufacturer defects or design issues which prevent them from doing what they were built to do. DO NOT BUY.

I had one of the top loading Samsung washing machines that was recalled. First, let me just start off by warning you of some issues with my model WA48ADSHAWR. Regardless of what setting you use on the High Efficiency unit it does not fill with adequate levels of water to fully clean or rinse without residue. You either end up with dirty clothes, or soap residue. The bleach dispenser rusted out within six months.
Now about the recall. It was recalled because on spin cycle the lid might sling off. I had it fixed by their recall repair team which by the way was DISH Network. Crazy. Not sure what they have to do with appliance repair but that is who they sent to fix my machine which basically the solution was bolting the drum down. The repair tech said if anyone comes out to repair the unit they will have to start the machine, fill it with water, stop machine, push the drum down, remove screws used to bolt the drum down then proceed with the repair. This machine has never cleaned even the smallest of loads. Soap residue is always left on my clothes, and dirt on the clothes still remains. I will never, ever, ever, ever buy anything made by Samsung again. It is pure junk. Garbage. I bought the top of the line top loader at the time.
How do I know I can trust these reviews about Samsung Computers and Monitors?
851,205 reviews on ConsumerAffairs are verified.
We require contact information to ensure our reviewers are real.
We use intelligent software that helps us maintain the integrity of reviews.
Our moderators read all reviews to verify quality and helpfulness.
For more information about reviews on ConsumerAffairs.com please visit our FAQ.

Purchased Washer and Dryer. Had to pay extra for delivery. Purchased extended warranty. Dryer drum broke after 3 months and 7 loads. Samsung said they would accommodate because there was no local repair person so would exchange but I had to pay $500 for delivery. They would refund but not reimburse the $500 delivery on the original purchase nor the extended warranty. So I have a dryer not working and that cost over $1400 with delivery and warranty. It has taken two months to get to this point because they cancel the ticket number so they don't have to deal with the issue and I have to keep calling to start a new ticket.

We purchased one of Samsung's washers that was recalled Nov 2015. I submitted all my information on Samsung's Recall web page, model number, serial number, etc. I was given two options: 1. Rebate or 2. Repair washer. I chose the rebate option. I also followed up by calling Samsung's Customer Service department. Long story short, I have my new Samsung washer, old washer picked up by Lowe's, call Samsung to see what I need to do to get my rebate. They insist that an email with a pdf was sent to me with instructions. I've searched my email, junk mail, trash, etc. "NOTHING".
I've even contacted Yahoo customer service and they went back to Jan 2017 and nothing was sent to my email address from Samsung. Surprisingly, Samsung does not keep track of their OUTGOING rebate emails, they only track the INCOMING emails... HOW CONVENIENT! ** I'll never purchase another Samsung product AGAIN, "EVER" and I'll be "SURE TO SHARE MY EXPERIENCE."

Four years and 4 months ago I purchased a $995 Electric Steam Dryer from Lowe's. The dryer drum will not turn although the engine hums in the background. We just had the appliance repair person tell us that we need to pay nearly $400 to replace the motor that has burned out! BTW, my husband and I are retired so not a heavy user of the dryer. The real sting was when I asked the technician what the warranty was on the replacement motor, I was told 30 days! I just confirmed with Samsung via phone call that this is correct, Samsung does not warranty replacement parts required for the repair of their products. We also had to deal with the repair of the washer due to their recall issue last year! Why I ever bought this overpriced, underperforming appliance from a technology company, I will never forgive myself. But it will be the last!

I purchased the WA400PHJDWR/AA top loading washing machine. This is the worst appliance I have ever purchased. Folded clothes going into the washing machine come out still folded. The washer does not clean. Not only does it not clean, it drips water into the bowl constantly, now it's leaking and my basement is musty. My washing machine is currently under a recall for the bedding cycle. They have provided notice that I cannot use my washing machine for mattress pads, coats and jackets, rugs. Why did I buy this washer again? The recall process is absolutely terrible. Another example of a company skirting its responsibility to stand behind a product that actually services the intended purpose. All this washing machine has done is fill the pockets of the shareholders and the fill the landfills with trash. Think twice before buying a Samsung washer.

We bought a model WA400PJHDWR/AA washer. I have never been happy with it. It doesn't put enough water in for the 'weighted' load. It doesn't have a middle
agitator and sometimes I will take clothes out and they have interior creases that aren't even wet. I have had towels come out smelling and have had to rewash. It leaves streaks of soap on pants, jeans, tops. I've had some clothes ruined by this washer. I can't think of anything I like about it. I don't think I've ever written an appliance review before. If you're looking at this model, pick something else.

I am trying in desperation for Samsung to address the broken 5-day old $900 dryer that has been sitting idle for 2 months. For reference, complaint **. Long story short, the dryer broke 5 days after I got it. It was a nightmare to get the attention of Home Depot where I bought it. They wouldn't help and they sent me to you. The sequence of events since then:
I had to spend over 30 minutes on the phone w/ a rep literally walking through every troubleshooting procedure although it was CLEARLY an issue with either the ignitor or thermostat (no heat at all). Ridiculous requests like trying fewer clothes, different modes, etc.) The dryer has zero heat yet the agent insisted and claimed it was so the repair person would come with the right parts. Repair person comes, no parts (as I suspected, total waste of time running through the troubleshooting). Repair person orders parts, parts show up broken from Samsung. Repair person re-orders parts, parts show up broken from Samsung AGAIN.
Samsung contacts me and I inform them of the problem, you say they will overnight parts to the repair person. The next day I receive an AUTOMATED call from Samsung saying that the repair person is unable to address the issue and that they have an "Accommodation for me". No connection to a human, instead it asks me to call a number and hangs up. I call the number, which states you are only open from 2-5pm ET. Who only works three hours a day? I have since called that number over 10 TIMES, there is never an answer, just a continuous hold loop (I'm on hold with them as we speak, running time for call is 16:54 and counting).
Fed up with all of this, I filed a complaint with the better business bureau. I received a voicemail from Samsung from the office of the president, leaving a name and extension and claiming once again that you had made an accommodation. Keep in mind, nobody has informed me of what this accommodation is or when it will happen because NOBODY WILL ANSWER THE PHONE. The agent left her extension and claimed to have sent me an email. There was no email so I tried to call the office of the president back, and: The extension does not have a name or voicemail attached to it. And, surprise surprise, it is IMPOSSIBLE to get a human to pick up the phone
Please contact me at **. All I want and have ever wanted is for you to either fix the issue or replace the dryer and do it quickly. I just paid $900 for a high-end dryer that has been useless for 2 MONTHS. It is clear to me that Samsung cares nothing about their customers. As such, I will be posting this message and all other correspondence to every social platform that I am able to. I will write to you every day, and post every day, until this is resolved. If you don't care about your customers, maybe you will care when enough people realize how poorly you treat your customers and refuse to buy your products.

We bought a Samsung washing machine 4 years ago that has had to be repaired too many times to count. We bought an extended warranty to help cover the costs of the repairs. Turns out that this particular machine was involved in a massive recall issued in Nov 2016. We participated in the recall "fix" that Samsung suggested and were promised another extended warranty for our washing machine. In June 2017 the machine stopped working properly again. I immediately called Samsung who said that they would just issue us a full refund for the machine instead of sending someone to fix it. We were told that the refund would be issued and that we would get an email within 3 business days explaining their protocol for disposing of a recalled machine, a protocol that has to be followed in order to get the refund.
We have been assured many times that this email would be sent within 2-3 business days and everytime we call back they tell us that we received misinformation and that it will be another few days. Last week we were told that they miscalculated our refund and that we have to start the process all over again. I spoke to a supervisor on July 21st and explained to her that I understand that the refund is going to take some time but that I need the info regarding the recall protocol to get rid of the broken machine so that I can replace it with a new one. I was assured that the Executive Customer Relations dept would email me by 7/26 with those directions.
That email never came, I called back and was told that they could email me the info I need while on the phone with me. That again was "misinformation" and they cannot send me this information. I am extremely frustrated with the incompetence of Samsung's Customer relations, no one is on the same page, we feel like we have been lied to over and over again with no end in sight. I have spent countless hours and money in a laundromat these past 5 weeks when I shouldn't have to because I spent $600 on a washing machine that has been recalled.

I bought a washer machine at Best Buy on June 2016. The machine was broken and it was replaced for a new one a few weeks later. The new washer machine broke again early June 2017 (this model of washer machine had a recall, but my serial number was not), and I called technical support. A technician came 3 times to fix it, however, the problem continued.
I decided to request a refund since there was no solution for this machine. On June 23, I called and requested a refund. I sent them about 6 emails to the email address they provided - including a ticket number they gave me - on different days with the requested, bill of sale. Finally, one of the agents was very helpful when she called on a Saturday, and preferred to stay on the phone until she received my email, which she did as we were speaking on the phone.
For the past 20 days, I have been receiving and making phone calls from Samsung regarding the refund and 10 agents after and two weeks later, a Samsung agent said the refund was approved and they only needed my consent in order to send me a check, which I provided 3 times. (I have to say that 3 more agents provided me with the same information: my refund was approved, a check would be on their way in a couple business day/48 hours/before the end of the weekend, and to wait for an email on how and when the washer machine was going to be pick.)
Today, after not hearing or receiving any email or check on the mail, I called again and the first two agents were able to see that a refund was approved and that I needed to wait for the email with instructions - still no answer on the check. When I asked how much longer or if there was a telephone number or email for the refund department where I could contact them, they said there wasn't. I asked to speak to a supervisor, and finally the last agent passed me successfully to her supervisor (two times before I tried the same and after a 45 minutes and a 35 minutes call with 2 agents and placed on hold for 8 minutes on the first call and 12 on the second one, the call got "drop" on Samsung's end.)
The supervisor transferred me to another department where the lady said my request wasn't approved. After letting her know my previous conversations with agents, she stated that the agents have provided me with the wrong information and it will take 7 to 10 days more to get "an email confirmation for approval". This means that I will be with a broken washer machine for about a month and a half now. As one of the agents previously mentioned to his surprise and apologized on this bad experience, this issues are normally solved very fast, but in my case it has been a month with this "refund process".
Additionally, today I got a call from Samsung for a survey on my experience with them. Very nice lady and she understood my position, but unfortunately I had to tell her the reasons I'm not satisfied. Neither would recommend anybody to purchase a Samsung appliance. Hopefully somebody at Samsung reads this and will send an email or give me a call. The number where Samsung has been calling from and even left a voice mail (786) area code, does not takes calls, it doesn't even ring if you try to reach them. So I am force to try to reach them to the 1 800 number, where as the last person mentioned, agents have been providing me with wrong information.

I bought Samsung washer/dryer less than a year and now it wouldn't turn on. I called Samsung over a month, they have sent a technician to our place 3 times and he can't fix it. Every time, they tell us one more week, another week then another week. Weeks are passing by, I've been calling Samsung customer service every day this week to get this washer fixed. Every week they come and give us an invoice one more part missing. Customer service makes false promises, the worst appliances ever. I will never buy any Samsung product going forward, worthless and waste of money/time appliances.

We have been buying Samsung products for years and always loved them, until our last experience. We had a washer recall. Our washer worked fine, but they sent us a Samsung repair man to ensure that the "tub" was safe. The repairman broke our machine. It took a month for Samsung to get another repair man to "fix" the problem. He told us the washer was gone, and he would put in for us to get a refund. After about two weeks, we never heard from Samsung. We called and we're assured that we were getting a full refund. We bought another Samsung washer. Another two or three weeks went by, and no refund. We called Samsung again. We were assured of a refund. Finally, a week or so passed, and we got an e-mail from Samsung to fill out for our refund. I got to the second to last step in filling out the information and was flabbergasted.
Samsung required us to take a photo of our model number of our old washer! The men that delivered our washer left the broken washer outside on our street. Our washer had been taken away a week before by the county. I called Samsung to report what had happened. They were stubborn and insisted that I should have known to keep my old washer. I got nowhere with Samsung. I went to the county dump, only to find that my washer had been taken away to a landfill in Miami days before. I called Samsung and spoke to a supervisor. He was most kind, and told me the board would review our case. We received a call within10 minutes stating that we should have known to take a photo of the old washer. I will NEVER by a Samsung again. We have a Samsung dryer, and a $5,500 Samsung 3D tv. We were going to purchase a refrigerator, but no way now. I have lost all faith in Samsung, their products, and their representatives.

I got one of these recalled machines. When I called I was told that they would repair my machine, I questioned the guy several times. He guaranteed me that the machine would be reinforced and the problem I have with the vibration, and the spin cycle that leaves my clothes soaking wet would be fixed (sounds like an airplane in my laundry room and I am tired of hand wringing the clothes every load). So I call back and I am told the repair they are doing is only to reinforce the machine so it won't explode, this was not really what I was looking for. If I decide not to get the repair they will give a big cheque for $45.00, so I am wondering where in God's name am I going to get a new machine for $45.00... So I opted for neither option. There is a lawsuit against them McKenzie Lake Lawyers in Ontario, I figure this is a better route.

I am another proud owner of this piece of junk (Samsung Top Load washer Model WA400PJHDWR/AA). We had it serviced for the recall that they have on the exploding time bomb. The machine worked fine, but due to the seriousness of the recall we had the work done. They also offered us a crappy rebate to exchange the machine for a new Samsung washer. That, or a paltry sum of $25 if we buy another brand. We opted to have it fixed, per their recommendation.
Since the recall was so heavy in demand, we got a guy from Dish Network to fix ours. Samsung had subcontracted them. After the repair was done the machine never ran right again. It would fault out for unbalanced loads constantly. A small load of 2 pair of underpants, and a couple of socks would cause it to go off balance. Now, after 6 months, we have replaced with a cheap Maytag. I will never buy Samsung again. When the tablets and phones die, Apple will get my business. Samsung is crap for a company. A bunch of crooks.

My top loader was recalled so I called Samsung to have my machine corrected. It was working fine but I wanted to be sure no problem would occur as described in the recall. Samsung sent a "Dish" technician who cracked the top of my machine and left it out of order. I have now been waiting for Samsung to send me a refund to buy a new machine. It seems like a runaround. I have sent my receipt and now it has been almost a month and no progress. They keep telling me I will get an acceptance e-mail and none yet. What an inconvenience.

First like most past reviewers, I would even give Samsung washers 1 star, but had notice, secondly, and reviews on the Samsung site are screened and rejected. The washers & dryers are Chinese junk sold by a Japanese company. We paid almost four grand for a commercial washer & dryer combo and received some of the poorest quality equipment on the market. The washer by all appearances has a stainless steel drum, it is actually a stainless steel sticker, inside the machine, naturally it peeled over time (2 years) and rusted out causing rust stained laundry. There is practically no customer service. The dryer, which is for another review cost the warranty company so much. After 3 years they just issued a check for the full price of the dryer instead of attempting to repair it again.

From day one this Samsung top loader model WA45H7000A did a poor job. It unbalances easily and it does not agitate as well as my previous GE model. It's not even 2 years old and I want to get rid of it! My GE lasted problem free for 15 years; boy what I'd give to have it back!

We bought this washer (Top loading large capacity HE washer model #DC68-03172B-02) about a year ago. It has left a film on our dark clothes that even the "second rinse" option won't remove. The only way I can get rid of this is to catch the washer as it starts the rinse cycle, stop it and add a 3 gallon bucket of water. This washer clearly doesn't use enough water to effectively clean clothes. Also it frequently goes off balance, displaying a "4E" code. It takes almost an hour and a half to to do one load in this washer. Such a time waster to not even get a clean load! By the way - I frequently use a washer cleaning packet and run the self clean as recommended, so it's not me, it's this washer. When this one goes, I will be buying another brand. This is junk! My recommendation - DON'T waste your money on Samsung!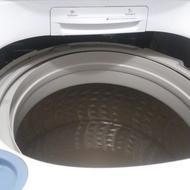 I bought the washer & dryer in July 2016. They worked great at first. I got lucky and my washer was not part of the recall. My problem started with the dryer. About 4 months after buying it it stopped drying and it shocked me. I called service. They came and changed the heating element. It dried better but was still taking a long time and it was still shocking us! The top of the dryer mostly and once when I throwing wet towels in it zapped me! I called service again and he changed the heating element but said it was fine. He said I needed to use the anti-static so I wouldn't be shocked. So I have a dryer that shocks me and it's ok? Also he said make sure eco dry is off if I want my clothes to dry. It did get better with drying after he serviced it. It still shocks us though. Now the washer it's almost a year old. I put a load in and it made the unbalanced sound when I opened the lid and the tub was about 6 inches lower than normal.
I moved the load around even though it seemed balanced. Wouldn't spin. I turned it off, set it to spin out. Nothing. It wouldn't move. I restarted the load and the little dial just rotated. The washer didn't budge. I called service and told them. He had me balance the load again, check the hoses, then pull out the load of clothes, and finally he had me push two buttons so it would re-calibrate the drum. It was supposed to spin and shut off after 2 minutes. Well after 5 minutes the (LED) dial was still rotating and it finally threw a CE code and he says "Well you need it repaired." So I ask how long will this take. I need my washer. I now have a tote of soaking wet clothes in my laundry room. He says 24 to 48 hours.
He gives me a service number and says, "The service department will call you with an appointment in 24 to 48 hours!" It's June 30. My warranty expires July 7. It's the Fourth of July weekend. I figure they will call me on the 5th and it will be out of warranty by the time I get a repair date. It was a great set when it worked but when it breaks it goes down hard. I just don't understand how a $1660 set doesn't last a year. When I bought this set I was expecting to get at the least 10 years out of it. My sister has a W&D that is 25 years old and still going strong. I on the other hand am going to buy another washer & dryer today have it delivered tomorrow and I bet I will still not have heard from Samsung by then. My advice stay away from Samsung products!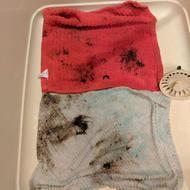 I absolutely hate this washing machine. I feel like my clothes are never really clean, my towels smell, and I spend more money on water to rewash or rinse, than the water saver could possibly save me. I have used numerous washing machine cleaners (isn't that an oxymoron?), I keep the door open, and I still have mold. There are 4 parts to the rubber gasket around the door, so there are many places for mold to grow. But even more disgusting, was the detergent drawer. The fabric softener dispenser wasn't emptying, so I pulled the drawer completely out, and inside the empty drawer soot was filled with black mold, as well as inside and under the drawer. How can my clothes possibly be clean?? I feel like everything I've washed is contaminated with black mold. No wonder my towels smell funky. The attached photos are from cleaning the inside of the detergent drawer. Unseen are the clumps of black mold that was washed down the sink.

I purchased a top of the line Samsung Front End Washer (recommended by Consumer Report, as top washing machine), six years ago. Rust has eaten through the barrel/basket causing several holes. When doing laundry, it leaves rust spots on the clothes (I remove the clothes immediately upon completion of the cycle), it also, has created runs in delicates (curtain sheers, bed sheets, running shorts, etc.). I'm not able to use the washer because it causes damage to everything laundered. I spoke with customer support and was told that they aren't able to help. Guess they should be called Customer Lack of Support!!!! Has anyone else experienced this problem. I'm very disappointed and will avoid Samsung products in the future!!

Because I am required to rate my experience, I'm forced to give one star but if I had a choice, I would not give any. I purchased my washer (Samsung top loading washer WA400), with a 10 year warranty, 3.5 years ago from Lowe's. The spin cycle stopped working and I later found out there was a recall on it. So I contacted Samsung almost 3 months ago. Initially they sent out a repair person (from DISH TV!! Really??!) But all he did was replace a label and brace the top... It never fixed the problem and he told me he wasn't a repair person. So I had to call all over again and start the process all over again. I don't have the time for this...
By far, this has been the most frustrating experience I have ever had! And believe me, I've told everyone I know. Their customer service is the absolute worst and I have spent hours on the phone being passed from one customer service rep to another. Each worse than the one before. As of today, with still no resolution to my broken washer, I had to buy a new washing machine. (Again from Lowe's who, by the way, were very apologetic and empathetic to my situation.) Very unhappy customer. Do not buy Samsung!!

We purchased a Samsung washing machine in July 2013. The washing stopped working and we discovered it had a small leak that damaged our wood floors and it has now been 4 MONTHS and I am still trying to get final resolution. Countless phone calls, literally hours and hours of my time. Service ordering parts before anyone even looked at...then sent to the wrong service company, then company said it's the wrong part which was no surprise since it was ordered without it being inspected. Washer was fine for first 3 1/2 years but, THE WORST CUSTOMER SERVICE I HAVE EVER EXPERIENCED. Different customer service reps telling you different things every time you call and speak to someone after you have been on hold for at least 30 minutes. DON'T PURCHASE SAMSUNG!!!

Samsung washing machine was under recall. They came and fixed the top of the washing to keep it from exploding. They offered a year full warranty. The washing machine doesn't always spin out the clothes now and once it decides the load is unbalanced it will not spin out the clothes no matter how many times you try. I have soaked items hanging.
I have spent all day long with Samsung report. One person advised that I needed to find my receipt and they would go ahead and reimburse me for the washer. I find the receipt, call back, answering the same repetitive questions for a hour to be told that they will not refund anything, a person must come and look at the washer. I asked to speak to a supervisor four times being put on hold only for the same person to come back on the line. In the end I was given a ticket number and someone will call and set up an appointment to look at this washer. Guess What? Nobody has ever called. The machine is bad, the customer service is even worse. Are there any machines made in the US?

I bought a Samsung washer from Lowe's. It is a white machine and has a black panel with the words on it. The words have slowly started to rub off as the washer is used. I guess the good old fashioned turn knobs are a definite advantage. So much for a $700+ washer. Very unhappy. No more Samsung for me.

Purchased a Samsung frontload washer and dryer Sept 16, 2016. Dryer is great. I have had multiple problems with washer. Difficulty in starting and just does not clean the clothes. I have contacted Samsung numerous times. They are always very courteous and assure problems will be taken care of. Nine months later... still have a washer that won't clean clothes and I average reprogramming 3 or 4 times to even get it to start. So disappointed in this washer. I have several Samsung products in my home and love them. Don't know what else to do. Washer is still under warranty.

We purchased a Samsung top load washer, WA45M7050A. When using the deep wash cycle, the water empties out of the bottom of the machine somewhere onto your floor (it doesn't drain out the hose). Best Buy replaced the first machine, and now the 2nd machine is doing the exact same thing. We will be returning the machine and purchasing a different brand. Samsung's solution was to send someone out to service the machine. My thoughts are, "This is a brand new machine, it shouldn't need service." Clearly there is an issue with this machine.

ConsumerAffairs Research Team
The ConsumerAffairs Research Team believes everyone deserves to make smart decisions. We aim to provide readers with the most up-to-date information available about today's consumer products and services.
Samsung's name is associated with quality, and produces everything from electronics to home appliances. Based in South Korea, the company generated a massive 305 billion dollars in 2014, employs nearly 500,000 people and sells its products to nearly every country in the world.
Energy Star options galore: Many of Samsung's washers were designated under Energy Star's "Most Efficient" washers category in 2014, pointing to serious cost savings on energy. In fact, Samsung as a whole won Energy Star's Partner of the Year award for its commitment to energy efficiency.
Noise-reduction: Samsung washers are known for their noise-reduction technology, meaning consumers can enjoy some peace and quiet while their washers run.
Smart control features: Many Samsung washers bring control to a whole new level. Consumers can control washers from apps on their smartphones or interact with intelligent LCD panels to choose from a huge variety of washing options, speeds and automatic settings.
Speed is built-in: Samsung washers are developed with speed in mind, with many models offering the SuperSpeed option. This can reduce washing times compared to standard washers by up to 50 percent, even for full loads.
Best for People who like advanced features, families and professionals.
Compare Washers and Dryers
Samsung Washers Company Profile
Company Name:

Samsung Computers and Monitors

Year Founded:

1938

Country:

Korea Sout

Website:

http://www.samsung.com/