Consumer Complaints and Reviews

Purchased a recalled top loader 4/29/2016 from Best Buy. Samsung was aware this machine was on the recall list but allowed Best Buy to sell the machine to me. For sometime the machine has been getting out of balance in the spin cycle. Samsung refuses to send a repairman to look at the machine. The Samsung repair people say that is the recall problem! Geoffrey Fowler of the Wall Street Journal states, Samsung agreed to a refund or exchange in Australia. Why is it not being corrected in the USA? You can not get clothing clean on the 31 minute delicate cycle. Will NEVER buy a Samsung product again.

For some unknown reason jeans & long sleeve shirts like to wrap themselves around each other and/or the other clothes. I am not doing half loads, but untangling after the spin cycle is a pain at times. Machine is very water efficient. I have to say, I don't even use warm water & clothes do come out clean.

On Wednesday October 11, 2016 I was doing my laundry. I put a load in and continued to make my turkey soup. I then heard a loud bang and went running downstairs. As I approached the stairs I saw smoke coming from my laundry room. I then got in there and saw the smoke pouring out of my washer. I then turned the power to the machine off and called the fire department. Apparently the fire inspector said this is very common for these washers to catch on fire. The bang was caused from the drum collapsing and tore a price of the rubber seal located in the front of the machine. I lost everything!!!
I called Samsung and was put through to 5 different people before I finally got to speak to someone, which was really a waste of time, he was not helpful at all, telling me I needed to send them a report from the investigator which is fine then he also stated that I needed to send in the receipt and where I purchased it, I began to explain to him that I do not have the receipt as the washer and dryer were in the house at the time of purchase. They want me to track down the realtor to then get a hold of the person who originally purchased the set. I'm like "are you kidding me? I could have lost my whole house because of your washer.
People need to be made aware of Samsung and their products that they are selling. They catch on FIRE if they don't explode, and then to tell me to find receipts? Give me a break. They are your products as your name Samsung is in big black lettering right in the front of the machine etc... They need to own up to their bad mistakes and make their products a lot more safer than they really are. The model # WF203ANS/XAC, serial # X91154AS600972Z. Buyers please beware of Samsung appliances!!! They just don't care!!!

The washer makes knocking noises on occasion when washing clothes. I open and redistribute wash load, does not correct. I do not overload. No logic or reason when it happens. I shut off and restart... it's an awful product. Need recall on this machine! Bought it in November 2014. Not over used, two retired people in household.

I purchased my Samsung washer in 2013, Model WA422PRHSWR/AA. It took less than a year for the spin cycle to sound like I was teaching drum lessons to a 5 year old. I contacted Samsung to force them to send someone out to repair the machine. The repairman visited my home 4 times, each time he forgot to bring a part he needed for the machine. On 12/24/14 the repair man completely replacing the pump kit, dampers and basket. The washer machine worked fine up until a month ago. Once again my home sounds like drum lessons are being taught. I'm waving the white flag and purchasing a Speed Queen. Never again will I purchase a Samsung Washer.
How do I know I can trust these reviews about Samsung TV?
608,728 reviews on ConsumerAffairs are verified.
We require contact information to ensure our reviewers are real.
We use intelligent software that helps us maintain the integrity of reviews.
Our moderators read all reviews to verify quality and helpfulness.
For more information about reviews on ConsumerAffairs.com please visit our FAQ.

I bought a Samsung front loader washer in 2010. It has been a continuous cleaning to remove mold. I leave the door and detergent/softener drawer open after using. A strange odor emits while washer is in use. Now I am seeing rust. I got an error code saying "motor is not operating properly." I called Samsung and was given a number for repair. After 5 days of not getting a call back from repair, I called a local appliance repair shop. They came out 7 days later and said it was either the motor control board or the main computer board. He quoted a price of $340. for the motor board. It would be coming from Korea and it might get here in 3 weeks, but maybe longer.
After looking at parts lists for my model, there was no such item. I had told the repairman I needed to think about it. The service call was $88. I called Samsung again and they said there was no such item, so I concluded this repairman had no clue. I called the Samsung repair again and they have never called back. In the meantime I have purchased a Speed Queen and the jury is still out on it.

We purchased our brand new front loader washer and dryer in March 2016. The first day our dryer stopped heating, through weeks of phone calls and no working dryer and speaking to supervisors our dryer was finally fixed one month later. Now 5 months later our washer stopped draining and spinning. Through multiple calls the service technicians arrive, had to order the part. One week later the part arrived and was replaced. An hour after service technicians our washer still did not work. I called Samsung, they said I had to call A and E back. I call them and they tell me to call Samsung. They refused to let me speak to a supervisor and then said it would take another week for another technician to arrive. I have no working washer. Samsung customer service is horrific. Do not buy Samsung products!

Bought Samsung top load washer & dryer November 2015 at Conns in Corpus Christi, Texas. The washer is about to have a nervous breakdown! It shakes, squeals and shakes! I can wash minimal items to a full load and it shakes uncontrollable and keep getting ERR messages on panel so I readjust clothing and continue on, which makes no difference because the whole washer keeps beeping and have to keep readjusting. I just read Samsung is still in talks on what to do about the washer issues, please do something, these things are exploding and are major risks in our homes! God forbid something happen to my family or myself since I operate machine more.
There's needs to be a recall on both washer and matching dryer, the consumers Demand it! Where are the multi-action lawsuits?! This needs to be a major recall! Stop stalling Samsung!! For the record, I have registered to keep updated on progress at Samsung official site. I entered my serial and model number, hopefully someone will get ahold of all Samsung customers who purchased such dreadful appliances! Never again. **. Model:WA52J8700AP/A2. Serial:0E6H5AEGA03447Z.

I bought this machine about three years ago. 11 months after the pump went out and the technician said that it was a bobby pin and that anything can get stuck in it to make it fail. Samsung did say that they would pay for the fix but the technician had asked for payment of almost $200 and I told him that Samsung said they would pay for it and he told me that they either take forever to pay or they don't pay. Sorry Dude, not my problem.
Anyway now right under the bleach tray it is rusting out. It started right after it was about 1 year old. Small spot but now it is all around the bleach tray. I am very disappointed as it was supposed to last me for a long time. Brand new washer and all. Now I don't know if it will last another few years as it is rusting so much that I can't see it holding the bleach tray much longer. I do not recommend Samsung washing machines. I have a Samsung phone and have always loved that brand but I will not buy another washer, they should have stuck with electronics only. I also never leave my washer shut after use.

Bought model WF456300AG/A2 in 5/2015. After carefully following all owner/operator directions, it has developed a horrendous odor despite multiple sanitation cycles. Additionally, the machine will not start if the door is not locked, only the lock started failing after only a year. I was told it had a 10-year warranty however, I just learned the door locking mechanism isn't covered under the warranty. This machine was one of the most expensive on the market and fails after only a year and a half??? AND, Samsung wants to charge me to fix it after only 1.5 years? That's incredibly poor customer service! I paid more for this POS than I did my first car! NEVER AGAIN! I do NOT recommend this product or Samsung's customer service!

Purchased WA5451ANW top loading washer 2011. No problems for 3 years. First problem was a defective pump which I replaced. Shortly after that, the hot water inlet valve failed which I also replaced. Following that, the softener was not dispensing during the wash cycle and the bleach cup was always full of water. Found "black gunk" building-up restricting water flow. At that time, I noticed rust was forming under the bleach cup. Most recent problem is "db", out of balance load. Usually have to reposition and restart several times... Doesn't matter what is in washer drum. Samsung gets a failing grade on this one. I am very satisfied with my Samsung TV and recently purchased a home security system they manufacture.

Brand new bought July 2016. Same as previous complaints on this site. The drum is loose during spin cycle. It's under warranty. I've had technicians from Samsung come out and refuse to do anything. Everyone outside of Samsung says it sounds like it's going to explode during spin cycle – dangerously unstable – I never leave it on when I'm out of the house. When it catches fire and burns my house down, as I've told Samsung customer service who refuse to replace it, I will sue Samsung.

I purchased a Samsung dryer model DV40J3000EW in May 2016; The dryer did not work and I have to hang clothes to get them dry. We have children and we have to travel coin operated drying stores to dry wet clothes frequently. Luckily for me, I thought, that my dryer still under warranty and it will fixed quickly and for free. However, after calling Samsung support, I discovered that they have set up a complex multi-layered process. My problem was escalated to highest level the Executive Customer Relation - ECR - Team. It has been almost a month and I am still do not have a working Dryer. Samsung ECR team called me and offered to replace my unit. When I said yes the ECR team member that called me to provide the offer said that she is just offering but can't make any decisions.
I called today after three days from the offer, I was told that the status is still pending; I was told the Samsung ECR team will not be working today Friday 10-7-2016. The machine is dead and a technician came today and said that main board on the dryer needs to replaced. I have Drywall in the lower level ceiling damaged from frequent water dropping in the laundry room above the kitchen cabinets. I advise everyone to not buy Samsung products, it is the worst decision I made. It cost me double the price of the unit in money spent drying in coin stores, travel gas and time, drywall repairs to be done, and pain and loss of peace of mind.
Everyone knows about Samsung Note Phones are fire hazard, their washing machine can explode with big spinning parts may come out flying at you; and their dryers if they break while under warranty you may have to wait for months to get them to repair it. They contract with the most cheapest contractors in your area, underpaid technicians can be rude and not reliable in terms of arrival time. Plan to have lots of days off.

I bought a Samsung washer and dryer less than 3 years ago. In the first year, the spin cycle quit working. Samsung sent a tech out. It was the motherboard of the machine. Now 2 and a few months later, the spin cycle quit working again. I had to use the machine for 2 days without spin because I was leaving for over a week and had to have clothes. The machine would stay on spin for 30 minutes to 2 hours but not spin and it made an awful grinding sound. As soon as I got home, I called Samsung. Yep right on the machine it says 10 year warranty. Of course, after you buy it you realize it really is only the 1st year and then it is just motor etc... So I got a service ticket on Monday and on Thursday I got a call. Just like the other comment, they wanted 80.00 to drive to my house and 80.00 to tell me what was wrong plus tax. I am a home health Therapist. I drive to people's homes evaluate and treat them and I don't charge 160.00.
I told their technician not in this lifetime and called my home warranty. It took until Saturday the next week to get a tech to look at the machine. He listened to the spin cycle, took the back off the machine, and the bolt holding the motor onto the machine is PLASTIC. The motor was loose, the bolt was broke and the barrel was loose and moving but not rotating. He was not able to do Samsung warranty work so he was going to call someone. I did not hear anything. I called Samsung service again on a Monday. I explained the whole 160.00+ tax and me using my warranty instead and that it was warranty work with the motor. They said, "Okay we will send someone out to check." UH- NO. It has already been checked and I am not paying the 160.00. Hello I just told you that. So they told me to fax the invoice to them. I faxed on Monday. They were supposed to call me Thursday to set up service.
Instead someone calls my husband at 3:30 pm. He tells them to call me. At 4:00 pm, I call them and get a non-English speaking first language Indian who ask for a bill of sale. I finally get to invoice. He says, "Yes, they did not get the invoice." I said, "The one I faxed on Monday." Again, we did not get it. So the day you are supposed to call to set up service you call to tell me you did not get the fax I sent 3 days ago. At this point, I have had it. I tell him, "I don't care about excuses for not calling me before 3 days," to tell me they did not get the fax and waiting until the day they were supposed to set up service to call and then me having to call them. I wanted service to me this week period. He did not like that I would not listen to him repeat himself and talked over him so he hung up. Sorry but does anybody like to speak to Indians on the phone who have an accent and don't speak or understand English well - repeating yourself is not helpful.
I called back. Went through this all again. Still got, we will not send service until we get the invoice. After 3 weeks, I said fine I'm done with you and am calling an attorney. I hung up and called an attorney. Samsung and a lot of other companies think it is okay to make crap in China, sell it for a lot of money to US citizens (as if it was made in America), and don't care because they made a huge profit and the consumer is left with the crap. They have so many lawsuits, they are used to it.
I looked up washers and dryers on Consumer Reports before I bought Samsung was highly rated. If this is good, what is bad. I have used my friends washer the last 2 weeks, it is an LG, and I realized the Samsung sucks even when it is working. I just thought my husband and I were hard on our whites especially socks. 1 washing in her machine, and I took my normal detergent etc.., and our socks are white again. So now I wonder if any of my clothes are clean.

We purchased this Samsung Top load washer Model # WA400PJHDWR/AA in May of 2014. Decided to buy a top load to replace our 3 year old Samsung front load due to the odor that was being left on the laundry. Prior to that we had a Maytag for 21 years that we replaced. Was still working. Chose to replace it having a laundry room on the main floor of the house and needed a cleaner look. I have to say that we are very disappointed in the Samsung products that are being sold. Did I mention this went out in June of 2016. I purchased a full kitchen (stove, micro, fridge, dishwasher) setup from Samsung in May to prepare the selling of my home. Hope they last while the house is on the market.
I would have reconsidered the purchase of Samsung if the washer broke down a month earlier. The repair man came out, which cost me $100.00 and told me with the Error code 3E that the panel had burned out. The repair quote was going to be $439.00 plus the $100.00 service call. So of course the wife went out last night and purchased a new washer after spending the last couple of weeks going to the laundromat. Found one on sale for $549.00. Proud owner of my third in 6 years. The end.

Worst CUSTOMER SERVICE from any company ever in my 70 years. Where is the Federal Government??? They don't see all of these complaints??? Only info I could get (after hrs of calls and chat room discussions) was Samsung doesn't know how to respond to problem. The washer was bought 3 years ago/we can't use it properly and they can't decide what to do??? (That is like someone who refuses to repay a loan. They say: "It is better that I owe you the loan than beat you out of it." Samsung is virtually saying "It is better we promise to fix it in the future" rather than say "We won't fix it ever."
I can't believe anyone can be that stupid or dumb enough to think we can fall for this crap after this much time has elapsed. They obviously are putting us off and giving us the run around until we "GO AWAY". That way it will cost them nothing and we just get screwed again. Pass it on: "DO NOT BUY A SAMSUNG PRODUCT AND EXPECT CUSTOMER SERVICE" PERIOD!!! I am going to have to go buy another brand washer because this is in a ocean front vacation rental property by the week with guests not knowing how to operate the defective washing machine that I cannot get serviced.

We bought the Samsung Smart care Washer and dryer set from Home Depot. Three months later the washer starts making a really loud screeching noise. We called Samsung as it's still under manufacturer warranty. The customer service rep that took my husband's call was rude and mocking him. He made us feel like we were morons who don't know how to use a washer. He wanted us to stick clothes in there to see if it comes even if we couldn't finish a wash cycle (we were afraid of having wet clothes we couldn't wash). Customer service told us if Samsung came out and it was an issue they could have resolved on phone we would have to pay for the visit.
About a week later the service technician came out as they only have 5 technicians that serve the DFW. He ordered a new motor which was on his second visit. Still didn't work. On his third visit he replaced the tub which did not fix the problem. We have been getting the run around for the last week. I got a message on Facebook messenger saying they are still waiting, hear what they are going to do. The technician sent a video in of the problem to Samsung per their request. They keep blowing us off. Meanwhile I have had no washer for almost 3 weeks. Samsung is such a big company. How hard is it to keep your end on a warranty. We have warranty for a reason!!! Samsung does their best not to honor their warranty. Disappointed housewife with no clean clothes!!

So we have a brand new washer and dryer under warranty. My dryer broke and caused my electric bill to go from $500 to $900 because it was wasting so much electricity. When I called Samsung they referred me to their shady repair people Lakeside or Lakeview where the man Frank who handles my area is probably one of the rudest people I have EVER spoken with in my life. First they missed their first appointment then he said we never had an appointment then we made a second appointment. I called back the day before he claimed he again had no record of me. After that was resolved they sent Michael out who is about 12 and I'm not sure what he did other than take it apart then say, "Well I'm not sure what the problem is," and take pictures.
So now another 48 hrs go by no follow up so I call Samsung who tells me to call Lakes who don't answer their phone or have a voicemail. So I call Samsung again and actually speak to someone who seems nice but that really doesn't matter if you can't get the job done who says he sees a number of open tickets and someone will get back to me. So Samsung FINALLY gets back to me and they have decided it's an "installation" issue and when I asked for a copy of the report I was told no. So Samsung you are a horrible company. I will post reviews about your company and the way you operate EVERYWHERE I can. It seems I'm not alone. Sincerely ANOTHER dissatisfied customer.

The reason for this review is that Samsung washers and dryers are very poor quality and SHOULD NOT BE PURCHASED. We bought a Samsung front-load washer (model WF328AAR/XAA) and matching dryer (model DV328AER/XAA) from Best Buy in early 2009. Total cost was over $2000, including the "Geek Squad four-year extended warranty". The dryer didn't last five years before I had replace the heating element and later, all four drum rollers and the belt tensioner roller. Then about a year ago, the washer pump quit. I removed it and found what I thought were small "stones" stuck in the pump. Come to find out that the "stones" are actually chunks of metal coming from the anchoring bracket of the stainless steel washer drum. The bracket is made of inferior metal and is corroding. As a result, the washer has difficulty balancing. The problem is getting worse as metal chunks have chewed up the plastic vanes in the water pump.
In addition, the rear outer tub surrounding the washer drum has developed a crack and is leaking. I sealed the leak but the other problems remain. It just a matter of time before the washer fails. I am concerned about safety should the washer drum break free of its bracket during a spin cycle. This problem with the metal bracket has been known to Samsung long before we bought the machines. I found people reporting similar problems on the web. This is nothing but consumer fraud on Samsung's part.

Samsung DV40J3000EW Dryer stopped working after 18 months. Needs new pull arm kit (something with the belt). $200 repair. Technician said the dryer is cheaply made but still should have lasted more than 18 months. Don't waste your money!

I bought a brand new Samsung washer/dryer from Sears in September 2013. I've had the service guy out two times. Washer problems - You have to turn the thing off completely if you want to add anything. The rubber inside tore off easily, and needed replacing after only one year, because it was leaking. Sometimes the spin cycle stops and leaves you with soaking went rugs, or towels. Dryer problems - Lint catcher doesn't go all the way down, so the sides that hook up, catch tops with straps and ripped them off.

This is the worst washing machine we have ever bought - a total waste of our money. My clothes are dirtier when they come out than when they go in. My blacks have streaks all over them and I can't brush or get the streaks off. It looks like white powder or dust or something. I've called and called and called and have gone to Home Depot. Home Depot said it's not their problem and to call Samsung! Finally gave up! This is disgusting! I was told to use the cleaner cycle. Well I've done that 20 times! Unbelievable!

I bought a Samsung washer and dryer 3 years ago. My washer is very horrible as well as dryer. Doesn't clean clothes right and spins out of control leaving the load unbalanced all the time. I had to look up a YouTube video that helped somewhat with keeping the drum in place from the crazy spinning. The area where bleach goes is rusty and corroded like lots of the other people on here. I really wish I never bought this washer. I paid lots of money for it because of the name and because I have owned Samsung electronic products as well as my phone for many years.
I have never had issues with these, but honestly, Samsung needs stop making appliances and stop using known actors in their commercials to help promote their crappy things. They need to just stick to what they know best which are electronics. People need to research the product they are going to buy, and honestly if I would have done the research, I would have never bought these household appliances.

I have a 3-year-old Samsung top load washer. It now has rust all over the bottom of the lid and my extended Lowe's warranty and Samsung refuse to fix it as they call it "cosmetic". This is ludicrous. I purchased a washer and dryer and now have a washer that is not functioning properly. It already has had the springs go out on it and now I have rust on my clothes when I use it. I have a husband who complains constantly about the washer. Samsung has lousy customer service as well as Lowe's.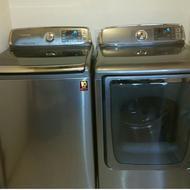 I bought my machines from Lowe's in 11/2014. Last week my dryer just stop working. No indication something was wrong. Then I come to find out my washing machine are the ones that are catching fire. I did not find this out from them. A friend saw a news story. I just went out and bought another brand. For the $ they should have lasted much longer. I am very disappointed. Wish I had done more research. Just assumed they would be good.

I bought it in Feb. 16. In Sept 16 it started giving me problems filling up & spinning out. I called the company they said "Did you have it professionally setup?" Water wasn't on all the way b.s excuses like that but no repairman sent out. After repeated calls I was told "We'll send a repairman but if it's not our fault you pay a fee of up $500.00." So I tried selling it NO ONE would buy it. Used dealers said they wouldn't waste the gas or time to come for if I gave it to them!! This is one extremely BAD machine that needs to pulled off the market .

I do not recommend any Samsung Washing Appliances. If you must purchase a Samsung, purchase extended product protection. Also, machine is nothing special as far as performance. 11/2013 Purchased Samsung HE top load washer (Model WJ400PJHDWR/AA), 14/2014 Crack appeared in Plastic Lid at left hinge -- Part not covered by Samsung. 07/2015 Crack expanded, cover broke into two pieces. New cover purchased at a total cost of $91. 08/2016 Crack developed in replacement cover, same location. Summary, expect to replace a $100 cover every 18 months. Expect no help from Samsung.

In 2013 I purchased a SAMSUNG Front Load Washer (wf363btbeuf) and SAMSUNG Front Load Dryer (dvd363gwbevf). The bearings in the washer failed due a lack of drum support during the spin cycles causing the drum to move inside the washer. The noise from the movement of the drum during spin was so loud you could not speak to another person. I had a repair tech come out and look at the machine. He advised me to replace it before the drum would break loose and explode through the machine and into my home. Is there any type of recall for the front load models?

I just found out today that the Samsung top load washer I own could have a potentially fatal problem - the washer could catch fire or could explode. Samsung says I can continue using it but wash bedding, waterproof items and heavy loads on the delicate cycle. Anyone who owns one of these already knows it is difficult enough to get items clean in one of these machines on regular cycles and on delicate the bedding won't even be clean. And then there is the chance the machine can explode or catch fire (and burn down my home). Isn't it time that these units be RECALLED? I would like a refund (not a replacement or a repaired unit) and this is the last Samsung anything I will ever buy. I bought it in 2013 and it is also already rusting inside the lid. Horrible - and this was an expensive washer to begin with.

Purchased my washer after purchase of home in sept 2013. It always has been loud during spin cycle; called Samsung to complain in 2013. Was told its because I didn't know how to level device. Measured device as they suggested; dead on. Was installed by "professionals", not me. Fast forward to 2016, now so loud its banging. I live by myself, do laundry once a week. Now banging is getting louder. Called Samsung again who tells me not under warranty, even though they swear about ten year warranty but this is only the motor. Looked online, found thousands of complaints like mine. This is before recall; call Samsung again. They say will send out warranty tech. Tech calls, says its $80.00 just to show up; plus labor. Cancel tech; feel betrayed by both tech and Samsung. Contacted yesterday, same defects as recalled washers; Samsung denies responsibility. Last Samsung device to come into my home.
Compare Washers and Dryers
Samsung Washers Company Profile
Company Name:

Samsung TV

Year Founded:

1938

Country:

Korea Sout

Website:

http://www.samsung.com/