Consumer Complaints and Reviews

I've spent two hours on hold with Samsung, where I've found my washer was on a recall (they didn't tell me this... I just found it out). I was trying to get service, and I was hung up on three times. I finally got a supervisor, but we'll see if the paperwork gets processed.

I purchased this washer (Samsung VTR Front Load Washer) 6 months ago after having a Whirlpool for 15 years. The Whirlpool was a front load as well which I chose to upgrade. No issues with it just wanted a newer washer and dryer. I actually gave the old set away. The Samsung is nothing but issues. It arrived with missing stickers and a small dent in the dryer. The washer throws codes on almost every wash. Sometimes it takes 6 hours to do a load. It takes hours to dry a load. The washer vibrates and is loud. I know this set will not last long by its performance. It was an expensive set and is junk. I have followed all instructions and have many issues. Wish I kept my 15-year-old machines or stuck with Whirlpool.

This is the worst washer and dryer I have ever used. They have never worked properly since I got them home. Then I get a recall on the washer. They didn't really fix it. They just added clips and told you not to use the bedding cycle. It is loud and does a terrible job at washing. The dryer is loud, sounds like a screeching mouse all the time. I hear it even when I close the door to the Laundry room. I will never ever ever purchase another Samsung Product again the rest of my life.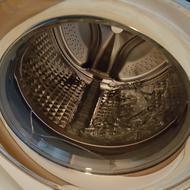 On easter morning I returned home from work and was advised that the washing machine, while not in use, the front loading glass door shattered. This occurred at 0615Hrs while the only person in the house was asleep causing them to think someone was breaking in. I have owned this brand new washing machine for 4.5 months and do maximum 3 loads of wash per week. I contacted Samsung which was unable to explain how the door would shatter sending glass everywhere especially when it was not in use for 8-10hours.
A technician responded to my house and called Samsung who told him that it was caused by physical damage, meaning I broke it. There is only a washing machine and dryer in the laundry room, meaning that no random object could have fallen and struck the door. I then contacted Samsung ECR Department and was advised that a microscopic fracture in the manufacturing of the glass could have been at fault. Samsung advised me to vacuum up the glass and that they could replace the door. I was not given any assurance this would not occur again. I was also told that there was nothing they could do to ensure there was no glass fragments in that machine that could get into my clothes and injure me or cause further damage to the machine.
I was then advised that my call was forward to the legal department of ECR. After reviewing my case for a whole week, they called stating that they determined the machine was off. I was unaware that there was a debate on that topic as I stated that fact right from the start. I have since advised Samsung that as an owner of numerous Samsung appliances and devices, and was looking to get more, that I would never shop their products again. It is bad enough to have defective products, however customer service should not try to be just as defective.

Our top loading Samsung washer leaks water - and has for the last 2 years. We purchased it in January 2013 at Home Depot and have a Samsung Protection Plus warranty contract that runs until 5/13/2021. Its model # is WA456DRHDWR. Samsung has sent their "best" repairmen to fix the same problem SIXTEEN (16) times. Each time requiring us to call the warranty company and then the repair service - often numerous times, waiting days/weeks for someone to finally arrive, interrupt our schedules to be home, not have anyone show up and having to start the phone call process again, explain the same issue to different people, have all parts replaced with many re-replaced numerous times, be assured that it is fixed, and then having it leaking again - in the same way and place as always.
Calls to Samsung complaining about the quality of the machine and their service, even with multiple levels of escalation have resulted in multiple call backs to finally speak to someone, promises to resolve the issue that do not result in even a call-back from them, and finally - their only resolution is to send another repairman and start the process all over again (for the 17th time). We are now pursuing many protest avenues (State Consumer Affairs, Better Business Bureau, Consumer Affairs, Consumer Reports, etc.) as well as all legal options, along with communicating the terrible customer service to our hundreds of family and friends.
We will now purchase a new non-Samsung washer and trash this Samsung lemon. Needless to say we will NEVER purchase another Samsung product - of any kind again. We will offer to share our experience with anyone who is also suffering from Samsung's lack of product quality and abysmal customer service (dis-service). Our email is **.
How do I know I can trust these reviews about Samsung Computers and Monitors?
762,011 reviews on ConsumerAffairs are verified.
We require contact information to ensure our reviewers are real.
We use intelligent software that helps us maintain the integrity of reviews.
Our moderators read all reviews to verify quality and helpfulness.
For more information about reviews on ConsumerAffairs.com please visit our FAQ.

I have purchased a Front Load Samsung Washing Machine on 02/10/2011. The problem of my machine is DOOR LOCK NOT WORKING since 14/01/2017. Made complaint on 18/01/2017. Service Engineer visited on 19/01/2017 and informed Door of my Washing Machine to be replaced. On 21/01/2017 I got a telephone call from the said service Engineer and informed me that the total cost for New Door will be Rs.2,600/- including service tax and insisted me to pay Rs.1000/- and advance for booking part. Accordingly, I paid Rs.1000/- to him by cash. He given receipt for said amount. Up to today my problem not solved and not returned by money. I made many complaints to Samsung Customer Service as well as by mails. As a customer I am facing serious problem. I want my Machine to repaired without any further delay.

I have had to replace the heating element on my Samsung dryer four times. I bought the dryer at Lowe's about 2 years ago. The only setting that works is TIMED DRY. There are 9 settings on the dryer but only the timed dry works. What a waste of my money. I talked to Samsung customer service and inquired if there were other complaints or recalls on their washers/dryers but the lady said no and referred me to the Samsung website where there was information on repairing my dryer. It wasn't helpful. I tried calling back but no one answered my call.

Purchased a Samsung model WA45H7000AW top loader in May 2016 from Lowes. Worst cleaning washer we've owned in 30 years. The clothes are not covered with water; top of clothes are in air and can actually dry out if the laundry is a large piece like a sheet! The "Warm" water temperature setting is not warm. It is tap temperature cold and we have our gas water heater set at 140 degrees. I've put in heavily soiled towels from washing the car and they come out stained. But the worst feature of the washer is that it catches my wife's undergarments and nightgowns at the seam at the bottom of the drum.
A $30 nightgown was damaged during the first wash. So this piece of garbage is going into the discount ads. We are going back to a washer with an agitator with a full tub of warm water like we had with our 2001 Kenmore Elite. Samsung designs products for some lame environment benefit, not for performing what they are advertised for. BTW brand LG is no better. This Samsung washer replaced one from LG that only lasted four years before the top lid rusted and threatened staining our clothes. But at least that washer cleaned clothes. Wish I had rebuilt my Kenmore after this expensive beta test. None of the politically correct reviews can be depended upon and that includes Consumer Reports.

WF42H5000AW Front Load Washer - Bought the machine from Lowe's. Bought a 2 year extended warranty. 2 days after the warranty expired, the machine begins leaking and the door is locked shut. This has been a very noisy machine and we are and have been very unhappy with it. It is the first time in 42 years we bought a brand other than Kenmore or Whirlpool (I know, same thing). What a very BIG mistake buying a Samsung. We also bought the matching dryer. The motor on that failed after 18 months. Now we're worried about our two Samsung TVs we bought in the last 18 months.

I bought a Samsung washing machine model-WF0702WKN on 29/09/2012. The machine stopped working on 20/03/2017. I lodged a complaint and the service engineer came and checked the machine on 24/03/2017. The complaint no. is **. As per his observation, the machine was lifted to the local service centre the next day for replacing the drum.
When the estimate for replacement of drum amounting to about Rs.7000- was received, I immediately approved and sent a reply mail. However even after one months, though I have personally visited the service centre several times and repeated mails were sent to the customer care centre for getting the machine repaired, I am yet to get back the repaired machine. Though Samsung is spending a lot of money for advertising and marketing their product, they are giving least importance for customer complaint. From my experience I feel that their after sale service is very poor. I am still waiting for a positive response from them.

I purchased the top load Kenmore/Samsung washer dryer from Sears in 2016 and unfortunately my washer was on the recall list. I opted to buy a new one as my rebate was for $719.00. I sent all the paperwork last November to the PO box address. It is now April 21 2017 and no check. I have called several times to be told it has been escalated as they can't find my paperwork. I asked to email the copies I took which I did but now is not acceptable! No one is getting back to me and their customer service is a joke. I will never purchase a Samsung product again. They won't take your phone number or follow up you and basically just keep repeating a script they have been given. I have been ripped off and lied to and it is a disgrace.

We purchased a Samsung washer and dryer in May of 2016 and have already experienced a recall on the washer and now the dryer is not working properly. I have called customer service 5 times and every time they tell me that they have not received the bill of sale; which I uploaded twice! They also told me that I would need to provide a video of the noise it is making or I could be charged for the maintenance visit (even though the dryer is under warranty). So basically, Samsung does not trust their customer. I am now stuck with a repaired washer and a malfunctioning dryer that are less than 1 year old as well as close to $2000!!! Buyer beware!!

I can't express the ROTTEN experience of trying to get a repair done on our washer we bought from Lowe's. The first piece of advice is DO NOT BUY FROM Lowe's. I think they sell 2nds/refurbished units. We bought an extended warranty which has proved worthless. The washer itself started rusting around the bleach dispenser. The actual TOP COVER, which is supposed to be covered with porcelain, is rusting. Samsung probably saved a few bucks by thinning out the porcelain.
We called LOWE'S first for the aforementioned warranty and they pretty much laughed. Asked the lady what IS covered by the warranty and she said, "Not Much." I swear that's her response. So then I contacted Samsung, actually they contacted me about the top MAY fly off and kill us if we put bedding into the washer. Wonderful... I asked about the rust at that time and was told the recall was only for the dangerous defect they sold me... not the rust. Rust can't kill you I guess.
After several shaming calls to Samsung Customer Service... (actually it was calls to Samsung as the Customer Service part doesn't exist), they said they were going to arrange to have the top replaced. Great. A few weeks later we get a call from A&E Home Repair Service. For those of you who have dealt with these people before, you know what a treat this is. The call told us the date, a very generous window of 8 AM to 5 PM, someone 18 or older had to be home, etc. etc. The day came and I took time off work to be there. About 3 PM, I called A&E to make sure I was still on the schedule. I was and they estimated 30-60 minutes before he'd arrive. I said thanks and hung up. About 40 minutes later, my phone rings and it's the technician. He asks if I'm ready to pay for the part and repair. I told him it was to be covered by Samsung. He said that's not his paperwork says and he can't change it.
I had the number he was calling from and told him I'd call him right back. I quickly called Samsung and when I finally got someone who could speak English, told them what happened. He said they would call A&E right away. I called the tech back on the number he had contacted me, but of course no answer. I called A&E and the person confirmed Samsung did call and spoke with them. I asked them to call their tech right away to let him know. I tried the tech number again without any luck.
At about 5 PM, I called A&E again and was told the Tech had canceled the work order and now Samsung had to issue a new one. Now I could go on and on about this but suffice it to say I REPEATED THIS PROCESS 4 FREAKING TIMES... The last 2 times Sears Home Service was contracted by A&E to make the repair.
I've concluded several things: 1. I have been a Samsung fan for a long time. I have a 61" Samsung, a 42" Samsung, a microwave, a washer & dryer. I have several Samsung Smart Things and Samsung VOIP phones. THERE WILL NEVER BE ANOTHER SAMSUNG PRODUCT COMING INTO MY HOME. 2. SEARS deserves to be out of business... I hope it's a long and miserable death for them. 3. A&E Repair is owned and operated by the devil himself. The people he has working for them are evil and uncaring. I'm sure they have dead cats and babies scattered about their offices. If you're smart... RUN VERY FAST AWAY from any of these companies.

I want everyone to know my experience with Samsung. I had purchased a 55" tv years ago and had problems within the first two years. It ended up it was cheaper for me to buy a replacement tv than have mine fixed. I wrongly assumed this was just a fluke. I then purchased a washer and dryer and here is what happened. The dryer died on the 15th month. Once again it would be cheaper to purchase a new dryer versus repairing the old one. I contacted Samsung and they agreed to pay for the parts. Long story short. Dryer was repaired on our good faith assuming Samsung was a company that honored their word. I even have an email stating I will be reimbursed for the parts (which we had already paid for). The repair was done and I am still waiting on that refund. I would never have repaired it without the assurance I would be reimbursed.
A&E Factory Services only needed to fill out a form for Samsung stating repairs were done. They refused. The next appointment for them to come out and verify the work was done. I wanted 4 hours and no one showed up or called. When I called them they informed me they did not service my area. Really the dryer was already repaired by you. After speaking with a supervisor, which is always fun, as they outsource the call center I still have not been reimbursed and the follow up calls I was supposed to receive have never come. What a great company.

I've been very disappointed in the quality of my Samsung washer and dryer purchased about five years ago. The first year I owned them the drum cracked on the washing machine, which was repaired under warranty. Now, the machine keeps giving DC Error Code. I only had 10 towels in it. Had to split the load to get it to spin. Also, had to have sensor replaced on dryer this year. High dollar price for poor quality. Do not purchase Samsung.

I bought Top loader washer which was recalled by Samsung after the 6 months. I bought WF42H5200AP/A2 front loader washer from Home Depot. First delivery was defective and I returned it. Second delivery was made 1 week after and installed by Home Depot. Now just after 3 weeks of Installation machine is not working fine. Water does not drain out completely after the end of the cycle and when we start next cycle then water drains out first and then cycle starts. I reached out to Home Depot they say go to Samsung and Samsung says go to Home Depot. Very bad service of Samsung never buy their products again.

My washer is only 6 months old, is making too much noise. Now I found out that is a recall one. Samsung is offering me only $412.00. If I buy a Samsung again, the cheapest one is 528.00. Why should I have to put more than a 100.00 from my pocket for their mistake? For sure they don't care about us, the customers, only profit for them I guess. I called customer service, but they said my washer value is 412.00 for the depreciation! It's only 6 months old. Well I guess it's Samsung value if it's defective. Hopefully I won't have an accident.

We purchased a Samsung 5.6CF 30" top load Washing Machine on 01/03/2015. January, 2017, I noticed the edge coming up on the top part of the washer. I called the Warranty Customer Service on 1/24/17. They told me that I could receive an exchange rebate or I could have a technician come out and fix the drum supports (the parts that are under the warranty). I said it was not going to take less than half of what we paid for the machine two years ago, and that having a technician come out wouldn't make a difference because that's not the issue I was calling about. Cust Serv said they would escalate my issue to the executive offices and I was promised a call in 24 to 48 hours.
I called back 01/30/2017 because I had not received the call. I was told my issue was re-escalated. I still had not received a call and I called again directly to Samsung Customer Service on 2/25/2017 (not the warranty number). When I called they said this was a warranty issue. I said no, it wasn't and I wanted to talk to someone who could help me. I did receive a call on 02/27/2017 from Lynn in the Executive Offices. I was at work and she left me a message with a confirmation number. She asked for pictures and copy of our receipt to be sent to an email address. She did not leave a phone number and I could not understand the email address where she had requested the pictures be sent.
I needed to call the Cust Serv number again to find out the correct email address. When I called I was told this was a warranty issue, and again, I told them it wasn't. They gave me the email address they thought it was, but they couldn't be sure. On 3/01/2017, I emailed the receipt and pictures to Samsung. On 3/17/2017, I had not heard from Samsung so I called again. I explained that I have called several times and I just want someone to look at the pictures and help me. They said that I would receive a call from the Exec Offices within 24 hours.
I called again on 3/21/2017 because I hadn't heard from anyone from Samsung. The Cust Serv Rep said she could see the receipt, but there were no pictures attached to my ticket number. She said she would have someone contact me within 24 hours. On 3/23/2017 I called again and told them that I should have been called back within 24 hours. She said that the call should be within 24 - 48 hours, but that she would re-escalate the ticket to her supervisor to get to the bottom of this issue.
I called back on 3/29/2017 and actually talked to a supervisor. She gave me another ticket number. She said would put my issue at the beginning of the queue for the next day. I have heard nothing. We will never purchase another Samsung appliance. The machine works fine, but I don't like the fact that the top is coming apart. The least they could have done is returned one of my many calls! DO NOT Purchase a Samsung Washer. There is no support nor customer service!

I have a front load Samsung washer that I am waiting to have repaired. However, the repair company has had to cancel and reschedule three times now because Samsung has not delivered the part. As of now I am looking at hopefully the end of the month if Samsung delivers the part to get my washer gets fixed. That will be a month and a half that I am having to spend money and time at a laundromat. I will never buy another Samsung product!

Purchased a Samsung VRT washer, model # WF42H5400AW/A2 washer in May of 2015. On April 4, 2017 washer would not operate. My wife and I are the only ones who live in the household and use this machine. We might wash at the most 3 loads a week. I called Samsung customer service number on April 4th and was told washer is out of warranty except for the motor part, I would have to cover the service call and labor. I scheduled the first available service call on Friday April 7. It turns out the Samsung repair person shows up in his personal car. I was expecting a service van with parts and marked with some sort of logos. As it turns out Samsung has no service department and pays private techs with no parts department or office to operate from.
Samsung called on Monday April 10 to give me a quote of $ 360.00 in parts plus the service call and labor of $ 165.00. That is almost what I paid for the machine that isn't even two years old. I called customer service and pleaded my case and they agreed to supply the parts. I was waiting for service to call me to fix this machine so I called customer service again and was speaking with someone in India who didn't have a clue. I was hoping to have a machine like my old Kenmore or GE that lasted. Done with Samsung!

I have had problem with my Samsung washer and dryer since Day 1. Here is the latest problem. My washer would not spin and was shaking violently. We googled and found out a lot of people are having same issue and figured out that there was a lot of corrosion on the drum shaft where stainless steel drum meets this cheap material they used. See picture attached.

Purchased a Samsung front load washing machine 4 years ago. About a year ago it started "traveling" around the laundry room - something it had never done before, shaking hard and and loudly. It shares the room with a half bath and it got so violent that I didn't want to use the bathroom while it was running; took my business upstairs if you know what I mean because it was scary. I haven't spent a lot of time crafting the list of all the ways I do not want to be found dead but if I did, being skewered half naked to toilet by my washing machine would definitely be on it.
And at the same time clothes were not fully spun out of water. Watching the display panel (from the safety of the doorway) the spin cycle goes from 6 minutes to 1 minute in a second, and then the machine stops. The clothes come out sopping wet and looking dirty. They might be clean but they look filthy. I've unscrewed the knobby outlet thingy at the bottom, drained it, washed it out. I've washed the rubber seal gasket. I've even washed the glass. Nothing helps.
Then the other day I watched a video online of a man with the exact same machine that had the exact same problem. He took his machine apart and explained why it had failed. Samsung set up ion exchange with the metal drum and the metal armature that spins the machine by using a lesser material for the armature. The armature acts like a sacrificial tomb for the drum. This is similar to what they used to do years ago with oil tanks buried in the backyard. A sacrificial tomb was buried close by and connected to the tank by a wire. The ions that would have rusted the tank ran along the wire and rusted the tomb instead. Then after so many years, you were supposed to dig up the tomb and replace it with a new one. Of course no one ever did and which is why tanks leak into the groundwater but that's a story for another day. Point is, Samsung created a machine that was doomed to fail.
But what really frosts my pimples is that, in looking online for a new washing machine, I came across an article that includes the Samsung front loader as one of The 13 Best Front Loaders to Buy in 2017. Can you believe it? I could easily see someone without first hand knowledge of this piece of crap actually going down to Lowe's or PC Richards and buying it based on the information in this article. There should be a review site that reviews review sites.
So to the cemetery of Samsung Products that have Failed, preceded in death by the refrigerator that leaked water into the vegetable bins and the microwave that caught fire in the circuitry, I will now have to bury this washing machine because the repair costs will be more than a new machine. Some might say I am lucky that my machine lasted four years compared to others whose only lasted one or two but oddly, I don't feel lucky. I have an expensive washing machine that does not wash clothes. Anything that does not do what it is supposed to do is art. I picked up a lovely oil painting of some roses at a tag sale the other day for a buck. I want art, I know how to find it. Then I proceeded to hang it, not coincidentally, in the laundry room where the washing machine could see it and feel shame. Might as well as hung it in Samsung's board room for all the remorse that'll get me.

We mailed in all our paperwork on 01/20/2017 and it is now 04/06/2017. Yesterday a supervisor at the Call Center said she would look into it, as it was an unusual case? We have been told every story in the book from the check will mail next week, to the check has mailed. Each and every person at the call center makes up a different story. I don't know if Samsung realizes what this is doing to their brand, but it can't be good!!! Very disgusted with the whole process!!!

We purchased a washing machine two years ago from Lowe's, almost $500. Come to find out the lid can fly off and injure you. Called Samsung, they sent out a technician to bolt down the lid. However, the washing machine is a piece of junk. It doesn't spin the water out of the clothes. You have to remove part of the clothes to get it to spin. I wrote a letter to the COO six weeks ago. I have yet to receive a response. The customers don't seem to matter to them. If you are smart, you will buy a different brand. I'm very disgusted.

I fell for this scam. Was offered a 599.00 rebate if I purchased a newer Samsung. Rebate clearly states 4-6 Weeks. Been 12 weeks and two phone calls have resulted nothing. Been escalated twice. What a joke. Cannot talk to anyone other than the person who takes your call. Last Samsung for me.

Top load washer Model WA5471 ABPXAA - Rusting in first 3 years. The machine began to rust around the Bleach cup insert. I bought it from Sears in Newmarket, Ontario and purchased the 3 year extended warranty. Each time I called Sears within the warranty period, they said it was cosmetic & didn't impact the performance. They said I should call Samsung. So far, no satisfaction & the rust is spreading! Very disenchanted. I've never had an appliance rust - EVER, let alone in the first year.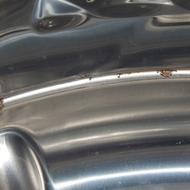 My washer has been in residential use for about 4 months. The interior of the stainless steel drum is rusting all along a seam near the bottom of the tub. Samsung keeps issuing a disclaimer that rust is considered a cosmetic issue not covered under the warranty. Repairman scheduled for next week. I do expect this to be covered under the warranty but I have concerns about the long-term. Rust inside the tub will ruin fabrics. Stainless steel is not supposed to rust!

I have owned my Samsung front loader for 2 years now. I hate it. I can't wait for it to break so I can go out and buy a top load agitator washer, one that fills up with water. It reminds me of pounding wet clothes on a rock, except that when you do that you at least rinse them in a large quantity of water. There is no way you can get a load of wash clean in the tiny amount of water used in front loaders - and they don't really get clean, just a little wet. Even using the minimal amount of soap. (Does it really clean with that small amount? Answer- no.) The rinse water is so minimal the soap does not rinse out. My clothes, sheets and towels come out rough and scratchy and make us itch.
Nothing smells fresh - you have to cover the smell by using a fabric softener sheet in the dryer. It dumps the fabric softener on the clothes during spin (without enough water to dilute the softener, it causes permanent white spots on my clothes. I can't tell you how many have been ruined to the point I don't use softener any more. Even diluting it in the tray doesn't help. It takes forever to run a load - a whole hour and that's if you don't add the extra spin and rinse - which is really necessary! Forget using heavy duty wash cycle - plan on 2 hours a load. There is a feature for automatic cleaning of the machine - it takes hours. What in the world? Guess it's because it uses so little water that it has to run twice as long and then has to use twice as much electricity!
Summary: runs too long, doesn't get clothes clean, clothes are rough and not thoroughly rinsed out. We figured out a way to fool with the water level and forced it to put more water in the tub. Its still not the same as a full tub in a top loader, but at least it cleans a little better and most of the soap gets rinsed out. You lose your warranty when doing that, but who cares - I'm not keeping this machine for much longer.

Do NOT waste your time on the Samsung Top Loading Washer. First of all I was not aware that there was a recall until I called to have it serviced. The entire drum smelled like a dead animal. Bought the tablets that help with that. Did two cycles. Still didn't work. Tried vinegar like someone suggested. Still didn't work. Called to have It serviced and was told about the recall. Oh Really!! Also found out that I can't have it serviced until the recall repair has been done.
PLEASE tell me about the rebate. I was offered a $396 rebate plus a $100 loyalty bonus, but it would take 6-8 weeks. I was all for that but my laundry room smells like an animal has DIED in it. So I opted to do the recall then will have to wait for repair. I chose not to get the rebate because I do not want another Samsung product. I have been very disappointed in the service. I have Samsung TV's, and cellphones. I have still not recovered from all the drama with the Note 7. So needless to say when this product dies and cannot be repaired, I will not purchase another product from them.

I purchased a Samsung washing machine in January. I have only one complaint, it does not wash my clothes. NOT AT ALL. Clothing comes out as dirty as it goes in. We had the repairman service the unit. He said that we needed to use liquid detergent and could not use pre-stain treatments because they will not come out during wash (like and dirt). He also suggested not using the normal wash setting, but rather, heavy load or quick wash. I've tried these two setting and no improvement. We were told by the Samsung representative that the normal setting will not remove the laundry detergent. Really? It doesn't remove stains either. DO NOT BUY THIS WASHER. IT IS A LEMON.

ConsumerAffairs Research Team
The ConsumerAffairs Research Team believes everyone deserves to make smart decisions. We aim to provide readers with the most up-to-date information available about today's consumer products and services.
Samsung's name is associated with quality, and produces everything from electronics to home appliances. Based in South Korea, the company generated a massive 305 billion dollars in 2014, employs nearly 500,000 people and sells its products to nearly every country in the world.
Energy Star options galore: Many of Samsung's washers were designated under Energy Star's "Most Efficient" washers category in 2014, pointing to serious cost savings on energy. In fact, Samsung as a whole won Energy Star's Partner of the Year award for its commitment to energy efficiency.
Noise-reduction: Samsung washers are known for their noise-reduction technology, meaning consumers can enjoy some peace and quiet while their washers run.
Smart control features: Many Samsung washers bring control to a whole new level. Consumers can control washers from apps on their smartphones or interact with intelligent LCD panels to choose from a huge variety of washing options, speeds and automatic settings.
Speed is built-in: Samsung washers are developed with speed in mind, with many models offering the SuperSpeed option. This can reduce washing times compared to standard washers by up to 50 percent, even for full loads.
Best for People who like advanced features, families and professionals.
Compare Washers and Dryers
Samsung Washers Company Profile
Company Name:

Samsung Computers and Monitors

Year Founded:

1938

Country:

Korea Sout

Website:

http://www.samsung.com/