Consumer Complaints and Reviews

This blower is a lemon. From the start it was in need of repairs. I used it the first winter which it worked somewhat okay. The power steering on the left side was a little hard to work. In September of that year I had Fasco Appliance in Oshkosh, Wisconsin come and pick it up to check it over. That is when the problem started. When they brought it back there was no high speed. Fasco Appliance in Oshkosh said there was nothing wrong with it and that was it was supposed to run that slow. I had them pick it up again because I knew that it was wrong. They replaced the power steering cable and a belt. When I got it back the second time the speed was still slow and now when you released the auger lever it still kept on running.
I then called Krueger Hardware in Neenah who picked it up from Neenah, who charged me a quarter of the pick up charge that Fasco did and Fasco is in Oshkosh. Krueger found that Fasco had put the auger belt on wrong and that it burnt the belt cover. Now this year on the first snow fall the high speed was gone again so I had Krueger's come and pick it up. They found that three of the seven bolts on the crank cover were loose and that caused a leak which dripped on the belts. They had to replace both of the belts. Fasco cause this too.
Now on January 26, 2017 I find that the power steering on the left side is bad again. It almost takes two hands to activate it. So this is going to cost me more money. I am seventy years old and can't afford all these bills. What gets me mad is that I had a Sears Craftsman blower for ten years and all I put in it was gas, oil and the skid plates once. If I keep this blower that long I would have paid for it in repairs ten over. This blower new cost me $2197.77. The serial number is 081811m000136. Is there something wrong with this blower?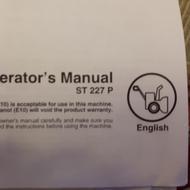 After buying a new snow blower in Dec of 2016 I got home, I realized it was broken, I brought it back to place of purchase and was informed that I had to bring it to another town to have repairs done. After borrowing a truck to do so the guys at repair shop told me they don't do warranty work and gave me another number and address from another town, off I go again. After driving 45 min to another repair shop they also informed me that they don't do warranty work, they gave me another address. At this point I'm getting really impatient so I call the place where I purchased the blower and told them I was bringing it back and for them to deal with the headache, 3 weeks later I'm still sitting at home waiting for a blower that I didn't get to use yet.
Now they are telling me they're having trouble getting Husqvarna to pay for parts and repair so I called Husqvarna myself to see what was going on and customer relations told me with an attitude that it was my fault for bringing it back to the place of purchase and I should have brought it directly to them, 4 hrs away and that it was nothing they could or would do. I told them I should have bought a Honda and avoided this mess altogether and that's the last 1600$ they will ever get from me. Winter is almost done and I didn't get to use my snow blower once and it's sitting at Canadian tire past 3 weeks and looks like it's going to be another 3 weeks if they even fix it?

After contact with the company and no results, find Husky snowblower engineering very inept. My new 30-inch and neighbors 24-inch blower have same problems. After using for a few minutes in real cold, the chute assemblies refuse to rotate and even the deflector hood freezes up. Ice build up seems to be the problem. A hair dryer and a few seconds later the darn thing works again. Who needs to spend a lot of money for a name product, only to have to purchase an additional tool to use it? My driveway is too long for the extension cord and the blower may not be a good place to use a torch. Beware.

We bought our Husqvarna snowblower on 1-27-14. We purchased it from Fleet Supply in Sauk Centre, MN. Our snowblower worked ok for the most part. It wasn't the quality we thought it would be. When our son was snowblowing 10 days ago he checked the oil and fluid was running out on the floor. We immediately took it to Fleet Supply in Sauk Centre, MN as we had bought it there and they are an authorized Husqvarna repair shop.
When we dropped our snowblower off on Tuesday, January 10, 2017. Ralph said it would be done within 24 hours as he had to empty his shop each day. My husband said to take his time and do it right. Ralph quoted us $20.00. I wasn't ok with that as it should have been under warranty. I called on Thursday to see what was up. Ralph was very short with me and said he hadn't had time to get to it. On Saturday I called 3 times with no return call. Ralph finally called back and said he didn't want to call back as I was rude to the cashiers. Ralph isn't doing his job and it is suddenly my fault! Get a grip! He said he had to order a part. The repair was now going to be $70.00 to fix. He didn't plan on calling us to let us know that as he is just too busy. I simply wouldn't have paid it. It should have been warranty anyway.
When my husband picked up the snowblower on Wednesday, January 18, 2017 they blamed us for the issue. They said we didn't put stabilizer in the gas and it broke down. I think he said the carburetor was stuck. We always put stabilizer in our equipment. Then the buyer from Husqvarna was there. He got loud and mouthy with my husband. This should have been a warranty repair plain and simple. Mr. Husqvarna said it was up to him and he said it wouldn't be covered without testing anything. I would NEVER buy anything from Fleet Supply again and I would not buy a Husqvarna. It isn't our fault it had a faulty carburetor. The people at Fleet Supply were absolute JACK ASSES! Todd the manager was an idiot and took no responsibility and Ralph had not idea what he was doing!

Purchase snow blower Husqvarna from business that deals with Husqvarna. Purchased snow blower in 2015. Never used it. No snow. This year went to use it and found that plastic frame that is closest to ground was bent in one spot causing paddles to hit bent spot and not allow paddles to turn. Warranty was still good. Called Husqvarna and the place I purchased it from and got the big run around. Who put plastic in a area that comes in contact with cement.
How do I know I can trust these reviews about Husqvarna?
721,363 reviews on ConsumerAffairs are verified.
We require contact information to ensure our reviewers are real.
We use intelligent software that helps us maintain the integrity of reviews.
Our moderators read all reviews to verify quality and helpfulness.
For more information about reviews on ConsumerAffairs.com please visit our FAQ.

I checked out a lot of different zero turn mowers and ended up with a Husqvarna MZ 52LE. The dealer raved over the quality of construction and durability of this mower. What he didn't say was what a piece of crap this mower is with zero turning or traction. If you have any respect for your lawn as I do you will NEVER buy a Husqvarna. These mowers rip your lawn into shreds. Any time you try to turn around, the stationary tire locks and just rips a nice hole in your lawn (every time). And Lord forbid you get onto a hill and need to back up, the tires will literally just spin until you are really good and stuck, and you find yourself on many, many occasions having to get a tow strap and pull it out. My old mower (Grasshopper) never got stuck. Had I known what I know now I would never, EVER have purchased this mower!

This chainsaw has been the worst saw for starting and trying to keep it running. I have owned the saw for less than 2 years with hardly any usage. Husqvarna cannot find the part I need along with the dealers that service this saw. The lady at Husqvarna told me the saw was not old enough for the parts catalog to display the brake cover that I need. She said they would do a study on it and get back to me. I really doubt if that is going to happen.

Lawnmower HU800AWD - Mower has been in the repair shop since July 14 for warranty repairs. Husqvarna is taking its time in sending repair parts to the their repair shop during this period. IF a repair part is sent, it takes about 1 week. I will NOT be purchasing another Husqvarna product (this is my first). I contacted their customer service on 9/12 regarding this issue and have not heard anything back. I will follow up on the 19th.

Because of a very bad design on the wiring on the blade clutch we had to invest in a $200.00 part and spend three hours trying to replace the broken clutch. The wiring design is so bad and so restricted that with time the wiring pulled away from the clutch. There has got to be a better design for such a great product.

TS 243 product 960410379 00 serial 040615 A002806 year 2015 Bought new and used once to cut the lawn. Developed a heavy fuel line leak. On inspection the fuel line below the petrol tank had been worn through by the cutting belt. Need to check if this is a regular assembly problem as it is a serious fire hazard.

Four years ago, I purchased a Husqvarna mower - XT722FE. I will be purchasing a new mower in the next few days and will not be getting a Husqvarna. The engine is good but nothing else is. I have replaced wheels twice, the blade and now the self-propelled has stopped working. Everytime I go to mow, it is something else to fix, replace, etc. If I didn't take care of it like oil changes, cleaning underneath, using the right gas, etc., I could understand all the problems but I make a point to take care of my things. I will not nor will I recommend this mower or any Husqvarnas to anyone I know.

After a good experience with the Husqvarna tractor I bought for my son, I made the mistake of buying one of their trimmers. In the year that I've owned it it's been back to the shop three times for non-warranty repairs. The repair guys say it is a piece of junk, and I just threw it in the dumpster. There will be no more of their products in this family's future.

Walk Behind Mower HU 800AWDX BBC. Purchased mower July 18th. Used once on front yard and it did okay. Used on backyard and right rear wheel lever used to raise and lower height became disengaged and loose. Can't use the mower. $649.00...down the tubes. Lowe's won't take it back and Husqvarna says it is not their issue. Can repair for $475.00 plus the cost of pick-up.

For anyone thinking of buying a Husqvarna, don't let the store lied to you like they lied to me. They told me if there was a problem with the mower to bring it back to them and they would fix it in about a week. Well in three weeks it didn't run anymore so I took it back. And was told I cannot bring it there and then I cannot return it, I have to take it to an authorized service center. Not what they told me when I bought it, but it sounds ok, right. Nope. Below is a copy of the text on Husqvarna's webpage.
"Why would a servicing dealer refuse to repair my equipment that I purchased elsewhere? Each of our dealers is an independently owned business and we cannot control their business decisions. We can only suggest that you call ahead, prior to bringing your unit in for repair, to make sure a dealer can and will assist you. If necessary, contact customer service for other authorized servicing dealer options in your area." All the service centers in my area will not honor the warranty. So I have to pay to have my 3 week old lawnmower repaired! I will never ever buy another Husqvarna!

Husqvarna 128LD overheats. Purchased a refurbished weed eater online from VMInnovations and it initially seemed ok until I actually tried to do a trim job with it. The unit overheats after about 10 to 15 minutes of use and dies, won't start again until it cools. Unit comes with a worthless warranty from the manufacturer. No "factory authorized dealer" will service a unit under warranty unless you bought it from them. Why would Husqvarna authorize someone unwilling to do the job? Calls to the manufacturer require 2 hours on the phone dancing around with them on one "please hold" after another only to be told that refurbished units only carry a 30-day warranty.
Tried explaining their "authorized" refurbished seller has a 90-day manufacturer warranty spelled out on their eBay to no avail. VMInnovations claims it is only warrantied by the manufacturer so I guess nobody warranties Husqvarna anything. An item being refurbished should be just that but it should be thoroughly checked to make sure it's ok. Buyer beware: unless you buy their products from a dealer and overpay for it don't expect warranty. Husqvarna is fully aware of this fact.

Bought a Riding mower. Made by Husqvarna. Garden tractor mower. Piss-poor. I own a tree removal service and quit buying Husqvarna chainsaws about 6 years ago. I use to swear by them. But I'm done with them, never again. There got my last dollar. Bought this mower from Lowe's. I have to say all power equipment is not what it use to be due to federal EPA regulations. I've had nothing but problems with Husqvarna stuff. Over last several years. Use to think their Husqvarna 350 saw was the best in its class but that went to chit too, had the mufflers fall off, same with the 575xp. Stay far away from this brand. From a pro.

I bought a Husqvarna walk behind mower 2 years ago for $400.00 thinking it would be a high end mower. I will not buy another product from Husqvarna ever again. It has underperformed in every way. It cannot cut deep or wet grass and requires continual cleaning under the deck due to clogging of mulched grass. The rear wheels are wobbly and cause problems over terrain. The engineering of their products is cheap. I will go elsewhere for my lawn maintenance needs.

I bought a Zero turn Husqvarna Z246 mower, had it 33 days, 6.3 hrs on the hour meter and the transmission went out on both sides. Called customer service and was told to take it back to Lowe's and they would replace it with a new one. So I returned it back and the store manager asked if I had a return authorization number and I said she didn't give me one. So he calls Husqvarna customer service and was told that since it was 3 days past the 30 day return they would not authorize the exchange.
So I spoke to the woman on the phone and she would not authorize it because it was past the 30 days even just by 3 days. So I asked to speak with someone above her and she said it would be a waste of my time because they would say the same and would not authorize the exchange either. So I asked for her name and employee number and she would not give me her first name and stated that employees are not given employee numbers - like I believe that. So I left with a new broken mower. I will never buy another Husqvarna product ever.

Husqvarna HU 675 AWD walk behind mower. I purchased this mower in June of 2014. It has a 3 year warranty. So far it has had a running problem which the dealer found to be a part missing on the carburetor. The dealer replaced the whole carb under warranty. The front drive wheel adjusters bent and both wheels were angled in at the top and out at the bottom. The dealer replaced both front adjusters under warranty but Husqvarna said they would not ever replace them under warranty again as they thought it must be from me abusing the mower, which is not true. The second summer the rear wheels center hubs wore out and both wheels and rear adjusters and some gears in the wheels were replaced by the dealers after a several week wait for parts. The blade adapter wore out so that the blade just spun around. I replaced the adapter and blade at my expense after waiting for parts to come.
The outside of the air filter, the filter, and the pre- filter fell off and were lost. I had to buy the new improved complete assembly at my expense because they no longer made the one that my mower came with. This part took about a week to get. The front wheel adjusters were straightened by the dealer but after 2 mowings they are bent again and will not hold adjustment. Last week the drive cable for the AWD broke and they are on back order of at least 15 days. I contacted Husqvarna the time before this breakdown and was on the phone an hour with them and on hold. They did nothing but ask me for model and serial numbers and name at each person I was connected to. After 1 hour of talking and waiting on hold they disconnected me.
Today I called again and was told they needed all the info again although they have had many records with my name on this mower. I did not have the info as the mower was in the shop so they would not begin to help me. I went to the shop and called them back with the info and after an hour they said they would review what has happened and call me back. Needless to say I purchased an expensive mower that I thought I would get great service from and that just has not happened. I have spent many weeks each summer without a mower that is usable. It does not matter that it is under warranty because it is their discretion whether the mower is being abused. The dealer has claimed several times that I am letting a fat woman ride on it or that I am jumping up and down on it or that my wife and kids are doing something to it. Nobody has used or probably ever touched the mower except me and the dealer.
At the moment I once again am without a mower while it sits in the shop for over 2 weeks minimum for a part that is back ordered. On a positive note, both the front and rear wheel adjusters have now on the newer models have been replaced by a different type. The air cleaner housing has been replaced on the new models by one that has an additional snap which may keep it from falling off. Meanwhile I wait weeks to get my sub standard mower repaired... again.

I purchased an all wheel drive Husqvarna mower from Lowe's and it was a good reliable lawn mower for about a year, after that I started having problems with the transmission. I ended up pushing more than it went forward on its own (it went very slow). The 3rd season (still under warranty) I brought it in for repair and the service center said it was used commercially and not used for residential cutting so they said it was abused. I had a Toro for 20 years and it was still running when I got rid of it. I live on a half-acre so there's a lot of grass but I don't own a lawn maintenance service and I do not let anybody else mow with my lawn mower.
I also don't know how you abuse a transmission, the outside of a lawnmower is just fine and so is the oil and it starts up just fine. I called Husqvarna to dispute it but they said they stand by the repair centers judgment since they can't see the lawn mower. They sent me a $50 gift certificate to go use at the service center. I never brought the lawn mower in for any repairs, this would be the only warranty issue and they still would not cover it. I do not recommend Husqvarna.

May 28th, 2016 I purchased the 54" Husqvarna riding mower from our local Lowe's Home Store. We were told that it was top of the line for quality and customer service. As we were in the process of buying it we asked several times about warranty and owner's manuals, the cashier ignored us. They finally went online and printed a copy, but gave us no warranty card or any of the tools for adjusted mower components or washing the deck. As we exited the store and walked to where they were loading the mower I watched them ram the grass guard against the side of the trailer and heard a crack.
The guys loading it told me, "No worries. Come back on Monday and we will give you a new one." When I got it home to unload it, I noticed that it did not look new. There were signs that it had been used before. So on the initial test run I pulled the knob upward to engage the mower deck and the engine almost choked out and the mower deck shook violently and then the entire body of the mower continued to vibrate as I started to mow. During this run I notice that the digital hour indicator read 7 hours, but the one that I thought I was buying only read 1.2 hours of use.
About 20 minutes into my mowing the transmission disengaged and the mower stopped dead in its track. This happened again about 10 minutes later. This forced me to shut down the mower, get off and reengage the transmission pin each time it happened. I finally shut the mower down so I could look the mower over better. I notice scratches on this mower that was not on the one I had purchased. I also looked underneath the mower's blade and deck and up toward the deck drive-belt pulley and noticed that the base of the center shaft appeared slightly bent and the mower deck did not appear to be attached properly.
So what I bought was a new mower, but loaded a refurbished one in its place. I loaded the mower back up and delivered directly back to Lowe's. I spent three hours trying to get my new mower and Lowe's staff gave me the biggest run-a-round ever. They tried to tell me that they could send it back to the dealer and have the mower repair, but I would be responsible for the cost of repairs. I flat refused to take anything other than a new one. Then a store rep took me out to show me one identical to mine, but he said was new. I was looking it over and there were signs everywhere indicating it was used.
The seat was torn, there was dirt and grass under the mower deck and again, documentation package was missing. I went back to Customer Service and demanded a refund on the spot and after a few minutes the store manager came over and completed the transaction and my $2500 plus dollars was refunded.
I blame Husqvarna 30% for the poor quality of their equipment, but Lowe's gets the most blame for their poor customer service and deceptive business practices. I have no intentions of ever buying from Lowe's again.

I called Husqvarna when I initially bought my mower to say I thought there must have been a packaging issue because the pull pins used to adjust height were broken off of the 2 models in the store. Apparently, pull pins are just a bad design. Mower has probably been used about 30 times, bought in 2015 for Kansas use, and have not had any problems. In fact, it has been great for all the reasons I did buy it! However, back to the "pins". A friend mowed for me last week, and apparently put more muscle into pulling the pin for adjustment (which they are a little sticky sometimes) and it broke off in his hand. Just sayin'... Bad design on those pull pins. Buyer beware, and Husqvarna fix that crap!

I purchased a HU800AWD in Spring of 2015. The first or second time I mowed my backyard I hit a green pine cone buried in the grass. There was the usual sound when a mower hits something solid. Several laps later the drive mechanism began to slip. I stopped the mower. I found that a green pine in the drive mechanism with a bunch of grass and the PLASTIC part that covered an access to the drive mechanism had a nice hole and crack that ran to a corner screw. I cleaned out the drive mechanism, bought a sheet of thin steel, bent it into as close an approximation as I could and attached it to the mower deck.
Here I want to say that my former mower a 15 year old Toro had on many occasions hit green pine cones, hidden dog toys or tennis balls in deep grass with never a hiccup. My front yard due to fescue requires a mower height change every time I mow. One of the curved tips of levers has broken off. I was willing to live with the inconvenience of the 4 wheel adjustment as opposed to one lever to change all wheels at once due to what I thought was Husqvarna quality. I made a mistake. I would not buy this mower again. I tried to post a review on Husqvarna but got the message that the review could not be posted due to some error.

I recently purchased a Husqvarna self-propelled mower from the local dealer. I could have gone to Lowe's and gotten a slightly lower price, but why not? I thought I would get better service all around from a certified dealer. Boy, was I wrong. I brought the mower home and first off, it is way too heavy for a 70 year old man. The drive is jerky. The mower gets stopped by any irregularity in the yard. I end up raising the back and moving the wheels so it can get traction. What a pain. Well, after talking with the dealer I purchased from and an hour-long talk with Husqvarna customer service, bottom line is I can't trade it for another more appropriate model. I am stuck with this piece of junk. I should have gone to Lowe's. I could have taken it back and left with something that worked. This is my sixth Husqvarna product and my last.

Bought model 725 AWD push mower from Lowe's in Sept. 2015. Used it 5 times and begin having to pull rope too many times to get mower started. Suppose to start in two pulls. Then at about 10 times using it All Wheel Drive cable stopped working. After looking at the underside of mower noticed molded part of transmission where cable goes into was broken off and missing so AWD is useless now.
Mower is too heavy to push without the belt working. No help from Lowe's customer service and couldn't find a local dealer to try and get it fixed under the 3-year warranty. Which I'm pretty sure they would say it was my fault. Transmission part that broke was made of plastic. Bad choice for a $500 mower. Husqvarna doesn't even carry the transmission after a year old. Replacement part online from source other than Husqvarna is $80 plus the cost of having it installed. Not buying another mower from them!

I purchased this mower just 1 year ago and it's been in the shop three times already. The first time the adjusting lever would only go in three position and it would not cut right. The second time it was same thing. The repair shop said some of these mowers did that. Third time I had to take it to another shop about thirty miles away and they were a Husqvarna dealer and they kept it three weeks because they had so many Husqvarna mowers to work on. I brought it home and the same thing it would not cut right. I had to pay 75$ out of my own pocket. The warranty people said they couldn't do anything for me to take it back to Lowe's and they had to send it off again, said it might be over a week and if it's over 300$ I would have to pay it. I really thought this was a good company, but I just wasted 2000$. I WILL NEVER BUY FROM THEM AGAIN!!!

I purchased a Husqvarna LGT 2654 garden tractor 5/17/2014. Big mistake! Just over 2yrs later and the transmission is shot. I have just under 2 acres of land and one hill on the side of my house.The guy at Lowe's where I purchased the tractor told me I need a heavy duty tractor to do my yard which that is why I purchased a garden tractor. I talked with somebody from Husqvarna and two Husqvarna dealers because I get two different stories on the warranty.
I was told the warranty is only good for 2 years and then someone else tells me 3 years. Both dealers told me they would have to contact Husqvarna and Tuff Torq the manufacturer of the transmission to see if warranty would cover transmission. Good luck on that one. I had to keep calling them because they would not get back with you. Then I was told I would have to pay around $1000.00 for a new transmission. I went with Husqvarna because I thought they were a reputable company and was in business for a long time. I guess they are just to big now to care about their customers. I will never purchase another Husqvarna product again.

Do not buy a Husqvarna zero turn lawn mower. It will nothing but trouble. I had my new RZ5424 for about 3 weeks and it broke down. The warranty did cover it, but it was a hassle to get them to honor it. A plastic pulley locked up and the belt burn right through it. Then 2 weeks later the engine would not start. But again it was under warranty? But another hassle. Now a year later the blades engagement system went bad and the blades will not even try to move. If you want something to work on or hauling it to service center ever few weeks of usage, this is your zero turn lawn mower. Otherwise get something else. Now I have an expensive mower that keeps breaking down. Terrible mower!!!

On June 10, 2008, I purchased a Craftsman/Husqvarna 19.5 HP/42" cut lawn tractor from Sears. Although I have owned it for eight years now, I have literally been unable to use it even once without the mower deck belt breaking. On average, it has cost me ~$40 for parts and labor to have the belt replaced then only to have it break again at the very next attempt to mow with it. The cost each time, when the repair shop charges for pickup and return delivery is more like $60. I have now concluded that the mower deck/pulley/belt design on this mower is very poor and certainly unreliable when compared to the Murray lawn tractors which I had owned and used over the past 25 years or so. In conclusion, this Sears/Husqvarna lawn tractor is worse than useless.

I bought this Husqvarna 42xls in Sep. of 2012. It has 120 hr. on. It started burning up belts. Went through 3 new belts before carrying in to the dealer for repairs. Said it would be 10 days to two weeks before it would be ready. Two weeks pass did not hear from them. Just went in to check on it. And it was push in the back of the shop. Said they could not get a hold of me. The case on the trans. was cracked on both sides. I had made a power hatch and installed it on the back. They took one look at it and that was the cause the problem. They say the belt was out under the mower that the tram and frame is connected to was not hooked up. I told them it never was but they did not believe me. So what good does it to buy a warranty.

ConsumerAffairs Research Team
The ConsumerAffairs Research Team believes everyone deserves to make smart decisions. We aim to provide readers with the most up-to-date information available about today's consumer products and services.
Husqvarna offers high-quality design with a focus on easy maintenance and long lasting build quality. This Swedish company started manufacturing lawn mowers in 1919 and continues creating innovative designs today.
Keyless operation: These riding mowers operate without a key. Instead, the homeowner enters an unlock code and presses a button to start the machine.
Fast blade service: The cutting blades come off easily from the deck for cleaning and sharpening.
Pedal control: All riding mower controls function through the pedals, so the homeowner has both hands available for steering.
Multiple attachments: A wide range of attachments creates significant versatility for this riding mower line, such as a front snow plow and a mulch bagger.
Chokeless start: A one-touch start feature eliminates frustrating choke starting.
Best for Residential homeowners looking for a luxury riding mower.
Husqvarna Company Profile
Company Name:

Husqvarna

Year Founded:

1689

Address:

17400 West 119th St.

City:

Olathe

State/Province:

KS

Postal Code:

66061

Country:

United States

Website:

http://www.husqvarna.com/