Consumer Complaints and Reviews

Wow I wish I had read these complaints before going to Home Depot. Let me start by saying I thought I read the reviews but what I read was product reviews on the cabinets not on Home Depot service. My contractor whom has done a lot of remodeling for us referred us to Home Depot or Lowe's for kitchen cabinets. We looked at cabinets at both and decided to go with Home Depot. Since we are adding a kitchen in the basement...we did not want anything expensive installed such as granite tops or expensive cabinets therefore we selected the in-store cabinets. But the color and height we wanted was considered a SPECIAL ORDER. "No problem" we said..."so what's the timeline?" "Two-weeks" we were told. So we picked the cabinets and the color and paid for everything. My contractor had provided the ceiling height 8 ft and the wall weight 12 ft to give to Home Depot.
He said they would tell us everything we needed. Home Depot and Lowe's recommended 30 height cabinets. We didn't know any better so we trusted they knew what they were talking about. We went with Home Depot measurement. We ordered 10 cabinets for our 12 ft wall. Once delivered is when the problems all started. Upon delivery of the cabinets approximately 2 1/2 - 3 weeks, they only delivered 9 cabinets. When the contractor put two of the cabinets up he called me down to see how they look and I couldn't even reach the cabinets without a step-ladder and the microwave would have been above my head. No that's not going to work! So he said he could move the very thing cabinet down but that would leave a big gap at the top because the trim is only 2.75 and will not cover the entire gap. Plus he could not finish installing the cabinets because the middle cabinet is missing.
He didn't want to guess at the space needed...neither did I want him too. So I called Home Depot, they weren't sure what happen, so wanted to look in the warehouse and call me back. Well no one called me back. So I called them. Now they tell me if they can't find it they will call me before placing another special order. Well they didn't call me but placed a new special order anyway. I found this out when I decided to stop by Home Depot in person the next day. Also I wanted to let the cabinet advisor know that the cabinet height he recommended wasn't the right height. I am 5.5 so I am regular height. He went on saying 30 height cabinets are the standard height for an 8 ft wall. I said I research on that from professional cabinet installers and was told an 8 ft wall standards are 36 or 42 heights. Because cabinets should be 54 in from the floor. He kept saying that 30 height cabinets are the standard.
Needless to say I reordered 36 height cabinets. Of course I cannot return the two cabinets with holds in them...so I am out of $215 dollars. He said this is another special order so it will take another two-weeks. Mind you I still have not gotten my one missing cabinet yet. We returned the untouched cabinets but not without a fight. They wanted to charge us a restocking fee of 15%. They said if their contractor had made the measurement then I could have had the 15% waived. Of course now I am upset because no one has offer any compensation to us for waiting on the one cabinet not delivered but you want me to pay a 15% restocking fee on cabinets you recommended. Well after getting my blood pressure up they decided to break even because we are still waiting on our missing cabinet. That was 3 weeks ago.
My missing one cabinet has finally arrive but we have to wait another two weeks for the other 5 cabinets to arrive from the vendor because they were special ordered. If they do arrive in a week my cabinet order process would be 2 months. Who knew it would take this long? I could have made my own cabinets quicker than Home Depot special order process. If it's not in the store already do not trust ordering anything from Home Depot or Lowe's. We had a similar waiting disaster with Lowe's. We ordered an oven/ microwave combo. They couldn't seem to get them both in at the same time but they were said to be available on their website and in store for pick up. But they were not. We eventually had them deliver the oven to our home and we went and picked up the microwave from another store.

My husband wanted me to get a new kitchen for our anniversary ❤️. On August 17, 2016 I went to Home Depot ask for a project loan, I was approved for 7,500.00??? I was so happy. I told my husband, So I started looking at kitchen cabinets the same day. Then I talk to the kitchen designer Lee **, The first thing I need to do is hire a Home Depot contractor. I would have to pay 100. For a Home Depot contractor to come to my house to measure my kitchen, I said that, "Fine - have him come out to my house". So I left.
On August 18,2016 Home Depot contractor called me "Steve **". He sounded very confused on which day he should come by, so we finally agreed on Saturday August 20 at 11 am. Today August 20, 2016 11am no sign of Home Depot contractor, it's 11:45 am. Steve finally shows up??? I showed steve my kitchen, gave steve a idea how I wanted my kitchen to be laid out, so steve measured my kitchen, I ask what all I was doing to my kitchen, I'm getting a new floor, putting insulation up in the front walls, putting up new drywall, new counters/cabinets.
Steve said that his company can do it all, I said great??? We had agreement that he would remodel my whole kitchen. I said that I needed my kitchen done by September 15, 2016. Steve said, "No problem Mrs **. We will have it done by then." Steve would send me a idealized bill showing all what he is going to do and how much it was going to cost me. I told Steve that I only had 7,500.00, steve said that he already knew? I was mad??? He shouldn't have known Anything about how much I'm allowed to spend, Steve had a file of information on my project that was not right. Steve was only supposed to measure my kitchen, So anyway steve said that he would e-mail me the idealized bill of the work that he is going to do on my kitchen on Sunday or Monday.
On August 22,2016 I called my kitchen designer to see if he received Steve measurements. Lee said, "Yes, so come down and pick out your cabinets/counter tops"??? I pick out my cabinets/counters then Lee ** Designed my dream kitchen??, then he e-mailed them to Steve that afternoon, August 22, 23, 24, part of 25, Lee has been trying to get a hold of Steve so we can get started on my kitchen. Steve never replied to Lee.
I was getting very emotional, stressful, panicking, frustrated, neglected??? It's bad enough. I'm not in good health, I just got over a acute hemorrhage (part of your brain is bleeding). I'm on high blood pressure medication because my blood pressure is too dang high, and I'm on anxiety medication. I had a deadline to meet and Steve was wasting valuable time??, so I had to hire some contractors on my own to get part of the work done. August 25, 2016 I called the Home Depot. I wanted to talk to a manager, but I had to talk to a assistant manager. I told her my situation I was having and I had to hire my own contractor and I wanted my money back $1,800.00. She said that she would look into it. On August 26 I called and the assistant manager answered again. She said that she would talk to the Manager personally.
On August 26, 2016 I went to Home Depot and spoke to Lee to see if he can get me another contractor, I can't wait any longer. August 27 I ordered my cabinets, dishwasher, large refrigerator. I went looking for the manager to see if she spoke to her assistant manager about the problem I was having. I spoke to Mellisa the store manager about the problem I was having with their cabinet contractor because Steve was negligent with the contract. He had with me to start my project and I need another contractor, and I'm spending money out of my own pocket.
I need the project done by September 15, Mellisa said she would look into it and would call me Monday. I didn't feel comfortable with that so I called customer care service, spoke to collect, told them my story. Collect said that she would speak to the store manager and call me Monday. I really needed a contractor to help me with my project, my husband was way too busy. He is a over the road truck driver. He is hardly home.
August 27, 28, 29, 2016 my kitchen was getting gutted, this was coming out of our pocket??? Monday August 29 Mellisa store manager called said that she couldn't do nothing about it. "I can only give you your 100 back for hiring the contractor"??? I don't want my money back. I need another contractor, she said, "Sorry. That's all I can do for you", I was devastated. I had 17 days till my anniversary party. They promised my kitchen would be done.
I had to tell my husband - he is a retired veteran. I dare to ask for a discount for a veteran. I told him the situation I was having. He got very upset. He was going to call his veteran lawyer to tell him how Home Depot was treating us. I told him, "No, I don't want more drama", So my husband took a week off work with No Pay to help with the kitchen. Now we are out 1,300 paycheck.
Collect from customer service sent me a letter, saying, "I apologize for the inconvenience you may experienced regarding your kitchen installation. Our goal at the Home Depot is to provide you with the best customer service experience possible." Really why didn't your guy give me another contractor to finished my kitchen, that's why I agreed to have my kitchen by one of your contractors, not me and my husband pay out of pocket for this mess really. You're a joke mrs. **.
My Dream kitchen turned into a freakin nightmare. I'm going thru a lot at of health issues right now and I have to deal with this crap, no one seems to want to help us out with this situation??? September 1, 2016 I called corporate customer service. I wanted to speak to someone hire up to help me with my situation with Home Depot. They said that they're sorry, "We can't help you with that. You already spoke to customer service."
September 12, 2016 I received a call from Columbus saying that my cabinets are done, they're sitting in the warehouse ready to be delivered, great??? My cabinets will be in just in time before September 15. September 13, 14, 15, I haven't heard nothing about my cabinets. I called Home Depot, spoke to customer service. They said that I put a hold on my cabinets and they will not be in till OCTOBER 5. Really what the heck is going on. I'm about to have a heart attack because Home Depot keeps playing games and it's costing me money.
September 16,2016 I called corporate, talk to andrian, told her what was going and how I was being treated and I wanted to speak to the district manager at Home Depot, andrian said that she was so sorry for the inconvenience that I'm going thru and she e-mailed the district manager that day. It was sap to get a hold of me!
I called Lee and told him what customer service said that I will not be getting my cabinets till October 5. He was so mad. He called Columbus, Lee said they should be here on the September 22-2016, 25 days. On September 23-2016, I called corporate - talk to Margaret, told her my situation and the district manager never reach out to me to help me and try to resolve this situation - never got me another contractor. He never gave a crap about me a loyal customer, a veteran of the usa - no respect. She said she was really sorry and no one should go thru this. Margaret e-mailed the district manager right away while she was still talking to me. I told her, "I wanted to speak to Craig Menear. Tell him how we are being mistreated, and disrespecting a veteran."
On September 24-2016, we started to put up our new cabinets, guess what the contractor measured the kitchen wrong, we can only put up some of the top ones, and we have to exchange to cabinets to get smaller ones. REALLY SO NOW I HAVE TO WAIT TILL OCTOBER 17 to get my kitchen done. I have no countertops, sink, stove, no food to cook for my family, no place to wash dishes, and everything from the kitchen is moved to the living room. I feel like I'm living in a third world country.
Me and my family have been living like this for almost 3 months, no one ever reach out to us from Home Depot. We spent 5,050.00 out of our own pocket. We had to spend our kids Christmas fund, so there will be no Christmas for us. It was all spent on my DREAM KITCHEN THAT TURNED INTO A NIGHTMARE FROM HELL, AND I HOPE MR CRAIG MENEAR AND HIS SHAREHOLDERS READS THIS. Thanks B.B.B for reading my story. I'm a nervous wreck right now, my poor husband tries to help??? I will never plan a project with Home Depot again.

From the very start, the kitchen remodel / flooring project was frustrating and weighed down by very poor customer service. Our initial consultation went well, but after not hearing back about scheduling the square footage measure, we found that our design manager had left HD for greener pastures and no one had taken the time to contact her clients. We were given another design manager who was a very smooth talker, but as time proved, very inept at his job. We were missing 7 different components, several being reordered 2-3 times as we received the wrong color or style. Nearly 4 months later we are still waiting on a shelf and knife block.
Each time, promises are made that the issues have been resolved only to result in rapidly growing disappointment. Every category of interaction had problems, from initial payment needing to be cancelled, cleared and repaid (over $45k), cabinets installed incorrect, shoddy molding work, wrong measurements, cabinet doors installed unlevel by an 1/8th of an inch and large screws put in visible places. Our next nightmare will be to review the flawed bill that includes being charged for 2 extra cabinets being installed, "rush" charges we were asked to pay due to their ordering issues. If there were negative stars, I would give Home Depot 5. Do not consider them for remodeling services. Save yourself heartache and stress.

Let me begin by saying that I thought it would be a great idea to have a company I trusted such as Home Depot to remodel my kitchen at around a $10,000 dollars budgeting... Boy was I extremely wrong. They were not only behind on said completion time by weeks... when stating it would only take four days. They also tried to push in designs choices for which I had never agreed to from the beginning. They never came prepared with all the needed materials and were not detailed in the customer's needs as they seemed to be promoting the initial project. The workmanship was half-assed from the start... (Excuse the French) just making a relative point... Even more so when it came to the many flawed discoveries living within the kitchen on a daily basis. You realize more and more things that the workers skimmed by and showed no detail concern... Or figured "This will work at least until I collect pay and can run away."
I will not continue to make this review longer by running on with my disdain for this company's remolding practices. I would just suggest to anyone looking to raise their property value or even create a charming atmosphere for which to live in comfort. Please retain a different company to handle your remodeling needs. This is not the one.

Given my experience, I cannot recommend the design services. I have listed the events below to demonstrate the ineptitude of the personnel at store #6828. On July 2, 2016, I paid for the design services. I spoke with project designer and emailed my specifications to the store management with instructions to forward the data to the designer. According to the project designer, he had no email address. On July 6, 2016, a representative of Home Depot arrived at my house and took measurements of the kitchen and master bath. On July 30, 2016, I spoke with the project designer. He admitted no work had been done on my project. We set up a meeting for August 27, 2016.
On August 27, 2016, the project designer was unavailable along with any design proposals. On August 29, 2016, I demanded a full refund for services not rendered. On August 31, 2016, a refund of $99.00 was issued. The chronology above illustrates the time loss in finalizing my kitchen remodel. Home Depot provides many services well, however design services is not one of them. Buyer beware!
How do I know I can trust these reviews about Home Depot?
609,643 reviews on ConsumerAffairs are verified.
We require contact information to ensure our reviewers are real.
We use intelligent software that helps us maintain the integrity of reviews.
Our moderators read all reviews to verify quality and helpfulness.
For more information about reviews on ConsumerAffairs.com please visit our FAQ.

My parents ordered Kitchen cabinets to be installed back in May and as of today 4 1/2 months later they are still without a kitchen, having to clean their dishes in the bathroom sink, they are senior citizens with disabilities. Manager after Manager and no one know to know what each other is doing. We have had so many so-called professionals come and take measurements and every time the cabinets come back wrong. They don't care about their customers. They have made 3 payments already towards a kitchen they don't have. They have been very unprofessional and very careless. We are still fighting. Please if anyone has any suggestions let me know.

As it first started off normal with the eager promises coming from the salesman from the Surrey BC Branch. We purchased both counter tops and cabinet refinishing and we're looking forward to a 6-8 max turn around time of our small everyday project around 15K. We were told that both subcontractor would be by in the next 5-8 days or so for measuring up for the project and a couple of weeks to get the orders completed and installed... Perfect right?
Remember this as we go along when they want to come by between 8-noon that means you take time off of work and wait for them. Bare in mind you are also paying them to do this work so you get hit twice in your pocket book. The cabinet guy came out 5 days later after work and took measurements and left but told me to call when the counter guy comes out and measures as they always make mistakes and have the counter guy call him.
After 12 days not hearing from the counter top guys I called the salesman looking for the time and date when the countertop guy was coming out and he told me he would look into it. Four days later the counter guy tells us that he will be by between 10-12, calls me at 8:30am, and tells me that his first appointment cancelled and he is at the door knocking wondering why no one is answering. Then he tells me if I can't get to the house in 20 minutes or so he will reschedule in a few days time. I managed to rearrange my schedule and got to my place as he was packing his things back into the van. We went in and I had to completely clean everything off of all of the counter tops. "This was supposed to have been done" he tells me and I tell him that I would have been more than happy to if someone had informed me about this.
An hour or so later he is finished and he leaves. I inform him of the cabinet guy's wishes to talk to him about the measurements. Spin ahead 2 more weeks and I call the counter guy and ask timeframe for delivery of the counter tops and he tells me he has to come out and remeasure between 1-3PM this time... Great more time off work. He comes take all the measurements and leaves again with no promise of an installation date. A couple more weeks go by and again I call the salesman and get him to get the counter top guys to call and set up a date. Note that the counter tops should go in first as the cabinet guys fine tune their measurements to the counter.
So we finally get a date and time for the counter top guys to come and they remove the old tops and replace with new ones. Of course more time off to be there to let them in and watch. Spinning ahead less a lot of details, I had to have them come out 4 more time to fix deficiencies. They didn't secure the dishwasher properly, the taps became loose, they crossed the hot and cold lines then they told me that was the new way of doing plumbing... Ahem... I told them I run a plumbing company and they were lying. The statement was quickly retracted, and the chip they made installing the tops had to be corrected. All in all total the loss of time to me and my work was 30 hours just to accommodate mistakes and deficiencies. I had planned to take a few hours off during the installation of the work but not all of the other hours.
Now for the cabinet installation. Unfortunately there was a personal issue that arose and the cabinet guys had to delay by 3 weeks or so and I was sympathetic to the personal issue. So it came to the day before the cabinets were to be done and final measurements were to be tweaked. My wife took off 3 days to accommodate the installation and she calls me and tells me that the cabinets were never actually ordered this is after 10 weeks had gone by. Needless to say I had had enough. I told the Home Depot Rep that I have lost all confidence in their ability to do any type of project management and that they should take a serious look into customer satisfaction processes. So we had to wait another 7 days and the cabinets arrived and were installed.
Through all of this I had asked for some compensation for all the lost time I had to take off of work and was directly turned down stating that Home Depot doesn't offer anything up for their mistakes. So all I can say by finishing this off is: buyer be very aware and take notice of reviews like this to stop yourself from taking the entire summer to do a small jobs and inconveniencing your family etc.

We purchased a quartz countertop at the Southgate Home Depot Store in Colorado Springs on July 22, 2016. We were told the ENTIRE process, from order to install, was about a three week process. We were told someone would call within a few days to come out and measure for a template for the countertop and to check access for install. We were also told to "have the sink that will be installed available, if it is not, the order will not be placed." Over a week later, when we hadn't received a call for the measuring of the template, we began to call this Home Depot store. We called at least 9-10 times and held for the kitchen/bath department for over an hour on just one call. We ended up leaving messages with them, and the next day, when we couldn't reach them again, we left a message for the manager - NONE of our calls were ever returned!!! We were forced to make the 1/2 hour trip to the store to get a response.
We were able to confirm an appointment for the template to be measured the following week. The man who came out to measure noted the access - garden basement, and took notes from the box that the kitchen sink was in - undermount sink - he also told us to call for a "rush" as the time of three weeks was almost up. We again tried to reach someone in the kitchen/bath dept for the next few days before AGAIN having to make a 1/2 hour trip in to find out what was going on. We are now 3 1/2 weeks in.
After speaking to an associate at the store and asking about a "rush", We were informed that NOW the quartz that we had ordered was out of stock with no ETA whatsoever from the manufacturer!!! After getting over the shock of the situation, we asked to speak with the quartz place personally - "Desert Stone" in Denver. Upon speaking with Desert Stone we asked if there was any similar quartz in stock that could be installed immediately. We were given the color of what they had, chose it and agreed to an install the following week. We were also, at this time, offered a $200 compensation for all of our "trouble" by the department manager - we did not ask for this compensation, but were happy to accept it for all of our trouble so far.
The quartz installers arrived the next week with 2 men and a huge countertop that they could not get down our stairs to our basement kitchen. The installers showed us where the template person (from their own company) listed our basement as having a patio door for access! Our basement is barely a garden basement - it is mostly underground!!! The only access is by the stairs coming in from the top floor of the home. The installers then said that they would have to "cut the quartz in half" to make it fit!!! NO! We informed them that this was not acceptable and asked if there was any other way to get this quartz downstairs and installed the way that we had been told it would be. The installers said the only way for them to do this was to get more men from their Denver location, which they eventually did.
After a total of 4/5 men got the quartz downstairs we were then informed that the original template measurer had ALSO NOT told them to cut the quartz for an undermount sink, which is the sink we had downstairs from our plumber from his original measure date. We were asked to "pick up an over the top sink" so they could finish their install. We asked what we could do to get the undermount sink installed like we originally ordered and were told by the installers that this was "impossible." They could not get the quartz back out to bring it back to cut it at their shop, which is where they have the equipment to cut for undermount sinks. So we bought a sink at Lowe's for $175, had them install it as over the top and had to spend an additional $230 to have our plumber hook up the new sink which needed new parts. Our plumber could not refund us anything on the original undermount sink as he said his supplier does not take returns so we were out this money as well.
After numerous phone calls to Home Depot, to the original store manager, and to their "customer care" line where we have been treated like trash, Home Depot has offered to "refund" us $500 for all of our troubles!!! Seriously??? We spent $175 on a new sink, $230 on an additional plumbing cost and $25 on an additional dispenser for this new sink - all of which we would not have had to spend had Home Depot and their installer - Desert Stone - done their job correctly!!! AND we have a look that we HATE!!! An over the top sink like in a school cafeteria!!! UGH!!!
I have asked Home Depot to come and remove this countertop and to replace it with what I ordered and they are refusing. They say their offer of $500 is their FINAL offer so basically $70 is what they expect us to take for having the incorrect countertop with the incorrect cut and sink. We are APPALLED!!! We have asked that they look up all of the orders that we have had with them just in 2016 to see that we are customers who spend A TON of money at their store and they have not responded!!! Does anyone know of ANYONE at Home Depot who actually cares about their customers and who would try to fix this issue???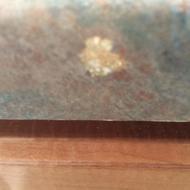 I have had such a bad experience with Home Depot's quality and customer service I will never buy from them again! When they came for the initial countertop installation they had to take it back and recut it for the under mount sink. The laminate on the kitchen island was separating so they replaced it. The replacement countertop of the kitchen island was squeaking so they had to resecure it.
The laminate had a spot that was discoloring. I had the countertop company come out and inspect it as well as a representative for the laminate manufacture and both of them said they had never seen anything like that before. However, neither one would take responsibility and after Home Depot was notified they would not contact me, I had to contact them to receive their unsatisfactory decision.
I filed a complaint with Home Depot's complaint department and they presented it to the district manager and he said that it must be from some unusual circumstance like something rubbing against it. How would he know, he never came out to see it. If they would look at our furniture and our home they would see that we take care of our home! After all is said and done I was told that the installers and the laminate company would not do anything so neither would Home Depot. I did not buy the countertops from the installer or from the laminate company! I bought it from Home Depot so they are the ones that are responsible for the defective product and poor service! However, they have refused to take responsibility.

I feel so stupid. I check reviews on pretty much everything I buy. I didn't, however, check Home Depot reviews before we started our kitchen remodel. This adventure started in June of this year. We met with the kitchen designer, who seemed very competent and nice. We took our measurements, our ideas and any other thing we could think of to make this process easier. The design time was pleasant and we felt confident with our decision. We explained to Tom, the designer, that since I am a teacher we would need this to be done by the time school started. He said it shouldn't be a problem. I have learned to regret ever believing those words. We paid for the cabinets 4th of July weekend. He set up the measurement appointment and the second time the person came out to measure, the price went up almost 3,000 dollars!!
We then decided to contract some of the work out to people we knew were competent and reasonable. We did get a refund which is another story in itself. The people we hired showed up on time and did their job. The day the installer was to show up, he didn't. No call. Nothing. I called the contractors, who are terrible with customer service, again another horrible long story. They informed me he wasn't coming that day. "Why didn't you call me," I ask? "We were getting to it," they said. He would be there on Monday. Sorry I said, I had another appointment. So after a bunch of calls later an appointment was set up for Tuesday. The man showed up on Tuesday. Yes. ONE man. To install kitchen cabinets. If I hadn't had plumbers working, he would have had no one to help him carry in the sink cabinet. I wasn't going to do it. He managed to get two wall cabinets installed in the 7 hours he was at my house. It's a small kitchen.
He came back the next day and finished it only to find out one of the cabinets had been measured wrong and the doors could not be put on. We would reorder that cabinet. Ten days tops is what he said. That was two weeks ago. No cabinet. He did text me today to see if I had heard from the cabinet people. That was nice. Then the countertop. That's a whole different story. Measured twice, then a third time with a laser and amazingly they cost over 300 dollars more!! I paid it. I want my kitchen back. Supposedly, it is coming next week. I don't believe it. Then I get a call from the tile measurement guy. I picked my tile up from the store three days before this call. I didn't make that appointment and certainly wouldn't have made it for when I am at work.
My house looks like it is auditioning for an episode of hoarders because we can't put anything away. I've been without a kitchen for six weeks. The plumbers rigged it so my dishwasher would work until they get the countertop and a few other things installed. I sent Home Depot an email to which I haven't heard anything from. I can't stand this special little place in hell Home Depot has put me in. I'm frustrated and angry. I cry all the time. I can't do anything. I don't know what else to do. There are so many other things I could and maybe should write about but it makes me sick to my stomach. All I wanted was a new kitchen. Simple, huh? Nope.
I wouldn't wish this experience on anyone. I will never go to Home Depot again. For anything. I am spreading the news of our experience to whomever will listen. My next stop may be the Better Business Bureau. I'm tired and miserable. I want my home back. Please help me if you can or at least tell me how to fix it. Thank you.

As kitchen designer/installer for many years I was installing a kitchen designed by the designers at Home Depot. Not only was the design wrong but left multiple details out. The so called designers put the title designer to shame.

I am a military veteran and so is my husband. We are finally able to settle permanently in our forever home after my husband's 22 year military career. We chose Home Depot for our kitchen cabinet purchase due to their advertised commitment to military families and the quality of the Thomasville brand kitchen cabinetry and the pricing. The Design Expert at Home Depot seemed great. We brought him all our ideas and listed our desired appliances. I gave him our rough measurements of the space and explained that we had a private contractor who would be doing the installation. The designer only asked for a verification of the overall space measurements from our contractor.
The Designer was able to come up with a beautiful kitchen design. We asked the Designer if the appliances we wanted would fit. He assured us that they would. We were told our cabinets would take four weeks minimum for delivery and they even came in early. We were very excited. The first problem started when the cabinet that would house our double convection oven arrived with the wrong style upper cabinet doors. They did not match the other cabinets at all. The Designer was contacted and new door were to be delivered so, it should have been an easy fix so, the cabinet was installed.
The next issue was that the contractor responsible for the electrical supply to the oven was concerned that the oven cabinet might not be big enough for the ovens. The cabinet was 30 wide and the minimal oven cutout opening was 28.5 which would leave little room for error. We attempted to contact the designer and messages were left with no response. We spoke with two other people in the kitchen cabinet area and the manager over the department and no one could help us except for taking as message. After two days we called and spoke with the Designer. He stated he was unaware of any issues other than the doors. He did not have the authority to approve a requested bigger cabinet for our ovens. As a result, the store manager was notified.
In the meantime, as granite measurements were taking place, it was brought to our attention that the granite would need to be cut around the lip of the oven cabinet because the oven cabinet sides were not flush or skinned like the others. It was also indicated by a different contractor that the stovetop might not fit. We realized that these were also issues that need to be addressed.
The Store Manager proceeded to tried to blame our contractor for the measurement and skinning errors even though he was never even involved with measuring for the appliances or the design process. He then asked if we had brought the Designer our measurements for the appliances? We were never asked by the Designer to bring in anything else. He assured us that the cabinet measurements were standard and that everything would fit. The Store Manager reluctantly agreed to replace the cabinet in question with a bigger cabinet but was not willing to cover the labor and material costs for the tile floor corrections (he insisted that our tile contractor was overcharging) or removal and installation labor involved.
These were serious problems so, we decided to try to contact a district manager. We were given the number to the Home Depot Customer Care line. So far, this process has been a joke! We are in a waiting game and trying to reach a District Manager has become Mission Impossible. It is going on 3 weeks now since the first issue and we have half our kitchen unfinished. We have no cooktop and no ovens, and no resolution or response from a district level manager. We cannot even finish grouting the tile or install the rest of our granite until these issues are resolved. The stress this has caused our family is immense. We are so disappointed and frustrated by the poor customer care and lack of response from Home Depot. If we had known how this was going to go we never would have chosen Home Depot and we will certainly not be recommending them to anyone else.

We were at the Home Depot in Noblesville to look for granite. They have a big board outside, which says Granite from $40/sq ft, but no mention of minimum order, which itself is rip off marketing. When you ask them, they say the min order is 1200. Now after we order, the installation is a nightmare. Further the customer service lady at the Kitchen section was very rude and the manager was even more rude and they don't want to resolve the issues of the customer.

Thoroughly disgusted. This review is being written because of the way home depot tries to rip consumers off. After shopping online for kitchen cabinets, I found the Kingsbridge Cabernet cabinets that seemed to be the type of cabinet I wanted for my kitchen. My husband and I went to the Bethlehem, PA store to find a sample of the cabinet type. The sales associate was very rude and condescending when I approached her for help (Joan). Realizing she would rather stock shelves than help, I returned home and ordered 7 cabinets and drawers along with the sides online. There were problems with the credit card declining the purchase because the amount was a lot and the credit card thought it was fraud.
After getting this straightened out a few times, the order went through. I was looking for a picture of the cabinets and typed in the name. This took me to a home decorators website. When I clicked on the website I saw that during the month of August 2016, the cabinet drawers would be upgraded to soft close drawers. Since most of my cabinets were drawers, I called Home Depot customer service and spoke to Franklin concerning my order and the soft close drawers. Franklin assured me that I would not receive the soft close drawers and he asked me if I needed to cancel the order. I told him that this did not make any sense since they were both Home Depot and the cabinets were the same. He canceled the order and I went onto the home decorators site and reordered the same cabinets. They have not been delivered yet and they all better have the soft close drawers as stated on their promo page.
This all happened on August 10, 2016. On August 14, 2016, I lowed up the order numbers on the Home Depot site and my first order was never canceled. I called Home Depot and spoke to Chris and he informed me that the shipping department in order to stop the shipment. I explained to Chris that I was worried because the other order needed to be paid and I did not want the credit card to decline the authorization. Chris informed me that my purchase for both orders were approved. This was wrong as I needed that credit card to purchase other items for the kitchen and now the card had close to ten thousand dollars worth of purchases, I risked going over my credit card limit.
I waited a few hours and never got a shipping email. I called Home Depot back and spoke to Luke and he called the shipper while I held and then came back and informed me that he was able to get the items returned and I would see a credit on the credit card in 2 to 3 days. I felt satisfied about this conversation. The next morning I looked at my emails and saw one from Home Depot that my order was shipped and on its way. Again I had to call home depot and spoke to Bear. I have had it and I am disgusted with this whole process.
Home Depot should have one website where everyone can order and get the same promotions and not discriminate from the people that purchase on the home decorators website. Yesterday my husband and I went back to the Bethlehem PA store and I was rudely chased out of the tile aisle by a woman and man who thought retrieving stock was more important than someone needing to buy 396 square feet of kitchen tile. My husband was chased away from a woman with a big ladder in the electrical aisle who insisted that her stocking was more important than my husband purchasing the right amperage electrical switch. Never again. I am going to Lowe's for everything. They treat you better.

August 10, 2016. I am contacting you about the services provided to one of my customers from the Home Depot in Matamoras Pennsylvania. The lack of effort in correcting the issues has caused me to pull my business completely, along with my sub-suppliers. Initially, I had told my customer to go to the Home Depot in Matamoras, PA and speak with the kitchen department to create & design his kitchen. The homeowner went in and created the design with help from the Home Depot staff using their CAD program. I supplied the area's dimensional boundaries, which were correct and to this day still remain correct. The designer finalized and priced with the homeowner. To make clear I, the contractor, had no input in the designing of the kitchen. I purchased the cabinets based on the design supplied by the Home Depot kitchen department.
We received the kitchen based on Home Depot layout and design. The cabinets were inspected for damages then installed based on the layout supplied. A third-party measured for granite counter & backsplash. The counters were ordered and installed. The homeowner went back to Home Depot and ordered appliances for the whole kitchen, plus a washer and dryer, to be delivered at a future date. When the appliances were delivered on site and installed it became apparent there was a design flaw. The refrigerator fit in the specified area, is of standard depth, but the door from the lazy susan corner cabinet would not open. Also due to this design flaw the refrigerator had issues opening all the way as well to access drawers.
Home Depot was contacted about the issues and was originally going to come fix the problem, or pay our company to do so. When it was mentioned that granite counters were measured & ordered calls were no longer returned. This is going on six months. After my client spoke with the district manager Daryl ** on August 6, 2016 about this issue, he called me. Apparently Francis, the Manager of the Matamoras Home Depot, tried to imply to Mr. ** that I had walked away from the whole issue and no longer wished to be involved, didn't stand behind my work or support my customers. This could not be further from the truth. I additionally resent that Francis implied that this was in any way my error. It has been agreed upon that it is a defect with the software.
As a result, I have pulled all my business from your stores. Let it be known I personally spent well over $82,000 over the last 2 years. The sub-contractors that work for me have been instructed that they are to buy no materials for my job sites from Home Depot. The homeowners have also been told that I will not pick up &/or install any product of Home Depot, which I estimate to be in the $10,000s a month, until this issue is resolved with my customer and my reputation cleared it will remain this way.

This was by far my worst home improvement experience ever! After taking several days off of work, the installer never showed on the first day. After 2 hours, no one from Home Depot ever called to tell me that they weren't coming. When I called they kept stalling and wouldn't tell me that the installer wasn't coming. It was 3 hours and two phone calls later before they told me what was going on. They offered me a few free items to make up for it after I complained, but what I really needed was my paid-time off from work back. They were late the second day because the installers were working on my project and another one simultaneously. The installer did a good job, but they broke the glass on one of the doors and he had to order and install two more drawers and some cabinet inserts. I was told that someone would call me within two weeks to schedule the follow-up installation. They never called.
After 5 weeks of waiting, I called and they didn't even know that I was waiting for the job to be completed. I tried to complain to the manager, but no one would help me speak with him. There were always excuses about why he wasn't available. They finally gave me an install date, which was to happen in seven days. The next day, they called to say that the installer was unable to keep the appointment THAT DAY. I reminded them that my appointment was for the coming week, not that day, but they had no idea that an appointment had been made on that date. Someone checked and learned that it had been written on a piece of paper, but had never been recorded on the schedule. On the actual follow-up date, I called them at 7:30 am to confirm that the installers would actually arrive at 8 am as scheduled. They said that he had just left the warehouse and was in route to my home. The warehouse is 10 minutes from my home. They never showed up.
I called again and was told that they mistakenly told him to arrive at my home at a different time. Not once did they call me to keep me informed. After calling a third time, the installers finally arrived at 10 am, two hours late. I asked the Assistant Manager why after acknowledging the poor communication and service during the first phase of the installation, she didn't do anything to ensure it wouldn't occur on the second phase, she had no answer. She was combative with me on the phone and said she was sorry, but she never considered that she should do more to keep the project on track. I am still waiting for the manager to call me back. These people will take your money, but have no sense of client service. I worry about what will happen down the road when I find a problem. Will they show up?

We chose to use Home Depot to have our kitchen redone (cabinets & countertops) so that we did not have to hassle with contractors. Please do not buy cabinets and countertops from Home Depot. We have been without a kitchen for three months. Cabinets had to be reordered, the plan they made did not work, the countertops had to be forced (which scratched the new cabinets) due to incorrect installation. We asked for Home Depot to install our oven which they refused. The cooktop countertop did not fit the cabinet that was ordered so the contractor had to cut the cabinet. We went this route so Home Depot could take care of everything - lesson learned do not use them to install anything within your home. Since spending way more money than that was budgeted we have not heard from anyone at Home Depot to see how we like their services. DO NOT USE HOME DEPOT TO INSTALL ANYTHING IN YOUR HOME.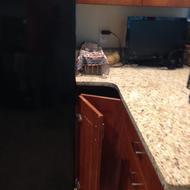 After spending $10s of thousands of dollars at the Home Depot near Matamoras, PA, on a completely renovated kitchen, we went to use the newly installed kitchen and found that one door to a lazy susan wouldn't even open because the cabinet door hit the refrigerator. And the refrigerator door wouldn't open fully so we could not pull the shelf trays out to adjust them and we couldn't pull out the veggie bins. Turns out that the Home Depot computer kitchen design software is flawed and doesn't allow enough space to actually use the cabinet/refrigerator. I advise you not to trust the kitchen design software of staff.
That was six months ago. We still cannot use our kitchen and Home Depot refuses to fix it. I have contacted the Home Depot CEO in Atlanta without response. The store manager simply tries (so far successfully) to delay responding/addressing the problem. Headquarters said that they would contact me. Nothing. Zilch. I repeat. Do not shop Home Depot for kitchen cabinets/appliances.

My unsatisfactory online business transaction and customer experience with Home Depot Design Connect began December 17, 2015. Initial kitchen design plan had to be redrawn. Customer Order had to be amended several times to coincide with approved project. Project contract terms and conditions required full payment in advance. Home Depot employed subcontractors to install cabinets, granite counters, and sinks. Cabinets, granite counters, and SS sinks were installed six months later in June 2016.
Small project issues included new drawer needed repair; hardware not delivered until customer complained; range/oven Home Depot Design Connect AKBD Designer recommended be purchased from Home Depot was not available, but customer was able to purchase same range/oven from Lowe's; hole for soap dispenser not drilled in granite counter; drain baskets for Moen sinks not delivered; and drain racks delivered did not properly fit Moen sinks. It will be July before specified project issues will all be resolved, seven months after small project began. Consumer will never again pay any contractor in full in advance of job completion. Consumer will avoid doing business with Home Depot in the future.

I visit the Home Depot in Clermont FL for a project I was working on in my kitchen. I asked an associate that was sitting at the desk if she can help me. At first she didn't answer me so I asked her again if she can help me and very rudely she answer me that she didn't work in that Department. So I asked if she can find someone that did. I felt like I was a bother to her cause the look she gave me was not a friendly look at all. So I told her to forget it that I would come back another day... So I went to Lowe's and got my stove and dishwasher. I will not go back to that store ever again... I quickly glanced at her badge and it said Heather and that she was a supervisor. I was so disappointed that a supervisor would treat a customer so poorly.

Dishwasher is not working properly. I have been on the phone with precision services trying to get dishwasher repaired. This is the 4th day and still they will not confirm that they will fix it. I have spent over 8 hours with them and am waiting for a call back once again while I write this email. So disappointing. Will never buy an appliance from Home Depot. They keep telling me the warranty is out of date?

We renovated our kitchen in 2012 using Home Depot. Last year, 2015, we noticed that the laminate was separating from the wood on 1 cabinet door. Home Depot sent people out, they said they had never seen this before and they would replace the cabinet door... Oh, they also noticed that no heat shields had been installed between the stove and cabinets... they would order those also. All of that went well. Cabinet was ordered and in that time frame, another cabinet started separating... that one was ordered as well. They arrived, Home Depot came out and installed them.
A few weeks ago, another cabinet door was failing. We called and, eventually, were told that they would order the door, but would not install. I have since gone online and found numerous emails complaining about this exact thing... very frustrated. Waiting to speak to the General Manager at the Home Depot where we purchased the cabinets, however, if this is not resolved, we are filing a class action lawsuit against Home Depot.
Updated 6/2/2016: I already have a complaint filed here, but wish I would have seen this site before purchasing from Home Depot. Finally spoke to the store manager in San Luis Obispo, CA where we bought the kitchen doors. I left 2 messages for him on two consecutive days, then another one the following day. He said he hadn't seen any messages from me, however, he knew everything about our problem!!! Then he continues to tell me that, since the cabinets weren't installed by Home Depot, the warranty is null and void. WHAT??? If the associate who sold us the cabinets told us that WE NEVER WOULD HAVE PURCHASED THEM!!! I think we all need to ban together and get some results. Shame on you Home Depot!

I decided to design my kitchen online as it seemed much easier for someone who works as much as I do. It was a rather small area in my guest house and just one wall. I connected with Christine who emailed me frequently and seemed on top of it. The process took a very long time between emails and picking what we wanted. I finally decided on the cabinets after much waiting. The cabinets were ordered and I paid. Turns out the order was incomplete. She forgot to order any cabinets! Just moldings. I told her I had company coming in and really needed to hurry. She said she corrected the order. Home Depot, North Hollywood, called and said the order placed online was incorrect. I said what's wrong?? Again it wasn't placed right. So she fixed it again... all the while weeks are passing.
So Home Depot calls and this time I want to make sure it's right and lo and behold the cabinets are nothing like what I had ordered. So I canceled immediately. I then went to the store and started to work with the cabinet guy there... There have been a few mistakes and I'm still waiting for the cabinets... but I'm hoping they will be right... we will see. I will never use Design Connect again.

Fair warning to any who is thinking of doing a kitchen remodel through this store. January 21, 2016 we ordered the cabinets and countertop. Today is May 18, 2016, about 17 weeks later. This kitchen is not finished. I regret more than you know using Home Depot for this. Almost 50k invested, we have been ignored, lied to, getting the contractors coordinated to the jobs promised and paid for. The drywall muddling was deplorable, the guy came out twice, the job was terrible. My husband spent an entire weekend muddling and sanding so we could paint. The ceiling looks awful. We have had to wait weeks between trades. Others I have spoken to that used competent contractors got their kitchens completed 6-8 weeks.
There is so much miscommunication between United contractors and Home Depot. The special order liaison supposedly got her manager involved, but I have yet to see or hear verification of that. Again, blowing smoke up the customer's backside. Bottom line Home Depot does not care about the consumer and the length of time the upheaval they must endure. They only care about taking your money... This has been the most worst exp. of our lives. I don't have enough strength to go through all the problems we have had with this. I think you get the idea. Warning! Do not use this program, at least not from this store!

Arrived home from work 3pm today to be here when truck arrives with part of my Martha Stewart kitchen cabinet order that was damaged/missing from original shipment (arrived 3 weeks ago that was 3 weeks late)! However delivery truck has mechanical issues. I have to laugh or cry... choosing to laugh! Original Martha Stewart cabinet order placed March 5th at Home Depot.
Called Martha Stewart Track My Order help line March 21st. I was told we will receive call from shipping company April 1st (should've known, right?!) - No call. We called asking when they will be delivered. We were told they were delivered! Hmmm, I must have lost my sight as I've come close to losing my mind! Shipping address included in my order placed at Home Depot noted Ohio!
I live in Michigan and have only lived in Michigan! My cabinets were somewhere in Ohio for 3 weeks! When cabinets arrived on Tuesday April 26th 8pm, one large box was mostly unpackaged. Panel inside damaged & few other items missing. Made certain to make good notes between delivery driver and us. Called Home Depot immediately as delivery driver left to notify of damaged item and those we knew were missing. Home Depot was sorry to say it would be about 3 weeks to receive damaged/missing items. Really, that's ALL you can do?! As we opened two more cabinet boxes this weekend (boxes with no apparent outside damage) one cabinet has stress crack inside cabinet door near hinge and other has backside corner of cabinet cracked. I have had NO kitchen in my house for over 2 months... I still do not have all my cabinets so installation can begin! Home Depot, Martha Stewart/Thomasville you have failed miserably.

I ordered and paid for my kitchen over $13,000. What I got was frustration because the salesperson sold me countertop that HD does not even sell and Stone Cutters of New England agreed to it not having a seam. Then when it came time to do it, the stone was not in the country and no expected delivery date and the manager gave me the runaround about the "little profit he makes from HD deals" and then they charged me $150.00 more. Needless to say I had to cancel this order and they refunded me the $250.00 templating fee even though they don't sell the item!
Then the quality of the Thomasville Cabinets--holes in the door fronts and staples in the doors. I did not receive what I was shown in the store. The sales rep from Thomasville was very combative and rude to me. Even the Customer Service department sided with him. Home Depot store manager offered me $500.00 and then had the gumption to send me a demand letter to sign off their responsibility for screwing things up for the "payoff of $500.00". IT IS NOT ABOUT THEM BUYING ME- it is about being sold that I paid for! I am not happy.

The worst customer service I have ever received. We redid our kitchen with Home Depot and it was the biggest mistake. Our cabinet came broken and took 4 weeks for the new one to come, setting us back an entire month. Then there was miscommunication with the countertop company, which they outsource, and we ended up having to pay over $500 more than expected. The management throughout the store has no concern or care for their customers. They offer no compensation besides the cost of the late cabinet ($180 for a month without a kitchen) and refuse to stay in touch and call back when they claim they will. I will never shop at this store again and highly suggest that you do not use Home Depot for any projects. The quality of their products and service is an absolute disgrace.

Just about everything that could go wrong with this countertop installation did. We ordered LG's Viatera Antico Pearl Quartz countertop from Home Depot in January, 2016. We were told we would be contacted by the company Home Depot subcontracts for countertop installations within 2 working days. The subcontracted company never contacted us about an installation date. After a week, we contacted them. After two additional weeks, someone finally showed up to take measurements but refused to do so since one cabinet wasn't fully anchored. We had to reschedule and he returned 10 days later. He also gave us misinformation on the type of edging allowable on a smaller countertop, which we found out later, during installation. My husband was very disappointed about that.
After the measurements were finally taken, we were told the installation would be in two more weeks. The Duracite, the company Home Depot subcontracted, finally called (3 times from two different locations) to schedule someone to come out and take measurements over a week after the measurements had already been taken. We had some concerns with the ineptitude of the company at this point and hoped that our measurements had not been lost. This was almost a month after we purchased the countertops.
The first available date for Duracite to install the countertops was March 1, 2016. While we were waiting for the installation, my husband tried to schedule the demolition and removal of our old countertops ahead of the installation. He wanted to have the old countertops removed a week prior to the installation of the new countertops because we knew the cabinets were not level and he wanted to make sure they were level before the new countertops were installed. Duracite took a very long time to respond and finally told us that was not possible. They said the demolition could only take place on the same day as the installation.
The night before the countertop was due to be installed, Duracite called and canceled the installation and would not give a reason and refusing to reschedule a new installation date. After a very irate conversation with Home Depot the following day, the countertop installation was rescheduled for March 4, 2016. The installation crew showed up but the demolition crew never did so the installation crew had to do the demolition. The paperwork stated the homeowners wanted the demo to be done on another day - which Duracite refused to allow us to do. The installation crew was not very happy about having to do the demolition and did not have the proper equipment or disposal materials with them. The backsplash removal created holes in the wall - some, completely through the dry wall.
Understandably, this could have been the fault of improper installation when the home was built. But the demo was rushed because it was not in their schedule and they were already behind schedule when they arrived so not much care was taken in removing the old counterop and backsplash. One piece of the countertop was forgotten back at their facility (3 hours away in the San Diego, CA area) and one piece was cut completely wrong. On the largest section of the counter, they used 3 separate sections, all of which were completely different shades. This was not a slight variation in color. It looked like they used scraps from three different jobs. We asked if that much color variation was normal and they said it was but it looks awful. We asked if anything could be done and were told it wasn't possible to change the piece out because there was nothing left of that slab of quartz.
The piece between the stove and the sink is at least 3 shades lighter than the piece that surrounds the sink and is much more beige than gray. The piece over the dishwasher on the left is the sink is at least two shades lighter but at least it's more gray and not beige. Unfortunately, the differences are difficult to capture with cell phone cameras which is what was used to photograph the countertops by Duracite, Home Depot and LG. My phone does no better at capturing the color variations. The installation for the missing and miscut piece was supposed to take place the next day, but no one showed up and no one contacted us about rescheduling another installation date.
A different installation team showed up to finish the countertop installation on the following Monday, March 7, 2016 but no one contacted us to let us know they were returning to complete the installation. They had problems with the installation of the miscut piece (now two pieces) because they could not get the seam level. But at least the seam is virtually undetectable, unlike the larger countertop.
The other piece of quartz (the forgotten piece) had a large gouge in it. When we asked if the gouge could be buffed out and were told it was impossible to fix and that we should "complain to about it." We did complain to Home Depot but not about the gouge, or the unprofessionalism and incompetence of Duracite, but because of the huge color variation in the three pieces used on the larger part of our countertop which is easily visible from across the room. The installation process was a nightmare, Duracite unprofessional but after waiting so long and finally getting our new countertop, we just wanted it to be done right.
First Home Depot sent one of their employees out to see the countertops. They, in turn, sent Duracite back to see the problem with the color match. Ironically, the same man who said the gouge in the countertop could not be fixed was who they sent and when faced with having to replace the counter, was able to buff out the gouge in under 10 minutes. Duracite then passed the buck to LG, the manufacturer of the quartz countertop, who sent a subcontractor out to make sure the installation was level and take photos. All parties acknowledged the large color variance of the countertop, and the highly visible seams.
It is now May 9, 2016 and we just received official notification from LG that color variations are not covered under warranty. So you can have various sections of completely different shades of quartz, possibly from different slabs, or scraps leftover from other jobs, and you are out of luck. We decided to purchase the countertops from Home Depot because of their "100% satisfaction guarantee." We could have purchased a similar product for much less money from a local vendor but we trusted Home Depot. That could have been the flaw in our thinking.
We are still waiting to see if Home Depot will honor that guarantee. We have had a very difficult time getting any answers from them throughout the entire process so I am not hopeful that anything will be done to rectify the situation. I would not recommend going through Home Depot under any circumstances to purchase countertops. We started this process in January and now it is May and there is no resolution in sight. We have had nothing but frustration dealing with this countertop installation and the three companies involved, none of which want to take responsibility for this complete and utter debacle of a countertop installation. We, in good faith, paid good money for an expensive countertop. It is not our fault that three of the pieces of quartz aren't close to matching. I honestly do not feel we are being unreasonable in our request to have them fixed.

Kitchen and bathroom cabinets: North Hollywood Store designer has been unable to carry out the design of our simple kitchen despite time that we put in for weeks. He made us come to Home Depot multiple times due to mistakes made on his behalf and also mistakes made by home depot measuring staff. Requested from The designer to come and see the project he is working on and he refused and stated that's it is not part of his job to actually see projects or measure them. Even after paying for installation, again he did not communicate with the installation team promptly.
As for the bathroom cabinets we informed Ernesto that our plumbing for kitchen and also bathrooms will be done outside of the wall due to apartment being old. He was aware when he "designed" our cabinets. He also told us that he is an appliance specialist and despite telling him that we want to keep the original design of our kitchen due to wanting to avoid expenses of extra electrical work and also extra job of patching the walls after he told us that we can have a combo oven on one side and extra cabinets!!! Now two problems: measurements were wrong so they had to order new cabinets and when new cabinets came the designer who finally made the trip to my home realized the stove/oven he sold us does not work due to electrical issues!!! It is now two weeks and nothing has been done.
Home Depot manager is trying to cover up their staff mistakes by putting the blame on us and so far have refused to compensate. They have left all the cabinets and the extra parts in our living room... Making it difficult for us to move around. After one of the last visits from the designer and giving us hard time and refusing to take responsibility my mother got sick and we ended up in Emergency room for hours.
Last two weeks they have been trying hard to cover up. We had a visit from the store assistant manager, installation, designer and district service manager. No resolution. They are asking me to pay an electrician to relocate wiring in order for them to avoid changing the design. So far there has not been any assurance that we would be compensated for the extra costs to us. The woman installation department despite coming and seeing the mistakes on a day that we were scheduled to have cabinets installed and knowing that they had to change cabinets sizes and order new ones which was delivered on Tuesday told district service manager that measurements were not wrong! So why did you order cabinets with new measurements if it wasn't wrong!!! So this is just part of my story with the cabinet...
Doors: after looking at the measurements taken by the Home Depot team we saw how poorly it was done and with no specific label to show area of the house that was measured. It only stated bedroom or closet which we have multiple ones. Measurements also did not look correct so we requested for it to be done again. I received a call from a very rude man who stated that he has spoken to the person who did the work and everything is correct. They will not come again! When doors arrived they did not look right and we did not install them.
Paying for the doors was another frustration! For installation, Magi informed us that it is $1500 per door. So we were forced to cancel the installation and to save even more, canceled the paint on the door. We were later informed by my uncle who bought his doors from Home Depot that installation for doors is about $159.
We went to Home Depot Van Nuys and we were provided with an estimate of our installation costs which was far from what Magi was asking us to pay. During the visit from the store staff we were told why we took the frames out that if we hadn't doors that were delivered would have worked! We bought doors + new frames which meant we will take down the only frames and put the new door with its matching new frame! They are also trying to cover up this mistake as well and putting the blame on us!!! We can not continue our work in my home due to the clutter made by Home Depot. We have suffered emotionally, physically and materially... We have been camping in our home practically.

We had a scheduled, confirmed in home consultation for a kitchen remodel at 9:30 am on Saturday. The company confirmed the appointment mid week. We got up, ready, cleaned the house and began to wait. We put off wedding planning tasks and plans for the day to have this appointment because I was really interested in getting new countertops, new cabinet refacing, and new backsplash. I kept checking my phone and email, assuming they were lost. Around 10:15 I called Home Depot only to learn that they had a scheduling conflict and canceled my appointment earlier that morning... all without notifying me!!! Needless to say, we will not be rescheduling and will be hiring a more professional contractor instead.
Home Depot Kitchens Company Profile
Company Name:

Home Depot

Year Founded:

1978

City:

Atlanta

State/Province:

GA

Country:

United States

Website:

http://www.homedepot.com/