Consumer Complaints and Reviews

Two years ago, we bought bamboo flooring from HD for our new home. We were on a very tight schedule as our old home had sold in record time and our contractor was unwilling to be flexible with us. The flooring arrived 12 weeks later, but it was the wrong flooring. We could not wait another 12 weeks for flooring and our choices are limited on an island in the middle of the Pacific. We worked out a deal with the local manager to get some inexpensive laminate knowing that it was not the flooring we wanted, but we had to move quickly. Our contractor had already laid some of the flooring by the time we saw it and charged us an additional $4000 to tear up the damaged laminate they had originally sent, laminate that did not match any of our color scheme.
Two years later, that cheap flooring is buckling and coming up in several places. We decided to tear it up and buy some quality flooring that would withstand our humid climate. We were pleased that HD tried to work with us and gave us a great deal on the laminate replacement, so we looked at their flooring again. We chose Brazilian Koa hardwood, 1/2" tongue and groove. Our flooring was delivered yesterday. We received 3/8" click-seal laminate, not Koa. The boxes are correctly labeled, but the wrong product is inside the boxes... Again!
How can they make the same mistake twice? The local manager is working with us and is very polite. This has got to be a corporate problem. Where do you get your flooring from? Does anybody do any quality control on special orders? As much as I like the local employees at Home Depot, I can no longer patronize this corporation that appears to be severely lacking in customer service.

HD offers a "72 hour install" for carpeting. There are very limited carpet selections for this service, understandable and makes sense. I went to the store to ask about the 3 day install, they kept telling me it actually is 5 day including the measure. We went back and forth a couple times. They say, "It's 3 days from after you get your quote." Ok that makes sense too. So once you get a quote and pay it's installed within 3 days. Great!
I pick the carpet and pad that I want but I explain to the sales person that I am willing to change to whatever is available because I am trying to get this done quickly, the 3 days is more important, I don't want to be stalled because the carpet I selected is not available. (None of the choices are all that great anyway). I scheduled my measure appt. They came the next day, on time, very professional, took measurements quickly and they look accurate. So far so good. The quote was sent by the end of the day. I went to HD the next morning to pay. You have to pay in full upfront.
I notice my order says "5 day install". Arrrgh! I really thought I was clear about getting it done quickly. Ok no problem it's just a couple more days... I get a call from the installer the following morning to schedule the install. They can't come out for an additional 3 days. It's Friday and they are counting business days. So what I thought would be done by Tuesday or Wednesday with a "72 hour install" is now a week from Wednesday! Thing is, if they can't do the 72 hour install why advertise it and just piss people off?

We were trying to get some tiles right away for our home so our builders can put it in. We asked the specialist to get the flooring tiles together so we can get it and be on our way. The specialist was very slow in doing everything. He kept on talking and talking which was very annoying and we just wanted our products. He was very laid back in his work and took his sweet time in getting everything. Making us wait and telling jokes and everything. We got irritated and we started to tell him to go faster yet he just gave us a stare and smirked. Very rude customer representative. Terrible training that was provided to these workers.

Seven weeks ago I bought a house and went to Home Depot for linoleum and carpet for whole house. I was told that I would receive product and it would be installed and completed NO later than the 21 of July. Well here it is the 25 of July and still NO carpet or linoleum has been received nor installed??? It was bad enough when they say free installation, they don't mean everything - just the carpet, no padding, no linoleum - just carpet? That I feel is something they need to let you know. But that was my fault because I didn't ask. But still going on 2 months and still nothing. It's insane!!! If it's going to take months they definitely need to let the customer know before they buy!!!???

We bought carpet for the whole house from our local Home Depot (718 S. Washington Street, Papillion, NE). The installation began on June 15, and hasn't ever been completed. They carpeted 2 rooms (living room and a bedroom), then stopped, apparently because the rooms took longer to carpet than they initially envisioned. The contractors have called 5 times to set up appointments, and then later (on the appointment day) cancelled, causing my wife to stay home needlessly for those 5 days. Our house has been taken apart now for 5 weeks, with all furniture unavailable. Contractor and local store no longer return calls; the Home Depot corporate customer care staff members refer me back to the local store. We made the mistake of paying in advance of installation. Now I believe I will have to start a legal action to get our money refunded. The carpet itself is of good quality, but the installation process has been utterly unacceptable.
How do I know I can trust these reviews about Home Depot?
851,761 reviews on ConsumerAffairs are verified.
We require contact information to ensure our reviewers are real.
We use intelligent software that helps us maintain the integrity of reviews.
Our moderators read all reviews to verify quality and helpfulness.
For more information about reviews on ConsumerAffairs.com please visit our FAQ.

Purchased carpet for 1100 sq ft on June 29 from 7 Day install collection. On day 9, 2 inexperienced installers came & worked from 9 AM-7 PM & the following day from 9:40 AM-4 PM. However as of today July 14 the job is still not complete. They did finish the stairs, but the carpet tacks on the stairs are sticking out & poking us when stepped on. Home Depot representative (Jessica) outright blamed us for choosing lower grade carpet. Never once in the store we were told we are buying carpet that will cause injury to our feet. We are a household with a small child & a pet. In addition Home Depot is ignoring the fact that we were guaranteed 7 day install, but the job is still not done. Very disappointed & frustrated.

Let me start by saying I have a contract, which is not being honored. We my husband and I have talk with manager and asst manager at the Home Depot in Pell City Alabama 289 Vaughan lane, Pell City Al 35125. We have also talk with customer service with no satisfaction and nobody seems to be able to fix the problem. As I stated we ordered carpet on June 15 from this store with the free installation if you buy carpet from them. We paid 35.00$ to get the two areas measured. The areas are 2 outside porches covered and screened in both with carpet already just wanted new. Everyone was told it was going on the on these porches not to mention the carpet I ordered was indoor outdoor. The measure was done, I want to add I ask everyone I dealt with if they thought there would be a problem as the carpet was going on porches and everyone assured me they do outside areas all the time.
3 weeks after we ordered we called the store to see why we haven't heard from them and they tell us they can't do it, we have already paid for the product, when we ordered it 1332.75 plus 35.00$. Their explanation is their installers won't do it. I have talk with 3 independent installers who will do it but Home Depot won't. All I want is my carpet. Customer Service is so unprofessional and management has no problem solving skills. None of these people call you back either, you just have to keep calling them. I will let you know how my problem gets resolved, I don't usually complain but I feel like they do not care about their customers. I will never go to Home Depot after this. And will start posting this on my Facebook page.

I purchased all of the tile and supplies from Home Depot. At every juncture I explained that I emptied the Home Depot of the tile and had to order a pallet online to get the required quantity. I explained at the start, in the middle and at the end that I would have the 3 rooms empty, carpet removed and baseboard removed and all I needed was the tile (purchased as described above). When I purchased and scheduled the estimate, when the estimate guy came out, when I tried to schedule the installation.
One note... During my purchase Home Depot # 1 ran out of the tile and this Home depot # 2 was called and the manager "confirmed" that his store had cases (boxes) of my tile. I went directly to that Home depot and there were zero cases of my tile. I had to collect free tiles on the shelf to compile my cases.
When the estimate was complete it was over $5000. I explained that could not correct, and then the lady at the Home depot flooring dept said that the quote included all of the prep work (which I previously had told her that I would do), the tile and materials (which I had previously told the her that I had purchased from Home depot) and the installation. So she said that would have to be fixed. Of course if she had been listening nothing would have needed fixing.
So when I finally physically went down to this Home Depot as I was scheduled, the lady who could adjust my estimate went to lunch. I left and ran errands and came back two hours later. That is when she said that the Home Depot installers would probably not install my tile because I had a mixed purchase, some from the Home Depot store and also some online. That is when I got aggravated. I asked why she did not tell me this before I paid for the estimate? I had also explained this to the estimate guy. She first accused me of not telling her that, and I immediately corrected her.
I ended up speaking with the on duty manager and she told me the same thing, that the Home depot installers would not install the Home Depot tile because it was a mixed purchase and the tile may not be uniform. I explained how that information should have been relayed earlier. When I made the online purchase at the Home Depot, when I paid for the estimate, when I first asked that the estimate be corrected, at no juncture did these lame employees tell me this SHOW STOPPER information. All I got was my estimate payment back.

3 times I have had a horrible experience with their flooring subcontractor. I have rentals and am constantly buying flooring, appliances, paint etc. This last time they showed up 3 days late, never calling to let me know! I talked to 4 different people trying to find out where the installer was, and was promised a callback from 3 of them, which never happened. I just got off the phone with Kristin at the Aberdeen WA store and she did a perfect job of talking over me and passing the blame along with making excuses. Their service stinks, the work was sub par. They cost me money without even an apology, so 3 strikes you're out. Lowe's has my business now and will be installing carpet in 2 of my units on the 13th.

The carpet quality is fine, everything else ridiculous and could have been prevented. Do yourself a favor and go to a reputable local carpet vendor and not Home Depot even if costs a few extra dollars. You will not regret that decision as much as you are likely to regret buying from Home Depot - there is just no human intelligence, supervision or accountability.
I ordered carpet for two rooms. When the carpet arrived the installer said it was defective and that the layout was wrong--I have to take his word for it. The layout map generated seams that abutted a main entrance door and left a triangle patch at the foot of the stairs, clearly unwise and prone to early failure of the seams even if it saves 5 feet of carpet. The layout map was never discussed with or approved by me and is a good example of why a computer program to minimize the amount of carpet is moronic without human review. So I learned, Home Depot or any other vendor, ask to review the carpet layout map first and don't assume the person walking around your house with a laser measuring device knows what he or she is doing.
Multiple conversations with Home Depot local store and central office resulted in them agreeing to reorder and remeasure the layout. I agreed to pay for any extra needed carpet. The first installer cut the carpet but did not tack it down. According to the second installer he undercut it so that it was unusable even if I wanted to use it in one of the rooms. Thanks, bro. Home Depot did not remeasure anything or generate a new carpet layout map (the installer gets it on an iPad). So the second go round a different installer arrives with the same amount of carpet and the same bizarre layout diagram. There is enough carpet for one room but not two (we are talking just a few extra feet, not a massive amount). It is Saturday and no one answers the phone at the local Home Depot and no one is available at their central dispute service. I am glad they record calls because that will verify what was agreed to, unless they edit it.
So now they are laying carpet in one room, the second room remains after a month empty and torn up. Since Home Depot contracts with local installers they will do nothing without explicit approval. This being Saturday it has taken two hours to get to someone who would do that. To short circuit problems I am willing to pay for a few extra feet of carpet but I still cannot get an answer about that and have an empty nearly unusable room. I'll bet they are going to want to charge me for all new carpet in the second room, a major cost compared what it would have been had they been competent at measuring in the first place. I will fight that battle when it comes, hopefully not. Granted this is a first world problem but annoying and expensive. Home Depot is not much less cost than a responsible local vendor. I have learned my lesson and I strongly encourage anyone reading this to heed my bad experience.

We had water damage to our bathroom floor and needed it replaced. Went to Home Depot. Of course the estimate tripled in price by the time we were supposed to have it done. Installers came out and did a shoddy job. The baseboard was the type for a living room or dining room and was way off scale for a small bathroom. Plus it didn't match any of the baseboards in the rest of the house. Large gaps, bad cuts, etc. SO I called them and complained and had two people come out and look at it. The first was a service manager that took pics and the second was an installing supervisor (he left me with no card so I am assuming that is what he was). He told me all would be fixed, with new baseboard, trim that was messed up would be fixed. He really sounded like he was going to get it done.
Second installer comes out and the first thing he says is, "What am I supposed to do". Are you kidding me. Why would you send people to jobs with no idea of what they are doing? Especially if you are fixing a previous job. He did put the new baseboard down, but the first installers had cut the wall in places so now there are large gaps and chunks above the baseboard because it is a shorter one. No trim was done at all. I immediately called the service manager and he said he would look into it. That was a week ago and nothing. They said this installer (contractor I guess) does the whole area. So in my mind why would they care what we think. Now I don't know what to do. No one does their job anymore. And now we are stuck with this crappy looking baseboard.

We ordered Bamboo floors from Home Depot. They arrived 2 weeks late. That put us out another 2 weeks for installation. Home Depot estimator came out, took pictures and measurements. Everything went south the day we finally got an installation date. I must say before continuing, I have no real problem with our installers Eddie and Brandon. They left a little floor leveler behind on our existing floors, no big deal. Our installers had no idea we have a Murphy bed. Pictures were taken. Next, they had no idea we needed carpet removed. All listed in the contract. Remove the carpet and I get told 1600 dollars for floors to be leveled. My problem is $200.00 in material and 1400.00 in labor for a 2 hour job! I know I agreed to it, but didn't realize that in the time I went home to pack a few more boxes, I got sodomized by Home Depot! I thought this was a bigger job. Not a bucket of screws and some mud from a bag and it only took 2 hours.
Do not use Home Depot for anything. Tried to work with Pat the manager at Home Depot on Princess Anne in Virginia Beach VA to no avail. Avoid Home Depot at all costs. If not, forewarned is forearmed. I'm a combat vet, I'd rather revisit the rag heads than darken door of a Home Depot again. At least when face the enemy, you know where you stand! Home Depot, piss on your back and tell you it's raining!

We went to Home Depot in Milltown NJ to get our carpet. We went to the front to pay and I told the clerk I wanted to pay for everything in full. She charged us $3233.39 and said we were paid in full. She gave us a receipt and stapled it to a pack of paper. Neither myself or the rep reviewed the packet or signed anything in the packet. After the carpet was installed I received a call from Home Depot saying we owed an additional $354.50. I explained to them that we paid in full and they told me we only paid 90% and owed another 10%. I explained to them that we were told that we paid in full and we never reviewed or signed any contract stating otherwise.
I spoke to several people from HD that just kept repeating the same thing and would not listen to me, very rude too, blaming everything on us. We recently received a letter from James ** the General Manager there threatening to sue and put us into collections. That seems like a pretty extreme thing to do without a signed contract. If Home Depot has a 90-10% clause they need to explain it and get people to sign off on it, they did not do that. I feel they need to own their mistake and leave us out of it. We paid what we were told we had to pay. We did not agree to more. I will not go back to a Home Depot again.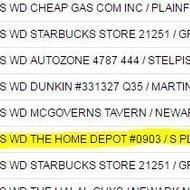 Bought runner from Home Depot about 20 feet. Three days after installing it I started seeing black carpet beetles. While doing a deep cleaning of the house, we found a massive amount of larvae all over the runner. We took the runner out and have spent hundreds and hundreds of dollars on cleaning supplies, laundromats and bombs to get rid of the bugs. It has been over 3 weeks and we can't get rid of them. We been forced to stay with my in-laws because we have a five month old baby and a dog. We have spent over 80 hours just cleaning the house. We had to throw out furniture. It has been a nightmare. Contacted Home Depot and they indicated to bring the runner back with the receipt and they can reimbursed me. We threw the rug out. We don't want it near our house.
The receipt I cannot locate but is not even about the money. The rug itself cost about $30. Is the amount of money and time that we have spent trying to get rid of these bugs that came from a rug that was infested at a store in Home Depot (Piscataway, NJ). I contacted an exterminator to come and fumigate the house. This has been a nightmare. I literally have spend over $1000 trying to get rid of these. I tried writing a review for the rug and Home Depot rejected my review. Do NOT BUY RUGS FROM HOME DEPOT. PLEASE INSPECT THEM.

We had a laminate floor installed by Home Depot and the guys did a wonderful job. So much so, we ordered the next laminate floor from Home Depot also. The catch being they sent different installers. The second installers were at best awful. I wish we would have never left them in the house. They cut my door jambs too short and extremely uneven (1/4 inch height difference from side to side on a 4 inch molding). Cut into custom cupboards, leaving visible cut marks way above the floor, trying to trim them for the floor height difference. Pretty much ruining the molding and cupboard corner and ends. Really beat things up. The floor transition strip had glue squashed out on all sides and peeled up within a week. Not to mention they did not bring the floor close enough to the wall to put the moldings back on without falling to the subfloor. There is at least 1.5 inches of space for floor expansion on the walls.
We also found charges that were not on the bill when we paid it in the store. We did not authorize these charges. Customer service at Home Depot is by far the worst we have ever dealt with. No reputable flooring company would treat a customer the way Home Depot does. Nobody calls back, no one is available in the store, corporate does not call back. You pay upfront, they do a crap job and no one cares. You will need to return extra flooring to the store because Home Depot will order lots of extra flooring and other unnecessary items. Then they come along with the excuse "Pergo won't warranty your floor unless you order these items".
Home Depot offers a one year warranty. It takes weeks to get your money back. The crappy floor installation took place the first week in March and we are still working on getting it straightened out and we are heading into Memorial Day Weekend. The second floor experience by far outweighs the nice job the first group did. I would never recommend Home Depot to anyone I know. In 50 years, I have never had such bad customer service on a home improvement... and so many lies.

We ordered carpet for the basement of our new rental home in another state. We are scheduled to rent the property next week and have arranged to have for all furniture orders to be delivered following this carpet installation. We waited 8 WEEKS for the carpet orders to be processed and installation be scheduled. This morning (morning of the delivery) - after arranging to take the week off from work and drive three hours to the property - we received a phone call from the local Home Deport (installers) that the carpet cannot be installed. We received an email with photos, stating that "The installer would not recommend installing."
While we appreciate the "inspection" of the carpet by the installer the morning of the installation - we are NOT pleased with the quality of carpet Home Depot is providing. Why wasn't this inspection prior to being delivered to the local Home Depot? Why wasn't the carpet inspected upon delivery to the store? If this company wants to live up to its vision of providing quality service and products then perhaps Home Depot needs to reconsider how they do business! WE DO NOT RECOMMEND ORDERING CARPET FROM HOME DEPOT.

I recently decided to put wood laminate flooring into my home. Mind you the area I am doing is not very big but is roughly 400 square feet. I took a trip to my local Home Depot and found out that they do the install for .89 cents per square ft with the purchase of laminate that is 1.39 or more per slat. I did some math and thought to myself ok with the materials and labor and tax I'd be looking at roughly 1300 or 1400. So when I spoke with one of the reps there, he informed me that "Yeah, that sounds about right," with all the costs and fees. So in agreement, he told me that I would have to pay a 50 dollar fee to have someone come look at my home and do measurements which was completely fine with me and he also pointed out that the 50 I paid would be put towards the cost of the job.
I made an appointment, had a gentleman come out for 15 min and then leave. He told me I would be getting my results by email but instead I received it by phone the next day. Let me say it wasn't 1300 or even close to 1400. They told me it would cost 3000, for the install of a 400 square ft home. Can I say, "Wow you cannot be serious." Immediately I drove to the store to find to my surprise nobody there to help me and when I did find someone, she finally pulled up my order form and with a sign right behind me that says NO HIDDEN FEES, she began to tell me about all the hidden fees they throw in. AWESOME RIGHT! So as I stared at her in total disbelief I said, "Ma'am, the only reason I came and paid my 50 dollar deposit was because I was misinformed by one of your coworkers. But now you're telling me I literally just gave you money for no apparent reason and it's nonrefundable."
Now I'm sorry but how are companies allowed to pull stunts like this and take people's hard earned money with a total disregard or lack of common courtesy or decency. It's not like I have money floating around my home. I honestly wonder how much money they make off of people like me each and every day. Home Depot needs a change and hopefully one day someone can bring them down.

Lied to by store employees and management - I placed an order for 45 boxes of tile at Southside Home Depot in Jacksonville, FL. When it arrived on May 3, 2017, we sent our tile guys over to pick it up. They started laying the tile, but mid-day they came to me and informed me they didn't have enough boxes. We counted the empty boxes and there were 32. I called up Home Depot and asked the tile guy (Joe) where the other 13 boxes were. He said he put them all on our tile guy's truck. I said, "Did you count them?" He said, "We put them all on." I said, "Did you count them." He repeated his nebulous answer. I repeated the same question 5 times, and 5 times he insisted they put the entire order on the truck. Furthermore, he informed me it was fruitless for me to complain because the tile guys had signed the pick-up confirmation form which stated 45 boxes had been picked up.
I got off the phone and began to wonder if my tile guys had stashed 13 boxes away somewhere. I told them that Home Depot said they picked up all 45 boxes. They were infuriated and started speaking words in a language I couldn't understand. I checked their truck and didn't find any hidden tiles. Next I went to my computer and checked the time of my e-mailed pick-up confirmation. It was 8:53am. And the tile guys arrived at my home a few minutes after 9am. My home is 10 minutes from Home Depot, so I realized the tile guys didn't have time to offload 13 boxes of tile somewhere. I then asked the tile guys if they signed anything. They said they signed nothing. I then started to suspect the Home Depot folks were lying to me.
I called the manager and he reiterated the same false story that Joe told me. He did walk around the store while I was on the phone with him and he said he didn't see the other 13 boxes anywhere. He insisted the tile guys picked up all the boxes. I told him the timeline didn't add up. I then insisted that he pull the video of the loading dock for that time period. He said he would, and that it would take a while, and he would get back with me. He never did.
However, a couple hours later Joe called me back with a very different attitude. I couldn't take his call at that time, but he left a message saying that they had actually only loaded 32 boxes onto the truck. Eventually, after several calls to the corporate office, Home Depot did refund the other 13 boxes, and gave me a small discount and free shipping on re-ordering. However, it would take another week to get the tiles in, so our floor was one third unfinished for over a week.
While I appreciate Home Depot's attempts to make it right, the problem at this store is a mindset that the customer and his workmen are lying. That created a lot of friction with me and my workmen, and I spent half a day calling Home Depot multiple times, talking with the corporate office, trying to calm down my tile guys, and then re-ordering the missing tiles. It was a real circus.
This all could have been avoided if the store employees had followed the proper protocols of counting the product before they released it. Even if they failed to count it, they could still have avoided the problem by admitting they never counted it instead of lying and trying to cover up their blunder. I have since bought over $1000 of purchases at Lowe's (stuff I would have normally bought at Home Depot). It will be a long time before I shop again at Home Depot.

I ordered a 6' x 8' end of outdoor carpeting. It was less than $30. There was NO mention of shipping. AFTER I placed the order, I was billed $118. It immediately went to my credit card, literally in seconds. They had changed my order to TWO carpet ends, and added FIFTY FIVE DOLLARS to ship them. I tried to cancel online, but there was no response when I clicked. I tried four times, just to be sure. I tried to call, and again, was unable to get through all their lineup of "selection". There was no mention of cancellation of an order. In my humble opinion, that is fraud at best, and outright theft at worst. I will use my Chase credit card to contest this insult. They will never have my business again, and I will tell all my friends and online acquaintances about it.

We had whitish-gray backsplash tiles installed on April 24. The next day, with the supervisor present, both men (installer and supervisor) were mumbling about the grout and tiles. Neither said anything to me, the homeowner. The problem? The grout was changing the color of the tiles from very light gray to brown. Later, I learned that the supervisor told the USIG manager they had turned to dark gray, as if that was acceptable. While they were there, I noticed the tiles seemed darker, but didn't realize the extent of it until they left and I had a chance to appraise it properly. When I called USIG the next day, they said to wait a week for the tiles to dry, apparently to see if they would change color back to light gray. They didn't.
By this time I had remembered that the young installer, who didn't speak English and had to communicate via a translator app on his cellphone, had given me a container that he didn't use, saying I could return it to get my money back. When I looked at the can, it was Grout Release and clearly stated that it must be applied before the grout to "Protect against grout staining tile and stone." He didn't apply it! Moreover, he had spent time installing tile in an area that was not indicated on the specifications. I wanted him to leave at 5pm, but he insisted on staying until 8pm to finish. Apparently, he ran out of time (by wasting an hour doing the wrong thing), then cut corners by not applying the required Grout Release that was part of the job.
When the inspectors finally came (after several phone calls) on May 3, they agreed to pay us for the four tiles that should not have been put up ($50). They told us the color of the tiles was "close enough". Ha! If I can upload pictures, anyone can see they are completely different. They did not offer to replace and re-do the job correctly, or to reimburse us for the labor and time spent on tiling the wrong wall. They also offered to give us credit for the extra supplies to save us a trip to Home Depot (we've been back twice to talk to managers and could've returned it ourselves). I haven't seen any refunds, as yet. They also offered a $150 credit at Home Depot (haven't seen that, either). None of these "offers" addresses the fact that our once-beautiful kitchen is now covered with muddy-looking backsplash tiles. We wince whenever we go in there.
One more thing, both the installer, supervisor and regional managers explained how we should apply the can of "sealer", which came with the other supplies, when the tile dried. We have no intention of doing this since we hate the brown tiles and don't want them permanently sealed. However, we realized that we had not bought a "do-it-yourself" kit, and it was their responsibility to apply this sealer. We did not sign on to do the labor ourselves. At this point, we are waiting to hear from a manager at Home Depot, who is trying to discuss this with USIG and get a satisfactory resolution for us. We do not want to communicate with USIG directly since we've only gotten the run-around.

I paid $50 for home measurement for carpets. The company Home Depot uses applied my payment to another Customer and never set up an appointment with me. I had to call multiple times and get a Supervisor in order to get someone out there, took my whole morning. Next, the install got scheduled a month out and that doesn't work for me. So they gave me an appointment yesterday for tomorrow. They called this morning and said their van broke down and they can't come tomorrow so they're going to come not this Saturday, but next. I took the appointment. They called a couple of hours later and said they can't do that, they need to come next Wednesday. I called, sat on hold for a long time, and the person who schedules is at lunch and I was told to call back in 30 minutes.
No. I have had nothing but issues and I'm being told these 3rd party companies are the only ones that Home Depot goes through. It's awful, time consuming, stressful and I will NEVER go through Home Depot again. My Dad just passed away and I need new carpet to get a renter in the home to cover the mortgage cost and Home Depot has made this process so much more stressful and painful it makes me sick. These 3rd parties are failing to follow through and no one should be subjected to it. JUST MAKE AN APPOINTMENT AND KEEP IT!!! I have receipts and order numbers to provide, but there are so many of them from all the changes that I don't even know what to provide.

Do not EVER order appliances or Carpeting from HOME DEPOT. Their contractors do not fulfill their obligation to your purchase. Stovetop still not here. Nor the phone call day prior to delivery. Carpet installers show up. Make excuse to not do job. They then decide after my phone calls to do all but one room. Then they can't come back tomorrow? WTF.

On March 3 2017 we make a carpet order for our house and make the payment and the salesman told us that the price of the carpet was different online but he will take the order and later on will go back and change it. So then 1 week later then came the measurements and it was less than what I was expecting so I changed the carpet for more expensive carpet and the same salesman said "OK will change it for a better price and better carpet."
So then they set up the installation day for 4-13-2017 and I call my husband to tell him that the carpet was not the one we order so I call the salesman and he said we need to talk to the manager, so we went to talk to her and she assured us that the installers put our carpet in a different house but since this wasn't our fault that will take care of us and told us so sorry and the carpet will be install in 4 days and that will compensate us for their mistake. Well they took 10 days to schedule the installation, well they call and five us 4-19-2017. Told them OK. Well the installer call and day before to tells us that they won't be able to install the carpet due to personal matter and hang up. Well I was totally upset so I went and spoke to the manager again and said she will make some calls and will call me back.
Guess what, she never did, so on 4-24 they show up and install my carpet so then I when the to talk to the manager again to get my compensation back and she said she can't do that and we need to talk to the manager, so we spoke to other guy and he said "we will give you $100 dlls of compensation" but never want to give me the difference of the carpet back and he was so so unprofessional and DESPOT and said "take it or leave it", so I walked out and file a small claim.

Purchased 6 boxes of TrafficMASTER vinyl tiles. Day after installed tiles lifted throughout kitchen. Home Depot employee stated, "It's defective product, several returned," "Manager back next week can only do returns." 6 days later I'm told by manager, "Can't help you, you didn't clean surface right, not responsible for your errors." I'm out $300.00. Horrible product and service. Manager would not let me speak or explain a professional floor installer did job, kept cutting me off. Now have defective tiles as floor, covered by carpet (so I don't trip or fall), unable to afford new tiles, and Home Depot won't even take responsibility. I'm a senior citizen on fixed income, just disgusted...

I was very aggravated, right off the bat, when only one person showed up to install, because we had furniture to be moved. The company called us the day before to review our order, and stated that we were to have furniture moved. Then the company called that morning to tell us the installers would arrive between 8 and 11 AM, and again, stated that our furniture would be moved by them. As my husband and I are older, and both have had recent injuries, we could not help move furniture. I called USIG and explained the situation.
I was told that they would send someone from the warehouse. Our installer was great. He measured and started cutting the padding, while waiting for the second person. Eventually, someone came and helped him move the furniture, then left, and came back to help Jesus move the furniture back. This was an unnecessary aggravation, as it was well-noted that moving of the furniture was part of our work order. The carpet installation, clean up was excellent, but our installer seemed a bit upset, as well. He was very conscientious.

Purchased whole house carpet 1/19/17. Installed over 2 days: 2/7/17 & 2/8/17. Receipt not detailed to show that they make you purchase 30% or more square footage of carpet than you really need. Installers only spoke Spanish and left cigarette butts in the yard. Packed ALL furniture in other rooms which was ridiculous. Kitchen sink, refrigerator, everything was blocked off from 8am to 8pm. Forced to eat out entire day - extra expense. Even blocked bathroom with the couch. Stacked table with metal feet on top of desk that made huge scratches through the finish. Put very heavy metal file cabinets on top of delicate, fragile China cabinet and scratched it. Forcefully dragged couch with wood feet across tile floor taking all the finish off the legs of the couch. Hit dining room chandelier at least 7 times with it swinging back and forth. Used my vacuum, and broke it.
Did not vacuum floors before installed new carpet over the top, even with my request TWO times to do so. Had to pay $220 from a separate moving company to move the piano and pay $135 for them to move the China cabinet. This is NOT a free install. Bedroom seam 1 foot inside doorway that we complained about they denied it was a seam. WHAT??? It's obviously a seam. Dining Room seam also 1 foot inside main entrance, very visible. Two inch chunk of carpet on the stairs that is clearly a visible hole. Installers didn't want to install the carpet on the stairs because the edges need to be folded over and it's very time consuming. They told us we need to get the edges bound and had us call the store to inquire. The store explained it would be 3 weeks and an extra $200. We finally told them to just install the carpet as they were supposed to. It was obvious they just didn't want to do it.
We complained about the above issues and over the next month, had to arrange schedule to be home to meet Home Depot inspector, Shaw floor/milling inspector (since Home Depot didn't want to admit wrongdoing and blame it on the mill). 3/6/17 FINALLY after months of phone calls and putting up with Home Depot lies after lies, supposedly they ordered new carpet and will replace the Dining Room. Even though the entire first floor actually SHOULD be replaced plus the hole in the carpet on the stairs plus the one bedroom with the seam in the wrong place. Home Depot lied so many times and never called when they said they would. It was obvious they were just waiting or hoping we would just forget about the whole thing.
I could have filed a claim for the damaged furniture but didn't because the bigger issue of our dissatisfaction with the installation wasn't even being addressed. I was assuming damaging our furniture and breaking the vacuum wouldn't get a response either. 3/15/17 Received call from United to schedule the re-install for 3/29/17. Today is 3/29/17. Installers were supposed to call by 10 am to give us our window. It is 10:30am and haven't heard. Of course I called them and was told they would call me back. I've heard that one before. This is such a mess. If you take anything away from this review, just don't use Home Depot for carpet. It is not worth anyone's hassle, time or extreme frustration. They are non-responsive and this has been a ridiculous process. I'm hardly comfortable giving them even 1 star. I wish ZERO stars was an option.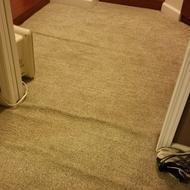 Sadly, I did not read the carpetprofessor website, which warns against big box stores like Home Depot for carpeting. I had a higher end carpet installed in 2007. I used Home Depot's contractor. Within a week it had wrinkles all over, but I didn't do anything because of the hassle of moving furniture and lack of time. In the process of preparing to sell, I had a stretching company come in. The installation was incompetently done, bent wood nails where there was cement, far more seams than there should have been, and the carpet was delaminating like a zipper.
Note that the Home Depot warranty for delamination: ONE YEAR. Yup, and because I used Home Depot's installers, they of COURSE would not mention if they were installing old, delaminating carpet to begin with. So why two stars and not one? Because when I called Home Depot with this, they always promptly responded and were courteous right up to the point where I learned how poor the warranty was. So... kudos for customer service, but a big STEER CLEAR based on product and services.

First, the estimator who came out to measure didn't do correctly. Then they ordered wrong materials, then once they got to the installation date, they required $1300 more before they would start the job. Then they required me to go to the store that I ordered from to make the payment, instead of taking payment over the phone. They sat in my front yard, not working for 3 hrs. Then, the installation looks AWFUL! My living room is sunk in, so you have to take a step down. It looks different on all 3 spots. They didn't use the right piece in 2 spots. They didn't glue down the transition spots between doors. I would never never never let someone I know use Home Depot for laminate flooring. Ever.

I bought the carpet and get it installed by Home Depot installer (G.S. Floor Designs). While installation, when they were bringing the big carpet rolls they damaged couple of my door frames and when I reported the problem they refused. The service of the installer from Home Depot was the cheapest service I ever had. I don't suggest to get carpet installed by G.S. Floor Designs from Home Depot.

I ordered 97 boxes of 6x24 Montagna Gunstock Porcelain Tiles on 02/25/17. I was called on March 1st to tell me the floor was ready for pick up on Saturday 03/04/17. We get there about 4 PM Saturday to the customer service desk and the employee there told me that they have been working on my order ALL day long to piece together my 97 boxes. And I asked, "Why?" when I ordered 97 boxes. He says, "Well they are different dye lots..." and I asked why? Since the whole purpose of ordering 97 boxes was to have them in the same dye lot. He further tells me that I could take 27 boxes on a pallet they had ready today. And I'm like NO! I need ALL my 97 boxes today. I immediately asked for the supervisor/manager.
The supervisor comes and tells me that she will figure out what's going on and walks away with an employee as the employee tells her what's going on. She later comes back to me and tells me that the employee that entered my order did not specify that I wanted ALL 97 boxes from the same dye lot!!! I said, "Fine! But where are ALL 97 boxes from the different lots that she ordered?" And she couldn't answer me. She said for me to call her on MONDAY which is today 03/06/17 and see what she has resolved or we might have to just re-order my tile again (another week or so wasted again).
It has been such an inconvenience to me! It's costing me money. I paid a friend to take me with his trailer to pick up my tile and it was a waste of his gas and his time. I had told my installer that I was ready for him to start on MONDAY but then I had to call him Sunday to cancel and he's pissed at me because I kept him from taking another job. I called HOME DEPOT at 1 PM today and they tell me the computer system is down and not able to give me an update on my order. The lady that answered the phone told me to call her back in 30 minutes and she also said she would talk to the supervisor/manager to see if she had an update. So I will be calling them in just a few minutes. This has been a nightmare and I am wasting people's time and my money!!!
Home Depot Floors Company Profile
Company Name:

Home Depot

Year Founded:

1978

City:

Atlanta

State/Province:

GA

Country:

United States

Website:

http://www.homedepot.com/