Consumer Complaints and Reviews

We had Pergo Flooring installed by Home Depot. They subcontract Superior Installations Corporation of IL. Located out of Chicago, they proved to be one of the very worse companies our family has ever dealt with. They took 2.5 months to install flooring in the St. Louis area. Throughout the process their staff consistently lied and provided excuses for not installing. We even had an outside professional check their criteria for accuracy. When Home Depot would step in they would jump to attempt to correct. They finally sent multiple crews to our area once caught up in their lies by Home Depot.
I cannot caution you enough about using this combination for flooring. Long after the taste of sweet pricing from Home Depot, the bitterness of poor service and complete deceit by Superior Installations Corporation of IL staff still exists in our family. There is one day in months that we haven't been reminded of how horrible our experience really was. Doing business with Superior, our recommendation to you... Just don't do it.

It's been over a year now since I had Home Depot install my new carpet through their contractor. I'm writing this review now because I just finished vacuuming my carpet, and every single time I do, I realize more and more problems and issues with my carpet. The first time the carpet was installed was so bad that we had to have them reinstall it with brand new carpet because it couldn't be salvaged. So, after having to miss work 5 times for this process (1, to get measurements which is fine and understandable when buy new carpet. 2, for them to install the carpet the first time, again understandable. 3, for them to send someone out to take pictures and examine how terrible the first installation was, 4, for them to come back and reinstall new carpet, which they put the measurements in feet instead of yards which brings us to 5, for them to reinstall again)!!!
After the carpet was finally installed the second time, it looked much better than the first. I could go through and nitpick, but after the ordeal we had already been through, I was like "forget it". But after over a year I am compelled to write this review because I just finished vacuuming and I am so sick of seeing gaps between my stairs (I can fit my finger through it at touch the flooring below in multiple spots), and the piling that they pulled up and out when they apparently were stretching the carpet (I have to go through and give my carpet a "haircut" because there are all these strand that have been pulled up everywhere)!!! I will NEVER, EVER buy carpet from Home Depot again!! My carpet already looks like it need replace because of the terrible installation job!!

I recently had a bad experience with Pinnacle Building and Contracting here in Wildwood, NJ. I needed two replacement windows for my home. I went to Home Depot in Middle Township to see what they have to offer. I spoke to a salesperson at Home Depot about the windows they offer and to learn if it was possible for me to install the windows. I quickly realized that I was over my head. The salesperson suggested that Home Depot could help with the installation by using one of the approved Home Depot installers. I left my information, with the intent that an installer would contact me in a few days. Over a week later, a person who identified himself as George ** from Pinnacle Building and Contracting here in Wildwood. He wanted to make an appointment to measure the windows and leave me with a price. George ** arrived an hour late, and continued to say that he was very busy and that is why he is late.
He measured all the windows in my home, but told him I just needed two. His first price was for all the windows and told me that he was not interested in installing only two windows. He then explained to me about the Pinnacle Building Home Maintenance Program. He explained that if I signed up for his program he could give me a discount on the windows and the installation. He told me that if I paid Pinnacle Building $60.00 a month he would come to my home once a month to see if I needed any work done, that he would guarantee the installation of the windows and he would do the installation of two windows as soon AS POSSIBLE. After George ** left my home I reviewed the information and the numbers he left. I quickly found that this is nothing but a con job. Here is the reality of his offer. The price of the two windows was broken down into two areas, the cost of the windows and the cost of the installation.
His price for the windows was double the price quoted at Home Depot for the same window and the installation was twice the price I received from two other installers. George ** goal was to get me to purchase the Pinnacle Home Maintenance Program where he wanted to charge me $720.00 a year for the privilege of having George ** and Pinnacle Building and Construction come by my house once a month to see if I need any work done. I have been in Wildwood for more than 25 years and it appears that George **, who's family owned Dracula's Castle before it burned down, is bring the same business practices, that are well known, to the home improvement business. George ** gave me a list of people who are part of this Pinnacle Home Maintenance Program.
I called three of the individuals who said they had the same experience but after he reduced the price of the job that was more in line with other companies in the area, they had the work done but did not take part in the Pinnacle Home Maintenance Program. I hope homeowners and commercial property owners read this review and avoid paying $60.00 a month for a program that has no value. I give Pinnacle Building and Construction 1 star because of their Pinnacle Home Maintenance Program and business practices here in Cape May County New Jersey.

Last year in September 2015 we ordered carpeting for 3 bedrooms, home theater and stairway. After it was measured we changed the carpet choice on the stairs and bedroom after the salesperson suggested we go with a lower pile for the stairs and higher grade carpet for the master bedroom. When the installers arrived I checked the carpet before they installed it and the carpet for the master bedroom was incorrect. No apologies. Had to move the furniture back and wait another week, move the furniture back out and it was installed.
Last month I ordered carpeting for a home office and hallway to match the carpet on the stairs. The salesperson assured me they had the correct information after I told them what happened last year and he said he saw a note that the carpeting had changed and the installation was incorrect initially. My daughter stopped in the store one more time to verify the carpet and took the swatch to the desk and he confirmed that "Yup that is what I have." Yesterday the installers arrived and this time I didn't verify the carpet before they started and after 1 1/2 I walked downstairs to check on progress and found again it was the wrong carpeting. They used the same carpet type at the bedroom instead of the stairs.
Home Depot has offered me $200 discount if I keep the wrong carpet but it turns out they charged me for the wrong carpet that was over $400 more. Huh. I get the wrong carpet, you give me $200 but overcharged me $400 and I get to waiting 6 weeks before the correct carpet comes. I will never order anything from Home Depot again.

We picked out carpet for our home at Home Depot. We decided to do our entire home and they had to come out twice to measure. They lost the first measurements for over a week and after multiple phone calls and trips to the Home Depot in Shakopee MN the measurements were finally found. We ordered the carpet to be installed by the sub-contractors at Home Depot. Initially we were told it would be 2 days to install and then they changed that to one day to install. The installers arrived on Friday December 2nd. We had been told that we could leave the big couches in place and they would move them. I asked the installers if they could stretch carpet in 3/4 of the rooms in our basement, and then go upstairs to work for 3 hours while I transferred some larger items out of the final room. The transfer would take nor more than 30 minutes. They mulled around 45 minutes in our lower level.
We finally went down to see what they were doing. Three carpet installers were standing around and said we can not do this today due to you have some extra items in one room. The initial plan was for them to install the carpet up to that room and then do other parts of our home and we would remove the items in that room about a 30 minute process. I begged them to stay, and promised I would spend no more than 40 minutes transferring all the items to the garage. They walked out the door with no communication to us for the reason for their departure. We called the flooring dept at Home Depot and spoke to Randy who said they can not do it today since the house was not ready, and we could reschedule. We had moved most of our furniture and
furnishings to prepare for this about 8 hours of work on our part.
We have spent a lot of time on the phone talking to Ryan the store manager at Home Depot. They never answered the question as to why the installers left our home and why they could not install the carpet. We are going with another carpet company that values their customers and is willing to work with us. The company we are going with stated that rooms get their carpet stretched individually. It is no problem if bulky items such as weight lifting equipment, bed frames etc be transferred to carpet that has been installed.
In the new company's words "Why would we make you carry heavy items up steps and into the garage when you can simply put them into a room that has been finished?" That is called common sense and good customer service - which Home Depot sorely lacks. We are now being penalized $750.00 for cancelling the job. Do NOT purchase anything from Home Depot that needs to be installed. They have the worse customer service. Buyer beware!
How do I know I can trust these reviews about Home Depot?
671,681 reviews on ConsumerAffairs are verified.
We require contact information to ensure our reviewers are real.
We use intelligent software that helps us maintain the integrity of reviews.
Our moderators read all reviews to verify quality and helpfulness.
For more information about reviews on ConsumerAffairs.com please visit our FAQ.

I purchased carpet, padding. Paid for installation on 11/18/2016. As of this review I have yet to have it installed with the date of 12/20/2016 which I am not happy with. I can't decorate for Christmas without have to take it down before Christmas. I contacted Home Depot as soon as I heard that they weren't going to be able to install it within a few days of purchase. I contacted Cooper Installation, this company installs for Home Depot and they weren't concerned with my unhappiness and neither was Home Depot. One dissatisfied customer. It will be almost a month after paying for my carpet/install/padding that I get the product. Sad...

The ceramic tile installation of the perpendicular lines are uneven, and the carpet installation, the edges were uneven and not tight enough. The trims all around the walls were also nailed down incorrect, and the nails were also above the trims which creates caution. The transition from carpet to tile is also unseparated, and after asking for a separation of it we were charged for it. We were also blamed for what we didn't do with solid evidence, and because of this if we wanted a repair of this blamed incident there would have also been a fee. This also is not the only blame, there were many others as well.

We recently purchased carpet for our living room, dining room and master bedroom. After 8 months of reviewing the small 4" X 4" color samples that come in numerous degrees of shades, we chose an off-white/cream with gray and black flecks and a bit of brown flecks. The carpet looked and felt sturdy, with tight twists that looked like a dense pile carpet, which is what we wanted so it doesn't mat down. We could have gone with the same carpet type on a 7-day discounted option, but the colors were limited with lots of beige options which I adamantly did not want, therefore we paid almost double to get the exact color we wanted. However, now that it's installed, the color looks like a peachy beige when direct light is not on it and the quality does not appear to the same either; the twists are thin and the carpet is flimsy. We are SO disappointed as we now have peachy beige carpet that clashes with our home decor.
Home Depot initially stated that they would stand behind it and rectify the issue, as the assistant manager admitted he saw the peachy color as well. The carpet installed has appears to have more lighter brown fibers causing the reddish hue. I noticed the color immediately when the installers came, and the roll was on the truck in our driveway in the shade (where the color shows most as peachy-beige). The installers said I could refuse the carpet, but what pressure when our house had been emptied of all furniture, including our bed, and the installer said it would take another month to get a new order -- the thought of all the work we'd done to prepare for the installation and then to put it on hold seemed too much (folks, hind-sight: don't let this affect your decision to refuse the carpet).
Plus when they cut a piece and brought it inside in morning light, it looked closer to what I'd ordered, so they installed it. When the sun goes down or any slight shade falls on the carpet , the rooms are noticeably a darker peachy-beige and not the creamy gray we selected. Home Depot said the mill manufacturer said it's "Snow Bank", what we ordered and it's "close enough" so there's nothing they can do. They talked about dye lots being different -- so, if the dye lot causes the color to be different than what we selected but the mill labels it with the same color name, the mill is right and the customer is wrong, and we're stuck with it? That's fraudulent!
I told Home Depot that this is the manufacturer's issue and they needed to ensure their vendor provides the correct color and quality that THD is selling to their customers if they are going to stand by their products. But this is not the case -- Home Depot does not care about satisfying or retaining their customer, but only retaining their vendor apparently. We're fighting this - any suggestions to help would be welcomed.

Truly appalling customer service. We were told our flooring had come in and set a delivery date. They never showed up. We called several times and kept getting transferred. No one knew the status of our situation. We spoke yo the GM. He never got back to us. We called the CEO's office and the secretary never got back to us. The flooring was finally delivered per a random phone call one day. The delivery guys put the flooring in our garage which we have now found out will not be sufficient for the flooring material to pass the temperature acclimation period. We are now arranging with Home Depot to have delivery guy come back out to move the materials into the house from the garage. Dealing with the midtown branch of Home Depot has been a nightmare. The is a complete lack of knowledge and concern for customer service yet we, as customers are paying thousands of dollars. Unacceptable!

Scheduled a carpet measuring with my local HD store. On my first trip to the store, the flooring department attendant said their systems is down and took my info. I returned to the store the following day to schedule the measurement phase; agreed on a time when the tech would arrive, anytime after 1 pm (I gave up a whole evening for the tech to arrive). Evening before the tech was scheduled to arrive, the tech calls late evening and said she could do my measuring at 8-10 am, and she wouldn't reschedule to accommodate my schedule the store attendant had noted on the instructions. Trying to explain the store attendants notes about her scheduled 1 pm evening arrival, and the tech #** said she had customers to attend to, then hung up on me! I thought I was a customer!!
The following morning, a customer service person from Michigan calls to see when I want to reschedule since I couldn't meet the measuring techs schedule. I explain the evening's conversation and ask for a refund for the measuring fee; she can't do that, said that a store rep has to do that. I call the store that evening, I was transferred around a bit, hung up on once, then finally get a customer service person to do my refund. Sorry for the long drivel but, bottom line, my opinion is to stay away from Home Depot!! Apparently, they are not in the carpet business (or customer service business either)! Their free installation lure looks great but if the measuring phase is such an ordeal, imagine what the installation and warranty follow-up would be like. My opinion, go ANYWHERE ELSE!

A month later, I have no floors. Home Depot store representatives have no knowledge on floor installation and should not be taking orders. I purchased materials, 10/11, and first was not told the 7-10 days meant business days. 11/11 I'm scheduled for installation and installers tell me it can't be done because they can't put laminate on top of particle board since parts of my floor are uneven.
Problem 1 - I told Home Depot store that wood was not under the floor, why was wood put in order. I was never told it depended what's under floor. The measuring company is a different company, not knowledgeable to look under carpet. Problem 2- Cooper Installation doesn't know a contractor that could lay plywood. Suspect. Home Depot store had no recommendations. Problem 3 - I was treated as if it was about money. All they wanted was me to get a credit card. I waited a month for floors, that's what I wanted.
I was able to return the installation, but materials were special order. I'm still without floors due to regular sales people, selling a specific product, with no knowledge. Would you go to a dentist instead of a lawyer if you got arrested?! I went to Home Depot because of their expertise in flooring but it was a disaster. Worse experience. Do not use them until they change policy and become a more transparent company on the floor installing process. A $100 gift card does not rectify 646 sq ft bare with no laminate when I only went to Home Depot for laminate flooring. I never would have shopped there.

I purchased Pergo XL flooring at Home Depot. I bought the installation provided by USIG (Attleboro, MA/ RI area). I picked up the flooring myself. USIG scheduled the install, 2 installers showed up, showed their badges, they were knowledgeable, and friendly. The owner of the company did a surprise inspection and asked if I was happy, I told him absolutely.

Bought this product because of the 7 day installation guarantee. Not only it took them 30 days to finally come home but when they did it was a complete mess. We ordered 2 runners and as they didn't have those, they tried to build them right here which ended up in destroying my stairs and, of course, having to send the runners back to the store as they didn't work. When they left (with 2 tools they borrowed from me and never returned) the house was a disaster, with staples all over the place and basically chaos on all the rooms.

I purchased tile floors and grout from Home Depot in August. It took until the end of September for everything to be delivered. When I called to inquire on the delivery I was told "hang tight honey". That should have been my first red flag and I wish I would have cancelled then. Once the product was delivered I had to call the store to get a date on installation. That should have been the second red flag. The installer called me a few days later and said it was a lot of work to be done. He sent out two day laborers who removed glued on wood flooring and tile in less than four hours using a chisel to lift the wood subsequently pulling up the subfloor with the wood. The tile was also chiseled up leaving pits and ridges in the subfloor and the day laborers posing as flooring specialist left all of the old grout behind.
Home depot then told me they were now unable to install the floors because they are too damaged. When I tried to return the product and cancel the entire order they were going to charge me over a thousand dollars for the demolition/destruction of my subfloor. I feel stuck like I have no recourse. This big corporation subcontracted out to inexperienced installers that destroyed my floor and now I am living in a house with bare floors. Negative 5 stars for home depot.

I have not had a good experience with Crew 2. We purchased carpet from Home Depot to be installed by this company. Part of the contract was for Crew 2 to move furniture in the home which is the only reason I purchased through Home Depot. The 2 carpet installers showed up today, were very unprofessional and it seemed as though they wanted to get the job done as fast as they could. First they argued with us about moving furniture which we had to help with, moving it onto our deck. Then when they finished taking out the carpet and old pad, they began the clean up process and used their vacuums and had no care for our trim which now has many nicks and scratches in it. Then when my husband asked them to please be careful since we just had the trim redone, they walked off the job saying that the job was too risky for them.
They said they only have insurance up to $3000 to cover any damages and literally just left our home. So, now we have no carpet, walking around on subfloor with nails everywhere and Crew 2 does not have a backup to install today. I guess we will be staying in a hotel tonight. Very disappointed in the service we received from the installers.

We ordered carpet from Home Depot, and told the sales associate that we had a cardboard type flooring on top of the wood floor. The associate said it was ok because their latest promotion includes free "floor tear-out". We took a credit card out to purchase the service and carpet, and we had a quoter come to our house, where we explained to him that the top level stuff had to come off because it was old and deteriorating. Now the install guys come and say they don't do flooring, and they only pull up carpet, which isn't mentioned in the sales flyer given to me, and it wasn't mentioned by the two store associates (one who came out to our house to do measurements).
It is fraudulent they can put whatever they want on flyers and quoting sheets and not have to comply with their own promotions, which specifically says "floor-tear out", what would you think? And this flooring was supposed to be installed within their guaranteed 72 hour time frame, which won't happen now also. Worst company to do business with, the managers couldn't give a rats ass, so I filed a complaint with the Ohio Attorney General's Office.

On 6/13/2016 my husband and I went to our local Home Depot to inquire about flooring, Big Mistake. We did decide to have our flooring installed by them. After numerous issues - losing/messing up our order several times, not getting the shoe molding we ordered (sent fake, not real wood), the base boards were gouged out (my husband had to repair), the installer (the first one) being at our home until 1AM (from 8:30AM), the others not showing up for the carpet install (had to reschedule that a couple of times), the store Manager ** never following thru with anything. There is so much more to this story, I could go on for days.
We spent our entire Summer dealing with incompetent sales "professionals" at The Home Depot. It took literally all Summer to get the floors installed... Today is 10/17/2016 and we have yet to hear from anyone about our supposed credit for our troubles. I am truly exhausted and do not feel like fighting anymore. I guess that is what they hope for. My advice to anyone that considers getting their flooring from The Home Depot... DON'T DO IT!!!

I feel compelled to write because I was just sifting through some of the negative reviews of HD and their installation. I worked with the Home Depot in Kitty Hawk, NC on extensive renovations to my beach house. This past spring they did carpeting in 3 rooms, tiles in essentially the entire ground level, and hardwood flooring installation in 3 bedrooms, a large hallway, and a STAIRCASE! My needs were unreasonable -- they had like a 2 week window to get it all done -- but they exceeded my expectations every step of the way! For starters, Brenda, in the Kitty Hawk store was brilliant in figuring everything out. The plans and estimates were spot on, which paved the way for a successful installation. I read negative comments on Romanoff installation in another HD review... I disagree! Romanoff did all of the installation for me and the people were GREAT!
The people on the phone, helping schedule this, bent over backwards to make things happen, and even proactively phoned me to avoid issues. The workers who came were great, and did a fantastic job, truly! A special shout out to the tile people... I could not be happier with my decision to use Home Depot... I am now looking to work with them on renovations to my house in Dallas.
Folks, I highly recommend HD. I see the negative reviews and am surprised, but then I realize that this is a national company that does such a high volume -- and yes, using third parties -- so it's inevitable that there will be some bad experiences. ** I've attached photos...one shows hardwood in a bedroom, one shows carpeting in a bunk bed room, and two show tiles in a game room. The photos don't do justice to the work, but they're the best I have...

I bought flooring from Home Depot in August of 2015. Four months later, I noticed the laminate tiles was lifting in the seams. I called Home Depot, and they sent someone to my house. Home Depot said they would replace the tiles. 2 weeks later, I get a letter from Home Depot in Atlanta telling me that the floor was discontinued, and they could not honor the warranty as the floor was no longer available. When I purchased the flooring, the salesperson said it was guaranteed for one year. Isn't this misrepresentation?
They also told me the flooring was perfect for kitchens, then the installer, East Coast Flooring told me that I could not wash it with water. The Sales Rep never told me that either. I had a 2 year no interest plan, but I was only making the minimum payment 'til it got resolved, then Citi Financial Services slapped me with a deferred interest charge of over 600 dollars. I called Citi, and told them my story, and they said "Too bad", I should have paid the bill off, and it is not their fault. The retailer, Home Depot lied to me. What a racket!

Do not have Home Depot installed your carpet. They installed the wrong color and will not correct the problem. They are blaming the manufacturer for the color difference when they installed the wrong color.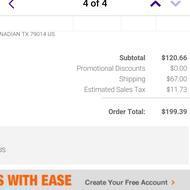 Ordered some wood flooring and underlayment padding. As I was checking out the shipping said $12. That was fine with me. I check out and I glance at my receipt. I was charged $67 for shipping! $12 for the flooring and $55 for a roll of underlayment. That is ridiculous in my opinion. I would expect to pay that much for next day delivery not delivery that takes a week for the padding to come in and 2 weeks for the flooring.

We purchased new carpet and padding from Home Depot. Installers came and removed all carpet and padding from the living room, dining room and hallway. After all carpet and padding was removed from our home, the installers said there was a problem with the tack strips and tile on floor, we have a slab home. I inspect tack strips, and I tell the installers that they look and feel fine to me. They said that the tiles were put down in the 50's or 60's and could contain asbestos and they cannot do the work.
The installers call Home Depot. Home Depot manager calls me. She tells me that I would have to remove the perimeter of tile and tack stripping then they would reschedule installation or carpet. I tell the manager that there was no issues 20 years ago when they had the carpet laid. Meanwhile the installers are packing up their van to leave. I ask what about my carpet and padding that we paid for. She replies with, "you can have the carpet but the padding is our labor." I told her that I have the bill of sale that states that we paid for the carpet and padding. Now the van has departed from my driveway and is long gone. I ask why didn't the installers pick up a section of carpet first to see what was under it. She had no answer to that question. I call other carpet and floor stores and explain the issue at hand, they told me that the tile is fine and I was had by Home Depot.
I go to a carpet store with file, in hand and a piece of the tile that the installers pulled up. He saw the file with Home Depot's name on it and proceeds to tell me what happened. I did not tell him the story, but he sure hit every single issue right down to me being told to pull up the tile. An hour later he was at my home to measure and inspect tile subfloor. He saw no issues with anything. From the diagram that I had that the measurer did from Home Depot, he showed me how many seams there would be had they installed it. There would of been many unnecessary seams. He will be installing our new carpet. But thanks to Home Depot I had to call neighbors for rugs to cover exposed tack strips, cut the echo noise down, protect the dogs and our feet from tack strips until the new carpet is installed. Home Depot is not worth the cost of a nail.

We had carpet installed a couple of years ago and since then the seams are fraying badly. When we called to have it dealt with, they procrastinated for a while and then finally they sent out a very arrogant person to look at it. He said they would do something about it but we have never heard from them. We called and left messages but none of our calls were ever returned. We will never have anything installed by Home Depot again. Too bad, they used to be a trusted name.

We had a date set for carpet installation a month in advance. The day before we had received no verification call so we called but received no call back. Called at 8:15 the day of the proposed installation and were told they would arrive between 10-12 . At 1215 we called and were told they wouldn't be coming back until 3 days later. Said they had tried to call us... We were home and received other calls but none from Romanoff R. They lied about trying to call us. Renovations.

Transaction Information. Dispute Information. Transaction Date: 07/02/16. Dispute Date: 08/04/16. Transaction Amount: $3,458.95. Dispute Amount: $3,458.95.
Merchant/Description: THE HOME DEPOT 0977 PARSIPP Dispute ID: **. This document contains a summary table of events/issues, and detailed description of the multiple problems related to the above. Additionally, there is an appendix below, showing number of images related to the issue. Additionally, a full Home Depot receipt summarizing purchased items is attached separately, as PDF named HomeDepotReceiptFmt.pdf, with checkmarks (V) corresponding to the materials returned, and corresponding services marked as (F) (Failed to Install, or Failure to suggest alternative solutions), and (T) for floor rip-up service that was done, effectively destroying my existing flooring.
Summary table. Date, Event, Amount, Paid Notes. 06/26/16 - Initial Measuring Purchase, $25.31, Advised No issues will be with install. All necessary measurements will be taken. 07/02/16 - Measurements taken, Laminate Materials picked, $3458.95 Again! Advised No issues will be with delivery, or install. All necessary measurements were be taken, and any other uncovered issues will be addressed on the spot. 07/23/16 Delivery - Delivery was made curb side, despite being paid for full carry-in service. We were asked for our help, Home Depot driver left, and we had to carry materials ourselves, curb side to 3rd floor condo.
07/26/16 Scheduled Install - No install done, even though prior date was confirmed for 07/26. No prior communication on multiple occurrences. All communication facilitated ourselves.
07/27/16 - Rescheduled Install - No install done. Existing flooring RIPPED UP, AND REMOVED (see Fig. 1 Fig. 5). Advised install of the materials could not be done as selected. Suggested option of having alternative materials (hardwood) installed. 07/27/16 - Picked out new Materials in-store (new order formed) - Picked SKU 260589 from Home Depot online (see Fig. 7 - Fig. 8). 07/29/16-08/01/16 - Advised selected Material is Not Available! - Material was confirmed to be available from Manufacturer, and number of other stores. Still shows from Home Depot online today: SKU 260589 (see Fig. 7 - Fig. 8). 08/01/16 - Was told to pick another available material. Only out of available in Home Depot Store - No other materials were to our liking. Due to lack of options, and failure of Home Depot completing the contract, requested refund of the initial order without any additional fees. Was told manager will call to discuss.
08/03/16 - No calls were made to further discuss matter - $3458.95 Disputed, Transaction with Citibank, for $3458.95. Between 08/10/16-08/15/16 - Called Home Depot HQ 18004663337 ext ** (Amber) - Amber advised she will check with the store. Between 08/10/16-08/15/16 - Received call from Store #977 (ext. **) - Advised full refund will be issued after the materials are picked up. Scheduled material pickup. 08/15/16 - Received call from Store #977 (ext. **) - Materials were picked up by Home Depot (see Fig. 6). 08/17/16 - Called Store #977 (ext. **) to check refund status - Was told full refund will be issued through credit card.
08/22/16 - Partial Refund issued -1502.99 Partial refund roughly $2000.00 less than paid amount.
08/24/16 - Called Home Depot HQ 18004663337 ext ** (Amber) - Spoke to different associate. Was told Amber is handling this case and will get back to me. 08/26/16 - No further communication from Home Depot - Still have removed floors. Current No communication from Home Depot - Awaiting Refund, going through Dispute process. Floors are ripped up, pending install by alternate vendor.
Detailed Description. We are not flooring experts! Home Depot is (or at least claims so)! And we have made a mistake, and decided to purchase the new laminate flooring from Home Depot Parsippany Store #977. After picking our selection of laminate, we discussed the purchase with the store flooring associate, who appeared to be knowledgeable on the subject. After talking to him, and mentioning that we live on 3rd floor, in condominium without elevator (see problem #1), we have asked whether the delivery of the materials will be a problem.
The answer was No. We have also asked whether the installation could be an issue knowing that some of our flooring had been somewhat uneven (see problem #3).
The answer was: It will not be a problem. If needed installers will make needed small adjustments as they go. At this point, we have paid a nominal amount (still money), of $25.31 to schedule a measuring appointment. We were told that measurer will make all necessary measurements to make sure flooring can be installed.
Measuring appointment went almost without a hitch. The measurer seemed knowledgeable, and completed area measurement, as well as lifted up part of our carpeting to view flooring inside. Our current under flooring is apparently plywood. Again, after talking to installer we were looking forward to having our floor install. One thing worth mentioning is that lifted up carpet was never put in back, so after measurer left, we ended up with a piece of carpet lifted from under its attachment point, and just kind of hanging there. We have figured this was not an issue since we are getting new floors, anyway. On July 2, 2016, we have received a call from Home Depot that we could come in and finalize the order. Myself and my wife came in and again asked same questions regarding material delivery, and installation, with answers to the same effect.
I have asked for best quality and full service with respect to materials, service, installation, and quality of the work, regardless of the price. I was told that Home Depot does it all, and everything will be done to the utmost quality. Shortly after, the installation was scheduled, for July 26 (roughly 3 weeks after, it was our choice). Full amount came out to be around $4200-$4300. We were told we needed to pay roughly 80% of the full project cost upfront, which seems ridiculous if you ever purchased anything for your home or business (but that's a digression). After paying roughly $3500, we eagerly awaited for materials and flooring. And... here we go:
07/23 Problem 1 (medium) Delivery. Delivery was scheduled for Jul 23, 2016 (that's roughly 3 weeks later, but our choice). Before the delivery date, a person named Doug called and said that delivery CANNOT be completed to 3rd floor condominium as Home Depot only delivers materials either curb side, or first floor first room. So much for full quality service! I pity older or disabled folks who would have to go through something like this However, I have decided to swallow the pill, and bring these items up to 3rd floor myself. The delivery was done curbside, while we paid for full carry-in delivery!
There was a single delivery person, who dropped the materials on a dolly, and asked for OUR help to push it further onto the curb. After that was done, he simply dropped the materials on the grass, in front of my condo building and was off. The carry-in took me 2-3 hours, but it was done! I carried 46, roughly twenty-five or thirty pound up 2 flights of stairs. Not to mention cleanup that needed to be done to all packing materials in front of my condo. Btw, disposal of waste was also fully paid for. May not seem like much, but you should try it on a nice hot (90F) summer day.
07/26 Problem #2 (medium) Installation Scheduling. The Installation was scheduled for July 26. That was done first week of July, 3-4 weeks before the install date--by our choice. It is also worth mentioning that I am a consultant, and I do not get paid as I take time off from work. On July 26, I stayed home from work, waiting for installers. No prior call was made to us to confirm the install window. At around 10 am, and no communication, I started to get a bit worried. After calling The Store (Home Depot #977), I got through to someone, who called installers and said they will arrive around 12 noon. A bit suspicious for a project like this. I assumed installing this much flooring (About 600 sq. ft.), and removing current one, would take 5-6 hours. But I am not an expert and figured I leave it to professionals.
The 12 noon came along with no calls or other communication again. After waiting for an hour, at around 13:00, I called the store again, and this time was forwarded to customer service professionals. "Professionals" (someone named Dee), never picked up their phone, and I had to leave message. After hearing no reply for another hour or so, and trying 5-6 more times to call the store (calls being dropped at that point), I jumped into a car, and went to the store. After waiting in flooring department for about 10-15 min, I was greeted by another associate (manager), named Patrick. He was very courteous, and got in touch with installers company (they are not Home Depot) right away.
After that installer called me and said they would NOT be able to come in on 07/26, due to issues with previous job, and they definitely would arrive on Jul 27. I expressed my dissatisfaction with the service at that time, and asked to talk to a manager. He scribbled down some information, and left. I have not heard from him since.
07/27 Problem #3 (major) Installation. Taking another day off on 07/27, the installers arrived on time, and got to work right away. Seemed very capable and experienced. They immediately said the floor looks uneven, and started pulling up my carpeting, for install. After clearing most of my living room, and hallway from carpets, installers took more measurements, and declared that the floor is too uneven, and there is no way they could install laminate flooring on it. Puzzled with this sudden turn of events, I have asked what are my options at this point. To which installers shrugged their shoulders, and said that only a 3 ¼ inch solid hardwood install will be the option on such floor.
Notice, that this is AFTER all the measurements were done by none other than Home Depot services. And after all the assurances of the problem-less install. At this point I have a hole in my living room (stripped down carpeting), full of nails. Not very great for my 3 year old, who likes running around, and jumping on the carpets! Installers left!
07/27 Problem #4 (medium) restarting the whole thing! At this point I have a hole in my living room (stripped down carpeting), full of nails. So, jumped in my car, grabbed my wife (who is busy medical professional even off work hours), and went to the store to pick out hardwood. After not finding anything at the store shelves, went to Home Depot, and after long search, found something we liked online, Store SKU 260589. After talking to customer service "professionals" again, they have invited a store manager (I believe) for a conversation. The store manager asked customer service people to follow up on the NEW order, essentially starting everything from scratch, including measurements, materials, etc. At this point, I was very frustrated with the whole experience, but given the fact my home is torn apart for the install, I had little choice but to move forward.
07/29-08/01 Problem #5 (major) unavailability of materials or options! I will not go into details on moving my family out of the home to my sister's place, living out and being stabbed on the floor full of nails, waiting for measuring people again, etc. Will roll forward to 07/29, at which point a store associate called me, and said that material we have picked out IS NOT AVAILABLE, and we had to pick something else. Yet, I opened the web site, and there it was, online on Home Depot web site, ready to be ordered!!! Store SKU 260589. You will likely find it on the web site today. After browsing the web at various stores, and manufacturers web site, I have called the manufacturer, and was told materials are available, in plenty, and can be ordered anytime. I have communicated following to the Home Depot associate, at which point he promised to look into that.
On Monday 08/01, I got another call from an associate, saying that the material was not available, and we had to pick something else. Me and my wife made a fair attempt to pick something but no other color/material combination is something we could use. I have mentioned to the associate, and customer service that after all the trouble I went through so far, the least the Home Depot can do is order the material from ANY place at cheaper price, and sell it to me at higher one. Home Depot has refused to accommodate me after all the prior messups!
08/01-09/03 Problem #6 (major) returning items, getting refund, no communication. 08/01: Given that there were no further options with the Home Depot, I have called customer service requesting details on how they would like to handle order cancellation and returns. Associate name Maria (works with Dee), mentioned that they will arrange the item pickup (3rd floor condo, no elevator), and I can return all the items and pay 15% restocking fee, and advised that a manager will call me to discuss. After all the above, another fee, seriously?
08/03: After waiting for 2 days for manager to call, I have called an attorney for further discussion of the issue, and disputed my transaction with Home Depot on my credit card. 08/10-08/15: After a few back-and-forth calls with Home Depot Headquarters (18004663337), and discussing the matter with associate named Amber (extension 77514), I have received a phone call from store #977 (extension 100), stating that they will pickup the materials without restocking fee, and will issue full refund.
08/15: Home Depot associates arrived and picked up all previously purchased materials. 08/17: No refund was issued. Following up with store #977 (ext 100), I was told that the refund will be issued by the bank (Citibank), because Home Depot cannot release transaction. 08/22: A refund was issued in the amount of $1502. Roughly $2000 less than what was paid! 08/24: After calling Home Depot Center, and trying to reach Amber, was told she would call me back to discuss the matter. No further communication from the store was made.
Conclusion - The mess in my apartment is ongoing, no floor, waiting for new merchant install. My 3 year old daughter and wife temporarily moved to a more suitable location, with normal living conditions. And I am currently working with a different store/vendor to install flooring. I have also contacted an attorney for further addressing this matter. Additionally, I have photos documenting the "high quality work", or destruction Home Depot leaves behind.

Service person for floor measurement was on time unfortunately, he was very verbally abusive. Also he acted like he was very inexperienced as if this was the first time doing this work. The results ended up proving this suspicion. Quote contained many extra cost additions that were not requested and made the price over twice as expensive than a regular independent installer. The additions were not transparent as to their individual pricing nor was it clear what was optional or required.
A re-measure was scheduled after the first one was scrapped. The results of this one were also bogus due to their quoting all wood floor i/o part wood and part carpeting. This, after an upper level manager Dave ** assured me, the quote he was sending me would be screened and verified for accuracy. I had called him within an hour of receiving the quote to discuss it but, he had left for the day (at 3 pm??). This measuring service of HD is an embarrassment and, a total waste of time. Now you can't say you weren't warned.

As a first time home buyer and owner of a landscaping company I always swore by Home Depot (Wareham, Ma). I had a carpet installed in our home and it was an "in-stock" carpet. The carpet abuts the kitchen, dining room, two bedrooms, a dining room, a sliding glass door and a bathroom. At every point the carpet meets another floor the tack strip is coming through. Both myself and my wife have been stabbed in our feet multiple times. Multiple calls to the store (got nowhere), multiple calls to corporate (got nowhere but a bad attitude).
They offered to refund us our money and come (remove) the carpet and WE would have to pay the difference for what would be a better carpet. This is a $700.00 sale! After it all we would have to still pay over $400.00 for a "better carpet". They have absolutely refused to eat their mistake and lost a customer for over 20yrs (private and commercially). Unfortunately, the lawyer has been contacted. If my 2yo child or my dog is injured due to this carpet "issue", there is going to be a substantial lawsuit. I hope I help you make up your mind. PLEASE JUST GO SOMEWHERE ELSE!!

I ordered my laminate floors from Home Depot and chose Canada Home Installations to install them. I had to wait over a month to get them installed. Finally the day came and the installer came but he did not come with any materials! Home Depot had forgotten to deliver them! So that was a WASTED day!! I got a call from customer service apologizing and I received the materials later that day.
2 days later, the installers came in. The floors looked good however they were short on a small piece of material. They said someone will come to install the small piece. Well it's been a month and you think they would call me to inform me someone is coming?? NO! I called them twice. Same BS, "Oh we are still waiting to hear back from Home Depot for the material". It's a $25 T-square wood! I could have easily driven to HD and buy this piece! So my floors are great except for the gaps between the floors! Of course they are NOT going to make an effort to fix it - They already have their money!

We chose Home Depot after several friends said they had such wonderful experiences. We even went to friends' homes to see the new carpet and how was installed. We could not be more disappointed. Not only is every seam visible, but there are multiple seams!! One square room and a hallway should not have 6 (Yep 6!!!) sections of carpet. It is terrible to look at. You cannot miss them either. And no furniture placement is going to hide them, especially in the hallway! The edges are just as bad as the seams. They are bunched up in some places, on others it looks like the carpet was stretched just to reach. My freshly painted walls are scratched up in multiple locations where the carpet was slid down the walls. Like running sandpaper over them. (You can see in the photos we still were letting the paint cure before removing the tape!)
We have stepped on multiple loose staples in several places. We have kids and a dog. I cannot be constantly worried about someone stepping on one and getting hurt. The whole installation took 4 hours!! The room is NOT big enough to warrant this. Long story short we contacted Home Depot immediately the next morning. We brought in the photos and spoke to them directly. We were told they would contact the installation company, Crew 2.
After not hearing anything for a few hours we called back. We were told the Home Depot manager was in a meeting and had left for lunch and as soon as they returned would be told of the situation. A couple hours later we were called and told that Crew 2 would call us. Still another day later no one has called! We called again, and again we were told someone was at lunch and they would call us back. When they finally did return the call they said that Crew 2 would be in touch. No one has yet to call me. We have left messages and several emails. At this point we will never recommend someone go through them. Not only is the installation terrible but their customer service is just as bad. Wish we had checked up on them more. Expensive lesson learned.
Updated 8/12/2016: A week has gone by now. Crew 2 sent a technician to repair their seams that were so horribly installed. The seams are still very visible. Not just because we know where they are, but because they are just very visible even after the so called repair. The Crew 2 tech said (and I am quoting this!!!) "hopefully in time you will not see it." How anyone can say that about their work is beyond us. The manager of Valparaiso Home Depot has still NOT contacted us. We have even reached out to their District Manager and he has not responded to us. This is the absolute worst customer service we have ever seen. Never ever go through them. Unless you like throwing out thousands of dollars.

I purchased a floor in April 2016. It is now August and I do not have a floor. The installers did not have enough product to finish the installation because of a bad measurement done by Home Depot. When the installers returned weeks later to finish the floor they noticed the floor was warping and bowing and told us the floor wouldn't last a year. They asked us if we took a steamer to the floor. Home Depot ordered more floor to replace the 1/3 of the damaged floor. When the installers came back out they said now 2/3 of the floor was damaged. When the installers opened the box sitting in another room the product ordered to replace the damaged product was already damaged. Planks were bowed and edges were damaged.
Home Depot will not correct the issue claiming water damage, but cannot find any source of damage. Note the box of replacement product was in another room without any water sources at all. I have been a customer for over 10 years and have NEVER been treated this badly on a project ever. Stay away from flooring and the manager. I expected better of this company.
Home Depot Floors Company Profile
Company Name:

Home Depot

Year Founded:

1978

City:

Atlanta

State/Province:

GA

Country:

United States

Website:

http://www.homedepot.com/