Consumer Complaints and Reviews

Purchased 6 boxes of TrafficMASTER vinyl tiles. Day after installed tiles lifted throughout kitchen. Home Depot employee stated, "It's defective product, several returned," "Manager back next week can only do returns." 6 days later I'm told by manager, "Can't help you, you didn't clean surface right, not responsible for your errors." I'm out $300.00. Horrible product and service. Manager would not let me speak or explain a professional floor installer did job, kept cutting me off. Now have defective tiles as floor, covered by carpet (so I don't trip or fall), unable to afford new tiles, and Home Depot won't even take responsibility. I'm a senior citizen on fixed income, just disgusted...

I was very aggravated, right off the bat, when only one person showed up to install, because we had furniture to be moved. The company called us the day before to review our order, and stated that we were to have furniture moved. Then the company called that morning to tell us the installers would arrive between 8 and 11 AM, and again, stated that our furniture would be moved by them. As my husband and I are older, and both have had recent injuries, we could not help move furniture. I called USIG and explained the situation.
I was told that they would send someone from the warehouse. Our installer was great. He measured and started cutting the padding, while waiting for the second person. Eventually, someone came and helped him move the furniture, then left, and came back to help Jesus move the furniture back. This was an unnecessary aggravation, as it was well-noted that moving of the furniture was part of our work order. The carpet installation, clean up was excellent, but our installer seemed a bit upset, as well. He was very conscientious.

Purchased whole house carpet 1/19/17. Installed over 2 days: 2/7/17 & 2/8/17. Receipt not detailed to show that they make you purchase 30% or more square footage of carpet than you really need. Installers only spoke Spanish and left cigarette butts in the yard. Packed ALL furniture in other rooms which was ridiculous. Kitchen sink, refrigerator, everything was blocked off from 8am to 8pm. Forced to eat out entire day - extra expense. Even blocked bathroom with the couch. Stacked table with metal feet on top of desk that made huge scratches through the finish. Put very heavy metal file cabinets on top of delicate, fragile China cabinet and scratched it. Forcefully dragged couch with wood feet across tile floor taking all the finish off the legs of the couch. Hit dining room chandelier at least 7 times with it swinging back and forth. Used my vacuum, and broke it.
Did not vacuum floors before installed new carpet over the top, even with my request TWO times to do so. Had to pay $220 from a separate moving company to move the piano and pay $135 for them to move the China cabinet. This is NOT a free install. Bedroom seam 1 foot inside doorway that we complained about they denied it was a seam. WHAT??? It's obviously a seam. Dining Room seam also 1 foot inside main entrance, very visible. Two inch chunk of carpet on the stairs that is clearly a visible hole. Installers didn't want to install the carpet on the stairs because the edges need to be folded over and it's very time consuming. They told us we need to get the edges bound and had us call the store to inquire. The store explained it would be 3 weeks and an extra $200. We finally told them to just install the carpet as they were supposed to. It was obvious they just didn't want to do it.
We complained about the above issues and over the next month, had to arrange schedule to be home to meet Home Depot inspector, Shaw floor/milling inspector (since Home Depot didn't want to admit wrongdoing and blame it on the mill). 3/6/17 FINALLY after months of phone calls and putting up with Home Depot lies after lies, supposedly they ordered new carpet and will replace the Dining Room. Even though the entire first floor actually SHOULD be replaced plus the hole in the carpet on the stairs plus the one bedroom with the seam in the wrong place. Home Depot lied so many times and never called when they said they would. It was obvious they were just waiting or hoping we would just forget about the whole thing.
I could have filed a claim for the damaged furniture but didn't because the bigger issue of our dissatisfaction with the installation wasn't even being addressed. I was assuming damaging our furniture and breaking the vacuum wouldn't get a response either. 3/15/17 Received call from United to schedule the re-install for 3/29/17. Today is 3/29/17. Installers were supposed to call by 10 am to give us our window. It is 10:30am and haven't heard. Of course I called them and was told they would call me back. I've heard that one before. This is such a mess. If you take anything away from this review, just don't use Home Depot for carpet. It is not worth anyone's hassle, time or extreme frustration. They are non-responsive and this has been a ridiculous process. I'm hardly comfortable giving them even 1 star. I wish ZERO stars was an option.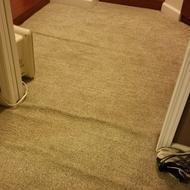 Sadly, I did not read the carpetprofessor website, which warns against big box stores like Home Depot for carpeting. I had a higher end carpet installed in 2007. I used Home Depot's contractor. Within a week it had wrinkles all over, but I didn't do anything because of the hassle of moving furniture and lack of time. In the process of preparing to sell, I had a stretching company come in. The installation was incompetently done, bent wood nails where there was cement, far more seams than there should have been, and the carpet was delaminating like a zipper.
Note that the Home Depot warranty for delamination: ONE YEAR. Yup, and because I used Home Depot's installers, they of COURSE would not mention if they were installing old, delaminating carpet to begin with. So why two stars and not one? Because when I called Home Depot with this, they always promptly responded and were courteous right up to the point where I learned how poor the warranty was. So... kudos for customer service, but a big STEER CLEAR based on product and services.

First, the estimator who came out to measure didn't do correctly. Then they ordered wrong materials, then once they got to the installation date, they required $1300 more before they would start the job. Then they required me to go to the store that I ordered from to make the payment, instead of taking payment over the phone. They sat in my front yard, not working for 3 hrs. Then, the installation looks AWFUL! My living room is sunk in, so you have to take a step down. It looks different on all 3 spots. They didn't use the right piece in 2 spots. They didn't glue down the transition spots between doors. I would never never never let someone I know use Home Depot for laminate flooring. Ever.
How do I know I can trust these reviews about Home Depot?
743,097 reviews on ConsumerAffairs are verified.
We require contact information to ensure our reviewers are real.
We use intelligent software that helps us maintain the integrity of reviews.
Our moderators read all reviews to verify quality and helpfulness.
For more information about reviews on ConsumerAffairs.com please visit our FAQ.

I bought the carpet and get it installed by Home Depot installer (G.S. Floor Designs). While installation, when they were bringing the big carpet rolls they damaged couple of my door frames and when I reported the problem they refused. The service of the installer from Home Depot was the cheapest service I ever had. I don't suggest to get carpet installed by G.S. Floor Designs from Home Depot.

I ordered 97 boxes of 6x24 Montagna Gunstock Porcelain Tiles on 02/25/17. I was called on March 1st to tell me the floor was ready for pick up on Saturday 03/04/17. We get there about 4 PM Saturday to the customer service desk and the employee there told me that they have been working on my order ALL day long to piece together my 97 boxes. And I asked, "Why?" when I ordered 97 boxes. He says, "Well they are different dye lots..." and I asked why? Since the whole purpose of ordering 97 boxes was to have them in the same dye lot. He further tells me that I could take 27 boxes on a pallet they had ready today. And I'm like NO! I need ALL my 97 boxes today. I immediately asked for the supervisor/manager.
The supervisor comes and tells me that she will figure out what's going on and walks away with an employee as the employee tells her what's going on. She later comes back to me and tells me that the employee that entered my order did not specify that I wanted ALL 97 boxes from the same dye lot!!! I said, "Fine! But where are ALL 97 boxes from the different lots that she ordered?" And she couldn't answer me. She said for me to call her on MONDAY which is today 03/06/17 and see what she has resolved or we might have to just re-order my tile again (another week or so wasted again).
It has been such an inconvenience to me! It's costing me money. I paid a friend to take me with his trailer to pick up my tile and it was a waste of his gas and his time. I had told my installer that I was ready for him to start on MONDAY but then I had to call him Sunday to cancel and he's pissed at me because I kept him from taking another job. I called HOME DEPOT at 1 PM today and they tell me the computer system is down and not able to give me an update on my order. The lady that answered the phone told me to call her back in 30 minutes and she also said she would talk to the supervisor/manager to see if she had an update. So I will be calling them in just a few minutes. This has been a nightmare and I am wasting people's time and my money!!!

On Jan 24th, 2017 we had Home Depot come to our house to measure for carpet. We went to the store on 2/4/2017 and picked out the carpet, applied for credit for the 6 month no interest instead of paying cash. The week of 2/27/2017 the installers called and scheduled the install the week of 3/6/2017. The week of 2/27/2017 a credit card statement came showing the amount for the carpet and a minimum payment due 3/14/2017. Now the kicker is WE DON'T HAVE THE CARPET! I called the credit card company and they said they already paid Home Depot on 2/4/2017, despite the carpet had not even been scheduled to be installed and still IS NOT INSTALLED. I was told I would not be charged interest but that is not true because if I don't pay it off in the six month period I will be charged interest from 2/4/2017 even though the carpet IS NOT INSTALLED and won't be until over a month from 2/4/2017!
I called Home Depot, got the assistant store manager, told her my complaint and her response is "that's the policy." I ask, "Where in any of the paperwork did I sign agreeing to be charged for a product I DON'T HAVE and will not have until more than a MONTH AFTER we picked out the carpet?" I can go online to a credit union, get approved for a car loan, go to a dealership a month later buy a car and not be charged until I take delivery of the car. The assistant manager of Home Depot told me the credit card company pays them for the order when I'm approved because they "have to order the carpet." I said, "That's an inventory issue, what has the way you order your inventory have to do with me and why am I paying for the way you choose to stock inventory?" So WITHOUT receiving the product or installation, I am being charged from the day I picked out the carpet despite the PRODUCT BEING DELIVERED OR INSTALLED.
I asked for a copy of where I agreed to this, why wasn't I told this would happen when I picked out the carpet or when I was approved for credit? Don't buy carpet from Home Depot without understanding exactly how they will be charging you and when even though you have not received the product, even though the delivery has not occurred and even though the installation is not done. Had I been told this I would have paid cash at installation or bought somewhere else.
We have had the inside of your house painted in preparation for new carpet, moved all the necessary furniture so feel like Home Depot acted in a dishonest and fraudulent way. Does this seem fair to anyone, should they have told me I would be charged from the day I picked out the carpet, from the day I was approved for credit, should they charge me for anything before I actually have the product, before it's delivered or before it is installed? My advice is don't buy carpet from Home Depot.

Store 865 Mobile, AL. Carpet installation process began on Nov. 11, 2016. It was a horrific, disastrous job and I would never, never, ever use them for carpet installation again. Today is March 3rd and I have just gotten my refund after months and months of phone calls. I finally had to contact Craig Menear who is the CEO of Home Depot. Store manager Laurie ** was absolutely no help whatsoever as was the Assistant Store Manager Jeff. Customer service was a joke. The second time I called they would not even return my phone call. After contacting corporate I was contacted by Escalation Services and that still took literally months. First, we reached an agreement and I signed a release and returned it on February 9th. I was told I would have my refund by February 24th. Refund did not come.
After numerous phone calls and e-mails that were not returned until I finally had to resort to threats. At that time they finally called me back and I got my refund today. It's a shame... this store has had numerous complaints and problems with the carpet installation process and the powers that be still don't do anything to remedy the problems. I can't tell you how much I WOULD NOT RECOMMEND CARPET INSTALLATION.

I too was afraid to use Home Depot given all the complaints. However, I had an excellent experience with Home Depot and the flooring installation of wood laminate flooring. My store uses a company called USIG and I suggest researching the company that is going to complete the install rather than just assume your local Home Depot can be trusted. USIG called me several times to update me on status via phone and email and their tech showed up right on time. The installer was meticulous and cleaned up before he left. If USIG is available as the subcontractor at your Home Depot... then you don't have to lose any sleep.

If I could give the flooring process less than 1 star I would. I didn't even have floors installed based on the process and poor customer service. I made an appointment in store, get to the store, and they lost my appointment / didn't have it, and the man who was supposed to meet us was off. So I talked to a nice lady and was told I needed to have an in-home measurement done, which costs $35. HD was my 5th stop for quotes so by this point I knew the measurements, but was told it was the only way to get a quote. So I paid $35, asked for an evening measurement and paid. They won't give you a time, just says someone will call you the day of.
On the day of I get a call from a guy who says he'll be at my house between 10 am and noon. I raced home to meet him, he did the measurement and couldn't provide me with any options. He said the store would call me tomorrow with a quote. He looked like a deer caught in headlights when I would ask him questions. Ok no big deal, but the next day comes and I don't get a call. The following day I call the local store, was told I had to speak to the General Flooring Customer Service, and was given an 800 number. I call the 800 number, and the first girl on the phone was confused why I wasn't given options or quotes at time of measurement (SIGH). I told her I already had samples from the store and a laminate in mind.
My concern was there was a difference in price from the store versus online for the same laminate, by the case. I was transferred to another salesman, Rodney. I asked him if I could purchase the cases myself and just pay for install, and was told no. Then he came back with a quote of $2100 with more expensive moulding and underlayment than what I had found from Home Depot, in my own searches. He told me it was not negotiable and the installers were going to use the underlayment he quoted me. He added in "floor removal fee" even though I explained to him I was not removing my current floors.
He also said the labor was $1.99 per square foot. I asked him why I saw $0.89 advertised and was told, "Oh that's only if you are doing a project with 250+ square feet, and with a floor choice worth at least $1.50 per square foot." I told him the laminate I found is $1.50 per square foot and my total square footage is 264. Rodney had nothing of value to say in response, was unwilling to change the quote. Also, he could not explain to me why I was not allowed to work out the underlayment product selection WITH the Flooring Department, and did not understand why I was frustrated given no one from Sales had been inside my house and were quoting me BS pricing off a computer. When I told him I was frustrated and felt like HD was just trying to upsell everything, he didn't respond.
I told him I was not going to do business with them at $2100 and he said, "Ok so is there anything else I can help you with?" That was when I told him how much the customer service has sucked, and people expect more, especially for a $35 fee just to measure. There was another awkward 20 seconds of silence then he just asked again if there was anything more he could help me with. At that point I hung up. Obviously, HD does not want your business or to work out a fair price. The sales people are robots following a script. My advice, go with a local flooring company or contractor. Don't waste your money or time with HD and their incompetent staff!

Poor experience with the home depot flooring installation. Never show up when they say they will. Twice, non-English speaking individuals who walked out without a word mid-project because they couldn't talk to me. Several days wasted waiting for them to come when they said they would, including this morning. I've had it, wish I knew of some recourse. Maybe one of you reading could help. Terribly disappointed. Will not ever use Home Depot for flooring.

Never fall for their "Free installation included in price" hook. The minimum wage workers did not know the answers to common questions nor did they ever direct us to someone who did. That was the start of our problems. The contractors Home Depot hired to install our carpet did a ton of mistakes apparently due to the "rush" to get it installed. I pointed out problems before the installer even left my house at the end of the job. The guy acted like he didn't understand me and left without a word.
Constant attempts to resolve and 2 months left on a year warranty for installation problems, H.D. tells me they can't help me, I must go through the installers. (Even after I pointed out H.D. were who we paid) we have nothing in writing about possible remedies and are filing with the ccb to help save our rights as they are running the clock down. Never trust ANYTHING they try to get you to. They are well known for pulling this and I only found out after the fact while researching for help. Tell your friends. It's not worth saving a couple bucks for a lifetime of insulting memories staring you down every day via your carpet! Good luck.

My husband and I recently retired, found our dream home in Milford PA and moved from NY. Money is tight and our dream home was going to need a little work. To the tune of a total gut and renovate. We were shopping in the Home Depot and noticed an opened box of hardwood flooring along with another 9 unopened. The opened box of wood was just what we were looking for and it looked great. We needed about 1700 square feet which equaled to another 65 or so boxes. We loaded up the 10 on the floor, were instructed to leave the other boxes closed so they could acclimate to the house. We were getting ready to install what we had, opened the boxes and discovered chipped, cracked and splintering junk.
We immediately cancelled the rest of the order and were hit with an almost $1000 restocking fee for wood we never got. I have tried talking with their customer service regarding this excessive amount and they just kick it back to the store where we purchased it. I also tried to fight it with my credit card Chase. They were of no help because I have a receipt that I bought the wood. (Again, never had it delivered). Even though I lost a lot of money, it would have cost me a lot more to fix the prefinished wood I thought I was buying.
If you are in the market for wood flooring, go to a wood flooring store. A thousand dollars was a lot for us to lose... Should you find yourself in the same position as us, this is how they get around keeping a restocking fee. They give you your money back on the card, minus a restocking fee they issue to themselves as cash. Do not sign for that refund. Good luck to all that are as dumb as we were to make a major purchase from them. They beat us out of almost $1000, but lost kitchen cabinet order, 2 complete bathroom orders, windows, tiles, basement etc. All of which I then purchased from Lowe's... I would not buy a nail from the Home Depot.

The job was incomplete. They left a mess. They stated three times that they would come back to finish but never did. You have no leverage because they want to get paid in full up front. Do not use Home Depot. You will regret it.

We are preparing a room for a seriously ill cancer patient. We asked for expedited shipping to the store for the flooring... We offered to pay anything. We only asked to please hurry the order and the processing at the store. The manufacturer said they would. Home Depot said, "No chance." The store is impossible to reach just to ask if it was there so we could prepare a contractor to install. No help. We should have gone anywhere else.

Yeah so free is not free. When you see the sign that says "FREE Install" walk away. Get your own installer. The racket is yes the "Carpet" is free not the pad and install just the carpet. So you have to use an upgraded pad at an upgraded price for your "Free Install" for warranty purposes. Never ever doing this again. Home Depot lost all of my business. That may seem small to them but Don't mislead people. So my free install is costing me $261.00. Not so free.

I was very pleased with my Cooper carpets installation. I would certainly use Home Depot and Cooper install again. I'm thinking about doing future project and I hope that I get Mr. **. He was professional and worked extremely hard. Not one time did he complain, he didn't even take a break for lunch. I was impressed. He cleaned up as if he took pride in what he does and for that reason alone I gave them 5 stars.

Went the Home Depot in Lake Elsinore, Ca. for flooring and countertops. Never again after our order has been placed the night mere started, you are treated as you are a professional and that now you know all about flooring after see them. If I did I would not have gone to them to do, I would have done it myself. We had an appointment at 2:00 pm as suggested so we did not have to wait. WE were there early. Lori who we had an appointment with was busy with someone else. She motioned to us be with us in a minute. One hr. later we were still standing there. She made no attempt to have someone else help us so we went to another sales person. Did all our picks, wrote the order which took time. Lori was still helping the people 1 and 1/2 hrs. after our appointment time. Shortly after that we got to see her for the countertops. The people that she was working with during our time bought nothing.
You work up a price with Home Depot then it goes to the contractor and then the price went up THREE TIMES. They disconnect, just call a contractor who will come out and look at the job and give you the price. The contractor has not been to look at the job and when he comes to install, the price will go up again. For thing that he did not see in the pictures that Home Depot took.
I have talked to the flooring contractor and they have told me this will happen. This would not have happened if Home Depot was not involved. This is a rental property and would like to get the work done on time to rent that is not going to happen, one reasons is that Lori did not send in the paperwork for three weeks to the contractor, I had to call to find out what was going on. We were told the contact would be email to me, never happened. I keep calling for the contact never came. The flooring contractor keep asking me to look at the contact from Nov. of 2016 so I drove the 40 miles to this store because this is where the rental is to get the contact on 1 - 26 - 2017 this job will be done in Feb. of 17 unbelievable, and then it did not get better. HOME DEPOT NO MORE.

Ordered six cases of bamboo floor. Received an email saying the floor was shipped to the store. Called the store and was told that no floor was received. Called online customer service and was told that the floor was there. Store receiving rep told me to go to the warehouse. In short all I got was HUGE runaround and no one knows or seems to care. Now it's going to be another 10 days to get floor. This company has lost all sense of customer service and when you talk to customer service you will not be able to speak to a manager. The store manager won't care cause you are a online customer and they are just the drop ship point so they have no incentive to help.

I have to say the experience of the purchase of carpet and padding was fine. It stops there. The day of installation was downhill from that point. The installers showed up right at the end of the window. We were given 1 pm. They left at 9 pm that night. Our new carpet and padding was placed in a old beat up van under old carpets and padding from a previous job they did. Totally infested with bed bugs. They did not cut the carpet correctly on the staircase and filled in the spaces with scrap carpeting. They placed their tool box on my father's desk and scratched it. They broken a door hook on my bedroom door, they left 3 doors off their hinges, they nailed down a floor vent in my bedroom using roofing nails and I cut my foot on the nails. They left the old padding in my bedroom and placed the new padding and carpet over the old one. They did not install padding in my closets I had paid for.
I contacted the installation department manager when the installers were still at my house. He was extremely rude and vulgar. I attempted to call the manager at the Home Depot in Warwick RI where I made my purchase and was told I had to deal with the installation company they hired to do the job. After waiting for a response for many weeks I contacted corporate office in Atlanta GA. Finally got to speak with Angela. She was able to get the new manager of the installation company to come out to my home and look things over. The new manager shared with me that he replaced the old manager due to many dissatisfied customers and complaints. We came to an agreement to at least replacement of the staircase carpet and padding in the closets and very little reimbursement towards the bed bug issues caused by them.
The day the installers returned the refused to do the work and left. I contacted my husband at the law office he worked for and they contacted the manager of the installation company and Angela at corporate office of Home Depot. A week later we received a letter from Angela basically stating they are not responsible for infestation of bed bugs. They may consider returning to fix the carpet on the stairs and padding in the closets. But we will need to pay the thousands of dollars for the extermination of bed bugs out of our pockets. Funny not quite the bargain we were shopping for.
So the $3,300.00 we paid for the carpet and padding is going to cost us and additional $4,000.00 for the whole house extermination. Two days wages lost, a hotel room for my handicap Mother and handicap father to stay at, and to board my pets so they will not die from the chemicals the exterminator will spray all over my home and everything we own. It looks like we may have to take Home Depot to Court. If you love to throw away money, love stress, and abhor bed bugs then Home Depot is the place for you.

We decided to list our home for sale and one of the first things we did was go to Home Depot for new carpet for our hallway and an attached room (about 300 square feet). We purposely chose the 72 hour carpet because we wanted to get the house on the market as quickly as possible. The area was measured the next day. Within hours we received a call with the measurements and we paid immediately. The installers called shortly after and we arranged installation for a Wednesday. The installers told us to pull up our old carpet and leave the tack strips – which we did. We received confirmations twice. We also signed our listing agreement and the listing was to go live the day following the install. A professional photographer was scheduled for two days following the promised installation date and open houses were advertised for that first weekend. The night before the installation was scheduled, the installers called to say my carpet was 'lost' and they had to track it.
I didn't hear back from anyone so I called the next day and was told my carpet was 'back ordered'. We immediately contacted Home Depot who said they would look into it. The next day (2 days post promised delivery) we contacted the installer again who said they 'found' my carpet but could not schedule appointments because their systems were down. We again contacted Home Depot but they were unable to assist. Our installation was scheduled for the Monday following open house – but by then we had an appointment for a showing at 3. The installer stated they would arrive between 10 and 12 that day. I told them that with a 3 pm appointment that might not be enough time... the installer assured me that it was. I worked from home the day of installation so I wasn't watching how the carpet went in. The installer told me there would be a small seam 6 inches from the master bedroom doorway and he assured me that it would not be noticeable.
The installation ran all the way to 2:59 pm. I called the installation company immediately upon leaving and told them we had run all the way up to the last minute and I didn't have time to look at it. The installation company stated there was a lifetime warranty on installation only... We had 2 showings that afternoon and when we were finally able to get back into the house we saw that there was not one seam but six – some obvious. There is also glue on the freshly painted baseboards. We immediately drove to the store where we purchased the carpet and spoke to the store manager. She showed us the original plan for how the carpet was to have been installed which was nothing like what we got. She stated she would escalate the issue and it has been almost an entire work week and we can't get anyone on the phone except customer care and we can't get a return call.
I just spoke to customer care (yet again) and they stated that the installer stated the original plan was for 6 seams – which is an outright lie. At this point the carpet has to come up and be re-installed the right way. We are also asking that our installation fee be refunded because the product was not delivered as promised and when it finally was, it was installed incorrectly. The home is for sale and we also feel that the delays may have cost us a sale as the house would not have shown as well with the carpet pulled up.

We had Pergo Flooring installed by Home Depot. They subcontract Superior Installations Corporation of IL. Located out of Chicago, they proved to be one of the very worse companies our family has ever dealt with. They took 2.5 months to install flooring in the St. Louis area. Throughout the process their staff consistently lied and provided excuses for not installing. We even had an outside professional check their criteria for accuracy. When Home Depot would step in they would jump to attempt to correct. They finally sent multiple crews to our area once caught up in their lies by Home Depot.
I cannot caution you enough about using this combination for flooring. Long after the taste of sweet pricing from Home Depot, the bitterness of poor service and complete deceit by Superior Installations Corporation of IL staff still exists in our family. There is one day in months that we haven't been reminded of how horrible our experience really was. Doing business with Superior, our recommendation to you... Just don't do it.

It's been over a year now since I had Home Depot install my new carpet through their contractor. I'm writing this review now because I just finished vacuuming my carpet, and every single time I do, I realize more and more problems and issues with my carpet. The first time the carpet was installed was so bad that we had to have them reinstall it with brand new carpet because it couldn't be salvaged. So, after having to miss work 5 times for this process (1, to get measurements which is fine and understandable when buy new carpet. 2, for them to install the carpet the first time, again understandable. 3, for them to send someone out to take pictures and examine how terrible the first installation was, 4, for them to come back and reinstall new carpet, which they put the measurements in feet instead of yards which brings us to 5, for them to reinstall again)!!!
After the carpet was finally installed the second time, it looked much better than the first. I could go through and nitpick, but after the ordeal we had already been through, I was like "forget it". But after over a year I am compelled to write this review because I just finished vacuuming and I am so sick of seeing gaps between my stairs (I can fit my finger through it at touch the flooring below in multiple spots), and the piling that they pulled up and out when they apparently were stretching the carpet (I have to go through and give my carpet a "haircut" because there are all these strand that have been pulled up everywhere)!!! I will NEVER, EVER buy carpet from Home Depot again!! My carpet already looks like it need replace because of the terrible installation job!!

I recently had a bad experience with Pinnacle Building and Contracting here in Wildwood, NJ. I needed two replacement windows for my home. I went to Home Depot in Middle Township to see what they have to offer. I spoke to a salesperson at Home Depot about the windows they offer and to learn if it was possible for me to install the windows. I quickly realized that I was over my head. The salesperson suggested that Home Depot could help with the installation by using one of the approved Home Depot installers. I left my information, with the intent that an installer would contact me in a few days. Over a week later, a person who identified himself as George ** from Pinnacle Building and Contracting here in Wildwood. He wanted to make an appointment to measure the windows and leave me with a price. George ** arrived an hour late, and continued to say that he was very busy and that is why he is late.
He measured all the windows in my home, but told him I just needed two. His first price was for all the windows and told me that he was not interested in installing only two windows. He then explained to me about the Pinnacle Building Home Maintenance Program. He explained that if I signed up for his program he could give me a discount on the windows and the installation. He told me that if I paid Pinnacle Building $60.00 a month he would come to my home once a month to see if I needed any work done, that he would guarantee the installation of the windows and he would do the installation of two windows as soon AS POSSIBLE. After George ** left my home I reviewed the information and the numbers he left. I quickly found that this is nothing but a con job. Here is the reality of his offer. The price of the two windows was broken down into two areas, the cost of the windows and the cost of the installation.
His price for the windows was double the price quoted at Home Depot for the same window and the installation was twice the price I received from two other installers. George ** goal was to get me to purchase the Pinnacle Home Maintenance Program where he wanted to charge me $720.00 a year for the privilege of having George ** and Pinnacle Building and Construction come by my house once a month to see if I need any work done. I have been in Wildwood for more than 25 years and it appears that George **, who's family owned Dracula's Castle before it burned down, is bring the same business practices, that are well known, to the home improvement business. George ** gave me a list of people who are part of this Pinnacle Home Maintenance Program.
I called three of the individuals who said they had the same experience but after he reduced the price of the job that was more in line with other companies in the area, they had the work done but did not take part in the Pinnacle Home Maintenance Program. I hope homeowners and commercial property owners read this review and avoid paying $60.00 a month for a program that has no value. I give Pinnacle Building and Construction 1 star because of their Pinnacle Home Maintenance Program and business practices here in Cape May County New Jersey.

Last year in September 2015 we ordered carpeting for 3 bedrooms, home theater and stairway. After it was measured we changed the carpet choice on the stairs and bedroom after the salesperson suggested we go with a lower pile for the stairs and higher grade carpet for the master bedroom. When the installers arrived I checked the carpet before they installed it and the carpet for the master bedroom was incorrect. No apologies. Had to move the furniture back and wait another week, move the furniture back out and it was installed.
Last month I ordered carpeting for a home office and hallway to match the carpet on the stairs. The salesperson assured me they had the correct information after I told them what happened last year and he said he saw a note that the carpeting had changed and the installation was incorrect initially. My daughter stopped in the store one more time to verify the carpet and took the swatch to the desk and he confirmed that "Yup that is what I have." Yesterday the installers arrived and this time I didn't verify the carpet before they started and after 1 1/2 I walked downstairs to check on progress and found again it was the wrong carpeting. They used the same carpet type at the bedroom instead of the stairs.
Home Depot has offered me $200 discount if I keep the wrong carpet but it turns out they charged me for the wrong carpet that was over $400 more. Huh. I get the wrong carpet, you give me $200 but overcharged me $400 and I get to waiting 6 weeks before the correct carpet comes. I will never order anything from Home Depot again.

We picked out carpet for our home at Home Depot. We decided to do our entire home and they had to come out twice to measure. They lost the first measurements for over a week and after multiple phone calls and trips to the Home Depot in Shakopee MN the measurements were finally found. We ordered the carpet to be installed by the sub-contractors at Home Depot. Initially we were told it would be 2 days to install and then they changed that to one day to install. The installers arrived on Friday December 2nd. We had been told that we could leave the big couches in place and they would move them. I asked the installers if they could stretch carpet in 3/4 of the rooms in our basement, and then go upstairs to work for 3 hours while I transferred some larger items out of the final room. The transfer would take nor more than 30 minutes. They mulled around 45 minutes in our lower level.
We finally went down to see what they were doing. Three carpet installers were standing around and said we can not do this today due to you have some extra items in one room. The initial plan was for them to install the carpet up to that room and then do other parts of our home and we would remove the items in that room about a 30 minute process. I begged them to stay, and promised I would spend no more than 40 minutes transferring all the items to the garage. They walked out the door with no communication to us for the reason for their departure. We called the flooring dept at Home Depot and spoke to Randy who said they can not do it today since the house was not ready, and we could reschedule. We had moved most of our furniture and
furnishings to prepare for this about 8 hours of work on our part.
We have spent a lot of time on the phone talking to Ryan the store manager at Home Depot. They never answered the question as to why the installers left our home and why they could not install the carpet. We are going with another carpet company that values their customers and is willing to work with us. The company we are going with stated that rooms get their carpet stretched individually. It is no problem if bulky items such as weight lifting equipment, bed frames etc be transferred to carpet that has been installed.
In the new company's words "Why would we make you carry heavy items up steps and into the garage when you can simply put them into a room that has been finished?" That is called common sense and good customer service - which Home Depot sorely lacks. We are now being penalized $750.00 for cancelling the job. Do NOT purchase anything from Home Depot that needs to be installed. They have the worse customer service. Buyer beware!

I purchased carpet, padding. Paid for installation on 11/18/2016. As of this review I have yet to have it installed with the date of 12/20/2016 which I am not happy with. I can't decorate for Christmas without have to take it down before Christmas. I contacted Home Depot as soon as I heard that they weren't going to be able to install it within a few days of purchase. I contacted Cooper Installation, this company installs for Home Depot and they weren't concerned with my unhappiness and neither was Home Depot. One dissatisfied customer. It will be almost a month after paying for my carpet/install/padding that I get the product. Sad...

The ceramic tile installation of the perpendicular lines are uneven, and the carpet installation, the edges were uneven and not tight enough. The trims all around the walls were also nailed down incorrect, and the nails were also above the trims which creates caution. The transition from carpet to tile is also unseparated, and after asking for a separation of it we were charged for it. We were also blamed for what we didn't do with solid evidence, and because of this if we wanted a repair of this blamed incident there would have also been a fee. This also is not the only blame, there were many others as well.

We recently purchased carpet for our living room, dining room and master bedroom. After 8 months of reviewing the small 4" X 4" color samples that come in numerous degrees of shades, we chose an off-white/cream with gray and black flecks and a bit of brown flecks. The carpet looked and felt sturdy, with tight twists that looked like a dense pile carpet, which is what we wanted so it doesn't mat down. We could have gone with the same carpet type on a 7-day discounted option, but the colors were limited with lots of beige options which I adamantly did not want, therefore we paid almost double to get the exact color we wanted. However, now that it's installed, the color looks like a peachy beige when direct light is not on it and the quality does not appear to the same either; the twists are thin and the carpet is flimsy. We are SO disappointed as we now have peachy beige carpet that clashes with our home decor.
Home Depot initially stated that they would stand behind it and rectify the issue, as the assistant manager admitted he saw the peachy color as well. The carpet installed has appears to have more lighter brown fibers causing the reddish hue. I noticed the color immediately when the installers came, and the roll was on the truck in our driveway in the shade (where the color shows most as peachy-beige). The installers said I could refuse the carpet, but what pressure when our house had been emptied of all furniture, including our bed, and the installer said it would take another month to get a new order -- the thought of all the work we'd done to prepare for the installation and then to put it on hold seemed too much (folks, hind-sight: don't let this affect your decision to refuse the carpet).
Plus when they cut a piece and brought it inside in morning light, it looked closer to what I'd ordered, so they installed it. When the sun goes down or any slight shade falls on the carpet , the rooms are noticeably a darker peachy-beige and not the creamy gray we selected. Home Depot said the mill manufacturer said it's "Snow Bank", what we ordered and it's "close enough" so there's nothing they can do. They talked about dye lots being different -- so, if the dye lot causes the color to be different than what we selected but the mill labels it with the same color name, the mill is right and the customer is wrong, and we're stuck with it? That's fraudulent!
I told Home Depot that this is the manufacturer's issue and they needed to ensure their vendor provides the correct color and quality that THD is selling to their customers if they are going to stand by their products. But this is not the case -- Home Depot does not care about satisfying or retaining their customer, but only retaining their vendor apparently. We're fighting this - any suggestions to help would be welcomed.
Home Depot Floors Company Profile
Company Name:

Home Depot

Year Founded:

1978

City:

Atlanta

State/Province:

GA

Country:

United States

Website:

http://www.homedepot.com/