Haier Washers & Dryers
Haier designs solutions to enhance consumers' enjoyment of home at every stage of life—from university to first apartment to all shapes of family living. Each solution champions intelligence, individuality and the human drive to create the perfect home, so that each interaction with the consumer is a new opportunity to bring ease and joy to everyday life.
Consumer Reviews and Complaints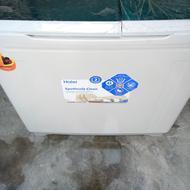 Haier HWM120-BS I bought it last week. Its outer body part is of metal. I was a little hesitant as metal is not long distance partner. It rots. But the salesman said water won't be coming out and it's common that actually water doesn't fall out. But as I started using it every time with little water or more the spinning of machine is so fast its waves throw water simultaneously. So I recommend not to buy it and even the spinner is not smooth like any other washing machine.

I purchased a combo Haier washer/dryer as I was told by the appliance store there were no longer available stackable washer/dryer 24" deep or less. After putting in my first load and seeing that the load would take over THREE HOURS I did more research and found that there are indeed machine measuring 24" that are stackable. I have just sent an email to the appliance store since they are closed tonight and tomorrow stating I want the machine OUT of my condo. It is a huge waste of time & money!!

I bought a Haier washing machine in February 2016. The actuator tore from the mounting axle. With closer inspection it came to light that it is poorly designed. The axle is literally held into position by three small spots. It is a miracle that it worked two months. Masters has arranged the replacement component from Brisbane but the component is very poorly designed and cannot handle 5 kg. the way it is designed. How should I handle this? Please help!!

Purchased pair in 2009, base models from Conn's Appliances. They were 50% less than others available & were the only brand that offered 3 cycles instead of many more that we felt were unnecessary. Have used them daily for at least 1 load & have had no problems at all for the past 5 years. The price at $550 was what we like! Price is most important but performance has been better than excellent considering the frequency of use. They both get the job done. We have a freezer by the same manufacturer that has been reliable for 10 years. Full size regular, permanent press and delicate are the three cycles.

The old Kenmore apt sized washer was 18 years old and worked great - I just felt it was time - just in case! So bought the 1.5 cu ft Haier compact washer. Price, stainless tub, high efficiency, quiet, 1.5 cu ft is quite large when you take into account an agitator is not part of the mechanics. Owned about 3 months. Best Buy has this unit on for 25% off periodically and at that price (close to $200.00) it was a no brainer. I'd never had an Indian made washer but the many reviews were 100% positive. Warranty was good too.
How do I know I can trust these reviews about Haier?
882,235 reviews on ConsumerAffairs are verified.
We require contact information to ensure our reviewers are real.
We use intelligent software that helps us maintain the integrity of reviews.
Our moderators read all reviews to verify quality and helpfulness.
For more information about reviews on ConsumerAffairs.com please visit our FAQ.

I had this dryer since July.. The dryer has worked maybe 90 days since I have had it. The repairman had been to my house at least two times a month since October. He came again today and it still does not work. I'm a single mom with three kids and I don't have time nor the money to keep going to the laundromat to dry our clothes. I wash probably 20 loads of clothes a week.. I want you to take this dryer. Give me my money back so I can buy a reliable dryer. My dryer before this I got as a gift in 1998 and it still is going..

I ordered my Haier portable machine through Walmart.Com. Finally I picked it up, brought it home, took the washing machine out (model # hlp21n). The entire washing machine was all wet. All these crystals came out of the box and were also inside the washing machine. One side of the tub inside was rusted. I was desperate for this machine since I have a very small apartment and hated to go back and forth to the laundromat due to my arthritis in my back and hands, so I decided to clean it up the best way I can.
Took Brill to get rid of the rust stains. It seemed to work, so I decided to hook up the washing machine, washed the rest of the crystals particles and the rust stains that were inside the rubber part of the tub. It worked fine, then ok, let me throw 1 shirt in it. It started to work fine until it went on the spin cycle. It made a huge cracking noise, sounded like there were a whole bunch of rocks somewhere inside the bottom of the tub (and no I wasn't washing rocks either) then the spin cycle stopped. I called their customer service department to complain. The rep told me that they try out the machine before they send it to the consumer (I think they forgot to dry the thing out and broke the spin cycle or forgot the rock sound on the spin cycle). I wrote to their support center. Now I'm just waiting for somebody to get back to me. They told me 2 days, so I'll wait. This is very upsetting!

I purchased the washer dryer combo and within 3 months it stopped working. Service repair took 3 weeks to arrive and 2 weeks to get the parts. 9 months later it broke down again. Cycle repeated. One week after the 1 year warranty expired, it broke down a 3rd time. I had to go through a complaint process that took months and the end result was they said no way they would provide me with a new unit or repair it, despite it being a lemon from the onset. There should be a class action lawsuit after reading all of these reviews. There is obviously a product being sold that the company knows is a problem and they keep ripping us off. I would NEVER buy a product from them again. The customer service is horrible, service is horrible, and product was a waste of $1000.00. I even hate giving them 1 star. They need to have negative stars on this site.

Bought a washer/dryer for $500 and change delivered from hhgregg. Seemed like an awesome deal right? WRONG!!! They look great but work horribly. The dryer will run for literally hours and beeps annoyingly and incessantly. Now it's not drying at all and it's out of warranty. So instead of throwing a penny into this turd, I am buying a Samsung at BrandsMart on clearance. It's my fault for ignoring all of the reviews!!!

I had purchased a washer and dryer from hhgregg a couple years ago. The first three weeks I had it, it wasn't letting the water out properly and it was sounding like there was something loose or clinging around inside the pump or something. My dad told me to call them, so I did. They set an appointment, came out and seen that it was on the floor and hooked up properly, so I proceed to open the lid and showed them that there was still water inside the drain. He then pulls it out and opens the back to take a look at motor. He asked me to turn it on, so I did. I turned it on as of though it was washing, and it still was not letting the water out. So I had to get my wet vac to suck the water out.
He proceeded to still tell me that there was nothing wrong with the motor or anything, and that the problem was that I needed to put the washer up on cinder blocks so that it would be higher to the drain, and that should solve my problem. "I was like I had never heard of no suck thing, and that when I first bought it it was fine, and now all of a sudden that's the reason." So I went and bought the blocks and the same thing was still happening. I have been calling the place who sent the repair guy out and also emailing. STILL NOTHING! This washer and dryer sucks. Don't get me started on the dryer. The first couple weeks of having that, the dryer's paint or whatever on the drum was coming off.

My son bought a Haier washing machine two years ago. We had it a month when it filled my house with smoke & burnt rubber smell & stopped. I pulled the plug, & called the repair service. The repairman said there was nothing wrong, I must have let it run out of balance. It has operated well until this weekend when it made quite a racket, as the tub dropped right down on my floor! I have never experienced anything like this before and hope I never will. I have to get a new machine. YOU CAN BET IT WON'T BE A HAIER.

I bought one about a year ago for part time use. I live by myself. It broke on the first load of laundry. The warranty service people came out and fixed it. This took about three weeks. The dryer portion did not work very well so I was only using it as a washer. After maybe 25 loads over 8 months the unit stopped working again and came up with the same error code 7. I contacted the same warranty company, they came out, looked at it and never came back or called. After a month I called them and was told my washer dryer combo only has a 90 day warranty so now I have a under one year old Haier that is junk. I refuse to spend any more money on this Haier junk.

I purchased a Haier washer late June 2014. Less than 6 months after purchasing, it required service. Now the water pump and belt (and possibly the motor) are not working because the machine no longer spins or drains. I contacted Haier and was advised that their warranty is 12 months and they would not consider the idea of standing by their products and extending it since I am just outside of the warranty period. They were supposed to email me the name of a repair shop, and failed to do so. Haier is horrible. I have the receipt, if needed.

HW55-1010ME - Purchased this machine in 2011. Fast forward July 2015, the entire drum assembly breaks down. The stainless steel drum and the bearings need to be changed and cost would be 5000+. The drum, though made of steel, shows extreme signs of rusting on the rear. The three shafts that hold the drum and is mounted on the horizontal central shaft has corroded completely. I could see all the detergent and mud accumulated on the rear side and should be the reason for the corrosion. These three pieces is what take the weight of the SS drum and are made of very inferior quality with no mechanical strength at all.
Also since they are re-vetted (instead of bolting) on to the central drum, so you have to replace the entire drum in case of corrosion of these parts even though the drum can be used. This another hidden strategy to sell spares and make business. I am very unhappy on the kind of build quality this machine has. Also the spares are not easily available and the technician has opened the unit and is now hunting for spares. I regret my decision on buying this washing machine from Haier.

Had the dryer for all of two months before it started deciding on its own when it would stop and start. Purchased the dryer at BrandsMart. Have been waiting for almost 4 months for a technician to come and "fix" it. Nothing has happened because every time the tech is scheduled to come out, they "can't contact the customer." I assure you that having to go to a laundromat to dry my clothes is MORE than enough motivation to be READILY available for a tech to show. Three weeks ago it stopped drying completely and the company keeps "sending the wrong part" when it's scheduled to be fixed by the technician. Save yourself time and money by taking your business elsewhere. Worst customer service and machinery known to man.

I purchased a Haier washing machine a year and 5 months ago. Within the first year of having it the agitator literally flew out of the machine. They told me that there are no repair people to fix it but they sent me the part to put it in myself. And it was under warranty. How sad. Now today after a year and five months the spin motor is bad and guess what, I am told that I am 5 months out of warranty. Go figure. Would never buy another product from them again. Beware if you do. You will be doing repairs yourself if you're lucky for them to cover them.

I purchased a Haier washer & and dryer from HHG a little over a year ago, and let me tell you never will I ever purchase anything made by them again. I haven't had my washer but a little over 1 year and it will not wash. It runs in water and it just sits there.

I have only had mine for 4 months and the motor has gone bad! Local repair guy came out and said it will be a week till he can get the part and come back. Just unacceptable for a brand new washer.

I bought a Haier washing machine 2 yrs. ago. Now that it's out of warranty it decides to break! I should have read Reviews much earlier before purchasing this product. I went everywhere to try and find parts but could not find them locally. Had to order from across seas just to repair it myself! I will never buy any of HAIER products again!

I purchased a pair, new Haier washer and dryer at HHGregg. It stopped working for less than 2 years. I called the contact number from website and requested the repair. All they did is give a local repair shop phone number. I asked if this is common to have such short life on products. She responded they had good products and no recall on it. Then I went to their website and saw lots of complaints about the same problem. Will consumer protection department involve in this? This kind of poor quality is not acceptable. I have old appliance still working for over 40 years. This is only 1 years old.

Washer RWT360BW - This product is less than a yr. old and already the belt broke and the motor. Machine will not spin. I guess it is worth it to pay more for a quality product in the long run. Any stores that sell their products should take them off the floor.

I created an account just so that I can warn others about the horrible service, quality, etc. of this brand. The customer service is horrid, the same representative ** would answer with a great amount of attitude. I think they are used to getting hundreds of complaint calls because they treat you as if you are just another one on the list. They all hate their job and moan and groan when you call. The tech that came out was a nice guy, but didn't seem to know what he was doing.
I had my washer "fixed" at least 8 times in the span of 6 months. This is how their warranty works: You call in and tell them the problem and they send a tech with ordered parts based on your claim. This would work if consumers were tech savvy, but every time the tech came out, he noticed a new problem and would then need to order MORE parts. I strongly suggest to stay as far away from this company as possible. The reviews certainly reflect what a horrible company this is - I hope they dissolve.

On February 28, 2013 I bought a brand new Haier washer from HHGregg. We even paid more for the 2 years warranty from HHGregg. As of yesterday March 6, 2015 it stopped spinning. I refuse to pay for a repairman and parts. I will just go put the money into another brand washer, one that will last more than 2 years.

I purchased a brand new set (washer & dryer) in August 2013. Since then, the washer agitator has broken twice and the dryer door had to be serviced twice as it was failing to close properly. Then last week the dryer emitted a burning smell and completely stopped working. Haier is complete junk, their only possibly use would be as an artificial reef. I will never buy another Haier product & wish I had done some research before purchasing them. Learned a valuable lesson.

I will never buy another Haier washer again. I replaced the main board last year with a cost of 545.00 only to have the same main board break again. The cost would have been another 354.00. It would have cost more than the original price of the washer!! Haier wouldn't give me any satisfaction, compensation, or $$.
Warranty my foot! Your satisfied customer.

Purchased small apartment size stackable washer and dryer. Washer is not bad but the dryer has been nothing but a headache. The dryer never fully heats to dry a load in under an hour! Now it is making the most horrible noise (actually drowns out all sounds in my apt.) in addition to not heating properly. When you try to get customer service you end up talking to someone who does not have full command of the English language. DO NOT PURCHASE.

Most unhappy with Encore washer bought @ Conn's Denton,Tx. Became inoperable. Repairman cost? $80 to determine cause. 2nd trip repair- part & 2nd? $80 (astronomical/disastrous to me/very limited $). Short time - is doing same. Feeling betrayed - no $ to repair again. Used 1- 2 loads week, if that. No recommendation possible. So sad.

HW70-1279 - I had bought this new machine on 8th February 2014 from FAIRDEAL ELECTRONICS 26A, K Block, Raja Puri, Uttam Nagar, New Delhi-59 on the advice of Mr. ** in exchange of my IFB washer in which main motor was burnt. I had to pay 4800/- for the motor otherwise everything was well repaired will mostly new parts. I took decision to exchange my IFB with this Haier machine and since then I am not at peace. It was shaking at the time of demo but MR. ** who came for installation told me it is normal. After few days it started making kit-kit noise. I complained but they told to me it is not a problem it is normal. Slowly it increased and again they came and started figuring out but were not able to. Then I told its base plate is loose probably pl tight it and after they did it brace less noisy but noise was still coming.
After some time it started shaking and jumping like frog and when I called service person they came and they saw and admitted but said, "I had fixed its belt now and now it will not shake." But it were shaking same way. One day it made a different sound and then I saw it was broken from inside completely. Rubber gasket were torn out. I was shocked. I made video and taken many pics. Now after complaining they came and said that they will repair it. They hardly bother what I am facing. I had bought machine for washing my clothes not for getting their machine serviced at my home.
Now whenever I try to call Mr. **, he gives his phone to others and others say he is not there. No one is bothers and thinking of serving to their customer. We all have decided not to buy Haier product from now on. But now our aim is to get out the mess created by Haier. Earlier I were thinking of replacement but now seeing their behavior of Mr. ** and service center I want refund so that I can buy other brand washer for my comfort.

I bought the first one in March of 2011. In June 2012, it stopped draining. After much argument, I was able to get a replacement under my warranty. I got the replacement June 28, 2012. On August 15, 2014, it stopped draining. I am so mad because Haier does not care about their customers. I think they sell sub-standard products and something should be done! I am in the process of discussing this with the store where I purchased the washer. I doubt they will do anything either. I will NEVER buy another Haier product!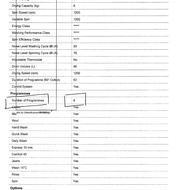 We purchased Haier fully automatic washing machine, HWM60918NZP, after reviewing specification on Haier India official website from a dealer in Opera House, Mumbai. On Haier official website, it was mentioned that this product has 8 programs but demo person could not show this and tried to convinced us that 5 step wash includes 8 programs. We again checked website and then called for re-demo (complaint no **). Their technician Mr ** confirmed that this product does not have feature of 8 programs and it was in 7 kg machine. He mentioned that website was wrongly updated.
Being MNC and reputable company it is a gross error. I selected the machine after good search as I was impressed with the specification on the website, which weren't there in competitor product. I want that Haier should replace the machine which has the necessary features with no added cost as it was inadvertently (give them a chance) mistake of Haier.

ConsumerAffairs Research Team
The ConsumerAffairs Research Team believes everyone deserves to make smart decisions. We aim to provide readers with the most up-to-date information available about today's consumer products and services.
Haier is a relative newcomer to the home appliance industry, but it has made a huge impact. It now employs over 80,000 people and generates over 30 billion dollars a year in revenue.
Combination washer and dryers: Haier offers a washer and dryer in one, which means the dryer cycle starts right after the clothes are finished being washed.
Portability and compact washers and dryers: Haier offers a variety of compact and portable washers and dryers that appeal to consumers who need extra space. In fact, the portable washers and dryers allow users to move these machines nearly anywhere they can hook them up.
Low cost advantage: Haier washers and dryers are extremely competitive on price, offering plenty of value for machines that offer most of the functions people are looking for.
Gas and electric on offer: Haier offers gas and electric-style washers and dryers, meaning consumers can make this important choice for themselves.
Best for Apartment Owners and individuals.
Compare Washers and Dryers
Haier Washers & Dryers Company Profile
Company Name:

Haier

Company Type:

Private

Year Founded:

1999

Address:

1800 Valley Road

City:

Wayne

State/Province:

NJ

Postal Code:

07470

Country:

United States

Website:

http://www.haieramerica.com/