Consumer Complaints and Reviews

Owning this machine has been an absolute nightmare. We purchased this machine at the end of Dec 2016 and it has been nothing but trouble ever since. Since we purchased this machine, we had used it twice. Both times, the clothes came out soaking wet after the cycle. The third time we used it (mid-January), the machine sensed an imbalance and locked up. We called GE to troubleshoot and after a few unsuccessful attempts of trying to get the lid to release, they agreed to send a technician out.
The technician showed up and took less than 10 minutes to tell us that the issue was with the motherboard and that it needed to be replaced. We soon found out that they had no motherboard in stock and it would not be until the beginning of February before we could get a new one. This was a 3 week wait. We were unhappy as this is a brand new machine (around 1 month old) and it had already failed. After waiting the 3 weeks, the technician arrived and had the motherboard to change out of the machine. They changed the motherboard on the machine and it still did not work. They had no idea what was wrong with it.
We had to contact GE to finally get them to replace the machine as we had lost trust in the product. Unfortunately, even with this resolution, they said it would take another 2 weeks before they could deliver the washing machine. By this time, we were so frustrated with the product that our issue was escalated and we were speaking with a member from their office of the president. This is where the poor customer service truly escalates. We wait the two week period and see the delivery truck come with the new washing machine. They bring down the machine and unpack the box and the machine is dented and in such bad shape, that the delivery guys had said they aren't going to deliver the product because it won't work and it's pointless to install another defective machine.
At that point, we called the direct line to the member every day. Every day it went to his voicemail, and we left a message for him to call us back to discuss what the new solution would need to be. After all, we've already waited over 5 weeks for them to get us a working product. His voicemail always stated that he was in the office and that he would call back if we left a message. He never did. Eventually, we received a call from the delivery person to say that a replacement was available, but we had never received a call back to update us or even to let us know to call the regular support line letting us know that a replacement was on the way.
I've lost a lot of trust in GE as a company. It's very upsetting to see a company that used to have such great products and a great reputation to be treating their customers like this. I understand that a product can fail at any time because of all the parts that go into creating a product, but to not call a client back to at least offer an update is extremely upsetting and disrespectful. The amount of time that my family and I had put into this and the lack of courtesy that the company had offered towards our situation is very disrespectful and sounds like a company that only cares about the dollars and not about how their product and services can enrich a family's lives.

I purchased a GE Profile Washer and dryer a few years ago. Barely five years and had to have a repairman. Over $700 to repair clutch. Thought would last a while but couple years happened again. Paid again. Now last week it broke down again! This time they want over $1,000 to do repair! Seriously! I had my last GE washer for over 25 years and no repairs! My son took to his place did some minor upgrade and still has it running. For over 45 years was a faithful consumer of GE products. My husband at one point worked for GE. Had a great reputation. Now, I wouldn't touch another GE product. Most appliances today unfortunately are junk and cost a fortune. I was told by a salesman that most appliances only are meant to last at most 5 years! How sad is that! Is there any way to get compensation for such a very expensive washer that was touted as the best of the best!?

I purchased a washer and dryer from GE March of 2016. We have had service tickets on our washer 5 times and the washer continues to give us trouble. We have to go to the laundromat multiple times. GE products suck. I'm in the process of buying a home, in need of a stove and refrigerator. WHIRLPOOL, HERE I COME. GE, my family has been buying your product for more than 27 yrs. NEVER AGAIN!!!

I purchased a new GE washer and dryer in January 2015. In June 2015, I started to have issues with the Dryer. I called in and they took care of it under warranty. In December 2015 I started having even worse issues with the washer and I called it in and they dragged their feet and didn't send anyone out till near my expiration date of warranty. I complained that the person did not fix my washer and they informed me that I would have to pay for the service call because my warranty was now up. Just barely up and had they fixed it when I first called I wouldn't have had the issues! I could have called them back in my warranty time. I will NEVER EVER EVER EVER purchase any other type of GE product nor will I recommend them to anyone. I now have a brand new, broken, washer that I paid around $1500 for the set.

I purchased a GE Gtwn7450h1ww top load washer in April 2015. It's run fine until tonight when all of a sudden the door lock won't lock!! Now I have a load of semi-wet clothes I must lug to the laundry mat! The actual motor works but because the stupid lid won't lock, now I have a piece of crap! Lately our clothes haven't been getting real clean either. Not sure if these 2 things connect, but I'm not very happy to have a less than 2 year old appliance fail like this!!!
How do I know I can trust these reviews about GE Washing Machines?
717,175 reviews on ConsumerAffairs are verified.
We require contact information to ensure our reviewers are real.
We use intelligent software that helps us maintain the integrity of reviews.
Our moderators read all reviews to verify quality and helpfulness.
For more information about reviews on ConsumerAffairs.com please visit our FAQ.

I would have given no stars but then I couldn't have continued to speak my mind!!! I wish I could give a video I took of this sorry washer dancing around my laundry room!!! It is less than 2 years old and I only got it because it was the only one with an agitator anymore!!! I have had the water hose come undone so much that flooring needs to be replaced!!! It bangs around like it's off balance on every type of load no matter the size, water level or soap I use!!! It is sorry!
I told retailer and someone came and says nothing's wrong!!! I have to literally lay my body over it when it spins!!! I don't like that it puts how much water in it that it wants to, don't like the lid locking or anything about it but color white. I'm not usually a mean speaking person but I'm writing this as my body is literally draped across top of machine to hold machine in place as I do my laundry!!! I know that no one will contact me or cares if I like my washer or not but I feel a bit better for letting others know NOT to buy this product!!! Now if I could only find a new machine that worked like the good old days!!!

I've had my washer for two years and didn't buy the warranty but that should not matter because it was a piece since I purchased it. The water doesn't fill to the top. It can only wash six towels and really doesn't clean the clothes well. I bought it from Lowe's. It's model number GTWN4250D1WS, SERIAL # TD133653G. I NEED TO BUY ANOTHER WASHER, BECAUSE I HAVE TO JUNK THIS ONE. Lost my receipt but Lowe's should have record purchased on Lowe's credit card.

Do not buy this product (GE front load washer model #WCVH4800K2WW)! If you do you had better get an extended warranty and have lots of time. I have had it for only a little over 3 years. The washer drawer has had problems with leaking twice now. It takes the GE service technicians 4-5 visits to fix the issue (the part costs over $400). I just had my 5th visit to fix the drawer and they switched the water hoses so it now rinses all loads with very hot water. I notified GE within 2 hours of the repair but they cannot come back for a week (another half day off to wait around for service). Terrible product and service. Ability to clean clothes is fair. The dryer that matches this product balls up the clothes and only works well with light loads - sheets end up in knots and half dry. GE consumer advocate was of no help. I will avoid all GE products in the future.

I have had no issues with my GE front loading Washer and Dryer that I purchased in 2004, until last month. The washer needed a small part that wore out replaced. Last year I had 2 old dogs and this year I have 2 puppies so for the last 12 months the washer and dryer have been run almost every day. Prior to that they were run at least once a week for hours at a time. The washer is operated by pushing fake buttons on the plastic. The only issue at this point is that the plastic fronts are cracking (probably from old age). When I need to buy again I will have no issue looking at GE models.

I love the washer. It has a deep fill option if you like more water but it really does work with minimal water. I watch through the glass lid and all the clothes move through the cycle. I wish there was an option to slow down the spin cycle for delicates. It still spins at full speed, just for a shorter time. The one thing I hate, is sometimes it leaves lint build up on the black clothes. Most of it comes off in the dryer, but on the clothes I just hang up to dry, I have to manually rub the lint away. Pain. The deep rinse option may help with this.

In December 2014 I moved into my newly built home and furnished it with 8 GE Profile appliances: washer, dryer, refrigerator, microwave, oven, cooktop, hood, and dishwasher. The cooktop failed and had to be replaced within 3 months (getting it replaced required contacting the GE CEO's office). Within 9 months the pump on the dishwasher had to be replaced and the refrigerator had to be repaired. 2 years later the range hood is not working properly, the front loading washer has to be repaired at a cost of $650 or be replaced and the dryer stopped operating properly a week ago and will need to be repaired. Last night the microwave started smoking and part of the inside wall melted. The 1 year warranty ran out and now I have to spend thousands of dollars to repair and replace the appliances. 7 out of 8 appliances were defective. I will NEVER, NEVER, NEVER buy another GE product. This company is a disgrace.

Top Loading Model GTW680BSJ - We just purchased a new home, built by LENNAR, that included all GE appliances. The very first time I used the washing machine water poured out of the bottom. Technician found the tank had a hole in it and when he contacted GE they informed him it was a known problem cited in an internal bulletin HL08-16. They claim the unit is repairable, but the GE technician said repairing it would mean completely disassembling the machine. We all know that if you have to take something completely apart, it rarely works as it should. GE Customer Service has been dragging their feet for 2 weeks rejecting out of hand my request to replace the machine with a new one. And they do not seem to be able to send anyone to fix it either. The other complaints folks have regarding their customer service I have also experienced to the max.
It would seem that if they provided a new washing machine out of the box and it had a known defect that is pretty massive, they would step up and provide a new one. But the Service Representative told me, "There is no way we will give you a new washer -- it is repairable and we will repair it." I went to Lowe's and purchased a Maytag washer, had it delivered in one day, and have put the GE machine in the garage for them to come and fix it when they can seem to decide how they are going to do it. All they do is call me every 2 days and tell me they are working it.
In the meantime, I will be working towards filing legal action against GE and LENNAR for providing something with a known defect and not disclosing that during the sale. Probably the most interesting thing was a comment the GE Customer Service Representative told me -- "We only read the data, we don't know anything about GE bulletins and we don't care. We don't talk to the technical team at GE. We don't have defective products -- we will fix it 100 times if we need to."

Having purchased a G.E. Washer & Dryer last year, I was totally unprepared for the events that followed that purchase. About 6 months afterward, the washer would simply just stop. I called G.E. and since I still had the warranty, they sent someone out. I didn't quite understand what the guy said but he mentioned that this had apparently happened to other machines. This same thing happened again after the one year warranty was up and I had to pay to fix it. When I would put the clothes into the dryer, there were times that the clothes did not get dry and I would have to start the process again. This happened twice after the warranty was up - no one seemed to know why this was happening. I can only say that I am looking for a new washer & dryer and definitely not a GE.

RE: GE Clothes washer No: GTW485ASJWS - PURCHASED April, 2016. Totally unsatisfactory. Very loud, washer jumps and jerks while spinning, moves constantly and has to be pushed back into place after each wash. Not enough rinse water used even with deep fill and dark clothes when dried show residue from detergent. Must use extra spin on all wash cycles. Bulky items can't be washed without stopping washer and rearranging clothes several times. Sheets finish in knots. At times all cycles work, then they don't and then they work. Three service calls with GE. "Nothing wrong. Nature of washer" so the technician said. He said cheap washer and I agree with that. Paid $539.99 on sale.
However one technician did put in a new computer but that didn't help the jumping and knocking of the machine. Do not recommend this washer or any GE product as GE has not stood behind this problem. Their customer service is the worst I have ever dealt with. I'm sure GE has spent more on service calls than I paid for the washer, but will not give me another washer. Their solution - "Since you are unhappy with your new washer just throw that washer out if you don't think you can use it" and GE will give me a 25% discount on another GE washer of my choice. No thanks!!!

Last October I purchased a extra large capacity GE washer. Hoping that it would be able to handle bulky loads. I always have to adjust cycles to make sure there is enough water. Finally... After I get it washing correctly. The spin cycle bumps around... then I have to adjust the clothes. Which by the way are now in knots tied to each other??? I am not happy with this investment of nearly $600.00.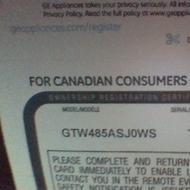 GE washer with fill sensor GTW485ASJ0WS - Worst idea ever. You are supposed to put in your detergent, then clothes then start 'er up. It locks, and spends between 3-5 minutes trying to figure out how much water to add. I'm serious. During that time the washer is locked and it's not filling - it's just thinking, squirting a little water in, thinking some more. Eventually it starts filling up and then unlocks. This is when I add the soap. So - I have to wait 3-5 minutes, after I've loaded and started the cycle, for the machine to unlock and add soap. Stupid. Another stupid thing... Much soap do you add if you don't know how much water the machine will decide to use. I opened the machine one time, paused it to see what was going on. The load was big, but it was lighter wt - sweats, tees, socks, etc... Because the clothing was light wt, the machine had decided the load needed less water. Because it was a big load, I had decided the load needed a large load serving of soap.
Another stupid thing... After loading up a load of jeans, I shut the lid, prepared to wait the required 3-5 minutes before the water started flowing, the lid unlocked and I could add soap. I shut the lid... And saw that the cycle was on delicates. I turned the knob to jeans. Now at this point there was barely any water filled yet. The machine decides that it has to drain the washer, spin out the water, and try to reassess how much to fill the machine. But somewhere along the way, it got confused and just kept trying to drain. It did this even after I unloaded it completely and unplugged it. So - after multiple tries, I unplugged it again, and left the room for 1/2 hour.
Came back and plugged it in, and apparently 1/2 hour was long enough for it to forget what it had been trying to do & just start over again. So - hear this - to get one load started, where I mistakenly had the cycle set wrong and switched it before the machine was full or washing even - it took about 40 minutes. Thanks GE. Your product stinks.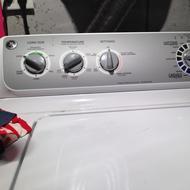 Washing machine model GTWN4250M1WS - Do NOT buy a GE! This damnable machine, <5yrs old, is supposedly energy efficient. Not when EVERY load has to have an extra rinse, it isn't, no matter HOW little laundry soap's used! Sometimes it leaves clumps of powdered laundry soap - AFTER the cycle finishes - so what's happening with the liquid soap I occasionally try? Once it fills it won't accept ANY settings changes - when I've tried, it instead empties all the soap and clean water, NEVER agitating.
Only if set on "Gentle" will it - sometimes - not twist all the pants/LS shirts into sausages. If I put it on fill with no clothes in it - even if not on the auto-sensing - and leave for even a second too long, it will "fill to less than 8", not nearly enough for the XL load of waiting clothes, & no changes of the dial will get it to put in more. We had a Maytag in our last home and will look for another when we can kick GE to the curb!

We too bought a GE top loading washer in 2016 and have been having trouble with it for months. It does not spin out properly. We have had the repairman out on four occasions. The motherboard and drain sensor have been replaced. It worked for three days and then stopped again. Repairman is scheduled to come out again today. It is a lemon.

I bought a washer the end of March 2016. Mid-December my washer lid would not lock and I could not do laundry. I contacted the number on my manual only to be put on hold and then a recording that said this product is not covered by warranty. Desperate - I contacted Lowe's where I had purchased the item. They contacted a warranty repair and set up an appointment - the first appointment was the following week (time I had to take off work). The repairman came to tell me that they had to replace the sensor. That took a week and a half to receive. In the meantime I took time off again to contact GE's consumer affairs (their hours are M-F 9 to 5). After waiting an hour and a half on hold I was basically told I could file my issue but there was nothing they could do to rectify the issue.
I was out of town for work and could not take off to wait for the repairman so it has been over a month without my washer. This is a huge inconvenience as well as having to take several days off work and the issue is still not rectified. I would NOT recommend any GE products to anyone. They have inferior products and do not stand behind them.

My 4th GE Profile washer and dryer. This time surprised that the finish rusted, 1st year. Tried to fix but did not work. Called customer service, they would not help. Guess I need to look at better options!!! Not good for GE.

We had bought a new GE top load washer and dryer with the bigger drum since we have 5 in the house. Bought them Nov. 20/16 and received them about 2 weeks later in early December. My wife used them for about three loads and complained about the noise and the fact that it went through 2 wash cycles and 4 rinse cycles. Not very good for a "HE" washer. We went back to where we bought them and they put us through to GE customer service where the gentleman on the other end made us feel like total morons. It's like we never did a load of laundry before.
They eventually sent a repairman about a week later and he came in and saw the issue and ordered a new Motherboard and set of dials. And yet another 9 days of waiting for parts. The washer now has the "SPIN" light flashing and the machine shakes violently with just 4 light sweaters in it. And yet another phone call to the repair place on Monday Jan 16 and the service guy will not be here until Jan. 24th. I do not blame the Store where we bought it, but I am at wit's end with this "POS". The dryer works fantastic. We got rid of a perfectly working 26 year old Maytag for this nightmare. DON'T BUY G.E.

I hate, loathe, and despise this "high-efficiency" washer. As others have related, despite the use of HE liquid detergent, the washer leaves a white residue on dark clothes that is nearly impossible to remove. Even using the extra rinse cycle does not guarantee that the residue is washed off, and since the idea of HE is to use less water, having to use a second rinse defeats that questionable purpose. Since the machine uses a minimal amount of water, the clothes are not very clean, and there is obviously soap residue left on/in the fabrics. If I could give this washer no stars, I would.

Bought a front load GE washing machine and dryer "combo" with pedestals in Dec 2008 for 4K as a Christmas present for my wife. After 5 years of use on the washing machine we started to have major problems (the washer Has NEVER been abused and is still to this day in like new condition). Come to find out there was a major recall where the drum comes completely off during spin (which is what happened to our unit). MODEL: WPDH8800J0WW/SERIAL: SR20095OT. In 2013 when the machine was 5yrs old GE techs came and performed the recall. Going forward we had techs come back because the drum never spun right again. Spun so fast we thought it was gonna blast off to the moon! Techs hooked up their machine and put it to their computer test and could not duplicate any problems! I even made a recording to show the tech! Again still no help or fix but they were so kind (sarcastic) not to charge us a trip call!
Finally this week a tech comes again (3rd time is a charm), and now says "I've never seen this before but when I took the top off the drum and weights have come off again". All related to original problem! After talking with his home base he said it'll be $400 min to repair OR they'll probably make you a great deal on something new! I called customer service and gotta say they're horrible to talk to also! Terrible customer service on every level and immediately was turned off by their nonchalant attitude at helping make me whole again and standing by their product!
They offered me a new machine Model: GFW480SSKWW for the low cost of $1,140.98 and a matching dryer for the same price also! (Since the matching dryer I have computer syncs with the old washer is no good anymore due to technology advancements.) For a grand total of 2,281.96 before taxes etc! Needless to say I have NEVER felt so taken advantage of and will NEVER buy another GE appliance if possible due to this experience alone! I have turned to ConsumerAffairs in hopes to warn of this issue and anyone else who may be dealing with the same product! Today I will start my journey in finding a new washing machine and dryer and it won't be a GE.

In May of 2016 we purchased a brand new set of laundry mates (GE) from Sears. From day 1 it has been nothing but troubles with the washer. The GE repairman has replaced the motherboard at least 3 times because it will not work or when it does it locks up and does not spin out. The clothes are not clean and it is hard on the clothing. Please check our account and see how many times we have had the serviceman out for the stupid machine. We are not happy with the dryer either because it takes forever to dry a load of clothes but the washer by far is the worst problem.
We have had so many trouble calls from GE service and they will not do anything for us any more so we called Sears where we bought it and told them of our dilemma. They are supposedly sending over another repairman. I have made many trips to the Laundromat to do my washing. This is not fair to the consumer to be stuck with such a lemon. We have requested they give us our money back so we can purchase another set but it definitely will not be GE

I purchased a GE washer, model GTW330ASK0WW on 12-22-2016. It was a mistake. The washing machine shakes, vibrates and makes loud noises due to the violent shaking during the spin cycle. Did I mention the violent spin cycle? It makes one think that it will break very soon.

I bought a new washer model gtw460asj2ww. It takes a long time to wash a load of laundry. I have to check when it is done filling with water because the computer does not always fill correctly with a large load. The soap was still in the clothes and family was having skin irritation. Energy saving or not, I won't buy another water saving washer.

In August 2015 we bought a matching washer (GTW810SSJ0W) and dryer (GTD81GSSJ0WS). The dryer broke a belt after the third load. When the factory tech repaired the belt, he discovered the computer interface board was also bad. Once everything was fixed the dryer still would not dry clothes because it was spinning the clothes too fast. GE claimed it was working within spec. 7 weeks without a dryer and tired of fighting with GE we went back to the dealer and he got the GE Sales rep to send us a new dryer. The new dryer had a slight model number change to GTD81GSSJ1WS. That tells me the GE knew there was a problem too. So far the dryer has been working.
Fast forward to October 2016, our washer started making clicking noise in the drive/transmission. Remember we were going to the laundromat for 7 weeks while the dryer was broke so we really did not get 15 months of use out of the washer. Since it was now out of warranty we decided to run it to failure which it has done this week. I believed that the Mode Shifter (depending which part site you visit) is what is broken but I will not spend the money to find out.
The washer also would have long run times and leave soap stains on clothes. The reason for the stains is because the lack of an agitator would not pull the clothes under the water. The HE feature only fills the tub 80% full based on weight therefore you never know how much soap to put in because you never know the amount of water that will be filled into the tub. The rinse cycle is based on the amount of soap it detects and will keep rising until clean, thus the long run times. This is another reason to get rid of the washer instead of attempting a repair.
Since the repair is estimated to be more than half of a new low end washer and that it is obvious that GE appliances are not built last, we opted to replace it with a non-GE washer. Our salesman noted that most appliance makers are changing model numbers every 6 to 9 months. I do not know if this is a fact but it makes it hard to compare apples to apples for reviews or finding long term trends with failures. I suspect that is true since an internet search only found one matching failure (the same GE dryer out of the box).
My point of this review is not only that GE produces junk but it is more of a warning against online reviews. Most reviews are written days after first use and they do not ensure long term reliability. I am basically saying that the online reviews are helpful but should be written 6 months after use to give more reliable feedback. I am not going waste my time looking for my receipt but will gladly find them for any GE rep that want to dispute my facts.

GE washing machine GTW680BSJWS. Purchased at Home Depot, installed October 25, 2016. Immediately had problems. Clothes were loaded properly, but ALWAYS with 13 minutes remaining in the cycle, all the clothes were piled into one big ball; machine shook so violently and moved across the floor. First service guy, Ken from Diamond Factory Service, came out and insulted us by stating perhaps we didn't know how to properly load the machine. I started taking videos of the machine being loaded, and throughout the cycle, with different types of loads (mixed, sheets, etc.) as proof of the problem. Next service guy was from RAS. He didn't want to see the videos and he didn't want to do an actual load to see what's happening. Third service guy, Tim, who was a "real" GE tech... same thing. Didn't care to see the videos and didn't want to do an actual load.
Our case was "escalated" to consumer relations supervisor, Antonicia (1-800-386-1215 Ext. **). However, after leaving her numerous messages ("your call will be returned within 24-48 hours"), she never returned the calls. Home Depot will "let" us return the machine for a 15% restocking fee. So it will cost us almost $100 to get rid of a defective washing machine. AND, we purchased the extended warranty on the machine, which didn't do us any good! We will never purchase another GE product. Customer service is horrible.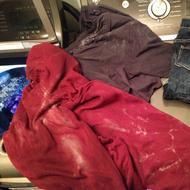 First of all, I want to say I created an account to leave this review. I researched other websites & felt confident in my purchase. I bought a GE washer modelGTW860SPJ1MC. I have owned other GE washers in the past. (We always leave our appliances when moving.) This machine does not rinse the clothing well & leaves an awful residue that needs to be scrubbed with a brush to remove. I used 1 TBSP of HE detergent per full load. After approximately 1 year of dealing with the Customer Relations and many tears shed, they finally gave me a new machine. The same problem prevails. I've given up dealing with GE and now do each load by putting 1 TBSP of detergent in a big pitcher of water and swishing it with a wooden spoon. Next I always hit the extra rinse button. Sometimes this works, sometimes not.

We purchased a new GE washer/dryer pair (#GTW460ASJWW) in Nov. 2016 from HHGregg in Franklin TN. Christmas Eve, the washer died. Tub fills & stays permanently in 'sensing' phase - will not agitate. Took a week for repairman, now another week for a simple lid lock part. HHGregg will to even return calls - after 30 days, they do nothing. *Bigger concern - inside tub of a NEW machine is rusted all along bottom rim. This is a lemon. We are requesting GE to return/replace ASAP. PLEASE respond!!

ConsumerAffairs Research Team
The ConsumerAffairs Research Team believes everyone deserves to make smart decisions. We aim to provide readers with the most up-to-date information available about today's consumer products and services.
The same dedication to quality that GE puts into building products like jet engine turbines and wind towers goes into their washing machines. GE is an American symbol of industry that was ranked the 14th most profitable large firm in the United States and has even had employees that have won Nobel Prizes.
Washer's with many features in one place: GE washers often offer Energy Star certification, stain removal settings, vibration control and an automatic precision dispensing system, all in one machine.
Special offers: GE routinely features great deals on washers in its Special Offers section on their website, helping buyers connect with rebates, tax credits and special holiday sales.
Washers that look great: Besides offering washers that fulfill nearly every customer's desire, GE washers also come in many colors and finishes, all the way from platinum to ruby red.
Best for People who want a washer that offers beautiful design, people who are energy conscious, families and professionals.
Compare Washers and Dryers
GE Washing Machines Company Profile
Company Name:

GE Washing Machines

Company Type:

Public

Ticker Symbol:

GE

Address:

3135 Easton Turnpike

City:

Fairfield

State/Province:

CT

Postal Code:

06828

Country:

United States

Website:

http://www.ge.com/