Consumer Reviews and Complaints

In August 2016 I purchased a Frigidaire Gallery Dishwasher. Totally dissatisfied with my purchase. I have glasses that are etched. The water does not get hot and the dishes are never clean. The water does not properly drain after washing. I have only used it 4 times since my purchase a year ago.

In 2015 we bought the dishwasher model FFBD2406NW7B new from Lowe's. We have had to have leaks repaired 3 times because of cracked fittings! Even when put on the Heavy cycle, using the recommend Finish dish washing soap dishes do not come clean. I always even rinse my dishes before putting them in. Would never recommend this brand to anyone!!

I would never purchase another Frigidaire product! 3 months after having dishwasher a hose underneath had to be replaced! After that day dishwasher fell apart a little more each day! My dishwasher, which I had paid extra for since the sales representative said the stainless on the inside would make it so dishwasher would last longer! What a joke! The prongs on the shelves have rotted out, lost like six to 8 sets! The silver basket rotted out on the bottom. So 6 out of ten slots you can no longer use! The wheel guides rotted off! Now today the damn machine won't turn on!
REALLY MY PARENTS HAD THEIRS FOR 25 PLUS YEARS! Our Frigidaire ran just over 2 years! Was going to call and make A repair man come fix it! That is until I found all the negative reviews here! I can see it would be a waste of my time! Since I can see Frigidaire definitely doesn't back their product! So I guess I will go dishwasher shopping! I can guarantee it won't be a Frigidaire I purchase, not now or ever!

Purchased the Frigidaire Gallery dishwasher and refrigerator in 2015. Both were to be smudge proof ~ that is a lie. The dishwasher never drains, nor does it rinse the dishes clean. I have now begun to wash them by hand. The refrigerator is awful. The exterior water dispenser leaks constantly. DON'T EVER BUY FRIGIDAIRE ~ I should have stuck with KitchenAid products. I had them in the house I sold and they were well made, extremely quiet, and completely SMUDGE PROOF. I got so ripped off.

The ABSOLUTE worst dishwasher we have ever owned. Does not properly clean dishes (even after running it 2 or 3 times), does not dry dishes AT ALL, and smells. I hate this Frigidaire Gallery dishwasher. Under the warranty, we had a service person out here SIX times for all the same reason. I was told that it wasn't properly installed, crooked, not balance, clogged, and then finally, I had to practically wash the dishes before I put them in (uhhhh, so what's the point of having a machine???). I use only the recommended dish detergent and rinse aid, clean it out after every use and still, these problems persist. It's basically sitting there. I use it only if we have used lots of dishes and then I rinse every dish, make sure it's all clean inside and then run it on the longest cycle. I still usually end up washing the dishes myself since there is food stuck on the dishes and dry them by hand.
How do I know I can trust these reviews about Frigidaire?
883,201 reviews on ConsumerAffairs are verified.
We require contact information to ensure our reviewers are real.
We use intelligent software that helps us maintain the integrity of reviews.
Our moderators read all reviews to verify quality and helpfulness.
For more information about reviews on ConsumerAffairs.com please visit our FAQ.

We bought an extended service warranty from Frigidaire for our dishwasher earlier this year. We never did receive a copy of the contract. The dishwasher itself was part of the home which we purchased last year. When our dishwasher stopped working, we called the warranty service and described the problem (none of the controls would work, small green electric light apparently illuminating 'heat/dry' was lit). Come to find out that the service call which they arranged was NOT covered, because "only functional repairs are covered." (No contract, no information about this.) We were told that the green light was illuminating a picture of a lock, indicating that the unit was locked to prevent children from activating it, etc.
The agent at Frigidaire whom we talked with was in a position to simply tell us that the unit was locked. Surely they have some responsibility before dispatching a repairman to provide basic information about the machine. The company took no responsibility at all and we were stuck with the entire $74 service call fee. We had asked that they take at least some responsibility- wouldn't budge. Poor service, poor customer relations, poor management, poor product- buyer beware.

Purchased a FRIGIDAIRE dishwasher, FGID2479SF on or about May 10, 2017. The machine stopped working June 21, 2017. Waited until July 5, 2017 for a repairman and he could not fix it. Still waiting for customer service to tell me when the machine will be repaired. Today, July 7, 2017 I have been on hold for an hour and 16 minutes after I asked to speak to a supervisor. They never give you the customer service they promise after the call. Everyone in customer service just says they will follow up and call back, but never do. I had a KitchenAid dishwasher for 25 years and never called for a repair. Think twice before you buy a Frigidaire product.

A Nightmare. If you go to purchase a dishwasher, don't even think of buying a Frigidaire. Purchased dishwasher in 2013. The first year it leaked water, had three service calls and was down almost 2 months. Purchased extended warranty, thank god. From 2014 to 2017 had at least 6 service calls for the same thing. Leaked water all over the kitchen and the time between waiting for parts and scheduling service, we were down a total of 4 months. The last service call they replaced every part on the dishwasher. Well, this morning we ran dishwasher and you guessed it water all over the kitchen floor.

This dishwasher, Frigidaire Gallery, is absolutely the worst dishwasher I have ever owned. It doesn't not dry anything in at all. Not even the inside of racks or silverware carrier. All that Frigidaire will do for me is keep sending out repair services and they all say it's fixed and then tell me to do things like use rinse aid which they can see is full and after the dishwasher runs for 1 hr and 30 minutes, open the door so it can air dry. On top of waiting for 3 different service calls, one time no one showed up at all. They are also telling me to call my builder to replace it. While I'm sharing I also have their Gallery refrigerator. The ice maker came broken and had to be rebuilt. Even after rebuilding it, it makes very little ice and the water is comes out warm and they said, "that's normal". I will never buy anything from FRIGIDAIRE again!!!

Frigidaire Dishwasher - broke - would not go on. Took 3 days to come out for service through the warranty and only fixed for one day. Called again a couple of days later and they contacted the repair service but another 4 days. Supposed to come out Wednesday. Warranty is terrible, you have to wait so long and we've had house guests this week and it's very annoying. Didn't remember we had a warranted and called Doc's and when he looked at our bill he showed us and said the part was very expensive and he recommended we call the warranty co. He was very nice but we had to pay him $90 for the service call. In addition, we called a few months ago about detergent not dissolving and just leaving a blob in the dispenser. Water was very hot. A rep at Frigidaire told me to use liquid. Shouldn't have to do that!!! Probably have to buy a new one (this is only 4 years) but will not buy Frigidaire.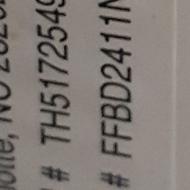 I have a 2 year old Frigidaire dishwasher, last year I found out the seal was put on the wrong after I flooded my kitchen and I had to have a $14,000 homeowners insurance claim. Since then I had the seal replaced and in the last three months 2 new pumps put in. It holds water at the bottom and don't wash for nothing. Frigidaire refuses to replace it and it saying there is nothing wrong with it.

Purchase the Gallery Kitchen Suite products in December 2015 and have had nothing but problems with the dishwasher. Power board stopped working in August 2016, we repaired under warranty, and it just went out again in June 2017. Poor/faulty design, and just a poor product overall. Avoid Frigidaire all together if possible. Better quality products are on the market, at the same price.

I have owned the Frigidaire dishwasher since July 1, 2014. Twice the dishwasher has leak and causing damage to my ceiling. Serial number th3254488 and model number FGB02438PF08. The first leak was December 2014 and the second is June 5, 2017. A dishwasher 3 years old should not be causing this much trouble. A piece of junk.

We purchased the Frigidaire Gallery Suite in January of 2015 and have had nothing but trouble with 3 out of the four appliances. The latest is our dishwasher which keeps registering an i20 error code (Deals with draining issues) and stops 2/3 through a cycle and has to be reset to finish. This happens on the normal and energy saver cycle. There is nothing in any of the drains and when a repairman came to fix it he called Frigidaire to find out what the repair should be and Frigidaire told him that we needed a new sensor and to make sure the hose was properly installed. $245 later the issue has not been solved and when talking with Frigidaire they cannot be sure that the problem was that so the best they could do was to offer us 10% off the next part which MAY fix the problem.
The dishwasher was $629 to begin with and only 2.5 years old! Also they offered me a new warranty that I could add to the dishwasher after it was fixed. We weren't asking for money back but to pay the difference to get it fixed. Why would I put another $250? plus a warranty into a dishwasher that cost $629 to begin with? I think we have a bad circuit board. Since the one year warranty has elapsed I have had the water light go out on the refrigerator, a safety gas valve replaced on my oven and now the dishwasher! No wonder they don't back up their product. Do not buy! Very frustrated with Frigidaire and their products. Would not recommend to anyone!

I purchased a Frigidaire Dishwasher Oct 22 2016. Ours lost all power on 4/18/2017 and to date we still do not have a working dishwasher after calling the manufacturer at least three times. They refuse to send us a new one. First the repair company Fuller Appliance said it was the circuit board, a week and half later a different guy said it was another part. More waiting over a week and now the motor needs to be replaced. I got no help from the manufacturer. Spoke with Taylor and William her supervisor. They insisted that I had to have the appliance company replace the parts. So now over a month with no dishwasher that I paid 500.00 for. This is the worst customer service I have seen. So what other parts to be replaced next week. DON'T EVER BUY Frigidaire if at all possible.

I purchased a smudge proof, stainless steel Frigidaire dishwasher in December 2015 for $539. Within a year, the power board blew out. At that time I purchased an extended warranty plan directly through Frigidaire for another few hundred dollars. Well, this past Friday the dishwasher caught fire in my home. The fire department responded by ripping the unit out of my house and putting it on my back deck. I was instructed to not put this unit back in my home at any cost. Frigidaire sent a tech out and they will not replace the unit, but rather repair it. Repair an item that almost burned my house. If I had not been home, that is what would have happened. It was not even running! Frigidaire absolutely refuses to make this right.

We just bought and installed a brand new top of the line Frigidaire Dishwasher. It was put in last week. I was excited to see how it worked because I have never owned a brand new dishwasher before. The first load of dirty dishes I tried to clean came out looking like they were just put in the washer. I do pre-rinse my dishes too (sometimes with soap) before putting them in dishwashers. I noticed that the Finish detergent pod that came in a sample pack with the dishwasher was on the bottom (about halfway dissolved). I didn't take any of the dishes out, I threw the Finish pod away and put in a Cascade pod to see if that made any difference. No luck.
The second time I ran the dishwasher, the dishes still looked like they hadn't been run through the washer once. The Cascade pod was also half-dissolved. The 3rd time I ran the dishwasher I actually put in some rinse-aid along with a brand new detergent pod to see if it would clean. Nope. The dishes still weren't clean and the detergent pod was still halfway dissolved. Last night I decided to try it again for the 4th time - same result as every other time. Most of my dishes have been run all 4 times through the dishwasher and only about 3 dishes have gotten decent enough to put away in the cabinet. ALL the dishes should be clean after 4 cycles!!! I am looking into replacing or returning this lemon of a dishwasher.

We have had nothing but problems. The repair people were out 4 times then replaced it. Unless all of the dishes are rinsed well they come out with food particles. The dishes are always wet no matter what cycle I try. I bought a much less expensive unit for my condo and it works 100 times better than this model (Gallery).

My dishwasher is 13 months old and already has had 3 service calls. The first one within the first 45 days of having it. Now it is 13 months old and out of warranty. The part that needs to be fixed come to find out is being replaced by a better part. It seems the quality of the part was substandard and they now have a replacement. I did get them to pay for the part but and stuck with a 149.00 service call fee. I was told "If I had paid $159 for a three year extended warranty it would be covered". That like saying pay $159 because in 13 months our products with the "substandard" parts break at this point. Never again will I buy a product with their name.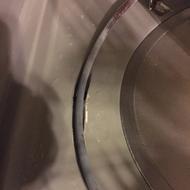 I just went into the basement and noticed dishwasher(Gallery Dishwasher Model FGBD2438PF) leaking, shut it off. Looking for leak and found, like others here, that heating element warped and burned through the plastic bottom of the dishwasher. Dishwasher was purchased 3/2015. Just contacted Frigidaire about this issue - this is a design and faulty part issue. The heating element is only supported by 2 clips, where it should have at least 3. The bottom of the unit should be steel not plastic. Heating element failure, warped.

I purchased that Gallery Dishwasher FGID2477RF on May 7, 2016. It stopped working February 25, 2017, less than a year after I purchased it Pacific Sales (Best Buy). I called Frigidaire on or about February 26, which arranged with a local Honolulu company to come out to check on the problem today Friday 3/3/27 between 12 noon and 5:00PM. The repair person never showed up. I also called the repair company at about 3;50pm to remind them about the service call, no response. It seems that Frigidaire did not arrange for a repairman to come and check on the problem.
Needless to say that the quality of their product is of the poorest quality available with tons of complaints and mostly only one (1) star. It is amazing that a company with such inferior product and service to match can stay in business. If you want to do yourself a favor stay away as far from FRIGIDAIRE as you can, you will only regret purchasing their poor quality products! The web is full of complaints and not just a few, but in the hundreds!

We bought a new dishwasher almost a year ago. Model #fgid2474qf40, Serial #kh52533619 Right from the start it was not working properly. Service came to our house just to tell us there was nothing wrong with it. Finally after three visits spanning several weeks they fixed the problem with new parts. After 9 months the dishwasher started to have problems again and got worse and worse. We called again. Somebody came after two weeks and the repair man decided new parts were need.
It is now a month since the repair man was here and the dishwasher now does not clean dishes at all. When we called Mellish, the authorized repair firm they advised they were still waiting for parts. A month to get parts is ridiculous. We are now without our dishwasher for 2 months. I cannot believe they jerk us over and over. Obviously the dishwasher is a lemon and belongs to the garbage, not in a kitchen. I am extremely upset about this. We have a useless piece in the kitchen and we feel defrauded. It is a horrible product and the service Frigidaire provides is even worse. Do not even think about buying a Frigidaire product. Stay away!

I bought a dishwasher in July 2016. It is now February 2017 and the unit hasn't actually worked yet. Every time I call the customer service center, they recommend more service. The unit has been serviced 3 times already plus 2 more service appointments where the tech never showed up because Frigidaire never communicated to the service company. Frigidaire refuses to replace the unit or refund the purchase price. I (a professional mechanical engineer) am not allowed to contact the factory.
I was told that the service tech fixing the unit must communicate with the factory tech in Georgia. Even if the service tech in my house deems the unit not repairable, the factory tech can still mandate additional repair against the advise of the service tech with eyes on the unit. I am at my wit's end because either my husband or myself need to miss work (income) for each service appointment. We have missed more hours of income than it would cost for a new dishwasher. Call me old fashioned, but shouldn't a brand new dishwasher not require multiple repairs or replacement of parts?

Purchased a Frigidaire 15 months ago for 700. Touch pad controller stopped working making it inoperable. 3 months out of warranty and the best thing Frigidaire can do is 10% off of a 400 part. Worthless company. Lousy product. Will never buy anything Frigidaire again.

I have had the TOP OF THE LINE PRO Series dishwasher for 15 months. The 30-minute wash does not dry at all. The dishes are completely wet (and yes the "air dry" is off!). If I use "Normal Wash" I must put the "High" option on so they dry (and yes I do use rinse aid). I feel like I use a lot of rinse aid in this machine too. I feel like if I do not use the HIGH, and SCOUR options on the dishes won't clean or dry properly. And yes my water is over 120 degrees. I like it hot to disinfect. It's kinda sad you can't get the DW to simply clean and dry the dishes on a basic setting.
Maybe next time they design a new DW, they should install them at the CEO's house first before they throw their design flaws to the general public. Why are we the guinea pigs? And you know what I really hate, stupid engineers who never figure out that these products end up being USED by people. So why do these engineers make their creations and never realize they don't work in the REAL WORLD. Hello manufacturers stop selling us pretty stuff and start offering us appliances that WORK!
Oh by the way, the little musical sound that it sings when you turn off or turn on is way too low (This is where engineers are really dumb). Older people cannot hear the pitch of the sound. My 60-year-old husband can never hear that twinkle sound, let alone figure out the "on" sound opposed to the "off" sound. My hearing is younger than his and I have a difficult time with it also.
Hey engineers, install one of these DW in your grandmother's house. Ask her if she can hear the ringy dingy sound. One more thing, why are the washes so long? Options jump from 30 minutes to 90 minutes (NO I DO NOT BELIEVE ENERGY SAVER IS A LEGITIMATE SETTING @75 minutes because it doesn't wash or dry!). There should be a 60-minute wash that can clean well and dry the dishes completely like my old DW. I am posting this because Frigidaire would not post the above review and comments. The truth must be told. They do not care about the consumer because others like myself complained about the same thing but Frigidaire censored me.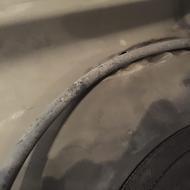 If you thinking about purchasing a Frigidaire dishwasher, DON'T! I've had my dishwasher for only just over one year. There were a couple of times that I smelled something burning in my kitchen, but I attributed it to possibly a panhandle burning on the stove. Little did I know, it was my dishwasher! Yes, my dishwasher! Two days ago I noticed my hardwood floors starting to warp and were soaked with water. Upon investigating, I realized that there was a hole burned into the bottom of my dishwasher. It appears as though the heating element overheated and warped. It is touching the plastic on the left side and melted a hole completely through the unit. It also melted the underside of the spray arm. And no, I've never abused my dishwasher! I am currently working with Frigidaire for compensation. We may have to hire a lawyer for help.

I too have had trouble since day one with dishwasher. 1st year a bit over the motherboard went bad. Had that replaced on my dime no insurance plan, so decided to get insurance. Good thing I did. 6 months later it started to leak out the front door on one side. Called repair person. I said I do believe the seals need to be replaced on the sides. His remark was that's just for ornamental design. WHAT??? Repair men said it wasn't level and wasn't their job to fix that, but he did tweak it a bit. Minutes after he left, I ran a cycle and water just poured out of both sides instead of just one side... Called back immediately, they sent another repair person out but this time it took 3 weeks to get here. He was only here 5 minutes looked it over and said yup its leaking out the front... Dahhh. Oh ya I asked for him to replace the seals. He said because it's a stainless steel tub I have to order it from warehouse.
Ok well its been over 1 month now and 2 calls later to repair company, why is this part taking so long to get? All I can do is leave a message on his cell phone, no call back no repair and I still have a 2 1/2 yrs old dishwasher that is destroying my new cabinets from the leaking... I placed plastic cups on the bottom of both sides to prevent leaking water damage, but sometimes it gets kicked over and water everywhere, we are talking up to a cup of water at times. I will not buy another Frigidaire appliance again, I'm going on my second Frigidaire microwave now as well. 1st time around I didn't get the warranty don't ya know I definitely did this time!!!... Gallery design STINKS... Looks are beautiful, but beauty doesn't get the job done.

Waiting for our 6th Dishwasher!! 1st one, leaked out the front right corner, sent back 2nd one, leaked out front tight corner, sent back 3rd one, door made a clunking & grinding noise. Never made it into house. Sent back Upgraded to a steal tub v/s this plastic hoping it'd be better So 4th one, big dent. Never made it into house. Sent back. Frigidaire apologized for the "inconvenience " I promised with the next delivery they'd do the "white glove service" & unpack & inspect it before delivery as not to waste my time. 5th delivery, drain assembly defective. Sent back Frigidaire said "white glove" service wasn't done but promise to fo it for the 6th delivery. Ohh, & our New floors were scratched during delivery .This has been over 4 months, thanksgiving & Christmas & they've referred to it as an inconvenience & hiccups... We're way past hiccups & inconvenience.
So recent update on dishwasher mess. 6th dishwasher scheduled today for delivery. They have now postponed us till Sat. They asked me to review my appliance, this was their response. They our schedule delivery & postpone with 24 hours notice. My time is valuable. I have had to be here repeatedly to take delivery on defective or damaged items. No one will take responsibility or resolve this. Delivery people say it's a defective unit, Frigidaire blames delivery people & Home Depot says they aren't in control. They just place the order & take your money.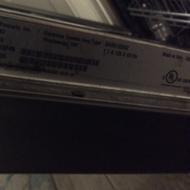 Gallery fgcd2456qf4b - Have had this model for a little over 1 year. Had the display/controls console replaced under warranty about 6 mos ago. Broke again on Christmas Eve. Contacted Frigidaire and questioned them outright about the history of this problem with this and other models. Was told it was a non-issue. I responded with "You are telling me there is not one issue reported due to the same problem?" They said not a one. Obviously after reading these reviews I found that to be an outright lie. They told me they would cover the cost of the part but the labor would be on me since I failed to renew my warranty. My bad but the unit is only a year old! I would definitely not recommend this dishwasher to anyone. Shame on Frigidaire!

I can't recall ever owning a Frigidaire dishwasher in the past but this summer my dishwasher went out and this is what I ended up with. It is a brand new dishwasher and I wouldn't recommend it to anyone. When my husband purchased it he thought that if he went with a middle of the road price that we would get a quality dishwasher. I don't really need all the bells and whistles, I just want clean dishes. We did not end up with a quality dishwasher. This dishwasher does have a delay start which is good for any family. That feature does work correctly. It also has 4 wash cycles and a rinse only cycle. Again, good features. However, this summer we did have to have it repaired because it would not turn on.
The control panel had gone out. The repair person said that it was common. He also said we needed to only push the start button to begin the washing cycle if we used the same cycle most of the time. Sometimes that will work, other times it will not. The biggest problem that this dishwasher has is that when you push the start button it will sound like it is beginning but you come back a half hour later and the "high temp" and "heat" buttons are flashing. This happens about 9 out of 10 times that I use my dishwasher. To say this is frustrating is a huge understatement. That and the fact that many times after the wash cycle is complete I still have dirty dishes makes me an unhappy customer.

ConsumerAffairs Research Team
The ConsumerAffairs Research Team believes everyone deserves to make smart decisions. We aim to provide readers with the most up-to-date information available about today's consumer products and services.
Founded in 1916 under the name Guardian Frigerator Company, it became Frigidaire in 1919 and went on to be the most well-known name in refrigerators. As a General Motors subsidiary, Frigidaire also manufactured some of the first washing machines and has now branched into whole-home automation.
Soil sensors: Get the right cycle every time with DishSense technology.
Dishwasher selector: Find the perfect dishwasher style for you by using the dishwasher selector on the Frigidaire website.
Compact options available: Frigidaire offers a compact 18-inch dishwasher in both built-in and portable styles.
Discount prices: Frigidaire dishwashers range in price from luxury to discount, with some of the most affordable pricing available.
Multiple finishes: With five different finishes, including stainless steel, black and white, Frigidaire dishwashers match most kitchen decors.
Best for Homeowners, apartment renters, families
Frigidaire Dishwashers Company Profile
Company Name:

Frigidaire

Year Founded:

1918

Website:

http://www.frigidaire.com/