Consumer Complaints and Reviews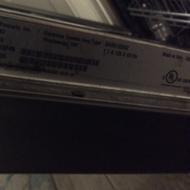 Gallery fgcd2456qf4b - Have had this model for a little over 1 year. Had the display/controls console replaced under warranty about 6 mos ago. Broke again on Christmas Eve. Contacted Frigidaire and questioned them outright about the history of this problem with this and other models. Was told it was a non-issue. I responded with "You are telling me there is not one issue reported due to the same problem?" They said not a one. Obviously after reading these reviews I found that to be an outright lie. They told me they would cover the cost of the part but the labor would be on me since I failed to renew my warranty. My bad but the unit is only a year old! I would definitely not recommend this dishwasher to anyone. Shame on Frigidaire!

I can't recall ever owning a Frigidaire dishwasher in the past but this summer my dishwasher went out and this is what I ended up with. It is a brand new dishwasher and I wouldn't recommend it to anyone. When my husband purchased it he thought that if he went with a middle of the road price that we would get a quality dishwasher. I don't really need all the bells and whistles, I just want clean dishes. We did not end up with a quality dishwasher. This dishwasher does have a delay start which is good for any family. That feature does work correctly. It also has 4 wash cycles and a rinse only cycle. Again, good features. However, this summer we did have to have it repaired because it would not turn on.
The control panel had gone out. The repair person said that it was common. He also said we needed to only push the start button to begin the washing cycle if we used the same cycle most of the time. Sometimes that will work, other times it will not. The biggest problem that this dishwasher has is that when you push the start button it will sound like it is beginning but you come back a half hour later and the "high temp" and "heat" buttons are flashing. This happens about 9 out of 10 times that I use my dishwasher. To say this is frustrating is a huge understatement. That and the fact that many times after the wash cycle is complete I still have dirty dishes makes me an unhappy customer.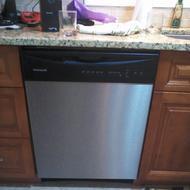 Recently bought a home one year ago. The previous homeowners removed their Bosch dishwasher and took it with them. They replaced it with a Frigidaire model. Since time of installation, the dishwasher has became increasingly loud exceeding what I believed unreachable decibel level for a dishwasher. Also, now it is leaking from the bottom. Frigidaire, you need to STOP MAKING PRODUCTS SO UNBELIEVABLY HORRIBLE FOR CONSUMERS.

My Gallery stainless dishwasher is 2 years old, and only used once a week at the most. The control panel and control board now need to be replaced at a cost of $150 more than what I paid for the dishwasher. This is the worst appliance I have ever purchased. It has never heated well either. I would never buy Fridgidaire again.

Looks nice, scratches/dents easy. Dishwasher has had control panel replaced 3 times. Person who replaced it (through independent warranty with energy company) says he has the same issue with this series almost daily.
How do I know I can trust these reviews about Frigidaire?
668,849 reviews on ConsumerAffairs are verified.
We require contact information to ensure our reviewers are real.
We use intelligent software that helps us maintain the integrity of reviews.
Our moderators read all reviews to verify quality and helpfulness.
For more information about reviews on ConsumerAffairs.com please visit our FAQ.

We just bought a brand new home with these appliances included brand new. The dishwasher does not dry. We are not talking drops of water, we are talking everything soaked and must be hand-dried! I made a warranty call, the technician came out and then said he would call Frigidaire to follow-up. The response was - that model does not have a fan, the customer must use Jet Dry. So, you made a product that can't work without additional chemicals? I do not want to add more chemicals to my life! Will never buy a Frigidaire dishwasher again; worst one I have ever had.

Purchased a Frigidaire Dishwasher in Feb. 2013 Model #FGHD2465N131A, and also a 3 year extended warranty. Dishwasher has started and stopped by itself multiple times, has control panel interface and power vent fixed twice. Have been told that the 3 year extended negates the first one year mfg warranty, so instead of 4 years, now 3 which the warranty is up. Sales person told me he 'does not understand the contract he sells' which are kept at the store in Greenfield where purchased, and that Appliances just don't last... If would cost us $100 to have repair guy now come out and try and fix it again. Cannot find the model number anywhere on frigidaire site? Is there no recourse on this. Will Not do business with Manny's again.

I bought all of the most expensive Gallery Series Stainless appliances last June 16. The top line Dishwasher offered is the biggest disappointment of any appliance purchase in my life. It stinks, I mean really smells bad and is poorest dishwasher, like in doesn't clean at all. My garden hose would do a better job. I wish I could get my money back. I'll never buy any Frigidaire products again.

Dishwasher does not heat up the water. Had repair man out and he said it doesn't have a heater. Dishwashing tabs do not disintegrate, tried the Finish cleaning product and the dishwasher could not even melt the wax to let the cleaner worker correctly. Had to replace the 1 year old Frigidaire washer and dryer because they don't work, now we will need to replace the dishwasher. Waste of over $2,000. Worst appliance products ever.

In April 2013 I bought a Frigidaire refrigerator, microwave and dishwasher – the GALLERY series, stainless steel. What a disappointment. The "HEATING ELEMENT" has warped and the bottom of dishwasher was burned and melted on left side, causing a hole, approximate size to a quarter coin. It now leaks on the floor. The other side of heating element is higher than it should be and melted lower washer blade. I am very disappointed in the design of this machine.

We purchased our home in April 2016 and the Frigidaire Galley appliances were already installed. They looked beautiful, stainless. After a short time we noticed the dishwasher was not dissolving the soap tablet. I tried loading the racks different, watched videos, cut the tablets in half. The odor was terrible, I contacted Frigidaire who told me to run the dishwasher without dishes and to use vinegar in the bottom. I have the hot water tank turned to "c" and always get the water hot at the sink before turning on the dishwasher. I had a repair person come check the dishwasher and he said that is the way Frigidaire works.
I use the sani setting after the dishwasher runs for a few minutes I open the door and the water is only warm. There are no heaters in the dishwasher so how does the sani setting get the water hotter? Also the repair person said to use jet dry because no heater to dry the dishes, and the water will slide off the dishes. The dishes do not come clean. I worry we will get sick because we are washing the dishes in lukewarm water. Butter remains on a table knife after running the 177 minutes sani cycle. This dishwasher is not good, never buy a frigidaire. The ice maker control in the refrigerator is behind a shelf. So if you need to turn off the ice maker you need to unload the shelf, remove it from the freezer and turn off the ice maker. And to turn it back on do the same. We are very unhappy with the appliances.

I've had this piece of junk for 2 years. My local independent appliance dealer recommended it as a mid-priced, dependable unit. It has never cleaned the dishes well, doesn't dissolve the detergent tablets, has cheap plastic parts that fall off, and has stopped working 3 times in just over 2 years. I bought an extended warranty the first year but didn't get a reminder to renew it. So the last two service calls were on my dime and cost almost as much as a new dishwasher. There is a reason that appliance manufacturers keep changing model numbers. They don't want bad consumer reviews on models currently on the market. I would never buy another Frigidaire dishwasher.

I bought the Frigidaire Gallery dishwasher to match the rest of my Gallery appliances. All were bought new. Had the dishwasher "repaired" under warranty because it will not dissolve detergent, doesn't clean dishes, and SMELLS. Frigidaire is aware of this problem, as they informed repair people to advise the customer to place the detergent in the silverware tray. I also noticed this serial number was promptly discontinued. Numerous calls to Frigidaire, no help. This was not a cheap dishwasher, but I've had apartment grade dishwashers do a better job. I will be filing a complaint regarding this dishwasher... I want one that works! You would think a nearly 3 hour cleaning cycle could clean the dishes, especially after rinsing, scrubbing them first. Nope. They come out looking worse than when I load them in the dishwasher. Very pissed customer here!!!

Bought this dishwasher about a year ago, and though I don't remember its cost, it wasn't cheap. It is quiet, but from the first day, it did not do a good job cleaning dishes. The detergent dispenser doesn't always open and the dishes nearly always need extra cleaning. Even after 2 or 3 times through on a long cycle (159 minutes), the dishes don't get clean and there is soap or a little food residue on the inside of the door which proves it doesn't clean or rinse well. The need for multiple runs and to pre-wash dishes by hand before running the dishwasher more than overcomes the Energy Star rating it has.

We replaced a 10 year old Kenmore with a new Frigidaire Gallery and while the Gallery does a better job cleaning, within a few weeks, it smelled to the high heavens. We've tried every remedy we could find and the smell always returns to the point where we handwash dishes just to keep from having to open the dishwasher door. Never had that problem in any way with the old Kenmore.

Just out of warranty when any problems appear (by design) we had a sagging door that makes the rack with a full load dishes come flying out, you have to keep a hand on the rack or it will slam the top part of the lowered door. Spring & twine door return are not broken. Not enough spacing between the lower rack and the upper spray bar causing it to hit or hang on the standard size plates. (Did adjust the upper rack to the highest setting.) Soap dispenser door hangs on the upper rack when opening to release the tablet causing the middle spray arm to hit making a constant ticking until the main dishwasher door is opened and closed letting the soap dispenser clear the upper rack.

Bought a Frigidaire dishwasher 2 years ago, it lasted just over 1 year and the warranty expired in a year. It leaked all over my hardwood floor and ruined it. When I took it apart I found cheap plastic parts and screws that had rusted and fell off which created the problem. Just took 5000 btu Frigidaire air conditioner back to Lowes today and argued to get my money back with returns because it was 4 days over the 30 day warranty. Is this a coincidence that these appliances are breaking down just after the warranty deadline? Poor quality products that should never be put on store shelves. Do not buy Frigidaire or waste your money on the extended warranty, they are just scamming you out of money.

Purchased dishwasher October, 2014. Paid high price for it because I thought it would do better job and last for years. Wrong!! Heating element has warped and bottom of dishwasher was burned and melted on left side. It now leaks on the floor. The other side of heating element is higher than it should be and melted lower washer blade and it's stuck to it. No, I did not load my dishwasher incorrectly and cause this problem. It's a piece of junk. Very disgusted.

I've had the UO error on my dishwasher three times now over the past year. The dishwasher worked fine for 1.5 years and then the dreaded UO error appeared. I called Frigidaire to explain the situation and they said there was nothing they could do since the dishwasher was out of warranty. Poor customer service and poor quality product. Time to move on to a different brand. Frigidaire lost my business.

Dishwasher FPID2497RF - For $799.00 price this is the worst purchased I ever made. I had Frigidaire appliances before that are still working but this dishwasher I totally regret buying, I purchased all the appliances to match for my new kitchen. Salesman at Standard Appliances (which never returned calls) convinced my husband that these were the best. The brand new refrigerator had to be replaced within a month from delivery they sent us another new one. Now this dishwasher has spilled water with no reason through the seals while during cycle. I was told that nothing is wrong with this dishwasher which now I hate! It never dries the dishes completely especially glass and Tupperware. I am using the recommended Finish products and always leaves a thick film on the dishes. I have read the manual back and forth and cannot figure out why it does that. My 20yr old $199.00 dishwasher was doing better job than this one.

Frigidaire Dishwasher Model # FPHD2491KF0 - Up until a few days ago, it was just dissatisfaction with the number and cost of repairs on a fairly expensive machine. The biggest issue until now was being told I had to purchase an entire new door because the bottom seal had failed. We woke up to a strange smell. Upon investigating, the dishwasher was entirely turned off, yet the bottom heating element had been energized all night. It was hot enough inside to bake bread. There was melted plastic from the utensil basket dripping/sagging onto the element. Nothing I tried would turn the element off. The only way to de-energize was to open the door and leave it that way. The control panel was completely shut off. My assumption is that the relay controlling the heating element had failed. This is an unsafe design; any high current device should be controlled by a relay that opens when it fails.

Dishwasher smells bad! Checked dishwasher where water was sitting in the bottom, ran wire through drain hose as far as it would go, still stinks! Called Frigidaire, customer service did not have a clue what to tell us! Said she would send paperwork (drawings, etc) to our address. No tech support, said we would have to call repair person. Have had the house less than 3 years, and just moved into it permanently. So dishwasher has only been used very few times.

I bought a Frigidaire dishwasher at Sears and before the year was over I had to call a technician to repair the sensor. A few months later when the warranty expired the same problem occurred, the sensor broke. I wonder if I can complain to Sears about this problem.

I've been trying to get Frigidaire to fix my dishwasher for eight months. Simon the third company fixing it. They have replace the motor, the front electric panel twice, compositor, drain plug, main electric panel in back, sensors, door harness and new wiring. Still doesn't work. Talked to service dept. They want me to get another company in. Won't give me replacement dishwasher. They basically want to keep trying to fix it so they just keep you going. The last tech said they won't come out anymore it's unfixable. Just get runaround from company. I had a Maytag for twenty years with no problem - now I can't get this fixed. Only worked ten months. They tried to get me to buy a warranty also, told them no. Don't know what to do... Tech said they'd never replace it just keep trying to fix it.

Trouble from the beginning with the "top" Frigidaire dishwasher. Didn't clean, leaked, etc. Second replacement now 1.2 years old and out of warranty, of course. Control panel not working. Cost almost as much as washer to repair. Just going to junk it. Close to a grand out of the window. Wish I could push this piece of crap out the window. DO NOT BUY THIS BRAND OF DISHWASHER. I checked Consumer Reports, compared, etc. and it had a pretty good rep. WRONG.

This is not a cheap dishwasher and I expected it to be at least as good as my previous dishwashers which were all over 10 years old and one even 25 years of perfect performance. This piece of junk broke after not even 2 years because of a defective part that cost 75$ and another 180$ to replace. Don't bother buying something more elaborate or expensive, it is obviously still rocket science to Frigidaire to build a dishwasher. Oh and then try to reach customer service in Canada. Is there a customer service because I have never gotten further than recorded messages saying "your call is important to us." SHAME ON YOU! I will never buy Frigidaire again!

Just installed a brand new Frigidaire dishwasher. Tried to pull the top rack out but the top spray arm stops it halfway. Forced it out, but now can't get it back in. What kind of design is this?

On about 2010 we purchased a dishwasher from Wilson's. They would come they would send a repairman here (if) it did not come into broken to get the faulty part from computer boards to fan motors etc. We purchased this appliance along with a extended 5 year warranty. Over those years, we had well over 20 service calls. Wilson's gave us a copy of the work orders. Each time they would come to look at it there would be exactly a week to get the part to the part and have the service man come.
Nowadays that is interesting broken as it had many times. Over and over we call Wilson appliance asking them to do something about our problem. Never did they decide to repair it to have it stay prepared or to give us another dishwasher. One day when Sears is here for a different appliance they told us about a program that they had a warranty program that we could purchase on our appliances as since they were not all that old.
Well it's a good thing that we did purchase this one because so far she's been here maybe five times, sometimes this computer board sometimes just a fan motor, we never quite know. We did everything together repairment a key to the front door. I've never purchased such a piece of junk in my whole life. If I had the money I would go and buy another one but apparently I do not.

We have had our Frigidaire Dishwasher for 3 years now. Within the first year we had to replace the silverware basket. It fell apart and was not covered under their warranty. Now 2 years later, the lower dish rack is falling apart. We have also had continual problems with the soap not dispensing completely. This dishwasher is a complete lemon and would never buy another Frigidaire appliance. They do not stand behind their product. Next time we will do some thorough research before purchasing an appliance. We had gotten this one through a Home Warranty that came with our house when we purchased it a few years ago. I would definitely spend the extra money on a product that has a much better reputation!!

Remodeled kitchen yr. half ago. Got new appliances. Frigidaire dishwasher has never dried. Thrown out silverware because rusted having been in it few hrs. Have to dry every item. Have had service people twice. First time less than 2 weeks. Not draining. Have called where I bought ask about drying. Told how they are. Stinks if door not left open. Have to dry down inside door as water spots, tons of water. One of buttons already felt inside pull loose. Matter of days before breaks on outside. If bump it lightly and air light comes on - cannot get it off. Have to throw breaker for kitchen!!! Sometimes cannot get started. Absolute worst dishwasher ever used. Used a lot of them. It's trash. Yesterday visited new house. They ask if I heard of a dishwasher (brand new) couple months not drying- stinking-having to dry dishes-all stemmed when open. Exact same as mine. Bought same place, paid high price. Very bad one!

ConsumerAffairs Research Team
The ConsumerAffairs Research Team believes everyone deserves to make smart decisions. We aim to provide readers with the most up-to-date information available about today's consumer products and services.
Founded in 1916 under the name Guardian Frigerator Company, it became Frigidaire in 1919 and went on to be the most well-known name in refrigerators. As a General Motors subsidiary, Frigidaire also manufactured some of the first washing machines and has now branched into whole-home automation.
Soil sensors: Get the right cycle every time with DishSense technology.
Dishwasher selector: Find the perfect dishwasher style for you by using the dishwasher selector on the Frigidaire website.
Compact options available: Frigidaire offers a compact 18-inch dishwasher in both built-in and portable styles.
Discount prices: Frigidaire dishwashers range in price from luxury to discount, with some of the most affordable pricing available.
Multiple finishes: With five different finishes, including stainless steel, black and white, Frigidaire dishwashers match most kitchen decors.
Best for Homeowners, apartment renters, families
Frigidaire Dishwashers Company Profile
Company Name:

Frigidaire

Year Founded:

1918

Website:

http://www.frigidaire.com/