Consumer Complaints and Reviews

Was given the 4pc steak knives for Christmas (2015). The blades are chipping away. 2 of them have rust spots on them. Very disappointed. Have had several different Farberware products in my life time (71 yrs) and this is the first.

I recently bought an electric, handheld can opener from Walmart. Not sure what model number. It takes two AA batteries. I think it cost me $20.00. Right from the gate, the thing was no good. But... I didn't have fresh batteries at first, so I attributed its lousy performance on that. Then I got fresh batteries and it was STILL a piece of junk. It had to go around a can MULTIPLE TIMES just to get it open. At least once, my mother just ended up using our old manual can opener, had spun around the top with seemingly no effect. I started to dread canned food. Tonight I needed another can opened. *sigh* I got the stupid thing out again and let spin around a few times, hoping for the best. The first time I noticed the slivers of metal was when I picked it up to see if JUST MAYBE it had managed to do its job. Felt one jabbing into my finger. Then I looked around on the counter and saw a whole bunch of metal slivers lying on the counter.
I looked at the opener, and sure enough, there were slivers stuck to the magnet and the alleged cutting part of it. Well, now I can't use the food in the can, because A#1) THE CAN REMAINED UNOPENED, and B#2) how am supposed to know whether or not if ever actually got the can open, it would be free of metal slivers? These are about the diameter of a coarse hair! My mother and I very well may have already unwittingly ingested slivers of metal the times we actually got it to work. I will attach pics of the metal slivers below. NOT JUST A PIECE OF CRAP; ALSO A DANGEROUS PRODUCT! I mean, what if a mother used one of those things to open a can of whatever for her child? That's messed up.

I bought a Farberware air fryer a few months ago and hadn't used it for a while because it doesn't cook as it should. So I decided to make the grandkids some french fries and wiped it all down with a towel. When I wiped around the knobs, the numbers, heat temps, timer, all wiped off. It was like they were just written on with a erasable ink. GREAT!! Going online to find the one I have so I can see where the temp numbers go, etc and I guess try a perm. marker or tape.

I purchased the 12 piece knife set, granted it was inexpensive, but dangerous. I was slicing an onion with the largest knife, and when I tried to press down on the "dull side" I sliced my thumb. There should be a warning that BOTH sides of the knife are sharp. Please be careful when using this knife.

I got the White Air Fryer on Black Friday and have only used it 3-4 times. I got it mostly to use when the grandkids want fries or something simple. The drawer is warped on the bottom right corner and won't close anymore. I thought there was a certain way to close it till I looked at the drawer closely. I think the heat is what warped it. I can't return because I don't have the receipt or a box to return it. Waste of $40.
How do I know I can trust these reviews about Farberware?
765,036 reviews on ConsumerAffairs are verified.
We require contact information to ensure our reviewers are real.
We use intelligent software that helps us maintain the integrity of reviews.
Our moderators read all reviews to verify quality and helpfulness.
For more information about reviews on ConsumerAffairs.com please visit our FAQ.


I bought the Farberware wok model 303 for my 83-year-old mother over 33 years ago and it is still her go-to appliance once a week when she makes a delicious dinner of stir-fried shrimp, chicken, bok choy, mushrooms, onions, broccoli, pea pods, bean sprouts, and baby corn. This wok has never failed her and we are amazed! I doubt it is still available but just wanted to give a shout out to Farberware. She said she doesn't know what she will ever do if the wok stops working. Let's hope it has a few more years left! Thanks for a very reliable product, Farberware!


Farberware manual can opener. I bought the can opener in September 2016 when we were moving into our new home in Georgetown, TX. I chose Farberware for its name recognition and traditional exceptional quality. We have only used this can opener for opening cans to make chili or perhaps an occasional tuna or can of fruit. By early January 2017 the can opener no longer gripped the can of tomatoes - the gears were slipping and therefore the opener could not slice open the can. This has been a big inconvenience and a disappointment. We went back to Walmart and purchased a KitchenAid can opener.

I live in Louisiana. I was one of the many that was affected by the flood in Aug. 2016. When the house was at the stage of "camp living in the house" we purchased a Farberware Double Burner. It was a great purchase. We have cooked many meals on it. For Christmas my son gave me a Farberware Triple Slow Cooker with individual temperature settings. That has made life much easier. I just wanted you to know that I LOVE your products and I let everyone know they should invest in these items for themselves.

Am writing this to let you know how much I love your air fryer. I am an event specialist and had the chance to demo your products. It is so much better than a deep fryer... no grease smell, easy clean up. I don't have one myself, but looking forward to do a demo event. It works so well on TGIF apps. Spray them with a little oil and they taste just like the restaurant I was doing a demo for, Farm Fresh, and customer thought I was doing a demo for the air fryer. Again just wanted let you know how much I enjoy your products and looking forward to doing a demo I work for.

I bought a complete set of Farberware pots and pans fifty-two years ago. They have been heavily used almost every day since and still look and cook like new. I give these pans as wedding and housewarming gifts, because I love them myself.

Very disappointed in the 1.1 liter deep fryer! The magnetic cord does not stay connected. I tried the troubleshooting methods that are listed in the instruction manual but to no avail. It took me hours to make simple fries. Most of my pots and pans are from Farberware so when I purchased this deep fryer I thought I was investing in a good product.

The cookware is one of the better lines of cookware that I have owned and I have had it for about 15 Yrs. In addition I also own some T-fal and Calphalon. The Calphalon is better but the Farberware is a better value. And the T-fal I would say would be better for a starter set. Some of the more used items have worn out from so many years of use. Considering that this is the old style of non-stick I consider this to be pretty surprising. The handles are riveted (not screwed) on and that has made a huge difference in the time that the cookware has held up.

Farberware (Meyer Cookware) tea kettle rusted. Photos and numerous emails have been sent to customer service. They refuse to honor warranty request. Emails sent to Meyer Corporation CEO Stanley K. Cheng requesting he rectify this problem, have all been ignored. Those responsible for customer relations, quality and marketing of products represented by Meyer Corporation, are asked to reply too and honor this request for replacement (BonJour Tea 2 Qt. Stainless Steel Teakettle UPC: 747660530873.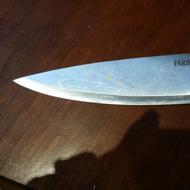 Shortly after purchasing my new knife set (always buying Farberware) the largest knife slipped from my hands hit the counter top and the handle broke off. A few weeks later I noticed that my stainless steel knives were starting to rust, so whenever I need a knife now I have to use an sos pad on it first to remove all rust. Very disappointed.

Single serve Coffee Maker - I don't recommend purchasing this. I set up to make my coffee - as it was brewing I go to reach for my sugar next to coffee maker. The top lid pops off open. A piece of plastic popped off. I was scared but when I looked the actual steam pressure literally broke the top off. That coffee maker is cheap. I only used it 4 times. It's a cheap product - not of good quality at all.

My family has always used Farberware. Recently, though, it seems they have gone to the dump. We have two sets, one a 21-piece with two sets of shears, and a smaller set. The 21-piece keeps rusting, and the shears no longer want to open or close. The smaller set has been having the handles spontaneously snap, even when trying to cut soft things. The shears in the smaller set, however, are perfectly fine, along with the bread knife. The paring knife is also okay, but not ideal. I don't know what has happened to this company, but we definitely will be investing in a different brand next time.

I purchased a 15 x 21 bamboo cutting board for Christmas for my son. Within a month it was warping and splitting. It took a few months before we could get together for him to give it to me. Since there is a lifetime warranty, I really wasn't worried about timing. I took a picture of the warranty information (address, etc) from another board. Tried to find contact information online. Nothing matched the address that was on the product, so I called the main number and after pressing the appropriate number, I was connected to a representative. I could barely hear him and told him so. He turned up the volume, barely enough for me to hear him. Explained my problem and he abruptly cut me off and said: "You don't need to send it back. I'll just send you a new set."
I explained that I did not have a set, just a large board and asked if he would like the product number so he could look it up. He said: "No. All I have is a set of 3." He rattled off the sizes so fast, I just remember that the largest was 8 x 10. I said that I would like the same size. He informed me that they did not have any of those and would I rather have plastic. Again, very abrupt. I said "no, just send me the set." After giving him my information I started to ask him if there was any way I could get the larger size (I was thinking that I could wait until they are back in stock). He cut me off and said: "Is there anything else I could do for you today?" I said: "Well, no, other than..." And then he said: "Have a nice day" and hung up. Wow! Poor customer service to say the least! I am very disappointed in Farberware and will be very leery about buying anything from them again.

I recently purchased the knife set that comes with the wooden countertop block and as I was cutting meat the blades actually broke. I took them back to the store where I bought them and exchanged them. I thought I would upgrade to the larger set that comes with the 2 pairs of scissors and all the knives (21 piece set) that maybe they would be better and I swear to god the knives started rusting the second day I had them. Will never buy anything Farberware brand again. Have spoken to a few friends that used to be avid Farberware brand buyers and they expressed their dislike for Farberware and how their products have gotten worse and they also will not buy Farberware again. Very, Very, Very disappointed.

I have had the blender less than a month. I was making a malt when the blender filled my kitchen with smoke and a very strong burning smell. This is a very cheaply made product that can't even mix ice cream without burning up, I thought for sure I was going to have a fire on my hands. Model #16209, SN# E347709.

Purchased from Wal-Mart - cheaply made. Only owned for 2 months and broke cutting meat. See pictures where scissors broke. You would think the metal frame extends through the handle, but not the case for these cheaply made cooking scissors. Could be these were made in China - muck. Generic junk.

My family has purchased Farberware products for as long as I can remember! I'm 66. That's why I was very disappointed with my purchase of the K-cup coffeemaker! First problem was "catch" that keeps water fill cover closed melted out of shape, due to steam! I now fill it and put a weight on top!! Next problem was it would not brew through K-cup! So I have to put 4 holes in bottom of cup! Then use maker to put hole in top of cup, but have to make that hole larger!!! Finally I can have a [fas]t cup of coffee [not!!] Major improvements are needed!

I bought the set with 17 pieces, which includes 7 travel cups and lids. First try leaked. Second try with tighter alignment leaked. Took cup lid apart to reposition rubber ring. Third attempt leaked all over counter again and is setting in my sink. Me and 3 people cannot get it unscrewed!!

I was cooking with the skillet and smelled something. There was a black plastic "goop" melting on the outside and inside of the pan by the handle. It looked like it was from where the handle was attached. I checked to make sure it wasn't from the handle itself and it was not. I purchased this pan set at Walmart and will be returning it today. Thank you.

I input data to order a part for a Farberware product, the instructions stated that once my address information was input the shipping cost would be calculated. I followed instructions however no shipping data appeared. I pushed the order button and lo and behold that's when the shipping cost appeared. Good - I knew what the shipping cost was bad - I ordered the item at a cost I would not have accepted, My fault for jumping the gun. Farberware's issue for having a faulty website. Buyer beware. Trying to cancel the order by following the instructions came to no avail - that is another story.

I am very furious with my Farberware cookware set my husband has bought me the other night. The set looked amazing when I opened the box and cleaned them to put away. I went to make breakfast this morning using the 10 in pan, grey set with white/tan interior. Reminder, this is the first time using the set and when I was done with the pan I go and wash it and it's all stained and discolored. I can't get it back to normal. I called customer service about it and staining is not under warranty so there is nothing they can do about it. I would understand over time it get stained and discolored but this is like all brown after using it for the first time. If anyone goes to buy pots and pans for their house I would not recommend Farberware for anything.


Purchased this at Canadian Tire recently, as it seemed like a great sale. Then my wife and I actually used them and realized that they don't cut through anything except extremely ripe bananas or butter that has been left out in the Sahara Desert sun for 5 hours. When I try to cut through anything denser, I feel like Leo DiCaprio in Revenant, trying to saw a bit of raw meat off a bear's thigh or something except I'm more pissed than he is. I almost lost a thumb trying to dice up some red onion last week. Really really really crappy product. I had Walmart and Dollarama cutlery that have performed more adequately. Don't buy anything from the clowns who run this company or create this product.

Completely dissatisfied! I own a small bake-from-home business & am horrified to see flakes of the non-stick silver lining on my food. Fortunately this was food made for home. I was able to remove those parts. I purchased this 9" cake pan with lid because I loved the look and desired functionality of it w/ the lid. But now I see I cannot trust Farberware. Photos show food with flakes stuck to it & pan with missing parts. FYI I used a plastic/safe spatula.

ConsumerAffairs Research Team
The ConsumerAffairs Research Team believes everyone deserves to make smart decisions. We aim to provide readers with the most up-to-date information available about today's consumer products and services.
Founded more than 100 years ago, Farberware is available at major nationwide retailers. A few different lines are available, each designed for cooks starting out on their kitchen adventures.
Nonstick finishes: Consumers can choose lines of products by Farberware that are coated with a nonstick finish.
Metal-utensil safe: Many items can safely be used with metal utensils without risk of damaging the finish.
Even heat distribution: The stainless steel construction in the company's cookware allows for even heat distribution.
Best for Beginner cooks and home cooks.
Farberware Company Profile
Company Name:

Farberware

Website:

http://www.farberwarecookware.com/