Consumer Reviews and Complaints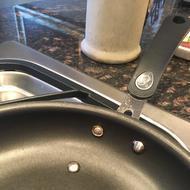 I have an Emeril nonstick frying pan. I was frying some steak two nights ago when all the sudden I heard a loud "POP" come cracking from the stove area while I was cooking. I couldn't figure out where it came from, but it was loud enough to affect the hearing in my right ear. I looked all around my stove - the lights and exhaust fan over the stove, but I couldn't figure out where the pop came from. Then I found a small, round metal piece lying on my stove. I couldn't figure out what it went to until I went to wash this pan (picture below). A piece of the pan actually popped off while cooking. I am extremely lucky it didn't pop into my face or go over the stove and hit one of my kids. Unbelievable.

I bought the Stainless Steel pot and pan set about 10 years ago, it's been great and have bought additional pieces. Recently, when I was making poached eggs, I heard an odd noise. I thought it might be some water caught underneath the pan (We have an electric stove) and everything looked fine. When I was cleaning the pan, I noticed two things on the bottom of the pan, one a good sized bubble, and a few inches away a perfectly round small dent. Looking over the pan, you can see where the copper is pulling away from the bottom of the pan. I tested it and everything thing seems fine, but wasn't comfortable using it. I also bought this set for my sister last year and one I bought for my daughter when she gets married. Having second thoughts about giving it to her.

Received an Emeril Enamel Dutch Oven as a gift a few years ago. Was cooking with it recently and when cleaning up noticed that the finish on the inside bottom is starting to peel off as well as some of the outside finish. Afraid to use it for fear that more of the bottom will get into whatever I am cooking - never used any metal utensils only wood or non-metal.

I bought the Emeril pots and pans a couple years ago. They were pricy. They are supposed to be for all cooktops, electric, induction and gas, have the copper stripe around the bottoms on the layers of metal. I can't believe there are people giving these a good rating on some sites! There is not 1 thing you can cook with these frying pans that won't STICK! We have tried low to medium heating, every type of oil and lard, cooking spray. No matter the temperature, everything sticks immediately!! You are using twice the oil to cook with, they are extremely hard to clean also. I would NEVER RECOMMEND to anyone this junk!!!

I have the original set and love it. It was originally made in collaboration with All-Clad. No cleaning issues. No sticking issues. No bump in the bottom. Nice heavy quality. Looks like the day I bought it. Very happy with my purchase.
How do I know I can trust these reviews about Emeril Cookware?
881,173 reviews on ConsumerAffairs are verified.
We require contact information to ensure our reviewers are real.
We use intelligent software that helps us maintain the integrity of reviews.
Our moderators read all reviews to verify quality and helpfulness.
For more information about reviews on ConsumerAffairs.com please visit our FAQ.

Cookware is chipping and pans have a coating of grease on them on the outside of pan that WILL NOT come off. So disappointed when I called company 7 years ago to get replaced. I was told I was out of luck that it was my fault cookware chipped. Bought from either QVC or HSN for $200.00. I've never tried the cast iron grill pan that came with it. Also, square pan warped. Will never purchase again.

Heating up sauce (hoboken eddie's) and lobster ravioli. Burned dinner and set off smoke alarm. Followed directions: boiled water, added distilled vinegar and baking soda and voila it was supposed to be shining clean. Not so!

My mom purchase me these pans for Christmas. So dissatisfied. Everything sticks inside of every pan is wearing off. Called customer service, they said they would check the pans out. Well you can tell that they're bad. After just 3 years I've got pans from 34 years ago that look brand new. Where is this stuff made today China? Because nothing last. Well they sent me a shipping label to send them back, hopefully they will do something about this. Waiting to find out. But I don't want the same pans. Not a good product. She bought them on HSN. Not cheap.

I have used my Emeril cookware for at least 10 years and have had no complaints until yesterday. I used one of my 1 qt saucepans w/o lid to simmer soup on my gas stove. I emptied the pan, rinsed it with water and left it in the sink while I ate my lunch, as I have done for years. When I picked the pan up to put it in the dishwasher, the bottom fell off. After reading the reviews and seeing the cookware is now made in China, I will be replacing that pan with a different brand - preferably one made in the USA.

I bought the cast iron griddle. One of the nice things about cast iron is that it should cook evenly. Well the Emeril griddle is not much different than cooking on a sheet of aluminum. Half of a pancake is burnt and the other half is still raw. I'm surprised that he would have his name on such inferior quality products. I guess he's less interested in quality and reputation and more interested in easy cash.

I purchased the 13 piece hard enamel cookware. Gave myself a treat!! Excited. A skillet accidently got scratched and called customer service for assistance and got none, was basically told "sorry for your luck." As advised by customer service I could still use it, that the pan would still cook the same... Well I haven't used it in a while, and pulled it out to use and found it has RUSTED!!! So according to customer service it is ok to cook in rust!! I am sooo pissed and will never ever purchase another thing from Emeril, not even his spaghetti sauce, it is also overpriced.

I bought my husband Emeril's stove top grill pan for Christmas, and it is terrible. I followed the 1st time use instructions to a T. Everything sticks! Everything. I tried using more cooking spray, it still sticks. I am returning it today.

Although I recognize how spectacular promotion can be by using a celebrity, the manufacturers of Emeril's bakeware.... failed his reputation. After a fire, we had the opportunity to re stock our home's contents. I thought I'd buy quality and very excitedly purchased through shop.ca. I stored the items till we moved back into our home months later. We have been home now for 6 months and the collection of Emeril's non stick bakeware have not stood up the to challenges of household use. Of course, I no longer have the receipts or I'd send all the products back in a heartbeat! The non-stick surface came off on food and now what remains are sections of rust and exposed metal. I write a blog about our ordeal.... but have yet to complain about too many things. This review should protect others from purchasing these products.

I bought Emeril Cookware 3 years ago thinking it should be a great product since he has a great cooking show, well I was quite fooled. My 3 qt. frying pan that I only use for making fried rice is now all peeled on the bottom!! I never put this pan in the sink when it is hot and I don't use it for anything else. I knew I should have bought the more expensive stuff!!! Boy am I mad!! So what do I do just throw it in the garbage? I am afraid to use it because I don't want it to peel off in my food. His stuff is not worth the money!!!

Received a 3 piece Emeril's Lenox bake dishes as a Christmas present. Used the lasagna dish for the first time on New Year's day for a dinner for 10. Followed recipe for "Emeril's Roasted Pork Lion" recipe which was included with the dishes. It said to turn the pork roast after 30 minutes and continue to roast for about 60 minutes. Well... turned the roast, closed the door and then heard a CRACK... open the door to find the lasagna dish had cracked from side to side in the middle. Juice spilled on the bottom of oven, smoke filled the kitchen. Have been trying to find an address to return the broken dish. Emeril, I'm sure you want to correct the problem!!!

Bought the Emeril range top cast iron grill that can be used as a grill or a griddle. Comes with a press for meat. On the second use, it cracked through and through about half the diameter of the grill and now can't be used. After searching the Internet, it seems there are a number of reports like this. I am now trying to find out if I can return it to the company or to Bed, Bath and Beyond where I bought it. If it were to crack completely across it could break and fall on someone's foot and crush their foot. It is dangerous to use. Very disappointing. I would have thought something with Emeril's name on it would be of higher quality and reliability. Avoid this purchase at all costs.

From the very first time we used this cookware we were disappointed. EVERYTHING STICKS!! Tried cooking low, medium... you name it. Nothing worked. The stains in the bottom of any of the pots or pans after cooking in them is almost impossible to remove. After a good scrubbing the stains are still there. We found that pouring regular white vinegar will remove most stains and return the them to a nice shine, but who wants to do that each time they are used... when everything sticks to the surface. Emeril may know cooking, but he obviously never used these pots and pans!

Emeril Lagase Cookware - This is the ABSOLUTE WORST set I've owned! $150 wasted.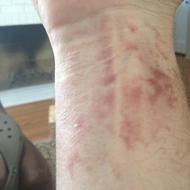 The lid was rattling like crazy as I was boiling Kale in oil and water. As I went over to remove the lid, the top literally blew off and sprayed boiling oil and water all over me! Burned my arm really bad. The medic explained to me that the top needs a hole to vent, which none of my tops have. Thus the lids rattle and blow. Dangerous.

I received Emerilware 10 pc set about 20 years ago. People, if pans are clean and hot when you start cooking (I mean really clean!), food will not stick. To clean them find Bar Keepers Friend, available at Home Depot. My issue is that copper bottom separated from the pan spilling aluminum(?) granules in the food. Not that big of a deal, lifetime warranty, right? I filled out warranty claim on Iron Clad website and have received no response. I was going there to inquire again when I saw this website and decided to post. If I do not get the pan replaced it will make an interesting story for people inquiring as to what cookware I recommend. I am a chef instructor at Sur La Table and get that question all of the time.


My single pot, that I acquired from Bed, Bath & Beyond, that I bought pre-trial has discolored like other folks have said. Sticking is an issue, but if you don't want non-stick, you'll have to have steel. My question is to ConsumerAffairs, what are the metal compositions of this pot and how they affect our health? Note that many has said the discoloring has continued, does that mean we are ingesting chemicals in our food that are health risky? I'd like to know where to find this info.

I've had the same experience voiced by many reviews on this product. There is a "hump" in the middle and this causes foods to stick in the middle and any oils/fats I put in the pan pool to the outside. Very disappointed. I expected more from a product with his name on it.

Emeril Essentials 10 piece cookware set - I spent $149.00, plus tax and shipping. I didn't notice until a couple of days later that the 1.5 sauce pan did not have a flat bottom! I did not use the 3 qt saute pan until a few weeks later. I was cooking bacon and all the grease was on the edges, leaving the center exposed!! I am not rich, so paying over $150.00 for cookware that doesn't sit flat and cook evenly is NOT COOL! And no I did not have the heat turned up!! There is a lifetime guarantee, but packing, mailing it in and then taking a chance that they will say it was my fault just isn't worth the trouble. The cookware feels and looks good. I don't have any trouble with sticking, just that some of the bottoms are not flat. Good Luck to all you folks, maybe I just got a bad batch.

I purchased Emeril cookware, because it's supposedly great and I was excited that I could finally afford it. It was very expensive. The results? Major disappointment. Everything sticks and the quality of the food isn't what it should be. In the past, I've purchased less expensive cookware and was a lot more satisfied. Emeril cookware is extremely overrated. Don't waste your money...

My Emeril set was a gift and I was so psyched! But, much like the other "monkeys" who don't seem to know how to cook (reference to earlier post from another consumer), I'm not thrilled with these pans either. At first I was discouraged because the bottoms of the pots turned black on the insides. I tried all kinds of ways of removing the stains, from natural to commercial products and methods. When I was unable to remove any of the stains, I figured, as long as the stains weren't affecting the flavor, etc., of my food, it would be okay.
Everything was okay (if you count standing over your food to be sure that nothing sticks as "okay"), until the bottom became warped. I assumed that someone dropped the pot and dented it. Then, when the copper separated from the bottom, I got pissed. I know, monkeys shouldn't curse, but this cookware was something I had wanted for a long time, and something someone invested more than a few bananas in to give to me. I'm bummed, as the original store no longer carries this cookware (and yet, Martha Stewart's stuff remains on the shelves). Sigh.

I was torn between two different brands of cookware and chose the Emeril brand because I figured he would only have the best bakeware. I was so wrong. I could have bought the cheap bakeware sold in the grocery store! I spent much more money on this cookware thinking it would last longer. It turned brown after the first use. After that it started to peel. Today I am mad as I had to throw it out! Hard to believe he would put his name on this junk.

I purchased Emeril's pots and pans and had bought them at a reputable department store, Macy's so I thought I was getting excellent pots and pans. I the pots and pans two years ago and when I got them home my wife noticed they were made in China. That was mistake #1 but I thought I would give them a chance. Every time I use them I find the metal is too thin, they are difficult to clean, everything sticks to them, and they turn a brownish silverish color. I am so dissatisfied. They were not inexpensive either. I'm surprised that Emeril LaGasse endorses this product.

These are horrible. First use and the outer rims turned goldish brown without anything touching the sides. Everything was in the middle. Also, no matter what, everything sticks. You can try butter, palm, olive oil, any oil, etc. It will still stick. Extremely mad that I paid that much money for cheap ass pans. Garbage to me and will buy better quality. I am more mad at myself for not doing research on this set. Apparently a lot of people have written bad reviews.

As a Christmas gift from my daughter, I am extremely disappointed in this highly advertised stainless steel cookware. I have yet to cook without everything sticking. Tried olive oil, canola oil and crisco. When trying to clean, it's terrible and leaves a unclean effect when dried.
Emeril Cookware Company Profile
Company Name:

Emeril Cookware

Website:

http://www.emerilware.com/