Consumer Complaints and Reviews

So dissatisfied/disappointed with these pots and pans. The nice outer finish they came with has now turned into a dull, milky gray color and continues to bleed this gray color with every hand wash. If that's not bad enough, when you pick up the lids, you might get a burned!?!? Weren't these tested before they went on the market. I will definitely do my homework the next time I buy cookware.

Would not suggest you buy this cookware. Covers will not stay in place causing liquids to boil all over the stove. Very disappointed.

The metal is separating from the lid knobs and letting in soapy water to leak while cooking and drains into the food. The bottom of the hot plate is rusted and coming apart while the inside seems to want to rust. I am a very clean person and like to take care of the pots and pans I cook from. This is a total disappointment to me. I bought these thinking what a good gift to me, and never have to buy more. I am afraid to use them so had to go and get Walmart crap to use. Over $100.00 is a lot on a fixed income and soon won't have the luxury of cooking for myself. Age does that. You cannot stand up for this product in good faith.

I bought the stainless steel Emeril pots and pans, hoping they would be as amazing as the last set I bought that were not stainless steel. The first time we tried them, our food burned. The pans don't heat up all the way through so some of our food is burned and some is raw. In addition, when cooking pasta, the pasta sticks to the sides of the pan. We now have burn stains that will not come out and we quit using them altogether. Very disappointed.

We purchased the twelve piece Pro Clad cookware set. The pans scald and burn on the sides to the point of blackness no matter what heat setting is used. Scrubbing for long periods will remove the scalding, but must be done each time we use them. The complimentary "Emeril" signature chef's knife broke in half the second time used. I have never been more disappointed in anything...ever!
How do I know I can trust these reviews about Emeril Cookware?
852,533 reviews on ConsumerAffairs are verified.
We require contact information to ensure our reviewers are real.
We use intelligent software that helps us maintain the integrity of reviews.
Our moderators read all reviews to verify quality and helpfulness.
For more information about reviews on ConsumerAffairs.com please visit our FAQ.

I have been using my Emeril cookware for about one year. I don't like it because it sticks, but here is the worst part. I was cooking in a saucepan on my stovetop, and I had my back to the oven. Then I heard loud noises and hot water, cookware and my food was flying all over my kitchen. My foot was burned. The bottom of the saucepan came loose from the saucepan and splattered all over my stove and kitchen floor. It took me all kinds of cleaning products to clean the black smut from my ceramic floor. I am sure if I had laminate floor it would have been ruined. I am lucky my face was not towards the stove. Then the frying pan did the same thing to my boyfriend. I have put the cookware out of use, but am saving it because I intend to send it back with my experience to the manufacturer.

I have used this set for over 10 years, and although basic cooking, boiling is satisfactory, frying is simply ridiculous. Everything sticks. I thought that in time this problem would diminish, but I was wrong. Frying eggs in any fashion other that scrambled is a disaster. Bacon? Clings to the pan until you cooked so much that it becomes a deep fryer. If I didn't pay so much for this set, I would give it away and go back to cast iron. The only advantages over cast iron this cookware has is that you can put it in the dishwasher, and the handles stay cool. I have followed the recommended cooking instructions from this company to no avail. I would not recommend this cookware to anyone that fries some of their foods.

I recently purchased a saucepan with the above description on the bottom. The first time I used it, it became pitted and discolored. I am disgusted with this product and want my money back. It's a nice looking pan with pouring lips on both sides, nice and shiny in the store, but terrible looking after first use. Extremely poor quality. A big surprise.

Do not waste your money on this cookware. I'm an experienced cook and know what I'm doing. EVERYTHING sticks, no matter what you cook or what type of oil you use. I've tried good olive oil, butter, canola oil, Pam, a combination, etc. I've had it less than a year and it is already starting to pit and looks terrible. I'm giving it to Goodwill and will NEVER buy anything with his name on it again.

I bought the whole set just about a year and a half ago. I was so excited to get it however it is already starting to pit and looking horrible in the bottom of every pan including skillets. I live on SS and cannot afford to buy another set. Very upset with this set. Would not recommend it to my friends.

I have had this cookware for 8+ yrs. No problems & I love it! Going to buy a few more pots soon!

QVC was selling a set of All Clad hard anodized cookware by Emeril. All Clad is a company in Pennsylvania and manufactures their cookware in the USA, or, so I thought. After reading all the negative reviews on Emeril's cookware, I decided to call QVC to see where this cookware was made. All the operator could tell me was it was imported. God knows from where. I assumed it was from China. I feel this is deceptive letting people think that because All Clad has been producing their line in the the USA for many years, that this product was also made here. Shame on you Emeril for being a part of this and tarnishing your reputation.

OK, I am somewhat skeptical of all cookware with a famous person promoting it. Had a horrid experience with Paula Deen Cookware! So, I went to a Bed Bath and Beyond and found some Emeril Cookware that I liked. Only problem, I could not find anywhere on the boxes that this cookware worked with a Ceramic Cooktop. The saleswoman even tried to look it up on the store computer. No luck. I came home and sent off an email requesting some information on whether or not this was recommended for my stove. That was last Tuesday. No response as yet. Either they don't know or they don't care about customer service. I am disappointed but also glad that I did not purchase this product without looking into it.

I purchased the 10-piece Emeril Lagasse by All-Clad stainless steel cookware set at Bed Bath and Beyond yesterday. I was excited that it came with a cast iron grill pan and also with a nonstick baking sheet. I had gotten rid of a lower end nonstick set that lasted only a couple of years, and was excited to get a nicer set of stainless that would hopefully last forever like my grandmother's set has. The set does not nest for easy storage. I wasn't bothered by this as I took everything out of my cabinets, deep cleaned and reorganized them to fit the new set - it needed to be done anyway, and I'd eventually get a pot rack to display my pretty pots and pans so it wasn't such a cabinet hog. Then I cooked dinner - simple night, really - I'd taken all my cooking time reorganizing my kitchen! I boiled water in the 6 quart pot and cooked pasta in it. I warmed sauce in the small sauce pot.
Later when I cleaned them, I followed the manufacturer's instructions and cleaned them in hot soapy water with the utensil the BBB manager had recommended. They were stained with spots that would NOT come out! I'm so disappointed! Now I have to take the set, the cast iron ware and the nonstick pan back! I also don't trust the store manager at BB&B because they made it sound like these were the best pots ever. I rarely shop there and I had hoped to go there and spend the extra money one spends when shopping at that store to get quality that would LAST. Instead, I have wasted a day and a half of my life, have no pots and pans, and have a trip to the store to return this with a toddler in tow.

I bought a complete set of Emeril cookware. Sticking pans and handle fell off. It stated lifetime warranty but I can not find an address to return them. I got it from HSN. They could not give me the answer. Need Help please. I paid too much.

Three or four years ago, I bought an Emeril three-quart sauce pan. I didn't use it very much because the thing is so heavy. Last week the bottom part fell off. How do I get in touch with the company to either get a refund or a new pot?

Emeril stainless steel no stick cookware - This cookware is suppose to be nonstick and it's not. Got it when it went clearance and was very excited about getting to use them, and the first time that I did, everything just would stick no matter what I did. Very disappointed. Wish that I could return them.

My parents bought me Emeril cookware for Christmas. The pans are very unstable and can be very dangerous. I was boiling water and I went to turn it off. I taped the handle of the pan and it tipped right over and gave me third degree burns on my hand and leg. The week before this same thing happened to my mom but there was only cooked mac and cheese in the pan but it went all over the floor. Ironically after talking with the visiting nurse who is cleaning my bandages she said she had just been taking care of two other women that had burns from cooking. She said out of curiosity what type of pan were you using because these two women had been using Emeril pans and said that they were unstable and that was why they were burned! I immediately got the chills and replied to her you will not believe this but that is what I have too. I always felt as though they were unstable but not totally sure. So needless to say if you have this cookware be very careful or get rid of it.

I bought this in May. I used it once and then after that when I used it, the heat would stop on the left side of the grill. I sent it into the Appliance Sales and Service. They tested it and said it was working fine. I explained that it will start out ok but then stop cooking (no heat). They sent it back with a fix of a new cord. I plugged it in and the light didn't come on, on the left side and no heat ever even started. So I had emailed them and explained it was not working and they have been nice about it. The guy said to ask T-Fal for a paid return receipt to ship it again and I did and they sent it to me. Now they are calling me and telling me that it works just fine and trying to tell me that the light turns off when it reaches the temp it needs to be. I know that! I told them it did not even heat up.
I spent a lot of money for this grill and I do love the idea of it. But now I can't send it back to the network and it is past the time limit. And quite obviously they are not going to replace it since they say it works fine. I am very upset with Emeril's company and very disappointed with the way Stacey spoke with me today insisting there was no problem as she was told. I am afraid I will get it back again and it will do the same thing and if I want to spend $15.00 to ship it back and forth they will continue to say it is fine. For almost $200.00 I think there should be better help here and a toll free number that works without a code since I don't have long distance. The warranty is good for a year so I have till next June to be unhappy. So much for Lagasse and his cookware.

1qt saucepan - Bottom layer separated and fell off after cooking, luckily missing my feet. Own 2 other pots & wary of using them because of hazardous consequences.

People need to get off Emeril's case. Some people need to learn how to cook, also. This cookware was designed for people who actually KNOW how to cook, not for the everyday "turn up the burner to high and forget it" types. This cookware is safe to put in the oven up to 550 degrees, so what does that tell you about people who are MELTING the cookware? Also, gas flames can get up to 3000 degrees F. Not to say the cookware will, but jeez, read up on the melting points of copper and aluminum, folks. If you are melting the pans, you are doing something way wrong.
As to the sticking issue, yes, if you don't put oil in the pan properly (olive oil is very good for you AND smokes at a higher temp than other oils), these are not the toxic Teflon coated pans ....which also stick you know. The rule is heat pan, add oil, let oil get hot and THEN add food. I made the mistake of heating oil up high enough to deep fry in the smaller frying pan and the sides got totally black (the pan did NOT melt or get even close to it). Guess what? It cleaned up shiny and like new with little effort.
Once I learned that these are not Teflon pans, and need some oil added properly for most everything fried, no problem. If I want to deep fry, I'll use a proper deep fryer (or one of my old pans). These are great. Every meal has been gourmet quality and things just seem to cook so much better if you are doing things right. Moreover, Emeril does not read this site. He is not connected with this site, and asking him to resolve your problems or make refunds is ridiculous. Not to mention, he is free from personal liability anyway. Sure, he's a celebrity. Sure he may be kind of arrogant like most celebrities (I don't know the man so can't say), but he obviously CARES about the food he prepares and would certainly care about the cookware he uses to prepare his food.
This stainless steel cookware, in my mind, is well worth the money if you know what you are doing. Moreover, ALL glass is "tempered". It has to be. Otherwise it would crack and break in the cooling off period. IF you are breaking glass lids, for goodness sakes, it's glass. Treat it with care. Use some common sense. It appears to me that most folks lodging complaints here are either clueless, or looking to win the civil suit lottery. Grow up.

Cookware overheated - Copper melted and dripped on the stove and floor, which destroyed the floor totally and damaged the stove top. Do I have a recourse with the company for damages?

The knob broke on the stainless case called T-Fal and they recommended me to the service provider. I paid for the part and then I was told that it was not in stock - discontinued. What type of company is this? You pay $199 for a nice fryer and they do not have parts; that is ridiculous. I would never recommend T-Fal or Emeril products to anyone because of this experience. Then T-Fal said they would send me a voucher for 15 dollars. I don't want the $15.00 and, to me, that was an insult... very bad customer relations.

The knob on it broke. I don't know how or why, but it was very sad. My boyfriend, Chef Leslie **, and I used it a few times. We're very upset with the product. I called a few places. Kohl's wrote to us and emailed us to come to their store on the 21st of April, and they will give us a new one to replace it. No questions asked, they said. So we showed up and 5 minutes later, they said they don't sell that product in their store any more. So then we had to take a credit merchandise of $63 and change. We walked out of the store mad because I paid $150.00. I thought by spending money on Emeril fryer, it was a good deal.
I was sad and still am. I miss it. If there is any way you can help us, please do. It would mean so much to us. I have the credit slip and the card they gave me back for that fryer. So sad. If Emeril could please help, I would really love another one. I'll even send you the credit merchandise card, showing you what they gave me back. I did love the product. I never wanted money back. I just wanted the deep fryer back. I love to cook too. You are great guys. Please help.

I purchased a complete set of Cookware for my son and daughter-in-law for their bridal shower. As you know, it is not a cheap set. No matter what they cook in these pots, everything sticks on the bottom of the pans. It not only sticks but they are also discolored. It doesn't matter how you clean them; you cannot get the stains out. I paid over $300.00 in Macy's for these pans and they were on sale. Please let me know how I can get a refund on these pans so I can purchase a better set for them. I'm very disappointed.

After searching many stores for my first set of nice pots and pans, I picked Emeril's with his signature on the bottom. I assumed a good cook wouldn't sell anything but good cookware. Wrong! These are horrible! No matter what you use - butter, oil, spray, etc. - everything sticks to the bottom of them and the food gets ruined! I would not recommend them. As a matter of fact, I wish I could get a refund so that I could replace them with good pots and pans. I am so extremely disappointed.

I was so excited to finally buy myself a good set of pots and pan after getting a brand new kitchen. I then went to the store. And after looking around between Paula Deen, Rachael Ray and Emeril's brand, I decided to get the Emeril brand in stainless steel with his signature on the bottom. I thought I was getting a great set, but for my surprise, I was not. Everything sticks on them. I can't even fry an egg on the skilled without having a big mess of eggs sticking to the pan. I am so disappointed about spending so much money for a supposedly good set that is worse than a cheap brand. I don't know how a famous chef as Emeril Lagasse allows his name on something that won't be to the standards of a great chef.

The pans get very hot quickly and burn. It is next to impossible to get the stains out of the pan. The cookware has such a nice appearance but once it gets stained, it's ruined. Everything sticks to the pans so you have to learn how to cook in the pans without burning your food or the pan. The lids should be made of tempered glass to prevent shattering if the lid slides out of the cabinet onto the floor which is what happened to me. Glass was everywhere. I expected a quality product from a quality chef and was disappointed.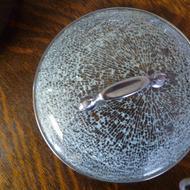 While simmering rice in chicken stock, a loud pop was heard. What happened was that the glass cover shattered. It is apparent that the glass used is not tempered glass which is what happens when items such as these are manufactured in China. Putting your name on defective cheaply manufactured products reflects on the quality of your talents. American manufacturing would never allow this due to the litigation that would ensue. I will be purchasing my cookware from professional commercial suppliers in the future. Lesson learned. Stay away from any cookware with a food celebrity's name on it.

Today, I went to stack my pots, as I always have, with the lids inverted into the pots. When I went to put the smallest saucepan, on top into the cupboard, the lid promptly slid off the shelf and onto the floor, the glass top shattering into at least a thousand pieces. And it shattered much like car windows shatter in the heat, into a thousand tiny pieces. I was not happy about all the mess. It made me question the quality of the pot lids!
Emeril Cookware Company Profile
Company Name:

Emeril Cookware

Website:

http://www.emerilware.com/