Consumer Complaints and Reviews

Based on positive reviews across the web, bought Electrolux EFLS617 washer and matching dryer. Empty Nest household - Washer quit after 6 weeks. Warranty service into 3rd week wait. Local Service provider stated failed part is recall, and tells us min 2 weeks. I call 2 weeks later, part ordered through distributor and is on back order with no eta available. Called Electrolux for help to on recalled part; Electrolux rep stated part is not recall and would not assist in tracking part down.
Asked to speak to customer satisfaction dept; rep stated "This is Electrolux customer satisfaction" and said no more. It appears Electrolux reps are trained robots assigned to only check failed appliance is registered under your name. This rep deflected all my questions to local service provider. No help, no empathy, no apology for failure or inconvenience. Attitude not helpful - I suspect that failure is their "normal." And I'm stuck without a washer. Sorry I bought this washer.

We purchased numerous fridges of this type from Electrolux back in 2014. We are a builder, so we kept all the fridges completely sealed and in secured storage. We have had issues with every single fridge from Electrolux so far to date. The most recent was the brand new fridge we moved into a brand new home. We plugged the fridge in, and immediately there was an obvious smell of smoke. Concerned, we unplugged the fridge. Our electrician had a look at the plug and it was working fine. We called Electrolux, and they told us the issue is probably the plug. We would need to get a report from a certified electrician to prove that there are no issues with any of the plugs or circuits in the home.
We had a third party certified electrician come out, take a look and provide a report. We called Electrolux back, and they said an electrician report wouldn't count. They also somehow did not have the last call on file. They said we would instead need to get a certified Frigidaire technician to come out and look at the fridge. They gave us two possible companies in our area we could use.
We hired one of the two provided companies to come and take a look at the fridge. They did, and said that it was clear the main computer blew up as soon as the fridge was plugged in. It also appeared one of the secondary computers was fried. They made a report, and attempted to send it to Electrolux internally. Electrolux refused to accept it.
We called Electrolux yet again, saying we have a report from a certified Frigidaire technician, and could we please have an email to forward the report to. Electrolux said that never happens and only certified technicians can send reports. I told Electrolux that they themselves had already refused to receive the report internally. The call person refused to provide any email and told me to call the certified technician and tell them to send again.
We updated the certified technician, who said they would try again. They were again refused, and had to try and send the report through Electrolux's "Contact Us" form on their website. We then had to wait nearly 2 weeks before Electrolux called back, just to say nothing is covered and it isn't their problem. To replace the computers is very expensive, and with the other issues we have had with the other fridges, we had to just buy an entirely new fridge (not from Electrolux). Normally I give the benefit of the doubt over and over, but this is by far the worst service and quality I have seen - especially considering the level of luxury Electrolux is supposed to have. We will not be using Electrolux again and we will be recommending against it to any clients in the future. Thank you.

I purchased my refrigerator two months ago and already had to be repaired three times!!! Now, after the third service, the ice maker not working again! This is ridiculous! The worst refrigerator ever! I called Frigidaire customer service and they told me that they will send out another company to fix it! If the first three repair man couldn't fix it, even if they changed every and each part of the fridge for a brand new part, they think that the fourth one could do different? Maybe if he has a magic wand! This company and refrigerator from hell!


This is the frig from hell! We bought the frig a little over a year ago at the 6 month mark. It started releasing water and ice whenever it wanted... unloading the whole containers worth of ice came crashing down and then water! That happened 3 times before a service guy could get out to "FIX" it! Then 3 months later it did it again. This time I was able to reset it and it worked for another 3 more months.
At this point it just did ice and I called for service again and they sent someone else out who replaced another computer board. It's worked for a month and today it dispensed probably 5-10 gallons of water at 4 different times between 5 and 7:30 AM and I turned off the water to the frig and dried everything up called customer service who denied replacement because our frig is out of warranty! (by one month) but the customer service with Electrolux said they will still send someone out to look at it and fix. So unless you want to redo the floors in your kitchen and have a service coming to your house every other month this is NOT the frig of choice.
How do I know I can trust these reviews about Electrolux?
850,588 reviews on ConsumerAffairs are verified.
We require contact information to ensure our reviewers are real.
We use intelligent software that helps us maintain the integrity of reviews.
Our moderators read all reviews to verify quality and helpfulness.
For more information about reviews on ConsumerAffairs.com please visit our FAQ.

3 years ago we renovated our home and bought new appliances (Electrolux products - Indonesia) for the kitchen. We bought a gas range, microwave, rice cooker and refrigerator. I selected Electrolux because of my experience with Electrolux in the USA was always very positive. The rice cooker required several repairs because of a bad smell after cooking rice. It was finally resolved. The gas range oven will not stay lit and requires me to watch constantly to make sure it stays on. However, I haven't asked for a repair. I can manage using it without a repair at this time.
The main issue we have is the refrigerator. I've lost count the number of times we've contacted the service center and the number of times they've been to our home or scheduled to come to our home to repair. The service staff who attempts to repair does not appear to be experienced or authorized to make decisions to repair without contacting the service center. After a few years of frustrations and attempts to repair we will replace with another brand. I've had enough frustrations with the Indonesian service center and lack of response or promises that go unfilled.

Bought a front load washer and dryer 2 years ago. Within the first month our washer was beeping and displaying an error code. Called and told it would cost $125 for one of their authorized repairmen to take a look. Fast forward to 6 months old, it started leaving oil/grease stains on our clothing. Destroying these articles of clothing. Fast forward to 9 months in and out dryer wouldn't stay on for longer than 5 minutes at a time. Called and was told it was the heat element and it was not covered. ARE YOU FREAKING KIDDING ME?!
So we paid out of pocket to repair and purchase the part. Now not even two years old the washer is leaking water everywhere causing extensive damage to our floor and wall. They are willing to cover the part as now suddenly parts ARE covered up to two years (so our heat element should have been covered!) but are still going to be responsible for the cost of labor. I have never seen such junk! What company does not stand behind their products?! I know and understand warranties. However with units that have had as many problems as these, it is inexcusable to shrug shoulders and say "Oh well." Plagued with issues and no assistance. What a joke!!!

We purchased an Electrolux Slide-in Induction Range 3 years ago. It has been brilliant and we LOVE the induction technology. Induction cooking is best we've ever experienced. However, it suddenly stopped working and required an $800 part to fix. Turned out the part didn't solve the problem and I'm on the hook for the part and still have a stovetop that doesn't work. Electrolux originally said they'd try and help with repairs but have since said no, told us to buy an extended warranty and basically said it was our choice to purchase the part or not. I wouldn't buy any product from this company, based solely on their abysmal customer service. When you spend over $3000 on a product, you expect it to last more than 3 years and companies that require you to purchase extended warranties clearly don't have much faith in their products.

We purchased an above the stove Electrolux microwave/convection oven several years ago with the understanding that this was a good solid quality brand. We did not get an extended warranty. Almost immediately after the original warranty ended, it stopped heating. It was too costly to repair - we spent a couple hundred dollars on it and ended up just getting a new one. Same model but with the extended warranty. Glad we did, but after 4 service calls and it still doesn't turn on consistently, I will NEVER PURCHASE AN ELECTROLUX APPLIANCE AGAIN. BEWARE OF THIS BRAND. I'm sick and tired of taking time off work for a service call and then within a couple of weeks it stops working again.

We purchased our Electrolux French door refrigerator (model EW28BS85KS5) 2.5 years ago. Within days of delivery the freezer door would not stay closed, contacted Electrolux and the service company. They recommended twisted the door to get it to close and said it was repaired. Few days later door is back to opening on its own. Another company was sent out who fixed the door. All the plastic around the doors is cracking off now. Electrolux is sorry. Now both ice makers have stopped working. The top ice maker seemed to jam so my husband reached in to clear the ice and received a shock.
I called and talked to Jennifer ** the Corporate Supervisor and she advised me only parts are covered. She understands how I feel but I will need to contact 1 of 2 authorized service centers for the repair of the ice makers. Very dissatisfied, Do not buy Electrolux products. My old refrigerator looked new compared to this one and it was 20 years old.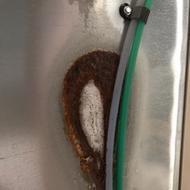 Please steer away from this pricey fridge model-Electrolux Icon Model E23BC78ips. Since they delivered it had three doors replaced because of dents from manufacturing... I should had returned it since day one. Now the ice maker it's not working and in the back of the fridge has is a big patch of corrosion (complete stainless steel fridge) at a cost of $3,699.96. When called customer service today, they told me that if I looked at the manual I would be aware that it's not covered after a year. So basically it's a disposable fridge with a high price tag with poor customer service...

Our induction cooktop was misbehaving, false signals at start up, after a while it worked properly. We called an Electrolux technician, had to wait one week before his visit. He decided to clean the contacts with alcohol. After that NOTHING worked, he then said that we had to wait 9 weeks for a replacement control unit. HE NEVER CAME BACK and ELECTROLUX is not responding to any request. It happened in Mexico but NO ONE at headquarters in Stockholm is interested TO ANSWER. Never again their products in any part of the world.

I spent around $2000 for what I thought was a top of the line Electrolux washer and dryer from Home Depot. After use for a couple of weeks the dryer started leaking water from the steam valve. I would dry my clothes only to find a pool of water in the dryer and wet clothes. I called Home Depot and they told me to call Electrolux. Electrolux sent a service person and they did nothing to fix the problem. The person blamed the installer stating it was an installation issue. I spent hours on the phone, holding, getting transferred and hung up on with Home Depot and the Install company. After another two weeks the installer came back to check the install. At this point the water was leaking from the dryer back to the floor pan and water was collecting in large amounts on the floor plan. The installer found no issues and showed me where the water was coming from the back of the dryer.
Back to the phones again with Electrolux. Another week and the service company came back. They replaced the steam valve and said it was likely not closing. Afterwards I used the dryer again and the water was not leaking but the dryer made a rattling noise and it was getting hot to touch on outer sides of the machine. I called Electrolux and told them I was not comfortable using the dryer. This was supposed to be a brand new top of the line machine and was causing me nothing but issues, time off from work and countless hours on the phone. The Electrolux representative said I may be eligible for a replacement and that they would put in the request and I would hear back in 48 business hours. This was on a Tuesday and by Friday I still hadn't heard back.
I called Electrolux again and spoke to two different representatives; the first one said there was no update and I had to just wait. When I asked to speak to a supervisor she transfer me to a customer survey and hung up on me. The second representative said the first person did not file the request correctly and that they would put in the request again and I would need to wait another 48 business hours. Again no response within 48 hours from Electrolux. I am exhausted in dealing with this company, their poor product and customer service. If I had the option I would just return it all and get another brand. What are my rights as a consumer?

Bought a brand new Electrolux model EIFLS60LT washing machine. It had to be repaired three times in the first year. Each time they would come out and work on it they also had to order parts. We went without a washing machine two times for a month and one time for two months. We had to wait for parts that would take forever to get in. I purchased an extended warranty. Guess what broke down again. I asked to get the machine replaced. They said I started a new extended warranty and it will have to break down three times before they will replace it. I had also asked when it was under the manufacture warranty if they would replace the machine. They said it would have to go to a review board to see if that was acceptable. They never called back. Please purchase a Maytag for your own peace of mind.

My husband purchased this dishwasher from Home Depot a year ago. From the day it was installed, it has given us nothing but problems. If a dishwasher had the power to ruin a person's day, this is the model that would do that. The electronic display never works. Just never works. Push them all day to try to start a load of dishes and you get nothing but beeps. You cannot simply push the type of load and hit start, as most dishwashers allow you to do. It's all computerized and nothing works. When we finally do hit the buttons enough times to get the machine to start, it runs a cycle and the dishes come out the same as they went in - not cleaned at all.
We've called Home Depot... We've called Electrolux - all to no avail. Electrolux sent out a serviceman who did nothing. They wouldn't accept a return for this horrible machine, yet charged over $1000 for it. I'm just waiting until my husband says we should just start over and buy a new machine. He chose this one himself, so I'll probably be waiting a while. Ugh. So frustrated.

Whoa -- either in 1970 or 1971, my parents purchased a Gibson freezer. Within in the last 2 years - yep last 2 yrs - we decided to replace the working Gibson. It was still working and never broke down once. But of course, it used way too much electricity and we didn't want to take a chance with a freezer full of food. Went to Lowe's and purchased an Electrolux (tag inside of freezer) but says Frigidaire on the outside. Of course, yesterday it died and ruined a full freezer. It just floors me that a freezer that's almost 45 years would still be working and the new freezer that is ** 2 years old took a crap - OF COURSE -- IT'S OUT OF WARRANTY!!! WILL NEVER AGAIN EVEN WASTE MY TIME LOOKING AT ELECTROLUX/FRIGIDAIRE.
Updated on 07/07/2017: Within a couple of days I received an email back from Electrolux. - blah blah blah -. Yes, they said they were concerned and asked for more information regarding the repair. Explained, repair person was coming Sat. - he came - found what was wrong, said he would order the part and come back to install it. I emailed Electrolux again & explained it was a "control" of some kind. Never did they let me know NOT to pay the repair person ---- well let me know if you know of a company that will be willing to fix an appliance and then WAIT for payment. After the repair was completed, I emailed back and gave the additional information, & asked where I could mail the invoice since we paid for the repair. HAVE NOT HEARD A WORD SINCE. I do understand no company will pay for any food that was ruined or labor.

I hope this letter comes to the attention of Electrolux's Management group, Boards Directors and CEO. I feel sure that Electrolux Global company values by its customers. It is not a practical applied by Brazilian Electrolux team. I am writing to complaint about a serious disorder experienced due to the lack of commitment of Electrolux Brazil. I have tried to solve the problem using the better way to all. Brazil Electrolux Team proposed a date to solve the complaint, and unfortunately they don't care to commitments made. I have spread the history by mail, by twitter, by phone, and the unique answer available is TO WAIT. Please lets to think together, is it reasonable to stay almost 30 days without a blender at home? I think, no. By this reason, I had decided share my terrible experience with you, so I could make responsible people aware the size of disorder that they have caused.
In March, 15 I had noticed to ** the following: "I am having trouble finding spare parts for the ELECTROLUX POWERMIX 5 SPEED + PULSAR (PBE 11) 127V blender, purchased on the network's own website, under purchase order **, dated 12FEV2014. It turns out that the blender jar/cup, due to natural wear of the product, after 03 years of use, has been presenting problems and thus I want to buy spare part. Such pieces are not easily found, perhaps existing."
In this regard, I am waiting for Electrolux guidelines to solve this reported problem. After this complaint, we started a negotiation and having finished in April, 28. To cut a long history in short, we came to the conclusion of an amount that I should pay, would have to return the broken apparatus, and other requirements. So, note that since April 20 I am without a blender. And also note, the whole problem is due to the failure of the original product, and for lack of spare parts here in Brazil, extend the Electrolux not complying with legal requirements. After long time of waiting, I wrote to Electrolux the following:
"I am contacting ** for several days, waiting for a position of you regarding my case (**), and you are becoming dead. Please speak about my problem. I am long without a blender, and going through terrible problems due to the lack of the appliance. 'It turns out that the negligence is size, that I cannot get a date on which I will receive the products at home. I call ** and they tell me to wait. By email, I respond to wait to be posting the product. NONE OF THE ELECTROLUX wants to tell me when it will end my displeasure of NOT HAVING LIQUIDIFIER AT HOME and go through all the inconveniences that the lack of the product comes to cause.'"
So, after that they contacted me and ask to WAIT. After the deadline of the agreement, still asked to wait another 10 days. I understand that this behavior is not the right one for a serious company. Has anyone cared about my problem during these long almost 30 days? Discovered the problem why did not they strive to solve it in a much shorter time? For this case, I am waiting for answers, because the impressions that remain show that Electrolux is not a very correct company and that it does not care for its customers.

We purchased our home in December of 2016. With the purchase included a new Electrolux $2700.00 side by side refrigerator. Within two days of moving in, the water dispenser stopped working. After 5 visits from a technician and 5 replaced freezer doors, the builder agreed to replace the unit. Electrolux received call after call from our technician regarding the issue and we were told via the technician that Electrolux wanted us to pour warm water through the ice dispenser on a daily basis. If I am correct, the user manual did not indicate that this was required on a daily basis in order for the dispenser to work. I would not recommend the purchase of any Electrolux products; poor quality and poor customer service. BUYER BEWARE.

In January 2016 I purchased an Electrolux electric range, model E130EF4CQSB, serial number AF55000584. In February 2017 while I was cooking dinner one evening, the glass cooktop suddenly shattered. I called Electrolux customer service and was told to email pictures of the damage, which I did. About five minutes later Electrolux called me back to say that their technician had determined that I caused the damage by dropping a heavy object onto the cooktop. I protested that I had done nothing of the kind, but was told the technician's judgment was final and my (five-year) warranty on the cooktop would not be honored. Subsequently I had to pay $570.40 to have the cooktop replaced. I do not believe that Electrolux has a technician standing by at all times to assess broken cooktops. I think the company simply defrauds customers by declaring falsely that customer abuse has occurred.

8th August 2016 I bought a Split AC. After two months, it's was stop automatically, gas leakage. I call to customer care to ask someone to fixed it. But I didn't get any response from them. After making so many calls I got a call from technician. He came my place and said "your output fan is not working." I said please repair it. He said "it takes time, at least 3 days." I said "OK". But after 3days I called him then he was not ready to come. He stolen my AC parts. Then I did FIR for the same. I sent so many email to customer care and consumer forum. They are not ready to fix it. Now I have an AC on a rental basis.

I did a kitchen reno 3 years ago and through lots of contemplation on which manufacturer to purchase our appliance package from, we chose Electrolux. We purchase the "wave" technology fridge and Induction stove. We could not have purchase any higher end of a product from Sears other than the GE Profile package, but they did not release an induction cooktop at the time. WHAT A MISTAKE!!! The stove has had several service calls as one of the burners has no heating intensity. The service people that have been coming out have no clue what they are doing and cannot fix the stove. They basically say it is normal. Still working on that problem to get it rectified.
We also noticed our laminate floor was swelling a few weeks ago and after investigating the possible cause, I pulled out the fridge and sure enough the floor was all damaged and stained with rust. I had Sears service come to investigate and the end result is it cannot be repaired as it has a "manufacturing defect". Seems that Electrolux just happened to not design the fridge with any insulation at the back of the fridge. WOW! I purchased the Extended warranty from Sears due to the cost of these "High End" appliance and the high cost to purchase.
Well that fell flat on support. Sears has offered a credit of $1170.00 toward a purchase of a new replacement fridge as my compensation for the NO Lemon policy on the warranty. Not happy with this result, I contacted Electrolux customer service and asked to speak with a Manager. I was bluntly told that there was no further person to talk to and that Electrolux does not care about any issues after the initial year is over and it will be impossible to expect any input or assistance to replace the fridge that was improperly designed and built! Unbelievable... I am now going to be financially burdened with a $3000 plus cost out of pocket!! What a kick in the teeth after thinking if I purchased "High End" (JOKE) product, it would pay off.
It is looking like I will have to replace my fridge and will now have mismatched appliances in my kitchen, especially since it will not be an Electrolux product. That would be a cold day in Hell!!! I cannot believe what Electrolux is pulling off here. I would be willing to start a class action lawsuit if we could group enough people together to fight this company for selling Improperly manufactured product and not owning up to it.

Cheap material and poor technical support. I had 2 refrigerators replaced and 5 repairs on the 2nd one, all within 6 months!! Waiting on delivery of the 3rd replacement refrigerator! Very poor customer service, do not think about convenience of consumer. All the repairs and replacements done only during work hours with no specific time range! So to take a full day off from work for every visit was extremely difficult.
Updated on 05/16/2017: I previously told that Electrolux is trying to replace my refrigerator for the 2nd time within 6 months, to add to that situation, the 3rd refrigerator that was delivered today also had damage on its external body - as shown by the delivery person himself after opening the package in front of me. Now wasting another day of my work time, for them to deliver again another refrigerator, FYI THIS WILL BE MY 4TH REFRIGERATOR THAT ARRIVED AT MY DOOR! I really need some help here!!

Cleaning issues with my Electrolux Icon dishwasher go back to just a few months after we purchased our home in June, 2015. There have been drainage problems and leakage problems, but the most consistent problem has been the fact that the top rack does not clean. Three authorized Electrolux licensed companies have worked on the dishwasher. Every part on the dishwasher has been replaced. I've purchased countless cleaning products recommended by the technicians and the problem has not been solved. The top quarter of the dishwasher does not rinse clean and there is always food standing in the bottom of the machine (causing a terrible odor - one technician told me to rinse and wipe by hand - I have never had to do that before).
I have requested a copy of my service record but was told that it was not available to me but that the technicians have all the information. The wrong part has been ordered twice (or just the wrong one sent... no one is quite sure) which means I have been confined to my have home twice in the past two weeks with no work done on the machine. Last month a technician said he just didn't know what else could be done, but when I told Customer Service this they said the technician hadn't put this in writing. Apparently there is a procedure that must be followed to get a replacement review for a product that cannot be fixed and it must be initiated by a technician. All this is in the notes that the CS reps says he is adding to my file, but I have very little faith in that. I get a different person each service call and they always want to try one more thing!
I did purchase an extended service contract last year so I am not out any money at this time (although I paid over $400 after the warranty was up and my builder paid about the same), but I have devoted a tremendous amount of time and energy trying to get this fixed. My contract is up in July and I told Customer Service that I fully expected this to be resolved before then and not dragged out so that my contract expires before it is settled. I have four boxes of unusable parts being stored at my house. Electrolux could have bought me two new dishwashers for the amount of parts and labor that have been wasted on this machine. I have tried to be patient with this situation, but I have been tested to the limits and want some results.

We bought this refrigerator (Model FGHT1846QF4) to replace a similar model we had before. The fridge is very noisy, much more than the previous one. The overall quality is poor, very light refrigerator that moves easily when opening the door. The customer service people were very nice but the manager was not sensitive to our complain. I do not recommend this product. I was very disappointed with both the product and the company.

My wife and I purchased a Condo in Sept. 2016, as part of the sale the previous owner renovated the kitchen including all appliances. We filled out the warranty cards and sent them in. In April 2017 the microwave developed a problem, The service tech that Electrolux sent out (dispatcher with service company had very bad attitude) claimed it needs a new board. Now I'm told the appliance was made in 2012 and parts are no longer available (although their rep is still trying to sell me an extended warranty). Although recently installed and warranty filed Electrolux say they can't repair and refuse to replace the unit. I am upset that the units were even sold and installed with that age on them but now the warranty isn't honored... They say the customer is their priority but not from my point of view. Will never buy or recommend an Electrolux or Frigidaire product again.

Electrolux Gas Cooktop EW30GC55GS1 - Purchased in 2009. We found out quickly that the knobs which were very close to the burners were made out of plastic with a foil, plastic coating to make them appear as though they were stainless steel (or even aluminum!). We found out quickly that the heat from the cooktop was deforming the 'covering', and at this time in 2017 many of the knobs have 'melted' and deformed. I see that you can order SS knobs to fit the unit, but I feel it is unacceptable that Electrolux knowing put dangerously poorly quality control knobs on a gas cooktop that would melt and deform. Replacement plastic knobs are an atrocious $55 CDN ea, and SS ones are close to $70 ea. Electrolux should offer at N/C or a shipping charge only, replacement SS knobs that will stand up to proper use of such an appliance.

I purchased a Frigidaire Fridge through Sears in August of 2015. I chose Sears because we have one locally and I heard they had excellent customer service. Within a few months of purchasing the fridge the door handles were loose and the water/ice system was not working. I called Sears but was directed to Transglobal. A technician was called and the problem was fixed. A few months later... another issue. At this point I asked if I could have fridge replaced as I felt it was a lemon. Transglobal said I needed 3 documented repairs within my warranty period. Lo and behold last week (20 months into owning the fridge) the compressor stopped working. My family is stranded with no fridge. I had to pay for a service call directed by Transglobal for the technician to tell me the compressor part alone costs 700$ plus 2 hours of labour.
Transglobal contacted Electrolux to see if they would replace the cost of the part at the very least and possibly the whole unit as it has been a lemon. Electrolux denied me any support with repair or replacement. I called into Electrolux and asked to speak to a supervisor. I was told that I had to call back at 5:30 pm. Basically, he told me I could call back and send an email but he couldn't do anything for me. I said goodbye, and called back.
This time I got a new person who was surprisingly helpful. He asked my name and said that Transglobal had not sent in the service reports for my fridge. He then requested the service reports and said he would get back to me. I am still waiting and I'm hopeful this can be resolved. There are so many issues here... Firstly, the product, secondly the sideways way of getting support, thirdly the various skill levels in customer support. I have spoken to 8 people at both Electrolux and Transglobal and 3 have been helpful. That's less than 40% success in dealing with customers.

I purchased an Electrolux washer and dryer set 2 years ago in silver grey colour. Right from the start the doors on both units would not close properly, nor would the detergent dispenser drawer on the washer. As well, you could not partially close the door when airing the washer after using it, meaning the door stayed wide open. This required placing the machine in an area where no children/people would walk past it and hook on to the door. THEN, the entire control panel went on the washer. We were told that Electrolux no longer made that model - ONE YEAR AFTER PURCHASE, and that instead of repairing it, the warranty company replaced it with the next newer model. This entailed that we also had to replace our DRYER, since the new washer's colour was a different colour of grey, and the units no longer matched. UGLY!!
The 5-year warranty we purchased at the initial time of washer purchase was now also void, meaning we would have to pay AGAIN if we wanted extended warranty. I tried contacting Electrolux Canada to ask if we could get a rebate or refund for the extra costs we endured because their units were faulty and outdated so soon after purchase. That's when the real trouble started. The young girl at their "customer service" was the rudest, uncaring person I have ever encountered in the business. She said if it wasn't a warranty issue, that she would do nothing to assist me. She refused to put me through to her supervisor, and any emails that would be sent would go back to her. There was no logic in her approach and needless to say, the whole experience left me totally frustrated and disappointed.
I even tried reaching someone at Electrolux's USA and European Office, but was told that it was not within their area, and that I would have to contact their Canadian office- even after I had explained my problems with the "first line" person there. No one offered to contact a supervisor on my behalf, or even give me a direct telephone number or email address where I could contact a supervisor myself. Although the machine's - one year old, are still working, I will never again buy ANY product from Electrolux, after having the worst customer service experience of my life!

We bought a new front-loading washer and dryer from Nebraska Furniture Mart in February 2017. The dryer's CPU board has already went out and quit working. When we called for warranty work and had it looked at and called back to Electrolux to find out about parts they said they were on order and might take 2 weeks to get fixed. Electrolux doesn't even carry parts for their own products! Now the washer won't even complete a cycle without having to rinse and spin twice! I will never buy anything from Electrolux again. $2000 for crap! I have learned my lesson and will never recommend these products to anybody including my enemies! Electrolux is a very cheap-made machinery with poor customer service!

Upright freezer 1 and a half years old model ffvu17f4qwa quit working for no reason. Lost all my meat worth roughly 1500.00 and a big bloody stinky mess to clean up. When contacted Leon's in Orillia they said they were sorry and no compensation for anything. Went back to old chest freezer that is still working. Never another Electrolux in my house. Would have a least have liked a phone call.

Jonathan TroutConsumerAffairs Research Team
As a member of the ConsumerAffairs Research Team, Jonathan Trout believes having access to free, comprehensive information on products and businesses is vital to making smart purchasing decisions. He focuses his efforts on researching and reviewing multiple brands across a variety of industries, with the goal of writing unbiased buyers guides to help inform consumers on impending purchases. More about Jonathan→

Electrolux is known for making kitchen, laundry and home care appliances. They also make 12 sizes of chest freezer ranging in size from 3.5 to 28 cubic feet.
3.5 cubic foot freezer: This is the smallest chest freezer made by Electrolux. It comes with one removable wire basket, mechanical temperature control, manual defrosting and a safety lock. It has a four-star energy rating.
7.0 cubic foot freezer: This is one of Electrolux's midsize chest freezers. It features a mechanical temperature control, interior light, manual defrost, a recessed handle and a safety lock. It also includes adjustable legs. It comes with a four-star energy rating.
14.8 cubic foot freezer: The 14.8 cubic foot chest freezer has a four-star energy rating, four wire baskets for convenient storage and a safety lock. It has a mechanical temperature control, an external handle and a quick-freeze setting.
28 cubic foot freezer: This is the largest chest freezer Electrolux makes. It has a four-star energy rating and manual defrost. The temperature can be set to as low as -12 degrees. It features six wheels, a safety lock, two baskets and flat back to fit against any wall.
Upright freezers: Electrolux makes three models of upright freezers. Two have a capacity of 13.7 cubic feet and come in white or stainless steel. The other model is 8 cubic feet and comes in white. The feature electric control panels, wire storage baskets and quick-freeze options.
Best for consumers looking for an upright or chest freezer.
Electrolux Company Profile
Company Name:

Electrolux

Year Founded:

1910

City:

Peoria

State/Province:

IL

Postal Code:

61612

Country:

United States

Website:

http://www.electroluxappliances.com/