Consumer Complaints and Reviews

Upright freezer 1 and a half years old model ffvu17f4qwa quit working for no reason. Lost all my meat worth roughly 1500.00 and a big bloody stinky mess to clean up. When contacted Leon's in Orillia they said they were sorry and no compensation for anything. Went back to old chest freezer that is still working. Never another Electrolux in my house. Would have a least have liked a phone call.

I bought a front loader washer in February 2016, my Front loader is now having issues (april 2017). The door will not unlock and the washer was in a middle of washing a load with 8 min left. I can't get it to finish the wash or unlock the door. I unplugged it and tried resetting it by hitting the cancel button like the customer service rep asked me to do and still nothing. I called the Electrolux service dept. and it will take 4 days to even send someone out, plus had to pay $125 service fee upfront just to even get on the waiting list for repair. That lets me know their product is a piece of crap. Never again will I spend my money on their product. Anyone reading this DO NOT BUY ELECTROLUX.

Run away from Frigidaire and Electrolux products. They simply do not last and you can wait for hours to speak to someone in Customer Service. There are other products that are a fraction of the price and probably will last as long.

Three years ago I purchased a French door refrigerator from Sears but was manufactured by Electrolux. Immediately we noticed the ice maker did not supply enough ice. Sears came out and replaced icemaker three times. Still does not supply enough ice but you get tired of appointments and meeting repairmen to make the same repairs over and over again. The last repairman said this was a common problem with the refrigerator I have. Last weekend I pulled open the freezer drawer and it fell apart. After spending an hour to make it functional I decided it was time to replace it. So this week I purchased another new refrigerator. One NOT manufactured by Electrolux.

I purchased new Electrolux dishwasher from Goedekers.com, was delivered to me in intact box, so nothing to show delivery problem, I open the box and could not see any problem, scheduled installation and the installer discover that under the cover blanket the unit was really beaten up. So I called Electrolux and Goedeker's to report the problem. The dishwasher is under 12 mos warranty. They send different appliance repair people to fix it. And the conclusion was the same: Replacement because can't be fix.
But after two mos Electrolux/Goedeker's game come with the statement: the warranty does not cover the repair (actually Electrolux spent $600 on diagnostics and screwing-unscrewing) + I spend long hrs talking/asking/emailing/listening CS reps, managers, supervisors, corporate executives telling different statements, basically lying and not taking responsibilities.
The worst experience in my lifetime and I'm 64 years. All this Electrolux/Goedeker's reps were advising me to do illegal actions to repair the damage for unit under warranty and all is my mistake that I did not uncover the manufactured blanket when I checked the delivery shipped in intact package box. Also accusing me that I damaged my new dishwasher - insane! I ready to expose the damage that Electrolux and Goedeker's are doing.
How do I know I can trust these reviews about Electrolux?
743,097 reviews on ConsumerAffairs are verified.
We require contact information to ensure our reviewers are real.
We use intelligent software that helps us maintain the integrity of reviews.
Our moderators read all reviews to verify quality and helpfulness.
For more information about reviews on ConsumerAffairs.com please visit our FAQ.

I purchased what I thought was a high quality front loading washer and dryer from Electrolux in 2014. In only two and a half years, the dryer has stopped working. The moisture sensor completely just fell off on its own, and I am beyond warranty. I've had to take days off from work to have the item inspected, and to order a new part. It isn't cheap either. This is a very disappointing product that was not made very well.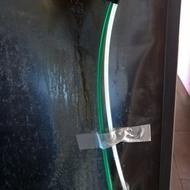 Four year old Electrolux French door refrigerator/freezer model #EI28BS65XS6 is sweating and rusting on the rear panel, mainly around the upper right hand corner behind the ice maker. I purchased a Rear Panel Kit (part #5303918657) for $199.98 + tax from Electrolux, who stated in an email to me that this "...kit is the only fix for this issue." Unfortunately, the kit includes a huge, thick, black pad that covers the entire rear panel of the refrigerator except for the vented area at the bottom. The water lines to the ice maker have to run over the pad.
Unfortunately, the refrigerator will no longer fit in its customer enclosure, which Electrolux has informed me is my problem, as they will "not be able to meet any requests for a replacement model, as the warranty for your current model has expired..." I am guessing that Electrolux forgot to put insulation in the rear of the refrigerator. They apparently have not notified their customers of the issue either, as I only learned of the problem when I pulled the refrigerator out to clean it. (The ice dispenser quit long ago as well, but that's another story.)

My husband and I are very disappointed with our Electrolux French Door Refrigerator! We purchased one in 2009 and paid $4,300. I thought with that price, it should last at least 10 years. Well, after a year and a half, the ice maker broke. Good thing we purchased the extended service warranty for 5 years. Repair man came and replaced the ice maker. Couple months later, it broke again. Called again. Broke again, and again. So finally in 2012, Electrolux gave us a new refrigerator (same model) for a replacement. It worked until late 2015 when the ice maker started acting up again. Water started leaking behind the ice maker, on the back wall of the fridge. And after a while, the water freezes up. I knew my warranty is over so I thought I'd live with it. I always had a towel where it leaks so it won't get all over the fridge. It's terrible and embarrassing.
Everyone would ask me why I have a frozen towel in the fridge and I would always reply "DO NOT BUY ELECTROLUX". About 2 weeks ago, a piece of hard plastic and styrofoam came out of the ice maker while I was dispensing ice. Like, what the heck is it and where did it come from?? Then last Friday, the fridge totally died! I called every technician in town but unfortunately, nobody couldn't make it until today, Monday (we've had no fridge for 4 days!) Diagnosis: the control board is burnt out and it melted! Cost of repair: $522! This expensive fridge is a piece of junk! I am pissed and I'm trying to get Electrolux pay for at least the parts. Let's see what happens next. But I will never buy Electrolux again.

Purchased a Frigidaire refrigerator at BrandsMart. A month or so later I received warranty offer to extend the warranty. I paid for it in December 2016 and forgot about it. Then at the end of January I received another invoice from same people for same appliance. I paid it not remembering that I had already paid it in December. I called the customer service line to ask why another invoice had been sent, and the customer service rep said... "oh that happens all the time and you will probably get another invoice in the mail." This sounded like a very common occurrence, so I said "well I paid it and should not have done so." I called my bank to stop payment on the check I wrote for a duplicate payment. Then in February I get a letter from Electrolux that I owed them $30 as a fee for the stop payment.
When I called them, they insisted that I should not have done that as they processed it as if I wanted to extend the warranty out further to 6 years. What! Same bill for same period, why would I extend a 3 year warranty to 6 years when it is not even indicated as an option on the invoice? When on the invoice it only indicates up to a 3 year warranty! It all sounds like fraud to me. The extra invoices sent out trying to get people to double pay, charging a fee for stopping a duplicate payment. It seems that this is a very dishonest organization, and no one seems to care how they treat their customers.

I bought this refrigerator model E127BS16J56 serial # 4A23619843 in 2013 in great anticipation of have a beautiful stainless steel refrigerator in my kitchen. Stainless steel is a bit more expensive but as a consumer you spend the extra money for its beauty that it adds to your kitchen. I've noticed that around the stainless steel the grey plastic trims have begun to split and crack for no reason. The refrigerator is in our kitchen and does not get a lot of wear and tear, it's just my husband and myself. I called Electrolux and spoke to customer service, told them the refrigerator was practically new and the cracking and chipping of the plastic trim took away from the beauty of my stainless steel refrigerator and asked them how to fix it. I was told the only way to repair the plastic trims on the freezer drawer or the French door refrigerator was to replace the door panels. They would send them to me at a 10 % discount. What!
So I'm supposed to order new doors at my expense of 500 per door and get a 10% discount if I purchase the doors from them and they won't charge me shipping. This was not acceptable so I called back and asked to speak to a customer service manager. I told her my story and she read through my previous complaint and offered me a 30% discount.
This was at least an attempt to assist me but honestly, my refrigerator is 3 years old and all the plastic trims deteriorating and breaking off (obviously a product defect) and to solve the problem I'm supposed to purchase all new doors and invest almost 1000 dollars and then pay a mechanic to put them on! Really! I want to fight this I'd rather spend 1000 dollars on a lawyer and live with the chipped broken plastic doors. I'm disappointed I really thought they would stand behind their product and help me, but the resolution they offered is unsatisfactory! I'm going to continue to call and complain, hope springs eternal.

My husband and I redid our kitchen 5 years ago, & we were so excited to purchase the Electrolux 36" range & French door fridge as our appliances. We bought the extended warranty plan offered through Warrantech, since these are pricey appliances. We felt that they would last us for many years. Fast forward 5 years later, our range works only a few months out of the year, takes weeks to months to repair each time, and was red-tagged by the gas company on one occasion because the design flaw which causes the frequent repairs causes it to become a bomb in the kitchen. It once exploded our oven door clean open when I preheated it.
Despite being repaired 3 times for the same issue, (pilot located too close to burner assembly causes burner assembly to blister open. Often just causes the pilot to be blown out instead of light, but sometimes resulting in a huge build up of gas before ignition, i.e.: bomb in the kitchen), Electrolux, through Warrantech, refused to replace our very expensive appliance. They refused to replace it because it could be "fixed," ignoring the pattern of the same issue occurring every year, the enormous danger of the design flaw, & the length of time it took to repair. The part was always backordered, one would assume because they were having this issue with many other ranges. The range has now been discontinued.
Electrolux also had the gall to tell us if we had bought our extended warranty through them, they would have replaced the oven after the 3rd repair. They suggested that we purchase another extended warranty through them once ours ran out. Well, that warranty ran out in Dec. 2016. In Sept., 2016, the oven had needed the same repair for the 3rd time. That repair lasted until February of 2017. Two months after our warranty ran out, the same issue occurred for the 4th time.
My husband and I cannot see spending another $500 for an Electrolux warranty, when the company is clearly not standing behind their product, interested in customer satisfaction or safety. We have ordered 2 replacement parts on our own, & will attempt to fix this issue ourselves whenever it occurs. We own a dangerous, $6,000 and counting, Electrolux lemon of an oven. I implore you not to buy Electrolux appliances, especially the 36" E36GF76JPS2. Are there others of you out there like me? Let's start a class action lawsuit. I'm also going to file a report with the Better Business Bureau. This is unacceptable.

I ordered two filters for my refrigerator. When they came they were the wrong ones. I paid with check. I mailed them back (as they had told me to do) got a signature that they received them. That was in October, I have made 9 calls to them, I have received every excuse in the book and still not received a refund 5 months later. They are telling me now they mailed Dec.2 (3 months ago) and I have to be patient. I told them Pony Express could have had it here by now. Will Never buy another product with their name on it.

Worst customer service. Dryer just knots everything together and lint catcher seems to grab straps on clothing and rips them off. Cannot get the musty smell out of the washer even with front load washer cleaners. Does not honor the extended warranty. Would never buy anything from Electrolux again.

I purchased my Electrolux french door refrigerator from sears in 2015 and have had problems ever since. It does not keep as cold as it should and randomly stops cooling. The thermometer on the door shows a constant 34 but a thermometer placed on the shelf shows approx 48 depending on the location in the fridge. Then randomly every couple months or so the high temp alarm will go off and the fridge gets warm. Technicians have replaced control boards and tested everything but cannot figure it out. Best they can tell the evaporator is freezing up but they don't know why. We have a mini fridge in our kitchen to keep our dairy and other delicate groceries in. That's just sad, we trust the $100 fridge but can't trust the $2500 one.

They have highly rated products but the service is just awful. Bought through Sears a brand new 8 ft gas dryer (EFMG617STT) and it started making a noise right after installation. The installation person told us the noise would go away. Over 3 months the noise turned into a vibration until we couldn't run it. Had signed up for the Electrolux Platinum Star Limited Warranty so called up and they sent out a service repair company (All County Appliance Service) who determined it needed a blower wheel and motor. It has now been 2 weeks without them being able to fix the dryer.
My wife has spent more than 10 hours on the phone tracking it down and no-one can tell where the parts are and when they can fix it. It turns out the repair company has a 1 star rating on Yelp and they don't even answer the phone most of the time and when they do, they refer to Electrolux regarding sending the parts. Electrolux (we have talked to 3 different people) say they have many clients except us and we need to wait. When we contacted Sears (which we have 3 times and they hanged up last time) they say we need to contact Electrolux. Never seen anything like this...ever. Especially when you pay $1200 for a top of the line appliance.

The dryer is ok but it collects enormous amounts of lint around the removable filter. Monthly, I have to remove 6 screws and clean out the part that actually holds the filter. Very inconvenient and time consuming. The washer is ok, but does not remove dog hair as well as an agitator washer.

I purchased a Frigidaire refrigerator and stove in July, 2014. I thought I was purchasing a reputable brand, so I didn't need to purchase an extended warranty agreement. In January 1, 2017, the refrigerator stopped cooling. I lost items in the freezer as well as the lower refrigerator section. I called a service technician referred by Lowe's. He told me the diagnosis and the repair would be as much as a new refrigerator. I called Frigidaire Customer Service. They told me the only thing they could do was offer a discount on the replacement part. I still would need to pay for the labor and the part.
I recently retired and cannot afford to do this nor purchase a new refrigerator. I have now been without a refrigerator since January 1, 2017. I had to begin 2 jobs to save up to hopefully purchase a refrigerator. As it stands I will not be able to do that for at least 2 months. I am very disappointed in Frigidaire/Electrolux. In the great scheme of things I may only be one consumer, but even one should matter. I had to use a computer at a school since I cannot afford internet. I left the paperwork at home so I don't have the receipt with me to add to this.

This microwave was not cheap and yet it broke way too soon, just over 2 years of use. I bought a small countertop microwave to use in its place as I haven't had the $ to replace and it was not under warranty anymore. I will not buy this brand anymore.

Top of the line Front load washer leaks. Door hinge defective and never fit properly. Had Sears fix several times but it is a horrible design. Made in Mexico where they stripped the screws when they put it together. Notified Electrolux customer service but they said my mistake was calling Sears. Since it is now over one year old, Electrolux will no longer help me. Stay away from this brand. They only say they care about customers. Their actions do not match their words. Buy a better brand.

I purchased a new French door refrigerator in 2009. Since then I had the ice maker repaired or replaced several times and actually replaced twice. I still have problems with the unit. Originally the ice maker was a major problem. Now after having received the third unit the water dispensing mechanism is not working. You would think that after paying good money for a French door refrigerator, that it would last for at least 5-10 years problem-free. I will not buy from this company again.

The screen is hardly visible for years and the new parts are supposed to be worse than keeping the old part that the microwave works. After 5 years I had to replace the Electrolux refrigerator and dishwasher. After 7 years I had to replace the Electrolux stove and oven. I would replace the microwave but they do not make this size anymore. Although, the new Electrolux appliances are beautiful. I truly believe the original appliances should have lasted longer. I do not recommend this brand for anything except vacuums.

Purchased this unit November 2015. From start we had problems with upper ice maker that dispenses ice on door. Auger freezes up. Electrolux certified Service people in twice during first few months and replaced auger unit. That initial fix appeared to address the problem. However, not the case. Late 2016 noted water accumulated at base of refrig and ice cubes melting in the bin etc... obviously not happy at this point. Luckily we bought extended warranty from our local appliance store where purchased. Apparently insulation must be installed to the back of the fridge. Electrolux "fix" to solve this poor design/mechanical dilemma.
Must add that there is a 2nd ice maker in the bottom freezer section. This fix will extend fridge out additional 2. This is frankly the best fridge I ever owned EXCEPT for the latter icemaker problem. Has great storage in two layers of bins. Glass shelving is nicely staggered and makes items easily visible. Keeps fruits/veggies fresh longer. Cleaning is swift as shelves comes out easily and not difficult to maneuver in sink etc. Bottom freezer is large and can handle a lot of frozen foods. Disappointing that for the price of this unit this problem did not surface in the design stage.

We purchased our Washer Dryer set less than a year ago. Already it has broken down twice. Both times, a bolt that holds the pulley to the back of the drum has loosened itself causing the pulley to cut into the drum housing and cause leakage. When contacting Electrolux the first time, the repair company they sent made 4 trips out to repair the unit, and we were without a working washer for several weeks. This time they dispatched a company that came out to asses the problem and then returned several days later to make the repair. They showed up at 8:00 pm on a Sunday night, and it is now 11:23 pm and it still isn't back together.
To top it off, the repair person just informed me that a wire inside the machine was damaged and he will have to order a new one and return again. Electrolux has told us they will not replace the machine as long as their technician says it is repairable. I am very disappointed. For what we pay for these high end appliances, customer service is a joke. I live 35 miles from the nearest laundromat, and this is a total pain in the ass for my family of four... We have had to resort to hand washing my children's school uniforms daily to get by and Electrolux seems to feel we aren't entitled to a product that performs as advertised. I hope someone files a class action suit. I will never purchase Electrolux products again. Frigidaire has destroyed what was once the best brand name in the business.

This refrigerator is great, there are just some things that need to be changed about it. We have to turn the ice machine on the door, off, because it drips and settles in the holder. When we go to open the door the melted ice will spill everywhere.

3 calls, 2 separate trips to fix our Frigidaire dishwasher which Electrolux does the installs for on new homes. 3 times the dishwasher has flooded our kitchen floor and all we get a substandard fixes and trite customer service. The home builder said after three times they are supposed to replace the appliance and Electrolux does not want to do that. They only want to send someone out to fix again. Electrolux is only in the business of warrantying and not resolving issues. Don't give them the time of day. Save your breath even if the warranty service is free and go buy a new unit from Lowe's or Home Depot.

DON'T RECOMMEND TO BUY ELECTROLUX PRODUCTS!!! Bought a brand new unit of Electrolux EWT903 XW top loader washing machine last August 2015. This is 9 kg washing machine for 2 person. We also seldom use the machine since we go out of town always. The machine suddenly broke down on October 2016. Call the Electrolux Philippines head office for request to check the machine problem. The service was so bad, that it took more than 3 weeks to schedule to checkup.
The Check up was done on Nov 26, and the service technician advised that the Gate valve below the machine to let the water flow out was damaged. Asked the Service Technician the cause of damage, the service Technician also don't know. Later, the Office call me, and explained the cause of damage may be as ff: 1) Electric fluctuation 2) overload. This 2 reason are so dumb stupid reason, since we seldom use the machine. My conclusion is there must a design problem for this Electrolux EWT903 EW washing machine. DON'T RECOMMEND TO BUY.

The burners are very difficult to adjust particularly the large one. I have had a repairman and gas co. technician attempt to correct but could not. Also the led panel on the top had a led burn out and now the time is incorrect. This was not an inexpensive range.

Purchased a cooktop from Electrolux. Used it for a few weeks and then while in use it cracked. The local Electrolux refused to look at it and said this is a cosmetic issue and they can't do anything about it. However the head office acted and replaced it. The new one has been used for a few weeks and it is pitted all over. I called the local office again and as always they gave a damn about it.
I was rudely told that I am using the wrong type of pots and pans and that I should use only stainless steel pots and pans and that it is mentioned on page 8 of the catalog. When I tried to explain that I am using the same pots and pans on a similar cooktop for 14 years without a problem, she did not want to hear. This means that if you buy an Electrolux cooktop you must change all your pots and pans. Upon looking at the catalog I did not find any such thing restricting me to use stainless steel only. When I told her about some serious injury that could result by using it, her reply was astonishing, "call us after something happens." This shows how much the Electrolux cares about its customers.

My experience with Electrolux appliances is junk, junk, junk!!! I purchase three brand new appliances and they all had to be serviced right out of the packaging!! The french door bottom freezer refrigerator is junk. The ice maker in the bottom drawer was replaced within a month and a half after purchased. The upper ice maker has been replaced once, serviced two more times since then and now needs to be serviced again!! It goes through some type of defrost mode which causes the cubes to melt in both the upper and lower bins, which then drips out of the dispenser in the door and once again it does not make ice. It frosts up behind the ice bin itself which in turn needs to be serviced again to replace some seal. I have always purchased GE appliances and gave Electrolux a try being they are "suppose" to be a higher end appliance. Never, never again would I purchase Electrolux!!

I purchased glass stove top from hhgregg two to three years ago. Purchased five year warranty. I will have to get copy of receipt/warranty or locate. I went to hhgregg and they said I would have to contact Electrolux. I tried emailing and no response. Any info on this product would be appreciated.
Electrolux Company Profile
Company Name:

Electrolux

Year Founded:

1910

City:

Peoria

State/Province:

IL

Postal Code:

61612

Country:

United States

Website:

http://www.electroluxappliances.com/