Consumer Complaints and Reviews

Culligan of Kansas City is rife with incompetence. In April 2014 my old water softener died after 15 years of faithful service. About 35 years ago I rented a Culligan water softener in Illinois and was very satisfied with them so I decided to "upgrade" to a Culligan water softener. I didn't pay attention to how the guy installed it because I figured that Culligan would do a good job. Not so much! The guy was plumbing the softener into a 3/4 inch line but he reduced it down to a 1/2 inch line with some shark bite fittings and pex connections. There was a 1/2 inch elbow on each of the lines, then more fittings to take it back up to 1 inch to attach to the water softener head. So, what this does is to reduce the flow of water in my entire house (except for the one outside faucet that is not softened water). I don't know if he just didn't have 3/4 inch elbows on his truck or what.
Fast forward one month. Culligan billed me for $2304.45 and said I was a month overdue! I had financed the installation through Culligan with Foundation Finance and was paying Foundation $407.12 a month so that I could get it paid off within 6 months for their "no interest" offer but their billing office was still billing me for the whole amount.
Now fast forward to February 2016. This thing runs its regeneration cycle at 2 am and it takes just under 2 hours to run. At 5:00 am the thing was still running water down my drain. It was stuck on one of the back washes and giving an error code 1. It was only 1 year and 9 months old! My old no-name water softener lasted 15 years! The Culligan guy came out and really didn't know what was wrong with the thing. He ended up replacing the circuit board. (I argued vehemently with this guy when he wanted to charge me for this and ultimately I was not charged.)
Fast forward 10 months to Christmas morning 2016. I woke up at 4:00 am to the sound of running water! The water softener was again stuck in one of its back flushes and was running water down the drain. It had an error code 1. I unplugged it and put it on bypass to stop the water from running down the drain. A few hours later I plugged it back in but it did not reset and got an error code of 4 so I unplugged until that evening. When I plugged it back in it reset and did another regeneration. Meanwhile I had to use water so I have a water heater tank full of hard water. Culligan wants another $175 to just come out here. Their warranty on the board is 5 years and on the control valve is 10 years but it costs $175 for them to come out each time.
It is now February 2017 and this thing has done the same thing of getting stuck on a back flush and giving an error code 1. It has done this twice since December! Apparently Culligan equipment is not what it used to be and Culligan service is nothing like it used to be. It looks like I am going to have to replace this thing -- probably with a Fleck. All Culligan parts a proprietary so there is no way to buy parts for this thing and I could buy Fleck parts at lots of places. I have to re-plumb this thing so I might as well plumb in a water softener that works.

I love my new water softener and reverse osmosis filtration system. The water tastes great, I don't have to deal with the hard water problem anymore. Rob was my salesman. He was absolutely wonderful. He answered all of my questions accurately and was an absolute joy to work with. He was running 10 minutes behind schedule and he gave me a courtesy call to let me know. Love the product and customer service was GREAT!!!

I have a top-of-the-line according to Culligan system with premium care and I've experienced many issues including frogs and no salt. Not happy with Culligan. Also attempts to call all lines are busy hours on end. Again not happy with Culligan!!!

Contacted Culligan Water of Rochester, MN to have a water softener installed and a reverse osmosis system installed. The installer was rude, swearing, and tracked in mud throughout my home (kitchen floor and on basement carpet - staining it). I told him that if we could reschedule because he was having a very difficult time installing the reverse osmosis system. He decided to finish and after he left our sink pipes burst and leaked water into our basement causing water damage to our basement ceiling and carpet.
I contacted Culligan and explained the situation. They sent their GM to assess the situation. He said he would contact me back after he contacted his insurance company. He said to fix the damage and that culligan would pay for it. I have not heard from him or culligan since other than bills to pay for a service that caused damage to my home. Furthermore, the reverse osmosis system only works some of the time and now my refrigerator does not make ice or run water which I called and complained about and they sent someone out to fix it but it still does not work. This has been a horrific situation with no results or true attempts to make this right for their consumer.

I have had Culligan visit 3 times for a water softener that leaks. Each time I booked the 1st/earliest appt of the day & each time they were 1/2 to 1 full hour late! I had to call them each time to ensure they were coming (no one called me to say they'd be late). Poor Service!
How do I know I can trust these reviews about Culligan?
718,469 reviews on ConsumerAffairs are verified.
We require contact information to ensure our reviewers are real.
We use intelligent software that helps us maintain the integrity of reviews.
Our moderators read all reviews to verify quality and helpfulness.
For more information about reviews on ConsumerAffairs.com please visit our FAQ.

Very happy with both systems. The sales person explained all the details regarding installation and how both systems actually worked. The installation was done in a professional way. Both systems work very well. I am very happy with the work. My drinking water is 100% improved. I do not need to buy bottled water now. Thank You Merrillville, In. Culligan.

We were told our showers would no longer be slimy and hard water would not build up in machines. Not true! Don't waste your $3000!!! Our laundry has white stains all over it from minerals built up in our new machine. When showering you feel as though you can never get the soap off. The reverse osmosis did help the drinking water. However, we had no improvement in the ice or water from the refrigerator. Again, don't waste your money!

I was told my system was under warranty when I called and they would send a technician out right away. My system was not fixed and I got a $160 bill. The customer service was rude and called me a liar. She said no one that works there would tell me my system is under warranty. She offered no compromise and was not willing to do anything to solve the problem. Worst customer service.

I had thought that a small filter unit would be nice. I ordered the filter and following instructions per the paperwork included got the filter and tubing installed. Our first try at new filtered water was not going to happen. Nothing appeared from the end of the faucet. A check of all the fittings and main supply did not produce the problem. After additional hours trying to figure out WHY this simple filter does not work we set forth and took the damn thing apart. WOW! Once it was apart it worked with air blowing through it minus the filter. So we are chalking this filter up to so much plastic garbage. Will never trust CULLIGAN or any of its products again. Remember a good review goes to a few - Bad reviews goes out to all that will listen.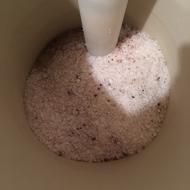 Recently, I was adding Culligan salt to our water softener. To my surprise, there were animal feces in the water softener bag. I removed all the salt and cleaned the tank as well as I possible. I took photos and returned the bag with the feces in it to the local Culligan dealer in Albert Lea, MN. In addition, I sent a note to Culligan. I also followed up a week later to find out if there was an answer to how this is possible. Culligan responded to the local dealer but not myself stating that it was not possible. I didn't get pictures of the big turds, but you can see in the pic that it is totally gross. The local dealer did take pics and sent them to Culligan.
I was told that Culligan switched suppliers on their salt to save money. Clearly the quality controls are not in place. I asked them to replace my softener system or cut me a break on a new one and he offered me $300 off the price of a new one making it only $1900. Culligan needs to take responsibility for the salt that is in their bag and step up to the plate and do something to resolve the issue. BOTTOMLINE... DO NOT BUY CULLIGAN SALT!!

I have had the RO and softener system for about two years. For a while, the service was great. About 6 months ago, I began to taste a bad taste in the water. The softener was totally out of salt. I called Culligan (they used to call me). After numerous calls, left messages, I never heard from them. The service man showed up three weeks after I bought salt for the device. Now it is time for the RO filter service. They again are nowhere to be found and again no answer of the telephone. Wish I had it to do all over again there is no way in Hell I would get Culligan Water Treatment.

This is a very good community with good people and good businesses. Everyone can make a mistake but this business by far takes the cake. I humbly suggest people in our community to avoid this business. There are many good water treatment places out there and this one is bad. First of all, a salesman named Harry told us stuff that was NOT true. Then this man asked us to pray for his grandkids and a huge custody fight. Obviously if it were not true how would we know about it? He then said he can remove the price for salt if we did that. And he didn't do that. Then we got a new house and instead of putting in the small faucet as they were too lazy to do, it's what we always had and always used and wanted, and instead we got this little black thing that when we push it, some infrared thing makes water come out. Ok, this little black thing rarely worked. Hardly ever.
Then some batteries leaked in it and when we told Peggy, this worthless person could not even help us and send someone out. We got totally ripped off and we are seeking legal action on this fly by night company and operators. We gave them several chances and Harry using his grandkids as ploys also has gotten DSS involved. That is sick. And asking for prayers in return to get no charge on salt. Again sick. And a lie. What he said about the Catholic church was not good and Bishop is being contacted and Culligan corp offices are as well. Don't make the same mistake we did and go to this fly by night company. There is more sick stuff too but this is all I want to post on my review now. Thank you.

I think Culligan's web page stinks. I've been trying to find my exchange date for 20 minutes. Still HAVE NOT found it.

We purchased our home in November 2015, and we noticed the water softener system didn't seem to be working properly, but there were several other items we needed to attend to. Then in July 2016, the system began to make terrible noises so I called the company in Coeur d'Alene, Idaho to schedule an appointment. I told them my time frame, and they said the technician would get back to me, but I didn't hear back from anyone. I called the day before the time I stated I could be available to find out if anyone was going to show up. The person who answered said "There's a note on the desk telling us what your available time is." I asked, "Are you going to be here?" The answer was "Well I don't know, the technician isn't available right now." The tone was condescending and short.
I told the man "Fine. I am trying to figure out my day tomorrow so just cancel this." No one ever called me back. They have never called me or emailed me or tried to contact me in any way. We are very unhappy with this treatment and apparently they don't need the business or they really don't care at all if they get the business. We are now researching other companies that take care of this type of system.

I purchased water softener and reverse osmosis system from Culligan because the salesperson presented Culligan very well. One thing he mentioned more than a dozen times during his presentation was the fact that we were going to get crystal clear ice cubes. It is going to be 2 years and I am still waiting for my "crystal clear" ice cubes. They are all foggy and even the water from the kitchen drinking water faucet looks horrible. After been nasty phone calls to Culligan they check the system twice and they said that the freezer is freezing the water too fast. Even though I lowered the setting to the lowest, I am still getting the same crappy water. Culligan said they will come for a $120.00 service call fee. No way!!!

I use Culligan water service in Largo, Florida and in Bozeman, Montana. The service in Bozeman is delightful and I would recommend them heartily. The Largo franchise is just the opposite. I ordered water, paid the bill and left Florida for several months. However, Culligan delivered more water and charged my credit card for the delivery. I have written and called them to suspend the service but they still are billing my credit card at the rate of $36 per month. I was in Florida on the date in July when we were billed for service, however, no water was delivered. However, due to their previous continued and unauthorized deliveries, we are awash in water. I shall contact them tomorrow and attempt to have them come and remove the full, unused bottles and cease their unwarranted billing. There are other water service companies in the area which I will certainly use in the future. I want nothing further to do with the Culligan store in Largo, Florida.

I bought the Culligan gold system. The sales guy said I had to have and would be the greatest thing since water was invented and will make my water cleaner than God himself could clean it. Well in my opinion the 20 year old system I had worked better than this new state of the art system, I went to add salt to it the other day and it was still full. That's when I noticed it wasn't working at all, this system is so bad that I did t even notice it wasn't even functioning at all. The water has the same smell and color as it did when the system was running. I've complained about it since I bought the system 2 years ago and all they wanted to do was sell me a more expensive water filter system.
The guy that sold me the system said that the product he sold me was all I needed. I'm now $3,200.00 into a water softener that doesn't even work as good as the 20 year old generic system I had when I bought the house. Do yourself a favor - go anywhere. They sell water softeners and buy one for $300.00 before you get talked into this pos.

I start to use Culligan water 5 gallon bottle couple month ago. Today I received my delivery of 4 bottle. As soon as I put the bottle in the cooler you can see how dirty the bottle itself then we normally empty the first couple cups and when the water start pouring it was pink at the beginning then it was clear with a lot of white disgusting particles in it. I called the office and spoke to one of their employees. She wasn't nice at all and start questioning if we clean our cooler. I told her we clean our cooler between each bottle and I know better that that. I asked them to come and take their bottle and refund my account but they said they will come and pick it up next week. Anyway we tried to check the second bottle but it has the same particle in it. This place is disgusting and it is so sad that this company profit from people and not provide the services paid for. It makes you wonder where is this water coming from. STAY away from this company.

I bought the higher end home softener and reverse osmosis machine. We had trouble with the softener working properly, but the local Culligan company was very responsive and came out to check, fix, and eventually replace the softener. We have had a great experience with the company responding to our service requests. The reverse osmosis machine is awesome for drinking water!

Mr. Luis Briceno from Culligan who is a very nice person brought us salt and promised that this would never happen again. I am satisfied with this experience and I feel that Mr. Briceno would make sure we get our salt on time.
Original Review
We signed a contract with this company and regret the contract from day one. Very Poor service, no salt delivery on time and you will not return phone calls in a timely manner. We are very unhappy! We are renting a water softener from Culligan in New Port Richey Florida since May 07 2015 and I am extremely disappointed to strongly not recommend this company anymore.
On May 6th 2016 my salt delivery didn't come again as scheduled. This has been happening since day one. They never deliver the salt on time before the tank gets empty. I called in and was told there was a note left at my door and that there was no answer at my home phone but they did not bother calling my cell phone or leaving the salt at my front door. I was then told that they needed to make a change and would have my salt out in June!!! I asked them to let me know if they are interested in serving me or losing me as a customer? I do not want to see my tank empty from salt anymore so I strongly recommend that they do not make the same mistake again by not delivering my salt or they lose me from a customer.

We recently bought a home which is outfitted with ALL the equipment necessary to have Culligan water. I called Culligan and they came out for me FREE inspection and wanted to charge me $45 dollars! They then said call again to start up the new service. I waited a week and asked again if someone could come out "to start" my Culligan Service, they said there was now a $145 dollar service fee. I've called 2 more times over the last couple of months and was disconnected one time and the other time was put on hold for 16 minutes after which I hung up. I've called four time total with NO help, cooperation or interest on the part of Culligan. Anyone else had this problem?

I bought a twin-tank HE system in October 2014 and technicians have been out to try to resolve it MANY times. The system might start working for a couple of weeks and then fail again. After I have spent a ridiculous amount of time working with the local dealer I tried calling corporate and requested Consumer Affairs get a full copy of my service history and call me back. Instead, I simply received an email from the local dealer asking AGAIN to take a water sample. Apparently, the name Culligan means nothing when it comes to supporting customers. You are completely on your own with your local dealer.

We purchased a very expensive softener system from Sharp Water in Salisbury, MD about a month ago. Since the first day the system was installed, it has not worked correctly. They have been out three times to try and fix the units but the same things continue to happen. We have now ruined many clothes and other white items as the rust that the new system was supposed to take care of does not. When you call the company you are treated as if you created the problem, not them. We are small business owners and know what customer service is all about. They do not.

Culligan took money out of my account on a couple of different occasions but failed to provide me service. When trying to address the issue with customer service I got nothing but excuses. The person I spoke to was very nonchalant and didn't seem to care about me remaining a customer. I don't recommend this company!

We purchased a fairly expensive unit a few years ago that breaks down occasionally. You never know it's broken. They just continue to deliver and charge for salt bags. Sometimes the water out brown or heavily salted. The tech, for whom we wait 10 days for appointments and lose a day of work, are rarely articulate, don't seem to know much. A $400 repair on pipes was required two years ago. About six months ago the system stopped working. $200 repair, still didn't work, but we paid monthly fees for brown or heavily salted water. They just came back yesterday, leaving a mess of watery salt slush that I never saw in the tank before. We're ready to disconnect and cancel their business. Either inept, don't care, or are a scam operation.

I have been renting my water softener and carbon filter from Culligan for over two years and it works perfect. I do not understand all the negative reviews about Culligan other than there are various service centers providing different level of service. Culligan's equipment is top notch and my service center in California is outstanding. I highly recommend Culligan and I tell my neighbors every chance I get.

I read a few reviews of Culligan and want people to know my experience with Culligan in Lancaster Pa has and is an awesome one. Why? They came out, gave me a quote, set up installation, and it was exactly as they said it would be. Perfect. After a few years, the experience is the same. I have a service where they fill my brine tank for me once a year (or as needed). Great experience and I am extremely happy with Culligan. The system works perfectly. It softens the water just as expected. By the way, I have had a Culligan system before and this is the reason I came back to them. Also, in business I had a very large system installed by Culligan of Reading PA and they also did a perfect job. All the systems always work perfectly. I never had a repair on any of the systems over the past 30 years.

I called about receiving another $20 bill for sale. I have two bags of salt two weeks after I had the system installed. I was told every six months they would come out and install more salt if needed. I called and was told I would get a return call. I never did get this call. The Culligan system is from Ocala. I wanted out. I don't notice a difference and I don't think it is what it was promised.

The product is a very good product. The problem is that the customer service, at the office level anyway. We used the rental system because we were told that they would update the system regularly if there were new upgrades. This NEVER happened. We were told they would come out once a year and replace all filters and do a basic check on the system. This NEVER happened. We began having leaking issues and loud beeping issues. Their response was to make an appointment 9-10 days later. This is not acceptable. We had no refrigerator water and no ice. We were able to get that annoying beeping to stop by turning the system off. This is not what we consider customer service. We were able to find a replacement company, however, if anyone damaged the equipment in any way, we would be responsible for the equipment. We paid about 44 per month for the rental of this product.
Just as a note of interest, at that price someone would have paid the purchase off within 10 months, based on quotes from several other companies for the same product. Ironically, they got their 9-10 days to respond to us anyway because they scheduled the person removing the unit the same amount of time out. Once the unit was in, the helpfulness of the office staff with this issue was completely unsatisfactory. I am not looking for anything back from this review. I just felt I could at least make others aware of this company's record with us. Buyer Beware. PS. We originally used them because of their well-known name... not a mistake we will make again. Their name means little when it comes to customer service.

My issues were addressed and resolved personally by the president of the Culligan, Canada. Thank you.
Original Review
Stay away from Culligan, Calgary. I wish I could give Culligan less than one star. They not even listed on BBB website. Recently we had a horrible experience with Culligan water softener, Calgary, Alberta. Sales representative was very pushy. We decided to rent Culligan water softener to try it for a few months before purchasing. At the second try, the softener that was installed which was not even a Culligan water softener after they made a mess for the first time. Within about 60 days we discovered that the water softener was broken and it was draining water like crazy and I made three service calls to Culligan and no one returned my call.
We bypassed the water softener to avoid water waste. But the damage was already done and we ended up with about $1,300 water bills for about 60+ days. Our water usage is typically about $70 per month. Culligan refused to accept any responsibility for this incident and refused to reimburse me the damage they have caused. They would not even split the water bills with me.

Greg ChickWater Treatment Systems Contributing Editor
Greg Chick has worked as an entrepreneur for over 40 years with a background in plumbing, irrigation, pools and water heating. He is a member of Green Plumbers USA, International Association of Plumbing and Mechanical Officials and American Society of Plumbing Engineers. Greg works to educate residential consumers about quality plumbing products. More about Greg→

Culligan is dedicated to treating water for a range of buildings and customers. The company was founded in 1936, and they serve clients who need water treatment worldwide.
Wide range of clients: Culligan does not just serve residential customers; they also treat water for large office complexes, restaurants, industrial buildings and more.
Overnight shipping: Customers who want to test their water to see if they need Culligan's services can send the water back overnight at the expense of the company.
Specialty testing: The company is equipped for specialty water testing, which may be needed should a customer have access to a well or non-municipal water source.
Online appointment scheduling: The Culligan website offers convenient and easy online appointment scheduling.
Social responsibility: The business is dedicated to giving back to the community, and they participate regularly in global relief programs after disasters. For example, the company delivered bottled water to the East Coast after Hurricane Sandy, brought clean water to Moore, Oklahoma after the devastating 2013 tornadoes and provided bottled water and hands on relief efforts after Typhoon Haiyan in the Phillippines.
Best for Homeowners with hard water, homeowners near a compromised water supply, developers or managers managing large commercial properties and rural customers using well water.
Compare Water Treatment Systems
Company Name:

Culligan

Website:

http://www.culligan.com/