Consumer Complaints and Reviews

I purchased a Cub Cadet RTZ March 18th, of 2009. I loved the feel of the zero turn and no steering wheel was what really cinched the sale. Worst mistake of my life. It would go through belts every other use. Took it to be looked at, was told to check the pulleys because they were known for problems on this mower.. Why didn't they tell me that before they took my money? Fixed the pulley, and the breaks lessened to about 3 a season, but at $40 bucks a pop it was still too much. Finally paid for a heavy duty pricey one and it's lasted ever since.
5 years warranty ran out, mower was doing fairly well except for the tires which were always going flat and or coming off the rims. Wth? Took them to be checked out, nothing wrong with them but yet they continued to randomly fall off the rim and was always flat when I went to use it. Constantly having to air them up sometimes in the middle of use and I only mow 2 acres. Still dealing with things that should not be a problem like the blade deck constantly jumping off it's setting and when I turn the corner I can see where it damn near mowed down to the dirt. Couldn't find any reason for it to continue doing that so I reverted to pressing my leg against it while mowing to keep it in place. That got old fast as I constantly had bruising from it trying to jump off the setting. Past the warranty, what are you going to do?
May 17th, 2017 Still have the same annoying problems but had always tried to keep it in the best condition I possibly could. Regular maintenance was priority number one. If I took care of it, it would take care of me and $3,200 was a lot for me and I was always told Cub Cadets were the best and made to last. Wrong!! Mowed half the lawn that day but it was really breezy and warm and grass was all over me and the machine. I cleaned it off, took a break, had an ice cold tea and then got back to work and mowed the other acre. Parked in the shade, cleaned the mower deck top and bottom as always, put the deck at the highest setting and drove to the garage and parked it just like I always do. Jumped off the mower, took off and put away my ear mufflers, brushed the grass clipping off myself this time, made sure I got all the grass even on the top of the engine (Yes I'm anal about this part) and proceed to walk to my house next door to take a shower.
Shower took about 8 minutes and when I opened the door I could smell smoke. Ran to the window to look and the yard was filled with black smoke. Threw on my bathrobe and grabbed the phone and out the door. My brothers garage was rolling with black smoke and flames. I could feel the heat from my porch some 300 feet away. Called 911, the neighbor showed up because she saw the smoke. She ran to the house and got my brothers dog out and we waited for the fire rescue (volunteer). 21 minutes later, they show up, 3 townships of fire trucks but they couldn't save anything. It took the garage, the house (my childhood home) and a shed some 50 ft behind the garage and melted the siding on one side of my garage. Devastated to say the least.
Called Cub Cadet and tried to talk to someone high up, after several calls and waiting a day someone finally called me and tried to write it off with an "I'm sorry for your loss" blah blah blah. Then they asked "How do you know the lawnmower started the fire?" Because the fire chief told me so. He also said if I would have been on it 10 minutes longer it would have blown with me on it. They hemmed and hawed for a while trying to place blame on anything but their product. When I told him the engine blew up, he stated"Oh, well that's the engine manufactures fault then, not ours". Regardless they talked about possibly coming to get it so that it could be tested in a lab. That phone call didn't get me anywhere.
My brothers insurance company had an inspector come out and he tagged the item "EVIDENCE DO NOT DISTURB" Sorry Cub Cadet, you can't have any of it, but you're welcome to come look. In the end the insurance company decided not to pursue it because of the small amount of insurance my brother had on the place and blamed it on grass clippings. Grass clippings??? Wouldn't everyone's lawn mower be exploding then?? So now I look for a lawyer willing to take the case on contingency. Anyone know someone?
In the meantime, I catch word of another person who had the exact same thing happen to him but he only lost his garage and his insurance company covered it so he never filed a claim with Cub Cadet. Same year and model as mine. So... to finalize... Cub Cadet is a greedy non compliant company who builds crap merchandise and sells it for an exorbitant amount of money and never takes ownership of their own faults... and why would they when it's so easy to just blame someone else? Save your money and look elsewhere for a quality mower. Avoid Cub Cadet at all costs, you'll get burned in the long run....possibly literally.

The first year of owning my Cub Cadet was fine. But the years after have been a nightmare! I think the company should replace my mower and everyone else's who has had to spend the money that I have just to keep the heap of junk running! I've spent double the amount in which I spent to purchase it, on parts and labor. Labor, oh my lord do they suck it to you! Never again will I ever buy anything with Cub Cadet's name on it. They should be forced to go out of business! Dissatisfied customer.

Just paid 1600.00 for a Cub Cadet riding mower. Used it twice with 4 hrs on it. Drive belt came off took it back to the dealer and has been there for a week. If you are thinking about a Cub just think don't buy. RUN as fast as you can. When I get it back I want to get rid of it. Not sure how.

I have a Cub Cadet XT2 LX46" riding mower that caught fire in my garage after using it for 20 minutes to cut my lawn. It was purchased a year ago and had less than 20 hours on it. It was practically new, garage kept, and clean, so it was not a wear issue or an issue with grass accumulation or a bird's nest or anything of the sort. After doing some research it appears that this has been an issue with many model of Cub Cadet mower's, likely due to a leaky valve dripping oil onto the muffler. I have yet to contact Cub Cadet customer service but if the other users who have experienced the same issue are any indication, customer service is not going to be very helpful. I am just thankful that I caught the fire in time and my home didn't burn down as I parked the mower in the garage after use. I will never buy another Cub Cadet lawn mower.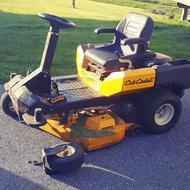 I purchased this zero-turn in 2011 on the advice of the owner of the nearby equipment sales company. My yard has a lot of hills, including a 30' high x 100' long bank that is 40 degrees at some points. The Z Force S cuts across the bank with little trouble, but I definitely have to hang on. So as far as performing the key task it was purchased for, I'd rate it a 10/10. The ride isn't the most comfortable, but not too jarring. Yesterday while making a simple turn the front left swivel caster fell off. Completely. Fortunately I was on a flat part of my yard. Had I been on the bank I very likely would have been killed or seriously injured.
The weld on the swivel hub appeared to have been broken for some time, judging by the wear marks on the cracked weld. It seems the 13 tooth gear was the only thing holding the wheel on until it finally broke. I regularly applied the recommended grease to all grease points. I understand that sometimes welds fail, but such a crucial weld failing after 200 hours is unacceptable and dangerous.
How do I know I can trust these reviews about Cub Cadet?
788,323 reviews on ConsumerAffairs are verified.
We require contact information to ensure our reviewers are real.
We use intelligent software that helps us maintain the integrity of reviews.
Our moderators read all reviews to verify quality and helpfulness.
For more information about reviews on ConsumerAffairs.com please visit our FAQ.

Bought new from a dealer "Peabudy's Inc" in Sterling, IL. First year was wonderful! We have had it for 5 years and it has been in the shop every year after that. Pure trash! Don't buy one. I think they have another but plastic inside and break down continuously. I think you could get a better machine from Wal-Mart or K-Mart. This thing is crap and won't mow your yard. For the money you pay for this crap you need to add a few dollars and get a John Deere or anything else, just don't get one of these!

I have a small farm and I needed to purchase a riding mower and a small tiller. I purchased a new 2016 Cub Cadet LTX1045 and a gas cultivator. The mower cost about $1600.00, and the cultivator was around $ 300.00 delivered to my home. After reading the manual and checking the initial set up I mowed my lawn. Well I tried to, the belt came off after about 30 minutes. I just figured it was new. No big deal. The belt fell off 4 more times before it just broke. So I went back to the dealer and they gave me a new belt no charge. Replaced it finished mowing my yard. Went to mow a few weeks later and it broke within the first five minutes of mowing. I immediately loaded it in my truck and took it back to the dealer. There was some update for a tensioner and a pulley so they did the update, put on a new belt and check the deck.
I made it home and only made it halfway through my lawn and the belt broke again. As I went to check the belt I started smelling something burning so I stopped to check it and found the wires for the headlights were resting on the exhaust and melted the wires for both lights. So now I have a $1600 mower that has no lights, and only runs for about 4 hours on a belt. So I just hit 44 hours today and I have been through 12 belts two pulleys and a lot of pissed off time throwing tools. I order belts in bulk orders of 5 so I can mow for a couple months. After spending 1600 dollars I can't just throw it away even though I wish I could.
The cultivator worked flawless the first time I tilled my above ground beds with it. I went to till a second time before planting and had a hard time starting it. Once it finally started it ran rough and idled up and down. I thought maybe it was bad gas so I bought all new Non-Ethanol fuel and the oil additive. Couldn't get it to start. I found a small leak on the fuel line right at the carb so I went to Cub Cadet and got a new fuel line. Installed it and it still wouldn't start.
I took it into the dealer and they said the carb was bad and needed to replaced on my 6 month old machine I have used once. The new carb installed is half the cost I paid for the machine. So I ended up going to the local rental place and renting a tiller. So now I have a $1600 mower that breaks every time I mow and a tiller that I used once and have thrown in the corner of my shop until someday I just take it to the dump. I will never again purchase anything associated with Cub Cadet products and I warn every person I see looking at the Cub Cadets and anyone I hear shopping for tools and mowers to avoid them like the plague.

I purchased this lawn tractor (Cub Cadet LTX 1050 KW) in 2014 and had nothing but problems with mower deck belt breakage from the very beginning. During the first season 2 belts broke. The dealer told me that it was my fault but gave me new belts each time. I had to bring the deck in each time since it did not follow the manual and was very difficult putting this belt on. The second season the tractor broke 2 belts again and I contacted Cub Cadet which informed that they would sell me a new belt for $60. I have an 1 acre to mow and I had to push mow it myself.
Finally after bringing the tractor into the dealer they contacted Cub Cadet and they agreed to replace the deck which I had been telling them that the deck was a defective design. The new deck has larger pulleys and thicker belt. Why would they sell a tractor with a defective designed deck? Luckily I had a dealer backing me up and it was under warranty. I would not recommend buying Cub Cadet products due to the inconvenience and issues I have experience (and others). Since deck replacement it has been trouble free like it should have from the very beginning.

SLTX 1054. Read review from Ray in Leoma, TN. He's right. Grass won't discharge properly. I had to remove the cross member at the discharge chute to prevent grass from hanging up and clogging deck. Fixed most of the discharge issues but deck is still too wide and designed poorly for discharge. Hydrostatic failed at 300 hours. I guess this is considered normal. New drive was $750. The new hydro-gear I installed is having drive issues as well. Found that it is the pressure release valve. A spring needs to be installed to prevent valve lever from falling back causing unit to lose drive pressure. It was never on the mower new nor was the replacement unit supplied with one. It is a mod I'm going to have to make to stop lever from falling backward. Eats blade drive belts for lunch. Has to have a new one every year. I've become a pro disassembling this deck.
Had issue with belts coming off deck until I found a 'keeper' was installed in the improper position on the deck. It keeps the belt on the pulley and was put on wrong at factory. Once I turned it around, belts stayed on. Also, steering column bushing is a joke. You can't lube it. It wears out, strips steering gear and you lose steering. Not good when you're mowing grass next to a half acre pond. Deck needs spindle bearings now. This mower is an ill thought out machine and observing the newer models, they don't appear to be any better. I watched a gentleman loading a new one up at Home Depot last week. I wanted to beg him not to buy it. When I wear this one out or am tired of repairing it, I'm done with Cub Cadet.

I bought this CC760ES Cub Cadet walk behind mower around August of 2016. Mowed the lawn for a total of 25 hours. We started mowing in April of 2017. Put on about 5 more hours and the machine quit. Made a funny noise like something broke inside, I took it to a repair shop and the technician there said the mower had multiple problems. The repair is going to cost around $500.00. I called Cub Cadet and they had a list of excuses handy to basically tell me they are not going to fix this. I had to pick up the mower from the current shop and take it somewhere else to get it looked at and then they would decide if it was under warranty.

I traded in my Cub Z-Force for a Pro Z 148S a few months ago hoping that a commercial grade Cub would be better than all the other residential grade Cubs I've owned in the past. My first Pro Z 148S worked great at the dealership. Once I got it home and during my first yard mowing, it stalled out roughly 20-25 times. I can describe it like pulling a spark plug wire off for a few seconds and then putting it back on. It never died but each time it happened, I had to stop, reverse and re-mow the area it missed while it was stalling. My dealer had me bring it in (a 20 mile round trip) and he looked at it and unfortunately, it didn't stall for them. He let it sit and run for 8 hours (there were 8 new hours on the meter) instead of mowing something. So, I went back into town to get it (20 more miles).
A few days later, I was mowing my lawn for the 2nd time and it stalled at least another 20-25 times and this time, I got it on audio on my phone. I called the same dealer and they volunteered to come out to my house to get it. I said that's fine but go ahead and bring me a new mower to replace this one. They brought a new mower and took the first one. My first mower's deck would latch on all deck holes, both front and back. The new mower will only latch on the back holes - like the deck hook is backwards or something, so now I can only adjust my mowing height by 1" increments instead of 1/2" increments.
This last weekend, the new mower stalled 5 times exactly like the first mower did, just not as much. Taking into account all the Cub zero turn riders I've purchased in the last 10 years (roughly 5-6), and every single one of them with issues, I would highly recommend against purchasing anything made by Cub Cadet. My next mower will not be a Cub Cadet. I'll consider any of their competitors like maybe a new commercial grade John Deere.

I thought and still believe that the Cub Cadet Zero Turn concept allows fast, close mowing. I continue to learn about my 2011 RZT unit and wanted to share some frustrations so you can at least consider them as you make your purchase decision. First, the unit advertises that it will mow grass to the 4" level. No way! I've made every adjustment possible and can't get it to mow as high as we want. I later added a bagging attachment. Just not a good application. The tubes on the bagger wobble and the connection at the blade area is uncertain. I am using bungee cords to hold everything together. I have to use starter spray to start the unit every first start. (Yes I use non-ethanol gas and have changed gas filters, etc.) I just keep a can with me in the mower storage area. Cub Cadet does have a nice cupholder. Finally, if you have any inclines in your yard, don't get a zero turn. They corner well but they don't manage hills very well.

Bought a brand new Cub model ZFCOMMSZ54KH. PAID OVER 7.000 THOUSAND DOLLARS! In one year my unit breaks. I take it to dealer. They tell me my belt in trans drive had broke and that it is not cover under warranty. This unit is a commercial! **! I paid 290.27 to get this fixed! I called Cub Cadet and fought with them. Finally Bill told me he would paid for this fix. Well here it is 6 months later no check! PS. I do not cut grass for a living!

I have read most of the reviews for the Cub Cadet. Most of them were from homeowners that purchased their mowers from a Big Box Store. You get what you pay for. [1] If you want a $800 machines to perform like a $2k machines it is not going to happen. [2] No one mentioned how the unit was used. [3] Few mentioned that they did not read the manual they got with the machine. Low tires, blades loose, etc. 99% of the problems are self inflicted and then blame the machine. I have 3 Cub Cadets. One is an LT (Lawn Tractor) and that is all it get used for, to mow a clean lawn in a timely manner. One other is a true Garden Tractor with Kubota diesel and the other is a Super CC Garden Tractor. They all require maintenance and perform very well. You don't expect a $3 pair of shoes to last as long as a $50 pair. Same goes for mowers. The machines that are at the Big Box Stores are NOT the same machine that is at your dealer's.

The first and last Cub Cadet mower I will ever own!!! I bought it new in 2012 and it has had one issue after another since the first summer. It blew the head gasket with 44 hours on it! Wheels on the deck just fall off! Fuses blow continuously! I've just replaced the valve cover gasket for the 4th time and it still leaks oil onto the muffler! DO NOT, I REPEAT, DO NOT BUY A CUB CADET PRODUCT EVER!!!

Bought this mower (LTX1045) in 2012 at Home Depot. Replaced multiple belts and blades and have had many of the issues that others had reported and will not repeat. Worst issue for me occurred yesterday, while mowing, one of the drive idler pulleys just fell off while reversing and then ingested by the mower and spit out, pulley already shot and now blades damaged in the process. Cub Cadet & MTD products are junk. Do not waste your time buying. My 15 year old Murray riding mower is more reliable and that is not saying much.

Bought a Cub Cadet LTX1040 19 hp Kohler 42 inch cut garden tractor new in 2013, have had 5 sets of blades ($55.00 each) replaced, 4 belts replaced, 2 pulleys, bearings, 3 deck height adjustments, 6 trips to service and now a new governor gear ($600). I still owe $1000 on the yellow hunk of junk and with only 120 hours on it my service tech says all of these engines have had issues. So my question is this... What is being done? Is Kohler and Cub prepared to go out of business? I certainly will not buy another, the hundreds of other people on this site won't... Why won't they make this right?? Did they get bought out by Chrysler or something??? Crappy machines!!!

Bought a Cub Cadet Lawn Mower from HD three years ago. I changed the oil, filter, air filter and spark plug each year. Only for this year the mower started to start up hard. Called Cub Cadet and was told that the warranty had ended and I would have to pay for any repairs. I tried to be easy on the mower only for the engine seize up and crack the motor housing. I will never buy a Cub Cadet again!!!

So I've had Cub Cadet tractors since buying my house which is 12 years now. I've had nothing but great experiences with my Cub Cadet lawn tractor. My first purchase was in 2006 and I mow 3 acres every week. I have never had an issue and I beat the crap out of this tractor. I originally bought the 42" and bought another 5 years ago but upgraded to the 50" and gave the original to my neighbor. Both of these tractors are still running strong everyday. They have survived multiple yard clearings, house projects, remodeling, etc. I plan on buying the XT model this spring and I'm sure I'll be very happy with it. I do maintenance on the tractor every other year and that's it. I have nothing but great things to say about Cub Cadet.

The very first time my new LTX 1046 KW was used, the tractor was damaging the lawn while cutting around trees with a 6 ft. mulch bed. I immediately called the dealer, who only offered to check the alignment and tire pressures. Alignment was ok, tire pressures were very high. They reduced the tire pressures to spec, but the problem did not go away. Today, front tires are run at 10 psi to reduce the damage, however I no longer try to cut a 6 ft. diameter. The tractor stills damages the lawn, and the steering is much harder with low pressure tires. The low tire pressure does not seal the tubeless tire bead and goes flat over the winter. One front tire had a tube installed, but it too cannot run the low pressure required.
The local Dealer and Cub Cadet sales person were of zero help. This is a design problem with the tight radius design. However Cub does not want to fix the problem and has no answer. My 15 year old sears tractor provides a better cut around the trees, which is poor reference for the Cub Cadet. 100 hours on the tractor and expect I will unload it before 200 hours. Thought this time I would get a better quality tractor, only to be fooled by Cub.

Looking at all three reviews and can't believe what I'm seeing. I bought a xt3 gse 54" mower, from dealer last yr. It's 11/2/16, and I have 150 hrs. of trouble free mowing. I mow 3.5 acres, about 5 to 6 hrs. of mowing of rolling hills. I grease it often, and blow the filters out. Oil changes also I do, when the tractor tells me to. My cubby hasn't missed a beat. I work it, but don't abuse it. I've put lights up front and one in the back. That was the only problem I had with the dealership, they told me that would void my warranty. We went around and around. I just told them, "it's a tractor and Cub Cadet to boot, I don't need your warranty." Had Cub Cadet all my life, and one Simplicity. I would never change from them. Liking the cubby more every time I'm on it. Keep up the good work, warranty department needs some help, but can't be perfect I suppose.

I have owned 2 other Cub Cadet models in the past. MTD is the actual manufacturer of these mowers found at the big box stores. I have been pleased with the line until buying this LTX Cub model. There are so many things wrong with the engineering of the unit, this translates to having to work on the tractor after just about every time I use it. MTD has done its best to cut the features and design of this line I am assuming to increase revenue but in the same move ruined the line/brand of Cub Cadet. Cub Cadet parent company should rethink the licensing agreement they have with MTD on their brand. I have heard that Cub itself makes a great product but I will never find out as NEVER would I buy a Cub Cadet again (from any of the manufacturers).

My experience with this brand is not good. The original LTX 1040 I had lasted one season before the brakes/clutch went out at the top of my very steep driveway that is about 150 ft long. I had to jump off mower when it became evident I could not stop it. It crashed into a ditch and was completely destroyed. Cub Cadet did replace it. Speed ahead 4 years. Had no problems with the replacement until last weekend. I mowed the yard like normal and went around back of house to use the weed eater. I came back around to front yard to find the mower on fire. Took smoking chassis to dealer where purchased.
They gave it the ole college try to get some consideration even though it was out of warranty. I called Cub Cadet and told them that I understood the warranty was expired and that they were not "obligated" to do anything. But did ask if there was any consideration that could be extended given the numerous incidents of this type of thing happening as evidenced on this website. One time consideration such as a voucher towards the purchase of a new unit or a pro-rated refund based on a 10 yr lifespan. They told me contact Kohler and/or to file under homeowners insurance. I am going to replace the mower, just not with a Cub Cadet.

I bought my husband a Z-Force 48" 24 HP Kohler Engine Zero-Turn Mower for our 1-acre lot about 3 months ago. I would like to say that I bought it from Home Depot and they were no help when it came to customer service and knowing what would be a good fit for our needs so I did my research online and we decided on this mower. I'd like to say my husband loved his gift and adores his mower. He follows the instructions for care and cleans the filter after each use and uses the app that keeps tracks of his hours and notifies us when it's time for maintenance. We could not be more pleased with this purchase.

I purchased my mower in may 2012. I only have 70 hours on it. Does that tell you anything? Yes it has been hung up most of the time due to broken belts. Seems to eat belts faster than I can purchase them. I'm in Hawaii and those belts are not cheap. Recently paid $54.00 locally. I have already purchased 8 belts and that has gotten me only the 70 hours. Would NOT recommend this mower. It's a piece of crap. Will tell everyone not to purchase Cub Cadet products.
I spent a lot of money for my mower from Home Depot, a mower that can't be used. I think I'll check with the state dept of consumer affairs to see what can be done about a company that continues to sell defective equipment. Wish I could get my money back so I can purchase another brand so I can do the job this one was suppose to. Again DO NOT PURCHASE CUB CADET PRODUCTS. CRAPPY EQUIPMENT! I'm also going to post my experience on social media to get the word out. Pissed off in Hawaii!!!

I bought a Cub Cadet garden tractor in 2011. I changed the oil, oil filter, and fuel filters every year. On September 20th of 2016 I was cutting the grass and the Kohler Engine burst into flames. I even got injured jumping from the tractor. Cub Cadet did nothing except waste my time. They were more than willing to let it go to litigation. Note that Cub Cadet, MTD, and Yard Machines are all the same company! The scariest thing is my son would ride on this when I wasn't mowing!!

My old LT46 Cub lawn tractor finally expired after about 8 years of mowing 1 acre of hilly, semi-rough ground. The hydrostatic transaxle finally said 'enough'. I also used this tractor to pull a cyclone fencing road drag over our community gravel road several times a year. It had a 3-blade stamped steel deck, 20 hp Kohler twin, hydrostatic drive. Never had any major issues with this great mower, even with pretty rough treatment. VERY tough, reliable tractor for all those years!
As I'd had such great service from this mower, I naturally wanted another. The closest replacement I could find was their new XT2 Enduro 46". I purchased the mower, ordered the mulch kit, and today I installed it and mowed my lawn. Not a positive experience by any stretch! The first issue I had was the starter motor not engaging the flywheel, but just free-spinning. It finally engaged and started. So out to the property to mow! Follows a list of complaints about this mower: It rides like a DUMP TRUCK! I have a bad back, and this thing just beats the devil out of me! I let air out of the tires (now @ 5 lbs.) but it did not help much! My old C/C rode MUCH better! I bounce off the seat continually, and every time I do the engine quits of course, due to the 'safety switch' under the seat! So I nullified it, as it was driving me nuts!
NO TRACTION! I went with the 2 series mainly for the tire upgrade, and it was totally worthless! On a hillside trying to make a shallow turn, it just sits and spins the wheel. Again, my old C/C RARELY lost traction, but this new unit does so REGULARLY, and in the most ridiculously easy maneuvers, even with the tires deflated. NOT GOOD AT ALL! The 'reverse' switch/button that is supposed to allow you to back up without the p.t.o. dropping out is totally unreliable, working occasionally, not working most of the time!
The stamped steel deck is VERY NOISY!! When mowing over twigs and pine cones, etc. it sounds like it's crushing gravel! REALLY LOUD! Again, my old C/C had a stamped steel deck, but it was made of heavier material and was much quieter! I also bumped into my rockery with the front of the deck while mowing next to it, severely BENDING the front anti-scalping wheels' bracket. I can't tell you how many times I'd done the same thing with the old C/C and NEVER bent anything! I used to literally bounce off the rockery at times while trying to mow as close as I could, and never any damage!
The deck lift handle is placed to close to the seat. On hillsides with my old C/C I could slide my butt over the side of the seat to place more weight on the uphill side for better balance/traction. I tried that today, only to have the lever rudely tell me I can't do that now! NOT HELPFUL! Also, to mow at the same level as the mid height position of my old C/C I now have to have the deck at its highest position. So in tall, heavy grass, I cannot raise the deck high enough to cut w/out stalling! VERY BAD! Also the deck spits clippings all over me with the mulching kit! Did not have this issue with the old mower!
About the only positive thing I have to say about this lousy piece of equipment is the steering is very good. It turns tightly and effortlessly. But I'd definitely take my old mower back in a heartbeat! In hindsight I should have purchased a replacement transaxle, and just kept my reliable LT. Too late now! The forward/reverse foot controls are poorly designed, their engagement is crude, and I don't like the layout at all. Same with the brake pedal! My old C/C's controls were MUCH better! Cruise control: This was infinitely adjustable on my old C/C, but this new one wants to go in steps. Of course it's either too slow, then it's too fast in the next step! Awful!
The throttle lever is placed rotated and too far to the left, so I keep banging it with my knee at low engine speed. Yes, I know you're supposed to mow at full engine speed, but there are times when you need to throttle back, like when you have NO TRACTION! Another POOR design! In fact most of this mower is of a poor design! As the old saying goes, 'If it ain't broke, DON'T FIX IT'! My advice would be to look elsewhere for your new mower, and stay well clear of the new Cubs! Like most everything else in this country today, they're now basically junk, and a far cry from their earlier machines and good reputation! Very sad!

LTX1040 - Worst lawnmower ever! Didn't have 30 hours on it before the PTO handle need replacing. It was bent!!! How does that happen with a senior citizen (lady) driving it all the time! Do not think the deck was adjusted properly. Have it up to the third slot from the top and still only cut an inch off! The bagger was not designed by anyone sober. It does not stay in place - the hooks over the bolt on the frame attachment. The tubes do not stay together or just does not bag. Must be a specific angle for these that eludes me. Worst decision ever!!!

How can I start this? WHAT A PIECE OF JUNK (and this is putting it nicely). Bought this thing from Home Depot 3 months ago. I cut the grass once and they thing just stop cutting the grass. I called the warranty company as I had purchased an additional warranty like I do for big ticket items. $1800.00 to be precise. They send contact Alex Mower service and have them complete the work which I did. They came out to the house, picked it up and brought it back. It cut one more time then stopped again. Called them again. They came out to the house, they so called fixed it, they tried cutting a section of grass. It worked and then stopped again.
Called them again. They came and picked it up. 7 week later and several calls there after I still had not gotten my mower back. Yesterday evening I got my mower back. I fired it up and was happy cause the grass was getting cut. It was so high I could hide a Volkswagen in it. Well guess what? You got it, it still doesn't cut the grass. Going back up to Home Depot now.

I bought a Cub Cadet chainsaw. Big mistake. You cannot buy a replacement chain anywhere but calling Cub Cadet. The prices are high and they had shipping and handling charges. No retailer sells the replacement blades. They couldn't give me a dealer anywhere near me. Any other chainsaw I have had, I was able to go to Tractor Supply or Home Depot and get one. But not Cub Cadet. Tried the website. I keyed in chainsaw blades and it takes to lawn mower blade. So frustrating and inconvenient. It's ridiculous.

ConsumerAffairs Research Team
The ConsumerAffairs Research Team believes everyone deserves to make smart decisions. We aim to provide readers with the most up-to-date information available about today's consumer products and services.
Cub Cadet has created American-made riding lawn mowers since 1961. They create mid-range to high-end riding mowers for homeowners and landscapers seeking high-end features and mowers capable of handling large yards.
Riding mower variety: This company offers garden and lawn tractors and zero-turn mowers. A lawn tractor is another term for a standard riding lawn mower, while a garden tractor is a heavier version with a larger engine. Garden tractors typically handle difficult mowing jobs and yards larger than 3 acres.
4-acre capacity: Robust riding mowers handle massive lawns and lots with ease.
Good terrain handling: Several Cub Cadet riding mower models focus on powerful engines capable of dealing with slopes and hilly terrain.
Maneuverability: Zero-turn mowers provide high-performance handling and cut down on lawn do-overs.
Commercial options: Cub Cadet provides commercial-grade riding mower options alongside its residential selection.
Best for Property managers, landscapers and homeowners looking for high-powered riding mowers.
Cub Cadet Company Profile
Company Name:

Cub Cadet

Year Founded:

1961

City:

Cleveland

State/Province:

OH

Postal Code:

44136

Country:

United States

Website:

http://www.cubcadet.com/