Consumer Complaints and Reviews

First off I am on my 3rd replacement TV from Vizio. Of course again I have another issue with my TV. But this time they are doing everything possible to not give me another replacement. So my first TV I got a refurbished TV that had a ton of dead pixels that showed up randomly and half of the back light would just turn off randomly. Then my brand new replacement TV got stuck into a mirrored state where the bottom half of my screen turned into mirror of the top of the screen... So now with the third one I got. A week after I got it I noticed that I have 4 dead pixels that were not there to begin with. The bad part is they are small so it is really hard to get them to show up on camera. They are definitely there you can easily see them in person. I have also been having issues where my screen takes upwards of a minute to turn on. It also restarts and power down randomly.
So I called Vizio and told them about the issues I have been having. Which I am already beyond frustrated this is my third TV and yet again I am having problems with it. So I get a nice lady to start out with and I tell her about all the issues I have been having. She tells me to send her pictures of the dead pixels so I do. I get an email a few minutes later saying they got my pictures so I called back. Here is were it all goes bad the lady pulls up my case and the first thing this lady says to me is "Oh so I see the pictures and looks like you only have one dead pixel". I said "No, I have 4 that I can see and in the pictures I sent you can clearly see that I do yet your claiming that I only have 1".
She then argues with me for over 10 minutes trying to say I am wrong and only have one when I clearly have 4. She then goes on about how she isn't avoiding giving me a replacement which is a complete lie. But even if I could prove by picture that I have 4 dead pixels. Vizio has a terrible policy that their customers should have to be stuck with the faulty TV if they do not have 5 or more dead pixels. In what way does that make sense that I should have to have a faulty TV because it does not meet their standard to be replaced? So after talking to this rude lady that obviously does not know a thing about TVs she cant do a thing about it since my TV only has 4 dead pixels or at least what she said.
So I move onto the next issue which are the power issues I have been having. I have owned many many TVs and never had this issue with the power or dead pixels. If I ever did have a dead pixel problem my TV was replaced no questions asked. So the power issue is my TV takes upwards of 30 seconds to turn on a lot of the time and sometimes 60 seconds. Also my TV power cycles randomly which is causing me a lot of issues since I use this for my computer monitor. So I told this same lady about my issues and the first thing that comes out of this ladies mouth is "That is normal". I cannot believe what I am hearing it is obvious that this TV has a power issues and this lady is doing everything she can to make it seem like it is a normal issue with their TVs.
I have had quite a few Vizio's and never once had this issue with my TV... So guess what? I am stuck with this TV when it is obvious there are issues with dead pixels and powering issues. Vizio does not care about their customers they do anything they can to avoid replacing your TV when you pay hundreds of dollars for them. I use to be a huge fan of Vizio's but I will never own another Vizio for the rest of my life because of how terrible their customer service is. They have 0 customer service. They will do everything possible to make you stuck with your faulty TV. So you better hope if you decide to get a Vizio you have no issues that they see as a minor one because your gonna be stuck with the TV. I don't recommend Vizio to anyone. Their TVs are good yet they leave you high and dry if you have any issues with them. Get a Samsung that is what I am gonna do from now on.

I HAVE A E65-C3 Vizio tv that will lock up when turning on after firmware update version V1.4 23-FHD. I have to unplug power and reboot the tv in order for it to turn back on. Later after Vizio replaced all three circuit cards and again the update followed 3 days later the same thing happened. I later found out it was due to the DATA On/off function was turned off and the only way I could get the tv to turn on properly was to keep the data ON to satisfy the function under system info. The Data on is used for their 3rd party marketing to find out what customers are watching.
After a extensive conversation with a number of people in upper escalation at VIZIO I got a idiot named Jessie ** that would not give me his supervisor's name and I recorded every bit of the conversations over a 3 week period to give to Sam's Club and Walmart executives to show the illegal practices of Vizio not standing behind the warranty. They now after sending a technician 3rd party out to replace all 3 of the circuit cards, they now say that the receipt I gave them is invalid and stated I have tried to go and repair my tv myself and it voids the warranty which is a complete LIE.
They can't fix the problem and now takes the position that the receipt isn't valid and wants my 9 digit Sam's membership number to verify the receipt. They stated they were going to put me on conference calling but had the store on their other line and was acting as me to get the store to access my account. OMG the illegal practice of this idiot Jessie ** in South Dakota.
Then instead of a conference calling between Sam's Club and me, Jessie ** claimed he was going to do, Jessie ** instead posed as me with Sam's Club on hold on another line and asked for my membership number which I refused to give him unless I was directly in connect with Sam's Club myself. Jessie ** then started to do some fancy dancing on his explanation and stated he cannot verify the purchase date even though he had a copy of the receipt and after sending out a repairman to change out all 3 circuit cards a week before.
Including the mixed up on the technician notes from the repair which stated some other order and stated the tv was working properly and they had a picture of the working tv and serial numbers and the 3rd party had the old circuit cards with the burned in serial number, but the notes said they never repaired the TV. I had my interior cameras running the whole time of the repair that the technician was unaware of.
OMG what a JOKE now I am dumping this piece of Crap on Sam's doorstep if they don't stand behind the warranty. Now Vizio is claiming I never let the technician work on the tv which is nothing more than a parts changer and they have only been in business since 2012 and working under Vizio's 3rd party repair agency TV SERVICE CENTER that hires small business in the area. Now they say that I don't have a warranty on my 8 month old TV.
Stay away from these piece of crap that are made in China and they claim to be made in USA because of their call center is in USA and have a USA Corporation. Everything is made in China. Keep reading folks these story are all over the net about Vizio piece of crap, hopefully social media will hurt their bottom line!!!

Don't buy any Vizio products. They are not helpful and helping to resolve your issues that you have with your purchase or product. The only thing they know how to do is keep apologizing and saying they understand but yet if they really understand they would try harder to fix the customer problem instead of saying they can't. What is the point of having a manufacturer's warranty on something if they don't do nothing about the program. What is the point of buying a warranty for your expensive products if you can't get them fixed. This company don't want to do anything for their customers and this will be the last time I purchase a Vizio product or recommend a Vizio product to anyone ever again. I'll stick with LG from here on out.
I purchased a Vizio 55 inch flat screen TV from Walmart and when I pulled it out the box the tv was already damaged. I told them that one of their floor associates got this tv from the back and was dragging it across the floor and seemed a little rough with the tv. I never got a chance to put it on my TV stand or cut it on. I took it back to Walmart who would not refund me my money nor exchange it because they claim that the back has been taken off of it. They did not care about how the tv was sold to me. Told me that I had to call Vizio. I took the tv back home and called Vizio only to hear that they too cannot take it back and that I had to take this up with Walmart.
All this running around and back and forth and still out of money and a damaged tv that I can't watch that is just sitting there looking at me in my house. Don't buy a tv from Walmart because they won't help you and don't buy the warranty because it does no go. Don't Vizio products because this is my second tv from them and both was damaged before the factory warranty was up and yet they did nothing nor did they take by their product. What a Bummer. Waste of my hard earned money. I will never buy any of their products again.

Just like most of the reviews here, I had a terrible experience with this company and will never purchase a Vizio product ever again. My TV was just over a year old, and then the black screen of death hit. After multiple emails and severals phone calls, they offered us the same TV for $20 MORE than we purchased it for. They called it a discounted offer after refusing to accept any responsibility for the problem. I too had the issue checked out by multiple 3rd parties. All responded with the same speech. "It is a known issue with Vizio televisions". Lesson learned: Stay away, far far away from Vizio products.
Every time I go into a retail store that sells TVs, I make it my mission to talk a stranger out of buying their junk products. The exact same size TV that I paid $60 less for was a Wal-Mart Sceptre brand. I purchased that one a year before the Vizio, and it is still working perfectly. So I overpaid for an inferior product. Very disappointed and hoping to see a class action soon!

They called to advise me they'd shipped a part to my home address on Tue. Why my house and not the local technician? More on that later. Anyway, I was to call them once I received the part, whereupon they would IMMEDIATELY contact the local tech, who in turn would call me and set up an appointment. They called twice the next day, Wed, asking for my address (?), which of course they already had because they'd shipped it already. And they asked me to call. This time I got someone in Illinois rather than South Dakota. They told me the information was not correct, and it would be shipped to the local tech. That makes so much more sense. More on that later.
I called on Fri and notified them I had the part, but why my home address? That's how it's done, I was told. Later that day I had more emails from them, saying it would take 7-10 days before I heard from anyone. Wtf? I called back and asked why a two minute call would take 7-10 days. They would investigate. Heard nothing on Sat, so I called and emailed Mon. They said it would take 7-10 days because I lived in Canada. Hmm, no phone circuits from the service desk to Canada I surmise, so the two minute phone call has been replaced by Pony Express? Wtf.
On Tue I received another 7-10 days email, so I emailed back and phoned again. They said they'd get right on it. Wed I received another email saying it would take 7-10 days because I was in Canada. I couldn't take it. I emailed, pleading to move this up the chain to management, and never again send that stupid 7-10 day email with a signing off of 'have a great day!' I then stated the obvious, they had no local tech even though there are millions of people in my area. That has to be reason for this inordinate delay so 'fess up. I mean, really, not one contracted shop amongst a population of millions of people? Why don't they say so!
Thursday I get a call from the local tech. We said up a time to install the part tomorrow. Fri. Give me a hallelujah! The tech showed up on the correct day at the appointed hour with the tools needed to replace the parts (not part, but parts inside the box). I had to ask him and, sure enough, he agreed to sign on as a Visio tech TWO DAYS AGO. That's why they shipped the part to my house the week before, there was no local tech to send it to, so why the hell didn't they just say that the week before?! So, there is nothing out there for customer service but staff reading from scripts. Their ability to listen and react is non-existent, or they have been gagged and prevented from showing any initiative.
That's my story. No TV for nearly two weeks, with the second week being total frustration and aggravation, needlessly. The hell with in-house service. The day it broke I could have taken it down the street and had it fixed. The in-house service is from in-hell and as usual when this happens you have to wonder who's steering the ship. Not one email or call from a supervisor saying 'oops, we goofed, sorry'.
P.S. You will never guess what came into my Inbox today: "Thank you for your recent inquiry with VIZIO. I would be more than happy to help you. Here at VIZIO we do offer best in class technical support. I do apologize for the time frame, Unfortunately with you being in Canada, it does take a bit longer. We are looking at a time frame of 7-10 business day. I checked and we set this up on the 29th of March. Please be patient we are working very hard to get to your service call. Have a great day. Thank you for choosing VIZIO!" Unfreakin' believable. And it was Tue, not Wed, me bucko. Goodbye Visio.
How do I know I can trust these reviews about Vizio?
743,926 reviews on ConsumerAffairs are verified.
We require contact information to ensure our reviewers are real.
We use intelligent software that helps us maintain the integrity of reviews.
Our moderators read all reviews to verify quality and helpfulness.
For more information about reviews on ConsumerAffairs.com please visit our FAQ.

I just had a power outage. When the power returned everything else on the circuit turned back on except the TV. The TV is more than a year old, so I'm screwed. It should have been build to withstand this common occurrence.

Purchased our TV for $799 in January of 2015. Today, March 28, 2017, we got the, as referred to on the internet, black screen of death. My husband contacted Vizio and was told it could not be fixed and offered him a coupon towards another TV. I researched the problem and it seems to be an epidemic. The TV should last a lot longer than it did. They seem to go black just outside of the warranty life. To me, this one reeks of a class action lawsuit.

My at the time 18 year old son paid his hard earned money to buy a Smart tv. He picked Vizio because he thought he was getting the best. He spent over $500 for this tv. 4 years later the screen goes black, perfect sound no picture. I called Vizio; I was told it would be better to buy a new tv than fix this one! So $500 tv's from Vizio are only good for 4 years??? From what I've seen this backlight going out is a common problem with Vizio. Not buying another Vizio tv, they didn't even offer a discount!

If you get anything out of this experience of mine I would just tell you to stay away from Vizio. I purchased the M55-D0 on February 17, 2017, and I received the TV on February 22, 2017. For the first 5 days the TV was perfect everything ran smooth games looked amazing on it, however on the 6th day it all changed. I was playing a game and the screen started having a bars look to it and then a checkerboard look and then the screen just went black. It did this multiple times I tried to reset it and it happened during the reset. I chatted with Vizio at first and that went awful they didn't understand the problem, I then called and talked to them and they asked me to send them pictures of what was going on. I sent the pictures that night February 28, 2017, I ended up sending the pictures 4 times before they finally sent me anything back saying they received the pictures.
It was the next day when they sent me the confirmation that they were sending me a new TV March 3, 2017. Now I thought that this wouldn't be a long process their TV from their own store broke in 6 days so I thought it might take 2-5 days. Well I could not have been more wrong, it took 13 DAYS for the replacement to be delivered, and you know what!!! The screen on the new one was damaged!!! Either by poor manufacturing or by the crappy packing job them did, the TV was in its original box that was inside a place brown box that was meant for a 75inch TV and had absolutely no padding. I took a picture. It had a good 2 feet from top to bottom of space to move around and a good 10 inches on the width. HOW DUMB was the person packing that tv? Who would pack a TV in a box with no packaging? I refused the TV like I was supposed to and called Vizio, and what they told me pissed me off even more.
I was told that it would take 7-10 Business days after it was processed for me to get another replacement TV! I told them no and that I want a refund, and after being put on hold for about 5 minutes they said okay and they would get it processing. They then said that they will have to use the same company that brought the broken replacement TV to come pick up the TV and that they would be calling me within 24-48 Hours. I called on March 16th and still nothing on the 22nd.
Another thing they said that once the TV gets picked up and delivered back to their warehouse (God only knows how long that will take) it will be 7-10 business days to get my money back. This is Flipping ridiculous I have been without a working TV for 22 days now and it will easily be over a month since the company that is picking up the TV will never call me back, and it taking them 13 days for them to deliver the broken one, I expect to not have my refund for probably another month.
Update: I called them yesterday and they said that the pickup company will call me and schedule a time to pick up the TV however nobody called me. I called today and was told that it takes them 24-48 hours to call, even though I called on Thursday they said they didn't push it through until Monday. Which by that logic then yesterday would have been 48 hours but they told me to call back tomorrow if I don't receive a call. If I do not receive a call today I am going to call tomorrow and demand a 3 way call which I will schedule a Damn appointment at that time so they cannot tell me that it will just be another 24-48 hours.
If you enjoy being led on by a company and having crappy service that will stress you out to the point of wanting a drink after every time you talk to them then by all means buy Vizio. But if you actually want to not be stressed out and not have crappy service and be led on by a company that claims to have amazing service then do not buy Vizio!

I purchased a Vizio television on December 19. Three days ago the whole television was filled up with lines. I called Best Buy and they informed me that it was a Vizio issue. I called Vizio and was told the television had been hit with an object and had damage and will not fix. I called a third party who informed me that there was no physical damage and that the tv is defective after he ran a complete diagnostic test. I called Vizio and told them I had a third party inspect the tv and they stood by their lie even after I faxed them the result of the diagnostic test. I will never buy a Vizio product again.

The TV doesn't seem to be anything great or awful for the most part, just ordinary but the price is great. When I first got the TV and had it turned off, it started turning itself on. Then the cable insert fell out. It was under warranty and a technician came to my house and replaced the entire panel so it should be good as new.

I purchased VIZIO 5.1 SmartCast 40 inch Sound Bar from Best Buy and had Geek Squad installed it in my bedroom. This unit has been giving me problems and so I brought this issue up with VIZIO. Please know that I am still protected under their manufacturer's warranty because I bought this unit back in October 2016. After so many back-and-forth calls and unnecessary tech support sessions/discussions with VIZIO, I am being told by VIZIO that they would not replace this unit because they are not sure when will they have the same product available. So the only option I have available is that I should send this unit back and get the refund. They will not refund my installation fee of $150.00 that I spent with Geek Squad. If I choose not to take their refund, I will have to contact them periodically to check if they have this product available or not.
I suggested that since they have a case opened up in my name and they have recorded all the details, it should be VIZIO who should make the contact once the product becomes available. They refused this suggestion because it does not work in their favor. Wow, extremely rude and unhelpful representatives, and executives with no care about consumers' difficulties. I own several VIZIO TVs, sound systems, and speakers but after this experience, VIZIO will not see a dime from home or hotels, and I will make sure to go out of my way to not purchase a VIZIO product ever.

Vizio is not outstanding, but it is good. It works well, but has a few issues. The 55in TV picture is crisp, but power cord needs to be better. Has issues with picture going dark and only being heard, then it comes back after moving it and playing with the power cord. The remotes buttons are too close and the lettering rubs off.

I like the brand and trying to stay brand favorite, several times I have experienced no sound. I checked the book only to find out that it's a common problem. Well I don't like it. It's beginning to happen more often. We have to turn the tv off and then back on with the remote. I usually turn off from the side button.

I have purchased several different products over the years and Vizio has outlasted the best of them in quality, performance and durability. It's user friendly. Customer service is also a contributing factor. Vizio wins hands down!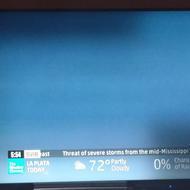 I purchased a Vizio 60" t.v. (VIZIO Television E60-C3) in mid 2015. On occasion the t.v. would just shut off. About 2 months ago, a faded black bar appeared across the top left of the screen, about 6 inches wide to the middle of screen, 2 weeks later, an 8 inch faded black bar appeared on lower right section of screen. A week later another appeared in the middle of screen. Now it will not turn on. We called VIZIO and they walked us through resetting the t.v. but to no avail and they told us the warranty had expired and it would cost more to fix than replace??? It was the backlight and they don't replace those.
I emailed VIZIO several times and worked with someone there who was very apologetic, and has offered about a $100.00 discount on a new television. I'm sorry, but an $800.00 television that last less than a year and a half, and looking at the numerous complaints online now with this backlight issue, I will just buy a Samsung at a higher price, like I should have done the 1st time. I would not recommend this brand.

I bought a Vizio TV on November 14, 2015. I paid over $1000 for it. I started having problems with it and called the technical support in the end of September beginning of October 2016 with the problems I was having. It was before my warranty ran out. They had me do a couple things over the phone. I did what they wanted me to do. I started having problems again. I believe it was in November. I don't remember the exact day. Call them again and they did the same thing. I believe I had problems again in January. I called them back and did the same thing. No help I know. I called them back on February 4 2017 and complained about the problem again. No help again. Just had me do the same thing they been having me do.
I called them again on March 7, 2017. This time my TV screen was totally black. I still had audio on it though no picture. I called them four times that night. They finally asked me to send a copy of my receipt which I found and I sent them a copy of it. Told me they will get a hold of me in 24 hours. They did and just told me that my warranty was out and they could not help me. I knew this was coming and I told them that I was very disappointed because I wanted them to help me before the warranty went out and they refuse. I feel the company did not stand behind their product which is not good for consumers. I just wanted to let you know. Thank you.

I had the Vizio for over a year, picture quality is excellent and response time is excellent. The TV is a great value and a great bang for the buck. It's not 4k that I'm reviewing. But, if I were to upgrade, I would most definitely go with the VIZIO Brand.

This is my 3rd tv purchases from Vizio! Great TV. Everything you can possibly think of how a TV ought to perform says a lot! Vizio is the only brand I will ever purchase, & the oldest Vizio I have now is 11 yrs old.

I bought a smart tv and it rarely ever hooks up to my network. The same network that my computer and phone use every day. I've called Vizio 6 or 8 times and every time they have me reset my tv to factory defaults then the internet apps work for a short time. Once they had a repair person come out to my house and replace the guts in my tv. He said they are not built well and are designed to only last just past the length of the warranty. Most frustrating tv I've ever owned. DO NOT BUY A VIZIO TV, unless you want a part time job of getting it to work!

It has been a very good and star TV but it will shut off after 4 hours on the same channel. We can access music on the internet as well as Hulu, other movie channels. The color and clarity a C.

I have owned three Vizio flat-screen TVs. All have been good values, with decent color and contrast. Not as great as a Sony, but half the price. My experience with the TV -- very ambiguous.

Good set, have had some problems with controls and picture fading in and out. Got a warranty (don't decline buying one at purchase time!). Replacement after a couple of tries. Not sure if I'd buy another Vizio. If it works right out of the box wonderful. If there are start-up problems, would return for another brand.

I have 3 Vizio TVs and have had good luck with all of them. I think Vizio TVs are better than many other brands and their prices are fairly reasonable. I had a Samsung TV and had nothing but trouble with it from day one; they took it back and sent me a new one and I had trouble with that one too. I would buy Vizio over a Samsung.

I've had my Vizio tv for several years now and it has been a pleasure to watch. Its clarity is second to none. It has an excellent picture and I haven't yet had to change a battery in the remote. It is a flat screen and is able to fit anywhere in my home. It is very easy to use and has all the options on the remote. I've never had a problem with it. Vizio is a great tv!

Vizio has been a good TV. The picture is very good. We've had it for a while but is still preforming well. The screen size is good for us, but the sound is not quite as good as some TVs we've had. Would probably try another brand when we need a new one.

I purchased a Vizio TV 2 years ago. Model P502ui-B1E. On March 1st, I saw that I had received a firmware update. When I turned it off, left and came back about 15 minutes later, the TV screen would not come on. The power light would come on and start to fade to much dimmer, but no screen or audio. I'm pretty decent with fixing tech issues so I did a couple of TV resets and understood what I was doing which did not work. I called Vizio customer service and explained that I had received a firmware update today. Explained my TV wouldn't come on and I had reset the TV by unplugging it, waiting about 15-20 seconds and plugging back in.
The customer service rep had me try the same thing, asked me to try to plug into a wall outlet instead of the surge protector (which wouldn't matter because the power is the same). I tried it his way. When it didn't work of course, he told me he could give me a few numbers of repairmen to call to fix it at my own cost. I had to hang up the phone. Vizio FORCED a firmware update on my TV and now IT DOESN'T WORK! And now I HAVE TO BE RESPONSIBLE for figuring out what is going on? NO WAY!

The Vizio I have is a gift, and has met my expectations, based on the giver's reasons for selection a Vizio. The picture is clear, with distinct colors, and audio is excellent. The compact lightweight set is easily moved.

I have been buying Vizio for quite a few years now. All 4 of my tvs are all Vizios. Have 4 different sizes from 42 to 65. All are perfect and very easy to set up to games, sound bars, etc.

Vizio was easy to setup but remote doesn't have all the features of my old Toshiba. Picture size is a lot smaller than screen size and picture quality is not at all good.

ConsumerAffairs Research Team
The ConsumerAffairs Research Team believes everyone deserves to make smart decisions. We aim to provide readers with the most up-to-date information available about today's consumer products and services.
Originally sold exclusively in warehouse clubs, Vizio has emerged to become one of North America's top-selling TV brands, offering a wide range of LED-based LCD TVs and available at many major retailers. The company's UHD TVs are the first to include Dolby's high-dynamic range vision technology.
LED zones: Superior picture quality is achieved by 16 to 72 (depending on the series) active LED zones that adapt to you to deliver brighter brights and blacker blacks.
Smarter TV: With a remote that has dedicated buttons for Netflix, Amazon and iHeartRadio and built-in apps and WiFi connectivity, Vizio takes Smart TV and makes it even smarter.
Ultra HD: 4K Ultra HD models have ultra-sharp 2160p resolution that deliver superior picture quality, as well as upscaling for those times you're not watching 4K content.
High-dynamic range: The Reference Series is available in 65 inch and 120 inch and comes in amazingly clear high-dynamic-range-enabled 4K Ultra HD, which is the benchmark for superior picture quality. With this TV, you will be ahead of the curve of the possible color spectrum.
Wide range of models: Vizio offers TVs in several series for different consumers, from basic models to their Reference Series that has top-of-the-line technology and a cutting-edge design.
Best for Movie and TV connoisseurs, bargain shoppers, home-theater enthusiasts and researchers.
Company Name:

Vizio

Year Founded:

2002

Address:

39 Tesla

City:

Irvine

State/Province:

CA

Postal Code:

92618

Country:

United States

Website:

http://www.vizio.com/