Consumer Reviews and Complaints

I purchased a Vizio Television model 500i-B1 in summer of 2015. A few weeks ago we noticed that when we turned the television on the power light would stay on for a few seconds and then go out. We could not get it to turn on. Followed the steps that Vizio recommended and it did not work. Contacted the company and after verifying the purchase with serial number and proof I was told to contact an authorized Vizio repair facility at my own expense. Terrible product. Terrible experience.

My low scoring of this company and its electronics are appalling, especially when it comes to the amount of money you pay and the actual picture quality. I'm seeing a lot of consumers having technical issues like I have been and are dumbfounded by this. The picture screen I have when watching a local station, will go black and you CAN hear the sound, but when you change the channel to the next one, then back, it corrects itself.
I have noticed from using cable and/or the inside and outside UHF/VHF Antenna that the picture quality is VERY bad. I even had severe pixelation and at the time was on Comcast, yet the woman I spoken to noticed it, yet I had to EXPLAIN it clearly that when they did the installation, the OUTSIDE, COAX cable line from the HOUSE to the POLE was damaged from a previous severe storm that went through the area a few months ago, yet they NEVER replaced it and I told the customer service rep. this and asked WHY it wasn't replaced in the first place when I'm paying $200.00 per month on internet and cable tv service.
They finally came out and replaced the line after getting on them for the past 8 months. It's part of THE installation process and ALWAYS make sure it DOES get done. Also, you must for future reference, check those coax cables that are IN house, because, if the line coming into your home isn't new, there is one possible problem.
Make sure there are noise filters on each line coming in, because if they use coax splitters, which they do, it's best to put a noise filter away from the TV, best from the pole to the house, meaning they put an outside box to store out of the way, your cables, BUT if it's close to a POWER meter, it CAN affect your signal coming in, especially if you have Smart meters on your house hold electrical service. They CAN affect your signal from electromagnetic pulse waves. If you CAN hear your transformer on the outside pole, hum, they its generating a magnetic force field. If you have any of these issues in which I have, except the Smart meters, get top quality SHIELDED coax cables and run them ALL through the house, up to the splitter. Keep all cables away from electrical wires.
I still to this day haven't gotten my TV fixed from tech support, yet it's been an ongoing issue. I once had an LG 32" TV and I did like the fact IT had a HEAD PHONE jack. Excellent for putting on those head phones and turning up the volume without having to disturb others, in WHICH this VIZIO DOESN'T have, yet the 32" and smaller TV's do, WHY NOT? I had to revert back to the antenna and the UHF/ VHF and thought clear TV would be great, NOT so, unless you have a lot of coax cable and time to move around the house like with the rabbit ears to find a good signal, it's best to get one that IS outside. Do your research on the TV's you buy, because its might look great, but if the SALES person can't answer your tech questions, you best do a 180 degree turn out the door, or find someone who DOES know about the products. In the future, I won't be buying this product again.

About 2-3 years ago I had never heard about Vizio. Now I see the brand at all reputable retailers. I would definitely buy this brand again, and wish I had enough room for a larger screen.

Our Vizio TV is approximately two years old and has been having same problem all that time. Having contacted Vizio on several calls they did not clear up the sound on the tv. They did however, mention that the cable company might need to put in a code in their box! When I suggested to a technician on one of the many trips they made to our house, nothing changed.
We have good sound and picture on most local news and commercials. The problem is mostly network tv shows. The sound is muted like they all have speech impediment! We even installed a sound bar that didn't help. We watch movies thru Netflix and they also are not good sound! They also have not been able to solve our problem. I sure wish someone could come up with a solution to our problem! Thank God the sound is good for my husband's sports games!!

Bought a brand new Vizio 55" TV. It was not physically damaged, the box had no rips or tears. Plugged in the TV and the screen was grey with some white lines. Talked with vizio customer service and they wanted pictures to see the TV when it was turned on. I sent the pictures to them and they refused to send a new TV. They claimed it was damaged in transit. How can it be damaged when there are no physical defects on the TV or to the box it came in. He had no response and blamed the retailer. Terrible. I know it wasn't the retailer's fault, but the only recourse I have is to try to replace the TV from the retailer.
How do I know I can trust these reviews about Vizio?
884,672 reviews on ConsumerAffairs are verified.
We require contact information to ensure our reviewers are real.
We use intelligent software that helps us maintain the integrity of reviews.
Our moderators read all reviews to verify quality and helpfulness.
For more information about reviews on ConsumerAffairs.com please visit our FAQ.

We enjoy our television. We don't watch a lot of movies. We enjoy TBN, Daystar, news until it becomes fake. We enjoy pet rescues, home improvements, baseball and football games.

I purchased Vizio's E500I B1 on May 31, 2014. It is in a room that is barely used, so the TV has been used no more than a dozen times since purchased. This past week, I thought I would watch it while cleaning and could not get it to turn on. Went through all of the troubleshooting options I found after exploring online. Alarmed, while exploring, that this is a common problem. I immediately contacted Justin from Vizio's escalation department after getting no satisfaction from chatting online with the manufacturer's customer service person. Justin stood firm to their 1 year warranty and refused to make an exchange or help unless I put out more money. When I asked Justin if I could speak with someone with more authority, he said that he was the end of that line. I will never buy another Vizio product again. Their commitment to their customer is one-sided which simply means that they are happy to take your money and that is it.

VIZIO 55 Class 4K 2160P LEDSmart TV: New TV had for 11 months. Paid over $600. Not worth the price. Does not work as advertised. Sound not good. Picture goes to color blocks. Have to unplug all the time. Also locks up on pic. Worked with support and cannot get corrected. The so-called great apps are mostly odd low standard companies selling home movies. The ones that do have good programming do not work. They are null and void - not existent anymore. Also purchased 24" LED TV. Bad sound and picture. Buy better. Spend little more and get quality.

I bought a new 60 inch television in Feb 2016. By Sept 2016, one side of the television had a dark shadow on it making it difficult to view. I had the TV replaced in Feb 2017 with a "recertified" TV. Here it is Aug 2017 and the TV has lost all picture. I can hear the TV but the screen is black. The "recertified" TV came with a 90 day warranty. I was never given the option to buy an extended warranty on a replaced television. Customer service apologizes for the rep not offering the extended warranty and claims, minus offering a discount on a new Vizio television, there is nothing they can do!
I have had 2 Vizio televisions, both going out within 6 months, and all they can do is discount me on a tv that I paid over $700 for? Word of advice to those reading this, pay a little more and buy a quality television. Vizio is not the way to go for quality or life of a television. Had I known how awful their televisions, and customer service was, I would have gladly paid the price for a name brand television.

Vizio E60 series monitors NEVER AGAIN. Vizio has replaced our TV three times this year. 2 out of the 3 developed colored lines through it and the 3rd is here working but not sure how long it will last. I asked Vizio for an extended warranty on it and they never responded to my emails. I had to get the BBB involved. Don't buy a Vizio, their products are cheap and never last more than a year or so.

I thought I will buy a new TV. Having a screen problem (1/4 screen black/Vizio)... Instead I called the VIZIO Support Tel# 1-855-833-3221 and the technician told me what to do in just few minutes... Problem solved. If you have problem with any brands, the best way is to call their tech support...

Well this company is a joke, after reading a ton of reviews they all sound just like mine. Got my Vizio Smart TV 2 years ago and tonight it just gets a black screen. What a joke. 2 years old and shot already. Will never purchase any of this company's garbage again.

Vizio smart tv 55inch 1080p freezes up half the time and remote functions don't work half the time. I have to keep unplugging the tv for hours to get it to work. Vizio replaced my tv with another and it does the same thing and they wont give me a refund.

I have a 65 inch smart Vizio tv. My son bought it from Walmart February 14 2016. About 2 weeks ago the tv started shutting off after 5-10 minutes with sound. Called Vizio. Did everything they told. Nothing worked. I then called Vizio. She told me "I can help you with your problem," but it up to me if I want to. She scolded us about not getting a warranty (again this was a gift and we're senior citizens). Then after telling her we have limited funds she said she would offer us a bargain. A 500 dollar repair! Then offered us... after we reviewed her on Vizio in boxed as she asked a 700$ tv with a warranty! We are seniors... a t.v. should not have problems after one and a half years!. She was abrupt and rushed us off the phone quickly. I would never buy a Vizio problem again or recommend them to anyone.

Vizio is officially the WORST TV experience I have had in my entire life. I got this brand to save a few bucks a couple of years ago, and it is already failing completely. For the past week or so the image just suddenly stops appearing and the screen goes black but the tv is still on and the sound is still working. If I turn it off and back on, nothing happens, it turns off and then a black screen every time I turn it back on. Then it works again the next day, but screen goes black after a couple hours of watching. Same cycle a few times now and each time the amount of time the screen works is less and less. I am giving up and purchasing a Samsung. I was never a huge fan of Vizio anyway. It is not very user friendly in my opinion. But seriously, a TV that stopped working after only TWO YEARS?!! I've had old big body tv's made decades ago that never stopped working, I just replaced them with newer tech!!! I'd rather watch one of those right now than a Vizio.

I purchase 2 Vizio TVs Model E500i-B1 in 2014. The first unit completely malfunctioned before 1 year and was replaced by Vizio. The 2nd unit has now stopped working, August 2017, and I was told it is $395 to repair. The remote controls for each TV has never operated reliably. They will work sometimes and then other days stop for no reason. I attempt to play Pandora on one unit, however, the TV regularly loses the signal. Overall, I would not recommend Vizio due to poor performance and quality.

Black Screen. No Video. Nothing: I am highly disappointed in VIZIO and that my set after TWO YEARS of owning is suddenly not working. I expect TV's to work for a while and not die after two years. I was able until 2015 to keep my high school TV going. That TV was a box type and stayed working for 24+ years. This one I got as a gift in 2015 is now giving me issues.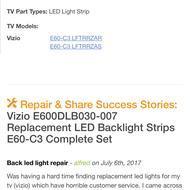 Vizio E60-C3. After only a year and half my television is broken. 10 out of 12 LCD light strips are out. LCD backlights are a known issue with this company. There many people who experiencing the same issues. There are YouTube Videos, ShopJimmy.com, and many other sites with people looking for help with the same exact issue. We should all team-up and start a class action lawsuit against this company, since they won't help anyone!

To start I'd like to say that I realize the Vizio brand is priced low for a reason. I do not expect my ownership experience to be the same as if I had purchased a high-end brand television. I do however expect to get more than 2 years of use from a $700 television set of ANY brand name. We bought a 60 inch Vizio in June of 2015. It's now July of 2017 and 3 of the 12 LED strips have failed on it. After researching this issue I have discovered that this is a common problem on Vizio televisions. This led me to take a closer look at my family's entire Vizio television collection.
We have purchased 6 Vizio televisions at various points in time over the last 10 years. After inspection, it was clear that the newer the set is, the more issues it had. Interestingly enough, 2 of the sets are over 7 years old now and have no, zero, none, nada problems. One of those sets is on it's 3rd remote now and is by far the most used television in our home. It used to be we could buy a Vizio and know that you got a good (not great) product for a good price. That is clearly not the case anymore. So for us, the Vizio brand name goes into the cheap brand pile and We'll never even consider buying another.

My Vizio tv just died. Model e60c3. I have had it approx. 4 years. When I called the Vizio helpline they told me what it would cost without seeing the tv. That tells me that this is something that happens all the time. When I took it to the tv repair shop they said it was the backlight. They could not find one.

I would not say I laughed, maybe chuckled when I read some of the comments because they were pretty much identical to my experience. I bought a 65" Vizio TV and after 11 months it stopped turning on. Ok, that's fine, it's under warranty. I called, went through the fun that is power cycling and a few other steps that did nothing to remedy the problem. The representative said they would be sending someone out to "fix" the TV. I was a little surprised, I was expecting to be told to go back to where I bought it to swap it out. I was told no, that is not how their warranty works.
So, they send someone out a week or so later, mind you the TV is not working, and that person says they have completed the repair. Two days later after the "fix" the TV will not turn on and after power cycling it a few times it actually does turn on but now there are a bunch of squiggly lines, approximately a foot high in the middle of the screen that go from one side to the other. I again contacted customer service and again go through the power cycle and a few other things fun. Nope, not helping, and I noticed while doing this the person that repaired the TV damaged the outer casing trying to pry it off. So not only did they not fix it, they caused an additional problem and damaged the TV. Ok, customer service says they will send out a new TV, should arrive in 7-10 business day. Once again it is not an option to bring it back to where it was purchased to swap out for a new one.
So I receive an email that the new TV order has been processed and will arrive in 7-10 days. We get to day 7 and no updated tracking, nothing. Contact customer service, am told "that's odd, let's find out what happened. Not sure what happened but it should still arrive within the 7-10 days." In cutting this story short it arrived on business day 14, or in normal people terms, three weeks later. Customer service said there was a communication problem and they would correct that going forward.
Oh, I also found out that the "new" TV I received was actually a "re-certified" TV, meaning someone had returned it for whatever reason. Ok, they lied about that, but rest assured, it had under gone a rigorous 21 point inspection. Jump ahead two weeks. Turn the TV on and there are white lines across the middle of the TV, about a foot tall, going from one side to the other and the remote has stopped working. Contact customer service... again. Power cycle nonsense... again. Not doing anything... again. "Ok, we will send out yet another TV, which you will receive in 7-10 business days. This time we promise it will be a new TV, not re-certified." So here we are, business day 5 and the TV hasn't even been picked up by the freight company, which makes me think I am probably not going to receive my third TV within the 7-10 business days... again.
The only reason I have not just went out and bought a new TV is because this is a warranty issue that needs to be made right. Now they are shipping out a third TV, again cost of shipping and TV. This third TV may or may not work, my guess is the latter. It also made me think this company is not run very well. Think about the costs involved - they sent out someone, at their cost, to repair the original TV. That didn't work and actually made things worse. They expedited shipping on the second TV because they cannot communicate with a shipper, so that is shipping cost plus the cost of a TV. I would guess that they have spent over $2,000 on this warranty issue.
Now compare that to just having me to back to the store where I bought it. I run to the store (no shipping cost) and get a TV that will probably last more than two weeks. I would recommend spending a little bit more for a Samsung or a Sony, it will save you a lot of headaches. I made the mistake of wanting to save a little bit of money and now I am paying for it.

Bought a new UHDTV from my local Best Buy after salesman convinces me to buy it over a Sony 75" (what's dumbass I was to listen to him) in October 2016. Come 8 months later tv is looks like a strobe light. Suspect the back light is not working. Called Best Buy which are absolutely useless and not willing to help even though they sell this crap. Contact Vizio and they send a "reconditioned" unit to me, after me telling him I wanted a new tv. Assistant assured me it was like new. 10 days later it arrives scratched on the one side. Plug it in Vizio comes up on the screen and everything goes dead. Tried doing restart to NO avail. Call and ask to speak to supervisor who tells me now they will send me new TV but it will take another 10 days. After reading all these terrible reviews surely there must be some legal action one can take to stop them selling these tv's!!! I just want my money back.

The public should NOT have spend money buying Vizio. I bought it 4+ years ago and regret it when youtube app can no longer work. Vizio should have create a new apps that access to www.youtube.com where customers can download and add it to the TV. It is Vizio responsibility NOT blame it on youtube. I have wasted close to $1000 and will never again buy a VIZIO products regardless of how cheap. Give it to me free, I won't want it 'cause it take up by space. I will have to buy a new TV where it is really Smart where I can browse to any site and watch streaming programs.

This tv was bought in 2006 and it is still got the same speed, clear picture, and the volume is still working to this day. The only problem that I found was their remotes because the buttons just stopped working one day. This brand is actually great. I would recommend over most TVs but make sure to buy an extra remote.

My TV is great and I love this. I watch 18 hours and sound's great. Get so into the movie. Feel like I'm there. Good picture and never cuts off.

I have been very happy with my Vizio smart tv and found it easy to set up and program. The value was the best of any others and the picture and sound are very good. I would not hesitate to purchase another one anytime.

After 2 years and 10 months of operation in a single location with no stress, our VIZIO E 500-I 50 inch TV, for which we paid $580 plus tax, malfunctioned and delivered only the top 80% of the picture in focus. VIZIO so-called customer support was slow to respond, determined that the TV was unrepairable, and after much prodding offered me a whopping $50 discount on another VIZIO TV, since mine was 10 months out of warranty. On reflection they characterized that as "final and fair" and so all I can tell you is do not under any circumstances buy a VIZIO TV -- their products are faulty, they do not stand behind their products and they are rude and insensitive to consumer needs.

Vizio make outstanding televisions and prices are great. Since my first Vizio bought I've never been let down. Great picture, easily programmable, by far the best ever. Great technology. Awesome.

We tried a more expensive tv than Vizio and while the picture was a bit sharper, it took almost five minutes to go on. Also, while the quality is not as sharp as the more expensive brands, our Vizio TV has very good color definition. The picture is consistently clear and the remote is not complicated to operate which is important to me as I am technically challenged. Overall a very good quality television for the price.

It's not easy to connect USB or Bluetooth wireless. The product's remote control is the most aggravating. Somehow it malfunctioned so the HDMI internal connection hardware does not last, is loose and very sensitive.

ConsumerAffairs Research Team
The ConsumerAffairs Research Team believes everyone deserves to make smart decisions. We aim to provide readers with the most up-to-date information available about today's consumer products and services.
Originally sold exclusively in warehouse clubs, Vizio has emerged to become one of North America's top-selling TV brands, offering a wide range of LED-based LCD TVs and available at many major retailers. The company's UHD TVs are the first to include Dolby's high-dynamic range vision technology.
LED zones: Superior picture quality is achieved by 16 to 72 (depending on the series) active LED zones that adapt to you to deliver brighter brights and blacker blacks.
Smarter TV: With a remote that has dedicated buttons for Netflix, Amazon and iHeartRadio and built-in apps and WiFi connectivity, Vizio takes Smart TV and makes it even smarter.
Ultra HD: 4K Ultra HD models have ultra-sharp 2160p resolution that deliver superior picture quality, as well as upscaling for those times you're not watching 4K content.
High-dynamic range: The Reference Series is available in 65 inch and 120 inch and comes in amazingly clear high-dynamic-range-enabled 4K Ultra HD, which is the benchmark for superior picture quality. With this TV, you will be ahead of the curve of the possible color spectrum.
Wide range of models: Vizio offers TVs in several series for different consumers, from basic models to their Reference Series that has top-of-the-line technology and a cutting-edge design.
Best for Movie and TV connoisseurs, bargain shoppers, home-theater enthusiasts and researchers.
Company Name:

Vizio

Year Founded:

2002

Address:

39 Tesla

City:

Irvine

State/Province:

CA

Postal Code:

92618

Country:

United States

Website:

http://www.vizio.com/