Consumer Complaints and Reviews

55 inch ultra high def tv: Complete junk, problem after problem, a week after I got it I would be watching TV and the screen would go completely green and freeze. The volume is horrible. If you turn it up one setting it's too high and if you turn down one setting it's too low. There's no in-between. It can't remember passwords and freezes every few hours to where I have to manually unplug it. I've had it about 3 to 4 months and it's only problems so far, each time something happens I wonder if it's broke and it's upsetting.

What the hell? A one year old 50" TV and the picture just goes out. Research online shows this problem has plagued them for years, and they have made no attempt to correct the issue. Back in the day they were respected. Now looks like they are one of the profits before customer corporations that have sprung up. I will not purchase another product from them.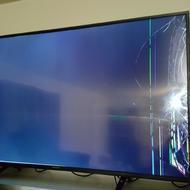 I purchased a Westinghouse 55" ultra HD 4K Smart TV with a two-year warranty on 9/18/16 off of the HSN network. When it arrived the box was undamaged and set aside to await installation. It was packaged in a box with a lot of foam packaging but when we took it out of the box, it was completed cracked on one side and did not work.
I called and the customer service told me that I needed to talk to HSN. HSN was called and told me to talk to Westinghouse. The customer service at Westinghouse told me to take a picture of the back of the TV, the front while it was on and proof of purchase beyond my receipt from HSN. I had to call HSN yet again to get them to send me proof of purchase, before the proof arrived Westinghouse sent me an email that my case was closing because it was seven days and no information had been sent.
Now I was angry, and let them know that in an email - they agreed to wait for the proof. When it arrived I sent the pictures and proof to them only for them to tell me; The breakage is not covered under the warranty, but I stated a television that arrives broken and will not work is a defect, I purchased a television not a paper weight. So now I am out almost $800 for a TV that can't be used. Plus I had to purchase another television, ridiculous! Deceitful people who should not be in business.

Beware of Westinghouse televisions. Long term reliability is questionable. Purchased 1 yr ago from Target and knew it was a cheaper TV. After 14 months the power went out. Did a little homework and found I wasn't the only one with a similar issue. Called customer service and reported but to no avail. I'm out of luck. I'd recommend doing a bit of homework and not go the inexpensive route. Picture and sound were adequate, and otherwise satisfied, but seems like they have a common issue that the company isn't too interested in solving with customer service. If you're outside the warranty window they're not willing to help resolve the issue.

I purchased a $400 after taxes $490 50-inch Westinghouse smart tv September 5, 2016 at Best Buy and a week ago I had it on for my granddaughter who was visiting and it just went out. Won't power back on. I contacted the manufacturer who said I have a defective television but they couldn't find a repair person in my area so it's up to me to ship the TV to a company and wait up to 30 days after the 5-7 day shipping period for them to repair or replace with a used TV. This is absolutely ridiculous. Why should I have to put out an additional $200 in shipping fees for a brand new TV that is rarely used. And not to mention no help from Best Buy who said "sorry it's not our problem we sold you a worthless product sucker," at least that's what their words sounded like to me. They should start a class action lawsuit against them for selling a product that is no good and they know it.
How do I know I can trust these reviews about Westinghouse?
719,335 reviews on ConsumerAffairs are verified.
We require contact information to ensure our reviewers are real.
We use intelligent software that helps us maintain the integrity of reviews.
Our moderators read all reviews to verify quality and helpfulness.
For more information about reviews on ConsumerAffairs.com please visit our FAQ.

I purchased a 32" Westinghouse flat screen with remote for my 8 year old grandson. My complaint is not with the TV but with the remote that almost caught on fire and the customer service I received. I called Westinghouse and Apoo wants all of my personal history before he ever wants to hear one word of my grievance. When I told him about the remote he went to that page in his how to handle this problem handbook and read to me the process. I must send to them a picture of the remote, a picture of the serial number plate, which is on the bottom of the already mounted TV, which means we will have to take it down to get the picture, and a picture of the receipt. Send those 3 pictures and after it has been verified and approved they will send a replacement within 7 to 10 business days.
The remote control would have caught fire in an 8 year old's bedroom had we just put the batteries in the remote and went to bed. The remote was so hot you couldn't touch it. Now I have to jump through hoops and wait 2 weeks, and I might get another remote. I remember a time when if this would have happened I would have received a remote by the fastest means without a picture or a hard time.

Model 32 inch, DWM32HIG1. Purchased tv on Black Friday November 2015 and sound had been failing and thought it was my internet company and had them to come out twice to check the device/receiver and was told it was not my cable company reception to the tv and tv was failing. Sound would come on and then go off. Finally called Westinghouse after locating my receipt and taking several photos and troubleshooting for 2 hours and several call back and a reset, I was told my warranty ended and I was 1 day out of warranty and nothing could be done. Advised Westinghouse that I could provided documentation that the sound was failing and the dates my sound stopped working and they would not honor the warranty and denied my claim. I only watch the TV on weekend and had the problem early into my life of the TV and they did not want to hear or entertain any thoughts on replacement or repair. My complaint and order **.

I purchased this brand a few years ago and shortly the HDMI port stopped working. I thought this was an isolated incident until I purchased another tv by them 6 months ago and the sound is already gone! I looked up some reviews and now see this brand is pretty bad. Now to chalk up my losses and purchase a better quality.

While watching this TV a bar appeared near top of screen and video went out. No menu or source could be brought up with buttons. Purchased at Target. Past 30 day return policy. I went ahead and entered a ticket on Westinghouse site but after reading other reviews stating they require customer to pay to ship TV will probably just trash it and buy Samsung or another quality brand. Funny how old quality American brand names such as Westinghouse are now the lowest quality items. I knew this when buying this TV but took a chance anyway.

Had it for 30 days, 30 days!! IR sensor went out and Best Buy didn't offer any more than a 15 day warranty. Want me to ship to CA and I'm in TX then if something else breaks I have to pay for it!! Spend a few more bucks for a real brand or you'll end up spending it to fix this sucky brand!!

Me and my wife bought a 60 inch tv less than a month and a half ago. While watching the news on morning the screen went black. After emails back and forth they said I need to pay and take on the responsibility to ship the tv to California when I live in Ohio and if something happens in the process they are not responsible. Now where is the fairness in that. I have to pay more money on top of the price to get I should have received in the beginning. So basically they received money for nothing since I can't afford to ship it to them. A word to the wise - put more money with it and go with another brand.

Westinghouse Electronics is a trash ass company. They sell ** products then decline to repair them. For the past 4 months I've been trying to get my tv fixed. Every document asked for I've provided. Saturday they emailed me saying they had to validate the authenticity of my receipt as if I fabricated my purchase.

Purchased TV at Target 1 1/2 months ago. There's a start delay when I turn it on. Picture would appear 16 seconds later. Contacted Westinghouse and was told there's a defect. I have to ship TV to them for repair! Didn't buy warranty and return is before 30 days at Target. So I can't exchange it. Can't believe Westinghouse doesn't give a crap about their customers. From reading here this defective TVs are very common. This is why America is so screwed up - terrible manufacturing. They are building crap and China is building reliable products. Extremely disgusted with Westinghouse. Will never ever buy any products from them. PLEASE DON'T BUY ANY OF THEIR PRODUCTS. SAVE YOUR MONEY.

Purchased Westinghouse big flat screen led tv Black Friday 2014 (less than 2 years ago). Turned on the tv this morning. What do I get? Black Screen of Death!!! Called the customer service to try to get some troubleshooting advice. Basically they said, "Something is wrong with your tv". Really? I didn't know that!!! Absolutely no help and had an "I don't give a crap" attitude. This is the 2nd tv I have purchased from Westinghouse. The first one lasted only 2 1/2 years. This one less than 2. Absolutely, will NEVER buy a Westinghouse again. BUYER BEWARE! Don't throw your money away with this company. You will come to regret it.

I purchased TV in November 2015 and in June 2016, sound stopped working. Called customer service who seemed very unconcerned and asked same questions over and over again. Finally they had me send in unnecessary info that I think had nothing to do with the problem I was having. They then told me to ship TV to them at my own cost which was almost more than what I paid for the TV itself. So I refused. DON'T WASTE YOUR MONEY. CUSTOMER SERVICE SUCKS AS BAD AS THE TV DOES!!!

50" LED DWM50F3G1-TV broke after 9months. No picture only audio. I only had the TV for less than a year. Really!!! New products should not break so soon. Bought it on Nov 27, 2015.

I buy 75 tv for my business. 3 remote dont work. Call customer service saver time did not get my remote yet. Customer dont have even common sense. Asking same question again and again. Try to avoid. Ask for manager, make me on hold and never come back and discuss on phone. Send receipt 3 time to email and model number. Still asking model number and receipt. I still call every day looking drama. Before month send all tv back to them. This company can have any star. Is no star. Worst service in world.

I bought my first Westinghouse TV on Black Friday in 2010. I have moved it to another county. I have moved it back and forth from room to room. My toddler son hit the screen a few times with his toys and cracked the screen in a few places but the TV still works and the picture is still clear. I have had this TV almost 6 years and I still love it. I bought a smaller one in 2015 and it still works. Hopefully I can have as long as the first one. I read the bad reviews. Maybe I got lucky.

Bought my Westinghouse LED 32inch slim line or whatever almost like 3 or 4 years ago. Got it on special for like $250ish. Haven't had one problem. It works fine. Picture quality is decent considering how far tech has come. I think I got it in 2012 or 2011 even. I don't like the power cord because it came with a converter that you have to plug in, but it's hidden behind my entertainment center so whatever. Great TV for the price in my opinion. Would recommend to a friend.

I just got off the phone with the customer service department. My TV, which I just purchased in November, stopped working last night. There was a storm in my area, and my TV is connected to a surge protector. Everything but the TV is working, but the customer service office doesn't even want to help me. Let me say my xbox, blue ray player, router, and cable box all still work but the TV doesn't (all were connected to the same surge protector). All I heard is the warranty doesn't cover storms, but how do we know it's not defective if nobody will even look at it, plus what's the purpose of a warranty if I'm using a surge protector and taking care of the TV. I got the same "canned response" from the supervisor, after the first agent did nothing for me. Poor customer service, and they kept asking me to hold for "one to two minutes", then I was placed on hold for about 7 minutes. I will never buy another product from this company.

Bought 40" Westinghouse TV in Nov 2015, Black Friday at Target for Christmas gift. TV has been mounted on wall for 6 months. Sound went out. Target does not stand behind their product. You have to send TV back to Westinghouse at your cost. Now we have not got to the post office part, but from what I am reading it is going to cost almost the same amount the TV did. This is ridiculous!

I bought a Westinghouse 50" TV DWM50F3G1 in November 2015. The TV worked fine for 7 months. Then it went black - no picture. I went back to the seller and informed him about the TV. He said that the TV only had 6 months warranty. My point is this, the seller knew that the TV was not going to last one year, he wanted
me to buy a voltage regulator and only then he would give me the full year warranty. I will never buy another Westinghouse TV.

Our business recently purchased a Westinghouse TV to hang in our fitness center. It arrived in March and the box looked completely normal. It didn't have any holes, bends, etc. Upon first look of the TV everything appeared normal. We got ready to hang the TV in June and as soon as we turned it on, the screen was completely cracked and was obviously not in working condition. After I contacted Westinghouse, I was asked to submit a ticket including pictures of the TV as well at the receipt of purchase. I was then contacted with this statement, "The description that you sent us is considered physical damage and is not covered under the warranty." So, receiving a broken TV is NOT covered under the warranty. Unbelievable.
We, as a business, will NEVER purchase another Westinghouse product. I warn everyone to think twice about ever purchasing from Westinghouse. If you receive your electronic and it's broken, you will be out whatever money you spent and you will not receive a working product. I can't imagine they will be able to continue to stay in business with these types of policies and procedures.

Bought this Westinghouse 32" TV for one our bedrooms to upgrade from old TVs on Black Friday 2015. Didn't bother setting it up till May 2016 ready for visitors in June. We don't have Cable or Satellite TV in the bedrooms, were just planning to use it for Netflix. Two problems occurred right off the bat. While I was setting it up it kept wanting to shut down after 60 secs (who can set up a TV in 1 minute? I can't). It will not hold the network password even though it has great signal strength. It has to be re-entered every time turn on the TV. I too contacted customer service. They told me to do what I had already done and told me, "There it's fixed now, call back and quote this number if it happens again". I'm like WHAT!!? I told her the TV is either defective or a POS. Yeah they wanted me to send it back at my cost. I told them where they can put their TVs.

I purchased a Westinghouse TV on Black Friday at Target for my husband. The TV we had was old and we were ready for an update. Mind you the TV we had still worked and probably was ten years old. I gave him the TV for Christmas and we mounted it on our wall in the basement. We didn't watch it much so it was gently used, well recently the TV would turn on but no picture would show and the sound did not work. So sad that it only worked for a short time and of course just enough time for the warranty to no longer be available. I think this was the plan, make cheap products and then make sure they only work as long as they have a warranty and then when the warranty is void the product stops working. They also don't stand behind their products! I will not be purchasing a Westinghouse ever again and will make sure that anyone I know does not as well!

Bought a 50" TV for my 87-year old father for Christmas 2015. Sound started going off, come on, go off. Call customer service and walk me through software reset. Get disconnected and have to go through all again. Keeps telling me over and over to make sure mute button is not on. I told him I had tried that before called, he kept on about it. Finally got through to him it was not mute button. Send all these pictures and copy of receipt. Informed that it was eligible for warranty to send in original box. Who has room to keep huge TV box! Bought a box at Lowe's for $25 and went to ship $170. That is ridiculous. The worse customer service I have ever dealt with. WILL NEVER BUY another Westinghouse product. Had a Samsung TV go out and they had a service technician at my house in 2 days, same size TV.

I purchased a Westinghouse 55" flat screen from my local Target store for $250.00 on Black Friday. Well, I now know why it was so cheap. I've had the tv mounted to my bedroom wall for the past six months and recently decided to move it to my living room over the weekend. The TV had been on and working fully before the move. I powered off the TV, unplugged it from the wall. My brother and I carried it into the living room and placed it on the mount. I plugged it back in and powered it on only to find cracks in the color of the picture.
I contacted the company and was told to send them a picture. I sent them a picture of it powered off (no cracks/no scratches) and powered on (so that the cracks in the color were visible) they then proceeded to tell me that this is physical damage and is not covered under the warranty. UM, hello! Why would I contact your company if I had physically damaged my own TV? Does that make any sense at all!? I am disappointed and will be sure to direct everyone I know away from Westinghouse and their poorly made products.

Bought a Westinghouse 32 inch HDTV. Found out it does NOT receive digital channels only analog unless you want to also purchase a cable box that is not needed for other brands. DON'T WASTE YOUR MONEY unless you want limited watching. I had to rate this product 1 star because 0 was not an option.

Purchased a 55in Westinghouse August of 2015, not knowing 4 months later the sound would go completely out. I followed the prompts for trying to complete the insurance process...only to find out I will have to pay between $300-$500 to get it shipped back to the Westinghouse manufacturer. Why would I ship the tv at the price I almost bought it for? What sense does that make? Why are you guys selling electronic devices that should last at least 5-8 years? Customer service did absolutely nothing to configure the correct resolution. I didn't feel like a priority, or important. Whatever you do, don't purchase any type or form of electronics from this consumer. Stick to something more reliable like Sony. That's what I'm telling myself.

I was in the market for a T.V. Saw the Westinghouse for a great price at our local store. Went online and read the reviews and decided NOT to buy. Sounds like pretty bad experiences by these people.

ConsumerAffairs Research Team
The ConsumerAffairs Research Team believes everyone deserves to make smart decisions. We aim to provide readers with the most up-to-date information available about today's consumer products and services.
Westinghouse got its start over 115 years ago, patenting the rotary steam engine. Throughout the years it has designed and manufactured multiple consumer appliances such as energy efficient light bulbs, LCD TVs and conventional portable and inverter generators. Its generators are designed for powering home appliances in emergency situations, campers and RVs and industrial job sites.
Portable generators: Westinghouse makes five models of generator in its portable series that range from 3,250-10,000 watts. They boast run times of around 10-19 hours when running at a 25 percent load. They also feature weather protected outlets for harsh working conditions and Pulse-Flo TIM Mufflers, which make these models among quietest on the market.
Inverter generators: Westinghouse includes three models of generators in its inverter series ranging from 1,000-2,100 watts. They have a run-time of around 13 hours when operating at a 25 percent load. Inverter generators feature a double insulated acoustic hood and asymmetrical fans to allow for quiet operation and a lightweight, ergonomic design.
Additional features: Westinghouse offers additional features for their generators such as lifting hooks for easy transportation and remote start, which allows you to start your generator from a distance. Additionally, generators come with a smart idle feature that automatically adjusts based on demand, which saves fuel.
Service and support: Westinghouse offers multiple tools online to make sure your generator stays in working order and operates smoothly. You can register your product online, find a service center, view FAQs, read up on technical service bulletins and view informational videos on all models of generators. They also include details for their power warranty for each model.
Pricing: Westinghouse lists its three models of inverter generators at $499, $699 and $749. Its portable generators range from $449-$2,899.
Best for consumers needing a portable generator for travel or recreational purposes.
Westinghouse Company Profile
Company Name:

Westinghouse

Website:

http://westinghouse.com/