Consumer Complaints and Reviews

Horrible quality TV! 4K and network color has stopped working after only 6 months! Faces are greenish gold; reds are dulled and overall greenish tint on it now. Have tried to reset tints; color saturation, etc... Something has burned out or stopped working correctly... Have run into other customers in store had same problem within 6 months with same TV! DO NOT BUY! Cheap hardware installed... NOW since yesterday Wi-Fi has stopped working so cannot connect to internet anymore either! Piece of garbage! Have read many more reviews on here about same TV with same problems... Some good though. You just got lucky!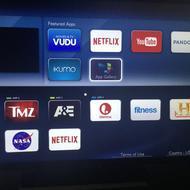 Black Friday LOL. Jokes on me. My girlfriend thought she was getting a good deal. This TV in no way compares to my 55" Samsung LED Smart HDTV. Philips is terrible. It's like the worst model you can think of. You can't download Hulu HBO NOW. She's stuck with only Netflix. The sound is horrendous. The picture isn't clear like Samsung. Customer service is a mess. "Well sir, there's nothing we can do for you." Just look at these APPS. LOL. I can't believe Philips put this product on the market. I'm just going to cut my losses and get her a better TV. I would highly suggest spending the extra money to get either a Samsung or LG. YOU WILL NOT BE HAPPY BUYING A PHILIPS 4K HDTV. Choose another company.

So now I have to compress 1.5 yrs of agony with my 55PUT6400/12 TV in a few sentences... First Philips TVs are not really Philips but TP Vision TVs who paid Philips to use its brand. So China TVs. Software updates for those TVs are made in India by people that really don't know what they are doing. All firmware updates have produced new bugs in the TV when they tried to repair the old bugs. Example one update made an audio delay so the TV was unusable. Philips needed 3 updates over half a year to repair it. Another update made bluetooth remotes not working anymore. Another update introduced off center picture. Another update made the TV shut itself down in standby after couple of hours and one needed to pull the power cord to get it starting again. Also one update made the TV turn itself on at 4 am.
I really think they make that deliberately or don't beta test the firmwares and let customers be the testers or they hired cheap labor monkeys in India to program that ** software I know of. Plus the TVs have been unstable all the time and have a life of their own in rebooting occasionally. Read the Philips support forum in English or German to see what **storm there is happening at any firmware update thread before buying Philips TVs.

I purchased the 55' 4K tv from Walmart on Black Friday the year of 2016. This tv is absolutely garbage! The screen lost all color within 5 months of use. Do not purchase. Not to mention the crap customer service that cares nothing about their customers. It's been over a month of repeatably calling CS and still no response. They tried offering a repair after the fact that I took my money to Samsung and bought a new beautiful 4K tv. I've requested for a full refund and Phillips is not willing to do so.
I'm only getting 50% of my hard earned money back. Do yourself and the world a favor and never buy Phillips. I highly recommend Sony, Samsung, or LG. Anything but Phillips. It seems that "upper management" is just kicking back and fine dining at Ruth's Chris and playing golf while your case is sitting at the bottom of a pile of default cases back at the office just waiting for the warranty to expire before they even take a look. Horrible company. Never again will I buy this name brand product.

Purchased the Philips 4K tv from Walmart. Lines across the screen started appearing. I did not purchase the Walmart warranty, so I have been having to deal with the Philips manufacturer directly. Big pain! Had to call several times, had to send pictures of screen on and off, they determined it had a bad panel. Finally got them to send me a box to ship it to them in. Only gave me 10 days to get it shipped to them (which was difficult, I am a older lady, I had to get someone to come get it off the wall and box it up, and drop it off at FedEx for me. Plus I travel for work and am only home 2 days a week). Was told once they received it, I would be mailed a check for the market value (not what I paid for it) in 10 to 15 business days.
They received my TV on May 16th, here it is June 9th, and still no check. Been told lie after lie, told 10 to 15 days to get me my check once they received my tv, so I called on June 1st, was told it would be here by the 9th. Called on the 9th, the first call they said it was mailed on the 6th, the second call with them they said it hadn't been mailed yet and that it should be mailed today, but it could take 5 to 7 business days before I get it and I would just have to patiently wait for it. REALLY! I have been patiently waiting for almost 30 days since they got my tv, so where is it? They have already lied at least 3 times to me, I have been dealing with this for over a month and a half - paying for cable tv, and I have no tv.
I finally found out today they are sending me 398 dollars instead of the 498 dollars I paid for it. Really, this constitutes customer services? This totally sucks and all they can say is sorry and there is no one to expedite my issue. A real company that cares about its customers would have shipped me a new tv and after I received it, I could have sent their "bad panel" tv back to them. But on second thought, don't think I want another one of their products ever again. At a minimum, at least pay me what I paid for it, compensate me for paying for cable tv for the past month and a half that I can't even watch, cause they got my tv and can't even manage to write a check to reimburse me what I actually paid for it. Horrible Horrible company - I would not suggest dealing with them - all they do is lie to you. I don't think I will ever get my (shorted) reimbursement check. I feel like I was robbed. If this is what they call customer service - someone needs fired.
How do I know I can trust these reviews about Philips?
851,761 reviews on ConsumerAffairs are verified.
We require contact information to ensure our reviewers are real.
We use intelligent software that helps us maintain the integrity of reviews.
Our moderators read all reviews to verify quality and helpfulness.
For more information about reviews on ConsumerAffairs.com please visit our FAQ.

I've been on the phone with customer support and I am still on the phone with them as I write this review. Needed a newer TV because my Vizio was crapping the bed. Got the newer 55 inch 4K TV and I have been on the phone with support for over 2 hours trying to figure out why my surround sound won't work on this TV. Not only does it not work, I was made to download a software onto a USB stick and then try to update the TV's software but it keeps saying it isn't compatible with my TV!! Are you ** serious??? I should be able to just plug the cables in that I did with my 65 inch Vizio Smart TV and it should just work!! The support person has had me do literally everything but to no avail. Back to Vizio when I actually have the money again... Worst purchase ever. Do not buy Philips 4K TVs. They suck **.

My 4K smart TV quit working after 16 months. I called customer support and after hours of wasted time all they offered me was a "deeply discounted rate on a new one". You fooled me once. You won't fool me again... Never will I buy another Philips anything. Buyer beware.

The Philips television is an American made brand I trust. Purchased four years ago and it still works well without any problems thus far. We enjoy the multiple features we have access to on this TV Set. The TV Picture color and features are decent and steady.

I am very pleased with my Philips Flat Screen TV. I have owned it for several years and have never had any complaints with it. I have also used other Philips products in the past such as DVD and VHS players and they have always held up to their standards. I would recommend Philips products to anyone.

I like that my television does not spy on me or my guests, yet provides an amazing clear picture and crisp sound. It works like it should, just the right size for the room and it has all the features that are necessary.

From the delivery to the unpacking and the setup, everything is well describe with easy step by step instructions. The technology that this TV brings is unique and great like a new toy and a giant computer. The picture quality is perfect and the overall options. The cable settings are so easy to follow. The weight is very light and easy to move... great product to purchase if anyone likes it. Thank you.

I've used Philips products for many years. I'm 62 and I think that speaks volumes considering it wasn't many brand names with a wide history in the years of my first experience with Philips. Pleased with product.

Got a tv from Wal-Mart on Black Friday. Tv went out about a week ago. I contacted Philips. Did what they told me to. Sent pics to them and was told tv is not repairable but is under warranty. They said they could send me another tv but do not have my tv in stock so they want to give me my money back which I cannot replace it for the price of black Friday. Their service is horrible and they will not let you talk to upper management. Always told 24 to 48 hours and someone will contact me. They're rude and not helpful at all. Do not buy Philip's products cause they do not warranty it and give you the runaround. Someone should be liable for this bad product. Very upset.

I love the TV and it is a 55 inch flat smart TV. I love having Netflix, Youtube already on it and I loved having the games on it, but the games are no longer working because the company put up they didn't renew the contract. All of performance of TV is great. It is only 2 years old but wish the speakers were been a different place. 2015 I had to contact Philips TV headquarters regarding the Microsoft License because of my experience with them in 2015 and if my TV ever goes out, I will go with another brand.
How their employees handle the problem, I won't buy another Philips TV. And if my TV ever goes out I will look more closure to the brand and do more research in the company. My advice would be for anyone, please research how the company or brand handles problems and their ratings on satisfaction of service, communication. I wish I did but it was on sale and Philips is a good brand, but services are not satisfying. It could be the best product in the world but if their customer service is bad it will take forever to get help.

The 55 inch Philips 240 speed 1080 is 4 years old and well used. The sound (speakers) are very weak and a sound system should be used for movies and music. Excellent picture, good black tones, easy to use, and has been totally reliable so far with no issues.

Philips has the best picture ever. Their tv's last a lifetime. I have a 47 inch and it's just right not too big or small. I have had two of them. My son has one too. I would never buy any other brand. I have had Samsung not as good as Philips on picture quality. Love love love the Philips tv's.

The Philips TV set was purchased by a family member as a gift. HD certainly does not compare with the other HD sets in our home. When considered against our Samsung... just no comparison! The quality is what I would expect from this company.

I have two TVs and I have never had any problems with either. Great picture, look sharp and fantastic quality and sound. I would recommend this product to everyone.

Philips 42in TV HDTV flat, bought at Walmart about five years ago, on free stand, easy to hook up and always keep box. The tv is really good, I'm a person that for me to give high rating, it has to be all that!!!! I really liked the value I purchased it for. It views just fine, but feel it could of been better but I do not like the three inch black shiny frame around it.

We needed a replacement for the Sharp TV that got smacked by a WII controller. We really liked the Sharp TV, the high definition was awesome, reliability top of the line, but the Philips TV is very close. It wasn't top on our list, but for the money, it is great. We purchased this TV 7 years ago from a college student that had to move out of the dorm. Bottom line, TV's been up on the wall a few years and works great!

Son bought me the 55" 4k Smart TV for Xmas!! Hooked it up on January 21!! On February 18 the remote sensor quit working!! Have to turn off and on by back of TV!! Cannot log on to internet or anything else but basic TV!! Have to turn up or down on back of TV!! After watching for a while, it cuts off by itself!!! Bought 3 year warranty, called Philips, on phone over an hour for 3 different times!!! Still no luck!!! Told to sign off for damages by mail!! They would mail us a check for cost of TV!!! After signing paper and mailing back, how can I TRUST THEM TO MAIL ME MY CHECK?!?!

I purchased Philips smart TV few month back. From Day 1 smart TV is not working smartly. Manual given by Philips not up to mark. When register complaint in customer care no one revert in give time and after that. Bad service. Do not buy Philips smart TV.


Put in layaway on black Friday. Didn't take out of box until last week. Screen is cracked & has huge circles. Walmart wouldn't take the television back. 55" smart 4k, ultra HDTV, LED LCD, 5000 series. Told us to call the manufacturer. Did that & sent pictures of the television & they will not fix, replace, or honor their so called piece of crap warranty. Buyer beware. Do not buy!!!

Philips smart TV is a total junk. Nothing works properly. Not even the remote. I've had nothing but problems with this TV since I purchased it. It has a mind of its own. The TV doesn't respond to the remote half the time and it is very stressful. Waste of money. Never again.

I have a Philips TV in my son's room. The picture is very clear and size is perfect for his bedroom. He has his cable and gaming console hooked up to it. If needed, he can hook up DVD or another system to it without any problem. He's had this TV for about 2 years and has never come to me with any problem pertaining to the TV itself. Also it was easy for my son to learn to control and is able to change channels and modes without any problems. This TV is great. I would recommend this TV to anyone.

My TV is outdated. Well it's really time for me to buy a new television. They are so pricey these days. I'm not sure if I really can afford a new TV now or not, and it's really not in the budget right now.

My Philips TV was a gift and I am very pleased with the product. Due to the large screen, I am able to watch TV while in the kitchen cooking or cleaning. I love the sound quality. I feel like I'm sitting in the movie theater. The clarity/resolution of the screen is wonderful.

We bought a 49" Philips TV in 2014. First of all the sound was terrible! We had to buy a sound bar just to hear the TV. Then we started having problems with the picture. Of course they won't help me if it's over a year old. I will never buy a Philips anything ever again! It's like throwing your money away!

I bought a 4K 55-inch smart TV on Black Friday. I'm having nothing but problems with it. It won't turn off and won't turn on. You have to do it manually you have to unplug it. You have to keep resetting it and I called their customer service I have been spoken to very rudely. They won't replace the TV and I would like somebody from the corporate office to give me a callback.

ConsumerAffairs Research Team
The ConsumerAffairs Research Team believes everyone deserves to make smart decisions. We aim to provide readers with the most up-to-date information available about today's consumer products and services.
A leading manufacturer of televisions, Phillips is also a leader in healthcare, lighting and many other industries. Its TV models include LED, 4K UHD and Smart TVs.
Picture quality: With 4K UHD and upscaling, laser backlight and extreme motion smoothness, picture quality is superior on Phillips TVs.
Design: Bezel edges, razor-thin designs and cast-metal stands ensure these TVs are more than just practical; they're aesthetically pleasing, as well.
3D sound: Immersive sound makes the viewing experience more enjoyable. Two full-range speakers deliver crisp vocals.
Smart TV: Wireless streaming is made easy through built-in apps, and you can stream virtually anything through your Miracast-powered device to your TV. The Smart TV is designed to handle upcoming 4K streaming services as well.
Range of sizes: Philips offers TVs in a wide range of sizes, from 32 inches up to 65 inches, perfect for everything from kitchens to home theaters.
Best for Researchers, movie and TV connoisseurs, bargain shoppers and home-theater enthusiasts.
Philips TV Company Profile
Company Name:

Philips

Website:

http://www.usa.philips.com/