Consumer Complaints and Reviews

I purchased this 55 inch 3 days ago. 11/25/2016. Cannot get tv to full screen on some channels. Philips told me to call my cable company to get it corrected. They was no help so my cable company told me to call Philips. They was no help so I continue watching some channels at a 40 inch view on a 55 inch tv. Save your money and buy another brand.

I have a Phillips TV for about 6 yrs now... Since I have it the TV turns on and off by itself sometimes... Oftentimes the TV is unable to power on. Very frustrating especially when you are trying to watch a particular program or have company over.

My Phillips TV is 6+ years old. It worked well for about 6 years. Now, I turn it on (with remote or at the set) and it keeps turning itself off. If I repeat this about 15 times it will turn on and stay on. What the heck is that?! I will never buy Phillps again.

I purchased a 39' Philips smart TV 2 years ago. At first the tv seemed to be working fine. It has all the apps, (except now you can't use the Facebook app) but I basically use it for YouTube and Netflix. 20 minutes into watching a show, it will freeze. I can't even turn the TV off and back on. I have to unplug the thing and start all over. Sometimes going through the process 3 or 4 times! The warranty has expired so I'm stuck with it until I can sell it on craigslist. I would NOT recommend anyone buy a Philips smart tv. I purchased 2 smaller Vizio smart tv's for my 2 daughters for their bedrooms, never had an issue and they watch it all the time. The Philips is in my LR and not used very often. Purchase the Vizio. DO NOT BUY PHILIPS!!!

My brother wanted a new flat TV for his new home and asked me to do the purchase for him. I checked out the stocks available in one of the local stores and had to choose from a range of TVs mostly manufactured in China. My only purchase requirement then was for the TV to be 32" as it's the biggest size allowed for the small space allotted for it. I chose the Philips TV because it had a better coated screen that won't kind of smudge when you press or tap on it. The TV was delivered the next day to my brother's house and I set it up myself. It was easy to assemble as I only had to put its table top stand.
I was a bit worried at first as the main TV may fall but then I later on realized I was not able put in a screw between the top stand and the main TV itself. My brother had the TV for 8 days now and his children love watching on it. It has a VGA, HDMI and USB port so I can plug in an external drive and watch videos from it or connect my laptop to it. I like the colors of the TV and the simple way of changing the settings to own preferences. I also like its audio features.
How do I know I can trust these reviews about Philips?
634,774 reviews on ConsumerAffairs are verified.
We require contact information to ensure our reviewers are real.
We use intelligent software that helps us maintain the integrity of reviews.
Our moderators read all reviews to verify quality and helpfulness.
For more information about reviews on ConsumerAffairs.com please visit our FAQ.

I bought a Philips tv but got frustrated with once it refused to turn on and all it did was give me a red blinking light. I had to constantly keep plugging and unplugging until it turn on so I decided to change the channel until I got one of the HDMI ports and the screen was black. After replacing many parts it now turns on but the biggest problem I have is that it will recognize certain entertainment devices hooked up but not others. For example my Blu-Ray DVD player, my Wii, and my PS2 are recognized but when I hook something else up it will not show up on my screen. All it is a black screen and no sound. I have tried everything I know but nothing works. I'm thinking of giving up and getting another tv but different brand.

This TV is only 2 yrs. old and all of a sudden the TV has problems turning on. After hitting the on button the screen is dark, the sound comes thru but no picture. Sometimes, it takes 15 to 20 times of turning off and on before I have a picture. I will never purchase a Philips TV again!

My son purchased the 39" smart tv. He had the tv less than a year and the volume would not work. When you tried to turn the tv volume up, it would automatically go back down to 0 once you let go of the volume button. We called Phillips and they had us go through some troubleshooting that of course did not work. They agreed to send another tv since it was still under warranty. We received the new tv, but the warranty was not extended, and guess what? The second tv is now doing the same thing. So basically we have been thru 2 tvs from Philips both with the same problem, same model and everything. I called Phillips and guess what? "Sorry your tv is out of warranty." So how is it that they have a model of tv that clearly has issues? Yes they wanted me to send the tv in for repair, but the time frame for that is going to be weeks. I will never buy another Philips product again and I DO NOT recommend! My son spent $350.00 for junk!

50 14 month old flat screen TV HDTV - Ok. Received as a Christmas gift December of 2014. Installed it Jan 2015. Today February 2016 no power and I don't feel I should have to pay to ask a question of the company that made it on how to repair or troubleshoot the problem. I have tried to contact them and get nowhere. It is very strange. It just decided to shut down.

First of all TV is over 5 years old. At the time price was good. 46 inch, great colors, lightweight, easy to manipulate. Would definitely purchase again.

I have a few different brands and they're all the same to me. The 2 Vizios I have are older and not working so well. They seem less durable than the Phillips.

My Phillips TV is a few years old but even under warranty, it would/will suddenly start screeching a static noise at random times which requires me to turn it off for several seconds. We tried to get it serviced while still new but the authorized dealer was "busy" and never came out.

When we tried to plug into the hdmi sockets, the hdmi connector fell inside the tv - this happened with two of three of the sockets. We feel the quality is poor when it comes to durability.

Television has great sounds & features. Crystal clear picture. Remote is very easy. Menu is great. It is not difficult to use. Most buttons is color coded but would like them to be a bit bigger for my eyesight.

We have two older TV's and cannot complain on either. The newer ones maybe. Most older TV's have been perfected and I have no problems with them. It is mainly just cable companies.

This LED TV we have is several years old and works great. Only problem was the remote had to be replaced. Like the size, picture and it's fairly user-friendly.

My Philips 42 in. TV is seven yrs. old now. It performs today as it did when it was new. I'm sure the price is lower now than when I purchased it. When I choose to buy a new one I'll consider the same.

It was an older TV. Doesn't compare to the new ones. I bought a new updated one. I have bought new ones, Insignia and Dynex. I have not had any problems with any of them. I bought different kinds that were on sale.

The size of the TV is very large for a small screen. Such wasted space. There is a thick border that makes you think it's a big screen. Navigating the controls are ok and it's slim.

I've been very pleased overall. It is in our bedroom so not used a lot. About 2 hours a day, 4-5 days a week. However after 5 years, there is a green line that has showed up on the bottom of the screen. While it is 5 years, I don't believe the Phillips flat screen 1080 720 that picture quality should have declined.

Have a Phillips TV and have no problems with it at all. Was easy to set up, color and picture are still great, even after having the tv for a couple of years.

Have a Philips 46". Other than occasionally dropping the wifi connection it works great. The wifi password will need to be reentered every time it drops. I wish it would just memorize the password and reconnect when the wifi kicks back on. It would also be awesome if there was a button on the tv that made the remote beep so I could find it when I lose it! "Hint hint".

The television worked well when first purchased. After one year we lost the ability to switch the TV on. When we got it on we had to keep it on 24/7.

I highly recommend it, the picture outstanding. The features are more than I even use. It is a 42 inch tv. It was very easy to set up and the instructions were easy to understand. They give you a regular booklet instead of these little pamphlets with instructions and troubleshooting.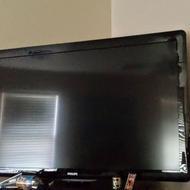 I bought a 55" smart TV from Best Buy 3 years ago. A month ago, it wouldn't turn on. I called a repairman who told me that the stand by power had gone out. Before this happened, it would never remember the wi-fi in the house. I kept having to put info in the TV again and again. Netflix would freeze up and would not continue with the movie I was watching. Sad to say, I'm going to end up paying over 200 to have this TV repaired, because the motherboard it uses is not in stock with suppliers so I'm on a waiting list :(. Totally bad investment. Would never buy a Philips again.

Hello. I have been using Philips LCD 48 inches for less than a year now. It was so perfect in everything until today. I want to use the smart tv and it keeps on appearing I should switch the tv set off and on again for smart tv to complete sign in. I have done that more than a hundred times but it is not working. Can someone have an idea of what the problem is?

I bought an LCD 42PFL3606 tv from Philips in Turkey in 2012. Guarantee was expired. A few days ago my tv is broken down and lines appeared in the screen. So I called the service to get it repaired. However they said it is not possible to fix the tv because it is so old and there is no spare part. "If you wish we can order the panel abroad but it costs expensive than a new tv." Afterwards I called the customer care and they told that "It would be better you buy a new one." But Philips services in Ankara and Istanbul in Turkey have not given information about repair and spare parts prices yet. They do not want to repair it, just to sell new ones. They just say that buy a new one. It is not fair. I will share this with all international forums. I hope in the future Philips learn how to repair the products they produced.

This TV has been practically indestructible. I've owned it for at least 15 years, and it's on approximately 15 hours a day. I turn it on when I come home in the evening from work, I leave it on when I'm asleep, and since I don't leave for work until the afternoon sometimes, it remains on for practically the entire day. In the entire time that I have owned it, it has required no maintenance of any kind. Only five days ago did it finally give out on me. It's definitely been a good investment.

I bought this TV in 2005 and it's still in perfect condition, though somewhat outdated. But it works great as a "smart" tv using a Roku.

We have an older model Philips 60" television. We bought it right when the new flat screens were becoming all the rage. We preferred this tv with a very sturdy bad because it is in the den and our children were young at the time. We worried they would destroy a flat screen. The TV has stood the test of time and even though the front screen protector is scratched and mangled the TV still works perfectly. I was surprised what this tv withstood.

ConsumerAffairs Research Team
The ConsumerAffairs Research Team believes everyone deserves to make smart decisions. We aim to provide readers with the most up-to-date information available about today's consumer products and services.
A leading manufacturer of televisions, Phillips is also a leader in healthcare, lighting and many other industries. Its TV models include LED, 4K UHD and Smart TVs.
Picture quality: With 4K UHD and upscaling, laser backlight and extreme motion smoothness, picture quality is superior on Phillips TVs.
Design: Bezel edges, razor-thin designs and cast-metal stands ensure these TVs are more than just practical; they're aesthetically pleasing, as well.
3D sound: Immersive sound makes the viewing experience more enjoyable. Two full-range speakers deliver crisp vocals.
Smart TV: Wireless streaming is made easy through built-in apps, and you can stream virtually anything through your Miracast-powered device to your TV. The Smart TV is designed to handle upcoming 4K streaming services as well.
Range of sizes: Philips offers TVs in a wide range of sizes, from 32 inches up to 65 inches, perfect for everything from kitchens to home theaters.
Best for Researchers, movie and TV connoisseurs, bargain shoppers and home-theater enthusiasts.
Philips TV Company Profile
Company Name:

Philips

Website:

http://www.usa.philips.com/