Consumer Complaints and Reviews

We bought a 55" LG TV three years ago and today it just died. Turned on the TV and was met with a totally black screen even though the power light flashed on. This product is the worst and a total ripoff. Please, don't ever purchase an LG.

50 inch LG 50lb6100 TV went blank, no picture. This seems to be a common failure, unit is 2.5 years old. LG wants to charge $245 to repair a known defective product. I think I just purchased my last LG product.

Dear Great LG. NOT UNLIKE YOUR PROMISE ON VARIOUS SITES AND PUBLICITY! I am a defense officer, PVS **, and I had requested your assistance for re-installation of 1 TR LG split A/C in my govt apartment ** on 22 Apr 17. My complaint number is **. Your rep (ie. from GR Aircon, mobile no. of the ITI qualified fitter **) attended the re-installation and taken Rs 3610 - for part installation of the A/C. Moreover he has damaged my A/C by breaking the copper pipe and taken the money from me for the item he has damaged. I am filing a case in front of consumer court regarding the issue of cheating me.
Moreover the ITI mechanic misbehaved with me and my wife. LG being a reputed firm keeping these type of uncivilized technician will ditch LG one time into the well. The mechanic hast not given me any bill and he has taken Rs more than 1000 - for installation. Being a defense officer I am requesting LG to return me the excess amount and to disqualify GE Aircons for your product supports at Chennai area. My mobile no. **.

I've read a lot of comments. Some good, some bad. Makes sense. If your TV hasn't crapped out yet, then your experience has so far been good. 3 years ago, me and my wife moved in together and bought a new LG LED TV. For the size and price, it made sense. We didn't bother doing much research, which we would come to regret.
Last night, I paused what I was watching to run to the bathroom. Came back, and the screen was black. It has audio, but no picture. Putting a flashlight up to the dark screen showed a faint screen. Burnt out backlight is the issue. This TV is not even 3 years old yet. Best part about it, is that me and my wife work ridiculous hours. We don't watch TV in the morning at all. Only at night. Point being, is we maybe watch the TV for 3 hours a day, 4 the most. We're at work the rest of the day. When she's off, she doesn't watch TV much. I do, but I average a day off once every 2 weeks. So you can see how often we DON'T use the TV. And that's a big part of my point. It's only 3 years old, but according to average usage, it's more like 1.5 years old, maybe slightly more. And the screen already burnt out.
At the moment, my Sony Flat Screen TV is sitting in its place. It's a TV that I've bought a little over 10 years ago. Not an exaggeration. It was expensive when I got it, but ten years later, I've never had to repair it. And when I was younger, there'd be days I'd watch that TV 10 hours straight, with an average of probably roughly 6 hours daily. So when comparing usage of the two, let's just say the LG is still in its infancy, while the Sony is a grandfather! Yet it's the grandpa that still outperforms the infant. That's insane to think about when comparing these TVs. Yes, the LG HAD a good picture, and maybe the best sound quality for a HDTV I've seen. So yes, while it's working, it's a good product. Until it stops working.
I will never buy an LG product again. Paying over 1000 dollars for a TV used sparingly, only for it to ** the bed after 3 years of minimal usage is pretty unforgivable. None of this review is exaggerated. We barely use this TV, and yet in under 3 years time, it goes out. I had virtually no problems with it prior, and was a happy camper. The one side note though that I will say is that about 6 months ago, I noticed that immediately after turning the TV on, the remote was essentially frozen for the first 25ish seconds. The TV remote that is. Right after turning it on, you essentially can't use any TV buttons (volume/settings/etc.), until the TV basically catches up with itself. I doubt that's related to the burnout, but an issue nonetheless.
Honestly, I don't even know if Sony makes TVs anymore. But I will find out in the next few days when we go to buy a new one, because LG won't see a dime from me again as long as I live. Again, to the people out there writing good reviews, have fun while it lasts. Because in the very near future, you'll be singing a different tune. And that's coming from someone who barely uses his TV. Good luck if you're an avid watcher/gamer.

Purchased an LG 50in flat screen 2.5 years ago and all of sudden it went black and then started flashing, thinking it was my cable box I called cable company because there's no way I believed a tv that new could burn out so fast and needless to say it was the television. I will never purchase an LG television again!
How do I know I can trust these reviews about LG TV?
761,264 reviews on ConsumerAffairs are verified.
We require contact information to ensure our reviewers are real.
We use intelligent software that helps us maintain the integrity of reviews.
Our moderators read all reviews to verify quality and helpfulness.
For more information about reviews on ConsumerAffairs.com please visit our FAQ.

Only had this 75 inch LD 3D tv already screen goes black and you can hear the sound but no screen. They will not help you. They don't care at all about us that spend our hard earned money on their crap. This is the worst TV ever. Beware. Never ever buy a LG TV in any size, shape or color.

LG TVs (LG TV 47LE5400 UC) were not reliable due to they used cheap materials. The HDMI input was not working, no signal on the screen. I called LG customer service, the customer service told me that too bad that it's out of warranty and asked me to pay $245 plus taxes for the service and there was no warranty for the service!!! LG does not care about their default products!!! This was my first and will be my last LG product!!! There were many complains about LG's TV, many YouTube for how to repair LG HDMI motherboard!!!

App won't download. It's called the blame game. I've had 3 repair technician in my home in less than a month. Main board was replace with a refurbished board. Didn't work. Blame Netflix, the tech, and now it's HughesNet. Why not accept it's a bad product and replace it with something works. My ADVICE check review before buying larger TICKET items.

We bought the LG 50LN5310 3years ago and have had nothing but grief with it. Now the screen went black no picture, called service center, went to the Philippines, could NOT understand the Tech, had to go through 4 people to get one we could understand, had to pay them $257.25 upfront to get a service Tech appointment in 5 days. LG is 100% in the know of the problem so they extended the warranty due to the very high rate of failures. I do not like the fact that this company continues to profit from the junk they are flooding the market with and using the consumers as test dummies. I would suggest another brand but in this New World Order everything manufactured has these deficiencies reverse engineered into them.

LG 39" LED TV has had great picture and sound quality but after 3 1/2 years the set is acting up. My product has gone from "Life's Good" to "Living Ghost." The set does what it wants. Changing batteries in remote made no difference. Volume either goes all the way to max or all the way to minimum. Channels change but continuously recycle through all available channels and do not stop on any. I have a little control by using the buttons on the side of the TV I have never had a TV brand last such a short amount of time before displaying problems. I called tech support to see if there was something I could do to stop this but all they advised was to call for a service repair which there are no authorized LG repair centers in my area.
Customer service was a bit more sympathetic but the bottom line is that LG does NOT seem to care about their customers or their products. Customer service asked that I upload a copy of my receipt and they would possibly authorize a complimentary service call (even though the product was registered for warranty at the time of purchase and they already had this information). They denied the complimentary repair but offered no reason. First and last LG product I will purchase. I must agree with all the reviews posted about LG's lack of customer service and care about its consumers and products based on my own experience.

Had a 50-inch LG HDTV 4K just 3 weeks with a multitude of problems. Their rep who was 3rd world and hard to understand gave me the phone number of the repair service who supposedly would come to my home to repair. I called them and was told they would need an authorization number from LG to get paid. Called LG again and was told repair service would have to visit my home first (80 miles away) to diagnose the problem BEFORE they would issue the authorization number and the repair service declined to do so. This is a classic Catch-22 and appears to be an evasion of their warranty responsibility. Fortunately, the dealer who sold the TV has agreed to take it back and replace it with a different brand. No more LG for me!!

My wife and I were extremely happy with this TV until it recently died on us. The sound is crappy, but we have our own home theater system, so this wasn't an issue. I say that we were happy because our TV recently crapped out. The LEDs burnt out after only 3.5 years of ownership. Apparently a significant number of LG TVs have this issue. We will never buy LG electronics ever again. Spare yourself the frustration and aggravation. Look elsewhere. Don't waste your $$$.

LG LED TV 47LNF5400 went black within two years. After speaking with an LG customer service rep, the only offer of help was to provide me with the number of an authorized repair facility which I could have obtained on my own. As evidenced by its inherently defective product and unwillingness to deal with customer dissatisfaction, LG is only interested in generating revenue. It places no value on earning the goodwill of customers. I will not purchase another LG product again.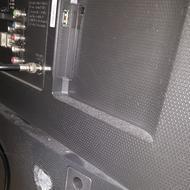 I purchased this Lg 55 in 4k tv in May 2015. Placed it on the stand where it remains. My husband notice that the back panel was turning white and cracking or crumbling. I had an extended warranty and called them, only for them to say that it was physical damage. It's no way we can turn the back panel white or make it crumbles. It looks like it's melting from the outside in. Do not buy LG.

My LG 47LN5700 lasted 2 years, then the screen went black. I called LG. They said that it is no longer under warranty. I then took it to an LG authorized repair center. They told me that they would have to replace the backlights and it would cost $234.00 to fix, I agreed to get it fixed and a week later I picked it up and watched TV for about 2 hrs. that night. The next day about 10 minutes after turning it on the screen went black again. I called the authorized repair center and was told to bring it back. They again fixed the problem, but about 4 months later the screen went black again. When I called the authorized repair center they told me that I would have to pay to get it fixed again because their repairs only come with a 30-day warranty.
I did some internet research and I found hundreds of other people with the same problem, faulty backlight LED's. This seem to be a huge problem with LG TV`s not only the 47LN5700. Everyone's LG TV's are failing and LG seem to be doing nothing about it. I cannot believe that a TV is only going to last 2 years. I will not spend another dime trying to fix this TV again and since LG is not standing behind their product my advice to anyone looking to buy a new TV is buy another brand. Don't waste your money on LG TV`s.

Called LG 3 times in the last 12 months about a popup that keeps showing up on my tv "new input device detected". I only have had my cable box connected to that tv. Bought the tv in July 2013. LG support sucks as if you read reviews on their tv it happens a lot, and they don't care. They will give you a number for a local place to look at it at your cost, as tv is out of warranty on a defect in their tv. Do not buy an LG tv. It is more like a GL tv. "Good luck" if it works.

I bought an LG 65 Inch OLED TV (65EF9500) in October of 2015. I did not get the extended warranty. In hindsight, obviously I should have gotten it. However, supposedly this was the best TV on the market. The cost was $5,000. After about a year and 6 months, I started getting about 20 small vertical blue lines on the left side of the TV. I called LG and told me to have a TV repair person to come out and diagnose which cost me $99. They said using Geek Squad was fine since there were no repair man they recommended close to me. They stated to call them back after the diagnostic to see what they can do. When I called them back, I spoke to a customer rep and a supervisor. They both told me there was nothing they can do except recommend repair services why I could comparison shop prices. Why did they want me to call them back?
You would think they would try to help out their customers considering the cost of the TV, etc. The cost to replace the panel is $2,800!!! I'm better offer buying another TV. LG can care less. LG made no effort to rectify this. LG is not a good company. They only care about $$$ and don't understand how to keep a long term customer. I was thinking about buying an LG refrigerator, but after this experience no way. Needless to say I will not be a repeat buyer. STAY AWAY FROM THEIR PRODUCTS. THEY WILL NOT STAND BY THEM. Buy Sony or Samsung.

The LG flatscreen 42" LED TV I have is five years old and the HD is excellent. I also bought an LG 20" flat screen for my desktop PC. I've had that one for six years. I had a different brand for years, but as all electronic devices, they started to be made overseas. I figured that if I couldn't beat the maker, I'd get the best one I could find. I've had flawless performance for five plus years. Before my purchase, some people said they had audio problems. Well, in my experience, it's the networks and movie makers that have a volume problem. We all know that commercials used to be louder than the program you were watching. Technology improved and the volume still does have to be elevated on different programs, but commercials now play through at the same volume. LG is the best brand, in my opinion.

My LG tv at least has lasted a long while. It doesn't break easily, the picture quality is amazing and the sound quality is great.

We purchased an LG TV 65" two months ago. The screen went bad and we contacted LG for repair. The LG repair person came and he said it is a major problem and to contact LG for replacement TV. We contact LG and they said that they will not replace the TV and that we have to wait for the repair regardless how long it will take. They said it may take months to get the parts and we have to wait because they are back-ordered. This is unbelievable that we are at complete mercy of LG when and if they want to repair the TV. This is the first and last time we will ever buy LG products. Their customer service is horrible. Do not buy these product because the company does not stand behind it. They will give you the runaround until you give up.

I highly recommend purchasing an LG TV. The screen and sound is amazing. Feels like we're at the theatre every night. I'm not very tech savvy so when I seen that it was labeled in bigger letters in the back like the HDMI connection, it was a plus. The settings is very self-explanatory and easy to set up. Easy to connect any gaming, satellite and memory cards to. It's also sturdy sitting on our TV stand, some of the other brands we looked at were unstable when we'd turn them from side to side. We love our big screen LG!

LG you need to quit ripping off hard-working Americans with your crappy LCD TVs. If you can't build something to our standards or expectations keep your garbage in South Korea. My whole nightmare started at Conn's which is another nightmare story in its own. In 2014 I purchased a 70LB7100 70 inch LCD / 3D / Smart TV. Hey LG why do you state these TVs are smart? The TVs are far from smart and the idiots who design or build them are even worse. I paid $3000 for this boat anchor 3 years ago. 13 months from when I purchased it had the LCD screen just crack on its own. Internal cracked screen from heat. Hey LG have you ever seen DVD players or cable boxes, or any other electronics that tend to get warm or hot? I imagine you probably make some of those as well. Because the one thing that those players or boxes have in them to pull heat out of the unit are small blower fans.
Since the warranty is up and a month later this happens is just crazy. You people are a horrible company. Fans in your crap TVs will help with what happened to me. I 100% will be spreading the word on your company and the crap you people sell and rip others off with. Never will I purchase anything from South Korea or LG ever again. And next time I fly over or to Incheon International Airport I plan on bringing your trash that you sold me back to you and you should and can dispose of it in your trash. It's your garbage not ours. These corporate idiots need to be investigated and they need to be held accountable for their crap they are selling here in the US. I think they should be arrested as well. They need a serious class action lawsuit against them right away. Because if not they will continue selling crap to us hard-working Americans. WHOEVER READS THIS I HIGHLY RECOMMEND NOT PURCHASING ANYTHING FROM THESE CROOKS!!!

Easy to operate. We DID a lot of research on the Best to Buy. This is our 2nd LG big screen so there really was not much of a learning curve. We DID extensive research on all models before we bought the LG. Very satisfied.

I purchased an LG TV which burned out during the warranty period. The service center LG contracted to do the work failed to show up for a month. After an inspection of the TV they never returned to complete the repair. It has now been three months with many calls to LG and they cannot or will not find a technician to complete the repair. They will not acknowledge responsibility for their contractor (who will no longer take calls from LG or me). I just want this piece of junk TV, which broke during the warranty period, fixed.

We have an 84" LG tv with 3D capability. It's a phenomenal picture and my husband loves that machine more than his car. This television is reliable and state of the art. We have had rave reviews from our friends over the picture and the 3D effect JUMPS off the screen. The color is clear and sharp and the surround sound adds to the experience during movies.

The LG brand has outperformed a more expense TV I have owned in every category mentioned. It has simplified programming and setup. I believe there is no better value out there today and the sleek appearance of the TV is great. Whether this is your first purchase of a TV or you are you have purchased several in the past, LG is definitely the ideal set for you. You will find with any model you pick - clear picture quality, ease of use, sound quality, amazing price point, and easy options to mount your new LG. Due to superior quality and long life you will never doubt your investment in an LG product!

My LG 50 inch Plasma TV has died only after 3 years!!! These things are supposed to last 100,000 hrs. LG won't help but want to charge me to send a technician out to have a look. I have old tube tvs that are over 20 yrs old and they work perfectly... Will never purchase an LG product ever again.

I looked and researched a lot of TV's before buying this one. I asked people who had actually bought an LG, and asked if they would buy another, 100% of the people I asked said YES they recommend this brand and would buy another. I got the 49" at Wal-Mart for less than $400. It is not a smart TV, I didn't want a smart TV. I have had my LG for almost a year, and so far no problems, either with picture or sound, which is great by the way. It has an Easy setup and a sturdy base, too.

Great TV, reasonably priced. Has not shown any change in picture or sound quality in 3 years despite being on sometimes 36 hours straight. I have had much luck with LG products. I feel they produce a good product that is also affordable. I've had LG devices last longer than more expensive, popular brands.

My LG TV (43UH6100-UH) is not even a year old when the first oddity I experienced was being awoken to it turning on last night, which by the way, is pretty creepy. As I went to turn it off, I noticed that channels were automatically changing, creepy again. My second experience was this evening. I was able to watch tv for about an hour or so when I noticed the enter button would not work. I tried other buttons that worked, while a few more didn't. I tested the batteries and put new ones in and the remote worked except for those few buttons. I tried googling an answer but nothing worked, so I then contacted their customer service department. The representative was really no help at all. She told me to try a few things but nada.
She then told me that there was no way to troubleshoot the remote but since I had the tv less than a year, I could be sent a new one within 7-10 days. :( I am very disappointed in the fact that I am still paying for the tv, have had it less than a year, already experiencing problems, and LG's customer service is as poor as its product. When will companies start caring again about the honesty and integrity behind its products and its customers instead of taking people's hard earned money for their gain? I advise anyone not to buy or support the LG brand.

ConsumerAffairs Research Team
The ConsumerAffairs Research Team believes everyone deserves to make smart decisions. We aim to provide readers with the most up-to-date information available about today's consumer products and services.
A top-tier TV manufacturer, LG has steadily expanded into smart TVs. Today, the company offers several series of new technology, such as the 4K TVs, in sizes larger than 55 inches.
Built-in sound systems: All models feature built-in speakers for excellent multi-channel and surround-sound technology to deliver a cinema-like experience.
Smart technology: Many models provide built-in apps, allowing you to switch between programs and apps and quickly connect to external devices.
Smart technology: The LED TV models have at least full 1080p resolution or higher to ensure the picture is crystal clear. In addition to that, automatic upscaling ensures that if a movie or show doesn't match your TV's resolution, the TV will enhance the content for you.
IPS display: Models with IPS technology increase the viewing capacity of your screen, allowing you to get a great view no matter where you're sitting.
3D viewing: Watch 3D content without losing the 3D effects.
Best for Home-theater enthusiasts, movie and TV connoisseurs, bargain shoppers and researchers.
Company Name:

LG TV

Year Founded:

1958

Country:

Korea Sout

Website:

http://www.lg.com/