Consumer Complaints and Reviews

I'll never buy an LG product (UF657700) again going forward. Got three year, no interest financing on my TV when I bought it, so I am still paying for it. Anyways, so my son is playing PlayStation the other day, and he goes something is wrong with the TV... Bottom 2/3rd of the TV is flickering. Now, I'm frustrated because I think maybe it's the PlayStation or whatever and nope it's the TV. So I call LG, they're completely useless and give me the number for their licensed tech in my area... He asks what the problem is and I tell him... He's like that is most likely the panel. He needed pictures to definitely see what the problem is, but he hasn't gotten back to me yet on that.
Now, typically if the TV was at an age where I thought it would be reasonable for something like this to happen... I would have zero problem with it and just buy a new TV, but it's two damn years old. No excuse for this. The first year it was barely used. Second year it got at best, moderate usage. If it was on 24/7 for two years then it's on me. I contact them again, and ask what the life expectancy is of their TVs, and get it's five years or more. Then get run around that it's out of warranty so tough **. I'm wondering if I can file a complaint with the BBB... There's ZERO excuse for a TV that costs so much to break 2 years after buying. I will never buy an LG product again, and will advise anyone I know to do the same.

DON'T BUY LG! Purchased this TV (LG 70uh6350 Smart TV) from Costco 12/27/2016. When adding HDMI cable my 27 year old son who knows electronics very well removed the optical port cable for me when we took off the wall so I would not damage it and the port snapped and broke as soon as he pulled on the cable to remove it. Called Costco Concierge service as directed who in turn called LG who told us "NO Warranty" as we broke it.
TV is 6 months old with 3 year warranty! Spoke to supervisor at Concierge who called them back with no better results! Basically told me I'm out of luck. Called LG myself and they already had me in their system and they were VERY RUDE and told me no warranty, basically go pound sand! Took receipt up to Costco store and they were shocked at store level. They wouldn't even send someone out to look at it. Costco store manager told me to get estimate to repair and they would either pay for repair or refund. Estimate is over $500 and they have to replace the main board. PROBLEM IS THEY ARE ALL ON BACKORDER WITH NO ETA!
I have found out since then that this is a problem port for this TV as there are no boards available and even the refurbished boards are out of stock. Closest LG replacement TV is $800 more and I will not pay another penny for another LG TV and most likely won't buy from Costco as they told me this is a one time accommodation! ON A 6 MONTH OLD TV WITH A 3 YEAR WARRANTY! REALLY! LG IS A HORRIBLE COMPANY WHO DOESN'T STAND BEHIND THEIR PRODUCTS! DON'T BUY LG! If not for COSTCO standing behind them I would be stuck!

LG TV 60UF7300 - Barely a year and a half into buying this TV, it is unusable. I have had issues with this in past too. Now to fix the TV, they are asking that I buy a part which is about half the cost of the original TV. WHAT CRAP!! This is a recall situation. Based on what I see, this part goes faulty very often on this TV and many people have complained about it. They just need to recall the TV and pay us our money back. The part that's bad is a Main board which is about $400 on the web and mostly not available anywhere. The ones that are available are probably refurbished as they want you to send the faulty part back to them. I bet they know how to fix it and that's what they do. Fix it and sell it at $400 to the next guy. Very Very disappointed in LG. Life's NOT Good!!!

We bought two LG tv's at Best Buy in 2015. One of the tv's which is not used regularly went black and flashed a split second of the channel the tv was on. I called LG and they tried troubleshooting. NO LUCK!! I asked for a supervisor to help. I really think a tv should last more than 18 months, even though it is out of warranty. The supervisor's words were "It's man made, so you never know how long it's going to last" WHAT??? Are you kidding me. What a schmuck!!! Never again would I buy an LG tv or any other product that the "man made" people make. Very poor tv!!!

55 inch LG from Costco /55LB6100. After owning the LG TV for less than two years the screen went black. The warranty replaced the bulb at no cost to us. This television is in a master bedroom with very little use. It's connected to a surge protector. In the third year, the screen went black again. It's out of warranty. I wouldn't pay to fix this TV because it's obviously a piece of garbage. We've never had any problems with any of our other TVs. I would never own another LG television. I notice from the other reviews that LG doesn't care so I won't waste my time trying to contact the company. The TV is like new. So sad about this purchase.
How do I know I can trust these reviews about LG TV?
855,731 reviews on ConsumerAffairs are verified.
We require contact information to ensure our reviewers are real.
We use intelligent software that helps us maintain the integrity of reviews.
Our moderators read all reviews to verify quality and helpfulness.
For more information about reviews on ConsumerAffairs.com please visit our FAQ.

For Christmas 2016, I decided to give my Family a television upgrade for Christmas. I was on my second LG smartphone and had planned on an LG television, so that I could take advantage of their Miracast technology. In an effort to "WOW" my family, I went all out and purchased a "NEW" 65" 4K, 3D Smart TV, Model 65UF8600 on November 2016. On December 9, our television was delivered, I registered the television with LG on December 15 and a few days after that, my screen went green with other undesirable effects. I contacted LG who in turn contacted their authorized repairman. The repairman had me text him some pictures of my TV screen and he determined it to be a faulty main board. We decided to wait until after the holidays as it was a busy time for both parties.
By the first week in January, the repairman replaced the main board and said it's not uncommon for these to fail, even on new merchandise. We were pleased with the result and watched 3D & 4K titles for the next few months. In the middle of May, my wife and I noticed that our television display was "jumping" in and out. We tried disconnecting everything and just running the apps to no avail. I used LG's troubleshooting guide on their website and reset the television but it was still behaving erratically. On May 23, 2017, I contacted LG for a repair, who in turn, contacted the repairman. When the repairman arrived, he believed it might be the main board again and ordered it. We waited and waited to be contacted, but we couldn't get a hold of the repairman.
After numerous attempts, I finally got through to the repairman and he said the mainboard just came in. The repairman replaced the board but the problem still existed. He informed us that it was the panel and would have to order one. After multiple failed attempts to contact the repairman, I finally got through on July 7, 2017. The repairman said he no longer had the repair as I was no longer in his portal (whatever that means). I logged in to LG's website and someone closed my repair ticket, stating that the "Status" was "Cancelled" and "No Repair Service Needed"??? You could imagine my anger, but I let some time pass to cool my head before I called LG.
I called LG that evening and the person I spoke with said I cancelled the repair. I told her that I never contacted LG since the initial work request & that this needs to be fixed. She looked into it and said the panel was approved but was on a 2-3 day back order. She said she would notify the repairman and get back to me on Monday. Nobody got back to me on Monday, so I called back on Tuesday, but of course, they never heard of the person whom I spoke to, so I had to start all over again. Not feeling that I was getting anywhere with this tech, I asked for a supervisor.
The next person I spoke with was an executive supervisor and I had to explain this all over again. She asked me why I thought it was the panel? I told her the repairman said it was the panel. So now, she tells me the panel is NOT approved and it's up to tech support to approve it. I told her I was halfway through my warranty already and the television only worked half of that time. She said she would reach out to the repairman and find out what's going on.
Fast forward to today, Saturday, July 15. Still no contact from LG or the repairman. I sincerely believe that they are just going to let my warranty run out. I complained to LG that they should replace the defective device or refund my money. I received an email that stated "... a refund or replacement for our TV products is unavailable. The best we can offer you is to have the unit repaired." But as you can see above, a repair is also no available. Every time I call LG, I spend a significant time listening to...,"Thank you for your patience. We recognize your time is valuable and we're working hard to personally respond to your call as soon as we can." That'll be the LAST LG product for me and I'll be sure to pass this along to anyone who may be considering any LG products in their future.

We bought our 55 inch LG TV brand new 2 years ago. Tonight it started out of nowhere flashing on the whole screen. The picture flashes constantly and the sound still works. Called LG, no help other than to refer to have me pay a tech to fix it. It's 2 years old!!! It should not be broken or not working at only 2 years old. I'll never buy an LG product again!!!

We purchased a 48" LG TV on 6/7/2014 and also bought the extended warranty for 3 years. The warranty expired on June 7, 2017 and 20 days later the picture went out. Has sound, but picture is black. This is the second time that we bought a TV and added the extended warranty and the TV went out within a month after the warranty expired. Seems like a TV should last longer than 3 years. We now purchase another TV, but did not add the warranty. Will not buy either of these brands again.

I own more than one LG product, two of them are televisions. My model 47ld500 was on and the next thing I heard was a loud popping noise and the tv went all black. Now there is no sound, no picture, and I am extremely disappointed as it was not that old.

Purchased May 15, 2016 and out of warranty 6 weeks. Sound is GONE. I am not bothering to have it fixed - I was told by a friend NOT to buy a Samsung brand because their sets last a couple months AFTER the warranty has expired, too. I had a cheap desktop TV prior to this one, and it lasted several years. I think it was a Vizio. No more LG TVs for me. I figured it cost me $12 a month. Paid $128.39 with FL state sales tax from Best Buy on 5/16/16.

LG TV 60UF7300 - My TV is a year and a half old. The screen flickered and then went completely snowy. Researching the problem I've come across hundreds of people with the same issue. The main board fails abruptly in a year or two. Convenient since LG provides a 1 year warranty. I emailed them and they informed me that sometimes parts just fail. That's true but when it is the exact same part failing early in its life in hundreds if not thousands of cases, it is not just a random part failing. It is a poor, flawed design. LG also informed me that they do "stand behind" their products. Sorry, they do not. Check out the "authorized" LG repair shops who get their parts directly from LG. A new board is $300-500. That's a joke. Plus labor.
This model TV at Best Buy is $699 right now. I have a degree in electronics and can repair it myself but any shop, Ebay etc. that has this part (EBT64077102 or EBT64077103) is sold out. I will NEVER, EVER buy another LG product. Total farce. There should have been a recall on this television and/or a new board offered to paying customers. There should be an option for zero stars because that is what LG deserves for the quality of this television and their lack of admitting that this main board is flawed in its design, AND their horrible treatment of what had been a loyal customer.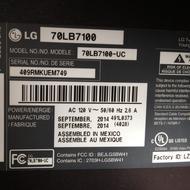 We bought our 70 inch tv had it for thirteen months then black screen and only sound. Called LG TV. Out of warranty after jumping through hoops. They said they would extend the warranty and repair tv. Again more hoops. They replaced almost the entire tv just keeping the shell and legs using two repair men which it probably would have been cheaper to just send a new one and the customer would have been happier without all the mess. It has been 9 months now and tv is starting to go to black screen again and still has the sound sometimes for 30 seconds or sometimes hours you never know. Called LG. they are so sorry.
Do you want to know where to repair, no why repair and spend money on this one that has already been repaired? This is not the first problem I have had with an LG product. I thought it was just a fluke, 3 drawer refrigerator light stayed on with door closed, cooked the hamburger on the top shelf, the finally replaced it after they put a different light in as they knew they already had a problem with other units and the doors in the freeze have broken a couple of times. I called just to let them know that I will never buy any of their products, which is unfortunate the tv has a wonderful picture when it works and for a smart tv relatively easy to use, but I cannot recommend any of their products.
Where are the appliances that last for at least ten years, everything is made to be obsolete. I'm surprised they haven't had a class action suit or recall for products but only the attorneys win in that situation. Just buy a different brand if that is your choice. It is not surprising that they don't participate in ConsumerAffairs site, I know some people have had good luck maybe mine just sucked. Sorry had to vent.

I have purchased LG tv. I have purchased new LG Smart TV model no. is 32LH602D. While purchasing this model the dealer was told me that this model is full HD means 1080P. He also shown me brochure of this model which is attached with this mail, on the brochure the same model number is mentioned as a full HD 1080p and that's why I have purchased this model because I had to purchase Full HD TV, but when I seeing picture clarity is not looking like Full HD. Therefore this is cheating with me.

TV issue for Vertical line on LED LG TV - Model No. LED/55LA6200, Receipt No. ** from Giriyas, Jaya Nagar, Bangalore (INDIA): We had Purchased LG LED 3D Smart TV LG-LED/55LA6200 on 14th April 14 of amount RS 115,000... Since last 1 year TV has got 1 vertical line, initially the line was very thin and visible only for few seconds but since Nov 2016 it is getting thicker day by day. I am worried it will get even thicker or spread across whole screen. I ignored it initially considering it is small issue but now it has become painful, I contacted the customer care, and they are asking me to change the panel which might cost 50% of the TV cost. We are shocked to hear about the defect within 2 years. I wondered such a big brand like LG is selling faulty product in Market with huge COST which can't work for even 2 years properly.
Surprised to hear from the technician, that it is common problem with LG TVs panel. LG is selling outdated and faulty products thru their dealers. I have been cheated by LG. This is faulty piece been given to us and I would like to get this replaced at first hand. I am no more a fan of LG Products. How come LG give a warranty of 1 year for a faulty and outdated product... We are investing so much money on brands like LG with a trust that it will last longer. We could have purchased unbranded products which gives better service and warranty at much lower price with same quality. It is disappointing, for a middle class person to bear the panel replacement cost.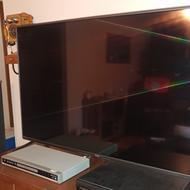 I had bought my LG TV on black Friday of 2014 and today June of 2017 my TV picture has randomly started blinking. Everything works fine, picture is great, volume is fine, you can play dvds. It has set on the stand since the day we have got it and has not moved. They are telling me my HDMI ports are bad. I tried a new cable (didn't have a second one on hand when they said it was the ports). Still no luck. Will not buy another LG TV.

I bought a LG TV two years back and now it has complaint... three white spots in the screen when TV is on... Now to repair I have to spend good amount of money... My learning here is buy from best brands like Sony, Panasonic or Samsung... Other brands will be little cheap but will incur high maintenance cost... Please looks at factors like reliability, quality and maintainability when buying electronic product.

TV red light turns on but TV won't. I see a number of people are having the same issue as me. Three years and it goes out. What a bunch of crap. I even bought the 3 year extended plan. Will never buy LG again and will encourage others not to buy. What a rip off.

I purchased a 7,000.00 dollar OLED TV 17 months ago and the panel is going bad. LG will not replace the panel. Common sense says it is a flawed product to go bad that soon. LG says they would have extended the warranty if I would have called a month ago. I will never buy another LG product!!!

LG TV is a dependable product at a fair price. In an age where you buy a product and it lasts less than two years, LG goes beyond what you would expect and gives the consumer what it expects at a price point that is affordable. We bought this TV about three years ago and we have moved three times since then. The quality of the picture and the performance has not wavered in that period. I would recommend this brand highly.

I have always had an LG or Samsung TV. The LG is my favorite. It has great resolution, reception, colors, definition, sound, picture quality, and clarity. My LG is 42" and it's great for my apartment lifestyle. I am a satisfied customer, and I believe in LG... great product. Kind of pricey, but delivers. I would not hesitate to let consumers know that this brand has always been reliable and enjoyable. Thanks.

Ok no holds barred, I like the TV, the picture and sound are great. It's a 43" LG and it's a good TV for those who want a good TV but on a budget... But it isn't a smart TV so it doesn't have all the bells and whistles. And that is what I had a hard time with. Because to set up anything in the menu, it seemed to me like you needed a degree from MIT. It truly took me over six months asking questions online to anyone for help. I stumbled on to a customer service FAQ's page and I noticed a lot of people were having the exact same problem as I was. You could set it up with cable or satellite, but to drop those services and go with an antenna you could not. Finally someone online accidentally figured it out and shared it with everyone. It was an issue you needed the original remote and the factory bypass codes for the TV. And trust me those codes are not in the manual.

The LG TV was a gift and I've owned an LG cell phone which was better than I expected. And I thought that would be the same with the television but that wasn't the case. The sound is not strong for full volume. Volume is poor quality. It should have come with enhanced sounds or surround sound would really increase the quality of this product.

The TV has good colors and superb performance so far. Frankly the unit I have has a 3d feature which is awesome. One can play or watch normal programming but can set the unit to 3D. Awesome experience.

We bought our LG 60" 3D TV with passive glasses and have loved it from the beginning. It's going on 8 years old now. The only thing that I would've done different, so get the Smart TV option. The picture quality is great! Especially for someone who is farsighted. The passive glasses are great because I can use them with my glasses on and they aren't heavy on your face. We have had great luck with this TV. It's the perfect size for our living space.

I bought a LG 3D TV at $3.500.00 model 55LW5600-UA two years ago and the main board goes out. The problem is that LG discontinue this main board CRB61398007 and the manufactured date is 2013!!! I will never never in my life will buy LG products because this. I'm asking for similar parts in internet with the agent suggested for LG calling to 1-800-243-0000 / 1 800 274 4666. The agent offered from LG named, VIDEO TECHNICAL SERVICES in Bayamon 787-786-8410 do not service well. They have the TV from 2017.04.17. They take $80.00 and never call me. The communications service at this day is too much poor. The information is only when I call. I will lost my TV? I will talk about LG all my life to evade nobody in my family and friends to buy nothing from LG. The baddest brand with an obsolescence totally impossible to admit.

The LG TV works! The picture/resolution are clear and sharp, and the color is easily adjusted. It was a bit more expensive than our second choice, but it is now four years old and it has worked flawlessly despite a LOT of viewing miles.

The LG 49 inch Smart TV 4k hi def is a great TV. Simple to use, wifi hook up easy. Picture is phenomenal. Only one regret, I bought it at Rent-A-Center and paid about $200 more than I would have paid at Best Buy but all in all I'd 100% do it again. Great.

This TV is a quality TV, left on 24/7. It is not quite as sharp a picture as I prefer but great size. Clarity is pretty good and I would purchase same brand again.

Their price is very competitive and the TV performs well. I had a 42 inch and 6 months bought a 55 inch and hung it on the wall. Picture is very clear and so far no complaints. Had several LG TVs over the years and had the previous one for over 6 years. Was still working well - just wanted a larger screen and bought it because PC Richards was having a great sale and thought it was worth it for the larger screen and am happy with all the LG products I have had.

The LG TV has a great picture along with controls to change the parameters that control the quality of the picture; great sound as well. Smart TV that allows direct viewing of NetFlix, websites, Youtube, Hulu, etc. Many ports including multiple HDMI ports, allowing input from many devices such as Chromecast in addition to typical devices like a DVD player. Great quality, cheaper than other premium brands like Sony.

ConsumerAffairs Research Team
The ConsumerAffairs Research Team believes everyone deserves to make smart decisions. We aim to provide readers with the most up-to-date information available about today's consumer products and services.
A top-tier TV manufacturer, LG has steadily expanded into smart TVs. Today, the company offers several series of new technology, such as the 4K TVs, in sizes larger than 55 inches.
Built-in sound systems: All models feature built-in speakers for excellent multi-channel and surround-sound technology to deliver a cinema-like experience.
Smart technology: Many models provide built-in apps, allowing you to switch between programs and apps and quickly connect to external devices.
Smart technology: The LED TV models have at least full 1080p resolution or higher to ensure the picture is crystal clear. In addition to that, automatic upscaling ensures that if a movie or show doesn't match your TV's resolution, the TV will enhance the content for you.
IPS display: Models with IPS technology increase the viewing capacity of your screen, allowing you to get a great view no matter where you're sitting.
3D viewing: Watch 3D content without losing the 3D effects.
Best for Home-theater enthusiasts, movie and TV connoisseurs, bargain shoppers and researchers.
Company Name:

LG TV

Year Founded:

1958

Country:

Korea Sout

Website:

http://www.lg.com/