Consumer Complaints and Reviews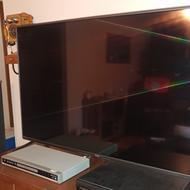 I had bought my LG TV on black Friday of 2014 and today June of 2017 my TV picture has randomly started blinking. Everything works fine, picture is great, volume is fine, you can play dvds. It has set on the stand since the day we have got it and has not moved. They are telling me my HDMI ports are bad. I tried a new cable (didn't have a second one on hand when they said it was the ports). Still no luck. Will not buy another LG TV.

I bought a LG TV two years back and now it has complaint... three white spots in the screen when TV is on... Now to repair I have to spend good amount of money... My learning here is buy from best brands like Sony, Panasonic or Samsung... Other brands will be little cheap but will incur high maintenance cost... Please looks at factors like reliability, quality and maintainability when buying electronic product.

TV red light turns on but TV won't. I see a number of people are having the same issue as me. Three years and it goes out. What a bunch of crap. I even bought the 3 year extended plan. Will never buy LG again and will encourage others not to buy. What a rip off.

I purchased a 7,000.00 dollar OLED TV 17 months ago and the panel is going bad. LG will not replace the panel. Common sense says it is a flawed product to go bad that soon. LG says they would have extended the warranty if I would have called a month ago. I will never buy another LG product!!!

LG TV is a dependable product at a fair price. In an age where you buy a product and it lasts less than two years, LG goes beyond what you would expect and gives the consumer what it expects at a price point that is affordable. We bought this TV about three years ago and we have moved three times since then. The quality of the picture and the performance has not wavered in that period. I would recommend this brand highly.
How do I know I can trust these reviews about LG TV?
794,387 reviews on ConsumerAffairs are verified.
We require contact information to ensure our reviewers are real.
We use intelligent software that helps us maintain the integrity of reviews.
Our moderators read all reviews to verify quality and helpfulness.
For more information about reviews on ConsumerAffairs.com please visit our FAQ.

I have always had an LG or Samsung TV. The LG is my favorite. It has great resolution, reception, colors, definition, sound, picture quality, and clarity. My LG is 42" and it's great for my apartment lifestyle. I am a satisfied customer, and I believe in LG... great product. Kind of pricey, but delivers. I would not hesitate to let consumers know that this brand has always been reliable and enjoyable. Thanks.

Ok no holds barred, I like the TV, the picture and sound are great. It's a 43" LG and it's a good TV for those who want a good TV but on a budget... But it isn't a smart TV so it doesn't have all the bells and whistles. And that is what I had a hard time with. Because to set up anything in the menu, it seemed to me like you needed a degree from MIT. It truly took me over six months asking questions online to anyone for help. I stumbled on to a customer service FAQ's page and I noticed a lot of people were having the exact same problem as I was. You could set it up with cable or satellite, but to drop those services and go with an antenna you could not. Finally someone online accidentally figured it out and shared it with everyone. It was an issue you needed the original remote and the factory bypass codes for the TV. And trust me those codes are not in the manual.

The LG TV was a gift and I've owned an LG cell phone which was better than I expected. And I thought that would be the same with the television but that wasn't the case. The sound is not strong for full volume. Volume is poor quality. It should have come with enhanced sounds or surround sound would really increase the quality of this product.

The TV has good colors and superb performance so far. Frankly the unit I have has a 3d feature which is awesome. One can play or watch normal programming but can set the unit to 3D. Awesome experience.

We bought our LG 60" 3D TV with passive glasses and have loved it from the beginning. It's going on 8 years old now. The only thing that I would've done different, so get the Smart TV option. The picture quality is great! Especially for someone who is farsighted. The passive glasses are great because I can use them with my glasses on and they aren't heavy on your face. We have had great luck with this TV. It's the perfect size for our living space.

I bought a LG 3D TV at $3.500.00 model 55LW5600-UA two years ago and the main board goes out. The problem is that LG discontinue this main board CRB61398007 and the manufactured date is 2013!!! I will never never in my life will buy LG products because this. I'm asking for similar parts in internet with the agent suggested for LG calling to 1-800-243-0000 / 1 800 274 4666. The agent offered from LG named, VIDEO TECHNICAL SERVICES in Bayamon 787-786-8410 do not service well. They have the TV from 2017.04.17. They take $80.00 and never call me. The communications service at this day is too much poor. The information is only when I call. I will lost my TV? I will talk about LG all my life to evade nobody in my family and friends to buy nothing from LG. The baddest brand with an obsolescence totally impossible to admit.

The LG TV works! The picture/resolution are clear and sharp, and the color is easily adjusted. It was a bit more expensive than our second choice, but it is now four years old and it has worked flawlessly despite a LOT of viewing miles.

The LG 49 inch Smart TV 4k hi def is a great TV. Simple to use, wifi hook up easy. Picture is phenomenal. Only one regret, I bought it at Rent-A-Center and paid about $200 more than I would have paid at Best Buy but all in all I'd 100% do it again. Great.

This TV is a quality TV, left on 24/7. It is not quite as sharp a picture as I prefer but great size. Clarity is pretty good and I would purchase same brand again.

Their price is very competitive and the TV performs well. I had a 42 inch and 6 months bought a 55 inch and hung it on the wall. Picture is very clear and so far no complaints. Had several LG TVs over the years and had the previous one for over 6 years. Was still working well - just wanted a larger screen and bought it because PC Richards was having a great sale and thought it was worth it for the larger screen and am happy with all the LG products I have had.

The LG TV has a great picture along with controls to change the parameters that control the quality of the picture; great sound as well. Smart TV that allows direct viewing of NetFlix, websites, Youtube, Hulu, etc. Many ports including multiple HDMI ports, allowing input from many devices such as Chromecast in addition to typical devices like a DVD player. Great quality, cheaper than other premium brands like Sony.

The LG picture quality is excellent and the price is very reasonable as well. Rating is high on consumer reports for a good reason. LG has become a remarkable product in all levels. They have many products besides televisions and I personally have owned 2 of those. I highly recommend products with the LG brand.

My LG 55 inch suits me fine and if the cable outfit was worth a damn, all would be fine. Picture is great, easy to use and sounds good too!

It's the best deal and overall guarantee than most others. The color is so vibrant as though you are almost there. The best picture except for sphere TV!

Overall, our LG 55" has fantastic resolution, great sound quality, superior picture and easy hookups for DVD, Blu-ray, sound bar and cable connections. Best of all, it has never given us a problem in over 5 years. Thumbs up to LG! It's earned a good reputation in our household and we have recommended it to several of our friends.

I purchased 26 new 39 inch LG TVs in January 2015 for my restaurant for $10,140 ($390 each back then). As of January 2017 six of them had gone bad and as of now, May 2017, 10 of them have gone bad total. After paying a local technician $250 to look at them all, he determined they all had the same problem, bad LED STRIPS which caused them to have no picture. I only had a 1 year warranty and since they were all 2 years old I was obviously aware that they couldn't be replaced.
I called LG to see if they could help we with anything at all as far as parts replacement (which cost them pennies as they're made in China now and I would pay for the service), or a possible discount on 4 more new ones, or anything at all LIKE A REASON THEY ALL WENT BAD SO FAST! I asked if LG could do anything to help and the answer was NO! After years of buying LG only in all of my restaurants for the past 15 years I've seen the products go to complete junk. LG does not mean LIFE'S GOOD like they say it stands for it's more like LARGELY GARBAGE!

This has got to be the smartest TV I've ever seen or personally had. This TV has it all. You can check your emails, go online and shop, watch movies through Youtube, read books etc. Anything your computer can do, this TV can do also. The price was fair at the time of purchase.

The LG LED LCD HD 27" inch television is the first tv I have bought on my own. I shopped online in quite a few stores comparing different brands, prices and customer reviews. I also took my time in making this purchase and was very pleased that my television met the standards exceptionally well. I am encourage anyone wanting to buy a TV, do not make an impulse buy and shop around.

I purchased a 62 inch smart tv. It had different apps for the whole family. It had all the apps that I could use to stream movies and listen to music, games for the kids. Also, we enjoyed the 3d effects and had great family time with our LG smart tv. The whole family enjoyed this LG smart tv.

This is the best TV I have ever owned. I have owned several TVs with same result, but this is my favorite. I have no regrets buying my 63 inches LG TV. I bought this TV about 15 years ago when I lived in Florida. It cost a lot of money but it was well worth it. The color is beautiful and the sound clear. I had one problem, one bulb blew. A year ago I moved from Florida to New York, I moved my TV with me. And my TV still working beautiful. I can recommend LG products.

I purchased an older LG model which has been a great asset. It has a clear picture and great sound quality. Overall it's a good tv but when the batteries are low it affects the whole system.

Good sound and clarity. Did have to replace a capacitor though but found good resources online to help us make the capacitor repair on our own.

The LG TV is about 8 yrs old and still working like it was brand new. I won't get new one until this quits ad we will look for another LG.

My LG gives me a perfect picture each time. Although it is not totally hi-tech it still has the technology that satisfies my needs and wants. It offers me the ability to add internet "if" I want it versus forcing me to have it against my will. Also I can add additional tech savvy tools and equipment that can upgrade as well as compete with the hi-tech televisions. I enjoy that hi-tech flexibility because it makes me feel as though I am being given a choice to select hi-technology versus being forced to contend with it and get frustrated. With HD channel service my picture is clean and crisp offering a nice color of brilliance. I have two HDMI ports, a standard yellow, white and red video sound output and coaxial connection abilities. It has capability to connect to a sound bar as well. I also have the option to select various sound types such as bass, music, theater and the like. To top it off I paid less than $300 for this 45" LG. Great deal!

This LG TV is one of the best TV's we've ever owned. It is 55 inches of pure joy! It is with built in services like Netflix and Amazon Prime. The control is easy to use and the screen display and layout are simple and straightforward. The picture is outstanding, the sound quality is great and it's easy to operate! The grandkids can even choose their own channels (great parental controls too).
Company Name:

LG TV

Year Founded:

1958

Country:

Korea Sout

Website:

http://www.lg.com/