Consumer Complaints and Reviews

Aquos Smart 3D TV - I purchased this TV for my husband's 50th Birthday and it literally just stopped working the same month I made the last payment! Called Sharp and was told I would have to pay for repairs since it was past warranty. Called a repair place who looked at it and told me that the LED's went out and because the product was so new, they couldn't find the part to repair it. They even called Sharp to get the part and they said they didn't have it!! How could they NOT?!?!?! I will never purchase another Sharp product and should have gone with my gut when purchasing it and bought a different brand. That was over $1500 I guess my family didn't need. This company needs to be held accountable!! At least provide the part so I get this thing repaired!!

I purchased a 60-inch Sharp Aquos smart tv on 10/25/2015 and the tv didn't last for seven months. I have been relentlessly trying to get my tv replaced. They send a repair and he opened the tv and said that the screen was bad and that they didn't make them anymore. Bull, I believe that they are working together to rip consumers off. Now their decision which took me constantly sending info back and forth to say that they didn't get it for three months. They accidentally closed my case and when I called they said that they want to give me a tv with some deformities, refurbished same unit. Wait a minute, why can't they fix my. I am demanding that they give me my money or a new tv. They think that this is a joke. I got a bad tv and I will never purchase another Sharp product. I am now in the midst of talking to an attorney. Happy.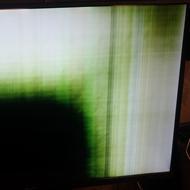 TV worked for a year and a half then just stopped. Paid over 1800 dollars for a 70inch TV and it's not functioning. I'm very decent with repairs so I tried to fix. Replaced the tcon board hoping it could be fixed turned out its the panel which is non fixable. Wow really if you have a defective product it should be on a recall and replaced for free which is good business. This company will never get any of my money again furthermore I will tell anybody that's willing to listen how horrible their service and products are.
DON'T WASTE THE MONEY, BUY LG PRODUCTS. Money like this is hard to come by and if I could do it again I would do more research or just take that money and go on a nice vacation. This seems to be a common problem with SHARP. I can't express how much of a inconvenience this is or how frustrating it is to have hard earned money flushed down the drain and have the company which I trusted for a quality product do nothing but apologize.

Don't buy a Sharp tv. I bought a 55" smart tv model# LC55LE653U. I have had nothing but problems. Stopped working a week before the warranty was up. Turns on to the Sharp logo then shuts off... and turns on and off repeatedly. Tech replaced main board under warranty. 2 weeks later, same problem. Tech again replaces mainboard. 3 months later... Guess what... Same problem. But now it's out of warranty. After arguing in circles for 2 weeks with customer support. They won't do anything. No replacement or repair. I tried getting the main board and fixing it myself. No can do. No one has it in stock and the part is discontinued.
Their customer service agents are bunch of freaking robots that have no emotion and don't understand that the problem wasn't fixed the first time when it was under warranty. Something is causing the board to short out that wasn't fixed the first time it was serviced. Now I have a 55" paperweight sitting in my studio. They told me that I should buy a new tv. Ha why should I have to buy another tv when I have a brand new tv, barely a year old, that broke under warranty and never was properly fixed, sitting my studio. I have a 13 yr old Emerson 32" flat in my bedroom that has given me absolutely no problems. Why is that? I thought sharp was a pretty good brand. I was wrong. If I end up buying a new one it definitely won't be a Sharp. The tv is a piece of crap and so is the company.
I will never buy another Sharp product nor will I recommend anyone to either. It's been a nightmare dealing with this TV. No one that works there cares that the tv was never fixed properly the first time when it was under warranty. Even the Tech says that there is an issue that is causing the mainboard to short but they only fix what they are told to fix from the service department. I'm calling the company every day until this gets resolved. Do yourself a favor... Don't buy Sharp and get an extended warranty with whatever tv you do get.

Garbage products. Warranty is one year for a reason. Screen greened out, then no power to the set. Was attached through the same surge protector as numerous other electronics, all of which are fine. Sharp = garbage quality. Stay away unless they give a full 5 year no question asked warranty.
How do I know I can trust these reviews about Sharp TVs?
638,664 reviews on ConsumerAffairs are verified.
We require contact information to ensure our reviewers are real.
We use intelligent software that helps us maintain the integrity of reviews.
Our moderators read all reviews to verify quality and helpfulness.
For more information about reviews on ConsumerAffairs.com please visit our FAQ.

Bought Sharp Aquos Smart Tv one and half years ago. No picture no sound. Called Tech Support. Cannot help. Out of warranty. Referred me to TV repair in my area. Now after paying mega money for TV I have to fork out money to have repaired. Always had trouble within the year of software updates and had to call Tech support to do factory update. I will never buy another Sharp TV if its going to cost too much to repair. Im out over a thousand dollars for a year and half old TV. I should have researched Sharp TV's before buying. One unhappy senior customer.

This is the worst purchase I have ever made. I purchased tv from Costco aver a year ago in September 2015 as Christmas gift for husband. I was unaware that my 90 day return policy would be void by early purchase. Usually if you purchase as a Christmas gift then that is date they will honor. My mistake or I would have a refund of 2600.00 that I paid and purchased another brand. Problems: At least 3 times a week tv will not read wi-fi. The only way that we have found to get tv to read wi-fi is to go back to factory settings and start all over again with setup. We have Hulu and Netflix etc and all the accounts have to be reset up also so this turns into a 15 minutes process. Imagine that frustration several times a week. Our wi-fi signal is plenty powerful enough to support tv, problem is in the card reader in tv, per repair man that was sent out 5 times to make repairs.
Every modem board in tv replaced, card replaced, picture quality diminished and many times we get picture with no volume. It took us over six months to get Sharp to replace tv when the repair person they sent out called them and told them even after repair tv was not working properly. When they finally agreed, only because Costco concierge services was on our side, they said they would send me a refurbished unit which was another 45 day battle because I refused to accept refurbished. If I wanted a refurbished tv I would have not spent 2600.00. I asked for a refund the entire time which they refused to give and my 90 day Costco refund was up before we ever took it out of box. I was screwed.
Sharp was extremely difficult to work with and they do not stand behind the product and see to it that customer is satisfied. Tv still does not work properly and in a couple years when I save enough money up again I will get my husband a better tv for a gift. I saved for 4 years to purchase this one and was so excited for him on Christmas am and what a disappointment. Sharp products of any kind will never be brought and put in our home again. If you are looking to purchase a great 70 in wifi smart tv this is not your tv... Keep moving along!!!

Another one bites the dust! Bought a Sharp Aquos 60 from Sam's Club in Jan 2015. Died Oct. 22, 2016. No picture! No sound! There should be a class action against Sharp Corp. Can't buy parts. Thanks for all the reviews! I am at the part where I was told to send in the receipt. Now I am waiting for the review.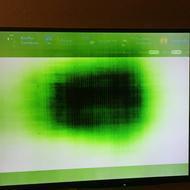 My husband purchased this television in March 2014. We didn't use it until Dec 2015 because we didn't have the space at the time. In August 2016 suddenly a line went through the screen and a bunch of lines appeared. Sound is still great but now there's a black ball in the middle of the screen. Called Sharp and as others said they told us we would have to call a technician. The technician stated it was a bad panel and it would cost about the same or more to repair if Sharp even sold the part. I DO NOT RECOMMEND ANY SHARP PRODUCTS!! Also, it seems that this is happening to us who have purchased an Aquos. THERE SHOULD BE A CLASS ACT LAWSUIT ON SHARP!!! We are out of $1500+ each and it's not fair!!

Purchased a 70 inch Sharp LED in May 2014. 2 1/2 years later the TV is useless... black lines. No one wants to help. Buyers beware... $1700 paperweight. Went to the store with my problem and was told to spend more money on a new tv that would probably place me in the same situation two years from now. 100% dissatisfied. I will never as long as I live buy another product marked "Sharp". Beware of future products from Foxconn parent Hon Hai Precision

So I bought this tv from Best Buy and it looks great and all but it started to malfunction in 6 months but it still work and on the 10 month it just kept turning on and off but unfortunately I did not buy a warranty for Best Buy. So I call Sharp customer support and they get me setup and tell me to sent them proof of purchase which I did and never got back to me and I call a week later and they tell to sent proof of purchase again.
So here I am 10 days later they tell me that a technician will call within 48 hours and nothing. 3 days later the technician calls and tells me that the part which was to arrive to him hasn't arrived. He will no longer wait so Sharp customer service calls me to tell me that by next week a new technician will be available and will call me to make an appointment. Overall they suck in customer service. Their tv break easy. I don't know why Best Buy sells their things. Don't buy their tv. So here I am waiting to see when my tv will finally be fix and if it does it probably will be breaking soon since from time to time the images went all blurry. Now it just keeps turning on and off.

I have brought 32LE341M - LED TV as on 18-08-15. On 3rd September '16 it gone faulty. When I lodged a complaint one technician came to my location and declared SMPS card gone faulty and the cost to replace with new card will be 5500 Rs. He gave me an exchange offer to exchange my faulty card (which he declared faulty) with new card and give 3000 more bucks, and when I asked him to replace the card he take a old SMPS card (1-Jan, 2016 written on card) without any company packing and also clearly showing a used product.
I have chosen Sharp product from all leading products in market like Sony, Samsung etc, but the experience I gone through was really very much disappointing. I feel like cheated as first of all product gone faulty in 1 year and then extremely worst and unreliable service support. I am expecting once again for positive response and genuine solution to my problem from Sharp management to support me so that my faith on product remains the same as on the first day I brought my product.

Thanks to all who validated my experience with my 50 in Sharp flat screen. It is 2 months past 1 yr warranty & did not purchase ext warranty. Good news is it came as bonus with furniture purchase. Screen completely black. Called Best Buy where it came from & told too bad, should have bought warranty, and just buy another TV. Daughter called Sharp; after 1 hr of haggling, told might be backlight. So, found local co for $30 to diagnose & awaiting news. Have bad feeling about this, & will never purchase a Sharp TV. Unfortunately, believe this is just sign of the times, poor workmanship & customer service.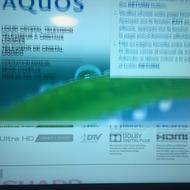 I purchased a Sharp Aquos 4K Ultra HD television set July 16, 2016 from Best Buy. Two months after this purchase, the tv developed lines and a double image. I called the manufacturer (Sharp) and not only were they not helpful but they were completely incompetent. They offered to send someone to fix the television at their convenience and requested that I absorb the costs of dismounting and re mounting the television set. I wish I had read the reviews on Sharp products before making this purchase; it seems like all of the reviews I read cited the same issues after only a few months following purchase. I will count my losses and buy from a reliable brand. Buyer beware.

The sound on this TV was NEVER good. But the picture was sharp; had no problems with that. My dissatisfaction is that this TV didn't even last 2 years! Lasted only 18 months. The screen went black, you could hear it, but could not see it. The other TV in the house (Samsung, we have had for 7 years). How does that happen from a well known and respected company? I've had TV that I've had to donated, just to be able to upgrade. Is it because "it was made in China"? Whatever the reason, and I have now read so many similar review on this same brand of TV: SHARP you are not only losing your great reputation for good TV's, but you are also losing loyal customer. I am now one of them! Stop producing poor quality item!

Sharp Model LC-48LE653U. Sound goes out intermittently. They ran me through a reset for the TV. Sound came back but went out after a few hours. TV is 13 months old. Yes, I know, out of 1 year warranty. I will NEVER buy another Sharp product of any kind. They offered to charge me to have the TV repaired. I spent $428 or the POS and know this is an inherent defect but they would not help. PLEASE do yourself a favor and never buy their products. Won't ever make this mistake again. BTW, they kept me on hold and passed me to three different people to ultimately tell me they would do nothing for me. Customer service is an F. Customer satisfaction is an F!

I purchased a Sharp 70 in flat screen LC70c6600u April of 2015 from Sam's Club. The picture went completely black within 30 days. I called Sharp customer service and after 3 attempts finally got someone that spoke English and I could understand them. After one hour on the phone they said that it should be returned to Sam's Club. I thought that it was unusual that the TV was bad and decided to trade it for a new model. Now the Sharp TV I have has a huge black line about 10in up from the bottom of the screen.
It is out of warranty and Sharp is telling me the screen is bad. Everyone I have talked to is saying it is cheaper to start over. Replacing the screen is $1200 if I can find someone to do it... Sharp's customer help line is NO Help! Buyer Beware!!!! Run to anybody but Sharp. By all the similar posts it is clear they have a factory defective product issue. I may build a blog website "Why Sharp TV's Suck"! I bought it not once but Twice. Boy am I stupid.

About 15 months ago I was on this very site reading reviews on Sharp TVs, and I was that person that thought, "Maybe these folks just got a bad apple in the bunch". Well, I was WRONG! I purchased a Sharp Aquos 65" TV from Best Buy, and 2 nights ago it just stopped working. I called to speak with tech support and got the runaround and was told that I needed to call an outside repair person. I if I just needed a software update off their website, they brushed over it. My TV actually turns on and has a back-light but I cannot enter a factor reset code inside the menu screen as the remote is not being recognized by the TV itself. I was hung up on 2 times, and told the final time, "Look sir, the TV is not working, you need to call someone other than us to see if you can fix it".
Well I spoke to a repair company here, and they REFUSE to work on Sharp products as they are charge a "restocking" fee to send out parts to the repair shop, and they grossly overprice those prices and restocking fees. The repair shop told me it was would probably be better to just get a new unit. PLEASE, if you are reading this and are in the market to purchase a TV, listen to what we are all saying here and DO NOT PURCHASE A SHARP PRODUCT! I was you less than 2 years ago, and now here I am out 1300 dollars and needing to replace my TV. Do yourself a favor and save the headache!!!

This TV offers Bluetooth to connect a keyboard, mouse, or other devices. This does not work. Sharp support tells me they don't guarantee it will work nor know of any keyboard that does work. I've tried many Bluetooth keyboards, with and without a dongle. Sharp has looked at the TV but they can't confirm or deny that the Bluetooth works. (This is after dealing with Sharp support who thought the Bluetooth was just for separate speakers!) This TV also offers the ability to connect another IP device to use as a remote, like your cell phone. I've tried downloading various Sharp remote Apps to my iPhone but none can connect to my TV even after setting the TV to enable a separate remote and using the correct port. Nothing works. Sharp support still can't help.


I bought this tv on 3/21/15 and on the 8/10/16 I noticed a horizontal line 10 inches from the bottom of the screen. I contacted the Sharp company and was told that there is nothing they can do because the warranty was only valid for one year and I should take it to the repair shop. The next day the tv is dead, it will not come on just a white light at the bottom of the screen comes on-- the tv was bought from the FT HAMILTON ARMY BASE.

DO NOT BUY A SHARP TV! After only 18 month I needed a new LCD panel (which they don't make as it costs as much as the TV!) Out of warranty and their service vendor offered to recycle after speaking with their tech dept. Now they will not do anything for me since I don't have the unit to return!!! AGAIN, AFTER THEIR TECH DEPARTMENT STATED THAT IT WAS NOT FIXABLE!!!

Purchased a Sharp 65" LED in Feb 2015. In July 2016 the TV stopped working. All we could see was a washed-out image, barely able to make out anything. Sears repairman said LCD screen was bad and unlikely to be able to repair due to Sharp not producing this part anymore. So called Sharp to report this dx and ask if they would offer recompense, since TV was only 5 months past one-year warranty period. Customer Service was very polite and seemed to want to work with me.
They asked for several pieces of documentation, including proof of purchase, pictures of screen with TV on, picture of model # and serial #. So went to all the trouble to get and send this info, only to have Sharp do nothing more than contact another repair shop, which offered to do another $100.00 diagnostic before recommending repairs. Keeping in mind that Sharp never agreed to pay anything as compensation, I declined and wrote TV off as a total loss/bust. Have since bought a Consumer Reports-recommended LG 65", with a two-year warranty. Better TV, better picture, roughly the same price. Understand Sharp may be going out of business. None too soon.

As a retailer, I take pride in providing good products at equitable pricing. We sell many brands, including LG, Samsung, Sharp, Sony, etc. The TV that is in question is an 80" model- LC80LE844U. It failed in less than 4 years of in-home use, and there is no factory or distributor inventory of parts to repair it. The initial retail price of $5,124.50 is wasted. Sharp thus far has refused to assist in finding a part or offering a re-furbished or discounted replacement. Other brands in similar situations have offered some solace in terms of vouchers, discounts, or other means of keeping a customer satisfied.
I understand the product is out of warranty (free service, or parts), but refusal to assist is poor consumer relations. I hope the new owners of Sharp electronics don't follow this precedent (Hisense). We take all of this into consideration when selecting the brands we sell. I will be glad to report an update if there is some resolution by Sharp's review group. Thus far, nothing.

I have had 4 Sharp TV's that have been bad. The first one had a picture that had lines across it. They replaced it. The second, third and now the fourth one all the audio is acting up. I have asked for my money back several times. They act like it's unheard of. They keep giving me the runaround. I am so sick of this company. I bought the first tv through Dell. After a month Dell can't do anything about it. They know they are defective. Dell is giving them away if a consumer buys a big tv. It has been over a year and I'm still getting the runaround. I will never again buy anything Sharp.

Sharp LC-60LE660U - After just 1.5 years a horizontal line appeared going from right to left tapering off. 3 days later another came from left to right. In the morning it wouldn't turn on, dead. Called Sharp, rebooted per their instructions, dead. No warranty. Never buying Sharp or go to Best Buy again.

Bought a Sharp LC-60EQ10U TV in October of 2014 for over $1200.00. Thick shaded horizontal lines appeared on the screen and started to flicker. Geek Squad tech told me the TV was finished and couldn't be repaired. What a load of garbage Sharp TVs are. Will never buy from them again!

WORSE CUSTOMER SERVICE EVER! Have been dealing with Sharp for almost a year for a non-functioning TV. Will never buy a TV from Sharp again!

We bought our Sharp Aquos 4K Smart TV on June 20th 2016. The TV came with no manual, just a quick start guide. I was told I would have to print the manual, about 70 pages. I figured out how to set up Netflix and other apps with the help of a friend. Netflix worked up until 5 days ago. It's connected to my internet. I've talked to so many level 1 techs at Sharp. I was told a senior tech would call in 24 to 48 hrs. So after 48 hrs I called back then was told no senior techs work on the weekends, but that one will call me on Mon.
I waited around all day on Mon and got no call, so I called Sharp again and was told someone tried to call at 3:30 and got no answer and I said maybe because no one called me. And no such call shows up on my caller ID. Then he says it will be 24 to 48 hrs for another call. I'm taking this TV back to Walmart tomorrow and not get another Sharp product or Hisense which is the same co. I feel I'm lucky compared to a lot of the other nightmare stories about Sharp.

Sharp LC-60LE847U 60-Inch - After 4 years of use a thin Green vertical line appeared approximately 1/4 of the way from the left edge of the tv. This seems to be a very common problem and Sharp does not seem to back their products, therefore my new house will not have any Sharp products. I hope people take the time to warn others. They have lost my families loyalty for life.
Sharp TVs Company Profile
Company Name:

Sharp TVs

Year Founded:

1912

Address:

Sharp Plaza

City:

Mahwah

State/Province:

NJ

Postal Code:

07495

Country:

United States

Website:

http://www.sharpusa.com/