Consumer Complaints and Reviews

It's amazing you can purchase a Magnavox TV only for it to go out in less than 4 years. All the reps are located in the Philippines. Trying to explain the problem twice and only get I'm sorry does NO good. I was told by the rep I should have turned my TV off each time after using it. Have anyone every heard of this before? I know my TV have a defect because it magically just went out on Sunday and never came back on. I can't even get the TV to come back on.
It's amazing you spend your hard earn money to get service for less than 4 years. It serves no point having reps who can't give you answers or will try to assist you in getting a replacement when it is defiantly the fault of the company. Consumers, DON'T PURCHASE a Magnavox Product. EVER... Before purchasing the next TV, you better believe I will get information on replacing a defected TV. After reading sooo many complaints, we should boycott Magnavox.

Our 48 or 50 inch (can't remember exactly) Magnavox flat screen that we purchased less than 3 years ago decided to go black & now makes a chirping noise. Instead of the guy with customer service trying to figure out what's wrong with it he tells me, "Ma'am it's defective & you are now out of warranty. There's nothing we can or will do for you. You can try taking it to a repair shop & having them fix it." I then asked to speak to a supervisor & he never would allow me to. $500 TV that is all the sudden defective & I'm being accused of not taking care of it. It's sits on a wall, it's dusted periodically, do I need to take it down & rock it to sleep or something?! Yea I'm ticked. I'll never buy Funai or Magnavox electronics again. After this experience I'll drop the $750 for a nice Samsung TV.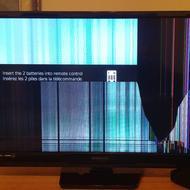 I ordered a Magnavox 32 inch LED TV. UPS delivered it after it being back ordered for 2 weeks. I was so happy to get it. I looked at the box to read the highlights, and then opened it, put the stand on it and powered it up. Once to TV came on, the screen looked like it was cracked. I called Magnavox and they informed me to send a picture of it which I did. I was notified by them after one day that the screen was cracked and that whether it was by accident or on purpose it was not their responsibility, and I could take it to any service center and pay for the repair myself. I was livid! There was no damage to the box, so that means that their packaging was defective. I will never purchase anything from them again! Luckily the place I bought it from was willing to send me a replacement at no cost!

My Magnavox 55" TV suddenly went out while I was watching it. It's about two years old. It is difficult to even find a place to complain, let alone get it fixed.

Magnavox has taken 4 months with the process of a replacement unit. Customer service does not provide any update and only asks to wait for them to contact us. When television was reported broken, they sent a technician that took tv to shop and after refused to give it back to me. When finally did, tv was empty, he removed all insides. Tv was sent to manufacturer and it's been 3 months and I have not received a replacement unit or refund. Their Customer service is the worst.
How do I know I can trust these reviews about Magnavox?
609,643 reviews on ConsumerAffairs are verified.
We require contact information to ensure our reviewers are real.
We use intelligent software that helps us maintain the integrity of reviews.
Our moderators read all reviews to verify quality and helpfulness.
For more information about reviews on ConsumerAffairs.com please visit our FAQ.

I bought a 50" Magnavox HD TV 2 years ago. It won't turn on. Took it to shop to get it fixed. They tell me, Magnavox sold out & doesn't even make parts for the TVs. I'm out $750 & no TV. Magnavox used to be quality. Never again will I waste my money on Magnavox. Thanks.

On 8-18-15 we bought a 55" flat screen TV. In Feb 2016 it started turning itself on and off on channel 26.1 only. They came out to repair it in March. 3 weeks later it started to do it again. Another repair and the problem still exists. So when I call this time they tell me I have to send the TV to them and after they receive it they will send me another one. And it will take 2 to 3 weeks!! I don't feel I should have to be without a TV for that length of time for a problem that is not my fault and I certainly do not want a TV sent through the mail!!! This is certainly showing me that Magnavox is not a brand that can be trusted. There is not a phone number to the company other than the one for the warranty. Website hasn't been updated for years! Feel like I'm stuck between a rock and a hard place! SO TOTALLY FRUSTRATED!!

I purchased a 55" flat screen Magnavox television November 2014 from a local Target store. It was a gift for my husband. The tv is hardly used because we are both busy and we also have a projector in our bedroom. It is mainly used for when we have guests. So now, it's May 2016 and the tv has a pixel going out and the panel needs to be replaced. The tv is highly regarded in this household (by my husband) so it is in emasculate condition. Never been dropped, nothing spilled on it, in climate controlled environment. There is absolutely no reason for this tv to be going out, other than a manufacturer defect.
I call Magnavox to see what they can do. After telling them the problem, and after them ADMITTING that it is a manufacturer defect, they tell me they are not replacing the tv because "the defect should have come out within a couple months and you, the consumer could have caused the defect." After a heated debate, I ended that conversation with the rep and decided to call a lawyer. I am currently waiting to hear back about my options for starting a class action lawsuit against Magnavox. Keep the complaints coming, I'm positive they will be needed.

The remote that came with new TV never worked. I called Magnavox directly for replacement. They did everything not to replace my remote. I ended up paying 28.00 to replace. I will NEVER purchase a Magnavox product in the future.

Brand new Magnavox tv just went totally blank. No sound, no picture and making high pitch humming sound. Called Magnavox and they tried to troubleshoot. Didn't work. Under contract it says fill out form if your TV ends F7. Did it. Never buying Magnavox.

Had this TV exactly 2 years. When you turn it on it flashes the Magnavox logo and then shuts off. The red power light just blinks. I replaced the power board and it still does the same thing. I will never buy another Magnavox product. Where is the class action lawsuit?

After moving into our new house I attempted to turn on my Magnavox 50" TV, it didn't work. So that started a process which has led me to now, almost one month later and numerous calls, I now have to send my defective TV back and will receive a replacement TV approximately 15-20 days AFTER they receive the defective TV! Very Bad Customer Service, if you buy a Magnavox TV, I hope you never have to get it fixed!!! I will NEVER buy another Magnavox!!!

Got a 43" tv in July 2015, for the past month been having problems with tv not turning on. Had to unplug it, wait a couple minutes, then plug it back in to get it to turn on. Now a new problem has started, I have a picture but NO sound. Adjusted all the settings but can't get any sound from it. It's still under a year old so I will try to contact Magnavox to fix it.

I bought my TV April 2012 and within 5 months of purchase, it turned off out of the blue and did not turn back on. Luckily, I did purchase a two-year warranty with Sam's and I was able to send it back and get it fixed. Well not four years later, it did the exact same thing, it just turned off. It's too late now to send back to fix and I refuse to spend any more money on this brand. If you are thinking about buying a new TV stay away from Magnavox! Invest your money on a more durable and dependable brand.

Bought 46 inch flat screen from target. Got in March 2015 and worked until December 22, 2015. It would turn on and immediately turned off. Took to authorized repair for Magnavox and they still have it (1/27/16). They have been very nice. Got a case #. Received a call today and they want to send me a box for me to load up the tv and send it back to them. When received they will send me a refurbished tv. I told them I bought a new tv and I want a new tv not a used one. Magnavox is a joke. I really wish we could get together for a class action suit. I know I'll never get a new tv from them. Please people DO NOT buy a Magnavox.

Clear picture and colors are vibrant. Easy to use and the sound quality is wonderful. It's the only TVs we have in all 3 rooms. They outlast other brands we've tried.

The site was not working properly when purchased, had a yellow line up the center of the set. Called Magnavox, they sent me a box to send the set back to some T.V. repair in N.J., and they are sending me a REFURBISHED set in 10 to 20 days. My warranty goes from the day that I originally bought the NEW set. I WOULD NEVER BUY ANOTHER T.V. WITH THE NAME MAGNAVOX ON IT.

My TV is a 50" Magnavox LED smart tv that I have had for 1 year now. It has a very clear picture and the colors are also very pleasing. Navigating through the menu can be a bit challenging, you need to have patience when we are not of the technology generation and this can be overwhelming. But this is the case with all appliances today. I have my tv sitting on top of my 52" wide electric fireplace which is a perfect fit.

I own an LG tv that provided me with excellent picture quality and reliability. Recently bought two Samsung smart tv. Picture best I have ever seen. Technology associated with the new smart tv is state of the art. No need for separate streaming devices. Can search the web with both Samsung tv. Great value.

I've owned 3 Magnavox TVs of different size and configuration (ie) the older bulky 21", larger 36" light/flat screen and a larger 40" flat screen. They have all performed well and the older one lasted about 12 yrs. They don't have all the fancy 'do-dads' that you don't use anyway and are very price competitive because of it.

At one time I had owned a Magnavox Television from 1992 until 2012. It was perfectly good working conditions for the entire duration of ownership. I have made another purchase of Magnavox brand televisions, which is the newer model (flat screen), and I simply love it!!! It has a great picture quality and clarity, good sound and excellent performance. Over the years, when shopping for televisions, I always tend to look for Magnavox, I personally think that they hold their value. I would definitely recommend to family and friends this make and model.

Excellent in price, picture, and longevity with issues. Had my last one 15 years before it quit. Daily use approx 8 hours and would recommend the brand. I did purchase a new LG 6 months ago and very happy with it.

I'm a basic television guy. I bought it used. Besides having a big scratch on the screen it works good for me. If your life depends on TV you should shop it! But I recommend not owning one at all! The advertisement is designed to separate you from your hard earned money. The news is controlled and misinformation is all around! Read! But use your brain! Get outside, express your creative gifts!

Ok but Charter is world's worst cable TV provider. Picture is awful. An explosion occurs every time you change channels. Menu is crap. The price is much too high for what is provided. I get better TV with a small Winegard antenna from about 60 miles away. HD picture, excellent reception, no charge!

I've got a Magnavox Smart Series TV (which is not an actual smart tv) and I'm satisfied with it. It's not really feature rich compared to newer TV sets, but it has a great picture and good sound, and I've had it for eight years without it breaking down on me. I've never had any trouble hooking it up to cable, DVD player or streaming player - as long as you can hook it up via a/v cables, it's good to go.

TV Failed at 10 months, warranty evaluation & replacement took about 4 months. Customer service "1-800 #" is in the Philippines. Cultural/Language barrier. Very dissatisfied. Sam's Club refunded $ for all the problems I experienced. Magnavox is NOT what it used to be.

My floor model Magnavox is approximately 30 years old and has had only one service call early on, to replace a faulty circuit board. As well as serving as a beautiful piece of furniture, it is still functioning beautifully with a crisp picture and sharp audio. I have had many comments as to the crispness of the picture and color attributes.

I like my tv. I don't like the cable system. Every year it goes up and no new channels. I would not recommend Atlantic Broadband to anyone, they are very rude.

I have always been happy with this television. Now with the new compact sizes and shapes they are much more serviceable. The one I still have it big, bulky and cumbersome in size, but it works great. There are good things to be said about the older models.

DO NOT BUY A MAGNAVOX TV. Our TV was a Christmas present in 2014 from a family member who bought it at Sam's Club. Barely over a year later (five more days till Christmas 2015, folks!), the TV won't turn on anymore. The warranty just barely expired, of course. (Planned obsolescence? Wouldn't be surprised.) When the TV first started failing to turn on, we were able to do the reset by unplugging for 5 minutes and get it to turn on again. However, after this worked a handful of times, the TV wouldn't turn on no matter what troubleshooting we tried. When I called Magnavox and spoke with Customer Service (whom I could barely understand with the strong accent), she said we would need to take it to a repair center and because it was out of warranty, (just a few days over a year old!!) we would have to pay a repair fee of $125 or more depending on the repair needed.
Both repair centers she referred me to that were supposed to be closest to my zip code were a ONE HOUR DRIVE away, and when I called one of them to get more information the number had been disconnected and apparently didn't even exist anymore. The other repair center is only open Monday-Friday from 9 to 5. So those of us working full time during the week have to take off work just to get this thing fixed. When I look at the reviews of the repair shop itself, people experienced terrible customer service and couldn't get anyone to talk to them or call back as promised by them.
I'm also seeing that lots of other people had this same technical issue. So I ask myself is it worth it to take time off work, drive an hour to a sketchy repair shop, then wait weeks for it to get fixed (If it even gets fixed right the first time, as the person leaving the review of the repair shop said the guy didn't even diagnose the problem right in the first place and the reviewer had to go back several times over 3 months), have to drive back again to pick the thing up and hope it's fixed? Nope. We're getting a different brand TV and forever avoiding anything Magnavox.
Magnavox TV Company Profile
Company Name:

Magnavox

Website:

http://www.magnavox.com/