Written by

Edited by
Our promise. We provide a buying advantage with verified reviews and unbiased editorial research.
About Candid
Candid offers an alternative to traditional braces by using clear, removable aligners instead of brackets and wires. CandidPro doctors get you started with a custom treatment based on thorough scans of your teeth, and your aligners are then delivered to your home. From there on out, you can check in with your dentist remotely through Candid's mobile app and the provided CandidScan box. Candid also works with multiple dental insurance providers.
Pros & Cons
Pros
Six-month average treatment time
In-network with several insurers
Remote check-ins
Cons
Not available in all states
Bottom Line
Candid offers an unobtrusive tooth-straightening product delivered to your home. After you work in person with a doctor to design a treatment plan, progress can be remotely monitored every 14 days.
Featured Reviews
Verified
Flagstaff, AZ
It's crazy to think I'm already halfway done with my treatment - my smile has transformed so much I'd be happy just with where they're at now! This has given me self esteem I didn...
Read full review
Verified
Pittsburgh, PA
I am over halfway through treatment plan and I am very satisfied with the progress made to the point. My only regret is not doing it sooner. All my interactions with the Candid st...
Read full review
Candid products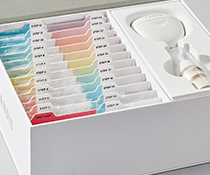 Candid
Clear Aligner Treatment
Cost varies as of publishing date
Treatment kit is sent to your doorstep. It comes with a full set of aligners, your CandidMonitoring equipment and whitening foam. Check-ins are done remotely every 14 days. Treatment takes six months on average.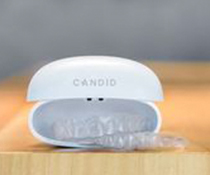 Candid
Retainers
$99 as of publishing date
Retainers are customized to ensure teeth maintain the correct position. Comfortable for overnight wearing. Premium whitening foam included. Retainers come with a carrying case. Only available for current Candid aligner customers.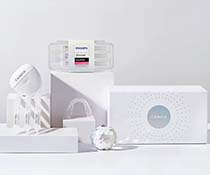 Candid
Philips Zoom Whitening Kit
Cost varies as of publishing date
The Philips Zoom Whitening Kit from Candid provides custom teeth-whitening treatment from home. It uses custom trays designed to fit your mouth, and you can start seeing results in as few as three days, according to Candid.
What is Candid?
Candid's main offering is a nearly invisible tooth-straightening treatment that uses clear, 3D-printed aligners that gently shift your teeth into place.
Throughout your treatment, you can have your dentist monitor your progress remotely with CandidMonitoring technology. This includes a CandidScan box and a smartphone app to take photos and send them to your doctor.
Candid also offers retainers and various tooth-whitening products, including the Philips Zoom Whitening Kit. This kit can be purchased through your CandidPro doctor as a component of your aligner treatment.
In the past, Candid offered starter kits so you could make your own impressions at home. However, the company stopped selling these kits as of January 24, 2022.
Instead, you now have to book a consultation with a CandidPro doctor in your area to get started. At the time of publishing, there are Candid locations in 36 states and Washington, D.C. If your current dentist isn't a CandidPro doctor, you can submit their information to Candid, and the company will reach out to them.
How does Candid work?
Candid has a relatively straightforward process to get you started:
First, find out if you're a good candidate by completing the questionnaire on Candid's website. This quiz asks you for some basic personal information and lets you choose any of four options to describe your teeth (crowded, discolored, spaced or protruding). If you qualify for treatment, your next step is scheduling a visit with your local CandidPro doctor.
There, you provide your dental and medical history, and the dentist takes X-rays, a 3D scan and eight intraoral and extraoral photos.
Your dentist then designs your treatment plan, and Candid puts it into production.
You receive your 3D-printed aligners in the mail.
Candid aligners work by shifting your teeth into a new position as you wear them, so you'll need to wear your aligners for at least 22 hours per day during treatment.
Each set of aligners is designed to move your teeth in small increments over time. Your CandidPro doctor will monitor your progress remotely as you send in scans every 14 days.
Once your teeth move fully into place, you begin the passive healing phase, which means that you no longer need active pressure on your teeth. However, during this phase and beyond, you have to wear a retainer to keep your teeth in place.
For the first two weeks, you need to wear your retainer for at least 22 hours a day. After that, most people only need to wear their retainers at night.
How much does Candid cost?
Candid does not list prices for its aligners since treatment is different for each person based on individual needs.
However, the company does give three hypothetical treatment cost examples. The costs in these examples range from $3,500 to $7,100 before insurance and from $1,750 to $5,350 after insurance.
Candid retainers cost $99 per set.
Candid FAQ
Are Candid aligners painful?

Some discomfort is expected when starting with each set of Candid aligners. This should only last the first few days you have a new set of aligners, and the company provides small chewable devices to help ease the inflammation.
What are Candid aligners made of?

Candid aligners are made of BPA- and phthalate-free thermoplastic.
Does Candid take insurance?

Yes, Candid does take insurance. If Candid is in your insurance provider's network and you have orthodontic coverage, you can save $1,000 at checkout on average.

If Candid isn't in your insurance provider's network, you can provide Candid with your information and it will submit a claim on your behalf. Candid can't guarantee that you'll be reimbursed, though, so it may be smart to check with your insurer before buying.
How long does Candid take?

On average, Candid treatment takes six months.
Does Candid whiten teeth?

Candid offers a proprietary whitening foam specifically designed to be used with its aligners. Aligners come with one free bottle of whitening foam, and additional bottles cost $25 each.

Candid also sells Philips Zoom Whitening kits, which use a stronger hydrogen peroxide solution.
Is Candid legit?
Candid is a legitimate option if you're looking to fix the alignment of your teeth. Candid lets you work with a dentist while still offering convenient remote monitoring, and it works with several major insurance providers. If a CandidPro doctor is in your area, it might be worth checking out.
ConsumerAffairs has collected 520 reviews and 369 ratings.
A link has directed you to this review. Its location on this page may change next time you visit.
How do I know I can trust these reviews about Candid?
4,351,782 reviews on ConsumerAffairs are verified.
We require contact information to ensure our reviewers are real.
We use intelligent software that helps us maintain the integrity of reviews.
Our moderators read all reviews to verify quality and helpfulness.
Page 1 Reviews 0 - 10
Reviewed Nov. 9, 2023
I went through four sets of aligners over 2 and 1/2 years and my teeth are worse than they were before I started. The last thing I was told was to cut off part of my aligners and keep wearing them because my bite will "settle". My top and bottom front line are not aligned and the teeth that knocked together are still being held right where they are by the aligners, No idea how this is supposed to help. $2000 down the drain. Customer service is very difficult, you cannot, under any circumstances, talk with a dentist or orthodontist. Everything is relayed through someone who knows nothing about teeth, via chat. Absolutely no phone calls, even when the chat person promises someone will call you to talk about the issues you've had.
Customer Service
Sales & Marketing
Reviewed Sept. 7, 2023
I purchased Candid's aligner treatment and while it's been an improvement visually, it's left my back gums and molars disfigured and I can no longer close my jaw properly. They promise you free refinements at the beginning so I addressed these concerns with them and asked for refinements to fix the issues, but they refused, claiming my treatment was over. Since this a pretty major issue, I even offered to pay for refinements, but they told me they changed their policy and wouldn't be giving me refinements, paid or not.
I'm still completely shocked. I'm basically left dead in the water now and will now have to find someone else to finish the treatment I already paid for. Extremely poor business conduct, extremely poor customer service (rude and dismissive if they even respond at all) and ultimately an extremely poor treatment. Take a look at TrustPilot and you'll see the truth of just how many people have been screwed over by Candid. I highly recommend you get aligners with another company that's actually honest and ethical and doesn't blatantly scam you.
Thanks for subscribing.
You have successfully subscribed to our newsletter! Enjoy reading our tips and recommendations.
Customer Service
Sales & Marketing
Reviewed Aug. 17, 2023
After two full sets of 16 aligners each, my teeth are visibly straight from the front, but my bite is off and my back teeth don't touch on either side, making it difficult to chew. I was assured after finishing my second set of aligners that I would receive follow up instructions via email, but I did not. I have now called/emailed/used the chat feature at least 4x and have been promised follow up, which I still haven't received. Several times when trying to use the chat during their advertised hours, I got a message that "Sorry, no one is available, try back later". They have also now made it so that if you purchased your aligners directly from Candid, you can't call their phone help line and must use the chat feature only. Overall, terrible customer service experience.
Reviewed Aug. 15, 2023
I went through two treatments of Aligners with Candid, my bite is completely messed up. My treatment ended in May 2023, when I tried calling them today 08/15/23, all I keep getting a reply back is that 30 days after May 2023, they cannot assist. If I missed reaching out to them within 30 days, now I have no support from them. They have my video showing that Bite was not fixed, but I thought after the treatment, it may shift a little and resolve my issue, but it is getting worst. During the whole treatment, they never have you visit the orthodontist. Be careful. You will end up spending lot of money fixing your bite, process of getting Candid Aligners.
Customer Service
Sales & Marketing
Reviewed June 20, 2023
It is a scam, and they will screw up your teeth with NO empathy or remorse. After 2 full sets of aligners, my bottom teeth are still crowded. The "orthodontist" should have been able to see these issues with my scans, right? I tried to make another refinement, but because I was sick with COVID for nearly a month, I could not get my impressions sent in time. Plus, it took them nearly a month to get the impression kit to me, so I didn't have much time to complete it. Do they care? Nope. They just keep saying, "You could have emailed or called us to tell us." Wow. No healthcare provider should be this uncaring. Good luck trying to get a refinement or any money back. They will say, " See your local dentist for additional treatment." When you cause a problem, you should be the one to offer a real solution.
Why can't I speak with an orthodontist? Why can't I find the doctor when I search for them online? It feels very misleading. All the responses are the same as if they were automated. If I had a real orthodontist monitoring my care, wouldn't they notice when my teeth are not straightening as they should? Wouldn't they point this out and make suggestions for refinements? No, because that would cause more headaches for Candid. They truly do not care about customer satisfaction and dental health.
Reviewed March 16, 2023
As soon as they get paid, they stop caring. I did 10 months of alignments and my teeth were not fixed, so I had to PAY AN EXTRA $400 for refinements. After 5 months of refinements my teeth were STILL not fixed, and when I told them I needed another set of refinements they said I was "not eligible," and offered no alternate solutions. In the end, I ended up paying $2400 and my teeth are still not fixed. Customer service is absolutely terrible, their files are all messed up and they can't keep track of your case, and you'll end up throwing your money away. DO NOT USE CANDID!!!!
Reviewed Dec. 29, 2022
Hello fellow Candid patients, I am collecting stories and contact information for those experiencing problems with their treatment to review as a basis for legal action. I have personally experienced a lot of discomfort, pain, and distress throughout my treatment, including development of a jaw disorder. I have seen a lot of negative reviews and imagine there are many others who feel they did not receive the service and care that was promised. If you are like me and have suffered multiple treatment plan refinements, constant cuts inside your mouth, jaw pain, loss of sleep, and hours spent calling the Candid support line, then please contact me in private via ** (remove the spaces).
Reviewed Oct. 13, 2022
I've been wanting to fix my smile for so long, I inquired about braces and the tag on those blew me straight out the door. I saw an advertisement on Instagram…Instagram! So I didn't think it was real! I gave it a chance and within 6 short months and more than $1500 saving using them, my teeth are where I want them to be. The only downfall is I had a lisps with them on lol!
Reviewed Oct. 9, 2022
Being able to do scans at home has been extremely convenient. The fact I can do them in the comfort of my own home made me want to try Candid even more. My teeth have shifted immensely during treatment and I couldn't be happier. I am currently on step 6 of 10 and already see so much progress.
Martine
Saint Petersburg, FL
Reviewed Oct. 3, 2022
I spent 2 hours today trying AGAIN to get my box sent to the correct address after they told me Sept 19 it was still being sent to my old address that I left 9 months ago and told them new address! So now I am again held hostage on the phone to get a human being. They assure me (again) that my box will be sent and it should arrive in 1-2 weeks. I guess we will see. Beyond frustrated. I feel I should send them a bill for all of my time wasted on the phone.
Candid Company Information
Company Name:

Candid

Website:

www.candidco.com
You're signed up
We'll start sending you the news you need delivered straight to you. We value your privacy. Unsubscribe easily.