Candid
Candid provides invisible braces and works with orthodontists to offer you specialized care and teeth straightening services. Through its teledentistry model, Candid delivers aligners to your door but lets you visit a licensed orthodontist for customized services during your teeth straightening process.
Overall Satisfaction Rating
5 stars

4 stars

3 stars

2 stars

1 stars
Pros
Can start at home or at a Candid studio
Use the app to avoid needless office visits
Works exclusively with orthodontists
Cons
Limited physical locations
Not everyone is a candidate for treatment
Bottom Line
Candid is an online invisible aligners company. While its invisible braces can be pricey, Candid lets you work with a licensed orthodontist throughout your entire treatment plan.
Candid products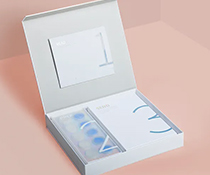 Candid
Starter Kit
$95 as of publishing date
Can take impressions of your teeth at home. Includes advanced remote monitoring. Your progress is tracked by orthodontists. No office visits required. Full refund if you're not a candidate.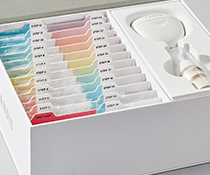 Candid
Clear Aligner Treatment
$1,895 as of publishing date
Starter kit is free and comes with whitening foam. Treatment plans and progress are directed by orthodontists. Includes remote monitoring. Aligners are shipped directly to your doorstep. No doctor visits required. HSA and FSA accepted.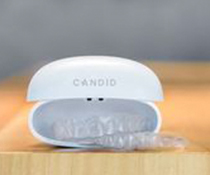 Candid
Retainers
$99 as of publishing date
Retainers are customized to ensure teeth maintain the correct position. Comfortable for overnight wearing. Premium whitening foam included. Retainers come with a carrying case. Only available for current Candid aligner customers.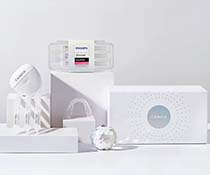 Candid
Philips Zoom Whitening Kit
$599 as of publishing date
The Philips Zoom Whitening Kit from Candid provides custom teeth-whitening treatment from home. It uses custom trays designed to fit your mouth, and you can start seeing results in as few as three days, according to Candid.
What is Candid?
Candid is an online invisible braces solution that gives you access to orthodontist care without leaving your home. Its aligners are custom designed by an orthodontist for each patient. Candid makes its aligners in-house in the company's factory in Silicon Valley and monitors patient treatment remotely with its CandidMonitoring tech and app.
To get started with Candid, visit one of its more than 30 studios around the U.S. for a free, no-risk consultation. Studios are equipped with intraoral scanners, panoramic X-ray machines and care specialists who can answer all of your questions.
If you're not within driving distance of a studio, visit Candid's website to order your starter kit. Candid uses the starter kit to determine whether you're a candidate for treatment by examining the impressions you send back,  checking pictures of your face and teeth and reviewing details from your medical and dental history.
Once Candid has deemed its program can help you reach your goals, one of its orthodontists crafts a treatment plan for you. Most of Candid's treatment plans last around six months, but the length may vary.
It's important to note that Candid has pretty specific requirements for its treatment programs, so if you're struggling with major orthodontic issues like severe alignment or spacing issues, Candid may not be right for you.
Candid pricing
Candid offers two payment options for prospective customers:
A one-time payment of $1,895. This price is all-inclusive, and you won't have to pay any other treatment costs from Candid.
$199 down and $65 a month for 36 months. You can apply for a monthly payment plan with Candid and potentially qualify for a lower down payment.
Both of the payment plans cover all of the tools you need for treatment and remote monitoring from your orthodontist.
Candid FAQ
How long does Candid take to straighten teeth?

Candid states on its website that the average treatment plan lasts around six months.

Does insurance cover Candid?

Some insurance providers cover Candid. If you have orthodontic insurance, call your provider and ask if your plan covers invisible aligners with Candid. Candid is in network with a variety of insurers, including Anthem, Empire and Aetna, with more coming soon. According to Candid, patients save an average of $1,200 with insurance, and the company works with you to get the best deal possible.

What does Candid cost?

Candid charges a one-time payment of $1,895. If you aren't interested in paying for Candid upfront, you can apply for a payment plan on its website.

Does Candid whiten teeth?

Yes. Candid is the only direct-to-consumer aligner brand to integrate Philip's Zoom whitening into its aligner treatment. Even if you don't opt for Zoom, Candid still includes whitening foam with regular treatment.
Is Candid safe?
Yes, Candid is a safe option if you're searching for invisible aligners online. Although it has rather specific requirements for service, you'll be able to work with an actual orthodontist if you're a candidate. The company lets you pay with a one-time payment or through monthly payments, which can help if you're on a tight budget.
A link has directed you to this review. Its location on this page may change next time you visit.
How do I know I can trust these reviews about Candid?
How do I know I can trust these reviews about Candid?
3,526,635 reviews on ConsumerAffairs are verified.
We require contact information to ensure our reviewers are real.
We use intelligent software that helps us maintain the integrity of reviews.
Our moderators read all reviews to verify quality and helpfulness.
For more information about reviews on ConsumerAffairs.com please visit our FAQ.
This review is featured by Candid
Cheyenne of Schaumburg, IL Verified Reviewer Verified Buyer
Original review: Feb. 19, 2021
My teeth have been previously straightened with braces but I had to prematurely stop them due to a job that I was at. I really wanted to get the rest of my teeth corrected because my gums had adjusted in a way that was uncomfortable for eating. Food would get stuck up there because my teeth were not in place with the gums.
I didn't like the experience that I was receiving from Smile Direct. I started looking at places that were similar to Smile Direct and I did my own research. I found Candid and the preview of the straightening process that they gave me was more custom to my face and outside of just making my teeth straight. From the experiences that I had seen in the past, they just make my teeth look like an arc. Candid made it my version of straight, which I really liked.
I really liked the process with Candid. It was very hands-on. They let me know about every single step and even a step that had nothing to do with me. They put that in the app and they would send me little messages like, "The orthodontist is currently working on your plan, currently making changes." I really liked that because it helped me to see that that whole process was actually being done. It wasn't just that they took a picture and somehow 3D printed my teeth into a plastic shell and sent it right back to me.
The results I got have been perfect and I was just bragging to my sister today. I have a couple of gaps towards the back that I didn't have before so I just have to make sure I pay attention when I'm flossing at night. I also had to ask the customer service representatives about a routine to follow because that wasn't given to me automatically. They let me know how to reduce the time with the last set of aligners. Now I'm currently doing eight hours a day at night.
Read full review
Candid response
Thanks for your feedback, Cheyenne! We really appreciate it.
2 people found this review helpful
This review is featured by Candid
Lucrece of Omaha, NE Verified Reviewer Verified Buyer
Original review: Oct. 27, 2020
I have been very impressed with Candid from the time I ordered the kit to take impressions of my teeth to now. Customer service has been amazing. All of my questions have been answered and I am very happy that I chose Candid to straighten my teeth.
Be the first one to find this review helpful
This review is featured by Candid
Keagan of South Portland, ME Verified Reviewer Verified Buyer
Original review: Oct. 26, 2020
I had wanted to fix my teeth for many years. I had braces when I was a child and I lost my retainers and couldn't get replacements in time so my teeth shifted back to pre-braces. I was devastated. I had wanted to fix my teeth but didn't have money for the top of the line invisible liners and didn't want to go through using braces again. Then I found Candid. It was much cheaper and such a easy process to get started and begin treatment. I didn't even have to leave my house. Their staff was always quick to answer questions or needs and my teeth look amazing. Would recommend to anyone who wants to fix their teeth and have to my friends and family as well.
Candid response
Thank you for your feedback, Keagan! We're thrilled that you're satisfied with your new smile.
Be the first one to find this review helpful
Page 1 Reviews 0 - 5
Mary of Bristol, TN Verified Reviewer Verified Buyer
Original review: April 10, 2021
My top teeth are completely straight now. Everything is fixed. I would have to get brackets and actual braces to completely fix the crossbite on the bottom. But my top teeth are perfect and the bottom ones are greatly improved. At the beginning, the care manager told me that they could improve them but it was not going to be 100% perfect because of the way my teeth are. But I told her I was just looking for improvement. I'm 52, so I started doing this when I was 50 and finished when I was 51. I am not going to get braces at this point. Invisalign has brackety things that they can put on those but that did not work out. So Candid was the next best thing and it worked as well as I needed it to. I'm happy with the results. My teeth are not super perfect but they are much improved.
Regardless of whether you do Candid or Invisalign at your dentist's office, it's still a process. You've got to go get impressions made, and then they have to send off and they have to make those aligners and then you have to come back. But the good thing with Candid was I would get an email that said, "Hey, you can move to your next aligner now." I could do it when I got home from work, and not have to take off and go to the dentist. It was very convenient, and this was pre-COVID. That was a big thing for me because going to the dentist every two or three weeks was a little difficult.
I liked that there was an actual dentist involved that was looking at things and not just, "Yeah. It's been 14 days, go ahead and change." The dentist was in Knoxville and he was the one who was looking at my impressions. I would take my pictures and send them in, and then he would look at them and say whether I need to move on to my next step or not. I had crossbite on the bottom and some of my top teeth were a little out of alignment. My two eyeteeth were back from my front teeth a little bit. It wasn't anything horrible, but making impressions was horrid. I didn't like it when the dentist did it. I liked it even less when I had to do it. Then Candid emailed me and told me that I was a candidate, and that we can move forward.
I eventually talked to a care manager and we talked about payment plans and financing. I didn't have any issues while I was still an active client, but I did have a little bit of trouble finding a retainer after I was done. I needed to get a retainer and I couldn't figure out how to order it from their website. There was no link. But I emailed them and they sent me a link to order my retainer, so it worked out. Overall, the whole process went very smoothly. But a good thing that they could do is that as soon as I get done with a step, they could send me an email saying, "Hey, you're gonna need to replace your retainer in a few months and here's how to do that," instead of me having to say, "Okay, I need to do this, but how?" That way, I could put the emails in a folder and I could find the email later if I needed it.
One of my co-workers ended up doing her teeth through Candid too. We were talking about it and she asked me how many steps did I have. I told her about mine and then hers was not the same amount of steps from what she was altering. She had three fewer steps than I did. She told me that it was really good to know that my treatment plan was different from hers and Candid didn't just send everybody the same treatment plan. So it was individualized, which is good.
Candid was almost half the price of what Invisalign was going to be. My insurance would only pay $1,200 towards orthodontia for anybody. It was 4,700 for Invisalign, and I only paid 2,400 at Candid. I had 14 retainers and there were a couple of them that seemed like didn't fit right. Some part of it would rub my mouth the wrong way the whole time I was wearing it. They weren't sharp but it was the way they sat in my mouth. It would rub my gums and I bought some oral gel and sucked it up. I didn't like that part. It was not pleasant, but that was not Candid's fault. Any type of orthodontia would do the same thing.
Read full review
Candid response
Thanks, Mary. We appreciate your feedback.
2 people found this review helpful
Thank you, you have successfully subscribed to our newsletter! Enjoy reading our tips and recommendations.
Meredith of Kalamazoo, MI Verified Reviewer Verified Buyer
Original review: March 31, 2021
I had been referred by my dentist to an orthodontist, and I didn't like the guy. He was super creepy. I wanted to have invisalign-type stuff, and he was like, "Oh, no, no. We need to pull all these teeth and you'll have metal braces for two years." I was like, "Oh, no, I have no desire to go through that." Then I was watching TV and there was an ad for a different company. I was looking it up and it had decent reviews. Then, I kept googling to see other companies. There was a website, and it was ranking all of the different online places to get invisible braces. The most positive reviews and the most number of reviews were for Candid. So, I kept looking at their website and thinking about it. There were more reviews on their website and it seemed great. The price was not the least expensive, but it seemed the most consistent. There were images of where people started and where they ended up, and that was what did it for me.
First, I got the molding kit and I sent it in because they want to make sure that you're compatible and that you would be able to see results. Even before I committed and paid, they showed me where I was right now, and then a model of where my teeth could get to. I was ecstatic. The second set of the invisible ones is where I started to see it happening. It was super exciting. I kept them in all the time. I only took them out to eat. I stopped snacking because I didn't wanna take it off in the daytime. I would take it off for lunch, and I would only drink water. I showed my husband my teeth and he was shocked because he was not convinced that it would work. It was apparent like week three that it was definitely working.
I would tell others to make the purchase from Candid. I have a weird spacing in my mouth. My mouth is somehow too small for my teeth. So, I'm sure that the original orthodontist was right that I would need to have teeth pulled to have it set in a different way. But the final product through Candid was amazing. I feel like it was completely worth it. It's one of the best things I've ever done for myself in the past 20 years.
Read full review
Candid response
Meredith, thank you so much for the kind words. When you're happy, we're happy!
2 people found this review helpful
Alicia of Washington, DC Verified Reviewer Verified Buyer
Original review: March 4, 2021
I like the pricing of Candid. They also have a location in DC before COVID that I could go into. I didn't have to do everything through a mail kit and I could actually talk to someone. I could meet with them and there wasn't a fee associated with it. I wanted to have the spacing of my teeth fixed. I had a retainer when I was a kid and it pushed my teeth. They looked like giant gravestones with a big gap in the middle. I'm glad I did it. I didn't know my teeth could look good. I feel really good about my smile now. Every morning, when I take my retainer off and I brush my teeth, I'm like, Oh my gosh! My teeth look like this now. It does make a difference. Also, in taking care of my teeth, like brushing, they're easier to maintain and clean than when they were all out of alignment.
Their process was straightforward. I had gone into the office and they did these 3D digital scans. I downloaded an app. They came up with a plan and sent it to me, and then they alerted me of every step of the process. The only issue I had was shipping. They shipped them to the location and I had to go pick them up, which was fine. It was very close to where I live. But the emails made it seem like they delivered it to my apartment. There was a good day of us trying to figure out where they were actually delivered. I was like, "I don't want to go through this again." But, there was just some miscommunication about where they were sent. That was the only hiccup. But customer service was great. Then it worked out because I got them a couple of weeks right before everyone went into quarantine.
During the quarantine, the checkups were all done virtually. There was an app that I do these scans for and they take the scans and they send them directly to the orthodontist and then I get feedback in a day of whether I was doing a good job or doing not so good a job. However, when I ordered a new retainer last week, I found their website a little clunky to click around. I went in looking to order a replacement retainer and it took a long time for me to find where to do it. It wasn't so straightforward. It logs me in and then it was like, "Here's your treatment plan." I was like, "I already know that. I've already done that. I want a replacement." But I've recommended Candid to a friend already. She's in her final steps right now.
Read full review
Candid response
Thanks for the kind words, Alicia! So happy we could help.
Be the first one to find this review helpful
Rob of Las Vegas, NV Verified Reviewer Verified Buyer
Original review: March 3, 2021
I looked at several products and I liked the fact that Candid had a real orthodontist preparing the molds and monitoring the process. They have it worked out better than the other companies. The way it works out is the teeth start realigning in the second or third week so you can see and you can feel slight progress in your mouth. The orthodontist and the medical people behind this whole program have taken some time to think this out. The doctors have created a good protocol and it should be followed to the letter. I went through the whole process which took a little over six months. I saw a definite improvement and I was very happy with the product. After I started using it, it aligned most of the teeth. It got to about 90% of what I wanted which I'll accept.
I did have some difficulty in the beginning. I got the first mold and looked through all the literature that they gave me and it seemed all right. But at the same time, I still have to do a slightly better job. There were 12 different molds, teeth aligners in my package and I thought there should be two more. Someone misunderstood what I was asking for. I sent in the second set of molds and told them that it was partially because I wasn't satisfied with the mold if I made them at home. They came back with me a second time with 10 alignment brackets. That was even fewer than I wanted to. Then I had to go through a process of going back and getting the original 12.
They never really gave me everything that I wanted but I realized no system is perfect so I ended up doing the 12. They need better communication on that end. If someone is not satisfied with the initial grouping of aligners that they send out, they have to be able to respond to that more quickly. It took them about seven weeks to respond to that to get that straightened out. I have no problems with the doctor but the frontline people need to be better educated.
Read full review
Candid response
Thank you for your feedback, Rob. We appreciate it!
Be the first one to find this review helpful
Ann of Atlanta, GA Verified Reviewer Verified Buyer
Original review: Feb. 7, 2021
Candid was very friendly and they had a studio for me to go into and speak to a rep. Their process was very easy. From the app, the box they gave me, the trays, to the packaging for the remote monitoring, things were all professionally done and very organized. Their color palette, marketing, and the way their studio is designed are very pleasing. The customer support team was very responsive. It was very beneficial that they hand an orthodontist who did remote monitoring as well.
The only thing that Candid needs to do differently is to have additional little pull tools for me to remove my aligners. The initial set they provided only gave me one. That tool breaks when the user puts in a fresh set of aligners and it's really tight. I had to wait for another one to come in. That replacement got delayed in the mail so I had to order a new one. Candid needs to give two or three of those pull tools. My aligner got stuck in my teeth and I had to use a metal paint can opener to get it out of my mouth. Other than that, I'm 100% happy with my new smile.
If more people knew about the remote orthodontist monitoring service, I feel like that could be a major differentiator. A lot of people who are interested in doing aligners don't realize how important it is to have a professional to tell them whether they need to stay on the current stuff or it's okay to move on to the next stuff. Candid's orthodontists tell you because they monitor my teeth remotely. That is a major highlight. I've referred other people to use Candid.
Read full review
Be the first one to find this review helpful
Christine of St Johns, FL Verified Reviewer Verified Buyer
Original review: Jan. 14, 2022
I have had braces in my youth and my teeth have shifted over the years. My son's orthodontist suggested clear aligners and quoted me more than twice what I've paid through Candid. The service and quality at Candid have been fantastic. I have been recommending Candid for weeks!
Be the first one to find this review helpful
Monica of Jonesboro, GA Verified Reviewer Verified Buyer
Original review: Jan. 13, 2022
I love the ease of the Candid process, and my son loves not having to go to orthodontic appointments a couple times a month to have straight teeth especially during the pandemic! We are almost there, halfway there, and we can directly see the progress! We love Candid!
Be the first one to find this review helpful
Michelle of Corona, CA Verified Reviewer Verified Buyer
Original review: Jan. 12, 2022
My experience with the actual aligners has been great, the only thing that really disappointed me was hearing back from my dentist after submitting a ticket. Turn around was supposed to be 24-72 hours. My scan is today and I never heard back.
Be the first one to find this review helpful
Lillian of Aberdeen, WA Verified Reviewer Verified Buyer
Original review: Jan. 12, 2022
Got these and was kinda skeptical but I have been delightfully surprised every few weeks with seeing how much my teeth have changed. I highly recommend this to anyone who doesn't want metal bracket braces. I use the whitening foam often and it keeps my teeth looking a very nice white.
Be the first one to find this review helpful
Suzanne of Anaheim, CA Verified Reviewer Verified Buyer
Original review: Jan. 12, 2022
My experience with Candid has been pleasant and impressive from the very first appointment. Their technology is incredible and the treatment has been so easy. I'm so proud of my smile already and I'm only halfway through! The app is so easy to use and I love that you can see a progression video to see how your teeth have changed.
Be the first one to find this review helpful
Candid Company Information
Company Name:

Candid

Website:

www.candidco.com