Candid
Find Invisible Braces partners near you
Candid offers an alternative to traditional braces by using clear, removable aligners instead of brackets and wires. CandidPro doctors get you started with a custom treatment based on thorough scans of your teeth, and your aligners are then delivered to your home. From there on out, you can check in with your dentist remotely through Candid's mobile app and the provided CandidScan box. Candid also works with multiple dental insurance providers.
Find Invisible Braces partners near you
Overall Satisfaction Rating
5 stars

4 stars

3 stars

2 stars

1 stars
Pros
Six-month average treatment time
In-network with several insurers
Remote check-ins
Cons
Not available in all states
Bottom Line
Candid offers an unobtrusive tooth-straightening product delivered to your home. After you work in person with a doctor to design a treatment plan, progress can be remotely monitored every 14 days.
Top Candid Reviews
How do I know I can trust these reviews about Candid?
4,114,109 reviews on ConsumerAffairs are verified.
We require contact information to ensure our reviewers are real.
We use intelligent software that helps us maintain the integrity of reviews.
Our moderators read all reviews to verify quality and helpfulness.
For more information about reviews on ConsumerAffairs.com please visit our FAQ.
Jake of Flagstaff, AZ
Verified
It's crazy to think I'm already halfway done with my treatment - my smile has transformed so much I'd be happy just with where they're at now! This has given me self esteem I didn...
Read full review
Jennifer of Pittsburgh, PA
Verified
I am over halfway through treatment plan and I am very satisfied with the progress made to the point. My only regret is not doing it sooner. All my interactions with the Candid st...
Read full review
Candid products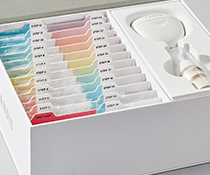 Candid
Clear Aligner Treatment
Cost varies as of publishing date
Treatment kit is sent to your doorstep. It comes with a full set of aligners, your CandidMonitoring equipment and whitening foam. Check-ins are done remotely every 14 days. Treatment takes six months on average.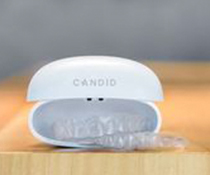 Candid
Retainers
$99 as of publishing date
Retainers are customized to ensure teeth maintain the correct position. Comfortable for overnight wearing. Premium whitening foam included. Retainers come with a carrying case. Only available for current Candid aligner customers.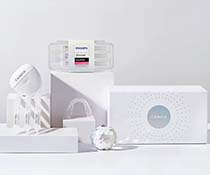 Candid
Philips Zoom Whitening Kit
Cost varies as of publishing date
The Philips Zoom Whitening Kit from Candid provides custom teeth-whitening treatment from home. It uses custom trays designed to fit your mouth, and you can start seeing results in as few as three days, according to Candid.
What is Candid?
Candid's main offering is a nearly invisible tooth-straightening treatment that uses clear, 3D-printed aligners that gently shift your teeth into place.
Throughout your treatment, you can have your dentist monitor your progress remotely with CandidMonitoring technology. This includes a CandidScan box and a smartphone app to take photos and send them to your doctor.
Candid also offers retainers and various tooth-whitening products, including the Philips Zoom Whitening Kit. This kit can be purchased through your CandidPro doctor as a component of your aligner treatment.
In the past, Candid offered starter kits so you could make your own impressions at home. However, the company stopped selling these kits as of January 24, 2022.
Instead, you now have to book a consultation with a CandidPro doctor in your area to get started. At the time of publishing, there are Candid locations in 36 states and Washington, D.C. If your current dentist isn't a CandidPro doctor, you can submit their information to Candid, and the company will reach out to them.
How does Candid work?
Candid has a relatively straightforward process to get you started:
First, find out if you're a good candidate by completing the questionnaire on Candid's website. This quiz asks you for some basic personal information and lets you choose any of four options to describe your teeth (crowded, discolored, spaced or protruding). If you qualify for treatment, your next step is scheduling a visit with your local CandidPro doctor.
There, you provide your dental and medical history, and the dentist takes X-rays, a 3D scan and eight intraoral and extraoral photos.
Your dentist then designs your treatment plan, and Candid puts it into production.
You receive your 3D-printed aligners in the mail.
Candid aligners work by shifting your teeth into a new position as you wear them, so you'll need to wear your aligners for at least 22 hours per day during treatment.
Each set of aligners is designed to move your teeth in small increments over time. Your CandidPro doctor will monitor your progress remotely as you send in scans every 14 days.
Once your teeth move fully into place, you begin the passive healing phase, which means that you no longer need active pressure on your teeth. However, during this phase and beyond, you have to wear a retainer to keep your teeth in place.
For the first two weeks, you need to wear your retainer for at least 22 hours a day. After that, most people only need to wear their retainers at night.
How much does Candid cost?
Candid does not list prices for its aligners since treatment is different for each person based on individual needs.
However, the company does give three hypothetical treatment cost examples. The costs in these examples range from $3,500 to $7,100 before insurance and from $1,750 to $5,350 after insurance.
Candid retainers cost $99 per set.
Candid FAQ
Are Candid aligners painful?

Some discomfort is expected when starting with each set of Candid aligners. This should only last the first few days you have a new set of aligners, and the company provides small chewable devices to help ease the inflammation.

What are Candid aligners made of?

Candid aligners are made of BPA- and phthalate-free thermoplastic.

Does Candid take insurance?

Yes, Candid does take insurance. If Candid is in your insurance provider's network and you have orthodontic coverage, you can save $1,000 at checkout on average.

If Candid isn't in your insurance provider's network, you can provide Candid with your information and it will submit a claim on your behalf. Candid can't guarantee that you'll be reimbursed, though, so it may be smart to check with your insurer before buying.

How long does Candid take?

On average, Candid treatment takes six months.

Does Candid whiten teeth?

Candid offers a proprietary whitening foam specifically designed to be used with its aligners. Aligners come with one free bottle of whitening foam, and additional bottles cost $25 each.

Candid also sells Philips Zoom Whitening kits, which use a stronger hydrogen peroxide solution.
Is Candid legit?
Candid is a legitimate option if you're looking to fix the alignment of your teeth. Candid lets you work with a dentist while still offering convenient remote monitoring, and it works with several major insurance providers. If a CandidPro doctor is in your area, it might be worth checking out.
A link has directed you to this review. Its location on this page may change next time you visit.
How do I know I can trust these reviews about Candid?
How do I know I can trust these reviews about Candid?
4,114,109 reviews on ConsumerAffairs are verified.
We require contact information to ensure our reviewers are real.
We use intelligent software that helps us maintain the integrity of reviews.
Our moderators read all reviews to verify quality and helpfulness.
For more information about reviews on ConsumerAffairs.com please visit our FAQ.
Page 1 Reviews 0 - 5
Sarah of Barberton, OH

Verified Reviewer Verified Buyer
Original review: April 22, 2022
I am halfway through my treatment and so far I'm pleased with how quickly and close to painless this journey has been. Not only are these gradually straightening my teeth, they have helped me develop a routine of taking better care of my teeth and my mouth has never felt healthier. I will say it isn't painless, but the pain comes and goes so quickly it's not an issue. I suggest doing scans early in the morning and putting in new steps before bed at night, that way the tight uncomfortable feeling is mostly gone by the time you wake up! I also suggest filing down the aligners if they're causing irritation inside of your mouth, it will help having a more customized fit on your teeth!
I gave 4 stars because there are a few things I don't like. The small whitening foam that's included, I wish I was given a bigger size because it ran out very quickly even using it as directed, and I can't seem to justify buying another small bottle for $25 when I've already spent so much money on the treatment as a whole. I think Candid customers should either get bigger portions or get a free whitening foam every 3 months during the duration of their treatment. Another thing I didn't like much was the "chewies" they give to help put a new aligner set tightly into place by biting down on them.
They get really slippery when they're covered in your drool (and yes you'll more than likely drool during this part) and I've gotten scared a few times when I bit down hard enough for it to slip out from between my teeth, which caused it to shoot to the back of my throat almost causing me to choke. I've tried using them a few different ways but I just can't get over the fear that they're small enough to get stuck in my throat or something. I think they should be bigger and longer, possibly something you can actually hold on to, to avoid them popping towards your throat.
Lastly, I was unhappy that I referred a friend to Candid, using my code, and she bought her aligners and everything and I was told by Candid if you referred someone and they bought aligners, you would be thanked by a reward… I never received what I was supposed to for that and I have contacted customer care multiple times about this and just keep being told to call a number that always ends in the call disconnecting. Overall, they aren't super expensive, aren't terribly uncomfortable, and the team has been nothing but helpful with any questions I've had regarding my treatment and the changes my teeth go through every step. I have made TikTok videos recommending them already, and hope to see Candid helping more people.
Read full review
Be the first one to find this review helpful
Adam of Oakwood Hills, IL

Verified Reviewer Verified Buyer
Original review: April 1, 2022
There were two areas of my mouth I was concerned with. As a child I had braces, but didn't take the necessary precautions to maintain my smile and after a few years I noticed a good bit of shifting and crowding. Halfway through the program and a majority of the crowding has adjusted or looks ready to be. I'm hoping the second half of my journey pulls the main "problem area" back into alignment. Overall it's been a pretty easy process. The aligners are only really a bother the first day or two, but my mouth seems to quickly adjust and the discomfort isn't anything like real braces.
My only real criticism is their response time for scan days seems to get longer and longer for them to respond and tell me to move on to the next stage. They tend to criticize me every round for plaque buildup, which I'm working on and given the pandemic haven't been to a dentist yet. Home remedies or recommendation besides see a dentist would be appreciated. Overall, it's been a good experience and I can't wait to see the final results.
Read full review
Be the first one to find this review helpful
Thank you, you have successfully subscribed to our newsletter! Enjoy reading our tips and recommendations.
Alejandra of Chandler, AZ

Verified Reviewer Verified Buyer
Original review: Feb. 23, 2022
Growing up, I didn't need to use braces because my teeth were relatively straight. However, I never realized that my teeth seemed straight because of my overbite, you could only see my top teeth. As the years passed, there was some crowding in my bottom teeth and it became a lot more evident when I started working online because I could see myself talking on camera everyday call day. That's when I decided I wanted a straighter smile, top and bottom.
I decided to give Candid a try because it was affordable and one of my close relatives had completed their candid program and got results too (their gaps vanished!). Once I sent in the molds, which was probably the most time consuming part of the process, the rest had been so easy. Every 10 days, I'm reminded to complete my at-home teeth scans which I do on my own in front of a mirror, and for about 4 months now, I haven't had any delays and can see a huge improvement - less crowing on my bottom teeth, more space, and my overbite has also improved. I'm excited to complete the program! Also, I opted to pay it in full from the start so that I felt extra motivated to complete it.
Read full review
Be the first one to find this review helpful
Alexis of Lake Forest, CA

Verified Reviewer Verified Buyer
Original review: Feb. 23, 2022
I couldn't recommend this treatment more! A lot of people state they have issues with their Aligners at all different companies, I haven't had any big issues with Candid. My lower jaw has minor spacing that can be fix. It's just how my own body reacted to the treatment and it's not a big deal. What you need to understand is when your doing these braces it's a process. You will experience some pain. It will subside and you will become desensitized to it and keep going because pain is beauty it's a process, another thing is you're not going to be instantly gratified when it comes to any form of braces but I can truly say after 2 days when I change my trays out I definitely see results.
And what people need to understand is it's a process if you're willing to put in the work and effort you will see results. And I am beyond happy with mine. I was very insecure to smile and very ashamed of my teeth and now I find my self happy to smile and show off my teeth and absolutely love the results, only downside is trying to talk while having the braces in hah. It is hilarious and embarrassing at first but who cares when you see my smile it's totally worth it, I would do it all over again to get the results I have. That is my upfront most honest opinion. Take it for what it's worth.
Read full review
Be the first one to find this review helpful
Morragan of Conyers, GA

Verified Reviewer Verified Buyer
Original review: Dec. 20, 2021
The reason I got these aligners is because I had braces once upon a time, and my teeth shifted because I was avoiding the very painful retainer they gave me. My teeth finally started bothering me not only aesthetically but also because I was concerned that I couldn't clean them properly anymore due to the way they shifted, so I started hunting for what would seem like the best choice of aligners for me. I landed on Candid, and I'm so pleased with the experience. The entire process has been very smooth. I haven't had to go anywhere for anything or have anyone other than myself poking around in my mouth. I can tell a dramatic difference in my teeth already, and I'm only a little over halfway through my plan. The entire process has been significantly less painful than braces in every way, and it's taking far less time.
I am also far more pleased with the way my teeth are straightening vs the way my teeth looked when I got my braces off back in the day. When I got my braces off, my bite did not align well at all. I couldn't close my teeth all the way and it made me hold my jaw weird. It felt awful. My bite is aligning well through this process, and I am confident it will align perfectly by the end. My teeth are also aligning in a much more aesthetically pleasing way which makes me very happy. I hate the way my front teeth are shaped, and braces only accentuated the shape of them. These aligners are shifting them in a different way that makes them not appear to be shaped the way they are, and I am ecstatic about that. I already know I am going to be the most confident about my smile that I have ever been once I finish this treatment, and that means a lot to me considering how insecure my teeth have made me throughout my life.
Read full review
Be the first one to find this review helpful
Jazzmine of Murrieta, CA

Verified Reviewer Verified Buyer
Original review: Oct. 13, 2022
I've been wanting to fix my smile for so long, I inquired about braces and the tag on those blew me straight out the door. I saw an advertisement on Instagram…Instagram! So I didn't think it was real! I gave it a chance and within 6 short months and more than $1500 saving using them, my teeth are where I want them to be. The only downfall is I had a lisps with them on lol!
Be the first one to find this review helpful
Hanna of Norwalk, OH

Verified Reviewer Verified Buyer
Original review: Oct. 9, 2022
Being able to do scans at home has been extremely convenient. The fact I can do them in the comfort of my own home made me want to try Candid even more. My teeth have shifted immensely during treatment and I couldn't be happier. I am currently on step 6 of 10 and already see so much progress.

Be the first one to find this review helpful
Martine of Saint Petersburg, FL

Verified Reviewer
Original review: Oct. 3, 2022
I spent 2 hours today trying AGAIN to get my box sent to the correct address after they told me Sept 19 it was still being sent to my old address that I left 9 months ago and told them new address! So now I am again held hostage on the phone to get a human being. They assure me (again) that my box will be sent and it should arrive in 1-2 weeks. I guess we will see. Beyond frustrated. I feel I should send them a bill for all of my time wasted on the phone.

Be the first one to find this review helpful
Olivia of Houston, TX

Verified Reviewer Verified Buyer
Original review: Sept. 21, 2022
There is very little support and no ability to actually speak to an orthodontist. All responses on the scans you self take are canned and there is no one to discuss with beyond a chat bot. My treatment continues to be delayed because the trays don't fit correctly and a few teeth aren't moving. Ultimately, after wearing same trays for 3-4 weeks (that I should be wearing for 2) they tell me to move on, despite no movement in the same teeth that caused the delay. This means my treatment plan is going to be months longer than anticipated for no real reason. When I asked if I could opt to move forward and just live with the teeth that aren't moving they said I can but then if anything goes wrong they're not responsible and I'll have to pay more for any fixes.
I've also had gaps develop in my teeth that have caused significant pain as food continuously gets stuck between them. I had to go to an actual dentist because the pain was so bad and they couldn't figure out why Candid had re-aligned my teeth the way that they did. I also opted to pay $299 more to add teeth whitening to my treatment. I didn't realize I had to complete treatment before starting my aligners so I reached out to see how I could use remaining whitening treatment. They responded, "Sorry, you can't. It has to be used before you start treatment." TERRIBLE response and no support. Recommend paying a little more and having a better experience with Invisalign or another provider.
Read full review
Be the first one to find this review helpful
Lynn of Altoona, PA

Verified Reviewer Verified Buyer
Original review: Sept. 14, 2022
My progress is through the roof. Very pleased. I've really enjoyed having my teeth straightened after 70 years. I will recommend Candid to anyone who will listen to me speak. I could go on and on and on and on about how pleased I am.
Be the first one to find this review helpful
Candid Company Information
Company Name:

Candid

Website:

www.candidco.com
You're signed up
We'll start sending you the news you need delivered straight to you. We value your privacy. Unsubscribe easily.