Our promise. We provide a buying advantage with verified reviews and unbiased editorial research.
About Invisalign
This profile has not been claimed by the company. See reviews below to learn more or submit your own review.
Invisalign makes clear plastic aligners that straighten teeth, correcting issues ranging from simple to complex. Patients visit an Invisalign-trained doctor for a consultation to get a customized treatment plan. Treatment takes an average of 12 to 18 months, during which the user wears aligners 20 to 22 hours a day, switching them out every one to two weeks. According to the company, over 9 million people worldwide have used its liners.
Pros & Cons
Pros
Nearly invisible aligners
Free consultations
Treats simple to complex cases
Cons
No guarantees
More expensive than competitors
Bottom Line
Invisalign's nearly invisible aligners straighten teeth without wires or brackets. Treatment requires doctor visits every four to six weeks and lasts an average of 12 to 18 months. Cost is similar to that of braces.
Featured Reviews
Verified
Sedalia, Missouri
They are a comfortable fit and removable when eating and cleaning. Saw visible results In 6 weeks and in 6 months my teeth were 90 percent straight. I used them longer because my ...
Read full review
Verified
Chicago, Illinois
I love my Invisalign! I had a few crooked teeth on the bottom row so my dentist recommended them. I have about 6 months left of wearing them but they are the best. Could not be mo...
Read full review
Invisalign products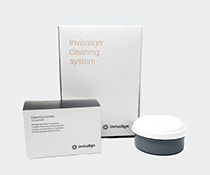 Invisalign
Cleaning System
$55.99 as of publishing date
Includes special cleaning crystals advertised to remove plaque in 15 minutes. Contains a cleaning tub and 50 packages of cleaning crystals. Can be used to keep aligners clear and odor-free. Easy to use with warm tap water.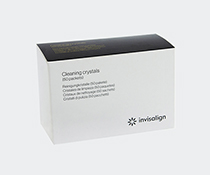 Invisalign
Cleaning Crystals
$41.99 as of publishing date
Contains 50 packets of cleaning crystals. Aimed at keeping retainers clear and free of odors. Advertised to remove plaque in approximately 15 minutes. Shipping only available to the U.S. and Canada.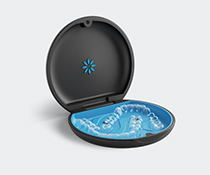 Invisalign
Aligner/retainer cases
$16.99 as of publishing date
Helps keep retainers and aligners safe wherever you go. Inner lining minimizes slippage and inside movement. Includes a bonus drawstring pouch to carry oral hygiene essentials. Cases come in multiple designs.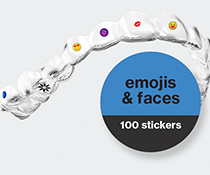 Invisalign
Stickables
$20 as of publishing date
Stickers come in multiple shapes and sizes to decorate clear aligner cases. Made with water-resistant plastic materials. Themes include emojis, nature, animals, gaming and holidays.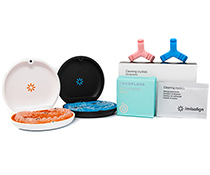 Invisalign
Elite Bundle
$74.99 as of publishing date
Includes two aligner/retainer cases with magnetic closures, 50 packs of cleaning crystals to keep aligners odor-free and clean, a pack of Munchies to optimize seating of aligners and a pack of Cocofloss dental floss (two-month supply).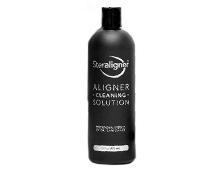 Invisalign
Steraligner with sterilizing tray
$36 as of publishing date
Cleans and sanitizes aligners in just three minutes. Removes plaque, tartar and 99.9% of bacteria. Comes with a 16-ounce bottle of Steraligner solution and a soaking dish. Developed by an orthodontist.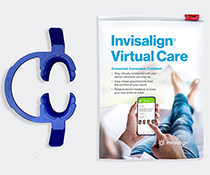 Invisalign
Cheek retractor for Invisalign Virtual Care
$9.95 as of publishing date
Cheek retractor that assists you in taking photos of your teeth for virtual monitoring of treatment between office visits. Includes one retractor, care and use instructions and information about Invisalign Virtual Care. Also comes with pouch for storing the retractor.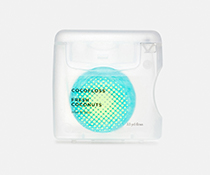 Invisalign
Cocofloss dental floss
$9 as of publishing date
Textured dental floss made with coconut oil and vegan wax. Available in mint, coconut, strawberry and orange. Contains 33 yards of floss, a two-month supply. Save $1 by purchasing variety pack with all four.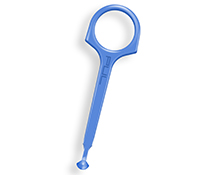 Invisalign
PUL System
$11.99 as of publishing date
Hands-free aligner seating and removal tool so you can keep your hands out of your mouth. Makes it easy to position and maneuver aligners. Helpful for aligners with buttons or attachments. Made with nontoxic plastic material. BPA-free.
What is Invisalign?
Invisalign is a treatment that straightens teeth using nearly invisible aligners that are clear, plastic and removable and have no wires or brackets. Invisalign customizes aligners to treat tooth crowding, overbite, underbite, crossbite, gaps and open-bite conditions in adults and teenagers.
Invisalign treatment lasts an average of 12 to 18 months, with costs similar to those of braces. Unlike other companies that make invisible braces, Invisalign requires regular, in-person visits to a doctor. Over 9 million people around the world have used Invisalign, according to the company.
How does Invisalign work?
Get started with Invisalign by taking the assessment on its website. You'll answer questions about your age and teeth. If you're a good fit, Invisalign's Smile Concierge Team will help you schedule a consultation with an Invisalign-trained doctor in your area.
During this exam, you'll receive a 3D scan of your teeth and a preview of your new smile. This is a good time to ask questions about how long treatment will last and how much it will cost. Bring your insurance card if you have coverage.
Once you approve the treatment plan, Invisalign creates your customized aligners with its SmartTrack material. You will need to wear the Invisalign aligners 20 to 22 hours a day and change them every one to two weeks. You'll remove the aligners when eating, drinking, brushing your teeth and flossing. Treatment for teens may come with compliance indicator dots so parents know their children are wearing their aligners.
You can expect regular checkups with your doctor every four to six weeks. Treatment may require SmartForce attachments for complex tooth movement. Once you are done wearing the aligners, your doctor will likely recommend that you wear retainers. Invisalign recommends Vivera retainers.
How much does Invisalign cost?
Your doctor determines the cost of Invisalign treatment based on the complexity of your case and how many aligners you need. Invisalign states that the price of treatment is "about the same" as braces. It gives examples of quotes on its website ranging from $3,400 to $7,100.
Some dental and health insurance providers cover part of the cost of Invisalign. Before going in for your consultation, contact the provider to ask if it accepts your insurance. You can contact your insurer to check your benefits or ask your provider to do it for you.
Ask your doctor also about a monthly payment plan. Keep in mind that you may be able to use a health savings account (HSA) or flexible spending account (FSA) to pay for invisible braces. Speak with your benefits manager and doctor's office about using money from an HSA or FSA.
Invsalign FAQ
Can Invisalign ruin your teeth?

During your initial consultation with the Invisalign-trained doctor, ask about the risks associated with Invisalign. During treatment, it's important to maintain good oral health, with regular visits to your dentist and the doctor monitoring your treatment. You'll need to remove your aligners before eating or drinking and brush your teeth after every meal before putting the aligners back in your mouth. Follow your provider's instructions and let them know if you're experiencing any problems.
Can your teeth move back after Invisalign?

Yes, your teeth can shift back after treatment. Your doctor will likely recommend wearing custom-made retainers.
Is Invisalign a permanent fix?

Invisalign treatment is designed to provide lasting results. Your doctor may recommend wearing a retainer so that your teeth don't shift back to their original positions.
Can you eat normally with Invisalign?

There are no food restrictions with Invisalign. You just need to take out the aligners before eating and brush your teeth before putting them back in.
Does Invisalign change your face shape?

It's possible that Invisalign can change the shape of your face. If you have concerns or questions about how treatment can change your face shape, ask your dentist or orthodontist during the initial consultation; they may be able to show you specific areas of your face that can change.
Does Invisalign hurt?

You may feel some discomfort or pressure during the first few days of wearing new aligners. This is normal and a sign that the aligners are working. If you have persistent discomfort, you should let your doctor know.
Can Invisalign fix an overbite?

Yes, Invisalign can fix an overbite. Schedule a consultation with a doctor in your area to see how Invisalign can help.
Is Invisalign covered by insurance?

It depends on your insurance plan. In many cases, insurers cover Invisalign the same way they cover traditional braces. Insurance might cover a certain dollar amount or a specific percentage of the cost. To find out if your dental or health insurance covers Invisalign, contact your insurance company or ask your Invisalign doctor's office if it will do a benefits check.
Is Invisalign worth it?
Invisalign is a well-known alternative to traditional braces that's designed to be just as effective at correcting teeth in adults and teenagers. There are many appealing factors: The aligners are nearly invisible and removable, there are no brackets or wires and the treatment time is often shorter. Trained dental and orthodontic professionals oversee treatment. The cost is similar to the cost for braces, but Invisalign tends to be more expensive than other companies offering invisible braces. If you're considering options to straighten your teeth, we recommend looking for a free Invisalign consultation with a doctor in your area.
A link has directed you to this review. Its location on this page may change next time you visit.
How do I know I can trust these reviews about Invisalign?
4,308,422 reviews on ConsumerAffairs are verified.
We require contact information to ensure our reviewers are real.
We use intelligent software that helps us maintain the integrity of reviews.
Our moderators read all reviews to verify quality and helpfulness.
Page 1 Reviews 0 - 10
Reviewed Sept. 22, 2023
My dentist sold me on Invisalign by discounting $1,000. Had me pay $6,850 up front. Then billed my insurance provider over $2,000. Total now is over $8,000. I would NOT have agreed. It was shady. Then they didn't tell me what Invisalign was. I thought I was getting traditional braces. I hated wearing these. The new sets had bits of plastic sticking out that tore up my gums. I quit wearing after set 17. And had 29 total sets to wear. If anyone is looking to do a class action suit, sign me up!
Reviewed July 11, 2023
Towards the end of Invisalign treatment developed serious TMJ and facial pain. The orthodontist should have never recommend Invisalign to me who has history of tmj and bite issues. Please do research and do not get into Invisalign just because your dentist is selling it. Hope this review can help even one person from avoiding the pain. Also read **.
Thanks for subscribing.
You have successfully subscribed to our newsletter! Enjoy reading our tips and recommendations.
Reviewed June 4, 2023
I have always taken really good care of my teeth. After Invisalign, I have 11 cavities. I have had 3 root canals but I need more. I'm in a lot of pain daily. I can't afford more root canals. I wish I would have known this before. I hope I can save at least one person from making this mistake.
Reviewed March 31, 2023
I think Invisalign would be a much better option if there was an opportunity to switch dentists without financial penalty, with the assistance of invisalign, if the results weren't going the way you hoped. I got my invisalign done by a dentist who meant well and was otherwise an excellent dentist. My teeth were a little crowded at the front, both on the bottom and the top, but they looked OK. I was getting some chipping on my bottom teeth and it was difficult to get some of the crowded teeth clean, so I sought to straighten my teeth with invisalign. Sadly, the result broke my heart, even though the crowding was mostly addressed.
Before invisalign I often heard I had a beautiful smile -- nobody ever complimented my smile after the invisalign. The teeth after invisalign looked more off centre than before and one front tooth still stuck out a little more than the rest - now that the teeth were straight, it looked like my teeth were facing a subtly different direction than my face. Also, whereas I used to be able to easily bite with both sides of molars before the invisalign, I now found my left lateral incisors hitting each other before my molars could connect on the left. I told my invisalign dentist I was experiencing all of this and conceded I am high strung and was really struggling to adapt to my new bite; she referenced my concession about being high strung and insisted it was all in my head.
I begged her to continue with my treatment, and said I would pay more; she told me she thought I looked good, and she just didn't see what I was seeing, and gave me my final retainer. Invisalign may have a satisfaction guarantee, but how do you get it if your dentist disagrees with you? Why isn't there a communicated means for an independent result review from another dentist? And why oh why can't you go back and get things fixed after you pay for retainers? Invisalign needs to send information directly to patients re: their package and provide a contact, other than their original dentist, if they are not happy.
Finally, after about 4 different consults, I found a dentist who did a 3D scan and agreed with all my observations -- she validated and showed me on her 3D scans that I now had an open bite and that my upper midline was off my natural centre; she worked with a different company, Suresmile, for a fix. 5 suresmile aligners later, I have a comfortable bite, the dominant tooth is less dominant, and the centre of my teeth looks closer to the centre of my face. I am getting one more set of aligners to make things even better, but if I had experienced the outcome I have after this little bit of suresmile from invisalign, I would never have been unhappy.
I feel so relieved that I can fix the sadness caused by my invisalign. It's not free, but it's less than invisalign was, and worth every penny. I don't actually fault my original provider - you can only fix what you perceive - but I do fault invisalign for giving exclusive control to their provider, since the whole outcome depends so much on the provider's plan for the patient. They do a mock up of how your teeth will move and you sign off on that, but when they show you their preview, they show you how your teeth will look on their own, focusing on the dentist's view when you open your mouth, and don't show you how it will look on your face or tell you how it the bite will work.
Reviewed Feb. 2, 2023
The product didn't work for me. It took them only 3 months to send them. Then, the 3.5 month treatment (they sent 14 retainers which should've lasted 1 week each and also I was initially quoted as 2 months by my dentist) turned into 8 months without any result at all and with my superior teeth crooked (they weren't before, sadly). They are not invisible as they look grey and dirty all the time and also the dentist has to adjust your treatment to pull the teeth down and place rubber bands which involves cutting through the plastic which produces significant injuries to your mouth aside from the rubber bands jumping off and hurting your lips because the retainer is not meant for rubber bands as braces are. From the 50 people that spoke to, 100% said they had to reprint the retainers. Also, they smell bad as the plastic is low quality.
One thing that is really helpful for you to know is that Invisalign does not guarantee results nor does your dentist and they are covered by the dental law which states that the dental practitioners only do what they can and thus covering themselves from any liability. The politics of this company are not to speak with the client directly so don't believe them when they say they give a guarantee. It will not be met because your dentist needs to agree to it and they won't - they will charge you again for it.
I wasted a year with Invisalign - if I had chosen brackets my slightly two twisted teeth would've been fixed already. Now probably I won't have any chance again to fix my teeth as dental treatment requires one to stay in one place for years for it to work and I am a digital nomad. So disappointed and frustrated. Avoid this dishonest company.
Reviewed Dec. 5, 2022
I had traditional braces about 10 years ago. After my treatment (24 months) my teeth were absolutely perfect. I had many compliments and I was confident and happy with the outcome. Fast forward to ten years later I noticed my top teeth had slightly shifted. I went in to my dentist for a cleaning and noticed he started offering braces and Invisalign. I asked him which one he would recommend because my top teeth were shifting and were not as straight as they use to be. I was going for traditional braces, however my dentist recommended Invisalign. My dentist told me Invisalign would do just as good of a job as braces. I went ahead with the treatment. I was told I would only need about 6 months of treatment.
When I did my X-rays and had my trays ordered I was told I would be doing express Invisalign and the treatment would be just a couple months. I received my trays and after my treatment was finished I didn't notice any difference at all. I went to my appointment to pick up my retainer, and expressed to my dentist that I didn't notice any difference and basically wasn't happy. He told me he thought my teeth looked great and didn't know what I was seeing that he didn't see. I'm not a complainer, so I picked up my retainer and basically just didn't know what else to say to make my dentist realize I wasn't happy.
I've had my retainer about 5 months now, I wear it 24/7 per my dentist instructions. After 6 months he said I can switch to wearing it only at nights. The reason I'm not a fan of Invisalign is because one, it didn't do anything to my teeth to help straighten them out, secondly, the trays and my retainer have stained even following specific instructions on how to clean and maintain them. My retainer is stained yellow in the front, so while wearing it it makes my teeth look yellow and I'm embarrassed.
I've used the Invisalign crystals, I've used peroxide, baking soda, you cannot get out any stains, once they have been stained. I brush my teeth 2-3 times a day, I never have had anything to drink that would stain my retainer, and you can't eat with your retainer in, so I don't know why my retainer is yellow in the front. I researched why Invisalign turns yellow and found out it could be just from your saliva. A waste of 2k, and now I'm going to go back to my original orthodontist and get my top braces put back on and get a original retainer.
Reviewed Nov. 5, 2022
My provider downgraded my Invisalign package from Comprehensive to Moderate AFTER I made my deposit. This means I was no longer eligible for unlimited rescans and refinements - but most importantly, it means I cannot switch to a competent provider. Invisalign allowed this request - I was never informed of this action. Invisalign's response is that I work with my provider - the problem IS my provider. But they continue to recommend this provider on THEIR site. My initial treatment was estimated to conclude within 8 months (15 aligners) - it has now been a total of 15 months and my bite is ruined and my smile is crooked. I paid nearly $5,000 to ruin my teeth with Invisalign. Traditional braces would have been more affordable and performed quickly - which I will likely need now anyway to fix my mouth. Thanks Invisalign!
Reviewed Sept. 26, 2022
After much research and inquiries doctor and people said Invisalign is good for 10 year old. As soon as second day we have problems with Invisalign and doctor/staff offering adjustments. Didn't inform about switching to braces, no use at all with Invisalign and broken every pair. Later when we decided to change to actual braces realized about waste of all money. Waste of time and effort. Most importantly pain for my kid. Total waste of all my money. Don't use Invisalign for kids.
Danielle
Highland Park, Other
Reviewed Sept. 24, 2022
I'm only on week 1, which I started 7 weeks ago. I broke the lower plate the day after I got them as I was trying to make it more comfortable. So I moved on to week 2 early. This was not good but I lost them a few days later. Went to week 3 but couldn't do it as they didn't fit right. Went to the dentist and asked for replacement for week 1 lower jaw only (I'd found the lost week 2 by then). The replacement took 6 weeks and cost $300!!! Not happy!!
So now I'm back to week 1 again and struggling with how big they are. I can't talk with them in. They give me a mega lisp. And I can't close my mouth. They have really sharp edges which I can't stop rubbing my tongue along which becomes super painful. I already know it will take longer than 12 months as I have to keep taking them out just to talk. I can't smile with them in. They look ridiculous and I can't smile without them because of the stupid buttons on all of my teeth. So no smiling at all till it's finished. But realistically, It's going to be extremely hard to finish them at all at this rate.
Reviewed April 22, 2022
Invisalign is a total waste of money. My daughter didn't need much, just a slight straighten of the front teeth and this did absolutely nothing. She wore them as directed for a year. Please don't waste your money. I think the positive reviews are paid ads. I am a real nurse in Boston, get braces because this will waste your time and money!
Invisalign Company Information
Company Name:

Invisalign

Website:

www.invisalign.com
You're signed up
We'll start sending you the news you need delivered straight to you. We value your privacy. Unsubscribe easily.