Written by

Edited by
Our promise. We provide a buying advantage with verified reviews and unbiased editorial research.
About Byte
Byte makes clear plastic aligners to help customers straighten their teeth with no office visits. Certified dentists and orthodontists design treatment plans and monitor progress remotely. Patients see results in an average of two to six months. Byte offers financing options with 100% approval for both its all-day and nighttime-only aligners. Order an impression kit risk-free; if you aren't a good candidate, Byte refunds the price.
Pros & Cons
Pros
Short treatment plans
100% approval for financing
Nighttime-only option
Lifetime guarantee
Cons
Not everyone is a candidate
Nighttime aligners are pricier
Bottom Line
Byte's costs are on the higher end, but the company approves 100% of applicants for financing. Treatment times are short, and the company guarantees results for life.
Featured Reviews
Verified
Huntington, IN
It's such a easy experience! Things are moving along greatly! Everything is super easy to follow! And very smooth shifting of teeth! I love this journey and I'm so excited to see ...
Read full review
Verified
Youngsville, NC
Very impressed with the customer service. … I had a lot of spacing on top after getting my wisdom teeth removed and in just six months, they were close to perfect again. Thank you...
Read full review
Byte products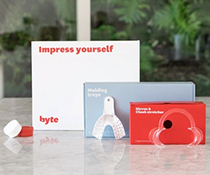 Byte
Impression Kit
$29.95 ($95.00 regular price) as of publishing date
The impression kit includes impression trays, molding putty, putty gloves, a smile stretcher and a return shipping box with a prepaid shipping label. 100% refund if you aren't a candidate. A dentist or orthodontist reviews each treatment plan and 3D model.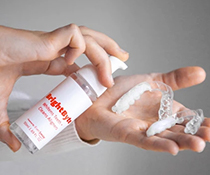 Byte
BrightByte
$30 as of publishing date
3-in-1 foam cleanser, whitener and breath freshener. No need to rinse or soak aligners after application. Formulated for sensitive teeth. Recommended for use two times a day during treatment. One bottle lasts about 30 days.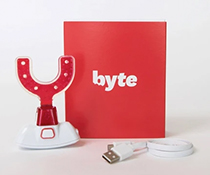 Byte
HyperByte
$699 as of publishing date
The HyperByte device uses high-frequency vibrations that may help reduce treatment time when used five minutes a day with aligners and ease discomfort associated with treatment.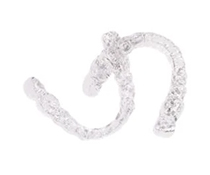 Byte
Byte Retainers
$129 as of publishing date
Designed to stop teeth from moving out of place after aligner treatment. Can be worn for six months. Meant to be worn all day for first two weeks, then at night only. First set is included with treatment plan.
What is Byte?
Byte is an invisible braces company that helps correct mild to moderate teeth alignment issues, including crowding, spacing and rotation. Customers take at-home impressions, and Byte's dentists and orthodontists prescribe and monitor a customized treatment plan — according to Byte's website, the average treatment plan is four to six months.
Byte has two plans: all-day aligners, which need to be worn 22 hours a day, and nighttime-only aligners, which have to be worn continuously for 10-plus hours daily. Each treatment plan comes with the HyperByte device, a high-frequency vibration device that may help reduce treatment time (when used five minutes a day with aligners) and ease discomfort associated with the treatment.
How much is Byte?
Byte all-day aligners cost $1,895, and night-only aligners cost $2,295. The price includes a customized treatment plan with a 3D preview of your straightened teeth, aligners, a bottle of BrightByte teeth whitener, the HyperByte device and a first set of retainers. The Byte impression kit costs $29.95 when you use a promo code; the money is refunded if doctors determine you aren't a good candidate for treatment.
Byte also offers financing options. The BytePay payment plan is approved for 100% of customers and comes with the Byte Protection Plan, which includes five years of retainers and replacement of any lost or stolen retainers. BytePay is $82 a month for 32 months ($249 down payment) for the all-day aligners and $99 per month for 32 months ($299 down payment) for nighttime-only aligners. Other financing plans are available. Byte doesn't accept direct payment from insurance companies; it does accept payments from health savings accounts (HSAs) and flexible spending accounts (FSAs).
Byte impression kit: $29.95
Byte aligners (upfront cost): $1,895 (all-day) or $2,295 (night-only)
Byte aligners with BytePay financing: $82/month (all-day) or $99/month (night-only) with down payment (includes ByteProtection Plan)
Byte retainers: $129 (first set free)
Byte offers discounts to former and active military and college and graduate students.
How does Byte work?
Complete the at-home impression kit

Byte sends you an impression kit with free shipping. The kit includes trays, molding putty, gloves and a stretcher for your mouth. The kit gives you two chances to do top and bottom impressions. If you need help, you can call Byte. Once you're finished, return the impressions using the provided box and prepaid shipping label.

Await evaluation

Dentists and orthodontists review your impressions to determine if you are a candidate for Byte aligners. If Byte decides you aren't, it refunds the cost of the impression kit. If you are a suitable candidate, Byte creates a 3D model of your teeth after treatment and designs a personalized treatment plan.

Select plan

Once your treatment plan is approved, select the plan that is most convenient for you: all day or all night. Each plan comes with the HyperByte device, BrightByte whitener and a set of free retainers (post-treatment plan).

Personal aligners: You receive a set of clear plastic aligners based on your treatment plan. Aligners are BPA-free and tear-resistant.
HyperByte device: HyperByte is Byte's high-frequency vibration (HFV) device that may help reduce treatment time (when used five minutes a day) and ease discomfort caused by the aligners.
BrightByte: Use BrightByte foam to whiten your teeth, freshen your breath and clean your aligners. The first bottle is complimentary; additional single bottles cost $30.

Complete treatment plan

Byte all-day aligners should be worn 22 hours a day, while nighttime aligners require 10 hours of continuous wear each night. Aligners should only be removed for eating and drinking. The HyperByte device should be used for five minutes each day during treatment. Aligners are switched weekly.

Byte users have access to Byte customer service seven days per week. Progress is monitored with monthly check-ins.

Byte smile is guaranteed for life

The Byte for Life Guarantee covers additional treatment if your teeth move out of alignment after treatment. To qualify, you must confirm at least once per year that you are wearing the retainers as directed. Byte provides your first set of retainers with your treatment plan.
Byte FAQ
Does Byte take insurance?

Byte doesn't accept direct payment from insurers, but it can help you figure out if you have coverage and provide the forms you need to file a claim. Visit the company's website to see if you qualify.
How much does Byte cost with insurance?

It depends on your particular insurance plan. If you send Byte your insurance details, it can tell you if you have coverage and how much the insurer will pay.
Will Byte make my teeth fall out?

The use of any invisible aligners is likely to make your teeth feel looser, but will not cause your teeth to fall out. Teeth are connected to your skull and jaw by bone, and the realignment will not cause them to fall out.
How long does Byte take?

Each treatment is different, but the typical Byte treatment plan takes between four and six months, according to the company's claims about initial treatment plans.
How old do you have to be to use Byte?

Byte treats clients 12 and older who have all of their adult teeth. Clients younger than 18 need parental consent.
Who owns Byte?

Byte is owned by Dentsply Sirona, a dental products manufacturer based in Charlotte, North Carolina. Dentsply Sirona acquired Byte at the end of 2020.
Does Byte fix overbite?

Eligibility for Byte treatment is determined on a case-by-case basis. Byte may be able to correct an overbite. The best way to determine if Byte aligners can help is to order an impression kit and send it back to Byte. If you aren't a candidate, the company refunds the price.
Does Byte hurt?

You may experience some soreness the first few days after starting a new aligner.
How long does Byte take to ship?

Once your treatment plan is approved, Byte ships out your aligners. It takes a few weeks to receive the aligners after treatment is approved.
Is Byte legit?
Byte is an effective and affordable way to straighten teeth at home. Each customized treatment plan is reviewed by Byte's network of licensed dentists and orthodontists before the company ships any aligners.
Byte customers have access to Byte's customer service care team seven days a week to ask questions and for support. Progress is monitored with monthly check-ins. If you have further questions about Byte, we recommend calling the company. When you're ready, order a risk-free impression kit to find out if you're a candidate for treatment.
ConsumerAffairs has collected 4,506 reviews and 372 ratings.
A link has directed you to this review. Its location on this page may change next time you visit.
How do I know I can trust these reviews about Byte?
4,309,121 reviews on ConsumerAffairs are verified.
We require contact information to ensure our reviewers are real.
We use intelligent software that helps us maintain the integrity of reviews.
Our moderators read all reviews to verify quality and helpfulness.
Reviewed May 18, 2023
Everybody was super friendly, and everything came through a text message. The reps checked in regularly while I was ordering, then I check in monthly now. I haven't had any questions because I've had no issues with the aligners. Everything fits great. They're comfortable and I haven't spoken to anyone since I started wearing them aside from my check-in pictures, which I haven't received anything back. So, I'm assuming everything looks good.
The only thing is that Byte only gives half, then they have to resend the other half out. I don't know why they wouldn't send all of them. Other than that, I'm five weeks in, and so far, the experience has been super easy. It's just 10 hours a night and swap them out every once in a while. There is mild teeth pain, which is to be expected. I have no complaints. Everything was a lot faster than expected, and everything has been great so far.
Review featured by Byte
Customer Service
Sales & Marketing
Price
Staff
Reviewed May 11, 2023
The customer service has been good so far. When we were first starting, the reps were really helpful with getting the process going. I wanted to straighten up my teeth because I had braces when I was really young and I never wore my retainers. Byte said it would take 17 weeks for the top and 10 weeks for the bottom, and it's been a do-it-yourself process.
Page 1 Reviews 0 - 5
Reviewed Sept. 16, 2023
My employer has an employee perks program and some of the services were discounted. I decided to give Byte a try. I didn't have to go into a dental office like some of the other teeth aligners require you to do. It's convenient being able to get the molding materials and submit them myself without having to spend the extra additional time away from work, going to the dentist, and all that hassle. The reason that I decided to do this process with Byte was that as I was getting older, I noticed my teeth were becoming more and more crowded, especially at the bottom. I anticipated that might be an issue as I continue to get older going forward and I wanted to deal with it early before it got to that point.
The molding was easy. They had step-by-step instructions and video instructions where you have the two different materials. You mix them together by hand and press them in the mold. They gave you a couple of sets just in case you made a mistake with one to get the best impressions possible. Once they got the impressions, they reached out to show you a video of what your treatment plan was going to be. You could see where your teeth were and see the process of the movement and it changes and see where your teeth were going to wind up being at the end. In that process, there were some things that I didn't really care for. They sent the first couple of models and they refined them until they got to a place where I was going to be satisfied with at the end of treatment.
I got my aligners sometime in 2020. It was when the pandemic first started and I was working from home at that point. I initially was going to go with the daytime aligners where you wear them during the day and then take them out if you're going to eat or drink anything besides water. I anticipated that I was going to be going back into the office at some point. My husband said, "Hey, if you're gonna do this, why don't you go ahead and get the more expensive aligners that allow you to wear them at night versus being back in the office, germs on your hands, putting your hands in and out of your mouth to insert or remove the aligners. Just get the 10-hour ones, the nighttime ones that are thicker." That's what I did.
At that point, it was pretty easy. I would put them on at night for 10 consecutive hours, take them out after that, and go on with my day. Depending on what time I put them in, there might be some overlap during the daytime hours where I would actually have to wear them at work for a couple of hours, but that was not a big deal.
So far, there's the only part that I have not really been happy with and it's just my teeth. They have been resistant to moving. It was initially supposed to be a one-year process from start to finish. Unfortunately for me, that has not been the case. I have followed Byte's instructions to the letter and they have a really good system where they check in with you periodically and require you to send in progress pics. In addition to the progress pics, they ask you for feedback. "Hey, how are you? Are you satisfied? Are you noticing any pain? How are your aligners fitting?" In the process of going through all that, I've had to backtrack a few times. Initially, you're supposed to wear the trays for a week and then switch them out. I was doing that. My teeth were initially moving but then they stopped moving.
I was following their instructions and at that point, I didn't know the whole thing about the air gaps or the spaces between where the aligner is and where your teeth are. Your teeth are supposed to be fitting into the aligners with minimal or no air gaps before you move on to the next step. I didn't understand that part. Once it got to a certain point, they said, "Yeah, send us pictures and your best-fitting aligners." They would tell me, "Hey, you know what? Your teeth aren't moving. So, we need you to go back to this tray." I had to do that a few times. There was even another time where they said, "Hey, you know what? Let's start with a new set of impressions." I did that. They sent me refinement trays a couple of times. Byte has been there and they've been really supportive. They're great with their instructions. Maybe it's just my skeleton makeup, the way my teeth are, or because I'm older and my teeth are more resistant to moving.
I've had to start over a few times. With this most recent time, I've actually had to do the impressions in addition to the initial time two more times just to refine things as far as where I'm at for my teeth to be able to be more receptive to moving. I had a set of 15 aligners. I was right at the end and going to go on to getting my retainers. But then, at that questionnaire, I found it was odd. Usually once you've been in the aligners for three or four days, the soreness that you notice goes away. The soreness is normal because the teeth are moving and shifting. But here I am at day 10 of the final tray and my teeth are still sore.
When I answered their questionnaire, they said, "Okay, hold on a minute." At that point, I didn't want to order my retainers when I knew things weren't exactly fitting correctly. Now, it's taken a little bit longer. I'm in a set of aligners for a month at a time. I was at step 15 and now I'm all the way back at step five. I'm having to wear the step five aligners for an entire month before I go on to the next step. This process began in May of 2020 and here it is September of 2023. I thought I was gonna be done with this at this point years ago.
Byte has been great and they stayed on top of my progress. It's not really my fault because I'm doing everything that Byte has told me to do. It's just that it's taken more time and my teeth are just resistant to moving. I really don't want to be back at step five and in each aligner tray for a month but if that's what it takes for me to have the outcome that I desire when I started this process in the first place, then that's what it takes. It would just be a total waste of time if I stopped it at this point. Right now, I am in the aligner trays for 12 to 14 hours a day.
It's a little more disruptive throughout my day because what I do is I put the timer on my phone for 14 hours and I put them in at night as early as I can before I go to bed. That's 12 to 14 hours so there's really not any way to prevent it from overlapping into my daytime hours. I take them out and stop my clock to have my coffee, to eat my breakfast, brush my teeth, or floss. After that, I put them back in and restart my clock. It's a lot more cumbersome now than it was when I first started out.

Response from Byte
Thank you, Tyler, for this comprehensive and insightful feedback. We're thrilled to hear that you feel the customer service from the Byte team has been up to par. As you said, some folks' teeth can be a little more "stubborn" than others, which is why the initial treatment timeline given is only an estimate, as there is no way to predict with absolute certainty how one will respond to treatment. If you're a customer in treatment with concerns regarding progress and have not already done so, please reach out to Byte Support Team at patient.byte.com/support or via phone at (877) 298-3669. They are available to assist you Monday to Friday, from 8 AM to 6 PM MST. Additionally, we offer a call-back option that enables you to continue your activities while waiting for a prompt response from our team. You may also send us an email at bytereviews@byteme.com. We're here to help. Thank you!
Thanks for subscribing.
You have successfully subscribed to our newsletter! Enjoy reading our tips and recommendations.
Ceilene
West Palm Beach, FL
Customer Service
Sales & Marketing
Price
Staff
Reviewed Sept. 16, 2023
With Byte, I don't have to go to a dentist every week or two. I like being able to do it online without having to deal with people. The process is much easier than one would imagine it. It's inconvenient that it's 22 hours a day though. I'm on the day, but there's the night option if you wanna go with the night. There was discomfort when I first put the new one in, but that went away very quickly. The movement is perfectly timed so that it doesn't hurt for a long time. When I went to the next one, it was gradual that I didn't realize how much it was doing until I was with my husband out at a restaurant. When we were talking, he said my teeth are almost perfect.
The aligners keeps me from snacking all day. If you eat something, I have to take them out, eat something then wait 20 minutes before I can brush my teeth and then put it back. It's a little embarrassing sometimes when you're in the restaurant and after you eat, you go and brush your teeth, and there are people around. But it is working for me. It's not interfering with my speech. I'm glad I did it.
Byte has a clinical team and you can ask questions. They respond very quickly. You can call, email or text. You check in once a month, and they ask you to take photographs. You don't have to stop everything and go to the dentist. You do it in your kitchen with your iPhone. You take pictures with the aligners on and the aligners off. They tell you, "It didn't move as much as we'd like. Keep them in for another week," or, "You're great. You're good to go to the next one." The advice is always right there. If you have a question, you're not alone. They're always available for you.
I know how it is when you have crooked teeth. It makes you very shy but it's something that is completely fixable now in private. That's the beauty of it. It's also not that expensive. They're always having coupons and lower prices. They have the whitener that you can put in the tray and it keeps your tray clean and your teeth white and bright. They have the Hyper Byte which is a big part of the treatment. You bite on it and it gives a little hum. It makes the teeth more amenable to shifting around a little bit which makes the process quicker. That's something that other ones don't have. It's a perfect system. I wish other people would do it.

Response from Byte
Ceiline! This review absolutely made our day to read. Thank you so much for these kind words. If any questions or concerns arise, please don't hesitate to reach out to the Byte Support Team at patient.byte.com/support or via phone at (877) 298-3669. They are available to assist you Monday to Friday, from 8 AM to 6 PM MST. Additionally, we offer a call-back option that enables you to continue your activities while waiting for a prompt response from our team. Thank you!
Reviewed Sept. 14, 2023
I'm in the last two months of the process and my teeth look much different. They're way better. But it's not completely done. I have one stubborn tooth on my top right that they're continuing to send new molds to make new refinement aligners. There wasn't room for it. But now, it's made enough space. I used to constantly cut dental floss with my teeth because they were so close together. But now I don't even have to use the ribbon dental floss because I've got more space. Right now, I'm getting the handheld treatment of, "Good God! This guy's had so many refinement aligners. Let's check with him every time before he moves to another stage," which is some really good customer service. They also give very detailed directions.
Unfortunately, my calls with Byte always go back into a pool. On Monday, it might be a licensed person who's gonna help me and will request a picture of steps 1, 2, 3, and 4 so they can compare and see if there are any air gaps. Then I send them 1, 2, 3, and 4, and I have to wait three to four days before I get a response. Then I would get someone saying, "I have reviewed your photos. Can you do me a favor and follow the attached directions on trimming this and putting it in warm water to make it a little bit more pliable, then bite down on the doohickey and send us a new picture?" I do that, but then I have to wait three or four more days. They would tell me that my teeth look much better, and to keep wearing the vibrating doohickey you bite down on for five minutes. It helps shake everything into place and helps massage the teeth. There's nothing painful about the process. I'm getting all the support I want, but it could be better.
Byte keeps changing the app, but they expect you to take pictures of your own teeth. At times, they didn't give you the ability to switch the camera from front to back, so you couldn't see what you were taking a picture of and you had to get somebody else to take a picture. At one point, you could flip the camera, and they wanted you to get it so close that the camera couldn't focus on your teeth, so then you'd have to zoom out and then crop in.
Right now, I'm working with customer service on a weekly basis to say, "Ok, so is this how you want it now? And how long should I wear this?" But it's annoying that the app keeps telling me, "You need to check in." So I checked in and took the pictures. The next day, I got an email and a reminder from the app, "You need to check in." Then it'll be like you have to call customer service and say, "Look, can you get the app to leave me alone?" Or you have to tell them, "Hey, the app thinks I should be changing my aligner every week, but you guys told me two weeks. So can somebody please sync up the app?" The app is constantly changing so I know Byte is trying to make it better. They're just not succeeding in my eyes.
I'm doing the nighttime-only version so nobody ever sees me with them on during the day. The nighttime ones are a little bit thicker plastic. They're 3D printed forms. They're stronger. When I went to the dentist last time, they said, "Good God! Your gums are in great shape. They're looking great." Overall, the process is taking much longer than I thought, but Byte continues to send me new molds to make new refinement aligners to keep working with me and I'm quite impressed with that.

Response from Byte
Thank you, Benjamin! This review is so gratifying for us to read. We work hard to make sure our customer service is as excellent as possible, so we're thrilled to hear we've succeeded. If any questions or concerns come up, please don't hesitate to reach out to Byte Support Team at patient.byte.com/support. We're here to help. Thank you!
Reviewed June 1, 2023
The teeth correction I was getting Byte for was a simple one and it was something that I didn't really need to go to an in-person dentist for. My experience with them was nice, simple, and quick. Hopefully, we can get it done within four to five months if I'm able to go through the plan correctly. At the beginning of the treatment, they send you a impression kit that comes with four of the trays that you use for your mouth, two for the bottom, two for the top, then you mix together two different putties that are different colors. So, you can tell which one's supposed to be which.
Once you've mixed them together, they start to harden quickly. So, you have to roll them out, push them into that mold, then get them good and flat. Once you have them in the mold, you put your teeth in the mouth guard just like you would if you were trying to create an impression of your teeth. Then you push it up into your mouth or down onto your jaw then hold it there for three to five minutes. Once that three to five minutes is up and the putty is hardened enough, you can take it out without it messing up your impression.
In terms of following the instructions, this process was extremely easy to complete. But in terms of the feeling of having the impression kit in your mouth, there's really nothing you can do about that. Having the impression kit in your mouth wasn't super comfortable for five minutes. If there was a way to make the putty dry faster or even make it less uncomfortable, that could be an improvement. But it's probably one of those things that you can't.
Once I made the molds, they sent me my aligners. They send you everything that you need for the first 15 weeks, for your top and bottom sets of teeth. Day-to-day, I'll get up in the morning and I'll still have the aligners in from last night. I wear them 22 hours a day, so I wear them the entire time I'm asleep and anytime I'm not eating or drinking something that's not water. I will take them out anytime it's time for me to eat or drink or doing anything else that involves my mouth that you would not want them to get damaged or torn up. The way that Byte described them, they can be somewhat fragile and you don't want them to break and have to wait for more aligners to come in. It is a tight fit because it's moving your teeth around, but I wouldn't say that it's uncomfortable to take off or put on. And anytime you take them out and eat or drink anything, you have to wash your mouth and make sure everything's clean before you put them back in.
I've been using it as an incentive to help me diet because it's not really worth it to take your aligners out to eat a bag of chips. You have to brush your teeth, drink a bunch of water, floss, then put them back in. It's not really worth it. And it's helped me a lot since I've lost some weight during this process. Naturally, my teeth are in pretty good shape, but I wanted the front four teeth on the bottom, my central lower teeth, to be a little bit more straight. Because the way that they are naturally, they didn't look as great as I would like it to, and I knew it could if I was to go through this process.
I've been using the BrightByte that came with the aligners and my teeth have significantly gotten whiter since using them. I always try to make sure that I follow the instructions of making sure that I brush my teeth first, floss, rinse the aligners out, make sure they're good and clean, then squirt some foam in both of them, even it out, make sure that it's got a good amount, and just pop them in. Whenever I pop them in, because the foam is white then it looks whiter immediately. But even once it's long dried out and the cleaner is no longer in my mouth, the teeth themselves have definitely been significantly whiter recently. It has helped my ability to feel confident whenever I smile.
I've had a great experience with Byte and I would recommend it to others. Recently, I had some dental work done where I had to have a dental crown put on one of my front teeth. When that dental crown came in, it didn't exactly match my old tooth as there are some differences. So, my top rows of aligners don't exactly fit currently and I have to get with the Byte help team to try to see if they can get me some new ones or do a new impression kit for the top so they can make molds that fit that new tooth. But other than that, it's been fantastic.

Response from Byte
Hi Christian! Thank you so much for this amazing feedback We are so excited for you, please feel free to reach out if you have any questions or concerns.
Reviewed April 23, 2023
I went to SmileDirectClub and I found their process to be really confusing. I then tried Byte just to see what the heck and I ended up qualifying and getting my impression kit. The impression kit was really easy. They give you a step-by-step direction and you just put the little putty together, put in the little things, and put it in your mouth. It was nothing too complicated. It was easy to follow and it was really fast.
I'm on the nighttime routine. I just wear the aligners for 10 hours every night and I change them out every week. With my plan specifically, I have to go through 19 weeks. I'm about halfway through right now-ish. I brush my little aligners. Byte gives you a little whitening and cleaning foam you can put in them and then you just wear them. Usually, on the first night, because it's of the new set, they're pretty tight on your teeth. It's not uncomfortable. It's just different because it's like having something really tight on your teeth when you're not used to having something like that. But after the second or third day, your teeth are already fitting in them really well because they're shifting your teeth every week. It hasn't been bad for me. Braces are worse.
Byte is easy and painless. The customer service care team that you work with in the beginning is really nice and knowledgeable. They walked me through the whole process. There is comfort and ease in the whole process and getting to do it at home rather than having to constantly go to the orthodontist and having to worry about braces. Byte is just way more independent.
The first part of my process shifted my top teeth and the second part of my process is working more on my bottom, which is where the majority of my bite needed to be fixed. I've only been two or three weeks into my bottom bite. I've seen a shift and this is over a 19-week process. It is really slow but you'll be able to see the results. Plus the little tracker that you can look at and go from zero to the full. However many weeks you have to do it for is really fun to follow. It's pretty accurate with where your teeth are shifting in what week you are. It's like a 3D model thing to look through.

Response from Byte
Hello Kayla,
Thank you for making the right choice! We are so thrilled to hear this. At Byte we are constantly working to make sure each step of the process is easy and convenient. If you have any questions or concerns moving forward please reach out to Byte Support by submitting a support request at patient.byte.com or calling 877-298-3669.
Reviewed Sept. 15, 2023
I liked Byte's good customer service and they were not as expensive as some of the other ones. I got an impression kit. They did it all through the mail. It has these putties in it. And the app gave me the instructions on how to do everything. It was user-friendly. Very simple, nicely laid out. The only thing that I get frustrated with is they have me take pictures for updates. I can't seem to get good angled and good quality photos.
I'm almost done. I wasn't happy with where everything was at by the time I had finished the initial plan. So, Byte sent me another set, which I'm more than halfway through now, just to get everything set a bit better. They had two options. I could have them during the day. And they had to be in for at least 12 or 14 hours. Or I could do the night time option and they just have to be in for 10 hours. I keep them in while I sleep, a few hours before I go to sleep and an hour or two after I wake up, depending on when I put them in before I go to bed. But just 10 hours and overnight, but no eating or drinking with them.

Response from Byte
Thank you, Cassandra! This kind review is so great to read. Thank you for your feedback. Additionally, while we understand that photos can be frustrating, as Byte is an all-remote aligner therapy, they are a vital part of the Byte process to ensure safety and efficiency of treatment. If any questions or concerns arise, please reach out at patient.byte.com/support. We're here to help!
Reviewed Sept. 13, 2023
It seemed to me that Byte was the best, both in terms of price and hopefully, quality. They gave me the mold for my mouth that I sent back. I had my stuff in a reasonable amount of time, and I started my treatment. It had its ups and downs, but I'm happy with where we're at. This is my second set of aligners that I'm on. The first set, a little on both sides of not following through well enough, ended up not working. I have those canine teeth. I have very long ones, and those teeth were too big for my first set of aligners. So, they gave me a free new mold and aligners. They made it right. I'm on step 11 of 17, 2 weeks at a time. I have one tooth that's a big issue. It's not in place yet, but it's much better than it was. And my smile is already way better because of it. So, I'm generally happy with the process, apart from having to do it every night.

Response from Byte
Thank you, Scott! This kind review was very gratifying for us to read. If any questions or concerns arise, please reach out at patient.byte.com/support or via phone at (877) 298-3669. The Byte Support Team are available to assist you Monday to Friday, from 8 AM to 6 PM MST. Additionally, we offer a call-back option that enables you to continue your activities while waiting for a prompt response from our team. Thank you!
Reviewed Sept. 13, 2023
At the end of the main treatment, I felt like my gaps were better close. But right now, we are taking extra steps because one of my teeth was not actually rotated and it has to rotate a little bit. I just sent a photo of my latest set. It was upper 10 and lower 6. And I just switched to upper 11 and lower 6 again because lower six is the final one. This is kind of extension from my main plan. That's why I have like 6 for lower and 14 for the upper level. However, I don't feel like my monthly check ins are being evaluated properly. I feel like I need to call more to get feedback. I had video calls two times and I like my feedback on the video calls. I feel like I am being taken care of when I talk. Also, I'm paying for 18 months and my credit came like that, which I like.

Response from Byte
Thank you, Burak. This feedback is incredibly helpful for us. Thank you for making your voice heard and for reaching out. If any other questions or concerns come up, please don't hesitate to reach out at patient.byte.com/support. We're here to help. Thank you.
Reviewed Sept. 13, 2023
Byte has a night program, which I don't think the other ones had, and that's what I liked so I went with Byte. The process was super easy. I went online and answered a few questions. They offered me a few different programs according to what I wanted and then they sent me a kit in the mail. I got it within a week of filling out the questionnaire. It was for the molds and I took the molds real easy, put them back in the box, and sent it off. A week or two later, I got my plan with all the molds for my whole plan.
At first, it was weird having the retainers on and I thought it was gonna bother me when I slept but I really didn't feel them at all. They first day or two, there was a little bit of discomfort because my teeth were moving. But after that, it's like I don't even notice that they're there. Also, it's been super easy going through and I have the app on my phone, which is real easy to follow. They do little follow-ups and I know that they're looking at the pictures that I submit, because if something's wrong and they can see it, they'd call me up and send me an email. It's been really great.

Response from Byte
Martha! Thank you so much for this kind review. We work hard to make sure our process is easy, simple, and effective, so reviews like this absolutely make our day. If any questions or concerns arise, please reach out at patient.byte.com/support or via phone at (877) 298-3669. The Byte Support Team are available to assist you Monday to Friday, from 8 AM to 6 PM MST. Additionally, we offer a call-back option that enables you to continue your activities while waiting for a prompt response from our team. Thank you!
Reviewed Sept. 11, 2023
At the end of my plan. They sent me 15 steps but the plan only shows 14 steps. 8/29 asked support if this was a mistake and got an irrelevant response stating how they handle plans longer than 15 steps. Within an hour I responded with my same question. Day later 9/1 they responded with more questions. I responded 50 min later. That was the last I heard from them. I responded on 9/5, 9/6, 9/7, 9/8 requesting an update. I also opened a new ticket/line of communication on 9/7 in case something happened to the old ticket but still no response. On 9/8 asked for an update to this new ticket yet no response.
Finally, on 9/8 I sent a text. No response. I asked today, 9/11 via text for an update but so far I have not received one. Due to this lack of response I still have no idea if I am done with my treatment as my plan says, if I am even wearing the correct aligners, and have not ordered my retainers as my plan tells me to do. This is not the first time I had to spend weeks getting Byte's customer support to respond after I had an issue. My plan has taken months longer than planned due to this repeated lack of response.

Response from Byte
Hi, Bobbie, and thank you for reaching out. We're sorry to hear you're feeling this way and would love to help in any way we can. When a support request is submitted, a 3-5 business day response time is typical. If you have reached out and been waiting longer than that response time, please send us an email at bytereviews@byteme.com to allow us to look further into this and help in any way we can. Thank you.
Resolution In Progress