Find a Mattress Brands partner
Our promise. We provide a buying advantage with verified reviews and unbiased editorial research.
About Eight Sleep
Eight Sleep manufactures cooling mattresses with high-tech functions to make the most of every night's sleep. With Eight Sleep's advanced innovations that adjusts temperature and tracks metrics for each individual sleeper, its smart mattresses create a unique experience for every person.
Pros & Cons
Pros
Free shipping and returns
Two different models
Free 100-night trial
Cons
Pricier than traditional mattresses
Not compatible with 5G network
Bottom Line
Eight Sleep combines technology with comfort to offer a new sleep experience. With a free trial, free shipping and free returns, trying the Pod mattress is simple and could result in a better night's sleep.
What is Eight Sleep?
Eight Sleep is a smart mattress company, and its mattresses come with several features to ensure you have a good night's sleep. They're equipped with Active Grid cooling technology that contours to your body as you sleep and multiple sensors that detect temperature, heartbeat and breathing patterns. Eight Sleep's mattresses continuously adjust heating and cooling while you sleep to keep you comfortable.
You can plug an Eight Sleep mattress into a regular outlet, and it only uses the same amount of electricity as an alarm clock. Its beds also have a technology layer that connects through Wi-Fi to a smartphone or tablet.
You can control the temperature of your mattress with a water-powered hub and two cooling fans. Eight Sleep designs the fans and heating elements inside the mattress to be quiet, so you won't be bothered by unnecessary white noise.
Eight Sleep has a 100-night risk-free trial on all models. The foam parts of its mattresses are covered by a 10-year warranty, and the technology layer is covered for two years from the purchase date. Eight Sleep's products are available online and have free shipping and returns.
Eight Sleep mattresses and products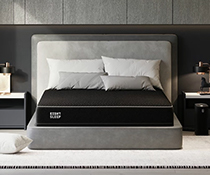 Our top pick for 8 Sleep
Eight Sleep
The Pod Pro
$3,095 (queen) as of publishing date
Designed with advanced temperature response and GentleRise wake-up technology. Track heart rate through the app. Mattress has five layers of foam and is 12 inches deep. Includes a contouring foam topper for enhanced comfort and pressure-point relief.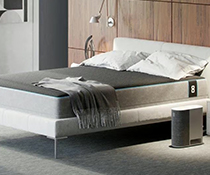 Eight Sleep
The Pod
$2,595 (queen) as of publishing date
Features automated cooling and heating, dual-zone temperature control and sleep-tracking technology. Senses and responds to create a cool microclimate. Water flows through the grid to keep it as warm or cool as you want.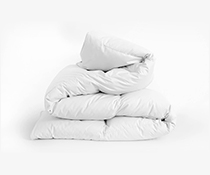 Eight Sleep
Air Lite Comforter
$195 (queen) as of publishing date
Made with hypoallergenic down-alternative filling. Box-stitched design keeps filling evenly in place. Return within 30 days for a full refund. Free no-contact delivery. Can be machine washed.
Eight Sleep pod price
Eight Sleep smart mattresses start at $2,295 for a full-size Pod model, and the company has financing available starting at $64 per month. You can view full pricing details by mattress size and Pod model below.
Eight Sleep mattress prices
| | Pod | Pod Pro |
| --- | --- | --- |
| Full | $2,295 | $2,795 |
| Queen | $2,595 | $3,095 |
| King | $2,995 | $3,495 |
| California king | $2,995 | $3,495 |
Eight Sleep FAQ
How does the Eight Sleep Pod work?

The Eight Sleep Pod has a technology layer incorporated into the mattress that records and transmits biometrics to automatically adjust its temperature while you sleep. The heating and cooling technology works with cooling fans and a separate water hub that pumps water through the mattress to control the temperature.
What is a Pod bed?

A Pod bed is equipped with smart technology that monitors your temperature and makes adjustments to the mattress's temperature while you sleep. Eight Sleep offers the Pod and Pod Pro.
Is the Eight Sleep Pod loud?

The Eight Sleep Pod is very quiet — about the noise level of a fan set on low.
Can you get financing for Eight Sleep?

Financing on Eight Sleep products is available for qualified customers.
Is Eight Sleep a bed in a box?

Eight Sleep ships the high-density foam mattress layer condensed and rolled up, which is similar to other bed-in-a-box companies. What sets the company apart is the technology layer and water hub, which ship in a separate box that arrives with the mattress.
Is the Eight Sleep pod good?
For consumers who want to experience the comfort of memory foam but not the heat, Eight Sleep's Pod and Pod Pro offer a solution. The added benefit of biometric tracking can help those with sleeping problems develop healthy sleep habits, but the water hub that comes with the bed might not be convenient if you have limited space in your home. If you're looking for a new sleep experience and a way to incorporate biometric technology to improve your sleep, we recommend trying Eight Sleep. The 100-night risk-free trial gives you plenty of time to decide if it works for you.
A link has directed you to this review. Its location on this page may change next time you visit.
How do I know I can trust these reviews about Eight Sleep?
4,243,139 reviews on ConsumerAffairs are verified.
We require contact information to ensure our reviewers are real.
We use intelligent software that helps us maintain the integrity of reviews.
Our moderators read all reviews to verify quality and helpfulness.
Page 1 Reviews 0 - 10
J. of Denton, TX

Verified Reviewer Verified Buyer
Original review: July 17, 2021
Purchased a Queen Pod Pro in May of 2020. It lasted until mid July 2021 when the cooling topper ruptured and leaked water all over the mattress, ruining the mattress and the box spring beneath. Still under warranty but no response from the company. This bed cost $3,300. Beware of this company. Any bed this expensive should not have a catastrophic defect like this after only one year of use.
20 people found this review helpful
Tucker of Belmont, CA

Verified Reviewer
Original review: June 26, 2021
The Eight Sleep Mattress and technology has a lot of promise, but the reality leaves much to be desired. The first and most frustrating thing is that the King size mattress isn't really King Size. It's 2-3 inches short in width - so depending on your bed frame, the mattress won't actually fit properly. The mattress itself is comfortable enough, but not very thick compared to luxury mattresses (and when you're paying $4K+, this is a luxury mattress). As a result, your sheets that accommodate a standard king bed with 15" deep mattress are too big.
The technology is interesting, but very hard to tune. You set the temperature using numbers from -10 to +10, but these numbers don't correspond to degrees, so you're left trying to figure out what -3 means and how it differs from -2. The only way to do so is by trial and error. Plus, -3 feels different one night to the next, all based on the ambient temperature of the room - which means for it to work remotely consistently, you have to make sure your room temperature is always exactly the same.
Finally, I was really interested to get sleep metrics and sleep fitness reports. However the metrics are not consistent with a fitness tracker I wore (for comparison), plus the sleep fitness score was based entirely on how long it thought I slept and what time I got into bed and got out. Nothing about the quality of sleep (REM and Deep sleep, frequency of tossing/turning) despite the fact that these metrics are also reported. It's very frustrating to get a sleep fitness report of 100% after a terrible night of sleep. To sum it up... a lot of potential, but not at all worth the cost.
10 people found this review helpful
Thank you, you have successfully subscribed to our newsletter! Enjoy reading our tips and recommendations.
Laney of Simpsonville, SC

Verified Reviewer
Original review: Aug. 6, 2020
I absolutely love the mattress that I sleep on every night. It's firm and soft at the same time. The actual purchase was seamless and I was very pleased with the price. I would totally recommend it to anyone who is thinking of buying a new one.
Be the first one to find this review helpful
J.l. of Lexington, GA

Verified Reviewer
Original review: July 23, 2020
The mattress was great at 1st but after about a year I guess it started losing firmness and my back is bad so after about 6 more months I got rid of it and I do not regret it at all!
6 people found this review helpful
Eight Sleep Company Information
Company Name:

Eight Sleep

Website:

www.eightsleep.com
You're signed up
We'll start sending you the news you need delivered straight to you. We value your privacy. Unsubscribe easily.