Cymax Stores USA
Cymax Stores USA is your one stop shop for home and office furniture. We carry cheap and affordable as well as high quality and solid wood pieces for your living room, dining, bedroom, office and more.
We are one of the Top 200 E-tailers worldwide and was nominated by the Internet Retailer as one of the Hot 100 2010 Best Retail Websites.
Simply put – we sell furniture, with over 250,000 products for home and office furniture and décor
We are dedicated to provide you a great selection of home and office furniture at affordable prices.
Cymax Stores USA reviews products from many different manufacturers to bring you great styles that suit every taste and style!
Consumer Reviews and Complaints

I'm just giving one star because I don't have another choice. My sister send me a gift. A crib. I saw box and it said cherry but my sister knows all of my furniture is espresso but then well I call Cymax. I spoke to a guy then tell me that he was going to send a replacement form which today I was told by a manager that it was declined because when the order was place the color was cherry and the form was denied. Now they're telling me I have to pay for shipping to send it back and for shipping to get back the right color and they can even refund the money to a visa card where I could go elsewhere and get what I want without any problems. To me knowing what customer service is this is a company with very poor customer service!!!

Shipping policy states 1-7 Days after pre-ship is complete. I gave Cymax over 8 weeks to pre-ship and deliver a patio furniture set and they failed. The original delivery date to the local delivery location was scheduled for a date 6 weeks after the order date, 8/17-8/22. They could not meet that delivery date so they moved it out to 8 weeks from order date. I specifically gave this company more than 8 weeks to delivery a set of patio furniture before our big event and they failed to deliver. As I am writing this I still do not have my furniture. Do NOT ORDER from this company or its affiliates, like HomeSquare, which is just a front for the main company's website.

I have never written a review before but, I'm just shocked and appalled. I received the correct item in the wrong color on July 28th. Never installed, have original packaging and barely opened. After emailing back and forth not really getting anywhere so I called (on hold for 25 mins). They said to call the manufacturer to see if I can just get the top piece in the correct color. I did. They can't do it, so I emailed Cymax daily for a week with no response. Had to call again. Lucky me was on hold for 30 mins. The lady said, "No problem. Sorry about that" and will get me a return label within the next 48 hrs.
She advised I can reorder the item which I did, (wanted to get my desk back together) and I will be issued credit once they have received the return item. Then I get an email a week later saying sorry we can't return the item because it has been assembled, WHAT. I emailed daily for a week surprise with no email back. Yay I get to call again and wait on hold. Yep about 30 mins, re-explain what happened. She read the notes which were correct NOT assembled and in original packaging. Again I was told, "We will get you a return label with the next 48 hrs." That has been 14 days ago.

We ordered a baby changing table online and was told it was back ordered. So when it finally came in it was double shipped and we were charged twice. That's when the trouble started. It took several calls to get a call tag to send the extra unit back. I always had to start over and talk to a new person. I was finally able to get the call tag and then I had to make several more calls to get the refund. I talked to Sunains, Rayden, Trixia, Elicia, Chantel, Ryan and Jen. I was told they had talked to Blaine and Darin (both managers) about the trouble but would not let me talk to them. This is the WORST online company I have ever worked with.

I really doubt I will ever have a worst customer experience. My order was put on hold and no one called to tell me and nowhere explained what that meant. I contacted chat and they told me it was because my billing address did not match my shipping address. I believe that is a normal occurrence, especially for a furniture store due to people being between addresses while moving, so I am still confused why it was a good reason to place it on hold, especially since my card was approved.
I spent 40 minutes on hold when I called (after I had received an email that my order was cancelled by me, which I did not do) and the woman did not seem to understand why I was calling. She put me on hold and finally told me a manager removed the hold and I was immediately recharged for the item. But the hold on my order wasn't removed. So I tried chatting again and the woman said they didn't release it because I did not call to verify my identity. Apparently all that time I spent on the phone meant nothing and I have to call back AGAIN and hopefully get my item shipped. I ordered from here because the price was too good in comparison to the same item at other online retailers (I surely would've cancelled by now if it wasn't) and I read good reviews about the site. If the item comes damaged, I will absolutely lose it.
How do I know I can trust these reviews about Cymax Stores USA?
884,672 reviews on ConsumerAffairs are verified.
We require contact information to ensure our reviewers are real.
We use intelligent software that helps us maintain the integrity of reviews.
Our moderators read all reviews to verify quality and helpfulness.
For more information about reviews on ConsumerAffairs.com please visit our FAQ.

Ordered a SET OF 6 Corning Ramekins on Walmart.com. Many days later a box arrived via FedEx with ONE ramekin!!! I called Corning and they referred me to Walmart. I went to Walmart and they said this was a third party purchase and they could not help me. They told me to contact Cymax which has been a JOKE. I printed off a copy of the item from the Walmart.com which clearly shows SET OF 6 on sale for $14.99, which had previously been $44 for a set of 6. Now I am out FIVE ramekins because I cannot get in touch with this CROOKED COMPANY! I am now going to write my NC Attorney General's office and report FALSE ADVERTISING! DO NOT BUY ANYTHING FROM THIS COMPANY.

The delivery was not timely. It was almost 10 days after the end of the scheduled delivery window. Several calls to Cymax went were to no avail and no one at Cymax seemed to be able to find out what the hold-up was. No follow through from anyone at Cymax that said they would look into it.

Regency Traditional Button Tufted Ivy League Side Guest Chair - The chairs are sturdy and look very nice. They are great for what we needed. I ordered one to try and it went together well so I ordered 11 more. These all had an area that was not drilled properly and we had to buy different screws (22 in all). Two were purchased as "back ups" and we ended up using those for parts for some of the others that had flaws. I asked about the area that was drilled wrong, was told it was not a problem, they were aware of and they didn't seem interested in offering advice. We stumbled on the different screw size working. Over all the chairs are great but beware that you may need some different hardware than what is provided.

Nice computer desk. Just what I was looking for. Reasonable price, fast delivery and easy to assemble. I will buy another for my son and maybe one for my daughter. The size and color nice. Overall I'm satisfied. I will be doing business with you in the near future.

This piece of furniture (Bowery Hill Apothecary Accent Chest in Espresso) came quickly and was just as described. Easy to assemble. Looks sturdy and beautiful. Just what we were looking for. I looked online and this company had the best price, free delivery and a discount coupon.

Coaster Beveled Mirror: This is the second mirror that I've bought, both from this same company, and I love it! It is the perfect size for above a single sink vanity in a bathroom - not too big and not too small. Easy to hang.

I had ordered, what I thought was a set of chairs. One of the pictures had two chairs and I had assumed, with the high price, that it was two chairs I was purchasing. I purchased one in white and one in glacier blue. I attempted to return. The return shipping was more than the chairs. Then I attempted to exchange one chair for another color so I would at least have a matching set. Needless to say I have talked to numerous people and have sent a ton of emails and still have not received directions on how to exchange. The return policy is ridiculous with a long list of to dos. It seems that you guys try to make it as ridiculous as possible so people won't return their product. I have never encountered a company with such poor communication and difficult return policies. I will not recommend using this company and will not purchase anything else from this store. And I will shout my complaints from the rooftops to warn others!

It's been awhile, and I haven't yet received my end table. Why is that? I like what I have gotten so far, but the end table is taking forever to get here.

I loved my headboard. Easy to assemble. I bought for personal use, however manage a huge real estate portfolio of 300+ units. It was perfect for my needs. Hope to use you in the future on a project or two. Thanks.

Return damaged item. I have ordered a mirror for the wall thru Walmart with the company being HomeSquare. Cymax is their customer service. I received the mirror in mid May. We didn't open it as we didn't have way to hang it. We opened it mid July and found out it's broken (either sent this way or in shipment.) The mirror costs 300 dollars on their site while being in 400 other sites.
I have sent them pictures to prove to them that it came this way after they requested as it's past the 30 days notice! They promised they will open my file. They didn't then. I have called them again to explain my situation. They said they will open my file again. Every time they say they would, they end up refusing to exchange item. With My last conversation with them on the phone, they gave me impression they will exchange item then they email they refused. Now I am thinking maybe their site had the cheapest price on the item because they're sending damaged goods and basically not exchanging and cashing the money!

Home Square Cymax embodies horrible customer service!! I ordered (online) a bed and dresser on June 8th. I received a shattered bed on June 23th from a horrible local shipping (trucking) company, YRC Freight in Ringgold, GA. I immediately emailed Home Square-Cymax with info and pictures!! (I received my broken bed at 7 pm on a Friday night, thanks to horrible shipping company.) I had to wait over the weekend due to Home Square being closed on weekends for customer service--I called Home Square on the following business day (6/26) and was told 1-3 days of processing??? before I could have information on a replacement. I sent more pictures and I finally received a follow up email from Home Square-Cymax on 6/27--telling me I'd have either a new bed or tracking for a new bed by July 4th.
Today is July 7th and I still have NO tracking and after several calls (from myself to Home Square-Cymax) I still have no resolution. **Zero replies to my emails I should mention. I finally asked for a refund yesterday, to which I was told 2-3 business days (so this weekend I won't count, not a "business day") before I'll know if I can have my money back. Home Square doesn't know if my replacement bed has shipped and they can't tell me if I can have a refund. Horrible customer service! Never again will I order from this company!

I ordered a chest from this company through Wal-Mart. The next day I received an email saying that the order had been cancelled because the price had changed. A call to customer service went very poorly. The rep was unable to answer my questions and unwilling to transfer me to someone who could, stating first that he did not know who to send me to, then that everyone works on email so there is no way to transfer a call. I absolutely will never purchase from this company again.

I ordered a item, after four weeks I contacted the company to ask where my item was, I was then informed the company decided without speaking to me to refund and restock the item. I am being charged a restock fee of $349.49. I should have never been charged this fee for something I didn't want returned. Scam!

I bought a patio from this outfit. They gave a false description of a small patio table I ordered. I requested return instructions for the item via my order page. When I didn't hear from them, I contacted Amazon Pay as I had used Amazon as my payment source. Cymax has charged me an $18 restocking fee, $10 delivery charge, and I had to pay $43 for return postage on a $99 table. Very sleazy company selling cheap junk that they no doubt get for free! Beware of this shady company!

Purchased water fountain, took over 2 weeks to receive. Did not work so after numerous emails and phone calls told I would get a new one and to ship the old one back. About 10 days later I received a "new pump" which was three times bigger and would not fit into the fountain and stuck out of the bowl. Now they want "pictures" to send to the manufacturing company or "donate" it, get credit for the donation. I asked why I would donate something broken and I was told, "Well that is the only way we can refund you". DO NOT BUY A THING FROM THIS COMPANY!

I was not so happy with a couple of items I order in the past. Some item got here broken like my computer armoire. I have to call customer and they have me waiting for hours and it took forever. Customer service was not great. The person that got my information was nasty. I like to order at this website because of the good prices not good shipping. Nasty nasty man. Expecting 100 of dollars just for delivery and it says free shipping. If your order is heavy be prepared for tipping hundreds.

I purchased a daybed trundle from Walmart.com through Cymax. The description on Walmart's daybed did not specify that it was only the trundle. The original price said $314.99 and now it was $79.95 and I thought I was getting a deal. When I received the email that my item had been shipped there was a description that it was only the trundle. I called customer service and immediately canceled the order. I was told to refuse the order when it came and my money would be refunded. I refused the order and it has been 3 weeks since I did that. It has been 4 weeks since I ordered the item. I called customer service several times during this period. They said even though they can see that I do not personally have the item they cannot refund until the manufacturer sends them an email stating they have the product.
This is totally unacceptable. I cannot even believe I am dealing with this right now. They know I do not have the item. It is not my issue that their manufacturer has not sent them an email. I will never ever order from this crappy company another day in my life. I still am waiting on my $80 - I will be contacting the Attorney General's Office if it does not get resolved soon or possibly take them to small claims court.

Following a previously bad experience with another furniture retailer I gave Cymax a try. My first order with them went without a hitch, but the second was a nightmare! I ordered a desk from them on March 7th after another company failed to do so. On the 12th I obtained another desk, to which I verified that the status of my order in the Cymax system was still "In Process", so I canceled the order. The following day against their own "Cancellation Policy" I was notified by automated email that the desk shipped. Their policy states that I was supposed to be notified that either my cancellation was rejected or accepted (I never received any notice to either).
Following the tracking number to FedEx, I contacted FedEx to return to sender. They notated it in their system and even wrote a note on the door with the tracking number to return the item. In the meantime I was in talks with Cymax about the cancellation, they refused to fully refund me and stated that they had to follow their "Return Policy" mostly in fault because they are a "drop-ship company" and it's not their fault their system takes 2-3 days to update. So let me get this straight even though I canceled before the item was marked shipped in their own system, 'according to Cymax CS reps' this is my fault?? They stated I was to pay $27.82 for the original shipping to me and $27.82 for the return shipping. Wait wasn't shipping listed as free on their website?
After a back and forth I mulled over these fines. That night I received a call that FedEx delivered the desk even after all my notices. I called Cymax the next day, now with a desk I canceled and with $56 in fees to return. Furious I told them I did everything possible to prevent this. Cymax proceeded to add on additional fees for the return... a $65 pick up fee, $46 return label fee, and $27.82 for the original shipping (total $138+). This turns out to be more than the desk originally cost! Really avoid doing any business with this company. I'll be seeking to dispute this charge and somehow find a way to get this desk back the company that really shipped it to me (probably out of my own pocket)...

Early September of 2016 I bought a power recliner from Cymax through Walmart. I received it on September 15. It was for my elderly, frail mother who has heart valve disease, COPD, bad knees, and other ailments. As soon as I got the chair I built plugged it in. She sat in it and it worked for a good 15 minutes. That's it, I have contacted them. They sent me a new remote control and transformer box twice, but what I requested was the relay box. In close to 6 months the chair has worked maybe 1 month. That's it, and that is changing the cables and reconnecting everything. Very disappointed. No warranty. 484.00 dollars. No recline or lift power.

On December 3, 2016 I placed an order for two desks and a file cabinet for an office re-do project. We received all in separate shipments (which was fine). The file cabinet was the only thing not damaged. We received on December 17th. On December 20th I notified customer service of the damage. After taking pictures and several emails I was told by Cymax "Customer Service" that the Manufacturer had approved the replacement. Both desks had the exact two pieces damaged - however the manufacturer sent only one set. I made several calls to "customer service." I was told that they would contact the manufacturer to request the parts - but that they had no control over when they were sent out, etc. (But let me assure you, they charged my American Express as soon as I ordered.)
Well here we are, today is February 8th. I still have no desk - they have not once emailed me to follow up nor contacted me by phone. It is very hard for me to believe I am the only one this has happened to, however this is what they claim. I will be handling this through my purchase protection with American Express, as well as all other avenues I have access to. I spoke yesterday with an "Alesha **" who told me I would be charged to return the merchandise - since one desk was intact. (I ordered two to match. Not going to work for me.) Either way they have no intention of making this right. Just be careful, if you are fortunate enough to have your merchandise delivered intact, you will most likely be ok - but if anything is wrong, you will not get any help here. I'm betting this never shows up under their reviews.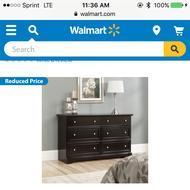 I ordered a mirror and a dresser from Walmart.com from this site. It had stated it was a reduced price if $123, so I purchased it the first chance I got. It came within 5 days of ordering. Fedex dropped it off, and I came to realize it was just a mirror. The mirror didn't even match the measurement that the mirror that came with the dresser should have been.
I contacted the company, and they claim it was a "listing error" on the Walmart website, and there was nothing they could do. I could either keep the mirror and get a 25% credit back (and spend that credit on the dresser I should have gotten) or I could return it and get a full refund and have to buy another dresser, even though I thought I already did. The company has not been cooperate in anything besides telling me there is nothing they can do. I've been in contact with them for over a week and I'm not sure what the end game will be here. I just wanted my dresser. I have proven what I purchased and the company is still refusing to give me what I paid for.

Just over one year after delivery, the metal frame broke, causing recliner to malfunction. Contacted Cymax and eventually received a reply. They contacted the manufacturer. Instead of receiving a replacement chair, they sent me the two frame parts, not assembled! I am supposed to pull the old one and pull all the springs and reassemble/reinstall the reclining mechanism. Unbelievable! Never again, Cymax!!!

We received the TV Cart on time and we liked it. I spent 2 hours putting it together. After that my wife noticed a 3 inch crack on the top board. Now I can't disassemble it to send it back. I don't know what is the solution. The box it came is now broken and you tell what to do.

Needed to replace old home office furniture. Ordered items based on quality, price and reviews. Items arrived quickly, in good condition and ready to assemble.
Took several hours to assemble all pieces but did so by myself and everything went well. Very pleased with the appearance and quality of the items. Will order from seller again when need arises.

His desk is very well put together, the instructions are very clear and easy to follow. This product is sturdy and looks amazing. I would definitely recommend this product to all my friends and family. I will definitely order from this company again. Thank you.
Cymax Stores USA Company Profile
Company Name:

Cymax Stores USA

Company Type:

Private

Year Founded:

2004

Address:

Unit 310, 4170 Stillcreek Drive

City:

Burnaby

State/Province:

BC

Postal Code:

V5C6C6

Country:

Canada

Website:

http://www.cymax.com/