Bob's Discount Furniture
Woodbridge, NJ
Consumer Complaints and Reviews

My husband and I have purchased many items from Bob's before and have been very satisfied. However, on June 9, 2017, we went into the West Springfield store to buy a bed for our grandson. After choosing one and going to pay for it, we decided on another less expensive bed. We were rudely told the first charge could not be refunded for 16 days. After some talk, they admitted it could be refunded and we paid for the bed we wanted.
Our daughter in the meantime, called Bob's to pay the difference on the two beds to buy the first one we chose. No one seemed able to do this with any competency so we cancelled the entire order. I was meanwhile told my check amount could not be refunded for over 16 days! I called my bank and put a stop payment on the check. During this entire time we were treated very poorly, spoken to rudely, and no one seemed to care if they got our business or not. I will not shop there again. They seem to care more about their sales reports than the customer.

This is an outrage - BUYER BEWARE OF BOB'S FURNITURE DELIVERY. They don't seem to know how to deliver a couch to a second floor. A 5 minute attempt was made this AM. Last night 2 friends/not professional delivery guys removed a LARGER SOFA. So if you live on a second floor, I'd go to a different furniture store.

I placed an order in the store on Tuesday. They gave me a date on same week Friday to deliver the bed, the driver calls me up, "Sorry we can't deliver it today because the mattress got dirty," so I told them, "So get another mattress." The driver told me, "You have to reschedule a delivery date." Nobody from the company ever called to reschedule a delivery date, so I called them on Monday and ask them when they are going to deliver my bed. They said, "We'll try to deliver it on Thursday," I told them, "I don't have where to sleep till Thursday and I can't sleep on the floor. Do you want to pay me for the hotel." They said, "No you will have to wait till Thursday to see if we could push you in for Thursday delivery" and I'm still waiting.

In October 2015, my mother purchased the Blake drop-leaf table and four chairs from Bob's for me. I was present for the transaction. The agent who assisted us emphasized that if there was ever an issue with the table that there is "goof proof" protection. My mom was also persuaded to purchase - and did purchase - the protection plan through Guardian. There is damage to the table and neither Bob's nor Guardian will cover the claim. Here's how they get you: they tell you that scratches and stains will be covered when they are trying to sell you the protection; however they mention nothing about all of the exclusions - and there are LOTS of them.
I started by calling Guardian and they ask you to describe the damage. The agent who assisted me continuously paraphrased what I said and asked if what she was saying was correct. Little did I know that she was trying to manipulate my description of the damage into something which would conform to one of the exclusions to the coverage. My claim was denied. I was stunned. This coverage was purchased with the understand that it covered a broad range of damage. It does not. I am beyond angry and disgusted and I feel very manipulated by Guardian.
To top it off, the agent told me to call Bob's to see if I would have recourse directly through Bob's. I implore you: try to get someone from Bob's to answer the phone. I spent an inordinate amount of time being redirected through their labyrinthine and ineffective call system only to end up back with a different agent at Guardian. I will have to go to the store in person and see if anyone will be willing to help me. Perhaps a refund of the protection plan should issue, since it is useless! I am so disgusted with them. I highly recommend shopping elsewhere for furniture, but if you shop here, do NOT let them dupe you into purchasing protection. It is as worthless as this damaged table that they refuse to cover.

I bought the Skyline Sofa from Bob's and six months after, I started to notice that I can feel the corner of the wood when I sit down. I went back and forth for months with appointments for technicians. The first time they cancelled because the driver had an accident. The second time he didn't show so I had to call to reschedule to return to work. The third and final time, he came. He felt the wood and acknowledged it's not right. Checked the back because he thought the frame was out. Told me that he would do a report and that Bob's will get back to me. They never called so I had to. They informed me the tech reported it was "normal wear and tear" and they wouldn't do anything. So I guess Bob's Furniture thinks it's okay to sit on pieces of wood months after purchasing a new sofa. I know it's discounted but this is ridiculous! Is there lower than one star?
How do I know I can trust these reviews about Bob's Discount Furniture?
789,262 reviews on ConsumerAffairs are verified.
We require contact information to ensure our reviewers are real.
We use intelligent software that helps us maintain the integrity of reviews.
Our moderators read all reviews to verify quality and helpfulness.
For more information about reviews on ConsumerAffairs.com please visit our FAQ.

I ordered and bought a mattress for my son. I was called and told it would be delivered the following WEEK. Today, as I was ready to leave my house an unexpected knock on my door came to see a FEDEX guy with a box from B.S. Bob's. He literally dumped it at my doorstep and left. The mattress I bought was not clearly stated that it was a boxed material. I did see boxed mattresses on their site, but purchased a regular mattress. Their website clearly states it is a Bob's delivery, set up to room of choice and a removal of all packing materials. What a lying deceiving b.s. full of crap company. Their customer service sucks. They had the nerve to tell me that service costs more!!!! Beware of BS. Bob's. STAY AWAY.

I had the worst experience with them. On 5/23 I went with my husband to Flatbush branch to purchase new furniture for our new apartment. Jasmine helped us and a very nice girl, this is not about her. After choosing dining room, living room, and bedroom, we signed the papers then she got a message that the dresser for bedroom will not be ready until 6/28. I thought it is ok I will manage till then.
On 6/1 they delivered a bed, love seat, & glass for coffee tables only saying the rest will come on 6/10. After sleeping on mattress for 2 days I got severe back pain. I called customer services to change it and I am willing to pay the difference. Lady said no I have to keep for 1 month then call them to order another one. I explained that I am sleeping on the floor for a week and cannot continue this way. She said it is their policy. As for the dresser they will have it available on 28 but that does not mean they will deliver it because it has too many requests.

I ordered my stuff from Bob's, I ordered three beds, three box springs and kitchen table and stools. They messed up my order seven times. One of the box spring did not fit in my room so they order me a split box spring. When they came to my home they dump the stuff in the hallway and left it there. They were very rude and told my son that they were not doing it, I came home to a nightmare. My 20 year old son set up the furniture three more times. They came out with the wrong paperwork saying they were here to get a mattress and drop off a box spring which was wrong.
They finally pick up the box spring after a month of me sleeping on a mattress on the floor but did not deliver my split box spring. When I called up customer care they said that they had canceled my custom made box spring and gave it away to someone else. And they could order me another one but I would have to wait three weeks. I am going down there to make sure they take all their crap back. Never again will I order from them. They should be ashamed of themselves.

I purchased a contemporary Bob-O-Pedic Recliner on 2/14/16 with the Goof Proof Plus plan. At the end of April 2017 my chair flipped over with me in it and all the ball bearings from the swivel portion flew across the room. I called Bob's customer service and they promptly sent a tech on April 25, 2017. He found that I needed a new swivel and the part was ordered. On May 25, 2017 I called customer service due to the excessive wait and was told the part was back ordered till June 18, 2017. At that point it would be sent to my house and then I have to call and schedule a tech to come and repair it.
On May 25, 2017 I filed a complaint with the Better Business Bureau. I received a reply from Tracey ** corporate liaison who stated "We are sorry for the long ship time this vendor requires. I agree that 114 days is very long. If the customer had reached out at the beginning when the order was first placed, we could have discussed other options. The part is now due in less than two weeks. That is not an excessive wait."
The part is supposed to be here in two weeks. That's not saying it will be. How long will it take to schedule a technician to come out? Two weeks is excessive after waiting since the end of April. When the technician came out I was given no timeline for the parts from him or the representative on the phone. It wasn't till May 25, 2017 that I found out about the excessive wait time for the part to arrive. Why would Bob's chose a vendor with 114 day wait time for parts and then blame the customer for not knowing sooner? "No Phony Gimmicks! Just Pure Value! I've Got You Covered (You just have to wait 114 days)!" Bob. There is a total lack of customer service.

Purchased furniture from Bob's Discount Furniture in Hunt Valley Md. Walked in knew what I wanted paid cash and set up the delivery for 5 days later. Easy so far, when Saturday came we had our old furniture removed waiting for the new stuff to arrive. No issues, until only half of the product was delivered. When my wife asked what now, the delivery people that barely spoke English said someone would call. When we did get in contact with customer service after being on hold for 30 min. They kept blaming other departments. Just fix the issue. Well after another 5 days we finally received the rest of our furniture. The offer was $75 off of a future purchase. No way. I will never buy anything from this company. And will gladly spread the word of the poor customer service that they provide.

Be Away from Bob's... Scam. During purchase the Bob's salesperson told us that we can tell the defects of furniture within 3 days of delivery. On the delivery of furniture the delivery guys took the picture of the defect and when we called the customer care they said us to send the picture of defects of the furniture and the response we got from them is they are asking us to use the protection plan for the defect and Bob's don't take this request. They are cheating customers... Stay away from Bob's furniture... It's a scammm.

I never purchased at Bob's Furniture before. A friend of mine told me that they have good deals so I gave it a try. THE WORST EXPERIENCE EVER OF MY LIFE. I purchased a mattress, but my wife and I noticed a very strong smell, like humidity or burn plastic. I called customer service and was told to wait one week, that the odor will go away. On the meantime, my wife and I were sleeping in the living room because of the bad smell from the mattress. The week passed and the smell continued. I called customer service again, I demanded my money back or a new mattress. The lady on the phone by the name Nataly told me that I was getting my money back in some type of credit, but I can only use it at Bob's Furniture, which I think is ridiculous.
Having no choice I purchased a new mattress at different place, and throw the stinky one in the garbage, and used my credit to purchase a sofabed and full bed for my kid with my credit at Bob's. But the nightmare just started. When they delivered my sofabed and bed, they asked me where is the mattress from Bob's Furniture. I explained them that I purchased a new mattress and got rid of the one from Bob's furniture, as was told by Nataly. Nobody told me to save the mattress so I throw it in the garbage.
I couldn't believe it. They loaded my furniture back in the truck, and I didn't get reimbursed for the stinky mattress that I put in the garbage. I explained them again, that I was not told to save the mattress, but they didn't care. I lost $600 dollars. Please stay away from this place, you will end up paying little more but trust me, it is worth it. THEY STOLE MY MONEY. BOB'S FURNITURE SUCK. Poor furniture quality and customer service.

Very disappointed with the lack of "customer service" from Bob's. I would never order another piece of furniture from them. My girlfriend and I bought a couch from a woman on Craigslist. The couch was originally purchased at Bob's. We needed a replacement cushion for the couch. We have the exact product and article number and know exactly which cushion we need. On three separate occasions, customer care rejected our part order because we were not the ones who originally bought the couch. How can they tell us that we can't pay full price for a couch part that we want? So fed up with them.

I ordered a bed online in which it was a sale last years model. It was shown in stock. A little while after I get a call and was told the base of the bed is on back order for up to 3 weeks. I was ok with that. A few days later Tuesday, May 30th at 4:27 pm I receive a call stating it is in stock and the earliest delivery time is Saturday. So I said ok and they told me they will call with a 4 hour window. Today June 1st at 3:44 pm I receive a phone call stating that they don't have the bed anymore and that it is not in stock. My order would have to be cancelled.
Now I was lied to multiple times along with the false advertising on the website stating it was in stock and allowing me to process the order then being told it was getting delivered and rearranging my entire schedule for delivery. Then to be told from the lady on the phone that I am a liar and not one person called me to tell me that an item was being delivered. They need to get their act together and stories straight. I gave them an opportunity to make it right and they did not want to do anything.

Stay away from Bob's! I purchased 2600 dollars' worth of furniture from them specifically because of their "Goof proof" accidental damage plan, which I paid for. I called to file a claim for damage by my children caused by marker and glue stick, and was told those types of accidental damage are excluded, even though in the store I was told repeatedly that any type of accidental damage is covered. Now Bob's is telling me there is nothing they can do for me and I feel completely cheated. One of the main reasons I bought from here is because of the accidental damage plan, since I have young kids, and they are just washing their hands of it.
The craziest part is that if it had been caused by nail polish, or water, or nail polish remover, that would be covered, but marker and glue stick are not? I find it hard to believe that nobody has the power to rectify this situation. Their "protection plan" is managed by an outside company, so Bob's says they have no control--yet they market this protection plan and use it to make sales that might otherwise not happen. It's all a scam and this is not an honest company. Not worth it for cheaply made furniture.

Purchased a table and bar stools. One bar stool cracked and is discontinued. Product is covered under warranty and Bob's reluctantly agreed to give me a store credit to replace the stools however they do not have any bar stools in the store or online that match. Manager told me that it is the best they can offer and was unwilling to offer any reasonable solutions.

When I bought this dining room table it's a granite bar style table top with six chairs. The top of the table instantly had water ring marks on the table that you cannot remove. I contacted Bob's customer care. They did nothing. I contacted a manager. They did nothing. I spent $1,000 on a table that they told me I abused because I put cups full of coffee or glasses on the table. My responses "that's why I bought the table." I will never buy anything from Bob's Discount Furniture again and I would suggest no one else does and as far as their Goof Proof policy it sucks.

I came in to get furniture. Eric, one of the sales representatives took very good care of me. He was polite, helpful and it was overall a really great experience. I had to get financed by ANow and they were awesome. The managers were great. I would recommend this location to anyone. #gobobs

It's been only 2 years we bought power recliner from them. The spring of the sofa went bad. When we called for Goof Proof extended warranty, they called it "MISUSE of the furniture" and denied our service request! NO MORE Bob's Furniture. Total waste of money.

I ordered a kitchen table and set up a delivery date and time but because my wife used her name they canceled the order. They would not give us a chance to rectify the problem first. Customer service was very rude and uncooperative. Because of this incident I will never buy through Bob's again and have canceled my credit card.

We ordered a split queen size bed, separate box spring, separate mattresses with 2 controls to raise and lower head and foot of bed. What they tried to deliver was 2 separate box springs and 1 solid 1 piece queen size mattress! You cannot raise one side and not the other side!!! I refused delivery! We paid an extra $700 to have the option to raise and lower only one side! I was told to order extra long twin size sheets, which I did! We paid for everything, mattress covers, twin size sheets, pillow cases! We cannot use them! We had to put our old bed back together again. Ugh! Liars! Mattress Firm does sell a split queen size bed. IT'S SPECIAL ORDER AND YOU WAIT 6 WEEKS. FINE! I'LL GO THERE! AT LEAST THEY DON'T LIE TO YOU!

I refuse to waste more of my life describing the multitude of problems I have had with this company and their product. DO NOT PURCHASE ANYTHING FROM THEM! The customer service is a joke as they do not believe in providing any customer service at all. They deliver products that don't work (in fact we got a product that had European electrical connections so there was no chance for it to work from day one). Their repair people don't know anything. They refuse to back their products. They will NEVER give a refund even when it is so obviously their fault. It was such a waste of time, money and effort. Absolute worst company I've ever dealt with.

A couple weeks ago my husband and I worked with sales associate Laurie. She was as perfect as one can get in terms of her helpfulness, sense of humor, knowledge. We purchased a dining table and four chairs. This review is not really about her. Yesterday my husband and I returned to Bob's to purchase 3 hurricane candle holders. As we enter the store, there are 5 sales people sitting at the front of the store ready to pounce. One person actually got up to "help" us, Sam. We knew exactly what we wanted and told Sam. He then said, "We don't deliver those." At first I thought he was kidding but he wasn't. I said "Really?" I may have white hair but I am not an idiot. We then pick up the three holders to carry to a pay area. I asked if these could be wrapped as they are breakable. He said he'd have to call someone in the back to see if they wrap these.
Then he took at least 15 minutes to put everything in the computer. We were there two weeks ago. I tell him we are in the system. He had no comment. I walked away. He then tells my husband that he didn't mean to insult me. I think he could have told ME that. We then walked to the back of the store where someone was going to wrap them up for us. Sam was with us. A guy from the back wrapped them in about two minutes. I will never go into the store again without asking for Laurie. If she leaves, I go with her!! What should have taken 15 minutes--remember we knew exactly what we came in to buy--took about 50 minutes. Train, train, train your sales people, and get them away from the front door.

I purchased a leather recliner in March of 2014. The recliner broke and I found a broken bolt under the recliner. I called in because I purchased the Goof Proof extended protection plan. I was bounced back and forth from the Bob's I bought it from to the department that was supposed to schedule a replacement of my recliner. When I was adamantly told that a technician would have to come out and determine if the recliner would be repaired or replaced. Why can't the item just be replaced? Obviously there has to be some sort of defect. The recliner is only 3 years old. I Then get a scheduled appointment for Saturday with a window of 7:15 am - 9:15 am. I called to say that time didn't work for me. The representative advised me that it would be noted that I needed the time to be changed.
On the next day I received an automated call for service on the same day and time I previously advised them didn't work for me. When I called the representative advised me that they have no control over the scheduling that's done by the routing dept and also that I wouldn't be able to speak with them. They couldn't accommodate me to change the time for the same day. I would have to cancel and reschedule. I did that and now have been pushed back from Saturday to next Wednesday. I still won't know the time until I get another text or phone call. So now if the time doesn't work for me I'm stuck to repeat the same process. I then requested to speak with a supervisor. After being put on hold the representative advised me the supervisor just reiterated the same thing he had told me. So I said, "In essence the supervisor is refusing to speak to me."
The treatment I received from Bob's was not customer service, it was more like customer disservice. I paid for the Goof Proof extended protection and all I've received is a very frustrating experience. I have a chair that's broken not by any fault of mine. It would be more like a defective item. So I can't use it and possibly can't receive service for over a week. I cannot tell you my displeasure concerning how I've been treated. I will use every form of social media and verbally advise my family and friends of how I've been treated by Bob's. I will also tell them not to make any purchases from Bob's. This is not how you treat customers. To say nothing of the fact that I have a medical condition that sleeping in the recliner eases the discomfort of my illness. I guess that doesn't matter either.

Run away from this company!! (In general) Idk about this particular location but I had the absolute worst experience. My box spring broke on my bed and so did the wood support underneath because I have nephews who play and run, jump, and also because I moved. I called the 860 number and they put in the request to have someone come and fix everything. The guy comes and only does half the job. He calls the 860 number and tells them, they say, "We will replace it and the mattress for you." I asked, "Why the mattress?" and the woman told me that they are considered one item. I said, "Great." They set up delivery for me for TODAY!
These idiots set it up for my old address then the delivery guy goes, "I'll come to the new address. Be there in 10-15 mins." 3 damn hours later and they tell me that because of the mistake they have to reschedule me, after I already took the day off from work twice. They are all ** at the call center. Stay away from one in particular. I think her name is spelled Josie. She is a real idiot. I know I am upset but the customer service at the company is by far the worst I have ever dealt with. Go to Ashley Furniture store or a thrift store. Just stay away from Bob's. You've been warned.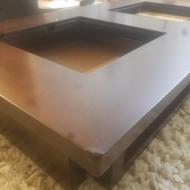 I bought a coffee table from Bob's furniture and was dent one of the corners. So I call the store and they say I can't return it cause the customer care have to take a look at it. So when I speak to the customer service they ask for pictures even though the policy say that they are gonna send a technician, but I ended up sending picture and I never get a reply from cause they say, "Give us 24 to 58 hours to examine the photos." So after 3 weeks I contact and they say that they can't replace it or do anything about it cause it's not a manufactured defect. But still the item came like this and I tell them that.
This table is still in the box waiting 3 week for an answer by email to return and they just apologize and tell me, "It's not my problem." So I ask, "If I wanna buy an item today from you guys and come with a crack is that my problem?" And the supervisor tells me, "Yes it's your problem so we can't do anything about it." I just hope that this doesn't happen to anybody, it's very disappointing this. Not buying from Bob's furniture ever again and I don't recommend it to anybody.

So very disappointed in our living room couch and loveseat! When we were shopping for the set, we were talked into "bonded leather", how wonderful it is and durable with kids and animals! The "bonded leather" is peeling off and making a mess everywhere. Very embarrassing!

First off, notice that they delete their negative messages from FB and now I can't make a comment anymore! I went to Bob's to find a recliner and it took me 20 minutes waiting for a sales person to approach me (even seeing a few sales people congregate talking and one smoking outside near the front door). I finally went up to the service desk to ask for help. At that point, I knew I should have just left. But I wanted to give them a chance. The person who helped me was nice. But didn't exactly discuss the whole delivery system well. This was the rough part, Bob's canceled my delivery order. I called several times, the customer service agent I spoke to first hung up on me (I didn't think he knew what was going on). Then I called again for 45 minutes to discuss my concerns. They said I would be compensated for the failure of delivery on their end.
She never explained what compensation would be and the delivery drivers would take care of it (I was very skeptical of this). They finally delivered my recliner. Then I asked the delivery drivers about the compensation. They had no idea of what was going on and they didn't understand why the customer service manager would have them call for my compensation. I finally reached the another customer service rep and they said they would either give me $25 Bob's Discount Furniture Gift Card, then it was bumped up to $100 Bob's Discount Furniture Gift Card or refund on the delivery. If I would have known this, then I would have told them to keep the chair and refund my money. Through missing 2 days of work, spending over 3 hours on the phone with customer service, and not provided with accurate information throughout this process, I felt that Bob's Discount Furniture has ripped off the consumer, me.

We purchased a king mattress from Bob's back in 2010. After only 3 years the mattress had two very large dents in it. We called the store and they sent a technician to come measure the depth of the two dents. The technician said that the dents extended down past 3 inches. We qualified to exchange the mattress for a new one. We went to Bob's and picked a different type of mattress from them and they exchanged it for us without issue. Three years into having that mattress, we have even larger dents in the mattress. Another technician came and said it is clearly a manufacturing error.
I spoke with customer service and they told us they will only offer us store credit, they don't refund money. I called the store directly and we spoke with the store manager and he claims that he stands by his products. He would not refund us the money. TWO mattresses we have gotten from Bob's and they are both ruined. Mattresses are supposed to last at least 7 or so years. These each lasted only 3 (even less, because we've actually been putting up with these dents for awhile). We can hardly sleep on the mattress. I don't want to have store credit. I don't want to purchase anymore products from Bob's. We just want our money back.

I had a worse experience in my life with Bob's. I bought an insurance called Goof Proof. I call them and they don't care about me. They said to me to call manufacture warranty. I call them and they send me back to Bob's, so make me feel like a fool. They just want our money for insurance. When you need, they give you a finger. So disappointed, I hope somebody from Bob's get in touch with me and solve my problem. They don't need me as a customer, they another thousands. Also they make me call them back many times, and at the end, nothing has been done.
Bob's Discount Furniture Company Profile
Company Name:

Bob's Discount Furniture

Website:

http://www.mybobs.com/