Bob's Discount Furniture
Woodbridge, NJ
Consumer Complaints and Reviews

My Wife and myself ordered a bedroom set for my daughter from Bob's Discount Furniture and we're given a time window to have it delivered. Got a call from the automated system saying they were 10 minutes away. My wife spoke to the driver and he said that he was on the way. We waited and waited. No show. My wife called the 800 number and they said that the zip code was wrong and they could not deliver the goods even after we spoke to the driver and he said he was 10 minutes away. There is only one LEXTON RD in Newcastle De. My 4 yo grandson can enter LEXTON RD INTO A GPS. I GUESS THEY DON'T USE GPS IN THEIR TRUCKS?
So needless to say my daughter has no bedroom furniture until Tuesday. That is the worst customer service I have ever had anywhere. I'm not kidding anywhere. They were literally 10 minutes away and now we have to wait until Tuesday. That is the craziest crap I have ever heard. I'm so effing mad right now I would make my furniture out of cardboard before I spent one more cent at that store. So have pleasant shopping at the most inept place I have shopped at! Bob's Discount Furniture.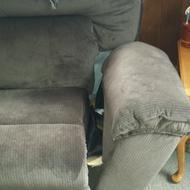 I had purchased the Brava Sofa and love seat in December of 2015 along with the additional warranty that I was told it was so wonderful and covered EVERYTHING! I had paid it off in 7 months. The following month the arm piece broke separated from the sofa. I was told by the technician and customer care there's nothing they can do. Two months later the arm fell off. After paying over 1800.00 in 14 months I have no sofa! This company is a total rip-off and I'm sick to my stomach with all the money I lost. I was definitely sucked into their scam! I will never shop there again!

I just been scammed. I'm very angry. I hope somebody sue them... Goof proof is a scam. Don't pay for that **. They don't fix nothing. The salesman at the store told me they will fix my furniture no matter what happens, if an accident or no. I just call and they decline my request. ** thief.

My husband and I purchase a $1000 pub style table and chairs (marble) beautiful set in store. We got the table and there looks like something is spilled on it, brought another and another. Chips out of marble and still spill stains! Promised to send a cleaning kit. Finally said they won't and can't give $ back because I don't have the goof proof protection plan. After hours on phone they said they would only give in store credit. Did I mention I also have a broken chair? Finally they are refunding $ because they would rather refund us than give us the cleaning kit! What a shame! Set would be beautiful if they would just send cleaning kit.

I had a service technician come to my house today to look at my furniture. I had bought the goof proof insurance. Fraud!! I repeat TOTAL FRAUD!!! The sofas are all ripping. The sofas are deflated!! Customer service said this is normal wear and tear and not a manufacturer defect. I spoke to customer service and they could not tell me what the meaning of manufacturer defect means! DO NOT BUY FROM BOB's!!! Not even for free! It's garbage. Sitting on a cardboard box is much better than buying furniture from Bob's.
How do I know I can trust these reviews about Bob's Discount Furniture?
693,146 reviews on ConsumerAffairs are verified.
We require contact information to ensure our reviewers are real.
We use intelligent software that helps us maintain the integrity of reviews.
Our moderators read all reviews to verify quality and helpfulness.
For more information about reviews on ConsumerAffairs.com please visit our FAQ.

My husband and I bought a dining room table from Bob's furniture about 3 years ago. Well we started having issues with the table about 8 months after we got it. The wood started chipping off of it. When I called customer service about it they told me that it was covered. When I asked them how I wasn't covered they didn't really have a explanation for it. They basically said that wood chipping wasn't covered. I told them that my family and I hardly used the dining room table because we use our island table more and use the dining room table more for holidays. There should be no reason that the wood is chipping on it. They had nothing to say just how it wasn't covered.
On top of the issue this table has been discontinued because of defects. So that right there should have got a new table but no they still stated. Bottom line I will never get their crappy furniture again. Bernie and Phyl's I have to say it's a little pricey but you get what you pay for. I bought a couch with them got protection plan. They call it let me tell you I had a issue with the couch I bought from them the color was wearing off a year later. They were so nice about it, sent someone out, took pictures and told me that I would hear something in a about a week tops which I did and they credited me for anything I wanted for the amount of the couch. They were so easy going. I've been sticking with Bernie and Phyl's now.

Never Shop at Bob's Discount Furniture. I purchased a 42" Glass Table/Chair set from Bob's Discount Furniture 11/30/2016. On 2/6/2017 I returned home to find glass shattered on the floor throughout the house. Immediately, I think there was a break-in. My televisions are there, clothes, furniture, etc. No windows broken. The ceiling fan where the table is located directly under did not fall. I continue looking for possible clues and I find absolutely nothing. I immediately call the GOOF PROOF+ PROTECTION but somehow was routed to the ACCIDENTAL STAINS & DAMAGES DEPARTMENT. While speaking with a representative after going through the phone prompts for 10 minutes, the representative proceeds to tell me that my issue is not covered under my plan and that given what I have informed them, there is nothing to surmise that there was any negligence on behalf of the manufacturer or whether this was considered as accidental damages.
The representative informed me that I need to speak with someone from the GOOF PROOF+ PROTECTION SERVICES DEPARTMENT. I reiterated my complaint and was put on hold for another 10 minutes while she "spoke with her supervisor." At this point no one can answer my questions as to what would cause a tempered glass table top to shatter like that - other than a manufacturer defect.
That assertion went unsolicited and the response given by the representative after "speaking with the supervisor" was that they needed to see pictures of the table to ascertain the nature of the damage. Well, your exculpatory evidence is shattered all throughout my kitchen, living and dining rooms -I retorted, to which her response was, "well, we still need to see the pictures just to make sure." Make sure of what - I paid for a protection plan which you are telling me in so many words that you plan not to honor. The chairs and table frame were damaged due to the glass shattering.
If I could I would return the other furniture I purchased from them and buy completely new furniture from a more reputable and trustworthy company. What if I were at home sitting at the table when this occurred - I would have sustained severe injuries. What if I were entertaining family or guests - now its multiple injuries and subsequent lawsuits. The line of questioning was interrogative to the point where it made me feel as though I was trying to scam them. I want them to honor their warranty or I will seek legal action.

We purchased our first mattress in 2011. Within months it started to sag badly. Bob's came out, found it to be defective and gave us a credit to pick out another mattress. Second mattress failed within a year. Bob's came out and found it defective as well. We got another store credit and purchased the Bob O Pedic Gel, paying the difference just hoping for a better quality mattress.
Once again within a year we started to feel like we were in a hole and Bob's came out and measured the sag and told us the sag was only a 1/4 inch and needed to be 1 inch sag for the manufacturer to replace it. After talking to a manager explaining we're tired of sleeping on this mattress with a sag he said we had to wait 60 days to have another tech to come out. We waited and he came out, measured it again and it was now 1/2 inch and we were told there was nothing they can do.
This mattress has memory foam. So of course it's hard to "see" the sag because the mattress just pops back up when you get up. We called again asking for a manager that never called us back. We gave up and now a year later my wife has to pull herself up out of bed by the headboard and has a backache every day, all day long. We called customer care and the tech came out, measured and it's now an inch sag and now they tell us it's got to be an inch and a half!!! You can imagine how angry we are at this point and keep in mind the mattress has a 20 year warranty on it. When you look at our bed you can visually see the mattress sags in the middle and they told me that the tech wrote that there wasn't a defect in the mattress but he had told us something totally different.
We argued the fact with them and the pictures that we're taking and that the tech only took one measurement and that was in the middle of the bed, not even at the end where you can visually see it sag. After arguing with them and not getting anywhere they said they would have Supervisor Dan call us in the morning. Well just like last time nobody called so I called them back. They of course hung up on me and I called back. I wasn't giving up this time. My wife's back is worse and the mattress is only a couple of years old.
Finally after pleading my case that obviously over the past year or so that the sag went from 1/4" to 1" sag that there was clearly a defect in the product. Yes I should just go buy a mattress from a different store but we don't have the funds to do so and why should we. They should stand behind their product and warranties. Finally after all that they gave us a credit so we will try this again but future reference to anyone buying a mattress from Bob's... DON'T!!!

Had to fight with Guardian Goof Proof customer service who tried to assume that I damaged my sofa I bought in late 2012. The sofa was rarely sat on, since I never have guests over, and my family and I are in our bedrooms. After many bouts with them, they replaced my sofa and loveseat stating the bonded leather was recalled. A month after that, I called in a claim for the damage my child did to the table with nail polish and acetone nail polish remover. After sending them the new photos as they instructed, they tried to imply that the damage appeared to have existed longer than what I told them. I sent emails to their corporate office in Connecticut. Finally I won my Goof Proof claim. So today, they deliver my new replacement table, only to find there's 5 groups of 20 something holes in the table. They will be replacing it next week. BUYER BEWARE! NEVER BUY FURNITURE FROM BOB'S DISCOUNT FURNITURE!

Two years ago I purchased a couch and love seat and the leather started to peel. I called Bob's and was told they have had problems with that couch and to come in and they would replace it. I purchased a leather love seat and couch costing me more than the original couch from Bob's in Nov 2016. When they delivered the furniture the arms didn't match and had a 2 inch gap The love seat bracket couldn't connect on the bottom. They schedule to replace both pieces. I took off from work in Dec and they came back and replaced only the love seat. So taking off again 2 weeks later they came back and replaced the couch.
I called Bob's and told them that the cushion on the couch was sagging. Made another appointment Jan 2017 and the service men came and he claims that the couch was soft, and store would be in touch with us. We called the store and was told the manager would get back to us. After many phone calls the manager said that the service man found nothing wrong with the couch. We purchased the goof proof and I was told if it gets worst to call back.

Bob's delivery people showed up at the specified time. But could not deliver my full size bed due to a size problem with the apartment entry door opening. Trying to call a human to resolve the problem is impossible. If you do get to talk to a human they cannot help you and will transfer you to someone else that cannot help (of course don't forget you are put on hold each time for 5-10 minutes). Try leaving a message for a call back when prompted will leave you with no problem resolution; they don't call back. I just wanted to change my order to a smaller size bed that can be delivered. I will never shop there again - nor will my family and friends!

Purchased a couch and loveseat from Bob's about two years ago, and purchased their additional warranty. Attempted to put a claim in for an accidental tear which is stated to be covered but because I didn't know the exact date of the incident they would not grant the repair. The best that they could do was offer me a refund of the remainder of the warranty. Not even any type of recommendation on what can be done to repair it. Their answer was that "We'll just refund you the remainder of the warranty," which to me insinuates that they anticipate more additional problems with the product that I had purchased.
The couch is two years old. The seams are separating, the arm is broken, and all the pillows and batting had to be replaced at my own cost. In addition to when they deliver the couch originally they broke it as they were coming through my front door. They were gracious enough to replace it, however they would only issue me a store credit for the difference. The difference was only about $30 but what are you purchasing at Bob's discount furniture for $30? Just applied to try to have you spend more money in the store. The quality that they advertise is below grade and I would never recommend any purchase from them again. I have purchased the couches many times in my past and have never been so disappointed by the quality. I will never recommend Bob's Discount Furniture.

This is in reference to Wharton, NJ store. The salesperson sold us a mattress and power box springs. They were not compatible and the box springs were not synchronized. Took weeks to get them synchronized and when done, the mattress did not bend when head or legs were raised. He insisted on sending us an identical replacement mattress. Same problem. We called him. He told us to call customer service. Called their customer service. They refused to replace the powered box springs because of their "policy." They offered to change to a different mattress and to connect me to a salesperson. After a long wait, they informed us that someone will call us back. Did not happen. Our advice, stay away from this company.

I purchased furniture from Bob's Discount Store in Calumet City IL. On the delivery day (Friday) several pieces were damaged. The delivery agent called customer service to report the issue, (4 damaged dining chairs, a glue stained dresser, and a broken foot board). The customer service rep. told me I basically had two options. Either send the broken items back with delivery crew. Or accept them and they would do an exchange, on the next available delivery day (Tuesday).
So I ask the customer rep. if Saturday was available for delivery, she said no. I explained to her that I was moving in the next day, and that since the foot board was damaged that I would not have a bed to sleep in. She again stated that I could accept the damaged pieces and a repair technician would come out for the exchange... "Why are you sending out a repair technician for an exchange?" I asked, she stated, "To fix the damaged items." Why would I accept damaged/repaired furniture. When it was purchased as new. So now you're trying to pull a fast one on me. Now I'm really upset, I asked to speak to her manager. And of course management isn't available. Wait a minute I'm on the phone with customer service rep at the corporate office but no one is available? Right! She claim that someone from corporate would contact me. At the time of this review, I still have yet to be contacted.
So I give the phone back to the delivery agent. Because clearly the rep doesn't care about this dilemma. So I call my sales rep India ** from the store I purchased the furniture from. She couldn't believe it, she contacted her supervisor Kristin. Who both worked to help resolve this issue. I went into the store about 2-3 hours after I called them. When I got into the store they were still working to resolve the issue. They refunded my delivery fee, and I settled on a 2 day delivery. Foot board 1st so I could have a bed to sleep in. And the remaining pieces on a separate day. I received a call from India later that night saying that, they could not get the foot board on the delivery truck for the next day. However Leon the store manager would personally go to the warehouse, pick up the Foot board and delivery it to my house in his personal vehicle.
Not only did he deliver the Foot board he also assembled the bed. Bob's Discount Furniture Store on Torrence in Calumet City, IL. I applaud the staff in that store. Because they clearly care about their customers! However Bob's corporate doesn't give a Damn!! If you shop at Bob's go the Calumet City store, they get things done and Will work with you. They understand what customer service really means, it is because of this store that this review got a many stars as it did.

I had this sofa delivered for the second time in December 2016. The 2 piece sectional clearly did not match. They were 2 different shades of brown. The first delivery guy noticed it and called customer svc for me to have a new one delivered. The second delivery guy noticed it too and said to go to the store and pick something else out. When I went to the Nesconset NY store all they did was put me on the phone with customers svc. I was advised that they will not deliver another one. Nor would it be ok to pick another sofa out. They made me respond to them with pictures. The email said they would respond to me on 24 hours.
After NO response, I called. After an hour on the phone, mostly on hold and after speaking to several "supervisors" I was told that there was nothing they could do for me. Nothing. They said they have no control over the dye lots and it's natural. I am stunned. Who would spend $1000.00 for a mismatched sofa in their home. This is a physical defect and I should be able to return it or at the very least be offered a discount. Might I mention this was all done within 30 days of it being delivered. I will NEVER purchase another item from this store nor recommend anyone go there. I am so disappointed.

Do not purchase the Goof Proof Plan that Bob's Discount furniture offers. You will be very surprised if you try and make a claim. They will come back with a number of reasons why the claim is denied. This service is offered at time of purchase. Also, very poor quality furniture, I made a mistake of making more than one purchase here and the furniture does not even last 5 years. When you try to make a claim as I did for a broken frame their answer was they had no proof that it was an accident. WHAT! Is that not why they call the insurance goof proof. Don't get scammed... the service is a joke. You will be disappointed. Shop elsewhere!!!

Documentation. 1/27/2017 Notes: Sectional issues: Sectional tearing at seams. Ottoman sunken in. Less than 60 days from delivery. Bob's not standing by product. Left facing sectional was delivered on 12/29 not 12/24 due to warehouse delays. No documentation from Bobs - Carson. 1/26. Customer Care. Set appointment to have couch fixed. Canceling appointment because we have no confidence with manufacturing of product or fabric.
1/27. On phone for over 30min between hold time and elevation protocol. Around 10:30AM spoke to Lisa at Springfield Bobs Sales. Sent to Customer Care. Waited over 10 min to speak to William. That call was elevated to Supervisor Lisa who said that we can credit your account but since we are out of the 30 day range, we would have to get a store credit. Couch should not fall apart as it has in less than 2 mos. No customer satisfaction. Call is being elevated to Supervisor Samantha.

Bought a sofa at the Glendale store in New York. Poor service and the order when it comes at home is always wrong. It is my third purchase now and all the deliveries have always been for the wrong item purchased. Had enough of this store - PLEASE DO NOT BUY AGAIN FROM BOB'S DISCOUNT - there is always something that goes wrong.

I purchased a sofa love seat April 2015. In June 2015 I noticed a tear under the love seat foot rest. I called the store they replied I did purchase the goof proof insurance try and fix it myself I was told. I placed tape over the rip and a year later I noticed the stuffing bulging out from under the foot rest. Once again I call and was told my manufacturer insurance just expired!!! I replied why wasn't I told of my manufacturer insurance when I called 2 months after I purchased the merchandise to complain of the rip? I was told I never called to report anything wrong with the chair and there's nothing I can do!
Today I called because the outlet for the charger isn't working I spoke of my prior experiences and the women said she will ask a supervisor for a courtesy visit to receive a estimate on cost and I was declined for no rhyme or reason just plain no! The cost just for the dispatch is $80.00! This company is a total rip off and customer service is even worse!!! I paid over $2600.00 for something that in a year and a half is garbage! Never ever purchase anything from Bob's!!!

I would not recommend Bob's to anyone! I was scheduled to have a delivery of my mattress and bed frame this morning. I called off the whole day from work, and emptied out my room to make sure they had plenty of space to build the bed frame. It snowed the night prior so early this morning I made sure my driveway was plowed and sanded. The delivery guys show up and refused to deliver my product because of the 'bad weather conditions' of my driveway. I stated the driveway has been plowed and I even offered to shovel and sand the driveway again so they could finish the delivery. But they refused and left. So I called the manager in hopes of getting my bed & frame to be delivered today and offered to shovel & sand more since apparently that was the issue. They refused to deliver it today & offered another delivery date for 4 days later. I'm very unhappy and will never buy from them again.

I purchased a living room set almost 2 years ago and the cushions in the seats began to draw up and the springs detached inside, which you could feel sitting on them. Bob's replaced one of the couches because they did not have the cushions by themselves in a diffident time and the cushions on the replacement couch is doing the same thing. The loveseat has the same issue but they said it was okay when they came to look at both couches. I am now going to pay to have cushions made and replace Bob's cushions with their custom springs. I have the 5 year replacement plan but obviously it is not worth it because the product is faulty. And the glass on my coffee table had to be replace the first week because it was not cut to fit correctly the first time. The price is cheap but there is a reason for that, the quality of the furniture is poor.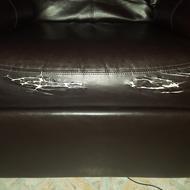 In 2016, I purchased a living room set along with goof proof. A month after my purchase the thread began to come a loose. I contacted the store on w116th st. They sent someone out to pick the set up. I was fine with it. They refused to refund my money and I was forced to purchase another set. Three months in the recliner began to lean. I called customer service. A tech was sent out and reported that my floors was uneven and the chair was fine. "NOT TRUE". When I tried to use my goof proof claim I was told that I would have to pay for any repairs made out of pocket.
I have had this set for about a year. The recliner is not only one sided, and it's torn. It's very sad that these people are allowed to remain in business and continue to rip people off. When will someone start a lawsuit so that they can pay and know how it feels to take people money and not think about it. I have posted a picture for everyone to see how cheap their furniture is and if you do not want to end up out of hundreds of dollars think twice before you make a purchase at BOB'S DISCOUNT FURNITURE.

I purchased a leather furniture set a little over a year ago. I paid for the extra insurance in case of accidental damage. I paid $5000.00 for the set. Here I am 13 months later and my "real leather" set is peeling and discoloring. I was told it was wear and that is not covered unless it's a manufacture defect. I have had other leather sets for 10 years and they never peeled like this even 10 years later (still have it and is used more frequently than my "new" set). I would think that it is a manufactured defect because real leather is not suppose to peel!! So I asked why do I pay insurance then. The reply was if you had an accident it would be covered through another branch of the insurance I purchased. I called the other sector "guardian". I again explained the defect and told them (for the purpose of, if anything else, getting the coverage I pay for), I may have spilled some hot oil on it. The reply was, "We don't cover any peeling or cracking due to hot oil."
I said really, it actually states that as a stipulation? At this point it sounded as if anything I could've said would be referred to as a stipulation in the insurance coverage. I asked then what actually would be covered? They should list things they do cover rather than the long list of things they don't and not mislead their customers when purchasing this useless insurance. Bottom line, they don't cover any peeling whatsoever or cracking of their "real leather" – maybe not so real leather, couches. I would be curious to see if it is in fact real leather. I have never seen real leather that peeled after a year. Bad quality, bad service and very misleading to customers when it comes to purchasing their useless insurance! I would not recommend Bob's to anyone. It's all a facade!

Worse experience I've ever had dealing with a retail company! DO NOT GO TO THIS STORE! If you want to go through with low cost monthly plan make this place your last choice! Store manager ROGER is a complete FOOL! He is about as qualified to be a dog walker, and no offense to dog walkers out there! They lie, scam, and lie and pressure you! They lie about cost of product! They lied about when I was suppose to get my couch set and told me one to two weeks! One and a half month later I received the set at 9:30PM! I have young children and that didn't fly too well! The love seat was damaged and didn't accept order and waited two more weeks while paying for it because I wanted to pay it off within 90 days! Roger store manager CLOWN told me I would be compensated with a "pre paid gift card" and he lied to "shut me up." Never go to this store! Maybe the Poughkeepsie NY location is better? Run from this trash location!

What a rip off!!! I bought a furniture set about 7 months ago, the couch is completely stuck it (the couch looks like it's about 10 years old). The back cushions that are sewn onto the couch are completely flat. I paid for the extended warranty. Had a technician come to my house told me that I would hear from them in 3 to 5 days. It's been over a week. I called. They told me it's normal wear and tear. There is nothing they were going to do for me. However when the technician was at my house taking pictures he told me normally the couch comes with better quality cushions. He doesn't understand why it looks like that. I'm 105 pounds. There is no reason why the cushions are completely sunken in! Poor quality and terrible customer service. I do not recommend you buy any furniture from this place. My lesson has been learned and never again.

I purchased two tables (cosmo espresso cocktail tables) for the Monroeville, PA store on December 24, 2016. After getting the table home they were defective so I called the store and the next day I went into the store to speak with manager. The manager Norm ** said that they would come pick the tables up and bring me new ones. December 26, 2016 they scheduled delivery for 5 pm to 9 pm. I called the store again because I did not feel comfortable with the evening delivery time. At that time they rescheduled me for 12.30.16 between 12p and 3p (I spoke with delivery guys and have recording of this time saved on my answering machine). I waited until 3:30 pm and then called to see if delivery guys were running behind and I was told they had been canceled. I was rescheduled for 1.6.17 again for 5 to 9 and @ 7:40 pm I received a call saying something happened and the delivery guys would not be coming.
Now I've waited 3 days for delivery guys that never showed up and every time I would call the store or customer service the only response I get is I'm sorry. Well at this point this is unacceptable, I have defective tables and Bob's has my money. They claim they would refund my money but they will not do so until they get the tables back. I need to know why I have to wait to get my money back when: I paid for delivery, Bob's delivery canceled on me 3 times, at this point I don't know if this is some kind of ploy to make me keep the tables or what, but at this time I'm pissed. I've called the store and customer services too many times and as of 1.6.17 @ 9:15 pm I do not have a resolution nor a refund for my purchase.

I called in early December because the left side of the couch is broken. The first service call was rescheduled by Bob's so I had to reschedule for 2 weeks later. The technician came early without calling and told us the spring was broken on the couch and they could fill the arm with stuffing as it is totally flat. I purchased the Goof Proof policy 25% of the cost of the couch. This all happened within first year of owning the couch. I was told on initial call they would fix it. The tech took a picture and the company did not call so I called them. They said this was normal wear and tear and would not fix the couch.
I told them a broken spring is a manufacturer defect, yet they disagree. So I guess discount furniture means you can only have in good condition for 6 months. So long story short, it is not a discount but a ripoff. I guess they expect you to buy furniture every year. The customer service is dreadful as well. Beware not to buy from this scam furniture store.

When we made the purchase they were excited to take care of us. Purchase was made with no problem. That was a month ago both my sister and I have purchased from them. Since then we have had to call them every week for a different issue. My sister choose to divide her purchases. She refused half of her items because they didn't fit her in her room. When she wanted to send the night stand back they told her that since it was at home already they could only give her store credit. We had to call back 48 hrs after pick up to make sure the credit was applied. WE WILL NEVER PURCHASE FROM BOB'S AGAIN OR RECOMMEND ANYONE.

I purchased the protection plan with my purchase of my dining room set. I had a New Year's Eve party, my table was destroyed with gauges, ring marks, burn marks and water marks. I Called in the claim and they said they will not cover it. They said it is impossible for the table to get that much damage in one occurrence. This is the second time they refused a claim. First time was for water marks and minor scratches. I haven't even had the table for a year yet. They upsell you with this coverage and then never want to replace or repair the merchandise. It is a complete scam!!! I will never refer anyone to Bob's Furniture, especially purchasing a protection plan that you will never be able to use because they refuse everything.

When you buy from a company like Bob's, you realize that you are buying a lower quality product than you might buy from a higher-end retailer, but you assume that you are getting "good enough" and that there is value. What you also assume is that a customer-centric philosophy is simple enough even for a discount retailer to instill in their employees. THAT, is NOT the case with Bob's. Bob's will gladly take your money for "goof proof" but when it comes time to make a claim, you get put into an endless loop between "Guardian" (the 3rd party insurer who handles the claims) and Bob's (the retailer who gladly took your money for said coverage).
Today, after speaking with "Amber" at Bob's Customer Care who told me that the issue I was having could only be resolved by Guardian, and that I needed to call them and that she couldn't give me any further information because she had no access to it, I asked to speak with a supervisor. Amber was reluctant to get a supervisor on the line at first; "there's nothing more that my supervisor will be able to do for you sir" but I persisted. I spoke with "Angela" who identified herself as a Customer Service Supervisor and gave me roughly the same story. Again I persisted, attempting to impress on Angela the insanity of the endless loop, and the less than customer friendly experience of a more than 4 month wait for satisfaction. I asked for Angela's supervisor. She told me that she was the "highest ranking supervisor available today" but again I persisted.
While I didn't get that supervisor, Angela did agree to call Guardian--I could not because after going through all of their telephone prompts, Guardian's automated system told me that they were having "technical difficulties and couldn't take my call" but I could "try again later." In any event, Angela finally agreed to call Guardian on my behalf and would call me back. I got that call back and got the same story I got 3 months ago. Somehow the part had never been ordered by Guardian (despite a letter in my possession to the contrary FROM Guardian) but she'd taken care of it, and the part would arrive at my home IN MID-FEBRUARY.
For the record that is ALMOST 6 MONTHS from the first call about this claim--and I fully expect that 8 weeks from now I will be calling again to ask where the part is, and I will get the same BS story. Bottom line, even if the issue is finally resolved, it would not have been without my "persistence" and that shouldn't be the case. Bob's is the epitome of a retailer who just doesn't follow through once the sale is made.
Bob's Discount Furniture Company Profile
Company Name:

Bob's Discount Furniture

Website:

http://www.mybobs.com/