Bob's Discount Furniture
Woodbridge, NJ
Consumer Complaints and Reviews

I would never buy from Bob's Discount Furniture if it was the last resort! These people are nothing but scam artist that sucker you into getting their protection plan and then don't stand by their words and give you a runaround saying you need to contact all these different places in order to get your problem solved. My husband and I only had our furniture for about a year and as you see in the pictures below it is cracking and spitting at the joints. Called Bob's main headquarters to resolve our problem and have either our furniture fixed or replace. They gave us the runaround by saying that they couldn't do anything for us and we had to contact Guardian Protection to handle it. When we called them they also said the same exact words to us that nothing can be done and that it was for Bob's furniture store to fix the problem!
We even had their technician come to the house to take the pictures of our furniture that was damaged and sent to the headquarters to ensure that we were going to get a brand-new bed set. The technician himself even said it was beyond damaged to the point it could not be fixed!! So to sum everything up we have a protection plan that we paid for at the price of $200 that is absolutely good for nothing and we have to stay and live with garage!!! So if you want to waste your money this is the place to go!!!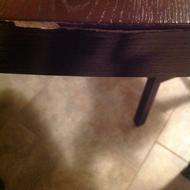 I spent 5963.00 on furniture from Bob's. The boomerang table in the kitchen began to warp and chip off one of the sides. I did purchase the goof proof plan. I called Bob's and a technician was sent to look at the table. After 2 days went by, I called and to no surprise, they said it wasn't a manufacture defect. I was told on that call to wait 30 days to "appeal" that decision and another technician would be sent out. I waited and called. But of course I could not use the foolproof warranty because you had it make a claim WITHIN 30 days of the tech denying. I was told to send pictures but again was told that the decision was final, no manufacture defect.
Bob's Furniture is junk, he is so crooked. His commercials claim CUSTOMER LOYALTY. I will NEVER buy another thing from that store again. With this type of quality and the way he treats his customers he'll be out of business in a couple of years. I hope to fall upon a class action lawsuit in the future for his poor quality furniture and service.

I purchased the majestic table in July 2016, recently I noticed a white stain developing on the table. I called Bob's furniture service and was advised to take pics and send to them, then call 3 days later for a status update and was advised that it's not a defect and nothing can be done because it's not a factory defect and I don't have the Goof Proof plan. I live alone and do not have small kids in my home, which I explained to the rep, but she was bent on "Theres nothing I can do," no point in sending out a technician because it's not factory defect. Verrrrrrryyyy disappointed in the service provided, I have been a customer for the past 5 years and I never had problems with the pieces I bought from Bob's. I have listed my home phone number as my order number.

I ordered a bunk bed for my kids A MONTH ago. They delivered and partially set it up 10 days later. In addition to the men doing a terrible job putting the bed together (some screws were flush with the wood, some were still sticking out and some they screwed way too far into the wood) the box for the bunk bed stairs was missing the hardware so they had to contact Customer Care. (Why they don't keep extra screws in their huge trucks is beyond me) They said they had to order the hardware and it would be delivered in 5-7 business days. Seven days later, nothing. So I called and they said there was a mix-up with the order and had to re-order. Another 5-7 days (at this point they should have been over-nighted, in my opinion).
Five days later they finally arrived. Called to set up service and scheduled for the 29th (21 days after the original delivery!!!). Waited around all morning and no one showed up. Called back and was told the service had been cancelled because they requested the wrong service because it had to be a two-person job. They didn't even think to call me to let me know it was canceled. I told them that they better be here the next day or else I wanted to return the bed for a full refund. I was told that since the bed had already been in my home, they wouldn't be able to do that. They put in an add-on request for the next day which was denied. Called the next day and a rep suggested doing a Quality of Life form for same-day service since my son was actually risking injury every time he had to climb up and down the side of the bed. I was told later that no trucks were in the area so it wasn't going to happen.
To say I am frustrated is a huge understatement. Along with the clear incompetence of each customer care rep I spoke to were all these empty "I'm sorry for the inconvenience" lines that I got so sick of hearing. There was no sense of urgency to resolve the issue or make sure I was prioritized. The bed itself is not great (you can see the underside of the top mattress because it's only slats holding up the bed. But the issue could have been dealt with so much better on so many different occasions. Finally an entire month after placing the order, they are refunding my money and coming to pick up the bed. I don't even want to look at it anymore. But they only decided to do it after I said I had filed a complaint with the Better Business Bureau. I will NEVER use this store again.

As noted by almost every review here, Bob's runs a scam called "Goof Proof Protection." My wife and I purchased the 5-year plan for our dining room table in 2012. When the frame of my chair broke after I sat down to eat dinner, they gave me the runaround, had me call Guardian, who actually manages the policy, and then denied my claim because "it wasn't an accident." After I sat on hold for an hour, a supervisor rudely told me that "sitting down" isn't an accident, and rudely hung up on me. If sitting down and the chair breaking isn't an accident, then what is? These people are stupid, rude, and don't want to do their jobs. Looks like I'll have to get a lawyer involved.
How do I know I can trust these reviews about Bob's Discount Furniture?
636,825 reviews on ConsumerAffairs are verified.
We require contact information to ensure our reviewers are real.
We use intelligent software that helps us maintain the integrity of reviews.
Our moderators read all reviews to verify quality and helpfulness.
For more information about reviews on ConsumerAffairs.com please visit our FAQ.

We purchased a swivel recliner less than 2 years ago for $500.00 and got Goof Proof. before the 1st year was out the swivel broke and they Goof Proof repaired it. Less then 8 months later the metal pedestal in the center broke. Goof won't cover because it is the second time we needed them. They say the act of sitting over and over caused it. So? Should a chair with a 5 year Goof Proof only cover one goof? DO listen to all these posts - don't get Goof Proof. It is a scam. Raymour & Flanagan has similar plan but they honor it. Go there. Run from Bob. purchased in Brookfield, CT.

I had a day bed for 3 years and I sat on it when it fell in. All 132 pounds of me caused this weak furniture to cave in and the foundation on the inside of the day bed crumbled. I noticed the bed was warping and that could have contributed. Also, the tech that came out says the people who put the bed together might have not put it together right. How was I supposed to know that. I called them and the technician they sent out stated this was not manufacturer defect so they will do nothing.
And Goof Proof is a shame. They will not cover it either. I now finished 2 hours of fighting with the customer service whom finally said she will send or email me a dispute and I could send pictures. They said there is nothing they could do and I am on my own. Now I need to figure out what to do. And on top of this I already bought a new bed and had it delivered. I am supposed to have 30 days to test it. Well they gave us a full platform with a queen mattress. I guess the tech stated that is normal as well so again they will not help me. How does this company stay in business? I really wish I could find an advocate to help me here. This is horrible service!!!

Bought couch. Within year it was cracking and pleather was peeling off. Had goof proof warranty. They sent out tech. He told me there was issue with Bonded leather and was nothing they could do. I had goof proof warranty. What a waste of money, poor quality & they don't stand behind their products or The extended warranty. Bob's a crook.

We purchased a $2200.00 bedroom set at the Brookfield CT store on 11/12/16. Delivery to our son's apartment in Waltham MA set for 11/17/16 (only the bed and dresser mattress was on back order and set to be delivered 11/21/16). Email delivery advisory system said 11/17/16 delivery was set for 2 pm till 4 pm. Delivery came in at 3 pm and was satisfactory. 11/21/16 mattress delivery set for 2 pm till 4 pm. Rather than sleep on floor Sunday night our son opted to drive from New York to Waltham on Monday morning. A 3-4 hour trip. At approx 10 am we received a delivery text notifying us that the delivery is set for 12 pm till 2 pm. Then the next advisory changed the time to 11 am till 12 pm. No way were we able to drive to Waltham in that time frame.
Needless to say there was no one to accept delivery and the date was changed to the following Friday after Thanksgiving. When we contacted the Brookfield store we were told by the manager Lenny that delivery time is not guaranteed. No compensation by Bob's is allowed for delivery problems. Our son's holiday weekend has been disrupted, not to mention he is forced to sleep on the floor again. We feel Bob's attitude of not being responsible for their delivery procedures, nor reaching out to compensate their customers for any and all inconveniences is appalling. All TV ads show Bob's as a customer friendly company. That is definitely not the case. Bob's company is only for Bob and not for the customer or any good relationships. THIS WILL CERTAINLY BE OUR LAST EXPERIENCE WITH BOB'S FURNITURE.

My wife and I purchased $3000 worth of merchandise from Bob's. We purchased two Maggie couches, a chair and two Ottomans. With the salesman suggestion we purchased the goof proof plus plan. The issue we encountered was the foam in the cushions fail and the springs come through and make it impossible to sit with any comfort. We Called customer service due to the long lead time which was about four months and with many phone calls they replaced both couches and a chair which I then had to re-purchase the goof proof plus plan.
Here we are six months later with the same problem and now the lead time is 5 1/2 months to receive replacement cushions and they refuse to do it even exchange not to mention the loose arms on the couches. It is Absurd that Bob Kaufman would except a customer to not be able to use "insured" furniture for this period of time. I know it's not the top quality furniture but I expected a fair deal. Buyer beware!

Don't ever buy any furniture from Bob's Discount Furniture. Their website is mybobs.com. Our family purchased furniture through a store called Wayside furniture twenty years ago, it's still in very good condition and the quality of what they sold us is excellent. Bob's Discount Furniture really should be called Bob's Dilapidated Furniture that has been discontinued. The quality of their furniture is crappy regardless of how much money you spend. Their commercials are inspiring and you think the quality of their furniture is as good as those commercials state. Bob's Discount Furniture is insensitive to their customer base. They just want your money, will sell you crappy furniture that can't be repaired and they refuse to replace. Whoever heard of getting less than ten years out of furniture with two adults and no children.
We had a recliner go bad a few years ago and now a reclining loveseat. All part of the same set. How can a spring just pop and go through the cushion. Bob's was concerned enough to send out a technician and confirm the pieces were damaged and it all ended right there. I was already aware that my warranty had expired and they weren't even willing to negotiate. The response from customer service was "we're sorry." That doesn't resolve the problem. I truly believe that you get what you pay for except in this case. How can two separate pieces of furniture from a three piece set deteriorate so fast with no explanation. I will continue to be a pain in Bob's Dilapidated Furniture's side until they correct the problem with my furniture. Consumers beware of Bob's Discounted "aka Dilapidated" Furniture and their fancy commercials.

Quality of furniture is the worse! Do not go to this store. Customer service is the worse! I called to report a claim on a bunk bed I recently purchased and they refused to replaced the knobs that were initially messed up by the delivery crew. They have the worse customer service. I kept getting transferred and cut off every time.

Purchased furniture after measuring the doors myself. Delivery team shows up - day off of work for me. After looking at the door they said it won't fit. No measurements (no measuring tape) and the team was argumentative. Here's a great idea - pay for service and argue to have the job done. NO THANK YOU. DO NOT SHOP HERE.

I bought a a leather recliner about 2-3 years ago from Bob's. I think maybe about a few months ago one of the arm chair started scarring and a deep rip has been made. While purchasing the recliner I have a warranty and I bought the Goof Proof kit. I called the Bob's customer care and they redirected me to Goof Proof. I had to file a claim and send pictures of the damage done to the recliner. They said they would process the claim filing in about a couple of days and get back to me. They contacted me a few days later saying that they couldn't file a claim where they would fix or replace the chair saying the damage was done over a period of time and saying that they only cover damages done all at once.
I called them many times saying that it was impossible and that there must be some way to dispute this claim to see if they can re-review the pictures of the damages. I had to write a letter to Goof Proof and I never got a response to the letter in about 2-3 months. Later I called and asked why there was no response and they literally told me the exact same reason why they could not do anything to the damages stating that they only fix or replace products with damages that's been done all at once and that the pictures I sent had damages done over a period of time. If that is the case then honestly what was the point of having a warranty and Goof Proof kit enlisted when purchasing the leather chair/recliner.
What crap service they've provided. Goof Proof may be associated to Bob's but definitely not the same. Bob's literally did nothing and only gave me the number to customer care; called customer care and then they gave me the number to Goof Proof; called Goof Proof and they did not do anything to help me at all. What a waste of money and a waste of time and I've learned my lesson. I'm never buying anything from Bob's again. I hope nobody ever buys any furniture or products from Bob's ever. Bad people and lying service.

I can't understand so many negative reviews, and so few positive reviews. I guess that satisfied folks are not motivated enough to write one. Many years ago we purchased a leather, reclining sofa & loveseat from Bob's in South Portland, Maine. The set is alive and well! Recently we purchased a sofa and loveseat (for a different room) and we are more than pleased with the quality of the furniture and the service. William, the salesperson at the new South Portland store was so helpful. There was no pressure, and all our questions were thoroughly answered. Delivery was on time and efficient. Bob's Discount Furniture is a business I trust.

Let me start by saying I bought a sectional from Bob's. Looked very pretty. It was comfortable for a short time. The salesman at the time of purchase could not say enough about the goof proof plan stating "you are covered ceiling to floor. If any problem a tech will come right out and take care of things." After a several not enough a year the cushions started sagging inward and the center of the sofa would bow when someone sat on it. I called, a tech came out. His response to me was "the frame is not broke. Nothing we can do. I work for Bob's but they do not build good quality stuff." My suggestion to you is go to home depot, buy a few 2x4"s and reinforce the frame. As far as the cushion they will send you new ones. Well 7 months later and 15-20 phones I receive one cushion. I give the furniture away to a handy couple.
Now for my daughter's experience she bought a dining room set from Bob's. One day she notice there was two different spots on the top of the table that was warping. She called customer care. They ask a couple questions like "what happen, when did this happen". She replied "I do not. I just seen it." "Oh it is guardian protection" (goof proof plan). She called them. They ask her a few questions - the size of the damage and what happen. She said "I do not know." "Oh that is Bob's defect warranty". So neither Bob's 1 year defect warranty nor the goof proof warranty is honoring this. This is going on right now. Calling the manager where she purchased the set. He is not getting on the phone. In 6 hours each time she called he is too busy to come to the phone. Will kept you posted. RUN, DO NOT WALK AWAY FROM A BOB'S FURNITURE STORE.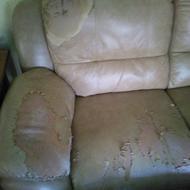 We purchased a couch, loveseat set with tables and lamps in October 2011 purchasing their Goof Proof Protection Plan for $149.99. In January 2012 I called customer service inquiring about cat scratches and was told they weren't covered. I called again in 2013 and was told the same thing. No one has investigated our inquiries from Bob's. I've attached a pictured of the damages they won't cover.

I bought a bedroom set worth around 3000 dollars in September and after a month long delivery they delivered it on 15th of October. Various pieces of the furniture was broken, damaged and hence I asked them to replace. They came second time however the problem still remained as they came with a broken part. I send it back and asked for redelivery. The worst part is even though they have not delivered the final furniture they send me a bill to pay. They are also very bad in terms of delivery. Even though it's their fault they never adjusted for delivery (I paid for delivery 230 dollars) time. Worst place to buy furniture.

My daughter recently purchased a sectional couch for her new apartment... It was in the clearance section of the store and she felt that she looked it over fairly well, understanding that clearance pieces were not new and may have some wear from being on the showroom floor. After bringing it home, we were appalled to find a child's book and blocks in the ottoman storage. Also the sides of the sectional had cat hair and stains, which were not seen in showroom because the sections were attached.
Apparently CLEARANCE at BOB's mean PREVIOUSLY OWNED! My husband returned with the ottoman and reported our disgust with the whole couch. With that the salesman brought my husband over to the FINAL SALE sign and pointed to it! After much "discussion" with this manager, he found another CLEARANCE ottoman and took money off the price of it. In finality, my daughter still has a disgusting used sectional that needs to be dry cleaned just because she wanted to save money and shop at BOB's. DISGRACEFUL furniture store!!!

My husband and I have struggled to find couches that we both liked, so we were thrilled that we found some at Bob's. They're just what we were looking for. The service we got, however, sucked. We paid a $99 delivery fee only to have the delivery guys essentially give up and leave one couch sitting in the yard in the rain. My husband was trying to help them guide it into the house by telling them to tip it, and they told him they "weren't allowed" to tilt a couch to get it in the house because they were contractors and if it broke they'd be held liable. What couch ever fits through a door without having to be tilted? It wasn't even like it was a difficult stairway or anything, it's a straight shot once you get it through the door. We had them put it on the back porch to get it out of the rain, but now we have to put it where it goes ourselves and we're out $99.
So if you plan to get furniture there I'd say skip the delivery and get a truck and a friend and do it yourself. I doubt if they'll refund our $99 delivery fee because they technically brought it to the house. Seeing other reviews on here about furniture not lasting makes me a little leery, hopefully the couches hold up. I'll be very upset if they don't, the couches are just beautiful and we couldn't find anything like them anywhere else.

I stop by Bob's furniture store on April 15, 2016. They had a set call about O'Hara on their sales floor in front of their dining room. It was 799 and mark down the 399.50. I was excited because I was just moving and the price was great. On April 19, 2016 my seven-year-old daughter ran into my room with blood on her hands. She got hurt from the couch. When I went to the living room, I took a look underneath the couch, all the springs were out. On April 20, 2016 I went into Bob's of Nanuet. I explain to the manager what happened and ask for a refund/credit to use towards another set. I told her that the merchandise was defective and wasn't safe for my child. She was so heartless did not show any remorse more than told me, "The sale is final. There's nothing we can do about it." I contacted their corporate office via Facebook. They sent a technician out. The technician could not fix it.
Contact their customer care. Spoke to Brian. Would did not show any remorse for the fact that my child got hurt. After that I ask for supervisor. His name is Michael and he didn't show any remorse at all. Now I'm fighting with them through the BBB to get the situation taken care of and now I know I will never ever, ever shop at the store. They are a big scam. Very big ripoff. Don't waste your money. They don't care by you or your family. My child got hurt and they do not show any remorse, not a care the world. Once they get your money that's it.
I'm still waiting on the reply from the Better Business Bureau because Bob just saying I should pay for parts and labor and they will come and fix it which is extremely unacceptable. My child that hurt and I reported it in less than a week. Transaction date April 15, 2016 and the report date April 20, 2016 so there's not a big gap in that. And then their corporate office have the nerve to say I made my purchase outlet. The Nanuet store is not an outlet and I purchase my furniture from their sales floor not an outlet.

Do not purchase anything from this company. They sell you on the quality and sell you an extended warranty. The furniture is substandard. Does not hold up. I have had my sleep sofa less than 3 yrs cushion rip, ottoman has a large tear by the seam, and because I moved to SC their response is "we have no presence in SC, therefore we cannot fix or replace your ottoman." I paid close to $1300 for my sofa and it is a piece of junk, from a company that does not stand behind their product.

I purchased a couch set swivel chair and ottoman in 2013. I got it through Acceptance Now and along with that I purchased a SCAM called goof proof lol. The couch I purchased was made out of bonded leather which Bob's later recalled because there were so many complaints. In fact so many they changed the material of the couch. Throughout the three years I filed multiple damage complaints and material issues. Not one complaint was ever followed up on and in their notes they made it appear as though it were my fault by saying I had children and animals. Either of which I have btw.
Bottom line is I wrote to the BBB in hopes for a resolution and actually had these people claim it was my fault their material and couch is made like junk. They refused to even look at the damaged let alone offer to assist me for what I paid for. GOOF PROOF and BOB'S is a SCAM. Do not shop there and I will make sure none of my friends or family do ever again. Pathetic how these people scam you into buying through Acceptance Now making you pay four times the amount in the first place then add in their little gimmick GOOF PROOF and deny you with false notes when you chose to use it. Never again and I will be seeing them in court. I will continue to fight for what I paid for and file as many complaints until I get justice for what has been done to myself and millions of others.

I order a sofa bed and a full -size bed, they both of my delivery time and the bed was delivered but a week later they send me only the mattress of the sofa. I cancel the order and then I have to call the office for the refund. Horrible service. Oh and on top of that they did not refunded delivery so I wind up paying 170 dollars for one item.

Bought the couch and Love seat set in May of 2016. Just sold it on LetGo for 500.00. It's only October! The cushions within no time became like pancakes! Had cushions replace and even had a bed put in couch thinking it would be more support! Absolutely not! The bed hung to floor! No support there! The new cushions they sent and we had to struggle to get them in, became pancakes once again! Was never so uncomfortable!! Just got a set from Raymour & Flanigan! Very happy with quality, but out a lot of money! Would never recommend Bob's ever! Shame on them for such shoddy stuff! The old saying is you get what you pay for! Bob's is cheap, and cheap is what you get!

I bought a bunk bed set. Had it delivered and the idiots, cause that's what they are, left 10 screws missing to have another guy come out and put the screws too tight cause it to crack the wood. Now they don't wanna do nothing. Worst company ever.

This is the worst company ever... in the universe! When you are at the store, the salesmen are very respectful and nice. Of course, because they want you to purchase their furniture. However, they won't mention any recalls the furniture might have or issues with it. Anyway, when they delivered the bunk bed that my husband and I picked out, the delivery guys assembled it incorrectly or too rough and cracked the wood. My mother was here when they did it and her vision isn't great, so she didn't notice. And they didn't SAY ANYTHING!
When I arrive home, I see it immediately and called the store. They said they would replace it. Fine, great, no problems. When get another one, and it is being delivered, the delivery guys arrive at my house at 6 AM!!! Without ever having called to give me a window. But, I let them in. As soon as he sees that he has to disassemble the first disaster they left and build the new one he brought, he says, "this won't fit, that's why it broke. You should return it and not build this one either." So I, thinking he's honest and has a point, agree but also because the new bed ALSO BROKE!
At this point, I'm thinking I want a different bed. Unfortunately, they do not carry any other bunk bed that is a twin over twin. That is not my fault, so I ask for a refund. The salesperson on the phone laughed! Actually LAUGHED at me! And said that there is no way I would receive a refund and that I had to choose another bed or get store credit. I don't want store credit... I don't want anything from them!!!
After looking through possible beds because now we have no choice, we choose another one... a Twin over Full. When they go to do the transaction, they want me to pay the difference and a new delivery charge and repair charge when THEY WERE THE ONES WHO BROKE THE BED! I refuse and create a scene at the store. It is only because of this that they waive the fee. At the end, I had to go with a different bed, and it was delivered from a different team (because the first set of delivery guys were rude and wanted to just put it together fast without consideration of the furniture). All in all, the WORST experience I have ever had with a furniture company. I will NEVER be ordering from them again.

Subtotal $798.00. Goof Proof Plus $99.99. Shipping & handling $99.99. Tax $88.56. Grand total $1,086.54. Hawkeye 2 Piece Set (OUTLET). Seniors Beware, Bob's is a total scam company. They encourage you to purchase their Goof Proof Protection Plan and if you call them to check on a problem, guess what... normal wear and tear. You would have been covered if you had ripped it, or spilled paint on it, or any other careless accident, but because all I did was sit on it, I'm not covered. We spent our hard earned money on their furniture and they ripped us off. Shame on them.

Worst customer service ever. They lie to you about everything over the phone. The delivery guys are horrible. They say, "Will be there in ten minutes" and they come in a hour 1/2 after they call you and on top of it all that they bring you damage good. They offer no compensation for anything. Once they have your money they don't care.

I purchased a brown leather section from Bob's about 2 1/2 years ago. I may sit on the couches once or twice a week if that due to my busy schedule. The leather is starting to crack and peel all over the couches. I call to find out if there was anything they could do and they basically told me that nothing could be done. I will never purchase furniture from Bob's again.
Bob's Discount Furniture Company Profile
Company Name:

Bob's Discount Furniture

Website:

http://www.mybobs.com/