Bob's Discount Furniture
Woodbridge, NJ
Consumer Complaints and Reviews

When we walked into the store we were approached by a salesperson named Roger from the Calumet City store, he let us roam around the store without nagging us. He was pleasant and very friendly, he took care of all of our needs. He explained and answered all of our questions and was very helpful, will go back to him again. Now we have to wait and see how our purchase is.

Typically I have good experiences with Bob, but the WESTPORT - QUEEN SLPR/BOP - GREY that uses Bob-O-Pedic foam Sleeper mattress is prone to developing mold. After only 3-4 months of owning this product, it developed mold. I searched online and this is an ongoing issue with Bob's foam bed products. Bob's should re-evaluate this product or provide a solution. The couch is in a well-ventilated location.

I went into Bob's Discount Furniture in Orland Park, Illinois and I was approached by one of the salesmen (Sharif). He asked was I looking for anything in particular and I told him a silver lamp that was on the floor at one time. He went to computer and pulled it up and asked me was that the lamp and I said yes and proceed to tell me he would have to order it. Well my guy and I didn't bring our credit card. So to make a long story short. I went online today and ordered one of the lamps where are $99.00 apiece. By the time I completed my order Sharif from the store called and said he had good news and the good news is the lamps were now $24.00. I told him to give me 2 of them. Thanks Sharif for the call and great customer service!

I order living room furniture from Bob discount, one of them is defective. I asked delivery person, he said to me someone will call you and send someone fix it. I waited 2 -3 days nobody called me and I called customer service. They send someone to take a look. He told me: "Yes we will replace it don't worry it is factory defect, it's our responsibility". I waited more than a week, nobody came or called me and then again, I called customer service they said "We have a report. There is nothing we can do, your couch is absolutely fine, there is no defect" and she talk to me very badly. Now I am stuck. They we cannot take it back too. OMG what should I do, almost $1000.00 and they are not willing to fix either, don't want to take it back. I will not recommend to anyone delivery person make me fool and all customer service is bad too. Not go there. Bad experience!!!

Purchased furniture at the Warwick, Ri location on 8/1/17 with a delivery date of 8/4/17... I purchased a living room set, dining room set and a couch for my family room. When the furniture arrived the couch for the family was too big to get into the room so it was returned for store credit which would have been fine. On Saturday 8/5/17 I was contacted by customer service about the situation and was asked when I be in to pick out a new sofa and I said Sunday 8/6/17 which again was fine.
On Sunday I arrived at the location only to be told that after I picked out the sofa and loveseat that the credit had been put in the system with no dollar value and nothing could be done. On 8/7/17 I contacted customer service to be told they were sorry and would take care of the issue, I was also told that there was not enough of a credit for both pieces so I said just deliver the sofa and refund the balance. The sofa was to be delivered today 8/10/17 along with some dining room chairs to be fixed from the earlier purchase, only the chairs were fixed but no furniture showed up. I called customer service to explain that I had gotten confirmation the night before that the furniture would be delivered the next morning between 8:45 and 10:45 am. The person at customer service stated that there was a glitch in the system and they canceled the delivery because it should I owed money and was not a credit.
After getting nowhere with customer service I asked to speak to the store manager, I was told he was not in but one of the assistant store managers would call me back shortly. I waited six hours before calling customer service back only to be told that I could either wait 7-10 business days for the refund or reorder the furniture and wait on delivery again. Again I asked to speak to the manager of the store and was directed to a person by the name of George who stated that he was a customer service manager at the location. I explained the entire situation to George once again to be told there is nothing that can be done except reorder and wait or wait for a refund.
I am a store manager for a retailer so I understand that something can always be done to assist a customer that is not in the wrong, I asked George to have the store manager call me and was told there is nothing that he will do more than what I am. I will say that the customer care at Bob's is less than what I would have expected from this chain. I now have to wait to be refunded what can take 7-10 business days for a situation that I did not cause. I now have to wait to get my money back to purchase furniture elsewhere. It makes me wonder if there is a problem with any of the furniture I purchased in the future how would that be handled. I would not recommend Bob's Discount Furniture to anyone due to this situation.
How do I know I can trust these reviews about Bob's Discount Furniture?
851,205 reviews on ConsumerAffairs are verified.
We require contact information to ensure our reviewers are real.
We use intelligent software that helps us maintain the integrity of reviews.
Our moderators read all reviews to verify quality and helpfulness.
For more information about reviews on ConsumerAffairs.com please visit our FAQ.

My boyfriend and I purchased the Aries series reclining sofa and love seat. We also purchased their goof proof protection. We purchase the set in January 2017. It is now August 2017 and the finish is coming off the fabric. We contacted customer care and they sent us an email saying that the defect we are reporting is not consistent with a factory defect. They have not even seen the defect. If I could afford new furniture I would but I will never purchase from Bob's again and I will also let friends and family know. Bob's does not stand behind their furniture.

Went to Bob's in Springfield, Pennsylvania and purchased a bedroom set that my wife wanted badly and went through the mill to get it in Dec. of 2016 and in July of 2017 we discovered BED BUGS in the head board. I went to the store to tell them and to keep it low key in case it was just an out of the ordinary thing and the people were nice. When my wife called them, she got a ration of crap from a service person who hadn't the guts to give his name or location or I would have made him eat the headboard for speaking to my wife like that. I plan on getting in touch with the health dept. on the matter. It is not right that people spend their hard earned money and get crap for the effort, in our case my wife has been taking bites constantly and I wrote it off to mosquitos or something from work. She had these red welts on her arm and it bothered her terribly.
We finally spotted the little buggers in the fabric folds of the headboard and on the frame. My wife is so disgusted and upset that she wants it out of our house. But I'll be damned if I'll pay for something that's ticky like this thing is. Their customer service is horrible and the owner needs to change the policy. Not everyone wants to waste time and money having to go through this business time and again. To me, either your customer is satisfied or you go out of business - it's as simple as that. BEWARE*** STAY AWAY FROM BOB'S DISCOUNT FURNITURE!!!

Purchased a sofa from Bob's in Freeport, NY. Was helped by "Tish" a lovely lady who was very patient and understanding. I was somewhat indecisive but she never pushed me. I settled on a chocolate colored sofa but later the same day realized that it came in tan, Called "Tish" to change order to tan instead. She successfully did and my sofa arrived a day later than chocolate one was promised. So far I am a satisfied customer. If you shop at the Freeport store let Tish help you. I noticed a lot of "salesMEN" sitting on the sofas that I wanted to look at. None offered to move even though they all saw that Tish was showing. Tish - I highly recommend you. You are the best. Women are so great.

I have never even walked into a Bob's Furniture store! Never purchased anything from them and I never will! I have been receiving harassing phone calls from staff for months, even though I told them the first time they called that they had the wrong number. They have called 3 times in 20 mins switching numbers, same store manager on the line. They have collection agencies calling me every single day! Never EVER do business with these terrorists!! I will never walk into their store!! Being harassed every day for months and I have never done business with these trashy people. Stop harassing me for someone else's account you **.

Bob's Furniture are scum when it comes to customer service. My furniture was delivered on 7/16/2017 and I am still waiting on the second lamp to be delivered. Customer care has been contacted 18 times. It's now 8/4/2017 and still don't have an ETA on when they will complete my order. Please let me know if there is another voice of reason for customer satisfaction.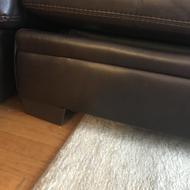 Placed an order for a couch on 6/24/17. Couch has 3 pieces that connect to each other. The first two pieces that they delivered one of the pieces is a pull out and you can see there's a lot of space in between. The pillows are just sticking out instead of sinking in. I always had a pull out couch, never had this problem. The delivery guys told me it's fine. In few days it will sink it and nobody will see that space in between and nobody will see that's it's a pull out. Then the 3 piece was on back order which was fine with me and I didn't mind waiting but they told me I will receive the second piece July 13. When July 13 came they said it was on back ordered and they moved it to 8/2/17. When they delivered the last piece it was damaged.
Called the customer service explained the situation and also explained that the second piece which is a pull out there's too much space in between the couch. The girl I spoke to was name Sunday. Had a hugeeeeee attitude, got loud with me, kept talking over me the whole time. I kept explaining that I need to know what will happen on the schedule date and what exactly they will be doing if they will fix it or take it away. She kept giving me attitude saying that she can't just believe me what I'm saying because I want the couch taken away. They have make sure there is a problem. First of all if Bob's Furniture would delivery good quality, I wouldn't be wasting my time calling and wasting my time. Horrible customer service. I will never recommend this company to anyone.

Ordered a bed and they said it would be delivered on Wednesday between 930 to 130, did not receive it. Called that night and they said they had skipped us and told us they did not know why and that they would call back later that night with more information, did not happen. The next day we call after work and they say it shows that it had been delivered, but it had not been. Had to argue with them to get our money back. Will never do business again.

I filed a claim with Bob's Discount back in April stating that their delivery personnel made several damages to my apartment while delivering my brand-new couch (in my brand new apartment). I made a second attempt at calling them after receiving an invoice that was supposedly attached to my damage claim; but when I tried to follow-up about it I was told that I never made a claim. So I decided to file another one hoping that I would now receive some sort of help with the damages to my apartment; which included a broken door hinge and damage to my wood floors. I was told that I would receive a call within a week and that my claim would take a while to access.
Several weeks later I call again to follow up about my claim and was received by a very incompetent customer rep who would not allow me to speak to manager. I finally got in contact with the claims department and they stated that no claim was ever made with them, although there was a recorded call and notes claiming that I filed a claim back in April. No one at the claims department wanted to take responsibility for dropping the ball.
So basically telling that I was crazy and never filed a claim. I even gave them the invoice number that was given to me by the claims department the second time I had called and I was told that the claim number given to me was not a claim number but a number attached to my delivery. So now I had to file another claim in order to receive any compensation for the damages made, mind you this is the third time and it's been almost 3 months now. I know I will never buy from them again because their customer service and claims department SUCK!!!

I purchased a couch and chair set in March, I believed it was new. I was asked did I want to buy a warranty on it, it was new so no. In June the springs start popping? WTF, it is new right? They will not honor their customers by fixing it because I didn't purchase the warranty. The couch was 399.00. I could have bought something else for 400 that was solid at another furniture site online. I chose to go to BOB'S Discount and I feel bamboozled! How can you as a merchandiser allow a consumer to purchase anything without giving them at least 90 days service on your merchandise? If I go anywhere in the future and they will not allow a minimum of service to something they deem payable merchandise, I am out.
This has left a nasty taste in my mouth for any consumer to purchase anything in this store without protection. Protect yourself and do not make a purchase at BOB'S DISCOUNT FURNITURE without an additional fee to protect yourself warranty!!! Now I have something that looks to be new, however, it is not! I cannot believe that as a consumer I have to put up with the outrage of Bob's Furniture people not servicing their cheap merchandise that obviously would not even hold up for 4 months. Embarrassed to have even gone to this store and promise not to go to it anymore. The only way I would ever go there again is if they honor their merchandise and fix the wrongs they sell to others.

I would like to report that when purchasing Bob's Furniture it's been a nightmare - the couch that was purchased came with bed bugs. My husband purchased this couch and we were at first very excited, we are expecting a baby in 4 months and we decided to get a newer/comfortable couch… little did we know our nightmare would start here. Instead of comfort we had nothing but bed bug bits all over our bodies, FROM THIS COUCH!!!
It cost us over $3000 in exterminators simply because my husband and I never thought a new furniture would have bed bugs, so we were proactive to hire a professional exterminator with K9, after 5 times of extermination it was concluded that the couch was the infested item… nothing else in the home. Although exterminated I am sure some bed bugs dies, but not all. ALL bed bugs cannot die with extermination if they hide in the corner of a seal where it's impossible to get to because of the stitching of the item. After the 5th extermination, we uncovered a baby bed bug - A EGG HAS HATCHED!!! WE WERE SO SCARED AND TRAUMATIZED AND BIT AGAIN!!!
When I called customer care they simply said it's not their problem! And had no solution or empathy! We ended up throwing the couch away immediately! Bob's Furniture also had many lawsuits and reviews regarding the SAME bed bug issue, that I only got to read aftermath. It is very important for all consumers to know about this poor service and terrible experience... where is the core values, integrity of this company???

I see a lot of complaints but I've had zero problems. Purchased a storage bed and one of the supports wasn't fastened. I called and they came the next day to fix it. Bed is two years old and in perfect condition. I don't know about their mattresses though since I had just purchased a new one elsewhere.

I purchased the Montibello pub table. I was urged to buy their protection plan. The table is full of liquid stains and water rings. The literature included either the plan indicated that this type of damage was covered. What a joke. I reported Bob's and Guardian to the FTC for fraud. A technician from Bob's assessed the damage and determined that it was not eligible for warranty protection and told me to call guardian. Guardian said my claim was ineligible because to be covered it must be a single incident. Unbelievable! The sales people get you to purchase the plan to protect their garbage that they sell and refuse to honor it. I am embarrassed to have this furniture in my home and now have to purchase a new table NOT FROM BOB'S. I will never shop there again. My kids are getting married and I will make sure they don't get furniture from Bob's. I am so disappointed and dissatisfied. What a rip off!

Do Not waste your time buying furniture from BOB's. This is the second time I am experiencing problems with furniture I purchased from them. I paid for Goof Proof which always denies your claim. They say it's a manufacturer warranty and they deny you as well. Why I am paying for insurance. I purchased a dining room set from Bob's furniture. 4 out of 6 of my chairs broke in the same place which means it's not good quality and the manufacturer should replace it. Bob's sent out a tech that does not speak English well and he deemed it was not a manufacturer issue. All the chairs are broken in the same spot.
I called and spoke to a supervisor and her response to me was that you are not suppose to rest your feet on the bars. Ok! These dining room chairs are high like bar stools. Where am I suppose to rest my feet if they do not reach the floor? Am I suppose to let my feet fall asleep and then fall trying to stand up. So they are saying they are not repairable and they will not replace them. So I am stuck with chairs that are ready to collapse if my children or I sit on them. Again I paid for insurance on them if there are any damages. Goof Proof robs you for your money because they never fix or replace anything and the manufacturer warranty denies your claims. I will no longer shop at Bob's.

Bought a power recliner/rocker from Bob's and had it one day until the reclining mechanism went bad. They replaced the first chair and only had the replacement a few days until it quit working. Turns out the switch was bad and wiring was worn through because of rubbing with the recliner mechanism. Have been told on 4 separate occasions that the parts have shipped only to find out on the next call that they have not. I now have a chair which has been sitting in my house for about 2 months which doesn't work and keep getting the runaround with no correction or resolution in sight. Will never set foot in their store or purchase from them again!!!

I was a very happy customer of Bob's Discount Furniture until today. I have ordered 6 beautiful pieces of furniture from this company and I've been 100% satisfied with all of them until my couch started ripping. I was told today that it is ALL MY FAULT that my couches have ripped. If that's the case then why haven't my other 4 pieces ripped? The zipper has snapped on two of my cushions and I was told they could not fix it. They made it seem like I actually went and broke my zippers to my couch on purpose? Hilarious. The fabric has separated from the couch and back of couch and IT'S ALL MY FAULT. BOB'S CANNOT FIX IT. It has been fixed twice already which is totally not fair because it should NOT be ripping when people sit on my couch.
I was planning on coming back to purchase a sectional for my home and I will NOT be doing that and I will be writing reviews on how terrible I was treated today by the customer service people. I have paid this company a lot of money by purchasing furniture, protections and that so called Magical Goof Proof solutions and it saddens me I can't have 3 small things fixed after the man at the store gave me all the info I needed to have it fixed with "no problem". So unreal and unprofessional.

Bob's Discount Furniture store, DO NOT BUY THEIR PRODUCTS! They sell Factory Rejects, and you will NOT get a refund, even after the first rocker recliner I bought completely malfunctioned. Got the first chair replaced, and that, after only 5 months, the second chair, is worse than the first, so, I asked for a refund. Well, Bob's doesn't offer refunds. DON'T EVER buy from Bob's, unless you want to be seriously injured! WORSE STORE EVER for selling SAFE products!

My wife and I purchased our mattress from Bob's in November 2016 with the money we received from wedding gifts. We really wanted a quality mattress so we caved into the sales woman and bought one of the more expensive pillow-top units from their lineup. We purchased the box spring, frame, and all the recommended protectors from Bob's as well. We are now 7 months into owning this mattress and my side of the bed is sagging so bad that I have had to sleep on the couch to avoid tossing and turning all night. Finally, about a week ago I called Bob's and explained the issue and customer service let me know that they would have to send someone out to my home to inspect the mattress.
The gentleman (Hector) was excellent, explained the process and was very professional. After he ran his report to customer service that's when things went sour. My mattress has no stains, rips, nothing. After Hector measured the bed he relayed to me that he saw 3/4" - 1" of sagging on my side of the bed. (For your reference I am 5'10 190 lbs). They reported to me that they needed to see 1 1/2" of sagging with no weight on the bed to offer a credit or replacement. On a 1.5" - 2" pillow top you want to see 1.5" of sagging? Unreal.
I calmly and professionally explained my reasons for being dissatisfied and explained the fact that I could no longer sleep on the mattress and I was told that I needed to call back when the sagging reached 1.5". I feel as if I cannot trust the company to take care of me, the saleswoman didn't allow my wife and I to even take a breath while buying and now I've got a thousand dollar queen sized space taken up in my bedroom that can't be used.
Summary: I've owned a mattress for 7 months, I've only slept in it for maybe half that time due to traveling for work. I've already got a 3/4 - 1" sag (as measured by Bob's tech). The company refuses to work with you unless you are literally sleeping on a coil spring. Final thoughts: If you want to spend $1,000.00 or more on a mattress that is guaranteed for 20 years but you won't be able to sleep in after 7-8 months - buy it from Bob's. Save your money and buy from a company that stands behind their product better.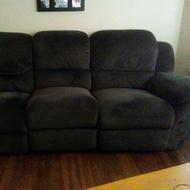 I bought a power reclining sofa from Bob's Discount Furniture two and a half years ago, as well as their Goof Proof Plan insurance plan. In less than a year one end of the frame broke. I called Guardian who provides the insurance for the Goof Proof Plus plan and they refused to cover the damage because I was honest with them and told them that I couldn't pinpoint how it happened; that it wasn't an "accident" such as a child jumping on the furniture, etc. I was told to contact Bob's Furniture directly which I did. Bob's Furniture sent out a tech who took pictures of the damage and forwarded those pictures to the company.
I was contacted by customer service and they explained that they were not responsible for the damage to the sofa. The sofa wasn't even a year old! After much conversation and a further conversation with a supervisor Bob's Furniture did agree to replace my sofa and stated that I would have to spend another $100 for the Goof Proof Plus plan to cover the "new" sofa, which I did.
In less than a year the "new" sofa had a problem. The springs in the center cushion popped. I called Guardian again to use the Goof Proof Plus insurance and again they refused to service the sofa. I called Bob's Furniture directly and they agreed to send out a technician to repair it. I have had to have a technician come out to the house three times in the last seven months to fix the same problem. Keep in mind that no one sits on the middle cushion! I live alone and sit at either end of the reclining sofa!
One of the technicians who serviced the sofa reported that the reason the springs keep popping out of place is NOT a manufacturer defect and was advised with this most recent service call that Bob's Furniture would no longer service this issue despite the fact that the technician reported that the springs would continue to pop out of place! This is not a "wear and tear" issue... no one uses the middle cushion. You can actually see that no one sits on the middle cushion. All you have to do is look at the sofa and anyone can tell exactly where I sit on the sofa!
I do not understand how a company cannot stand behind their product and then how the insurance that is supposed to cover damage, that costs the customer additional money, does not cover the damage either. I am extremely disappointed with Bob's Furniture and will never buy anything from them again. I will also tell everyone I know to not to buy from Bob's Furniture. All that being said, I had no problem with the sales people or the service technicians who were very professional and polite. I'm extremely unhappy with the company's lack of quality customer service and their lack of concern for their customers' satisfaction. Bob's Furniture could care less if they lose yet another customer... they'll just find a new sucker!!!

Do not ever trust Bob's Discount and its fake Goof Proof. I am one of the customers of Bob's Discount Furniture. I purchased my living room and bedroom furniture from them last year in Falls Chruch VA and unfortunately paid almost additional $300 for a fake protection plan called Goof Proof for my bedroom set. It has been a month now that I have been contacting them for issues with our bedroom set, they just make excuses and play with words! When we call Goof Proof they tell us to talk to retailer store when talking to retailer store they say talk to your Goof Proof protection, they are passing customers like a ball to each other. I suggest to all buyers DO NOT EVER buy furniture from Bob's Discount, in case if you still were interested in buying, then DO NOT pay additional money for a fake protection. They are just deceiving customers with their false and unreal promises.
In fact, most of the sales agents of Bob's Discount Furniture are completely immature and unknowledgeable, they just try to encourage you to buy their fake protection plan for their own commissions. Their first sentence is "Do you want to buy Goof Proof protection? If ANYTHING, I repeat again. If ANYTHING happened to your furniture including accidents or damages they will cover them, and even replace THEM simply with new set." In the real world that is not the truth. So be careful with this corrupt business and people, think twice before going to Bob's Discount Furniture!!!

I bought a couch, loveseat, end tables, coffee table and lamps. Everything has lasted well except for the couch. The frame just fell apart and I bought their goof proof guarantee which is supposed to cover the frame for 5 years. They refused to honor the guarantee because I didn't know how the frame broke. We did nothing but sit on it. I had it a little more than a year. I bought cheap and I got cheap.

I purchased a daybed from Bob's furniture about two years ago. I also purchased good proof insurance. The slats of the bed came apart. They sent a service technician who took pictures and informed that it could not be repaired. He said the store would contact me on two days to replace. The text however in his report Indicated that it was normal wear and tear and that. I refused for him to repair which makes no sense. The company refuse to send out another tech because they have to stand by their tech who is obviously a liar and possibly on a rush because there was a woman in his car waiting. I am not sure what would be the other reason for him to lie and not do his job. The company has stated there is nothing they can do for me. I will never spend another there and will never recommend any one else to purchase furniture.

Recently I had purchased 3 bedroom set, sofas and dining table for my new condo. They promised to deliver on June 25th. But upon arrival we found two bedroom set and couple of chairs were missing. They made an apology and promised to deliver on 28th. But when it arrived it was not correct one and missing. I contacted the store and customer service. I was planning to move to new house on July 1st and invited few guests. I had to cancel party since Bob's did not keep up their promise. They promised to deliver on July 5th.
I had a message that they would deliver between 2.30 to 6.30 pm. But did not deliver. I contacted the store and they asked us to contact customer service. According to them all materials were delivered. When said about delivery message they said they do not know, even though it was coming from their number. And missing furniture is not scheduled yet. I am planning to move on July 6th. I am thinking about cancelling the order and getting back the money. Bob's customer service said they cannot do it and we have to go to the store and the store said it is customer service to process our request. I am totally upset and financial losses due to cancelling party.

For the first time I went to Bob's Discount Furniture. I was amazed how quickly I got help to find the perfect furniture that I needed. With the help of Gnouma ** I got not only the help but also advice about the furniture that I needed for my daughter. It was perfect.

My mom bought a double adjustable bed from sales associate, Joffre **, for my 96 year old dad a couple weeks ago. Dad found the bed to be too short and complained about his feet over the end of it. I went into the store again today to ask if they would exchange the bed for a queen or longer double. Usually they don't exchange the adjustable beds, but after hearing my dad's story, they graciously exchanged it for a queen size bed, allowed us to upgrade the mattress and didn't charge us a new delivery fee. This is the third time we have purchased furniture from Bob's and will definitely return. Great service and caring employees! Thanks for blessing my dad today!

Every time Bob's Discount delivers something to my house they break something. I keep buying back from them hoping they have improved on their delivery services. This time their delivery team broke a $300 ceiling fan, scratched the crap out of my walls and broke a family portrait I had on my wall. They didn't even seem apologetic about this breakage which had sentimental value. I called customer service and they lacked professionalism and did not care to rectify the problem. I will not be buying from this company anymore. Horrible customer service and delivery was awful. They really need to streamline their delivery processes and hire/train their team to do a better job at customer service and delivery. I bought a $1000 couch from them and at the same time their team comes into my house and break $400 worth of family goods. This is unacceptable!
Bob's Discount Furniture Company Profile
Company Name:

Bob's Discount Furniture

Website:

http://www.mybobs.com/