Bob's Discount Furniture
Woodbridge, NJ
Consumer Complaints and Reviews

We bought my teen daughter a bed for her birthday in April, 2016. The other day, we noticed that the wood that supports the slats (platform part) had split and therefore the mattress was sagging in the middle. I spoke to a customer care consultant who was able to make an appt. for someone to come out to assess whether the bed could be fixed--the earliest date was for one week later. Apparently the request had not been submitted because I did not receive a call to confirm the appt and, in addition, there was no record of the call in the system. The manager at the Hunt Valley, MD location and the sales associates were lovely and apologetic, but the disconnect between the store and the customer care division was just awful. At this point, my daughter is still sleeping on a saggy bed and we're not sure when the bed will be serviced or replaced.

We went in to buy an inexpensive table and 4 chairs for our fam. room. for the grandkids to use for coloring etc. to replace an old plastic table and 4 chairs (cost approx. $40). We talked to a salesman, Jack, told him what we wanted, selected what we wanted, gave him all the info. needed, listened to the speech about the replacement 'insurance' and declined to take it. We then waited for Jack to enter the info. into the computer, we then WAITED AND WAITED for some yahoo (some floor supervisor) to come and 'verify' the sale. We then had to, ONCE AGAIN, confirm our telephone and address and desired product. We THEN had to tell this rude and aggressive salesman (Jeremiah or something like that) NO about 10 times as he tried to RE-TELL us about your great (NOT so great according to other reviews) replacement/repair 'insurance' as he more and more aggressively pressed us to listen to his spiel.
We said NO again, gave him 10 seconds to do it and he left in a huff. I SHOULD have said, "sure, I'll take the stupid ins. in return for free delivery," but I didn't. I COULD have said, "do you want the sale or not? If you do, take NO for an answer." We wanted a cheap table and chairs for the grandchildren, we got it. We WILL NOT return for more abuse from this yahoo with extreme OCD or bad micro managing instincts. Our salesman explained the 'insurance' quite well, we verified our address and telephone and product desired with him. Having to do it again, like illiterate children was RUDE and unnecessary. Your floor manager was RUDE and AGGRESSIVE. We will not return and we WILL mention this to our friends. I gave 1 star, if ONLY I could have given a half star or NO star. But this sort of used car salesman tactic does NOT work in DE. And did not work with us.

I bought Sofa about 7-8 months ago from Bob's Furniture with 5 year goof proof Plus Plan. A couple of months ago we notices small scratch at the back side of the sofa, that was on back side and we just ignored that as don't want to take off from office for appointment and follow up with customer care then Goof Proof... A couple of weeks ago, my sofa hit the wall while moving one place to another in my home and got small cut at the corner that was clearly visible from a distance. So we called Bob's to get that fixed, someone came from Bob's, took picture of both scratch back side and cut at the corner. Representative told that "I have sent these picture, someone from Goof proof will call you to replace this piece. Our part is done".
None from Goof proof called me, I again contacted to Bob's Customer care. They connected my call to Goof proof team. Goof proof team said because there are two thing, one scratch at the back side and another at the corner, this would be consider as multiple accidents so that would not be covered with Goof proof plan. NO REPAIR / NO REPLACEMENT/ NO REFUND. They also said that if we want any assistance for this Sofa in future, "you have to show us bill confirming that you have got fixed both scratch and minor CUT on sofa, only then we can entertain any further issues for next 4 years." That was HORRIBLE experience, Bob's is saying, "we are out of the picture, it's Goof Proof responsibility" and Goof Proof is saying, "because it's two things, scratch and CUT with wall at the corner, we will not fix this or replace this item." DON'T WASTE YOUR MONEY FOR THESE KIND OF PROTECTION PLANS.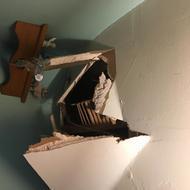 Bob's delivered a couch to my house. In the process, the delivery person stepped on a heating vent on the floor which caused it to break and then caused a hole in the ceiling of the basement below. We called immediately and filed a claim. After weeks of being given the runaround, I was finally able to speak to someone. Now, they are denying my claim to pay for the damage due to lies from the delivery person. I have photo proof and have documented all calls and emails exchanged.

The customer service is the worst I have ever seen, friends warned me but I didn't listen. They Lie to you to sell you merchandise and then lie again when it doesn't show up correct and you have to go to the parts department. Bob's slogan should be "BUYER BEWARE". I am currently on hold trying to get answers from them for over an hour and they are transferring me to a supervisor - but check on me every few mins to see if I hung up yet. GO TO ANOTHER FURNITURE STORE. DON'T DO BUSINESS WITH BOB'S.
How do I know I can trust these reviews about Bob's Discount Furniture?
717,984 reviews on ConsumerAffairs are verified.
We require contact information to ensure our reviewers are real.
We use intelligent software that helps us maintain the integrity of reviews.
Our moderators read all reviews to verify quality and helpfulness.
For more information about reviews on ConsumerAffairs.com please visit our FAQ.

I have made numerous purchases from Bobs. I realize that this isn't Thomasville or any other 'High End' furniture. I have never had a problem at the store (Riverhead, Lake Grove), in fact when something was once delivered damaged they returned within days and replaced the defective parts. My issue is when a defect was discovered after delivery.
We purchased the 'Revolutions' table and chairs for our kitchen. About a month after we got the set we noticed a large 'chip' in one of the chairs. We were not sure what had happened so we didn't think much about it. Over the next month though we realized that all across the table and the chairs the paint was peeling off the high part of the wood grain, and on one chair a shoe actually scratched the paint right off. It was substantial and noticeable that it was occurring all over the set.
We called Bob's "Customer Service" and after 58 minutes on hold we finally talked to someone who said send a picture and within 48 hours we would have an answer. I made the MISTAKE of saying that I thought it was defective and quickly learned they don't expect you to be honest. 3 days later we received a reply that they looked at the photos and there was nothing they would do it was not a defect and to contact Guardian. We called Guardian and 45 minutes later we finally go someone on the phone. We again sent photos and received a reply that the damage was not 'accidental' and since we did not know when exactly or how exactly it had occurred they would do nothing.
I spent 3 hours the next day on the phone. I was told #1. Because I was honest and said the damage had worsened over about a month they wouldn't do anything. I was actually told, I SHOULD HAVE LIED or made something up. #2 Because I said I thought it was a defect, they were not responsible. #3. I was told that because I filed a claim that was denied if I claim anything else was wrong they would automatically deny it. I said to the 'supervisor' that "this is a scam, you say you won't pay and there is no way to appeal that" and she said "Sorry to tell you the bad news but that's the way it works."
I brought one of the chairs back to the store and showed the manager that you could literally peel the paint off with your finger nail. She seemed very concerned and upset about our treatment and sent an email directly to their personal representative. I told her that between Bob's and Goof Proof SOMEONE should fix this. GREAT, by the next morning we got an email saying, "NOPE not our problem, you're stuck with it." SO, if you haven't purchased a GOOF PROOF warranty, I wouldn't recommend it. I honestly believe it's a scam. IF you already have it. Have a good story ready when you call them. No matter what happened you have to tell them it was some kind of accident. Sorry 'BOB' but you will never get my business again.

Bob's Furniture wants to be paid in full for furniture that won't be delivered for up to 6 months. After leaving a deposit of $500.00 on Jan. 22 for 2 recliners and 2 couches the salesman said it would be in 4-5 weeks and then need to paid for. Two months later no furniture. They want to be paid in full $2678.00 and it still may take 4 more months. Bob's very misleading. DON'T BE FOOLED BY ALL THOSE BS COMMERCIALS. This took place in their new Riverhead store.

Horrible setup in this company. When I called to make a claim before the year was done I was told once things are delivered no returns can be done, things began falling apart about a month after delivery, got replacement, sent someone to check no issue. 2 months later again issues with dressers, knobs falling, wood is of worst kind. Paid for goof-proof because we have kids, they are worst than the FBI needing exact time date and how things happened. Like wth, things are falling apart!!!! No help.
Claims Guardian company the worst, apparently they only cover accidents by us. A pipe burst and wet my whole dresser, damaged it, cannot claim because they said "we are unable to due to it being covered by home renters insurance." I DON'T HAVE HOME RENTERS INSURANCE! I live in an apartment building. Also, when I called to file a "goof-proof claim" they sent someone and said there's no evidence of manufacturers issues. WOOD IS PEELING LOOKS LIKE CHEAP PLASTIC UNDER. If that's not a manufacturers issue I don't know what is.
Oh, I was also told that in April of 2013 which was 4 months after our purchase, the coverage changed and if I would of purchased it later on I would of been fully covered for everything that may happen but because I didn't I only have a basic goof-proof. I'm done with this company. I wish it was shut down already with all these problems it has. Some refunds would be nice or them buying us furniture from an actual worthy furniture store.

I purchased an adjustable long sized bed from Bob's Furniture. When they arrived it was 3 Spanish gentlemen who did not speak English. They set up the bed upstairs while I stayed downstairs due to hip surgery I had about 4 weeks ago. After hearing much banging around they had stated they were done. I asked them if the bed was all together and everything worked which they responded in very broken English.
After they had left I worked my way upstairs to find my dog chewing on a dry pellet pack lying on the floor. One of 3 plus many cut wire ties and two boxes containing brackets and wires and bolts not installed. I checked and found only one side working and the other side the feet would not raise. Also the bed was not bolted together but in two separate twin extra large beds. I called Bob's and they stated they could not come back out today but would have to make an additional appointment to have them come out again. This bed was 2200 dollars for it. Terrible service. Never again. Do not buy from this company. Second bad experience with expensive merchandise.

Bought a living room set 2 years ago. Bought warranty. Spring are coming out. Couch is ripping. They send someone out. They said Bob's will get contact with us. No one called. They refuse to replace my furniture. They are thieves. I'm gonna have to contact an attorney.

Spent just over $5000 CASH purchasing their "bob-o-pedic" king size mattress and box springs, a complete living room set that we picked out on our own. We didn't purchase one of their "bundle deals" as well as their "5 year Goof Proof" insurance. We chose a matching reclining loveseat and reclining power sofa with heat, massage and lighted console. We then chose a high end coffee table, matching end tables and 2 lamps.
The sofa and loveseat ALONE were $1500. Within 18 months, the sofa began losing stuffing from the headrest. They were very quick to send a technician out to "inspect" the issue. It took him literally 5 minutes to tell us this would NOT be covered. I contacted the manufacturer and was told they only covered within the first 12 months. Frustrated, we even asked if Bob's could repair it if WE paid for it. We were then told the cost of coming to pick up the furniture (because it couldn't be repaired in-home), repair and redelivery would cost more than just purchasing NEW furniture, which they would give me at a "discounted" rate. Getting a good look under the fabric was very telling. Sub par materials. Basically you end up buying furniture advertised at liquidation or warehouse deals. They just slap their own name on it and call it exclusive.
We hung on to those 2 pieces, (shortly thereafter the loveseat ALSO lost stuffing from the headrest) for 5 years. They finally went to the curb last week. We replaced them with a new sofa and matching sofa bed, NOT from Bob's. NEXT month we will be "replacing" our "bob-o-pedic" king size mattress, which turned out to also not be worth the price. HARSH lesson learned. Since then I double and triple check online review research.

On 3/03/2017 I got a furniture delivery. I was told the sofa wouldn't fit up the stairs or elevator. The delivery man had me sign for what I received and told me to call the store or go online or visit a store closer to me and tell them I need a smaller sofa. I asked him if it came smaller. He said, "Yes." I called the store when they opened and I was advised by a sales rep that it did not come smaller. He said, "The delivery man did not want to take it back." He told me to call customer care and explain, which I did. The rep who answered told me I could send the piece that I received back but could only get a store credit. She then said that her supervisor said I had to keep it because I signed for it. I advised her the delivery guy assured me it came smaller and he had me sign for it.
She spoke to her supervisor then came back and said, "you signed for everything so you have to order a different sofa." I told her I did not want something that did not complete the set. I asked to speak with the supervisor and being placed on a 30 minute hold. Someone said hello then I was transferred to a automated survey. After the survey, the call disconnected. I called back and I got another representative. I explained what happened and I asked to speak with a supervisor. After a 20 minute hold, she returned to say her supervisor said that there is nothing they could do once again. I asked to speak with the supervisor. After another 20 minute hold, she returned to say her supervisor told her she could handle the call AcceptanceNOW who financed part of my order. I then asked to speak with a manager only to be told that they are busy handling other consumer calls. I asked for her name. She said it was Candi and the supervisor was Samantha.
I asked for the mailing address. She told me to google it. I told her I would contact the Better Business Bureau and the Attorney General if I could not speak with a supervisor. She placed me on hold. After another 20 minute hold, she told me she would transfer the call only to put me on a three way with AcceptanceNOW. I was told by the representative that I did not have to keep the piece that I did receive and the treatment that I received was unexplainable. She advised me to speak with customer service department where I purchased was made, which I did, and I was told that I did not have to keep the piece that I received and for a supervisor or manager not to handle the call is not proper protocol. And since they would not, I would have to travel all the way back to that location instead of going somewhere closer.
I then received a call from my sales rep who call customer care and cancelled the order that I was told I had to keep. With their ''Malicious Intentional Violation Of Company Policy", neither agent complied with "Company Policy" as "DEMANDED" due to their "Unclean Hands" and "Bad Faith". When this matter is finally resolved I will never step inside another BOB'S DISCOUNT FURNITURE STORE AGAIN.

Ordered the Power Bob Plus Adjustable Base, and a king sized mattress, totaling $3,099. When discussing the purchase with the sales personnel, it was never mentioned that this base and mattress should not be placed onto an existing bed frame, or, that it had a separate frame that had to be assembled. The delivery guys show up, and place it on my old bed frame, and were out the door in minutes.
Before leaving, one driver says "What do you want to do with this?" Pointing to a pile of metal frames, wheels, nuts & bolts, etc. Not knowing what it actually was, I told them to just leave it there. Not one word was mentioned that this WAS part of the bed we had purchased. Called and complained to the King Of Prussia store in Pa, and no one really knew what I was talking about. I had to take numerous photos of the bed, and hardware, nuts & bolts before they understood what was going on. I'm amazed that couldn't just ask me to remove my bed frame. It would have taken about 3 minutes to remove it. TOTALLY unprofessional people!

I recently purchased a coffee table, end tables, and dresser. When the furniture was delivered, the delivery guys set it up in less than 15 minutes. As they were about to leave I asked to check the furniture for damage and unfortunately noticed the dresser they put together was defective. It had 2 different leg lengths. I was told it was the floor. We moved it into another room and realized it's not the floor. They said I would get a call from support by the end of the day to setup the exchange. That never happened. I called the next day and had to explain everything that happened since nothing was relayed.
A week later, on the day the dresser was to be delivered they showed up 4 hours early and no one was home. At this point I am getting frustrated with the lack of communication and customer service. I called to return the dresser and get a refund. I was told that once the furniture is delivered, defective or not, there are no refunds. My fault for not reading the fine print and will certainly not be making any purchases with Bob's ever again. You truly get what you pay for. You are better off saving a little more and going with a better quality piece of furniture.

Clarissa ** from the customer service department and the whole customer service department call center (not the actual sale store, the customer service call center for delivering) she told me that I was calling too much and that she can't do nothing about it. That I just basically have to wait till whenever the ** they want to deliver my merchandise that I paid for!!! She seemed uninterested and very rude making me feel that I didn't have the right to claim my two time undelivered merchandise.

I bought a sofa from Bob's and got the goof proof protection plan. My sofa start to crack and peeling. When I call Bob to report about it they giving me hard time saying that can't happen to the sofa as it a 100% leather so they did nothing. A few month later my sofa rip. I call the goof proof to file a claim. They said Bob have to take care of the leather peeling first before they do anything. I call back Bob's. They send someone out to look at the sofa. When they came nothing happen. I call, they saying that they can't do anything as the sofa is 100% leather. They don't want to change or exchange my sofa. They just rob people by telling them get warranty and goof proof is waste of money when they will not fix or replace so what can I do now? Someone help with some advice. Ask to speak with supervisor claim he is not around. What kind of company is this.

Bob's Discount Furniture IS a REAL NIGHTMARE, to say the least!! 5:29 AM - Phone robot said that they'd be at our place in LESS than a minute. After 15-minutes waiting in our freezing hallway, I went back into our apt & tracked delivery. Said that it was in transit, and that I was their FIRST stop. Tracked it again: Will be there between 6:00 am & 6:15 am. Tracked again: Will be there by 6:55 am. Tracked again: Will be there between 7:00 & 7:55 am. I called the corporate office and was LITERALLY on hold for 1/2 hour, waiting for a manager to pick up, with horrid piano music playing. The manager told me that there was NO problem with the truck, and that they might have pressed the button by accident, that they should be there in LESS than 1-minute, and what else could she help me with?? I totally lost it!!!! 5:29 am-7:30 am - On a Saturday NO less, waiting for a delivery and that's ALL she had to say?????
I told her that Bob's Furniture had left a REAL BAD taste in my mouth, and asked for corporate's phone number, and she said that she was from corporate. So I just hung up on her!!! LOUSY customer service!! I am REALLY concerned now, because I've purchased the 5-year Goof Proof + Plan and am scared that they will not honor it. I've just read a LOT of bad reviews about Bob's Furniture, & friends have also said they've had the same experience. Wish that I had known that, BEFORE I purchased the furniture!!!! A few days ago, we were thinking about purchasing a new bed from them - NOT happening NOW!!! Sales Associate: Karim emphasized on purchasing the 5-year Goof Proof + Plan. I am VERY concerned now.

Was there January 15, 2017. I purchase a bedroom and a living room. I got the delivery January 28. The living room was good... now the bedroom was broken. First they took two pieces and left the other in the box. Second time the two pieces was broken again. Third time the two pieces was good but when they did the boxes that they left there were broken too. It took about a month so I could get the bedroom good... oooh but between that I went and got another living room. The salesperson want to do the sale that he got me the pieces of the living room wrong. When I got it one piece had a manufacturer problem.
The second time it came the connection was not working. I try to change the two pieces for the other one so it could fit in my living room but they tell me that I have to purchase it. They could even change it for all the trouble I going thru. Oooh that me going to the store about 3-4 times and calling. They even said I was getting a gift card. I still waiting for it. So upset that when I'm done paying everything I will not shop there no more. Up today 3/04/17 still waiting for the fix of the living room and the gift card.

Scarborough, ME manager RJ needs people skills. Purchased a dining room set. When delivered there was a broken leg on a chair and a chunk of the pedestal had broken off. Someone glued and painted the issue. When my wife dusted the new purchase she found that the glue and paint were fresh. I couldn't believe it and both of us needed up with glued fingers with black paint. We went to the manager RJ and he was dismissive of our situation saying that the delivery had NOTHING to do with Bob's when the delivery truck was ladened with Bob's face and ads, we paid the store for delivery and the guys who delivered said they worked for Bob's. The manager RJ offered no help whatsoever. He never gave us direction, never called, etc.
If you decide to buy from Bob's be certain that you have rubber gloves to receive the merchandise. Remember that their philosophy is that you cannot return ANYTHING once they have your money. Sad company deal with.

I just fully furnished my home with Bob's furniture. I bought a lounge sofa with sleeper in September of 2016. Purchase Goof Proof plan for everything. In January of 2017, I notice the sleeper section is sinking in when sitting. Very uncomfortable. And one of the cushion is ripping apart from the seams. Mind you these product are barely 3-4 months old. Been trying to get Bob's technician to come out and look at. They schedule someone and never show up. Call Bob's back only for the customer rep Quote "I can't tell you what happen." Basically they have no reason why no one show up. Call back again 3 times was told "we are sorry" and set 2 new dates again. And again no one show up. Never receive a call for the time frame window. Bob's discount furniture is the worst and crappy product. They will literally take your money and give you the runarounds. I will seeking legal battle with them. It is unfair.

We purchased our mattress in March 2015. We opened the packaging when we brought it home and immediately smelled a terrible odor. We were told to let it air for a few days and we did, however, a few days turned into weeks. Before our 30 day window was up we called their customer service phone number and was told to open our windows. Well we did not, and as I explained to the customer service rep because we live in Maine and the temperature was 30 degrees. They gave us an extension on our return period, however, they did not agree to refund us or give us a new mattress. Now 11 months later we would like this factory defect to be taken care of. They sent out a technician who smokes and does not have a good sense of smell to come and check out the other. He did not smell anything and now they are refusing to remedy the situation. I would not recommend Bob's Discount Furniture to anyone!

Merchandise delivery group is so horrible, cannot communicate properly. And when we mentioned about the damaged piece, the delivery guy LIED to us saying he took the pictures and wrote down in the comments about the damaged piece. When we called up to follow, the agent mentioned there are no comments and no pictures. What a pathetic service!!! Then they tell me that I have to take the pictures and follow some instructions so they could arrange for replacement. Not sure yet, if they are going to replace though!!! And their furniture is not any less expensive!!! I would say you will NOT have a HAPPY experience if you are planning to buy with them. Very Very POOR CUSTOMER SERVICE. And we have brought furniture at least 5 - 6 different furniture stores and never had this kind of a bitter experience.

I purchased a Bob-o-Pedic with Gel Mattress mattress for $1500 from Bob's Furniture. Not even 2 years old, it is sinking and destroying my restful night's sleep and causing body aches. I also purchased a sectional that is becoming discoloring on the piece that is not even a seat, but the cup holder section. This company is getting away with murder selling this shoddy furniture. They don't even try to work with you. What can be done about them? I am filing a small claims in court. I don't know what the outcome will be, but I have to do something. I feel like they stole from me and caused me to have body aches that I never had before purchasing this mattress.

I found a 3 piece sofa in the Discount room at Bob's in Yonkers NY. I was looking around, not quite ready to buy, until the sales lady "Robin" on her way to lunch, noticed me looking at this piece. She explained that it was a new piece which had just come from the warehouse, but was discontinued. Together we looked over every inch of the sofa and found it in perfect condition. She told me I had 24 hours to pick it up, as I wasn't prepared to purchase, so didn't have a truck. As we were filling out the paperwork, one of the warehouse guys came running with his "free ice cream" and jumped on the sofa. Robin told him that I was purchasing the piece, asked him to be more careful and perhaps go eat his ice cream elsewhere. He walked away, leaving a boot mark on the sofa.
I was able to fit 2 of the pieces into my car at that time, but went home worried about leaving the 3rd piece overnight. The warehouse was a junk yard, filled with damaged, busted furniture from floor to ceiling, leaving barely enough room to walk through. When I went to pick up the 3rd piece the next day, there was a scuff and a slit on the top of the cushion and a 3 inch slit in the front.
Customer Service told me that I had to deal with the Manager in the discount room, who looked at the piece and said that they could not fix it. Robin the sales lady (such a nice lady) told him that we had inspected every inch of that sofa and it was in perfect condition. He offered to discount the piece (not the whole sofa, the one piece that they damaged overnight... 1/3 of my sofa). I told him that I didn't want it. He then said that I could pick something else out if I bring back the other pieces of the one that I had purchased, but that I was responsible for driving 45 minutes back home, taking it apart, loading it in the car and bringing it back to the store. He refused to send a truck. He said the truck is only for customers that purchase new furniture.
Extremely poor customer service in my opinion! Regardless of how much you are paying (that sofa cost just as much as the furniture that was on the "New" floor that day, during the Presidents Day Sale), people work hard for their money. All furniture should be taken care of properly and they should have done everything in their power to make up for their mess. Shame on them! I am now without any furniture (as I went home the first night and tossed my old furniture) and so disappointed. I've since been told several times, that I am lucky and to count it as a blessing, as Bob's has terrible customer service and the furniture never holds up. Lesson learned... Never again!

I've had the worst experience with Bob's Furniture. I have a sofa set purchased from them that for some reason the frame is breaking. Literally bending backwards! I have the Goof Proof Plus Plan. I called and I made a claim. They send me a tech... Mind you I do not get called a day or 2 in advanced to know my time frame. So I'm showing the tech everything that is wrong. He himself states "The frame is broken. I'm going to send in a report." Almost a week goes by and I hear nothing.
So I call to get the rudest customer service rep ever! She tells me that the tech reported back that everything was fine. I explain to her what is the purpose of paying extra for a Goof Proof Plan if they are not going to help me. I told her the own tech stated it was broken. She gets nasty and says "If you let me finish..." I lost it. I am a customer service rep myself and that is not the way you speak to the customer and I made sure to tell her. I let her speak and she proceeded to say it was not a manufacturer issue. I need to file an incident report with Guardian. But the tech said that the materials they use for the furniture isn't of quality!
She told me "If you can think of an incident..." I stopped her before she could continue and told her "You want me to file a fake incident report for something that wasn't purposely done!" Not only do they have crappy furniture they have crappy techs and crappy customer service reps. I would never recommend them to anyone and tell them that Goof Proof Plan is a bluff just a way to get extra money from you.

Bought a couch and loveseat Aug 15 2016, 5 months later the cushions on the couch are shot, called "customer care" - a complete oxymoron! They sent out a technician that looked at the couch for 5 seconds and said cushions will be replaced under warranty and someone will call me. I waited a week and no phone call, so I called them. "Customer care" said it was not covered under warranty and case closed. My advice - DON'T BUY BOB'S!!! Their product is GARBAGE and their "customer care" is anything but that... You have been warned!!!

I bought a dining room set, a living room set and 2 beds from Bob's in July of last year. I noticed a few months later that there was a few scratches on the dining room table, so I called to have someone come and take a look at it to see if maybe they could fix it. I was not looking for a replacement, just a quick fix. But because I didn't purchase their Goof plan, there was nothing they could do. I had the furniture less than 6 months. I paid a lot of money for the furniture and the fact that it was less than a year old and still it was extremely disappointing to me that there was nothing at all they could do.
I noticed a few weeks ago that there are rips in the cushions of the couch but I won't call them again as they were not very helpful to begin with and what's the point. If you are a big furniture company, shouldn't you at least take care of the people who buy from you? I won't be buying anything from there again. Next time I will bypass Bob's for a company that actually cares about their customers.

We purchased two full size couches, with the GOOF PROOF guarantee (because having ten grandchildren we felt we needed it). After a few weeks my two month old granddaughter spit up on it, we tried everything and the stain never came out. Then, after about six months the couch seat cushions started to lose their shape. We called Bob's, they sent a repairman. He came with foam, stuffed them, and it looked worse. Bottom line, had service man here three times. Last time he was here, he personally called Bob's customer service, told them the sofas needed to be replaced. Because they don't carry this brand anymore, they blatantly refused and would not honor the guarantee. Although that was a while ago, now that I am shopping for a new sofa, I felt it is only fair to share them with other potential customers.

We have bought a leather sofa in Bob's Discount Furniture year ago and also bought a warranty for 5 years. Sofa starts getting tears after 6 months. And we just called them to inform damage and requesting a repair. Now they are saying it is not a manufacturer defect, hence they don't cover under warranty even it is a pure manufacturing defect. Be aware of their warranty program and Quality of the product.

We purchased a living room set and a bedroom set from Bob's. In under a year the bed and couch have fallen apart. When calling for a repair the customer service referred us to a warranty company and when we called the warranty company they referred us back to Bob's. After 4 phone calls with management we got a new couch.
2 years later the loveseat is falling apart. So we call and surprise it's not covered. We also requested a mattress protector which is supposed to be free when the old one is damaged and shocker they don't have the bedroom set on file as us purchasing it there so they are not providing us with a mattress cover. I will NEVER buy anything from Bob's or refer anyone there for furniture as they are crooks!!!
Bob's Discount Furniture Company Profile
Company Name:

Bob's Discount Furniture

Website:

http://www.mybobs.com/