Bob's Discount Furniture
Woodbridge, NJ
Consumer Complaints and Reviews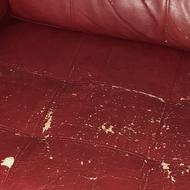 This is the worst furniture I've ever seen. I purchased this sectional a little less than two years ago. The peeling started about 6 to 9 months after I bought it. Now it is getting worse by the day. I am so embarrassed to invite anyone to my house because of it. I called the store and I was politely told it is nothing they can do to help me and I am stuck with the furniture. I didn't contact them right away when it started peeling but from what the customer care person said it was a sale item and they don't offer any refunds or replacements on sale items. Even though my furniture started peeling less than a year after I bought it, they wouldn't have done anything to rectify the problem even if I had contacted them sooner. I will never buy anything from this company again.

I purchased a power recliner from a Vernon Hills IL store. At the time the salesperson told me that if I didn't like the chair for any reason I could return the chair. Nothing was said that it could only be returned at the time of delivery and before the delivery people left my home. After a week of sitting in the chair I have had nothing but back pain as when in the reclined position the chair has no support. I called the customer care and was told that they do not take returns or exchanges and since I signed for the chair and I am now stuck with it. The delivery guy didn't even tell me to sit in the chair. He just plugged it in, tried the remote and tore out the door.
Most reputable companies have a standard return policy that if you are not satisfied they will replace the product or refund your money. It wasn't like I got any great discount on this chair compared to other companies. Wish I had read reviews before I purchased anything from them. Don't buy from Bob's Discount Furniture. They take your money and run with no satisfaction to the customer.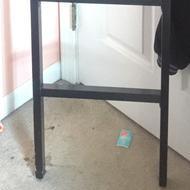 I have been with Bob's furniture for over 15 years and I must say this is the first time I am so disappointed and angry. I purchased bunk beds for my children several years ago and purchased a warranty because I know how children are. Well the ladder broke. I am getting the runaround from both BOB's and Goofproof. Their response is that because the ladder did not split with the grain it is not covered. What!! This is the worst. Never again. They don't cover anything. If my daughters fell against the bed that may be covered, but because they used the ladder the way it was supposed to be used it's my fault and the warranty will not cover. Run from Bob's don't walk. I was told by a supervisor "Mary" and customer service rep "Ebony" that I should have read the warranty first and not be so trustworthy of their salespeople. They make commission on their sales of the warranty and lie.

Bought a leather couch & loveseat from Bob's for $2600. After 1-1/2 years leather started to wear down completely. The sofa was a sleeper- cushions won't stay on sofa- Velcro that holds them in place is shot. After being declined for a warranty and complained they sent somebody to the house to look at the issue with both pieces. What he told me was that I had a legitimate complaint and that the furniture should be in better shape considering the age. After waiting for almost 2 weeks for a call back finally called them to be told what everybody else is told - that it was normal wear and tear. My mother purchased two recliners about 10 years ago - when the leather started to peek on her furniture after 2 year she was told the exact same thing.
This company does not stand behind their furniture, they're very misleading with their BS "goof proof" warranty they sell you which is completely useless and the salespeople never tell you about the fine print and what's really covered. It's a big sales gimmick. Bottom line - do not spend any significant money on furniture from this pathetic company who hires morons for their customer service department who are completely clueless. This company sells garbage. If you do decide to purchase anything from them buy the cheapest thing possible because you're going to be throwing it out after 2 years. They should change their name to Bob's Disposable Furniture so at least the consumer knows exactly what they're purchasing.

In November I purchased a couch and loveseat with recliners from Bob's. From the initial time of delivery it was a nightmare. Recently I had a issue with the headrest of the couch, the motor had stopped working, so we called Bob's goof proof because you can not purchase any item from them without it because you will certainly use it. The service tech came and said it was the motor and had to have the part delivered and once it was delivered a service tech would come back to install. I received the piece by mail. I arranged another day for service to come to install the new motor. The service tech came only to find out the piece was the wrong motor!!!
I spoke with someone at customer care who stated they would order the top part of the couch because the motor for the top section of the couch was on back order till May. Please keep in mind this was March!. So now we spoke with the rep and repeated the couch not the loveseat and she insisted that she understood and was ordering the correct piece.
Well last week we set up another day for Bob's to deliver the top portion of the couch. And guess what? Yes Bob's delivered the wrong piece! The delivery men had stated this was their 3rd wrong item that day and it was 2 o'clock. So again I call speak with a supervisor who insisted that they were going to order the correct piece and guaranteed me that my delivery which is scheduled for today would be the 1st delivery!! And he stated that they start their deliveries as early as 6:30am as if to scare me. I stated that was fine as long as I was first.
Well today at 12:40 pm I am still waiting for my delivery! I am delivery #9 not first like I was promised by another member of Bob's customer care team! This is by far the worst company I have ever dealt with. I do not recommend them and feel although their furniture is reasonable it is not worth the headache. Consumer Affairs should shut them down!! They should be stopped they take advantage of their customers!!
How do I know I can trust these reviews about Bob's Discount Furniture?
743,097 reviews on ConsumerAffairs are verified.
We require contact information to ensure our reviewers are real.
We use intelligent software that helps us maintain the integrity of reviews.
Our moderators read all reviews to verify quality and helpfulness.
For more information about reviews on ConsumerAffairs.com please visit our FAQ.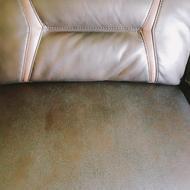 We bought the Atlantis sectional last year in May with Goof Proof insurance and the material of vinyl started wearing off. We called customer service, Goof Proof service, we went to store manager, none of them are helping to solve this problem and now we are stuck with the couch which looks old even though it is not even year old. Very bad customer care service. Please don't buy furniture from Bob's Discount furniture store.

I bought a couch set in August 2015. All leather and the Goof Proof plan. The leather on the seat is short so it exposes the cloth. Bob's won't repair it as they are saying it is normal wear and tear. But it's not, the leather is too short. The Rep today said that is expected after 1.5 years of couch life and that the cushions shrink. What??? Yup that's what she says. But then if the cushion shrinks would that not actually help the leather shortage? Anyway a hole exists now on the exposed cloth. Goof Proof won't pay because they said it is caused by the manufacture defect that Bob says does not exist. And because I did not witness the hole being made they will not fix it. Yup!!!
I am not on here just to report my complaint and go away. There are 862 other similar complaints. Does anyone here want to do a store stand out with me? I am in MA, even if we can get even 1/4 of us to connect and we can hold signs in front of a store or several stores. These complaints don't bother Bobs, it does no damage and most people come on these after they have been had and it's too late. E-mail if interested **.

My entire set became loose and wobbly. One stool was practically hanging, the side of the table was buckling and chipping. I called the Goof Proof Protection Plan. They sent out a technician. He looked at the table and said he could possibly patch it up and glue it as far as the stools. He said he might be able to go to Home Depot to get screws. I paid for a table set not a patchwork quilt and a carnival ride! He said he couldn't repair the table. He called the office and put me on the phone with customer care representative. She suggested I call Guardian the other party who is responsible with the protection plan.
I call they they're not responsible Bob's is. I call Bob's back. The representative tells me that I refused service. How can refuse service if you don't have the proper tools/equipment to fix it? Not to mention why did you pay an extra $100+ dollars for a so called protection plan that isn't protecting anything but themselves. Please do not purchase anything from Bob's. They do not honor their contracts and they are unfair to their consumers. DO NOT be fooled by free candy and coffee or the nice friendly staff. In the end you will wind up being dissatisfied and aggravated.

Sometime around April 1, 2017, I called to inquire about utilizing my "Goof Proof" protection. After being asked several questions regarding the problem with my leather sectional (lasted about 20 mins. or so), the rep told me I was denied. To say the least, I was not happy. About a week later I called the store I made my purchase (East River, NYC). I called to ask if I could purchase a new sofa cushion because my cat urinated on it (disgusting, I know). She then transferred me to the customer care hotline. Rep, Katrina, who was pleasant, initially, told me my sofa was probably covered by my protection plan. She informed me that this was handled by yet another group and put me on hold several times to contact them (this was April 8, 2017 around 11:30 am). After the last hold, she never returned to the phone. I held on just to see how long she'd keep me on hold - TWO HOURS I held on before calling in again! Their customer service is disgusting!

I purchased 2 chairs from Bob's Discount Furniture. Arrived on April 7, 2017. I was very disappointed so I called them to return the chairs. They would not take them back. They advised me it was not their policy to take back furniture. I am now stuck with these 2 chairs that I do not want or even have the space for. Is there something I can do to convince them to take them back. The chairs are very uncomfortable and they have a bad order. Can someone please help me. We live on a fixed income and now we have to pay a high amount for something that we can't use.

My parents purchased a bedroom set for my daughter from Bob's Discount Furniture and purchased the Goof Proof Plus plan in belief that it covered all accidental damage. Upon making a claim we were told that the damage wasn't covered because it was a hardware problem and the insurance only covered wood. If this were a one time incident it could be put down to a dishonest or uneducated salesperson but upon investigation on this site, the BBB, Yelp and Bob's Discount Furniture's own Facebook page, the practice is widespread through the company. Goof Proof Plus is a scam that should really be stopped. The company is knowingly taking money for a insurance plan the Bob's Discount Furniture does not expect to cover any damage.

I ordered the area rug in January 2017 and it was never delivered. Bob's kept telling me that it was on back order and push the date. Finally, when they ensured me that the rug was going to arrive on Sat in the middle of March. After waiting all day it never arrived. When I called customer service tells me that they came to my house, but no one was there. Meanwhile no one left my house waiting delivery. Bob's customer service then said that they couldn't do anything, but reschedule for three weeks later.
I ask to speak to a manager, but they refused to connect me to one. Then goes on to say that they could put me on a list to receive the delivery the following sat, but it's not guaranteed. If they couldn't it would take until the following sat. They ensured me that someone was going to call me to give me the status on the delivery date. It's now April and I still didn't receive a phone call or any rug. I canceled the order today and didn't even get an apology. Bob's has the worst service I ever seen in my life.

Customer service is not everything when it comes to Bob's Discount Furniture. Being someone who has worked for years in customer service and who also to this day treats everyone with respect, I can tell you this is not how you want to be treated. Especially when you spend so much money. GOOF PROOF my ** -- they sell you on Goof Proof and tell you not to worry that it covers XYZ then when it comes down to it they cover NOTHING!!!!! Quality IS **. So my point is, spend the extra money because in the end you will get better quality (which 100 percent matters) and you will get MUCH better customer service!
I have tried to give Bob's another chance time and time again and never has my experience been better. Customer service in YONKERS is the absolute WORST IN THE WORLD. UNPROFESSIONAL, and they hung up on me twice. Bob -- you are the worst, you have created a scam and if I met you I would love to tell you how much your furniture sucks and how much your customer service sucks. Nice job.

Purchased a couple of electric reclining sofas from Bob's and within the first 4 months, the sofa was serviced 4 times. Today was the 4th time and the service tech smelled like he'd been smoking in a room of 50 pungent cigars lit at one time. It's been 4 hours since he left our home and it still smells horrible in our home, it's awful! A half of a can of Lysol spray didn't even kill the odor. Wake up Bob's! Have some consideration please for the individuals that keep your company in business - Your Customers!

We bought a queen size mattress from Bob's, a Bob-O-Pedic hybrid set, with an adjustable power bed. 3 days after delivery, when I lay down, with a 7-8 inches distance from the edge, my whole body leans towards it. There is no support towards the edges. A queen size bed would work fine for one person but not for 2 people. To solve it, I wish to get an upgrade but they won't exchange the power bed, only the mattress. I cannot afford to re-purchase a new power adjustable bed and now I am stuck with this purchase. So much for the "no gimmicks". Not satisfied at all! BEWARE!

I purchased a 6-piece bedroom set from Bob's Discount Furniture (Monroeville, PA) on 3.2.17. My order was PAID IN FULL--in cash--on the day of purchase. I was advised at the time that my furniture would not be available until 3.22.17, so I scheduled delivery for that date. On 3.17.17, Debbie, from the Monroeville store, called to say that they didn't have all of my pieces in stock. We rescheduled delivery for 3.28.17 as it was paramount that I receive the furniture in one delivery.
However, when the delivery truck arrived this morning, I was still missing 2 pieces and 1 of the delivered pieces was damaged. Mind you, I received 3 telephone calls and 2 texts messages since last Thursday confirming delivery, but not ONE phone call advising of the missing furniture. (This indicates a willful intent to deceive as Bob's: 1. knew that all of my furniture was to be delivered together; 2. knew they didn't have all the pieces; 3. called to confirm delivery; 4. yet never advised of the missing furniture.) I called customer care after the delivery service left, and they agreed to replace the damaged piece and bring the missing pieces on Thursday 3.30.17.
However, I was advised that I would have to confirm my requested delivery time directly with the store as well as request any type of credits or refunds for the inconvenience from the store as well. I went to the Monroeville location at 10AM and was greeted by Erich, the Manager, who advised that errors happen and there is nothing he can do about it. I was then advised by the other manager, Tiffany, that she could not guarantee my delivery time nor issue any credits for my inconvenience. At that point, Erich advised that he will refund the whole order and that I would get my money back when the merchandise was retrieved.
HOWEVER, Bob's is refusing to schedule a pick up to retrieve the merchandise. The delivery service is more than willing to come get it, but the pick up has to be confirmed by customer service. Customer service is refusing to confirm the pick up with the delivery service, the store, and myself. The last service rep that I spoke with, Jaime, said that the request was "put in" for Thursday but he doesn't have a time, they won't confirm a time, and there is no one in the company that will confirm the date or time or resolve this matter other than the vague information that he provided. So, basically, I am to just wait and hope someone shows up and once they do, Bob's will 'consider' giving me my money back.
I have been trying to resolve this matter with Bob's since 7AM. Thirteen hours later and I have no resolution, no money, and incomplete/defective furniture. (Yet, they did have the nerve to call with an automated survey asking how satisfied I was with today's delivery.) Bob's has had my payment in full for almost 30 days. Bob's did not deliver my furniture as promised, in good condition, or within a reasonable time frame. Bob's will not commit to retrieving the defect merchandise or refunding my money. IT ALL SOUNDS LIKE FRAUD AND THEFT TO ME! Don't do business with Bob's Discount Furniture. Their prices are low because they keep your money without giving you the goods.

So I bought a sofa. After six months I noticed that it was rip all around so I call customer service to sent somebody to check. They never came so I called again. The guy came. He took pictures of what was wrong with the sofa. I never got an answer from them so I called two months later and the guy who answer my call, he told there is nothing we can do. It's not a manufacturer damage when they took pictures so his final answer was to purchase another sofa. I will never buy anything from Bob's Furniture and I will let my friends know so they don't buy anything from the store and I post on FB, Twitter so people know to don't buy anything from Bob's Furniture cause after you buy things from them they don't take care when something is wrong. It's the worse furniture store.

I bought a dining room set in 2014. Now 2017 one of the legs from one of the chairs broke. Called BOB'S. They said is not them. Is Guardian who have to repair or replace it... But Guardian said NO. Is BOB who have to repair or replace. SMDH. Both of this companies are a thief. They want to charge me to replace the leg. All a SCAM. NEVER AGAIN I WILL GET ANYTHING FROM THIS COMPANY. THE WORSE! And I'm telling everybody not to shop here EVER!! Social media will know how BAD this BOB'S company is!!!!

I bought a dining set and include the Goof Proof (to ensure the dining set in case any damage). It's been 3 years since I purchased this dining set, the leather material from the chairs start to peel off. I call Bob's to find out what they can do since all the chairs have the same problem and my Goof Proof is good for another 2 years. They told me to contact Angel Guard for Goof Proof and they ask me to take pictures of the chairs and email to them. I send the email on 2/24/2017 and today 03/22/2017 a month after I haven't hear from the company, I call again and they told me that my Goof Proof will not cover the damage of the chair because they only cover for accidental damage. My point is, why they offer this type of (warranty) if they will not fix the problem? This is another way how they scam customers. Their furniture don't last and they lie with the Goof Proof.

When I purchased furniture from Bob's, I initially had no worries. Then, I had a spring on the love seat pop loose, read the reviews on this site, and immediately began to worry. I'm happy to say that the whole experience was very well handled. I called them on Sunday, March 19th and had an appointment scheduled for today, Wednesday 22nd. While the repairman did not arrive in the estimated window. When he did, he promptly repaired the love seat and was on his way. I can only hope that future encounters with Bob's run as well.

The Mercury Right Facing Sectional comes in two pieces. The long sofa part and the chaise. We decided to waited two weeks in order to get delivery on a Saturday. Got delivery on a Saturday but it was the wrong side chaise. Rescheduled for the correct chaise and had to take off work because they could not come on a Saturday for another 3 weeks. Another day off from work and they delivered the same wrong chaise again. They still could not add us to a Saturday and hence a third delivery day scheduled and 2nd day off from work. I called the store and they said they deliver in the morning. Then I get the text, they will come between 10:00 and 2:00 pm. So I call the store once again to say morning only. I was notified by computer voice mail they would be there in 45 minutes at 9:30 am. They did not showed up at 11:10 am.
They did bring the correct chaise (which was supposed to be specially inspected before getting loaded on the truck at this point) but the wrong feet came with it. Oh my! Where is quality inspection? It is unfortunate that the warehouse does not function well because the store employees and delivery people seem very nice. I suggest Bob's Furniture Warehouse, re-evaluate their process of delivery. They have to be losing a lot of money with all these extra trips and returned wrong pieces of furniture. Leave room on Saturdays for warehouse mistakes and exceptions. Inconveniencing the customer over and over again for warehouse mistakes does not create satisfied customers. More training is needed in the warehouse as to the products and inspection. Spend your time and money on that and you will have a more profitable business and not have almost 1000 complaints on this consumer affairs site.

We bought my teen daughter a bed for her birthday in April, 2016. The other day, we noticed that the wood that supports the slats (platform part) had split and therefore the mattress was sagging in the middle. I spoke to a customer care consultant who was able to make an appt. for someone to come out to assess whether the bed could be fixed--the earliest date was for one week later. Apparently the request had not been submitted because I did not receive a call to confirm the appt and, in addition, there was no record of the call in the system. The manager at the Hunt Valley, MD location and the sales associates were lovely and apologetic, but the disconnect between the store and the customer care division was just awful. At this point, my daughter is still sleeping on a saggy bed and we're not sure when the bed will be serviced or replaced.

I bought furniture at Bob's. I bought the protection plan that the salesperson said anything at all I could call Bob's and it would be taken care of. It was all a lie. Don't purchase anything ever from Bob's. It won't be worth it.

We went in to buy an inexpensive table and 4 chairs for our fam. room. for the grandkids to use for coloring etc. to replace an old plastic table and 4 chairs (cost approx. $40). We talked to a salesman, Jack, told him what we wanted, selected what we wanted, gave him all the info. needed, listened to the speech about the replacement 'insurance' and declined to take it. We then waited for Jack to enter the info. into the computer, we then WAITED AND WAITED for some yahoo (some floor supervisor) to come and 'verify' the sale. We then had to, ONCE AGAIN, confirm our telephone and address and desired product. We THEN had to tell this rude and aggressive salesman (Jeremiah or something like that) NO about 10 times as he tried to RE-TELL us about your great (NOT so great according to other reviews) replacement/repair 'insurance' as he more and more aggressively pressed us to listen to his spiel.
We said NO again, gave him 10 seconds to do it and he left in a huff. I SHOULD have said, "sure, I'll take the stupid ins. in return for free delivery," but I didn't. I COULD have said, "do you want the sale or not? If you do, take NO for an answer." We wanted a cheap table and chairs for the grandchildren, we got it. We WILL NOT return for more abuse from this yahoo with extreme OCD or bad micro managing instincts. Our salesman explained the 'insurance' quite well, we verified our address and telephone and product desired with him. Having to do it again, like illiterate children was RUDE and unnecessary. Your floor manager was RUDE and AGGRESSIVE. We will not return and we WILL mention this to our friends. I gave 1 star, if ONLY I could have given a half star or NO star. But this sort of used car salesman tactic does NOT work in DE. And did not work with us.

I bought Sofa about 7-8 months ago from Bob's Furniture with 5 year goof proof Plus Plan. A couple of months ago we notices small scratch at the back side of the sofa, that was on back side and we just ignored that as don't want to take off from office for appointment and follow up with customer care then Goof Proof... A couple of weeks ago, my sofa hit the wall while moving one place to another in my home and got small cut at the corner that was clearly visible from a distance. So we called Bob's to get that fixed, someone came from Bob's, took picture of both scratch back side and cut at the corner. Representative told that "I have sent these picture, someone from Goof proof will call you to replace this piece. Our part is done".
None from Goof proof called me, I again contacted to Bob's Customer care. They connected my call to Goof proof team. Goof proof team said because there are two thing, one scratch at the back side and another at the corner, this would be consider as multiple accidents so that would not be covered with Goof proof plan. NO REPAIR / NO REPLACEMENT/ NO REFUND. They also said that if we want any assistance for this Sofa in future, "you have to show us bill confirming that you have got fixed both scratch and minor CUT on sofa, only then we can entertain any further issues for next 4 years." That was HORRIBLE experience, Bob's is saying, "we are out of the picture, it's Goof Proof responsibility" and Goof Proof is saying, "because it's two things, scratch and CUT with wall at the corner, we will not fix this or replace this item." DON'T WASTE YOUR MONEY FOR THESE KIND OF PROTECTION PLANS.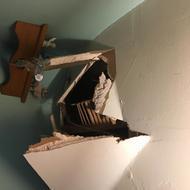 Bob's delivered a couch to my house. In the process, the delivery person stepped on a heating vent on the floor which caused it to break and then caused a hole in the ceiling of the basement below. We called immediately and filed a claim. After weeks of being given the runaround, I was finally able to speak to someone. Now, they are denying my claim to pay for the damage due to lies from the delivery person. I have photo proof and have documented all calls and emails exchanged.

The customer service is the worst I have ever seen, friends warned me but I didn't listen. They Lie to you to sell you merchandise and then lie again when it doesn't show up correct and you have to go to the parts department. Bob's slogan should be "BUYER BEWARE". I am currently on hold trying to get answers from them for over an hour and they are transferring me to a supervisor - but check on me every few mins to see if I hung up yet. GO TO ANOTHER FURNITURE STORE. DON'T DO BUSINESS WITH BOB'S.

I have made numerous purchases from Bobs. I realize that this isn't Thomasville or any other 'High End' furniture. I have never had a problem at the store (Riverhead, Lake Grove), in fact when something was once delivered damaged they returned within days and replaced the defective parts. My issue is when a defect was discovered after delivery.
We purchased the 'Revolutions' table and chairs for our kitchen. About a month after we got the set we noticed a large 'chip' in one of the chairs. We were not sure what had happened so we didn't think much about it. Over the next month though we realized that all across the table and the chairs the paint was peeling off the high part of the wood grain, and on one chair a shoe actually scratched the paint right off. It was substantial and noticeable that it was occurring all over the set.
We called Bob's "Customer Service" and after 58 minutes on hold we finally talked to someone who said send a picture and within 48 hours we would have an answer. I made the MISTAKE of saying that I thought it was defective and quickly learned they don't expect you to be honest. 3 days later we received a reply that they looked at the photos and there was nothing they would do it was not a defect and to contact Guardian. We called Guardian and 45 minutes later we finally go someone on the phone. We again sent photos and received a reply that the damage was not 'accidental' and since we did not know when exactly or how exactly it had occurred they would do nothing.
I spent 3 hours the next day on the phone. I was told #1. Because I was honest and said the damage had worsened over about a month they wouldn't do anything. I was actually told, I SHOULD HAVE LIED or made something up. #2 Because I said I thought it was a defect, they were not responsible. #3. I was told that because I filed a claim that was denied if I claim anything else was wrong they would automatically deny it. I said to the 'supervisor' that "this is a scam, you say you won't pay and there is no way to appeal that" and she said "Sorry to tell you the bad news but that's the way it works."
I brought one of the chairs back to the store and showed the manager that you could literally peel the paint off with your finger nail. She seemed very concerned and upset about our treatment and sent an email directly to their personal representative. I told her that between Bob's and Goof Proof SOMEONE should fix this. GREAT, by the next morning we got an email saying, "NOPE not our problem, you're stuck with it." SO, if you haven't purchased a GOOF PROOF warranty, I wouldn't recommend it. I honestly believe it's a scam. IF you already have it. Have a good story ready when you call them. No matter what happened you have to tell them it was some kind of accident. Sorry 'BOB' but you will never get my business again.

Bob's Furniture wants to be paid in full for furniture that won't be delivered for up to 6 months. After leaving a deposit of $500.00 on Jan. 22 for 2 recliners and 2 couches the salesman said it would be in 4-5 weeks and then need to paid for. Two months later no furniture. They want to be paid in full $2678.00 and it still may take 4 more months. Bob's very misleading. DON'T BE FOOLED BY ALL THOSE BS COMMERCIALS. This took place in their new Riverhead store.

Horrible setup in this company. When I called to make a claim before the year was done I was told once things are delivered no returns can be done, things began falling apart about a month after delivery, got replacement, sent someone to check no issue. 2 months later again issues with dressers, knobs falling, wood is of worst kind. Paid for goof-proof because we have kids, they are worst than the FBI needing exact time date and how things happened. Like wth, things are falling apart!!!! No help.
Claims Guardian company the worst, apparently they only cover accidents by us. A pipe burst and wet my whole dresser, damaged it, cannot claim because they said "we are unable to due to it being covered by home renters insurance." I DON'T HAVE HOME RENTERS INSURANCE! I live in an apartment building. Also, when I called to file a "goof-proof claim" they sent someone and said there's no evidence of manufacturers issues. WOOD IS PEELING LOOKS LIKE CHEAP PLASTIC UNDER. If that's not a manufacturers issue I don't know what is.
Oh, I was also told that in April of 2013 which was 4 months after our purchase, the coverage changed and if I would of purchased it later on I would of been fully covered for everything that may happen but because I didn't I only have a basic goof-proof. I'm done with this company. I wish it was shut down already with all these problems it has. Some refunds would be nice or them buying us furniture from an actual worthy furniture store.
Bob's Discount Furniture Company Profile
Company Name:

Bob's Discount Furniture

Website:

http://www.mybobs.com/