Bob's Discount Furniture
Woodbridge, NJ
Consumer Complaints and Reviews

What a rip off!!! I bought a furniture set about 7 months ago, the couch is completely stuck it (the couch looks like it's about 10 years old). The back cushions that are sewn onto the couch are completely flat. I paid for the extended warranty. Had a technician come to my house told me that I would hear from them in 3 to 5 days. It's been over a week. I called. They told me it's normal wear and tear. There is nothing they were going to do for me. However when the technician was at my house taking pictures he told me normally the couch comes with better quality cushions. He doesn't understand why it looks like that. I'm 105 pounds. There is no reason why the cushions are completely sunken in! Poor quality and terrible customer service. I do not recommend you buy any furniture from this place. My lesson has been learned and never again.

I purchased two tables (cosmo espresso cocktail tables) for the Monroeville, PA store on December 24, 2016. After getting the table home they were defective so I called the store and the next day I went into the store to speak with manager. The manager Norm ** said that they would come pick the tables up and bring me new ones. December 26, 2016 they scheduled delivery for 5 pm to 9 pm. I called the store again because I did not feel comfortable with the evening delivery time. At that time they rescheduled me for 12.30.16 between 12p and 3p (I spoke with delivery guys and have recording of this time saved on my answering machine). I waited until 3:30 pm and then called to see if delivery guys were running behind and I was told they had been canceled. I was rescheduled for 1.6.17 again for 5 to 9 and @ 7:40 pm I received a call saying something happened and the delivery guys would not be coming.
Now I've waited 3 days for delivery guys that never showed up and every time I would call the store or customer service the only response I get is I'm sorry. Well at this point this is unacceptable, I have defective tables and Bob's has my money. They claim they would refund my money but they will not do so until they get the tables back. I need to know why I have to wait to get my money back when: I paid for delivery, Bob's delivery canceled on me 3 times, at this point I don't know if this is some kind of ploy to make me keep the tables or what, but at this time I'm pissed. I've called the store and customer services too many times and as of 1.6.17 @ 9:15 pm I do not have a resolution nor a refund for my purchase.

I called in early December because the left side of the couch is broken. The first service call was rescheduled by Bob's so I had to reschedule for 2 weeks later. The technician came early without calling and told us the spring was broken on the couch and they could fill the arm with stuffing as it is totally flat. I purchased the Goof Proof policy 25% of the cost of the couch. This all happened within first year of owning the couch. I was told on initial call they would fix it. The tech took a picture and the company did not call so I called them. They said this was normal wear and tear and would not fix the couch.
I told them a broken spring is a manufacturer defect, yet they disagree. So I guess discount furniture means you can only have in good condition for 6 months. So long story short, it is not a discount but a ripoff. I guess they expect you to buy furniture every year. The customer service is dreadful as well. Beware not to buy from this scam furniture store.

When we made the purchase they were excited to take care of us. Purchase was made with no problem. That was a month ago both my sister and I have purchased from them. Since then we have had to call them every week for a different issue. My sister choose to divide her purchases. She refused half of her items because they didn't fit her in her room. When she wanted to send the night stand back they told her that since it was at home already they could only give her store credit. We had to call back 48 hrs after pick up to make sure the credit was applied. WE WILL NEVER PURCHASE FROM BOB'S AGAIN OR RECOMMEND ANYONE.

I purchased the protection plan with my purchase of my dining room set. I had a New Year's Eve party, my table was destroyed with gauges, ring marks, burn marks and water marks. I Called in the claim and they said they will not cover it. They said it is impossible for the table to get that much damage in one occurrence. This is the second time they refused a claim. First time was for water marks and minor scratches. I haven't even had the table for a year yet. They upsell you with this coverage and then never want to replace or repair the merchandise. It is a complete scam!!! I will never refer anyone to Bob's Furniture, especially purchasing a protection plan that you will never be able to use because they refuse everything.
How do I know I can trust these reviews about Bob's Discount Furniture?
671,225 reviews on ConsumerAffairs are verified.
We require contact information to ensure our reviewers are real.
We use intelligent software that helps us maintain the integrity of reviews.
Our moderators read all reviews to verify quality and helpfulness.
For more information about reviews on ConsumerAffairs.com please visit our FAQ.

When you buy from a company like Bob's, you realize that you are buying a lower quality product than you might buy from a higher-end retailer, but you assume that you are getting "good enough" and that there is value. What you also assume is that a customer-centric philosophy is simple enough even for a discount retailer to instill in their employees. THAT, is NOT the case with Bob's. Bob's will gladly take your money for "goof proof" but when it comes time to make a claim, you get put into an endless loop between "Guardian" (the 3rd party insurer who handles the claims) and Bob's (the retailer who gladly took your money for said coverage).
Today, after speaking with "Amber" at Bob's Customer Care who told me that the issue I was having could only be resolved by Guardian, and that I needed to call them and that she couldn't give me any further information because she had no access to it, I asked to speak with a supervisor. Amber was reluctant to get a supervisor on the line at first; "there's nothing more that my supervisor will be able to do for you sir" but I persisted. I spoke with "Angela" who identified herself as a Customer Service Supervisor and gave me roughly the same story. Again I persisted, attempting to impress on Angela the insanity of the endless loop, and the less than customer friendly experience of a more than 4 month wait for satisfaction. I asked for Angela's supervisor. She told me that she was the "highest ranking supervisor available today" but again I persisted.
While I didn't get that supervisor, Angela did agree to call Guardian--I could not because after going through all of their telephone prompts, Guardian's automated system told me that they were having "technical difficulties and couldn't take my call" but I could "try again later." In any event, Angela finally agreed to call Guardian on my behalf and would call me back. I got that call back and got the same story I got 3 months ago. Somehow the part had never been ordered by Guardian (despite a letter in my possession to the contrary FROM Guardian) but she'd taken care of it, and the part would arrive at my home IN MID-FEBRUARY.
For the record that is ALMOST 6 MONTHS from the first call about this claim--and I fully expect that 8 weeks from now I will be calling again to ask where the part is, and I will get the same BS story. Bottom line, even if the issue is finally resolved, it would not have been without my "persistence" and that shouldn't be the case. Bob's is the epitome of a retailer who just doesn't follow through once the sale is made.

We purchased a bedroom set in December 2015. It was delivered January 2016. This is a five piece set king bed, two end tables, dresser/mirror, chest of drawers. The wood colored material is very cheap, it scratches at touch, on the chest, a hunk of wood came out within six months, then two days ago we went to use the bottom drawer (never used before) and the balsa wood that is the bottom is all cracked and torn totally unusable. After calling and having a "certified tech" come out to look it, it was deemed not manufacture issue. They basically said we had done this to the drawer and that no way would someone have furniture and not use a drawer in the year they have had it! Sorry we do not fill up every inch of space until we need to!!
So really all they had to say to me was it was not their problem and that we had caused this issue to happen. Basically we are liars that we are trying to cheat them out of something! The only ones cheated was us. Unless you would like to purchase furniture every year stay away from Bob's. They do not stand by what they sell, and it is really really cheap!

First off, I had to find a salesperson. I guess I wasn't dressed to impress (made a cash purchase $1241.68). Second, this furniture felt very comfortable in the store. Once I received it, very uncomfortable, hard and not made of good quality. It's been 23 days and I want to get rid of it already. Would never buy or recommend any future purchases from Bob's.

I bought my son a pricey sectional couch and ottoman set. Received one piece damaged. Had to set up service appointment for them to come look at it. They came to my house not my son's. Had to reschedule and then had to fight with them to deliver the replacement piece. Then the 300.00 ottoman broke the first time someone sat on it. Had to wait again while they came and lo and behold they had the wrong address in again... had to reschedule. They deemed the ottoman defective so they ordered a replacement. Now the couch is almost 6 months old and all of the cushions are coming apart at the seams! Called two separate time because they scheduled service and never showed up so I called after they missed the appointment and they never had record of the appointment.
Rescheduled again and they had my address back in to go to even though I spent half hour alone on phone call changing this ** out - wouldn't happen again! So since they had the wrong information in, we have to reschedule the appointment. THE ABSOLUTE WORST COMPANY AND TOTALLY GARBAGE FURNITURE!!!

Please read all the terms and conditions carefully when you go for financing. NO ONE from BOB told me the finance offers expires on a particular date. MY MISTAKE I didn't read the statement completely and signed. My promotional offer expired and I need to pay more 400$$ extra. I tried to reach BOB store – store directed me to customer care – customer care directed me to store and it's still going on...

They call you one day after a payment is due. They will call you on the phone 2 times a day about a payment and if they don't get a response within two days if you have a work place they will call you there. This is the worst company to deal with. They can see that I never missed a payment. It might be 4 days late and they can see that by looking on my account but they will still call. If I knew that they would call like this I would have never shopped there. I will never buy from Acceptance again.

My purchase was a pillow top queen euro Mattress for $899.99. My customer service experience was out of this world. I am handicapped and in a wheelchair and Bob's Discount store is no place for people in a wheelchair because for one there is no room and second the Representatives (customer) were mostly standing around or walking and ignoring me and my sister as we went in to look at the mattresses. When we went in to look at them it was a tight area and most people don't want to work or help us. We told them we were looking for a new mattress and the women who was lucky to get me was not happy to do it. She treated me bad and kept wanting me to get the same mattress But I wanted the $899.99 that I did get. But she was not going to be happy about it.
The shopping experience was horrible in a whole. I do have to say even though the shopping experience was horrible and I wheeled out of there humiliated and without anything I WON, and got MY $899.00 MATTRESS. OH YEAH. I went above her and went to the PRESIDENT. HE WAS FANTASTIC AND GRANTED ME MY MATTRESS. HE GETS A 10 FOR GREAT.

Bob's Discount Furniture is refusing to investigate a white powdery substance that keeps appearing over and over on the inside shelf of our electric fireplace. We'd like it tested to rule out health concerns. We have packaged some of it in a ziploc bag for testing, but I have gotten no help in my quest to identify this mysterious substance that re-appears each time I clean it up. Mold? Chemical? Very concerning and we are being told they will not help investigate into this, even though they have no idea what it is. We were told WE have to have it checked ourselves at our expense. A fireplace replacement will be done, but the point is the concern for this "unknown substance" is being ignored and diminished in its importance.

I bought a sectional from Bob's. Upon delivery the console was broken, I had it replaced but had to wait. I tried couple times to get goof proof service which we paid for for 5 years. Each request no result. One of the times I even had a schedule date and no one showed up, next time I was told I'll get a called back and nothing happened. And I called and NO RESULT, I was told my stains is accumulated so I can't get service. It's stated in the Goof proof 'to report stain with 30 days of happening. I reported a juice/water stain that happen within 1-2 week period. AGAIN NO RESULT. GOOF PROOF IS JUST A RIPOFF... You pay for service that's never delivered... Not agree but disappointed with BOB'S GOOF PROOF.

I'm writing to express our extreme disappointment with the purchase and delivery of furniture. When I first called the store to inquire about viewing the Playpen sectional sofa, I spoke with Robbie who asked me to ask for him when we came to the store. My wife and I met Robbie at the store and we picked out the Libre II. Never once did we consider (nor did Robbie ask) if the furniture would fit through our home stairway. A few days before the furniture was due to arrive is when we questioned if it would fit. We called the store and asked to speak to Robbie but were told he would not be in the store until the day after the delivery. We left a message with our concerns about the stairway anyways in the hopes that it would reach Robbie in time.
On the day of the delivery, the movers confirmed that it would not fit. We asked them to leave the furniture so we could cut part of our stairway ceiling in the hopes of getting it through. After paying a contractor to do that, we still couldn't get it to fit. We tried reaching Robbie, but he was again unavailable (and never responded to our previous call). We then contacted customer service and were told that we could get a store credit and apply it towards another sectional that could possibly fit. We opted to go with our initial choice, the Playpen. Which was smaller.
We waited 5 days for the delivery of the Playpen (with the 2 pieces of the Libre II standing in our Dining Room). We were told that delivery would be between 11 am - 3 pm. Throughout the day, we received several texts that delivery would be delayed. Meanwhile, my wife had taken the day off in order to receive them. Somehow, we became the last delivery that day and the movers arrived at 10 pm.
When they arrived, we asked them to be as quiet as possible because our 8 month old daughter was sleeping. With no consideration for our daughter sleeping they proceeded to carry out loud speakerphone conversations which woke up her up. They then made a few attempts to move the furniture but in my opinion weren't trying hard enough because they were tired and just wanted to go home being that we were their last delivery.
When it wouldn't fit, we told them to return both sectionals and then called customer service requesting a refund. We did receive a refund (minus our $200 delivery fee) but the wasted time, aggravation and lack of communication we went through was so horrible, we felt compelled to make others aware of our experience. Lastly, we never did receive a call from Robbie after our first and only visit with him at the store.
It's obvious now that all he cared about was receiving a commission and had no interest in making sure our family was happy with our purchase or product. We ultimately purchased an easier fitting sectional from homereserve.com with more seating and better stain protection for $100 more than we paid for the Libre II. Sometimes things happen for a reason.

A couch with pull out bed, corner piece is a recliner, and the end is a loveseat. All one set. Armchair has phone hook up and the loveseat has a recliner also. Gave us 6 large matching pillows with the set, and delivered on time. Friendly, helpful and well informed staff. Great atmosphere, lots of furniture to choose from of high quality with a good price. I have been a repeat customer for over 20 years because of these reasons. Highly recommend this store.
The fact that I am disabled and have a hard time going shopping makes this experience a special one. It's not just the parking, the elevators, or easy way to maneuver in the aisles. It's the little things, like a free coffee shop when you're tired, or the candy for the kids. It's the attention to the small details that make you feel like "come on in, make yourself at home". You would want to purchase their furniture to put in your own home. Great sales staff, and the coffee shop, candy shop is a big hit in making people feel comfortable and at ease.

I would never buy from Bob's Discount Furniture if it was the last resort! These people are nothing but scam artist that sucker you into getting their protection plan and then don't stand by their words and give you a runaround saying you need to contact all these different places in order to get your problem solved. My husband and I only had our furniture for about a year and as you see in the pictures below it is cracking and spitting at the joints. Called Bob's main headquarters to resolve our problem and have either our furniture fixed or replace. They gave us the runaround by saying that they couldn't do anything for us and we had to contact Guardian Protection to handle it. When we called them they also said the same exact words to us that nothing can be done and that it was for Bob's furniture store to fix the problem!
We even had their technician come to the house to take the pictures of our furniture that was damaged and sent to the headquarters to ensure that we were going to get a brand-new bed set. The technician himself even said it was beyond damaged to the point it could not be fixed!! So to sum everything up we have a protection plan that we paid for at the price of $200 that is absolutely good for nothing and we have to stay and live with garage!!! So if you want to waste your money this is the place to go!!!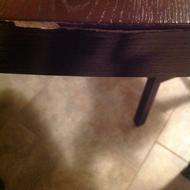 I spent 5963.00 on furniture from Bob's. The boomerang table in the kitchen began to warp and chip off one of the sides. I did purchase the goof proof plan. I called Bob's and a technician was sent to look at the table. After 2 days went by, I called and to no surprise, they said it wasn't a manufacture defect. I was told on that call to wait 30 days to "appeal" that decision and another technician would be sent out. I waited and called. But of course I could not use the foolproof warranty because you had it make a claim WITHIN 30 days of the tech denying. I was told to send pictures but again was told that the decision was final, no manufacture defect.
Bob's Furniture is junk, he is so crooked. His commercials claim CUSTOMER LOYALTY. I will NEVER buy another thing from that store again. With this type of quality and the way he treats his customers he'll be out of business in a couple of years. I hope to fall upon a class action lawsuit in the future for his poor quality furniture and service.

I purchased the majestic table in July 2016, recently I noticed a white stain developing on the table. I called Bob's furniture service and was advised to take pics and send to them, then call 3 days later for a status update and was advised that it's not a defect and nothing can be done because it's not a factory defect and I don't have the Goof Proof plan. I live alone and do not have small kids in my home, which I explained to the rep, but she was bent on "Theres nothing I can do," no point in sending out a technician because it's not factory defect. Verrrrrrryyyy disappointed in the service provided, I have been a customer for the past 5 years and I never had problems with the pieces I bought from Bob's. I have listed my home phone number as my order number.

I ordered a bunk bed for my kids A MONTH ago. They delivered and partially set it up 10 days later. In addition to the men doing a terrible job putting the bed together (some screws were flush with the wood, some were still sticking out and some they screwed way too far into the wood) the box for the bunk bed stairs was missing the hardware so they had to contact Customer Care. (Why they don't keep extra screws in their huge trucks is beyond me) They said they had to order the hardware and it would be delivered in 5-7 business days. Seven days later, nothing. So I called and they said there was a mix-up with the order and had to re-order. Another 5-7 days (at this point they should have been over-nighted, in my opinion).
Five days later they finally arrived. Called to set up service and scheduled for the 29th (21 days after the original delivery!!!). Waited around all morning and no one showed up. Called back and was told the service had been cancelled because they requested the wrong service because it had to be a two-person job. They didn't even think to call me to let me know it was canceled. I told them that they better be here the next day or else I wanted to return the bed for a full refund. I was told that since the bed had already been in my home, they wouldn't be able to do that. They put in an add-on request for the next day which was denied. Called the next day and a rep suggested doing a Quality of Life form for same-day service since my son was actually risking injury every time he had to climb up and down the side of the bed. I was told later that no trucks were in the area so it wasn't going to happen.
To say I am frustrated is a huge understatement. Along with the clear incompetence of each customer care rep I spoke to were all these empty "I'm sorry for the inconvenience" lines that I got so sick of hearing. There was no sense of urgency to resolve the issue or make sure I was prioritized. The bed itself is not great (you can see the underside of the top mattress because it's only slats holding up the bed. But the issue could have been dealt with so much better on so many different occasions. Finally an entire month after placing the order, they are refunding my money and coming to pick up the bed. I don't even want to look at it anymore. But they only decided to do it after I said I had filed a complaint with the Better Business Bureau. I will NEVER use this store again.

As noted by almost every review here, Bob's runs a scam called "Goof Proof Protection." My wife and I purchased the 5-year plan for our dining room table in 2012. When the frame of my chair broke after I sat down to eat dinner, they gave me the runaround, had me call Guardian, who actually manages the policy, and then denied my claim because "it wasn't an accident." After I sat on hold for an hour, a supervisor rudely told me that "sitting down" isn't an accident, and rudely hung up on me. If sitting down and the chair breaking isn't an accident, then what is? These people are stupid, rude, and don't want to do their jobs. Looks like I'll have to get a lawyer involved.

We purchased a swivel recliner less than 2 years ago for $500.00 and got Goof Proof. before the 1st year was out the swivel broke and they Goof Proof repaired it. Less then 8 months later the metal pedestal in the center broke. Goof won't cover because it is the second time we needed them. They say the act of sitting over and over caused it. So? Should a chair with a 5 year Goof Proof only cover one goof? DO listen to all these posts - don't get Goof Proof. It is a scam. Raymour & Flanagan has similar plan but they honor it. Go there. Run from Bob. purchased in Brookfield, CT.

I had a day bed for 3 years and I sat on it when it fell in. All 132 pounds of me caused this weak furniture to cave in and the foundation on the inside of the day bed crumbled. I noticed the bed was warping and that could have contributed. Also, the tech that came out says the people who put the bed together might have not put it together right. How was I supposed to know that. I called them and the technician they sent out stated this was not manufacturer defect so they will do nothing.
And Goof Proof is a shame. They will not cover it either. I now finished 2 hours of fighting with the customer service whom finally said she will send or email me a dispute and I could send pictures. They said there is nothing they could do and I am on my own. Now I need to figure out what to do. And on top of this I already bought a new bed and had it delivered. I am supposed to have 30 days to test it. Well they gave us a full platform with a queen mattress. I guess the tech stated that is normal as well so again they will not help me. How does this company stay in business? I really wish I could find an advocate to help me here. This is horrible service!!!

Bought couch. Within year it was cracking and pleather was peeling off. Had goof proof warranty. They sent out tech. He told me there was issue with Bonded leather and was nothing they could do. I had goof proof warranty. What a waste of money, poor quality & they don't stand behind their products or The extended warranty. Bob's a crook.

We purchased a $2200.00 bedroom set at the Brookfield CT store on 11/12/16. Delivery to our son's apartment in Waltham MA set for 11/17/16 (only the bed and dresser mattress was on back order and set to be delivered 11/21/16). Email delivery advisory system said 11/17/16 delivery was set for 2 pm till 4 pm. Delivery came in at 3 pm and was satisfactory. 11/21/16 mattress delivery set for 2 pm till 4 pm. Rather than sleep on floor Sunday night our son opted to drive from New York to Waltham on Monday morning. A 3-4 hour trip. At approx 10 am we received a delivery text notifying us that the delivery is set for 12 pm till 2 pm. Then the next advisory changed the time to 11 am till 12 pm. No way were we able to drive to Waltham in that time frame.
Needless to say there was no one to accept delivery and the date was changed to the following Friday after Thanksgiving. When we contacted the Brookfield store we were told by the manager Lenny that delivery time is not guaranteed. No compensation by Bob's is allowed for delivery problems. Our son's holiday weekend has been disrupted, not to mention he is forced to sleep on the floor again. We feel Bob's attitude of not being responsible for their delivery procedures, nor reaching out to compensate their customers for any and all inconveniences is appalling. All TV ads show Bob's as a customer friendly company. That is definitely not the case. Bob's company is only for Bob and not for the customer or any good relationships. THIS WILL CERTAINLY BE OUR LAST EXPERIENCE WITH BOB'S FURNITURE.

My wife and I purchased $3000 worth of merchandise from Bob's. We purchased two Maggie couches, a chair and two Ottomans. With the salesman suggestion we purchased the goof proof plus plan. The issue we encountered was the foam in the cushions fail and the springs come through and make it impossible to sit with any comfort. We Called customer service due to the long lead time which was about four months and with many phone calls they replaced both couches and a chair which I then had to re-purchase the goof proof plus plan.
Here we are six months later with the same problem and now the lead time is 5 1/2 months to receive replacement cushions and they refuse to do it even exchange not to mention the loose arms on the couches. It is Absurd that Bob Kaufman would except a customer to not be able to use "insured" furniture for this period of time. I know it's not the top quality furniture but I expected a fair deal. Buyer beware!

Don't ever buy any furniture from Bob's Discount Furniture. Their website is mybobs.com. Our family purchased furniture through a store called Wayside furniture twenty years ago, it's still in very good condition and the quality of what they sold us is excellent. Bob's Discount Furniture really should be called Bob's Dilapidated Furniture that has been discontinued. The quality of their furniture is crappy regardless of how much money you spend. Their commercials are inspiring and you think the quality of their furniture is as good as those commercials state. Bob's Discount Furniture is insensitive to their customer base. They just want your money, will sell you crappy furniture that can't be repaired and they refuse to replace. Whoever heard of getting less than ten years out of furniture with two adults and no children.
We had a recliner go bad a few years ago and now a reclining loveseat. All part of the same set. How can a spring just pop and go through the cushion. Bob's was concerned enough to send out a technician and confirm the pieces were damaged and it all ended right there. I was already aware that my warranty had expired and they weren't even willing to negotiate. The response from customer service was "we're sorry." That doesn't resolve the problem. I truly believe that you get what you pay for except in this case. How can two separate pieces of furniture from a three piece set deteriorate so fast with no explanation. I will continue to be a pain in Bob's Dilapidated Furniture's side until they correct the problem with my furniture. Consumers beware of Bob's Discounted "aka Dilapidated" Furniture and their fancy commercials.

Quality of furniture is the worse! Do not go to this store. Customer service is the worse! I called to report a claim on a bunk bed I recently purchased and they refused to replaced the knobs that were initially messed up by the delivery crew. They have the worse customer service. I kept getting transferred and cut off every time.

Purchased furniture after measuring the doors myself. Delivery team shows up - day off of work for me. After looking at the door they said it won't fit. No measurements (no measuring tape) and the team was argumentative. Here's a great idea - pay for service and argue to have the job done. NO THANK YOU. DO NOT SHOP HERE.

I bought a a leather recliner about 2-3 years ago from Bob's. I think maybe about a few months ago one of the arm chair started scarring and a deep rip has been made. While purchasing the recliner I have a warranty and I bought the Goof Proof kit. I called the Bob's customer care and they redirected me to Goof Proof. I had to file a claim and send pictures of the damage done to the recliner. They said they would process the claim filing in about a couple of days and get back to me. They contacted me a few days later saying that they couldn't file a claim where they would fix or replace the chair saying the damage was done over a period of time and saying that they only cover damages done all at once.
I called them many times saying that it was impossible and that there must be some way to dispute this claim to see if they can re-review the pictures of the damages. I had to write a letter to Goof Proof and I never got a response to the letter in about 2-3 months. Later I called and asked why there was no response and they literally told me the exact same reason why they could not do anything to the damages stating that they only fix or replace products with damages that's been done all at once and that the pictures I sent had damages done over a period of time. If that is the case then honestly what was the point of having a warranty and Goof Proof kit enlisted when purchasing the leather chair/recliner.
What crap service they've provided. Goof Proof may be associated to Bob's but definitely not the same. Bob's literally did nothing and only gave me the number to customer care; called customer care and then they gave me the number to Goof Proof; called Goof Proof and they did not do anything to help me at all. What a waste of money and a waste of time and I've learned my lesson. I'm never buying anything from Bob's again. I hope nobody ever buys any furniture or products from Bob's ever. Bad people and lying service.
Bob's Discount Furniture Company Profile
Company Name:

Bob's Discount Furniture

Website:

http://www.mybobs.com/