Find a Mattress Brands partner
Our promise. We provide a buying advantage with verified reviews and unbiased editorial research.
About BedInABox
This profile has not been claimed by the company. See reviews below to learn more or submit your own review.
BedInABox's five different mattress types offer an array of firmness levels. Each one has comfortable, contouring memory foam along with Tencel and gel-infused foams to help sleepers stay cool at night. The virtually noiseless mattresses come with free shipping to anywhere in the US.
Pros & Cons
Pros
Free shipping
Nearly noiseless
Several firmness options
Lightweight and easy to move
Cons
Not the best edge support
Off-gassing takes several days
Bottom Line
BedInABox's five memory foam mattresses offer comfort and a variety of firmness options. Tencel and gel foams help keep sleepers cool.
About BedInABox mattresses
BedInABox is an online mattress company specializing in memory foam mattresses. They sell five different mattresses with multiple firmness levels. Sizes vary depending on the model and range from twin up to California king. Tencel and gel foams help keep users cool while sleeping. Conforming memory foam helps align the spine and relieve pressure points. BedInABox also sells foundations, adjustable beds, sheets and pillows. BedInABox ships for free to anywhere in the US, including Alaska and Hawaii.
| | | |
| --- | --- | --- |
| 120-night trial | Free shipping | Made in America |
BedInABox mattress construction and materials
Every BedInABox mattress is made with gel memory foam and has either a core or bottom layer made of polyfoam. Covers are either polyester knit or Tencel lyocell. Ten different sizes are available: Twin, Twin XL, Full, Queen, Short Queen, Split Queen, King, Split King, California King and Split California King. Not all sizes are available for every mattress.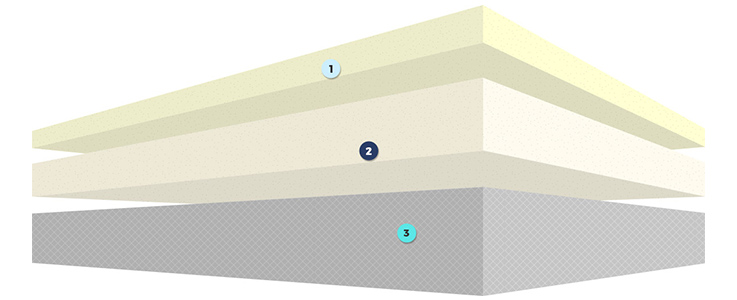 BedInABox mattress comfort
BedInABox memory foam mattresses are very comfortable for most sleepers and can help with joint and muscle pain as well as aid with aligning the spine. Gel memory foam adds to the comfort and cooling capability of the mattresses. However, edge support is less than optimal.
Firmness: BedInABox's five mattresses range from soft to firm, or about 2.5 to 8.5 on the 1-10 mattress firmness scale. This means BedInABox can provide a suitable mattress for most people.
Sleeping position: With such a wide range of firmness levels, it's easy to find a mattress for your weight and sleeping position.
Motion transfer: Each BedInABox mattress has excellent motion transfer. Rolling over or getting off the bed produces almost no movement.
Edge support: Because all BedInABox mattresses are made with memory foam, they don't have the best edge support.
Sleeping hot: BedInABox mattresses' use of Tencel and gel-infused foams mean it's easier to sleep cool at night. Still, if you live in a very warm environment or are a hot sleeper, there are cooler options available.
BedInABox mattress prices
BedInABox sells five mattress models: the Pacbed Lite, the Pacbed Original, the Azul Mattress, the Tranquillium and the Serenity. The Serenity mattress is the most expensive and is reversible. The Pacbed Lite is the most affordable choice. The BedInABox Azul mattress is the softest non-reversible mattress. Financing options are available.
| Mattress model | Price range | Firmness |
| --- | --- | --- |
| Pacbed Lite | $399 - $799 | Medium firm |
| Pacbed Original | $669 - $979 | Medium firm |
| Azul Mattress | $799 - $1,799 | Medium soft |
| Tranquillium Mattress | $999 - $2,098 | Firm |
| Serenity Mattress | $1,299 - $2,598 | Soft and medium (reversible) |
Are BedInABox mattresses good?
BedInABox mattresses are good. Their memory foam and cooling properties make them comfortable mattresses to sleep on. The foam absorbs almost all movement and makes for a silent sleep, even if you are tossing and turning.
A link has directed you to this review. Its location on this page may change next time you visit.
How do I know I can trust these reviews about BedInABox?
4,241,839 reviews on ConsumerAffairs are verified.
We require contact information to ensure our reviewers are real.
We use intelligent software that helps us maintain the integrity of reviews.
Our moderators read all reviews to verify quality and helpfulness.
Page 1 Reviews 0 - 10
Emma of Pittsburgh, PA

Verified Reviewer
Original review: Nov. 12, 2021
I wanted a larger mattress, and was excited to find this company that was 100% American Made and shipped a bundle with a base and mattress right to your front door. They even were going to send me a free blanket! I got incorrect shipping data, so the base arrived on a different day than I was expecting. A little worried about the bed part of this bundle, I messaged the company only to find it had supposedly already been delivered. For over a month after that, I had to jump through a ton of hoops to try and prove that it had not been delivered (FedEx was also extremely unhelpful in this process, but that's another issue entirely). The Bedinabox company still believed it had been delivered, despite no real evidence from FedEx, so I was forced to file a Police Report that I had to pay for a wait around for a copy of.
When that was finally submitted, they made the choice to offer me a new mattress, although I simply wanted a refund after all the annoyances I had gone through. They do not give refunds if you do not receive a package. They won't even typically send a new mattress, I was apparently a "one time exception" which is absurd. I will now have to see if this new one even gets delivered at all, because if it doesn't I'm sure they won't be of any help. The base I got is alright it's honestly not worth the price. I ended up ordering a mattesss on Amazon that got to me just fine and is very comfortable, I'd recommend that instead. Tl:Dr If something happens to your shipment, they will not be helpful in trying to get it back. They will not give you a refund, and it seems in most case they don't send replacements.
Be the first one to find this review helpful
mike of Cibolo, TX

Verified Reviewer
Original review: May 8, 2020
We have had these mattresses for 5 years and we love them. They feel the same as the day we got them. The mattresses are a wee bit on the warm side which is good for my partner. The company recommended a cooling topper for mine that works very well.
Be the first one to find this review helpful
Thank you, you have successfully subscribed to our newsletter! Enjoy reading our tips and recommendations.
Jackie of Norwalk, CT

Verified Reviewer Verified Buyer
Original review: Dec. 1, 2019
Basically I spent 1,300 dollars on a HARD, low quality piece of foam. It is extremely uncomfortable and while I thought I would end up getting used to it, I started waking up with back pain. My husband and I both sleep on the guest room IKEA mattress until we can buy a new mattress. Their customer service sent me a simple email saying it was past the trial period so there was nothing that they could do. You would think they would have some kind of comfort warranty like other brands do. Complete waste of money and poor service.
Be the first one to find this review helpful
Amanda of Hammond, IN

Verified Reviewer
Original review: April 16, 2019
It could have my padding and softness, and support. It's ok but it's not something that I would recommend until you need anything other than an air mattress because air mattresses are useless and a waste of time and money.
Be the first one to find this review helpful
Angel of Merchantville, NJ

Verified Reviewer
Original review: March 2, 2019
The Quality of the mattress is a must have type of mattress and the price is proof that they put the bless and the best in their products. The texture of the bed plus the comfortable level is super high in range of sleep and my sleep time as approved. My living in general changed for the better because of better sleep. If the price drops then there will be no problem with it at all and more likely more people can experience what I have. I love it very much.
Be the first one to find this review helpful
Carson of Oklahoma City, OK

Verified Reviewer
Original review: Feb. 27, 2019
Plushness and firmness would be my main two characteristics I am looking for in a mattress since I have back issues and having a medium firmness is the best. With BedInABox, price point was the best and free delivery was offered plus there no tax for the mattress and it had the pillow top with edge to edge coverage since I sleep next to a wall. They could add heating elements to the mattress with easy controls plus making the mattress of materials that are lighter in total weight so that I can turn the mattress and flip it with much more ease.
Be the first one to find this review helpful
Randy of Highland, CA

Verified Reviewer
Original review: Feb. 26, 2019
It soft to sleep on which help with sleep better and help with ache and pain. Good prices and good product to used to help with my sleep. It should be a flexible mattress because I could sleep higher up in bed.
Be the first one to find this review helpful
Kresha of Columbus, FL

Verified Reviewer
Original review: Feb. 25, 2019
BedInABox was recommended to me by a friend who bought her son one for college. It was rolled up in a box which was the only version of mattress that I could fit up my stairs. Stairway was too narrow for any bed to go up it. I liked it came in a box that I could get upstairs. It was affordable too. It's cushiony enough and I like I can curl up in it but I broke my back a few years ago and so I don't get enough support. But I like that it doesn't have springs inside it. It's kind of heavy which makes flipping it difficult but I manage. Was hoping it would only be for short term, but after 3 years I still can't afford anything better.
Be the first one to find this review helpful
Jess of Woodway, TX

Verified Reviewer
Original review: Feb. 24, 2019
I like the price as well as the actual firmness of the mattress. Availability was a big factor why we chose BedInABox. We were able to order it and have it delivered super quickly. Set up was easy. It was very heavy though once it arrived. Also, it smelled a bit when opening it at first. We had to open it up in our office and let it breathe from several days before we could move it into the bedroom. Other than that, It helped both of us get a good night's sleep and kept the back pains from a constant struggle to a rare occurrence. Very satisfied and would buy again.
Be the first one to find this review helpful
Fatima of Garland, TX

Verified Reviewer
Original review: Feb. 18, 2019
I initially found this mattress via an internet search and was a little skeptical about ordering a mattress online, but the positive reviews persuaded me otherwise. Convenience and price were key. Easy to order! But the box it was delivered in was a little heavy for one person to drag into their home and move. I felt sorry for the UPS man who had to carry it up our apartment stairs. Our bed frame doesn't require a spring box so I was worried that the mattress would be uncomfortable without it. It worked so well! So plush and comfortable to sleep on.
Be the first one to find this review helpful
BedInABox Company Information
Company Name:

BedInABox

Website:

www.bedinabox.com
You're signed up
We'll start sending you the news you need delivered straight to you. We value your privacy. Unsubscribe easily.