Find a Mattress Brands partner
Our promise. We provide a buying advantage with verified reviews and unbiased editorial research.
About Avocado Mattress
Avocado's Green mattress and Vegan mattress are hybrid latex mattresses made from eco-friendly, natural materials. An additional pillow-top can add additional comfort and make the mattress less firm for those wanting a softer feel. Great edge support and high durability round out the top features of the Avocado line of mattresses.
Pros & Cons
Pros
Vegan mattress available
Environmentally conscious
Durable hybrid latex
Bottom Line
Avocado's two mattresses, Green and Vegan, are luxurious hybrid latex models with eco-friendly materials. Both are made in the USA and come with a 25-year warranty.
About Avocado mattresses
Avocado mattresses come in two straightforward offerings: Green or Vegan. A pillow-top is available at an additional cost for added comfort and a less firm mattress overall. Both mattresses have Dunlop latex and a layer of innerspring coils that allow for a cool sleep and good edge support. The Green Model has wool, but the Vegan mattress uses cotton instead to keep the model free of any animal products. Each mattress comes with a 25-year warranty and a 100-night sleep trial. All products are handmade in the USA.
| | | |
| --- | --- | --- |
| 100-night trial | Free shipping | Made in the USA |
Avocado mattresses and products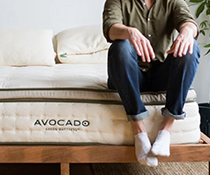 Our top pick for Avocado
Avocado Mattress
Green Mattress
$1,399 (queen) as of publishing date
Features GOLS organic-certified latex rubber foam, GOTS organic-certified wool, 100% organic cotton and up to 1,414 pocketed support coils. No polyester, polyurethane or toxic fire retardants. Medium-firm comfort level is ideal for back and stomach sleepers.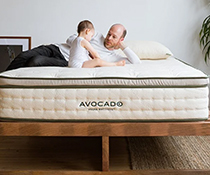 Avocado Mattress
Avocado Vegan Mattress
$1,399 (queen) as of publishing date
Similar to the Green mattress but made with organic cotton instead of wool. Constructed with latex and pocketed support coils. No polyurethane foams, polyester or toxic fire retardants. Certified vegan and PETA-approved.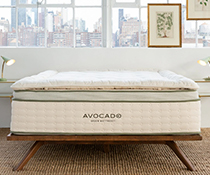 Avocado Mattress
Alpaca Wool Plush Mattress Topper
$699 (queen) as of publishing date
Quilted from certified organic and natural materials, including alpaca, wool and cotton. . Finished with four hand-stitched elastic straps to hold it in place. Plush topper is 3 inches thick. Fits all Avocado mattresses.
Avocado mattress construction and materials
The Avocado Green mattress is a latex hybrid model made with organic wool, Dunlop latex and a dense layer of innerspring coils. The mattress is eleven inches thick and comes in at a Medium Firm on the mattress firmness scale. If you add the optional pillow-top, the mattress becomes a Medium on the firmness scale. The Vegan model is similar to the Green model except it uses cotton instead of wool, making it free of all animal products.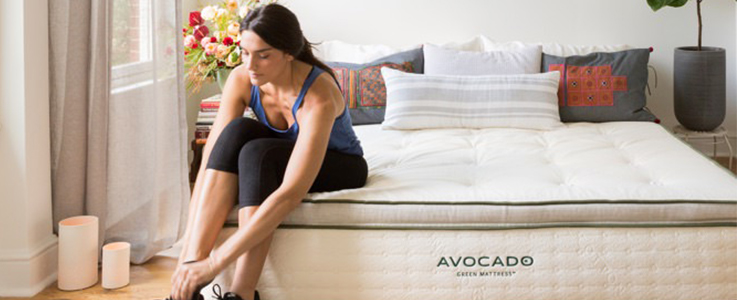 Avocado mattress comfort
Dunlop latex and layers of innerspring coils make for a luxurious, cool sleep, and an optional pillow-top gives some additional comfort while softening the mattress. The Dunlop latex conforms well to the body, offering relief from pain and pressure.
Firmness: Avocado mattresses are available at a 5 and a 6.5, or Medium and Medium Firm, respectively.
Sleeping position: The Avocado mattresses work well with all sleeping positions, especially for side and back sleepers.
Motion transfer: The mattresses have good motion absorption, but they won't be as good at absorbing motion as memory foam mattresses.
Edge support:  The Avocado models have a dense, thick coil layer and several tiers of latex that offer even better edge support than other hybrid mattresses.
Sleeping hot: The latex and innerspring mix means both Avocado mattresses sleep very cool.
Avocado mattress prices
The Green model and Vegan model are the same price. The additional pillow-top costs anywhere from $240 to $500 extra. Although the mattresses are pricy, the costs are comparable to other high-end hybrid mattresses.
| Mattress size | Avocado cost | Avocado pillow-top cost |
| --- | --- | --- |
| Twin | $959 | $240 |
| Twin XL | $999 | $300 |
| Full | $1,199 | $300 |
| Queen | $1,399 | $400 |
| King | $1,699 | $500 |
| California King | $1,699 | $500 |
Are Avocado mattresses good?
Avocado mattresses are a good choice for those looking for an economically conscious hybrid latex mattress. The Vegan mattress is a great option for those who prefer to have no animal products in their mattress. A cooling sleep and solid edge support are two other important factors that make Avocado mattresses well worth it.
A link has directed you to this review. Its location on this page may change next time you visit.
How do I know I can trust these reviews about Avocado Mattress?
4,243,139 reviews on ConsumerAffairs are verified.
We require contact information to ensure our reviewers are real.
We use intelligent software that helps us maintain the integrity of reviews.
Our moderators read all reviews to verify quality and helpfulness.
Page 1 Reviews 0 - 10
Kelly of Santa Monica, CA

Verified Reviewer Verified Buyer
Original review: May 30, 2023
We bought a queen size Green Mattress with a Firm Latex Topper last year. The mattress felt great for about a month. We even bought another one. Then I developed chronic back pain. I was recently out of town for work for 2 months and suddenly no back pain. One night back on my Avocado mattress and my back pain is back. We also just noticed the mattress is dented where we sleep. My husband weighs 180 and I weigh 132. I bought a new reputable brand mattress today. Don't waste your money on an Avocado mattress.
Be the first one to find this review helpful
Todd of Boxford, MA

Verified Reviewer
Original review: May 30, 2023
We did a lot of research and wanted a kids mattress with no toxic chemicals, offgassing, etc. When the Avocado arrived, it stank like latex and chemicals. I messaged the company, and they said it would go away in a few days. I closed the mattress in a room for a month, opened the windows every other day, and the smell didn't go away.
Finally, I asked Avocado to return it due to the smell, and they suggested I rub baking soda all over the mattress to get rid of the smell. Are you serious? No thanks. They sent someone to pick it up, and for a month after, the entire room stank like chemicals. Now, a month later, after opening all the windows and turning on the fans, the smell is 90% gone. No wonder they're being sued for using toxic chemicals. I can't imagine putting my child on something that stank so bad for so long.
Be the first one to find this review helpful
Thank you, you have successfully subscribed to our newsletter! Enjoy reading our tips and recommendations.
Kaka of Ethel, LA

Verified Reviewer
Original review: Dec. 29, 2022
We've been sleeping on the mattress for a couple of weeks and like the comfort. I took off the linens to wash them and noticed indentations where we have been lying. My husband and myself are on the average as far as weight. This is concerning to me and I tried to turn it myself since it is time and they recommend turning more frequently at the beginning. I am unable to turn it by myself - it is heavy and the whole bed moves when I try to turn it so will wait until he gets home for some help turning. Haven't let him know the recommended frequency of turning either yet - he won't like it. Just wanted to put this out there because I read other reviews where this was happening and it may be the main problem with this mattress. Not sure if it will affect the comfort or not so will update later on, but this seems extremely early to start sagging.
8 people found this review helpful
dennis of Burnsville, MN

Verified Reviewer
Original review: May 15, 2022
Updated on 11/03/2022: This is a revised review a previous post made here that I am unable to edit (dropped from 3 stars to 1 with more time using their product). Ordered the green mattress (king) in October of 2019 and was really impressed by the look and feel of this mattress. Awesome materials - soft and high-quality. Truly gorgeous. The first few weeks were pleasant sleeping. My body depressed into the mattress a bit, but the cozy, fluffy experience made up for it. First few weeks were dreamy until the center of the mattress eventually started losing its integrity. The crater that expanded across the middle of the bed got progressively worse over time, creating lower back and hip pain that I would carry for the next 2 years.
Didn't realize the mattress was causing this issue until a few nights ago. Tried sleeping on another bed and the pain mostly disappeared after 1 night. Bottom line is Avocado's latex mattress, in my case, really failed from the start to provide a solid, stable sleeping surface. I even bought the almost $700 2" firm topper in 2020 which proved to be a very bad investment. Avocado seems to use top-notch materials but pushed out a poorly weight-tested product - the mark of a profit-driven org. As of this writing, my $2500+ mattress set is the largest paperweight in the house as I sleep elsewhere and shop for a better option. Also notice they do not respond to user ratings. At all. If a good night's sleep is important to you, try one of Avocado's mattresses at your own risk.
Original Review: I received my green mattress October, 2019, so I've had 2 1/2 years of experience to date. I weigh approx 190lbs, 5'11". Ordered a king, which weighs around 140 lbs. I started off sleeping right in the middle of this bed, and after a few nights I would sink bit by bit until it felt like there was a few inches of indentation that wouldn't self-repair. I would then move to the edges of the bed, which held up a little longer before sinking.
Over the last 2 years, I've either changed my sleep position of slept on the couch, depending on my mood. While my foundation (made specifically for heavy latex mattresses) could be part of the issue, it seems obvious that Avocado latex mattresses do not have the ability to absorb body weight without compromising integrity or to recover from it. I even bought the almost $700 2" topper (firm) in 2020 but that did nothing. Avocado seems like a top-notch company regarding material usage (organic, high-end plush fabrics) but are still in experimental stage when it comes to the prevention of mattress sagging/cratering.
28 people found this review helpful
Todd of Vienna, VA

Verified Reviewer
Original review: Feb. 23, 2022
Avoid Avocado at all cost. I ordered a $7000 top of the line mattress 8 weeks ago and it still hasn't arrived. I was told when I ordered it that it would take 4-5 weeks but was told "it usually comes much faster". They claimed they shipped it three weeks ago but after calling the shipping company several times I have been told that they don't have it. Then they tell me that they are using a third party company but they don't have any tracking for that company. It doesn't take 3 weeks for something to move across the country.
Additionally, since I ordered it they have lowered the price of the mattress by $700 and when I asked for a price adjustment I was told it was a "different" mattress because it was 1" thinner but it was called the exact same name (not 2.0 or new). They said they wouldn't give a price adjustment but I could cancel the first one and order the "new" one but it would be another 5 weeks which would most likely be 8+ weeks given how things have gone so far. They have repeatedly lied about the status and it's a different story every time I have called.
To put it bluntly they are incredibly poorly run (much like Peloton). To make matters worse they claim they make their own mattresses but the shipping company let the cat out of the bag and stated that it was coming from Masterpiece which is a mattress manufacturer in Los Angles (the same place Avocado says they manufacture) so I have serious doubt about their claim of making it themselves. They simply can't be trusted and I don't believe they will be in business long enough to cover any warranty they offer.
30 people found this review helpful
Meghan of Los Angeles, CA

Verified Reviewer
Original review: July 26, 2021
I have not yet received my mattress, so I can't speak to that but if I had to redo this I would go with a different company. I went to the Santa Monica store to place my order and had a great experience - we tried all the beds and found the one we liked best. I went home and ordered on July 10. The website claimed a wait time of 5-7 days. The personalized email I received said 3-5. I followed up after 5 days and was told wait 5 more. Fine. It's now July 26 and there is still no timeline for when the mattress should ship, just "hopefully by August 2nd." For $2,500, I expect a company to keep their word or proactively update me on delays. I bought new bedroom furniture, as I am upgrading bed size, whose delivery I continually have to delay. The customer service is polite, but useless as they can't help at all. I wish I had ordered from elsewhere and hope you do.
32 people found this review helpful
Catherine of Berkeley, CA

Verified Reviewer Verified Buyer
Original review: July 3, 2021
Bought the Avocado all natural latex mattress in May 2021, hoping it would be like my old organic latex mattress which I l used for 10 years. I'm 100lbs, 5'2", and side sleep alone. I have a fancy German slatted frame underneath. This is NOT the bed for me. Perhaps the more popular Avocado hybrid with springs is better. I am going to try my friend's and either swap or just ask for a refund. Since May, I have felt more back and shoulder pain in bed in years! I need a firmer bed with more support.
34 people found this review helpful
Charles of Paso Robles, CA

Verified Reviewer
Original review: Jan. 16, 2021
My wife passed away last year after a 6 year battle with ALS, and I held off on purchasing a new mattress because our old mattress reminded me of her. Nevertheless, after one year, I finally got the courage to replace our old mattress and decided to buy an Avocado mattress for $1,799. Not inexpensive by any standards, but I need to sleep better. I was very much looking forward to getting my Avocado mattress that I purchased on Sept 19, 2020, but as I write this today on January 15, 2021 (5 months after I paid for my Avocado mattress), I still have not received my mattress, even though they have had my money for 5 months. On January 11, 2021, I contacted Avocado customer service via text (because they do not publish a phone number to reach them) and a person named Madeleine said she would send a note to their warehouse to find out the status and get back to me. 5 days later, I still have not heard back at all.
Everyone blames everything on COVID, and Avocado Mattress is no exception with their excuses. But 5 months of having my money and not delivering a product is unacceptable. And not getting back to me after I tried contacting customer service is also unacceptable. The company is a scam and now I have to file reports with the Better Business Bureau, and take to social media to warn others of their deceptive business practices. I am also going to have to contact my bank and try to get my money back for non-delivery of services. Anyone considering purchasing from Avocado so be beware of their business practice.
63 people found this review helpful
Donna of Auburn, AL

Verified Reviewer
Original review: Aug. 6, 2020
Extremely comfortable mattress. Great support, even for back trouble. It is very heavy and takes two people to handle. Ordered two, weeks apart, both boxes arrived destroyed. Just too much for one delivery worker to handle.
15 people found this review helpful
David of Decatur, AL

Verified Reviewer
Original review: July 23, 2020
If you are looking for a VERY FIRM mattress, then Avocado Green is it. It provides very good support for all kinds of sleepers who need a VERY FIRM experience. In fact, unless you need a VERY FIRM mattress, you should probably try something else. Even with the slightly cushier topper, the sleep experience is VERY FIRM, surprisingly FIRM.
18 people found this review helpful
Avocado Mattress Company Information
Company Name:

Avocado Mattress

Website:

www.avocadogreenmattress.com
You're signed up
We'll start sending you the news you need delivered straight to you. We value your privacy. Unsubscribe easily.