Consumer Complaints and Reviews

Took forever to "checkout" (an hour) and when we went to pick up the items at the warehouse, the order was wrong. Once corrected and the items were finally brought home, 6 of the 8 items were damaged, badly. We spent almost $3000 on the bedroom set and mattress, and it looked used, literally secondhand with scratches, black marks, and chunks of paint missing. We called Customer Service immediately and the representative said she would rectify everything, and needed to call us right back, to start a claim. Hours pass, no call, we call them back, closed!
We finally get a hold of someone 3 DAYS later, and they say nothing has been done for the claim. This "person" is also disgustingly rude and awful to work with. They said we had to return the items ourselves and also pay a 25% restocking fee ($750) or keep the damaged furniture. After multiple phone calls, and many hours on the phone, they finally agreed to deliver new "undamaged" items, but not for OVER A MONTH. So, my daughter is sleeping on the floor, with her clothes and personal items laying on the floor, for over a month. I will NEVER take my business here, nor will I ever recommend this company. In fact, I will make a point of sharing my story with everyone I know and meet.

My husband and I purchased new furniture from Ashley Furniture in Frederick, MD on Labor Day Weekend. We were told it would be delivered in 2-6 weeks (most likely 2, we were told). We received a call that it would be delivered September 29th - No Delivery, No Call. Then we called and were told October 18th! On October 17th we were told it wouldn't be delivered until November 1st, even though it was currently in the warehouse! We have been living in our new home with no living room furniture for almost 2 months now. Their treatment of my husband and myself was appalling. They made us seem as though we were making the prior delivery dates up and wanted to charge us 10% for cancelling, even though they were breaking their contract! After many phone calls and a trip to the store, we were finally given a full refund and are now starting our furniture search all over. Never again will we purchase through Ashley Furniture.

I purchased $4,000 worth of Ashley Furniture in 2012. In 2016 I was moving from one state to another (Texas to Washington). I contacted the Seattle store to ensure that if movers professionally disassembled the furniture then the local store in Seattle would re-assemble, for a cost obviously. I was quoted $50 for parts and $89/hr for labor with a maximum of two hours for the labor based on my new address and the furniture (they wanted UPC codes and were able to see what I had purchased). When I arrived in Seattle they told me that the notes were in the system, but that they do not offer this service. I had just paid more than $1,000 to have the furniture disassembled and shipped from Houston to Seattle but Ashley Furniture has changed their mind.
I went to visit the store. I thought that maybe they would change their tune? Definitely not. When I entered the store the salespeople surrounded me like vultures. As soon as I began asking questions about assembly they left me. No one wanted anything to do with me. When I look at reviews online I see negativity that is incomparable. Ashley Furniture may have the worst reviews of any nationwide organization. I am seeing things such as 1.1/5.0 and 1/4/5.0 on popular sites. Trust me, from experience, the Seattle office has shocked me with their consistent rude attitudes and alterations in what they tell me. They even consistently tell me they have notes about my situation and the previous teller gave my wrong information. STAY AWAY! STAY FAR, FAR, FAR AWAY from this company. There is no excuse for them to still exist. If we stop supporting companies like this then they will go away.

Ashley Furniture has some of the worst customer service we've ever experienced, from the sales people lying about the prices since they are not displayed purposely, I had to show them the online price which was $1000 less than what the salesman was telling me it was (this has happened all 3 times I purchased - it is a common practice) to the warranty that they do not honor. It has been months and after a technician came out and agreed that the mattress was in fact defective, the ticket was closed out without notification and we were told we broke it. After weeks of calling and getting the run around a Manager calls, very nice by the name of Sam. He advised it was an error and they would ship the mattress.
The delivery people came and removed the mattress from my bedroom to the living room, where one of the delivery drivers in Spanish (thinking she did not understand) called us dirty because there was a stain on the mattress. Keep in mind that the springs are shot on one side of the bed, a stain has nothing to do with the defect. She told him she knew what he was saying, they knew what he said was completely out of line therefore he chose to tell her he'd be right back and left, leaving a king size size mattress for my wife to have to move back by herself on top of the embarrassment and humiliation.
For 3 weeks since we've been calling and apparently the managers don't check their voice mails or emails because they refuse to call back. These are disgusting business practice. We've furnished our entire house with them and have referred family and friends to them. Now I sincerely regret that I did that and pray they don't have any customer service needs so that they don't have to deal with this shady Company.

My unpleasant journey with Ashley Furniture begin five years ago. I purchased a sectional, purchased their 200 dollar plan for rips, spills, etc. I was told that if I didn't use it that I could bring the paperwork back in 5 years and get 200 store credit. Two years in, the sectional starts flaking. Call the number on the paperwork, to my surprise it only covers cuts, nail polish holes, not flaking or anything my pets could have done. Ok fast forward 5 years. Yes, I held on to the paperwork. Go to the store, against my better judgment I returned to the store with "paperwork" in hand. Pick out a living room and two throw pillows. Sara tries to sell this "paperwork", of course I decline. Get totals, delivery date, start to pay for it. Which if you've ever shopped there takes an act of Congress.
Someone behind the counter told salesperson Sara, that as of the first of year you could not use "paperwork " for anything on sale and you have to spend 500. I had one of those covered. Yes I'm get hot. I took a deep breath and decided to wait of the living room. But I still wanted the pillows which were buy one get one. The original price on them was fifty dollars. Yes two throw pillows for a hundred dollars. But they are buy one get one. Go to pay for pillows and can't find my atm card. My bad. Sara says she will hold them for until I can find my card.
I leave the store and before I can get out of the parking lot, my phone is ringing. I don't know the number so let it go to voicemail. It was Sara calling to say she could not hold pillows. Ok. Wait four so I could cool off. Returned to get pillows. Did you know you have to have a salesperson to help you before clerk can ring you up. So when Tucker finally came to the register. Announces that the pillows are no longer buy one get one free but they are buy one get one half price. Try to explain to him that on Friday they writing them up $54. He was not willing to budge on two pillows. The families that left the store very pissed.
How do I know I can trust these reviews about Ashley Furniture?
609,317 reviews on ConsumerAffairs are verified.
We require contact information to ensure our reviewers are real.
We use intelligent software that helps us maintain the integrity of reviews.
Our moderators read all reviews to verify quality and helpfulness.
For more information about reviews on ConsumerAffairs.com please visit our FAQ.

Can someone create a negative star please? You would be my HERO!! In the same day Ashley has multiple crap reviews. I sure hope someone over there swallows their pride and jumps in and takes a read... COLUMBUS DAY SALE!!! Super sale looks "AMAZING". Can't wait. I deserve new furniture. I think I will splurge and treat myself. 5 piece sets always come with tables. I have don't need tables. I love the tables I have. Open my COLUMBUS DAY SALE ad I get in my weekly neighbourhood happenings. OMG!!! Darcy 5 Piece Living room set. Gives me the colours. Then here are the items listed: sofa, loveseat, chair, rocker recliner, ottoman. SAY WHAT!!! Where do we see the famous "and 2 matching end table"??? Nowhere.
Walking into the store. Excuse #1- All come with tables. That's how it all works. We need to assume this is the same thing. 2- This is only showing the other 5 piece in this collection. 3- The ad doesn't have enough room for extra wording–THAT'S MY FAVORITE ONE!!! 4-The sign in the store shows the tables... I don't care. You're showing the world what I see in the paper. Manager didn't like me after that. I left. I WILL NEVER GO BACK! I WILL SLEEP ON A ROCK IF I HAVE TO...

You will read on the reviews so many examples on how the American people are getting scammed out of our hard earned money by Ashley Home Furnishings! One week ago I purchased a dining room set. The veneer is peeling off the table. I called - they sent a rep out to look. The rep was extremely rude and said it was a chemical and that they would not do anything! I called customer service and they will not do anything! I called the insurance company plan (I paid $600) for the insurance plan. They will not fix it!!! All I can say - don't get scammed! Do not buy anything from this company! You will be the next to write a review on here!

I cannot even begin to tell you how bad customer service and furniture quality is. We had to call them four times with defects. They will not take responsibility for any of it, had furniture two months and already there are problems with the fake leather (told us it was real leather).

We purchased leather sofa, a bedroom set at Ashley Furniture located in Fountain Valley CA. Be careful what you purchase and exam carefully when they deliver because once the furniture inside your home, there is no return nor exchange allow and it doesn't matter if the furniture is defective or whatsoever reason. It took them a month to deliver my bed and they deliver the same defective items twice.
Their in home damage department is not responsive and terrible customer services. I called beforehand to remind deliver guys to wear shoes bootie when deliver. When arrived they forgot their bootie and make dirty mark all over my carpet in bedroom and stairway. I called, they denial and stated those marked were happened before the deliver. They claim to only clean the 3 steps of the stairs from bottom. I told them it is ridiculous because they have to walk thru all steps in order to get to the top. Until now no resolution.

Purchased living room set from Ashley Furniture. It took a month to receive it and when they delivered it it was broken. The driver insisted it be taken. Called the store the next day and request a new one but they said I had to call corporate and now they want to repair it instead of give us a new one so now we have to maybe have it fixed but it won't be the same!!! That was not the only thing broken. It came with frame and they were broken. Hopefully they will be replaced unbroken. This is seriously messed up for a company that makes bucks will not honor their products. I will never buy from Ashley Furniture AGAIN! The staff I dealt with when I had a problem was rude and unhelpful. Certainly they kiss your butt when you're thinking about buying!! But if there is an inkling of a problem you might as well hang it up. Ashley Furniture is not a good company!!!

I purchased a recliner leather chair from Schwartz made by Ashley in 12 05 2013. My warranty stated that there was five years on the mechanics. Last year the chair wouldn't lift up or down and the leather on the leg support was rubbed off because it kept rubbing on the floor when you were putting it down. I paid 1034 dollars for the chair and when I called Schwartz they told me that Ashley would not do anything for me because as far as they were concerned the warranty started the day it was put in the store not the day you bought it. I couldn't believe what they were saying so I called Ashley myself.
I spoke to Avis **. He told me the same thing, the warranty started two and a half years before I bought it and they could do nothing for me so I called Schwartz again and they told me that they felt bad for me but the only thing they could do was give me the cheaper that was on sale, the one that I wouldn't buy in the first place. It's a cheaper made chair and it's not leather. I am almost seventy years old. I've had two hips replaced, breast cancer and a couple of heart attacks. I did not think I would have to be going through this at my age. I had to take the cheaper chair because I needed a chair to help me when I was getting up. I am so disappointed with your service. Why would you treat someone this way. As I stated in my letter your warranty isn't worth the price of the paper you have it written on. Now I wondering how good your word is. I have already sent you a copy of my receipt. It was faxed to ** on 08 23 2013.

I am giving one star because the salesperson was very nice! However, their furniture is absolute trash. I've had the furniture for a couple of years now. The couch has always been cheap and trashy I just never took the time to complain. The two chairs however I paid a lot of money for! The leather is peeling everywhere. I wish I would have read the reviews before purchasing anything from them. Crazy how they can push such a crappy product and remain in business. Last time I buy anything from this place!

Couches are less than 2 years old. They still smell like chemicals and one of the headrests are peeling. I contacted Ashley and it's out of the 1 year warranty and the store refuses to replace it. I hate these couches and now I'm out money.

I recently purchased an entire bedroom set from the Ashley Home Store in Carle Place, NY. The sales people in the store we review's very nice. It was a pleasure dealing with them. So after my furniture was delivered I started making the bed. I then realized how high it seemed. So I tried to get in the bed. Not good. The bed is up to my chest. I'm 5'3" I will need a step ladder to get in. I called and asked if I could exchange the box spring for a low profile. I was told all sales are final, but if I wanted to they be able to exchange it as a courtesy for $200. I only paid $95 for the box spring. They didn't have the bed I was purchasing in the store so it was difficult to judge the height with both mattress and boxspring. I will be sure never to shop there again.

I'm only giving a 2 because the sales guy was a really nice person. But I am extremely upset with the service we were given. We were told we would get our furniture in 3-4 weeks. And being a newly married couple. We were just excited to get our furniture and start decorating our home. But it took way too long to get what we needed. It was about a month and half until we got our couch and bed frame. And then a week or two later for our table. And even then, they made us get the table that they didn't deliver. And right away we used our couch that has a massaging effects. And that was broken. To then come to realize. So was our storage bed.
We called immediately to get it fixed. And a guy came to fix our couch in one week. But it took another month to get a new drawer for our storage bed. Which they are making us assemble ourselves. Once we finally got the drawer. It didn't come with any instructions or all the screws we needed. It only came with 3 screws. I have to say I'm extremely disappointed in this business and how they handle everything. I will never purchase from them ever again. They don't deserve any of our money and should be out of business.

My husband and I purchased our couch 1 year ago and we HATE it!!! It looks like we bought it 10 years ago. It is the worst couch we have ever owned. We will never waste our money at Ashley Furniture again and we suggest you don't either. The photo included is of balls of material that seem to be growing on our couch, like all extremely cheap material has eventually. Also a photo of the horrible shape that it keeps.

DO NOT PURCHASE ANYTHING FROM ASHLEY FURNITURE! I have never seen such incompetence and I don't know how they're still in business. I'll try to summarize my experience. Labor Day: Ordered 2 bedframes. Nothing except 2 bedframes. Told the salesperson that we have out of town guests coming for my daughter's wedding in a month (guests coming September 27th). I was assured that "it was my lucky day" and everything is in the warehouse. The delivery date was scheduled for Thursday, September 15th.
September 13th: I receive a phone call that my order is on back-order until October 8th. I called to cancel my order as this defeated the whole purpose of ordering this furniture. A different salesperson called and convinced me that he could help find something comparable that could be delivered within the week. We found a similar bedframe to be delivered on Wednesday, September 21st. (This is the point where I really wish I had stuck to cancelling the order). September 20th: I hadn't received a confirmation call for the delivery the next day so I called and was told that the delivery had not yet been scheduled! Delivery was then scheduled for Thursday, September 22nd.
September 22nd: The bedframe is delivered and SURPRISE!! The wrong rails had been ordered. Now I have a headboard and built in drawers in the guest room, a mattress in the hallway and the box springs, metal frame and bedding in my living room. And company coming in 5 days! After multiple calls to the warehouse, the store and the corporate office, I'm told that they have ordered the correct rails and they will be delivered on Tuesday, September 27th before noon. This is the day my company is coming in for my daughter's wedding!
September 26th: I receive a call letting me know that the frame is on back order until October 4th. My head has officially exploded and I called the store again and was told that the manager was trying to find me a loaner bed for the weekend. The store then calls me back to tell me that they will drop off a metal frame for me to use for the weekend. A metal frame!!! I have metal frames which is why I bought (or tried to buy) new bed frames!
This company should be put out of business! Out of all the things I've done to plan for this wedding, the most difficult and frustrating has been purchasing a frame for a bed. A frame for a bed! This is not rocket science. Seriously, how hard can this be??? They are now supposed to pick up all the furniture before noon tomorrow (I'm waiting for confirmation. Not that confirmation means a thing when dealing with this incompetence) and giving me a full refund for both the frames. They don't deserve a penny of my money! Or yours! Unless you really hate yourself and want to put yourself through hell, don't go to Ashley Furniture. Spread the word! I know I will!

Well I bought a very expensive mattress beginning of this month 9/06/16 and it arrived week later with a black stain on it and huge unlevel parts at top and bottom of mattress. I put a folder on middle and the folder layer flat. I put the same folder on top and bottom and folder sunk real bad. I was so upset. Customer service was rude to me and supervisor, Fabian did not make me feel too comfortable. They said the mattress was most likely stored improperly. This does not make any sense because mattresses are supposed to be made to order.
It was as if the mattress already had impressions in it. The divots were deep and I regretfully ordered another mattress. They made me almost another 2 weeks and that mattress showed up with same exact stain under plastic by the way and divots. On top of that, the fabric has lines (bubbles) going throughout the entire top of mattress. Every inch there are lines in the fabric going up and down the entire mattress. I suppose this was stored improperly too.
The store I bought from was the Lemay Ferry location St. Louis MO 63129. The fabric and mattress are supposed to be top of the line, which is not the case. I am so upset. I took many pictures and am just sickened by this entire experience. I wish I would have done more research on Ashley's furniture and on Stearns & Foster... Hate that I'm going through this.

I recently went to the Ashley Furniture store in Bedford Park where I was very well taken care by an associate by the name of Eathen. From him greeting me at the door to helping me pick out my Furniture. He was extremely helpful and went out of his way to get us a great deal.. He worked with me and my wife with great ideas of how to furnish our home. I just wanted to let everybody know that workers like him will make every visit very pleasant. My wife and I are very satisfied with the quality of the furniture that we purchased.

I bought almost all my furniture from Ashley HomeStore on 08/27/2016 (6312 W. Broad St Richmond VA 23230). Their phone number is (804) 377 1400. On the receipt it was written that the items will come on 09/14/2016 I call them and they said I will receive the furniture on 09/23/2016. Although I was disappointed after waiting for a month I said ok. Today I went to the store to ask if I would receive the furniture tomorrow and they said the furniture will come on 09/26/2016 and they still can not promise me that it will come that day and they do not agree to send three of the furniture that had come to their store as a free delivery before the other furniture comes.
They gave me Ashley Furniture HomeStore Distribution Center information 540-834-0740. I call the phone all day and there was a voice message saying that I had to leave a message. There is no customer service numbers and the only phone number is for online purchase (866-436-3393) and no one answers either. I really do not know what to do and when I will get my furniture. I hope you will be able to help.

I purchased a very expensive protection plan after an Ashley sales representative encouraged me to purchase the plan. Less than a month later my child had an accident. I called GBS and filed a complaint. GBS sent a representative to clean the couch, but the stain and smell persist. I called back and requested that they replace the middle section of the couch, which they refused. When I called Ashley headquarters I spoke with Kelly (a customer service representative), and Valerie (a supervisor), they were rude and refused to intervene. I will NEVER buy another piece of furniture from Ashley again.

I paid an arm and a leg for insurance through Guardsman; from your sales person encouragement and I have been nothing but disappointed! Not only is their response to a request unprofessional but is always inaccurate which I am sure is due to the lack of customers fighting the insurance request. My claims are clearly covered by my policy even after their employee comes to see the damage and says they will recommend a new table top. They choose to email me with another response stating that the damage is not covered and they "name" the damage something else that they think it is, which is not what their own technician said it was!
I am so done with ASHLEY and with this insurance company and if I know anyone who is thinking of going to Ashley I will be sure to tell them to go elsewhere! I am sure that I am not the only unhappy customer, just one that will be sure my feelings are shared through social media and then some as I have furnished many rooms and paid a lot of money to their "Guardsman" insurance promotion! It is sad when another company or an affiliation can take down a company with poor customer service through social media! The time has come!

Bed broke within 48 hours of delivery. No one cared, sympathized or fixed it. In the end we secured and reinforced it ourselves. I will never shop here again. They sure did cash my check fast though.

Long time customer, have spent about 15k at Ashley's. Known Manufacturers defect on 2 durablend (leather look) couches 3 yrs old, minimally used the first 30 months- $900 each. I purchased the extended warranty, was promised it covered everything that could possibly happen to the furniture. Now told it does not cover this issue as it was deemed a manufacturer defect. Going in circles with customer service team.

4 weeks ago we purchased an oversized chair and ottoman. Yesterday (9/15/2016) we received a call stating both pieces were at the warehouse and they confirmed they would be delivered between noon and 2 pm on 9/16. On 9/16 the driver rolled up and only had the chair. He apologized and called his dispatcher. After speaking with his dispatcher he notifies me that the ottoman just arrived at the warehouse and to call their 866 number to schedule it to come out here. Approximately 15 minutes went by where I then received a phone call from the warehouse giving me the same information. "We are sorry. Your ottoman arrived late but it's here at the warehouse. Please call this number and we will get it set up to come out." I also apparently missed a call and this same message is on my voicemail. This is where things go wrong.
I called the number and explained the situation and that I was asked to call you to set it up. The lady promptly tells me "That is not possible. You will receive a phone call from the dispatcher once it's delivered and the truck returns." Scratching my head, I again informed her that my chair was delivered and that he just called me and gave me this number. She then asked if she could put me on hold. Upon return to the call she informs me "We have no record of your delivery or anyone calling you."
Now I am starting to get majorly frustrated. I told her word for word.."The dispatcher called me. I even have one of his calls on voicemail." She then tries to make me understand that I didn't get a call and that the truck hasn't returned and she cannot help me. I then played the voice-mail of the dispatcher over the phone when she promptly starts stuttering and goes back to her not being able to assist me. After several phone calls back I get nowhere. Spent over a grand at this place for this chair and now I can't even get anyone to tell me if I will ever see the ottoman. I won't lie that I was then mad and raised my voice. I will be going to the store tomorrow in person.

I purchased a kitchen table set for my new home. I was told delivery could be up to 6 weeks with 9-5-16 as the cut off date. I called the store to check status. Was told date moved to 9-21-16. No one called me. Again I called them. I found the bar stools were half the price of the in-store price on the website. I was given a credit for the difference due to my complaint. Today, 5 minutes ago. I call again to check status and has just been told the date is move to 10-21-16. I WILL NEVER BUY ANYTHING FROM ASHLEY FURNITURE. I have no idea how they stay in business with all these other complaints. No focus on customer service whatsoever!!!!!
Then they have the nerve to threaten to keep your money if you cancel a deposit order. The blame is on the manufacturer who failed to provide the furniture. Ashley should be more selective in who they decide to use as their furniture suppliers. I feel sorry for the individual who work in the store and put a positive face on for Ashley as a first impression because they are impacted when customers stay clear of Ashley Furniture by not shopping in their store.

I bought a kitchen dining room set and couch on September 7th. A rep in the store told us the delivery would be on or about the 16th of September. Now on the 13th when I called to see when the items would be delivered I was told not til the end of September - that most deliveries take this long. Did the rep lie about the delivery date so we would buy? We certainly wouldn't have had we known it would take this long. The girl I spoke with offered no apologies. Coldly repeating the same story that this is a typical wait time. I will NEVER buy there again!

We had several pieces of furniture delivered; (4) bar stools, dining table, desk/chair, bedroom set. Ashley delivered and assembled all of these items. I briefly looked at the items and signed off as everything appeared to be ok. After they left we were putting a mattress on the bed and noticed most of the bolts were loose, (3) of which were almost an inch away from being hand tight. We had our housewarming party later that day. One of our guests told me the barstool he was sitting in was wobbly. I sat in it. It was extremely wobbly. I looked on the underside and noticed many of the bolts were loose. I then examined all of the furniture more closely. I had to tighten over half of the bolts, noticed (1) bolt missing, several others were stripped out.
I called Ashley the next day to complain. They seemed helpful and said they would replace (2) of the barstools that I felt were unacceptable due to damage caused by "wobbling" and said they would refund the delivery/setup charges. I waited almost a week and called back, they had no record of our previous conversation. I filed another report. They wanted pictures. I sent pictures. I followed up a few days later, same thing. After a couple of calls I demanded Ashley replace the furniture or remove everything from my home. My wife and I called 2-3 times a week, sat on hold for at least 20 minutes each time, visited the store, sent pics numerous times and continued to get the run around for 5 weeks. We finally reached a customer service manager. His records showed we only started calling a week ago.
Apparently we had been talking to the wrong department. We really want to return the furniture but since we did not get a hold of the proper department until a month after delivery, it has been too long. Now we have to wait 2 1/2 more weeks before a tech comes out to inspect the damaged items. Then they want to repair them. Overall I will have had brand new broken furniture at my home for almost 2 months. I took a day off for delivery. Now I will have to take off at least 2 more days because the delivery team half assed putting together the furniture. The furniture seems alright for the price but the delivery team and customer service are horrible.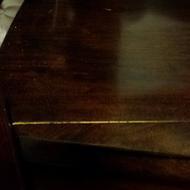 We purchased a dining room set... Porter style. We selected a counter height table and four stools. Our nightmare started at delivery. We received the correct table but they sent only one regular chair! I couldn't believe that they did this... We refused the chair and after weeks of waiting, we received three stools! It took many more phone calls and weeks of waiting, but we finally received our stool. Guess what?! We later realized it had a crack! So here we go again, after many phone calls, we finally received a replacement.
Fast forward to a year later and as I was dusting, I found one stool was built incorrectly! Unfortunately I discovered this flaw too late and Ashley will not replace it. I questioned how this stool got past their quality control! I'm guessing they don't have it, after all, a cracked stool and a second poorly constructed stool got out of their production facility. So, consumers beware! If you have purchased or plan to purchase anything from Ashley Furniture, be sure you inspect it very carefully... especially since they don't!

Middle of July I bought my furniture at Ashley store. I bought 2 living room sets, 2 bedrooms sets, a chair, rug, lamps and art pieces. They brought me broken bed, I had to returned. I had to get used lamps because they did not have new ones. I have been waiting for my product to be delivered for two months now???
Ashley Furniture Company Profile
Company Name:

Ashley Furniture

City:

Arcadia

State/Province:

WI

Postal Code:

1945

Website:

http://www.ashleyfurniture.com/