Consumer Complaints and Reviews

I spent more than $5000, bought top of the line dining set and two love seats and sofa in end of February 2016. The day they deliver, we pointed out spot on one of the love seat. Been told, tech will come. Called millions times then came after 2 month. Conclusion, never been fixed. Called again in July for other reason, fabric of sofa sagging plus poor quality of spring and frame. Cloth under the cushion is very loose. Been told to call warranty department. Called, spoke to person name "Junior". He asked me to text pic. I did and ref# **. No answer till 6 weeks.
After 6 weeks one tech came. I showed him everything. He agreed and told me, "someone will come and fix". Waited 6 weeks again and today when I called they told me, tech submitted report that it is as per manufacturer standards nothing is wrong. I asked for the supervisor. She said the same and I should call Colton branch. I am NOT HAPPY CUSTOMER. After spending $5000, I did not even enjoyed 5 months. Some reasonable and responsible person should take care of this issue.

I purchased a sofa and 2 recliners from Ashley Furniture in Evansville, IN in June of 2011. In the past year they have started peeling. One of the recliners is almost completely without its fake leather. The other two will be just like it very shortly. I contacted Ashley and was told that since the warranty covering defects was only one year, they couldn't do anything about it. I shouldn't expect the furniture to hold up for longer than 5 years? The furniture is a huge eyesore and I'm stuck with it. Horribly disappointed in their customer service.

I purchased a floor model sofa with a five year warranty. I picked up the sofa in an empty box truck and brought to my new home. Within a few weeks I noticed the couch was sinking in parts and one chair sat much higher than the rest of the sofa. I called the store and the warranty numbers I was given and went to the store numerous times to get them to come fix it. I was told because it was a floor model I don't have a warranty which is untrue because I have the 5 year warranty in hand and the couch was sold with the warranty. After going back and forth with the manager for three months he came to my home alone and assessed the furniture, advised me the springs will need to be changed out and he will go back to the store and order them. They were delivered to my home a week later.
I called the manager and the manager and someone else came to my home with a pickup truck and picked up the sofa and chair portion, and loaded them onto the pickup truck. After supposedly fixing the sofa and chair they came back with the pickup truck and dropped them off and picked up the loveseat portion. They later returned and dropped it off. A week and a half later the sofa began to sag again. I called and left a message. The manager called within a few days and said there is nothing he can do for me. The frame is broken in two places (which he never told me this when he brought sofas back after supposed repairs). He proceeded to tell me he does not know my lifestyle or how it got broke. No one in my home is over 150 pounds. Two elderly people and a 25 pound three year old princess and myself a single mom and a lazy 15 year old. We do not jump on my furniture!!!
I just purchased and have had an issue from the very start. I have a five year warranty. This is ridiculous. I have 1500 couch that is worthless. I asked if I can just pay even though I have a warranty to fix it because it took them 3 months the first time. I was told it has been fixed and there is nothing else they can do. I want a full refund for the garbage I bought so I can buy a sofa that my family can actually sit on. I should have read the reviews for this location before I had purchased. Many other people had the same issues with their sofa and managers blaming their household lifestyles.

I bought a 4,000 dollar sectional with the extended purple cow warranty. The sectional is genuine leather and it faded within the first month and Ashley Furniture or the purple cow extended warranty will not fix it and the frame is now broke and same thing I have contacted the store and corporate many times and nothing is being done. Don't ever buy anything from Ashley. You will just be throwing your money away.

I am very displeased with Ashley Furniture. Our furniture was suppose to arrive no later than Nov. 7th. It is now the end of November and 5 out of the 8 pieces we bought were destroyed. We have been calling everyday to try and get this resolved and nothing has been done yet. They are now telling me that it won't be here until the end of December. I have had family come in town and I am very upset with how they have treated us. We paid everything in full with cash and this is how we get treated. I will never buy another piece of furniture from them again.
How do I know I can trust these reviews about Ashley Furniture?
633,951 reviews on ConsumerAffairs are verified.
We require contact information to ensure our reviewers are real.
We use intelligent software that helps us maintain the integrity of reviews.
Our moderators read all reviews to verify quality and helpfulness.
For more information about reviews on ConsumerAffairs.com please visit our FAQ.

Ashley Furniture online store list sleeper sofa for sale. When I try to order it it says credit card problem and didn't confirm the orders. When I called the credit card company they honored the sale but Ashley reversed the sale. Ashley offered sale price and extra 10% for cyber Monday. But all very Phony scheme.

I bought a $2000 leather, power reclining loveseat. Once it arrived, I noticed a tear in the leather. I told the driver about the tear and didn't want to accept the furniture. He said I had no choice and was forced to keep the piece and that he would send someone out to fix it. I immediately called customer service and told them about the furniture and the tear. They refused to come pick it back up that day. Said I would have to pay $79.00 for someone to come pick it up. Called the store, asked for manager. The girl refused to transfer me to a manager. Said he had no authority to offer credits or authorize the pickup. It took an entire day and about 10 phone calls for someone to agree to pick the piece back up. Will NEVER, EVER buy anything there again. They do not offer exchanges or refunds as a company policy once the furniture is in your house. Terrible experience.

We spent upwards of $5000 on leather living room furniture. We waited three weeks for delivery. The deliverers unwrapped and we find that 4 of 7 pieces are damaged. We refuse three of the pieces and agree to have technician come work on the fourth. We contact customer service to see when we'll get the replacements delivered. They can't even start the process of getting new pieces delivered until the refused ones are received back at the warehouse, which could take 72 hours.
So we are now a looking at a possible month before we have furniture, and it may well be just as damaged as the first set. And of course we have no other furniture since we had to move it out to make space. When I suggest they come retrieve the other pieces of the leather set, they inform me that since we didn't refuse the pieces, they are ours and cannot be returned. Buyer beware: REFUSE ANYTHING YOU ARE NOT 100% SATISFIED WITH. Better yet, REFUSE to buy from this shady operation.

Bought a Durablend sofa about 5 years ago and just recently started having the same peeling problems everyone is talking about, not to mention the class action lawsuit in California. The 5 year warranty I purchased with it was worthless since they now say it doesn't cover peeling. I called Ashley Corporate and spoke to the consumer affairs rep and was able to negotiate what I felt was a fair financial resolution. They are sending me a check for close to half of what I paid for the POS sofa. For everyone who is having or has had the same problem with the peeling Durablend, I recommend you also call their consumer affairs department. They know the product is defective and if you are willing to waive your rights to sue them they will likely be willing to settle with you. Don't accept the first offer. They more than doubled it with little negotiation effort on my part. I've learned my lesson that you get what you pay for.

I purchased a couch, chaise lounge, chair, lamp and 3 tables from the store in Mooresville, NC. The salesperson I worked with was awesome. However, upon returning home, I wanted to show pictures of my new purchase. When going on the Ashley website all the prices for the items purchased were considerably less. The items I wasn't able to find on the Ashley website were available through other furniture store at a much lesser cost.
I phoned the store the next morning and informed them of what I had found. The rep told me give her a couple of days. I told her that was fine but wanted it to go on record I had contacted her within the three day grace period so I would not get charged a 10% restocking fee if I cancelled. I was reassured not to worry about that. Well now I'm told Ashley does not price match other ashley furniture. Biggest scam I have ever seen. If I cancel they charge me 10% of the price. When I asked to speak to a manager, well there isn't one manager... they are a team. A Team that cannot address this issue. Buyers beware. This has to be one of the biggest scams I have ever witnessed. They are overcharging me almost $700.00. I hope this is read and others don't fall victim to this.

Bottom line... this is really cheap furniture, very poorly made and customer service is horrible. They just go around in circles, wasting your time with no solutions, just stating an unfair policy over and over! I will never purchase from Ashley's again. I purchased $4000 worth of furniture from Ashley's in September 2016. One month after our purchase, they delivered the furniture and four of the six pieces we ordered were defective. We waited another two months for two pieces to arrive and when they did, they were defective as well. Ashley's will not cancel our order or refund because we "accepted" the products upon delivery because we didn't notice the defects immediately. The only solution they offer is a technician to fix any problem, but we are still waiting for a technician because he did not fix the problem with the sofa the first time around.
The holidays are approaching and we will probably not have a complete family room set by then. We are going on 4 months of waiting for repairs or waiting for pieces to arrive. Ashley's is truly a disappointment because the salesperson was very kind and the furniture appears to have a nice design, but it is very cheaply made! I cannot warn consumers enough about this company!

We bought a sofa and loveseat from Ashley Furniture on December 5, 2012 and paid an extra $169.99 for a 5 year protection plan. 9 months after purchase we requested a tech to come and repair the back frame of the loveseat that had popped out. Just as they said, no questions asked and they sent a tech to the house to repair said loveseat.
Almost 3 years from the date of purchase we notice strange flaky-like spots randomly on our furniture so we called again to request a tech to come and repair it. After the tech came to the home he explained that it was a manufacturer defect in the material. We waited months to get a response from Ashley about what they are going to do about it. Finally after almost 6 months, we received a call saying they will give us a $300 credit toward a new set.
November 26, 2016 I called to have the same frame repaired in the loveseat and was told that they had a policy change and unless we paid for delivery of item originally they will charge us $69.99 to have a tech come and repair it or we could bring it to the warehouse to have it repaired at no cost. We were never made aware of the new policy change as our 5 year protection plan won't expire until December of next year. If you are considering purchasing a product from Ashley Furniture, don't! Poor quality and poor customer satisfaction. Don't pay extra for the protection plan as they don't honor for the length of the plan.

We had purchased the sofa and rocker recliner from Ashley and had it delivered to our home, the delivery man was making sure I didn't have time to check it over before it was in the house, the whole back of the couch was broken and unusable and the chair was 5 inches higher than the showroom seat. The mover told me the signature from me was only for delivery and DID NOT inform me that it was to sign for delivery in good condition, since the seat is 5" higher my wife cannot get into it properly, her feet end up about 10" off the ground. I phoned up the store instantly and was put to the service department. I drove to the store within 2 hours of delivery and they told me they couldn't do anything, I informed them since they delivered it broken I was not going to take a chance with a second delivery and to CANCEL the whole thing which they would not do.
DON'T EVER BUY FROM THIS COMPANY EVER, YOU WILL GET SCREWED, if I knew this before I went in I would not have bought anything. Does anyone have any information on what I can do now, I'm disabled and retired and can't afford to have a useless furniture set in my living room, where do I go from here??? ZERO STARS.


I don't recommend this store to anyone. They have really bad service. They suppose to schedule appointment to pick up my furniture when they never did. Also the quality of my bed it's really bad. We never came back.

I purchased a sectional from Ashley Furniture early November. When it arrived on the 18th, it was a darker color than what I'd ordered. So, I called and asked if it could be fixed. My Salesperson said to call Customer Service because they are the ones who issue refunds/exchanges. I called them and the Customer Service rep and said that the decision is at the discretion of the Store Manager. I could send her pictures she could decide if the color was off, but she'd ultimately have to talk with the Store Manager so that I should call them again.
I called my salesperson back with the new info I was given. He put me on hold for a few minutes and then came back with the Manager, told me that they would allow (yes, allow) you to select another model. But I had to decide in 48 hours. I came that day and found nothing else I wanted. The Sales Associate told me again, I have 2 days so I'd have to come back tomorrow to select something or be stuck with the couch. I told them I would return tomorrow after work.
That same day after getting home I noticed the fabric had started to wrinkle and the cushions which the delivery guy said should go down in a day or two had only become more lumpy and lopsided. The chaise cushion had started pulling to one side and now has nearly 6-inch space from where it meets the couch. The couch is simply defective.
I returned to the store as scheduled the next evening and showed a new Sales Associate (since the one I worked with was OFF) the photos I took of the couch. She was friendly and said that they'd received a lot of complaints about the fabric wrinkling as well the cushions being "lumpy". She was professional and directed me to the Office manager. I had a brief 5 min conversation (after driving nearly an hour to the store 2 days in a row) explaining the situation and she said that they typically don't refund, but she would discuss it with the Store Manager before she could issue anything. I told her I would f/u tomorrow.
The next day I followed-up and was told the Store Manager won't be until tomorrow. Before transferring my original Salesperson laughed and said, "I can tell you right now they're not going to give you refund. But hold on let me get the Manager for you." This was the Sales Manager and the conversation went downhill fast.
I introduced myself and gave her a brief background on the situation before she interrupted me to say, "What I am allowing you to do is exchange your item. We do not issue refunds. Like I told your Sales Associate when you came in on Sunday you can exchange it or keep the couch. But you'll still be paying for it either way. And we will charge another delivery fee." I was flabbergasted. I attempted to explain the situation again, thinking perhaps she hadn't been updated on the defect. This time she talked over me and repeated her previous no refund stance, but that they would exchange it. I told her I am simply not interested in the exchange and I would like a refund as I don't feel comfortable receiving another product that may become defective after a day or two or few months down the line and I'm stuck with the couch.
Her response, "Your initial complaint was about the color. You did not report any defects. If you sign for it no refund can be issued. You have 3 days from the date of delivery to notify us of any issues and you did not do that." I then read the return/refund policy to her verbatim which states that if the item is defective/damaged and reported within 3 Business days from the date of delivery the company will replace the item within 45 days of notification. If not able to replace, they will issue a refund. I explained the online reviews of the couch (not to mention the salesperson told me) they've received the same complaints for this sofa. There is also no equivalent replacement. Therefore, a refund should be issued.
Now, this is where she got extremely rude. She began yelling and told me that no refund will be issued, I was given 48 hours to exchange and that my time had run out. And after today there is nothing she can do. She continued to have a one-way argument and stated, "Stop name-calling. I'm not going to go back and forth with you," several times before abruptly hanging up. Obviously, I did not name call nor raise my voice at any point during the phone call. I know she was trying make me look like an irrational customer by saying those things so that whomever was in earshot could corroborate the claims she'll make to their Store Manager to not issue me a refund.
I am sure this will come out of her bottom line thus her incentive to try to intimidate and bully over the phone. I fear that the Store Manager, won't be much better, considering the behavior and poor customer service I've experienced, has most likely been set by him. So I am writing for a Buyer Beware and also advice on possible next steps. Has anyone taken them to small claims court? If so, please share your experience.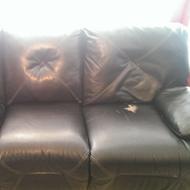 I bought what I thought was leather furniture here a little over 5yrs ago. We were told by the salesperson it was the most durable furniture, she even took an ink pen to it and not even a scratch. We have a big dog so we thought awesome. We also bought the extended warranty which we were told would cover any tears scratches etc. Well about 5month ago we notice a section that started peeling. Well to my surprise we found out then it was not true leather. We called and were giving the run around for months.
Now just recently we are being told that it's a manufacture issue and that they will not fix or replace it. I have done research and see that there was a recall of some sorts for glue uses that could have caused this. I really don't know if this is what is wrong with mine but I do know it's crappy furniture and will never trust them to sell me anything ever again. It's upsetting because I have leather furniture that is around 15yrs old that looks great compared to this stuff. The fact is they know it's crappy furniture, they sold it to me and they don't care. And they say it's the manufacturer that won't do anything about it and they actually are the manufacture. They say they take pride in being the best!! Now because I never made a claim they want to credit my fee for the insurance, but it's a store credit... funny like I would trust my family with anything they have to sell us. They won't even fix it, they refuse to do anything!!!

I purchased an Ashley "bonded leather" sofa and loveseat for almost $2000 from Royal Dollar furniture in Bronx, NY, the Pelham Parkway area. Within a year, the material (because it's clearly not leather) began to bubble and peel. Now, four years later, you would think those sofas are 50 years old. Every single cushion is peeling and bubbling, and these sofas do not get a lot of use AT ALL. Royal Dollar furniture has moved or closed (probably went out of business selling Ashley Furniture) so I am going through Ashley to see if they can help. Did a little research and learned that there is a class action suit against Ashley for this very reason. Unbelievable, they are guilty of misrepresentation and fraud if you ask me.

One of the most horrible experience with this vendor. I had ordered nearly $20K on 10/1 worth of goods from Ashley. The initial shipment came on time 10/11 and the setup guys did a good job but after that it has been a nightmare. I have still not received my direct ship items which should have arrived on 10/12, every time I call I get one of two reply - they give a date and I don't receive it or it is back ordered. How many times can an item shift from a date to back order. The second shipment has been a complete nightmare, once they said it will be arriving on a specific date and the time window, they never showed up when I called them they said that the truck has broken down and there will be no delivery. Of course there wasn't going to be a delivery it was after the window and late in the evening. No one bothered to call.
Second time - they gave me a time and this time instead of waiting the whole window, I called within the window and found out there will be no delivery. Third time they showed up 3 hrs late - 10:30 PM at night. I was upset with this behavior so I called the store manager next day and told him that I am canceling rest of the order if they don't get their act together. He promised to call me back the next day, which he did and told me that all my shipment will be coming on the 16th. I did get shipment on the 16th, but it was a partial shipment. I had to send the loveseat back because it was damaged, the mattress came with no rails or headboard.
Now I am expected more partial delivery, keeping my fingers crossed. There are still items which are on back order, I was given a date of 11/22 last week and I found out today that they are now on backorder. These folks don't care if your weekend is wasted waiting for their delivery or you have to take time off from work to wait for their delivery that does not show up or shows up with very few items. Right now I am really frustrated with this experience. This was the first time I was buying from them and most definitely this is the absolute last time. You are better off living without furniture than spending money with these folks. You anyway are still going to be without furniture but at least you will still have the money.

Me & my husband came into Ashley Furniture to look for a area rug. I finally found one that I liked that matched my living room. It was a lot more expensive than the others. I really liked it & thought I was getting a high quality rug. We purchased it on time and received it a few weeks later. I started vacuuming the rug for about 3 weeks & noticed my vacuum was really getting filled up really bad. I called right away and told the lady what was happening & she said to send her pictures & some stuff from vacuum. She sent it to lady that was suppose to handle it. I heard back 2 days later & said I was not suppose to vacuum the rug & she was going to send a care package.
The label on the back doesn't say that. Label said to sweep rug with a broom or carpet sweeper. If you use vacuum you should put it on the highest setting. I guess the rug I got was not make good at all for what I paid. Lady was in a hurry to make a sale & not tell me about taking care of the rug. You don't stand up to your merchandise at all. I will never purchase anything in your store again. I made a bad mistake in purchasing a rug from your store. Never again!!!

I purchased a bed for my daughter. I noticed at delivery that the footboard was damaged. I was told that it could not be repaired and a new one would have to be ordered. My choices were to accept the damaged one or allow them to take the damaged one and wait 3 days for a new one. I chose to wait the 3 days, which is now over 3 months. I tried contacting them for a week, leaving several messages that were ignored. When I was finally called, I was offered to have my delivery charge waived, but could not have the new footboard for a couple of weeks.
I then filed a complaint with the bbb which prompted a call from a Supervisor named Julio. He offered me an additional $45 discount on top of the delivery charge waived, knowing that I had already spent over $200 on an air mattress. I declined the offer but was told they wouldn't offer any more of a discount. I then asked for a full refund so that I could purchase a new bed from a more reputable merchant, but they refused because I accepted the delivery. Their policy is no refunds once the delivery is accepted, even an incomplete delivery. They find it acceptable that I wait at least a month, I do not.

I bought a "leather" sleep sofa from Ashley in 2013. I also purchased the extended warranty because my children were much younger then. This year we noticed the couch started peeling. We also started noticing that the pull out was becoming harder to put back into the sofa. I called the extended warranty and informed them of the peeling. They told me the peeling isn't covered under the warranty. I made my decision to not buy any more furniture from Ashley and will not recommend. Very disappointed in Ashley furniture.

We purchased a brand new set of living room furniture. We were told our furniture would be delivered. After waiting almost three months for our furniture we should have known better. But we accepted it when we finally got it. So we of course bought that warranty that the salesman says "Oh this is great coverage. It will cover it all". So I notice our rocker was no rocker right so I THOUGHT I need to call so I called and they were to send someone out and didn't. Then I talked to them again and they said well of course the rocker recliner was a manufacture warranty.
So I told them of the other and we were told they would not pay a four year coverage - would not pay their reason being we did not know the exact date it happened. We saw there was a small hole on the cushion on the rocker, there was spots on the arm of the couch and love seat and there was spots on the console of the love seat. Which we did not see their representative seen it when he was here looking the furniture over and then continued to lie to us and tell us it would all be covered. Two weeks after he left now they decide that since we did not know exact time and day it happened... what a rip off. I think the salesman seen us coming - two disabled people would be easy prey. What a rip off. Totally upset.

I moved from MA to FL and bought all my furniture at once. Really bad quality that after 3 weeks my love seat started looking like if I had it for years. I had to order my Sofa Sleeper because they did not have any on stock. After waiting a month for the delivery, they called me the day prior to reschedule the delivery. 4 days after the delivery the sofa sleeper fell into the floor and is all damaged. Called customer service and never got an answer. Was on hold for more than 20 minutes each time I called. I ended up going to the store where I made my purchase. Now I have to wait another 2 weeks to get a TECHNICIAN to come and fix it because there is no return or exchange policy. The wood section on my bedroom set smells since day one. I don't know what type of materials they use on their very expensive products. I recommend you to go to either Rooms To Go or any other place but ASHLEY Furniture.

I bought a 2000 dollars living set. Same day of delivery I laid on my couch and it was so hard it hurt my shoulders and neck. So tried to sit in my recliner chair and the back of chair came way out at top and could not rest my head cause it made my head lean down hurting my neck. So next day I called. Talked to the salesperson name Shahee and he told me to jump up and down on the couch so it would help it not to be so hard. I told him I was too old to jump up and down. I asked them to please come get furniture and let me get something else and they would not do that for me. So for weeks I tried to talk to a management and no one would talk to me. So here's what happen to me. Couch continue to make my shoulders hurt and my neck so I had to give the furniture away and out of 2000 dollars a terrible experience. This happen at Harrisonburg VA store. Stay away from them.

We purchased 2 couches and a entertainment center from Ashley in Brooklyn Ohio about 2 years ago. When we bought it the sales guys heard us talking about our animals and started telling us about this so called great warranty they offer. He told us if we bought it anything that happened would be covered. This include pet damage and anything else that could happen. So about 6 months ago I called because one of the animals ripped the material and was told no it's not covered. I tried to explain what I was told and got nowhere (I just left it be.).
I called today because the center of the couch is sagging. Only to be told "your warranty does not cover springs or structural repair!!!!" She did say "the store's warranty would cover the parts but, we had to cover the labor." I then asked "well can you tell me what this warranty I paid for covers?" She went on to say "it's like car insurance only accidental things." Had I been told that when I bought the stuff I would NEVER PAID FOR THIS WARRANTY!!! This company is misleading people and it is not right. I will spread the word for no one I know to ever shop there again!!! I bought furniture from Big Lots a lot cheaper and never had a issue.

I have never seen that kind of flippancy and frivolity. Nearly 2 months passed. Delivery is late. First product delivered but it was not original one, it was used product like 2nd hand. Second group delivery is more hurting. They called and postponed the delivery one time, second time on delivery time there was missing products. At Last delivery the product (nightstand) was damaged and broken. We catch the delivery person by running on the way to report and give item back. Definitely item has not been controlled before delivery. Shame this, I give back the product. I am sure I will wait months for that product delivery. I am completely unhappy. I will not advise Ashley to anyone around. They are absolute bad. I have to report this to every internet site too. Their consumer complaint service web page also does not work. Do not fall to this place anytime, anywhere. Complete dis-satisfaction guaranteed.

We went to the Northfield location. We have bought furniture over the years. We were promptly greeted by Sonia **, who was fantastic. Good sales person. Wanting to spend a certain amount on a new bed. She was so good. I went about 2500 over what I wanted to spend. She was very informative and did her best to accommodate us. Even though we spent a lot more than expected she manages to get us some discounts available. She is an asset to your company. It was a pleasure dealing with Sonia **. Hope we enjoy the Tempur-Pedic bed as much as her. Thank you.

I hate Ashley Furniture!! Horrible delivery service! They have changed my delivery date 3 times for not having "the right part" to my bed. I spoke to the manager from the Galleria store this afternoon and she said she will have everything delivered today even if she has to pick it up herself. Guess what, I still don't have my furniture. So heads up to all, don't expect great service if you shop here. I am extremely pissed and will have them pick up the couple of items that were delivered two weeks ago.

I bought two Ashley Furniture couches that were advertised as leather. The couches are in my living room and don't get used often. I used the conditioner sold to me at the time I purchased the couches which was intended to treat and maintain the leather. Fast forward a few years, they are now cracking and peeling. I have now come to realize that what was advertised and sold as leather is actually VINYL!!! I'm so disappointed and can not believe Ashley Furniture would do this.

ConsumerAffairs Research Team
The ConsumerAffairs Research Team believes everyone deserves to make smart decisions. We aim to provide readers with the most up-to-date information available about today's consumer products and services.
Founded in 1945, Ashley Furniture became an industry leader in 1970 when its first plant opened in Wisconsin. The plant started with 35 employees, and the brand has since grown to include stores in more than 120 countries.
Convenient locations: With many locations across the country, it's easy to find a showroom near you. Use the store locator tool on the website to get started.
Quality tested: Each design from Ashley Furniture undergoes rigorous quality testing for safety, comfort and durability. Take a look at some of the methods used on their website.
America's #1 home furniture brand: Ashley Furniture's quality appeals to consumers across various demographics, making it the top selling home furniture brand in the United States according to Homes & Textiles Today with reported revenues in excess of 3.3 billion dollars.
Online showroom: The online showroom feature gives you an idea of what to expect at your local store, but it's just a sample and shouldn't be considered a complete inventory.
Best for Families, individuals and professionals.
Ashley Furniture Company Profile
Company Name:

Ashley Furniture

City:

Arcadia

State/Province:

WI

Postal Code:

1945

Website:

http://www.ashleyfurniture.com/