Consumer Complaints and Reviews

I purchased three leather sofas from them 6 years ago and after a little over a year of having the sofas, they started peeling everywhere so eventually I got rid, which was a waste of $3k as well as the bed I purchased that was supposed to be just as good as a Tempurpedic, but pinky caused me to have more back and neck pain. Recently, not even a year ago, we purchased another living room and dining room set. Let's just say, not worth the money at all. One of the wood side bar came off one of the chairs and the middle wood piece holding up the springs in the sofa broke in half. We will NEVER shop at Ashley Furniture again and I'd advise you all to do the same. Their product is not worth the money. I bought furniture from Rooms to Go back in 2004 that lasted me until 2010 before I gave it to family to enjoy.

We got good review from one of our friends. Experienced the same feeling buying our furniture from Ashley. Staff are very helpful in choosing the right product with value worthy. Strongly recommend to go with Ashley.

If you think Freddy Krueger was a nightmare, try purchasing from Ashley Furniture Home Store. You will think Freddy Krueger is a Disney movie in my opinion. Your furniture if you are lucky will arrive fully stuffed and made like what you saw in the store. Turn it over in the store and see how it is made, loose threads everywhere, made with cheap particle board, and also very little stuffing so you will hurt yourself on the wood rather than enjoying the comfort of the furniture. Then if it does not arrive, made correctly, they will offer to repair it in your home, not their factory. Then they show up and never do any work, just waste your time and you still have defective furniture. Buyer beware. You will be sorry if you purchase from Ashley Furniture Home Store in my opinion.

We bought a beautiful kitchen table on clearance. Due to the clearance, we were told delivery would take approximately 3 weeks. 3 weeks later and taking off a day of work, the delivery (just the chairs) arrived hours after the scheduled time. We were told it would take another week for the actual table to arrive. So a week later we were told the table would one of the first delivered on the delivery route (in the morning). Another day taken off work and the delivery arrived after 6 pm. This place is not worth the hassle. Their attitudes are completely unprofessional. They lie... lie... lie. Go somewhere else... trust me.

Subquality Furniture. We purchased an Ashley Sage color couch, two loveseats and an ottoman and it is absolutely horrible! We initially bought a chair, it squeaked so bad we ended up paying extra and got another loveseat instead. The cushions that have Velcro on the bottom never stay on, you are constantly tucking them back in. One of the loveseats feels like you're sitting in a hole.
When the furniture was delivered, the ottoman didn't have any legs, we had to wait for those. We bought the furniture from Al's Furniture in Ironwood, MI. We've only had the furniture for about 4 months. For what we paid, I could have bought better second-hand furniture that would probably be better quality. If I could, I would return it, get my money back and buy better quality furniture.
How do I know I can trust these reviews about Ashley Furniture?
722,349 reviews on ConsumerAffairs are verified.
We require contact information to ensure our reviewers are real.
We use intelligent software that helps us maintain the integrity of reviews.
Our moderators read all reviews to verify quality and helpfulness.
For more information about reviews on ConsumerAffairs.com please visit our FAQ.

I ordered a home desk which was delivered twice, and damaged in transit twice. Not small scratches or tiny dents, but a completely crushed corner once and a smashed keyboard drawer the other time. CSR tried to get me to accept the crushed corner, saying "techs are trained to fix that." So I did what a normal person would do and asked to cancel the order that they can't seem to get right. "Sorry, ma'am. There's a 10% fee for that." Complete and utter robbery.

I purchased a very pricey 6 piece sectional which immediately started to fade in color & turn very ugly. My sectional looks 20 years old. I have the 5 year protection plan warranty. I called the number & sent pictures to show proof of the condition of the sectional. They sent out a man who called himself a "tech", he came out just to spray paint sections of my sectional!! I called back to let them know how dissatisfied I am & they proceed to tell me they will order all the parts I need, first they need pictures to show proof again so I send more pictures. The rep says she'll call back once she gets the pics & a week goes by & she never called back. I call again & reach someone & have to tell my story again.
Finally the parts are ordered & shipped out. It takes almost two months for the parts to come in. Mind you I was told to call back to schedule an appt for a tech to once again come out & replace the damaged parts once they came in! I have yet to have that taken care of! I have been trying to call for weeks & no one answers the 702-643-9500 number. I'm waiting almost 45 min at times & I hang up & re-try again. The sectional was over 4 grand! I am so upset & disappointed & dissatisfied with Ashley Furniture. I will never patronize this awful company or recommend them to anyone. Don't ever go here. They are the most horrible! The workmanship, quality, customer service are the worst.

We purchased complete living room set from Ashley as well as a 5-year protection plan (which was highly recommended by the salesperson), said it was a bumper to bumper warranty!! Back of recliner support broke we called warranty company. They came right out and fixed it, technician said he was going to fix it on the spot. If it doesn't work he would come back out and do a better fix. Well less than 2 weeks later it broke again, we called the warranty company back and now they tell us that our bumper to bumper plan doesn't include the frame and we were out of luck!!! Told auto bad. If we would like they could give us a number to an outside subcontractor they use but we would be responsible.
So after 6 weeks of going back and forth with warranty company and Ashley customer service I was told by customer service manager that they could not help us!! My question was if the warranty did not cover this then why did they come out and (Try) to fix it the 1st time?? Needless to say Ashley has lost a good customer!!! Reading all the reviews I wish I would have read them before we made the purchase with them. Former Ashley customer!

I purchased a 4-piece sectional from Ashley Furniture Homestore (2331 Highway K, O Fallon, Missouri 63368) in January 2016. Less than 1 year from the purchase date, 5 of the 6 seat cushions have pilled and stretched, causing large wrinkles in the seats. I contacted the business who stated the issue would be covered under the $199 extended warranty plan I purchased at the store. I contacted the warranty company who stated I didn't have an extended warranty. It wasn't until I emailed them a copy of my warranty that they acknowledged they messed up and I did indeed have one; however, stated the issue was a manufacturer defect and they would not cover the damages. They referred me back to the store.
I contacted the manager at the store who stated she would review the issue and get back to me. Here is the kicker... I have a family member who purchased the exact same sectional, from the same store and had the exact same issue. My family member contacted the store and received all new cushions... no questions asked. When I contacted the store manager she said she saw that my family member had the same issue and received new cushions and was confused as to why I wasn't offered new cushions as well. She agreed to contact the powers that be and present them with the photos of my damaged sectional cushions, and the case study from my family member who had their cushions replaced.
On February 14th, 2017 (nearly 2 weeks after I reported the issue) I finally received this email from the manager: "**, I spoke to ** on Friday and then another agent from GRT contacted me on Saturday. I am putting in a formal request to our customer service for them to take a look at your claim. They will have pictures from ** and the ones you sent to me also with the request. I also gave them your sister's info so they could compare the issues. I should know something by Friday. Thanks" 1 month later, after 8 unreturned phone calls and 4 unanswered emails to the manager, I contacted the 800 number for Ashley Furniture Homestore and spoke to an agent who once again stated the issues are normal wear and tear and they would not fix the cushions, nor would my extended warranty cover them.
I asked to speak to a manager. He was extremely rude. He told me his agents had already reviewed my case and determined it would not be fixed. I asked him to review my case and offered to email him my photos (which show obvious product defects); however, he said he did not need to see them. He refused to provide me with a list of items that would be covered under the warranty. When I asked to speak to his manager he told me his managers name was Mark; however, I would not be allowed to speak to him. I asked him for an email for Mark and he said that I was not allowed to speak or contact him under any circumstances.
On March 13th, 2017 (nearly a month of trying to get anyone to assist me) I called the store and finally got an assistant manager at the store to communicate with me via email (**). He was very helpful. He stated he would forward my emails to ** and Mark and have someone reach out to me that day. That never happened. On March 15th, 2017, I emailed ** again to say no one had contacted me. He apologized and said he would contact them that day and have them call me. That never happened.
I am left with a business who sold me merchandise that has obvious manufacturer defects. An extended warranty that won't cover the damages. A store manager who refuses to call or respond to my texts. An example, identical in nature, wherein Ashley Furniture Homestore replaced the cushions, a customer service hotline that refuses to even review the case or allow me to speak to a manager. Essentially, I have been road blocked with no other option but to file a complaint and begin litigation if necessary. The issue should be very easy to resolve. The cushions appear to have zippered covers. It can't cost that much for the manufacturer to send new cushion covers.

I purchased a power recliner. It was delivered to my house on Feb. 24th, 2017. On March 12th, 2017 the power recliner no longer reclined. Motor problem? This piece of furniture was in my house for 15 days only me in household. Of course Ashley wants to repair it. I want them to replace it with a recliner no power. I've talked to 2 people and the manager was to get back with me. Guess what, no contact yet. I may have to resort to my cousin who is an attorney to straighten this mess out. I WILL NOT RECOMMEND ASHLEY FURNITURE TO ANYBODY. I SHOULD OF WENT NEXT DOOR TO BOB'S.

I purchased an Ashley Brand sofa and loveseat for $2,000. Exactly at 2 years of age my very lightly used sofa started peeling. I filed a claim with Guardsman since I had a 5 year warranty, and also contacted Ashley Furniture and to no avail was this situation "made right". To my understanding they are still selling this product. Other consumers need to warned about Ashley Durablend Sofa. They should be forced to stop selling this so no one else can be scammed. I don't want other people to end up like me and get taken for 2k, only to find yourself furniture shopping again!!!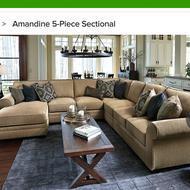 What is it with being a cash customer that makes them so condescending. I am reading some of these experiences and it's like looking in the mirror. I went to Ashley's in West Covina, CA on a Saturday asking for a firm price on a sectional sofa I wanted. The sales rep. William told me he would give me 40% off the original price if I paid cash. We settled on a firm price and I told him I would be back the following week with the money. I came back the following week and he had a whole different story. Telling me he could not give me the 40% off because the couch I wanted was listed on the internet and they were doing a "price match" to their website price. Whatever. I was not there to beg I just wanted a firm price. He then tells me he is going to give me a 5% discount but has to check with his manager.
The manager comes over and gives me an even higher price with the discount. I am confused. I keep getting all these prices. I just want to buy a sofa. Then he says "well just get credit or put it on a credit card, if you can't afford it you can't buy it" and walks away. I was so upset. I have cash on hand. All I want is a sofa. I did not come to beg or be disrespected all I want is a price to my sofa, that is all. Worse people ever. Don't waste your time. So I walked away and the sales rep says "Wait. How much do you WANT to pay for it?" Are you kidding me?

I bought a living room, a dining room and a recliner. And we haven't had it for a year and it has a rip on the stitches of the bench for the dining room. The Ottoman of the living room already sunk in the middle. The recliners cushioned parts are also sinking. I asked if they could repair them or replace them and they told me they will send a technician to look into it.
I had to call another number and the person there told me that I was going to receive a call from an automated service. When she said that I asked if I could have the tech come on Sunday or Monday, and she said "No". I told her those are my days off, and she said those days they don't work either...really? Anyway, I managed to have my daughter home to wait for the tech and now that he came, he is just going to fix the bench stitches but the Ottoman will stay as it is since nothing is broken, just sinking because the materials on their furniture are just cheap quality and they won't do anything about it. Then I told him that the guys that came to assemble the furniture left some screws kind of loose and he tells me..."Well, that is not included on the insurance but I will tighten them up as a favor." Really? Anyway, my advice is. If you are looking for furniture, don't look here. Totally disappointed and angry at their customer service and quality.

Purchased 10/16. Poor workmanship, plywood shows, sewing visibly crooked, not enough cushion, feel springs, boards, etc. Several attempts to contact, no returned support since. Just want it out of my house! Don't buy here. Go to Bob's stores. Much better quality, lower prices, and great support always! Bob cares, just like the commercials.

I went to the Ashley store in San Antonio Texas to purchase living room furniture, bedroom and dining room furniture. On the day of delivery one of the delivery men knocked over and shattered a light shade to my dining area. The delivery man called customer service to start the process for reimbursement. One week gone by and haven't heard anything from the store. My husband called customer service and was directed to the store manager. The store manager said it was a corporate issue and gave us a phone number to call.
After numerous attempts and messages left my husband finally got a hold of someone. After 30 mins of my husband explaining the situation the corporate assured him a check of $125 would be issued and that it can take up to a month to receive. It has been a few months and of course the check has not arrived. Again we tried to call and left messages but no reply back. I'm exhausted and can't believe I spent over 5K to their company and they treat their customers like this. Stay away from Ashley Furniture! They can't take responsibility over their mistake!

My fiance and I went to the Ashley Furniture because I had always seen Ashley Furniture as the PINNACLE of fine furniture in Memphis. We really did not mind the cost of the furniture because we thought the quality of the furniture was well worth it. Long story short... We purchased a leather sectional with oversized ottoman for over $3000 and added with it the warranty for 359.99. Within a month of having the furniture, BOTH arm ends of the sectional began to cave in and the ottoman where you would prop your feet began to dip in as if the base of the ottoman were as loose as the sofas. Take in mind, I have the kind of household that my grandmother had when I was growing up. The kind where no one sits in the living room or on the living room furniture unless we were formally entertaining. We have a den area for everyday company etc.
I was so excited to show off my furniture when hosting events that it HUMILIATED us when it began to fall apart. I attempted to use the warranty that we had been told was 'perfect' for situations such as this and was told that the warranty does not cover this issue. I was told that the warranty basically covered stains and cuts... STAINS... On leather!! A stain on leather is something I could easily wipe away but I can't WIPE away the fact that my brand new expensive leather sectional looks as if I bought it at Jolly R---l Furniture. I think we'll find somewhere a little more loyal to their customers in the future. Someone whose QUALITY matches the pricing and expectations.

I have had this couch for 4 years. The thing has fallen apart from the minute we bought it. I bought the warranty with the purchase and they said they don't cover tears in the seams but do cover rips. Also the springs are loose. I could complain all day about this purchase but won't. I just know I would NEVER purchase furniture from them again. I am highly disappointed that this piece did not last more than 4 years and there is nothing I can do about it until I buy new furniture and forget about this purchase.

My husband and I purchased an Ashley living room set Damacio and within weeks it appeared sagging and worn. Ashley let us re-pick and we got a sectional with the cup holders and again within weeks it sagged. They again let us re-pick and this time we made sure it had springs not beds. Again it is sagging. It seems the 2 seater couches are too wide to support and hold up as reclining. The foam in the pieces are so very flimsy I can feel the board. Every set we have had are the top Ashley sets. 3000+ DOLLARS. SO DISAPPOINTED!

I went to Ashley Furniture in Madison, TN on November 24th to buy a bedroom suite. When I picked out my bedroom suite I went to check out and the salesperson tried to charge me almost twice what the manager had quoted me based off the sales ad. The salesman was going to let me walk out when I decided to go and find the manager. The manager honored the sales price. I checked out and the sales guy advised me that he would call me in the next three weeks to set up delivery. I received no call, so I called the store. At that time I was advised that they were on back order and I should receive them within a few weeks. This went on until the beginning of January. I was now being told that it would be Feb, for some pieces and March for the beds. I spoke to the manager and they offered to swap bed room suites, but they were either on back order or they were cheaply made.
I specifically made the purchase on Black Friday to save money and I was now being told that I had to downgrade or wait two months. My only choice was to wait. They did offer to refund my money, but I could not find a good deal at that time of the year. I received half of my items in mid-Feb. I was told that my remaining items would be delivered on March 14th. I called every week to ensure this was accurate. A week before delivery I called and spoke to a front desk manager who confirmed my address and date of delivery. The next day I receive a call that stated they needed to verify my address. I called in once again and gave them my address. On the 11th I received an automated call stating that I need to confirm delivery for the 14th. I called and confirmed and was told that my items would be delivered between 12:30 pm and 5:30 pm.
On the morning of the 13th I realize I received the same call from the automated service. I called, waited for the store to open and called first thing. The front desk manager advised me that my items were not being delivered because I did not confirm delivery. You can imagine my frustration. I explained my situation and asked that they speak with someone and get the delivery set up. They did not call back after an hour, so I called back. I was told that they should know something soon. I heard nothing and at this point it had been almost five hours. I called back and spoke to yet another front desk manager. She said she would check and call me back. She called back and left me a message stating my items would not be delivered until the 20th.
I called back and asked for the store manager, just to be transferred to my salesperson who just so happened to be the acting store manager. Of course he remembered me and my situation. He stated that my delivery date was changed and he could not get me my items before the 20th. I once again explained the situation and stated that I didn't care who was bringing me my bed, but I had taken the day off and someone needed to bring me my items I purchased almost 5 months earlier. He advised me he would make some calls and call me back. The store is closed and still no call back about my delivery for tomorrow. I have never been more disappointed and frustrated with a company. They do not care about their customers or making things right. It is very sad and very disappointing.

Personally attacked for trying to buy furniture. On Saturday, March 4th, I went into the Ashley Cordova store wanting to buy a sofa and curio cabinet. I picked out my furniture and completed the sale. My plan was for 48 months. P.G. was my salesman. After the sale was complete, I looked at my bill and noticed I was charged for the complete sofa set. I only wanted the sofa, not the ottoman that came with it. I also asked P about the curio cabinet I purchased. He said he knows someone who can deliver it for me, since Ashley does not deliver that piece of furniture. I told P I couldn't buy it if I could not have it delivered. He assured me that someone could deliver it to my home.
Back to the sofa, the manager David ** came over to me and asked me what was wrong. I told him I was upset that I was charged for the ottoman and that it was taking a long time to have the charge taken off my card, and redoing the paperwork. I had a few tears in my eyes. I wasn't crying, just frustrated. I then asked the manager why I was charged 299 for the protection plan. P did not tell me anything about it. It was automatically added to my bill. I asked Mr. ** if that had to be a part of my plan and he said yes, it was mandatory. I left feeling a little uneasy.
Yesterday, March 10th, I went to the Ashley store around 1:45 p.m asking about the delivery on the curio cabinet which I hadn't heard about. P.G. was at lunch. No one could answer my question so I left. I went home and called customer care and asked about the protection plan for 48 months. She told me it was optional. With this information I decided I was misled and wanted to cancel the entire order. I went back to the Ashley Cordova store and canceled my order at the desk.
I asked to speak to the manager and I was told he was in a conference call. I walked back to where his office is, and looked into the window. I said "You lied to me through the door." He came out of his office and said "You called me a liar. Leave my store now." I said, "Excuse me. I just want to talk about the protection plan you said I had to buy." He held up his hand, said "I can't hear you" over and over. He got on the phone and said he was calling the police. I said "Go ahead and call them. They won't do anything." He said "Leave, leave, leave my store." I called him an ** and started walking to the front door. He told me not to leave now, the police are coming and I would be arrested for verbal abuse. I said "You can't be arrested for that." He said, "You don't know the law do you?" I said not really, he said "Yeah because you have that 'privilege.'" Implying that because I am **.
I said "Okay I'll just stand here." I told him he was a horrible manager and he looked me up and down and said "You need a treadmill, you don't look too good." I said, "Look at you, you are one to talk." He then smiled and said "It would make my day to have the police arrest you. I have two degrees, one in psychology. Where did you go to school?" I asked him why he was doing this? He kept making comments about my weight, my character and asked me if I had taken my meds. Told me something was wrong with me. He said "You know there is something wrong with you don't you. You need to take your meds." He also asked me if I was going to cry again. He also told me he didn't need my money or sale. He said I was no longer a customer and to leave his store.
I felt he was trying to provoke me into hitting him or breaking something so he could call the police. After that I left and walked to my car. He followed me out of the store and got out his personal cellphone and took pictures of my car and of me. All I wanted was some new furniture and instead I was attacked, berated and embarrassed by David **. He attacked me personally and if I acted that way at my job I would be fired. I would like a personal apology from Mr. **, in person (preferred) or a written letter, (not formally typed). I believe he should be held accountable for his actions and fired from his position. No customer deserves to be treated this way. I have already filed a complaint with the BBB and will pursue further action if this isn't resolved.

I sat on the furniture I wanted to order. It was an electric leather dual recliner. The sales associate appeared to be new and had a second salesperson double check as he was ordered it in the computer. He ASKED me if I wanted electric and I said "yes". It arrived NOT electric but had a plug in for the phone, so I assumed this was electric. ONCE they leave your house for delivery, FORGET IT! It is over. I returned to the store and they said to call the 800 number. BUYER BEWARE! Never again. This is was an $1,800 purchase.

I bought online a sectional now the material is wearing prematurely and it's hardly used. I ask them Felice ** to replace with another sofa but they are trying to get off cheap by making me just fix the issues. The problem is that it will continue to wear because the material is garbage and they know this. I am offering to get a more expensive sectional but they refuse to do the right thing. In my opinion would never by a sofa from COLEMAN furniture or Ashley since its made by them ever again. They sell trash and don't stand behind their products nor care about their customers.

I went to the Ashley store in Algonquin IL to purchase living room furniture. I was given spectacular service by a salesperson named Jafri. He wrote up a good deal and advised he would save it to the system for when I returned. I came back 2 days later and Jafri was not working. I had no one come to assist me as I was looking to pay for the furniture. I found someone to help me after 30 minutes at least. I dealt with the "store manager" named Craig **. He was rude and condescending and all advised he couldn't honor the deal Jafri gave me even after he called Jafri on his day off to verify what I was telling him because he didn't believe me. After 15 minutes of arguing with me I left the store. I emailed Ashley corporate and over the span of almost 2 weeks I called and emailed about 4-5 times without any response.
Finally received a call from Maria at the local store who was pleasant. Still no response from corporate. Called 2 more times. Finally heard from a "regional manager" named Pierce ** who was just as condescending and rude as Craig. Got nowhere and he argued with me for 10 minutes until I had enough and ended the call. I initiated another call to their corporate office and talked to a Kelly in Human Resources. She was pleasant and apologized. But at the end of the day I don't feel that anyone really cared about how this company presents itself to its consumers. This was a horrendous experience for someone just looking to buy furniture and get some service. I had cash in hand and wanted to purchase. I am having a hard time reconciling wanting to give my money to this company due to their service.

I am continually looking at your site for ideas about updating my home. I have a pre-approved card but I am so frustrated with how slow your site is and it will lock up for no apparent reason. I do not have the time or inclination to visit my closest store continually. I'm beginning to question my choice of a furniture credit card with your company!!!

On February 25 I bought furniture from Ashley homestore. I was told delivery would be March 10. I've just heard from the sales rep who told me that everything will be delivered March 21 except the three bar stools I ordered and they will not be delivered until April 25. I am very dissatisfied as it is taking so long to deliver the furniture. Lesson learned. I won't be shopping there again.

I bought many pieces of furniture from your store (store #027, Manchester Road, Manchester, Missouri, 63021) on 04/17/2016. The total value of the bought furniture was more than $11,169.83. Soon after the delivery of furniture to our home, I found many defects in my products for which I called the local store and verbally complained. This was followed by complain via e-mail. However, till this date my concerns have not been addressed properly. After many attempts to contact many different people from their end and repeated complain, finally a repair person was sent to our house on 12/01/2016 to evaluate and repair the damaged furniture. The repair person could not fix the problems.
The discoloration defects observed on some of the tables were simply colored by the repair man using a sketch pen, which was totally unacceptable. One of the side tables had a large damaged area with what appears to be due to solvent out gassing. The repair man said that the table could not be repaired and most likely will have to be replaced. He further indicated that he will notify appropriate authorities in Ashley to take action. It has been a couple of months since then, and no actions have been taken from your end to either repair or replace damaged furniture that includes expensive chairs.
I feel like I got lemons from the store and that the company is incapable of taking care of their customers. Considering your pathetic response to address my concerns, it appears that your company is involved in unethical business practices. I was influenced by your sales agent at the store to buy the protection insurance plan from GBS Enterprises for such situations. I paid $700 for 5 year protection insurance plan. However, when it came time for you to deliver on your promises you are shying away from your responsibilities. I am not going to buy any furniture from your store again unless you can convince me that you care for your customers.

If I could give zero stars, I would. So, for the first time I called the Gonzales store to make my purchase. I was greeted, and then told that they were busy and would I hold please? Fifteen/Twenty some odd minutes later, the line clicked. And that set the tone for the next weeks. Me calling, asking to make a purchase, being placed on hold by an associate that seemed rude and dismissive, and then click. Then the next week, me calling, asking to speak to someone about, "Oh, someone will call you back," then, surprise, no callback.
Days, weeks. Just like that. It feels like they don't want to sell furniture and they don't care about their customers. So, it begs the question: Why are they in business? I've always enjoyed my purchasing experience when shopping for pieces from Ashley. And post flood, all I needed to do was replace some furniture. My local Ashley store, like so many others, also flooded so I went to the next closest. I felt that, as a store that sells furniture, Ashley Furniture Homestore-Gonzales would be only too thrilled to sell furniture. Seems, I was mistaken. Suffice it to say that I ordered my furniture from a different store. They were more than capable of taking my order over the phone (a necessity due to my work hours) and they even managed to return my calls when I left messages for them during peak hours. They get all the stars in my review of them.

We bought our sofa and chair, 2007? Now we found out it was lawsuit against Ashley for their "bonded leather sofa" and is not longer in production for terrible quality. It starts flaking with almost no use. Previously we had sofa real leather from Scandinavian design for almost 10 years with no problem. Bond leather sofa was worst waste of money and want my money back. I want answer to this problem.

I am a consumer. Old school. Sure, I could buy a recliner on the internet. Have it shipped. Sit in it. Maybe buy two more and have them shipped. Not a good way to compare shop. The only way you know is to go and sit in that chair. Every person has their own tastes. You need the showroom. So you go to a place like Ashley HomeStore, pick out the one you like and then buy one on the internet. This is what the millennials do. Did I mention Old School? If a vendor helps me make the right decision for a purchase, they deserve my loyalty. I will pay for that privilege of trying out the product and seeing the selection of colors and fabrics in real time.
Ashley has a unique problem. They actually compete with other online vendors that carry their product line. Talk about a rock and a hard place. The online vendors charge no tax, have free delivery, and have prices $200.00 to $300.00 lower (on the power recliners we were ordering). Of course the HomeStore matched, but could do little about the tax or delivery charges. They should have lost the sale, but they didn't. My sales rep matched the price and that was my only concern. I knew these were the chairs we wanted and knew they would meet our needs. All my Old school requirements were met. Those extra costs were the price of admission. No mistakes. No regrets over color or style, no disappointments. The sales person earned her commission (if there is one).
The Mega Store Showroom. I see all products being sold a new way in the future. Large showrooms featuring MANY vendors and styles. Kept in business by slices from the online distributors, who know how to handle inventory and delivery with a vengeance. Look at Amazon. Large items like furniture, cars, sheds, pools and mattresses could easily show up in a Mega Store Showroom, with only one method of purchase - online. If Ashley quits competing with themselves and concentrates on good products and educated sales staff (like they have now), they could be the greatest online vendor for home accessories (and Ashley's-Mega Store Showrooms).
Our contact with Salesperson Robin ** was informative and rewarding. This first phase of the purchase process has gone very well. We are left with delivery dates and setup along with followup on any problems that might occur. So far, both my wife and I are very impressed. If you absolutely need the lowest price and don't care about the local economy, try out HomeStore and buy online from someone else. Soon the places to test out will disappear and you will have to let others make decisions for you. Like YELP or Facebook. Or maybe that Mega Store Showroom will come along. Good hunting!
Sidebar: It would probably be in Ashley's interest to quote the best internet match, instead of having the customer call them on it. The online store quoted two week delivery. Even Ashley HomeStore couldn't match that. They need to allow their sales reps to AUTOMATICALLY compete with the online vendors and show them what they will find on the internet. Hopefully they will show their (HomeStores) advantage in having the product readily available for review (and discussion) with someone that has experience with the product and can explain the differences in performance. Our time is valuable. Don't waste it figuring out things for yourself, unless you enjoy the frustration of trial and error.

The purchase went smooth as silk, but that was the end of it. Our salesperson, Craig, told us we'd have our recliners and table in 7-10 days. That was the first ruse. On the 8th day we called for an update. This is when the excuses began. It was because of President Day's weekend, there was a delay in the delivery service, (more on these bozos later). It was because the color was custom ordered... blah blah blah... NONE of which is true. I called the 'manager' out on his misrepresentations. He then realized I was not the usual dumbass. He then tells me our furniture should arrive 7 to 10 days from now and then we'll schedule a delivery.
Now for the bozos. Ashley uses a separate delivery company out of New Jersey. This is where things became impossible. Cory Delivery Service, 150 Meadowlands Pkwy., Floor 4, Secaucus, NJ 07094, Phone number (443) 354-5516, who along with Ashley has a D- rating with the BBB, enjoys an anonymity with the people buying the furniture. When they called me to tell me when they were coming they included a list of excuses for why they couldn't deliver. Huh? You haven't been here but you're already giving me excuses? This was unacceptable. Asking for management was pointless. 2 days later I got a call from the manager of Ashley. While apologetic for not being able to make the delivery, the only accord we could reach was a complete refund. Wayfair here I come.

ConsumerAffairs Research Team
The ConsumerAffairs Research Team believes everyone deserves to make smart decisions. We aim to provide readers with the most up-to-date information available about today's consumer products and services.
Founded in 1945, Ashley Furniture became an industry leader in 1970 when its first plant opened in Wisconsin. The plant started with 35 employees, and the brand has since grown to include stores in more than 120 countries.
Convenient locations: With many locations across the country, it's easy to find a showroom near you. Use the store locator tool on the website to get started.
Quality tested: Each design from Ashley Furniture undergoes rigorous quality testing for safety, comfort and durability. Take a look at some of the methods used on their website.
America's #1 home furniture brand: Ashley Furniture's quality appeals to consumers across various demographics, making it the top selling home furniture brand in the United States according to Homes & Textiles Today with reported revenues in excess of 3.3 billion dollars.
Online showroom: The online showroom feature gives you an idea of what to expect at your local store, but it's just a sample and shouldn't be considered a complete inventory.
Best for Families, individuals and professionals.
Ashley Furniture Company Profile
Company Name:

Ashley Furniture

City:

Arcadia

State/Province:

WI

Postal Code:

1945

Website:

http://www.ashleyfurniture.com/