Consumer Reviews and Complaints

Bought a couch set with a warranty July 2016. By April 2017, we noticed some defects in the material. Lumpy cushions and fabric balling up. Went into store. Talked with a manager. We emailed the manager pictures. He said he would look into it. A few weeks go by. No response. Went back into store and spoke with him again and we sent email with pictures again. He said he would get the information to the appropriate people. A couple of more weeks went by. No response. My wife went to the store again. The manager told her to buy some cushion material and stuff her own pillows. WHAT!!! I mean are you kidding me? Let's see, that would go under the category as rude, disrespectful, unprofessional, and some would say sexist. Obviously that did not go over with my wife. We then talked with another manager at the store. Still nothing done.
We have called and called some more and we get the same answers. "We have some of your cushions but will call you when we have them all. They should be here in 2 weeks." It is now Sept. 18, 2017 and we have still not received our new cushions. Matter of fact I received a call on Sept. 18 and a lady said some of the new material was in but we would have to pay for the rest since the issue wasn't reported during the warranty window of a year. NO!!! We have email showing that it was.
This is not the only issue we have had with them this year. During our first complaint about the couch, we bought more furniture. They specifically told us that the furniture would be here in 2 - 3 weeks. 5 - 6 weeks later all the furniture finally showed up. To sum up my complaint Ashley furniture in Lexington, KY is the worse experience I have ever had with any company that I have ever done business with. They are disrespectful, unprofessional, dishonest, and have zero character or class. I would highly NOT recommend them to anyone EVER!!!

My husband and I were looking for a black dresser, with little luck. I called Ashley Furniture and spoke to Derek. He was very helpful. I told him we wanted to get a dresser and take it home the same day. He said most furniture would need to be ordered, and would take weeks. But he said there were clearance pieces and he did have a black dresser that someone ordered and didn't take. He sent a picture, and it was perfect. We agreed on a price. We changed our plans so we could make the trip to pick it up. It was an hour away, so I called before we left to make sure the dresser was undamaged.
Derek said he would check it out and call me back. He did and said all was good. We got there, he asked me for a credit card and I asked to see it first. He got a little funny and said he would have to check it out with the warehouse. Then he told us there was a glitch. The dresser WAS damaged despite the fact that I asked him to check before we left an hour + earlier. He said there was another one he could sell us because the people weren't picking it up 'til the end of September. So we get out to the warehouse, ask to see it, and all of the sudden it's unavailable. I can't help but feel they were trying to scam us in some way. Very dishonest.

I was not told there was no return policy on ANYTHING that had been taken out of the store. Not only could I not exchange or return a mattress with the usual stocking fees offered by every other reputable company, I was stuck with a $300 mattress cover they told me I had to buy. I will never deal with Ashley again. I should learn to read the reviews before dealing with a company I don't know. The salespeople said that they would "work something out" if the mattress or box springs didn't work because of size issues, but that all went away once the delivery was made. They told me I could sell it on Craigslist. Unbelievable!

I havent even received my furniture yet and already disgusted. Their delivery service is at their convenience and not for the customer. If you pick up furniture you void warranty so another way to get a hundred dollars from you. They don't tell you items are on backorder until after you have made a purchase. They are all about the sale and NOT about the customer. Got me once but won't happen again. I will be purchasing my recliner and table somewhere else.

Ashley Furniture store Fayetteville NC - Purchased two swivel dining chairs with arms on July 2 2017, they were delivered on 11 July assembled. They started coming apart within 2 weeks, I called the customer care number and was informed there was no warranty with them even though I purchased one. I was informed I bought them and they would not do anything. I contacted the finance company and after two months of following up with the dispute submitted through the finance company Ashley told them they will not do anything! Do not buy from this company. Their products are cheap and the warranty is a scam for them to more money from you!
How do I know I can trust these reviews about Ashley Furniture?
882,235 reviews on ConsumerAffairs are verified.
We require contact information to ensure our reviewers are real.
We use intelligent software that helps us maintain the integrity of reviews.
Our moderators read all reviews to verify quality and helpfulness.
For more information about reviews on ConsumerAffairs.com please visit our FAQ.

We purchased a sectional after hours of searching. Due to our (and family members') age and disability, we had to have a firm cushion. Along with an excellent sales associate, we looked for hours to find what we thought would work. I didn't like the color or the cushions but thought maybe this one might work if I changed cushion covers, and it was the only one that had seat cushions firm enough. We understood that we would receive it in a couple of weeks.
After many delays, part of it was delivered after about six weeks and the rest was delivered about eight weeks after the order. We have tried in vain ever since it was delivered to have it picked up and receive credit. A collection company called us for payment today. We had made a payment so as not to affect our credit, hoping to be credited that amount when this is settled. After reading all of the terrible reviews about Ashley, I am disappointed but we are going to talk to the store manager today to see if something can be done soon.

We bought a bedroom. We had to refused headboard 2 times because of broken parts. If you don't recognize issue while deliver time they don't accept replacement. They can repair it. Their repair process too late. Eventually we decided to never going Ashley Furniture again. I bought other furnitures from different brands.

My delivery date of furniture was canceled twice thus far. The next "promised" delivery date is 9/14/17 which will make 38 days since I was in the store to pick out my furniture. Am not holding my breath and I will not accept being pushed back again on a delivery date for a 3rd time. Raymour & Flanigan will probably be seeing me shortly since I highly doubt that Ashley's will hold to their 3rd promised delivery date. From what I've been reading, the stuff will probably be damaged anyway.

Extremely unprofessional service from both Ashley's and their so called extended warranty from Platinum warranty company. Will not provide you with a sense of customer service in any form, their Platinum warranty company basically will find or formulate any reason to not provide the coverage you already paid for at time of purchase, even for a minor incident such as a superficial scratch on a table. THIS IS THE LAST TIME I OR MY FAMILY BUY ANYTHING from ASHLEY'S and PLATINUM WARRANTY. They have definitely lost a customer for the lifetime of their business, which I'm sure will be pretty short.

I purchased a 3600 mattress and base set from Ashley. I have had the set for 3-weeks and am experiencing excruciating back pain from the new mattress. I called and asked if I could exchange my mattress understanding charges for restocking etc. I was informed that there is a No return policy on mattresses. This was never disclosed to me and I feel they used deceptive business practices and should have explained this in great detail at time of purchase. I would have never bought the mattress. Now I am stuck with both a $3600 mattress I cannot sleep on but a medical bill for the back issues I have developed as a result of this poor product. I may consider initiating a class action suit for the physical pain I am. DO NOT BUY FROM ASHLEY. ZERO CUSTOMER CARE OR CUSTOMER SERVICE.

I should give two reviews, but will just put the average score. Shopping and salesman experience was 4 or 5 stars. What happened? My wife and I went there (Fort Worth, TX location) looking for couches. We had a salesman that helped a lot and checked on us regularly which was helpful. After selecting couches, we looked at bed frames and mattresses as a possible purchase also. Ultimately decided we'd come back the next day if we decided on the extra items. Salesman suggested just paying a downpayment and if we wanted the rest we could do financing the next day, which was fine and we did that. My wife found another bed frame somewhere else so we decided not to return to get the other items.
I called to pay the remaining balance and had to give my CC info over the phone instead of running the card I had used already. I didn't like doing that, but whatever, easier than going in person. This is where I questioned the store. After giving the info I was given a confirmation number and told all was good. Then the following day my wife was called by someone from the store and they said there was a possible error on the purchase and that it might not have gone through. I logged into my account and there were no problems with the Ashley Furniture purchase, but I saw two tentative charges for GUCCI E-COMMERCE on my account. I immediately called the bank and told them my cards were compromised. This was the only time that my info could have been taken in the past few weeks, I should have just driven back up there to pay in person.

Long story short... Only two pieces of my sectional couch fit and one did not. I was TOLD that Ashely would swap out the piece that did not fit for one that did, therefore I agreed to keep the other two. After that I was told by several people that they could not and I had to order a right arm facing love seat myself online. YOU CANNOT ORDER THIS ONLINE AS IT HAS TO BE DONE BY A SALES PERSON AT A ASHLEY STORE. I lost a day at work just arguing with people on the phone. Then was told I had a "unique" situation. Are you kidding me? Like this has never happened to anyone else. Finally, they agreed to send me the piece I needed and would give me a discount. When I looked at my checking account I found out they overcharged me and was told I cannot receive the 3rd piece till October which leaves me with a half a couch for 6 weeks. DISGUSTING PEOPLE DISGUSTING SERVICE.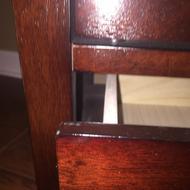 Very nice saleswoman and ordered bed and night stand for delivery at Ashley Furniture Store D'Iberville, MS. Waited weeks for delivery and when arrived night stand was nicked and bed had a defect in the staining. Did not keep Furniture and spoke with manager Jeffery whom I thought understood and was going to replace my Furniture. Jeffery refused to replace the Furniture telling me that he thought I "wouldn't be satisfied" with another bed. This man was completely not interested in satisfying me as his customer and only interested in what it would cost him to have another bed delivered. Terribly disappointing to have such a huge chain as Ashley Furniture treat you this way!

I bought 2 complete bedroom suits from Ashley Furniture approximately three years ago. All purchases have been paid off. My wife and I were told we would have about a three hundred dollar "allowance" that could be used to purchase additional furniture valued at five hundred dollars or more. This allowance, I paid for, was to be used for any repairs needed for the bedroom purchase, which was not used. This transaction occurred in Southaven, Mississippi. This "allowance" had to be used by December 2017. My wife and I were in Memphis, TN, on August 26, 2017, and decided to go into Ashley's and look around. We found a nice dining table and chairs in the clearance area and bought it... here is where the customer service failures started.
First we were told we cannot used "allowance" on clearance item (first time we had heard about this), second thing they will not deliver clearance items (first time to hear this too). Also we were told we had to use the "allowance" at the store where we bought the bedroom furniture (the first time to hear about this too). Needless to say, by this time I was getting irritated with all the bs I'm hearing. All of this has taken about two and one-half hours. Through all of this, the pickup days were to be either Monday or Tuesday.
Now all the clearance furniture is on the second level of the store and needed to be carried down to the first level. I was unable to go get the furniture on Monday as it was raining so I rented a truck on Tuesday. As I work a part time job, one would think since I did not come on Monday, I would be there Tuesday... wrong. Not one thing had been moved so I could take it home, that person who moves said furniture had gone home for day. Then it was stated I was to call them, that they did not move anything without a call. Well dumb me ask the question, if a pickup day/days were determined, why would I need to call?
Now I'm more irritated... this is when Malcom, floor manager decided to help. At this point I questioned their commitment to customer service, as I had retired from FedEx where customer service is a very high commitment. At this time Malcom informed me, though he needed a neck operation, he was not going to help me because of my attitude. I then ask why was he there if he needed a neck operation which he turned and left. By the way Malcom had a attitude from the very beginning. I wonder how Malcom would have reacted if I had been **. My days ever going in a Ashley Home Store is over and will tell any and everyone I know and/or see. I will report my experiences to the BBB and Consumer Affairs in Tennessee and Mississippi.

I got my bedding set in December 2016 in my new apartment. I had another bed so rarely used my new one. I should tell that I have no pet or child. After 4 months the bed starts to squeak. I called the customer service and they sent an expert to take a look. He believed that the frame base is broken and need to be replaced. Ashley refused to do that and told me "because we cannot see the broken part we cannot do anything." The bed frame was all cover with fiber. So, how I could tear it to show the broken part and why the expert did not do that? At the end, they told me I used it wrongly and that is why it is broken and they cannot change it. Now (August), my mattress is deformed completely. I have a back problem and these days it got worse. I called customer service and after following up a lot, they told me that "Your case is rejected."
The lady she was following my case refused to talk to me and the other representative hanged up on me. She told me "We cannot do anything. The mattress is damaged because your frame base was broken." First of all, the place that frame is making noise is different from the place that mattress deformed. Second of all, I believe the people who are making the decision should be educated because I am a mechanical engineer and am sure they cannot find any connection between these two issues. Third, the mattress has the warranty for 10 years. I should add the first day I got the bed set something was wrong with the drawers as well. I never ever will buy anything from Ashley. I also am sorry for their business. I can see their future now.

WARNING!! Total rip off!! Online prices are CHEAPER THAN PRICES SALES PEOPLE GIVE IN THE STORE!!! Plus order online and you don't pay the ridiculous delivery charge. Free delivery online!! Then I found the furniture I purchased online at other retailers for over $200 less per piece!! WALMART.COM HAD THE SAME COUCH FOR $200 less!!! Sales manager, Stephen wasted my time and will NOT price match or take off delivery. My experience was WORSE THAN BUYING A USED CAR!! So check ASHLEY online before paying in the store!!

I ordered a bedroom suite that I had to wait 3 weeks for delivery because the Chester drawer dresser was out of stock. Once the furniture was delivered, I started looking over the set. Every piece except the mirror was damaged. Needless to say I called Ashley within minutes and scheduled a pickup. I chose not to reorder the set because it was clear that the set was not built for quality. The backs of the 2 dressers were warped, both were broken, the storage bed drawers were busted, etc.
Ashley picked up the furniture the next Friday. I called to make sure that I wasn't going to have to pay for the delivery of damaged furniture and they refused to give me a refund or credit because the delivery fee is non-refundable. I asked the rep to make sure that Ashley understands that they lost a very good customer over $100.00. I fully understand that delivery fees are non-refundable, but a customer should never have to pay for a damaged delivery especially when every piece was damaged. There's no way the delivery guys didn't see some of this damage before they my house. After all, they had to put the set together.

Bedpost ornament on daughters bed broke off, they said it can't be repaired, bed would have to be replaced but they are not replacing it! They said I called awhile ago so it's old damage!!! When I called I never submitted a Claim and rep on phone said they were not putting in claim because bed was too new and it was a child bed, they said wait... Now they are refusing claim, they have 994 Better Business complaints on these same issues! How are they still in business, heard Ashley Furniture is no longer using them! But they are no help either! I will put this warning not to buy this product on several social media sites so other people will not be scammed.

All accessories are Final Sale? As a Consumer, when Ashley promised a delivery and it did not show up I wanted to cancel the order, they said no, all sales final. I then requested they at least communicate the delivery time to me. It has always been my understanding that federal law gives consumers the right to return an item within 15 days. Ashley rep stated this is not true, that I signed their policy at check out. The sales agent was at large. The manager Alex in the Pineville, NC store was so curt and abrasive on the phone it angered me.
Update - 3 days after I was vehemently told it would be delivered to us and a UPS tracking number would be communicated I called the distribution center at ** and spoke with a representative about the missed delivery. The rep stated it was cancelled from being delivered from UPS truck the day before--Where is the communication--luckily I made that call! I now have to pick it up at the distribution center myself. No biggie right? Wrong, looks like I picked the wrong company!!

What a rip off. Bought a new Ashley couch 3590157 at Rabel Furniture in Dickson City. Got it delivered to the house on Thursday, sat on night Thursday night and after about an hour my butt was on fire. Even with a blanket on it, is still quite uncomfortable. Called the Dealer the next day and the comment was comfort is not covered by warranty. Called Ashley Furniture and same thing. What dumb ass lawyer came up with that idea. What the hell is a couch for. Anyway neither could offer a remedy or let me return it. As they say, Caveat Emptor. Make sure you check the warranties before buying anything from anyone. Next time I think I found a couch, I'm going to camp on it for a few hours and order coffee and finger sandwiches to see if it is comfortable.

Ashley Furniture was the furniture store I always used to buy new furniture. My most recent experience was terrible. I purchased a new dining room set and a living room suite. They offered a Guardsman protection plan with the purchase. The sales person guaranteed the Guardsman protection plan would cover all damages. I had to use their warranty after only having the furniture for 4 months. The chairs started to wobbled and one of them split at the bracing. My reclining love seat started to pull away at the seam.
The service department took several months to repair. The customer service person was rude. Now, my dining room table is chipped and the paint is peeling. The Guardsman protection plan will not cover the problems despite the assurance that it covered everything. Now the manager of Ashley was quite rude, talking over me and assured me her salesperson would 'never say that or they would be fired'. I will not make the mistake again and purchase from Ashley.

I purchased a mattress. It was sunk in the middle, made exchange but the second one is just as bad they claim. It's a gel mattress. Feel like it's loaded with dust mites. I called was told it was the gel. This one also sunk in the middle. Never will buy or recommend anyone to shop there. They claim their merchandise is made somewhere else and sent to a warehouse here in St. Louis MO.

The salesman was great but as far as the manager Curtis was awful. The 3rd party stole our planter and container. We noticed within two minutes. We called to complain, I was treated like I was the one the committed the crime. He went off on me and said why would they hurt losing their jobs for 50, or 75 or even $500 00. He another one that I tried to talk was Briana, they made feel like I was lying, they also broke my light and did not say a word, I am still waiting to get the money for that. I was told that the delivery people said they never touched the stand with the planter then they said they moved it. They are thieves and liars. Curtis mailed us a $100.00 gift which I did not ask for or expected and we still have not used it, they are awful the way made me feel. We are the victims not the thieves. I will never ever go to Ashley's again.

All Lies In Phillipsburg, New Jersey. In one transaction, I have been screwed by this store 4 times (so far). Wanted an adjustable bed with a memory setting (other than flat). Bed I was shown had neck-head-feet adjustability with 2 memory settings and massage. Wasn't interested in massage, only the memory setting. (1) Was told I could still get the memory setting without massage. I even asked at least a half-dozen times that she was sure that was correct. That was a lie (and was sold a completely different model). (2) Was told that the price of the bed (they sold me) was $899 and, with a $100 off "in-store coupon", would be $799. Turns out the actual cost of the bed is $999 with advertised sale price of $749.25.
When I returned to the store to complain that they sold me a different bed that doesn't have the only feature I asked for, the manager said she could not just "give" me the correct model as the difference wasn't even their cost and asked if I would split the difference of the increase in price. (3) Not only was the price I wound up paying near the advertised sale price (so not even near their cost), (4) it was actually $12.25 HIGHER than the advertised sale price. The first question I asked before even looking, and at least a dozen times until I left the store, is that there was no question that they would remove my mattress - AND - box spring.
Expecting that to be a lie, too. Also wondering if I am going to get screwed on the extended warranty they sold me. Was told I could buy any frame and mattress I wanted, yet product description on website warns "purchasing mattress and foundation from two different brands may void warranty", yet they still sold me this extended warranty.

Short version: Majority of local personnel have been great to work with but Corporate Ashley is NOT great to work with. NOTE: When you purchase product(s) from Ashley, you have 48 hours to get your money back, after that it's store credit only. We didn't read the fine print... So bought furniture, it was delivered over one week later, didn't work for us, so we're stuck with store credit, exchanging subpar, cheap furniture for subpar, cheap furniture. Now we are stuck with a subpar, cheap sofa and loveseat. Bought the extended "Montage" warranty, which if not used in 5 years one gets store credit... Whooptie doo.
Final furniture we are keeping is the Walworth power love seat and sofa set. Although they are very comfy, they are cheaply made and likely won't last a couple of years. Also, note on of the pics, they don't even bother hiding the frame, visible around the bottom, which is an eyesore and makes it look even cheaper/junky. Both came with ill-fitting hardware, so the removable backs will not line up. One reclining device came damaged "Due to shipping, and if we exchange for another sofa, it will likely have the same damage because they ship them on their sides."
Both sofa and loveseat can be exchanged for another new set, but since this is our 3rd set of furniture to try out, we give up and are counting our losses. Negotiated an extra 10% off our bottom line and that's the best deal we could get from them. They'll repair the damaged hardware as part of the manufacturer warranty. Bottom line and buyer beware... Caution if considering buying from ASHLEY unless you are ok being stuck with junk for a lot of money. Wish we would've researched further before purchasing from them. Next time, we'll buy from Costco... At least they have a great warranty and one can get cash back if not satisfied.

Finally after the third attempt the furniture was delivered. Because we never heard back from supervisors after the second no show delivery (we drove 2 hours each way to the delivery site), I still maintain Ashley Furniture is horrible to deal with and will never shop there again. Their rating and numerous complaints regarding their service is an indication of their commitment to customer care.
Original Review
I went to Ashley Furniture in Fairfield NJ with my daughter to purchase furniture for her apartment. They sell good furniture for the price and they were more than happy to sell us furniture. Delivery and customer service on the other hand has been horrendous. The store told us we could get delivery in the morning (they set the wrong expectation) and when we received the time frame from their distribution center, we tried to tell them we were told otherwise and were met with "furniture is already on the truck and you will be charged for delivery if you're not at the site. I tried calling the store hoping the manager there could help me out but manager Spiro could not be bothered to return any of the 2 calls. So we drove 2 hours to delivery site and they didn't deliver within their 4 hour window and because it was my daughter's birthday she couldn't wait around till 8 pm.
Since then, we've been lied to, never received any promised call backs and to add insult to injury, they texted my daughter with another time frame for delivery and they didn't show up. We have the automated call they left along with the 4 hour time for delivery window they gave (this after I asked them not to contact my daughter and they needed to deal with me. Obviously, they are not capable of respecting anyone's request). They didn't show up for the second delivery and basically accused my daughter of lying about it. I still have not received a call from corporate, or the customer service supervisor for whom I left a message. Worst company to deal with!!!

We bought $800 worth of furniture... Received confirmation texts for delivery, then the driver didn't show. Called the customer service number and was told he was stuck in traffic and he'd be at our house in a half hour. He didn't show. Called the store a few times... Finally got a call back. Seems the driver left our stuff at another stop on his route. Further, we never received the dishes we purchased as part of this order, so the store wrapped up the display set. We got home and found they are unusable because of felt "feet" glued to the bottom of the dishes. We've been trying to resolve this for two days and, despite our requests, we have yet to hear from a manager, the warehouse or the dispatcher. They really worked hard to get that one star rating. Maybe next year they can get it up to two stars!

I purchased furniture for amount of $4500 from Ashley Furniture at 7770 Miramar Rd, San Diego, CA 92126, the sales man told me he will add extra sale amount for me for good customer service after I selected the furnitures. At the cash register he added $340 for warranty which I said I don't want it but he and his boss refused my request and said, "You have to have it," and I said I will cancel all my purchase. He said ok, so I could not buy without paying $340 warranty and even the furnitures come with 5 years warranty. I received a call from customer service to check with me about the purchase and I told them about it but never heard back from them. I liked their furnitures but not the sales man and services. I also received the furnitures, the TV stand, the shelves were missing and I told them about it. Never heard back from them. Was bad experience.

Worst company to deal with to get a tax refund for shipping internationally. I purchased $15K worth of furniture one year ago, submitted my proof of shipment in person to the Ashley's store in Brooklyn and it's still (ONE YEAR LATER) fighting for this refund. I received all my refunds from other companies I made purchases from using the same bill of Laden but Ashley's is the only one giving me the runaround. If I don't call to check on the status I won't find out that additional information is needed.

I am not writing to "yell" at any department or have any one person affected. I just feel this story should be received as high up as Ashley takes severe customer complaints. On Friday July 14th I went to Ashley in Laguna Hills, CA to look at lamp tables. The great news was that everything in the store was half off. I found a table I wanted but then started contemplating purchasing a full bedroom set because of the great deal that was going on. I found some items I liked, a bed that I loved, and knew I had to return with my husband when he was free. My husband and I came back on Sunday the 16th and after some perusing, decided on the bed I originally loved, a mattress, 2 night stands, a chase, and a dresser. The bed was a large upholstered headboard that did not have other items with it, so the other items were from a completely different bed set. I also still purchased the small lamp table I had originally set out to get.
We finally checked out spending $4300 while opening a line of credit. Delivery scheduled for Thursday the 20th - and we received the time frame of 8 am-12 noon. I was able to have my sister come to my house - and was there from 8 am until, 12. At 11:50 she let me know no one had come yet, so I called customer service. They simply told me there had been a "mixup" and they could deliver on Saturday. No courtesy call to alert me when this "mixup" had occurred so my sister wasted half her day for this. We also had deconstructed our room to make way for the new furniture and were sleeping in different beds with our clothes in multiple rooms of the house. Since I was going out of town for the weekend, Saturday was not an option.
Now my husband and I both had to get on the phone with customer service AND the actual store, getting the run around to make this right. The delivery fee was dropped and they said they would reschedule, but I never was able to get ahold of the store manager who I truly wanted to speak to. Now - more delivery scheduling, the new delivery set for Wednesday the 26th - 10 days after we made the purchase. Delivery scheduled for 11-3, and I had to rush home at 12 because I didn't receive the "we are 10 minutes away" call. My husband got a call that they were at the house, while I was 15 mins away at work. I was not going to take a day off and risk the delivery not showing up while I waste a day off work.
Get there, delivery guys there, they start unloading and I look at the bed they were planning on bringing in... Wrong bed 100%. The bed was a wooden frame with metal bolts in it, which did not even match the nightstand, chase set we had. Turns out the store salesperson had entered the wrong product numbers for the bed I was to receive. The bed I loved. After again, multiple calls to customer service and the store- which was not answering my calls or the "dispatch calling"- who'd know if she was calling or not- I had to just go to the store to try to get this situation figured out now. Thankfully the store manager was there- the same one that had been there the day we purchased. He apologized of course, no clue why the mistake had been made, and discounted us $200. But could not do anything about scheduling something that was convenient to my family except set the day.
Anyways, I requested to have the bed delivered on Sunday afternon/evening as late as possible. He said he would call and request that as well, but no guarantees. I myself called customer service about the delivery and let them know I will be out of town and only back on Sunday in the early afternoon, and due to the already multiple poor service experiences I had, to please take my request seriously. Friday morning I received the time frame for Sunday afternoon 3-7. GREAT! I was thrilled this went through. We would for sure be back from our mini trip on Sunday by 3 pm. Saturday afternoon, I receive a voicemail that the delivery was now scheduled for Sunday between 9 and 1 pm. Really? After all that?! By the time I call customer service back - closed.
I call the home store - placed a message with the worked that it was urgent and I needed to speak to the manager, Gus - she said she would let him know. He didn't call me back, and by the time I finally call the store back, "he is gone for the evening maam". Nice service Laguna Hills. Sunday morning - we were NOT going to rush back to try to catch the delivery - call us at 10am, "we're here with delivery". Talk to customer service, OF COURSE, there's nothing they can do.
Call store - manager is busy, everyone's so busy with other customers, hold hold hold... Only way to get anything done is to go BACK into the store and face to face converse. My husband went in, spoke to a manager, who then offered a gift card! By the first delivery ball drop I had decided we will never purchase from this store again, a gift card is about as valuable to me as gum under the table.
After negotiating, a $200 refund was agreed upon, while we had to again reschedule the delivery for the bed. Customer service this morning had already scheduled delivery for tomorrow, luckily in the later afternoon, but I won't hold my breath. She also thought she had to scheduled ANOTHER delivery for ANOTHER bed for me. Literally read the form to me that there were 2 headboards, 2 foot boards, etc... How on earth still!?! Yes Ashley Furniture is nice, I'm sure it is great quality. But WOW the majority of the processes and people I have interacted with felt like a train wreck. Not all - but majority. The most baffling part of the whole experience with Ashley is the delivery process. Every family is busy. Giving these 4 hour windows only 2 days in advance especially for those who work full time is preposterous and seems discriminatory to those that work.
Who can receive a shipment on a Wednesday morning from 8-12 while only finding out on Monday...? The delivery system needs a revamp. Plus we were getting a whole bedroom set delivered, not a coffee table or patio set. These are daily necessities, a bed, dresser etc. I'd imagine if there are this many "mix ups" and last minute changes in deliveries by the dispatch and store saying there is nothing they can do - is essentially false and items such as beds should be prioritized. This has been such a let down of what is supposed to be a really exciting time for my family. Not that it matters but I have never purchased furniture from a store like this before for myself because we never had the money.
I have grown up with all hand me downs, so this was a HUGE deal. I have the worst taste in my mouth from your company and cannot express my disdain for it enough. But you're darn right I was going to sit here and tell my story. This is a flashing red light that there are MULTIPLE holes in your company and how it does business.

ConsumerAffairs Research Team
The ConsumerAffairs Research Team believes everyone deserves to make smart decisions. We aim to provide readers with the most up-to-date information available about today's consumer products and services.
Founded in 1945, Ashley Furniture became an industry leader in 1970 when its first plant opened in Wisconsin. The plant started with 35 employees, and the brand has since grown to include stores in more than 120 countries.
Convenient locations: With many locations across the country, it's easy to find a showroom near you. Use the store locator tool on the website to get started.
Quality tested: Each design from Ashley Furniture undergoes rigorous quality testing for safety, comfort and durability. Take a look at some of the methods used on their website.
America's #1 home furniture brand: Ashley Furniture's quality appeals to consumers across various demographics, making it the top selling home furniture brand in the United States according to Homes & Textiles Today with reported revenues in excess of 3.3 billion dollars.
Online showroom: The online showroom feature gives you an idea of what to expect at your local store, but it's just a sample and shouldn't be considered a complete inventory.
Best for Families, individuals and professionals.
Ashley Furniture Company Profile
Company Name:

Ashley Furniture

City:

Arcadia

State/Province:

WI

Postal Code:

1945

Website:

http://www.ashleyfurniture.com/