Consumer Complaints and Reviews

Chair is splitting after just a year of use. Protection plan was purchased along with chair and it is not covered under the plan to be repaired. Wouldn't waste my money at the place. My mother in law had similar issues with company as well. Wouldn't buy protection plans either as it is a waste of money.

I tried to get a job, and they told me I really needed to know Spanish to work there. I looked at the warehouse and noticed all Mexican Americans there. It kinda discouraged me, but now I make a lot of money, and I tell all my family not to shop there.

Where to begin, We had ordered and paid for our furniture 3 to 4 months ago. We ordered a full bedroom, a sofa and a dining room table with extra chairs. The day of the delivery two trucks showed up. When they delivered the furniture, several pieces were broken and had black stains on them. The stains were made by the delivery guys whose hands were very dirty. We told them to take their delivery back. A media chest that was delivered had only black stains on it. They should have used more caution when dealing with white furniture. They could've used gloves or at the very least wash their hands. Their hands were nauseously disgusting. As if that wasn't enough, one of the guys spit on his hands and tried to rub them clean. Of course, that did not help because the hand he spit on was so blackened. What an idiot. Then he uses his dirty shirt to wipe it off.
We told that guy to take all the furniture back. But he said he could not because the other truck that had delivered it, had left. And they took off without the furniture. Now I am even more pissed. Our dining room table that was delivered was scratch and 2 of the 6 chairs were uneven. One of the idiots told us our floor was uneven, which was a fabrication and untrue. It is a new home, and there was a builder rep there to oversee any issues we had. We said to the worker "why are four chairs OK and these 2 have an issue?" He did not have an answer for me. What an ** this guy was! Now our bed that we ordered months back was not delivered. They said it was on back order. More pissed!!! We ordered something months ago and no bed? Really Ashley!!!
The workers left our new mattress on the floor with the Bunkie board smashing our new carpet. WTF are you doing Ashley. We should have went to Living Spaces. At least we would have had something delivered correctly. Here we are. Let us itemize what we have after an Ashley delivery. 1 mattress and Bunkie board left on the floor. A spit on media chest that they had left and we did not want. A scratched dining room table and 2 uneven chairs. But, we kept the sofa. Think about this one folks. Do you want to go through this? Go elsewhere. There was nothing good about Ashley Furniture. **! SO unprofessional!
Oh I forgot. We called the corporate office and they said they would replace it and that they would deliver it on Saturday. It never happened. I was to get a call within the next day. 2 days later I get a call and they told me the delivery date has been pushed back by one week. Product **! Customer service **. Delivery **. No exaggeration!!!

I purchased a sofa set on clearance and received it in very bad condition, so I took pictures and sent it back to customer service and was credited with a very small amount. They couldn't replace it because it was no longer being sold. Only after a month it started deteriorating more but nothing could be done, as I was scammed into buying a defected product. They should not be selling it if was not in perfect condition. That only shows you they want to get off their merchandise even if it includes you in a loss. What they don't realize is that they are losing their customer and causing a bad reputation.

Let me begin... We entered the store and were totally ignored by staff, the floor staff seemed too busy to bother with us. We shopped the store for quite a while before we were approached. It was a very nice, young gentleman who was assigned to us by the older woman who seemed to be in charge. We informed him we were interested in purchasing a living room suite and had one selected. Wow did things changed, now we had attention. Not one bit of help until then. Placed our order, arranged delivery, and waited. Furniture was delivered as advised, delivery personnel were great.
Now to the furniture itself. Nothing like what we selected in the store, the cushions were not as firm and the seating itself was not as sturdy. We have large gatherings a few times a year and we wanted comfortable, sturdy seating for all. Not what we received. The sofa started creaking Memorial weekend, Fourth of July was worse. Labor Day the sofa seemed to sink according to our guests and Christmas the bottom fell out of the sofa. So embarrassing! Scheduled a repair since the furniture was still under warranty. We took a look at the inside construction. What a shock!!! It is put together with thin staples, the front-to-back support boards were not all attached from factory, and the ones that were had come loose. The repair person even commented on the poor construction.
How do I know I can trust these reviews about Ashley Furniture?
667,311 reviews on ConsumerAffairs are verified.
We require contact information to ensure our reviewers are real.
We use intelligent software that helps us maintain the integrity of reviews.
Our moderators read all reviews to verify quality and helpfulness.
For more information about reviews on ConsumerAffairs.com please visit our FAQ.

I am afraid I have to add my name to the long list of people who were taken advantage of by Ashley Furniture's warranty policy. I paid extra (25% of the purchase price of my couch) to obtain a five year service agreement administered by Montage Furniture Services. The agreement stated that it would clean my couch if it became stained. It became stained and neither Montage or Ashley will honor the agreement. After 30 minutes with a pleasant yet unhelpful customer service representative at Ashley's corporate office, I was transferred to a manager who also refused to honor the agreement. I asked point blank if Ashley was selling merchandise it did not stand behind. Her answer was "Yes, and I cannot help you." Amazing!

My husband and I wanted to get a living room set before Christmas so we visited Ashley's in Fairfield, NJ. As soon as we walked in we were greeted by the sales rep Christopher ** very loud. As soon as he open his mouth I knew there was going to be a problem. He sees that my husband has a football Cowboys hat he start talking about football. I then ask my husband, "are we here to talk about football or shop for furniture?" So as we were looking around we found a set that we liked then here comes another sales rep I guess he was a Giants fan and also start talking about football. I was getting frustrated so I left them and started walking around the store. By the time I get back to them he had the run down on the price and what was included he tells my husband is 4yrs interest-free.
So when I started filling out the credit app I asked him about the 4yrs he tells me I get 1yr interest free not 4 but he just finish telling my husband that it was 4. I told him if my husband was there alone he would've got him but not while I was there. The day of delivery my husband calls me and ask me, "Are we suppose to get the electric recliner?" and I said, "Yes." He tells me we received the manual one. I told him call the sales rep Christopher **. This ** told my husband that he told us that we would get the manual one because they couldn't break down the electric one to come through the door. He was lying.
We didn't even know that it came in manual. The floor model was electric that was one of the things we liked. When I get home I immediately call the store to speak to a manager. She tells me that he charge me for the manual but she is going to change it for the electric one. To my surprise the electric one was broken down and through the door. Mrs. ** thought he was going to get away with it but when my money is involve no one takes me for a fool.

Buyer, beware about purchasing furniture, accessories, mattresses and other products they sell, because this company only concerns about getting your money and not customer satisfaction. Their website indicate that if you are not happy with your purchase, you can return or exchange your item within 30 days. The salesman assisting me did not disclose that everything you buy from this store is FINAL. No return no exchanges. If I had been aware about this policy then I would have think twice before purchasing from a store who don't stand behind their products. On top of that, if you are advertising about your return policy and not meeting what you advertised, I believe Ashley have deceived their customers. I will never ever buy furniture from this place, nor my children, relatives and people I know. Ashley, where is your reputation?

My husband and I went to Ashley Furniture and picked out a sofa and recliner. They were supposed to bring them both on the 31 of December between 12 & 3. They were late and then didn't have our recliner. Called customer service and they were no help at all. They didn't know where our recliner was and when my husband asked if we could get the one on the showroom floor they wouldn't allow us to get that one because they don't do that. The people who delivered the sofa were awesome but customer service... Not so much. We are very dissatisfied and will never buy Ashley Furniture again.

Was to get 2 recliners delivered on 12/31/16. I received confirmation twice. Was to come between 8:00 am and 12:00pm. No call no show. I called and they said someone from Ashley cancelled order due to store not counting inventory properly! Now they are supposed to come on Jan 3 17? Hmmm we will see. I will NEVER BUY ANYTHING FROM THEM AGAIN! NEVER!!!

We purchased a leather sectional sofa in the summer of 2015. Since then we've had nothing but trouble with the quality of the leather. The leather is brown and started fading out to a red color on one part of the sectional. They ordered a new piece of leather and sent a tech out to reupholster the piece. Now I had a section that was a different color brown and texture than the others. Shortly thereafter another section started fading out. Again they ordered a new piece of leather and that too was upholstered. This time, the tech was sloppy and destructive. Damaged the sofa, damaged my wood floor and left staples everywhere. Now I have another section of sofa that doesn't match the others.
I spent $3,300.00 on this sectional and it looks like I ordered all the pieces at different times. We've spent a week trying to resolve this with their "customer NO care" service, speaking with 4 different representatives until a manager decided to order more leather in an attempt to make us happy. Trust me, unless they can make each piece look like it was manufactured at the same time, I won't be happy. Of course no mention of restitution for my damaged floor. How they can think that having a sofa that looks this bad is acceptable is beyond me. Ashley makes horrible furniture that they do not stand behind. After reading all these horrible reviews, I'm surprised there's never been a class action lawsuit against them. DON'T BUY ASHLEY FURNITURE.

We bought our furniture from Ashley Furniture 4 years ago thru a promotion of 5 years. I loved the color and the furniture UNTIL the breakdown of the foam on the cushions on the couch. The cushions are soooo bad that when you sit down there is nothing left of the cushion. I only have 2 payments left -- which I paid off early by one year, I need to look for cushions to replace or look for a new set. I am so disappointed with the way the product stands up. We are not hard on our furniture at all. I tell everyone do not go to Ashley Furniture you will be DISAPPOINTED. It was an easy fix Ashley Furniture. :(

Unfortunately, zero stars is not an option on here. My wife and I purchased a couch over a month ago from Ashley Furniture in Falls Church and still have not received it. Ashley Furniture is, without a doubt, one of the most incompetently and unprofessionally run companies I have had the misfortune of interacting with. Every level of interaction with this company has been frustrating and unsuccessful, be it the "customer service" reps who hung up on me several times, or the delivery department who have cancelled our deliveries or supposedly "stopped by" with our delivery but never bothered to go to the door of our apartment building to notify that they had arrived. They have no insight into how to schedule or arrange delivery in a convenient or normal fashion.
The delivery department, specifically, is horrible, and have a terrible policy where they will only tell you the day before a delivery is coming what the "4-hour window" will be. Living in apartments where you need to schedule freight elevators well in advance, this "day before" policy makes it completely unfeasible to use this service. God forbid you have a job where you can't easily leave with less than 24-hours notice to wait for a delivery that might not come. Now, we are at the point where we can't get Ashley to work with us on getting our couches delivered, nor will Ashley assist us in getting the couch delivered to the Falls Church store we purchased it from so we can just pick it up ourselves.
Our next step will be getting the Better Business Bureau involved to try and get our kidnapped furniture released. Save yourself the headache and pain and just go with a company that has the slightest idea how to run a business or deal with customers. I wish we had Googled Ashley Furniture before wasting our time with this company.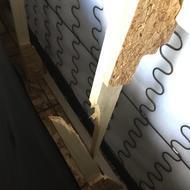 I received my couch with reversible ottoman on Aug 25th 2016. On approximately 12/5/2016 the couch felt different and looked like a spring or something broke. I called and they said it sounded like a spring and set up for repair. Waited all day for him to show up, only to cancel last minute. Set up another appointment, and when he came frame was broken not a spring. Frame was made of pressboard, he took a piece of wood and screwed it into broken frame for support. I immediately went to Ashley expressing my disappointment and that I wanted to either upgrade or get a new same couch. I spoke to Manager, and he had them call corporate office, only to be told that they would not replace the couch. I needed to accept the quick fix. I spoke to 2 corporate representatives only to be told the same thing. I now have to go through small claims court.

STORE: 5980 NorthPoint Parkway, Alpharetta, GA 30022 One of the worst store I have ever been in Ashley and a very bad experience. I have made a purchase of 10 K but still they have forced me to buy an item on Thanksgiving day with immense pressure and somehow I purchased. So, eventually after few days I changed my mind and asked them to replace the item or cancel it but they don't want to do it. I have spent almost a week on calls to cancel the item and am very much frustrated and irritated what not... These store guys are so smart they will put me on hold for hours and hours for no use and make you impatient. I am still trying to cancel my item... One of the pathetic store I have ever been... Beware. Don't go to this store.

My first time purchasing furniture from Ashley. I was in the store for 4 hours, very exhausting. First - they got me to do the 5 yr no interest. They did not tell me that you had to purchase the warranties. Not only that I didn't know the sofa warranty was $600 until I looked at my invoice late. There was also a mattress warranty of $400 that wasn't mentioned by the sales person at all. The bed I ordered wasn't going to be shipped with all the other furniture. They told me they would let me know on next week. Never heard from them. I spoke with the Manager Sherry about the warranties that I was charge for and I wanted them removed. She had an attitude about it. I told her that the sales person didn't give me all the details. The manager Sherry was very defensive and argumentative; stated that her sales person never forgets to go over all the details.
I told the manager - The sales person told me that FOUR people called out that day, so maybe that's why she forgot. We finally got past that and the manager said I would have to do a 3 year financing instead of 5. I said okay. I went into the office to redo paperwork and asked the front desk lady about my bed. She said it would be ready 11/28. I told her that I didn't want it if it's going to be back ordered. She said, "no it will be ready on that date." My order was delivered on 12/10 around 6:45 pm. Who delivers furniture to someone's home that late. The driver contacted me and asked rudely, Did I have all my furniture moved out the way. The driver arrived and I asked "do you have scrubbers for your shoes because this is a new construction home." He stated; NO - that they all use scrubbers when it's wet outside. Rudely, he said, "this is only going to take 10 minutes." He brought the Damacio living room set in.
Immediately, I noticed that it was missing cushion, material was wrinkled badly and sagging. I told him, "this doesn't look right." He told me that a technician would come out and fix it. I told him that the store had told me that I need to refuse it, if there's something wrong. The end tables did not match and the chairs were rocky; not stable at all. You could see the chair leg up from the floor. He said, that he could not take it back unless something was physically damaged. I told him I would call the store. The driver left. The store said that I need to contact customer service and I did. They were closed! Did she not know that? I spoke with the Manager Sherry and she stated to contact customer service and that my bed wouldn't be ready until February. She blame it on the warehouse about the change of dates. Called customer service and they said they would do an exchange. I said, "will this be prevented again." She stated that this have happened before.
The following week, I got a bill from the bank that had furniture listed on there that I do not have in my possession and billing me for furniture that I refused. I called the bank. They said that they didn't have anything to do with that. The rep stated if I don't want to mess my credit up I need to pay the bill regardless of what's going on. I called the store upset and I told them to cancel my exchange and that bed that I don't have. "I do not want to have anything to do with you guys anymore." Of course a manager had to call me back and it was Sherry again.
She was very unapologetic about my experience and stated that she would not return my order. That the furniture is in my house. It did not matter that the driver refused it. She didn't care about the communications issues with the warranties or the bed; which I was told by customer service that the bed wouldn't be ready until March. The only thing she would return is the bed. I told her, "what about the matching dresser and chest I got to go with that bed. I wouldn't have ordered if I would have known." Again, she blame it on the warehouse. Ultimately, she told me to contact customer service about the return of furniture. I spoke with a customer service manager by the name of Teraj and she tried to help with my issue, but she said that it was up to the store and they said no return, only an exchange. UNBELIEVABLE!
I DO NOT RECOMMEND ASHLEY. They are overprice for one. They have no idea of what's going on with their merchandise/warehouse. They send you to customer service for answers when customer service really can't help you. THE FURNITURE IS NOT OF GOOD QUALITY LIKE THEY SAY. 5 YR NO INTEREST IS A SCAM! FIRST TIME AND LAST TIME I WILL GET ANYTHING FROM THEM.

We purchased a full "Italian" top grain leather couch and oversized chair from Ashley Furniture in Cincinnati Ohio, at the Tri-County location. Both items were power recliners and both are covered by a useless five year warranty. The best of the best leather finish is coming off. We have called for over a year to get service out to fix it. Empty promises of service that never happened. Repeat calls to the store, customer service and the same results, NOTHING. They intentionally put you off until your One Year Warranty that covers this, has expired. The extra five year warranty, doesn't cover the finish coming off. Save yourself a lot of money and headaches. AVOID ASHLEY FURNITURE/MORRIS HOME FURNISHINGS!

I purchased a Durablend sectional and was told that it was more durable and kid and pet friendly than leather. We barely use the sofa and it has begun to peel after 2 1/2 years. We have had a leather sofa in another room that has had much more use over 10 years that is still in good condition. We purchased the 5 year warranty furniture protection plan but this "peeling" is not covered. I am waiting to hear back from customer service. I have seen that this is a nation-wide issue on all their durablend products. I will submit photos and receipt upon request if needed to file a formal claim.

When it comes to customer service Ashley Furniture ranks last in my book. They don't even deserve a star. Where do I begin. We bought living room, kitchen and dining room furniture in July 2016 and we didn't take delivery until August 2016. Well we did that but when it was time for the furniture to be delivered they said a couple of pieces were on back order. Well my question is what did they do with the time from July to August. They had enough time to get the order completed, besides the point we got the order and there was issues.
First the the mirror on the curio cabinet was cracked and one of the dining room captain chairs had damage. Now mind you this was in August 2016. We called to find out what going on and they said it was on order. Time passed too long so I went to the service center myself and come to find out the replacement parts were on the shelf just sitting there. I then said to the young man there that "this is not acceptable. I can't go home like that fellas you guys understand right?" So he offered me a $100.00 gift card for their store. What are you going to buy in Ashley Furniture for one hundred dollars.
Anyway I took that home to my wife. Wrong? She came unglued and went back up to the service center and wanted answers. They treated her like she was not intelligent enough to know that she was being played. She asked for a manager. The gentleman she encountered said he was the manager. She said "no I want your boss." Now mind you they did not know who they were talking to. He insisted he was the only boss. Wrong again? She wanted a real boss not a flunky. She wanted answers and she wanted them then. So our review of Ashley Furniture! Do not deal with them because all they are is a big name with a convenient store mentality. Run far away from them and run fast. They don't deserve you hard earned $$$. Best of luck. Don't do it.

I have spent close to $17,000.00 only to been lied to, avoided, not accepting my calls etc. I have been waiting on furniture for over two months. Loveseat was damaged. Coffee table have finish spilled on top. Side table never arrived. $2000.00 bed frame motor problems after 2 nights. Sent out employee only to inform me he needed to order new motor which could take a month to come in... REALLY. How does a brand new motor go bad in 2 days??? They never return my phone calls. Once the sale is final so are YOU.

We moved to Oregon from Hawaii and went in to Ashley store in Salem Oregon. Went through and picked out almost $12,000 worth of furniture. We asked several times if we could buy a floor model since we had no furniture. We were told that they never sold floor models, so we waited 2-1/2 weeks to get our order. One couch set had a back order on two pieces that were to be delivered by 12-24. Main couch had two bad mechanisms on the recliners which we finally after two weeks got a service man to tell us that.
Now we are being told it will take 2 to 3 weeks to get parts because they're in Wisconsin. Takes 3 days USPS to get a delivery, why over 2 weeks. Then we get a call and find out the balance of or order will not be here as promised and in fact they may be discontinuing the line. I ask if we could get the two pieces from the floor model and was told it had already sold. What!!! We paid cash and couldn't get it. Ask to speak with manager and still waiting for a call. Wow talk about the worst customer service.

Several months back I contacted Ashley Furniture Homestore when my sofa was damaged upon delivery and they were unwilling to replace the damage part of the sectional. When sectional was delivered, one of the cushions had a hole in it. When new cushion was delivered, noticed 2 holes in the decking of the couch pre-ordered sectional. When delivered hole in one of the cushions was noticed by delivery guy. He called to have cushion replaced. Replacement cushion came in 3 weeks later. Called company and they sent out another cushion a week later. When removing the cushion with a hole in it, I noticed 2 holes in the decking of the sectional. Called company. They told me that there was nothing they could do since it had been 3 days since I reported the issue. Warranty was purchased when we purchased the sectional, but I did not feel I needed to use it because the damage was not caused by us.
After multiple calls they finally agreed to send some fabric and have someone come out and reupholster it. Again, 3 weeks later when the repair guy came the fabric that was sent was not what he needed to do the job. Since the delivery of my sectional in May, I have been calling Ashley Furniture to get the issue resolved. I requested the defective section of the sectional be replaced. They have refused to replace this and stated the fabric that was sent for the reupholstering was a courtesy. Now, several of my cushions including one cushion on the back of the sectional has started to come unraveled. We purchased an extended warranty for the sectional at the time of pre-order.
After contacting the warranty company, and sending them pictures, they told me that the cushions appeared to be unraveling, therefore Ashley should replace them, as that is a manufacturing defect. The extended warranty does not cover unraveling, only stains, rips or punctures. While on the phone with the warranty company, I asked them to contact Ashley and tell them what they told me. Ashley refused to replace the cushions. This company has an astonishing lack of quality and customer service. I wish I would have read reviews on the organization and their quality before I purchased.

I ordered a bedroom set and ordered a brand new mattress from Ashley Furniture. They sent the new mattress out with threads coming unstitched. I informed them right then. They told me to just keep and use the mattress until man comes to looks at it and check the stitching. It took him two months!!! Then after 5 months told me it was a not a factory problem. I asked if not factory what is it then? They almost accused us of pulling off the threads. Why would we pull off threads of a new mattress we just got and wanted they then informed me just to cut off the threads myself? If you go to store to complain for help, you are given a phone number to call customer care. My problem was to just cut off the loose threads. I hope I can help others. If you need a good mattress take my advice and not buy any mattress from Ashley Furniture!!!

Bought two recliners, but when they were delivered we found out they were Power Recliners - which we specifically didn't want. I called the store to find out if the power recliners also came in manual form - I was told they did not. We never got a call from our salesman apologizing for this error. So, I went out the next day to a different Ashley store - they had the same recliners and I asked if they came in manual - the salesman said YES! So, I purchased them but they can't be delivered until after Christmas. I also didn't get a receipt and was told that a receipt would be emailed to me - this was at 12:00 noon today - it's almost 6 hours later and I still don't have a receipt!! I have called TWICE - each time being promised that it's on its way... This will be my LAST purchase from Ashley!!! This is very unprofessional!!! I should be sitting in new recliners right now - or at least been given some sort of discount for the inconvenience!!!

Worst customer service. When they make the mistake it is your mistake and you have to take care of it. If you think about stopping your order on their behalf you still have a 10 percent you will owe on the total. I wished I would have listened to the reviews and never purchased anything for this corporation. Absolutely horrible.

I purchased a queen size bed on the 90 day same as cash. I have been making my payment before they were due. I received an email stating my payment was due on the 15th of December. I called to make my payment and when calling my final payment was not what it should have been. I may have read the email incorrectly. It stated my renewal payment was due... They knew I was on the 90 day same as cash. So needless to say they had to contact a manager by email and it took them 4 or 5 hours to return my call and the amount was still incorrect. I was really frustrated and demanded a call back within an hour. Apparently the rep contacted a manager by email again and returned my call within 10 mins. The amount was still incorrect. I made the payment for more than what I should have.
I have been a customer of Ashley's for sometime in the past. Doesn't seem like they cared at all. I'm a cancer patient and needed a comfortable bed to sleep in and now I don't think I will get another restful night's sleep for awhile. Because of their inconsideration I will never shop at Ashley Furniture store again and will let all my friend and family know what happened. I also want to say when I made my payment in Nov. of this year I get a call and when leaving a message they said that my payment was due and needed to make the payment or there would be a late fee when I had already made my payment for Nov.

So far delivery has been re-scheduled once after waiting four weeks. Unfortunately I will have no couch or loveseat for Christmas. The person calling to reschedule had no real reason for it. I told her I was not happy because purpose was to have furniture for the holidays. Real happy to get rescheduled for December 27. Keep you posted.

I actually have TWO complaints about Ashley Furniture. First, was the buying experience itself. It was more like buying a used car. My wife and I stopped into Ashley Furniture to take advantage of their No Interest Sale they were advertising at the time. We bought an entire bedroom suite with a king size bed, dresser, two night stands and a mattress (which is part two of my complaint). After negotiating a fair price with the salesperson and manager I was told that if I wanted to use the interest free promotion that I would have to pay full retail price. I wasn't happy about paying full retail but we decided to buy the furniture anyway.
After filling out the credit app the salesperson directed us to the customer service desk to check out. As the salesperson was explaining our charges he casually mentions the $300.00 "protection plan" that I was required to pay for because the furniture was being financed. I told him I did not appreciate the way he failed to mention this until the very end. He never once told me I would be required to pay an additional $300.00 if financed the furniture through them. He assured me that if anything happened to the furniture or if the mattress sagged at all it would be replaced. I left the store pleased with the furniture I bought but feeling like I had been lied to and forced to pay for a protection plan that I didn't want or need.
The mattress we purchased was an Ashley brand mattress but the salesperson said that it was actually made by Serta and was covered under their "protection plan". After the first night on the mattress we noticed that our heads felt lower than our bodies. We decided to give it a few nights to get used but noticed that there was a definite hump in the center of the mattress. We just could not get comfortable with this hump between us so went back to the store purchased it from and explained the problem to them. The manager directed me to the clerk at the store who sent my information to their corporate office and said someone would be in touch. They ended up sending someone from another company to my home to inspect the mattress. She laid a string across the mattress with a ruler to measure for a depression or sagging in the mattress.
I explained to her that it wasn't sagging but that there was a hump in the middle. She then looked at the mattress and said she could see the hump I was talking about. She even laid on the mattress and said she could feel the hump. She took pictures and went ahead with her normal measuring technique for sagging despite the fact that sagging was not my complaint. She told me that someone would be in touch within five days. Two days later I get a call from an Ashley Furniture "customer service" rep who told me that the measurements taken for my mattress did not fall into their required deviation of 1.5". I explained to them that there was a HUMP in the middle of the mattress and we are miserable. She listened to what I had to say and basically said there was nothing she could do.
I called the manager at the store and explained what happened and he transferred me to the customer service rep at the store who also told me there was nothing she could do. I called the manager back and asked him if he could help me. He said he would make a phone call to their corporate office and would call me back. Of course he never called back. So... I spent almost $5000.00 and am now stuck with a mattress I HATE with a big HUMP in the middle. I am FURIOUS!! Any other store would have exchanged it no questions asked. If you buy a mattress from Ashley you are STUCK with it AND you are FORCED to pay an additional $300.00 for a protection plan that is USELESS!!

I bought a sofa and chair on 12/8 delivery was promised for the 10th. It was then changed to the 20th, then the 22nd. It seems getting 2 pieces at once is impossible for them. I went back to the store on the 10th and cancelled the sale and purchased a set that was guaranteed delivery for the 12th. Today is the 12th and only 1 piece is being delivered and no one, not customer service or management can explain why or when the sofa will be arriving. Do not waste time shopping there if you actually want to receive your purchase.

So I thought I'd give Ashley Furniture a chance even though we were told numerous times not to. We fell in love with the perfect couch!! Couch came completely mismatching and was not power. We walked out of the store assured it was power and even bought the warranty for the power recliners. The store refuses to exchange for power unless we pay $250 extra!! I'm extremely disappointed and suggest no one ever shops here. It was a sale error not a change of mind or customer error!!! Horrible customer service!!!
Ashley Furniture Company Profile
Company Name:

Ashley Furniture

City:

Arcadia

State/Province:

WI

Postal Code:

1945

Website:

http://www.ashleyfurniture.com/