Consumer Complaints and Reviews

Bought a oversized Ottoman. It was defective (spent appx $7k cash early November 2016, damaged end tables (replaced), sofa (repaired), dresser (damaged, no repairs made)). A technician has been out two times and on second trip he totally destroyed the Ottoman and stated additional repair material and another tech would need to be contacted. This tech left a mess in my home along with staples and scuff marks all over a $12k new floor. I have requested a replacement ottoman, and customer service continues to want to order replacement parts. I ask who was going to replace my flooring if they should damage it while wrestling this huge Ottoman all over my floors. I am totally dissatisfied with Ashley and the unsatisfactory service they provide. I would recommend not buying from Ashley. Buy furniture that is available, not from a warehouse.

I bought over 7000 furniture, and within couple months my and the dining is falling apart and the couch and the love seat have poor Cushion and it looks old that. I was very disappointed with their customer services. I requested a technician to come fix the dining and the bed. I took a day off to wait for technician. He didn't call my number or busted my door. He called my husband who is at work and I put my number to be called for the services. They have given me two hours window and when I have called they told the technician left at 8 am. My services were schedule am-10 am. I have called to talk with the customer services to complain. They two time given me a wrong number for customer services complaint. I was very disappointed with the poor customer services that I have received from Ashley Furniture.

Couldn't have been worse experience. Bought sectional in November, received in December. Sectional arrived with one part broken. January replacement part arrived even more damaged than the one I was trying to replace. By this point a second part of sectional broke. I gave up on it and didn't want to wait for more parts to be replaced. The customer service manager was so rude. The store manager was never "in" until I showed up in person. Then he miraculous appeared and agreed to an exchange. Order new couches Jan 17th. The new coaches arrives Feb 18th.
Drum roll...Wait for it...they ordered/brought wrong ottoman. Ok so I call and ask when will we get correct ottoman and this is what I'm told "We have one in back but that's for someone else". Had to drive there in person to get refund. Please look up reviews on couches from Ashley.com before you buy. The sectional I bought for $1,800 had 100 horrible reviews out of 109. Don't support companies that treat consumers bad. I like to see the humor in everything in life, so when I look back on the sales person telling us that Ashley meticulous goes over every piece of furniture to avoid sending out damaged furniture or mistakes I laugh cause clearly that's a joke.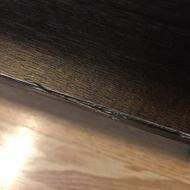 I bought Kisper Coffee Table from Ashley. The veneer peeled off for no reason after 3 months. We only occasionally rest our feet on the coffee table. Nothing else got in contact with the coffee table at all. Called Ashley customer service, they said it is not "manufacturing defect" because it was fine when delivered and I didn't refuse to accept the item when delivered. So it does not fall under the 1 year manufacture warranty protection.
Ashely unilaterally determined it was "damaged by consumer" only by looking at the photo I sent to them. They don't even bother to send someone to take a look. There seems to be no glue between the veneer and the wooden panel. I can feel a big space between the wooden panel and the veneer. It was manufactured with DEFECT. Ashley knew about it but decided to ignore the issue and ignore any customer complaint because everything is customers' own fault, so any issue just has nothing to do with Ashley. Very disappointed about the irresponsible way Ashley chose to handle customer complaints.

Worst service, worst return policy! Run away from this store. They have the worst return policy, and people working there, I was forced to keep an item I did not use or need. Stay away from the Hawthorne, CA store. The people are unprofessional and conniving. YOU HAVE BEEN WARNED! I cancelled the order and still have to pay. They need to be sued!
How do I know I can trust these reviews about Ashley Furniture?
744,488 reviews on ConsumerAffairs are verified.
We require contact information to ensure our reviewers are real.
We use intelligent software that helps us maintain the integrity of reviews.
Our moderators read all reviews to verify quality and helpfulness.
For more information about reviews on ConsumerAffairs.com please visit our FAQ.

Back in October I purchased living room furniture from Ashley Furniture. Keep in mind this was my third purchase from them. This time around, I chose comfort instead of leather. The furniture arrived and we were instructed by our salesman (Nick) to look it over before the delivery guy leaves. Upon checking it over, I noticed grease spots on the two pieces. I immediately called Customer Care and explained to them what was going on and she advised me to let the delivery guy leave. Good thing because he could not speak English.
Approximately a week later, I received a porch full of parts delivered. I called Customer Care and was told that a repair guy would be coming out. In the meantime, I noticed several places on the furniture that was ripped, punctured and the stitching was coming out. When the repair man showed up, he examined the furniture and his recommendation was to not repair, but exchange the furniture. He indicated that Customer Care would receive his report that evening. I waited approximately 2 weeks and then called Customer Care. I was told that they have not yet received the report and was told that it takes a while and that someone would be calling me. I deciding that I would give them ample time and I waited until after the holidays.
The first week in January I called and asked what the status was. She first indicated that they had nothing on my claim, put me on hold and then said that apparently they switched repair companies and everything has been delayed. She would have to call me back. Waited and waited to not receive a call back. I finally called and asked to speak to a manager and was told that one was not available, but one would be calling me back. Lo and behold, I received a call that evening and was told that they would exchange the furniture. I explained that since I have had this furniture in my home since October and it was falling apart, that I did not want to replace it with the same stuff. She indicated that I had no choice!!!
The next day I went to the store and explained this whole story TWO more times and they all agreed that I could pick something else out especially since most likely it would cost more. The Regional Manager approved this transaction which was double the price of the original purchase and I left there a satisfied customer. Delivery for the new furniture was for February 15th. My husband left work to meet the delivery guy. He came into our home and said "what color furniture are you supposed to be getting?" My husband replied "gray". He said "the furniture I have for you is as brown as me"! He took my husband down to his truck, removed a cushion and showed him that it was brown. My husband asked the delivery guy to take all of the boxes and packages of parts that have been in my garage since October and he refused.
My husband rejected the order and then called Customer Care. They were insistent that it was the correct furniture. The furniture we choose only comes in METAL not BROWN. I received a call yesterday from Customer Care and they were wanting to confirm a delivery date of February 22nd. I explained that I could not confirm this until I knew what had went wrong the day before. She still was insisting that the furniture on the truck was correct. She said she couldn't tell me what happened until I confirmed delivery. I said "please have a manager call me" and she said no and HUNG UP.
After several calls/texts which included our Salesman Nick - who was just worried about his commission confirmed that the furniture was cross tagged. When I got home from work I called Corporate Consumer Affairs and spoke to a woman named Tammy who listened to my story and said that she could not help me but would email someone that could. My husband is confirming delivery today as we are totally exhausted/disgusted and extremely dissatisfied with Ashley Furniture and will never shop there again. Two days later and I still haven't heard back. After reading all of the reviews, how is this company still in business???

Bought 2 new chairs. One broken, we followed the process and they repaired it. Picked it up and got it home and it is still broken. Never sat in chair. Refusing to give a refund. Accused us of dropping chair. Salesperson followed us out of store yelling at us as we left. Do not buy from Ashley Furniture.

I purchased a Sealy Posturepedic mattress for my guest bedroom from Ashley Furniture in April of 2016. When I purchased the mattress from Ashley Furniture I was told that if I was not happy with the mattress for any reason I could return it within 90 days of purchase of the mattress. I had the mattress for about seven weeks and I had a relative come stay with us for about seven days. During that time the mattress formed a depression where a person slept on the mattress. I went to the Ashley Furniture store where I purchased the mattress and I told the store manager of the problem with the mattress. I was told by the manager that the depression would have to be measured to see if it meets the requirements by Sealy company to be replaced.
Ashley Furniture sent an inspector to my home and measured the depression. The inspector measured the depression and told me that the depression was only 11/4" deep and for the mattress to meet Sealy company requirements to be replaced the depression would have to be 11/2" deep. I continued to use the mattress in the guest room and over the Christmas holidays my daughter came with her husband and slept in the guest room. During this time my daughter told me that the depression in the mattress was really quite big. I had an inspector from Ashley Furniture come to my home again in February of 2017. The inspector measured the depression and told me that the depression measured to be 2" deep and that Ashley Furniture would contact me in five days.
I did not hear from Ashley Furniture so I called them and I was told that Ashley Furniture would not accept the condition of the mattress for warranty purposes because the bed frame does not have a center support on the three cross supporting boards. Only the center support cross supporting board has a center support. That Sealy mattress company requires that all the cross supporting boards have a center support boards.
The bed frame is brand new and I purchased it from Mathis Brothers Furniture just prior to purchasing the mattress. I have never had a bed frame that has had a center support boards on the cross supporting boards and I have never had a problem with any other mattresses having a depression in any other mattresses I have owned. The box spring that I purchased with the Sealy mattress does not have any defect so I don't know what the cross supporting boards would have to do with the mattress having a depression in it.

If I could give this store 0 stars I would. Their customer service is absolutely deplorable. We purchased a bed for $1600 three months ago and it's completely broken. Not a faulty piece, that can be replaced, kinda of broken but the way it's built won't support the kind mattress and box spring, kind of broken. My husband and I used our wedding money to purchase this bed, and in three months the slats that hold the mattress are snapped and the legs holding them up broken. We aren't massive people. My last bed I purchased from The Brick lasted 10 years. 10 YEARS! I call to inform them of this issue and for it to be corrected by refund. This is apparently not possible. They will only re-order the slats that are broken which DOES NOT FIX THE PROBLEM because in another couple of months it'll likely happen again because the make of the bed frame is SO poor. There are only two slats for the king mattress and box spring. It's just not enough support.
Not only will they order me the slats, I have to call them with a serial number first and it takes TWO WEEKS to come in from the manufacturer and then an appointment for someone to come replace them. So for two weeks we will be sleeping on the floor on our mattress, and no one seems to care at all. This is the worst case of customer service I have ever seen and I will NEVER purchase anything from this company again. I strongly suggest you all don't either.

In December 2016, I came in to the Green Acres Ashley HomeStore location and placed an order in store. I got two 5-piece bedroom sets one is a twin bookcase the other a queen. They said my delivery will be 12/31/2016 which is New Year's Eve. They gave me a time frame for delivery between 1:15pm to 5:15pm. My husband took off from work to make sure everything goes well with delivery. We also had plans that evening to bring in the New Year!! Guess what? They never called to say they were coming late!! It was passed the time frame they gave to me and no delivery came. I tried calling every number I can find online to find out what's going on but not much luck.
They finally arrived one hour and a half after my delivery time frame. So they arrive at 7:30pm. The delivery guy came with 2 of his helpers who were his family (young boys). At this point I'M furious because no one called to inform me the customer that they were running late. That's the 1st mistake. Then the guy has his helpers start bringing up pieces (they were speaking Spanish so I wasn't understanding everything) but from what I notice the boys brought up everything and the guy yelled at them to take everything back down in their truck until he tells them to bring it piece by piece. They scratched and digged my walls which Ashley is not going to fix first off.
From here the guy kept rushing to put the pieces together then tells his helpers to bring up more pieces as he kept rushing to put everything together. I notice once my kid bedroom set was put together (the bookcase bed) a piece was missing. I mentioned it to him he said, "Don't worry we have it." He needs to hurry and put everything together and take pictures so he can get paid for this job!!!
Now that's not a customer's problem. In fact customers should get treated correctly because there's so many other stores we can shop with but we choose one specifically for a reason! So they arrived 7:30 and expect to finish by 9:00pm which they had to put together both bedroom sets and my sofa set. Realistically that becomes a rush job!! Then one of my nightstand could not fit in the room so we told him he has to take it back we don't want it. He said he couldn't that I can call the store they will take care of it. I addressed to him that Ashley has a policy on the back of their receipt that says, "If you don't want a piece upon delivery it has to go back with delivery driver." So he didn't want to take it back. So they ended up leaving without leaving the piece I told them about that I was missing and they didn't take back the piece I didn't want!
The next day which is New Year's Day there was no one there on January 2nd they were closed. I had to wait till January 3rd to tell them about my issues and all they keep doing over the phone is putting customers on hold or taking messages where no one actually calls you back. So me and my husband took off from work to go into the store because we didn't hear from anyone including the manager Jerry who helped us when we did our first purchase. Seems like in order for customers to get results you have to go into store 'coz these people must get paid to lounge around and talk and eat.
This is not a good way to treat customers who are bringing in money to your stores so your workers can get paid. This is so extreme I'M so furious so we are in store finally got to speak to the manager in person. He tried his best to handle and fix my issues. I told him about the piece that they didn't take back what is going to be done about it because their dispatch see the pictures and clearly told me that he sees it doesn't fit so there's nothing to lie about. I still wanted to make another purchase because I just moved and I needed some more items from Ashley's. I got a rug and the sofa set. Jerry the manager waived my delivery fee since I had an issue previously. He guaranteed there shouldn't be any issues. He said that I can return the nightstand I had that couldn't fit since I switched it for a chest.
So my delivery date now was January 10, 2017. You would think they would do a better job and make it a better experience but guess what? They were 2 hours late after the time frame they gave me and they didn't call again as the first delivery. When the delivery finally came they said they have no information about taking back a nightstand. Where is the communication with this company's department!! Who was I kidding? I gave them the benefit of doubt thinking everything would work out but I was wrong. Guess what? Up to today which is February 14, 2017 I have not received the piece that was missing for my kid bed set from a delivery on December 31, 2016.
Now they expect you to pay your bill but they don't fulfill their end of deals and it's not right at all. I'M tired of calling and calling and leaving messages when no one is returning my calls. I don't know about other people but if I'M paying for something I expect it to be everything whether it's a big piece or little piece it still matters companies are not going to give anyone things for free. I expect to get everything I paid for. I would suggest to save yourself the trouble and shop somewhere else 'coz it seems like some of Ashley's employees works there for their paycheck. They don't represent their company well enough to handle situations better. There's people that love their job and are willing to help but from what I see this store location they don't give a ** but to make sales and fool customers with their products. My sofa set is becoming ** it's not the quality we expected even down to my bed set.

First of all, their floor employees are trained on the hard sell and that's about it. They're not knowledgeable about the products or the sales or discounts. Our first purchase in 2015 was a sectional and ottoman. After going through all the pricing options and "If discount 1, then price a... If discount 2, then price b... If you use 1 you can do x amount with no interest... yadda yadda" she goes to ring us up and OH! Turns out you CAN add an extra chair to this sectional afterall... Let's start over! Whatever... We've had it about a year and a half now and the pillows are lopsided and there is a tear in the seam of one of the cushions. The ottoman is all pilly and looks about ten years old.
Last week, we finally decided to splurge on a new bed since we'd had the couch paid off for about 6 months. Our mattress has been causing me pain and it was needed ASAP. The sales guy hovered over us making it extremely awkward for us to be testing mattresses and having any sort of discussion about it. When we agreed to go for the mattress, he didn't even mention that pillows are 25% with the purchase, even though he'd heard us mention we liked them. We asked him about the President's Day "Buy a Mattress, Get a Bed!!" sale sign. "I don't even know... We can ask up front." Of course he didn't ask... I had to after he had her start ringing everything in.
We did end up ordering a frame and we were given an estimated delivery date of 2/17. Perfect! I have people coming to stay and see the house on the 18th! Can't wait to show off my new bed set! Had to call today to ask why we haven't been contacted with a delivery date and were told the frame wouldn't be in until March. "Backorder," they say! After reading reviews here, is anything ever NOT on backorder? WTF. We have a queen right now and upgraded to king...
I guess we'll just sleep on the floor for a month like animals since we'll have no frame. I could order the same damn thing on Wayfair right now and have it next week. Ohh, they'll put a rush on it, they say. "Hopefully next week!" they say. Give me a break. "It's built here!" I'm sure. The simple fact that they are able to "waive" and "discount" so many of their little fees and prices here and there to make you feel special tells you how much they overcharge for their mediocre products. This bed set will be the last thing we buy from them. Fool me once, shame on you... Fool me twice...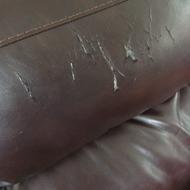 I bought a set of couches from Ashley's. What a waste of money. They told me it was real leather, LIARS!!! Couches are peeling and it looks horrible! Paid way over $2000. I'm very disappointed, DON'T BUY FROM THEM! Go somewhere else!
UPDATED ON 03/09/2017: If I could give it a negative 5 stars I would. After posting my review on Feb 11, 2017 I was contacted by someone from Ashley Furniture. After I provided everything they needed (receipts, pictures etc) they sent me to a store to basically sell me another set of couches. Looking at beyond the attitude I got from their managers, and lack of professionalism, they finally gave me a number. They swear they were giving me a great deal - 60% off the marked up price. Really?!? After going back and forth with the manager they said "this is the best we can do for you" - I walked out. They were selling me another set of couches for almost $1000.00 more than what I paid for the first time! The manager would have known that if he actually took the time to read my receipt when I showed it to him. Unbelievable...
I did a search while I was in the store, I can purchase the same set of couches through a third party vendor online for a lot LESS than the "discounted" price they offered me. What a RIP OFF! Never again will I deal with this company. Ashley Furniture, if you continue to do business like this, you're going to fail. Change the way you're doing business, it is unethical! You do not stand behind your products like you mention in your commercials. You are not the only furniture store in this country. If you're an employee of Ashley's and you're reading this, start looking for a new job.

Ashley Furniture is the WORST customer service I've ever talked to. I called with a simple question about our power recliner loveseat... After 15-20 min of the associate... hmm... and popping her lips and mumbling to herself... she tells me that they have to order a part and then I will have to contact the store I purchased from to schedule a technician to fix it. The sales associates in store have more knowledge than the people working in customer service. There is no level of professionalism. The associated associates IN the store are great. Very patient and great with my mom. She loves the furniture. There is just a small technical problem. But will never buy from them again due to their customer service.

Here is the problem that I encountered with Ashley Tri-State. We ordered our bedroom set in king size - about 3 weeks ago. Last Thursday we received a call from an individual and not an automated voice, to confirm our delivery for Sunday. We asked to push it to Friday this week since we were both working on Sunday. I will keep saying "individual" throughout this because their Tri-State corporate office couldn't understand the difference between individual and automated. Kept saying it was automated like we are mistaken and morons and don't know the difference around 6-7 times. It was confirmed for this Friday delivery by the individual. So we both took the day OFF from our jobs to be home for delivery. Both work in healthcare so this is not an easy task to take off.
We received a call yesterday stating that the headboard was not in stock and the delivery would not be coming. I called to clarify and their corporate office said that they could not be held to the date since it was an automated message and not a person calling. When I was drawn into a back and forth argument about how it was an individual and not automated that we spoke to. Which yet again the back and forth argument was around 6-7 times which lasted for 5-6 minutes. Now we also corrected them TWICE in the last week about our township. They had the wrong town for delivery so our furniture would have been delivered 80 miles away. And god only knows how long to correct it and another day to weeks delay for delivery.
I then asked for the person I was speaking to supervisor. I then spoke to the manager. He tried saying the same exact thing as the previous person did. Then he said he would call the distribution center to clarify. And would call me in an hour. I HAD TO CALL HIM BACK. Because I never received a return call. I then was given the runaround about how now I would have to wait till THE END OF MARCH. For my bedroom set that I ordered in the beginning of January.
Then they offered to give a loaner headboard or choose a different set. So a loaner would require one day off for that delivery AS well as ANOTHER DAY OFF for the actual headboard delivery. And as to picking another set - that is bait and switch. What if the other set is more expensive? What if it's not the same quality. This feels like that. We bought during their deal of 0% interest for 36 months with equal payments, free delivery and set up as well as 5 year warranty. WOULD we receive that as well as an exact equal percentage amount of a discount we received on this set as part of their blowout sale. Example of -46% off.
I then told him that since I was lied to and that we took the day off I would be billing them for our time we were missing from our jobs in lost wages. Oh all of a sudden he will see what can be done... which was still NOTHING. How is this acceptable to have cop-out after cop-out Iike weasels and how is it acceptable to lie and then wait an extra 2 months. Ridiculous and reflects on the hq as well as corporate in Tri-State.

On Friday, February 3, 2017, your St. Louis stores were open until midnight. I arrived at the store at 2331 Highway K - O'fallon, MO 63368 - (636)542-9380 at approximately 11:15pm. I was there to purchase a leather sectional. One of the sales rep (**) showed us (my niece and her son was with me) the store's selection. During that time, the sales rep asked how did I want to pay for the purchase that I would be making. I told him I had an Ashley credit card and asked him to looked me up in the system to determine the amount of available credit. He and a clerk looked up the information and determined that I had $5500 available credit. The sales rep stated that I had more than enough to purchase a sectional.
I settled on a sectional by Lugoro because it was the right color for me and it seated more people. In the initial conversation about the sectional I asked if the $2349.99 visible price tag was for all of the pieces shown there in the floor model. I was told it did include all floor model pieces by ** and he also checked with another sales rep and she (I think her name was **) also confirmed that the price was for all of the pieces. My niece heard the same thing. We also discussed matching pillows that showed a price of $49.99 per pillow. I expressed that I wanted to purchase the sectional and 2 pillows.
Next we went to one of the desks containing a computer in order to get necessary information needed in order to purchase the sectional and two pillows. Afterwards, we proceeded to the cashier's desk to finish the process. One of the reps was present through most of the process. She validated what I was purchasing. Eventually the cashier quoted a price of $4980.12! I was shocked at the quote and asked her what was the price of the sectional. The salesperson standing there answered by saying the sectional was $3500. I stated that I thought I had been told by them that $2349.99 was the price for the sectional. She stated that there were additional pieces there and there was another price tag on the other side of the furniture to include the additional pieces. I stated that is not what I was told by them and they never showed me another price tag.
I reiterated that I did still want the sectional regardless of the miscommunication. ** was there at the desk at that time and marked off the sectional pieces and wrote a price of $3599.99 on the invoice in green ink. He also drew a diagram of how the sectional pieces would look after connecting them together. The woman sales person looked over what the cashier had calculated on the invoice and had her to correct an additional $399.99 for a 5 year correction plan that had been added to the invoice and asked to add 1 pillow to the invoice because she had charged me for 1 pillow instead of 2 pillows. The cashier made the corrections and put a copy of the invoice and protection plan in an envelope and gave it to me. We also discussed a delivery date. We left the store at about 12:45am.
The next day (2/4/17), I took out the paper work and looked it over. I discovered that I was not given the revised invoice, I was given the original one that needed correcting. I also questioned the $239.99 delivery charge. I phoned the store and spoke to ** who had been the cashier from the previous day. I reminded her of who I was and told her that I was not given the revised invoice. I also asked how were delivery prices determined. She said it depended on the number of shipped pieces of furniture. She said she would forward me the revised invoice via email in about 15 minutes. I thanked her and ended the conversation.
When I received the revised invoice I found a calculation that I had not agreed to when we revised the invoice on the night I purchased the furniture.
It is as follows: I was charged $89.97 for each couch pillow instead of the $49.99 on the price tag of the pillow in the store. We (me, my niece and **) also discussed the $49.99 price of the pillow.
I was also deeply disturbed when I learned that my niece (who was there with me that night) like the sectional so much that she called and had the store to text her a quote of the same sectional & number of pieces to share with her husband. The store did send the quote and to our surprise, I had been charged $100 more for both the protection plan and the delivery cost. I blacked out the identity of my niece in this email but I do have the original quote. This occurrence with your store has brought about great anguish and discuss as it relates to how Ashley furniture does business. I have purchased furniture from your franchise in the past and never experienced what I experienced at this store. Your prompt attention to this matter is greatly appreciated.
PS - I went back to the Ashley store tonight to cancel my order. I shared my concerns with **, the store manager. She admitted that the price of the pillows was not the right price. She offered to correct the matter by giving me the price for the pillows for the original sale price of $49.99. I also spoke to her about giving me one price for the sectional before I agreed to purchase it and charging me a higher price when I checked out. She said she showed my niece the $3599.00 price tag and explained to her that that price covered all pieces. She never approached my niece when we were discussing the sectional. My niece contends that ** never showed her a price tag displaying $3599.00 for the sectional. The larger question for me is why would she show the price to my niece when I was clearly the one purchasing the sectional.
I also shared my disappointment with the price of the protection plan and delivery fees. ** stated that those prices are based on the amount of money you spend for your furniture. In other words, the more money you spend the more you pay for delivery and for a protection plan. That sounds a lot like penalizing the consumer for spending higher amounts of money at your franchise. ** also offered to take $100 off of the protection plan and $100 off of the delivery charge. I declined her offer. She then charged me $400 to cancel the order. I asked her to put the fee on my Ashley card and she told me she could not do that because I was canceling my furniture order. I wrote a check for the $400.
Even though the manager expressed wanting to make things right, she saw fit to charge me $400 to cancel the order. Personally, I feel that the Ashley employees tried to take advantage of me because they viewed me as an senior citizen who probably didn't know any better. They saw that my limit was $5500 and decided that they wanted me to spend as much of the $5500 as possible. How sad and pathetic! :(

DO NOT WASTE YOUR MONEY. This sofa is to LOOK at not sit. I got them 6 months ago, my husband and i only sit on them a few hours a day at night only. No kids and after 6 months the seating cushions have worn down, the pillows have gotten flat. If you sit on them now you can feel the wood underneath you. So embarrassing if I want people to come over. I will NEVER EVER buy from ASHLEY again. They say one year warranty but it's only for the seating cushion. When asked about the pillows they said I have to pay for them plus shipping... And they tell you to puff them and shift the stuffing.
How ridiculous and if you see the back on the sofa where each button is, it's so wrinkled up as if the fabric got stretched and that is extra fabric. I was better off buying for the same amount from Costco where I can fully return them with no questions. NEVER again. And will make sure everyone I know not to buy from Ashley again.

I bought 3 leather sofas about 8 years at Ashley furniture, I asked them if they were made in America. They said, "Oh yes of course they are, we only sell the best!" I was such a fool! I bought the extended warranty thinking it would protect me. The sofas started going bad immediately. I called Ashley and they told me that the leather coming apart was just normal wear and not covered, I looked under the sofas and found they were made in China! That's number 2 for them, then the springs went bad and sitting on them was like sitting in a big mushy hole! Again not covered because it was part of normal wear! These people hire mainly Mexicans. They have the worst products on the market and they are liars and cheats! Do not go near Ashley furniture! They will screw you! I'm considering standing in their parks lot turning away customers! Stay away from Ashley furniture if you don't want to get your money stolen!

This is the first review I have ever written because I think it is important to know how terrible Ashley Furniture is to work with. The furniture I received was fine, but I will never shop with them again based on the poor customer service. We ordered 4 items but only received 3 in the first delivery. For the second delivery they called at 5:30 on a Monday night to set up delivery for Wednesday. I called first thing the next morning to reschedule and they said I needed to give 48 hours notice to reschedule even though they had only given me 42 hours notice about delivery and they had to charge me an additional delivery fee for rescheduling. I asked to talk to a supervisor and the lady told me I could but that they would never waive the extra delivery fee. The supervisor continued to tell that they had given 48 hours notice even though they had not.
I then talked to a manager at the store I had shopped at who promised he would talk to his gm and get it taken care of. When the day before my next delivery date rolled around, I still hadn't gotten a delivery window so I called and they said there was no note about taking care of the delivery fee. When I talked to the store manager again he told me there was nothing he could do and I had to go through customer service. Because I did not like the feeling of beating my head against a wall, I returned the last item as to not have to work with their so-called (to quote our president) customer service department ever again. I think there is a right way this situation could have been handled, but once they have your money, they treat you like poo.

We purchased a Stearns & Foster with adjustable foundation on November 26, 2017 with a promise of a 4-6 week delivery. After 4 weeks we called the store to check delivery only to talk to a receptionist that had no idea. The store manager was unavailable each time we called. We ended up calling the Texas main corporation for answers. No one could give us an answers as to when or where our mattress was or when we might see it. I've never had such a runaround and poor customer service in all my purchases. After calling all distribution centers we were finally got our bed 10 weeks later. I was considering purchasing a living room set prior to the bed but after a terrible experience I would not recommend Ashley Furniture to anyone. I'll take my business elsewhere.

I purchased a living room coffee and end tables. I was given a delivery date. They came with just one table. Got another delivery date. Oops. Again. Only one item got delivered. I told them to take it all back and cancel the order. Wasted my time. Horrible customer satisfaction.

I bought a bedroom set in December 2016 and it was on back order. It was delivered in January 2017 and there was a strong odor coming from the mattress. I spoke with customer upon delivery and informed them of the problem and a customer service representative came out and stated he could not smell the anything and was very rude. I spoke with the corporate office and was informed that she would contact the Head manager at the local store via email and I have yet to hear from someone as it is now February 2017.
I will not be doing business with this store and will advise everyone I know to do the same. Shame to take your money and not deliver on service or product. You should not have to air a brand new mattress out to sleep on it. I was told that the store has been taken over by Ashley Corporate Office, well it is has not better customer service. Going downhill. I wished I had gone to RC Willey or La-Z-Boy Furniture as I will not be shopping Ashley Stores. Store on MLK, Las Vegas, NV.

Purchased online a bedroom set. The night stand was damaged. Also purchased a dining room set, the dining room table leg was damaged. I contacted the company, sent pictures as requested of the damaged parts. I received a replacement of the night stand (again, it was damaged also. Poor workmanship, the cavity of the stand was bigger than the drawers, so the drawers don't fit securely). Where is the QC on this furniture? So, I contacted the company again, sent pictures and am awaiting their reply. Would not recommend buying online with this company.

I purchased a kitchen set about 2 years ago. I complained about the chairs being too soft but all their kitchen chairs for that set were soft. Now that the set is two years old the chair seats are so soft that they hurt to sit on and the material is falling apart. I sent a request to Ashley for help but was told to deal with the store. The store reply (several stores) "we are sorry you are unhappy." My advice stay away from ASHLEY FURNITURE. Very poor quality.

There was no option to place zero stars, so I had to put one. Ashley's furniture is a ripoff. They sell poor quality furniture and extremely poor customer service. I bought a couch for them that began to rip and tear and fall to pieces within one year of use. I was given a store credit to buy furniture from them without the approval to have the money debited back to my account. The reviews on their other couches are just the same experiences as the one I had. When I spoke to management requesting my money to be given back, customer service refused. They said the money was coming from the manufacturer only and gave me less than 30 days to purchase something with my credited money. Ashley's furniture should make this right and take the money out of their pocket and give it back to me. Instead they're only willing to do something because the manufacturer is providing the money back.
It took over four months to get my store credit back and then they give me less than 30 days to buy something with the credit. Of course, when they gave me my store credit they waited until after all of the holiday sales were over to make more money. Ashley's furniture needs to make this right. They have millions of reviews that have dissatisfied customers with the exact same experiences. Do not buy from this furniture store, they are a ripoff and do not care about the people they are selling the poor quality furniture to. I am also now responsible for hauling off the couches that are falling apart. They will not take them and remove them, now I have to pay for the dumping fee and for someone to remove my couches. I am very dissatisfied and extremely upset that Ashley's furniture is not working with their customers and doing the right thing.

Original Review
Purchased 5-9-2015 2 piece Leather recliner/ chaise. TOTAL GARBAGE... It's plastic and what they say is leather De-laminates. Purchased extended 5 year warranty with Guardsman, which was a further JOKE, DENIED for no reason. Filed claim with Illinois Attorney General's Office... TOTAL RIPOFF...

I bought a group of furniture on Veterans Day 2016. Paid in full over $4000.00 worth of furniture. I was told that it would be delivered in 2-6 weeks, which would have been the week of Christmas. I didn't get my furniture, not even a call telling me that it was going to be late. I called them and they told me that it would be delivered 1/13/17. I still didn't receive it. I went to the store and they couldn't even tell me when I was to receive it. I told them I wanted my money back and was told that there would be a 25% restocking fee. I told the manager that they can't charge me for something they never had in stock. I want all my money back, he told me that corporate would get a hold of me Monday or Tuesday, and still never heard from them.
I called corporate myself and couldn't get through, so I called the store manager here and he said he would have them get a hold of me and this was Wed of that week. Still didn't hear from anyone for a week. They called me early in the morning a week later and left a message. I called them back same day a couple hours later and the individual was at lunch and would call me back. Still haven't heard from them and so I called 2 days later and the individual who I needed to speak to was in a meeting. Only one time since I gave them my money have I heard from them and that was a message. Not once have I received a call stating that my furniture was on back order/late, an apology, or a way to resolve issue. So the way that I see it, they stole over $4000.00 of my money.

We had purchased a sectional couch from Ashley Furniture in November. In January we had noticed that the middle section of the frame was very loose. It was a part of the couch that no one in the house sits on because there is no recliner on it. It is the middle section which is also the most uncomfortable part of the couch. Because we purchased the protection plan which the sales representative had told us that they will replace any broken part of the couch with that plan, we called the technicians and in 3 days they came out to look at it. When he took the fabric off, we noticed that the frame, which was made of particle board was split in two.
Instead of replacing that section of the frame or just replacing the middle section as per our protection plan, he ended up rigging up the frame "up to manufacture standards." We were told by customer service that this is how they fix the problems, unless it continues breaking. I'm sorry, but if I am paying for a $3,000.00 furniture, and it breaks within the first 90 days, and this is how they fix it, then I will never do business with this company again.
I want the rest of possible customers to see this in the event they too are going to spend their hard earned money on cheap material and false protection plan. Forget trying to talk to customer service, I had tried to call them twice about this and my wife also tried, and they were not only rude, but uncooperative on trying to resolve this. Apparently this is the kind of business the Waneks are producing.

I purchased a bedroom set on October 6, 2016 from the store on N HWY 67 in St Louis MO. The furniture was on back order for November 10, 2016. My sales rep was very nice and friendly and very knowledgeable of the Product. 5 stars to Mr. Margeese **. The furniture came in on October 25, 2016 set up for delivery for October 31, 2016. After I waited and call several times to check the status of the delivery I was informed that the delivery will not be delivered that day but the next day. Very disappointing. I had to cancel all my meetings to sit home and wait for nothing. Poor customer service. The delivery day finally gets here they forgot the slacks to install the mirror, the headboard have a deep cut down the side and the foot of the night stand was broke.
The next day the delivery guy came to install the Mirror and drill holes through the Mirror trying to install it. They sent out a service technician that made it worse. Call to speak with several people in the customer service department about getting the items replaced. That was in November today is now January 24, 2017. I just received the replacement nightstand. It is still waiting on a response for the Mirror and the headboard. With the prices they charge for furniture the quality is very low and the customer care response is awful. I will never buy another item from Ashley Furniture.

We purchased a sectional and Recliner from Ashley Furniture Nov. 25th. Delivery was Dec. 23rd. Upon delivery one arm-less chair was from the wrong sectional so we refused delivery. We were told it would be redelivered on Dec. 31. No one came. No one called! When I finally got online and tracked the order and it had been cancelled. I received 3 confirmations the last being on the actual delivery day that it would be delivered. After some phone calls I was told there was confusion with the missing piece. That's not true. They were very clear on what happened. They even had pictures. Next delivery date set clear to Jan. 23rd. Again I receive 3 confirmations that it will be delivered. The evening prior at 8:00pm I received a call stating it would not and was rescheduled again for the 24th! Guess what!! After 3 confirmations that it would be here on the 24th the order was cancelled on my tracking. NO phone call, No email... Nothing.
I called the warehouse and they tell me it hasn't even been made yet!!! WHAT!! SO where is this piece of furniture that had been supposedly been made and out there somewhere since Nov.!! I call Ashley and they advise me to call customer care. BIG mistake. They offered nothing. Said, "How can we deliver something we don't have!" Well, duh!!! That's the problem!!! I don't care figure it out. I asked for some compensation as I have now lost 4 days of pay as I don't get vacation pay. I have missed 4 days of work. I'm lucky my employer is very understanding. Some are not! Now my new ship date is Jan. 31st! I do not trust Ashley, I will never do business with them again and I would advise others not to waste their time! I'd bet money they're going to screw this next delivery up again!

Terrible sofa. Within the 1st six months the store that we bought it at had to come out and restuff our cushions. They just kept getting worse but the last straw with the couch is when a board gave way and is sticking out the back of the couch. The store that we bought it at had me send her pics. Hoping that Ashley would stand behind it and help us with buying another couch. We have patiently waited 2 weeks. My husband finally called the store this week. No one called us back. He called again today and they said Ashley will do nothing. I will never buy Ashley products and will tell everyone to run the other way.

ConsumerAffairs Research Team
The ConsumerAffairs Research Team believes everyone deserves to make smart decisions. We aim to provide readers with the most up-to-date information available about today's consumer products and services.
Founded in 1945, Ashley Furniture became an industry leader in 1970 when its first plant opened in Wisconsin. The plant started with 35 employees, and the brand has since grown to include stores in more than 120 countries.
Convenient locations: With many locations across the country, it's easy to find a showroom near you. Use the store locator tool on the website to get started.
Quality tested: Each design from Ashley Furniture undergoes rigorous quality testing for safety, comfort and durability. Take a look at some of the methods used on their website.
America's #1 home furniture brand: Ashley Furniture's quality appeals to consumers across various demographics, making it the top selling home furniture brand in the United States according to Homes & Textiles Today with reported revenues in excess of 3.3 billion dollars.
Online showroom: The online showroom feature gives you an idea of what to expect at your local store, but it's just a sample and shouldn't be considered a complete inventory.
Best for Families, individuals and professionals.
Ashley Furniture Company Profile
Company Name:

Ashley Furniture

City:

Arcadia

State/Province:

WI

Postal Code:

1945

Website:

http://www.ashleyfurniture.com/