Consumer Complaints and Reviews

My wife & I had lunch at Wendy's at 1200 Eagle Dr. in Loveland Colorado. A time that I wished I had not happen to me! Placed a order for us and waited to be called, which they did, I could have heard it from my home 3 miles away. Went to get catsup for my fries, guess what it was empty. This place had 8 people standing around, someone could have checked before they opened the door, right? One young girl says (we have packets) have you ever tried to stick a fry in one of those packets??? We sat at the table which was dirty, I then needed to go back to the counter as they failed to place my wife's drink on the tray. I ask where the water was and a young girl said (it's right there) you know I didn't know where (right there). At this point I was not very happy!!! This place has sooooooo much room for improvement that it is unbelievable.

After not receiving a receipt and letting the window boy know how dissatisfied I was with the length of time it took to arrive at his window, they proceeded to make me wait even longer thinking I would graciously take my food. I asked for his name and my money back. Do not visit the Wendy's in Rockford store #5226 because they clearly don't understand it's their job to make the customer happy. If they're going to choose that line of employment, at least be good at it. It was comical and so predictable for a minimum wage employee. I would be unhappy with that job as well.

Concerning the restaurant located 177 Powerline Rd, Deerfield Beach, FL 33442. Your area management really needs to visit this location as a general customer. The place is run down, dirty and the service and appearance is far below what I know your company strives for. I have seen old gas station bathrooms cleaner. It's sad. I have been going there for over 6 years and it keeps getting worse. Today my order was wrong (which is the norm). I was in the drive thru for 20 min. Those of us waiting put our cars in park and just waited. Then when I finally was at the window the young lady just started to prepare my order of a family size chili. I asked for extra hot chili sauce and she gave me 3. She stated that is all they had, someone forgot to order. This Wendy's has lost me as a customer forever.

Went to the Wendy's here in Lenoir City and had a wonderful experience... The place was cleaner than any Wendy's I have ever been to. The staff was so friendly and even went out of their way to put a smile on my face!!! So with that being said, I couldn't be any happier with my experience there!! #BestServiceEver#

On May 7th my husband and I went to the DeLand Florida North Woodland Wendy's store. We ordered two number threes and they were horrible. The meat was over cooked and dried out. The tomatoes and lettuce were withered and the fries so limpy. We called in and talk to management to get the corporate number to file a complaint and (Carrie) who is the manager at the store was so combative. She stated, "you might as well talk to us because you're just going to get a free meal" and I explained that this is happening too many times now and that I believed that this was a management issue or internal with the employees. I stated that; "this is not about a free meal, it's about getting good food and good customer service from our hard-earned dollars that are being spent at this location"!!! I left my number for her general manager to call. She stated in 20 minutes. That call never happened.
I called back the next day and Carrie stated again that, "She's going to call you shortly" and that never happened. I'm asking that every customer stop going to this location because they have a lot of issues going on at the store. If you look online you will see hundreds of complaints against Wendy's. It's very frustrating when you go through the drive-thru and you wait 20 minutes and asked if your food is fresh and are told that it is and you leave to find out it had to be sitting in the window for hours and there's no receipt in your bag, no condiments or napkins. Again all customers think about this review before you go to this location and if you do make sure before you pull off that you have everything you requested; how you requested it. God bless!!!
How do I know I can trust these reviews about Wendy's?
788,323 reviews on ConsumerAffairs are verified.
We require contact information to ensure our reviewers are real.
We use intelligent software that helps us maintain the integrity of reviews.
Our moderators read all reviews to verify quality and helpfulness.
For more information about reviews on ConsumerAffairs.com please visit our FAQ.

Received my coupons from the paper and noticed that now Wendy's have a coupon code on them. Burger King coupons are reusable and all you need to provide is the coupon code and keep the coupon so you can use it again until the expiry date which makes a lot of sense to increase buy. So, I'm thinking that's the same thing that Wendy's is doing so I ask for my order and the person ask me for my coupon code which I provided. When I got to the window she wanted me to give her the coupon. I usually rarely go to Wendy's because of the HIGH prices. The coupons is the reason why I would go more often. I will not go back unless I have a coupon but being that they take them and ALL the coupons have the same code just doesn't make sense to me. I thought this time they was looking out for the consumer but I see Wendy's is still ALL about money. I will be going back to Burger King and use my REUSABLE coupon codes.

Went to Wendy's on hwy 85 Riverdale GA 30274. Was in the long ** line for 15 20 minutes before they closed. It's my turn at the window. I'm saying "Hello Hello" 5 times. No answer. I move forward and hear them get on the speaker so with the other four cars behind me I reverse and started saying hello again. No answer. I call the store and this nasty unprofessional ** girl answer after telling her I've been at the window calling for the longest. She tells me I'm a liar and that I wasn't there and they are closed. She needs to be fired and I hope they close this ** location down.

I went to Wendy's at 6 pm Central time on 3-29-2017 and ordered two 4 for $4 and a number 10 (10 piece nugget meal), with my nugget meal I asked for Baconator Fries. I was asked if I wanted the ranch ones I said "no", explained I just wanted the normal cheese and bacon ones and still ended up with ranch and bacon fries. I went out of my way and drove 10 minutes back to the location to get my fries fixed. As I tried explaining to the manager she was very rude and cut me off, told me to keep what I had and said she would correct it. I explained that I did not want the ranch ones as I do not like ranch. She grabs them from the counter and tosses them in the garbage. She immediately comes back with the correct ones and when I look in the bag it had fries with sprinkled cheese (not melted) and bacon. I set the bag on the counter, stated that I did not want them and walked out.
From the parking lot I called into the store and asked for a supervisor. The woman said she was. I explained the situation. She stated that she was the one I dealt with inside and that the cheese was melted on there and that I WAS BEING RUDE and said that I can talk to another manager and she will tell me that the cheese was melted too. As she tried to put the other manager on the phone all I hear is "UGHHH" in the background, never spoke with another person, and the same woman responds "she said it was melted too and you can call the store manager tomorrow if you want". I told her I will definitely be doing that and that she was VERY RUDE. She once again stated that I THE CUSTOMER WAS BEING RUDE which yes I was upset but I was nowhere near rude. If anyone had to leave from their home to go get an order corrected they would be upset.
It is the job of the employee (especially in a managerial position) to make sure that the customer is totally satisfied. Instead she stated "if you didn't like the shredded cheese on there you should have just said that". Instead of saying "I am so sorry I would be happy to correct that for you" that is the response I get. If my order would have been right not only the first time but the second time as well I might not have been upset. Then to be treated like I was the one in the wrong and pointing the finger at me when all I wanted was my order correct. WORST CUSTOMER SERVICE I HAVE SEEN IN MY ENTIRE LIFE!! Never have I ever been so outraged about an experience!! Also might I add I am NEVER one to complain. I usually just let it go, but when you mess up twice and then as a manager you treat your customers like that, that is totally unacceptable. NOT OK!!

On 3/28/2017, a Wendy's employee whose name is ** (whose name on the receipt) attended me at the drive-thru window at 7363 Jonesboro Rd, Morrow, GA 30260. The cashier stole my Chase freedom credit card. To describe the situation in detail, when I gave her my card to make payment at the window, she never gave me my drink nor my receipt and credit card. She just told me to move my vehicle to the front corner of the building to wait for the food.
Another lady who seemed to be a manager came out with my food and card and receipt as well as drinks but I did not realize until I came home that the card they gave me was not my card but someone else's chase debit card... What...the... I have never had this type of terrible customer service at any fast food restaurant here in America and the fact that it had to be Wendy's really disappointed me very very very much...

Went to Wendy's 3 days in a row, as I had coupons and was home alone. The first day, Apple pecan full size salad and a chili, good but I forgot coupon so it was expensive, $10. The next day got an apple pecan full size salad and a chili and a fries. $15 WITH $2 full size salad coupon! Not even a drink. The last day, I had one salad coupon left ($2 off full size) and my fiancé got home, so I ordered 2 taco full size salads and two chilis. Used a $2 coupon and it was $20! Trouble is, it was SO gross. I didn't realize they give you chili to put on a bunch of lettuce to make it 'Taco' - some yucky salsa, a sour cream and some big round chips. So we didn't even eat the extra chilis I bought. Not going back. Too expensive and not good. Their chili used to be thicker, now it's runny. Looks smaller too, even though I asked for large. Bummed.

I went to the Wendy's restaurant at 560 N. State Rd. 7 in Royal Palm Beach, Florida this week to grab something quick for lunch. I ordered a single Baconator burger and the lady rung me up for a whole meal. When she told me the total I said, "Are you sure, I only ordered a sandwich?" She then rolled her eyes at me and said "I have to get someone to take this stuff off!" The other lady come over and does the override and walks off. Then cashier then gives me a second total which again is WRONG! I explained to her that I only want a single burger, she forgot to remove the drink in which the whole sequence starts again with the other lady. Now I'm looking around and the whole place (behind the counters) is total chaos! I'm asking myself "Who is the damn manager here?"
I finally pay for just the burger and go over to the other pick up counter. The cashier told me to just keep the cup. The lady who performed the override was there looking at me with an attitude as if I did something wrong. She yells over at the cashier "Did you charge him for this cup?" I replied, "I don't need it, keep it!" She then slams my burger in the bag and drops it on the counter and walks away. I always thought Wendy's was supposed to set the standard for the best fast food joint but they dropped the ball big time because this is the WORST excuse of a Wendy's I have ever seen!!! Whomever that manager is needs to be demoted or fired - PERIOD!

I went to the drive-thru window and gave them my gift card my daughter gave me for my birthday, it was a $20 card. I ordered a combo and went to the next window, they gave me a bacon burger, but I didn't want bacon and I didn't want onions... but they added that too. My wife checked the order before we left the window. When I questioned the manager about it (he was of Indian, Middle Eastern descent) and he wanted to see my receipt, but the first window did not give me one. He said that I didn't pay for my meal and didn't give me back my food or money.
I called the police and told them about my situation, and requested that they write a report, since I was in Law Enforcement now retired, but they said there is nothing they can do about it... So, we left. I never go to Wendy's anymore since then and it's been around a year now. I wanted to add this problem to Consumer Affairs so other people can see this and write in about their experience. I went to the Wendy's on RT 31 in Flemington, NJ.

Upon visiting my local Wendy's this evening (7th st in Altoona PA) I went to the ladies' room and found the single stall to be clogged with feces. I went to the counter and informed staff and they sent a man to clean it. When ordering our food I noticed that the woman was wearing plastic gloves, handling money and credit cards, and then proceeding to handle food in the same gloves. As I also work in food service (and have some common sense) I know this is a huge food safety violation. But that was nothing compared to what else occurred this evening. It wasn't the kitchen being absolutely disgusting...dirty counters, fryer bins that would turn anyone's stomach, food all over the floor and clearly kicked into piles under the fryer unit. It wasn't the fact that there were no clean tables. It wasn't the fact that someone finally came to clean the tables around us while we were eating...spraying a nauseating cleaner which made it difficult to eat.
What really scarred me for life was when the same man who had been asked to unclog the toilet filled with feces just minutes earlier came to our table and rather than inform us of the survey on the back of our receipt, reached his hands onto our tray where our food was lying unwrapped as we were eating to grab the receipt and show us the survey! That was it. I couldn't eat another bite. You better believe I completed their survey! This location should be shut down! I will NEVER enter this restaurant again...let alone eat there. At the very least management needs to be replaced, and food safety needs to be enforced. If this restaurant is allowed to continue operating as is, I can guarantee they'll be facing several lawsuits. It's only a matter of time.
I honestly have no idea how these people haven't been shut down or fined! Food safety is a very serious issue and can be fatal. Dave Thomas would be ashamed to have his name associated with such a vile disgusting restaurant. This specific location was just remodeled...they should have followed suit and replaced management as well because they're just going to run it into the ground. Meanwhile, I'm looking forward to the day when they get a surprise inspection! Damn. I should have taken pictures.

There's a sign... hiring inquire within, that means inside but when I ask they said "go online" and a guy said "we only hire young people." And the other issue is the coupons given for 2017 it says from 1-1-2017 to 2-15-2017 but they won't accept it on the first of January. I'm turned back feeling betrayed.

I recall many years ago when Wendy's made a decent batch of chili. It had all the standard ingredients that a fast food chain could safely use. Since then the quality has crashed. Recently my wife hankered for some Wendy's chili. What she brought home was nothing but beans... and a good number of them were tough skinned kidney beans. As for the meat... there was none. Chili is more than just a pot full of beans and (very) mild mixture. Chili means chili meat, beef. This stuff Wendy's passes for chili doesn't has half the amount of their cheapest hamburger. No more for me... I'll make my own with a better balance of quality beef and pinto beans, not tough skinned kidney beans.

I went to Wendy's on Sherman Ave in Muskegon MI! I had 10 on a gift card and the lady ran it through. Said it was declined. I told her I just looked the amount up and that it had 10. She said sorry it was declined very rude! She wouldn't run it again! I showed her online that it was 10 and she said, "Well, it declined. Don't know what to tell you!!" So I gave her cash and later went to get a frosty and it went through. She said well it didn't last time so!! She very rude and I don't appreciate how she acted!! If she would have ran the card through again it wouldn't have been a big deal! People need to learn how to appreciate customers!!

Wendy's location at 2442 Osborn Rd in Saint Mary's Georgia is the worst Wendy's I have been to in the last two month... Both times in the last month I see an employee selling and doing drugs at work. While I was in drive thru I notice the car in front of me wasn't getting food that they were getting something else handing to them thru the window. It was small so I was unable to see what it was. The last time I was at Wendy's I went in to sit with my mother-in-law and the employee that was working both the front and back was cursing profane to the customers and other employee. The same employee that was cursing was the one I seen with my own two eyes selling the drugs. Her name is **... I did not keep my receipt for either time.

Do not order a Frosty from the Wendy's Englewood, Oh store. The frosty is not the same texture as other Wendy's stores. The frosty is almost like a bad glass of milk. Yuck! The Wendy's store in Tipp City, Ohio makes an excellent frosty. Wendy's management needs to have the Tipp City store train the Englewood store on how to make a frosty. I sincerely think this would fix the issue.

Wendy's Taco Salad - I paid over $7 for the large and looked like the small. I heard everything came separate, but when I got my order the chili was on top and I questioned and told I have to order to go. Was my first time ordering. So I got the salad and I noticed that a lot of the salad underneath was rotten. I ate most of the top and I had ordered a Jr. Bacon CB too. Well that saved me from actually going up and complaining. I was hungry. I know better next time.

Location: Whitby, Ontario, Canada. Baldwin Street location. Today I went to Wendy's after work to eat. Ordered 2 Jr cheeseburgers and was told to pull up to the window, so I did. When I got to the window, I heard a female worker in there mocking me and my way of speaking, complaining and whining that I asked for the cheeseburgers to be plain - which is not hard to do at all. She also expressed that it would be funny to put everything on it (out of spite), but fortunately that didn't happen. This is the third incident in less than 6 months, involving bad attitude from the staff, or outright disrespect at this location. I dismissed them before, but not this time. I'm never going to that location ever again. It costs too much to put up with that kind of nonsense.

What part of NO cheese do you not understand? Why do I have to reorder my food because of cheese, even the employee repeats it back to me. 3 times in one visit. Really? I've even heard the people in the back complain "she changed her mind" no I didn't. The other customers heard and knew what my order was. Rude employees. And another visit we didn't get anything we ordered. Too bad I was on the highway or I would have taken it back. Get it together!!

On Monday November 14th 2016 I visited Wendy's fast-food restaurant on Roosevelt Boulevard in Key West. Myself and my girlfriend ordered a burger each and then we went back and ordered another one. We spent about $16. We decided to go to Wendy's because we were going to watch a movie that did not start for an hour later. When we finished our meal my girlfriend said she wanted to go looking at clothes in a store close to Wendy's so I said I would just catch up on my emails and wait in Wendy's until she returned. What guy likes to go clothes shopping right?
The restaurant was almost empty and I was just using my cell phone when the manager Mike came over and told me I needed to leave as I had stayed more than 15 minutes after finishing my meal. I could not believe my ears. I am a 50 year old company CEO and I could not believe that I was being treated like some homeless person. I understand that it's not my house and they don't want people staying there if they are busy but I was in there less than 45 minutes total. Surely they should be using some initiative when applying policies. I will never step foot in another Wendy's restaurant ever again.

I would just like to know why the hamburgers are always cold. This is the second I have ordered a Jr Cheeseburger Deluxe and when I receive it, it's completely cold. Cheese isn't melted, one measly tomato, one piece of onion and one pickle. I have gave it another try and this is just pathetic. They need stronger warmers or something. This is just sad.

On Oct. 12, 2016 at 8:20 PM Store #00003614 we ordered salads, baked potatoes, and Frostys. They were out of salads, baked potatoes and Frostys. We did order something not like customers behind us whom left store without buying. What's going on at this store. We've been eating here for years. Location: 1636 Seminole Trail Charlottesville, VA 22901. (434) 973-6226. Should we try eating there again??? Oh! Also, no chili.

I used to love their Chili. But now, it's nothing but a bowlful of beans and they're mostly old and overcooked. I barely get a teaspoon of 'meat' and there is absolutely zero gravy added to the bowl. What has happened? Does the manager of the Cedar Hill TX Wendy's dump cans of old navy beans into the chili when nobody is looking? Or does this crap come pre-mixed in gigantic plastic bags and then dumped into a pot? How cheap can you get? Their chili, as presented to customers, is no longer edible. It was bad enough they eliminated the light red kidney beans and chose navy beans instead. Now you might as well ground it up and make hummus with it and even that will taste awful. TERRIBLE CHILI.

When you are treated rudely at a restaurant, it doesn't matter if the food is good or bad. The Wendy's at 7009 Veterans Blvd in Metairie, LA has the same problem many fast food restaurants face... employees with horrid attitudes who treat customers rudely. While going through the drive-thru on Tuesday evening 10/11/2016 at approx 7 pm. I had the displeasure of being serviced by a young ** lady who refused to speak or even look at me. Her hand extended out of the window holding my bag of food with not a word or gesture acknowledging my presence. I said thank you, but she slammed the window. Many fast food restaurants have pleasant employees who appreciate the business customers give them. Chick-fil-A is always a pleasure to visit. I will spend my money elsewhere in the future.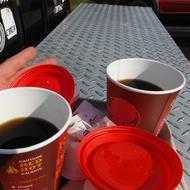 Wendy's, Millville NJ. I have had it with this location because of the chronic shortchanging that takes place whenever I buy coffee. They often leave it at least an inch, sometimes an inch and a half, too low from the top. I could see if it was maybe a half inch, but when I went to complain, the manager gave me a lame excuse "We don't want you to burn yourself" and that they're actually instructed to do that. All that room is enough for 50 creamers!!! It's a very bad reflection on Wendy's because you don't find other places like McDonald's, Burger King, Chick-fil-A, Dunkin' Donuts, etc pulling this kind of crap!!!

Wendy's review in Makati, Philippines. This Sept. 27, 2016. Avail of their promo. Then the guy I ordered to, said, "Sir, it's FREE to upsize," so I go "Okay, I'll upsize my drink (iced tea)," when the teller tells me, "It's 190 pesos Sir." I said, "What? I thought it just 175," teller said, "You just upsize your drink." The guy confront me and said, "Sir, when I mean it's free, it means the iced tea is free to upsize," I said, "So, why charge me?" Guy said, "It's hard to explain Sir." Well, here's an advice to Wendy's at Makati, Philippines... Don't give a product which is hard to understand.

This is a new Wendy's that open in Missouri City off of Hwy 6 and their employees has the rudest attitude. I am in the drive thru lane and the greeter is not professional and doesn't greet me like they should. I placed my order and I felt like I was being rushed to place my order. By the time I get to the window, the young lady just blurts out my total. Not saying "hello ma'am, you ordered a blah blah blah, your total is blah blah." I am handed my order and the window closes. No "thank you or have a nice evening." This has happen on multiple occasion. I think they need to train their employees the true meaning of great customer service.

So I come to the Wendy's in Washington and the cashier was rude by not listening to what I said. Had to repeat myself. And then I asked for a large drink. She gave me a small. Once she corrected herself she only gave me one large cup. I ordered 2 large. Food was **, fries were nasty, no flare, tasted stale. I came here a week ago and my burger wasn't even done. It was mostly pink and they still sold it to me.
Company Name:

Wendy's

Website:

https://www.wendys.com/