Consumer Complaints and Reviews

Wendy's Taco Salad - I paid over $7 for the large and looked like the small. I heard everything came separate, but when I got my order the chili was on top and I questioned and told I have to order to go. Was my first time ordering. So I got the salad and I noticed that a lot of the salad underneath was rotten. I ate most of the top and I had ordered a Jr. Bacon CB too. Well that saved me from actually going up and complaining. I was hungry. I know better next time.

Location: Whitby, Ontario, Canada. Baldwin Street location. Today I went to Wendy's after work to eat. Ordered 2 Jr cheeseburgers and was told to pull up to the window, so I did. When I got to the window, I heard a female worker in there mocking me and my way of speaking, complaining and whining that I asked for the cheeseburgers to be plain - which is not hard to do at all. She also expressed that it would be funny to put everything on it (out of spite), but fortunately that didn't happen. This is the third incident in less than 6 months, involving bad attitude from the staff, or outright disrespect at this location. I dismissed them before, but not this time. I'm never going to that location ever again. It costs too much to put up with that kind of nonsense.

What part of NO cheese do you not understand? Why do I have to reorder my food because of cheese, even the employee repeats it back to me. 3 times in one visit. Really? I've even heard the people in the back complain "she changed her mind" no I didn't. The other customers heard and knew what my order was. Rude employees. And another visit we didn't get anything we ordered. Too bad I was on the highway or I would have taken it back. Get it together!!

On Monday November 14th 2016 I visited Wendy's fast-food restaurant on Roosevelt Boulevard in Key West. Myself and my girlfriend ordered a burger each and then we went back and ordered another one. We spent about $16. We decided to go to Wendy's because we were going to watch a movie that did not start for an hour later. When we finished our meal my girlfriend said she wanted to go looking at clothes in a store close to Wendy's so I said I would just catch up on my emails and wait in Wendy's until she returned. What guy likes to go clothes shopping right?
The restaurant was almost empty and I was just using my cell phone when the manager Mike came over and told me I needed to leave as I had stayed more than 15 minutes after finishing my meal. I could not believe my ears. I am a 50 year old company CEO and I could not believe that I was being treated like some homeless person. I understand that it's not my house and they don't want people staying there if they are busy but I was in there less than 45 minutes total. Surely they should be using some initiative when applying policies. I will never step foot in another Wendy's restaurant ever again.

I would just like to know why the hamburgers are always cold. This is the second I have ordered a Jr Cheeseburger Deluxe and when I receive it, it's completely cold. Cheese isn't melted, one measly tomato, one piece of onion and one pickle. I have gave it another try and this is just pathetic. They need stronger warmers or something. This is just sad.
How do I know I can trust these reviews about Wendy's?
633,951 reviews on ConsumerAffairs are verified.
We require contact information to ensure our reviewers are real.
We use intelligent software that helps us maintain the integrity of reviews.
Our moderators read all reviews to verify quality and helpfulness.
For more information about reviews on ConsumerAffairs.com please visit our FAQ.

On Oct. 12, 2016 at 8:20 PM Store #00003614 we ordered salads, baked potatoes, and Frostys. They were out of salads, baked potatoes and Frostys. We did order something not like customers behind us whom left store without buying. What's going on at this store. We've been eating here for years. Location: 1636 Seminole Trail Charlottesville, VA 22901. (434) 973-6226. Should we try eating there again??? Oh! Also, no chili.

I used to love their Chili. But now, it's nothing but a bowlful of beans and they're mostly old and overcooked. I barely get a teaspoon of 'meat' and there is absolutely zero gravy added to the bowl. What has happened? Does the manager of the Cedar Hill TX Wendy's dump cans of old navy beans into the chili when nobody is looking? Or does this crap come pre-mixed in gigantic plastic bags and then dumped into a pot? How cheap can you get? Their chili, as presented to customers, is no longer edible. It was bad enough they eliminated the light red kidney beans and chose navy beans instead. Now you might as well ground it up and make hummus with it and even that will taste awful. TERRIBLE CHILI.

When you are treated rudely at a restaurant, it doesn't matter if the food is good or bad. The Wendy's at 7009 Veterans Blvd in Metairie, LA has the same problem many fast food restaurants face... employees with horrid attitudes who treat customers rudely. While going through the drive-thru on Tuesday evening 10/11/2016 at approx 7 pm. I had the displeasure of being serviced by a young ** lady who refused to speak or even look at me. Her hand extended out of the window holding my bag of food with not a word or gesture acknowledging my presence. I said thank you, but she slammed the window. Many fast food restaurants have pleasant employees who appreciate the business customers give them. Chick-fil-A is always a pleasure to visit. I will spend my money elsewhere in the future.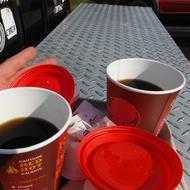 Wendy's, Millville NJ. I have had it with this location because of the chronic shortchanging that takes place whenever I buy coffee. They often leave it at least an inch, sometimes an inch and a half, too low from the top. I could see if it was maybe a half inch, but when I went to complain, the manager gave me a lame excuse "We don't want you to burn yourself" and that they're actually instructed to do that. All that room is enough for 50 creamers!!! It's a very bad reflection on Wendy's because you don't find other places like McDonald's, Burger King, Chick-fil-A, Dunkin' Donuts, etc pulling this kind of crap!!!

Wendy's review in Makati, Philippines. This Sept. 27, 2016. Avail of their promo. Then the guy I ordered to, said, "Sir, it's FREE to upsize," so I go "Okay, I'll upsize my drink (iced tea)," when the teller tells me, "It's 190 pesos Sir." I said, "What? I thought it just 175," teller said, "You just upsize your drink." The guy confront me and said, "Sir, when I mean it's free, it means the iced tea is free to upsize," I said, "So, why charge me?" Guy said, "It's hard to explain Sir." Well, here's an advice to Wendy's at Makati, Philippines... Don't give a product which is hard to understand.

This is a new Wendy's that open in Missouri City off of Hwy 6 and their employees has the rudest attitude. I am in the drive thru lane and the greeter is not professional and doesn't greet me like they should. I placed my order and I felt like I was being rushed to place my order. By the time I get to the window, the young lady just blurts out my total. Not saying "hello ma'am, you ordered a blah blah blah, your total is blah blah." I am handed my order and the window closes. No "thank you or have a nice evening." This has happen on multiple occasion. I think they need to train their employees the true meaning of great customer service.

So I come to the Wendy's in Washington and the cashier was rude by not listening to what I said. Had to repeat myself. And then I asked for a large drink. She gave me a small. Once she corrected herself she only gave me one large cup. I ordered 2 large. Food was **, fries were nasty, no flare, tasted stale. I came here a week ago and my burger wasn't even done. It was mostly pink and they still sold it to me.

The Wendy's located at 3630 Riverside Dr. Macon, Ga. 30120 is a very bad place to enjoy a good, hot fast food meal. I have visited this location every week for the last 3 weeks and everything I ordered was not freshly cooked, hot or tasted good, from the burgers, fries, loaded baked potatoes. Each and every time I visited. I had to wait in line 10-15 mins. for my orders and still received cold, unfresh foods. I have spent about $60.00 on cold, half cooked, bad tasting food!

Waited almost 20 minutes in drive thru line, no one was interacting with customers. When I finally did get waited on, the person I spoke with told me they wouldn't have baked potatoes for an hour. Then she asked me to hold on, when she finally came back to me she said they had potatoes. I gave my order, then she asked me to hold on again. Eventually someone else came on and asked for my order, I stated that I did order, she found it and repeated it to me, then gave me the total cost. She asked me to hold on again. I waited.
Then someone else came to the window and asked for my order. I told that person I already ordered. I was asked to hold on again. Eventually she came back and said to pull up to the second window. At the window I was immediately asked to pay another $1 and change, I didn't understand but wanted to get out of there and paid. Then they told me to park out front and my food would be brought to me. I asked if I was supposed to get my drink while there by the soft drinks, then was given my drink.
I waited another good 10 minutes out front for my order, and it never came. So I went inside to wait for it, still took forever. All this procrastinating wasn't for any apparent reason, there weren't any customers inside who were keeping the place busy. Also it struck me that the kitchen floor was really dirty. While waiting for my drink in the drive thru line, the woman who gave me my drink was sweeping the floor while talking to me.
Honestly, I found it odd to do that while telling me my order would cost more and while waiting on me. When inside, it also struck me that her sweeping lacked any accuracy. There were fries and ripped pieces of paper on the floor, right by where she had been sweeping. Still was slow to get my order, everyone just seemed to be in slow mo. The place just seemed chaotically run for no good reason. Plus, when I got my order, it was awful. Hardly ANY cheese whiz on the potatoes I ordered. I had left before I discovered this, and I was not going back. Nothing was going right.


My daughter applied online. Somehow was told the wrong location and that manager ask our hometown Wendy's if they would like to interview her so one young man did but was not management but would pass it them and come back for a 2nd interview which she did. Regina called her a week ahead. She went in and was so rude and nasty, said she had no prior work experience so can't ask about that! No application so can't ask about that either so nothing to say all this time. She could of simply ask questions from a app or have her fill one out prior or there!!! She has no common sense questions?!? She knew all this prior. Why even ask her to come back?! Who does that? I am disgusted and will never come here again.

I was giving my order based in the menu listed. In the list there were 2 columns in the value menu. I ordered Crispy Chicken Sandwich. I did not get it right. When I asked the cashier, her name is Francesca, if she can still change it. She got upset and went to the Manager and they all laugh like the I was so stupid to get the wrong order. I told the cashier named Francesca to just leave it because she got upset. The people in the kitchen once again laughed at me. I was so embarrassed. There are people behind me in the line. I wish for a good customer service in this location.

You missed the buck by taking the BBQ pulled pork sandwich off the menu. It was definitely a crowd pleasure. July 4th... Come on. Now is the season. It's not too late... BRING IT BACK!!! Thanks WENDY'S.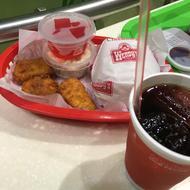 My husband and I ate recently at Wendy's Trinoma and found out that they have a new promo. It's called 5 for 125. You get to have 5 items for just 125 pesos and the 5 items are: 3 pcs. chicken nuggets, cheeseburger, mac salad, jello and coke. We tried it out because it was very affordable. If you are really hungry and have no other choice, then this is worth it but if you're looking for a more satisfying meal then go elsewhere. The nuggets are just average and same with the burger - I cannot taste the beef patty anymore because it's too thin. It's like they want to satisfy their customers with very cheap prices but they didn't take into consideration keeping the quality of their food products. Very disappointing.

If it isn't the cold food slung at you from the window, it is exceptionally bad service. As if "There you go" is somewhat similar to "Thank you". I try to get over my preconceived notions but honestly every time I go is just as bad as the last and then I wait another year to try it.

My husband and I were waiting to order and a previous customer came to area to show that his burger was single and not double as he ordered. The person at register threw it away and ordered another for the person. The manager was angry that he threw it away. "Should have just put another burger on it." I stated to the customer "did you bite into it." He hadn't. So I said to the register person "of course you did the right thing. Anything taken away from that counter can not be fixed with that same food. It's contaminated whether he bit into it or not. You should challenge your manager on this" and secondly he should not have disciplined him in front of other customers.
My husband and myself have been in the food service area for years and we think you need to address this with that manager. It's the Wendy's on Commerce Way in Plymouth, Mass. Thank you. Only hope this manager does not treat all his employees and customers like this. He was tall and young and heavy set. Dressed all in black. Unfortunately we did not get his name.

Wendy's has always been a family favorite. I was particularly pleased when they came out with a wide breakfast selection that is both very affordable and very palatable. The coffee is something to be much desired though. I have always had a preference to go to the said establishment vs McDonald's or Burger King up until recently when I found out that they pulled out one of the staples I keep coming back to. The chili is Wendy's quintessential food and has been there since time and memorial. This is the food I usually order whenever I can't make up my mind on what to get. Whoever had the idea of removing it from the menu needs to get their priorities straight. I can think of more than a handful of other food that they could have axed. I am still coping with the loss but it has not totally dulled my love for the food chain.

I recently went to Wendy's near our office to have dinner. As I entered the store, the crew opened the door and greeted me. I appreciated that a lot. Not all food chains are like that. Some show no concerns for their customers. I have been to this food chain where I sat on a table where the plates and leftover food of the previous customer were still on the table. It took me at least 15 minutes for the crew to even notice me and clean my table. It was so irritating. But with Wendy's I have never experienced that. Their crew is polite, friendly, always smiling, helpful, attentive, and fast. They make sure that their customers are satisfied. And I was satisfied with the service they have given me. Kudos to all of them. I will never think twice going back. My experience has been good.
Also the food tastes great. I love their Frosty. I use it as a dip for my fries. So good! Heavenly! They are a perfect combination. Hot and cold. I always have them whenever I watch a movie. I just have one question though... Who is Wendy?? I asked one of the crews but he did know. Hmm. I think that should be part of their training. Learning the history of their business...

Wendy's - brings back a lot of memories. I've been a constant Wendy's customer for years. Chicken burgers are sooooo tasty. Their salad is always fresh. Way back during college days, there are 2 other fast food chains beside Wendy's. While others flock these chains, Wendy's get few customers, and I'm one of them. When I didn't feel eating a meal, I'd just go there and order their frosty which I'm addicted to. It's not that very sweet and the texture is perfect, better than regular ice cream. :) I guess a lot of people love it too since whenever I'm there, I'd see people eating frosty too. Also, who doesn't love their fries? Many college students spend their nights at Wendy's to study eating their fries, tastes great. Also, the regular serving has more fries than other chains.
Overall, the food is great but there is a downside - they are expensive or should I say, they have become expensive. Their products used to be affordable then they raised their prices way above the regular chains. There was this time when I went to a mall and saw there's Wendy's so I went in, ordered a meal (I knew the price was expensive) and ordered frosty. I was surprised that the regular frosty had become so small that I thought I was ordering espresso frosty. Am I having a shot of frosty? Why this small? And their large frosty is as big as the regular frosty then. Hmmm, with so much competition around, they need to increase their margins by decreasing their servings but doesn't that make loyal customers go away? I just hope that they only do this to their frosty and not to any of their combos.

The burgers at Wendy's are INSANELY OVERPRICED. Look, I get that their burgers are really really good, but the expensive prices are too high for me to enjoy eating there. All I can think of as I chew on their burgers is the fact that I just spent a lot of money on something that probably won't even satisfy me. Yeah it's delicious, but I'll still feel hungry afterwards and I won't have enough money to buy anything else there or anywhere. It's just not worth it. I'd rather eat at a moderately priced burger joint and eat a mildly satisfying burger/s to my heart's content than to settle for something delicious but so expensive. You're a fast food joint Wendy's, not a gourmet restaurant! Lower your prices a bit so that more people will appreciate what you have to offer.

The chili is the new ripoff. A large one is just a tad over the original and quite higher in price. So, now they fill the large chili halfway (supposedly there is an imaginary line) and get you for more money. Geez, it would be terrible for Wendy's if they fill the chili up to the top. It may cause them to go bankrupt... lol. The food is cold the burgers are tasteless and the fries are greasy.

I am very disappointed in that Wendy's stopped making the Taco Salad. The best thing on the menu. I BEG YOU TO PLEASE BRING BACK THE TACO SALAD. We miss it.

We frequent the Wendy's on North Oak Rd. in Plymouth Indiana. My husband always orders a burger without cheese due to severe anaphylaxis to dairy and dairy proteins. He is not simply lactose intolerant; his throat swells closed if he ingests cheese. On this night, we ordered his food as usual with no cheese via drive-thru. Due to severe nature of his allergy, I always pull out of the drive-thru and park to check the food. It was late evening and getting dark, so from what I could tell, the order was correct. I drove home, which is about 10 minutes from the restaurant. Upon his first bite, his mouth started to itch. He said, "Something is wrong." so I grabbed his food and looked it over. There was cheese residue all over the burger patty, as though they had slapped on the cheese and then peeled it off.
After giving him his medication to calm the reaction, I called the store. The manager, Lisa, was possibly the rudest individual I have ever encountered. I explained the situation, and the severity of it, and she actually stifled a laugh. At that point, I became angry. Her only solution was to send coupons in the mail (which we never received) and she stated that "maybe he shouldn't eat there if he's allergic". The manager would not give me the name of her superior. I called the 800 # and they said they would "look into it". Be very wary if you or your loved ones have serious food allergies; apparently this franchise thinks it's a joke or laughing matter.

Just 30min ago me and my mom went out to Wendy's to order. We went through the drive-thru. We order but the person probably can't hear me. Ok but I say this 3 time a little bit louder so she can hear me and my mom say the same thing. The order was the 4 for 4 deal - the cheeseburger, 2 bacon cheeseburgers and 1 jr cheeseburger. The lady don't get one of them so they send those to the manager that say to those that we were rude and yelled which we were not and she walk away from those not let we say are those side. I park the car, walk in, ask she to listen. She we don't leave she calling 911 on those so we got the phone # of the corporation of Wendy's toll are say of the story. And all we want a sorry from the manager b/c she made my mom cry.

I asked for a baconator - no mayo large and a junior bacon cheeseburger with medium fries. The sandwiches were not wrapped correctly as to identify which sandwich was which and the medium fries were in the bag with the baconator - not the large fries. I gave my friend the baconator thinking it was the junior (not my fault). Went back in the store and told the lady what happened and all she could do was ask what the problem was. I paid 15 dollars for my food and didn't get to even take a bite - that is what the problem is. I would not go to the Wendy's by Walmart in Telshore ever again and I would suggest that if anybody that reads this goes to Wendy's make sure your food is correct because apparently they don't know how to bag orders correctly.
Company Name:

Wendy's

Website:

https://www.wendys.com/