Consumer Complaints and Reviews

Around 1130 pm we celebrated my husband birthday with our niece and friend at Fridays #5332, 50 Bayonne Crossing Way, Bayonne NJ 07002 with Telephone number 201.339.5904. We situated ourselves in the bar and our friend forgot his identification. **, the bar manager told us that our friend will not be allowed in the bar and if we want to stay we can dine in the dining room. I clarified with our server if we can still dine with the happy hour menu %50 discount for appetizer and she said that should not be a problem and she will informed the dining room server that we came from the bar. We ate for about an hour, the bill came to all regular prices. ** Our new server in the dining room was very professional and very approachable. We spoke to our server and said that there has been a mistake in our bill.
After a minute, ** came and said that the prices in bar doesn't apply in the dining room. I explained to him that we were promised by the server in the bar that we would be honour for the %50 discount. He disagreed and was very argumentative stating to me that the no one has the authority to make that decision. I asked if we can talk to someone else, owner perhaps. He said that TGIF is owned by TGIF. He also had the audacity to tell me that he doesn't appreciate my attitude. He never apologized and he said he was going to remove "2" items on regular prices from our bill but because of my attitude he will not do that.
I explained to him that I will never come back to TGIF. The way he handle the situation was unacceptable. I told him I don't have a problem paying the bill if I was notified in the very beginning. He was very rude, very argumentative, and doesn't have any managerial customer service skills. He was very racist and doesn't care about our customer satisfaction. Please investigate and have the appropriate corrective action.

It's been multiple trips to T.G.I. Friday's in Milford MA when I have been sick to my stomach for hours afterwards. In this occasion my wife had the same symptoms. We didn't order anything unusual, just some appetizers and Jack Daniel's dishes. We're not going back.

First impression matters. Hostess sucked. She was rude and unprofessional. Her whole demeanor was as if we were bothering her. When our table was ready she addressed us as "You two let's go." The menus were too big and the food was pricey for the selections. My wife has a seafood allergy and we alerted the waitress with our order of chicken bruschetta pasta (no fish). The waitress came back and let us know that she alerted the cook of my wife's allergy and she assured that he was gonna make it fresh. She came back 10 minutes later stating that the manager was concerned and didn't want to chance it being that the pasta was made in the same pan the fish was in. So we order burgers. After 10 more minutes the chicken bruschetta shows up with the waitress explaining that they washed the pan good and "see no fish on it." Hmm... I was fitting to send it back and get the burger but we already waited 20 minutes to eat.
As we waited for whichever food came, my wife went to use the bathroom and returned very unhappy. The bathroom was filthy with blood on the toilets, the floor was sticky and it reeked of urine. With the original order the waitress asked if we wanted bread with our meals. No bread came however it showed up on the bill. We complained about being charged for something we never got despite giving us something the manager didn't want to chance. $42 for something we didn't order. Service was terrible and food matched. Maybe because it was a Thursday night, but I guess Friday's is only good on Fridays because we could never get in. Won't be back, ever.

On Saturday, June 11, 2015 I went to TGI Friday's in Charleston, SC. I was drinking my beverage, when I realize that something hard was hurting my mouth. I spit the contents out of my mouth into my hand, only to discover it was glass. I asked for the manager to come over so I could tell him what was going on. I told the manager and gave him the pieces of glass that was in my drink. The manager offered me another drink, like everything was ok and I told him no, so he went along his merry way. The waiter came along, and I explained the same thing to him, and he too offered me another drink. I am very displease with the service and staff. There was chunks of glass in my drink, and they still served drinks to other patrons. Talk about the lack of safety for their patrons. Clearly, this establishment has no regards for safety and its patrons.

The music was so loud you could not even speak across the table. We told the waitress and she cut it down and then somebody would go cut it back up. The so called little hostess (boy) was dancing to the music. I spoke with the manager and all she said was she was sorry. I will not be back to this restaurant.
How do I know I can trust these reviews about T.G.I. Friday's?
634,774 reviews on ConsumerAffairs are verified.
We require contact information to ensure our reviewers are real.
We use intelligent software that helps us maintain the integrity of reviews.
Our moderators read all reviews to verify quality and helpfulness.
For more information about reviews on ConsumerAffairs.com please visit our FAQ.

Me and my wife arrived at the restaurant and had a seat at the bar. We were greeted and served beer. The people sitting next to us were loud and obnoxious and had ordered food. The one person had his shopping bag sitting right in my face, didn't even bother to move it, which I considered great disrespect. The server said nothing, so we took our drinks and moved to a booth. Meanwhile, the restaurant manager had a baby-fit, throwing around things under the bar and creating a lot of noise. My wife said her stomach knotted up from the tension of the atmosphere. Anyways we looked over our menus and had more than enough time to decide, I'd say half an hour. We had our beers drank. The table behind us had 2 sets of people, one set leaving ten minutes after we seated ourselves and the new people that Sat down, and both were waited on. We were ignored completely so we paid for our beers and left.

I'm going to resume the whole experience saying they serve some of the orders two hours after with no napkins or silverware. Sodas the same; no straws. Brought straws when ice was melted and silverware when food was cold. When the manager came she apologized and said they were short of personnel and that's it. But tables around us came an hour later and were well served and leaved way before us. This was past Wednesday - I don't want to imagine how is on weekends. For sure any of us will come back.

Oxnard, Ca. We first got here and the noise level was unbearable, the tables dirty and no space to move. The menu very confusing and the place dirty. I went to the bathroom and found pubic hair on the toilet. The sinks and the overall cleanliness of the bathroom very unacceptable. Had to repeat myself plenty of times to the server because of the noise. For the prices of their menu I could have gone to a better place.

Dec 29, 2015 went to TGIF in Horseheads, NY. Was just before 3 pm. I asked to order the soup & salad special, was told it was too late since the order would not be rung up until after 3. I only ordered a bowl of soup. The broccoli cheddar soup was cool. When spoon was placed upright into bowl, soup came 1/3 way up the spoon, barely covering bottom of the bowl. Needless to say I left poor, hungry, & disgusted. I contacted the restaurant with no response. I now know why there were no cars in the parking lot, while neighboring restaurants were filled. I will never return. They should immediately close their doors.

I went to the location in Largo (MD) and it was my worst experience ever!! The service and the food were horrible and on top of that the worst thing happened when they charged extra money on the credit card!! We called to speak to a manager who told us he would have called us back but he never did!! I am very angry and disappointed. They need to shut this place down!! Unluckily after a month waiting to hear from the manager my husband threw the receipt away but I still felt like this situation needs someone attention.

I'm black, the greeting at the door was fantastic. I sit at the bar, 20 mins go by and the staff has yet to check on me. I get one of the servers attention, I ask her to let the bartender know I'm here even though we made eye contact more than 3 times in the last 20 mins. He then approaches me not with a smile, but with a mean look on his face. I didn't feel welcome here.

I've eaten here a few times, but last night will have been the last. I ordered the Nachos on the sampler menu as my entree. I asked for no beans or guacamole. I received 4 tortilla shaped hard shell tacos split in half topped with melted cheese, and jalapenos. On a side plate was lettuce mixed with sour cream and then a side cup of salsa. Clearly not nachos. When I asked where the beef was, my waitress told me the meat is mixed in with the refried beans so because I opted out of those I lost my meat. She never explained that when I placed my order. She was rude and probably the worst service I've ever received from a restaurant.

I would first like to say that I love TGI Friday's apps. The problem is their steaks and their ribs. I ordered a ribeye about 6 months ago and got sick within 1-2 hrs. after I got home. My wife, daughter and I returned to TGI Friday's last Wednesday night for dinner and I got the Pecan Chicken Salad and my wife got the full rack of ribs. She asked that they don't put any seasoning on them and put sauce on the side. After we got home from TGI Friday's my wife threw up everything she ate there. She also had cramps, felt nausea, and diarrhea the rest of the night and the next morning.
I am not sure what is happening at this TGI Friday's location, but how they are handling the food or the kind of food they are cooking is bad. No other restaurant we have been to has made us this sick. We didn't even want a free meal, but we did let them know how bad it made us sick. Hopefully they will take care of this problem, but until then it is ONLY apps we will be ordering and since the Endless App. promotion has ended so has our visits to TGI Friday's.

TGI Fridays University location in Coral Springs. Want to thank the manager for taking time to come to my table at lunch time to thank me for my service. Also noticed he did the same with other Vets. Nice menu provided specifically for Veterans as well. Two thumbs up!

My husband and I have been a customer of T.G.I. Friday's for a long time. The food has always been fantastic. I either ordered the Jack Daniel Steaks or the Jack Daniel's Ribs with Fries. My husband ordered the steak with mash potatoes and broccoli. Our appetizers consisted of mozzarella sticks and potato wedges. Recently we have visited 6 T.G.I. Fridays in a variety of locations and there has been a drastic change in the menu. At first we thought it was the one restaurant, but after visiting others, we have determined it is the whole chain.
They stopped serving steaks. They still have the NY steak but other than that no other choice. Their mash potatoes are no longer fresh, they are instant and runny. The mozzarella sauce was changed again and in one restaurant it was so thick you could use it as paste on the wall. There has been a change in the Jack Daniel's ribs, they don't seem like they have enough meat on them like they had before. The one thing we thought was consistent was the Jack Daniels Sauce -please don't change that. The change in the atmosphere has also changed to be more modern, was that the start of the change? We love T.G.I. Fridays, please bring it back.

My family and I have been to TGIF many times, but lately the food is horrible. We always end up sending something back. They advertise how they expanded their menu, they should stick to just Burgers since that seems to be the only thing they can't screw up. The food seems fake and pre-made.

I have been a long time customer of Friday's. I always take a large party with me. I have always had great service and the food has been awesome for years. Now the food is really bad. I would not recommend anyone to eat here now.

I've always gone to this restaurant on Sundays since my boyfriend likes to watch the games. This time the hostess was extremely rude and snotty. I asked her "Can we sit near a TV?" and she sat us in front of a pole way in the back not near any TV. I felt since we was a young black couple she thought we would skip out on the check! Me and my boyfriend moved ourselves to the bar area! Highly disappointed and will never come back!

We had a party of 8 for a birthday celebration. Arrived at Friday's at 7:08 pm. Went in and asked for a table for 8. No one came for 20 minutes to seat us. I went back in and asked if we could sit outside. Was told there weren't any tables. They finally proceeded to sit us inside and the air was not working. It was like a sauna in there. There were 3 tables to seat 4 people each available. We asked to be seated outside since it was way too hot to eat inside. Of course 1 of them was not cleaned off. We again waited. I went back in and said "there are 2 tables outside available if you cleaned the one we could sit". Should have walked out at that point. No interest from anyone. We assembled the tables ourselves. Of course, one table was wobbly and we fixed that with a few napkins.
Waitress introduced herself and we ordered drinks. The drinks came out in a quick manner. Then we didn't see the waitress for 30 minutes. Ordered another round of drinks and 20 minutes later we had to find the waitress and our drinks. The waitress took another 10 minutes to come and get our order. She never came back and didn't ask if we wanted appetizers. We placed our order and 45 minutes later one appetizer meal came out. No plates to eat them on only napkins she placed on the table. Never saw her again until I asked for a manager. 20 minutes later the manager came out. Still no food. The manager wanted to pay for our dinner but the waitress interjected and told us we only waited 10 minutes and basically called all of us liars. And she was rude about it as well.
At that point we got up and I explained to the manager that the waitress should have kept her mouth shut and never should have intervened. She was covering up her non-existence and incapabilities of ever becoming a good waitress. This place lost $300.00 that night for rudeness and lack of work ethics. This was the 2nd time this situation has taken place at this particular Friday's. Not only was the place empty and we know why. The food was not up to any standard. The one appetizer that showed up was lukewarm if that. The manager seemed nice enough. Even though I was a manager myself of a company would have fired that waitress on the spot for even downright arguing with the customer in the first place.
The table next to us interjected as well. They were also a party of 8 and no service to them either. I did tell the manager who explained she was new to that restaurant that I was not looking for a free meal. And I didn't take her up on her free meal. The manager took 20 minutes to get to our table after asking a 2nd person for a manager. She said she was just told of the problem. What a royal mess this Friday's is. Stay away if you want any kind of service. We proceeded to leave and eat elsewhere. BTW, it was now after 9:15 pm and we arrived there at 7:08. 2 hours - no food, no service.

We have very bad service, we were not met with kindness. There was almost no contact with our server. We were finally asked for our drink orders, it was like we weren't welcome. We finally got our drinks, my drink tasted sour (sweet ice tea). I finally caught the attention of our waiter, I ask for a water instead of the sour tasting tea. He turned and ran away quickly again.
We got our meal and then he brought my drink. The meal was fair. The server brought the water I requested after the meal was delivered. The server was very unfriendly and not polite in any way. The server's name on the receipt was **. The restaurant was located in Pigeon Forge, Tenn. #2038. Check **, trans key ** auth code ** table **. This happened on Sept. 11 2015 at 7:23pm. Since the service was so poor I was not going to leave a tip at all. I always tip well when the service is good. I did leave a tip of $2.50. I later found out the tip was doubled to the amount $5.00. I consider this fraud, let me know what you intend to do about it.

After a long day of traveling from NYP to VA my wife and I decided to get a take out order from T.G.I. Fridays in Leesburg VA. Here are the facts. Went to order, take out from the bar. Was told by the door greeter I had to order from the door hostess. She then told me I had to have a waiter server because I wanted an appetizer. While waiting for my take out order waiter came out ask me what did I order I told him to go talk to the door greeter. He stated she was not a waiter then a manager came out and ask me what did I order. I told her to go talk to the waiter or door hostess. She told him I did not have to be in her face and I could leave at any time.
Why was I not allowed to order at the bar? Since when do I need a waiter to serve me if I want a spirited while I wait for my Togo meal? If the door hostess is not a waiter according to the waiter why was I told to go to her to place my order and why did she place the order? Most important why didn't the manager try to fix the problem? This place seems to be dysfunctional, disorganized, and has a shortfall of training.

Last Wednesday my family and I had lunch here. Our server Kendra ** paid more attention to the two younger guys at the table next to us. We couldn't help but to overhear the conversation about smoking Marijuana and adding her on twitter. My husband and small children laughed at her silliness about everything. I was actually offended. We might as well have dined at a strip club the way she was acting towards these men. Drug test your employees. My husband Googled her twitter just for laughs and it's nothing but weed talk...

Today I ordered a salad with chicken and asked to add GRILLED shrimp for additional $5. I got a salad WITHOUT chicken for the price of regular salad WITH chicken and shrimp that were not grilled at all. I made a complaint and spoke to the manager. He said shrimp were sauteed, which is not what I ordered not to mention shrimp were hardly warm. The manager said he will take care of it. When we got the check, we had to pay for the salad WITH chicken but the additional $5 dollars for shrimp was taken off. I didn't eat the salad and was very disappointed how the situation was handled. We couldn't wait for them to make it right, so I left hungry and disappointed. Still had to leave the tips because even though the waitress failed to make my order right, I never yet walked out leaving no tips. Needless to say, we will never go to TGI Friday's ever again.

Not sure when no substitutions was rolled out by your company but my favorite meal was chicken & cheese. I prefer it w/ mushroom & not peppers. I have not been to your establishment in 2 years based on principle "If I can't get what I want, I don't want to spend my money at your restaurant". There are soooo many other restaurants out there. Just wanted you to know.

I was highly upset with the whole thing. Was not told you can't share or the fact I spend my own money just to be told "no" rudely, "you can't". Felt that my wife and I were rushed as well. Not happy. Good gimmick. Love the restaurant, not the gimmick.

Hi! I went there with my family tonight! We were very disappointed! We ordered burgers, 2 were missing the top bun?? Really??? Then it took forever to get our drinks and the last drink the waiter forgot at all. I think I'm done with that place, it gets worse every time!

My husband and I went to the Friday's that has just opened a few weeks ago in Colerain, Ohio on 7/25/15 around 7:30 pm. Upon entering the girl took our name and informed us it would be 15 to 20 minute wait which was totally fine. After twenty minutes or so we were seated and informed of the specials and our server's name. I looked at my watch and it was 7:55 pm by this point. We looked through the menu for a few moments and no one came. I watched numerous servers walk by with no interaction whatsoever. I seen a group of four who were behind us in line get seated and served drinks. Finally at 8:10 pm after continuing to be ignored we got up and left and I let the people working the front know this was a horrible experience and I would never ever recommend anyone go to this location. Having been open two weeks and this kind of customer service is horrible!!! Save your money and time and find another place to eat!

I dined in during lunch time. They claim to only have gluten sensitive items which should have altered my choice to eat here. Halfway through my salad, my stomach began to hurt and I became bloated and gassy. Not the best experience at all.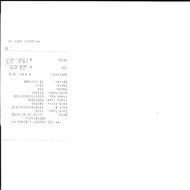 We spent $110 plus 20% tip for 4 people. We got lousy steaks, and a stingy serving of the fried green beans. The quality has gone south since last time we ate there at the South 27 Street location. Use to be my favorite restaurant, but not anymore. Doubt if we will go back. One of the steaks was so bad, they gave us another one, but was just as bad - tough and rubbery fat and gristle.

We arrived at the Olive TG Fridays on Sunday the 12 of July for a party of 5 and was seated very nice. But after 10 mins of waiting the manager came over to state our waiter was finishing up an order but he didn't even get our drink order. So she finally came over and took our drink order which was 2 peach teas and 3 ice tea's with lemon but no lemons came. We ordered and the food came but she allowed our drinks to become empty and didn't check on us for our meals after they arrived. I got a burger which was cold and dry and another got the Jack Daniels burger and no sauce but few min. passed and no one came by to check on how our meals were.
The gentleman with the Jack Daniel burger finally was able to state he needed more sauce but by then his burger was cold. She finally clear off the table of the glasses that were empty. I understand they looked busy but I own a business too and if you want people to come back treat them like you want to be treated. We paid the bill and left. Hope others were treated better than we were.. I have been sick when I got home...
T.G.I. Friday's Company Profile
Company Name:

T.G.I. Friday's

Website:

https://www.tgifridays.com/